See two dressers in the bedroom layout ideas including the reasons to use them, different furniture placement, and how to place dressers for a bedroom design.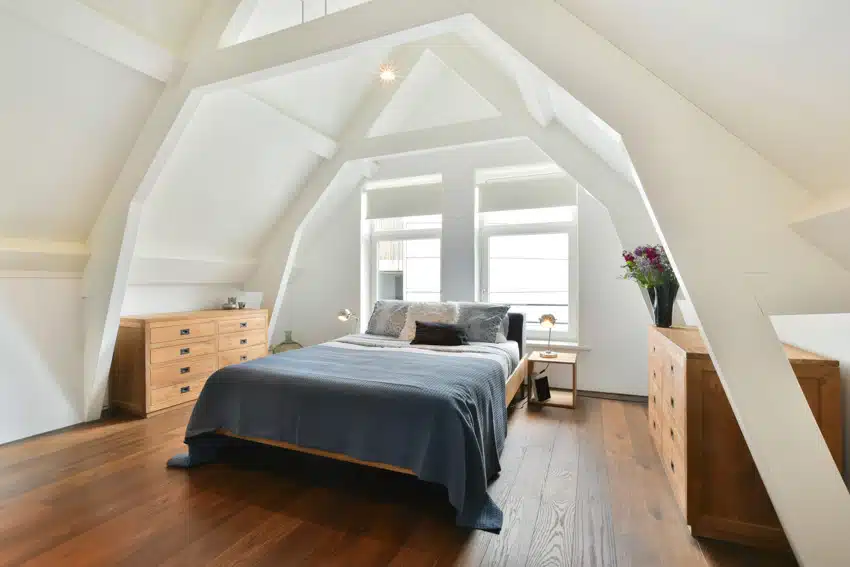 You may need to get creative with your bedroom arrangement for many different reasons. If you're dealing with a small room, it's important to consider all bedroom layout options. This is especially true for many married couples, dorm room occupants, and families with a lot of children.
In any event, you do not have to forego storing your clothing in a single dresser because it is possible to have two dressers in a bedroom, provided that the space is well-organized.
Can You Have Two Dressers In The Bedroom?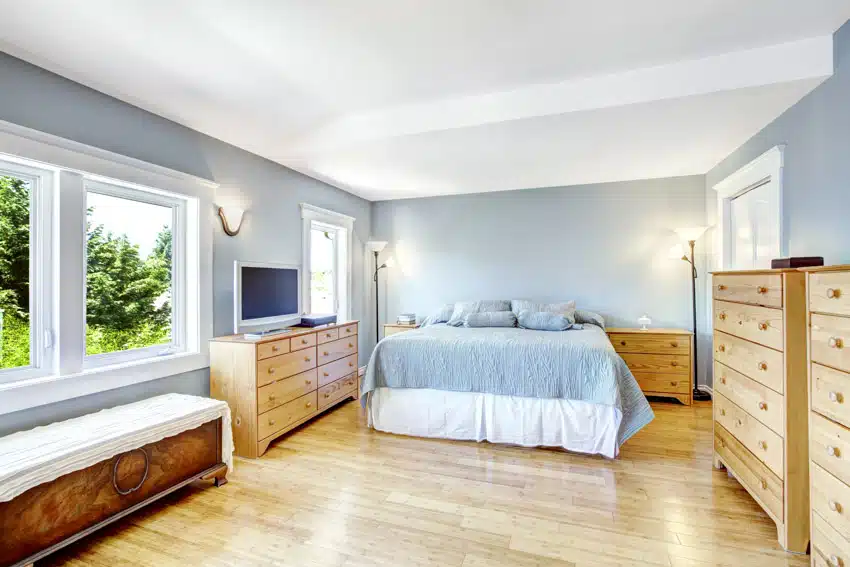 If you have the room, you can technically have two dressers in one room. Because it's your space, you can decide how the layout should look. There are a variety of configurations that will allow you to have two dressers in the bedroom.
The amount of square footage available in your bedroom will be the primary factor in determining whether you can accommodate two dressers there; nevertheless, if you have the necessary floor space, you should be able to do so.
If the room is too small, your bedroom layout may be better off with just one larger dresser or two small ones. It's a concept worth entertaining, and if you're open to it you'll get better aesthetics on top of additional storage.
Why Place Two Dressers In A Bedroom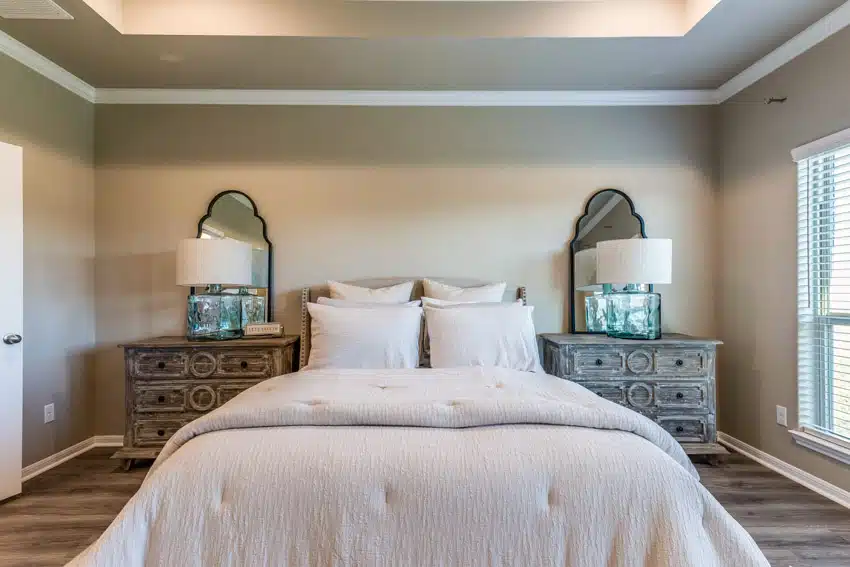 You can change the configuration of the dressers in your bedroom so that they can hold various items. Utilizing two of them will give you more storage space, which is one of the many advantages of doing it in the first place.
Using them to store your accessories is a good idea if you live in a small flat. Because it has several drawers, dressers are suitable for placement even in relatively compact homes. You can store items like folded clothes and other easily folded items in their drawers. It is also helpful to have somewhere to place your smaller items, such as jewelry, keys, and various documents.
It helps to position them close to your bed so that you may put your stuff on them and keep them easily within reach when you sleep. You can also create certain types of nightstands out of them for the lamps.
They work well in showcasing your decorative items. You can put candles and flowers for decoration or embellishment. Many enjoy reading books, and you can put those things on your dressers close to your bed.
You can also combine two dressers to put up your television. It beats using space-consuming furniture consoles or if you aren't a fan of mounting your TV on a wall. Because there needs to be more room in your children's room, you can transform them into study tables instead.
Things To Consider Before Placing Two Dressers In Your Bedroom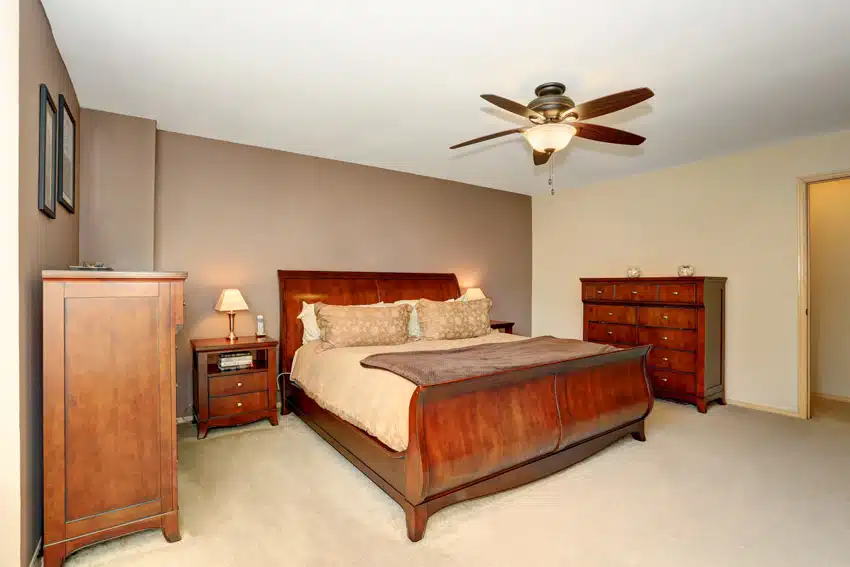 Taking accurate measurements of the space is needed to plan the layout correctly. Before setting them in place, you must first measure their dimension. For instance, you shouldn't put it behind any doors because anytime you open it, it will fall off the back. If hit repeatedly, it will leave marks such as scratches and lines.
It would help if you positioned them a short distance from windows to facilitate easy opening and closing with no obstructions. Keep them away from the vicinity of doorways and walking areas. If you have sliding glass doors, you can put them in front of the windows to let in natural light.
If you have limited space, you need to consider the height of that particular piece of furniture. You should select a dresser that's tall instead of wide. Most of these types of furniture styles come in proportions of 38 by 64 inches, but you can adjust these measurements as needed by adding or removing drawers.
You may also want to consider using one of the online bedroom furniture layout tools, putting in your room's square footage, and seeing how the dressers may look with a particular orientation.
How To Place Two Dressers In A Bedroom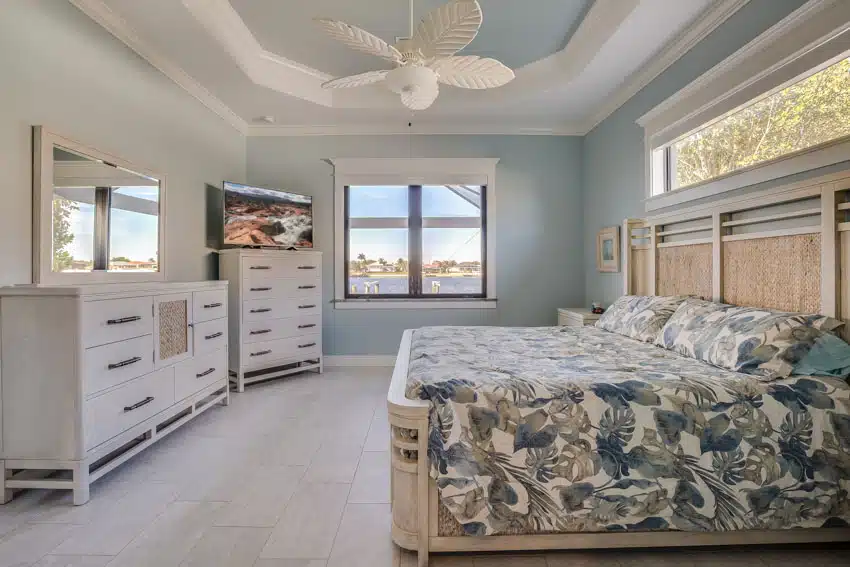 It is possible to fit two dressers in a bedroom by playing with the dimensions of a bedroom. Place it on both sides if you have a single bed in the middle, or position it so that it is against the walls that are on the other side of your bed.
You can arrange the dressers either between the beds or on the foot of the twin beds, providing adequate space for standing.
You may also use them as nightstands to display some lamps in the evening. Don't be afraid to experiment and move things around as you see fit. The beauty of rearranging a bedroom is that you can play around with it and change it.
Bedroom Layout With Two Dressers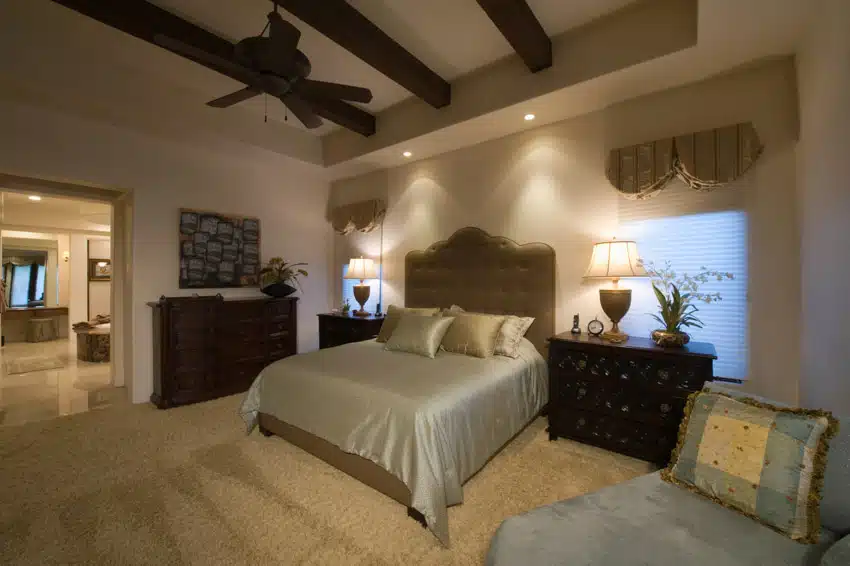 It is possible to fit not one but two dressers in a bedroom. It is a huge step toward achieving better-looking bedroom layouts. Dressers typically come with drawers that may store various goods.
You can use dressers to store other household items, such as linens, toiletries, crafts tools, and more. You can also utilize the top of your dressers for storage purposes. It can help those who share a bedroom or are siblings.
Placing two dressers in a bedroom layout may help you organize your space while still ensuring that it is functional.
You can place two tall dressers alongside each other. You can also opt for shorter dressers depending on your ceiling height or if you want to keep the arrangement compact.
For them to settle in properly in a bedroom, you will need to provide a suitable location and sufficient space for the dressers. Putting them in areas where you pass through a lot will make walking difficult.
When deciding where to position your television in a room, put them close to one of the room's walls. It will give sufficient support for your television. Choose the ones closest to the power outlet to access the power grid easily.
If you have wooden dressers, you should place them a few inches away from the wall to discourage pests, mold, and mildew.
When positioning them close to the walls, you should move them a few feet away from the area's windows and doors, so they don't get in the way.
You will need to place plastic cups or some type of padding beneath the legs to prevent them from sliding. If there needs to be more room to use the dresser in the corners as side tables, you can set them up along the walls instead.
When you have wicker and metal type dressers, they are lightweight, so you shouldn't place heavy and expensive items on them since they can slip from the floor if you accidentally bump into them.
Diagonal Wall Dresser Placement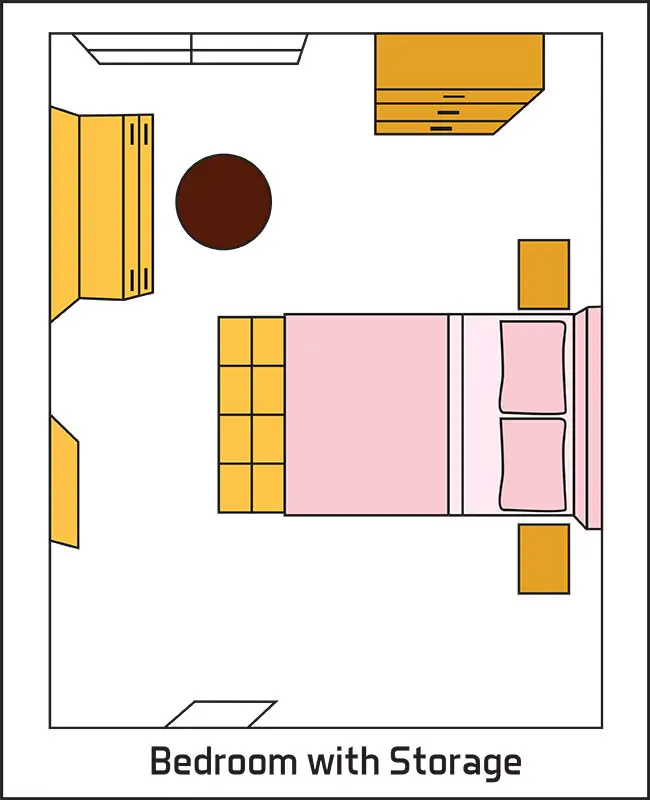 This layout uses two dressers positioned on diagonal walls with one working as a makeup vanity for added functionality. See more bedroom layout ideas on this page.
Rather than position the dresser diagonally which produces dead space, the dressers are positioned flat against the walls. This arrangement provides quick access to either dressers.
Two Dressers Side By Side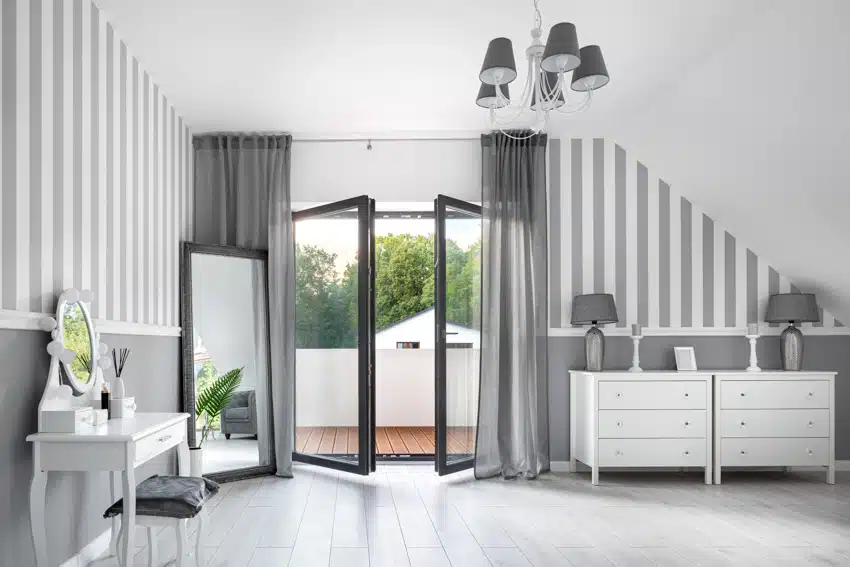 Antique dressers would be an excellent choice, either placed next to one another or used as nightstands. You can have two or more dressers, one at the foot of the bed or beneath each window.
Moreover, you will need to check that the dressers do not have a lip at the top for them to be set side by side without any obstructions. It can create the illusion of one long furniture piece with the added benefit of you being able to move them around if you feel like changing the configuration of the bedroom.
Still, keep your options open. Even if you don't have antique dressers, you can still arrange them side by side, depending on your bedroom's layout.
Two Different Dressers Side By Side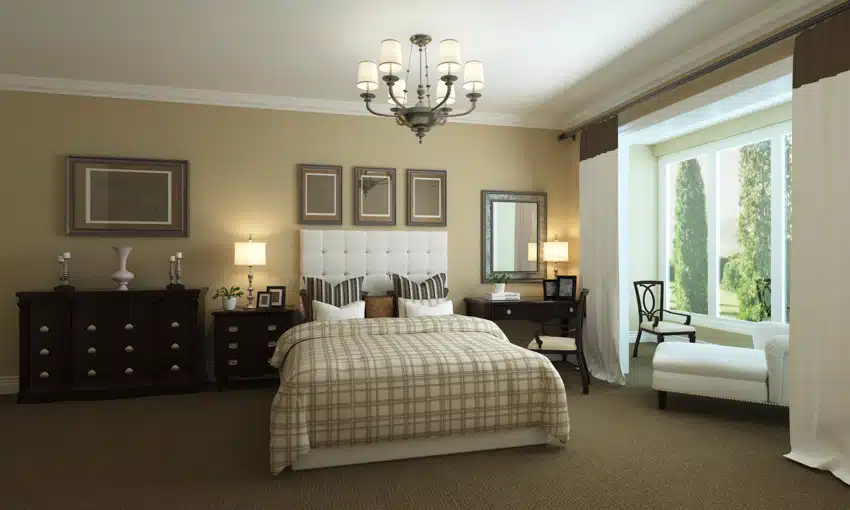 The days of perfectly coordinated bedroom ensembles are long gone. Adding multiple layers of decor and various furniture pieces is in style.
You can use dressers of different styles, in your bedroom while mixing and matching them, which adds fun and intrigue to the space. It's optional for the bedroom furnishings to coordinate with one another.
Alternately, if you mix and match your dressers, this will make your room look more intriguing, giving a natural flair to your area and providing it with an additional dose of personality.
The dressers can have different colors or tones to achieve an interesting look. It all boils down to preference. If you want a bit more character and personality, feel free to mix and match different-looking types of dressers. If you want to keep it traditional and more uniform, it would be best to wear more uniform-looking dressers.
Two Tall Dressers In the Bedroom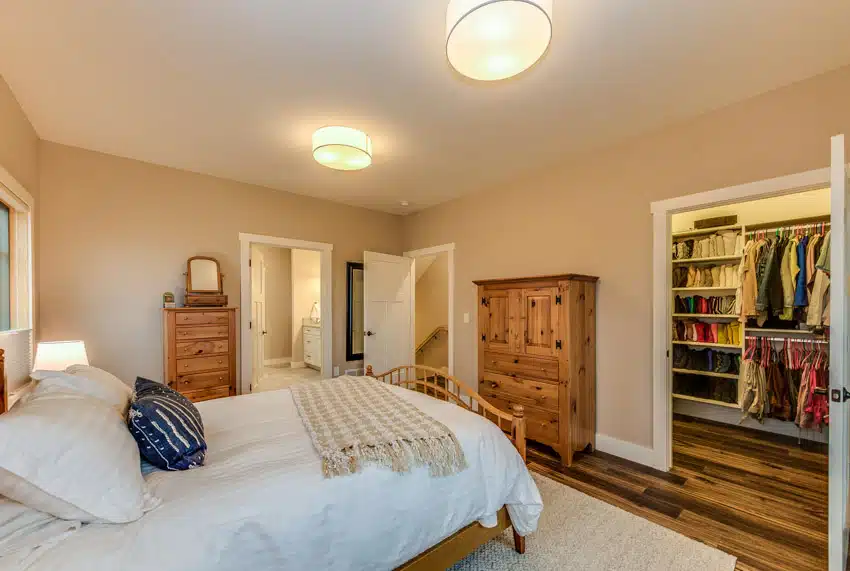 It is essential to ensure that a bedroom has sufficient space for walking around and that doors and windows are free of obstructions for occupants of all ages, including adults and children (and even pets).
Simple floor plans that don't have a lot of clutter work well for small bedrooms and rooms that already have a lot of furniture, and this is especially true for homeowners who prefer a minimalist décor theme.
Tall dressers are great if you have a limited amount of height in the bedroom layout. Tall cabinets and closets usually provide it. If you don't have them in your bedroom, you can compensate for them by incorporating tall dressers in the design.
It is best to select dressers that look the same or that match each other, so they do not compete. Still, this doesn't have to be a rule set in stone in the spirit of variety and keeping your options open.
See more related content in our article about types of bedroom furniture on this page.