Welcome to our page featuring boy and girl shared room ideas utilizing a variety of design styles, storage, furniture and paint colors.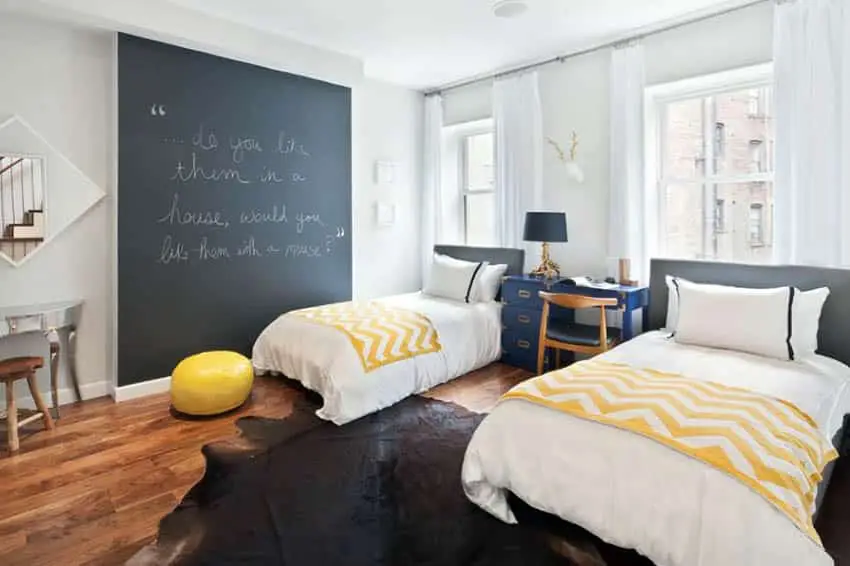 It's a lesson that most kids learn pretty early, sometimes you just have to share. I shared a room with my sister or one of my brothers until I moved out of my parent's home. It was just a fact of life. But I decided then that if my children ever had to share a room, I would do my best to allow each of their personalities to shine and give each their own little space.
Doing this for a brother-sister combo isn't really anymore difficult than doing it for a same-sex sibling combo. You just need to find a way to combine their tastes, personalities, and belongings without having a lot of clashing colors and arguing about how got more cool stuff. Easy, right? Well…maybe not easy, but definitely doable! Here's how…
No matter what age your kids are, you are going to need storage. Tons of storage. I recommend modular furniture that can grow with the kids. A certain large, Swedish store with a blue and yellow logo comes to mind, but you can find inexpensive modular furniture in most big-box stores now. Shelving with bins is perfect for kids with a lot of toys and/or clothes.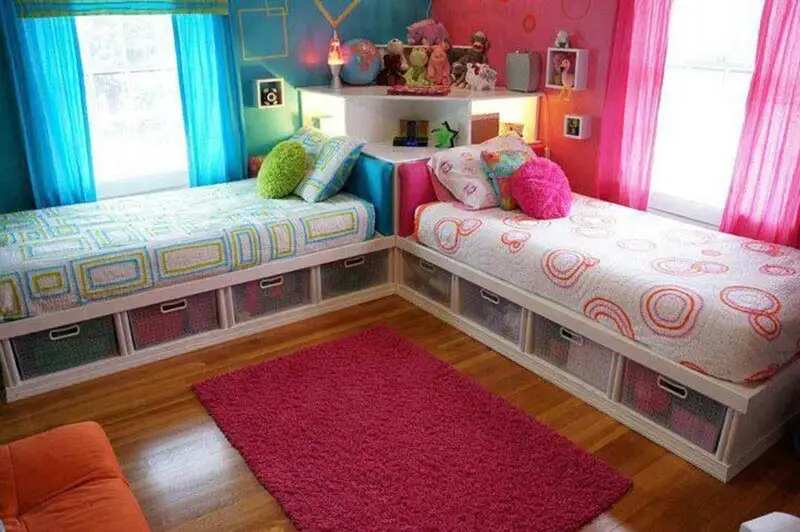 Kids aren't always great at folding clothes, giving them bins allows them to toss all of their shirts in one bin, pj's in another, shorts in another. And it frees up space in what is sure to be a limited closet. The bins come in all colors and a few different sizes and are also great for storing toys, smaller ones for toy cars, larger ones for baby dolls. The wood frames that these bins are stored in can double as storage shelving or a tabletop surface for homework or play.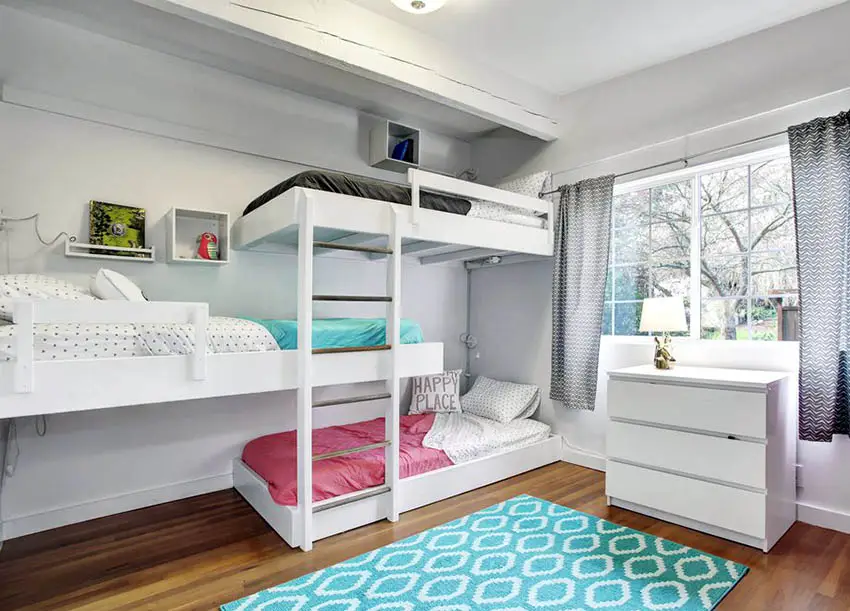 Beds. Bunk beds are great but they don't give much privacy, which is really important to upper elementary-aged and older kids. However for younger siblings bunk beds can be a good way to save space in a bedroom.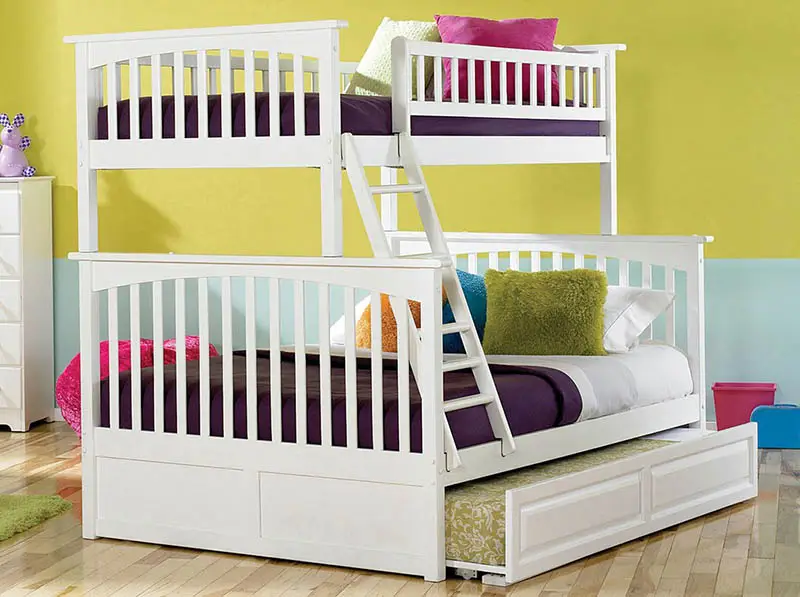 (See these kids bunk beds with pull out trundle bed at Wayfair)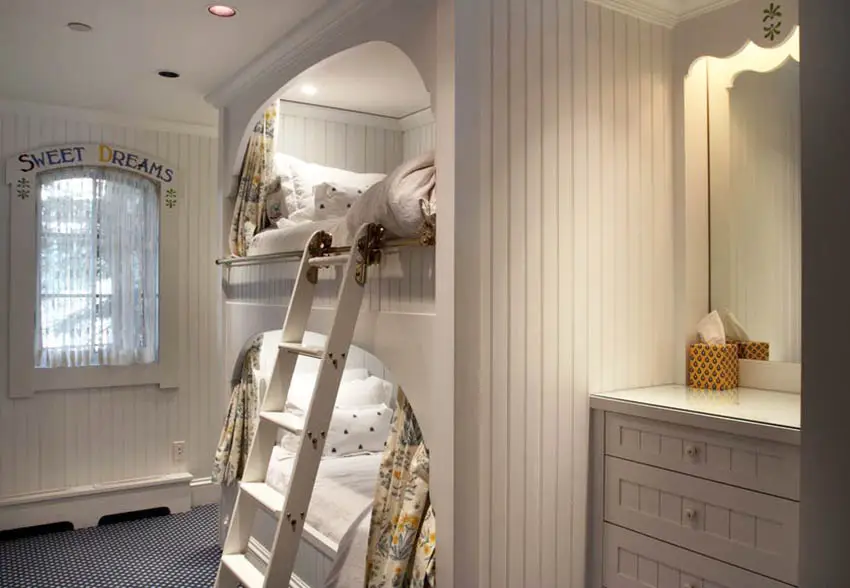 These built-in bunk beds offer curtains that can be closed for privacy when needed.
Loft beds are a great solution for kids that are a little older. You can put a curtain around the bottom portion, creating a small retreat for each kid. They can hang out with friends, lounge in privacy, or text their crush without the prying eyes of a sibling bothering them.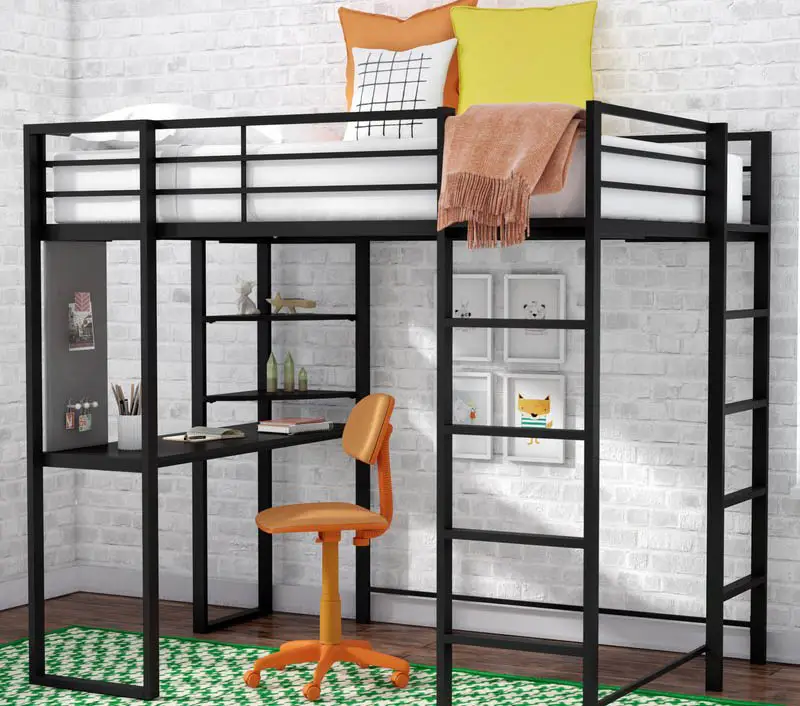 (See this kids metal loft bed with desk underneath at Wayfair)
They will also need their own desk space, a lot of loft beds come with options for desks underneath, just add a small task lamp and they can do their homework without competing for study space. A bedroom layout idea that could work for this situation is having two separate loft beds so that each child has their own work space.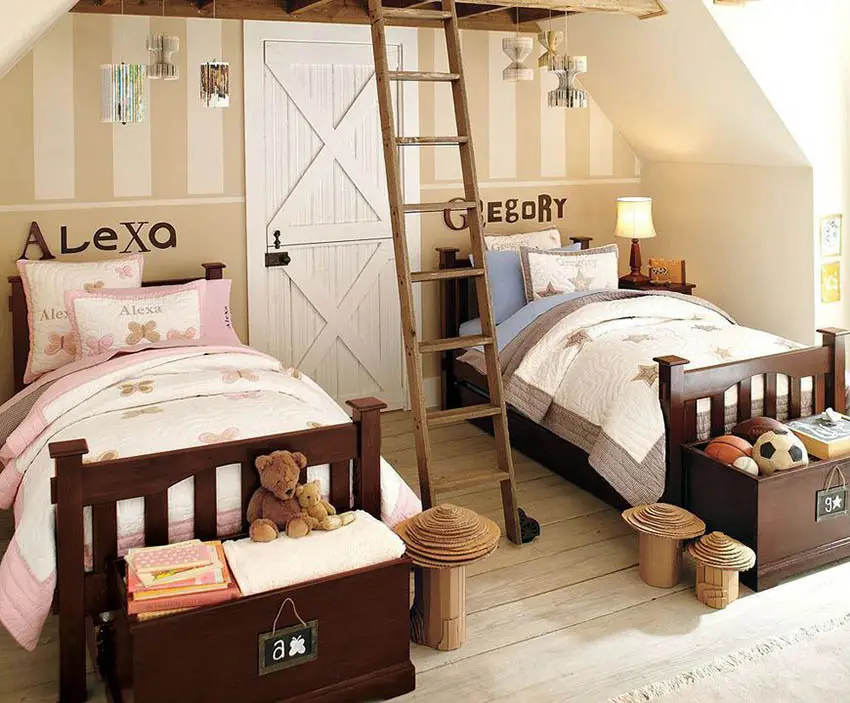 Color. Color is going to be the big challenge. A lot of people are tempted to divide the room into pink and blue, but the best bet is to go neutral. Find a neutral color that both of your kids like and paint the entire room that color. A dark slate grey can make a great neutral, it plays well with both bright colors and pastels.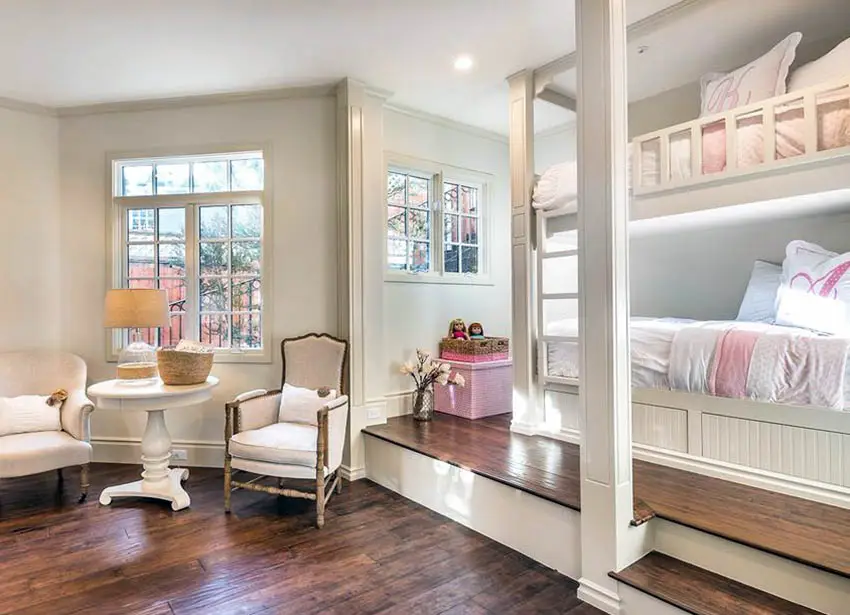 The shared bedroom above is decorated for two girls, however by changing the bed linens on one of the bunk beds, one could easily convert this space in to a boy and girl room.
From there, allow your kids to each chose a few accessories that they like for above their bed. If the want posters of their favorite superhero or boy band, frame them in the same frame to create continuity in the room. Having all of the furnishings have the same finish and color also creates continuity. Instead of going for themed bedding, go with a solid color and let them accessorize with throw pillows and pillowcases. This will prevent pattern overload and you won't be upset about money wasted when they change their mind a year after you buy the entire line of Star Wars themed bedding.
For more texture and individuality, install a large, framed corkboard along opposite walls, one for him and one for her. This will allow them to hang up important information, photos, and mementos without having to compete with one another for space. Give them their own coat hooks next to the corkboard for their coats and backpacks.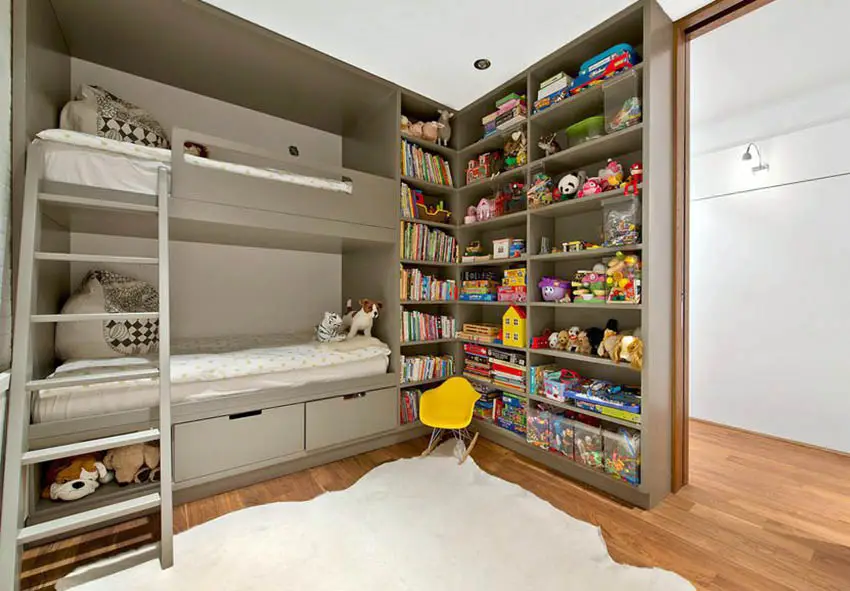 This small shared bedroom offers a built-in bunk bed with toy storage that provides an great place for stowing a variety of items. By utilizing under the bed storage bins the small room layout can maximize its existing space. You can see more types of space saving beds here.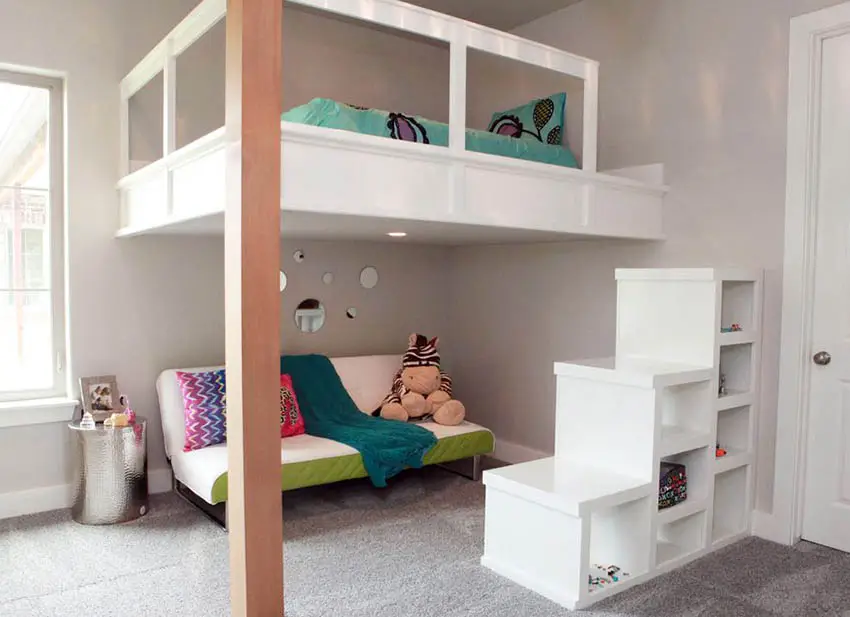 If the room is large enough, you can use a large bookshelf that is open on both sides as a room divider. This will also give them extra storage as these types of bookshelves often are made up of 12"x12" cubes. Bins that fit these cubes come in plastic and fabric and are available in every color of the rainbow. Some units also offer options for small drawers to fit into the cubes. This type of separation really comes in handy during sleepovers.
A loft bed is a fun option for families with multiple children or for kids who love sleepovers. For more ideas about different types of beds visit our gallery page.
Sharing a room isn't always easy, but allowing your kids to chose accessories that let their personality shine and finding ways to give them a sense of privacy will go along way in making your life, and theirs, a bit more peaceful.