Here we share our creative nightstand alternatives including the options available, their advantages, storage solutions, and different bedroom nightstand ideas.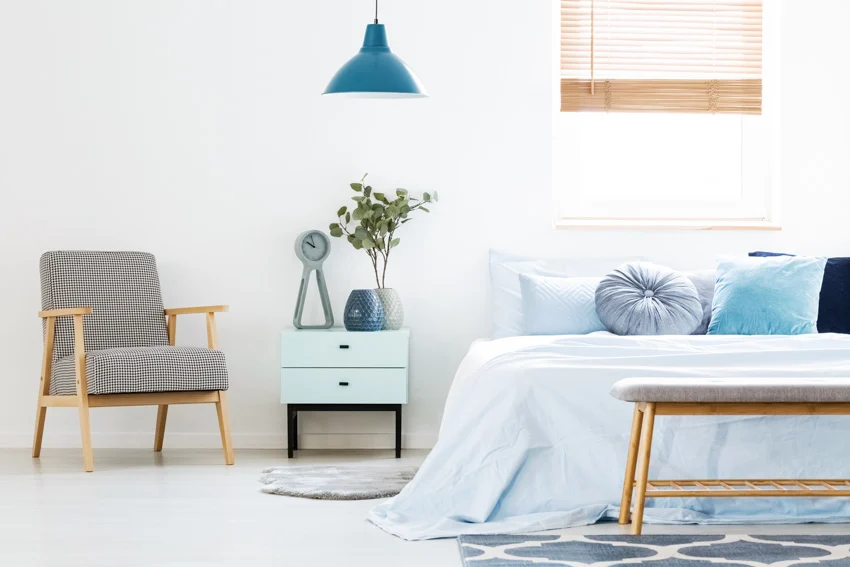 When you settle down for the night, you probably want to keep a few things at your bedside. For example, maybe you bring a glass of water to bed with you or you just want a place to set your phone while it charges. If you want to step away from the traditional nightstand, though, you might just fall in love with one of these creative nightstand alternatives.
Dresser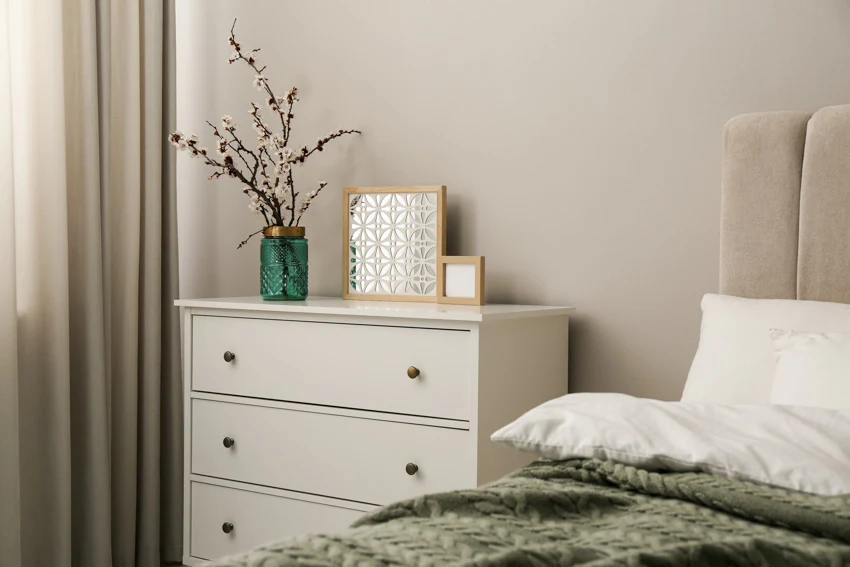 Using a dresser as a nightstand is not only a great way to give yourself a bit more space than a traditional nightstand but it helps to save space as well. If you have a smaller room, you can make the most of your dresser by positioning it next to your bed.
In this way, it's easy to open but close enough to reach comfortably from the bed. Furthermore, these bedside types of dressers serve double duty and you don't need a separate nightstand at all!
Bed Shelf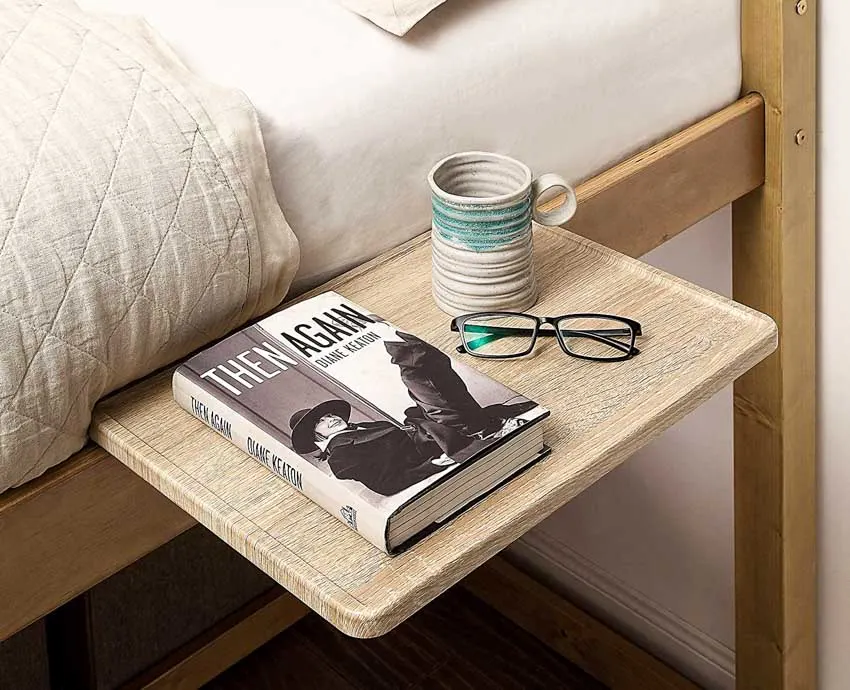 See this bed shelf at Amazon [sponsored link]
A bed shelf is a shelf that sticks directly out of your bed, usually hooking onto the side of the bed frame. These shelves are great when you want a bit of space to place a few items at night without dedicating a large piece of furniture to the task.
Bookshelf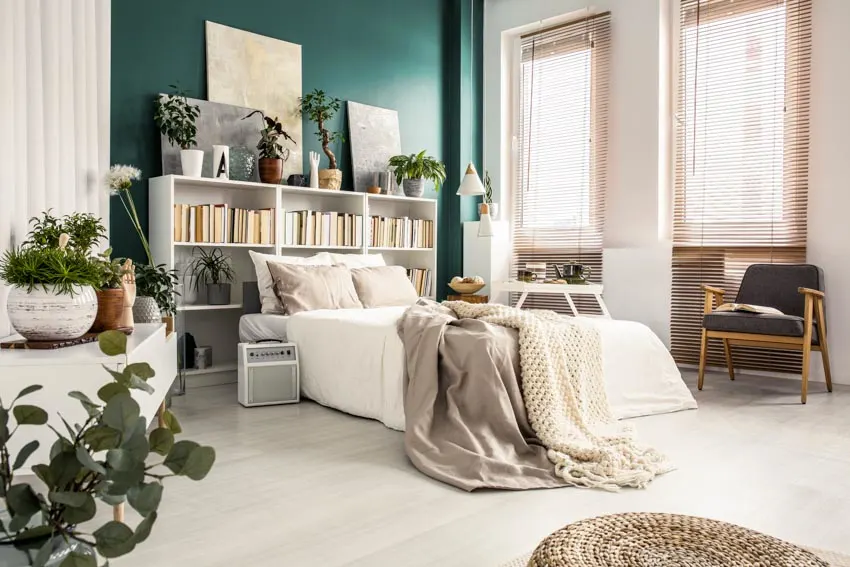 If you love to read or just love the look of a bookcase, you can incorporate that into your bedroom as a nightstand. By using the shelves for books, you can reach over and choose your reading material for the night.
On the other hand, if you don't fill the shelves with books, it gives you even more space to store your other things whether that's decor or the items you keep on your bedside table at night. See more pictures of the types of bookshelves here.

Cube Storage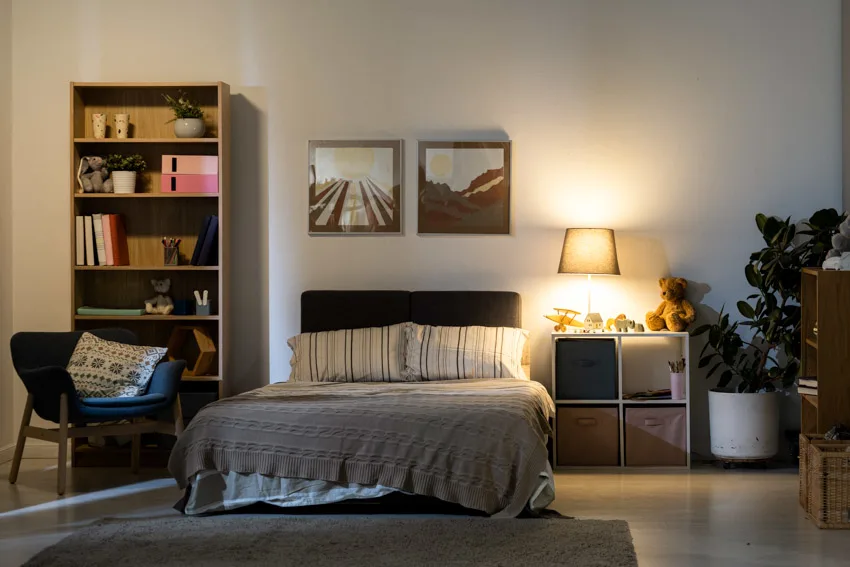 Cube storage is a great way to add storage as you need it. Since this type of storage comes in a variety of shapes and sizes, you can find something to fit your storage needs, no matter how big or small they are. Since these have openings as well as a flat surface, it offers multiple layers of storage.
Floating Shelf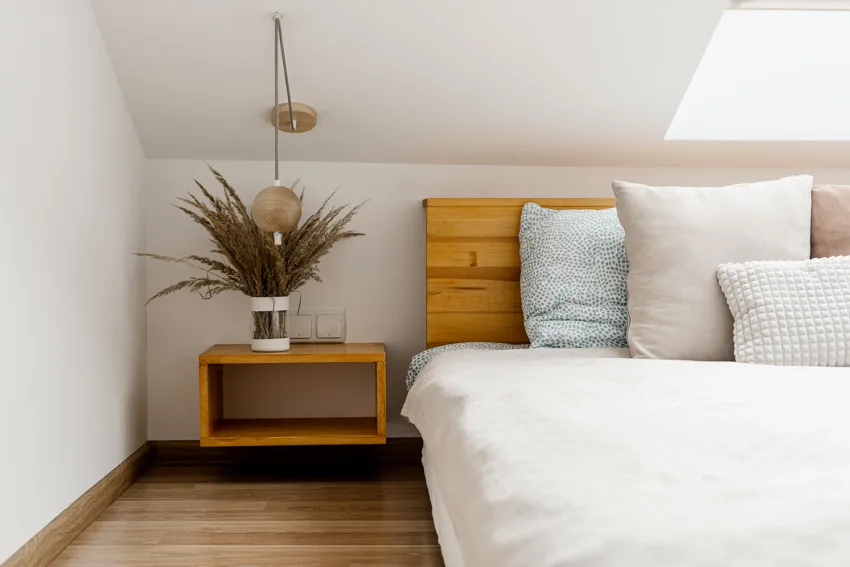 When you need a surface to place your things, you don't always need to give up the floor space for table legs. If you want to take a more minimalist approach, floating shelves can work well for this purpose and they're sturdier than you might think.
In addition, floating types of shelves give you a bit more freedom as to where you place your nightstand surface since you don't have to accommodate legs although it should stay within arm's reach. These shelves are also rather budget-friendly as well.
Console Table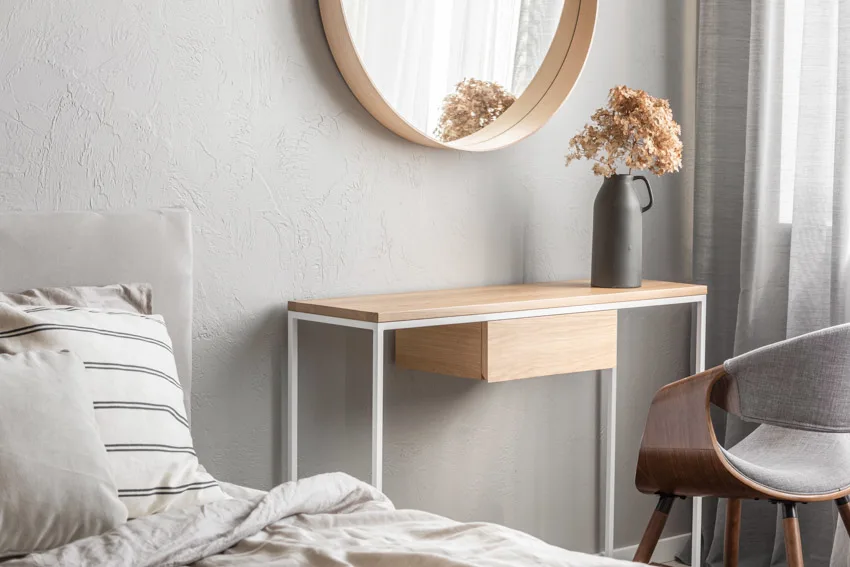 Console tables are often employed in hallways or even home entryways but you can cleverly repurpose one as a unique nightstand. This is another option that caters well to a minimalist decor style since these tables are usually relatively simple in structure.
However, they still often have a drawer for handy storage out of sight when you need it. On top of that, the narrow design can help save on space. By adding a chair to the console table one cab have a bedroom desk that can be used while studying or working at home.

Small Desk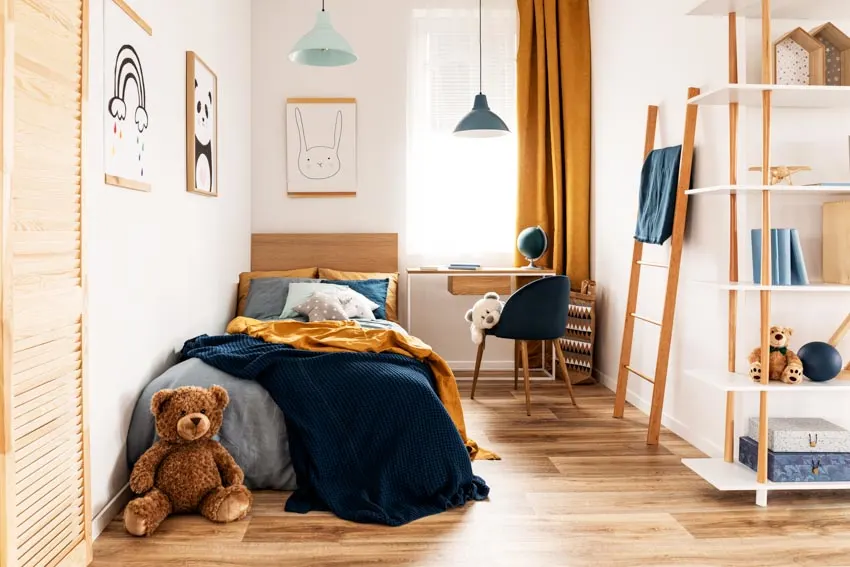 This is another idea that can help you save space. After all, whether you work from home, like to game, or just want a space to comfortably use your computer, a desk is a great addition to any home.
However, if your space is limited or you don't need a dedicated office, you can put your desk next to your bed and use it as a nightstand as well. See different types of desks on this page.

Steamer Trunk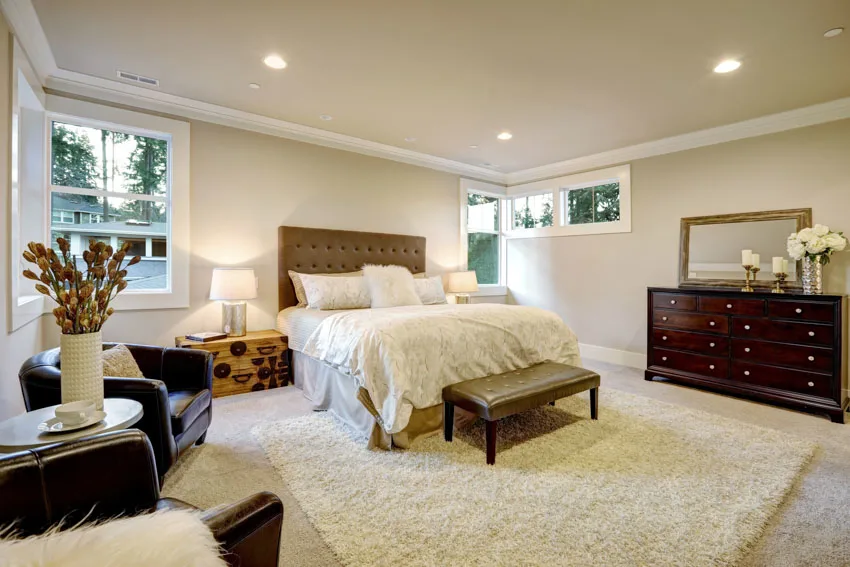 At the end of the day, anything with a flat top will work well as a nightstand. This includes something like a steamer trunk. These serve a double purpose since you can use the top as a nightstand.
The steamer trunk's interior also acts as additional storage for items like clothes, spare blankets, or anything else in need of a place to go. Plus, taking the time to find a steamer trunk you like is an excellent way to add a bit of personality to a bedroom.
Stools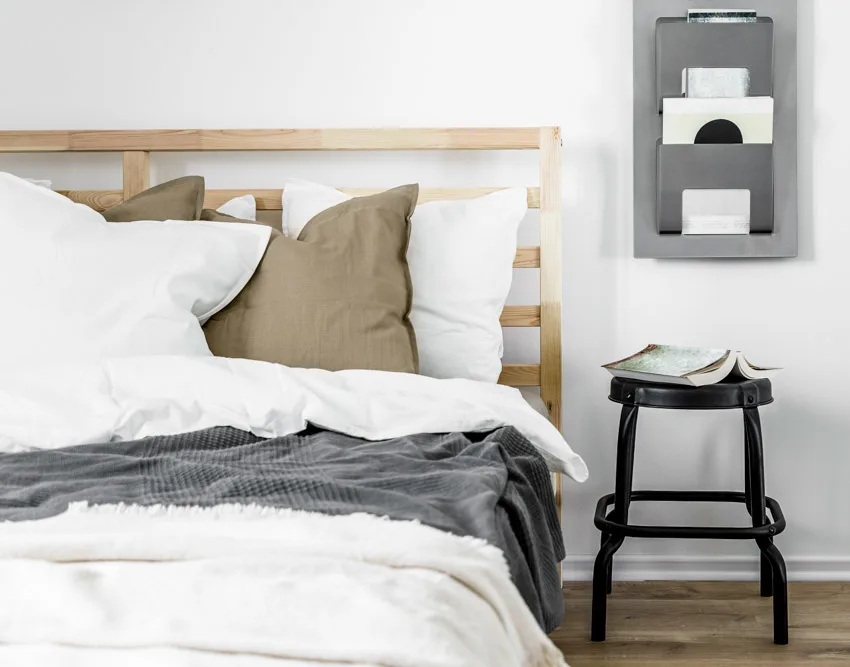 Stools are also a great idea if you're trying to come up with a nightstand alternative on a budget. After all, stools come at a lower cost than traditional nightstands and you may even already have a spare one floating around.
While it doesn't offer any drawers, it's a way to add a flat surface to set your things on at night or add a place to add a bedside lamp for extra lighting when you need it.
Plant Stands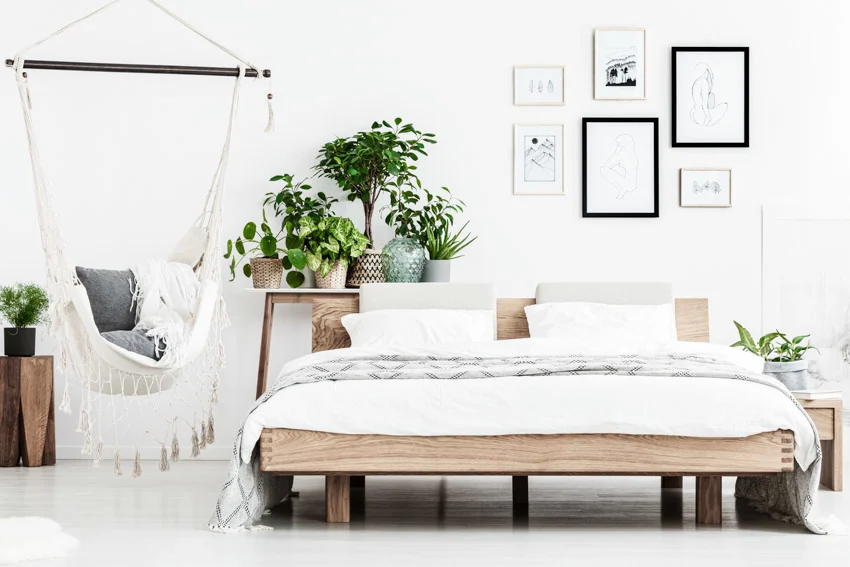 If you have a bit of a green thumb, you probably already know that plant stands can help you elevate your plants.
Alternatively, you can also rely on plant stands to offer you a flat surface to serve the purpose of a nightstand when you need it. Many of these plant stands are meant to blend into various decor styles as well, making these easy to fit into any decor style you may prefer.
Stacked Suitcases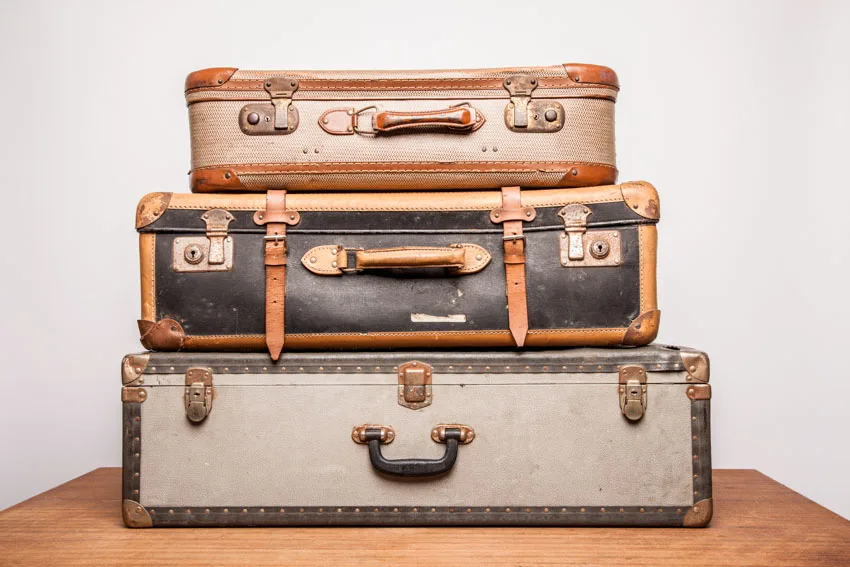 There's no reason your nightstand or nightstand alternative shouldn't show your personality just as much as any other decor item in your room. After all, you want to cultivate a space that's reflective of you!
For those that love to travel, you can use stacked suitcases to create a nightstand alternative. Vintage suitcases with hard, flat sides are often best for this purpose.
Bar Cart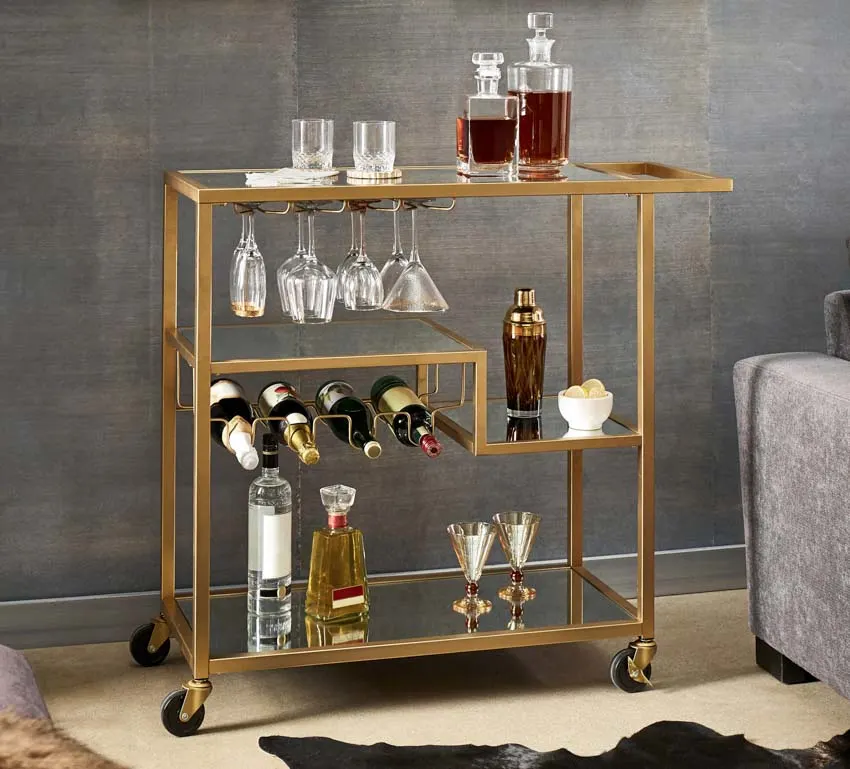 You probably think of a bar cart as a dining room or living room fixture. However, you can repurpose one of these carts to offer yourself a multi-tiered nightstand. Since these come in so many different styles too.
In this way, you'll have no problem finding something that suits your needs and styles. Since bar carts are often fixed on lockable wheels, it's easy to slide the cart wherever you need it and just lock it once you get it into place.
Side Chair
Much like a stool, you can opt for another type of seat as a nightstand: a side chair. This option can serve a dual purpose. For one, it holds your phone or other small items like books when you lay down at night. Secondly, you can use it as additional seating during the day.
Unfortunately, depending on the side chair you use, it can be harder to use a chair to provide a flat surface for something like a lamp or drink. See more types of accent chairs here.

Ottoman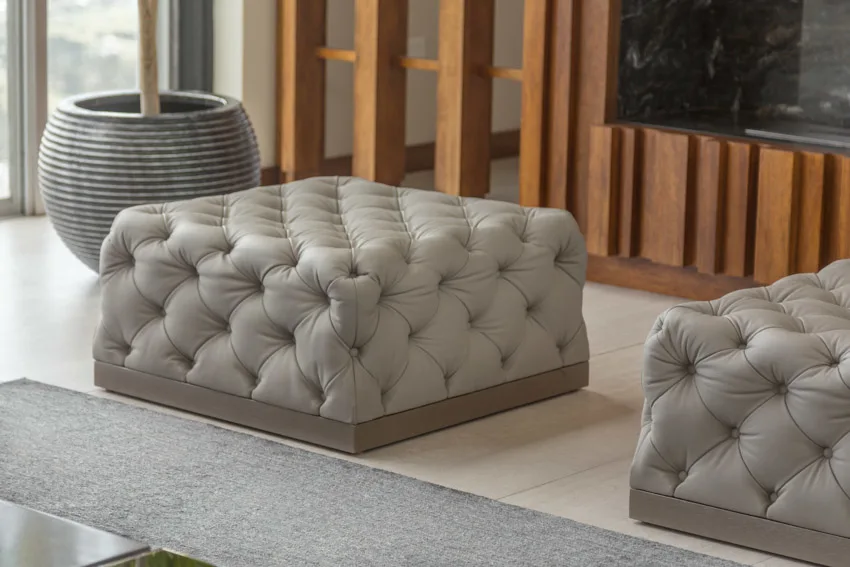 Ottomans have long been a popular choice when it comes to something like a coffee table or footstool. They're often favored for the fact that they're soft, versatile enough to use as a seat, and even offer internal storage.
In a bedroom, a storage ottoman is a great place to keep spare blankets or clothes that are out of season and cluttering up your closet. Since this is a soft surface, you may have trouble placing items like a glass of water at night.
Wood Crates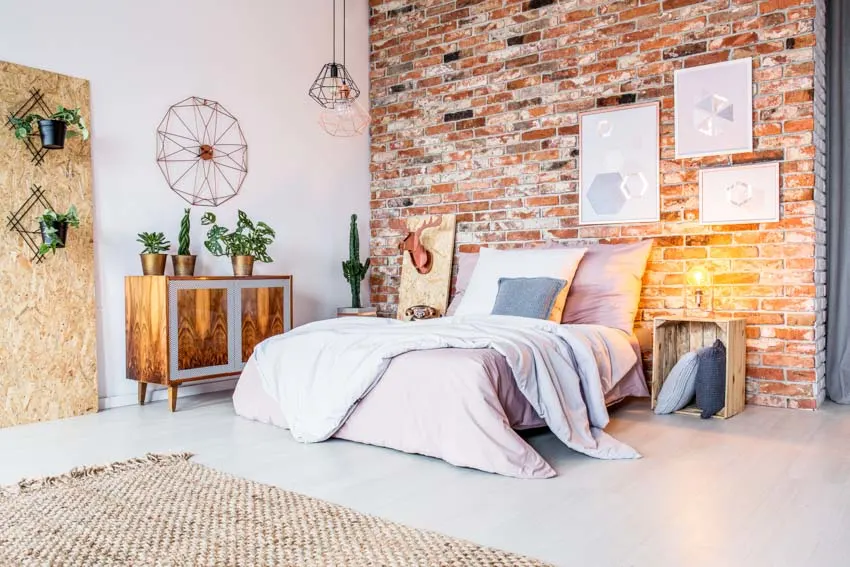 For those that prefer a more rustic or artsy touch to their home decor style, wood crates are a reliable choice. Not only that but they offer a lot of design versatility as well since you can stain and paint the wood.
Don't forget to sand the crate well first to avoid splinters and to clip down any protruding nails. This way, you can avoid any injuries that unfinished crates could potentially cause.
DIY Pallet Wood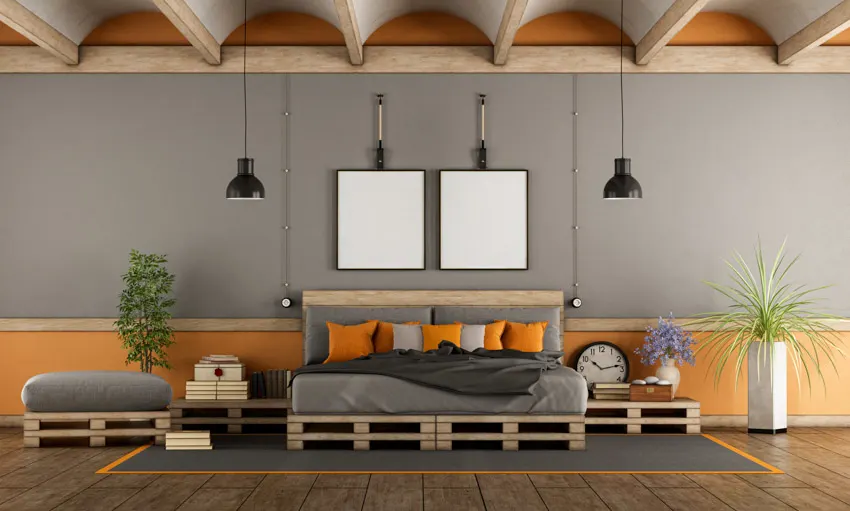 Some people love to get a little handy when it comes to choosing decor for their room. While building a whole nightstand might get a bit complicated, you can use pallet wood to create a DIY nightstand that will fit your needs.
You have a few options here too. For one, you could just stack the pallets or, alternatively, if you're more confident in your DIY skills, build an entire side table from pallets of wood.
Wine Barrels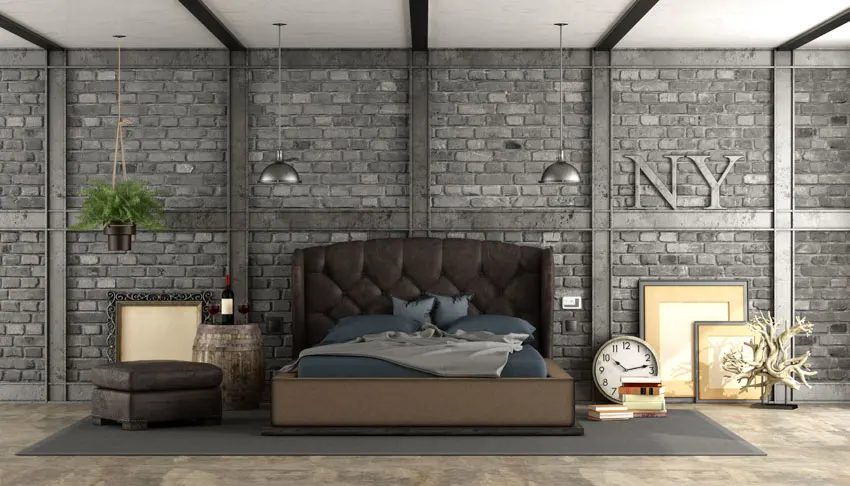 For those looking for something particularly unique for their bedroom, you can opt for a wine barrel as a nightstand. This could include just the barrel although many models are cut in half since wine barrels are so tall when they're whole.
Some wine barrels are even turned into certain types of nightstands. This can be done by removing some of the planks to create an open space in the middle of the nightstand alternative.
Tool Chest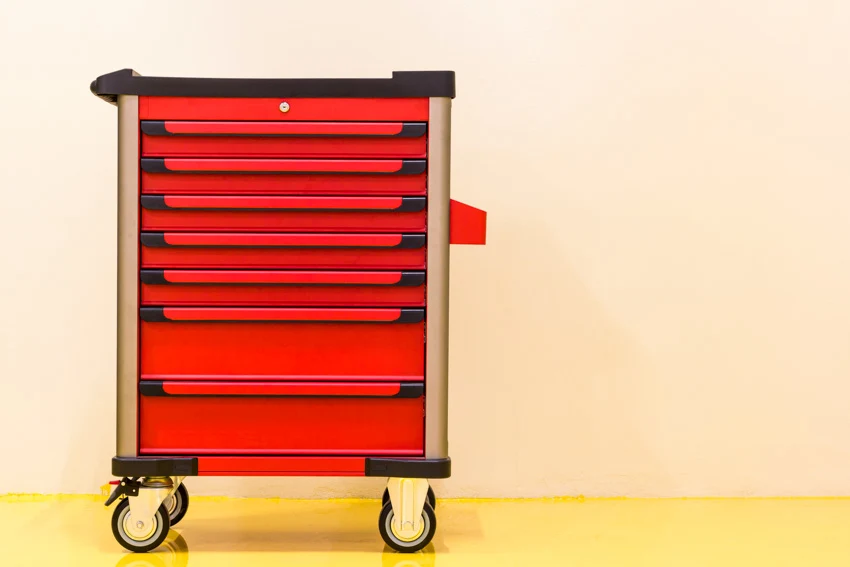 If you want something a bit more modern or even industrial, you can opt for a tool chest for your nightstand as well. These are often rather long, giving you plenty of space to use on top.
A colorful option can serve as a unique nightstand choice in a kid's room as well. Even better, a tool chest often features several drawers. This way, you can take advantage of plenty of extra storage space.
Vintage Small Wood Ladder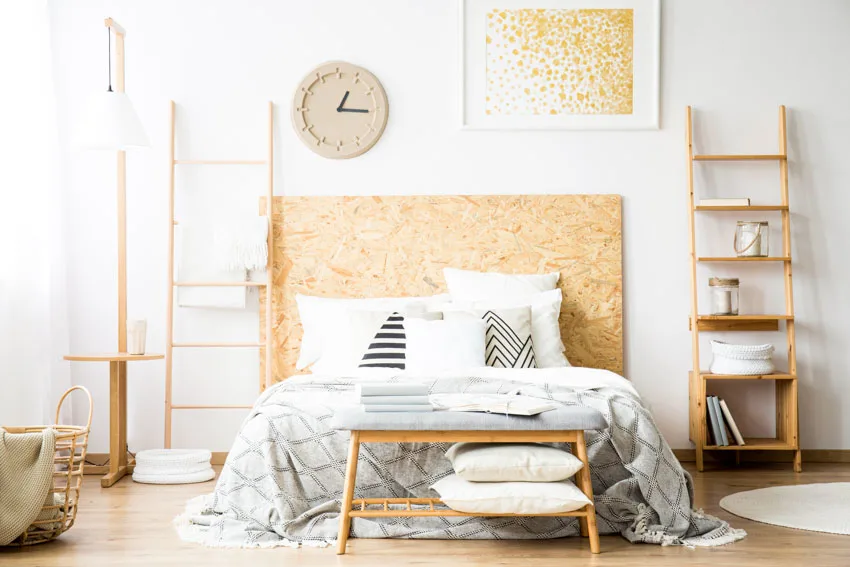 As we've seen, you can use just about anything with a flat surface as a nightstand, and the more levels you have, the more storage space the nightstand offers.
There's a way you can maximize the space of this concept by veering away from the idea of a traditional nightstand. If you want something a bit more one-of-a-kind and full of personality, try out a vintage small wood ladder.
See more related content in our article about DIY nightstand ideas on this page.