Bookshelves bring an old-world charm to any indoor space. They breathe life and personality into it as they showcase books that are quite telling about your reading preferences. Bookcases also come in a dizzying variety of designs and styles.
This article is the ultimate buying guide if you're currently searching for types of bookcases. We'll give you a breakdown of the different designs, frame materials, and styles to choose from.
Quicklist: Types of Bookcases
| Type | Description |
| --- | --- |
| Rectangular | Traditional style with horizontal shelving. |
| Cube | Cube-shaped storage for both books and other items. |
| Modular | Separate units that can be rearranged or configured depending on room size. |
| Corner | Designed to fit the corner of a room. |
| Leaning | Leans against a wall with shelves that get narrower towards the top. |
| Ladder | Ladder style with stepped shelves; (leaning or freestanding) |
| Barrister | Glass-front doors for the protection of books and display. |
| Tree Style | Resembles a tree with branches to hold books. |
| Booktree | Geometric design with books stacked at angled positions on either side. |
| Bookworm | Snaking shelves that can be configured into various shapes. |
| Geometric | Shelving is arranged in complex geometric patterns. |
| Bookcase With Drawers | Combines open shelves for display with drawers for extra storage. |
| Adjustable Bookshelf | Adjustable shelves to accommodate different sizes of books. |
| Revolving | Rotating design like a spinning carousel. |
| Wall-Mounted | Attached to the wall for security and safety. |
| Floating | Appears to hang from the wall with no visible support brackets. |
| Built-in | Custom cabinets that are designed for a specific space. |
| Headboard | Headboard bookshelf for above-the-bed storage. |
| Hidden | Concealed shelving behind a door. |
| Mobile | Portable unit equipped with castors or wheels. |
| Folding | Can be folded for easy storage when not in use. |
| Cabinet | Cabinet with doors. (May have glass fronts to see the contents) |
| Open-back | No back panel. |
Bookcase Designs
Picking out a design for the types of bookcase that you want to buy is the first major decision you'll be making.
You'll see that this easily narrows your options down as you would want to go with a design that fits with your home's décor or vibe. This also makes the decision of picking out materials and styles so much easier.
Here are the typical bookcase designs and what sets them apart.
Rectangular Bookcase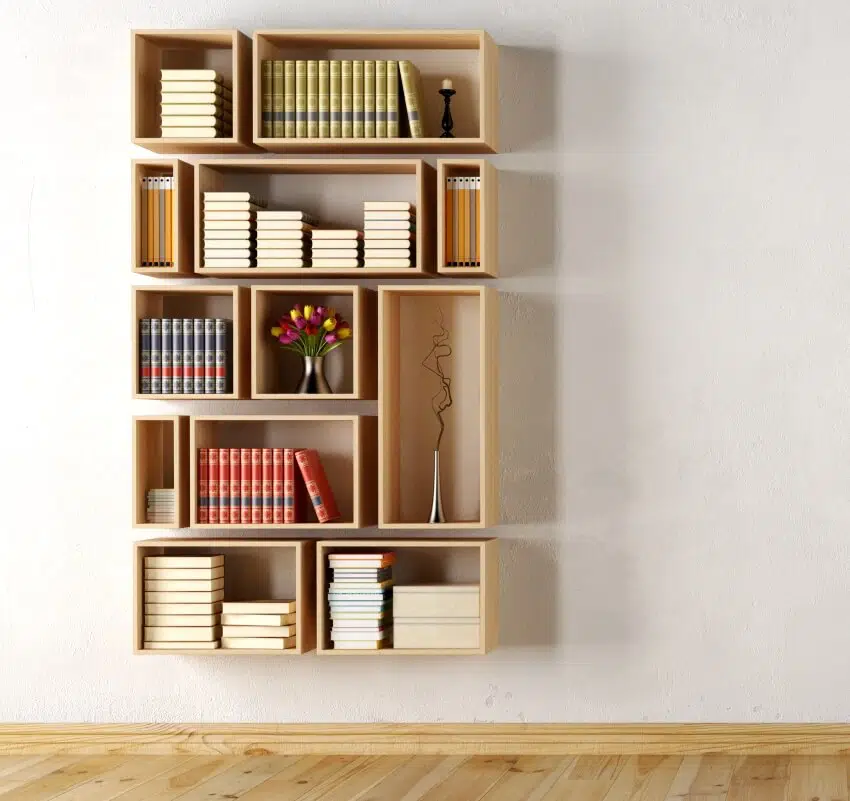 A rectangular bookcase is somewhat traditional and is commonly seen in most homes all over the world. They're manufactured widely so they can come in really affordable prices and they also come in a lot of different sizes and designs and even colors and finishes.
Before buying a ready-made rectangular bookcase, it's important for you to check out what the actual measurement is of the space.
You will want to ensure that you only get something big enough for your storage needs but will still allow you to move freely within the room. As the name suggests, the shelves are shaped in rectangles, usually horizontally.
If you want something that's simple and classic and somewhat neutral that can easily fit into any room design, then rectangular types of bookcases are an excellent option to consider.
Cube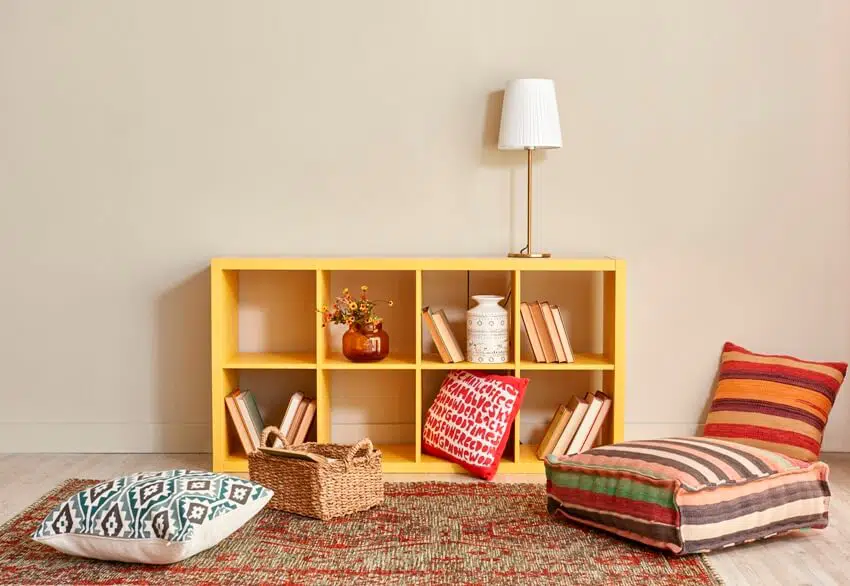 A cube design offers a symmetrical, almost geometric approach to the bookcase design. As the name implies, it usually involves a series of cube-like cubes or spaces, allowing you to place your books in them.
Cubes are typically equal-sided in measurements but there will be instances wherein they can come in rectangular frames.
A cube bookcase is a considerably practical storage but on top of that, it is also something that offers more design and can at times even be a decorative piece for the space that you're furnishing it in. It's boxy and consists of clean and bold lines.
This makes it perfect as a multi-use furniture because it can also function as a divider. It can break up the space between your dining and living room, for example; or add dimension to a studio apartment.
It can double up as a table, or even as a main stage for your planters. It's perfect if you need something that can easily transition in between designs and functions.
Modular
Modular bookcases are both functional and versatile. They can come in sets of 2 or 3 or so much more, depending on the amount of storage space you actually need.
These types of bookcases are great because they're built to meld with whatever design you might decide to bring to the space. You can mix and match depending on your preferred function or the amount of space needed.
Another thing that's so great about modular bookcases is that you don't have to buy them all or decide all in one go. You can buy a piece along the way and then eventually add on to it as you see fit. You can move them around and reconfigure them depending on what you want or need at a certain time.
Design preferences aren't always just one thing. They change at times and these types of bookcases kind of move along with how your decisions change because they're changeable and they can keep up with whatever design transitions you may have.
They can be tailored fit to your specific needs at any point in time. Even if you happen to have upgrade or redesigning plans somewhere in the future, these bookcases can move along with you.
Corner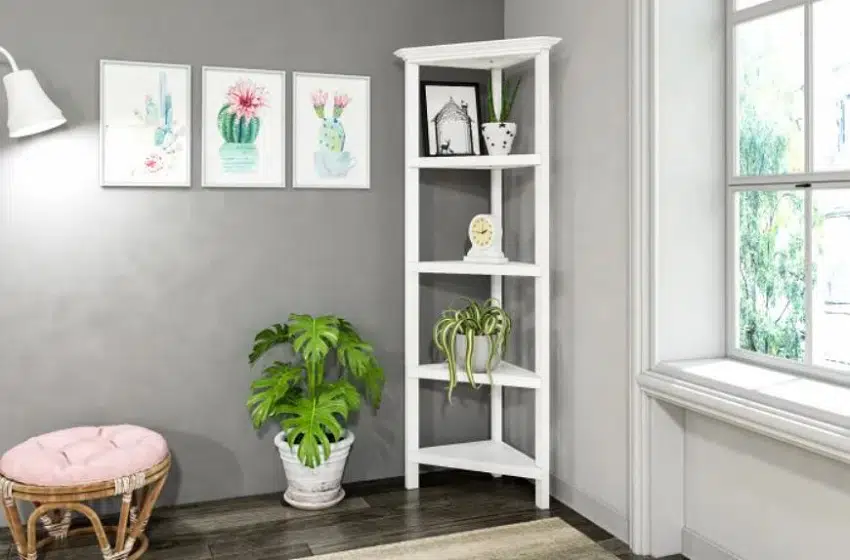 See this white 4 tier corner wooden bookcase at Pier 1 [sponsored link]
If you're a bit lacking in space and you don't really have a lot of elbow room to work with, a corner bookcase is something that can really work for you. On top of its contemporary design, it's a bookcase design with a bit more structural integrity than the others.
Corners aren't typically areas that get a lot of attention and making use of the space maximizes it. It's both a shelf and a decorative piece that can complement any design preferences you may have. Read more about how to decorate a corner in a living room for more ideas.
Corner bookcases are perfect for when you have to store stuff somewhere that doesn't necessarily have a designated space in your home. Empty corner spaces don't always have to end up looking bare and bland when you have corner bookshelves around.
It makes your books and other home items easily accessible to you, and it also makes for a perfect space to shelf your delicate pieces in as corners are usually out of the way and not that easy to accidentally bump into, especially in a space that's fairly lacking in square footage.
These types of shelves are open and multipurpose, so if you ever need some extra vertical storage, this is the way to go. It easily conforms to any design so you don't necessarily need them custom built for you, and like previously mentioned, they only take up vertical space.
Leaning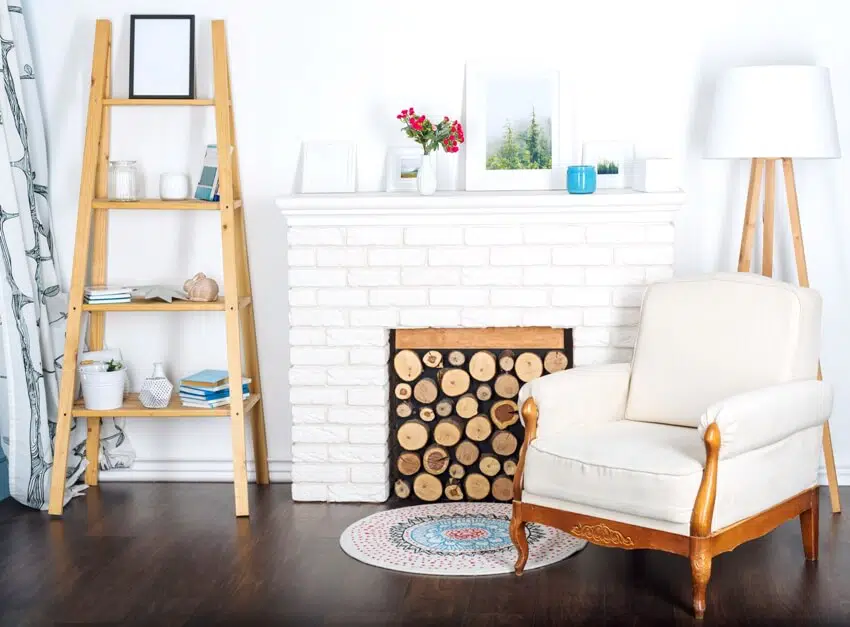 Leaning bookcases can be considered as specialized designs and they're unique because they're kind of dependent on the wall that they're being leaned on.
The frames of a leaning bookcase showcases a somewhat tilted look while the shelves stay in place in a horizontal angle.
It's a somewhat complex looking design but the dynamics are actually pretty simple. Still, the overall look and feel is sophisticated and elegant.
These types of bookcases don't take up a lot of space as they're usually neatly tucked away against a wall so if you find yourself ever being a little short on space, this style can work for you.
It also has a very clean and minimalist feel to it so if you want something that lessens clutter and feels simple yet still beautiful, this is definitely something that you ought to look out for.
Ladder

See this industrial ladder shelf 4 tier bookshelf at Amazon [sponsored link]
If you're working with a space that's a little more challenging with its square footage, you should look no more and opt for a ladder bookcase immediately. They're like a simplistic adaptation of the leaning bookcase.
The basic elements are pretty much the same, except that a ladder bookcase, although it also leans on the wall, ladder-style products are different from a leaning design because it directly looks like a ladder with modified steps that have been replaced with shelves.
It's a very chic and industrial take on minimalism while at the same time, it saves a lot of space as well as it doesn't take up a lot of square footage while it's propped up against one of the walls.
Barrister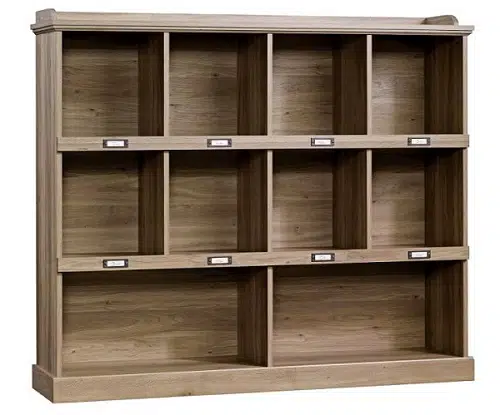 See this Sauder barrister lane bookcase at Amazon [sponsored link]
Barrister bookcases were named, interestingly, after lawyers. These types of bookcases were originally built with lawyers and their functions in mind. Lawyers usually have huge collections of law books and there are instances wherein they need to move these massive collections.
This is why barrister bookcases are built with sturdy frames and they're usually enclosed, with doors either made out of solid wood or smoked glass.
This is to keep the contents securely in place while the furniture is being moved around. So mobility is definitely key in getting this type of bookcase built out.
It has a very charming and classic design so if you want to go for something more formal and regal and sturdy, a barrister design is a great option to keep in mind when you're looking for sensible bookcases to keep inside the house.
If you have delicate pieces such as first edition books and other fragile items such as expensive porcelain and china, a barrister bookcase will definitely be of great use to you and your space.
Tree Style
Having a tree style bookcase is kind of like mimicking nature indoors, with the added benefit of extra storage space for your books and other items that you might want to put on display.
It's a more artistic spin on a geometric bookcase, with its defining point being that the shelves are depicted as branches in different shades and sizes.
Tree style bookcases look somewhat surreal and out-of-this-world and if you want to go for a dreamy, fantasy-like aspect to your indoor space, you can definitely get it done with a well-chosen tree style shelf in tow.
It's both artsy and minimalist and it is not only design-centric, it is functional at the same time. You don't have to choose between form and function if you have a tree style bookcase around because it can deliver both.
Booktree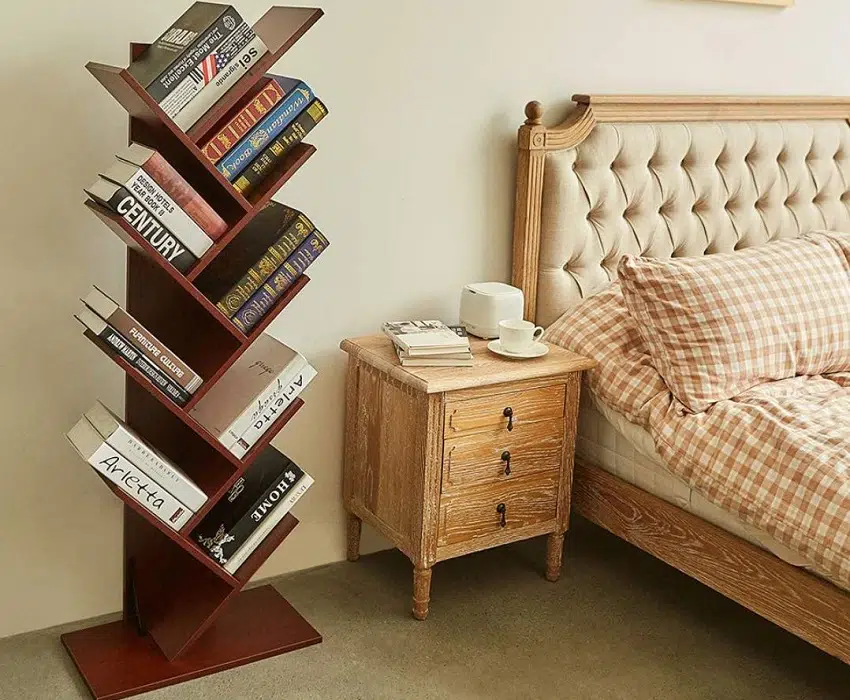 See this Superjare 9 shelf tree bookshelf at Amazon [sponsored link]
A book tree bookcase is very similar to a tree style design, but the only difference is that it's more symmetrical. If a tree style bookcase is built to look and feel like a real tree with the branches being used as shelves, a book tree design is more shelf-like in a way wherein all its arms which are used as shelves are all the same size.
It looks like a structured tree with shelves shaped out in overlapping Y shapes, where you can place your books and other items you want up for display on them. They're quite artistic as well, and they can be tacked directly on a wall.
Some types come in free-standing designs while others can be floating, which means that they can be installed on the walls themselves without ever having to touch the floor.
Bookworm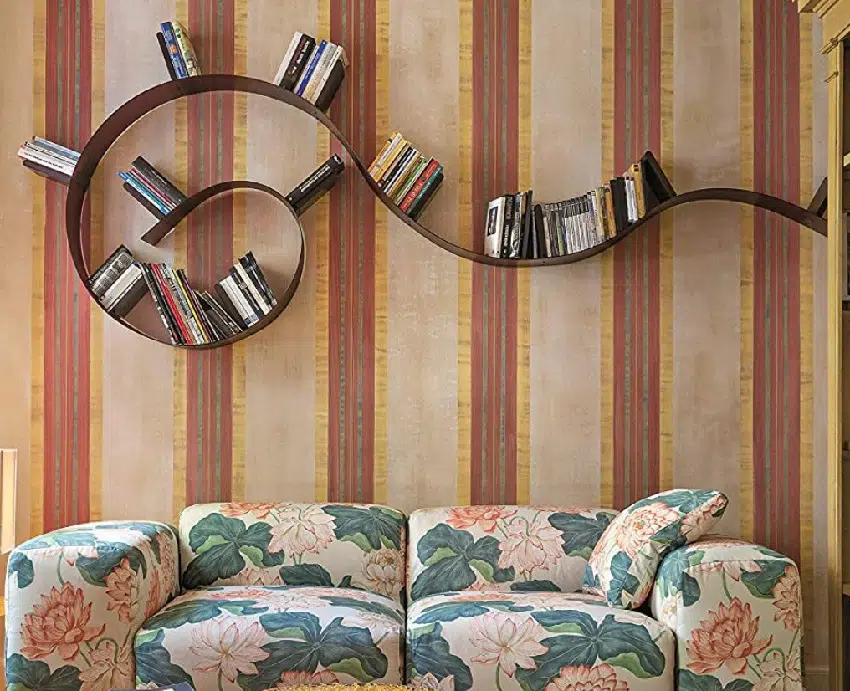 See this Kartell bookworm bookshelf at Amazon [sponsored link]
Out of all of the designs available, a bookworm bookcase would have to take the cake for being the most fluid and flexible one compared to all of them. These types of bookcases are a perfect combination of artistry and industrialization.
What's really amazing about this design is that it can be changed and formed into a shape, whatever shape you might fancy at the moment. It has the flexibility and strength required to take in up to 10 kg load per support, so you can really tack on a lot of books and other decorative items there.
As the name suggests, it sort of resembles the shape of a worm and you can kind of circle it around and you're guaranteed that it will be able to hold its form up.
It has a really eclectic and industrial vibe to it, and it consumes very little floor space. It works well with minimalist and industrial designs.
Geometric

If your design preference is more on something artistic and unusual but also with a sense of class and culture, you really can't go wrong with a geometric bookcase.
Its shelving options come in varying heights and widths, making it easy for you to store books in different sizes as well.
The organization potential of a geometric bookcase is unparalleled. Its usage also comes far beyond just storing books. You can display decorative pieces such as trophies, teacups, and others you might want to showcase.
If used in the office, it's also perfect for storing different office supplies and materials that usually also come in varying sizes and heights.
It's a great marriage between function and design because although it gives you all of the practical advantages of a good and trusty bookshelf, it also brings in that extra wow factor that can add substance to the space you're trying to define.
A geometric book case comes with start lines for the framing and different, asymmetrical shelving that makes it look fun and unexpected at the same time.
Bookcase With Drawers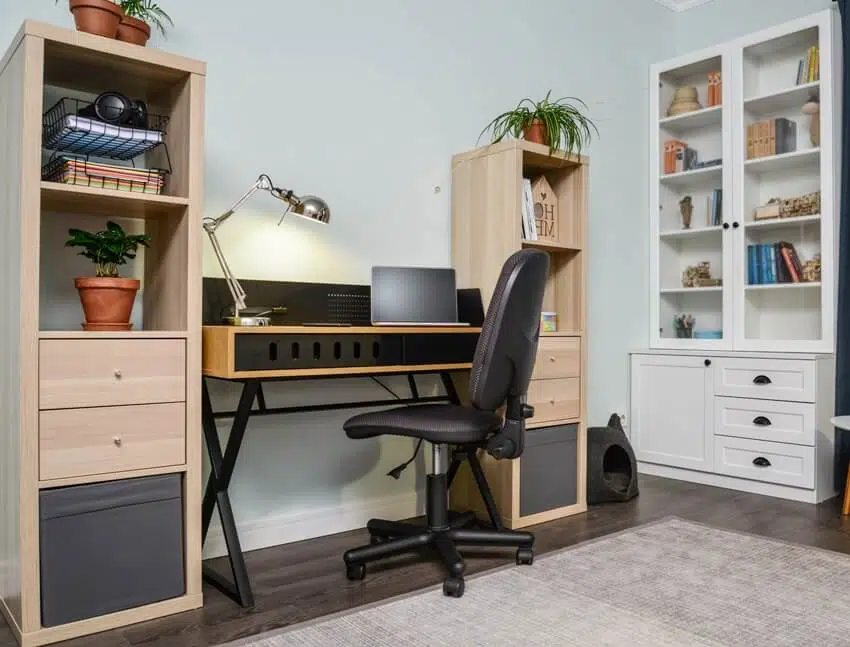 If you like all of the aesthetics that a bookcase brings in, but you'd also like to have a little bit of concealed storage space, then a bookcase with drawers is a solution that fixes that.
It's a great place to stuff random clutter into if you have to fix up your space in a moment's notice, but on top of the usual uses such as for books and items to display, it's also a great way to organize files that you don't necessarily want to expose out in the open.
Think of it as a way of having a little bit of both worlds. You get open and closed spaces available all in one piece. It puts a good spin on a natural or traditional look and something more contemporary.
It can accentuate any home décor or vibe. It's a refreshing yet functional take on your typical bookcase furniture, and it's perfect if you want something that gives you bang for buck value for your money.
Adjustable Bookcase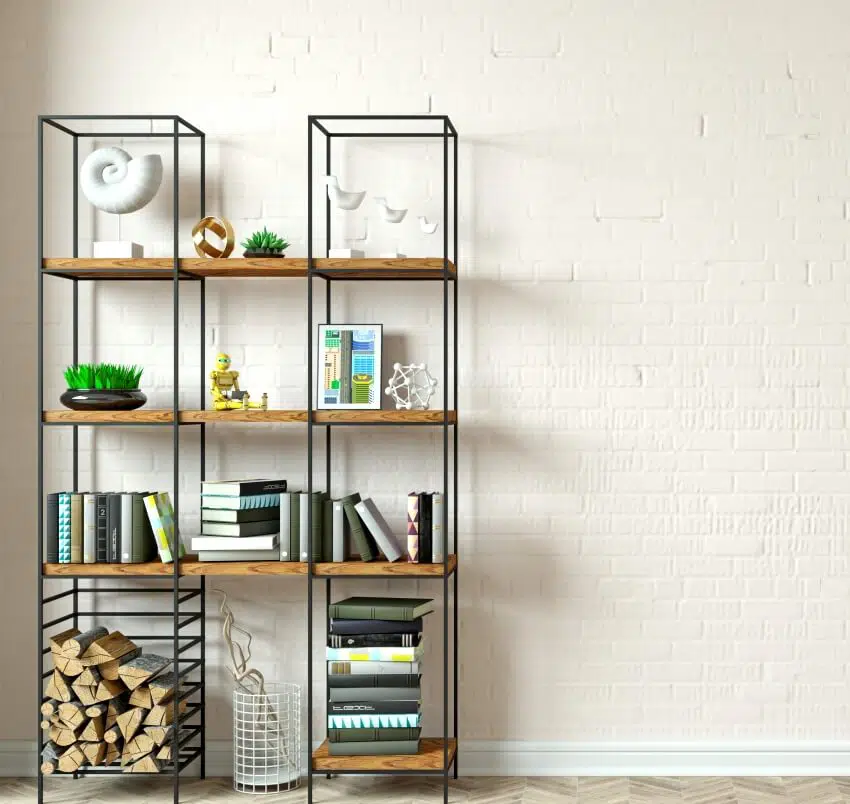 Adjustable bookcases are very similar to rectangular bookshelves but the only difference is that the shelves can be adjusted in varying heights.
It's great for when you have books that vary greatly in height or for when you want to have plaques, trophies, and other things on there that might require a considerable amount of height compared to your typical bookcase.
These types of bookshelves are also buildable, so if you want to customize your own and build it yourself or get it built for you; there are several ways to get it done with a little bit of handiness and creativity.
Revolving Bookcase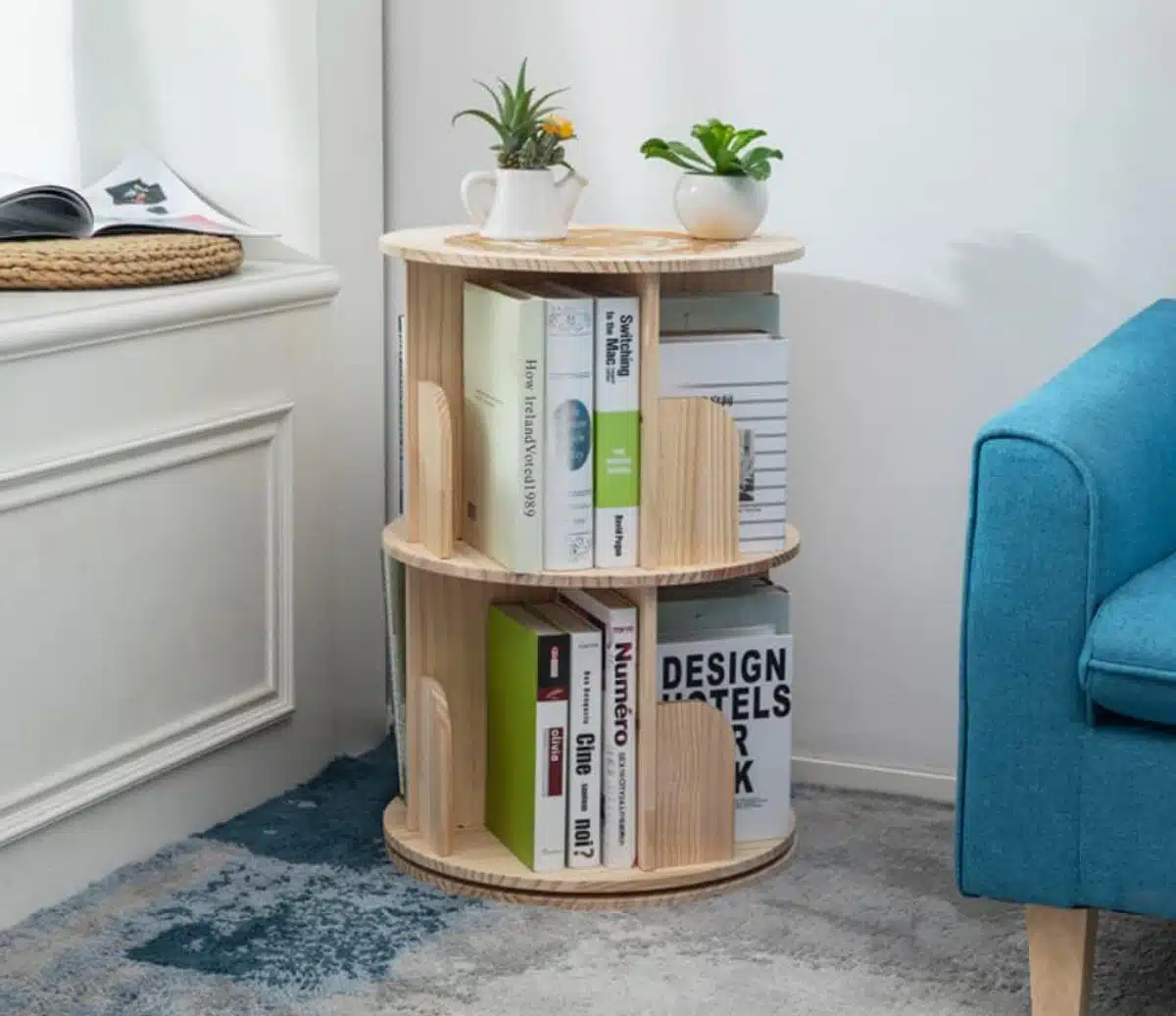 See this revolving book shelf at Amazon [sponsored link]
Stylish and functional, a revolving bookcase is basically a three-dimensional turnstile that generally has four sides where the shelves extend vertically and are mounted on a rotating central axis.
Basically, it functions like a carousel and usually operates on a lazy Susan bearing and ring thus, it is also called a rotating bookcase or carousel bookshelves. The revolving bookcase is typically made from wood, glass, metal, or plastic material.
Many bookcases have both fixed and adjustable shelves. Having one or two fixed shelves can add to the robustness, and including some adjustable shelves gives you flexibility in setting it up. – Woodworking For Dummies, Jeff Strong
The revolving bookcase is suitable for tight spaces where the shelves are vertically stacked, maximizing the unused floor-to-ceiling area. It's also an attractive bookcase for kids and teens, story books, or toys. The rotating bookcase comes in many sizes and designs. There are revolving models that come with adjustable heights and shelves, making them a versatile shelf option without sacrificing space.
Wall-mounted bookcase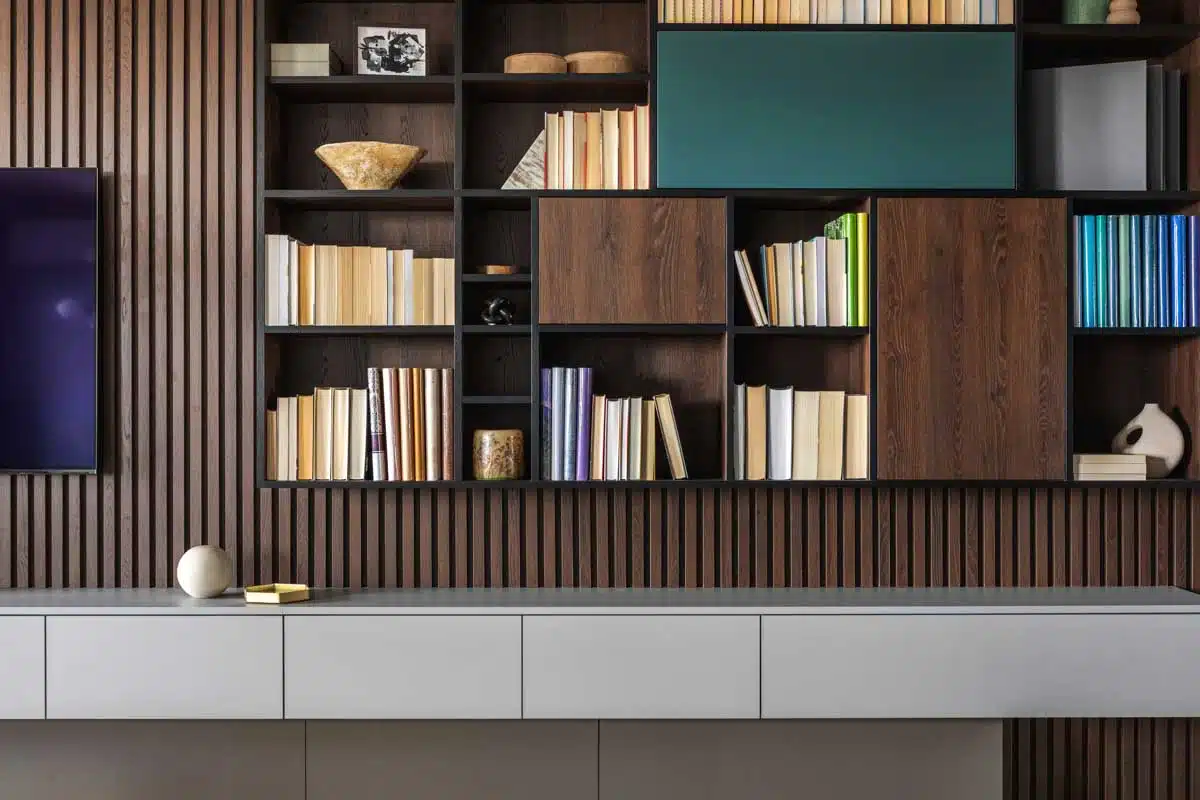 A wall-mounted bookcase is the most common type of bookshelf, often used to free up some floor space while serving as a decorative element for blank walls. As the term implies, a wall-mounted bookcase is fastened against a wall rather than having the base rest against the floor.
Wall-mounted bookcases or wall shelves can be bought preassembled or customized to fit one's preferences. There is a plethora of design options for the wall-mounted bookcase, but the most common are floating, ladder, corner, modular, built-in, and top-hung shelves.
Modern materials have also given way to lighter yet stronger installation systems where wall-mounted bookcases can be installed virtually on any wall material.
Common ways to install wall-mounted bookshelves:
• Angle brackets
• Screws
• Keyholes
• Cleats
• French Cleats
• Commercial-grade adhesive
Shelf pins are more modern-looking mounting hardware that is popular for glass shelves.
Floating Bookcase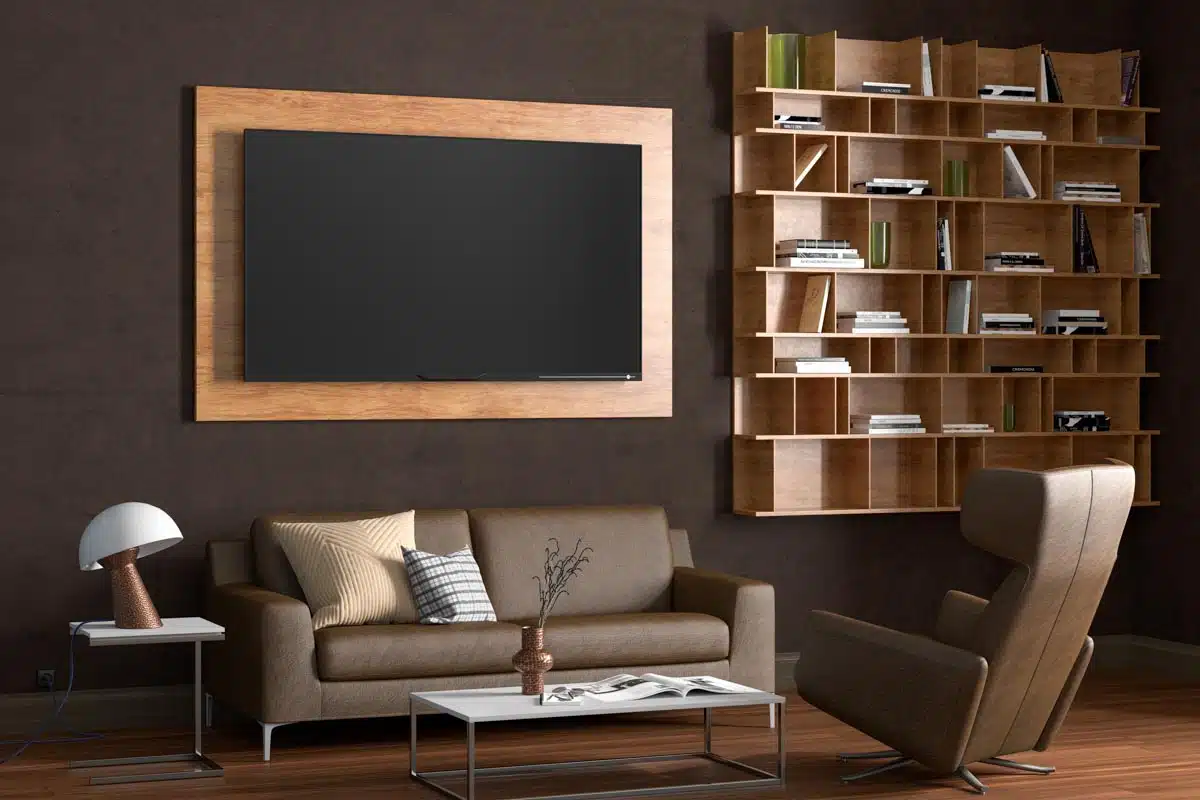 Also known as an invisible style, the floating bookcase is a type of wall-mounted storage unit where the hardware used to attach the shelves is out of sight, creating the illusion of floating shelves.
Due to the hidden hardware, it creates a sleek and clean look, making it suitable for modern and minimalistic interiors. Floating bookshelves also save space and make a space seem larger. Wooden cleats with expandable anchors such as molly anchors are a common way to fasten shelves without revealing the supports.
The minimal horizontal support of a floating shelf is likely to have weaker support compared to conventional wall-mounted shelves such as bracket hardware. Therefore, it is best to use light materials for shelves and place a lesser number of books or items on each shelf to lessen the weight.
Built-in Bookcase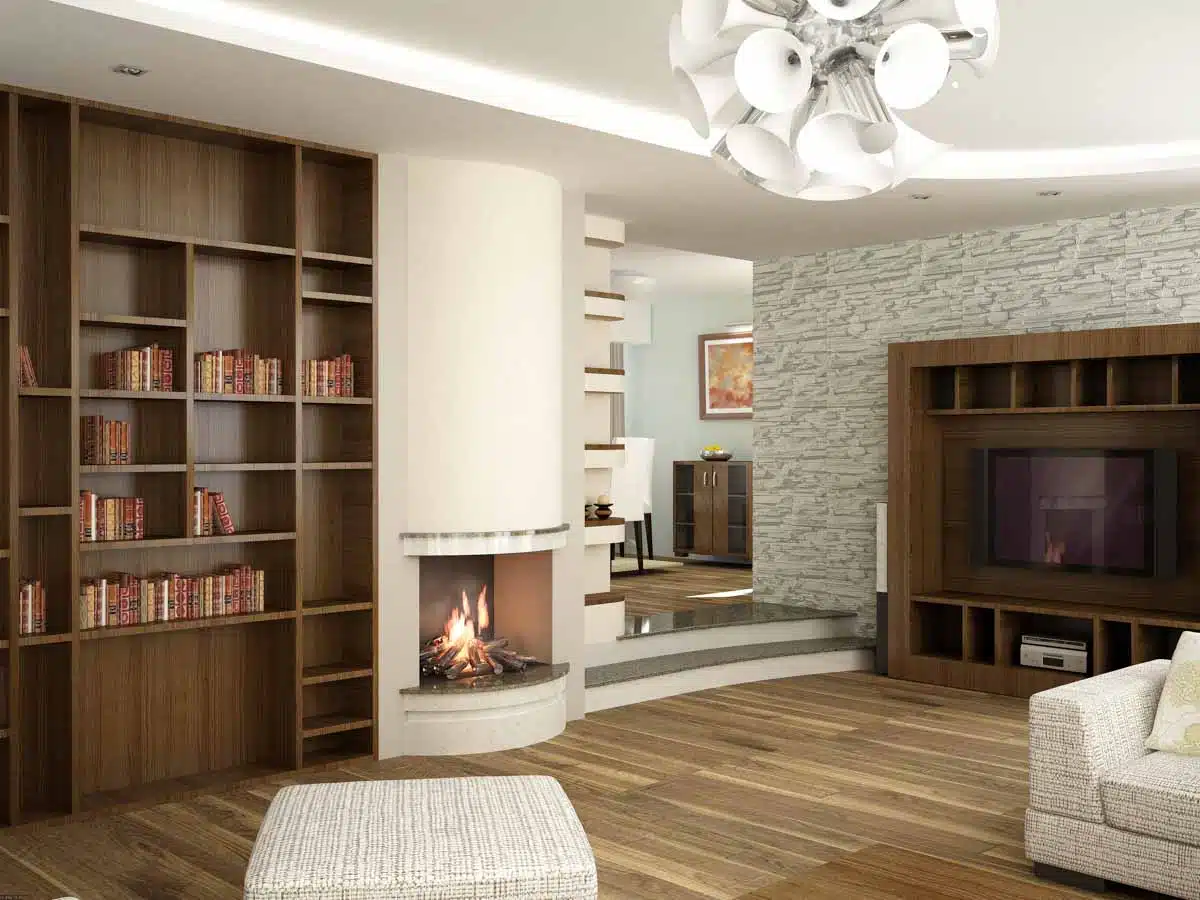 A built-in bookcase is a shelving unit that's built into or attached to the walls, floors, or ceilings of the house. Its design makes the storage unit practically a part of the structure and thus it can't be moved around.
Built-in bookcases are generally more expensive than moveable furniture since there is the added labor for installation and a venue for customization depending on an owner's desired aesthetic.
Along with other common built-in furniture such as kitchen cabinets or closets, built-in bookcases can be specified for a newly built home during the early stages of planning to truly maximize the available space.
There are many types of built-in bookcases, the most common being:
• Corner bookcases
• Built-in window seat bookcases
• Partition bookcases
• Recessed bookcases
• Alcove bookcases
Wood is the most common material for built-ins, along with other drywall materials, though glass and metal can also be used purely or in combination with wood.
Headboard Bookcase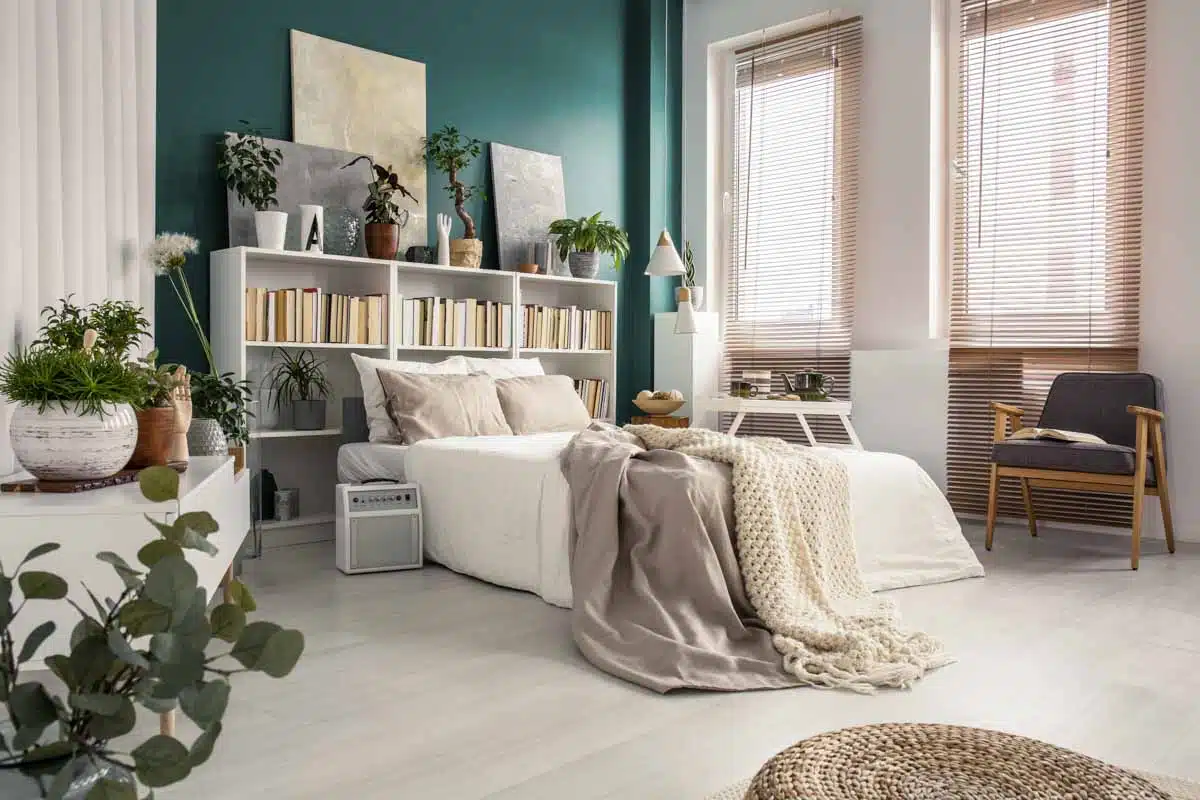 Using the available headboard space, a headboard bookcase can further elevate the look of the bedroom, drawing the eyes to the main furnishings of the interior. A headboard bookcase can be a one-level bookshelf with each end extending sideways to provide additional tiers, framing the head area of the bed.
Headboard bookcases are safer with a few levels, especially when located in earthquake-prone areas. By installing a storage system against the wall, the headboard cabinet shelving can also act as an added sound barrier.
Hidden Bookcase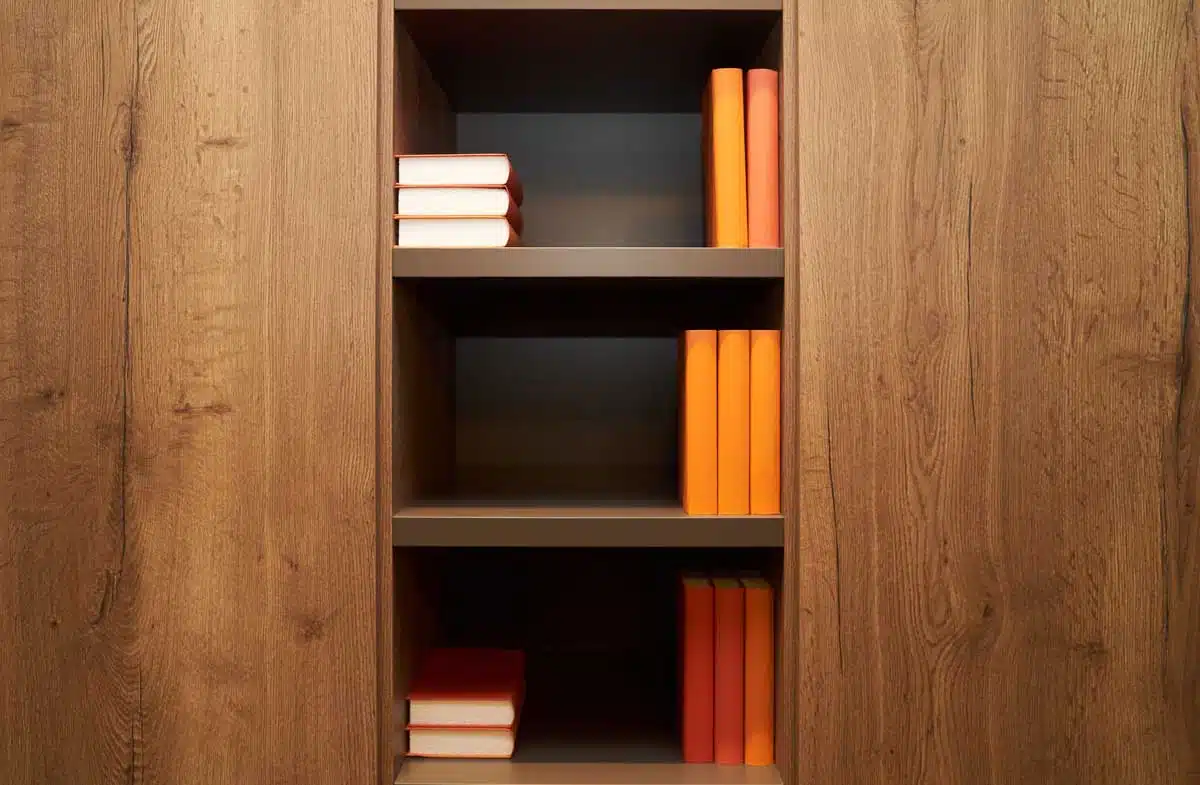 As the term implies, a hidden bookcase is intended to be concealed against the walls but can be accessed using a certain contraption to open the bookcase. Usually, hidden bookcases also serve as doors to another room or hallway that leads to another area of the house.
These styles are commonly seen in castles or Victorian mansions and serve as spaces where valuables are hidden. But as security systems improve through the centuries, hidden bookcases are no longer needed. Hidden bookcases are inherently associated with the mysterious, thanks to pop culture as seen in movies and literature.
Due to the complexity of its installation and the added mechanisms to have a concealed hidden bookcase, these designs are typically more expensive than conventional types such as a stand-alone variation.
Mobile Bookcase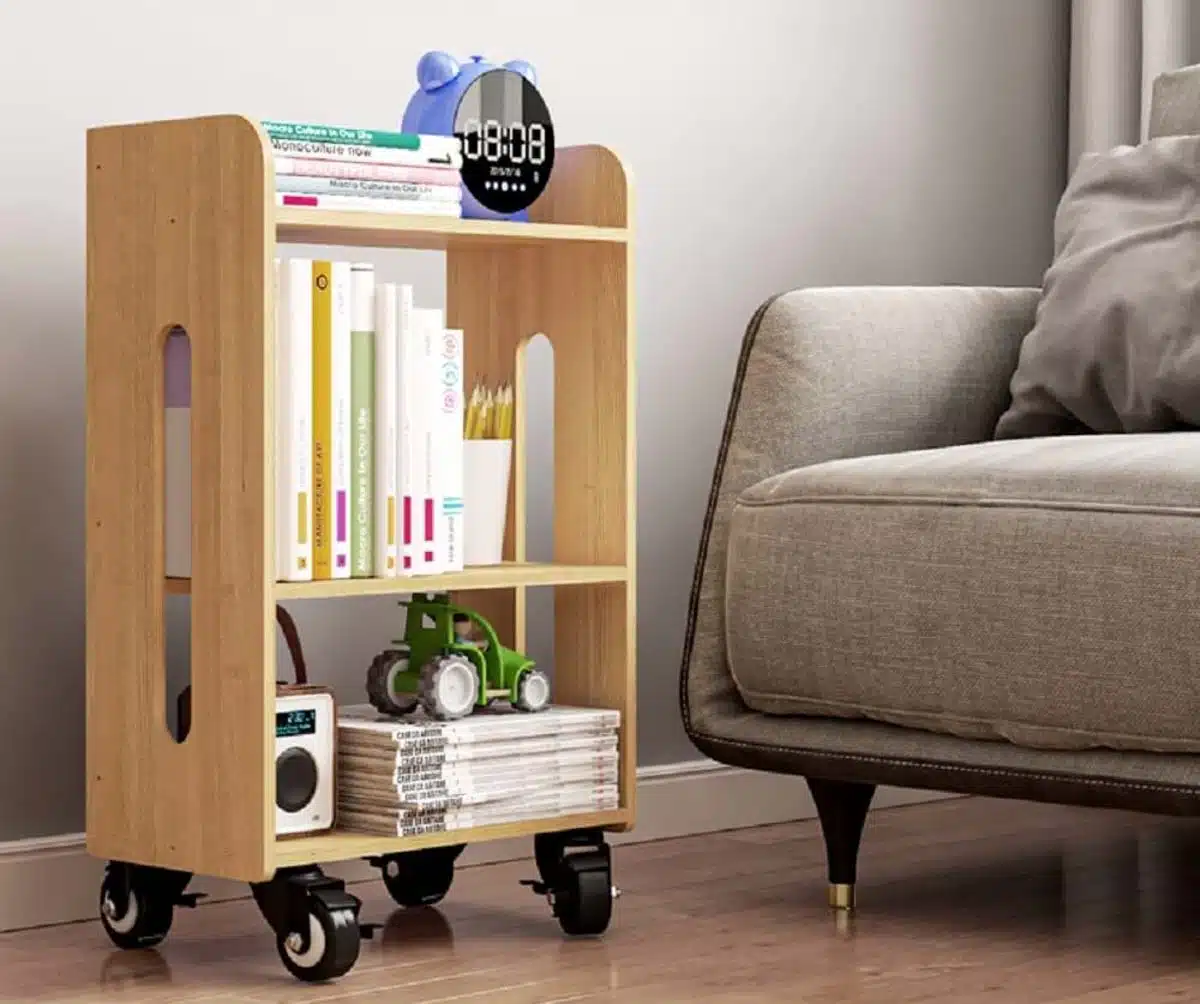 See this mobile bookcase at Amazon [sponsored link]
Usually used in educational settings, mobile bookcases can also be employed in residential homes, making it convenient to move around when rearranging furniture or during renovations. Mobile bookcases will have wheels affixed to the base or feet that can either be moved sideways or 360 degrees where caster wheels with stoppers are commonly used.
Folding Bookcase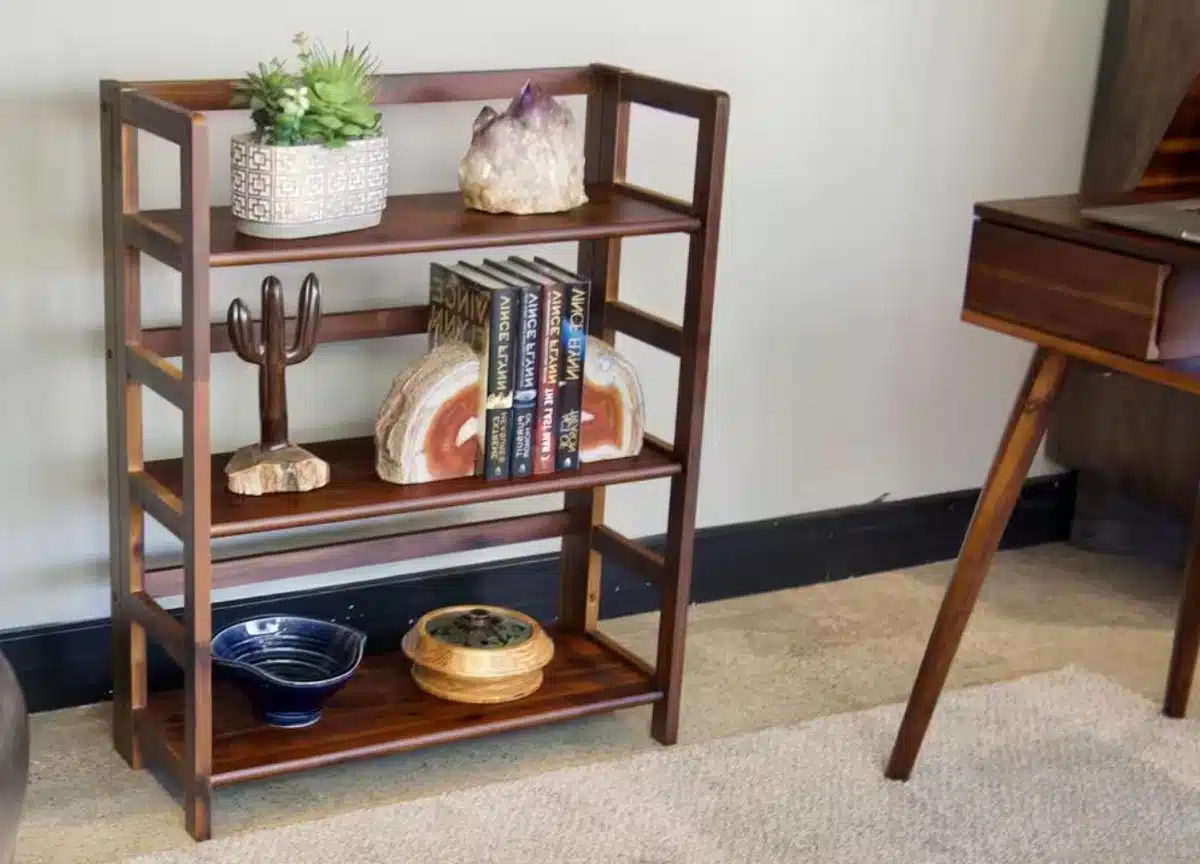 See this folding bookcase at Home Depot [sponsored link]
A useful bookcase for students or tenants, folding bookcases will have a frame that can be folded like an accordion or are collapsible to be stored or carried away easily. Folding bookcases are usually made of aluminum or wood.
Types of folding bookcases:
• A-frame folding

• Ladder folding

• Cube folding

• Stackable folding

• Folding wire unit
Cabinet Bookcase
Combining the functionality of a cabinet and that of a bookcase makes it a versatile piece of furniture that can store not only books but other related items such as office supplies. This saves space because there's no need to buy a separate cabinet. A cabinet bookcase also usually has a studier built since the cabinets become heavier at the lower part. Cabinet bookcases with detachable drawers are also available.
Types of cabinet bookcases:
• Traditional cabinet
• Modern cabinet

• Corner cabinet

• Barrister cabinet
• Hutch cabinet

Open-back Bookcase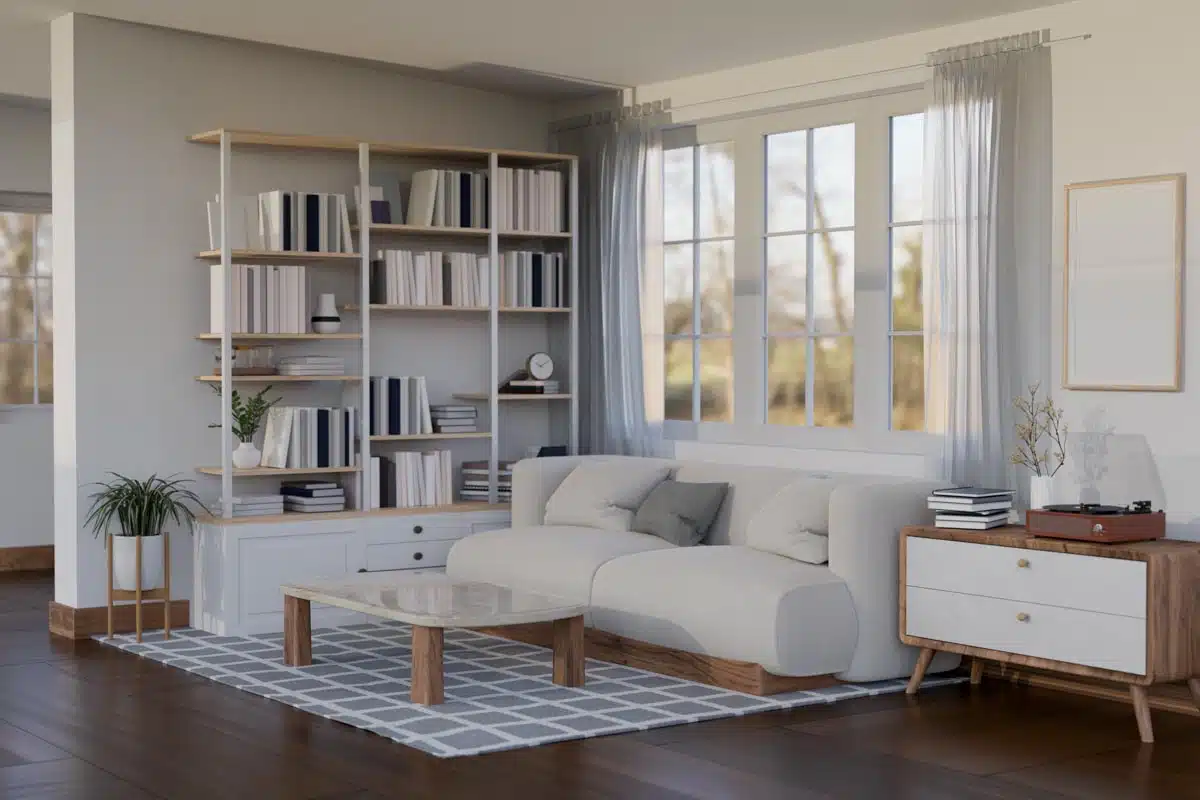 Bookcases are versatile and not only used to store books but can be used to showcase décor or collectibles. Since an open-back bookcase has the back open in contrast to the traditional bookshelf which has a back covering, the bookcase can be viewed from both sides. This is ideal for bookcases that function as room dividers.
Bookcase Frame Material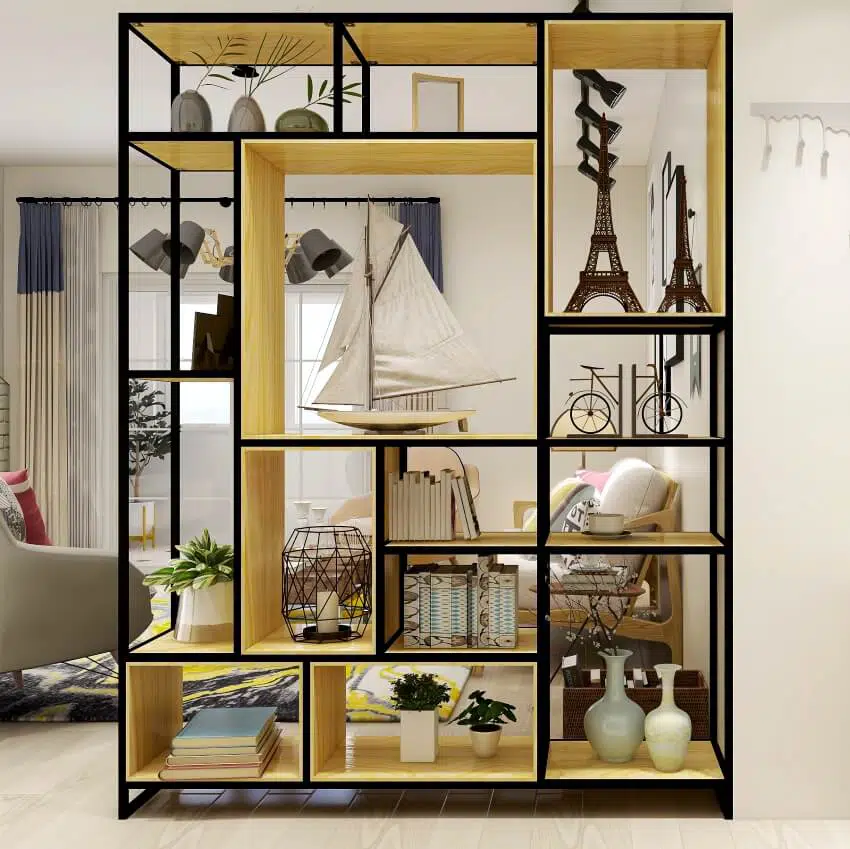 The kind of frame material you'll have for your bookcase is another important decision you must make when picking out a furniture piece.
Most bookcases are valued for the kind of material that they're made of which is why you need to keep this in mind to ensure that you're picking something that's suited for you and your tastes. Let's break the options down below.
Wood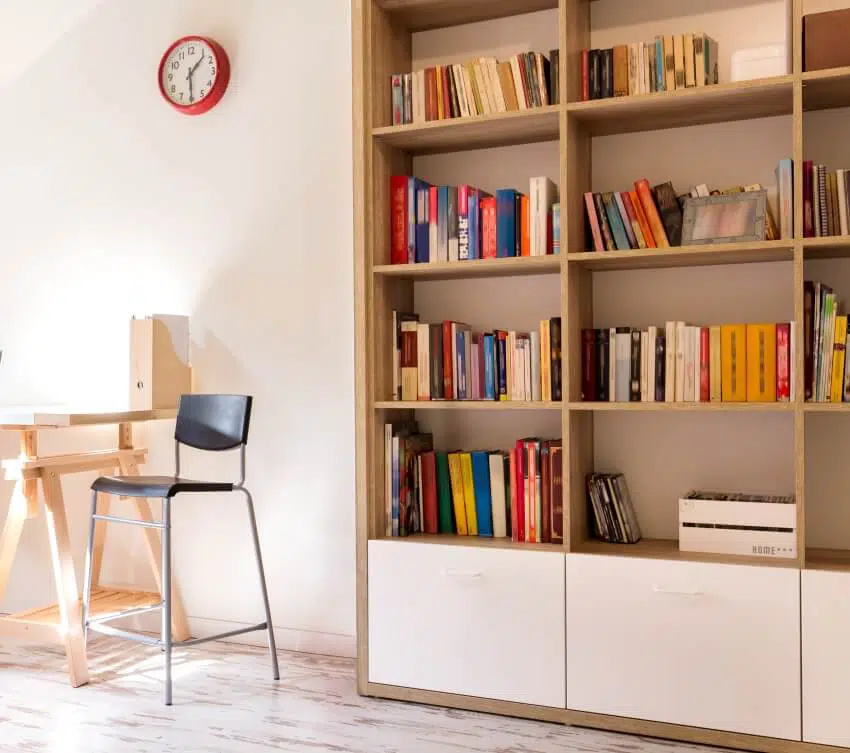 Wood frames found in bookcases are some of the most ubiquitous materials and go far beyond bookcases. They can be seen in all kinds of furniture pieces. So it only makes sense that the most common material bookcases are made out of would have to be wood.
It's classic and timeless, and what's great about wood as a bookcase material is its flexibility. Check out our guide to the best type of paint for wood furniture here.
It can be styled into any design or build, come in any stain and paint color imaginable, come in all sorts of finishes, or if you're into something more rugged, it can even come in with a bit of a rough finish.
Engineered Wood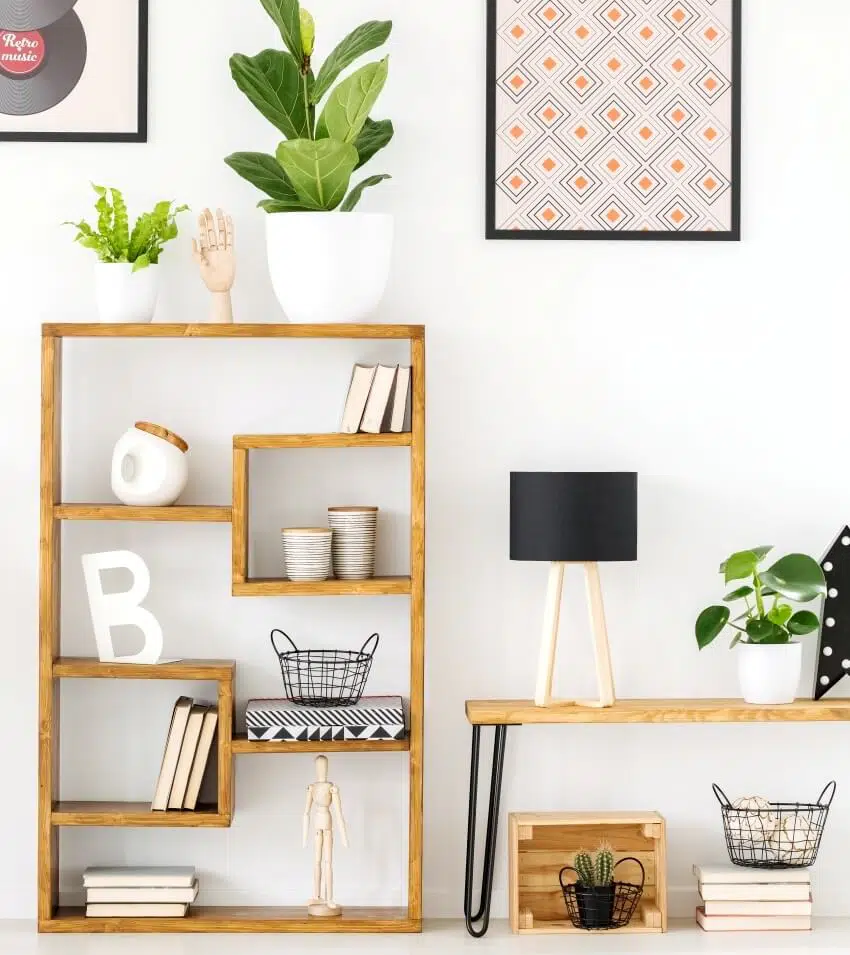 Engineered wood is a composite material that has been formed by combining fibers, particles, veneers, and other adhesives. There are various engineered wood types, from MDF boards to plywood, to particle boards, and so on.
They can come with surfaces that are enhanced with laminate layers, making them water-resistant and enabling them to last longer once they're turned into furniture.
The two main attractions of engineered wood for bookcases are its affordability and durability. They're quite suitable as furniture materials because they're built to resist moisture, a common enemy for furniture pieces.
They're easy to manufacture, which is why they're so affordable, and if you're trying to get something that will last you for a long time without stretching your budget, then engineered wood should be your go-to.
Laminate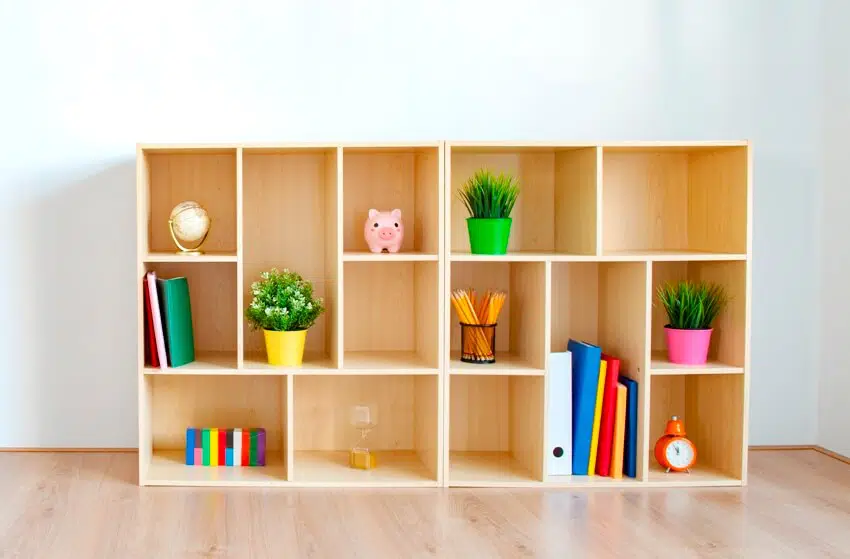 Laminate bookcases can be made from solid wood, composite, and engineered wood materials. They have a special layer of vinyl or plastic that gives your bookcase surfaces extra protection.
If there's one thing that you certainly wouldn't want on your bookcases, or on any of your furniture, for that matter, are spillages.
Laminates make it easy to keep them clean and in their top shape because you can easily wipe them up. They're also quite resistant to dings, stains, and other typical issues that are a problem to most furniture pieces.
Melamine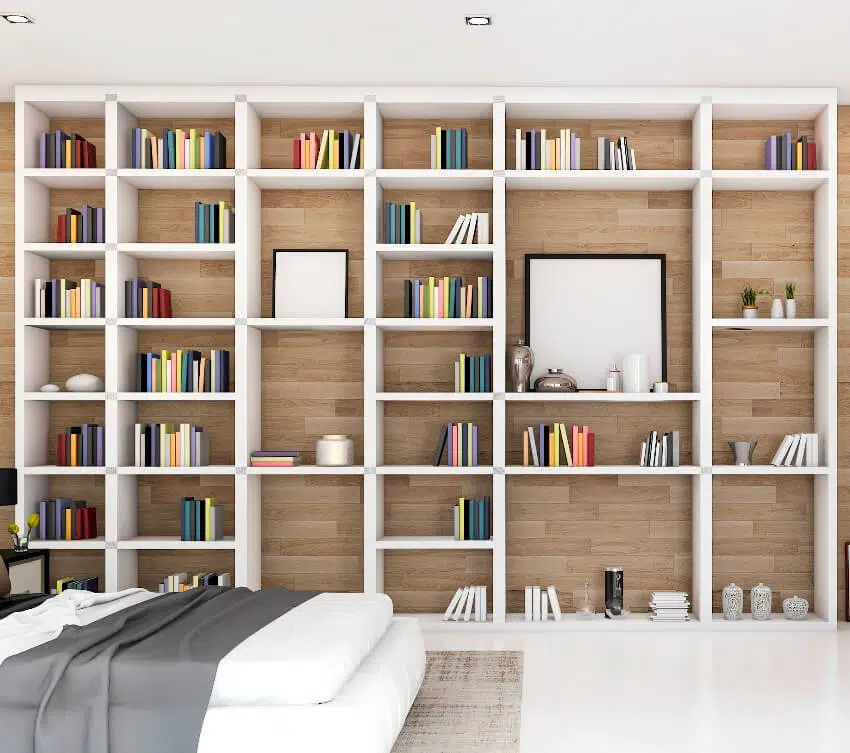 Melamine is a material made out of a specific type of particleboard coated with a thin layer of plastic finish. Melamine is a standard finish used as a laminate for kitchen countertops. It's just slightly different to the standard laminates because it isn't as thick.
Bookcases made of melamine as its main material come cheap and are straightforward to maintain and keep clean. They're also quite durable, so you rest assured that your investment will last long.
Melamine comes in a lot of different colors. Still, its most common one available is bright white, which is a neutral color, making it very easy to combine with the other colors and elements you plan to have in the room you're putting it in.
Metal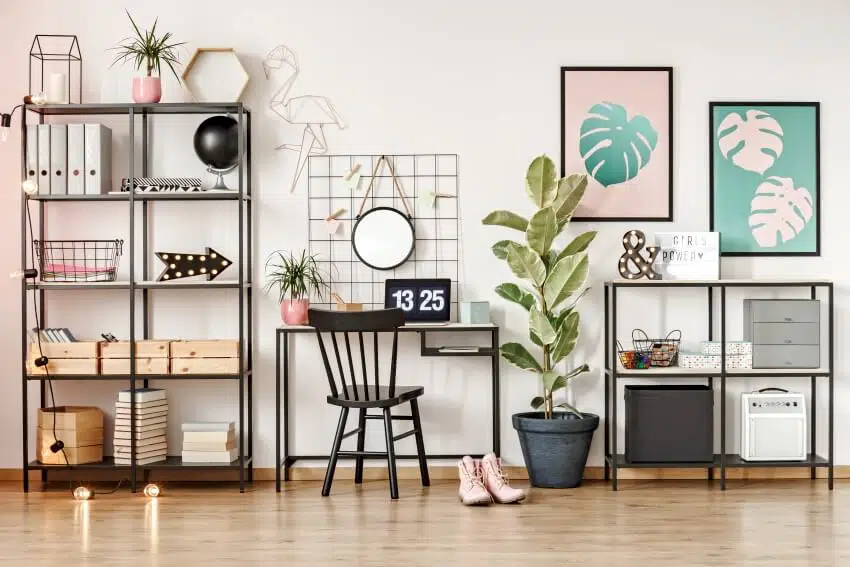 If you want something sturdy but at the same time lightweight, metal is the perfect material to have in mind. Bookcases made from metal are industrial, contemporary, and modern.
Metal can be easily structured into any design you can think of, and they're also less prone to rotting and other similar issues that more organic materials are prone to at times.
Another upside to metal types of bookcases is that they require very little maintenance, if any. They can keep your books and other showpieces safe because they're not attractive to termites and other pests, and on top of all that, they can be kept spic and span with nothing more than a good wipe.
Glass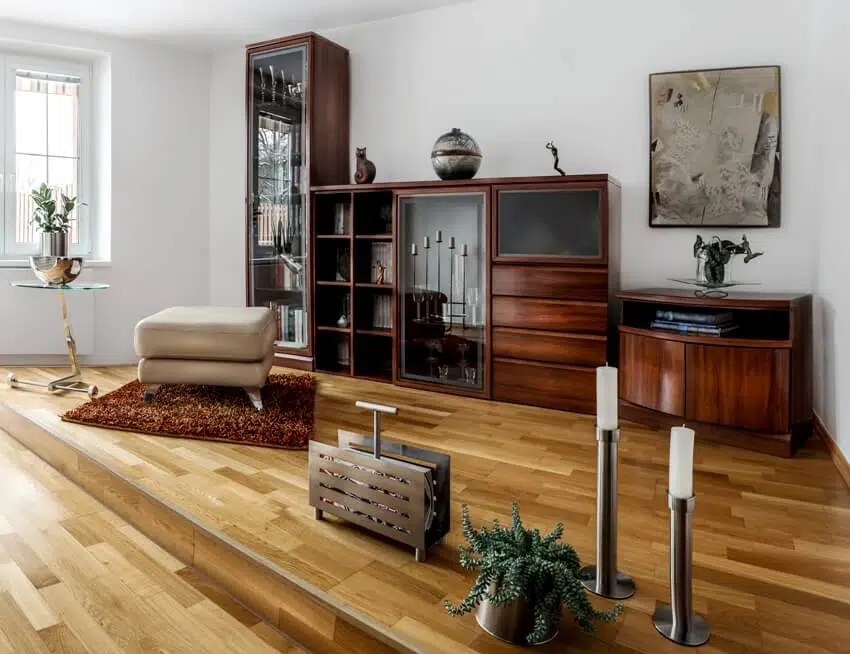 Glass bookcases very seldom come in as pure glass as glass can at times, be fragile and breakable. For bookcases, it's common to see glass shelves combined with sturdier wood or metal frames.
Having these types of bookcases in your space can create an illusion of airiness and openness. If you have a slightly smaller space and are worried that extra furniture might make it feel crowded. A bookcase that's made out of glass can be an easy solution to get you out of that overcrowding dilemma.
Bookcase Styles
The last major decision you'll be making when deciding what the perfect bookcase is for your space is the style. Here are the most common bookcase styles available and the merits that come along with them.
Traditional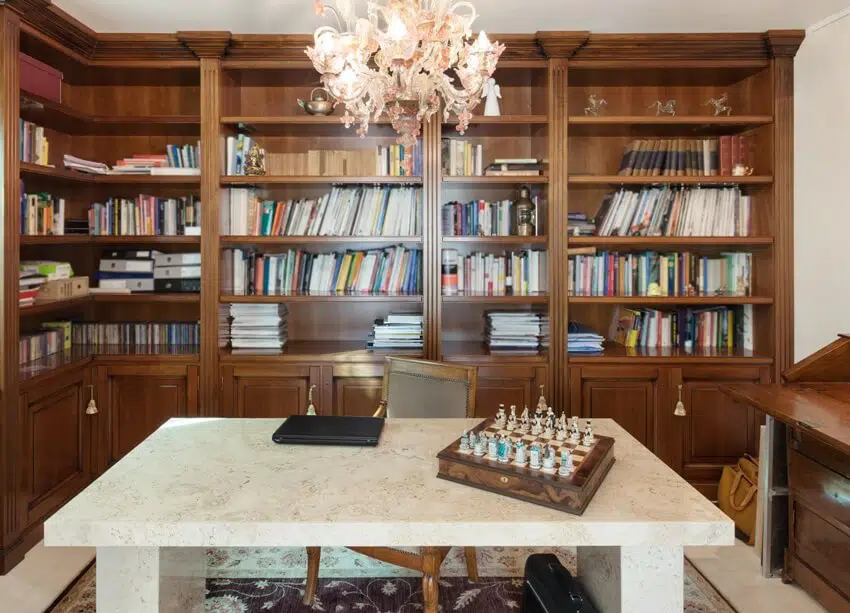 A traditional bookcase style is a kind that you've probably seen growing up in your parents or grandparents' homes. Although this style has been around for quite a while and is quite basic, it serves its purpose well.
A traditional bookcase would most likely be made entirely out of wood and will have the standard measurements of the shelves being 32 to 84 inches high.
They're bigger than the typical modern bookcases you see these days but make for impressive pieces, especially for homes with bigger spaces to accommodate them.
Contemporary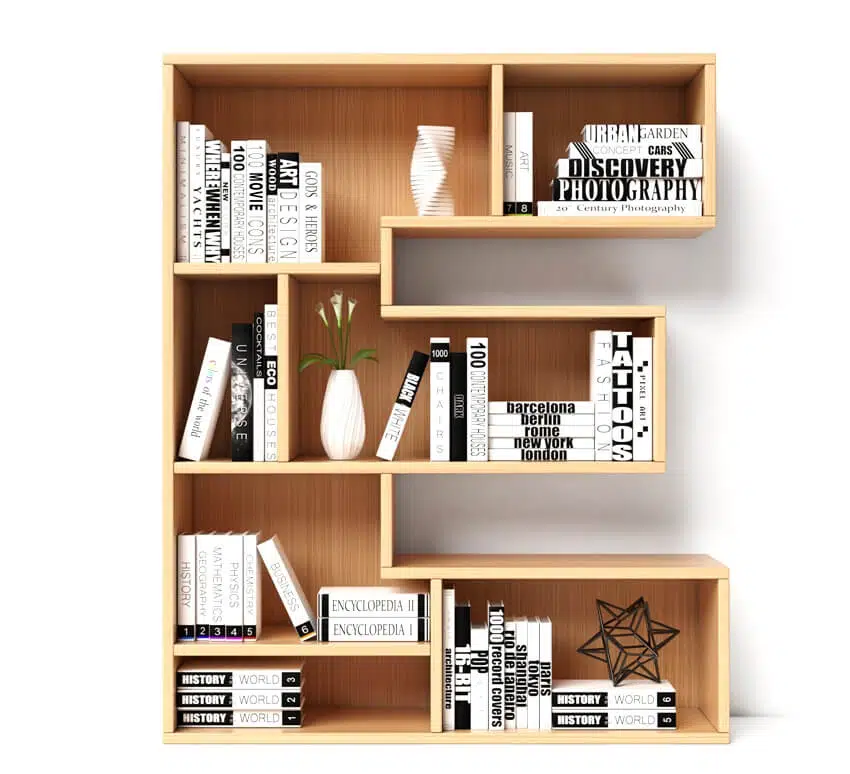 Contemporary bookcases usually embrace minimalism, and their colors are neutral, such as beige, white, and gray.
Bookcases in this style are usually very sleek and have somewhat intentionally hidden aesthetics that don't shine through right away until you pay attention to them.
This type of vibe has a no-nonsense approach to aesthetics and makes you feel like everything should be in its place.
It's a very Spartan and highly functional approach to organizing your books and other things you might consider displaying in your bookcase.
Modern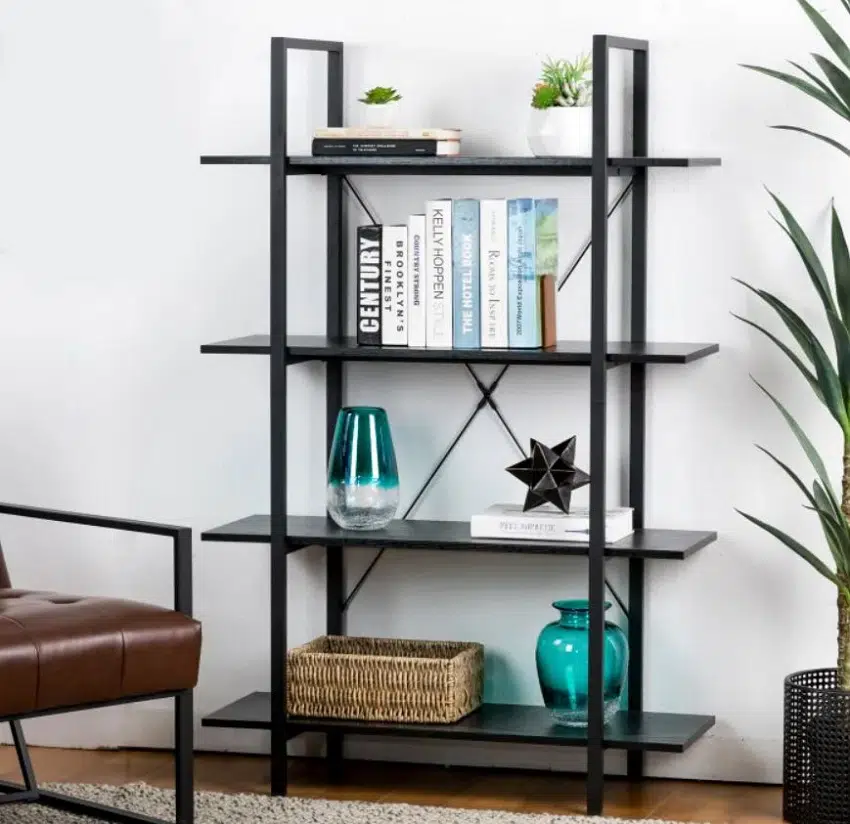 See this modern industry 4-tier metal and wooden bookcase at Pier 1 [sponsored link]
Modern and contemporary are usually loosely interchanged terms, but the main point of difference is that a modern-styled bookcase celebrates the use of more natural and organic materials such as wood and other similar materials.
It usually makes use of earthier and warmer colors as well. Its main point is that it eliminates all sense of unnecessary detailing and strips the design down to its functional basics.
Farmhouse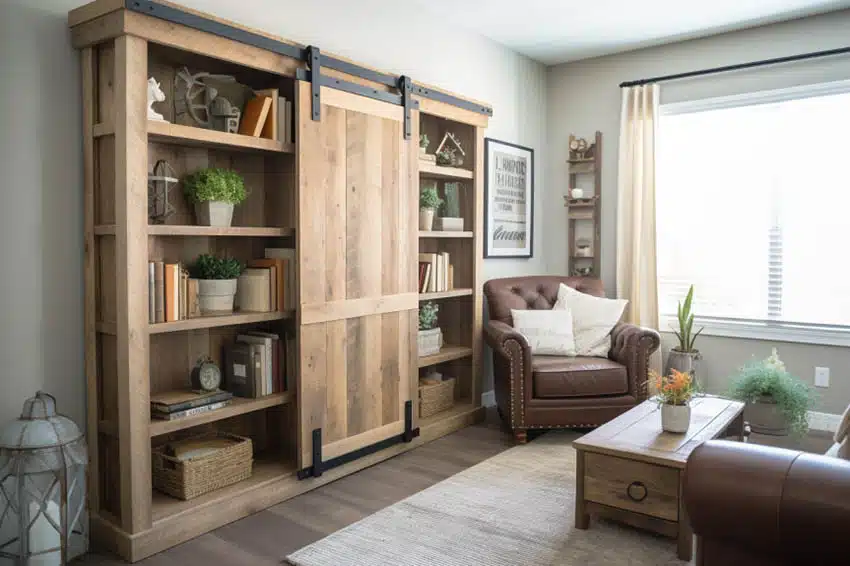 A farmhouse-styled bookcase is characterized by its homey and cozy take on aesthetics. It's something that looks relaxed and laid back and also very comfortable.
Its style origins are inspired by country living. It usually capitalizes on natural textures and materials such as galvanized steel, wood, and materials made out of natural fibers.
Rustic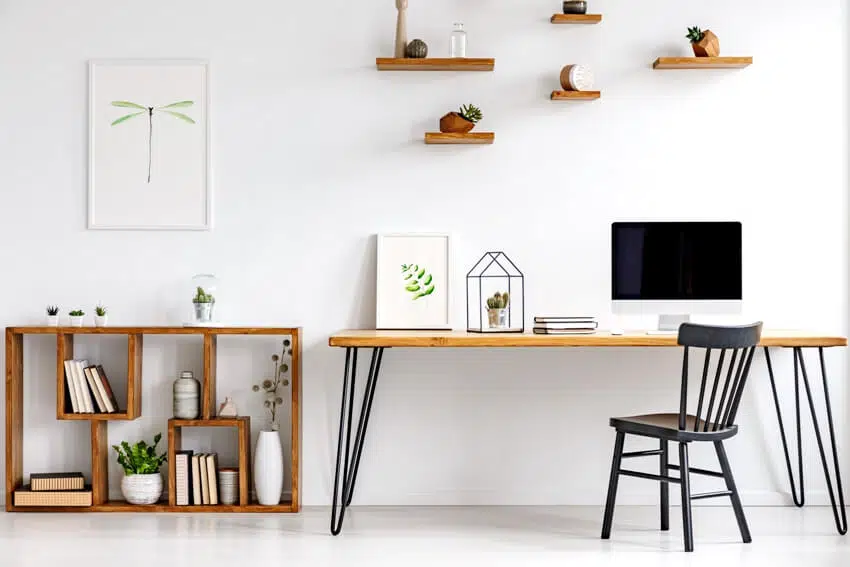 Rustic-styled bookcases are very similar to the farmhouse style, but they stand out because of their rugged, shabby-chic appeal. There are times wherein farmhouse design can also be categorized as rustic.
The terms are used interchangeably at times. Rustic types of bookcases feel very simple and unpretentious, and they use a lot of natural materials, especially distressed wood and metal.
Industrial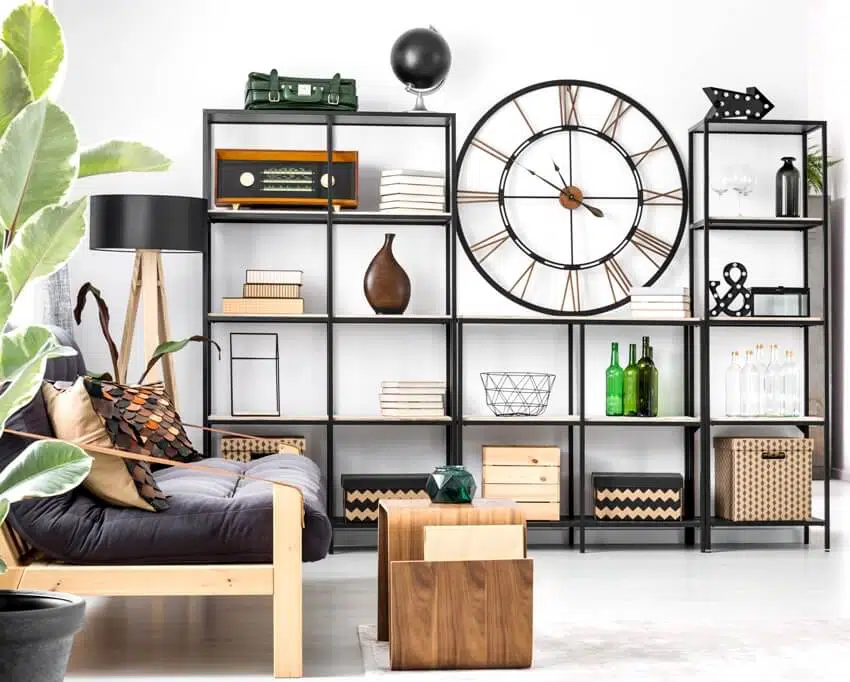 Industrial bookcases usually make use of raw materials with rough finishes, wrought iron frames, and other rugged but charming materials. They're perfect if you're into something understated but still elegant nonetheless.
It combines a rustic design with something contemporary and modern. It's a type of aesthetic that's both sturdy, and masculine, yet still somehow upscale.
The great thing about industrial bookcases is that they can come in all heights and sizes, depending on the space you're working with. You can go with something more compact if you have a small space.
You can go with bigger types ofl bookcases if you have a reasonably large space. Industrial bookcases also come with open shelves, making them perfect for showcasing books and other decorative items you want to show off in a space.
They make for great conversation starters, especially when strategically placed in entryways, living rooms, or even in more private spaces such as your office, den, or living room. It speaks style, personality, and a lot of substance into the space you're decorating.
How To Choose A Bookcase
There are a lot of elements you need to consider when you're in the process of choosing types of bookcases for any room in your home or office. Here are some of the fine points to take note of before you go ahead with a purchase:
Size: You need to measure out the floor space and the height you're looking for in a bookcase size. This will help you narrow your options when drowning in so many options.
It would also be wise to measure the shelf space to ensure they provide for your shelving needs. If you are storing different books, novels, textbooks you may want to measure their height to ensure they fit. The same goes for any container, bins or boxes you may be storing on the book shelf.

Design: The next thing you must consider is how well it will fit in with the rest of the other design elements in your space.
The last thing you want is a book rack that sticks out like a sore thumb. You would want to go with a design that complements the rest of your space, not contradict it. If you're furnishing your office, check our guide of home office built in ideas here.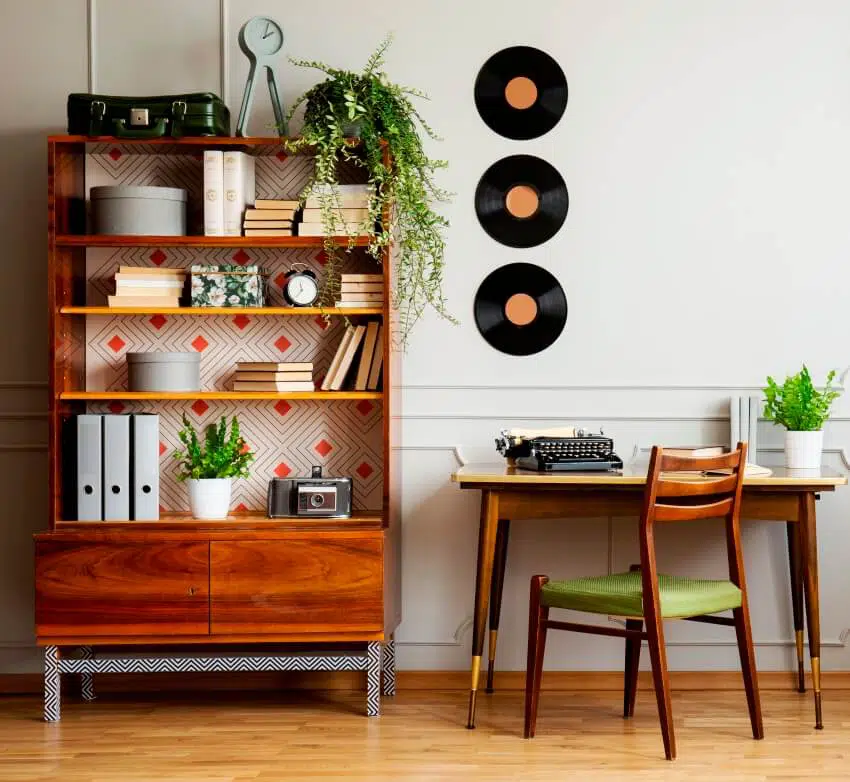 Style: It would help if you also considered the style that you're going for. This ties in with your décor and the vibe you want to achieve for your bookcase.
If you're looking for alternative styles here are a couple of suggestions:
Arrange the books on the shelves vertically and horizontally, creating a designer appearance like you'd see ina magazine. If books fill more than one shelf, alternate the vertical and horizontal placement from shelf to shelf. – Linda Koopersmith, Beverly Hills Organizer's Home Organizing Bible

Wallpaper of paint the interiors of your bookshelves and, if you can afford to, the ceiling or an accent wall. – Celerie Kemble, designer – 1,000 Design Ideas for Every Room in Your Home

Try grouping you books by colors. Pairing like color books together can create an interesting design right on your shelf. You can also remove the dustjackets to see if there are other color variations if needed. – Brooke Carson, decorator
Material: It's important to also look into what material you would like your bookcase to be made out of.
It all depends on the looks and the benefits that come along with them and what you would actually want to prioritize, whether it's the classic appeal of wood, the sturdiness of metal, the aesthetics of glass, the budget-friendly options of engineered wood, and so on.
Price: And of course, last but not least, you need to consider whether you can afford the bookcase you're considering or not.
Budget can weed out a lot of options for you, and it's important to go for something that gives you most, if not all, of the things you need without ever burning too big of a hole in your pockets.
For more types of bookcases and other related ideas, visit our gallery of built in bookshelves.