Here's our guide to bathroom half wall tile together with its pros and cons and shower tiling height recommendations to help you achieve the best bathroom aesthetic look.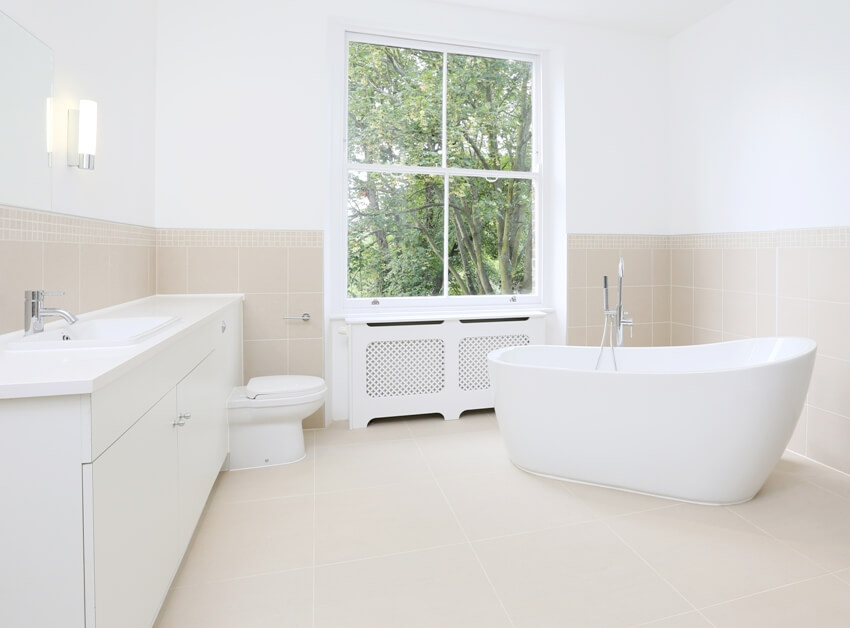 The most exciting part of designing a bathroom is choosing beautiful materials and colors of tiles to highlight to give your bathroom that luxurious look. A bathroom deserves to get a lot of attention when it comes to decorating and tiles are an essential element to the room's functionality and safety.
Installing an appropriate placement of shower wall tiles ensures adequate protection with an aesthetic appeal.
Incorporating a half wall tile is both practical and can be stylish at the same time. A half-tiled bathroom features tiling the areas that need waterproofing, such as inside the shower enclosures and around baths, toilets, and basins.
Other parts of the bathroom walls which aren't likely to come into contact with water can have other finishing material such as an ornate wallpaper or you can paint the walls with complementary neutral colors for a clean, modern aesthetic look.
Should You Tile Halfway Up Bathroom Wall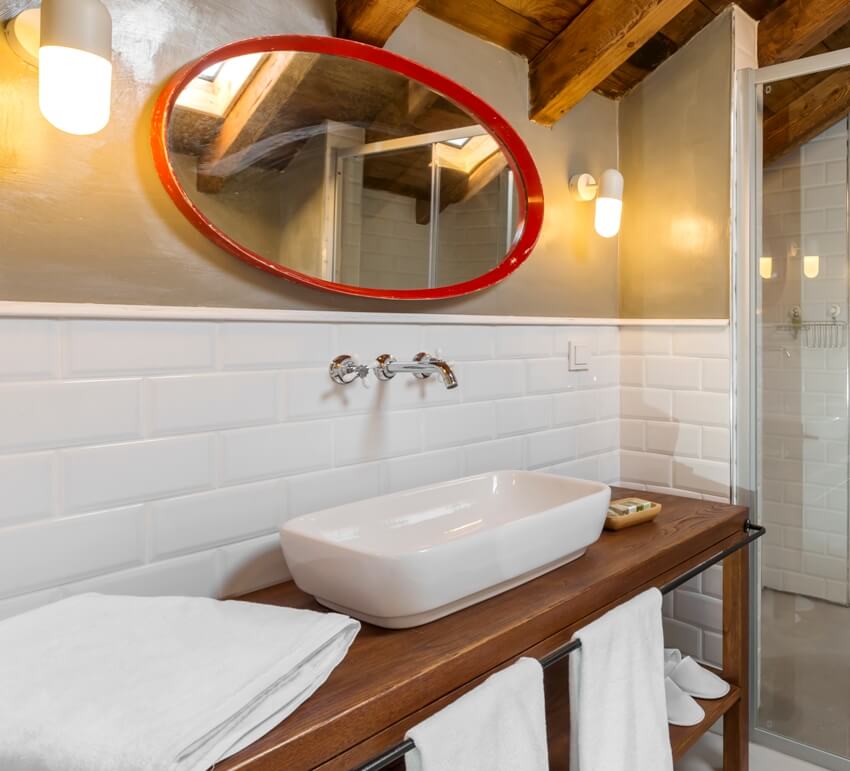 • A halfway tiled bathroom gives a lot more ways to decorate, personalize, and customize your private space by incorporating paint into the mix and add wall hangings and fixtures.
• Installing minimal tiles only in the splash zones above the sink and above the tub can create a very cohesive unit, and a very defined bathing area.
• Installing tile halfway up bathroom wall is an opportunity to use an unforeseen or different tile in normal locations in order to come up with a unique effect.
• Personalization for bathrooms is doing something ordinary in a way that isn't common; consider new ways in which the tile can be used without being repetitious.
Bathroom Half Wall Tile Pros And Cons
See bathroom half wall tile pros and cons below.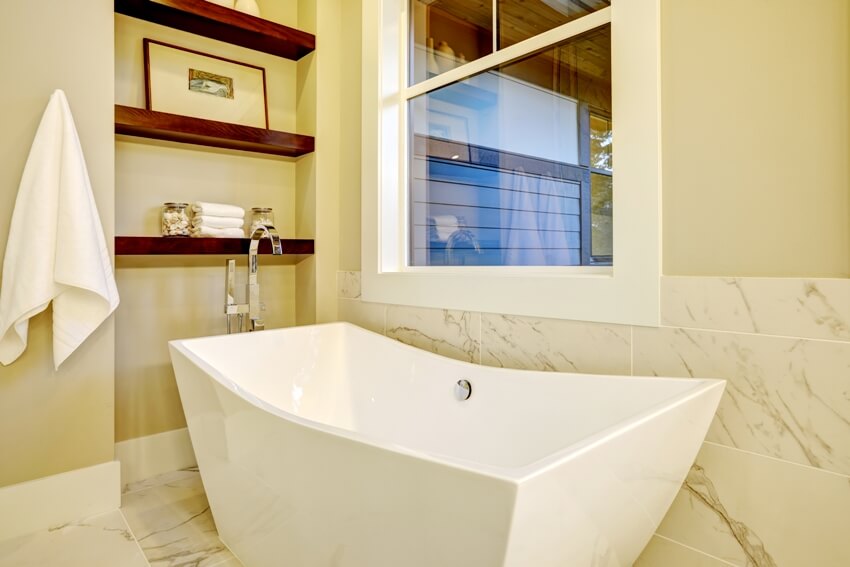 Half Tiled Bathroom Pros
If you are tiling half a section of your bathroom, this is an opportunity to show your personality with bold colors and striking designs or patterned designs of wall tiles that you can balance with a plain color for the non-tiled wall.
You may also use an accent color paint for the non-tiled wall and opt for a plain colored or neutral tile instead. See our guide on using accent wall colors here.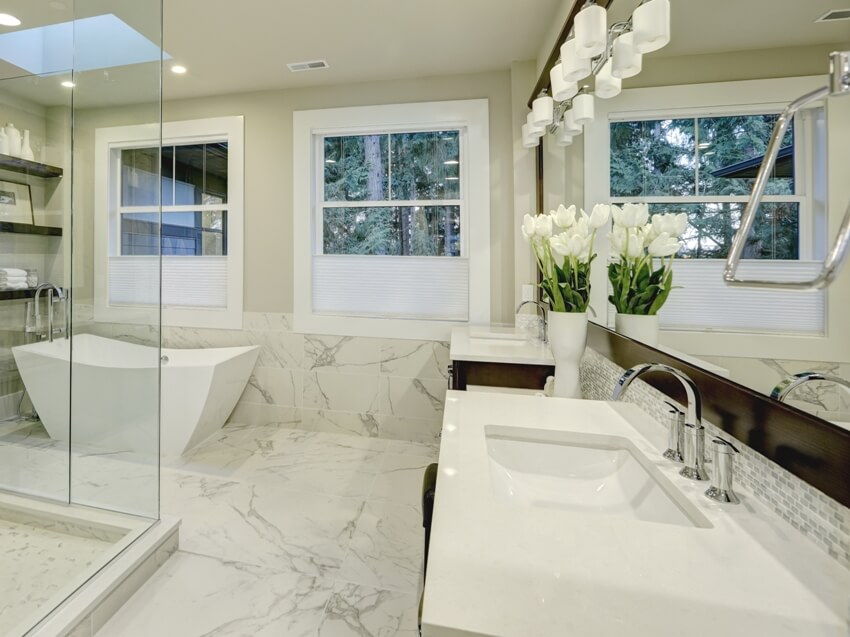 • Adds Depth – Half wall tiled bathroom adds depth and texture to your design scheme.
• Room Looks More Spacious – Combining tiles and painted bathroom walls can give an illusion of making small bathrooms look more spacious.
• Increase Value – Half tiling a bathroom can give it a luxury facelift and can also increase property value.
• Add Personality – Half wall tiles can become a statement feature for your bathroom.
• Lower Cost – The material cost of having a half-tiled bathroom is far lower compared to having a full-tiling bathroom. Thus, this will result in a budget-friendly option in terms of installing fewer tiles and reducing labor costs.
• Can Use More Expensive Tiles – Since there are less tiles required for a half wall tiled bathroom, you can have the privilege of choosing premium tiles as they cover a smaller area.
Half Tiled Bathroom Cons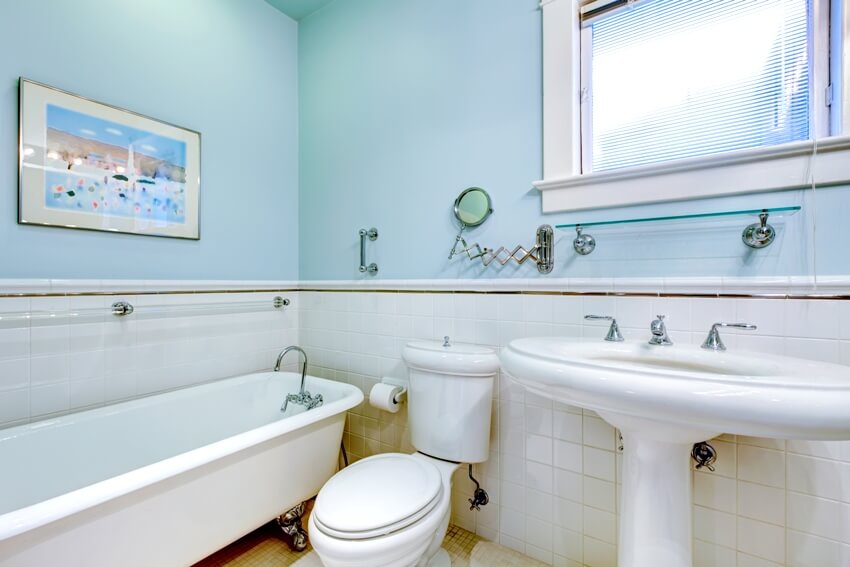 • May Require Waterproofing Exposed Walls – One downside for half wall tile bathrooms is that it leaves the non-tiled space open to elements such as unpleasant residue build-up or mold accumulating in damp spots. This requires you to use waterproof paint and install adequate bathroom heating and bathroom ventilation.
• Extra Costs – While it is cheaper to buy fewer tiles, you will need to consider the unforeseen cost towards the need to prep and decorating the blank space with paint or wallpaper. Read more about our tips for matching bathroom paint colors with beige tile.
• Extra Labor – Skirting boards will be required and an increase in the labor cost that goes with installation.
How High Should Tile Be On A Bathroom Wall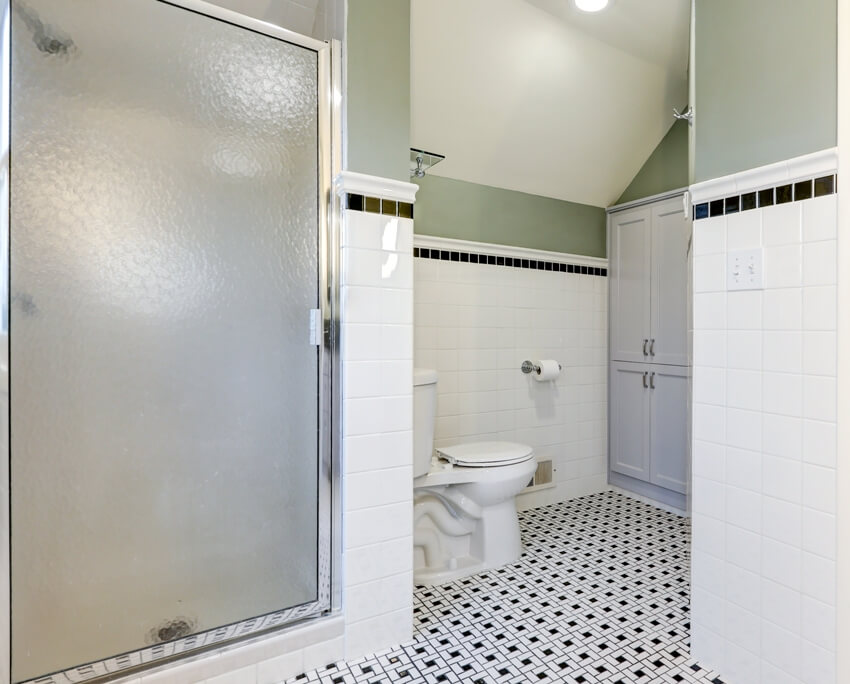 Installing tiles on bathroom walls will always come down to your own personal preference. Opting for a half wall tile coverage, we suggest a height of around 35 to 36 inches being the average height.
Wainscotting is one type of a classic border integrated with a decorative trim or a bullnose edge finish on top. This classic design feature is usually between 34 to 54 inches high, creating a traditional aesthetic appeal.
You may also want to opt for a contemporary wainscoting, usually with a top border that is squared-off with a glazed edge and blended in a plain paint finish.
If you are incorporating a border, the height for borders depends on the kind of effect you wish to achieve in your bathroom.
Avoid placing the border along the middle of the bathroom, instead position the border in the top third of the room, at an eye level or in the bottom third of the room.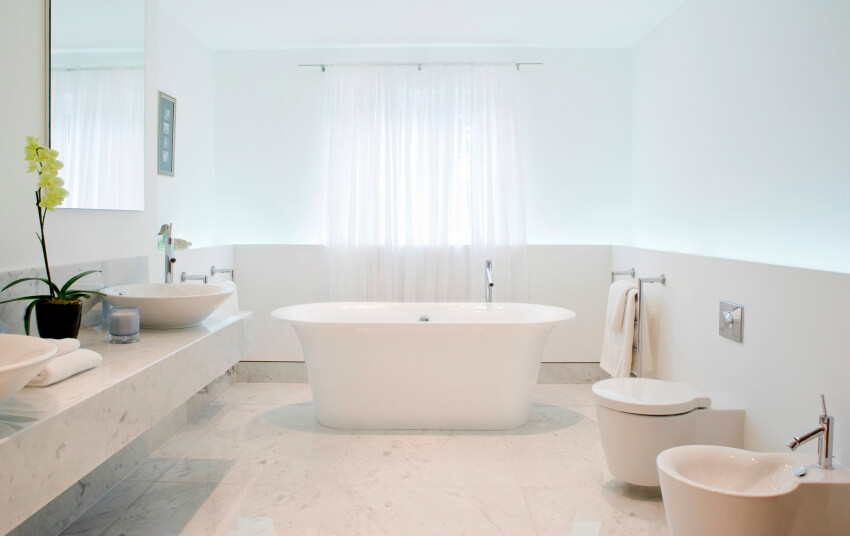 Tile baseboard height consists of a "tile baseboard" and it is the first level of wall tile which provides some protection when mopping and reduces mold growth.
These tiles can be designed with a special bull-nosed type tiles with a finished edge or it can be simply made out of cut tiles from the basic floor tiles which is about 4 inches in height. See bathroom floor tile ideas here.
The backsplash goes along the height of the wall tile level that is installed at the back of the vanity and lavatory areas.
Typically, the wall tile at the backsplash level has the same height as the wainscot tiles and are also often topped with specialty tiles or moldings. This level of wall tiles is often followed through the shower or tub areas.
Tile Shower With Half Wall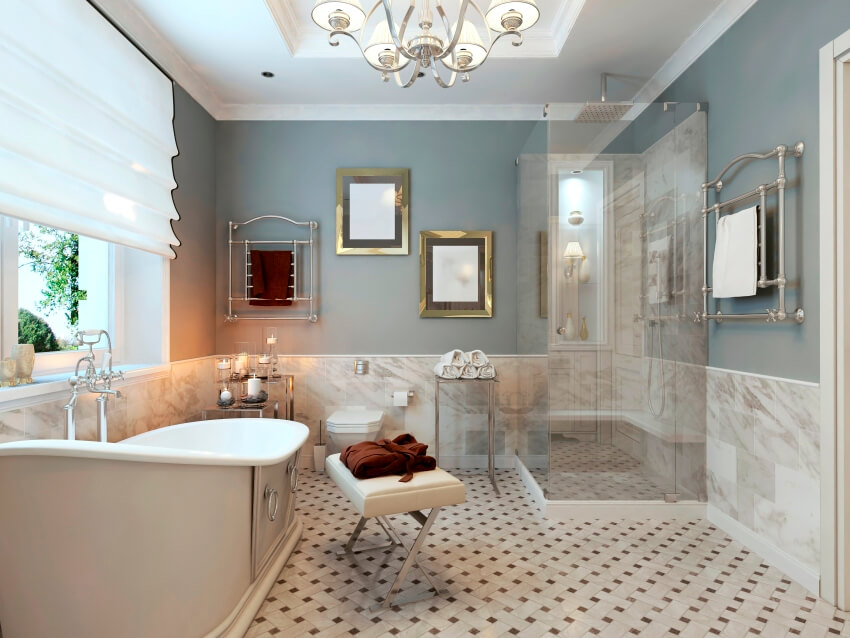 It is very important to remember that the height of your shower tiling can affect the aesthetic look of the bathroom. Significantly, it is essential that you are able to balance your bathroom's appeal and your wall's functionality.
Generally speaking, it is not recommended to go below three-fourths of the shower walls that need to be covered by wall tiles in order to keep water flowing into the drain and not seeping into the walls; the rest of the wall can be painted for a crisp, simple, and modern feel.
Local codes specify that if tile is your chosen method for covering the walls, then a minimum height of 6 feet above finished floor height is required for a compact waterproof wall covering within an enclosed shower.
Shower tiles should be approximately 4 to 6 inches above the shower head; to ensure safe construction, we advise this as the minimum height.
For more related ideas visit our gallery of popular types of bathroom tiles.