In this Carrara marble shower guide you'll see what it is, reasons why this material is good for showers, how it's used as tiles, and the best Carrara marble cleaning tips.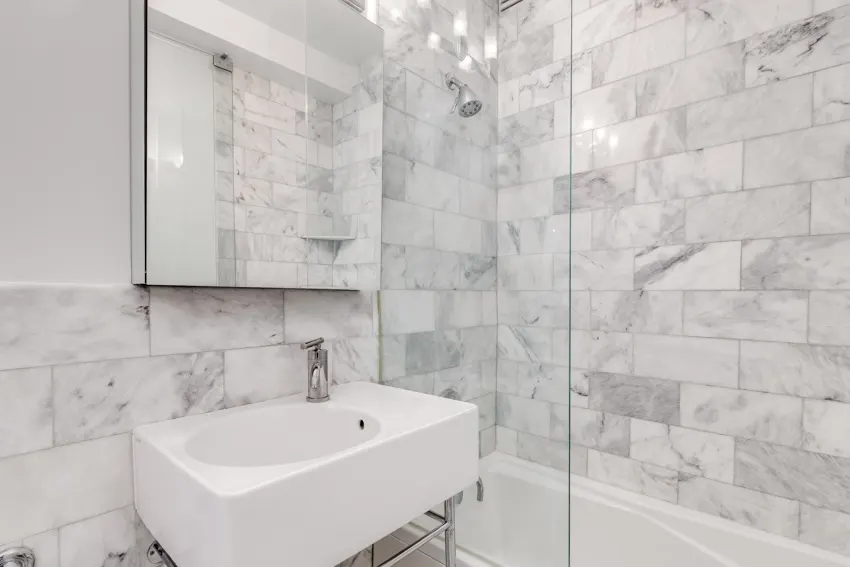 Marble is considered to be the most luxurious natural stone. Often a symbol of elegance and dignity, marble has been used to create exquisite classical monuments, structures, and art. When used in architecture and interior design, it gives out a royal and soothing vibe.
Although not often used for bathrooms, marble is one of the most ideal materials to use in shower walls and floors especially if you are aiming for a timeless feel in the space. With its subtle veining patterns and neutral colors, marble bathrooms can surely be an impressive feat in a home.
Below, we take a look at one of the most popular types of marble — the Carrara marble and how you can use it in your bathroom and shower. Read on to know why it makes a worthy investment for your home.
What Is Carrara Marble?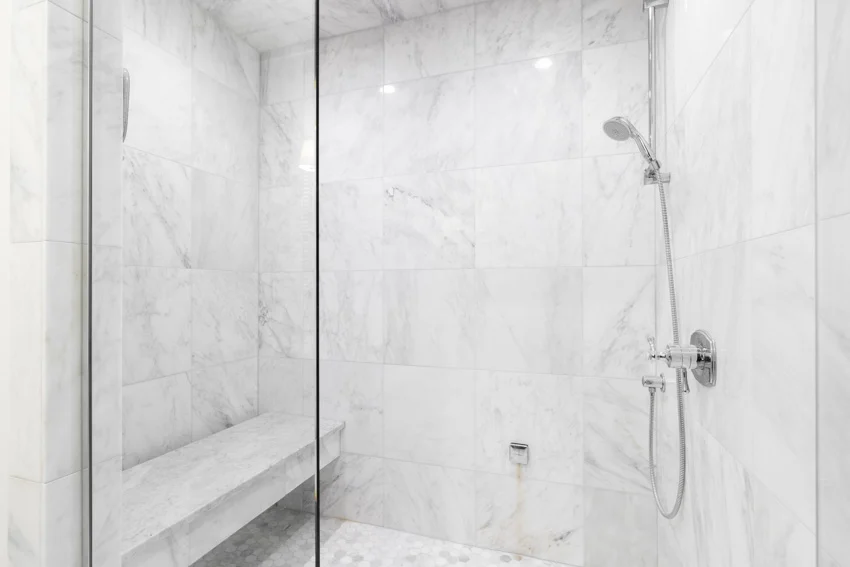 Carrara marble is the most popular type from Italy. This type of marble has a non-porous and dense character that makes it considerably more durable.
Carrara is a white marble that is extensively used in classical buildings and sculptures. It is characterized by a white, gray or bluish-gray color with small, fine soft to feathery gray linear veins.
Is Carrara Marble Good For Showers?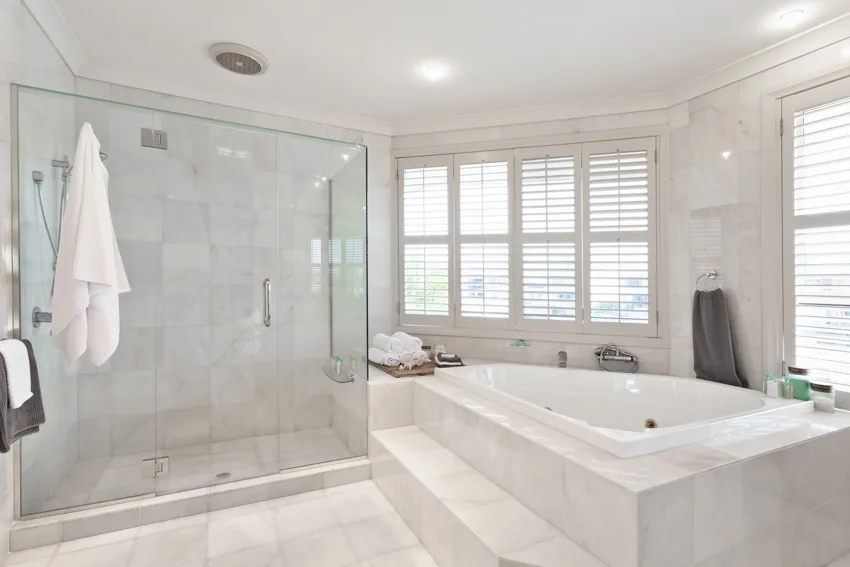 There are several reasons as to why Carrara marble makes a good material for a shower. Below are some of its advantages:
• Appearance: Perhaps one of the main reasons why you should give a Carrara marble shower a try is its classic and cosmopolitan appearance.
Most homeowners are drawn to its distinct, timeless natural beauty. The clean, crisp white color of Carrara marble together with its unique veining pattern can easily give a bathroom an alluring effect.
• Durability and Strength: Marble is formed when a limestone rock is heated to extreme temperatures causing minerals to grow larger and fuse together.
This process gives it its natural durability and makes it resistant to temperature and pressure. As a shower and bathroom material, Carrara marble is durable and can be used for years provided that it is properly sealed and maintained.
• Maintenance: Although Carrara marble showers require more maintenance compared to other materials, you only need simple materials like a soft marble cloth and mild soap detergent to care for it.
• Design flexibility: Can be used to create different looks from classic, retro to contemporary.
Carrara Marble Tile Shower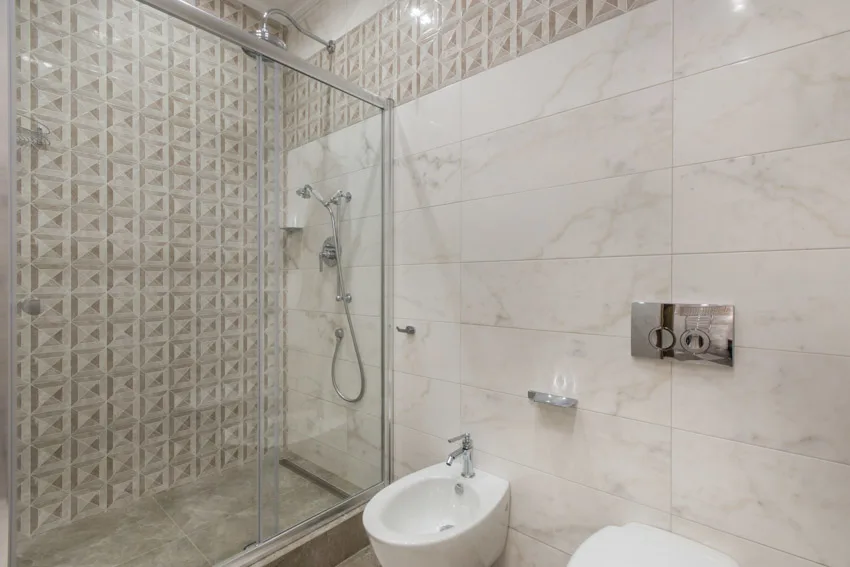 Carrara marble can be used in countless ways in a bathroom — from shower walls, panels, floors, and accents to marble bathroom countertops. It can be used in sections, integrated with other types of tiles as an accent, or to create unique patterns.

White marble like Carrara looks best when paired with most types of glass shower doors because it maintains the feeling of openness. As an accent, you can pair Carrara marble with stainless steel shower fixtures and faucets, however, if you want to create a more modern look, opt for contrasting black-colored shower fittings and faucet.
• Carrara marble tile shower walls: When used for walls, Carrara marble can instantly give a bathroom a bright, airy feel. White marble with soft veins creates an open aura, whether used in the half or full height of the wall.

To make the most of Carrara marble tile shower walls, compliment them with good lighting design. Also, polished marble is better for walls not only for its practical benefits but also for the unique aesthetics and visual effect that it renders in a space.

For walls, marble tiles which range from 12×12 inches to 16×16 inches can be used, depending on their proportionality to the size of the bathroom. Use with white grout for a more seamless look.

• Carrara marble shower floor: When used as a flooring material, white marble like Carrara can help make your bathroom look more spacious. Light colors create an illusion of space because they reflect light.
Opt for honed Carrara marble tiles for flooring because they lessen the risk of slipping. Unlike polished marble, honed marble creates more traction and is safer to use. See more floor tile ideas to use with Carrara marble here.

• Carrara marble shower panels: Carrara marble shovel panels are another option that can be used for the bathroom shower walls instead of tiles. These are easier to maintain and install because they do not require grouting.
With Carrara marble shovel panels, the look of the marble is the same but maintenance and cleaning time is less. It can be installed on either one wall or all three walls of the shower depending on the design, budget, and requirement. Shower panels are also a less expensive alternative.
Is Honed Or Polished Marble Better In The Shower?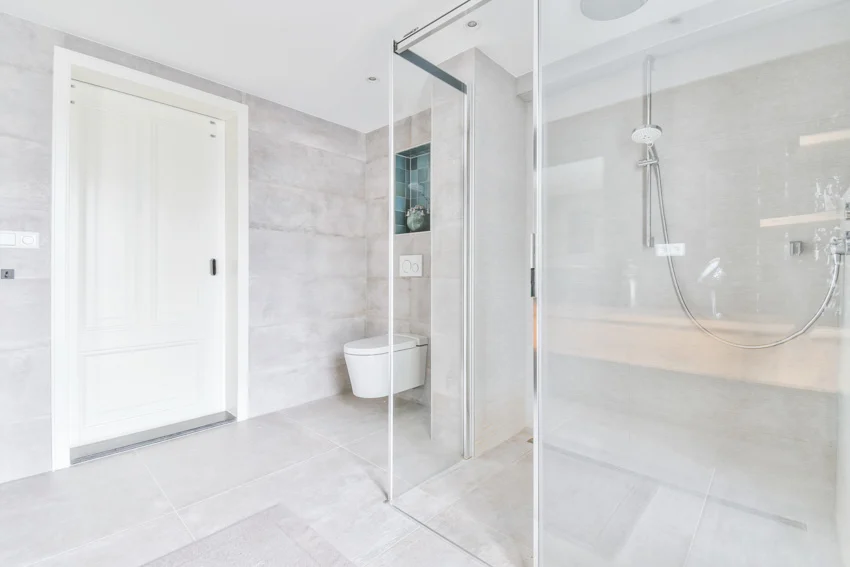 The type of marble finish that you use in a shower depends greatly on the application. For shower flooring, honed marble is a much safer option because it is non-slip. However, it still needs to be sealed to help preserve the natural color and beauty of the stone.

For the shower walls, polished marble is better because it absorbs less water. Honing makes the marble more porous which allows for the absorption of water and spills. If something is spilled on it, the surface needs to be cleared right away to prevent stains.

The bottom line is, regardless of whether you're mulling over honed vs polished marble, it needs to be sealed especially if it is being used in a wet area like a shower.
​​​How To Clean Carrara Marble Tile Shower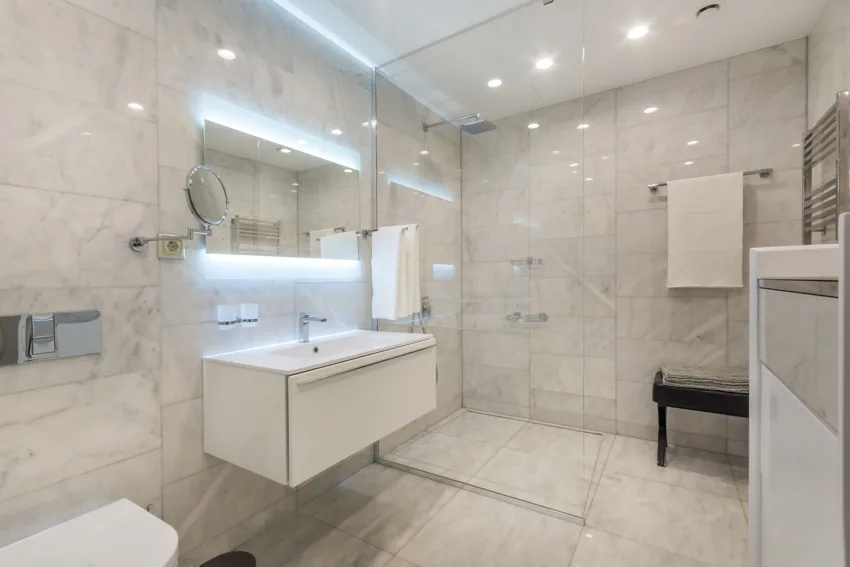 Maintaining Carrara marble showers need to be carefully done because it is made with a calcium stone With the right tools and equipment, your bathroom can stay in pristine condition, provided that it is properly cared for daily.
How Often To Clean A Marble Shower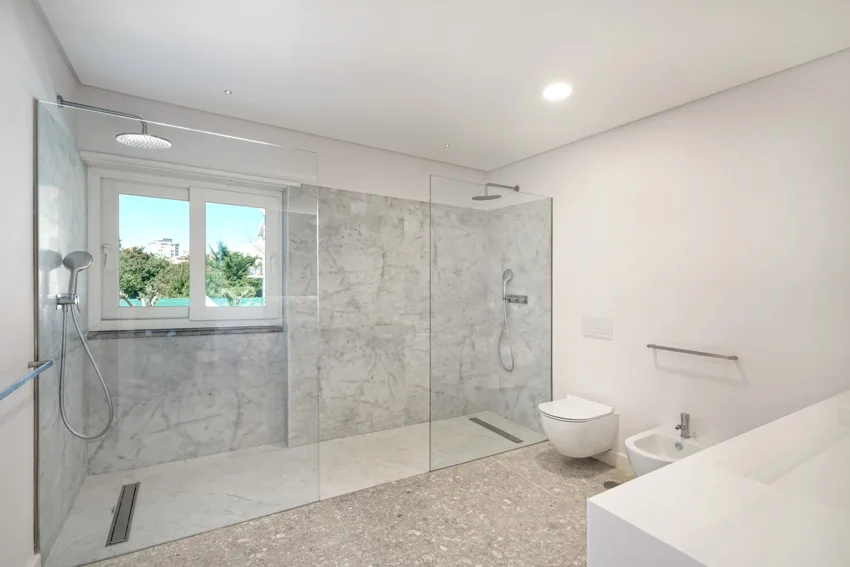 Marble showers, in general, need to be cleaned daily to make sure that no water drops stand on the walls. However, deep thorough cleaning is needed to prevent mildew growth to keep your Carrara marble shower from looking its best.
Cleaning Carrara Marble Showers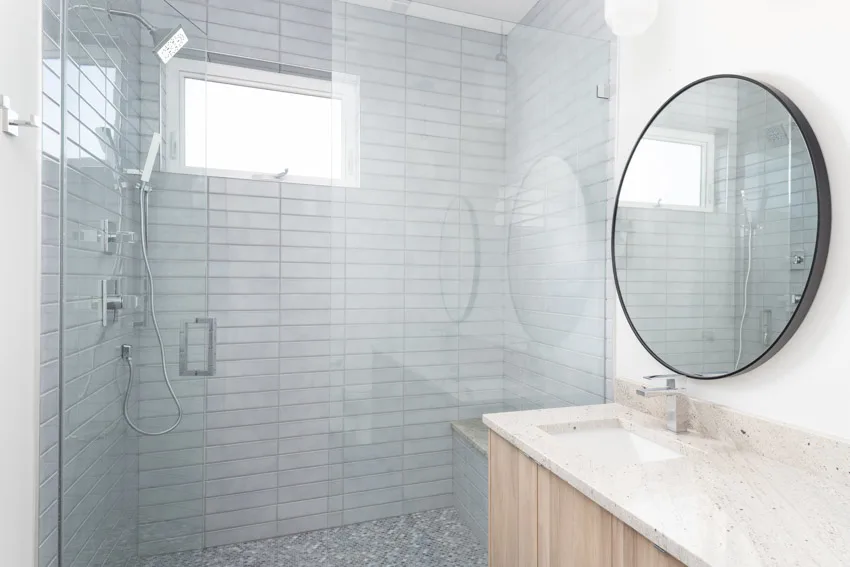 Here we share the tools, instructions, and effective tips on how to clean Carrara marble showers.
Materials and Tools
• Mild soap with a neutral pH (pH 7) or any cleaning agent made for marble
• Microfiber cloths
• Spray bottle
• Bucket
• Squeegee
Instructions
1. Spray and wipe the marble's surface: Mix some mild soap with warm water and put it in a spray bottle. Spray the solution on the walls and the floor, and make sure to work from top to bottom. Then using a microfiber cloth, wipe down the surfaces in a circular motion.
2. Rinse well with water: Using a bucket or a handheld shower, rinse down the walls starting from the top down to the bottom. Make sure to remove all the solution's residue.
3. Dry and buff the marble's surface: Using a soft microfiber cloth or squeegee, remove all the excess water from the shower walls and floor. Buff the surface using a microfiber cloth. Do this in a large circular motion to make it shiny.
Cleaning Carrara Marble Showers On A Daily Basis
• Getting Rid of Water Drops: Make sure to wipe your Carrara marble walls after each use. Water drops standing on walls and bath product residues that build up on the shower area cause soap scum to build up on the surface and permanent staining.
Using a microfiber cloth or squeegee, wipe down water drops starting from top to bottom. Make sure that the walls are fully dried to prevent the growth of molds and mildews.
If you routinely clean your Carrara marble showers on a daily basis, you may only need to deep clean your bathroom once a month.
Biweekly Cleaning of a Marble Shower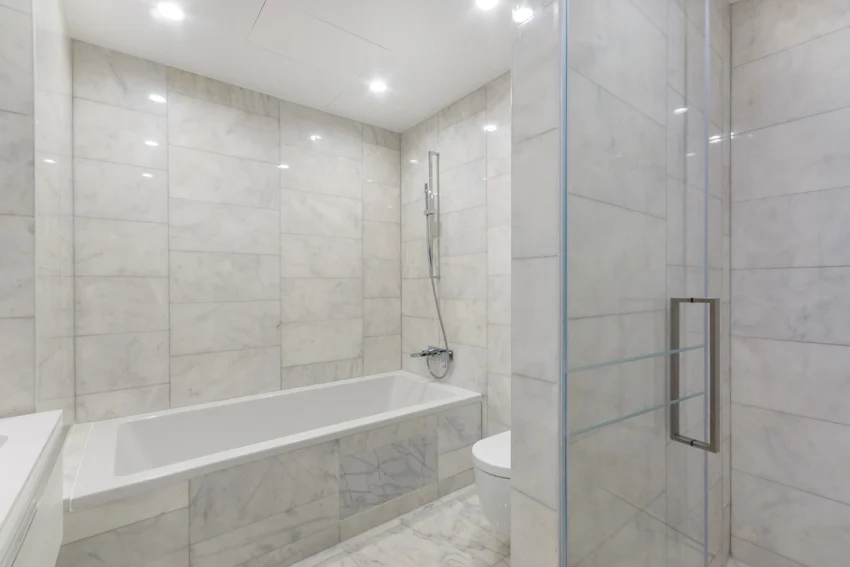 • Deep cleaning solution: In a spray bottle, mix one teaspoon of mild dishwashing liquid with warm water and shake well before using. Make sure to use a pH-neutral dishwashing liquid that does not contain dyes or acid.
• Using a commercial marble cleaner: Follow the instructions on the product label. Most marble cleaners would require dilution before use.
How To Tackle Tough Stains

• Mold and mildew: Molds and mildews can be removed using a commercial marble cleaner. Do not use bleach as it will harm the stone's surface.

• Hard water build-up: Mineral deposits around the drains and fixtures can be removed using superfine No. 0000 steel wool. Using a light touch, gently buff away the deposits. Make sure to do this carefully so you don't scratch the marble's surface.

• Discoloration from bath products: Saturate a white microfiber cloth with 12 percent hydrogen peroxide. Place the cloth over the stained area of the marble and let it sit for 10 minutes. Then check if the stain is gone. Rinse well with some warm water and dry the area using a soft cloth. Gently buff until the surface shines. For persistent stains, repeat the hydrogen peroxide soak
What To Avoid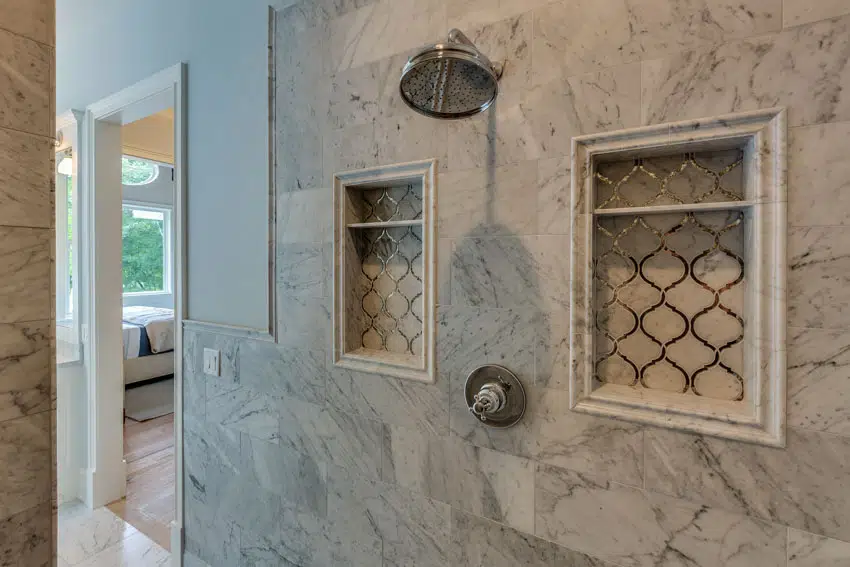 • Make sure to use the right type of cleaners. Marble is primarily made of calcium and contact with any form of acid can cause a chemical reaction that produces permanent discoloration. Avoid using harsh chemicals, abrasives, and commercial acidic cleaners. Homemade solutions with distilled white vinegar and lemon juice should also be avoided because they will cause your marble to etch. Do not use chlorine bleach as it will also damage your marble's surface.
• Choose bath products wisely. Aside from the right cleaners, make sure to use bath products that do not contain dyes or acidic ingredients because they can also harm your Carrara marble shower's surface.

• Avoid using stiff-bristled cleaning tools. Do not use harsh cleaning tools like scrub brushes, or steel wool because they can permanently scratch the marble.
Do You Need To Seal Carrara Marble In A Shower?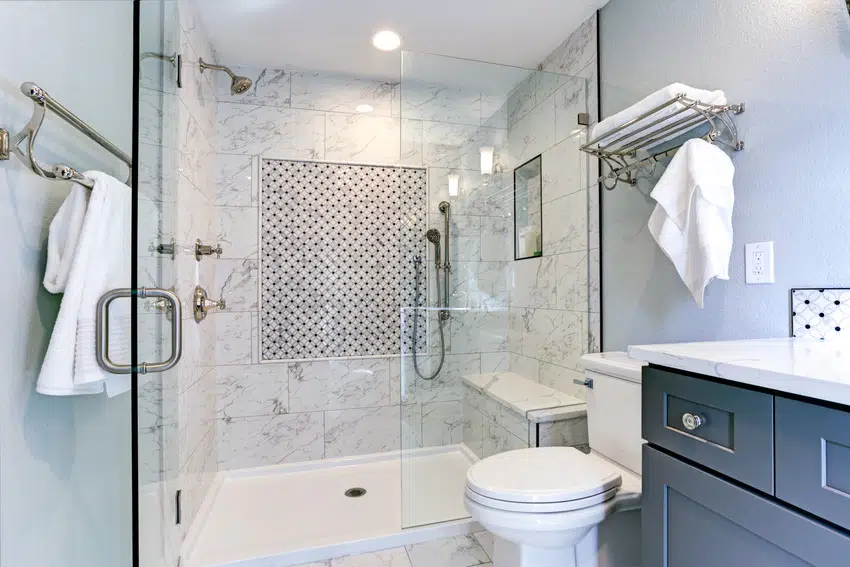 Like most natural stones, marble, in general, needs to be sealed to give it added protection against moisture. White marble, like Carrara marble, often contains small deposits of iron and when they get exposed to water, these deposits can oxidize and form rust stains. Rust stains can be hard to remove especially if left for a very long time and sealing is the only way to prevent them.

How Often Do You Have To Reseal The Tile In The Shower?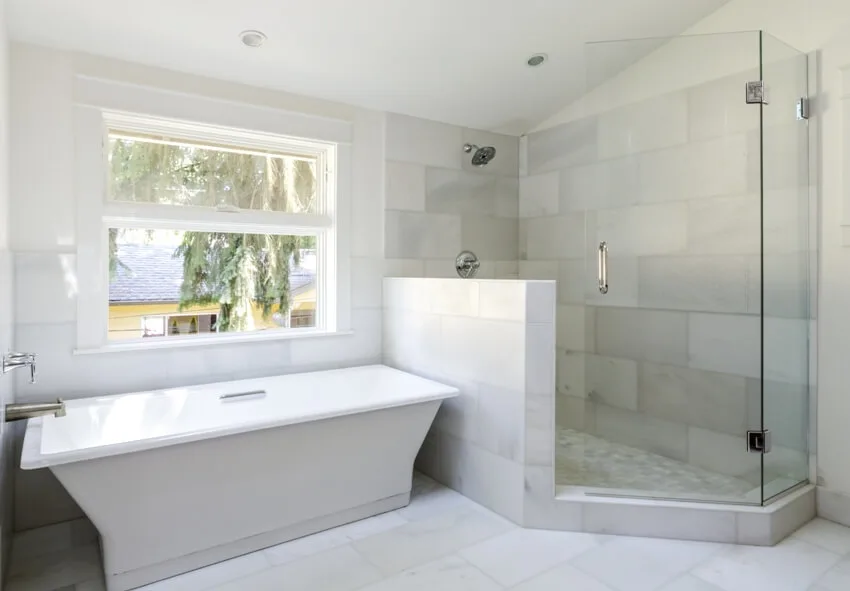 Resealing the marble's surface needs to be done periodically at least every one to two years, depending on how often the shower is used.
One way to test if marble showers need to be resealed is when water no longer beads up on the surface of the marble. If the shower also becomes wet and the marble looks darker, it also indicates that the surface already needs to be resealed.
See more related content in our article about Carrara marble backsplash on this page.