Here we share our honed vs polished marble guide including what they are, how to hone a marble's surface, and the differences between the two types of marble finishes.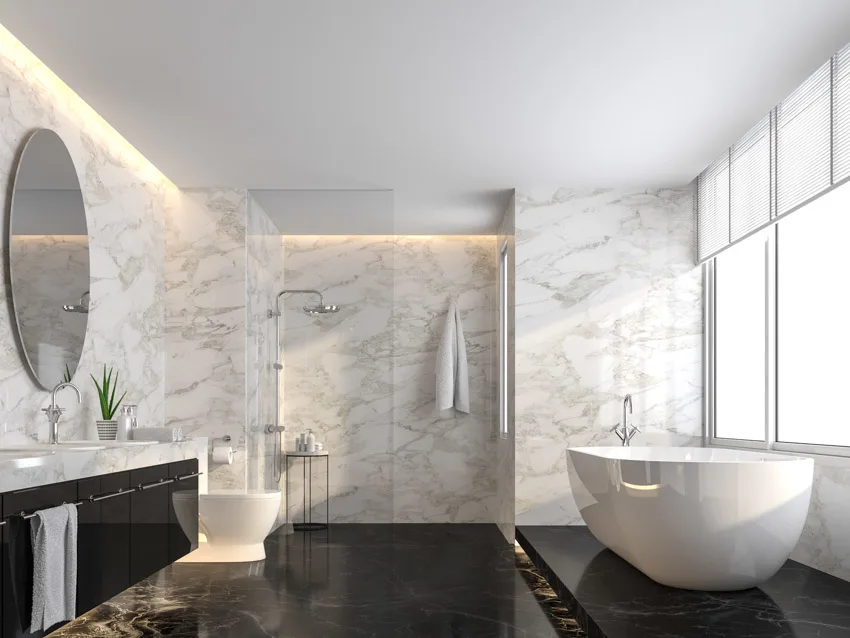 Marble is an elegant and luxurious material you can install in your home. From your flooring to your walls and countertops, marble is a good material to use with its durability and gorgeous aesthetics.
Natural marble can be limited when it comes to customization but one thing you can decide on is the texture of the marble. You can either go for honed marble or polished marble. So, how would you know which one to choose?
Before you make that decision, the first step is to know what honed marble and polished marble is. After learning more about them then you can choose the one that fits your home needs the most.
What Is Honed Marble?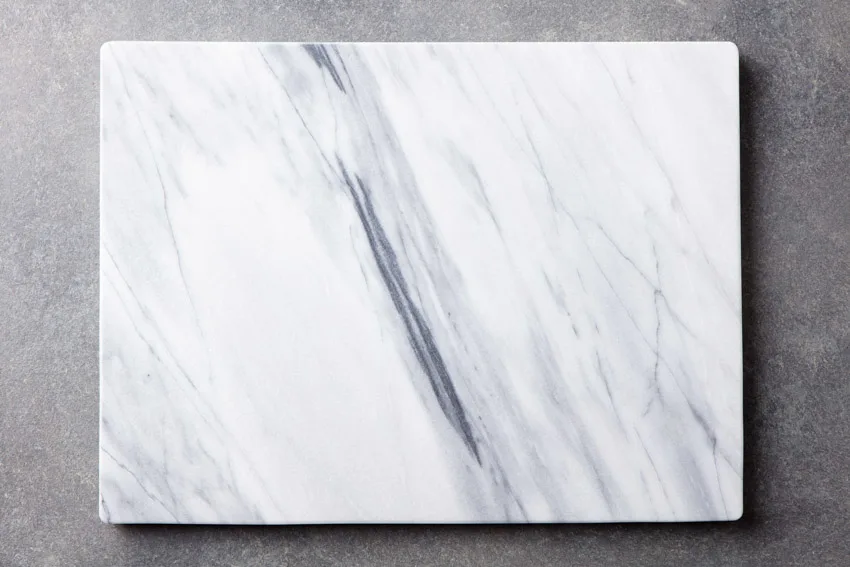 Honed marble means that the stone slab was grounded to result in a flat and smooth surface. This honed finish in marble showcases the following characteristics that you can benefit from.
• Matte finish with velvety/satin feel to it
• Resistant to scratches (If somehow it gets scratched, scratches are less noticeable with not reflecting light to show them)
• More susceptible to staining (Avoiding spills is necessary and if they happen, clean them immediately)
• Less slippery when wet (Excellent option for flooring)
• Re-sealing requires over time
With all of these characteristics, honed marble is perfect for high-traffic areas, including the entryway, foyer, living room, and bathroom. Since honed marble is less slippery when wet, it can be great for the flooring of these high-traffic areas.
Natural marble is not the best option for countertops but honed marble can actually be a great option. Honed marble kitchen countertops are great because since they have a matte finish, scratches are not noticeable.
This is why it is perfect for these areas where scratching cannot be avoided, especially with countertops exposed to every day's meal preparation.
Besides excellent functionality, honed marble also possesses an elegant look that adds to the aesthetics of a room. Its matte finish can drastically influence the overall look of your room so you need to consider it.
How To Hone Marble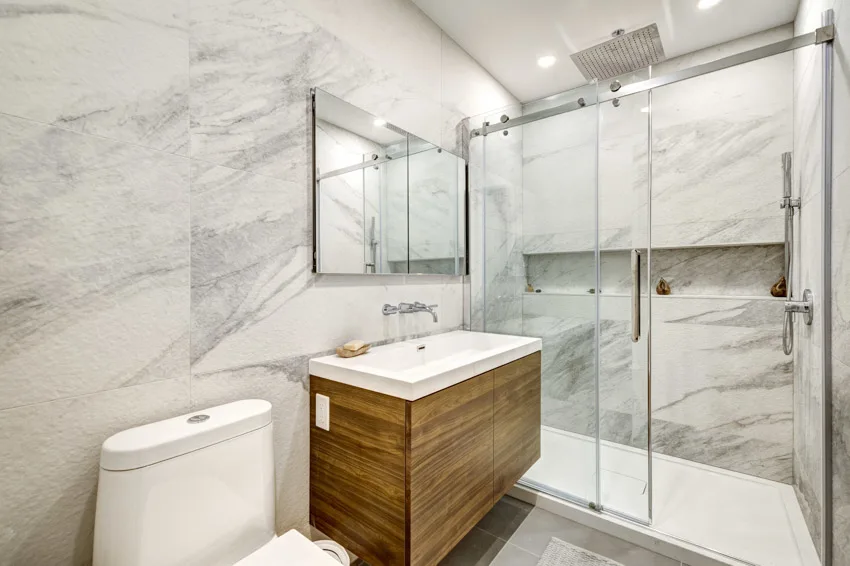 Honing a marble simply means buffing and processing the stone to change the surface's texture, transforming it into a smooth and non-reflective surface.
Once finished, the final result is a matte finish, which is smooth but without clear reflection on the surface. After that, the entire stone will be sealed.
Honing the marble ranges from rough hone all the ways to high hone, depending on what you want your marble to have and what texture you are going for.
A high hone pertains to a shinier surface, getting a bit closer to how a polishing marble looks like. This also means that a high hone is more likely to show etch marks than a rough hone.
A grit number is assigned to the marble, identifying how fine the finish is. A high grit number means that the finish is finer and a low grit number means the opposite of that.
What Is Polished Marble?
Polished marble refers to the opposite texture of a honed finish, which leans more towards a smooth and glossy shine.
Some of the basic characteristics that you will identify honed vs polished marble include the following:
• More resistant to stains (Marble is coated which protects the stone's surface)
• Less durable (Easily etches and scratches)
• Highly reflective (Scratches are more visible)
• Smooth feel to it
• Can be very slippery when wet
Polished marble is protected with a coating, giving it its natural-looking shine and smooth feel.
It is less susceptible to having stains, which is why it can be a good consideration for your countertops and bathroom shower walls. But since a polished surface can be very slippery when wet, it is not the ideal option for marble flooring, however marble shower walls are a good choice.

Polished marble has a smooth and reflective surface. The scratches that the marble get are very noticeable and visible. This is the reason why it is not the best choice for high-traffic and heavily frequented areas.
In cleaning polished marble, make sure to regularly wipe down the surface with water and soap. When spills occur, immediately wide it down to avoid staining and further damage.
Can You Hone Polished Marble?
The straightforward answer to this is yes, you can hone polished marble.
Honing a polished marble can be difficult and you might need a restoration/maintenance professional to do the work for you. If you do it yourself, the surface's texture will end up uneven and the quality difference may be noticeable.
One of the ways you can remove the polish from the marble is by washing the surface with vinegar. But using acids like vinegar can corrode and damage the marble but it can get rid of the shiny layer to leave the marble dull and raw, which is why being careful and meticulous is important.
Why hone your polished marble? While polished marble is popular due to its high shine, scratches are easily noticeable.
It won't be a good look and can be quite frustrating to look at. Honing it, while transforming the polished marble to honed marble, can get rid of the scratches and marks and may be a good value depending on how much worth you place in having a scratch free surface.
In the process though, it will also get rid of its glossy shine, regardless of whether it's natural or composite marble. Make sure you weigh your options and consider these factors.
Marble Tile Honed vs Polished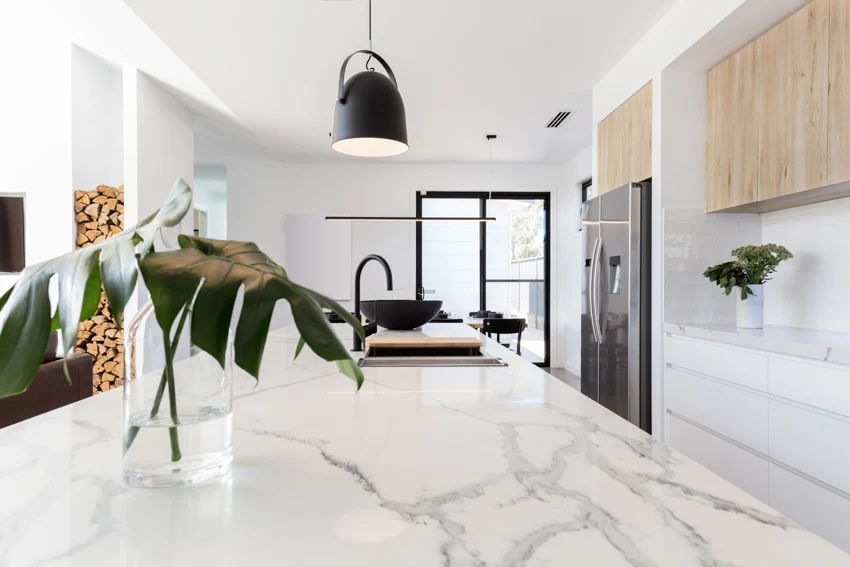 To help you in this journey of finding out whether honed marble fits your needs or polished marble is better for you, here are their differences.
Characteristics
Honed Marble
Polished Marble

Durability

Extremely tough but needs to be re-sealed for protections

Scratches

Less noticeable (Resistant to scratches)

Very noticeable and susceptible to etching and scratches

Stains

No problem with stains when the seal is adequate

Less susceptible to stains due to its added protection from its polished finish

Shine

Duller (No shine and does not reflect light)

Glossy and shiny (Reflects light)

Texture

Rougher

Less porous and smooth (Can be slippery when wet)

Color

Has a lighter

appearance

It tends to look darker

Overall Aesthetics

Looks more organic and natural (Creates a warm and neutral backdrop)

Looks more refined and high-end (Eye-catching due to its sheen and looks great with decorative lighting)

Application

High-traffic and heavily-used areas: workspaces and countertops

Safer choice for flooring

Not safe for flooring: slippery
When it comes to cost you'll also find that a honed finish is somewhat more expensive than a polished finish.
Thanks to this guide, you can determine which type of marble suits your residence and preferences better. If you have experience using honed or polished, let us know your experience or share your questions and comments below.
See more related content in our article about porcelain tile that looks like marble on this page.