Find out how to set up a studio apartment including dividing the room design using a room divider, area rugs, sofas, Murphy beds, and different furniture pieces.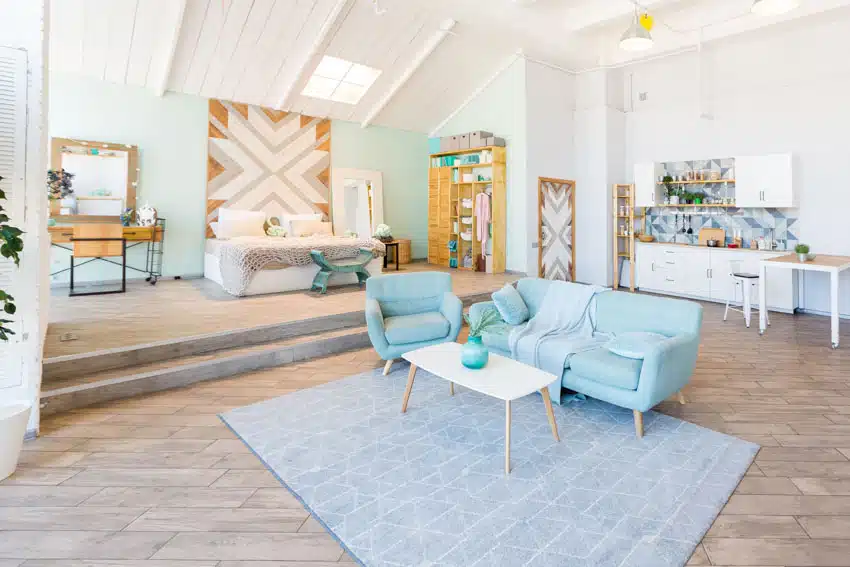 A studio apartment is a compact living space that incorporates the living room, bedroom, and kitchen into one open space. Studio apartments are a low-cost, low-maintenance, and versatile housing alternative.
They can be found in modern neighborhoods and busy cities, and they promote a simple way of life. They are also great for singles, students, and young professionals, and can be a good investment because they are in significant demand and can rent for more than larger apartments.
To set up a studio apartment, you have to think about the structure and flow of the space as well as the storage and organization of your stuff. When arranging the layout of your studio apartment, it is usually best to prioritize comfort and ergonomics. How then, can you properly set up a studio apartment? The steps to do so are provided below.
Use A Room Divider
A room divider is normally the most excellent way to divide a studio apartment into separate areas. And with some planning and creativity, you can make the finest use of your space.
Here are some ideas for appropriately dividing your studio apartment using a room divider:
• Using a room divider to establish a separate sleeping area: This will provide you with more privacy and assist you in creating a warm, restful sleeping environment.
• Using a room divider to establish a dining area: This will separate the eating area from the remainder of the space, giving it the appearance of a separate room.
• Using a room divider to establish a work or study area: This might be a terrific method to separate your work from your living space by creating a dedicated space for working or studying.
• Using a room divider to enhance storage space: Several room dividers contain built-in types of shelves or storage compartments, which can be a terrific way to expand your studio apartment's storage space.
• Using a room divider to add aesthetic appeal: Room dividers can be an excellent way to add aesthetic appeal to your studio apartment while also serving as a standout furniture piece.
Furthermore, you must consider the size and type of your room divider to ensure that it complements your studio apartment along with the practicality, aesthetic, and flexibility it may provide.
Room dividers can be a combination of bookshelves, screens, curtains, or even houseplants that all fulfill the same objective of separating two areas.
Add An Area Rug To Create A Zone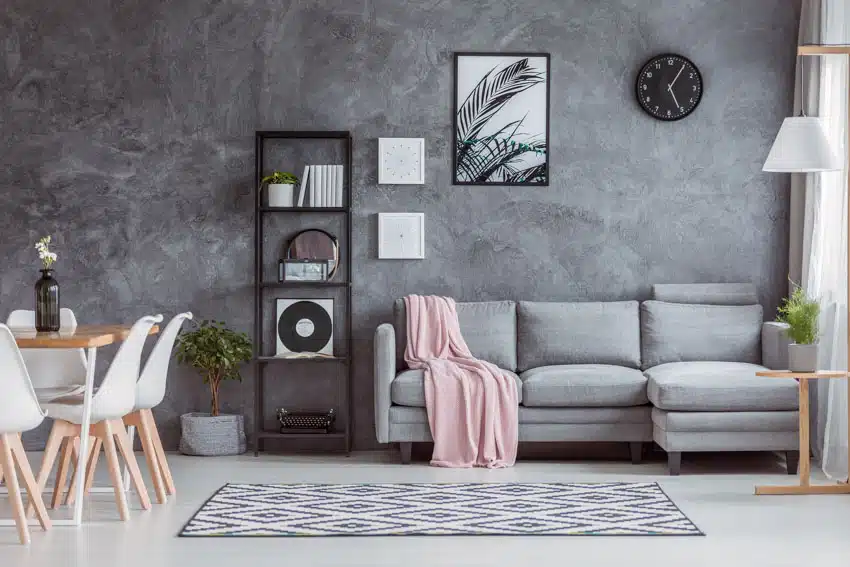 An area rug can also be used to create a distinct area or zone in a studio apartment without the need for a room divider. Here are some guidelines for using an area rug:
• Using an area rug to designate a seating area: You can create a designated space for relaxing and gathering by arranging an area rug in front of a sofa or chairs.
• Using an area rug to designate a dining area: By laying an area rug underneath a dining table, you may delineate a space for eating and socializing.
• Using an area rug to establish a sleeping area: You can establish a designated sleeping area that feels isolated from the rest of the space by arranging an area rug beside a bed.
• Using an area rug to add color or structure to a space: An area rug may be a terrific way to add extra detail to a room while also tying different pieces of your design together.
• Using an area rug to designate a reading or working area: You can provide a designated space for reading or working by laying an area rug next to a comfortable chair or a desk.
When using an area rug, take into account its size and style and ensure that it complements the furniture and general design of your studio apartment.
Furthermore, it should be large enough to define the area and display at least a few inches of the rug on either side of the piece of furniture. These types of rugs can serve as a defining component of the zone while also providing comfort, texture, and sound-dampening properties.
Sofa Placement To Create A Living Area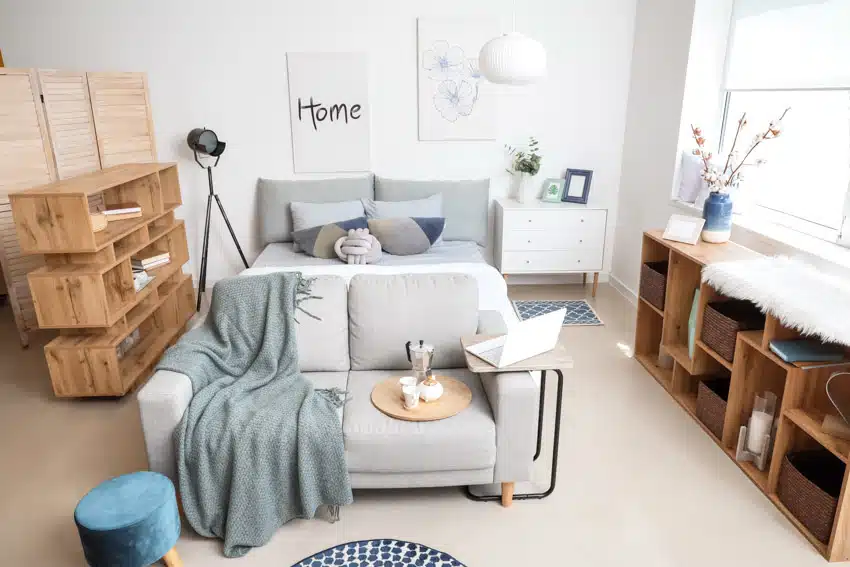 When organizing a living space in a studio apartment, proper sofa placement is essential. Here are some ideas for using sofa placement to distinguish a living space:
• Place your sofa against the studio apartment's longest wall: This will serve as a focal point of the space and will also aid in balancing it.
• Use the sofa to make a boundary: Placing the sofa against a wall or in a corner can serve to separate the living room from the rest of the space.
• Consider how the room flows: Ensure that the placement of the sofa allows for smooth movement in the room and does not create any congestion or obstructions.
• Consider the connection between your sofa placement and lighting: Place the sofa in an area that is well-lit by natural light or lighting; this might help to create a warm mood.
• Take into account the sofa's size: A larger sofa can make a small room feel claustrophobic, thus opt for a smaller or modular sofa that can be easily reconfigured to suit your needs.
The sofa must be placed in a manner where it may serve a variety of functions. If it features a chaise lounge, for instance, it can be used not just for sitting but also for sleeping.
You can even make use of the sofa's back as a room divider. If your studio is open plan and the sofa is in the middle, it can function as a partial wall between a bedroom and a living area.
Multi-Purpose Sofa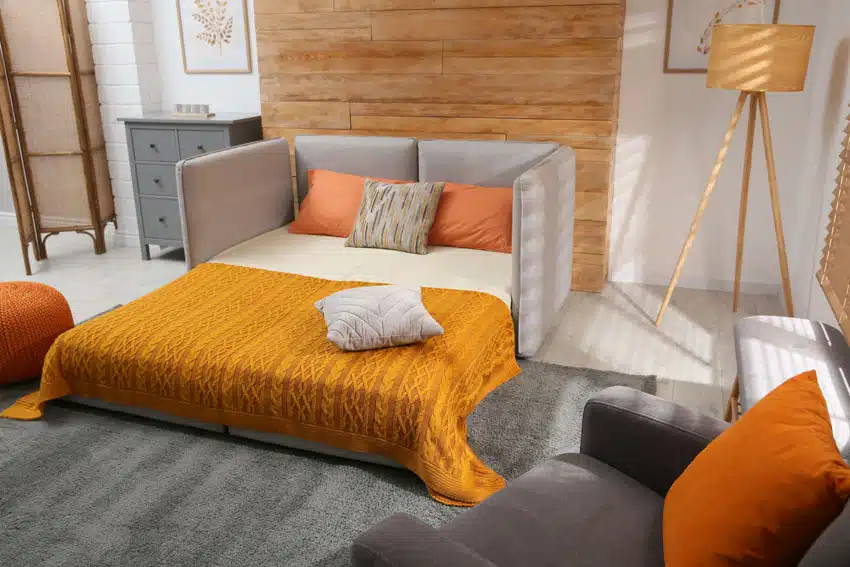 A multi-purpose sofa is an excellent choice for organizing a studio apartment since it allows you to maximize your limited space. Multi-purpose sofas such as a sofa bed, a sectional with a chaise lounge or ottoman, or a storage ottoman, can be used for sitting, sleeping, as well as storage.
Furthermore, in a small studio apartment, a multi-purpose sofa might help you save room. Rather than needing to allocate a separate room for a bed, it enables you to have a sleeping area as well as a seating area in one piece of furniture. Multi-purpose sofas are adaptable in the sense that the various portions can be changed to meet your specific requirements.
Lastly, multi-purpose sofas with built-in storage compartments are an ideal choice for providing extra storage space to your studio apartment. They are frequently less expensive than purchasing separate pieces of furniture for different functions.
Modular Sofa For Easy Room Layout Changes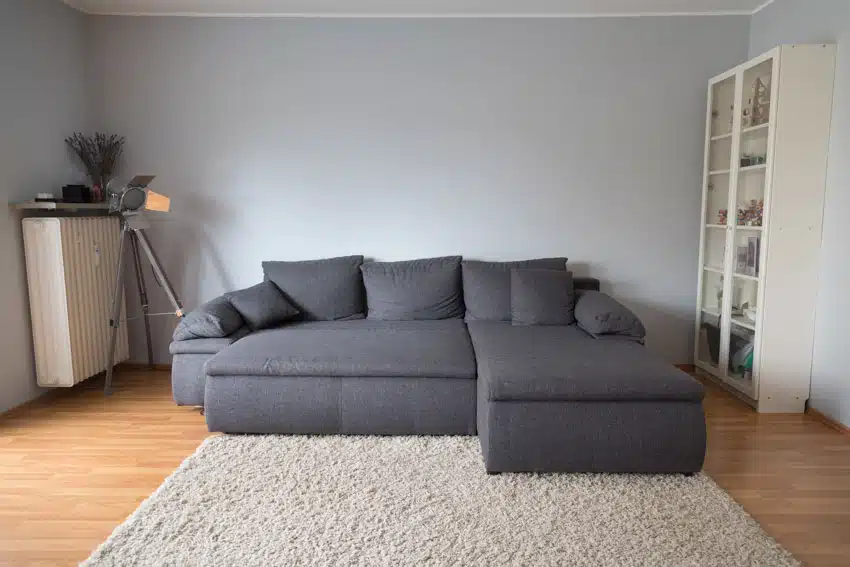 A modular sofa is an attractive solution for designing a studio apartment because it is made up of various components that can be changed to match your preferences. This implies you can quickly change the layout of your sofa to fit the space and how you manage the seating space of your studio apartment.
A modular sofa is a terrific space-saving solution because the separate components can be reconfigured to fit into tight areas or make the most of a small room. Because of its versatility, it may be placed in a variety of configurations to meet any requirement, from an L-shape for a separate living and working area to a straight alignment for a long narrow room.
Additionally, modular sofas are typically lighter than standard sofas, making them easier to transport around your studio apartment. It can be a great alternative if you want to change the layout of your studio or if you plan to move in the future.
Use A Murphy Bed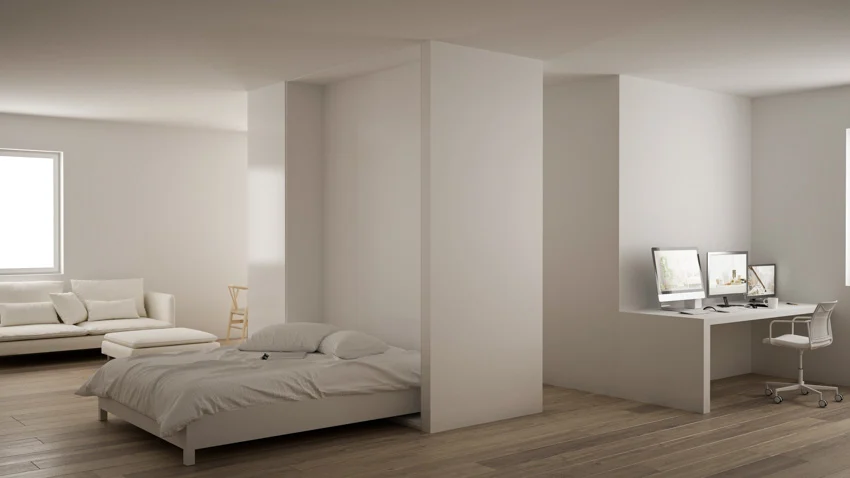 A Murphy bed, also referred to as a wall bed, can be an ideal pick for arranging a studio apartment since it allows you to wisely use your limited space by giving a bed that is conveniently stored discreetly when not in operation. When the bed is stored away, it opens up the space for other tasks, hence you can consider using the available space as a work area or as a reading corner with a reclining chair.
Murphy beds are available in a multitude of sizes, thus choose one that will blend seamlessly in your area while still allowing you to move around easily. Some Murphy beds have a manual mechanism, which means you must physically lift the bed into position, but others are automated and can be controlled with just the push of a button.
Even so, the Murphy bed must be placed strategically. To maximize space and make the best use of your existing square footage, consider putting the bed in a corner or against a wall.
Aside from that, Murphy beds are available in a number of designs and finishes, hence select one that complements the overall look of your studio apartment. If you have children or pets, consider purchasing a Murphy bed with safety features like locking mechanisms to avoid accidents.
Add Furniture That Also Provides Storage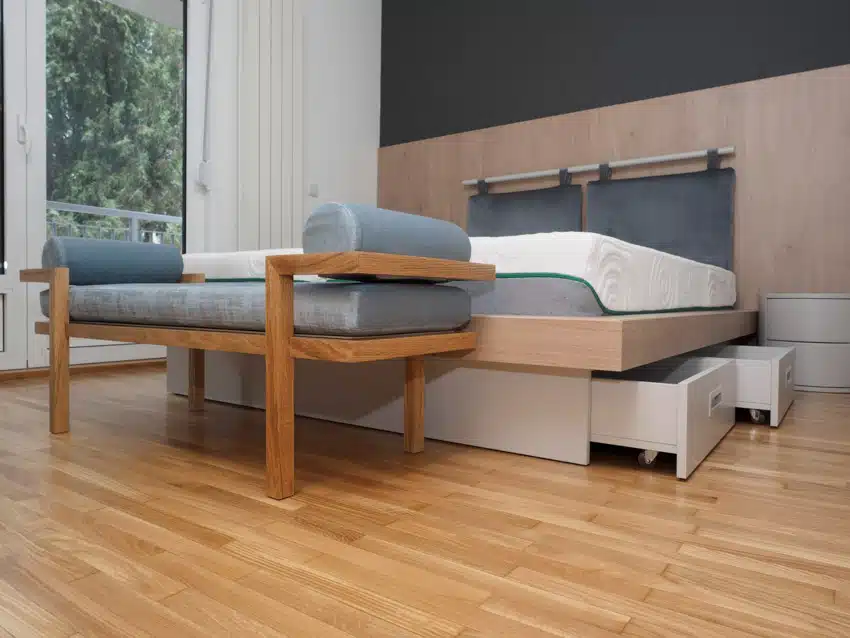 Storage might be an issue while living in a studio apartment. With limited square footage, every inch of space is valuable, and maximizing storage is critical. Therefore, adding furniture pieces that already provide storage is one of the most effective methods to boost storage in a studio apartment.
A bed frame with built-in types of drawers or a storage ottoman, for example, can assist in maximizing space by providing additional storage without taking up important floor space. Built-in storage furniture can help keep belongings orderly and conveniently accessible.
Another example is a couch bed with storage underneath enables you to save room while simultaneously having a bed ready for guests. Furniture that also serves as storage can be both stylish and functional. It can improve the appearance of the space while also giving practical storage solutions, making your studio apartment more livable.
To give you much clearer ideas about the different types of furniture that would normally include built-in storage, check the list below:
• Ottomans: Ottomans with storage compartments are an interesting option for providing additional seating as well as storage space in a compact studio apartment.
• Sofa beds: A sofa bed with built-in storage can be an amazing way to add a sleeping area to a studio apartment while taking up minimal space.
• Daybeds: Daybeds with storage drawers or trundles are an efficient option for small rooms since they combine sleeping space and extra storage in a single piece of furniture.
• Bar carts: These can be utilized as useful furniture to store glasses, bottles, and other bar supplies while also serving as a mixing station.
• Media consoles: Media consoles with drawers or shelves can be used to store electronics and media while simultaneously housing a TV or other entertainment devices.
• Storage beds: Platform beds or storage beds offer a place to sleep as well as built-in storage beneath the mattress for bedding, clothing, or other goods.
• Bedside tables: Bedside tables with drawers can give additional storage space and are a wonderful spot to put a lamp, a book, or any other thing that you may need to reach while sleeping.
• Bookcases: Bookcases, particularly ones with drawers or shelves, can be used to house books and other belongings while also adding a decorative element to a room.
• Trunks: Vintage or ornamental trunks can be utilized to store extra blankets, pillows, or clothes while also adding a beautiful touch to the space.
• Nesting tables: Nesting tables can be utilized to store objects like books, magazines, or remote controls, and they can be pulled out to provide additional surface area whenever necessary.
Separate An Area With Chair Placement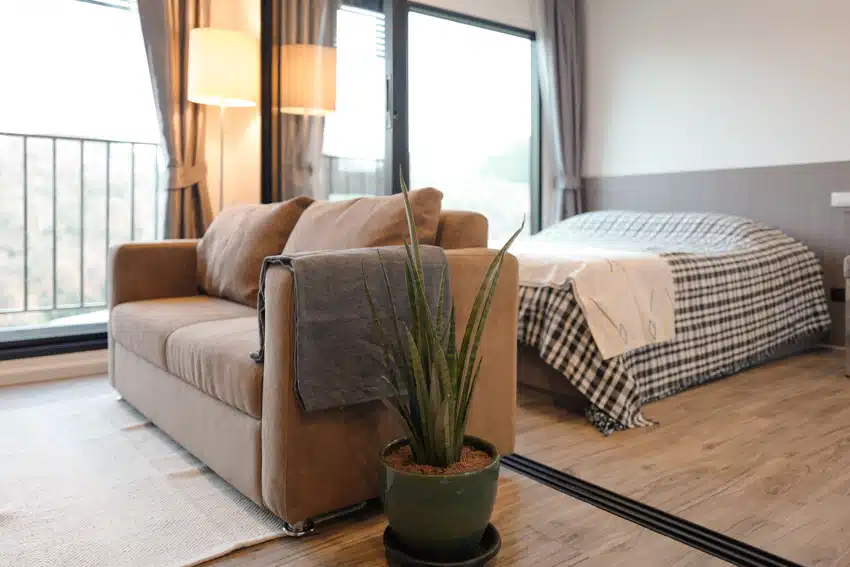 When dividing space in a studio apartment, proper chair placement is necessary as well. Here are some recommendations for using chair placement to establish an area:
• Create a distinct reading or discussion area with a number of seats: Positioning the chairs opposite each other, with a small table or ottoman in between, can serve to define a discussion or reading area.
• Set up a workstation with a desk and chair: Place the chair towards the desk to define a separate work area from the remainder of the space.
• Position one chair in a corner or against a wall: Without the use of a room divider, placing a chair in a corner or against a wall might serve to designate a place for reading or relaxation.
• Assess the room's overall flow before placing chairs: Check that the chair placement allows for smooth movement across the space and does not create any blockages.
• For a dining room, use chair and table arrangements: This allows for convenient dining and may be stored or moved when not in use.
• Make sure that the chairs receive enough light: If the seats are well-lit by natural light or artificial lighting fixtures, it will create a warm mood and make the room more appealing.
When choosing the type of chair, it would be ideal to use various chair styles and colors to designate areas while also adding aesthetic value to the studio apartment.
Open Shelving To Divide The Space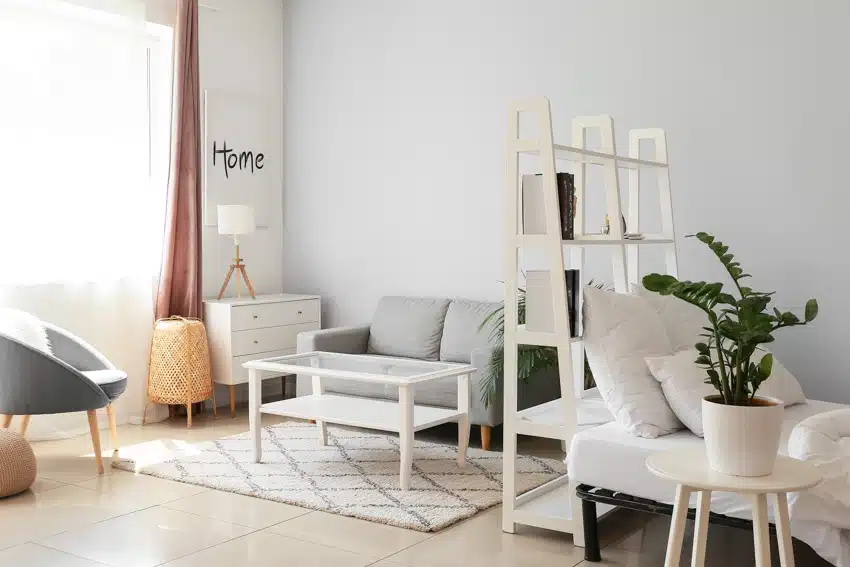 Open shelving can be an efficient technique to divide space in a studio apartment since it creates a visual separation between different areas of the flat without blocking light or making the space feel cramped. There are several ways to divide a studio apartment with open shelving:
• Establish a bookshelf that acts as a room divider: Set up a bookshelf or a series of shelves perpendicular to a wall to establish a visual barrier separating one area of the studio from another.
• Make use of a freestanding unit: A freestanding shelving unit can be used to create a physical and visual boundary in the center of a room.
• Make use of the available wall space: To divide two areas, install shelves on an empty wall. You can, for instance, put shelves on one wall of the living space and another wall of the sleeping area.
• Include a sliding door: To make a functional and space-saving room divider, install a sliding door with shelves on one side.
• Use a corner of the space: Install a shelving unit in a room corner to divide the space and create a pleasant nook.
Add Curtains To Create Different Rooms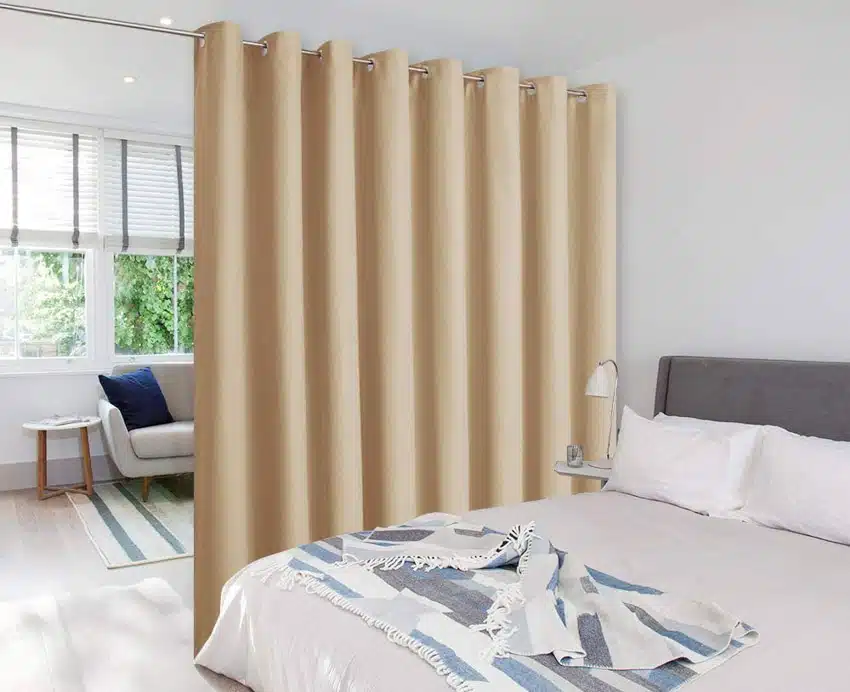 See this curtain divider at Amazon [sponsored link]
Curtains can be a great method to separate rooms in a studio apartment. Here are a few examples of how curtains can be used to partition space in a studio:
• Use a curtain rod that is suspended from the ceiling: To establish a barrier between the living and sleeping spaces, hang a curtain on a rod near the ceiling.
• Make use of a freestanding curtain: To establish a physical boundary between different areas of the studio, use a freestanding curtain on a freestanding rod or room divider.
• Hang curtains on a tension rod: Install a tension rod and drapes to make a makeshift room divider that can be opened and closed whenever necessary.
• Make use of a track system: Install a track system along the ceiling and use curtains to split the studio into different parts as needed.
• Use a drape and a screen: If you want to establish a distinct sleeping area, a screen or room divider with a curtain can be a fantastic solution; it can provide a more intimate and pleasant atmosphere.
Utilize The Walls For TV And Storage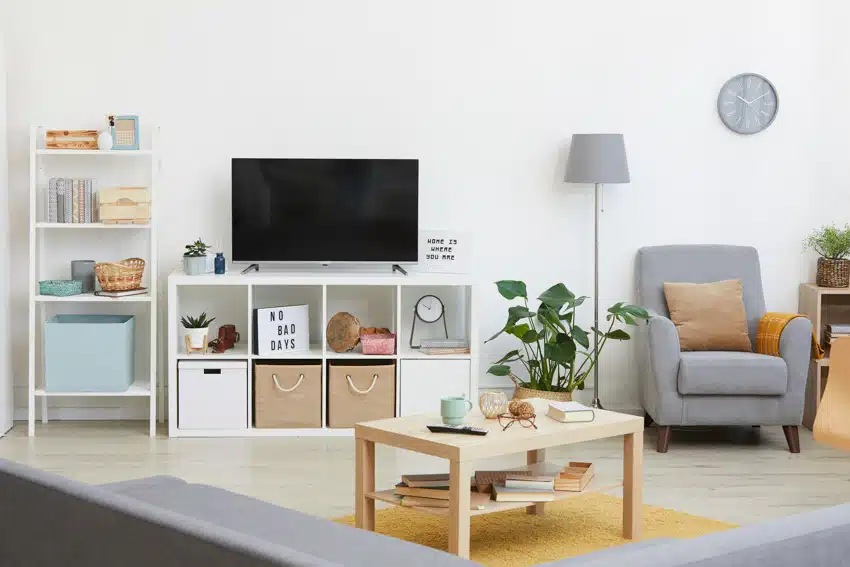 Consider the following options for utilizing the walls for TV and storage in a studio apartment:
• Install storage shelves around the TV and hang them on the wall.
• Place floating shelves above the TV.
• When not in use, use an arm mount that allows the TV to be kept against the wall.
• Install a built-in shelving unit around the TV.
• Create a display wall by storing items in wall-mounted cabinets or shelves.
• Make use of any available empty wall space to install the TV and use the nearby area for storage. Read about the best TV viewing dimensions here.

Use The Foot Of The Bed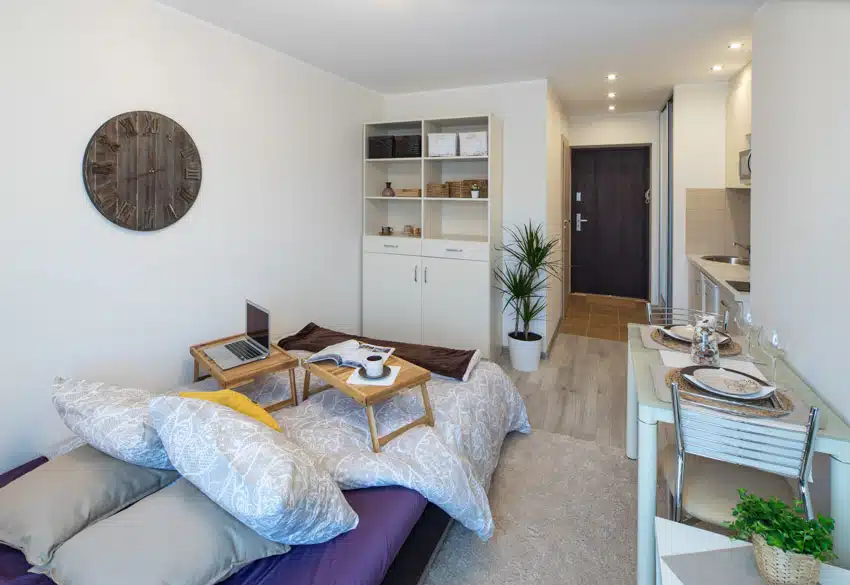 The foot of the bed can be used for a variety of purposes when setting up a studio apartment. Consider installing drawers or a cabinet under it for storage, as a seating space with a bench, chair, or small sofa.
Other ideas include using it as a work area with a desk and chair, a vanity area with a mirror and stool, or even as a creative focal point by adding artwork or sculpture.
Furnish The Rooms Corners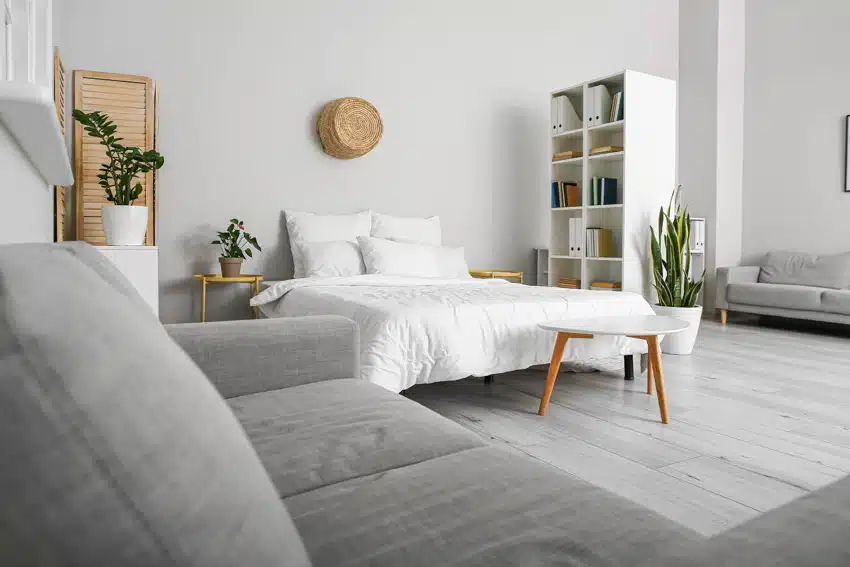 There are various options you can do when furnishing the corner of a studio apartment. One option is to convert it into a storage space by installing shelves, cupboards, or a bookcase. Another option is to set up a seating area with a chair, a small sofa, or a bean bag.
You can even make a cozy reading corner with a reclining chair and a small table, or even an office with a tiny desk and chair. You may also use a floor lamp to provide light and elegance to the space.
Studio Apartment Setup Tips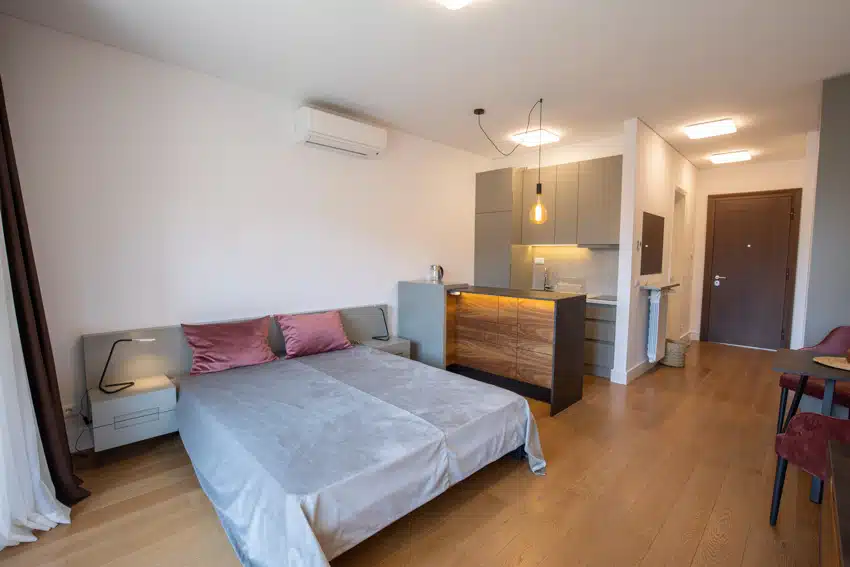 • Color should be used strategically: Color can be used to add visual appeal and delineate different areas of a room. Use neutral colors for the walls and larger pieces of furniture, and accessorize with colorful pillows and carpets.
• Make use of vertical space: Studio apartments frequently have high ceilings, so take advantage of the extra space by installing floating shelves, hanging plants, or wall-mounted lighting fixtures.
• Understand how important lighting is: A well-lit room can make a small space appear larger and more pleasant. To create different moods and accentuate different areas of the space, use a combination of ambient, task, and accent lighting.
• Choose small-scale furniture: Choose furniture that is proportional to the size of the room while arranging a studio apartment. Large, bulky furniture should be avoided in favor of smaller, more streamlined ones.
• Combine textures: Mix textures like luxurious velvet, bulky knits, and elegant metal in the same room to produce a visually fascinating and layered atmosphere.
• Add a gallery wall: Create a gallery wall to showcase paintings or photos to provide visual appeal and a personal touch; this will capture attention and make the studio apartment feel more like a home.
• Organize Your closet: Utilize the vertical space by installing closet organizers. This will assist to keep clothes, shoes, and accessories orderly and out of the way, making more floor space available.
See more related content in our article about studio apartment size on this page.