Here we answer the popular question of what is a Murphy bed including its functions, costs, comfort, and the best mattresses for your Murphy beds.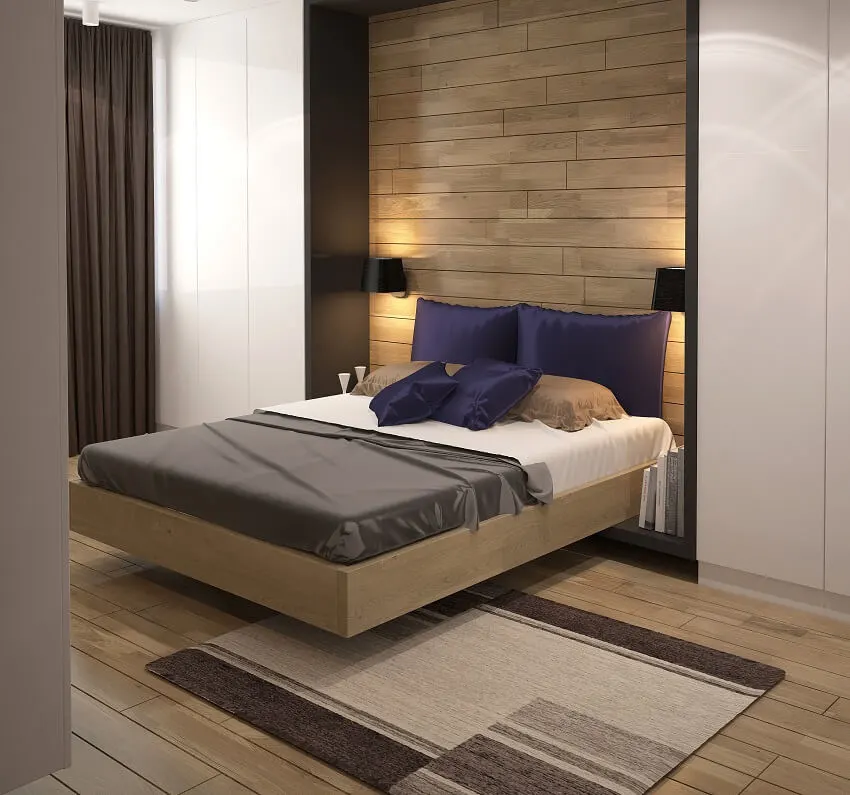 If you love sitcoms or are an avid watcher of movies, it's impossible to miss out on a Murphy bed suddenly popping down in a comedic scene.
Since their invention, Murphy or wall beds have appeared in films and become part of pop culture, especially silent films. Recently, a pop-down bed gag was featured in an episode in Family Guy.
What Is A Murphy Bed?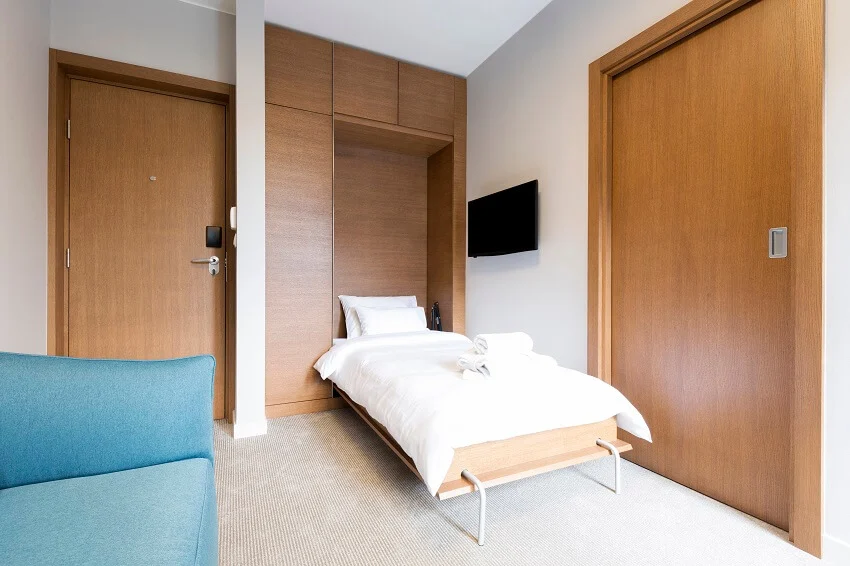 A Murphy bed is a type of bed that pulls or folds down from a wall or inside a closet. That's why it's usually known as a wall bed.
A Murphy bed's space-saving feature often makes it a popular choice for guest rooms, studio-type lofts, mobile homes, and other occupancy with limited space.
The Murphy Bed is also called a pull-down bed or fold-down bed. Read more on space-saving bed design ideas here.
Murphy Bed For The Home
Apart from the picture reels, Murphy beds are useful for anyone who doesn't have a lot of living space in their home.
Unlike your usual bed design, which takes a lot of square feet, Murphy beds use a significant amount of floor space only when in use and can be neatly stored vertically to free up space. As a result, you can use that area for whatever else you require, such as a home office or crafts' space.
While you can sleep on a Murphy bed daily, one of the most common uses is in spare bedrooms for guests who don't want to take up too much space with a permanent bed. Many of them have drop-down desks, exposed cabinets, or shelves when the bed is folded up.
How Does A Murphy Bed Work?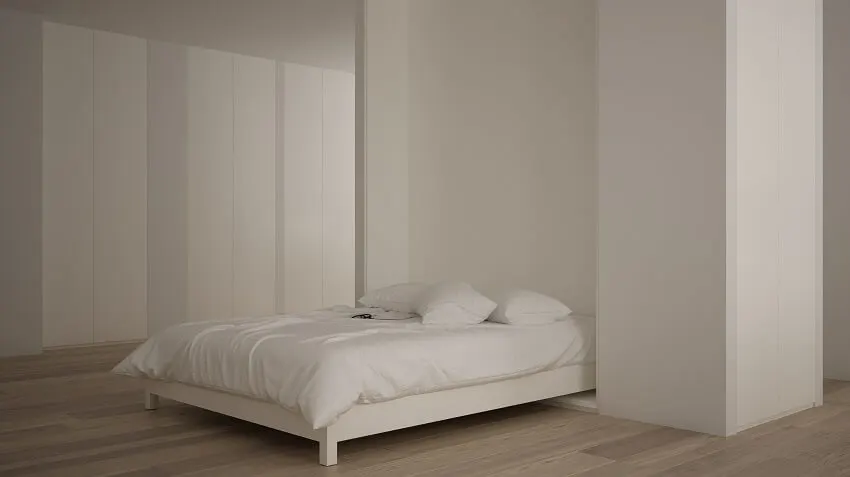 The majority of Murphy beds do not come with box springs. Instead, the mattress is usually supported by a platform or mesh that keeps it from sagging when closed. When the unit is folded upright, the mattress is attached to the bed frame, usually with elastic straps or hardware to keep the mattress in place.
Since the first model, there have been numerous variations and designs, including sideways-mounted Murphy beds, Murphy bunk beds, and solutions with additional functions.
There are Murphy beds with tables or desks that fold down when the bed is folded up and models with sofas, TVs, cabinets, and shelving.
What Type of Mattress is Best for a Murphy Bed?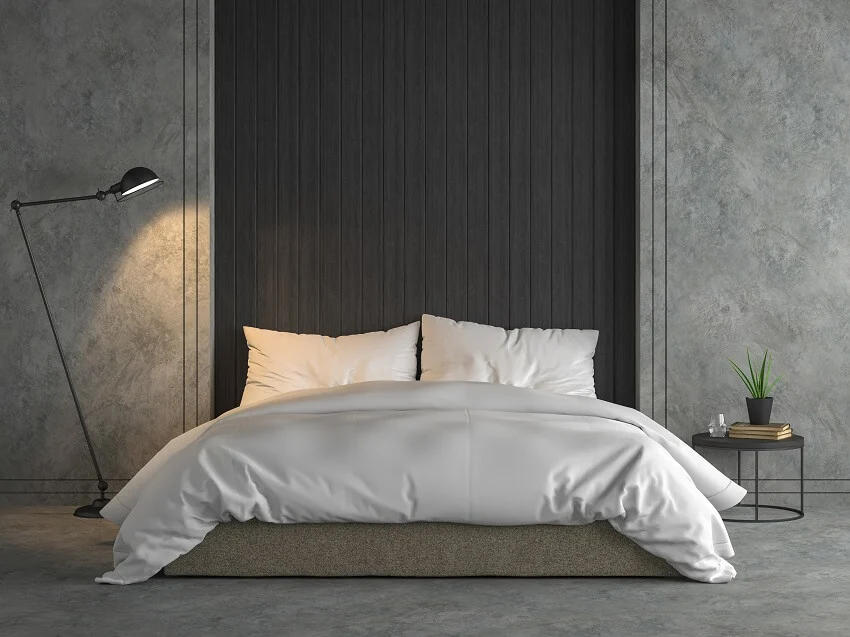 It is critical to select the appropriate mattress for a Murphy bed. Innerspring and hybrid mattresses with coils are generally not advised as they are not designed to be stored vertically, which results in misshapen coils.
Thus, latex or memory foam mattresses are ideal for use with your Murphy bed. Both hold their shape well when standing on end and provide very different sleeping experiences, so you should be able to select a mattress that suits your needs in one of these two categories.
Take note that a lot of brands have warranty policies that prohibit the use of standard solid foundations.
Since wall beds place the mattress in an unusual position for many hours of the day, many manufacturers don't recommend or allow their mattresses to be used for this purpose, and doing so voids the manufacturer's warranty.
While there are low-cost foam mattresses available for Murphy beds and wall beds, be aware that these brands may have policies prohibiting them from covering wear and tear associated with this bed configuration.
Best Type of Mattress for a Murphy Bed

Memory foam and latex mattresses do best when paired with a Murphy bed. Foam beds maintain their original shape, whether in a vertical or horizontal position. Other mattress types, including innerspring and hybrids, can end up slumping on one end of the mattress.
Most Comfortable – Memory Foam Mattress. Even for your standard bed design, a memory foam mattress is one of the most comfortable types of mattresses. Because the material conforms to your body, the comfortable foam works, this means that the more time you spend sleeping on it, the better it will fit your body.

Not all memory foam mattresses, however, are created equal. This is especially true when it comes to how a Murphy bed mechanism will work with it.
This is due to the fact that some mattresses are far too tall to be supported by a Murphy Bed. Comparing the height of your Murphy Bed frame to the height of your memory foam mattress is a good idea. Most beds have specific measurements that must be followed.
Readily Available – Traditional Spring Mattresses. There are instances where nothing beats old-school such as the timeless beauty of a traditional spring mattress, which cannot be overstated. Will they, on the other hand, fit into a Murphy Bed? More importantly, will they be comfortable in this style of bed frame?
The comfort of your spring mattress depends on its depth. Thus, as you can use a traditional mattress, you should check on the height. Another thing to keep in mind about spring mattresses is that they lose their comfort faster than newer models.
This is due to the fact that they are constructed with metal springs to provide the appropriate amount of bounce. The springs can break and bend over time, reducing their level of comfort.
Thin – Roll Foam Mattress. Since roll mattresses are designed to be thin, they will fit perfectly in smaller bed frames. While they may not be as large and plush as memory foam mattresses, some people find them to be just as comfortable.
The best thing about roll foam mattresses is that they are typically less expensive than traditional mattresses. So, while your roll mattress may not last as long as a traditional mattress, it is much less expensive to replace, which is a major plus for your budget.
Popular Brands of Murphy Beds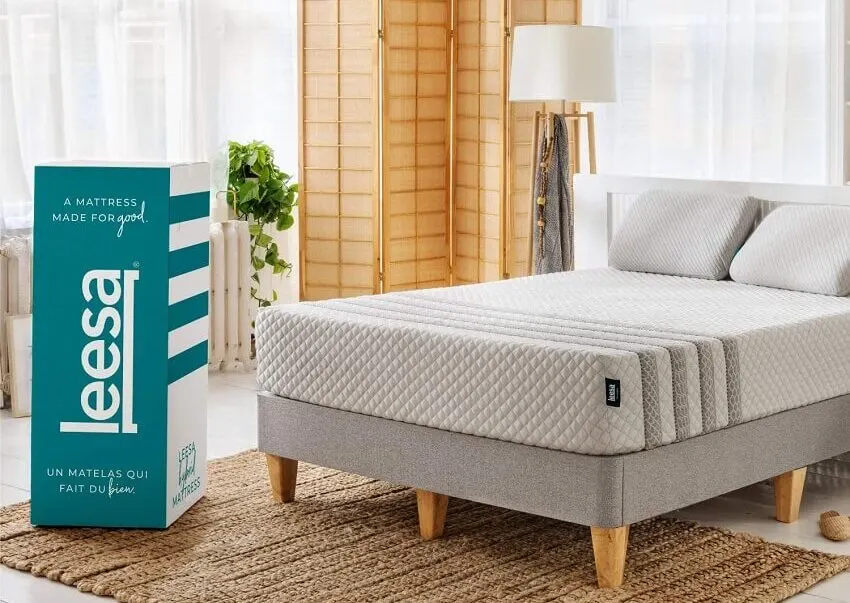 See this Leesa hybrid mattress at Amazon [sponsored link]
For a Tight Budget – Leesa Studio. The Leesa Studio is a great option for Murphy beds because it's surprisingly light and affordable. It has a medium firmness rating, which is the best choice for most sleepers, and it effectively relieves pressure points.
For Back and Side Sleepers – Level Sleep. Do you find yourself tossing and turning at night? It may be because your current mattress doesn't properly support and align your spine.
Level's TriSupportTM technology can help. With a high-end all-foam design made in the United States, their technology is a marvel in zoned support.
The middle spine is properly supported while the shoulders and hips are relieved of pressure. Level Sleep is a patented design supported by chiropractors that is worth considering for back and side sleepers who require well-aligned support.
See this Sweetnight queen mattress at Amazon [sponsored link]
Hybrid Mattress – Amerisleep. It sells a line of high-end memory foam and hybrid mattresses that incorporate plant-based materials. For comfort layers, each mattress has a blend of bio-foams that are more eco-friendly than traditional synthetic-based memory foam.
Amerisleep offers five different all-foam mattress firmness options and three popular firmness varieties in a pocketed coil hybrid construction. Customers like their products and have positive comments about the quality compared to more well-known name-brands.
Forever Warranty – Nectar. Ranked number 1 in Best Memory Foam Mattresses of 2021, Nectar has revolutionized the all-foam mattress industry with designs that focus on universally comfortable firmness and support, making it one of the most popular mattress brands.
Customers have reported effective cooling and excellent pressure relief in the Nectar Premier & Premier Copper mattresses, which are available in three different sizes. Value-conscious users will be happy with the value-add benefits like a full-year trial and lifetime warranty and buy now pay later schemes.
Considerations For Your Murphy Bed Mattress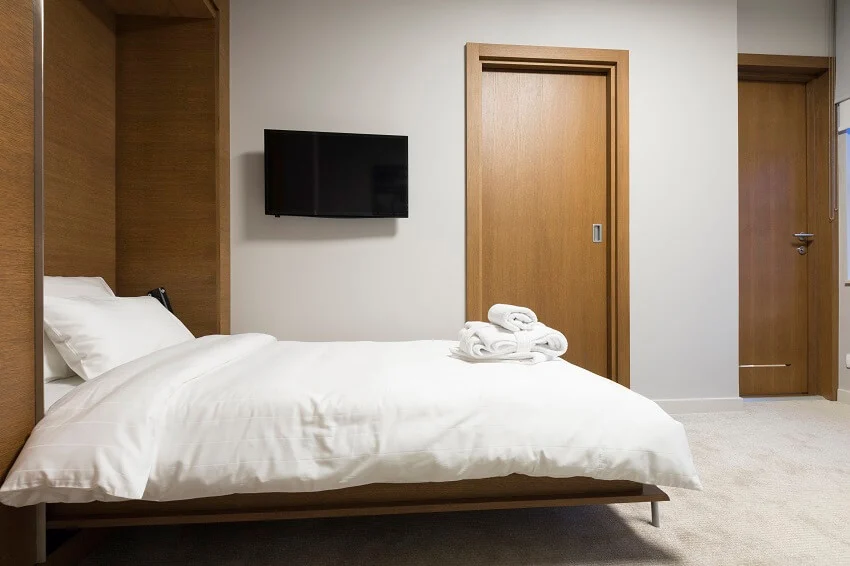 Although Murphy beds are a great option for those on a budget who want a practical and space-saving piece of furniture, finding a mattress that fits the bed frame, is comfortable and supportive enough for your own unique sleeping needs can be difficult, especially since these beds are built into the walls.
Bed Dimensions. Similar to any other type of bed, the Murphy bed comes in a variety of shapes and sizes. You can choose between a single bed and a double bed. Whichever option you choose, it's critical to measure the length and width of the wall bed frame and the height.
One of the most common mistakes Murphy bed owners make these days is only measuring the length and width of the wall bed frame, ignoring the height, only to discover that the mattress is too thick to fit in. Read our guide on choosing bed sizes to give you more ideas for your bedroom design.
Determine Desired Level of Support. In terms of mattress support systems, wall beds provide a wide range of options, which are usually tailored to each user's individual needs and preferences. Some may prefer innerspring mattresses, while others may prefer an air mattress or a memory foam and gel combination.
Determine if an Extra Frame is Needed. When not in use, it is critical to think about storing it. Different wall beds operate in different ways, with some storing the mattress directly on a special platform and others storing it on a metal frame.
It's crucial to check whether your newly purchased mattress will have enough support once it's installed in the Murphy bed frame. If not, you'll need to buy extra support because the bed might not be able to handle your weight.
Average Cost

When choosing the right Murphy bed type, there is no such thing as a one-size-fits-all solution. Similarly, there is no one-size-fits-all price point.
An intersection of price and quality checks all the boxes, just like when narrowing down the pros and cons of any major purchase.
The price of a Murphy bed varies greatly. Some models can cost as little as $400, while others can cost as much as $6,000. There is also a sweet spot where affordability and quality meet most buyers' wants and needs.
Price Factors
• Assembly – ready-made or custom-built
• Folding Mechanism – traditional or metal mechanism
• Material – laminate, MDF, or particleboard
• Warranties – warranties can add to the overall cost
• Size – twin, full, queen, or king sizes
Is A Murphy Bed As Comfortable As A Regular Bed?
Murphy beds are just like any other type of bed in terms of comfort as they can be equipped with similar mattresses used on a regular bed once it has been installed and pulled down. Most people, however, opt for a memory foam mattress for their wall bed.
Difference Between A Wall Bed And A Murphy Bed?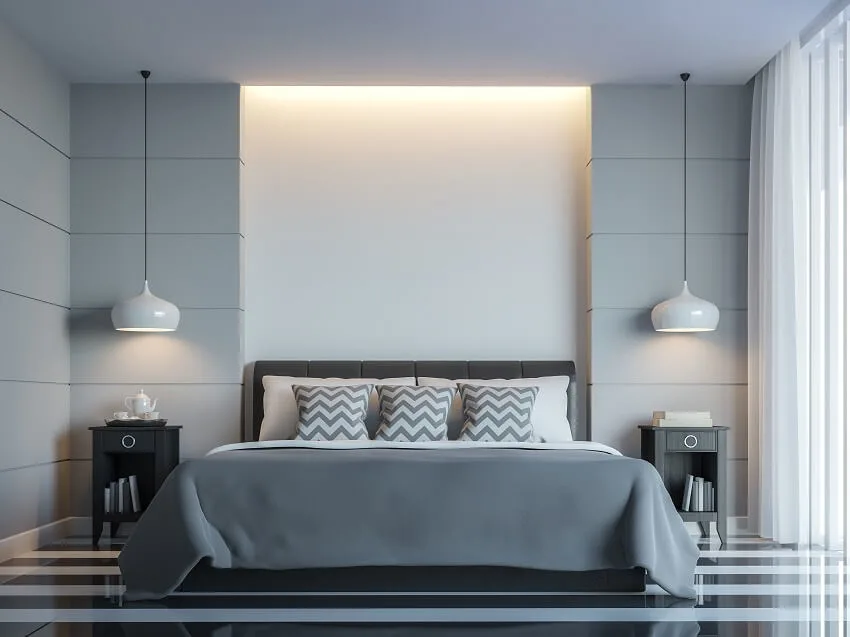 The term "Murphy Bed" was coined by the original manufacturer of "Fold-Up" beds. Still, it has since been adopted by a slew of other manufacturers who have nothing to do with the original company, causing some confusion.
Wall Beds and Murphy Beds are basically the same: mattresses enclosed in a cabinet with hardware that allows the bed to be lowered off the wall when needed and closed up when not. There are simply a variety of manufacturers who use various types of "Hardware" to accomplish this.
The "Bi-fold" style versus the "Panel" style is one of the main differences in "Hardware." Most people prefer the "Panel" style because the entire bed face comes down in one piece.
Whereas the "Bi-fold" style usually has two pairs of bi-fold doors that must be opened before the bed frame can be pulled down. This gives the impression that the guest is in a closet and makes it difficult to use any furniture next to the bed, such as nightstands.
Visit our design guide on different types of beds for more related content.