Here's our recliner dimensions guide including standard and different types of recliner sizes and how to measure this type of chair for a cover.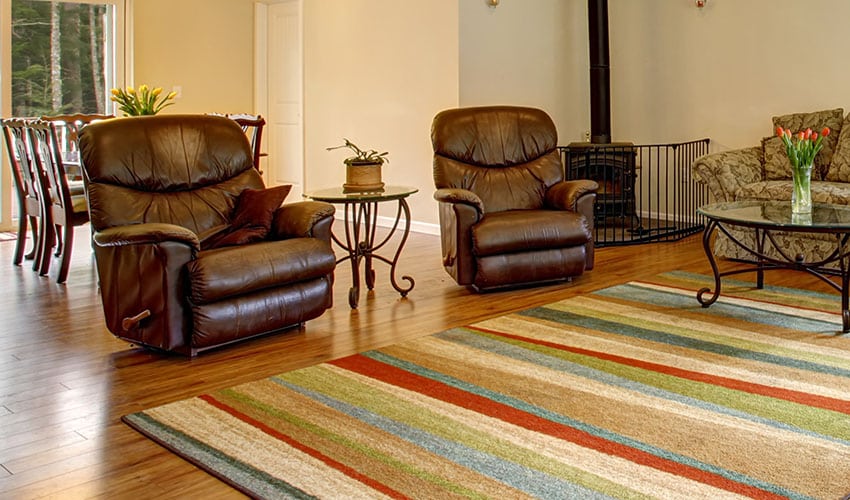 Recliner chairs are some of the most versatile furnishings any homeowner can give to the family. It provides a comfortable seat for work, TV viewing, or playing games. Recliners also make it possible to laze off as one watches the day pass by. For many people, a recliner chair is a must-have in the home.
However, people must choose wisely if they want a recliner that provides them with the ultimate comfort and functionality. While there are many factors to consider, knowing the correct recliner dimensions is crucial to buying the best recliner chair for the family.
How Are Recliner Chairs Measured?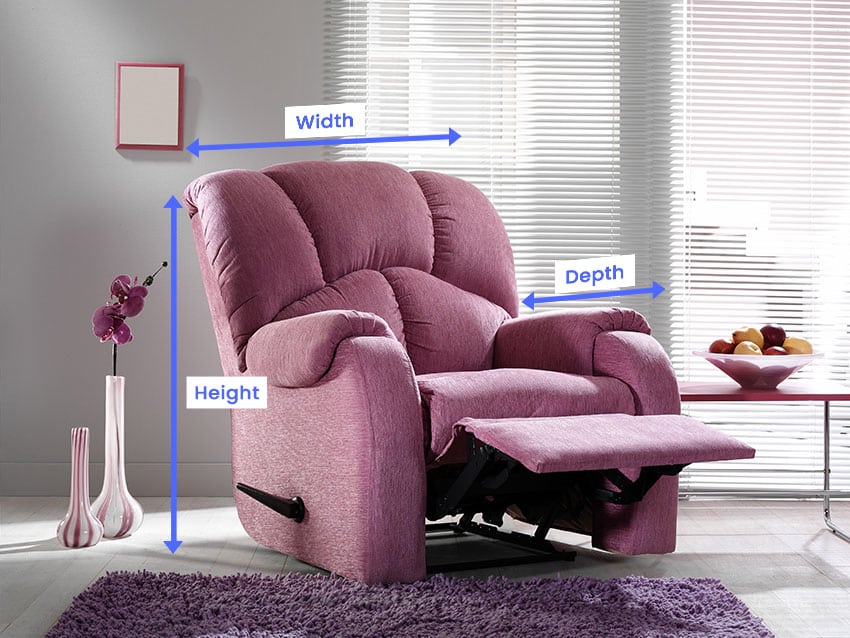 Recliner chairs have three essential dimensions any potential buyer must consider: width, depth, and height.
Width
The recliner's width is the seat's left-to-right distance and correlates with one's body width. For example, a person with a 48-inch waistline can have a side-to-side body width of about 34 to 36 inches. Hence, it would be safe to assume this person should get a recliner with a minimum seat width of 40 inches.
Depth
The second parameter is the recliner chair's depth, which is the seat's front-to-back measurement. The seat's backrest is where the occupant rests the back of the body, while the front's edge terminates a few inches from the knee pit or the area behind the knee.
Hence, the measurement must reflect the occupant's thigh length from the body's back to where the knee bends.
If the recliner is too deep (longer than the occupant's thigh measurement), he cannot dangle his legs without moving forward. Doing so prevents the occupant from resting his back on the backrest.
A shallow recliner will have the opposite effect. The occupant must press the back against the backrest, which he must support by planting the feet firmly on the floor.
However, if one prefers inclining the chair's leg rest while relaxing, it does not matter if the recliner is shallow or deep. Regardless, it would still be best to determine a chair's depth for optimum comfort.

Height
The recliner's height is also an essential dimension because it impacts how comfortable the occupant will be on the chair. One must consider two things related to the recliner's height: backrest height and seat height.
It would be best to get a recliner with a backrest height that supports the back of the head. On the other hand, the seat height must allow the occupant to sit and stand from the chair with minimal effort.
Homeowners must also consider the armrest height. The occupant should be able to rest both arms on the armrests without straining or feeling numb.
Standard Recliner Sizes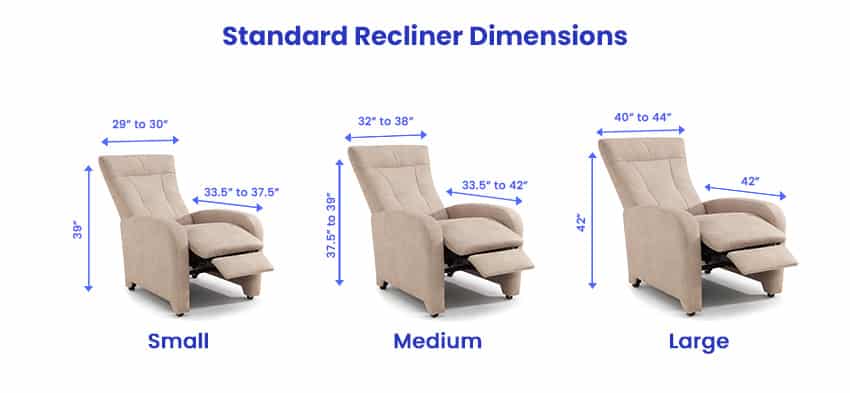 Like beds and other furnishings, recliner chairs have standard sizes for manufacturers to follow and allow mass production. However, some companies customize recliners according to their customers' specifications.
How Wide is a Standard Recliner?
A small recliner can be 29 to 30 inches wide, while medium-sized recliner chairs have a seat width of 32 to 38 inches. On the other hand, large recliners will have a width of 40 to 44 inches, although it is not uncommon to find super-sized recliners.

How Deep is a Standard Recliner?
Small recliners have a depth of 33.5 to 37.5 inches, while large-sized recliner sofas can be as deep as 42 inches. However, shallower versions (about 39 inches deep) exist. Medium-sized recliners are 33.5 inches to 42 inches deep.
Recliner Chair Height
Small recliner chairs have a minimum height of 39 inches, while medium-sized recliners can be as tall as 43 inches. Some manufacturers like to keep their medium recliners between 37.5 and 39 inches. Large-sized recliners have a maximum height of 42 inches and a minimum of 39 inches.
Dimensions of a Lazy Boy Recliner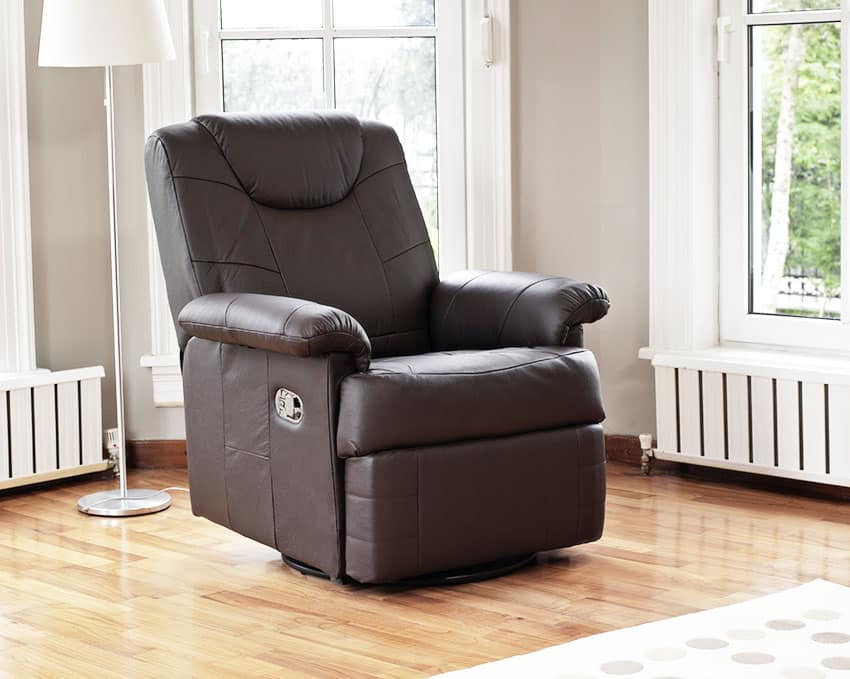 Many people love recliners from La-Z-Boy because of their customizable upgrades, extensive fabric selection, and patented features. The brand also has a lifetime warranty, albeit limited. Homeowners who want to get a La-Z-Boy recliner must know the brand's standard recliner dimensions.
Petite
Ideal for people not taller than 5'4", Petite recliners are 34.5 to 38 inches deep, 28 to 33.5 inches wide, and 39 to 39.5 inches high.

Small
La-Z-Boy's Small recliners are suitable for people who are 5'5" to 5'9" tall. These chairs are 32 to 35 inches wide, 36 to 39 inches deep, and 39 to 41 inches high.
Tall
The brand's Tall recliners are ideal for 5'10" to 6'2"-tall folks. The chairs measure 42 to 43 inches high, 37 to 40 inches deep, and 33 to 40 inches wide.

Extra Tall
La-Z-Boy's Extra Tall recliners are perfect for people taller than 6-foot 3-inches. These chairs are 41 to 45 inches high, 33 to 40 inches wide, and 36 to 43 inches deep.
Eames Recliner Dimensions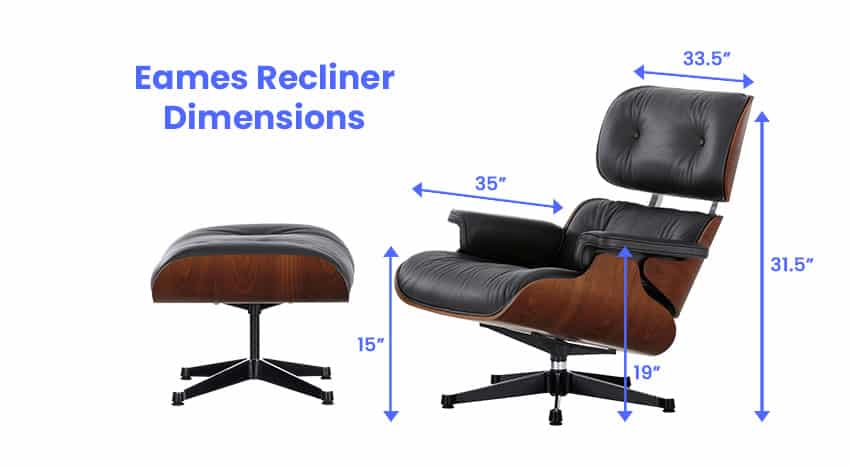 Eames have provided comfort for many households since 1956, making them a reliable brand. Unlike La-Z-Boy, Eames does not have an extensive recliner lineup.
The Eames Lounge Chair's backrest height is 31.5 inches, while its seat height (from the floor) is 15 inches. The recliner is also 33.5 inches wide and 35 inches deep, with a 19-inch arm height.
It also has a Tall version, measuring 33.25 inches high (backrest height), 33.5 inches wide, and 37.75 inches deep.
Size of Recliner Sofa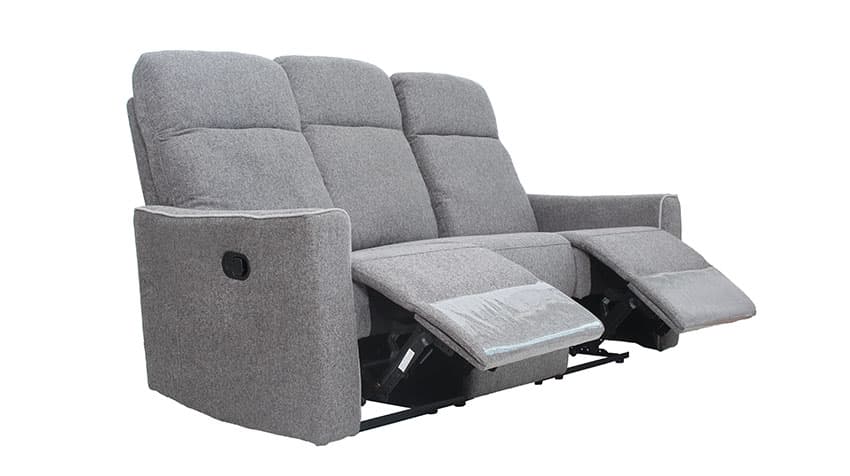 Recliner sofas often have nearly identical height and depth as recliner chairs. They only differ in width to accommodate the number of occupants.
For example, a standard recliner chair can be 32 to 36 inches wide. A recliner sofa will have at least double the width to accommodate a minimum of two occupants. After all, at least two people must sit comfortably on a sofa.
How to Measure a Recliner for a Cover
Creating a slipcover for a recliner requires measuring the outside dimensions. It would also be best to take down the measurements in centimeters and inches if one plans to have a manufacturer customize the cover.
Measure the recliner's outermost dimensions from front to back, from side to side, and from top to bottom.
It is also crucial to measure the seat's width and depth and the backrest's height and width. Measure the armrest's width, length, and height.
Some slipcover makers also require the recliner length from the footrest's bottom edge to the chair's top edge. It would be best to measure with the chair in a reclined position.
Knowing the correct recliner dimensions allow homeowners to buy the correct size for their needs. It is the only way people can maximize the comfort a recliner chair brings.
For more related content, visit our article about the types of recliners here.