Find out where to put a desk in the bedroom guide including layout and furniture positioning ideas to help you when planning your bedroom design.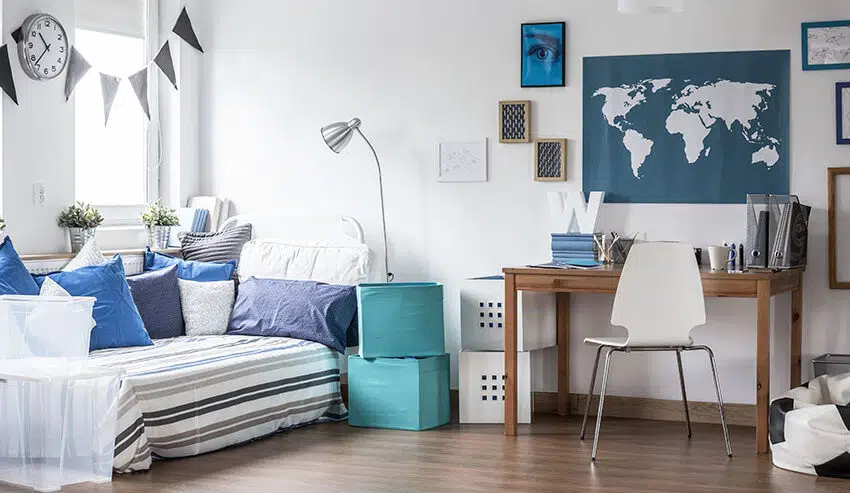 In these times, where work from home is becoming the new norm, creating a dedicated workspace in a bedroom can be important.
There are lots of options for where to put your desk in the bedroom, but it is a good idea to keep a distinction between work and relaxation areas. There are also strategies you can use to create a distinction between work and rest.
Although your aim may be to separate the workplace from your sleeping area, the idea is to create a sense of unity with the aesthetics because the fact is that your workspace will influence the ambiance of your bedroom.
Here are some design ideas to help you when planning or setting up your bedroom office.
Opposite the Bed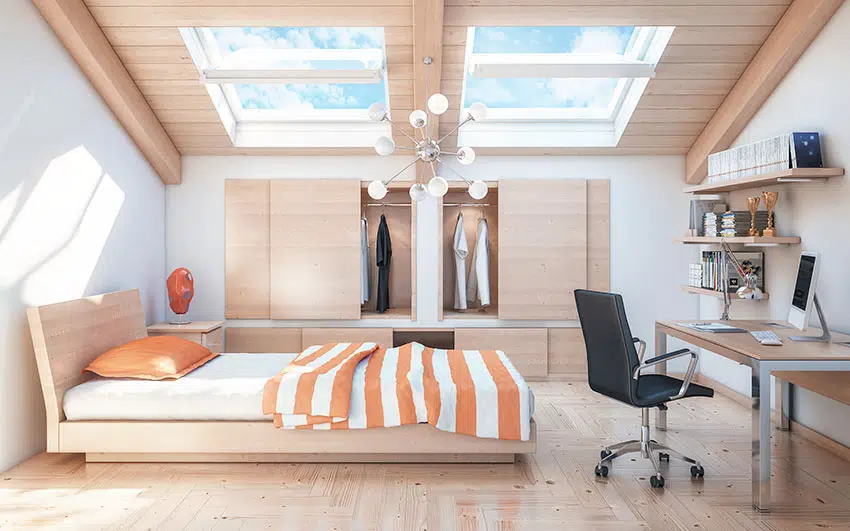 Placing your work desk opposite the bed might take up a considerable amount of space in your bedroom.
However, if you have a spacious bedroom and have enough space opposite to your bed, then it wouldn't be a bad idea to have your desk pushed up against the wall that's opposite your bed.
This would help divide a room into two parts – a bedroom and a workspace and will give you more opportunities to add versatility to your bedroom décor as well. It will also provide more opportunity to make your workspace aesthetically appealing.
Next to the Bed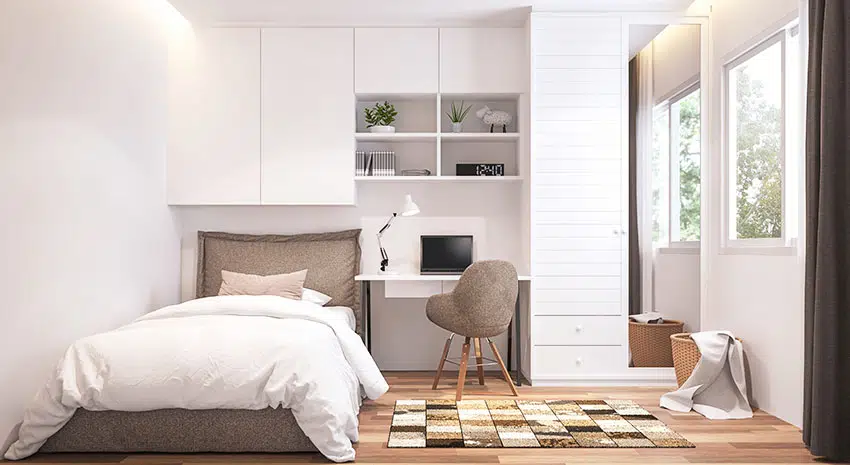 Having your desk next to your bed not only will your workspace be easily accessible, but it can even save space and serve a dual purpose by using your work desk as a nightstand.
This can be an ideal location if you have a small bedroom and really need to put a desk in your bedchamber.
However, a working desk next to the bed can be possibly distracting since it might make you feel the need to go to bed more often or spend too much time working which can cause lack of sleep.
Under the Window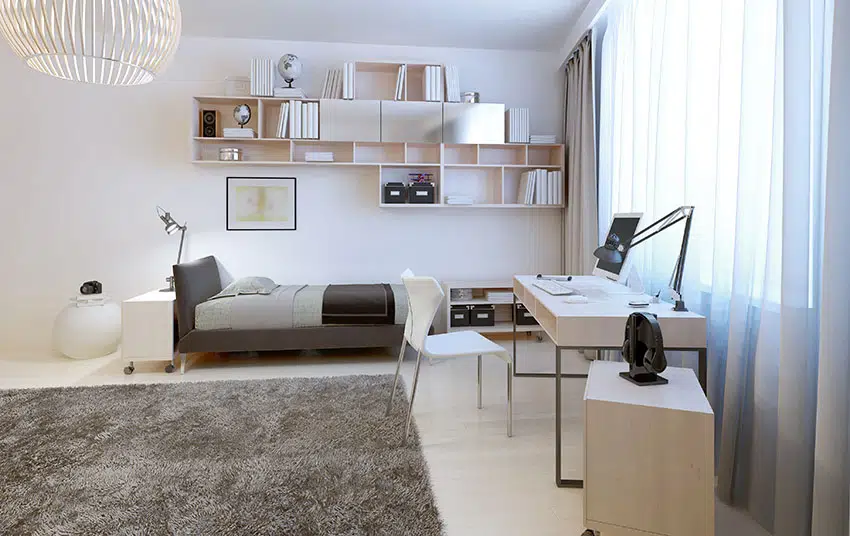 Facing your desk toward a window or under the window is a smart move; especially if you need a lot of natural lighting for your work.
Placing your desk under the window will allow you to make the best use of beautiful natural light and enjoy the lovely view outside your window which can keep you connected to the world around you and brightens your mood.
One should consider that there is a possibility that you might have to deal with lots of outside noise and visual distractions if there is a lot of movement outside your window.
There are people who always love to have some background noise, so a work desk under the window is the perfect place for them.
Corner Placement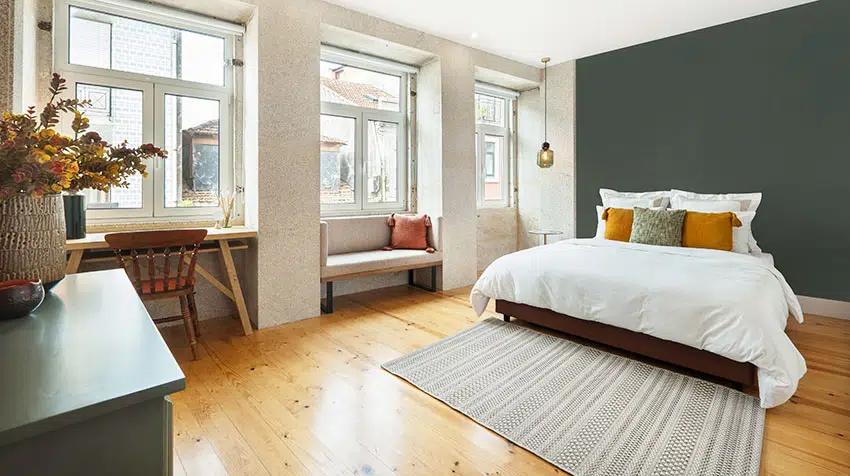 Having your work desk in the corner of your room allows you to make use of the space more effectively. An L-shape desk in the corner of your bedroom can help you organize more stuff and be able to manage your workspace conveniently in a corner.
The only potential downside to placing a desk in a corner, chances are, you will be facing a wall which can make you disconnected. One solution to this is to add décor such as artwork or plants; in order to create an interesting feature in your workplace.
Another solution is to consider placing your work desk at an angle, that the desk is facing outward into the room and having your chair against the wall or into a corner.
By doing so, you are still making use of the corner placement and at the same time, you may feel less isolated and be more productive. Check out our creative bedroom corner ideas here.
Placed in the Closet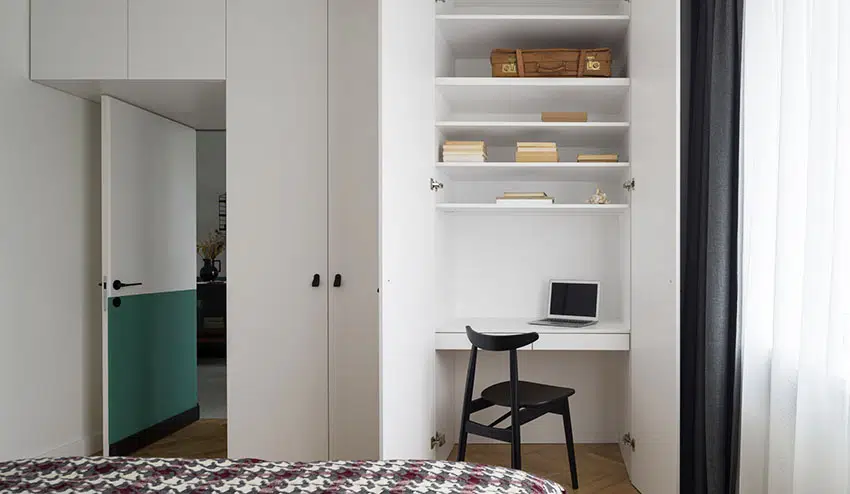 If you have enough space in your closet to fit a desk, it is a fabulous idea. This will allow you to shut the door when you're done with work and keep your workstation away from view.
This way, your workplace won't have a visual impact on the rest of the bedroom and establishes a separate and dedicated spot for doing office work or studies.
Work desk placed in the closet can be a suitable choice since it provides you with a more comfortable and quiet space to work, which can boost your efficiency.
Wall Mounted Desk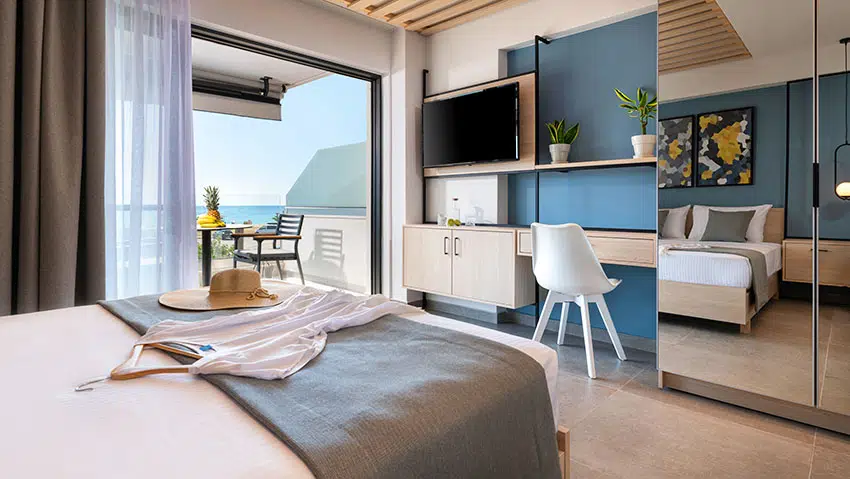 Wall-mounted desks are extremely functional since it does not take up a lot of bedroom space and it provides a significantly smaller workspace than a traditional desk. You can install a series of floating shelves to store your work supplies.
Some wall-mounted units are adjustable, as well as temporary and can be dismantled. This wall-mounted desk is ideal for small rooms wherein a full-sized desk may not be an option due to a lack of space.
Portable Desk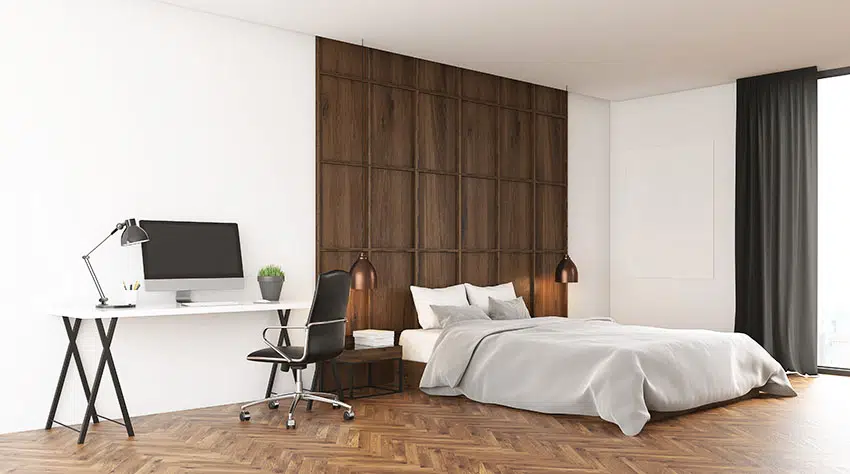 Similar to the idea of a wall mounted desk, a portable desk is the best option if you do not have adequate space for a desk in your bedroom.
We recommend that you get a small portable desk, preferably a foldable one. This way, you can easily set up your entire desk whenever you need to use it and then move it out of the way when it's not in use.
Another design idea for a portable desk is to add wheels to it, so that you can easily move your workplace from room to room.
Where to Put A Desk in a Small Bedroom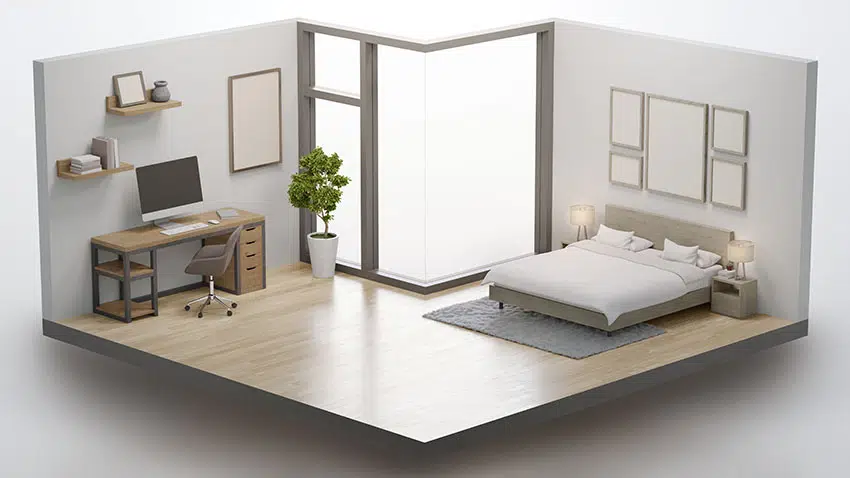 While planning out your desk placement in your small bedroom, there are several things to consider such as desk size, desk view, bedroom built-ins, lighting, room layout and design. You need to make conscious decisions about how you can work most efficiently, and how your workspace can help.
When your bedroom space is limited, utilizing every inch of space is the key; and putting up a simple single shelf by the window to use as a dedicated workstation has to be one of the smartest ways to make for a small space to function as a workplace in a bedroom. Check out our guide on how to make small bedroom look bigger here.
By doing so, you get ample amount of natural light during the day and offers a pleasant view; it also provides a cozy nook with a desk that maximizes the space.
Placing your desk toward a wall or window is perfect since by having your back to the bed, will help you be less distracted, because it can keep you away from feeling sleepy when you're trying to work.
Another good place to put a desk in a small bedroom is to place it beside your bed so it can serve as a multi-purpose furniture – when it is not used as a work desk, it can be a nightstand.
You can split the drawers, some for storing your work supplies and use the other half of your drawers to store things you'd usually store on your nightstand.
Should Your Desk Be In Your Bedroom?
Ideally, your bedroom is a place for rest and to relax your mind. Having a desk in your bedroom and working from the bedroom means you are mixing work with rest. But if you are living in a small apartment or crammed place, the only choice can be to set up a workplace in a bedroom.
Always remember that it is important to keep a distinction between work and relaxation areas. Keeping physical space between your bed and desk is key to achieve balance and harmony in your bedroom.
There are strategies that you can apply to create a distinction between work and rest. One good idea is to install a curtain or screen to separate work and sleep areas.
Another effective way is to incorporate shelving units that could clearly separate the bed area from your workplace; and in addition to offering that divide, it also features storage solutions that are very functional in terms of design.
Is It Bad Feng Shui To Have A Desk In Your Bedroom?
To those you practice the Feng Shui philosophy believe that everything and everyone in a living space has a certain energy, or "chi". The theory of Feng Shui from a home's natural and external surroundings to its furnishings and décor can affect all aspects of our lives based on how we arrange those objects.
By using principles of feng shui in the bedroom, studies show that sleep quality improved. The same goes with applying feng shui in office environments will make you feel better and productive.
In certain cases, when there is a limited space, your bedroom may have to double as your home office. This doesn't mean you don't have flow-friendly options for desk placement.
Feng Shui recommends positioning the desk diagonally opposite from the door, since it is the power position of the room wherein you should be able to see the entrance to the room and gives an overlooking view of the whole room; this would help you think clearly.
According to the Feng Shui, you should avoid having your back to the door as it could be too distracting. Also, placing your desk against a large window is believed to drain strength.
Feng Shui recommends not placing a desk facing a wall, since it can destruct concentration and creativity.
If the only space that is best to place the desk is near your bed, consider incorporating a folding screen or curtain to block direct views of your sleeping area. This way, it will help you avoid daily work stress while in bed.
It might be the logical place for your desk due to the considerable amount of space in your bedroom but having a desk opposite your bed is believed to mess up the room's Feng Shui.
This happens because it creates anxiety in your mind when the last thing at night and first thing in the morning you see every day is your workstation. Visit our article about Feng-shui ofiice for a more in-depth guide.
Should Your Desk Face The Window?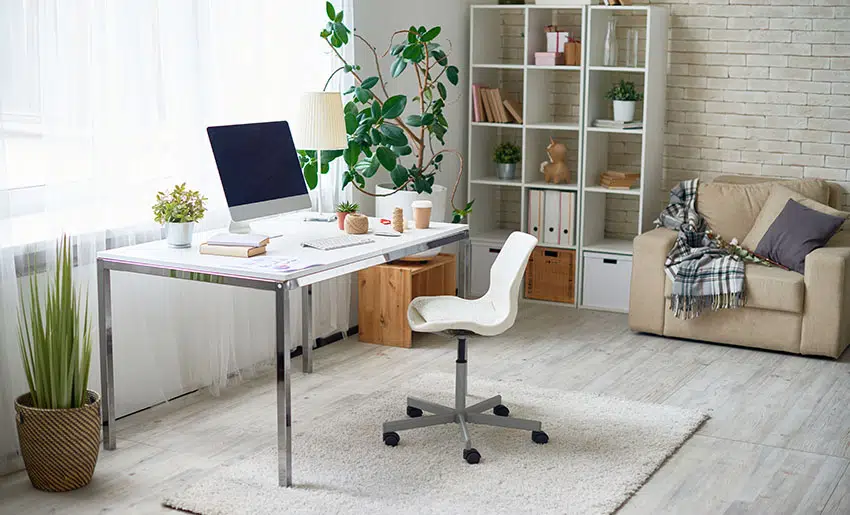 Sometimes the bedroom space can restrict or limit where your office desk goes, but we suggest that you consider your work habits, distractions, and how you envision yourself working most effectively.
While having your desk face the window allows you to see the changing view outside the window and can prove inspiration; it also helps your brain take a break between tasks. Even the sunlight that comes through the window can help you maintain a positive mood.
But for some, having their desk placed against the wall is a preferred direction as it restricts them from visual distractions.
Another factor to consider is that when the sunshine outdoors is brighter than your computer screen it makes it harder to see the screen which can potentially cause eye fatigue and headaches. All these issues decrease your work productivity.
We suggest placing your desk at right-angles to the window, preferably facing into the room and door; this way, it will help you keep away from the window glare but at the same time, it still can illuminate your desktop with natural light.
This will still allow you to have a view of the nature outside with just a turn away, giving you the mental and visual breaks from your work that you deserve. Being able to see the door, will prevent the distraction of your vigilance response.
To help visualize your room and furniture positioning without actually moving anything around you can use one of the bedroom layout planner software tools available.