Discover if an industrial bedroom style is right for you, including what it is, the characteristics of modern, rustic, cozy & boho designs, and industrial style furniture suggestions.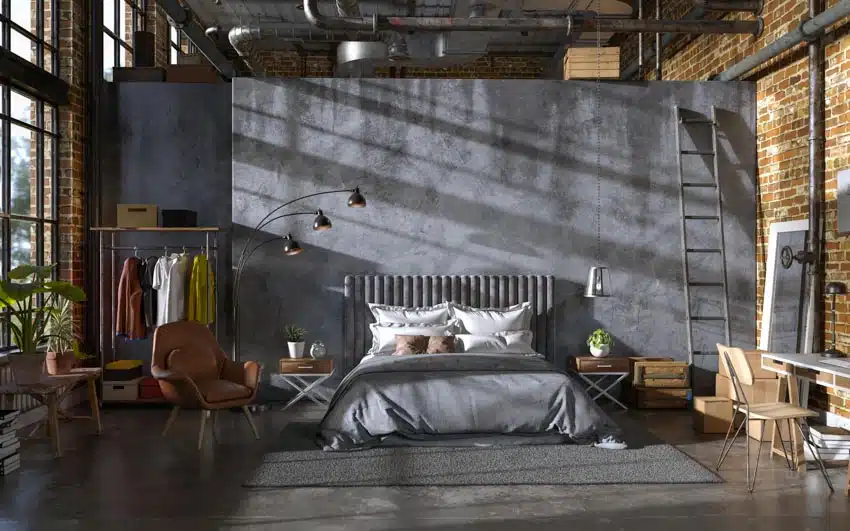 What better location to enjoy the house with an old-factory feel than where you sleep? Exposed brick walls, iron finishes, and unpolished flooring highlight the breadth and depth of the industrial bedroom style. In this article, we will help you create an industrial-inspired bedroom that is elegant and comfortable and allows you to unwind at the end of the day and awaken feeling refreshed.
What Is an Industrial Style Bedroom?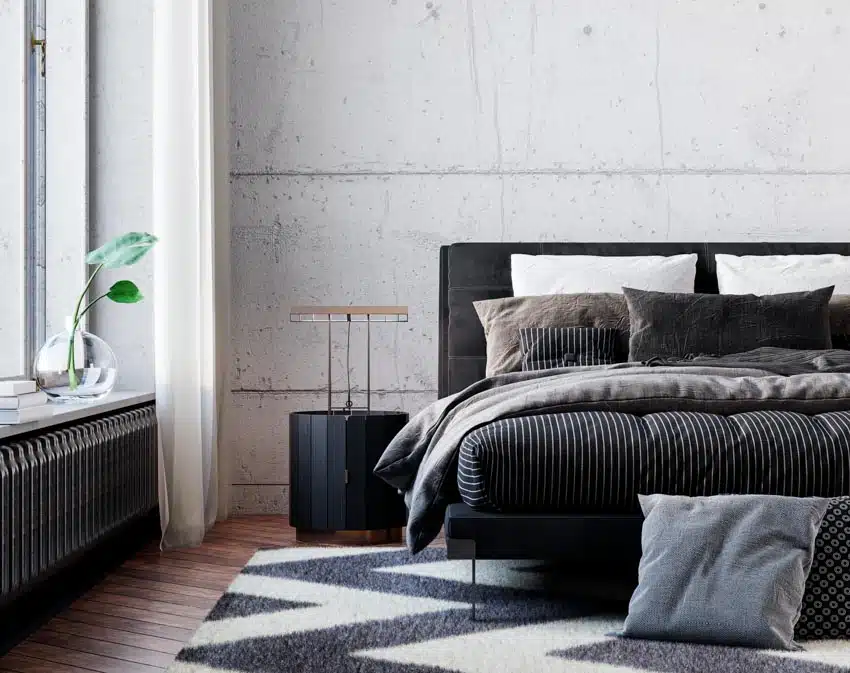 Old factories and warehouse lofts in large cities serve as inspiration for industrial bedroom design. There are often exposed brick walls, beams, and pipes, and a typical open plan where the structure's "bones" can be seen. With industrial bedroom design, you're looking for a worn-in look with a few comforting touches scattered throughout.
The chambers in many industrial interiors have unusually high ceilings, similar to those in a manufacturing loft. Even better if the ceiling beams are visible! Another typical architectural element of industrial bedrooms is the accent wall made of exposed brick. Industrial styles are often gloomy by design, usually with black walls and flooring.
Modern Industrial Type Bedroom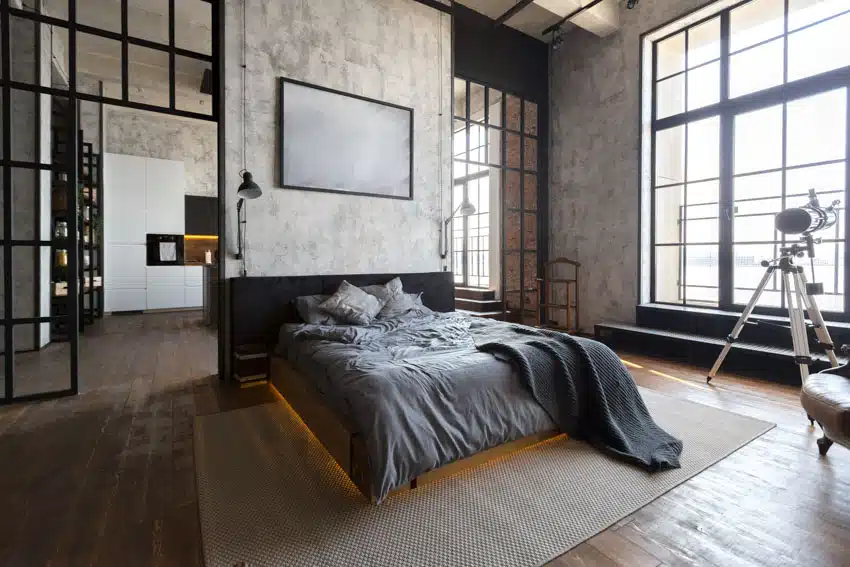 The modern industrial bedroom uses aged wood details and exposed brickwork from an early 20th-century industrial period. The modern twist includes elements like copper to highlight the aged-looking pieces. Most modern industrial bedrooms have three key components:
• Open Layouts: Choosing an open floor plan makes sense since spacious spaces often come to mind when considering an industrial design. You may embrace the rawness and leave the infrastructure exposed. Designs are often simple, which allows contrasting components like rustic or old items.
• Unique Lighting: High ceilings and dramatic types of lighting fixtures, like light globes suspended from cables or stage lights, are significant trends. Another interesting method for achieving a vintage industrial vibe is pendant lighting, such as filament lights with Edison-style bulbs.
• Timber and Metal: Complementing the industrial components with smooth, shiny metal finishes is a fantastic design choice. Or, to contrast with the industrial elements, add a rustic tone by using rich wood.
Industrial Farmhouse Bedroom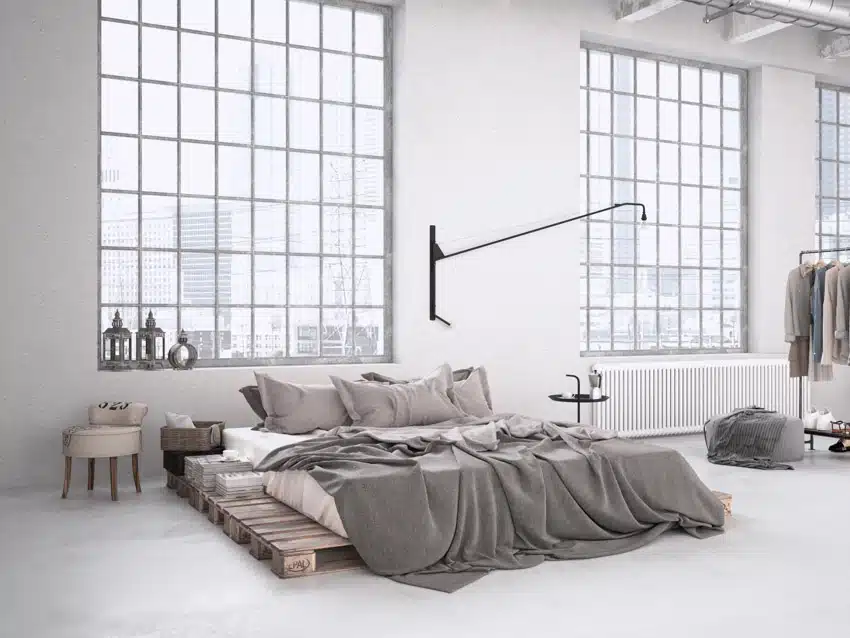 When you hear the phrase "industrial farmhouse," you should picture a rustic setting with a modern twist. To get the appearance and feel of this design, you don't necessarily need to live in a farmhouse.
To create an industrial farmhouse look in your bedroom:
• Have the appropriate pieces: Look for items made of various materials, different types of wood, and maybe even a mix of metal and wood. Additionally, seek bleached items since they have a rustic appeal without being too lumber-heavy.
• Boost the classic charm: Add standard features, such as cloth patterns and colors, to avoid being too industrial. Don't be afraid to combine different patterns and colors to get hues that contrast with the white, metal, and wood.
• Look to the past: Look for vintage things, such as a wooden seat or a corrugated metal watering can. Use the elements that speak to you and reveal a little bit about your background to unify the room.
Rustic Industrial Room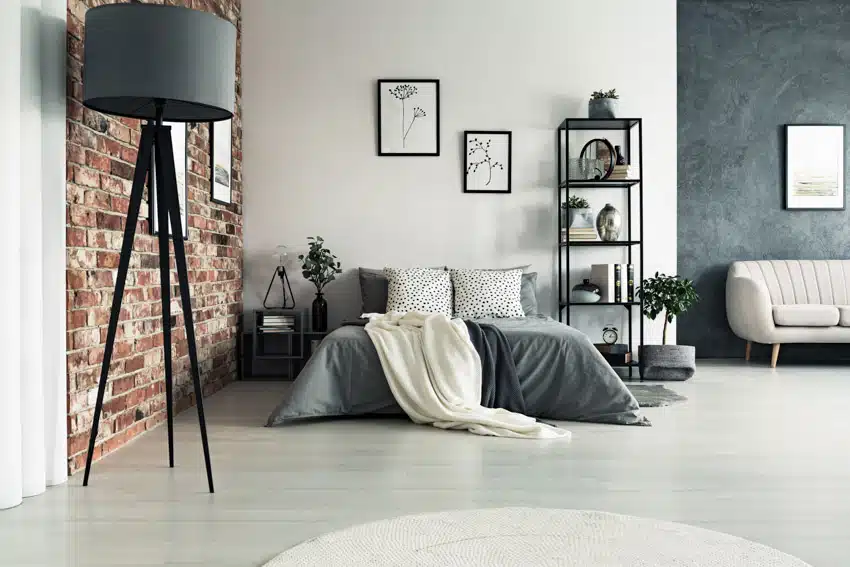 The rustic industrial-style bedroom is a good choice if you like retro bedrooms with a hint of rustic decor. This style is unique because it combines more polished features with an unfinished nature to create a stunning blend. Here are three ideas for creating rustic industrial decor:
• Natural palette & textures: Undoubtedly, a rich color scheme that combines black, white, and neutral browns is one of the fundamentals of a rustic industrial bedroom. Along with rustic colors, textures are crucial to industrial interiors' high-low balance.
• Incorporate distressed wood: Texture is essential when choosing wood for industrial interior design. The ideal option is weathered wood with noticeable knots and a rough feel. Additionally, it's optional for the colors of your wooden pieces to match exactly. If it doesn't match, the better!
• Combine modern and rustic elements: The combination of modern and rustic is a constant feature of industrial interior design. For instance, you might choose a sleek black leather couch or a distressed leather sofa to create an equally beautiful industrial interior design. You might also decide to paint the walls white or leave them unfinished.
Bedroom with Cozy Industrial Vibe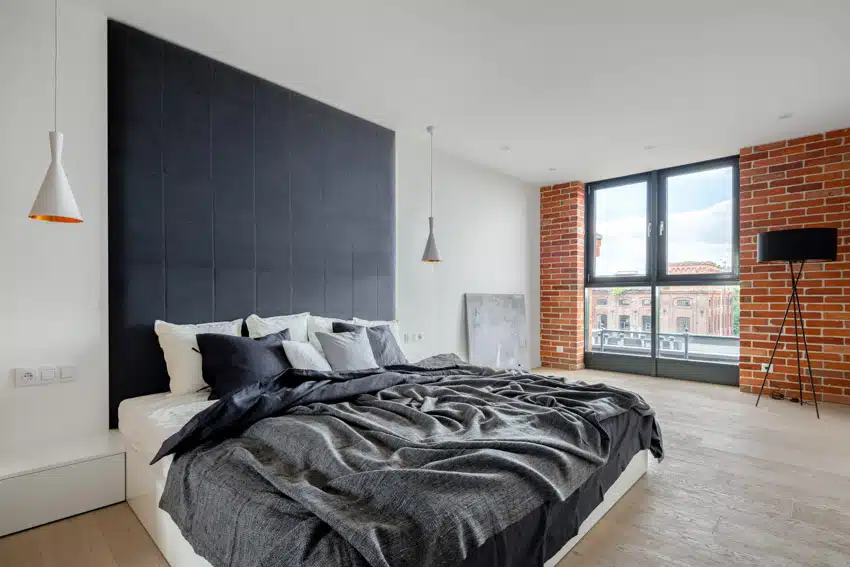 It is crucial to achieve a balance when working with an industrial-style design that is representative of its industrial past and feels livable and cozy. A combination of hues, patterns, textures, and oversized furniture may offer comfort and warmth to an industrial environment.
Below are methods to give the industrial-style design a touch of coziness.
• Accessorize with the large-scale decor: Due to the open concept nature of industrial spaces, big types of furniture styles may assist in establishing boundaries within the room and prevent it from seeming sterile or empty.
• Show off monumental art: A large piece of art may provide character and warmth to the interior while also helping to balance the scale of an industrial setting. It helps to establish focus points that direct the eye and makes the space unique to the customer.
• Add your personal touch: You may do this with carefully chosen vignettes, heirlooms, and bespoke items that connect emotionally to the surroundings. Use furnishings to give the area a cozy and familiar feel, whether it's curated art, a personal library, or framed family photos.
Industrial Boho Bedroom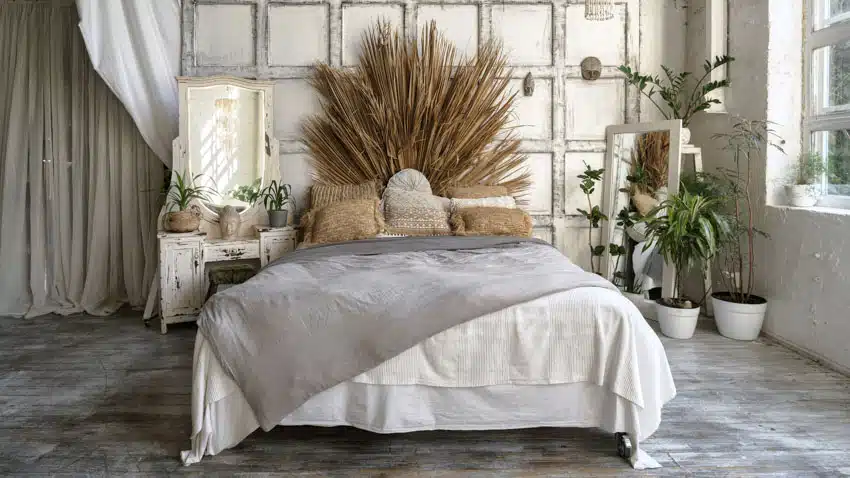 The color scheme in an industrial boho bedroom is kept simple or neutral. Consider using wallpapers with a bohemian feel, lime-washed walls, and concrete pillars. The critical elements of boho design include layering, soft edges, a lack of rigidity, and a casual attitude to interior design.
Here are a few tips to help you get started in your industrial boho bedroom:
• Natural raw materials: Raw elements, like exposed brick and steelwork, look well in homes designed in the industrial boho style. The ideal industrial boho blend involves mounting wooden shelves with steel brackets and showcasing your plants.
• Walls with concrete and limewash: Lime washing is ideal for an industrial boho design since it gives the wall a rustic, almost unfinished appearance, and the texture nods to boho furnishings.
• Earth tones: Like the industrial design, boho adds old objects and earthy colors like white, brown, rust, and mustard. Limit the use of black to a minimum. Boho decor is a bit softer and usually composed of earth tones. Combining the wood paneling, forest wallpaper, and exposed steel beams is a beautiful illustration of industrial boho decor.
Bedroom Furniture for Industrial Themed Rooms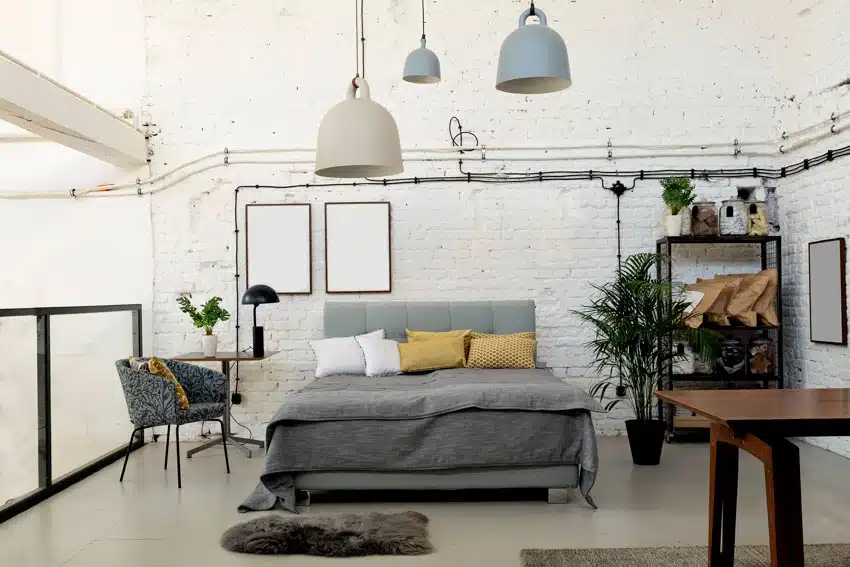 Simple, contemporary, and adaptable materials define industrial bedroom furniture. Raw concrete, steel, and bare wood are the materials that best exemplify the industrial look. These materials can generate an attractive and entirely distinctive simplicity across the space, from the table to the chairs, the low coffee table to the pendant lighting, and even the upholstery.
Industrial bedroom furniture has a specific style built on simple, straightforward, and clean lines. It often has robust and practical construction and uncomplicated forms. These types of bedroom furniture are adaptable and able to fit into various decorating environments because of their worn appeal.
A practical and attractive alternative for the bed is to have the mattress sit directly on a covert foundation built, for instance, of pallets. Wrought iron, leather, or wood are the best options for perfect industrial furniture.
Lighting for Industrial Sleeping Spaces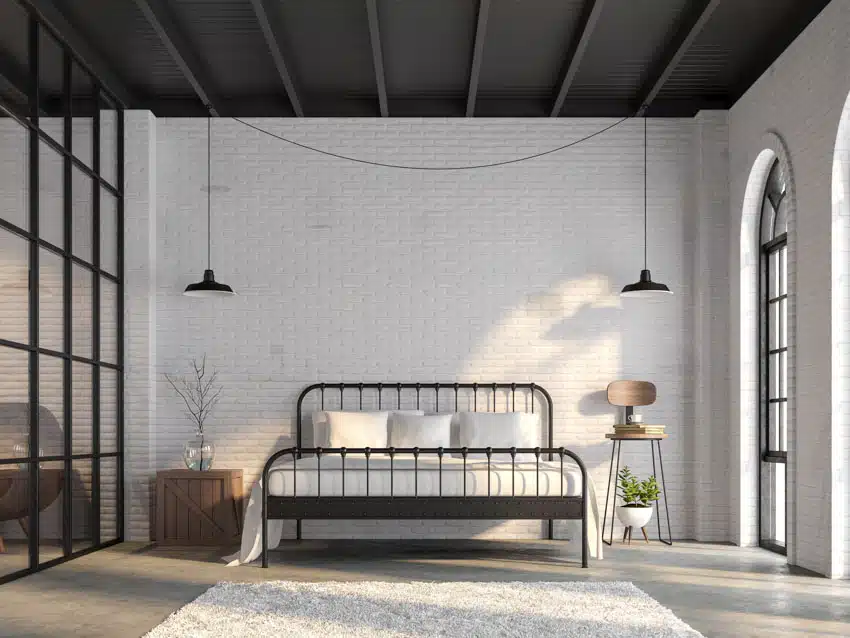 You will need a reliable lighting source to create the proper atmosphere in your industrial bedroom. Here are our top suggestions for industrial bedroom lighting.
• Bulb-less hanging lights: Industrial lighting design is where the naked light bulb concept first appeared. For work reasons, workers mounted a light bulb directly linked to the building's power. Since this fashion caught on, many houses now have this essential lighting.
• Cage lighting: Cage lighting is another well-liked design concept in bedrooms with an industrial theme. Cage-style lighting comes in a variety of shapes and sizes. There are just a few metal beams to guard the light; there is no shade to block it.
• Lighting with a metal dome: Another excellent industrial bedroom lighting design is metal dome pendant lighting. The top surface of metal dome lights is round, protecting the light bulb. Observing it from below reveals the bulb. The designs for this kind of lighting fixture are highly industrial-looking.
Bedroom Decor for Industrial Designed Spaces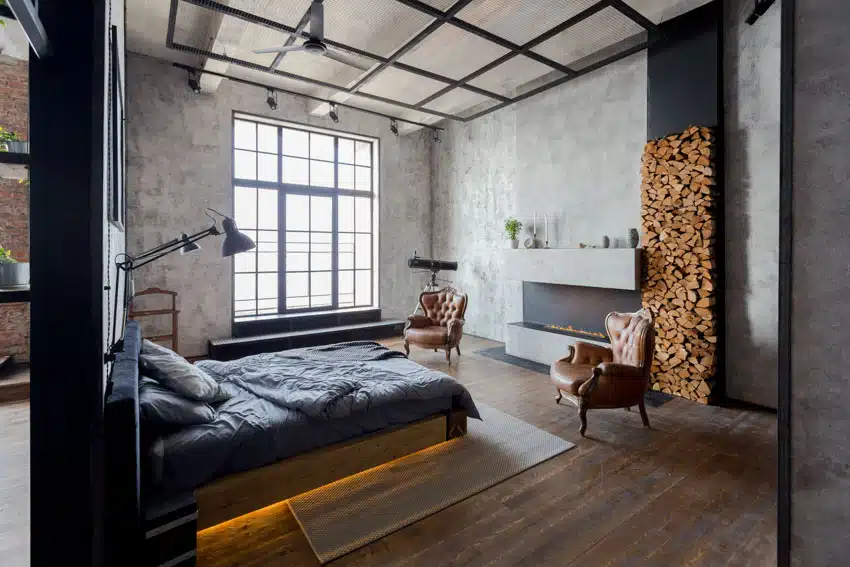 These trendy industrial bedroom accents and decor are perfect for your walls and more.
• Wall art with industrial factory wheels: This decor is the epitome of an industrial bedroom design. The set of black iron industrial wheels transforms the wall over the bed into a lovely wall sculpture. Above the bed, you can put a reading light provided by swinging metal sconces.
• White sheer curtains: The silky white drapes provide seclusion while filtering the light from outside. While maintaining its industrial roots and character, this decor makes the bedroom spacious and bright.
• Gray wall panels: Add gray panels to the bottom part of your bedroom wall for a unique decorative touch. Above the nightstands that are close to the bed, you can put two wall sconces.
• Sheets in white and gray: For bed linens, bedrooms decorated in an industrial design are often in gray and white. You can put a throw blanket made of gray wool on top of a pair of bright white bed sheets.
• Wallpaper with a gray newspaper print: One exciting option is to use antique or factory-inspired wallpaper. This design adds a lot of character to the room and makes an excellent background for the abstract black-and-white artwork that hangs above the bed!
Bedroom Decor for Masculine Industrial Rooms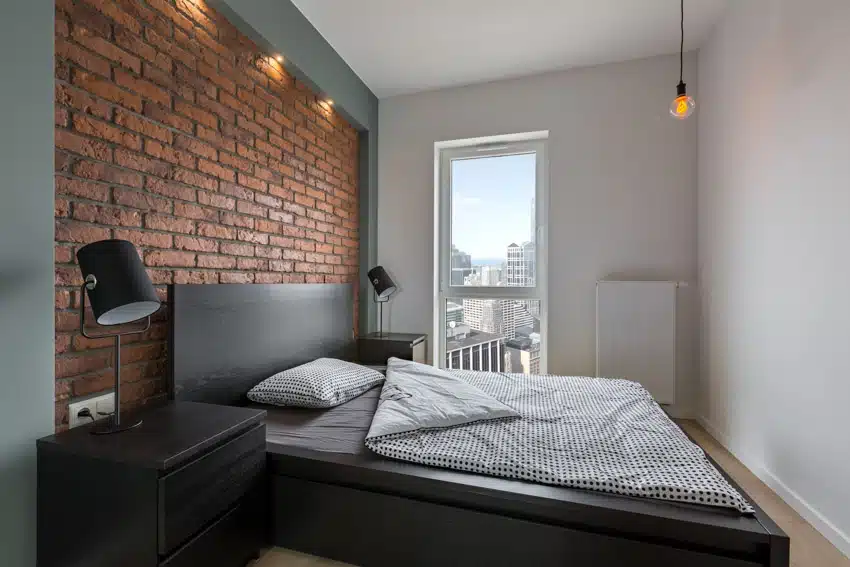 A masculine industrial bedroom decor keeps stuff to a minimum. This fashion is minimalistic, simple, and uncluttered. You are attempting to create a warehouse-like atmosphere with this kind of decoration – no bother, no frills.
Choose cement flooring or an epoxy-coated floor if you want to go all out with this style. You may switch to a more contemporary laminate floor if the cement is too much. Use grey-hued exposed brick or cement-based paint treatments on the walls. You can incorporate simple, clean-lined timber, stainless steel, or metal furniture, mainly vintage, rusty decor like lockers.
The essence of an industrial concept includes metal or stainless steel, bricks &; wood. Using these materials can add drama and color to the space. – interior designer Maria Bott.
The dominant colors are subdued and neutral, like gray and black. The accessories include exposed electrical and air conditioning ducts and oversized, functional lighting fixtures with a metal finish. Avoid accessorizing areas where it is not necessary to, and make the space usable.
Bedroom Decor for Feminine Industrial Spaces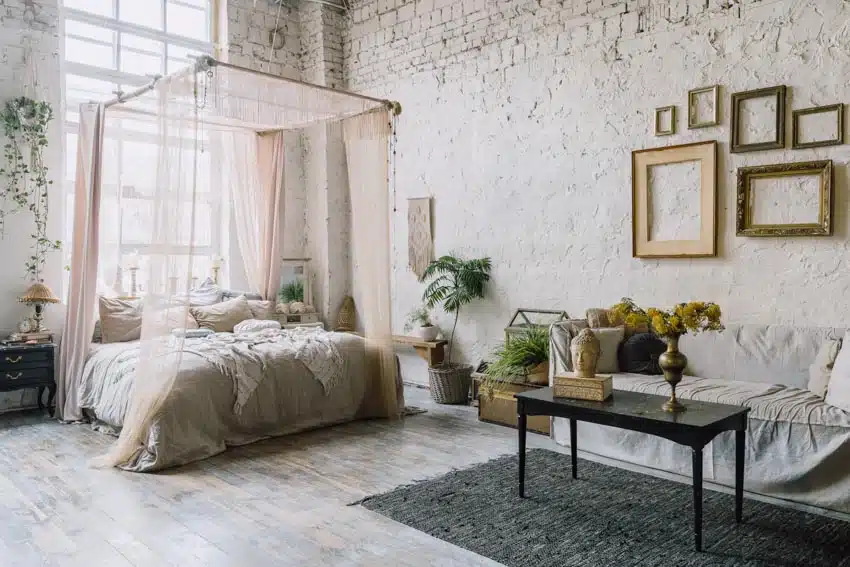 An industrial-style bedroom may also be cozy, inviting, and feminine. Make a bed out of reclaimed wood the focal point in a feminine industrial bedroom decor. Use pastels to make your bed appear feminine, cozy, and welcoming. Add some bed blankets or scatter cushions with flower prints for some patterning.
Consider just accessorizing in industrial design if you only want to give your bedroom a faint flavor of industrial. Choose industrial bedside lights, change out the knobs on your doors and drawers for black ones, and replace parts of your furniture, such as your little bedroom table, with pieces that have steel frames or legs.
Lastly, add some greenery. Hanging indoor flora can instantly soften your space. You can also choose meadow flowers, dried flowers, or artificial flowers. They look picture-perfect everywhere in the room, from a painted chest of drawers to a wooden blanket box at the foot of the bed.
Paint Colors Suitable for Industrial Theme Spaces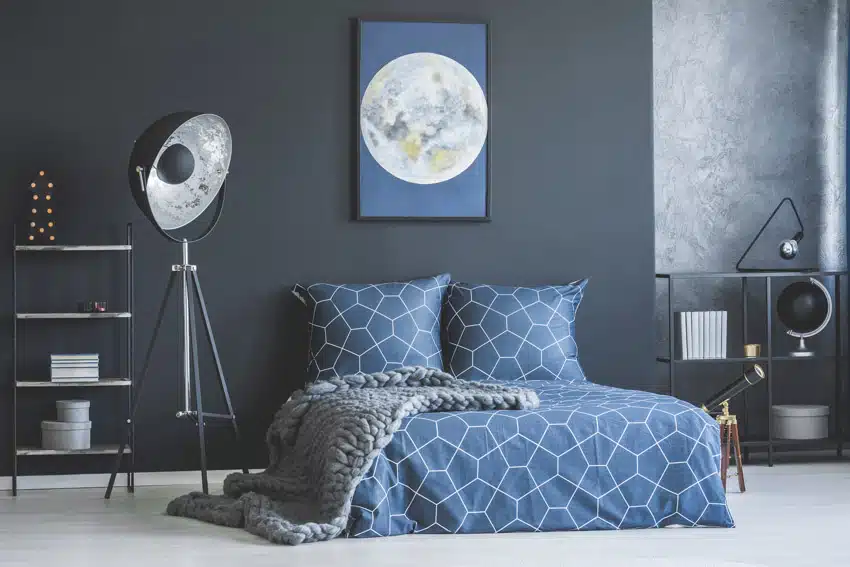 White, black, grey, and brown should all be in your contemporary industrial components. Remember that "natural" and "naked" are operative terms in industrial interior design. Industrial interior design generally uses mixtures of earthy and neutral tones to create a clean and well-balanced appearance.
• Black: A strategy that always succeeds is the black-and-white color scheme. The white background guarantees that all metallic accents and industrial components stand out visually, making employing massive, dark metallic frames easy. Black, such as Sherwin Williams Tricorn Black, will always give your home a hint of refinement and mystery.
• White: White helps give your bedroom a clean aesthetic, mainly when utilized in contrast to the black. It is also a go-to shade for making an industrial bedroom seem cleaner, lighter, and more significant than it is.
• Gray: Given that it goes well with every hue, gray is a neutral color standard in industrial bedroom style. Often referred to as the contemporary designer's favorite, it has a variety of uses, including softening, warming, and cooling interiors. Benjamin Moore's Chelsea Gray is a good choice of gray.
• Brown: When coupled with the stark black and white contrast, the color brown, such as from Clare Shade, exudes security and symbolizes comfort in an industrial bedroom.
After choosing a neutral color scheme, you may add bright colors to minor elements. Bright accent colors like tangerines and yellows provide warmth and comfort, while dark hues like navy blue accentuate the size of your industrial-themed bedroom.
See more related content in our article about modern bedroom colors on this page.