In this headboard sizes guide, you'll find the different king, queen, full, and twin dimensions, a size chart, and how to measure headboards.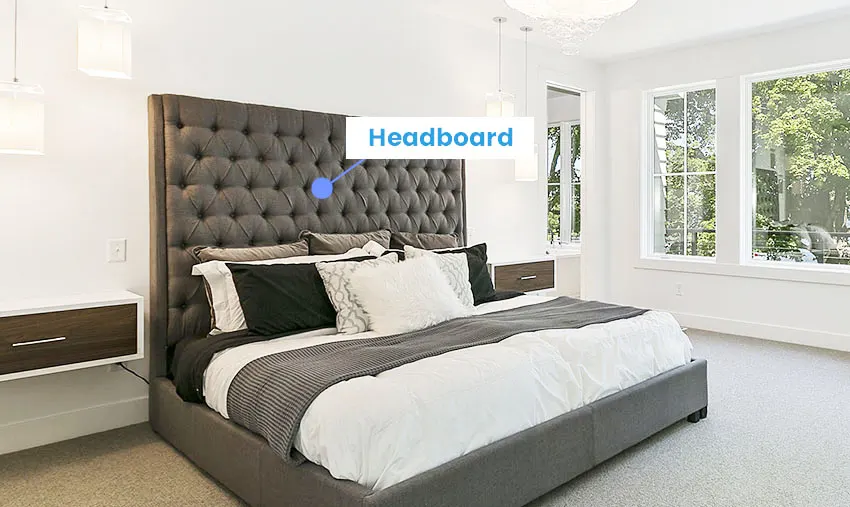 One may think that a headboard in a bed is just a decorative element for aesthetics, but it is more than what it looks like. Headboards protect the wall. It also supports a homeowner's head when they are reclining or lying close to the wall and are there to prevent the pillows from falling on the floor.
Aside from the design a homeowner wants to have for their headboards, there is also the consideration of the right size because a too-big or a too-small piece against the bed frame and the foam will look irregular and out of place.
Standard Headboard Dimensions
The width is probably the most critical dimension a homeowner should consider in a bed frame. Knowing the correct bed frame width will ensure that the headboard is attached correctly to the bed frame.
When choosing the perfect bed and headboard for a room, the bedroom size and all the other furniture pieces, like side tables and dressers, should also be considered.
Here are the most common headboard sizes for king, queen, full, and twin beds.
Average Sizes For Headboards Chart
Here is a helpful chart for homeowners' needs for choosing the right measurements.
| | | | | |
| --- | --- | --- | --- | --- |
| Bed or Mattress Size | Headboard Width in Inches | Headboard Width in Centimeters | Mattress Dimensions | Minimum Room Size |
| Twin and Twin XL | 41 inches | 104 centimeters | 38 by 75 inches or 97 by 191 centimeters | 7 by 10 feet or 2.13 by 3.05 meters |
| Full | 56 inches | 142 centimeters | 53 by 75 inches or 135 by 191 centimeters | 10 by 10 feet or 3.05 by 3.05 meters |
| Queen | 62 inches | 157 centimeters | 60 by 80 inches or 153 by 203 centimeters | 10 by 10 feet or 3.05 by 3.05 meters |
| King | 80 inches | 203 centimeters | 76 by 80 inches or about 193 by 203 centimeters | 12 by 12 feet or 3.65 by 3.65 meters |
| California King | 74 inches | 188 centimeters | 72 by 84 inches or approximately 183 by 213 centimeters | 12 by 12 feet or 3.65 by 3.65 meter |
King Size Headboard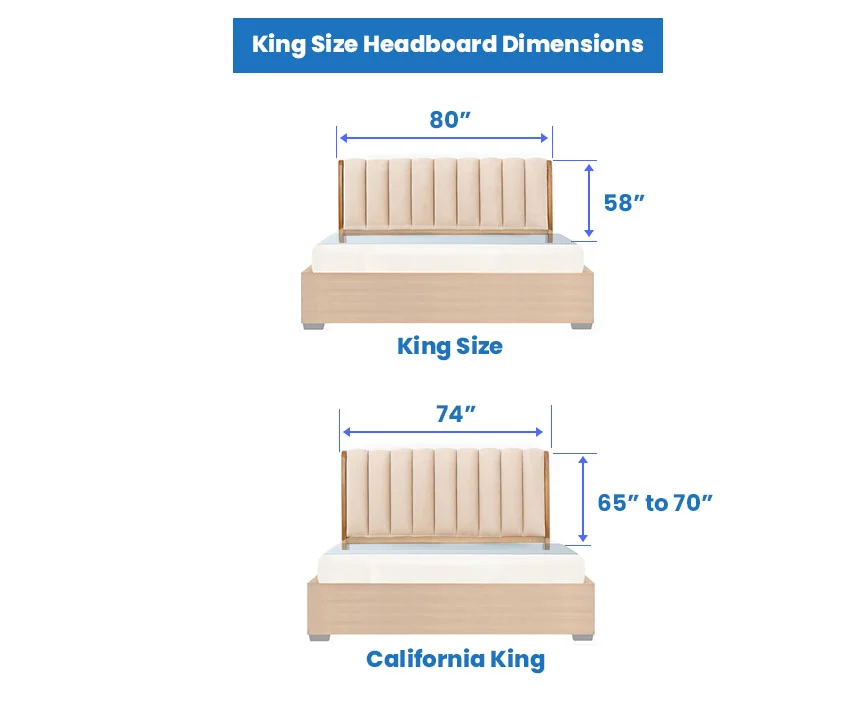 The king-size headboard is perfect for a king-size bed of 76 by 80 inches or 193 by 203 centimeters. Headboards for a king-size bed will have a width of 80 inches or 203 centimeters.
Height is also essential, and most king-size headboards are 58 inches or about 147 centimeters high. Homeowners can also choose a taller product for aesthetics, and there are adjustable headboards if they are a little indecisive about what to get for their king-size bed.
Aside from the king-size mattress, there are more extensive California king-size beds that will need an appropriate backboard.
The headboard width for a California king-size bed extends to 74 inches or about 188 centimeters. Heights will vary from 65 to 70 inches or 165 to 178 centimeters and even taller, depending on a homeowner's preference.
Queen Headboard Measurements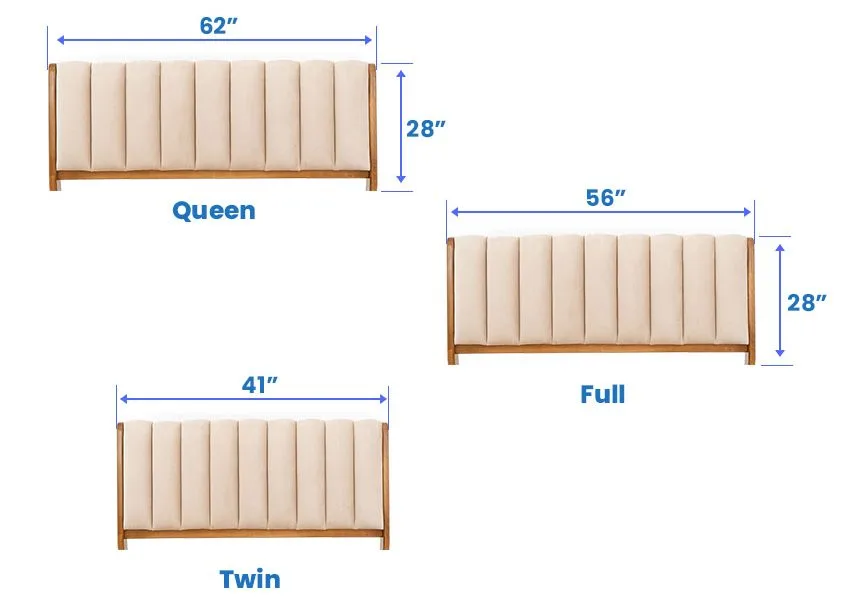 Size is just one factor with aesthetics, and there are many others, including what the headboard is made of, whether it is made in wood or metal or upholstered and quilted or not. Metal headboards give a nice modern feel to a room, and it is also the most cost-effective option compared to woods like maple or oak.
One of the most common bed sizes available in many homes is a queen-size bed and mattress and matching a headboard to go with it.
A queen mattress is 60 by 80 inches or about 153 by 203 centimeters, and the perfect headboard size to go with this is 62 inches or 157 centimeters from side to side, while the height can differ from 28 inches or 71 centimeters and taller if that's what they want.
Full-Size Headboard Sizing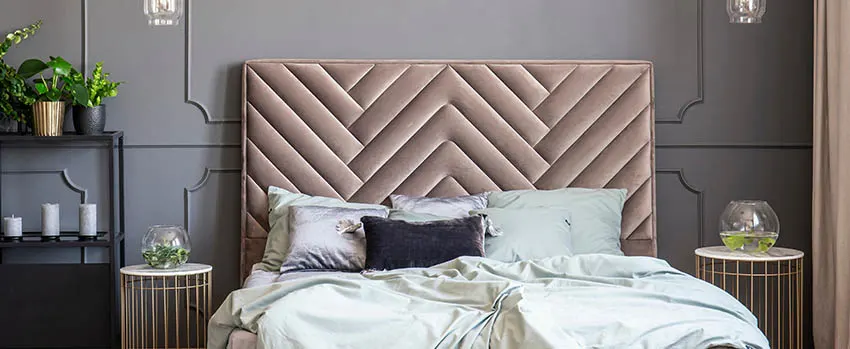 Another standard bed size is the full-size bed, and getting the dimensions suitable for a headboard for this bed size is essential so the mattress will not wholly overwhelm and take over the room. The perfect width for a perfect headboard for this bed is 56 inches or about 142 centimeters from side to side.
Heights will vary, but anything taller will be awkward for such a shorter bed. A perfect headboard height for a full-size bed is the same as a queen-size mattress at 28 inches or 71 centimeters from top to bottom. Although the heights of a full and queen can be interchanged, the widths are fixed, and queen-size headboards will not match a full and vice versa.
Twin Headboard Width & Height
What will work for a twin bed will also work for a twin XL, making shopping for the perfect product for these sizes pretty straightforward. Children or teenagers use most twin and twin XL, and the only difference between them is one is longer, which is the twin XL, and one is shorter.
The headboards for both twin or twin XL have a width from side to side of 41 inches or 104 centimeters. Headboards for this size are usually smaller to save space and also not to be too big compared to the bed. The suggested room size for this bed is anywhere not smaller than 7 by 10 feet or about 2.13 by 3.05 meters.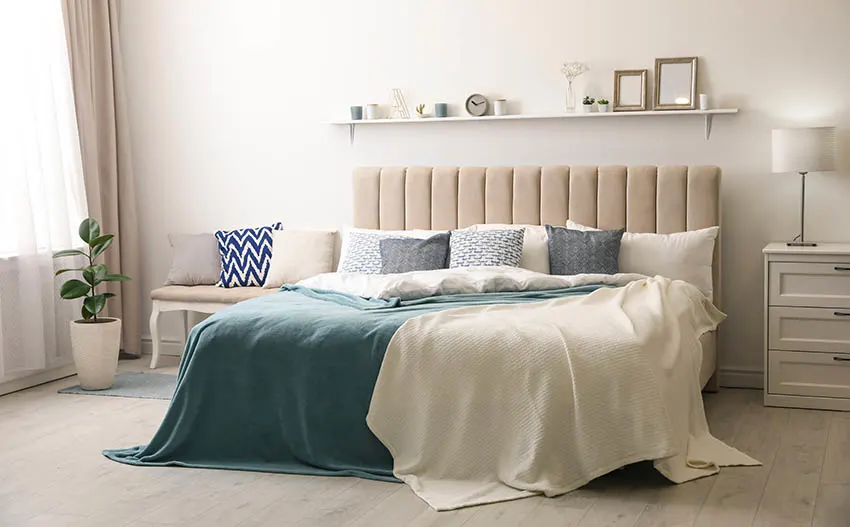 How To Measure A Headboard?
Measuring headboards for a home is a straightforward process, and all homeowners need to do is measure their mattress from side to side and add a few inches to frame the headboard to the bed.
| Step | Headboard Measurement Tips |
| --- | --- |
| 1. | Tools Needed: Measuring tape, notepad, pen, or pencil. |
| 2. | Width: Measure horizontally from left to right edge. |
| 3. | Choose Height: Start from the headboard base and go vertically to the top. |
| 4. | Thickness: Measure front to back depth. |
| 5. | Curves & Angles: Measure the highest and widest points. |
| 6. | Mounting Space: Measure the distance between mounting points. |
| 7. | Compare with Frame: Ensure the width matches the bed frame. |
| 8. | Overhang Features: Measure any additional features. |
| 9. | Photograph: Take a picture for visual reference. |
| 10. | Check Labels: Verify with product details or labels. |
| 11. | Double-Check: Measure twice for accuracy. |
Another foolproof method is knowing the mattress size and matching the size with the most appropriate headboard dimensions, which is made easy by the many online charts.
How Big Should A Headboard Be?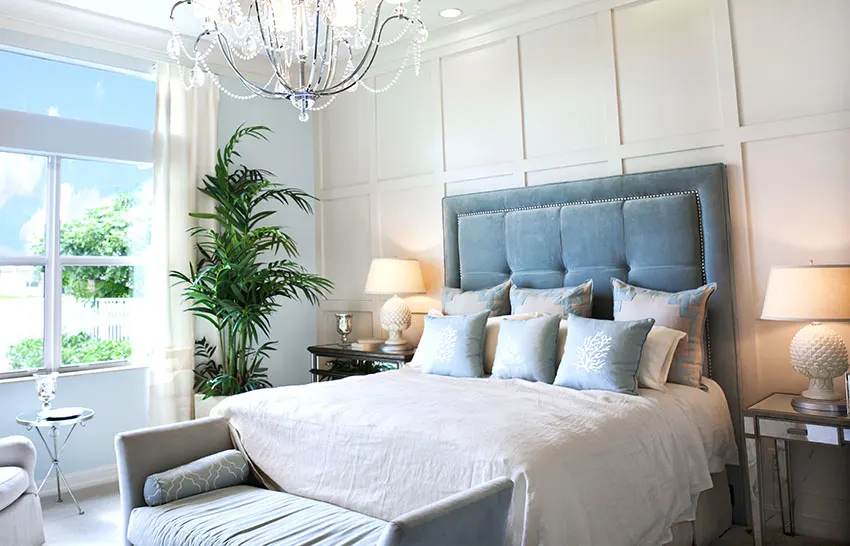 The perfect headboard for a bed should match the mattress and the bed frame size. However, there is more flexibility when choosing the width and height according to their needs and design choices.
The widths are fixed and should be exact in many cases to be functional and proportionate to frame the bed. So, getting it higher and thicker is the best option for more luxurious-looking headboards. As long as you know the mattress size, the headboard will be easy to choose and purchase.
However, when it comes to style, there are a few instances when having wider headboards is accepted. For example, if you have a king sized bed, it is often appropriate to buy a wider design to use as a room statement piece.
This is especially true for larger rooms to make an impression. and add character to the design. On the other hand, you may want a narrower width for a twin bed where space may be more limited.
See more related content in our article about the types of headboards on this page.