Here's our shed sizes guide including standard & popular shed dimensions, window & door, she shed and man cave sizes, and how to measure for a shed design.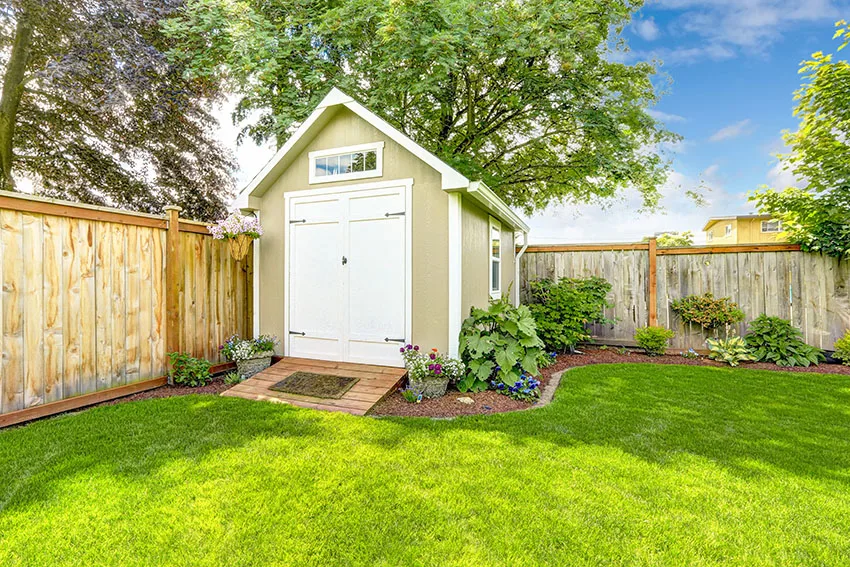 A shed is one of the most useful places for storing extra things besides the garage, especially when the stuff accumulated in a home is bursting at the seams already. Just like a bed, people tend to outgrow their homes, making shed building an essential project for any homeowner.
A shed has many uses, and storage is only one of them, so knowing the purpose will also guide a homeowner on the right size of the shed they need for their homes. A too-small shed will only address the need for building another, so when it comes to shed size, the bigger, the better for a home.
Standard Shed Sizes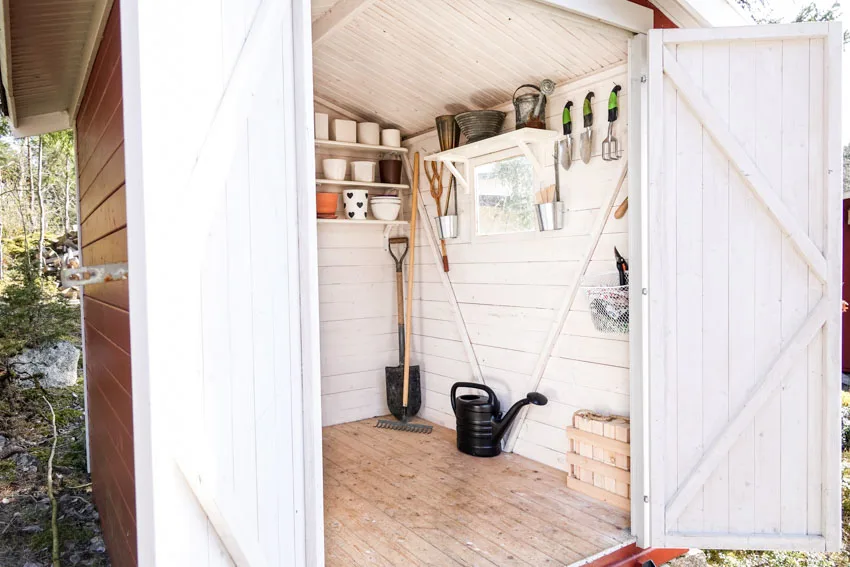 There are many shed sizes to choose from, going from the smaller to the largest extent possible that it could feel like a barn. One consideration is the purpose which can dictate how small or large a shed should be according to a homeowner's specific needs.
There are many smaller types of sheds measuring 6 by 8 feet, which is the equivalent to 48 square feet. There are mid-size sheds at 9 by 12 feet or 120 square feet and bigger ones at 12 by 12 feet or about 144 square feet.
Larger sheds are also available at 14 by 20 feet or 280 square feet to even bigger ones at 14 by 28 feet or 392 square feet to 14 by 32 feet or 448 square feet.
Small Shed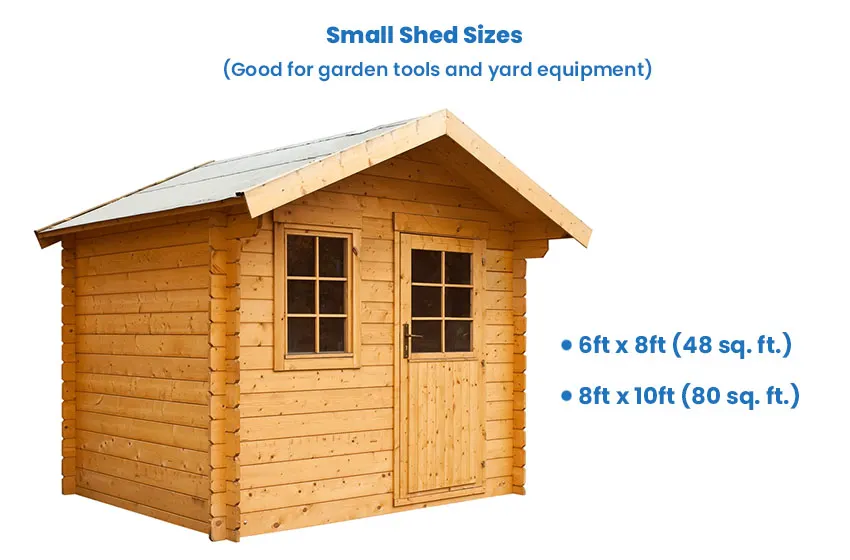 A small shed is the best for homeowners who are gardeners or have a green thumb. All the tools and yard equipment they will need will fit the small shed size with a width and length of 6 by 8 feet or about 1.8 to 2.4 meters. This is more or less 48 square feet to something larger at 8 by 10 feet or about 2.4 to 3 meters which covers the area of 80 square feet.
This small shed will keep anything hidden in them dry and free from all the pests and environment that will increase decay and rusting of many equipment. A small shed is the most appropriate for a smaller home to ensure that the separate shed is not taking up all the space outside the house.
Medium Shed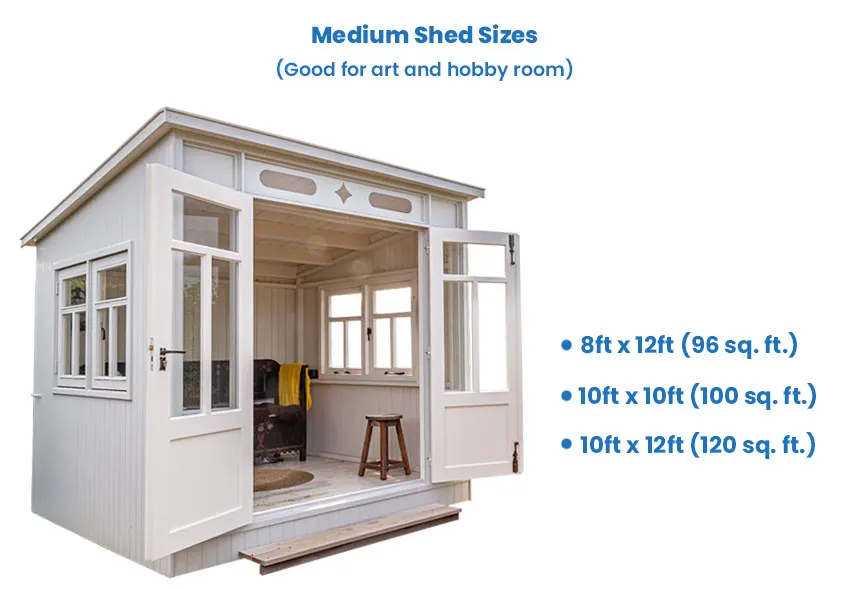 One of the most common shed sizes is the medium shed because they are the midway between being cost-efficient, taking up the lawn space, and also the ability for more storage capacity compared to smaller sheds.
These sizes range from 90 to 120 square feet, large enough for many homeowners who need the space and don't need so much room for bigger equipment.
The medium shed with a size of 8 by 12 feet will cover around 96 square feet. This is the size most used by standard lawns. A bigger size is 10 by 10 feet or 3 by 3 meters, covering an area of 100 square feet.
Another size is 10 by 12 feet or 3 by 3.65 meters covering a space of 120 square feet. This can also be great as an art or hobby room and a she-shed for the ladies.
Large Shed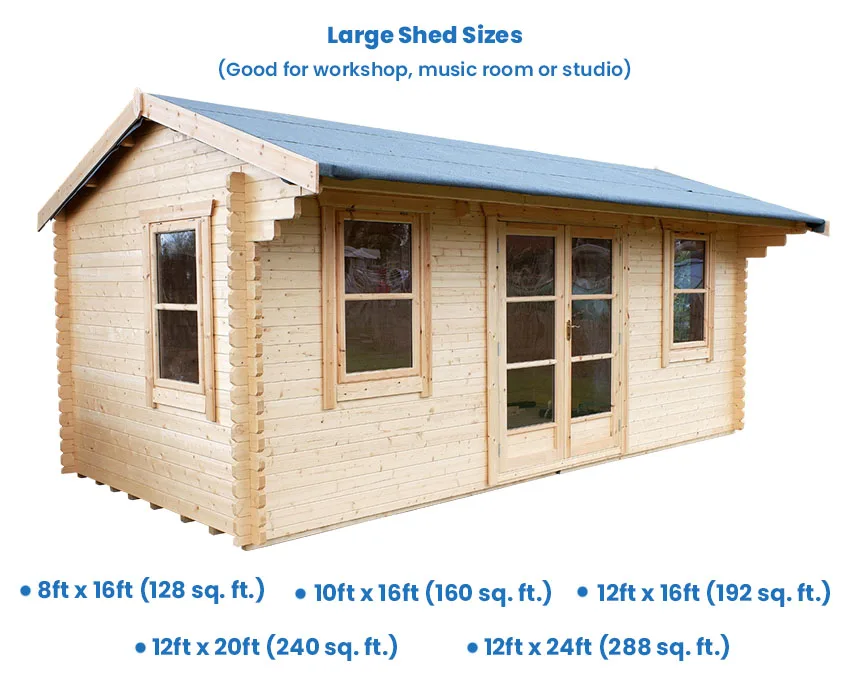 An oversized shed is the best option for most homes with a bigger space. A large shed will cover many purposes; it can even be a workshop, have an attached carport, or another garage for cars not used that often. Larger dens can also store furniture and shelves as long as the homeowner chooses a larger door to fit on the shed.
Large 8 by 16 feet or 2.4 by 4.9 meters shed size will cover an area of 128 feet. This is a balance and a compromise between choosing a medium to a large shed. This size will also be more extended than they are more expansive.
Another size is 10 by 16 feet or 3 by 4.9 meters, covering an area of 160 square feet. This size can be turned into a backyard gym, art studio, or any other purpose a homeowner chooses.
A more spacious shed is 12 by 16 feet or 3.7 by 4.9 meters, covering an area of 192 square feet; this size can store anything large, from a kayak to more giant ladders.
Bigger sizes are also available at 12 by 20 feet or 3.7 by 6 meters, covering an area of 240 square feet. This size shed can be turned from a sizable music room for a musician to a sculpting studio for a sculptor.
If a homeowner needs a bigger size, there are 12 by 24 feet or 3.7 by 7.3 meters, covering 288 square feet. Sizes like these are usually custom sheds that store anything, even a small boat. Read more about garage sizes on this page.
What Is The Most Popular Shed Dimensions?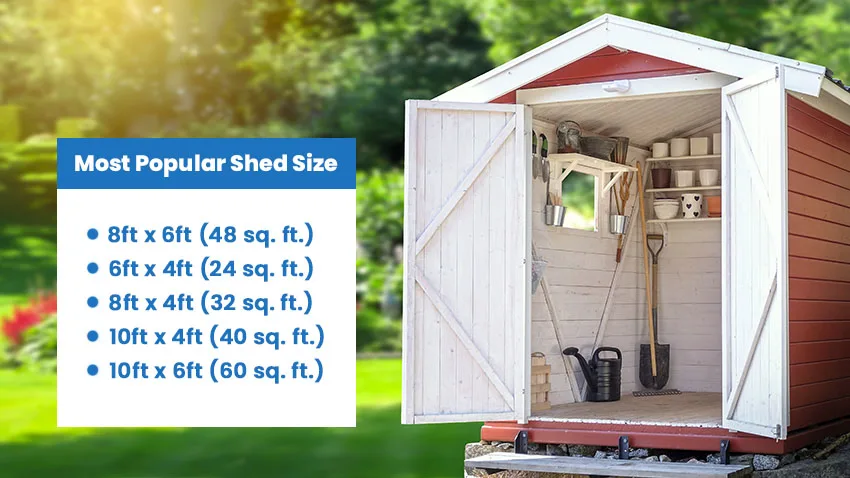 If homeowners have no specific purpose for a shed but building it only for storage, one of the first things they can do is look at the sizes from the most popular shed dimensions that many other people have utilized for their homes.
One of those sizes is the smaller 8 by 6 feet, or 2.4 by 1.8 meters shed, covering an area of 48 square feet.
Other popular sizes include the 6 by 4 feet or 1.8 by 1.2 meters, covering an area of 24 square feet. There is the 8 by 4 feet or 2.4 by 1.2 meters, covering an area of 32 square feet, and 10 by 4 feet or 3 by 1.2 meters, covering an area of 40 square feet.
One of the most popular is the 10 by 6 feet or 3 by 1.8 meters, covering an area of 60 square feet.
Maximum Size Shed Without Permit
Most people will not have the time to secure the multiple permits needed for a shed, so they opt for the maximum shed size that will not require a license, which is possible.
A shed covering an area of 100 square feet is the size that will not need the hassle of securing a permit. Still, some municipalities allow the shed building that covers 120 square feet even without a permit, making double checking with the local municipality office essential to know for sure.
The most popular shed sizes fall under this category of not needing any papers to build. This is probably one of the numerous reasons why these sizes for sheds are so popular.
Shed Door Size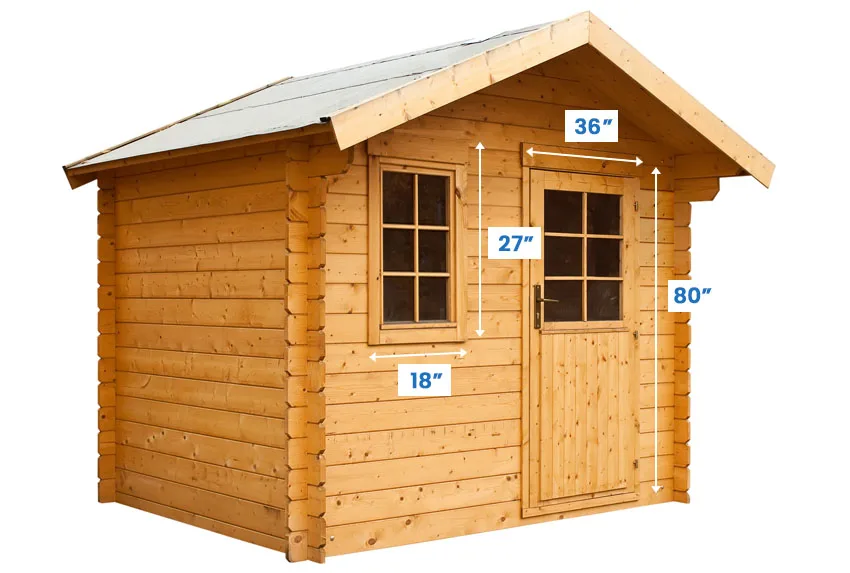 A shed is not functional without a door, and the shed door size will typically be based on how the homeowners are looking to utilize the shed.
For carrying boxes in the door, the standard shed door size 36 by 80 inches or 91 by 203 centimeters should work for a shed. But for bigger stuff like fitting a lawn tractor in the shed, going for 48 inches or about 122 centimeters door shed is more advisable.
The shed wall's height will usually influence the shed door height. A critical dimension to remember is allotting at least 6 to 8 feet of header space if possible.
Shed Window Sizes
There are many possible window options for a shed, and the decision will mostly depend on how many and what size of the window a homeowner would want.
The standard window sizes most utilized for many home sheds stand at 18 by 27 inches or 46 by 69 centimeters, plus there are also the 24 by 36 inches or 61 by 91 centimeters shed windows used by many.
There are also some windows that have larger widths with a standard height of 10 inches or 25 centimeters. Widths for this size are 18, 23, 29, and 35 inches or 46, 58, 74, and 89 centimeters.
Shed Floor Timber Size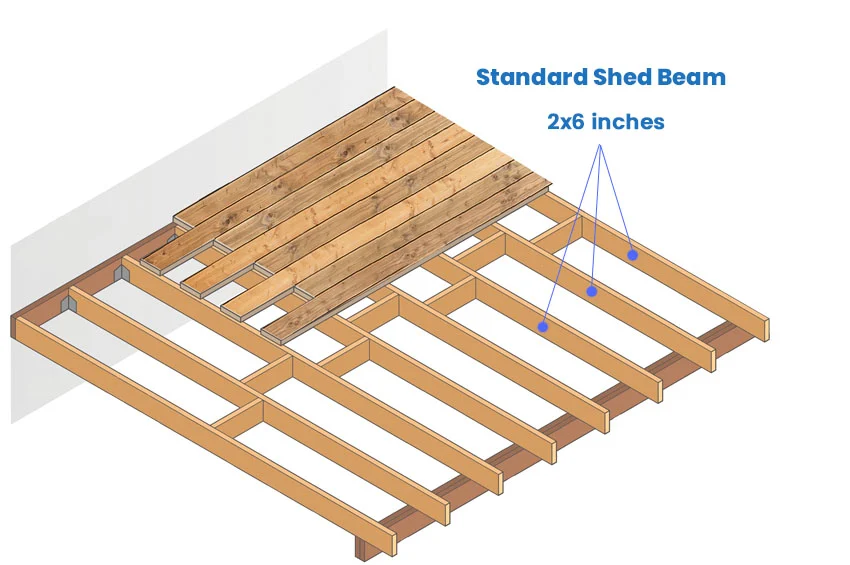 Aside from the doors and windows that will make or break the perfect shed, there is the floor joist to consider. Most beams used for sheds will be constructed in timber because of their durability.
The most common size for a shed beam is the standard 2 by 6 inches or 5 by 15 centimeters. There are also bigger ones that will hold a lot of benefits at 2 by 8 inches or about 5 by 20 centimeters.
The most suitable way to get the exact beam size is the measure and calculate. This will help narrow a homeowner's search for the perfect beam and take the guesswork out of the whole process.
She Shed Measurements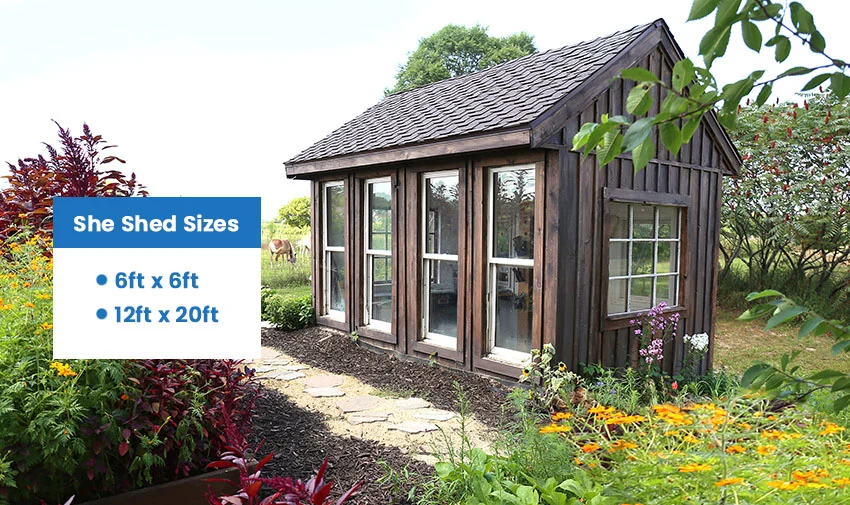 Aside from being a storage solution for an overflowing home, a greenhouse or a shed can be turned into what we call a She Shed.
A She shed is essentially an outhouse that any woman, from mothers to college students, can escape to and hang out to enjoy their privacy. It can be made into a craft room or even just contain a daybed surrounded by floor-to-ceiling bookcases for a fantastic reading nook.
She sheds vary in size, and it can stand at a humble 6 by 6 feet or 15 by 15 centimeters or something so big at around 12 by 20 or approximately 30 by 51 centimeters.
Shed Man Cave Size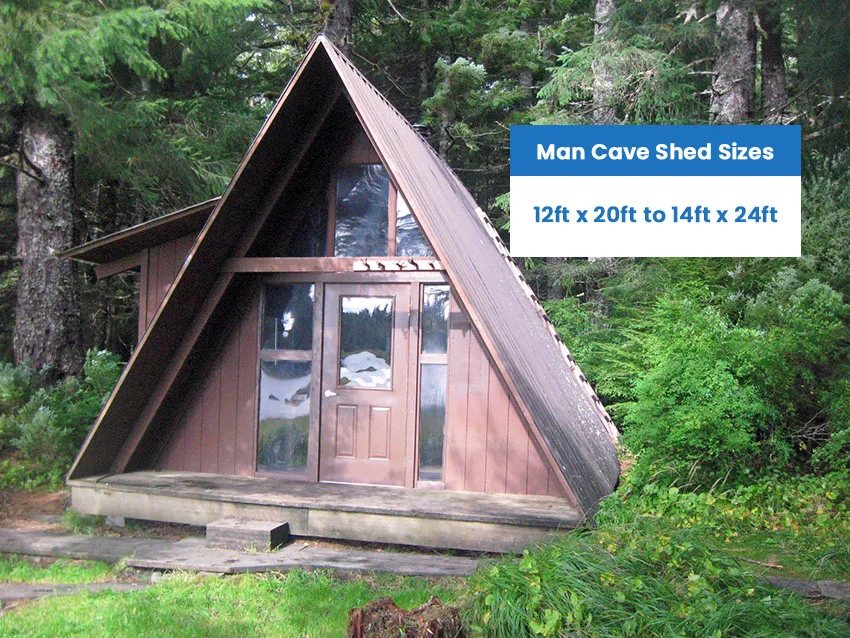 A man cave is essentially a She shed for men. It is somewhere any man can escape to for working or simply playing a video game to de-stress. It usually has a taller ceiling to account for a person's height. The classic A-frame man and Victorian sheds are the most popular options for a man cave.
The size of a man cave design can range anywhere from 12 by 20 feet to 14 by 24 feet. They can have it smaller or even more extensive, depending on the space available and how a homeowner will plan to use the shed.
What Size of Shed For Home Gym?
Another way to utilize a home shed aside from storage and a place to work. A homeowner can choose to build a home gym right at the back of their backyards.
Like the usual she shed or a man cave, size can be whatever they want, but an easy fix is building a shed according to their fitness goals and favorite mode of exercise.
For people who love to lift weights and are looking to fit equipment like a power rack and a bench inside their shed, the best options are the 8 by 8 or 8 by 10 feet shed size.
Cardio equipment plus free weights go bigger at 8 by 12 feet, while a multi-gym setup can benefit from a 10 by 10 space. If they are fond of doing body-weight exercises like yoga, a shed at 6 by 8 feet is sufficient.
Best Size For Workshop
A full garage and a basement call for the building of a shed in a backyard, and with the right size, it can easily be used as a workshop.
The right shed size for a workshop will have space for a workbench, equipment storage, pegboard, and plenty of tools, especially if they have large equipment or are looking to do bigger projects in the area. This factor makes the size flexible, from a shed as small as 10 by 12 feet to something much larger at 12 by 24 feet.
What Size Do I Need for a Shed?
Determining the right shed size for a home will have the homeowners consider many factors like space available, purpose, etc. It can be as little as 8 by 8 feet to fit a riding mower or something at 12 by 16 feet to fit an ATV.
For a more sizable area to store an SUV or a boat, somewhere around 14 by 28 feet to 14 by 32 feet will work efficiently.
How To Measure The Size Of A Backyard Shed?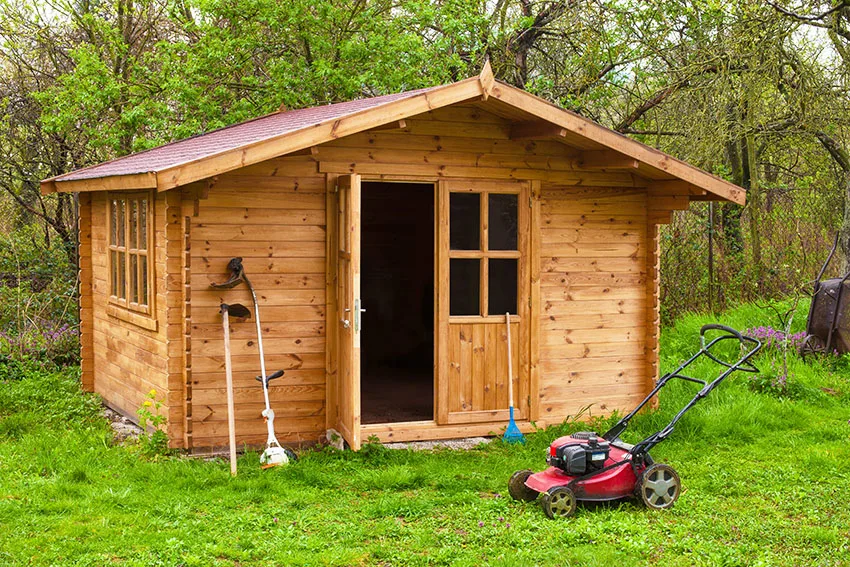 Selecting a shed size right for any homeowner is straightforward but will consider many questions. The first is the height which will be pretty standard and should just be enough to fit the tallest person in the household.
The second is length, usually determined by what they want to store inside the shed; aside from that, width and span are also determined by this factor as well.
The last factor is deciding on the bay size. To illustrate, a double garage shed has 2 bays. It is the space allotted for major structural components in a construction project, like columns.
See more related content in our article about the shed design software on this page.