Here's our bulletin board sizes guide, including standard classroom & office cork panels, and the letter size needed for these wall boards.

Bulletin boards are a staple to many spaces like classrooms, offices, and even a teenager's bedroom. They serve many purposes, from providing information to holding announcements, acting as a mood, or hanging display, or holding memos.
They can also serve as a learning center for displaying everything from a student's work to a kid's interest. All in all, these wall displays are one of the most versatile schools and office supplies.
When choosing the perfect hanging display panel, there are a lot of factors to consider, and the biggest of them is knowing what size one will need to use for their purposes. Luckily, bulletin board sizes are mostly standard, making selecting the ideal one easy.
Standard Bulletin Board Size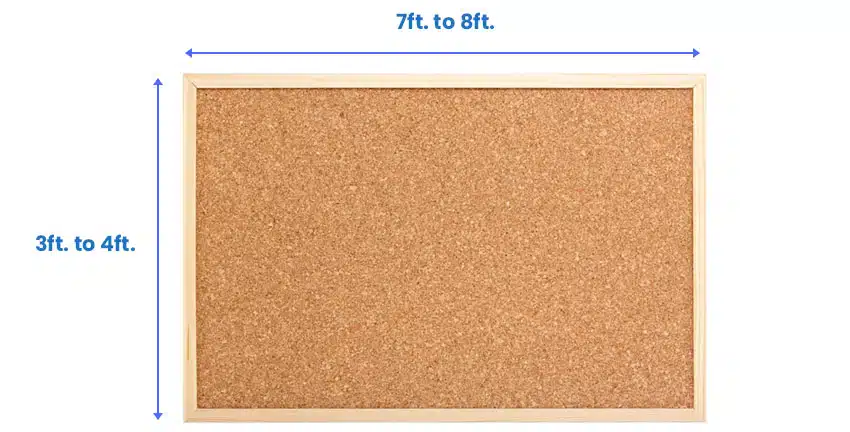 Most standard bulletin boards are used in classrooms, meaning they are bigger than the ones that will be used in the home.
A typical classroom bulletin board has a length of 7 feet or around 213 centimeters from side to side, with a height from the upper tip to the bottom of about 4 feet or 122 centimeters.
Some will also have a height of 3 feet or 91 centimeters. At the same time, the length from left to right can go up to 8 feet or approximately 244 centimeters.
The reason for this bigger size is most are utilized to display children's work and to ensure that all will have their moment. A giant display panel is there to ensure that all the work is shown at one time.
Square Bulletin Board Size

Aside from the bigger rectangular bulletin boards commonly utilized for many classrooms, other squares and smaller models are versatile enough to be used anywhere from home to offices and even for restaurants.
They can be frameless for a non-traditional look, and some will even have added features like self-healing or natural cork properties, which will prolong the life of a regular cork product.
Many sizes are available for square bulletin boards, from the smaller 14 by 14 inches to around 36 by 36 centimeters.
There are also medium ones at 23 by 23 inches or 58 by 58 centimeters, which is ideal for smaller offices.
For larger square boards, one of the biggest is 48 by 48 inches or around 122 by 122 centimeters.
Cork Bulletin Board Sizes
Many sizes are available for cork boards, meaning that all purposes will have the perfect size.
Smaller cork wall panels run 12 by 18 inches to 18 by 24 inches or 30 by 46 centimeters to 46 by 61 centimeters are perfect for smaller rooms to be put on top of a study table, for example.
In contrast, there are also smaller cork displays that are 2 by 2 feet to 2 by 4 feet or 61 by 61 centimeters to 61 by 122 centimeters for office use, big or small.
Sizes can go up to the bigger 3 by 3 feet to 4 by 8 feet or 91 by 91 centimeters to around 122 by 244 centimeters.
Bulletin Board Sizes For Classroom
Not all wall boards are one and the same, especially considering the many possible uses that will come with them. There are many aspects to consider when picking the perfect one, from the material it is made of to whether or not the person would want a hybrid of a white and a corkboard to make it writable.
Bulletin boards utilized for classroom use can range from the smallest 18 by 24 inches or around 46 by 61 centimeters.
There are some custom-made products that run the length of the entire wall—usually, needing one that big would require a particular purpose, like art rooms, for example.
Standard Size Classroom Bulletin Board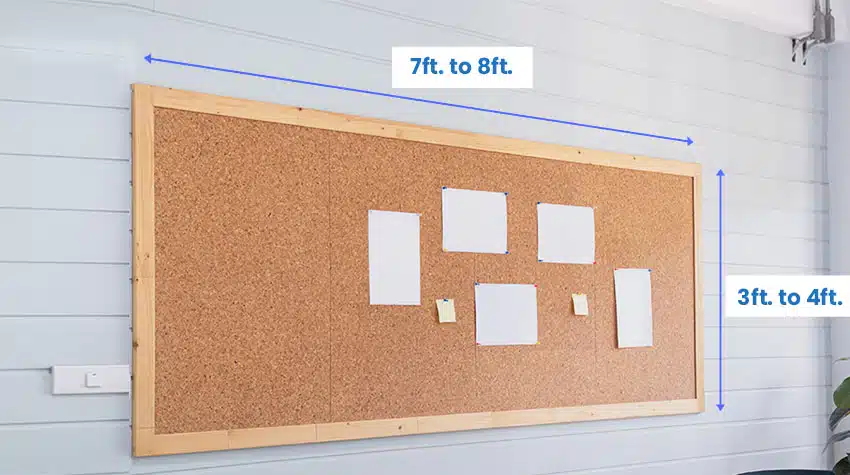 There are no fixed sizes for classroom boards since many sizes could aid different needs that would come with a specific one, so to make the search easier, looking at the range of sizes available is the best bet.
One of the common characteristics of most bulletin boards used for school is that they are bigger than the normal ones commonly seen at home or even in offices.
Some will have a length from side to side of around 7 feet or 213 centimeters, while even longer ones can extend to a distance of 8 feet or about 244 centimeters.
To accompany this length, its height will usually range from 3 to 4 feet or around 91 to 122 centimeters, depending on the specific kind.
Bulletin Board For Office Size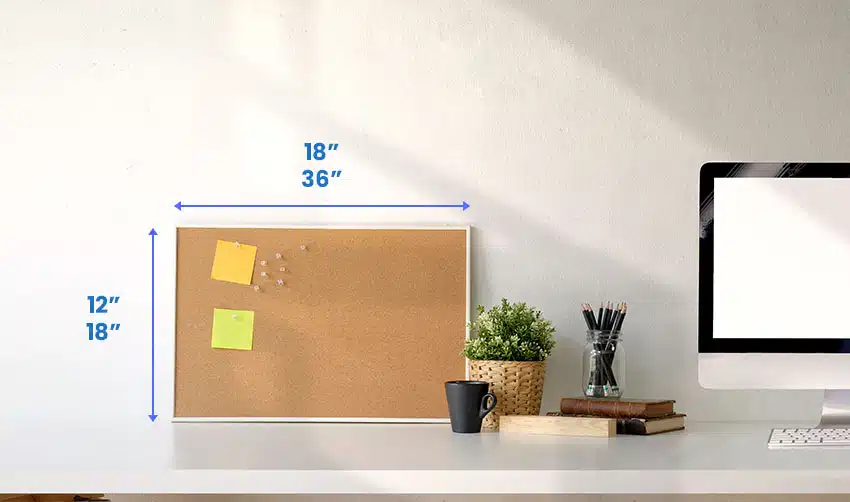 Some office bulletin boards are 12 by 18 inches or around 30 by 46 centimeters. There are also slightly bigger ones at 24 by 36 inches or about 61 to 91 centimeters.
Bulletin boards utilized for office spaces are characterized by their smaller size compared to the ones used for school because they generally serve lesser functions and are also commonly seen nailed above a desk with a wooden frame.
Some standard stuff pinned to them could be receipts, notices, or sticky notes with a reminder about some meeting, and that's about it. This means smaller is more common for this pushpin notice type than larger ones.
What Size Letters For Bulletin Board?
The letter or the font size needed for a bulletin board will depend on the size of the board itself and the information printed on it to be read.
For board letters to capture a viewer's attention, a font size of 3.5 to 4.5 inches or about 9 to 11 centimeters is the best solution. This will go up to 11 inches or around 28 centimeters tall for letter-size paper.
The rule is ensuring that the letters are readable from afar, even for an audience viewing the board at a distance. However, this is only for the board letters to catch people's attention.
Visit our wall decor ideas for your home office for more related content.