Here's our guide to home office window treatments including options like curtains and various types of blinds like roller, aluminum mini, honeycomb, and faux wood.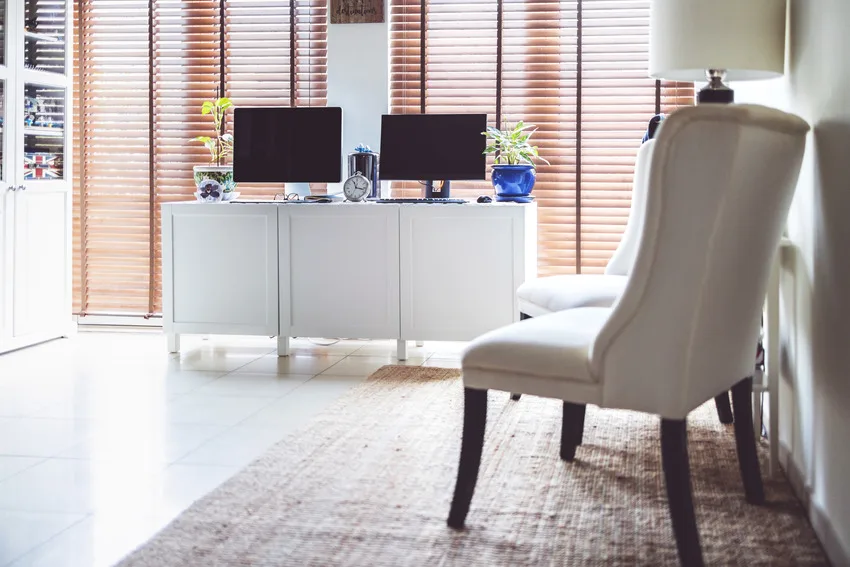 Home offices are becoming increasingly popular, whether as a full-time workspace or a quiet oasis to get things done.
As video conferences continue to be a staple of the modern work experience, it is important to manage the amount and direction of natural light coming into your home office.
For example, sitting directly in front of a window will cast a shadow on your face, which is not ideal for a video call. The sunlight may also shine directly on your screen, causing glare that makes it difficult to see your computer screen clearly.
Choosing an appropriate window treatment is the best and most effective solution to both of these concerns.
How Do I Cover My Office Window?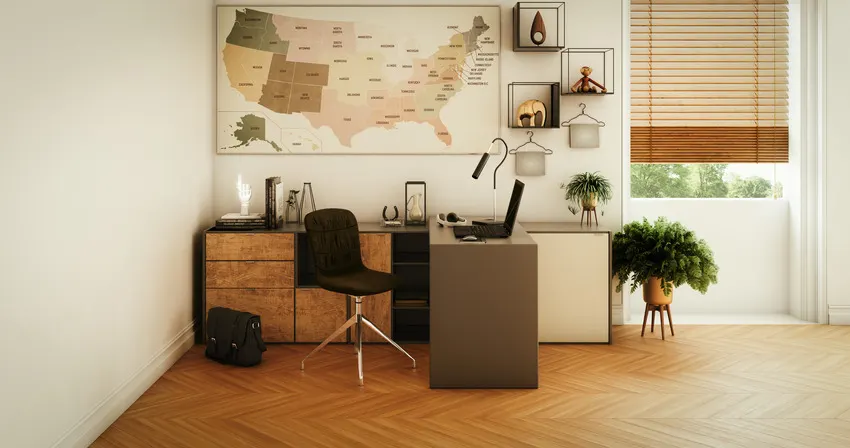 There are various options for covering office windows to minimize, alter, or direct sunlight that streams in from the outside. Let's take a look.
Home Office Curtains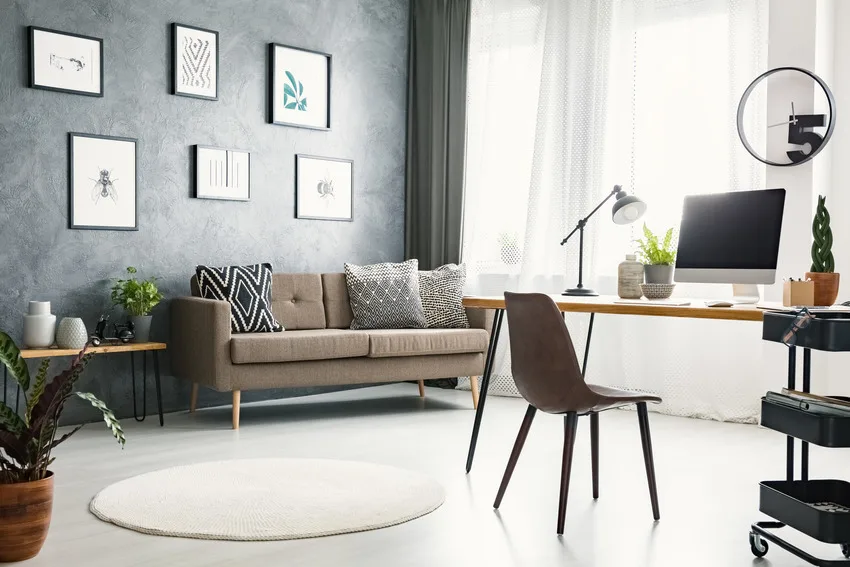 Curtains are generally mounted on the wall above the window. Although sometimes, an internal mounting mechanism is integrated at the top of the window frame.
Depending on the size of the window, they are usually made up of one or two fabric panels that slide across a rod, covering the entirety of the window.
Gauzy, transparent curtains are excellent if you want to soften the light filtering through them. A sheer window curtain will help prevent some glare from hitting your eyes or your computer screen. However, it may not provide enough protection from extreme sunlight.
On the other hand, opaque curtains tend to block more sunlight. But without a liner, some light will still filter through the curtains. Curtains with a blackout liner are useful if you need to completely block out sunlight from shining through your window. See our guide on blackout curtains vs shades here.
If you have both an internal and external mount, you can install opaque curtains over transparent ones, giving you more flexibility and control over the amount of light you let into a room.
Overall, curtains do a great job of softening or blocking out sunlight. However, they are not as customizable as blinds.
Office Window Blinds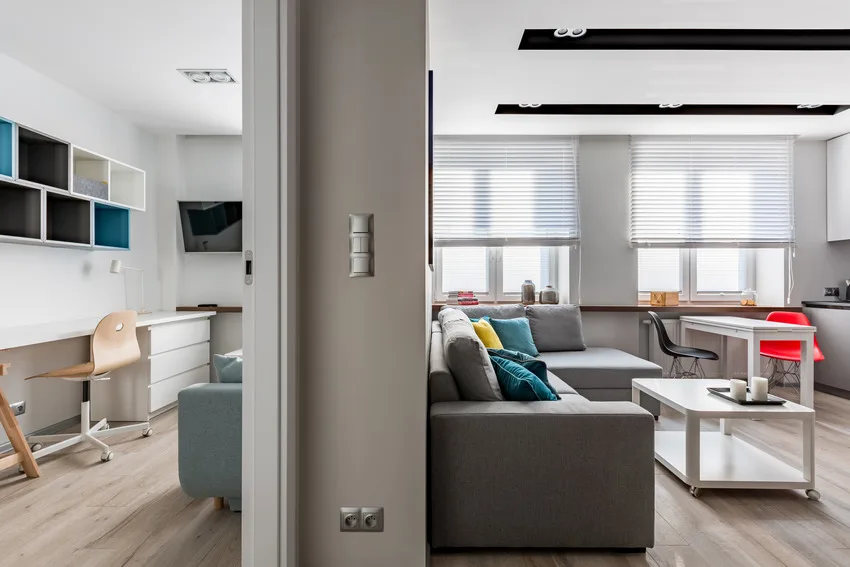 Blinds are a more flexible window treatment solution, as they can be raised and lowered to customize the amount of light allowed into the room. Some blinds can also direct the light, letting enough sunlight in but at the same time protecting your eyes from it.
Blinds are usually installed inside the window frame, making them unsuitable for frameless windows. See the different types of window blinds here.
Roller Blinds for Office Windows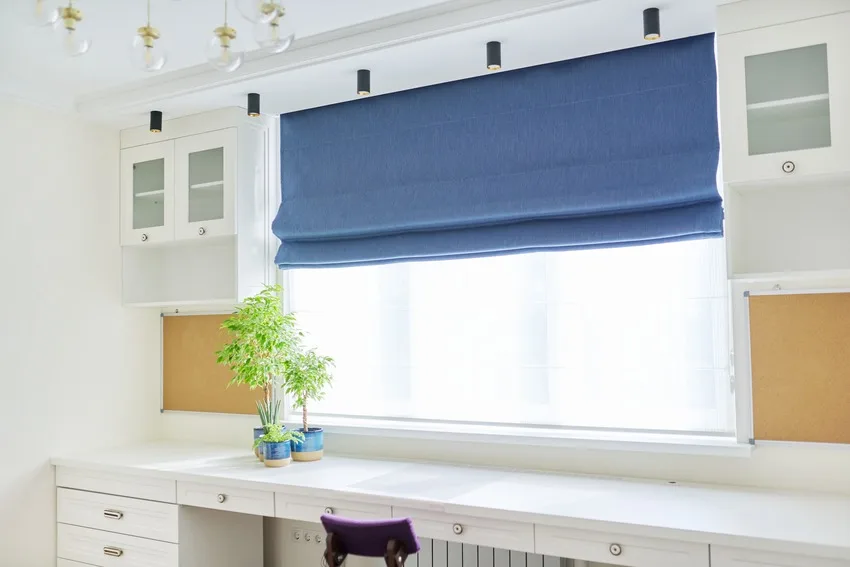 Roller blinds are the most basic solution for home office windows. Usually, they are also the cheapest options.
A spindle wrapped in vinyl or fabric is mounted at the top of the window. The blind can then be pulled down to provide your desired level of coverage from the sun.
Vinyl roller blinds are usually fairly opaque. They block out most sunlight, though there will be gaps around the edges where light can still leak through.
Unlined fabric roller blinds are less capable of blocking out sunlight. However, they will help reduce glare in your eyes.
Roller blinds have a reputation for breaking and malfunctioning if they are not treated gently. If you plan to adjust them as the sun's location changes throughout the day, it is probably best to choose an alternative.
On the other hand, if you just need to block out sunlight from the top portion of your window, roller blinds could be a perfect choice.
Aluminum Mini Blinds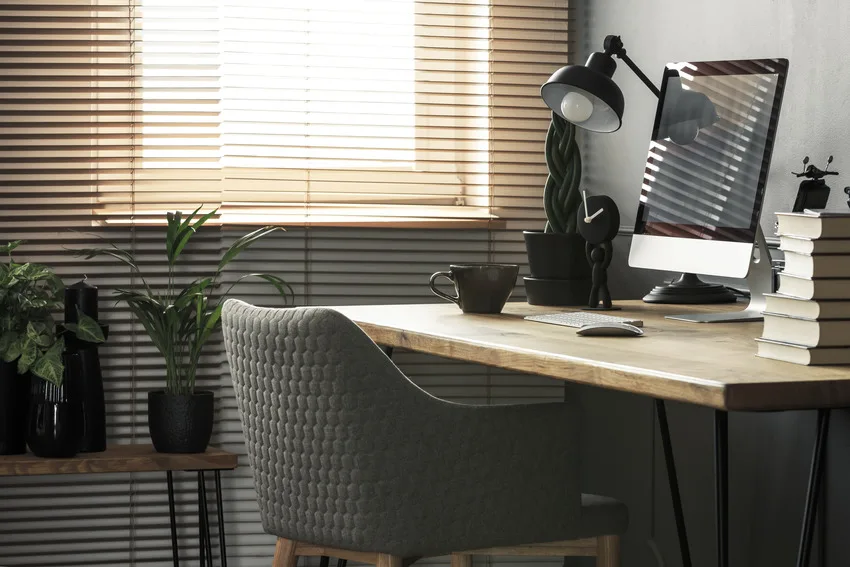 Aluminum mini blinds are also usually mounted within the window frame. They consist of metal slats that are raised and lowered through the use of a pulley system.
There is also a mechanism for controlling the angle or tilt of the slats, which can help you direct the sunlight away from your face and the computer screen.
These types of blinds are notoriously difficult to keep clean. A special blind-cleaning tool can help to wash the blinds.
The key to keeping aluminum mini blinds in pristine condition is to clean them occasionally. Cleaning them once a month should be enough to avoid major dust build-up.
With normal everyday use, individual aluminum slats may become bent or misshapen over time. On the upside, you can replace a single slat without needing to replace the entire window treatment.
Honeycomb Shades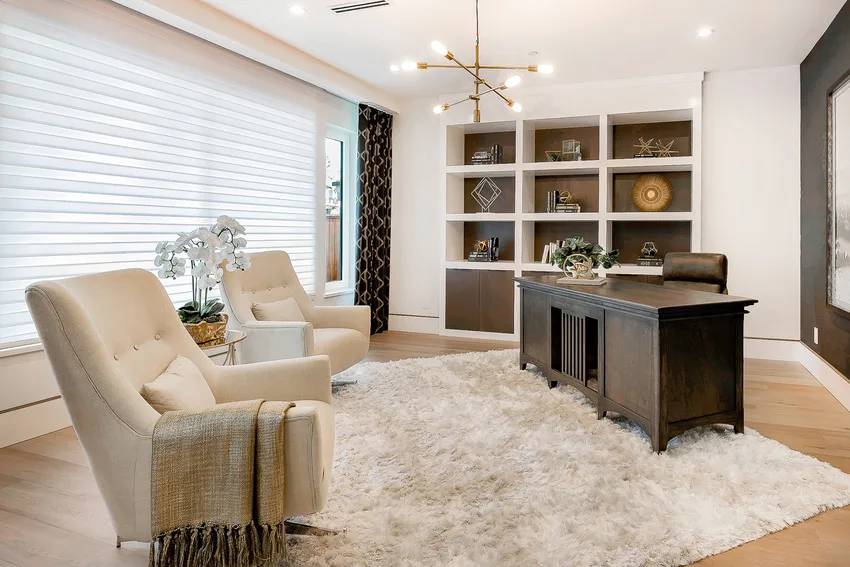 Honeycomb shades are made of two strips of horizontally pleated fabric that are connected at the top and bottom. They are generally mounted inside the window frame and slide up and down tracks on the sides of the windows.
This often means they can be used to cover the bottom of the window for privacy purposes, leaving the top open to let natural light into the room.
Many people find these shades easier to operate and less resistant to wear and tear compared to mini blinds or roller blinds. See more types of window shades here.

Faux Wood Blinds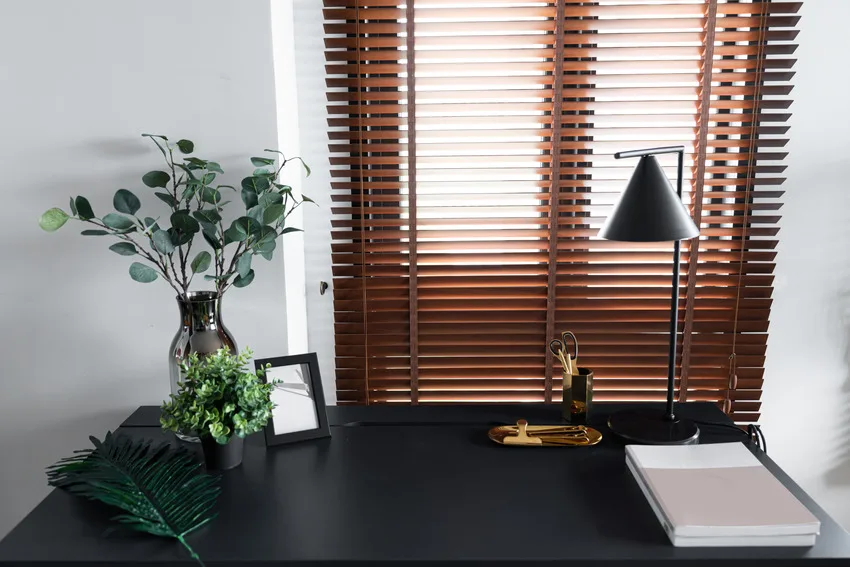 Faux wood blinds are an attractive and stylish option that works in the same way as mini blinds. A pulley system is used to raise and lower the blinds. They can also be tilted to various angles.
Faux wood blinds can either be mounted inside the window frame or, in conjunction with curtains, hung above the outside of the frame.
Unlike natural wood blinds, faux wood is both moisture- and humidity-resistant. They will not swell or become distorted over time.
Best Blinds for Home Office
To let direct sunlight in while preserving your privacy and ensuring a distraction-free environment, aluminum mini blinds or faux wood blinds are the best options.
To soften harsh, direct light while still filling the room with enough warm, sunny glow, pick honeycomb shades.
To maximize your productivity and avoid fiddling with window coverings all day, consider installing a smart blind system. These range from the very simple remote-controlled blinds that you can raise or lower from across the room, to hardwired and programmable blinds options that enable the blinds to work automatically.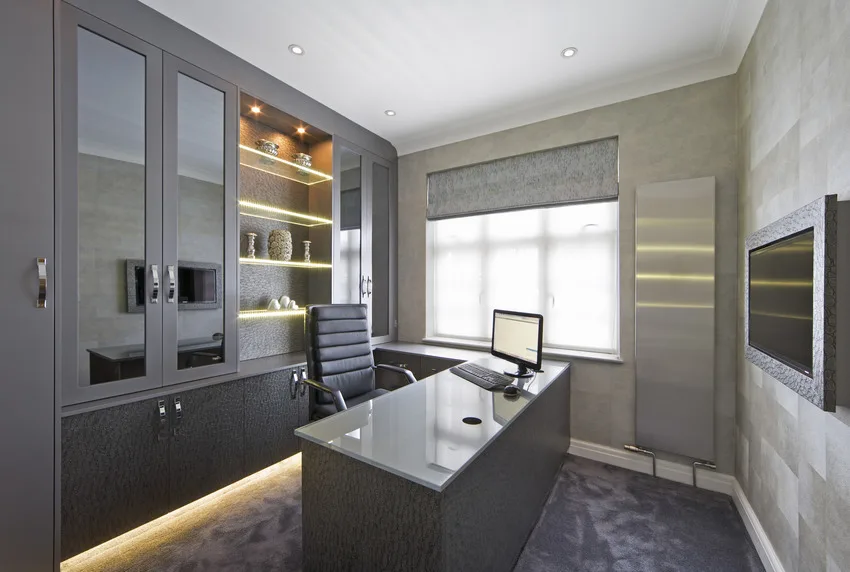 If your home office has many windows and the amount of sunlight filtering through the curtains changes significantly during the day, smart blinds are the best choice.
Meanwhile, faux wood blinds are the most visually appealing options among the rest of the window treatments mentioned in this article. If you entertain clients at your home office, strongly consider installing faux wood blinds.
For more related content for the home office, check out our guide to the best types of office chairs.