These home office accent wall ideas share the best room colors, wallpaper, and designs such as geometric, wood, chalkboard, picture frame mosaic, and nature-inspired accent walls to use.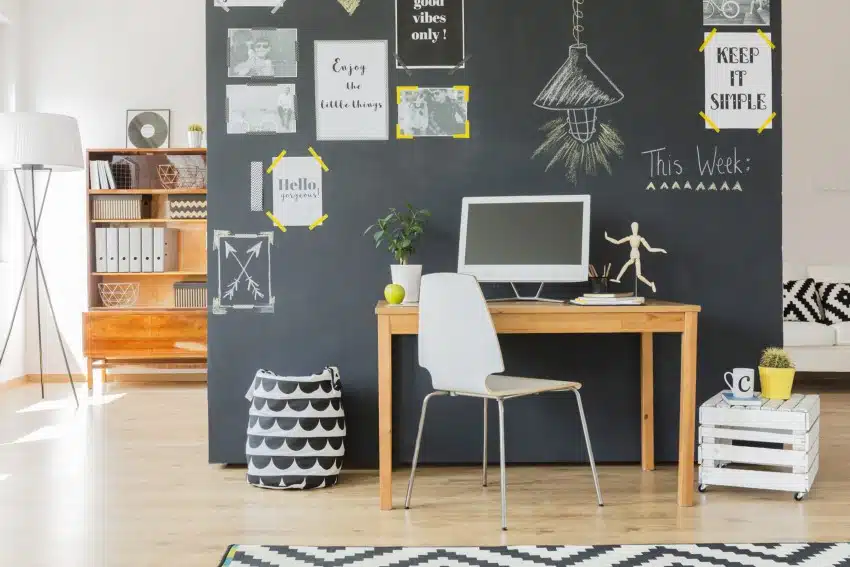 When the pandemic happened, many people opened up their homes as the headquarters for their work and career operations. Homes became offices and you were forced to create a personal workspace where you can work peacefully throughout the day, free from noises and distractions.
Since today's working style has been revolutionized, many are now spending more time in the comfort of their homes even when working. Creating home offices has become vital and if you're going to start on your own office at home, spruce it up and start introducing elements to improve its aesthetics.
One element you can add to your home office is an accent wall. And there are multiple ways you can make the most out of this space.
Home Office Accent Wall Colors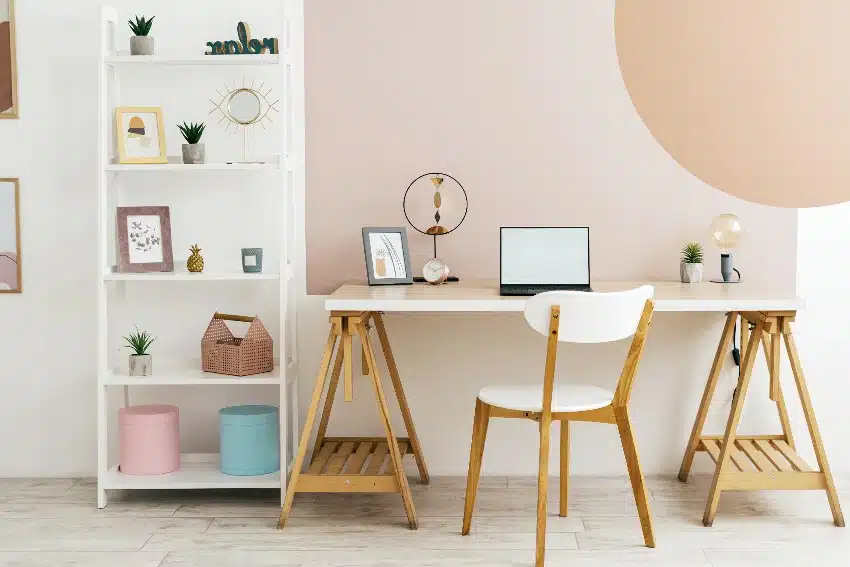 When decorating the accent wall in your home office, you can choose the easiest and simplest way to revamp its look, which is to add color to it. Get your creative juices flowing and follow these basic tips.
Choose beyond solid colors – Think outside the box and don't settle on simple wall paint, especially if you can create a powerful style statement.
Add an accent wall in a neutral room – While an accent wall can work easily whatever the color of your home office is, you can get a stunning dramatic effect if you use bright colors in a neutral color palette.
Take into account the color of the rest of the walls – Match the color of your accent wall to the other walls in your home office to create variations and levels. Balance the strong accent color with neutral colors or keep light to medium shade walls mixed with a bold and dark accent wall.
Choosing white for the rest of the walls can also be done but your accent wall can't be too bold or colorful because it may appear too stark and distracting.
Consider different textures along with the colors – Besides colors, textures can create layers in your home office. You can add fabrics, install floating shelves, or hang a gallery of photos and artwork to make the walls more interesting.
Don't be afraid of using bold colors – While bold colors and patterns can be very distracting when paired with white walls, you can still use them in an accent wall if you match them with other elements in the room or balance the color with other shades that can soften the look.
Consider a simple wallpaper – You can also use an easy-to-use wallpaper if you are currently renting. It is affordable, easy to install, and easy to remove. If you want something long-term and deliver more impact in the aesthetics of your home office, go beyond that. See more accent wall color ideas here.
Ask the Designer
We asked architect and designer Ellen Siloy for her top tips for home office accent wall ideas and she offered the following:
The following are simple yet effective ways to add an accent wall to enhance your working space.
1. Create a new atmosphere in your space with fresh new wall paint. Go beyond one paint color paint two or three colors. Section out zones especially when you have an open floor plan effectively zoning in areas. Not only it makes the colors visually appealing but is a functional design approach.
2. Create a feature wall with a bold paint color. Vibrant colors draw the eyes and create a livelier interior at the same time drawing the elements together. Pick a bold color that complements or is inspired by the surrounding accent color.
3. Layer colors to create an interesting landscape. Observe nature, where variations of color with contrast work well. Varying neutrals with a pop of bold or black creates a more exciting aesthetic preventing that stale environment.
When aiming for a minimalistic interior, a flash of black or any vibrant color as accent pieces keeps the space visually appealing.
4. Layer textures for comfort and visual appeal. Layered textures can be a complementary design approach to your layered colors but can also work well with a monochromatic interior.
Keep that clean and sleek appearance while adding warmth and comfort without an overwhelming palette with fabrics or organic textures. Woven or wooden shelves and adding vertical potted plants can add life to a home office.
5. Go bold with colors. Orange, yellow, red, and other unusual hues are known to encourage creativity and keep one active. Use sparingly as an accent and feature wall or be daring to paint a whole wall section with vibrant hues.
6. Quick update with wallpaper. Wallpaper designs today come in a wide assortment of designs. From simple monochromatic geometries to elaborate botanical prints. Wallpaper is perfect for the temporary interior update.
An update of a home office wall makes a huge difference to your performance as it occupies a large visual space and affects the atmosphere of the interior.- interior designer, Ellen Siloy
Blue Accent Wall Home Office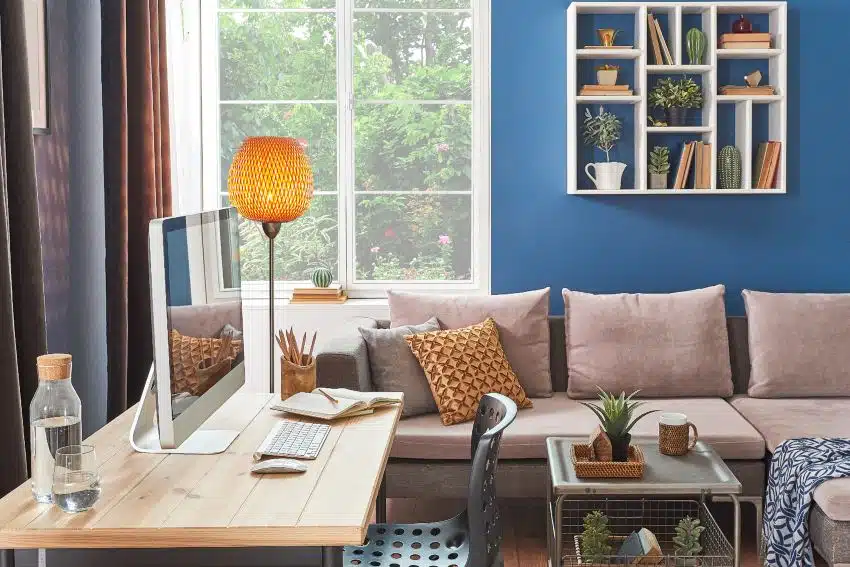 One option to explore for your home office is a blue accent wall. Blue is a refreshing and calming color, which can be beneficial if you can get amped and stressed out while working.
Considered one of the favorite colors for home offices, it oozes positivity and can make a space look generally aesthetically pleasing. So if you want help concentrating on your work, consider a blue accent wall.
There are different shades of blue you can consider, but try out aqua or dark blue for a more stylish and contemporary look. The color will also stand out stunningly against the white walls of your home office. To create contrast, add blue shelves on the white walls not just for an elevated look but for additional functional storage space.
Black Accent Wall Home Office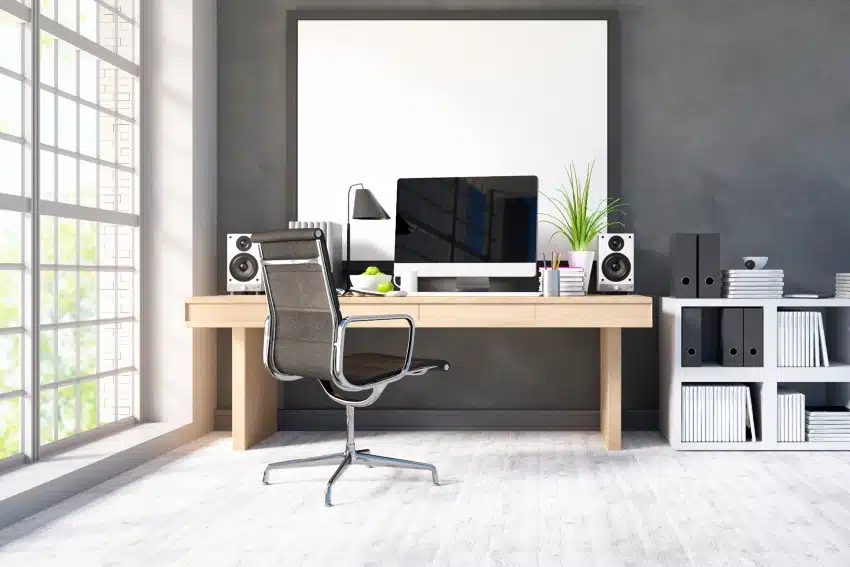 Black is another color you can look into and while many are quite wary of this color, it can actually work as an accent wall, especially for a masculine home office. The bold black accent wall can be a sign that you're a goal-getter and can be adventurous in your decisions. While it's not restricted to any gender, many men go for a black accent wall because of its class, strong look, and boldness.
Gray Accent Wall Home Office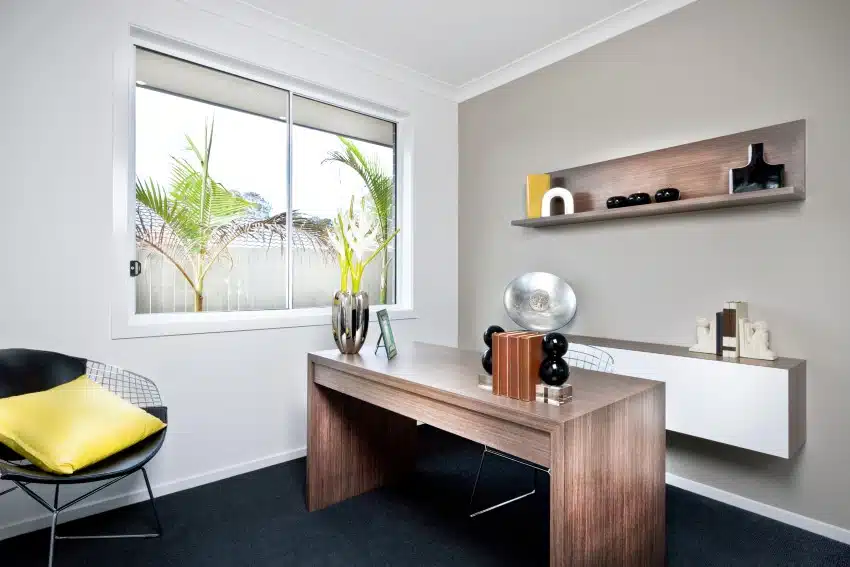 If you want a softer color option for your accent wall, gray is the color worth looking into. More than just being an elegant color, gray has lighter and darker options you can choose from.
If you have a smaller and narrower home office, a light gray accent wall can work well and help make the room look bigger and more spacious. A dark gray accent wall can make the room appear smaller but can also add visual interest to your home office.
If you prefer the latter, add elements that can make the room appear more spacious, including white walls, huge windows, and mirrors.
Green Home Office Accent Wall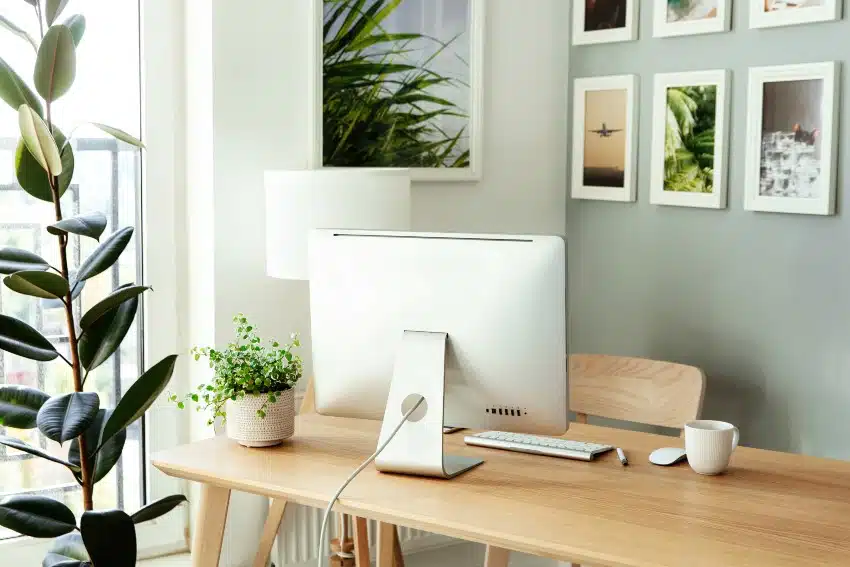 Another accent wall to go for is a green one, which is a balanced shade between bold and neutral colors. If you want a traditional and calming home office, you can avoid vibrant and bold colors but choose soft green for your accent wall instead.
The soft color accentuates the home office and adds more layers and dimensions to the wall. Green tones evoke the feel of being in nature so devoting one wall to this shade can have a optimistic affect.

Since soft green has this muted shade, you can add bolder and more colorful elements to your home office, from stunning wall art to decor. The color can also easily and seamlessly blend with the entire space but you can create a subtle contrast if that's what you prefer.
Cream Home Office Accent Wall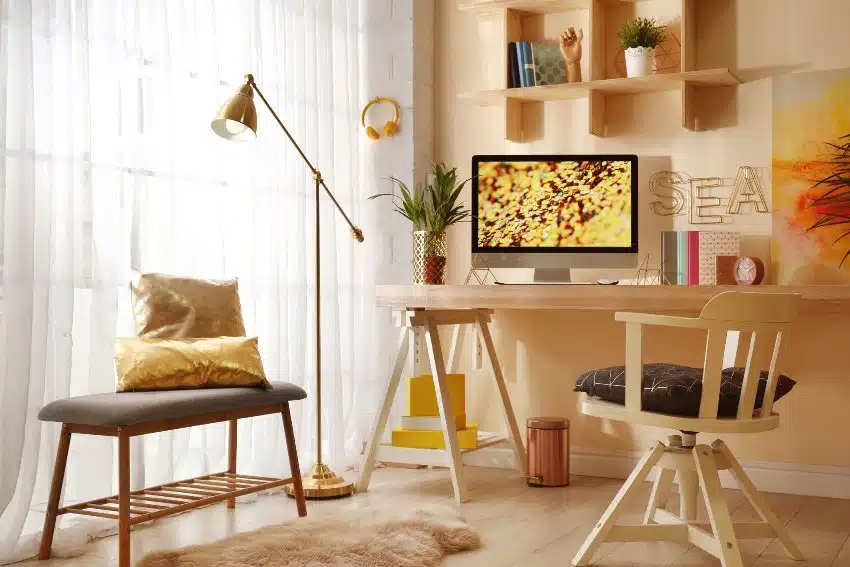 You can choose a minimalist color scheme for the home office by choosing a cream-colored accent wall. Neutral colors have this calming vibe that won't distract you from your work. While it's light in color ensuring you are able to focus on your task, it's not as bright and flat as the color white.
The downside with cream-colored accent walls is that they can be too dull for some people. One way to prevent this is by adding an outline on the wall that will make it appear like a frame.
Bright Orange Home Office Accent Wall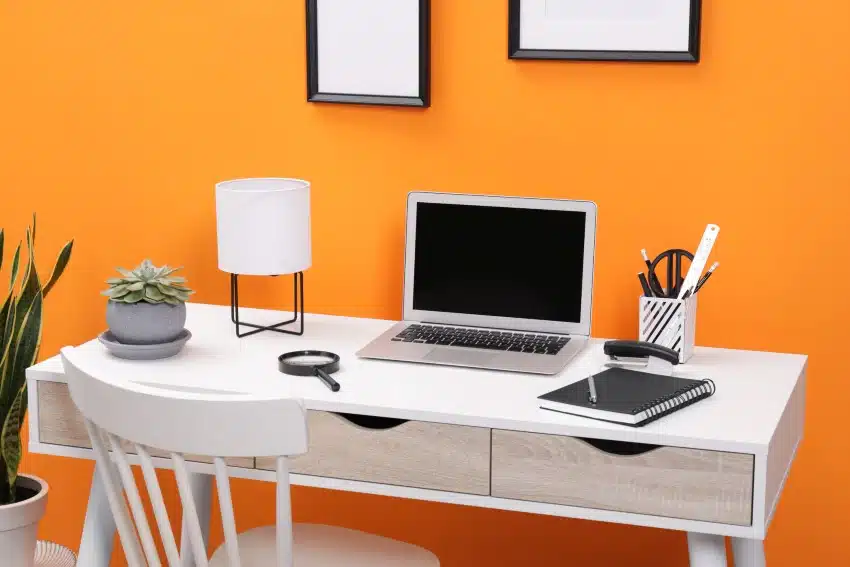 Way different from the neutral cream, a bright orange accent wall can easily pop from your home office and stand out. Bright orange has always been associated with a positive working attitude and so might be a good addition as an accent wall in the home office. Unique and bold, the color can make your home office look classy and exclusive.
The downside with a bright orange accent wall is that it can be distracting that you won't be able to do any work at all. Try to mellow its brightness without negating its positive effects by pairing it with neutral-colored elements like the desk or bookshelf.
Home Office Wallpaper Accent Wall
If you're a renter but you still want to spruce up your home office with an accent wall, you can choose wallpaper or a peel-and-stick wall mural. Painting on the walls is not something you can do but don't stop that from decorating your home office.
Wallpapers are easy to install and remove so would be a perfect choice if you're just renting. No commitment is needed and you can just take out if you plan to move out.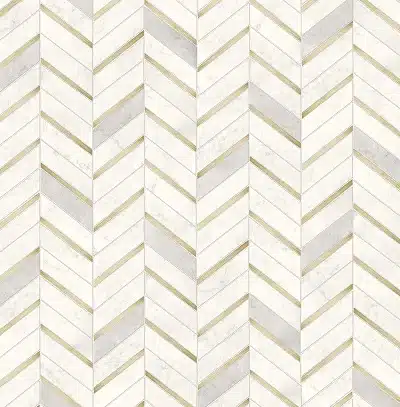 See this peel-and-stick wallpaper at Amazon [Sponsored link]
The great thing about wallpapers is that there are many colors and patterns you can choose as an accent wall. There are even hyperrealistic and 3D designs you can choose for your home office.
Geometric Design Home Office Wall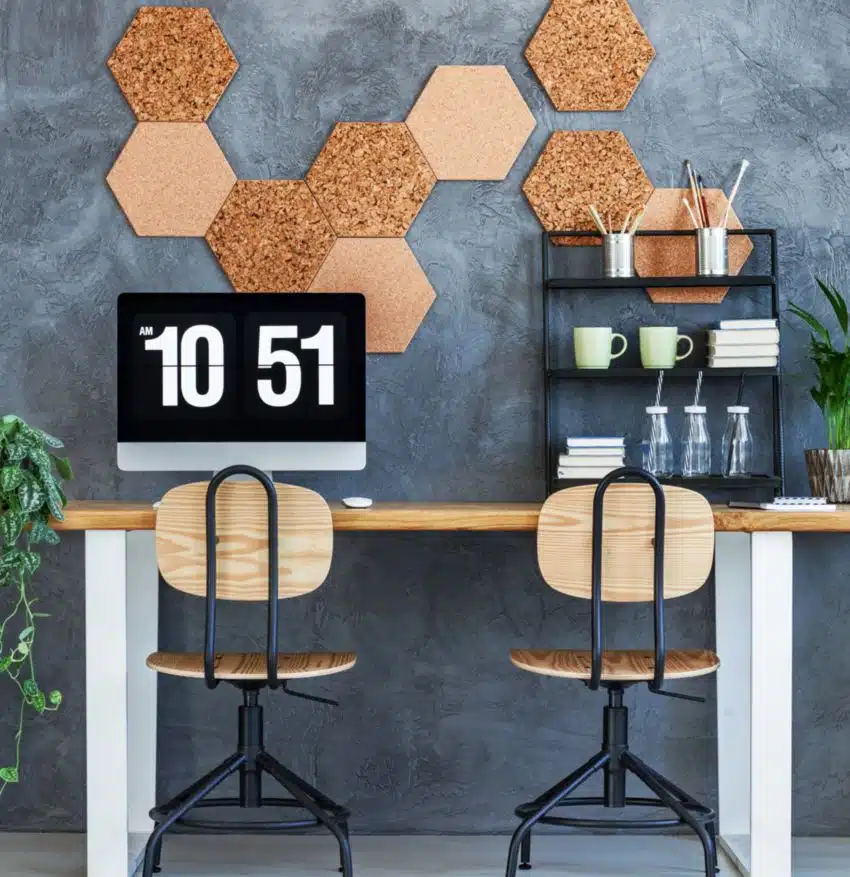 For a modern look, you can choose a geometric design home office wall. The lines and angles can turn your home office into a future-forward space that pretty much says what you are as a worker and employee.
Choose the geometric shape you prefer to see in your office, whether it's triangles, squares, or a mix of both. And embed them on one wall to be your accent wall.
A geometric design on your accent wall will require minimalist and neutral-colored walls for your accent wall to stand out and serve its purpose. The great thing about this choice is that you can even create a massive geometric masterpiece.
Wood Home Office Accent Wall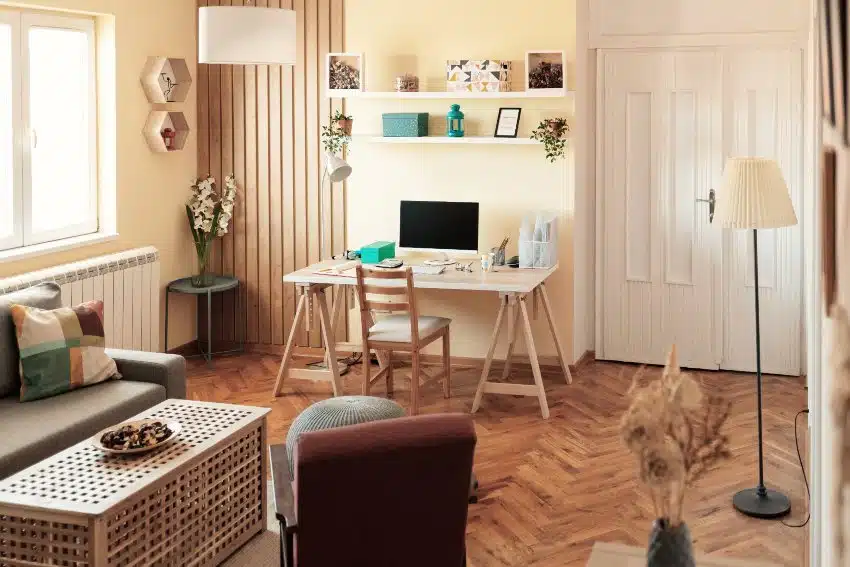 Wood will always be a favorite material, not just for basic construction but also for interior design. And you can also use this material in the accent wall of your home office, creating a unique and elevated look that's not common to many offices.
Two things you can add are wooden tiles and wood panels. You can even add wooden wallpaper if you're a renter. And one of the most unique ways to create a wooden accent wall is to create built-in wooden cabinets.
Wood accent wall offers a rustic touch that makes your home office feel homey and cozy. The incorporation of wood can add a natural element to your interior and depending on the wood you choose, you can turn your home office into a traditional rustic space (if you choose reclaimed wood like redwood) or a contemporary and modern one.
Home Office Chalkboard Wall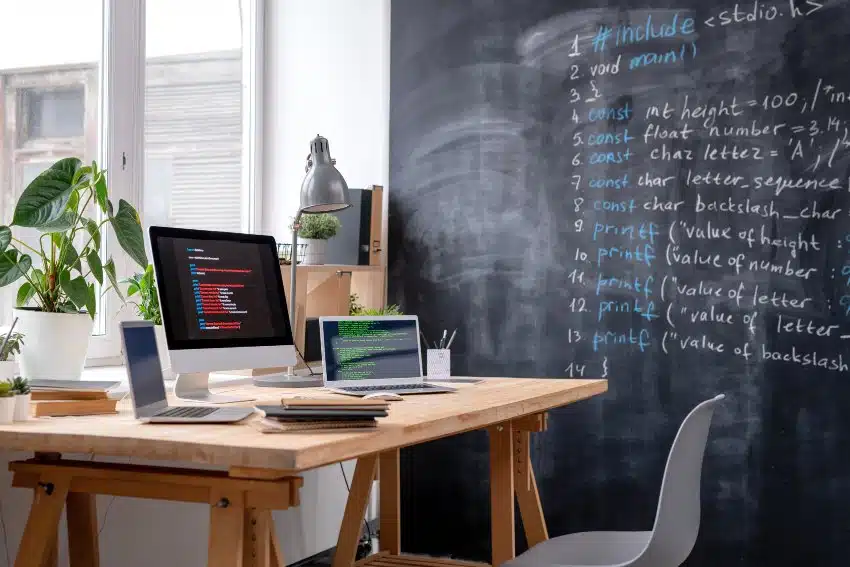 Another creative solution you can apply to your accent wall is to turn it into a chalkboard or a bulletin board. The addition of this element can help transform the space from a homey one into an office.
And if you install a functional chalkboard or bulletin board, you can also use it in your goal-setting or planning. You can even use the board to add inspiring words and phrases to motivate you while working.
A home office chalkboard wall is a practical and no-fuss accent wall since you can just stick a board into the wall. But you can always make it colorful by writing on colored chalk. Make sure though that the chalkboard won't look too messy and cluttered when you use it or else it will do the opposite thing and demotivate you.
Picture Frame Mosaic Accent Wall
For a more personalized space in your home office, you can add a picture accent wall. While painting your wall is the easiest and simplest way to add visual value to your space, adding pictures can turn the accent wall into your own personal masterpiece. Add black and white frames to serve as outlines for the pictures and put emphasis on them.
If you choose to put up pictures though, paint your accent wall with neutral color paints in order to allow the pictures to stand out. While any color works, make it an accent wall for the photos and not for the colors. And make sure to choose photos that can inspire you to work, whether they are photos of your kids, partner, family member, or even a professional hero you aspire to be one day.
Nature Inspired Accent Wall In Home Office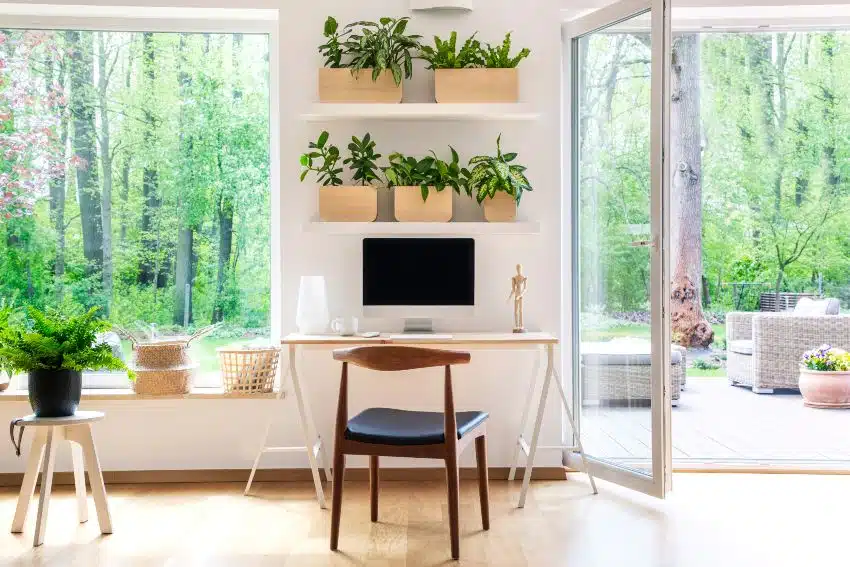 Working an entire day inside your home office can be tiring and an addition of a nature-inspired accent wall can add a refreshing feel to your workspace. The addition of this accent wall can be the visual break you need and you can just look at this wall to let your eyes rest.
If you can't stand up and go out for a well-deserved breath of fresh air outside, a nature-inspired accent wall can make you feel outside even when inside the home office. The sight of nature and greenery (and even flowers if you prefer that) offers a fresh ambiance and you can make the most of this without having to go out of your office.
Which Wall Should Be The Accent Wall In A Home Office?
When choosing the specific wall in your home office to transform as an accent wall, there are different factors you need to consider. Here are some of the elements you need to decide on before choosing one: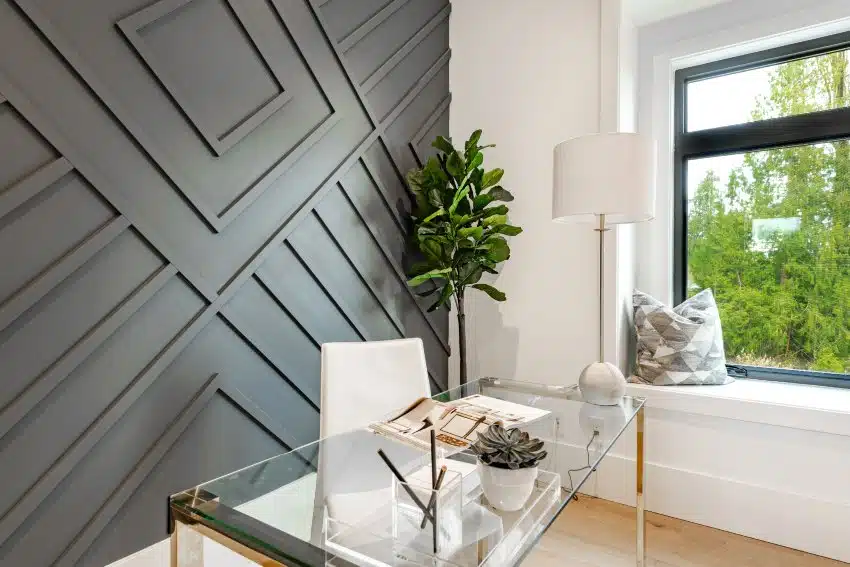 • Consider the focal point – You can design your accent wall for you or for the guests of your home office, which can pretty much point towards its focal point. If you're designing the accent wall for your guests, it should be in the line of sight of the guest chairs in your office (which can work if you have a large office or a commercial space at home).
If the accent wall is for your own rest and motivation, check out the location of your desk and choose the wall directly opposite it.
• Is the accent wall soothing to look at? – If you have a relaxing color for your accent wall it may be good to position it so that you face it while at your desk. This way you can use it as a place to reduce eye-strain while working at your computer.
• Check out the condition of the walls – Choose the wall in your home office that you can easily work on and avoid those that have an irregular surface that can compromise the look you're going for.

• Consider the exterior views – If you want the accent wall to be seen from the street and add visual value to your home from the outside, you can choose the wall opposite the windows.
Should A Home Office Accent Wall Be Light Or Dark?
Choosing the right color for your accent wall can be overwhelming and one of the easy decisions is whether to choose a light or dark color.
Both of these colors may be considered but the major difference between them is that a light-colored accent wall can add an illusion of more space while a dark-colored accent wall can make a room look smaller. You can adjust accordingly based on the size of your home office.
The first thing you need to do though is to choose a neutral color for your home office walls. This prevents you from being distracted while working and at the same time gives the accent wall the chance to stand out.
Choose a light color for your accent wall to brighten the room and make it look bigger than it really is. The danger in this choice though is that some light colors tend to look flat and boring.
Choose a darker color if you prefer a moody and brooding appeal in your home office but make sure to choose ambient lighting that can illuminate your workspace.
Dark colors are bolder and easily create more contrast with the neutral-colored walls but make sure to avoid too many colors or it might appear overbearing and lead to sensory overload.
Should A Home Office Have An Accent Wall?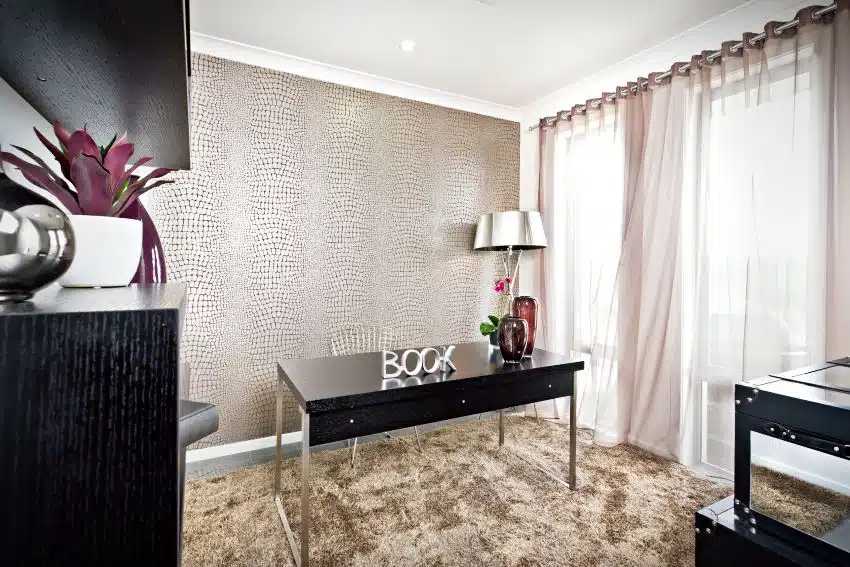 Yes, you need to have an accent wall in your home office to benefit from all the advantages that having one can provide. Here are some of the benefits you can surely enjoy:
• Defines space and highlights interesting features – Your accent wall can easily add a layer to your home office, making sure that it doesn't look boring and dull.
• Adds visual value to your home office – While the office is a space for work, it doesn't mean that it should be dull and work-focused. You can design your home office to look aesthetically pleasing and actually inspire you to stay in your office.
• Create a motivating vibe and personalizes your space – When you create an accent wall, you have all the freedom to design it however way you want to. You can turn it into a motivational wall that will help you feel better when working. Or, you can transform it into your personal corner with all the photos of your family members and other things that can inspire you every day.
Visit our guide on some creative accent wall ideas or more related content.