Here we share our geometric accent wall ideas including the different kinds, materials you can use, DIY tips, what to consider when choosing paint products.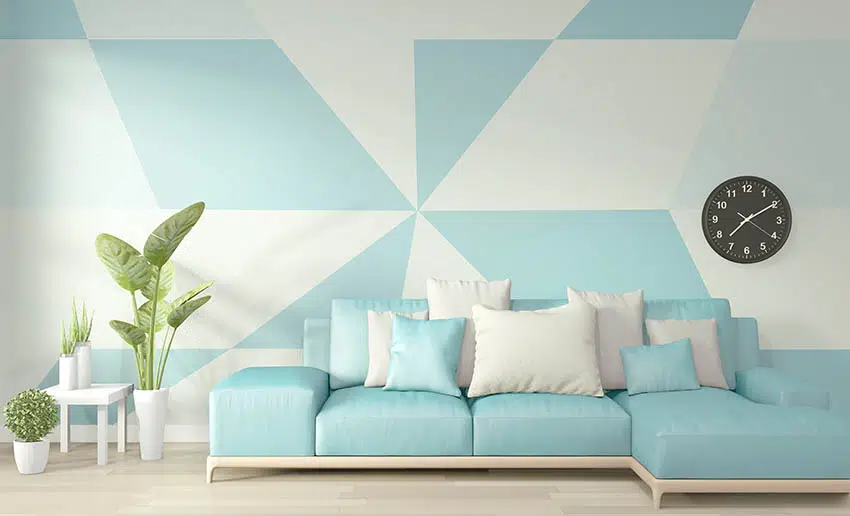 Tired of boring standard wall paints? Are you looking for something quirky and unique and a design that can ooze incredible personality?
If you are, one thing you can try out is a geometric accent wall! But what's an accent wall?
An accent wall is an eye-catching element you add to a room in order to attract attention and set an additional vibe to the room. It can add warmth to a room or make it look cooler or bolder, depending on the ambiance you are going for.
You can do this by integrating metal, fabric, wallpaper, and wood or you can create the accent through paint. And one of the creative ways to use paint in an accent wall is through geometric panels.
Geometric accent wall provides a modern and trendy look to a room. But before you can install this kind of accent wall, you should know what it is in the first place.
Geometric Feature Wall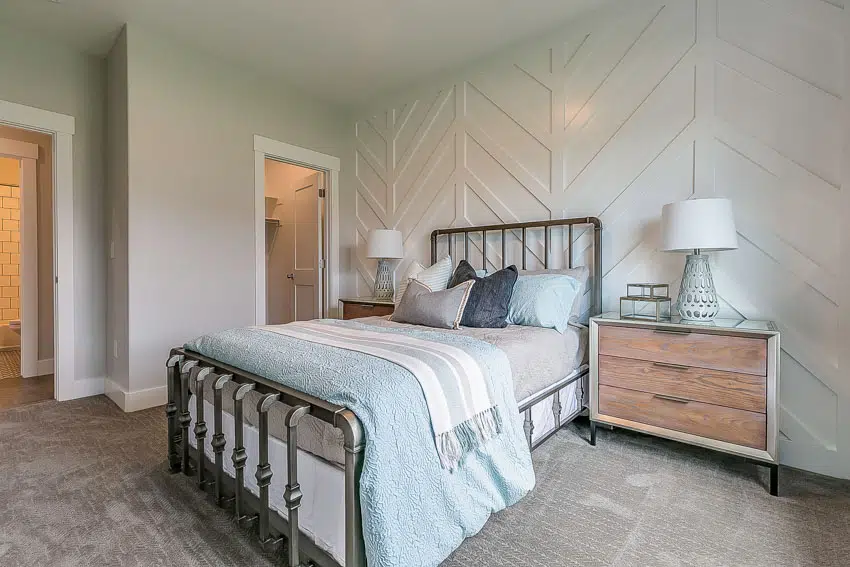 A geometric accent showcases geometric patterns and designs in fresh and bold colors, which would all depend on your preference. It is meant to be big and bold in order to catch attention and there is a variety of ways to accomplish this.
Geometric wall paint is the most affordable way to create a feature wall. You can unleash your creativity through this wall and even DIY the entire project.
From a dimensional style to a layered look, your creativity is only your limit. If you feel quite unsure though on what to do, this is a good place to start.
First, there is no right or wrong way to start your painted geometric accent wall. You can also use a stencil if you are not that confident in painting the walls yourself but you can always paint it free-hand.
Types of Geometric Wall Designs
Here are some of the different geometric accent walls, figures, designs, and shapes to try out:
• Triangles
• Circles
• Arches
• Doilies
• Plank
• Stripes
• Checkered
• Hexagon
These are only a few of the designs you can use for your geometric accent wall. There are even more wall paired with home decor options for you to explore.
For specific examples though, here are some of the specific examples you can use as an accent wall.
Geometric Wood Accent Wall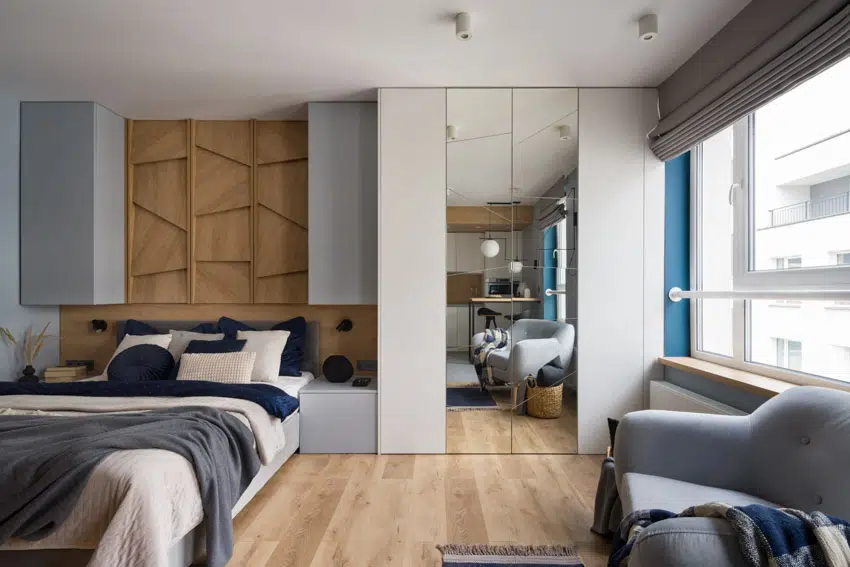 A geometric wood accent wall offers a modern look to your room if you choose it. In making this accent wall, you can use an MDF board for the pattern.
This would also look high-end and luxurious wherever you may install it. The modern master bedroom design will look incredible with a wood accent wall and add value and aesthetic to the room.
Besides an MDF board, you can also use batten and shiplap if you choose to. Lattice strips and design will look great for your geometric wood accent wall.
Geometric Triangle Accent Wall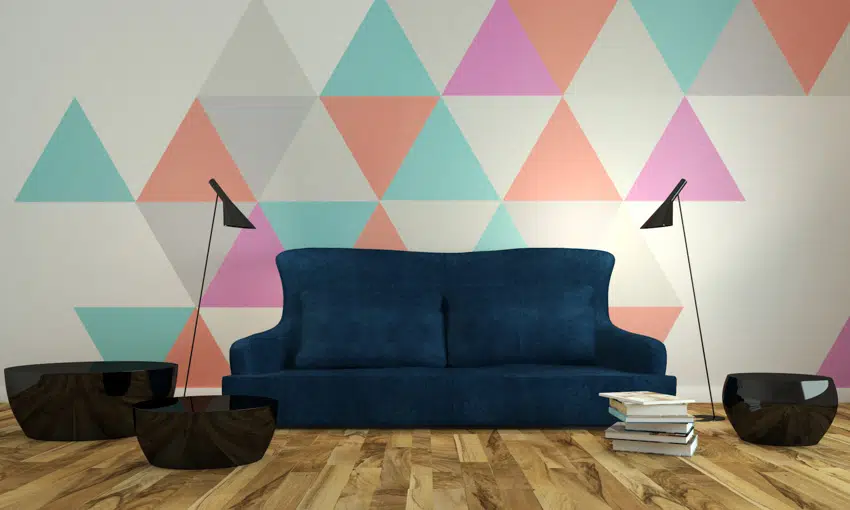 You can also choose a geometric triangle accent wall if the first recommendation is not what you want.
One of the best options you can have for a geometric triangle accent is a tribal design. You can use the standard black and white them with tribal design or you can get creative with any color you wish to use.
Geometric Accent Wall DIY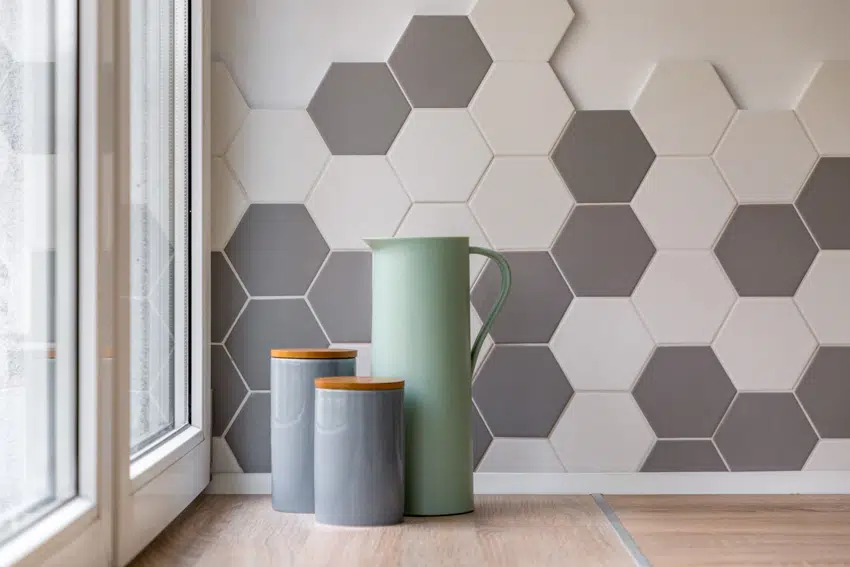 One of the best things about a geometric accent wall is that it can be turned into a DIY project. You can use several colors and different geometric patterns, depending on your preference.
Setting aside the colors and patterns, here is a general step-by-step instruction you can follow if you have no idea how to do it in the first place.
Choose The Paint Color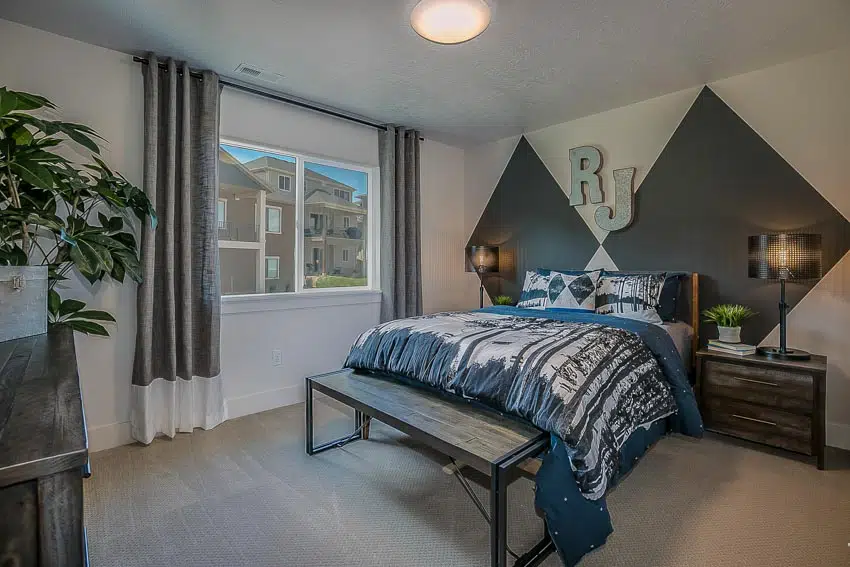 Choose the specific shade you want to choose for your accent wall colors. A popping and bold color will be great for an accent wall and you can choose more than one depending on the geometric pattern you wish to use.
Prepare The Wall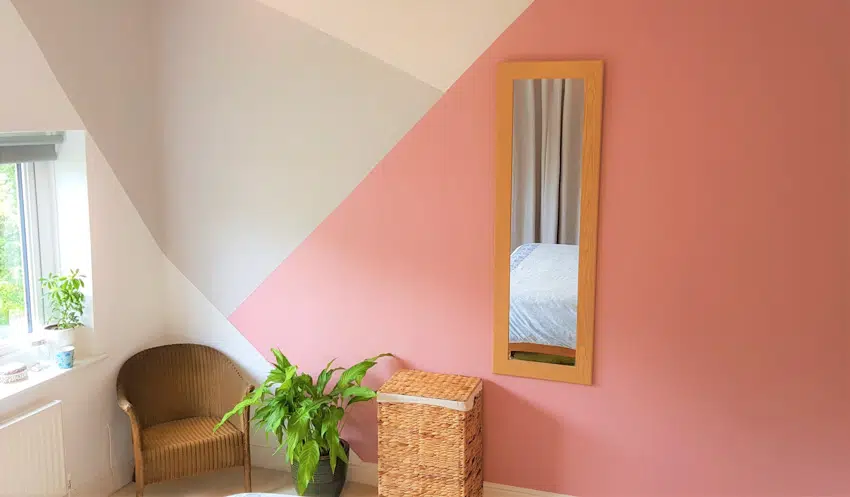 Prep the wall by washing it and removing dirt, grime, and grease. Make sure that the surface is smooth by filling holes with spackle.
Use sandpaper to make sure that the area you wish to paint is smooth enough. Use painter's tape to tape off the baseboard.
Optional: You may choose to apply a base color if you want to. Use a good quality white paint color to start with and a brush or a roller.
Choose The Pattern You Want To Use Then Mark It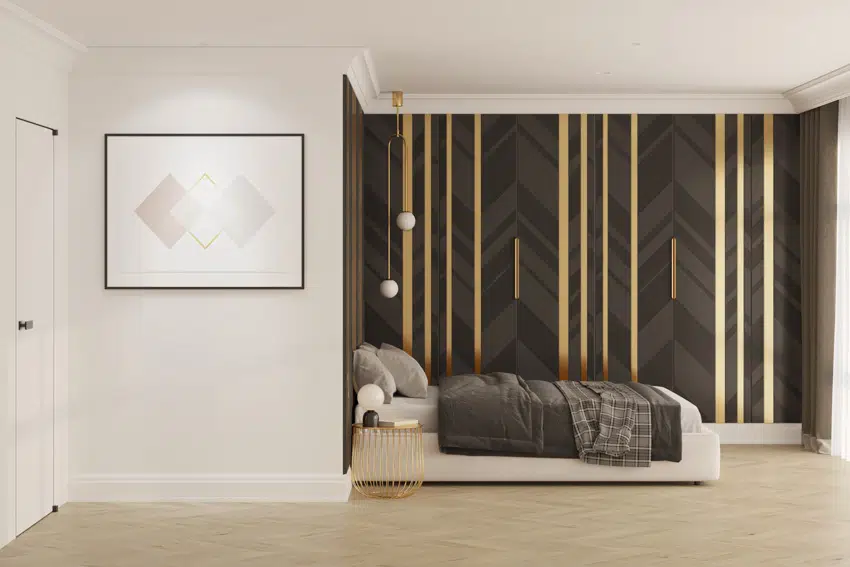 After you choose the geometrical pattern you want to use, you will then mark the pattern on the wall. Do this after the base paint dries.
If you don't want to use that, it's fine too but make sure to start on the left edge of the wall going right. Mark a horizontal line on the wall to set boundaries on the accent wall, both on the left and the right.
Use Painter's Tape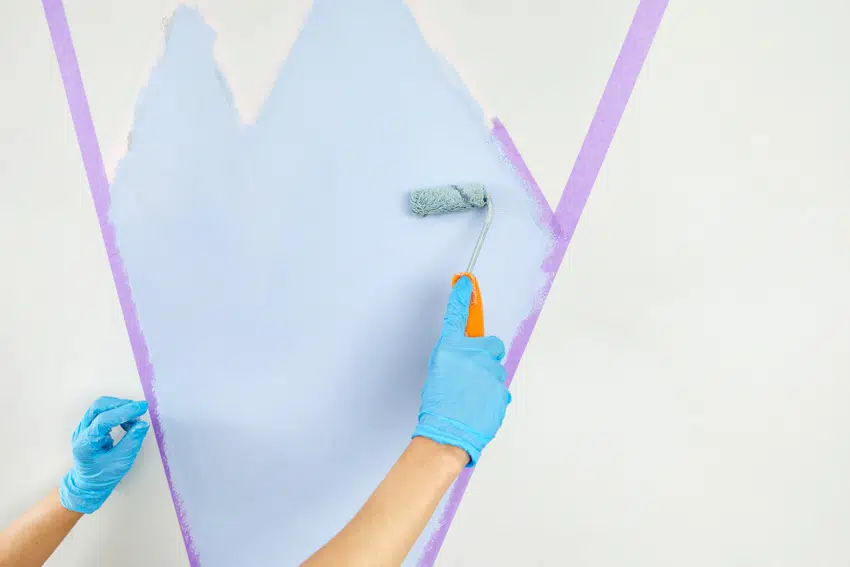 For delicate patterns and surfaces, apply the painter's tape. You can use this along the different baseboard styles or the horizontal line on the wall.
Prepare The Paint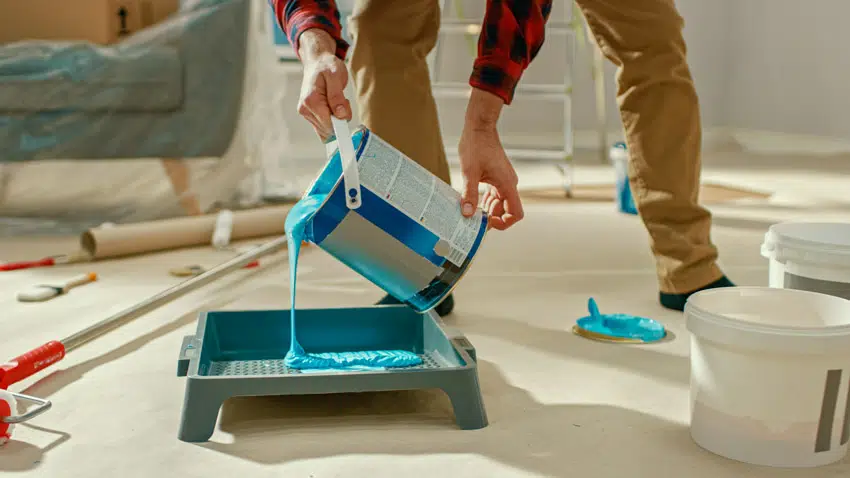 Prepare the paint/s you will use for your geometric accent wall and pour it into the tray. If you're using more than one paint, use a different tray for the second or the third paint.
Paint The First Section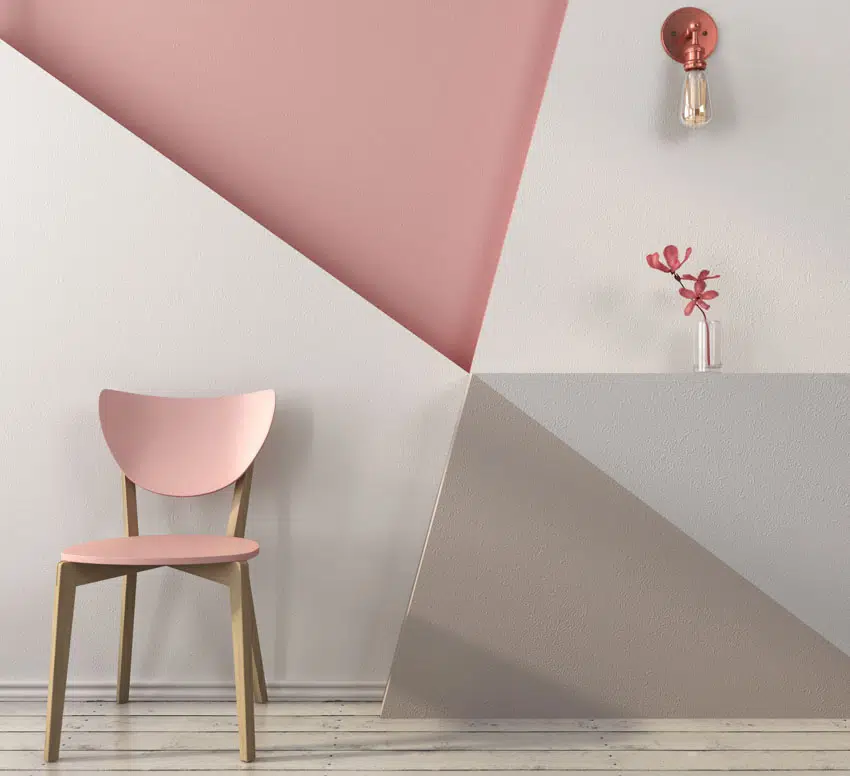 Paint the first section of the wall using a roller and a paintbrush, depending on what you're comfortable with.
You can use a spray paint if you prefer but make sure to keep the paint between the tape and the baseboard. Let it try then remove the painter's tape (Or apply a second coat if needed).
Use the painter's tape to mark the second section and other sections in the wall.
Paint The Second Section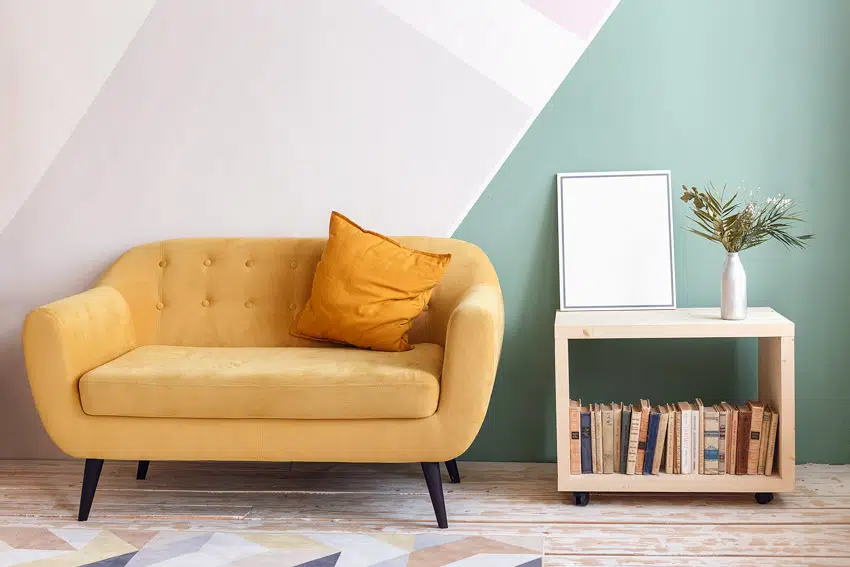 Paint the second or third section of the accent wall following what you did in the first section. Make sure to remove all painter's tape after completing your paint job.
Accent Wall Geometric Wall Paint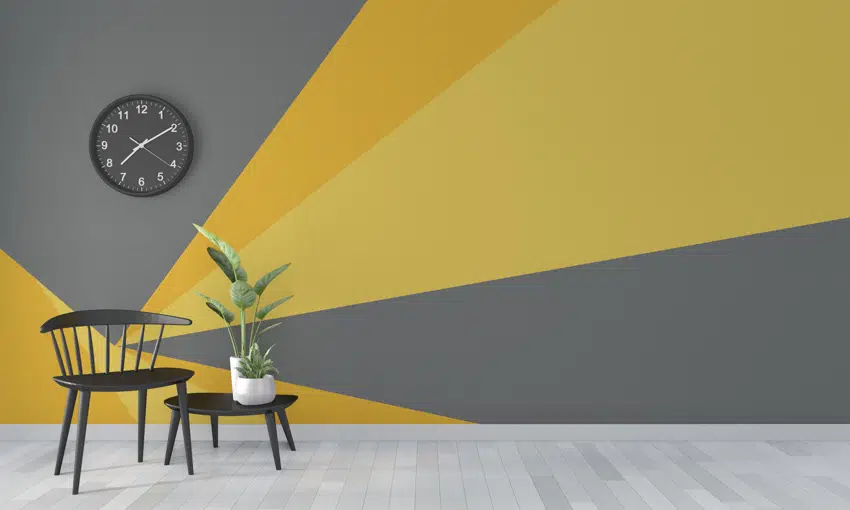 When considering the paint for your accent wall, here are some tips you can follow.
• You can go for a bold color (the point of an accent or feature wall anyway is to be the center of attention in the room)
• Make sure that the accent wall can support the vibe of the room
• Use the color to your advantage by balancing the colors of the accent wall
• Use a base paint so that the paint will last longer
• Use semi-gloss or satin wall paint if you want the design to stand out
• Double coat the paint to make sure you've covered every inch of the surface.
• Pair wall accent colors with home decor and furniture
• Don't be afraid to play with the geometric patterns to make a statement and add character

See more related content in our article about how to paint over a dark color wall on this page.