Here's our gallery of stair railing paint ideas including the suggested colors, design combinations that work best for your house and important stair railing painting tips to consider.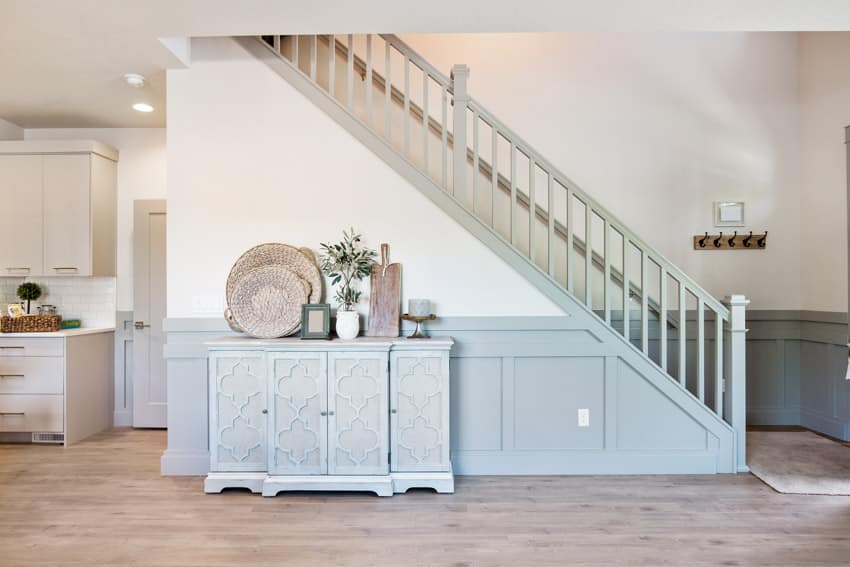 Stairs are usually located near the front door. They are the first thing you see when you enter a house. The paint color of your stair railings can be cool or warm. The color of the stair railings affects the ambiance of your home.
The stair railings have three components. These are the newel posts, the spindles, and the handrail. You can paint each component in different hues. Well-designed and painted stair railings can add to the grandeur of your home.
What paint color is best for this part of your house? Here are some paint suggestions to use and different stair railing ideas.
True Neutrals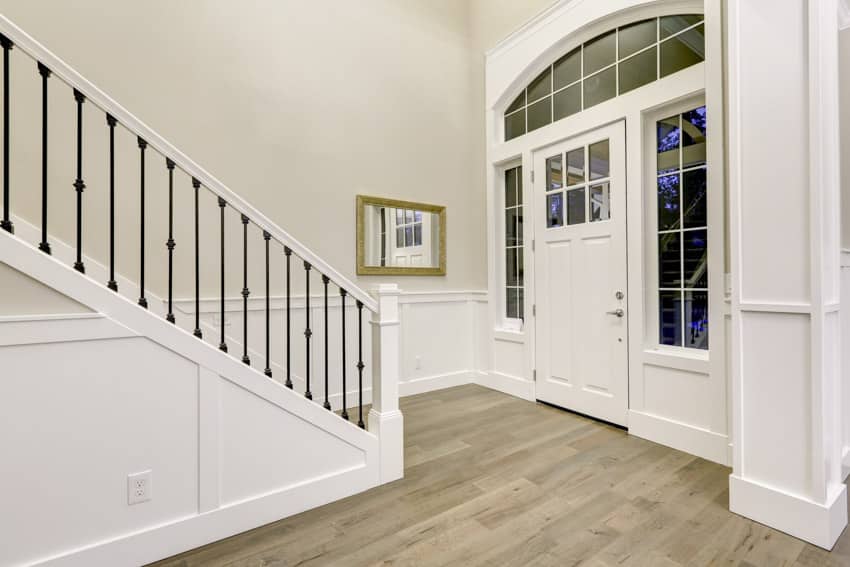 Black and white are true neutrals. They can go with walls and decors of any color. They create a smooth and continuous flow.
You can paint the handrail white and the two other components white or you can have an all-black handrail with white newel posts and spindle.
These classic colors have different shades. Pure black is bold while espresso black depicts warmth. White is a cool color and is ideal for a painted banister. Do not use a yellow tint on white. It could appear like dirt.
Choose the best type of paint. Use Semi-gloss white paint from Valspar Signature Paint. You can buy it from Lowe's.
It is one of the popular brands for painting stair railing. This paint becomes hard when it dries. Because it is glossy, it is easy to wipe clean.
Other brands of paint for stair railings are:

Behr Marquee Matte Ultra Pure White (1450) Farrow & Ball All White Estate Emulsion Finish (2005)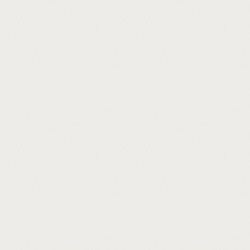 Sherwin Williams Pure White (SW7005)
These brands are the most popular in the US.
Using pure white will result in an airy and light feel. Painting the spindles and railings white lends them an elegant, crisp, and clean look.
Avoid light yellow tint on white railings. The yellowish shade can make the surface look dirty.
Choose black paint that becomes hard when dry and develops a semi-gloss. It is excellent for banisters because it is easy to clean.
Sherwin William Black Magic SW 6991 is the best brand. It is a warm black paint color with a true black undertone.
Modern Colors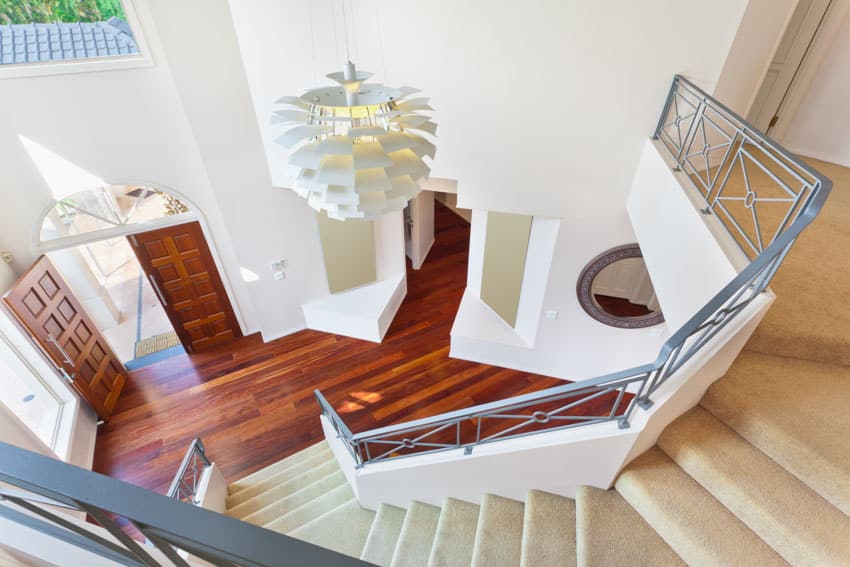 You do not have to use black or white all the time. There are other stair railing paint ideas that can match the surrounding decors and make your home look elegant.
You can swap black and white with gray. Or instead of using gray, you can use a rich navy blue or near-black green.
These colors are neutral and they add texture to the paint without making them look too bright.
For the best shade of navy blue, use Sherwin Williams or Benjamin Moore brands. The navy color will easily blend with the color scheme of your house and décor.
This line of products also features different shades of nearly-black green shades.
Modern stair railings use a combination of colors. Dark brown railings with a white spindle have an elegant look.
Eclectic Combinations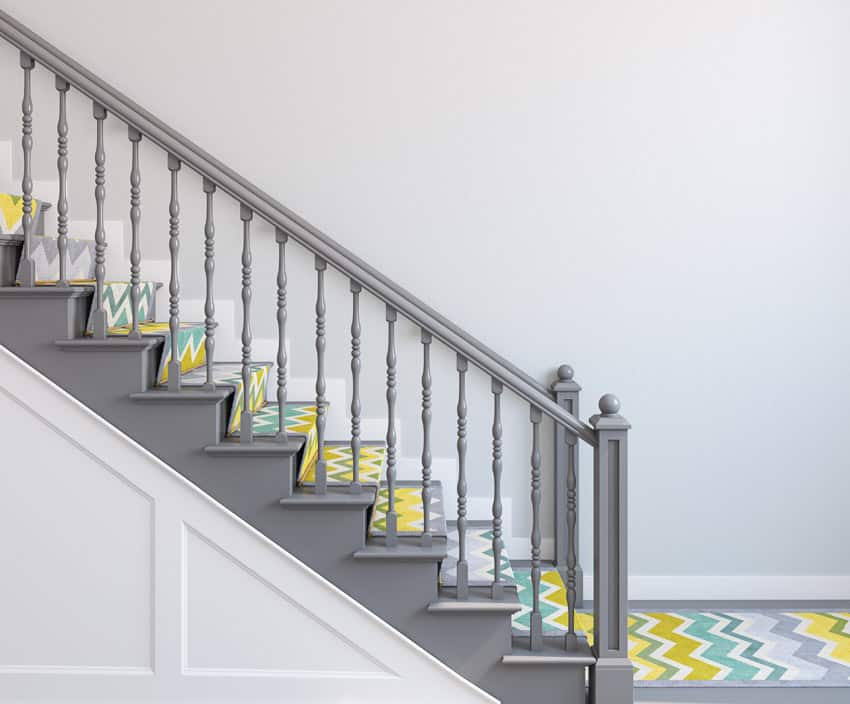 One can use a range of colors for the stairway railings. Using the right color combination can add character to the stairs.
Paint the spindles from the top going down from darkest to lightest shade. This can result in a waterfall effect.
You can reverse the direction from darkest to lightest going upwards. Other possible combinations are colors that go with purple, turquoise, coral, cornflower blue, periwinkle, sage, lavender, and lilac.
Courageous Contrast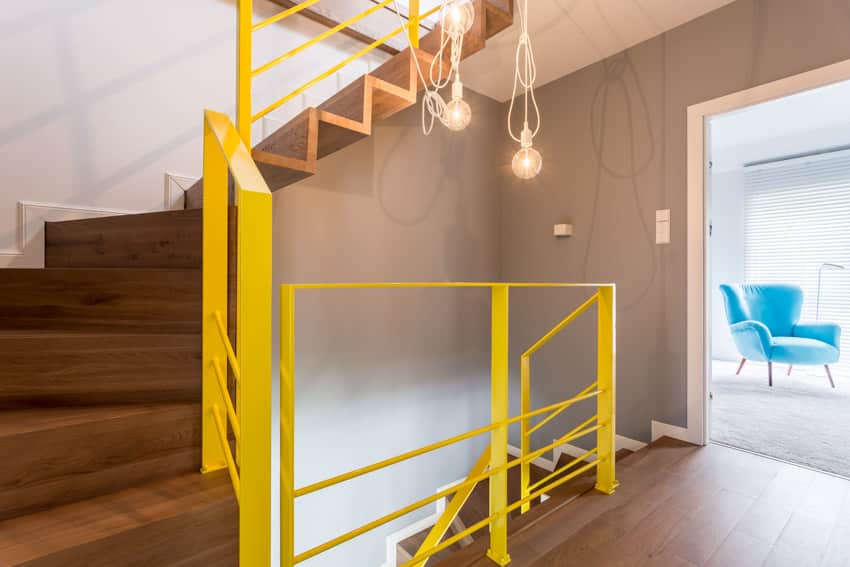 Among the stair railing paint ideas that can catch attention are bold contrasts. Paint the spindles white and the railing black.
You can reverse the process by painting the spindles black and the railing white. You can also use electrifying colors for the railings such as lime green, fire engine red, or sunny yellow.
Monochromatic Mellow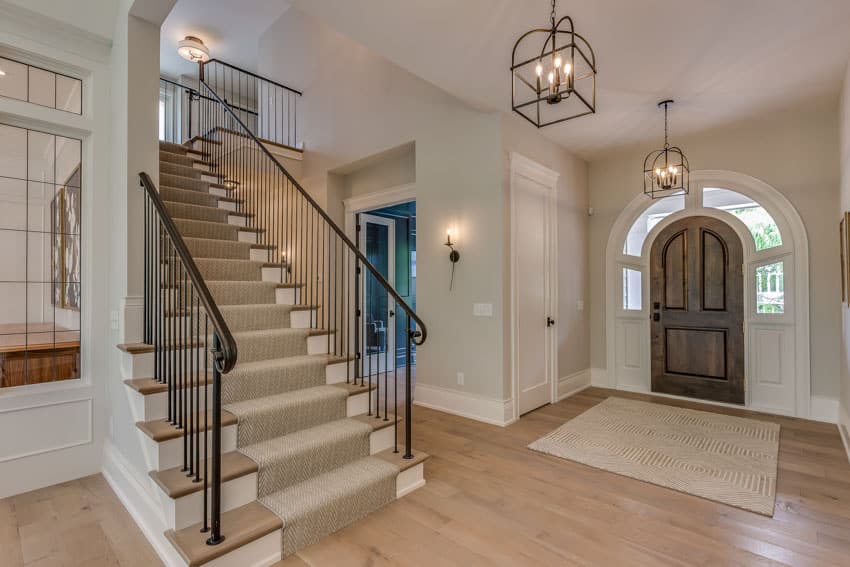 Paint the handrail with a color that belongs to the same color family of the paint that you used in the spindles. This can work with different types of stairs in your home.
When you paint the railing navy blue, the spindles must be in light blue. You can also paint the railing light blue and the spindles navy blue. The result is a harmonious and soft atmosphere in your home.
Elementary Earthy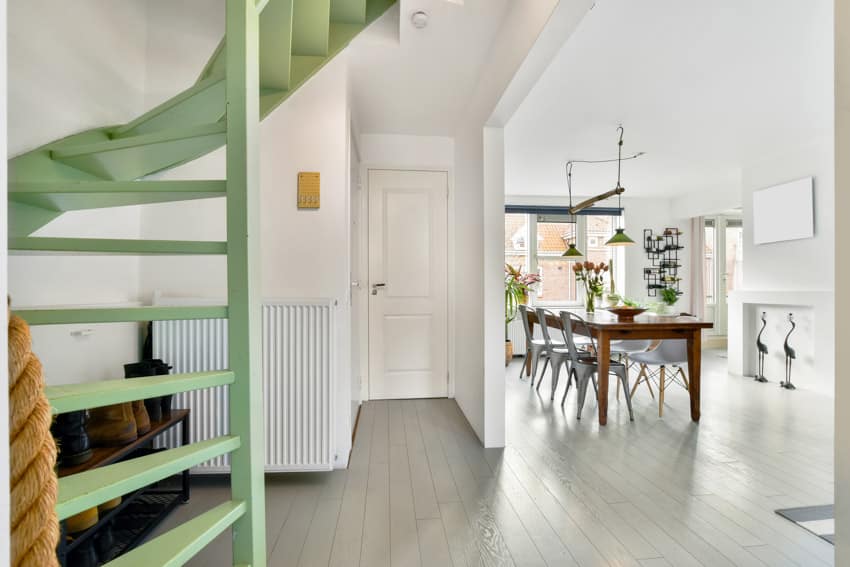 When searching for a paint color for your stair railings, look around you. You can find lots of vibrant hues such as grassy green, pumpkin orange, or sunny yellow. You can tone down the bright colors by using lighter shades.
Benjamin Moore paints that have earthy colors are:

Peach Parfait (2125-70)

Rich Cream (2153-60)

Guilford Green (HC116)
Stair Railing Painting Tips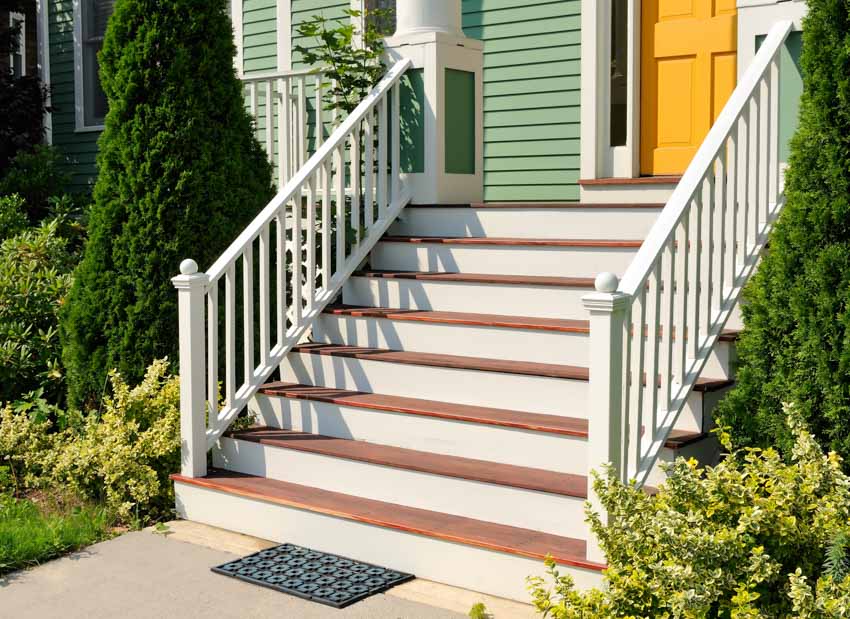 The beauty of a painted stair railing does not depend on the color or brand of the paint alone. You can achieve a smooth finish by preparing the surface properly.
Here are some steps to prepare the stair railings for painting:
1. Clean the railing using cleansing and degreasing substances. This will help remove dirt, grease, and oil. Paint will not adhere well to an oily or greasy surface.
2. Use sandpaper to smooth the surface. This will allow the paint to adhere to the surface better. Use 100 grit sandpaper.
Continue sanding using sandpaper with a higher grit. This will make the wood smooth. Use palm sander for flat parts and sandpaper sheets for curvy parts.
3. With a tack cloth, remove the dust from the sanding. Leaving the sand on the surface will result in a rough painted surface.
4. Paint the railing with an oil primer using a brush.
5. Let the primer dry. Sand the railing slightly using 220 grit sandpaper.
6. Remove the dust from sanding using a tack cloth.
7. Paint the railing with one coat of your favorite paint brand. Let the paint dry according to instructions.
8. Apply a second coating of the paint.
9. After the second coating has dried, use a paintbrush to apply two coats of polyacrylic over paint. This will protect the paint finish.
For beautifully painted railings, use the right paint color. Prime the surface well. Make sure you are painting a smooth surface to achieve the desired result.
See more related content in our article about staircase wall painting ideas on this page.