Colors that go with gold design guide including matching paint colors such as blue, pink, green, purple and more exciting color combinations for your home interior design.

One of the biggest trends in interior design is metallic style, and it appears it's here to stay for a while. At the top of this interior trend is the color "gold".
Essentially, gold can capture a look of sophistication and elegance, especially when incorporated into the home interiors.
Moreover, it's considered one of the top metal choices when it comes to decorating because of its ability to blend well with other colors, as long as you're familiar with the right color combinations.
Best known for its classic and timeless qualities, let's take a look at the colors that look best with gold.
Paint Colors That Go With Gold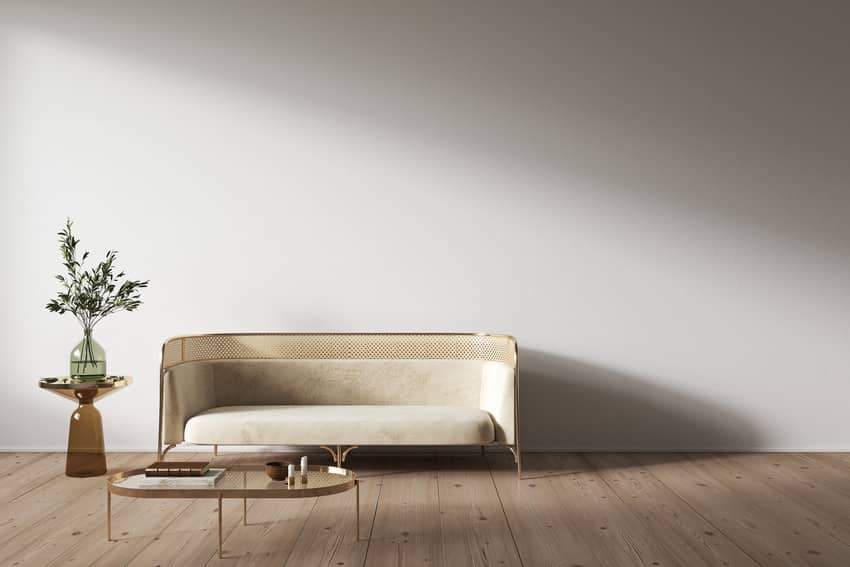 Here are the paint colors that pair well with gold for your home interior needs and ideas.
Black and White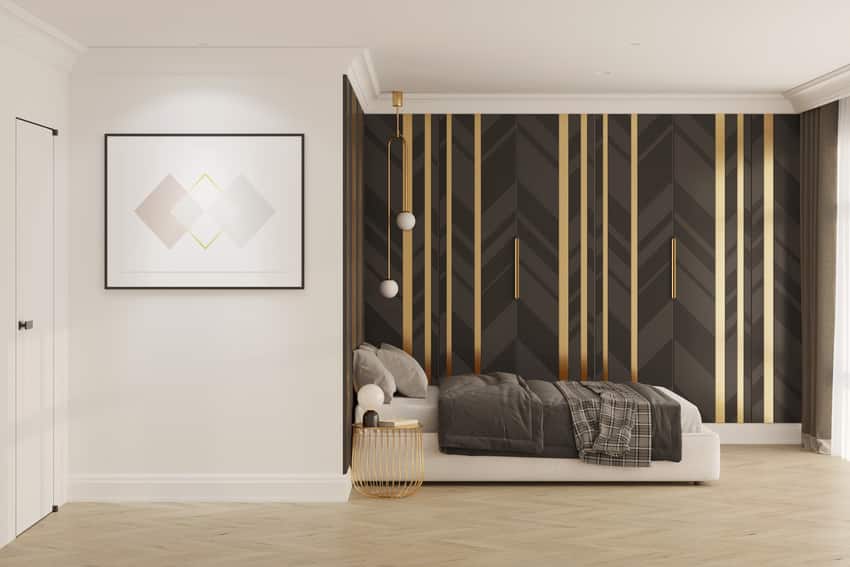 You definitely can't go wrong with the black and white color scheme. However, it's best that this combination would only serve as a backdrop, either for wall colors or furniture paint.
Meanwhile, it's recommended that gold is only used as a decorative accent, such as for door handles, cabinet handles, light fixtures, and so on.
Too much gold in any living space can be overwhelming to the senses and might even run the risk of looking tacky.
While gold accents may seem insignificant details, they actually further highlight the beauty of a room.
Blue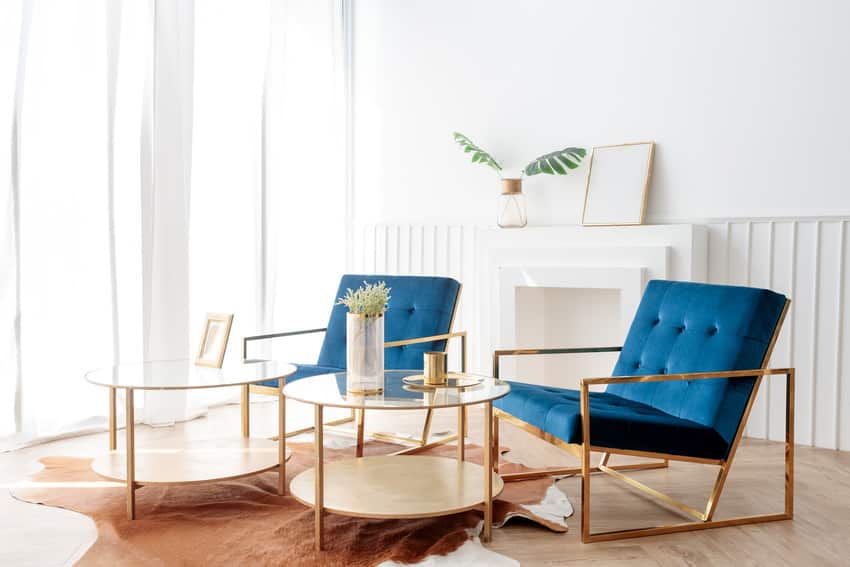 Blue and gold are what may be considered a golden color combination. Any shade of blue is naturally bound to work with the said metallic color, making blue perhaps the color best paired with gold.
You can mix and match blue with other colors, or even include it in layers or stripes in your paint colors. You can guarantee that they will still work together because blue and gold are an absolute match made in heaven.
In any case, the gold makes the blue pop out and vice versa, creating a majestic and refined ambiance.
Pink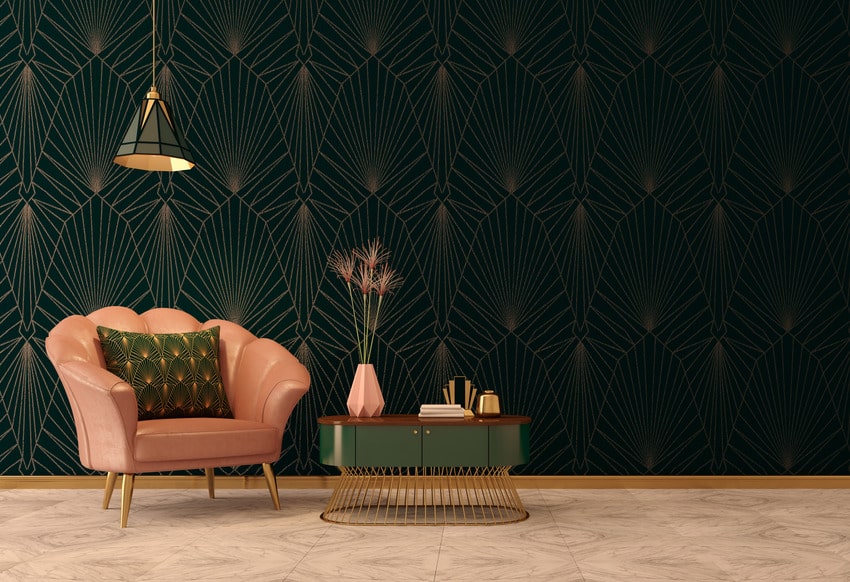 We know what you're thinking. Pink may not be the best choice to pair up with gold, but hear us out: they actually work well together, especially if you go for pale pinks.
In fact, this color combination is one of the top choices when it comes to nursery room interior designs. This color scheme is all over Pinterest and other design blogs, too.
However, pink and gold don't necessarily work well only in the nursery. They also make any room in the house appear both classic and charming.
Green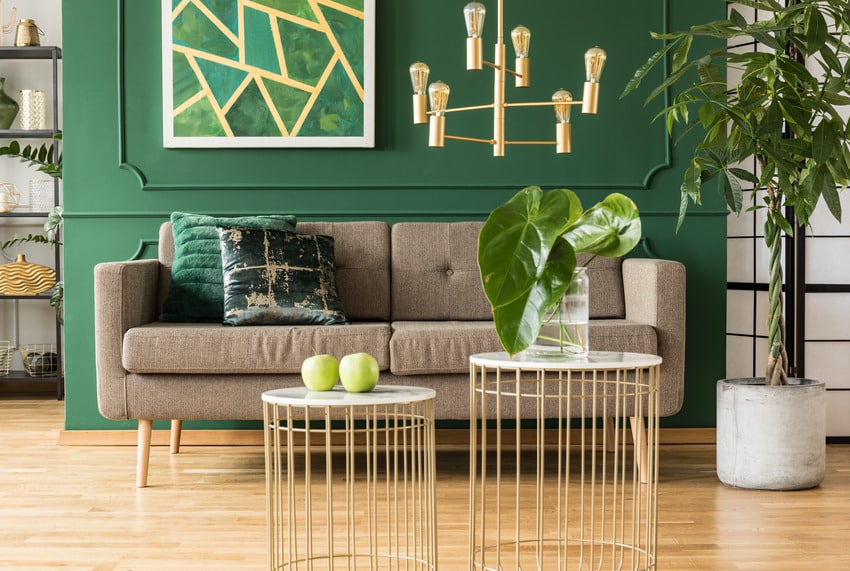 Green can come in a broad spectrum of colors, including lime, sage, and even bright green. Read more about colors that go with green here.
Combining any shades of green with a touch of gold gives a refreshing and vibrant effect. There's also a somewhat minimalist and vintage feel to this combination that definitely makes it worth considering.
Gray and White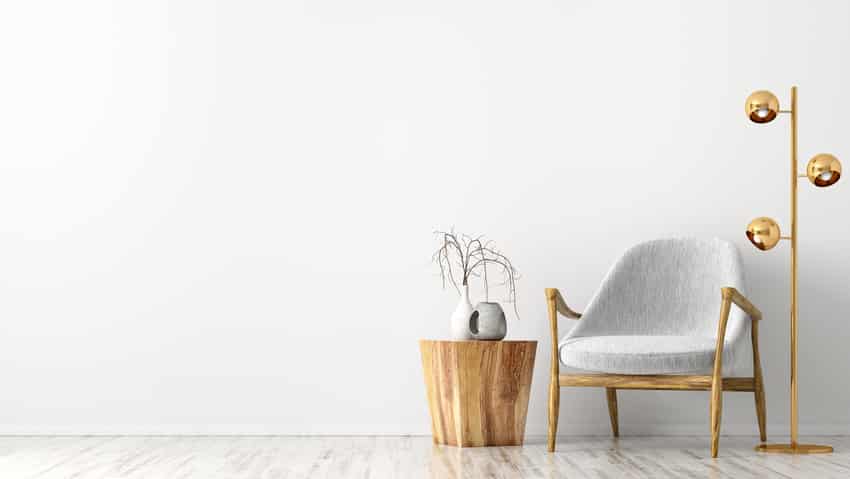 Gray is another color that probably doesn't pair well with gold but for some reason, they also complement each other. Read more about colors that go with gray floors here.
Gray works as an interesting backdrop for gold, with white complementing both. The overall look is eye-catching and classic at the same time.
Purple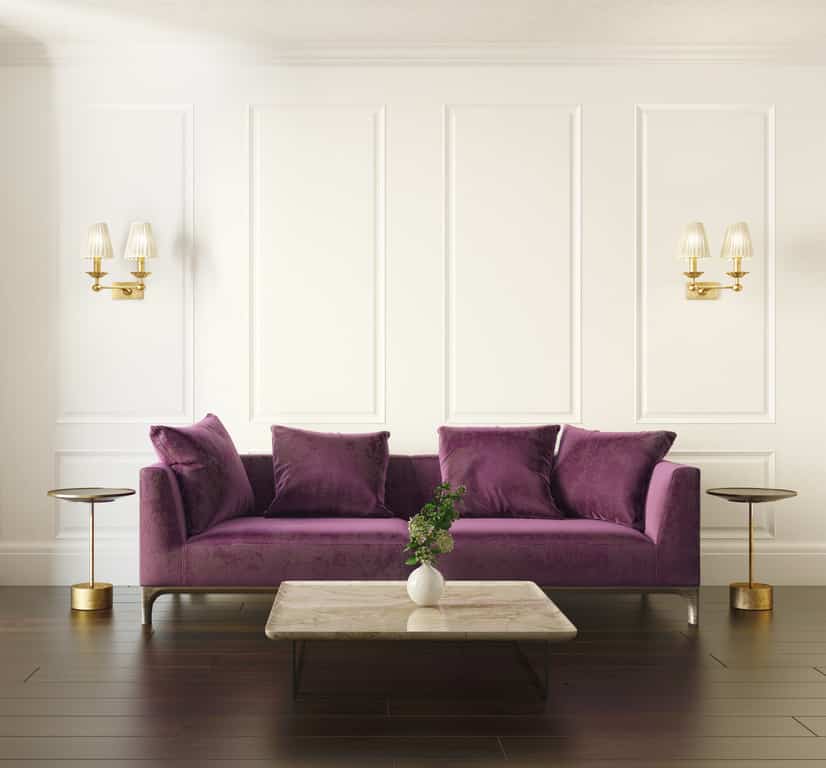 Need we say more? Purple is the color of royalty and as well all know, royalty also denotes gold.
Even the smallest splash of purple can make a striking difference in the layout of the gold interior that you're trying to bring together.
Similarly, it would be smart to mix and match with select furniture pieces to complete the whole look.
Turquoise and Red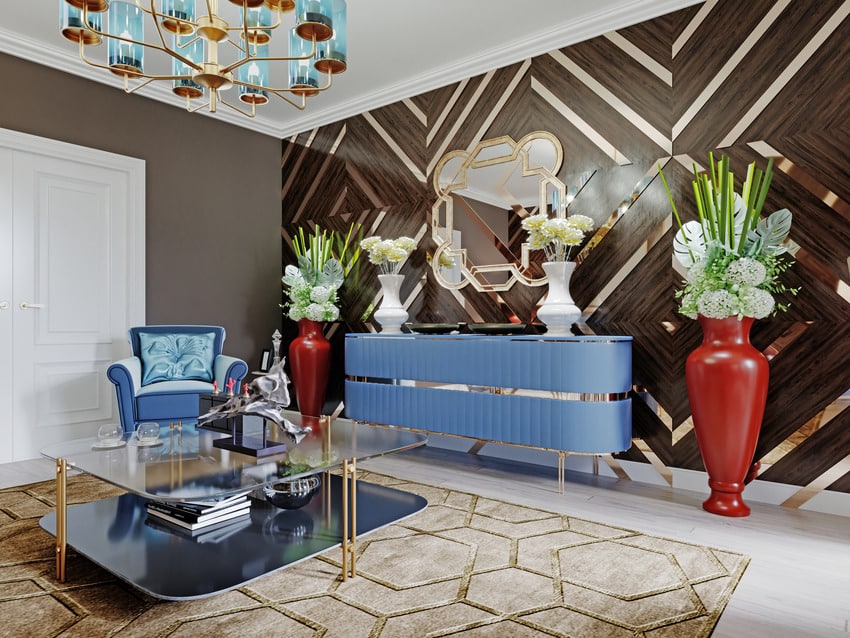 Turquoise and red together are already such a standout color pairing, more so when you add some elements of gold into the picture.
This color combination can fit almost any design style that you could possibly think of, including vintage, modern, and custom-made. You can easily apply these colors to your furniture pieces, too.
Colors That Go With Gold Walls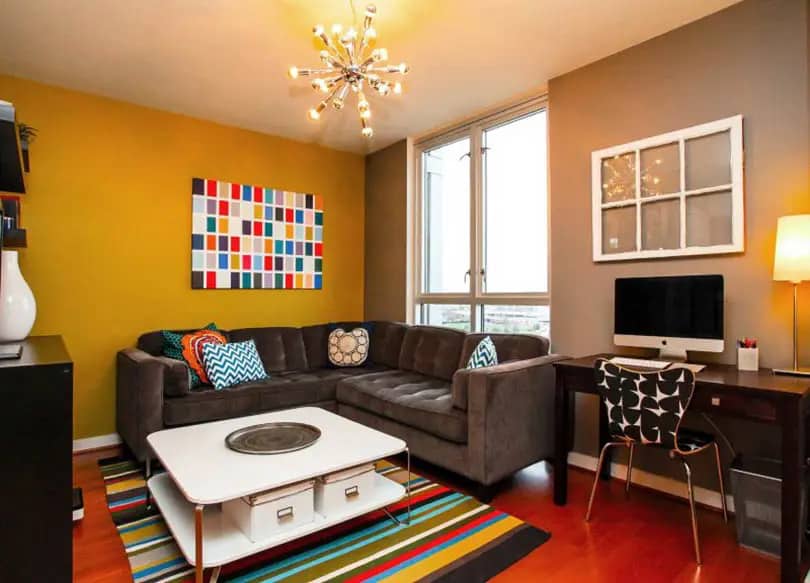 Gold walls are a rather unusual and challenging interior design theme. If not done right, they can actually make the room look tacky and overwhelming. Read more about what wall color goes with black furniture here.
The trick to working with gold walls is integrating colors that will balance the lustrous metallic color out.
Neutrals with Deep Tones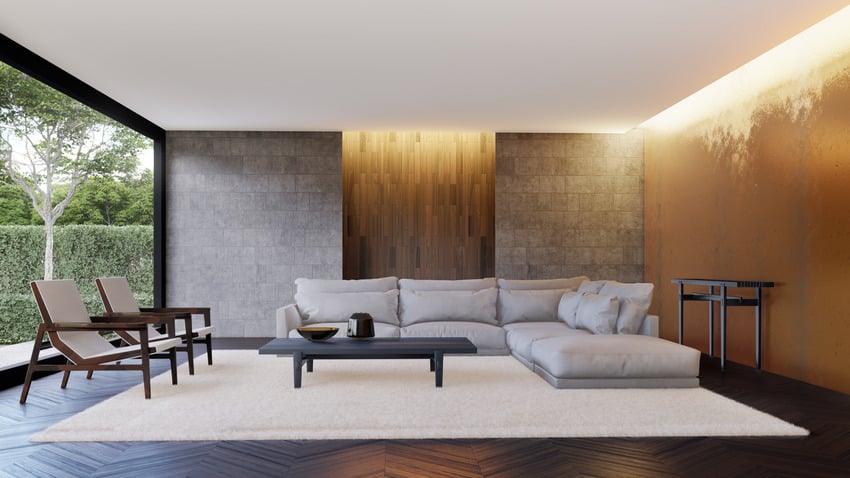 Go with neutrals that have deep tones such as deep tans or beiges, dark olives and sages, dark brows slate and charcoal grays, and so on. These would create a contrast that can make the gold walls work for any living space.
Dark Shades of Red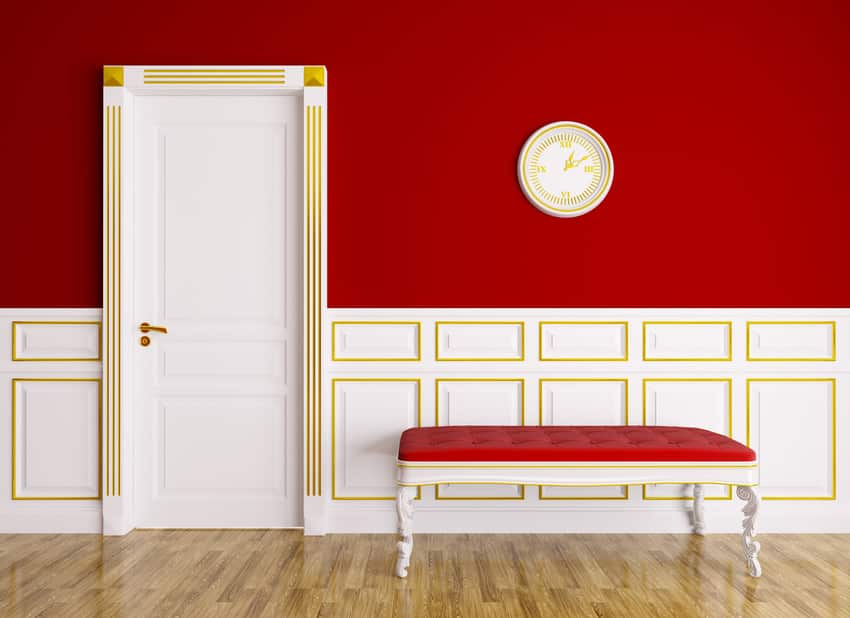 Gold is essentially an extremely bright yellow color with warm undertones so it would make sense to go for analogous colors such as red, which also has a warm undertone.
You've probably heard this rule in color theory repeatedly, but just in case, warm colors go with warm colors while cool colors go with cool colors.
Go for dark shades of red such as brick, wine, or cranberry to create a contrast against gold walls, which mingled together will produce a visually impressive display.
Orange Shades
We get it. Red isn't necessarily for everyone and if this is also the case for you, you can go for a more toned-down version that still yields a visually appealing effect: orange.
Orange tones such as shades of terracotta or even rust can do wonders for your gold walls that should definitely be also at the top of your options list.
Purple and Blue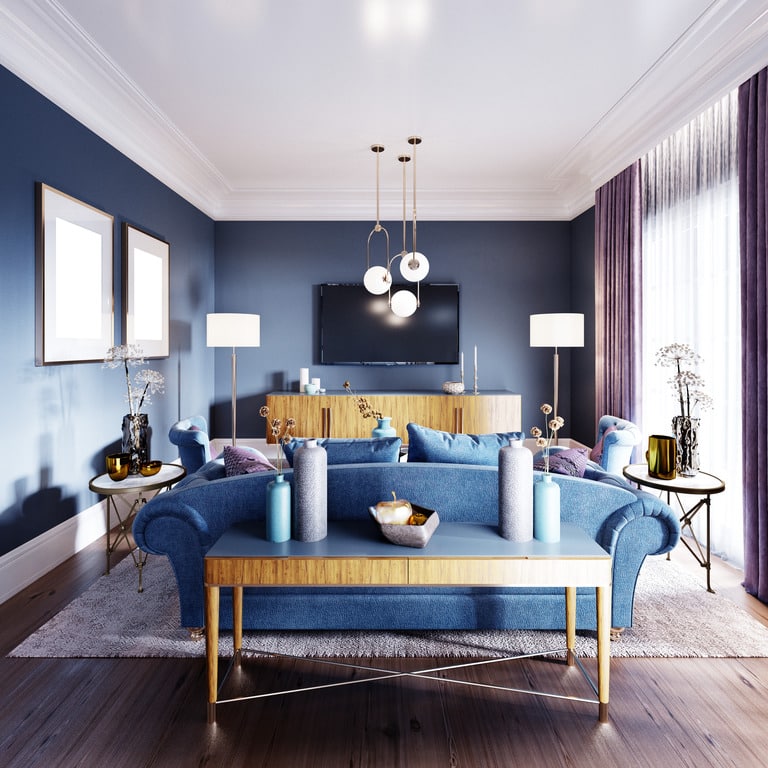 This is a bit contradictory to the color rule that "warm goes with warm" while "cool goes with cool" since both purple and blue have cool undertones. Still, interestingly, they work extremely well together.
This color combination provides a cool effect to an otherwise warm room due to the gold walls, while still giving an exquisite and elegant look. Moreover, this combination is particularly great for bedrooms and offices.
What Color Curtains Go With Gold Walls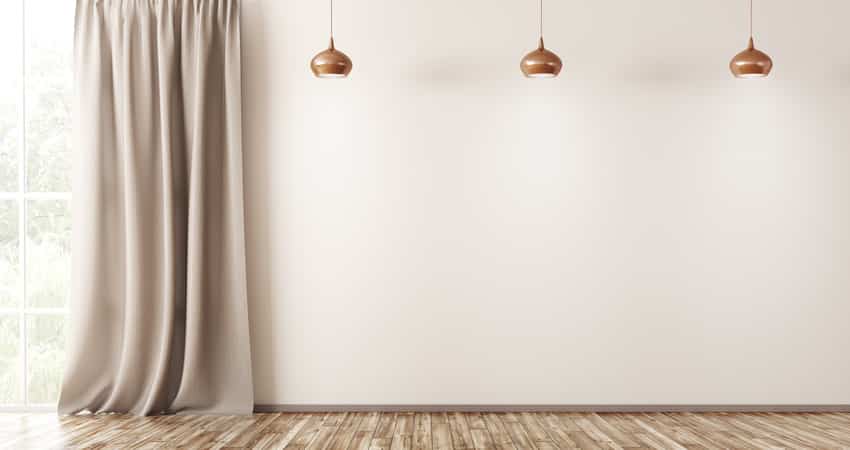 There isn't one single color that's a catch-all be-all when it comes to coordinating curtains with gold walls. Instead, there's a wide variety of options and ranges to choose from.
Here are some colors that might be worth considering for your curtain color options.
Neutrals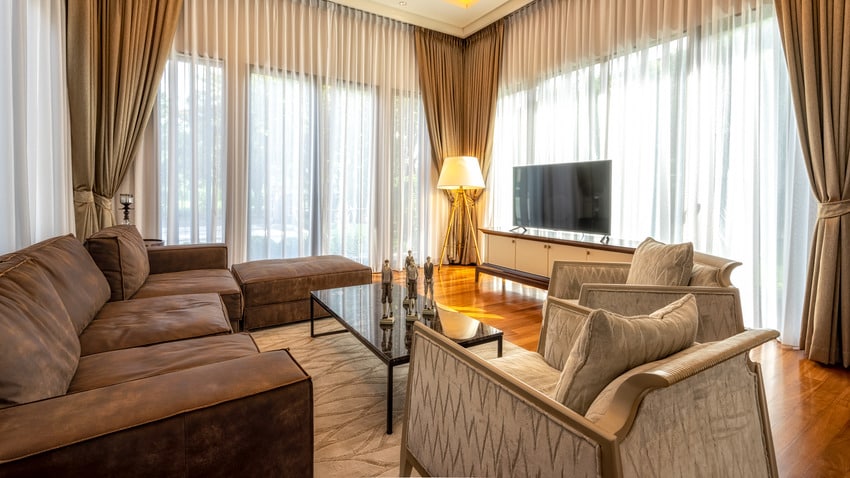 Choosing neutral shades for your curtains if you have gold walls is guaranteed a safe bet. They don't lean on any undertones so they definitely won't clash with the warm hue of gold.
Neutral curtains can tone down and balance the otherwise vibrant color illuminated by gold walls. To start with, you can play around with whites or off-whites, tans, beiges, creams, or even grays.
Monochromatic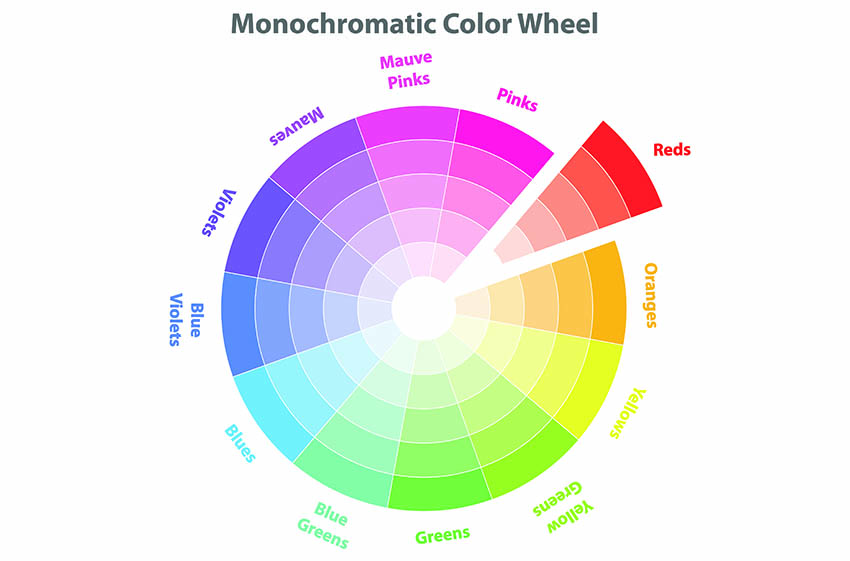 This is a bold option since this further enhances the warmth and brightness of the space. Nonetheless, it can actually work effectively if you go for a softer shade of yellow like butter yellow.
As a result, this color combination can give a striking gold effect to any room.
Complementary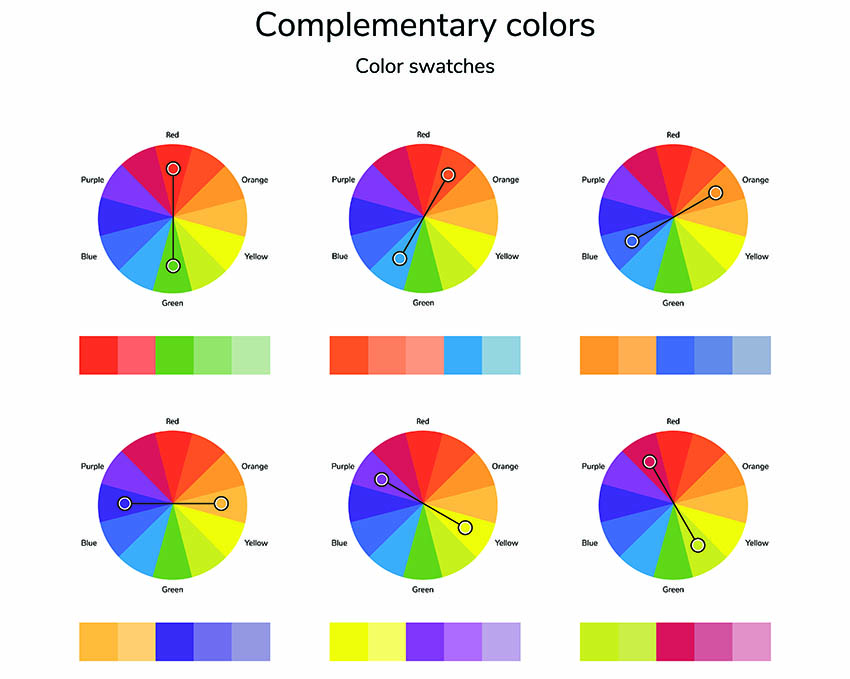 Complementary colors paired with gold can be another daring choice, but they can make for a vivid and striking room.
Go for the go-to perfect pairings for gold which are blue or purple for the curtains. They are directly opposite gold in the color wheel and can make the space look eye-catching without drowning out in all those yellow tones.
For more related content, check out this article on colors that go with purple.