Here we share a variety of basement laundry room ideas including finished and unfinished designs.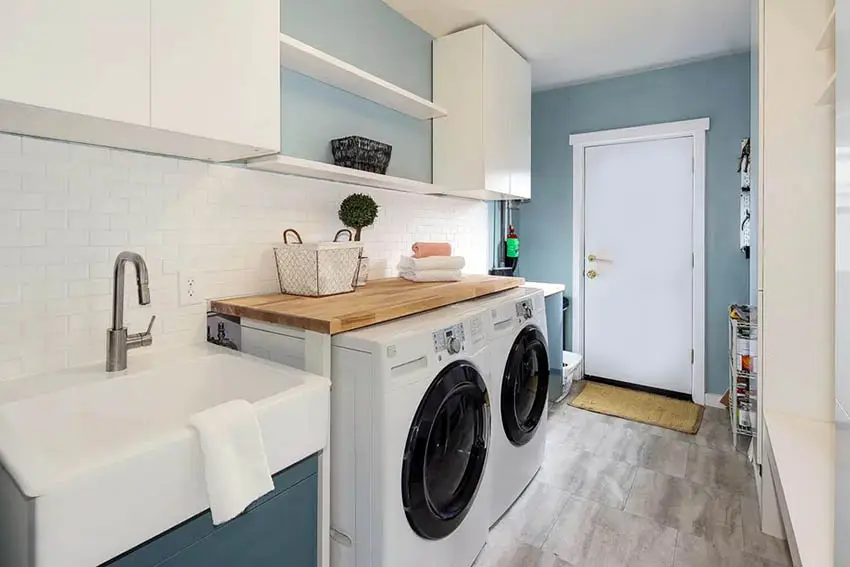 The Laundry Room is usually where we least think about making pretty at home. But it sure is an important yet commonly neglected part of the home. Because this place is where all the clothes cleaning happens (and sometimes, the storage for cleaning materials, too), it would only be beneficial and practical to keep it clean, organized and in tip top shape.
The ambiance of any space affects the mood of its users. Make your trips to the laundry room feel less dreadful by making the space homier and more appealing. In fact, many studies and research show that clutter distracts the mind and makes it more difficult to focus on tasks.
Other studies also correlate the cleanliness/organization of the home to one's physical and psychological health. The laundry room might seem to be just a small space in our home, a long-due makeover will only prove to be more beneficial to you.
A trip to the laundry room may seem like a dreary task, but that doesn't mean your laundry room should also look dreary. Give it a more fun and bright atmosphere by using light colors and a more playful layout.
The small laundry room in the picture above adds a touch of slate blue on its walls, energizing the space. The white cabinets and the addition of wood accents and white bricks gives this space a refreshing and dynamic feel.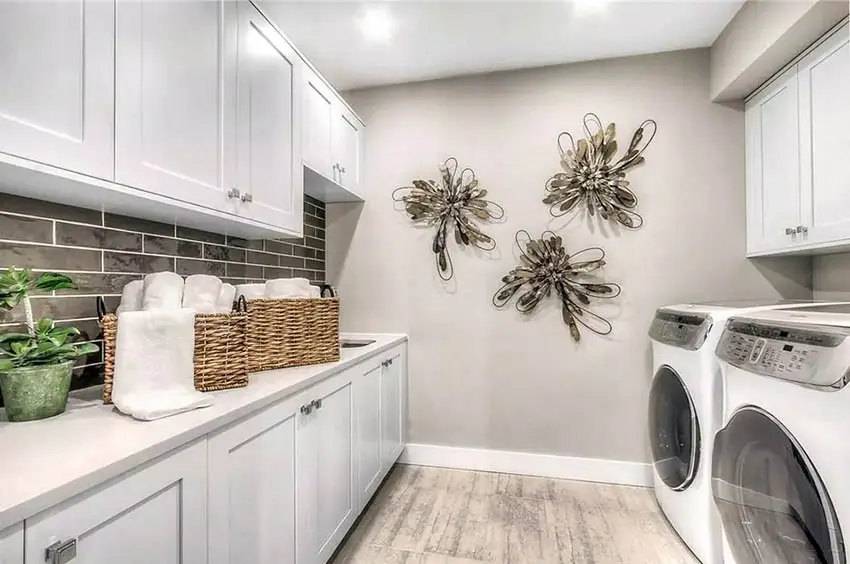 This simple laundry set-up focuses on clean, clear spaces, hence the numerous cabinets for storage to keep the clutter away. It uses ceramic tiles for the floors to give the space a warmer feel, and even adds wall decor and a fun brick-like backsplash to give the room a more fun and cozy feel.
Unfinished Basement Laundry Room Ideas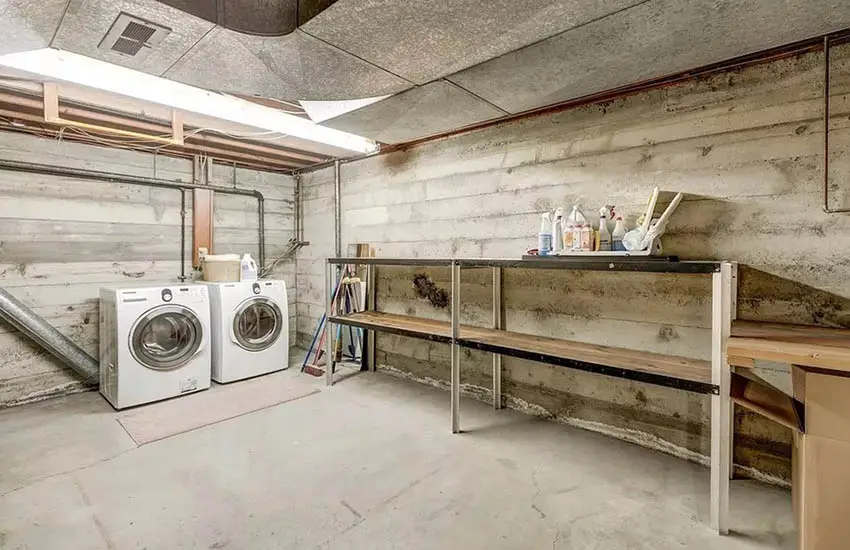 Most laundry rooms are placed in the basement, and typically, unfinished basement laundry rooms have concrete floors that have the tendency to be cold and damp.
While the amount of work seems dreadful, consider this a blank canvas. After all, if it has no existing flooring, it saves you time and effort from replacing existing floors.
The large basement laundry room in the picture above keeps its industrial aesthetic by keeping the walls, floor and ceiling unfinished and adding more industrial pieces such as an industrial style open shelf.
Here are some ideas for upgrading your unfinished basement laundry rooms:
Choose a theme – Select a color theme to keep a cohesive design.
Add lighting – Lighting makes a huge difference in any space, and the laundry room is no exception. Basements typically have no windows for natural light, so artificial lighting will help make your laundry room more conducive for its function.
Paint – Paint the walls, the ceiling or the rafters. We recommend using light colors to brighten up the space.
Add storage – If your current cabinets/storage is not enough, consider adding more to keep clutter away. Choose cabinetry that offers plenty of storage potential for cleaning products and accessories.
Add countertops – Choose a durable type of material such as granite, or quartz countertops.
Add flooring – Depending on your needs and the current state of your laundry room flooring, consider adding/replacing with durable materials suitable for wet areas.
Add wall accessories – These are used for hanging clothing and storing items like the ironing board.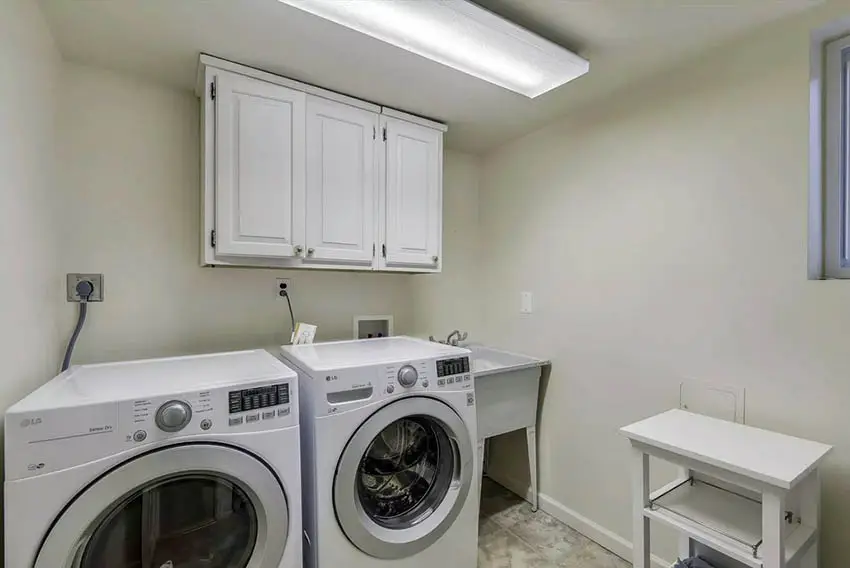 If you have very little space, consider putting a freestanding wash basin instead of a built-in one to save space. This also allows you to easily re-layout your space should you need readjustments.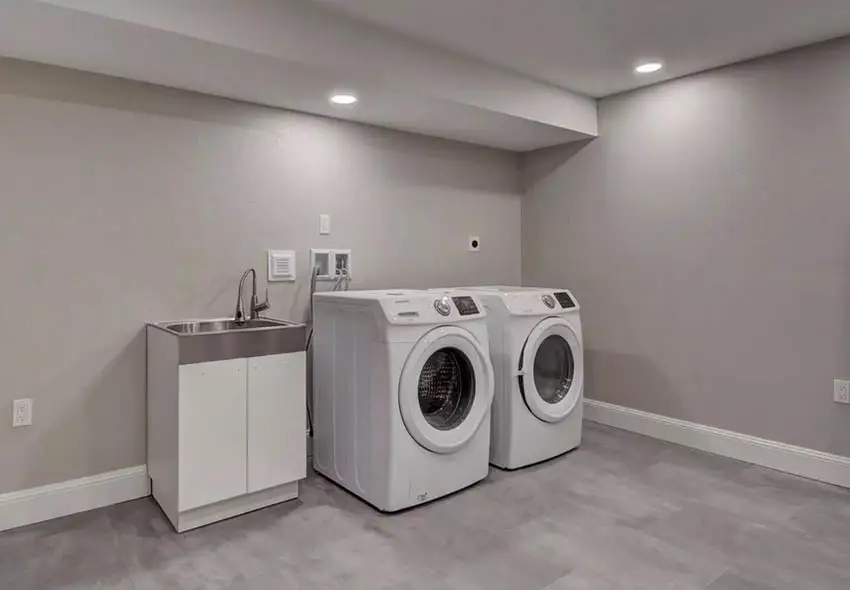 If you don't have enough budget for cabinets and other architectural changes, remember to follow the principle that less is more. This freestanding utility sink is great for getting out stubborn stains before clothing hits the wash.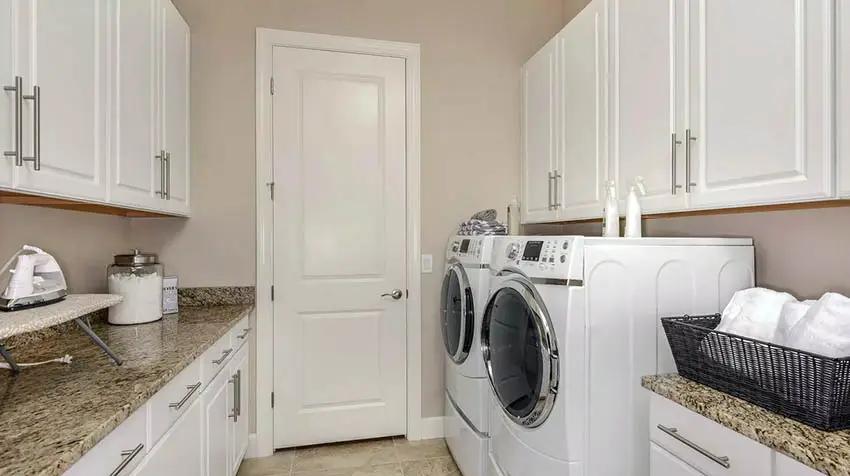 If experimenting with your basement space is not your style, you can always adapt the existing design style of your home or kitchen into your laundry room. Remember to allot sufficient storage so that you have space to move around in the laundry room.
Finished Basement Laundry Room Ideas
For finished laundry rooms, it could either mean less work to do or more, depending on its current state. The important things you need to check for, before making an changes are the following:
Check your pipes and drainage – Spills and clogged drains can only cause damage to your laundry room. Make sure this is addressed before you renovate
Check the existing flooring – If your current flooring is laminate, carpet tiles or hardwood, consider changing them as those materials are the worst to use for damp/wet areas like the laundry
Check the storage – Do you have enough space? How much more do you need?
Checking on those three items will help you identify the key areas needing improvement in your current space.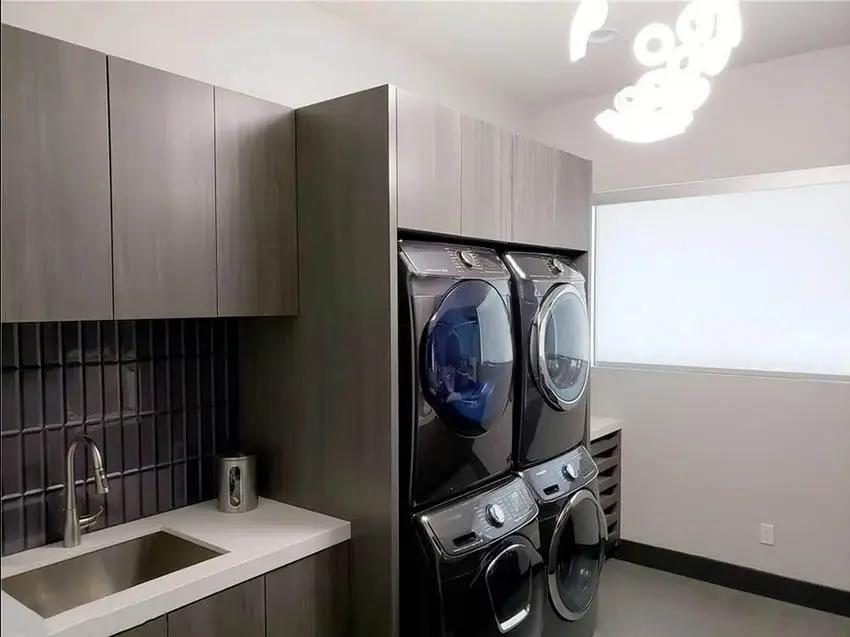 This contemporary style laundry room features dark cabinetry with a glass backsplash tile and a white quartz counter.
You can enhance your basement's look and make it chic by using a darker color scheme. This basement laundry looks elegant because of its clean silhouettes and dark wood color scheme.
Lighting Ideas
As the Laundry Room is a very functional/utilitarian space, it's very important to have excellent ambient lighting, and even better if you have task lighting. Mood lights or special effect lights can also be installed, but not really practical or necessary depending on what you want to achieve.
Here are some recommended lighting options:
Under-cabinet lighting – this a really useful feature in any laundry room. If you have your cabinets installed already, consider getting a plug-in type under cabinet lights.
Just make sure there's an outlet accessible from where you want it installed. But if you do have some DIY skills, you're hiring a professional or are just installing new overhead cabinets, do consider adding built-in LED lamps for a cleaner look
LED panel lights – instead of using a bulb, an LED panel will install just as easily and produce stronger light. You can choose between different shapes and sizes, between flush mount and recessed mount options, depending on the installation location.
Pendant lamps – if you don't have a drop ceiling in your basement laundry, pendant lamps are a great option that's easy to install.
Basement Laundry Room Organization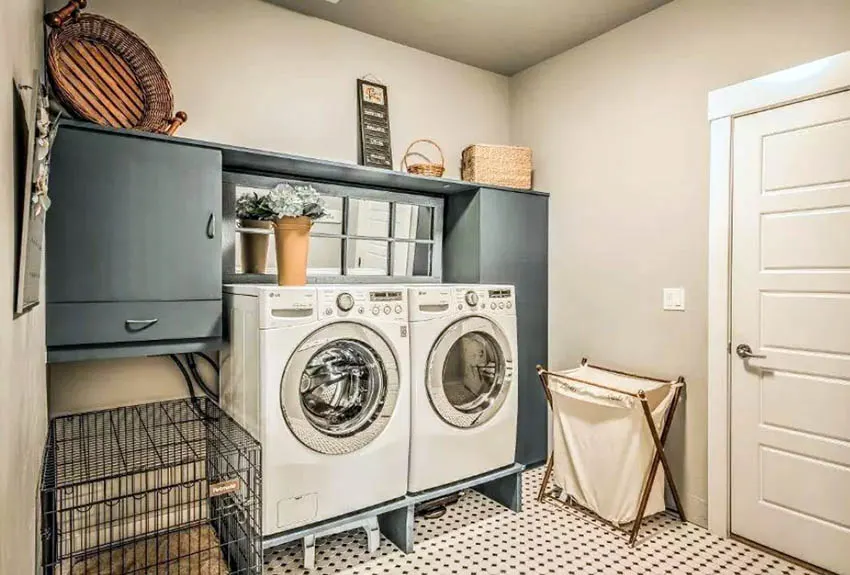 The key to organization is knowing/accounting for all the items you have in a space in order to determine its most ideal storage location. Follow this easy guide to help you organize your laundry room:
List all the items & products that is currently stored in your laundry room.
Categorize the items you have in the inventory to determine which items will be stored together.
Example: All opened detergents and fabric softeners should be grouped together. Laundry bags, laundry balls and other laundry paraphernalia should also be grouped together and should be easily accessible.
Stock items and strong cleaning agents should be kept further away, where children can't reach.
Determine if you have enough storage space for your inventory. If yes, start your storage planning before implementation.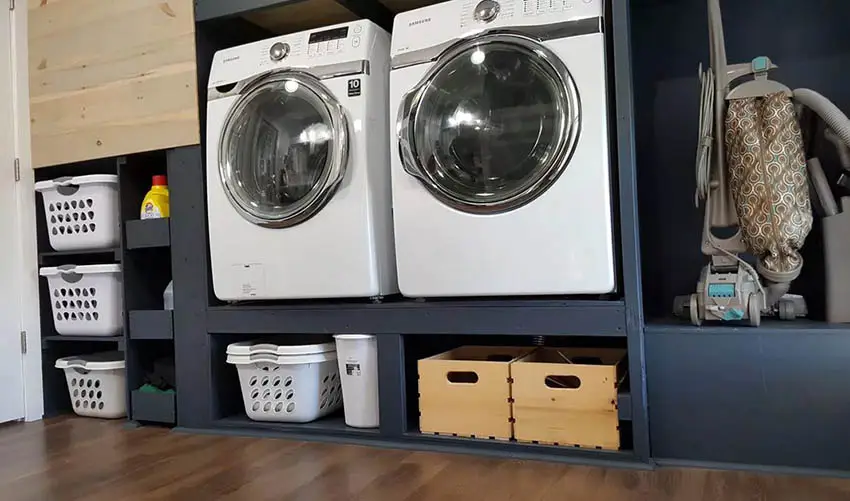 Baskets and crates are a low-cost and practical way to keep your laundry room clean and organized. This simple laundry area uses plastic baskets in lieu of closed storage for easier access and visibility.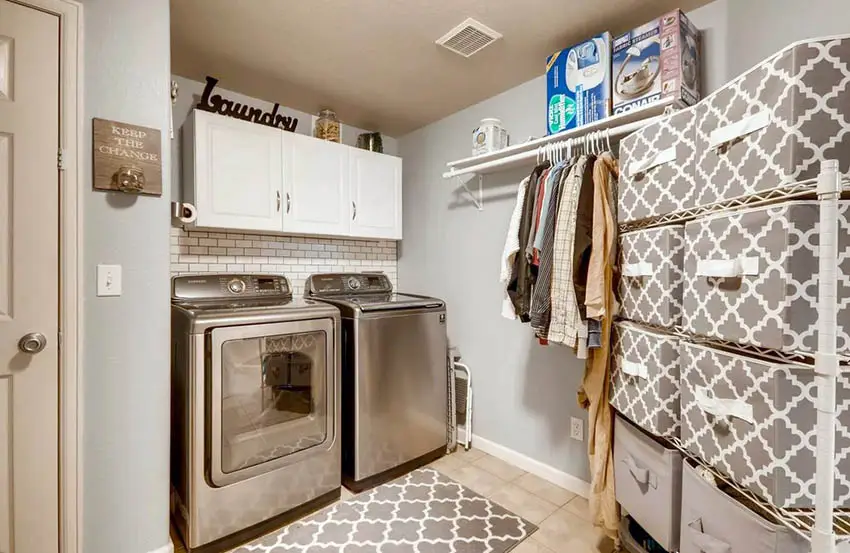 A great alternative to plastic baskets and crate boxes would be collapsible fabric storage. This example shows fabric storage boxes placed on store-bought metal rack to keep things organized in the laundry. This option is easy to execute, and very affordable, too!
Flooring
When choosing flooring for your laundry room, keep in mind that this area is moist and is susceptible to water leakage, so select materials that can be used for wet areas.
Generally, try to avoid the following: Laminates, solid wood, engineered wood and carpet.
The best materials to use are vinyl, ceramic tiles and natural stone. If you want a soft cushion for your feet, you can simply add a small area rug with rubber padding to keep it slip-proof.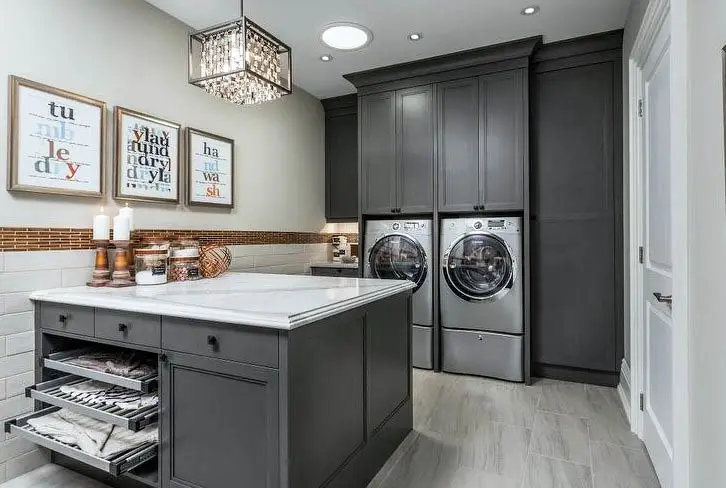 This laundry room uses a wood look porcelain tile flooring which is durable and highly scratch resistant. The dark wood stain used in the cabinets for this laundry room gives it a very classy and elegant appeal, despite its utilitarian function.
The addition of a large island counter for folding, sorting or ironing clothes is a great idea if you have enough space for it. It could also serve as a combination laundry and craft room.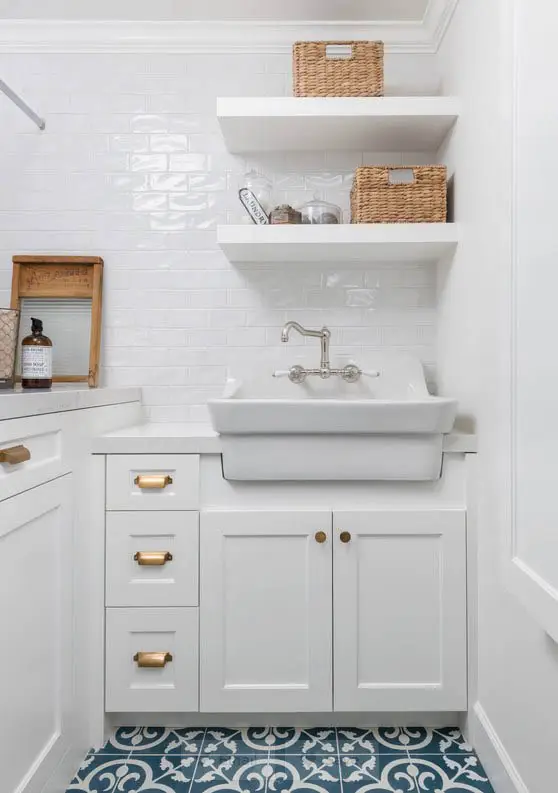 Source – In the Deets
Going for the elegant yet modern Mediterranean look, this basement laundry area features hand-painted cement tiles for flooring, all white paneled cabinets with brass handles and clean white subways tiles for the wall.
The addition of wicker and wood accessories adds a touch of warmth of the space while maintaining its trendy appeal.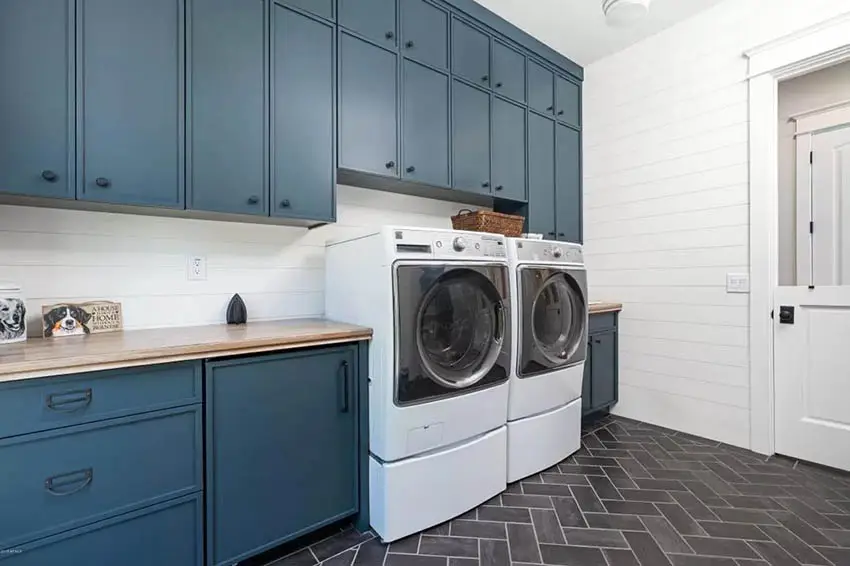 The different textures and patterns found on the flooring and the walls of this basement laundry room gives it a very dynamic appeal.
The black chevron pattern ceramic tiles on the floor perfectly complements the white shiplap walls. Completing the while look are the steel blue cabinets with wood block countertops to finish.
Here are some awesome basement laundry room ideas that may inspire you in designing or DIY-ing your laundry!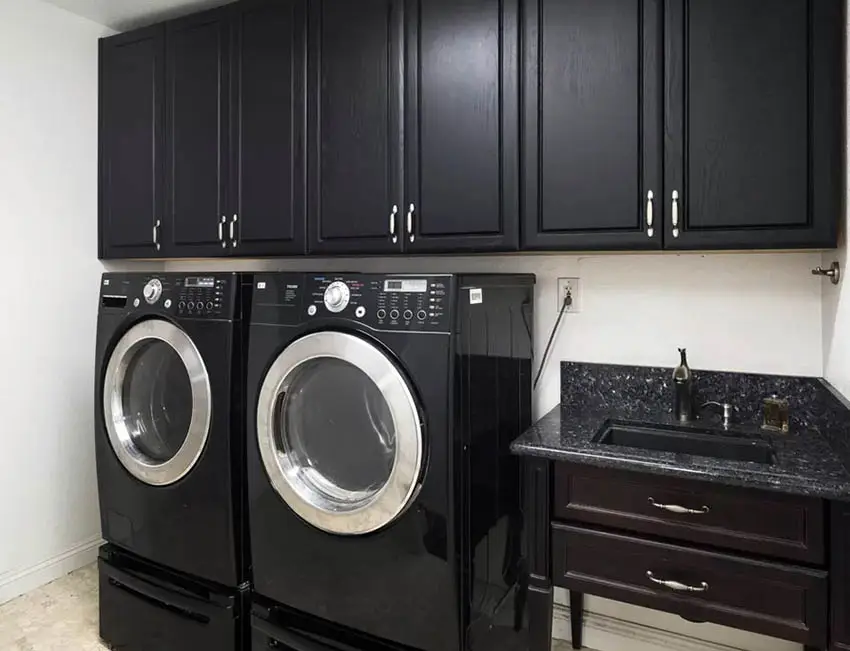 This is another great example of a dark color scheme in a laundry room. To match the black washers, the wooden cabinets were also stained in black and the small wash area on the corner also features black granite countertops and a black-stained base.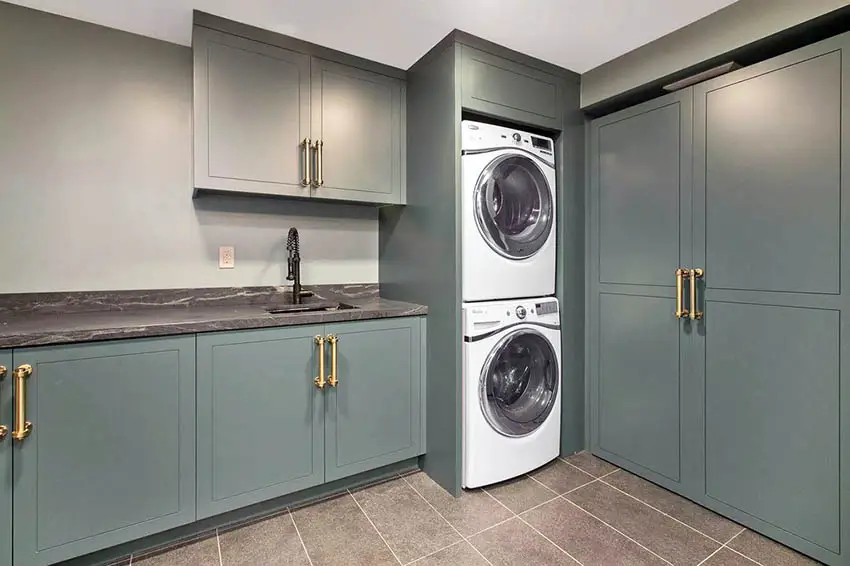 Pair your earth tone stones with dark green cabinets to create that elegant yet young and chic vibes. The amount of storage available helps keep the space clean and clutter-free, allowing you more space for movement.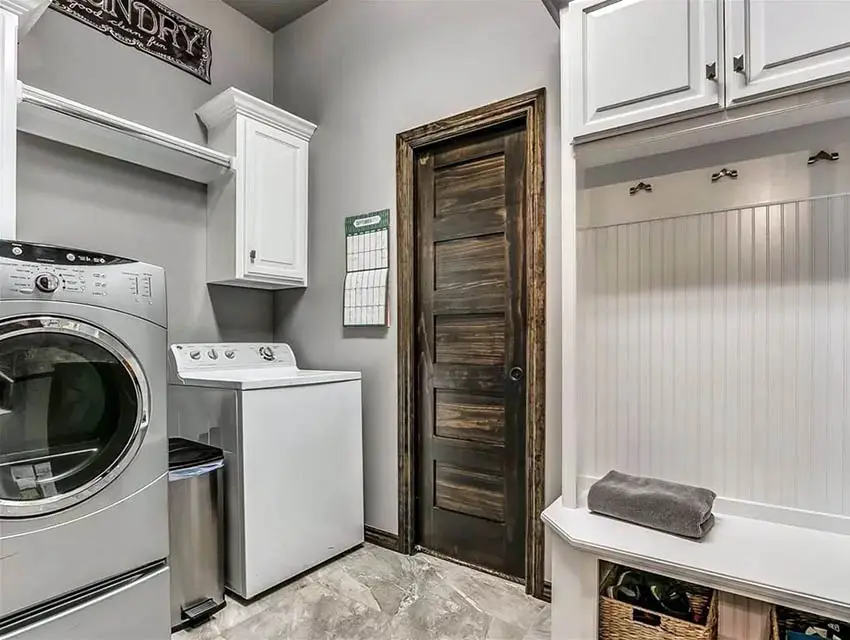 A mixture of different types of storage spaces is great for people who do more tasks in the laundry room than just plain 'ol laundry.
The size of this laundry room gives it enough space for additional storage and a proper ironing area. It even has part of the space dedicated to being a mudroom with wall brackets for hanging clothes after laundry or ironing!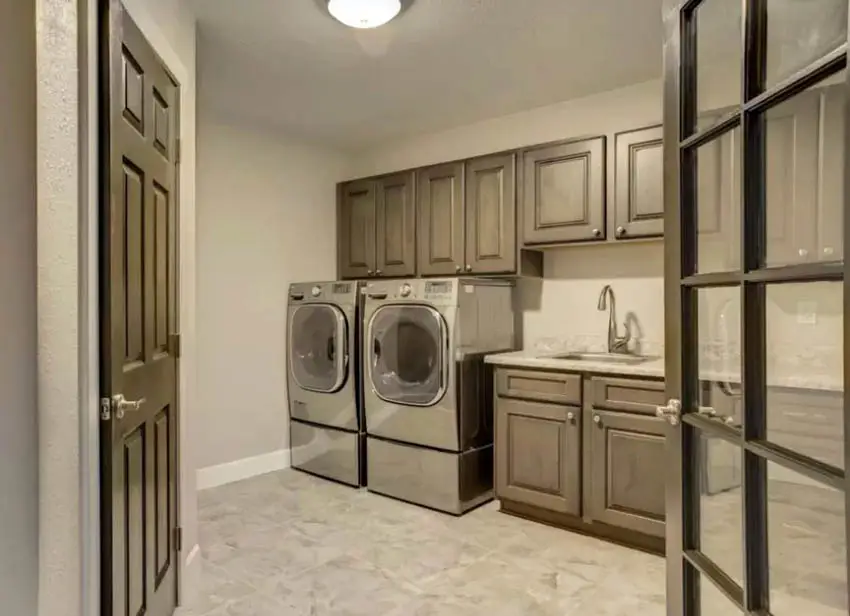 A large French glass door going towards the laundry room is a nice way to make it feel a little less stuffy. This laundry room goes for a classic design of wood and white marble that matches perfectly with the rest of the architectural details of the home.
Basement Bathroom and Laundry Ideas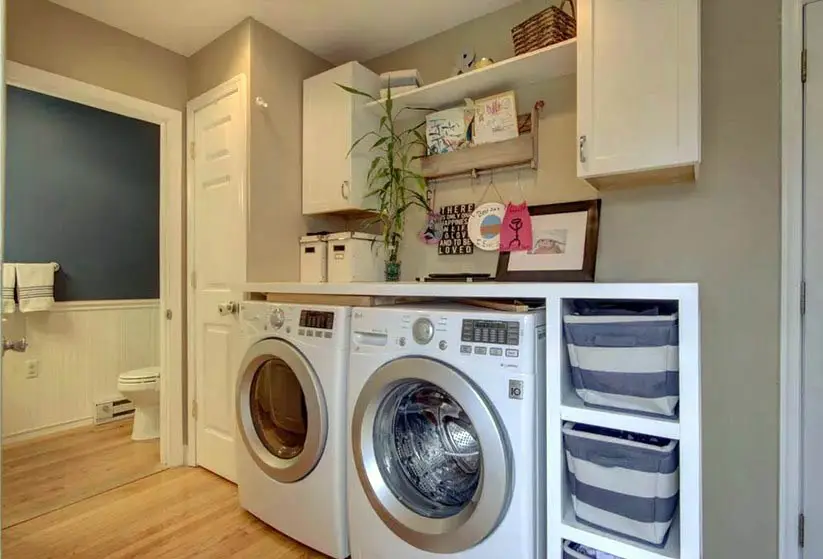 This small laundry area sits on top of hardwood flooring, so keep your wooden floors safe, it is best practice to constantly check your pipes for any sort of leaks, to lessen the potential of water damage.
The multiple storage options in this design includes open shelves with fabric trays/organizers and overhead cabinets and shelves. A narrow toilet niche with a sliding pocket door is a good idea to discreetly tuck away this feature.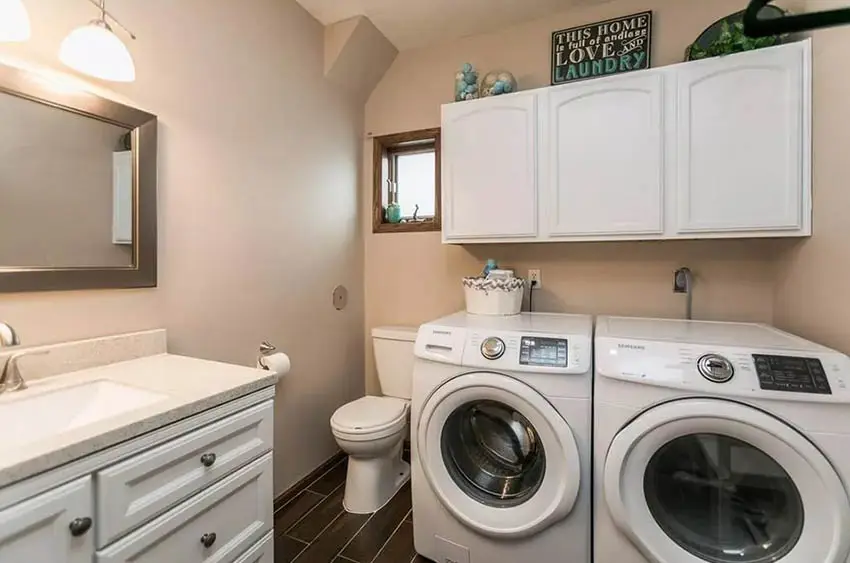 This is also another great idea for laundry rooms, if you currently don't have space for it, maybe an extra/guest bathroom will have enough room for your equipment!
Just look at how this example still has a lot of space left even after bringing the machines with her.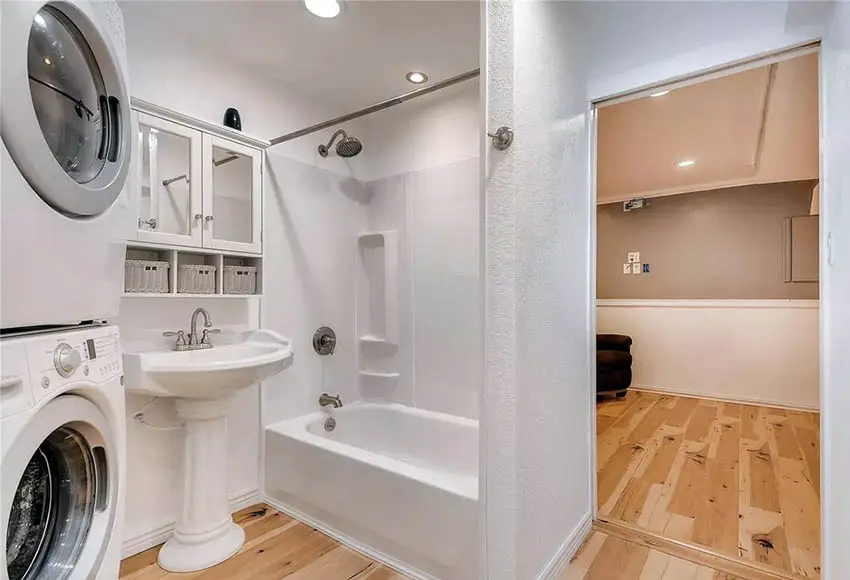 This very small corner of the bathroom was converted into a laundry nook. So that it doesn't stick out like a sore thumb, white machines were used to match the current look of the rest of the bathroom.
Basement Laundry Makeover Ideas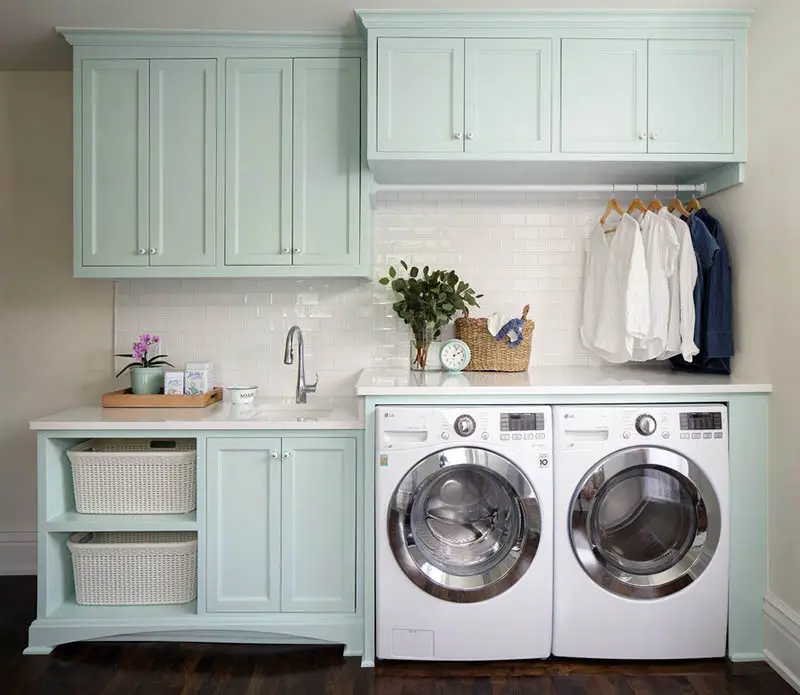 Source – Becky Rose
Go for a light and elegant look with this cute combination of mint green and whites for your basement laundry room!
The fresh mint color used on the cabinets makes it look cleaner and fresher than fresh laundry! The cool color has a soothing effect that might just leave you less stressed even after doing house work!
Slide Out Drying Rack
Source – Trehus
This gorgeous modern laundry room integrates not only the washing machine and dryer into the built-ins design, but also integrates a slide-out drying rack for a more efficient household work session.
Laundry with Pull-Out Storage Shelf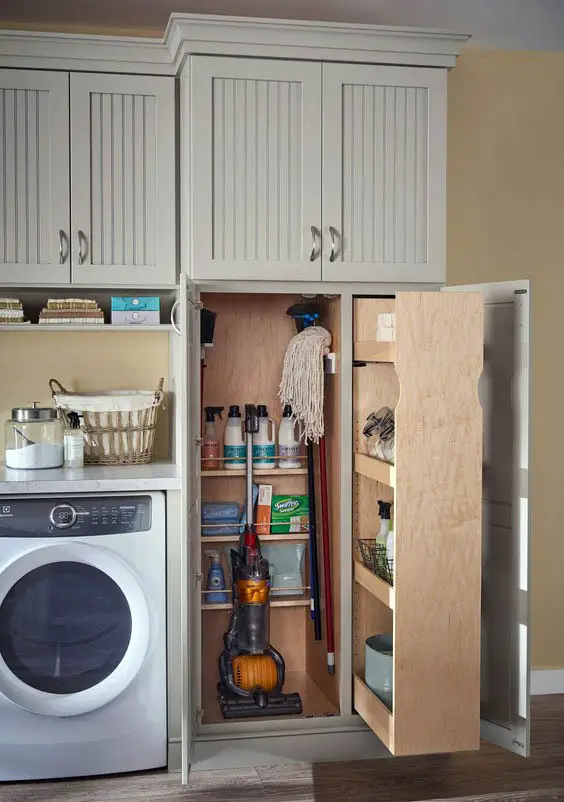 Source – Schuler
For most of us, the cabinets in the laundry room area really used for storage of not only laundry soap and fabric softeners, but also a storage for cleaning tools and cleaning agents.
The cabinets used in this basement laundry understands such function, and thus planned the cabinets' interiors to accommodate how the space is being used.
The pull-out storage shelf is a neat and safe way to keep cleaning agents away from children, while the tall cabinet allows enough space for storage of mops and vacuum cleaners.
Pull-Out Shelving In-between Washer & Dryer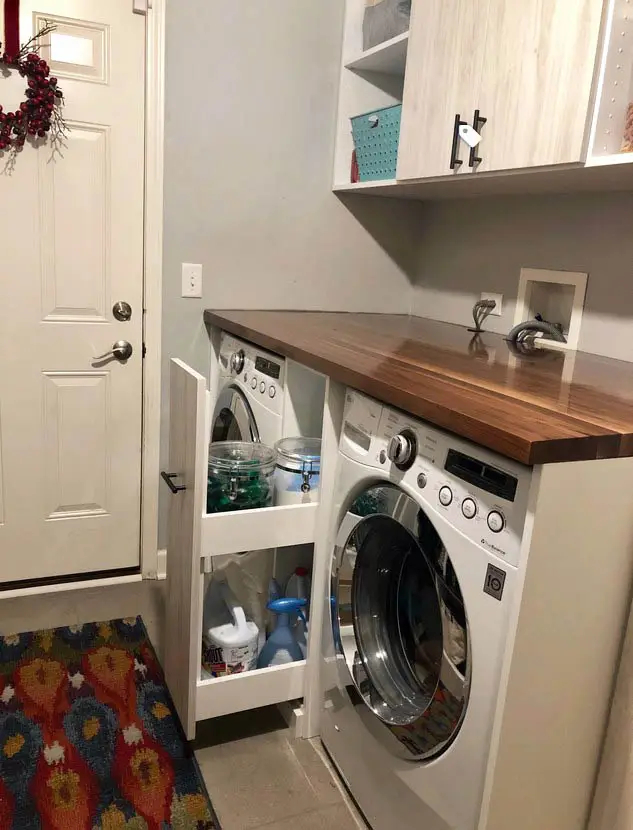 Source – Closet Factory Chicago
A pull-out shelf was conveniently placed in between the washer and the dryer, so that all laundry detergents and miscellaneous items will be much easier to access.
Laundry with Stylish Backsplash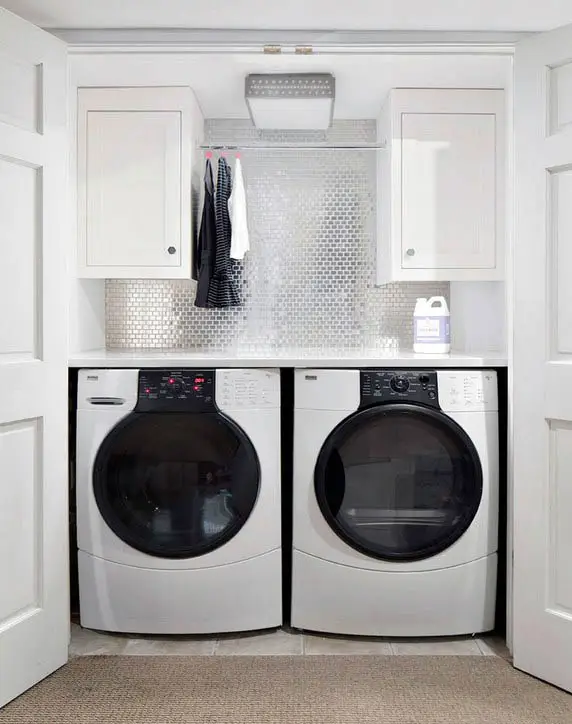 Source – Clean Design
This glamorous looking laundry nook definitely maximizes all the little space it occupies. The metal backsplash tiles' reflective surface makes the space feel a little bigger than it really is.
A slab of white countertop was placed above the washer/dryer, and the upper space was used as cabinets and hanging area for clothes, creating a multi-functional storage space above.
Washbasin for a Farmhouse Look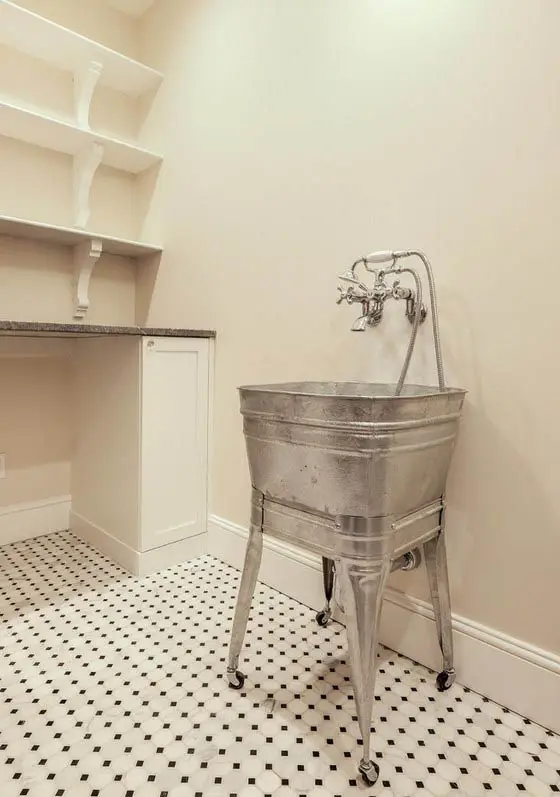 Source – Copper Homes
Go farmhouse retro with the addition of a movable tin wash basin in your laundry room. Use this small space to wash delicate clothes, underwear, or maybe even wash your small pet dog?
Laundry in Wall Niche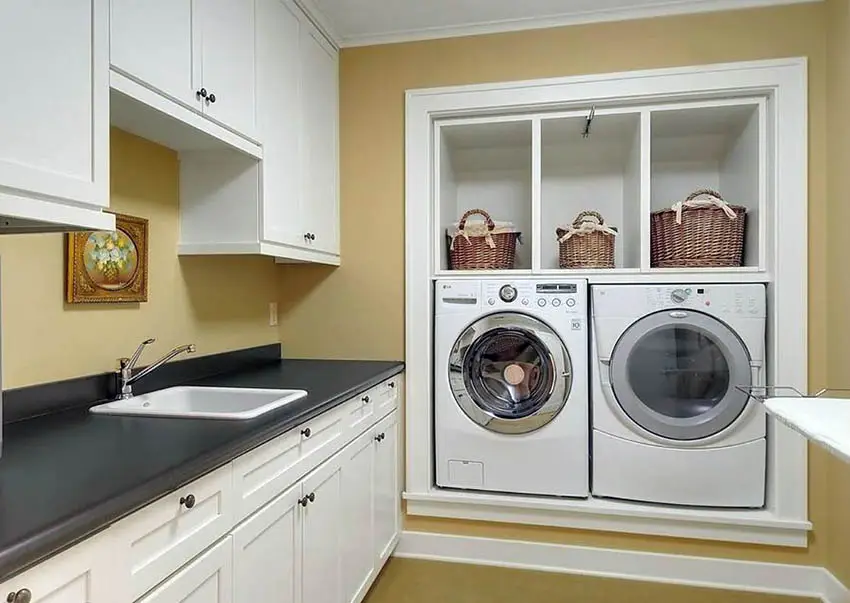 Source – Seattle Staged to Sell
The marigold-painted walls adds a different flavor to the black and white theme of the cabinetry used in this laundry room. The washing machine and dryer was placed on a recessed ledge on the wall, and is slightly raised off the floor, making the machine doors a bit more accessible and easy on the back, especially for tall people.
Laundry with Pull Out Ironing Board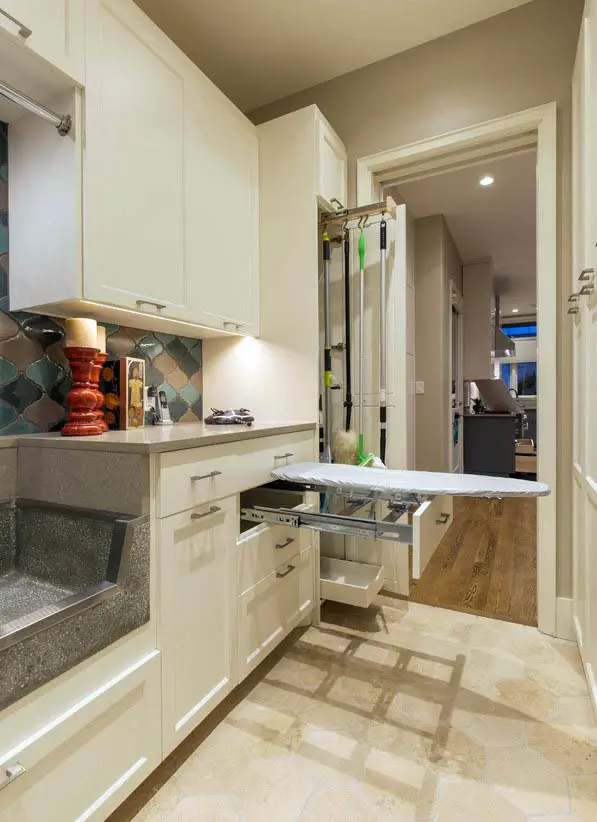 Source – Reality Restoration
Modern modular cabinets really come in handy, especially when you're really short on space and storage. This laundry room features a pull-out ironing board, concealed in a drawer.
When not in use, it stows away very easily and does not unnecessarily occupy space in your laundry room. There's also a colorful arabesque tile backsplash to add contrast to the white cabinetry.
Laundry with Island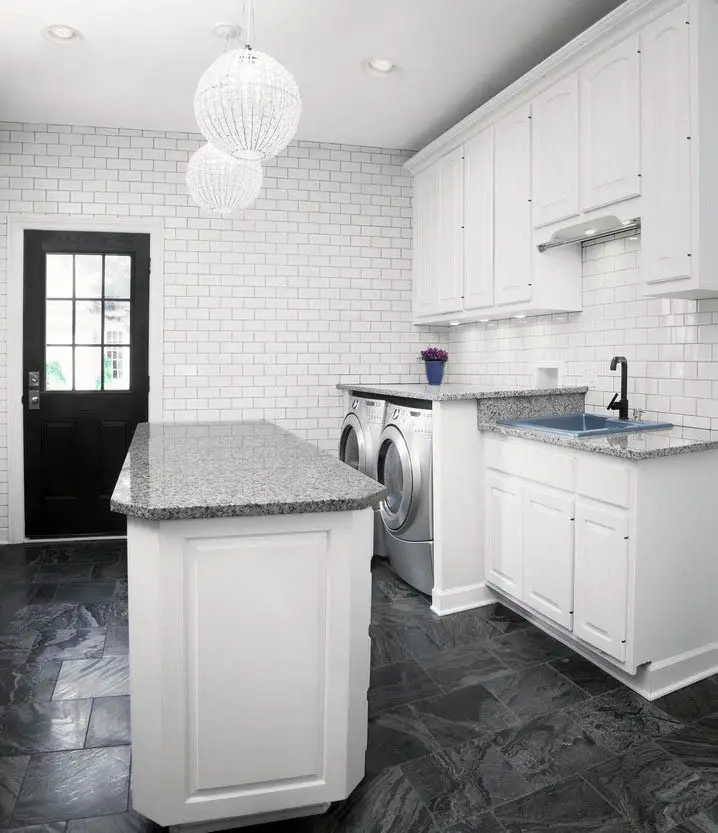 Black slate tiles enhances the simple elegance of this small laundry room. The white cabinets and walls with white subway tiles look extra bright because of the dark flooring and doors.
The small island is a great addition to separate the space, as well as serve as a functional surface which you can also use for your laundry needs.
Sliding Barn Door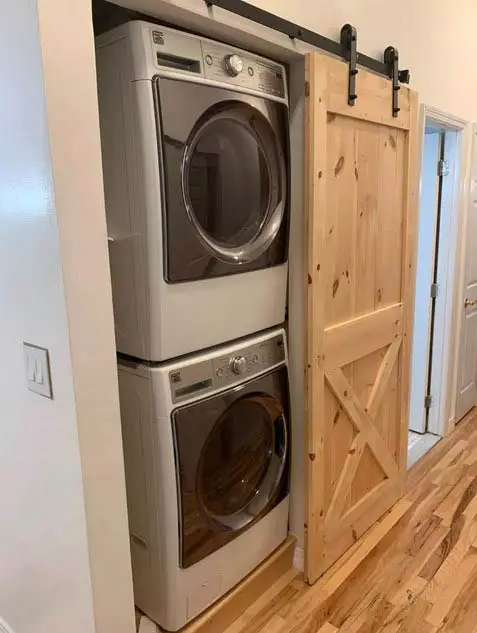 If you don't have a space for a whole laundry room, this laundry nook is a great idea. The nook has just enough space for vertically-stacked washers and dryer and can be concealed using a sliding barn door.
Double Doors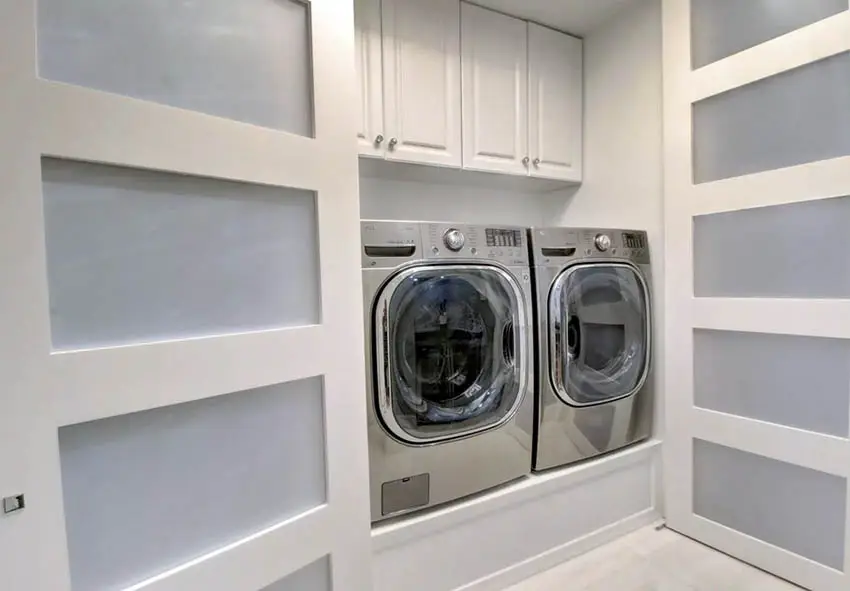 If your stile is more modern, this is a great alternative to the barn door laundry nook. It uses white double doors with frosted glass for a very contemporary feel.
Salvaged Wood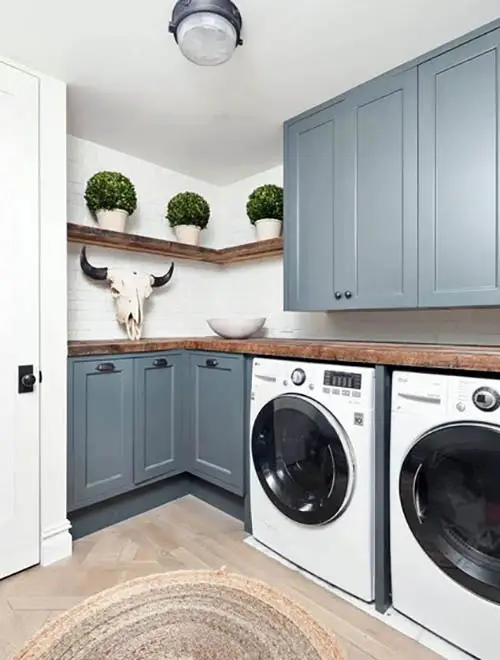 Gorgeous salvaged wood was used for the countertop and shelves in this simple basement laundry room. Steel blue cabinets definitely stands out against the white brick walls, and the addition of indoor plants makes the space feel more lively.
Attached Mudroom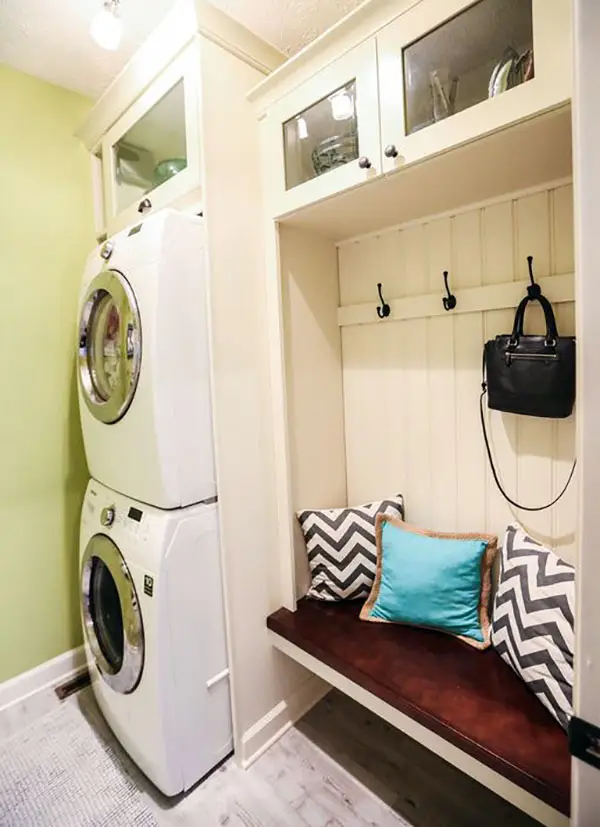 A small mudroom design with seating area is also a great idea for small laundry rooms. That way you can have a comfortable place to take on and off shoes and coats when you enter the home.
Light Color Theme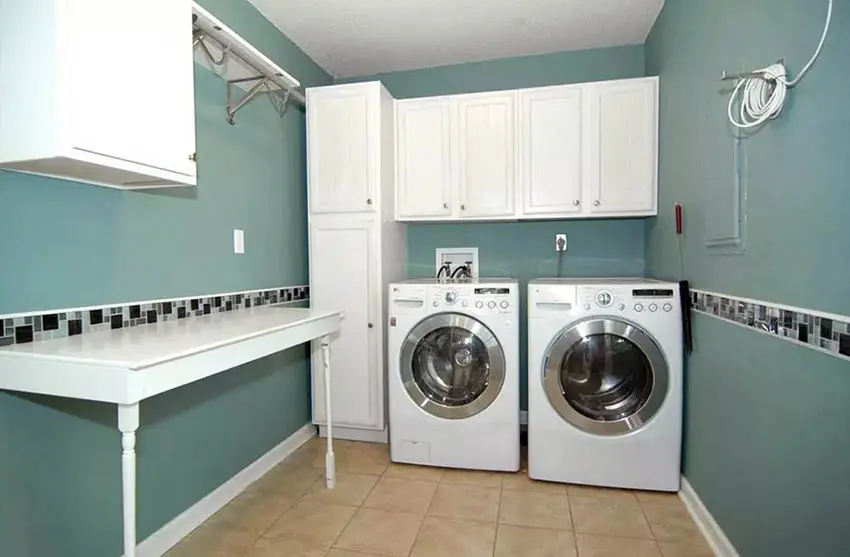 Feeling stuffy as your laundry room has no windows, try to keep your color scheme light and bright to counter the dark ambiance of the space. This example shows all white cabinetry paired with sage green painted walls.
Ceiling Paneling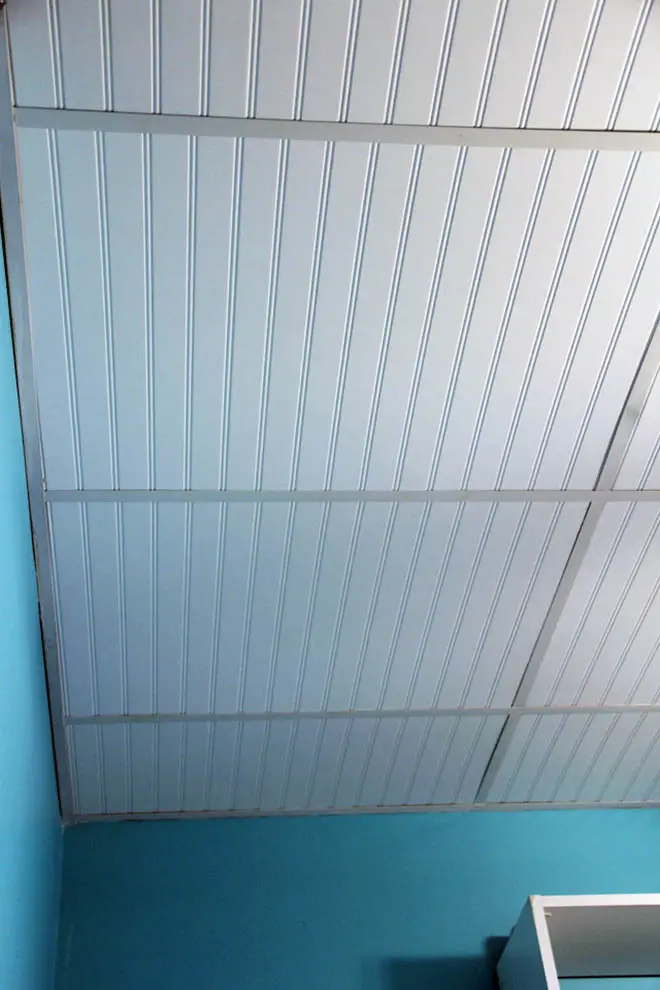 Source – Flickr
A bright white ceiling paneling can help lighten up a dark basement laundry and give it new life. Ceiling panels are a lightweight and inexpensive option for a DIY laundry remodel.
Laundry in the Kitchen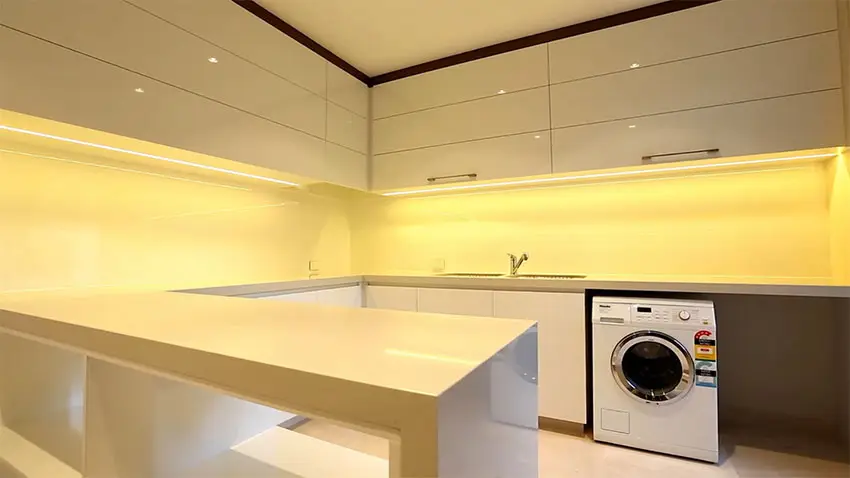 If you can't have a dedicated laundry room, you can also place your laundry in the kitchen, as it already has a plumbing system. This is quite common in small apartments and the laundry machines are usually placed under the counters near the sink.
Small Basement Laundry Ideas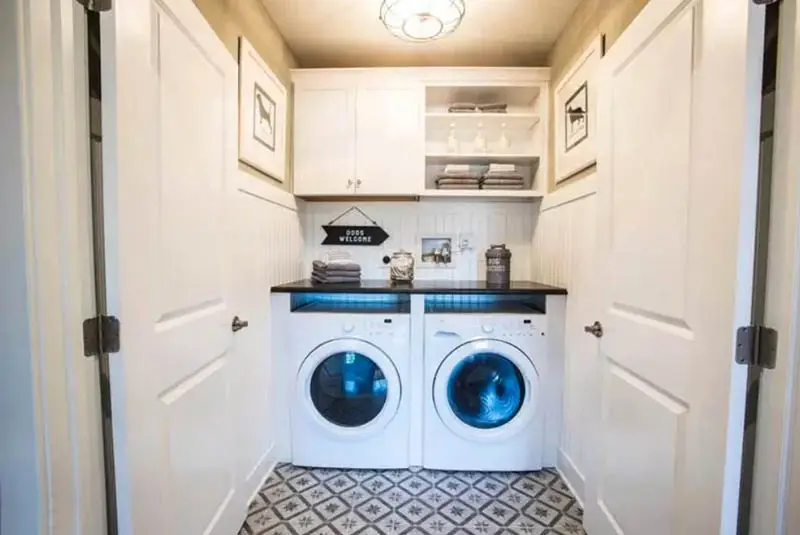 No space? No problem. Even tight, closet-like spaces can be turned into an efficient laundry room with proper planning.
This compact space has unique hand-painted cement tiles on the floors, paired with vertical shiplap walls to give the space an illusion of added height.
The top of the washing machines were fixed with a wooden top which can be useful for organizing laundry or ironing clothes. The remaining space above it was rightly used for additional storage space.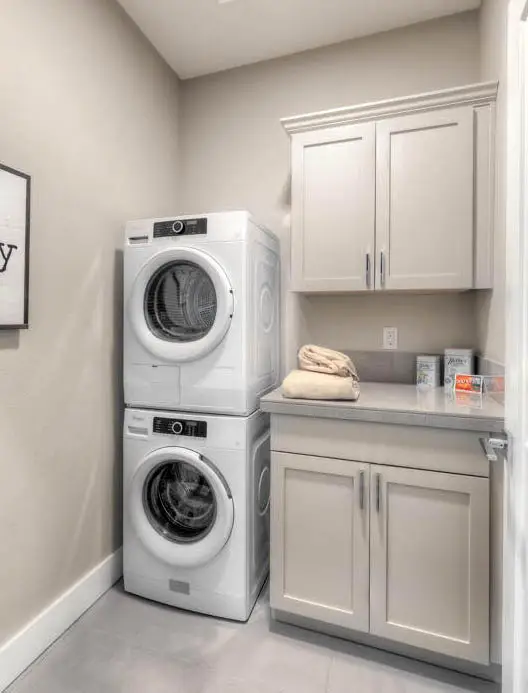 If you have a really tight laundry room space like this, stacking your washer and dryer vertically will definitely help you save space. Keep the color scheme light so the space looks large.
The bisque cabinets and walls adds just the perfect touch of warmth in this small space.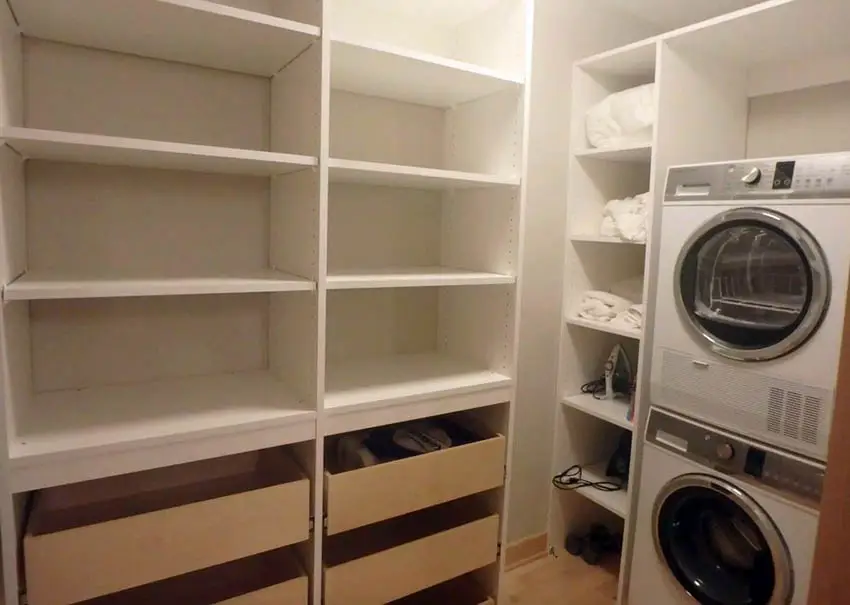 This laundry room was converted from an old closet so the cabinets were just retained to be put to good use.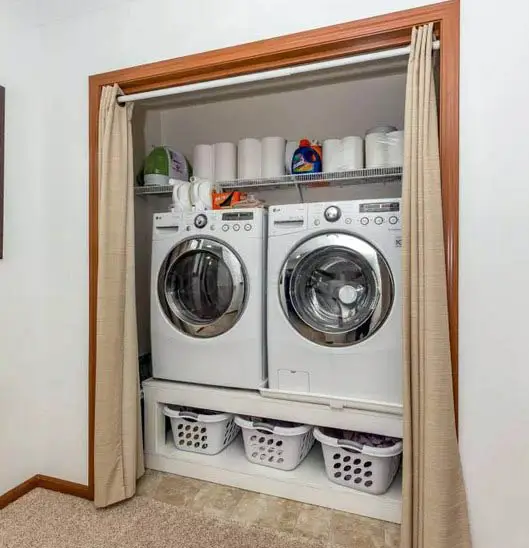 Convert your old closet into a small laundry room! This small closet has a wooden ledge/stand where the machines were placed so that they area more accessible.
Additionally, the space below was used for storage (baskets) and the overhead was fixed with a metal shelf that also allows storage of different items.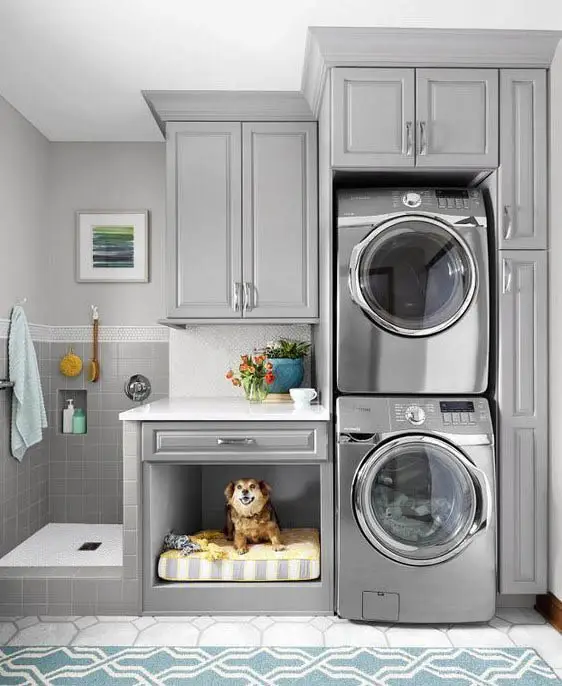 This small basement laundry not only considered the space for its stackable washer and dryer machines, and storage, but it also adds a small nook for their dog and a wet area where one can wash the dog or even do hand-washing for sensitive clothes.
What did you think about these basement laundry design ideas? If we missed something important let us know in the comments section. See more finished basement ideas on our gallery page.