Welcome to our gallery of amazing craft room ideas including a variety of designs for different hobbies, interests & budgets.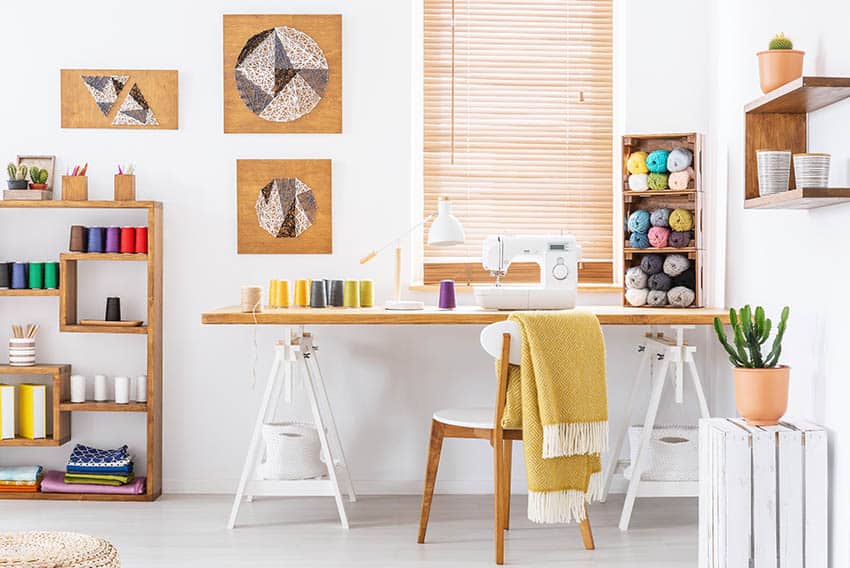 For the passionate crafter, getting organized and having enough space to do your creative works is paramount. Not only will you have an ease and convenience in using your crafting supplies, but you'll also enjoy an uninterrupted creative space.
Aside from basements and attics, you'll always find that perfect spot even from unexpected spaces in your homes. An unused pantry space, a spacious laundry area, a wide hallway, or any unused space in your home can transform into your crafting nook.
Also, your crafts room does not require a wide space. If you're worried about your storage space, the key is a clever storage system and cabinetry to handle all your crafting supplies.
Now, ecstatic for a craft room to house your crafting tools and treasures, but just don't know how to begin? Let us give you a tour of some amazing craft room design and layouts we've collected that can jump-start and inspire your lucrative crafting career.
Budget Craft Room Ideas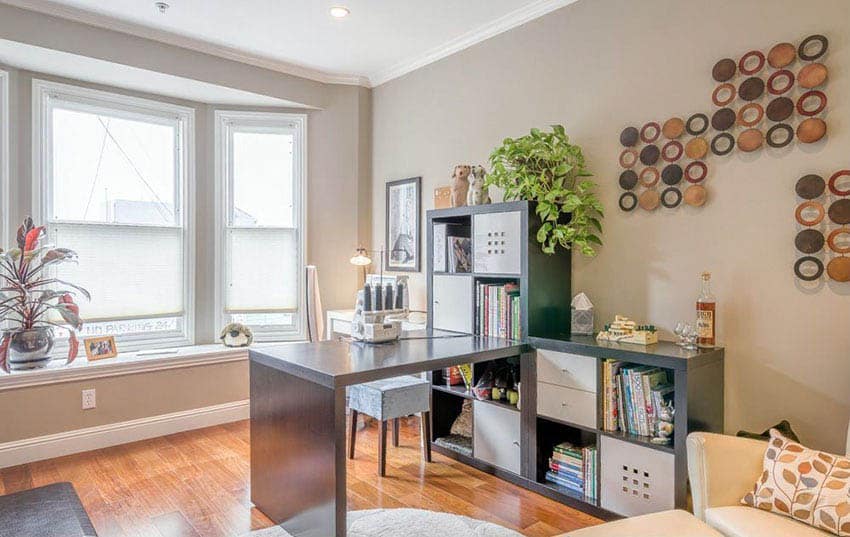 For those who are just starting out, typically you can't shell out much on your crafts room. The following are great ways to cut out your expenses, that's without cutting corners for an efficient craft room.
Walk-In Closet Craft Room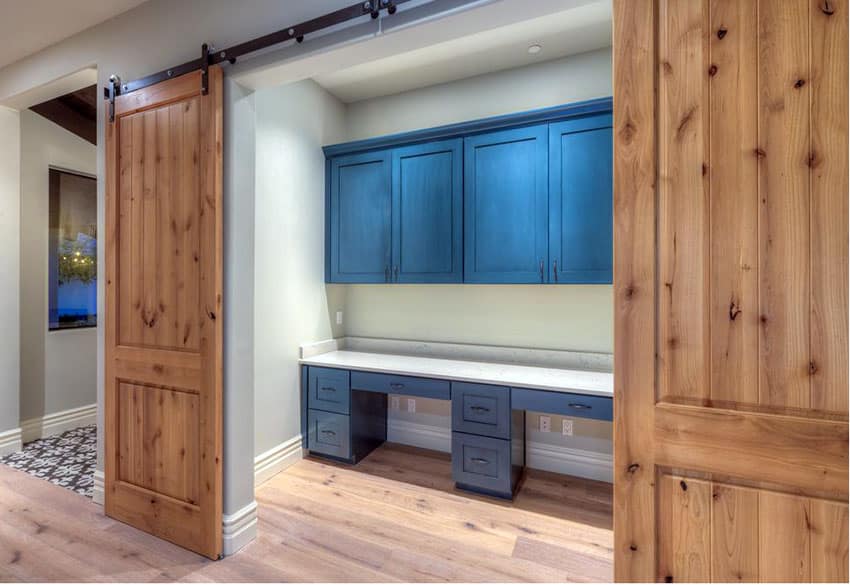 Don't let unused space go into waste. Unused walk-in-closets or spaces beneath the stairs are ample enough for small craft room ideas to come to life.
This simple yet efficient craft area in a walk-in closet provides a private nook for the able crafter. You'll see ceiling-high cabinets for storage and a small built-in desk where you can cozily create your projects.
Lighting Tip: Use LED lights as your task lighting, especially for tight spaces since halogen and other lighting bulbs can build up excess heat in the area.
Craft Room with Accent Wall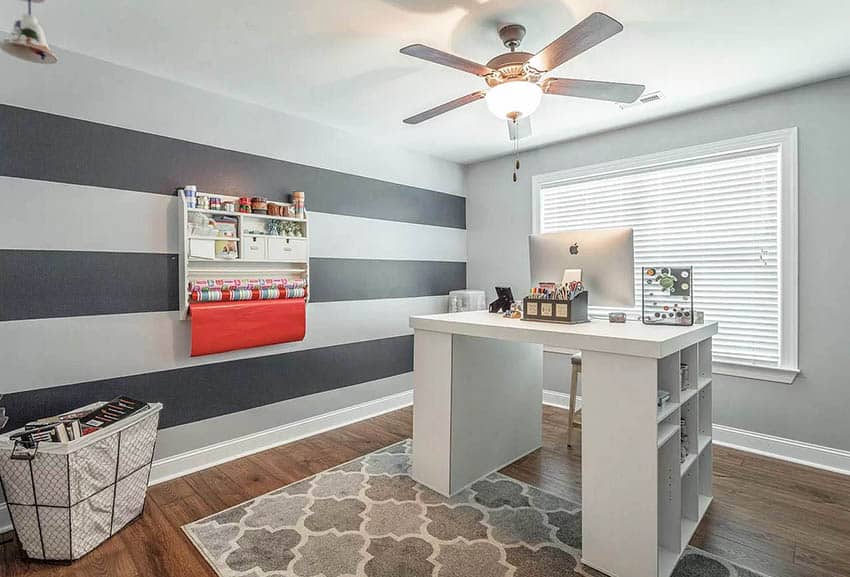 An accent wall can be a creative way to bring your own personality and touch to your craft room. Let your imagination run wild as you bring in your favorite colors or patterns to liven up your design. See more accent wall ideas here.
Portable Craft Room Desk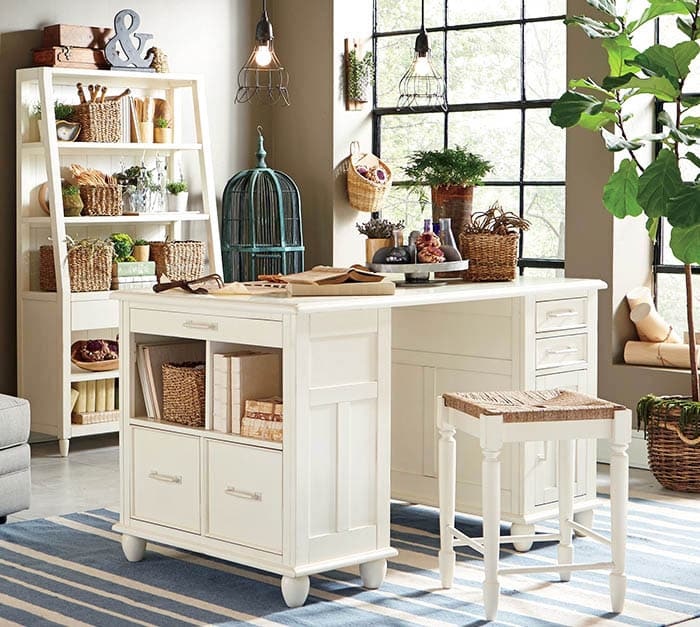 A portable crafting desk with storage is a budget friendly option to help transform your room to a more craft oriented space. There are many different options for desks and tables.
Make sure your choice has enough room to comfortably fit your favorite chair as well as come equipped with all the drawers and storage space you need for your accessories.
Craft Room with Comfortable Chairs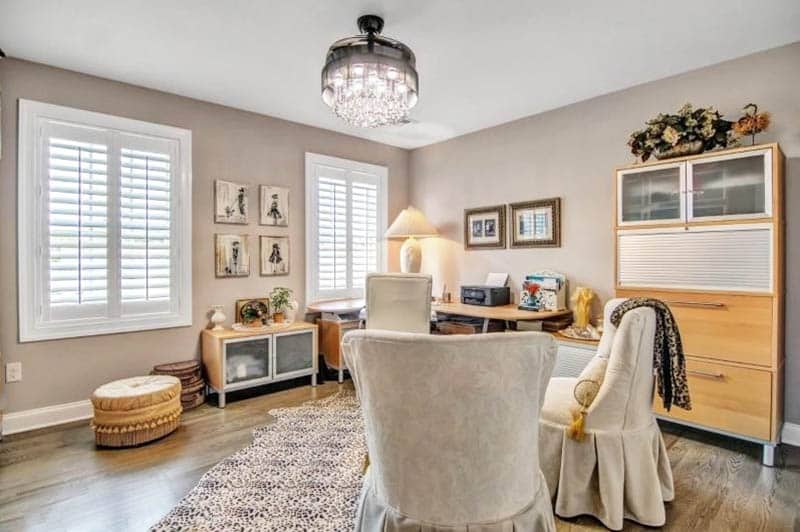 Comfortable seating is a must, especially if you'll be sitting for extended periods of time. Selecting a chair with good back support and even arm support if needed can be a plus to avoid fatigue and enhance your comfort.
Budget Friendly Storage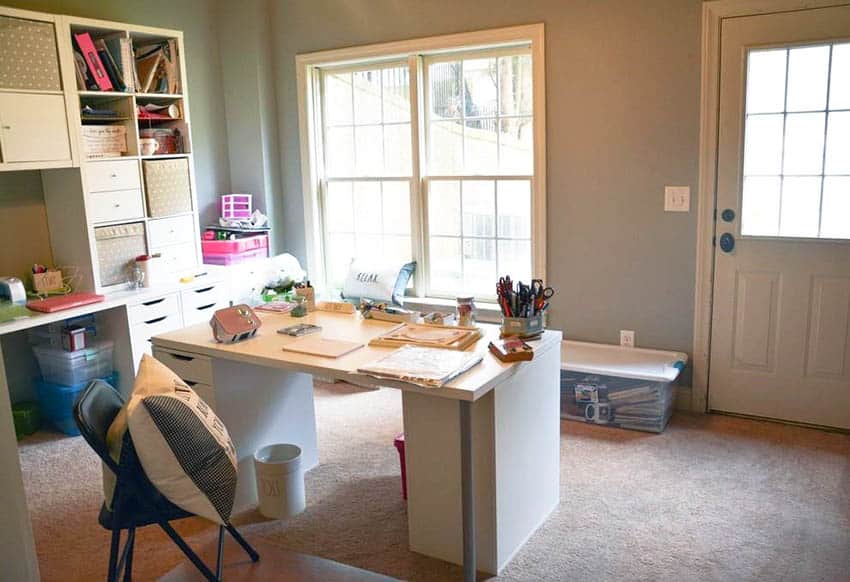 A well organized craft room will go a long way when you want to find the exact item you need. You can find budget friendly storage organizers that can help keep things stored and out of sight for when you need them. This will help your room avoid appearing cluttered and allow you to get more done.
Craft Room with Folding Table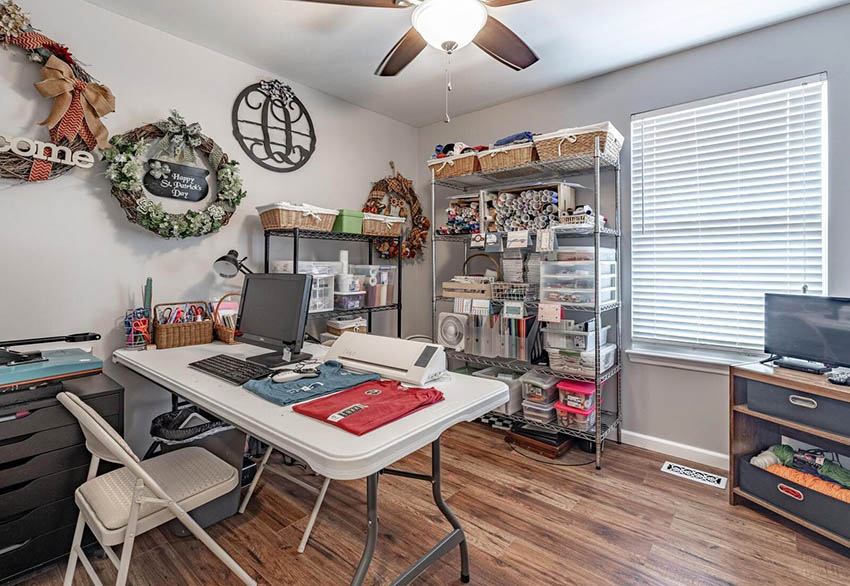 For the really budget conscious a folding table can be a good start for a workstation. Combine it with inexpensive shelving units and baskets for storage to get going.
Craft Room Cubby Storage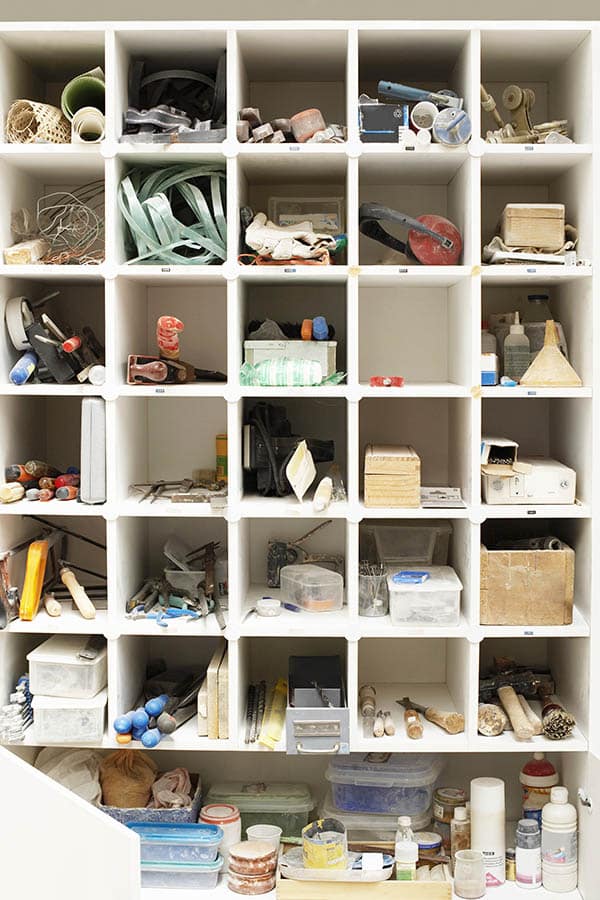 A craft room with cubby tool shelves can help you quickly see the tool or item you need. the downside to open shelving storage is it can look disheveled if things start to pile up. All craft room ideas should consider storage requirements for the type of hobby you prefer.
Laundry Craft Room
A laundry craft room is often a great choice for those who have no available rooms for a dedicated space. It can also be a perfect place since many laundry rooms already come equipped with shelving, countertops and built-in cabinetry.
Laundry rooms can be an excellent multi-purpose space. some of the other uses are as a mudroom or storage room. For those with a smaller space a stackable washer and dryer can be used to free up a little more space.
Laundry Crafts Room with Built-In Cabinets
This laundry and crafts area looks organized thanks to the built-in cabinets that pulls the two different spaces together. But, for privacy a custom countertop conveniently blocks away the laundry machines from view while and cabinets above provide storage for crafting essentials.
This design makes great use of utilizing the available space in the laundry room. To make your own laundry and crafts room cohesive in design, choose similar elements such as paint color or materials.
A continuous countertop and sink are unusual for the crafts room, but it is practical to have access to running water, just in case you'll need washing or supply of water for your projects.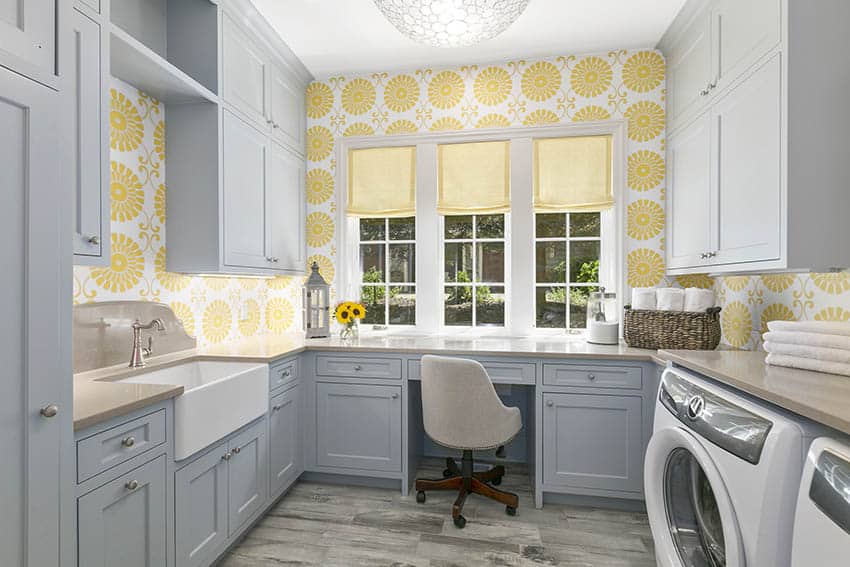 Lighting Tip: Similar to kitchen cabinets you can install LED strip or tape lights under the cabinets for your task lighting.
Laundry and Crafts Room With Island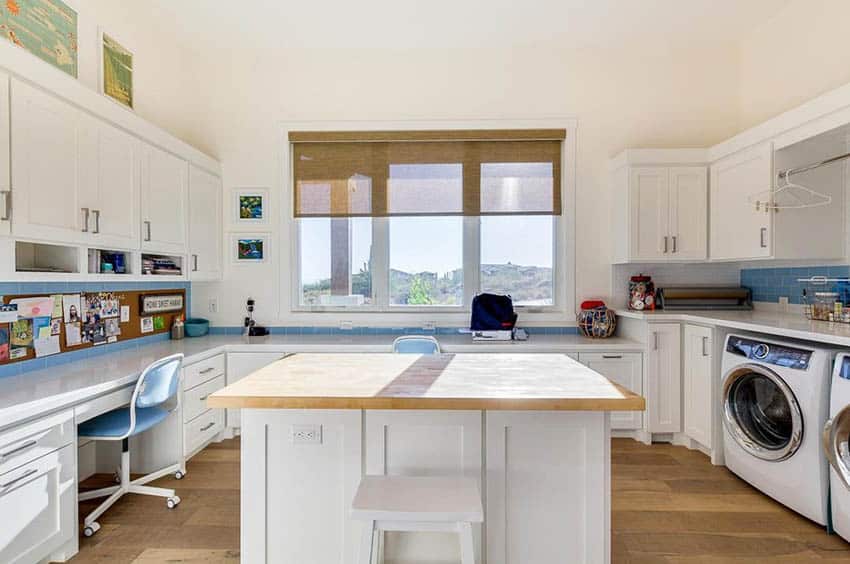 A central laundry/craft room island provides the perfect work surface for a wide variety of tasks. Topping the island with a wood countertop brings in a fresh natural element that offers some contrast to white countertops and cabinetry.
This quartz countertop serves as a workspace for crafting while it houses laundry machine underneath. This is an ingenious way of utilizing available space and keeping areas neat and well-organized.
The material used for the countertop also extends through around the room layout which makes the overall look more cohesive.
Lighting Tip: Use recessed lights or track lighting above long countertops.
Dream Craft Room Ideas
An annex or a dedicated in-house craft room is every crafter's dream. We've enumerated a few stunning spacious craft rooms for your inspiration.
Sewing Craft Room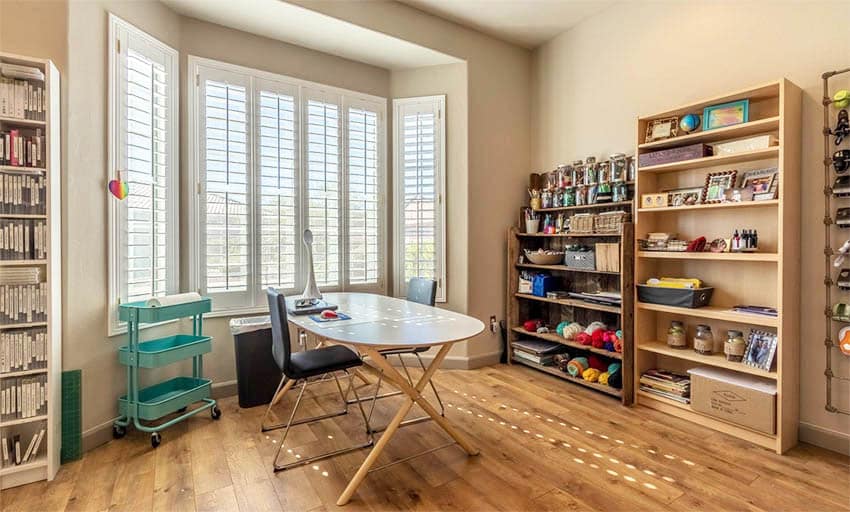 For your crafts room layout, take advantage of the natural light and views of your windows, but make sure to obscure unwanted glare throughout the day.
This beautiful craft room opts to have the working station in the center where it can benefit from natural light and window views.
Use light color tones such as oatmeal and pastel hues to complement the light-filled craft room.
Lighting Tips: Since there is ample natural light during the day, a task lamp and downlights are practical lighting options when working at night.
Scrap Booking Craft Room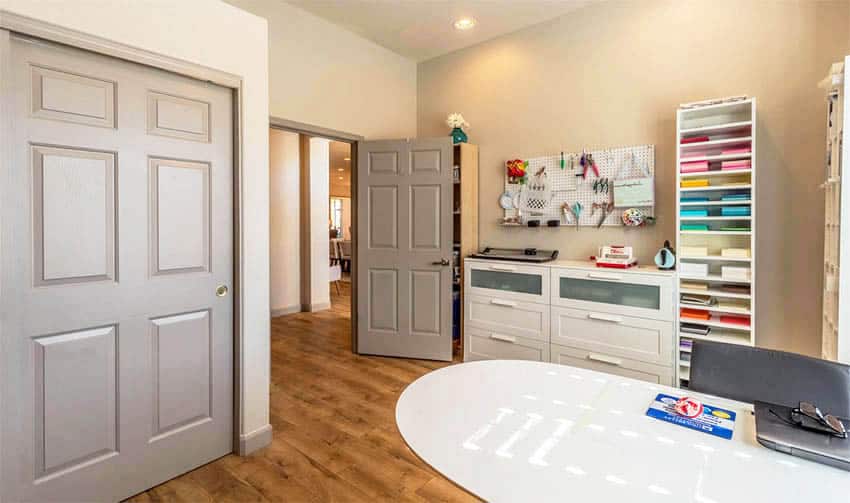 A dedicated craft room for scrap booking should have plenty of shelving for holding items needed for projects. Open shelves, clean containers or glass door cabinets are great to easily see the items you need with out having to search or dig around.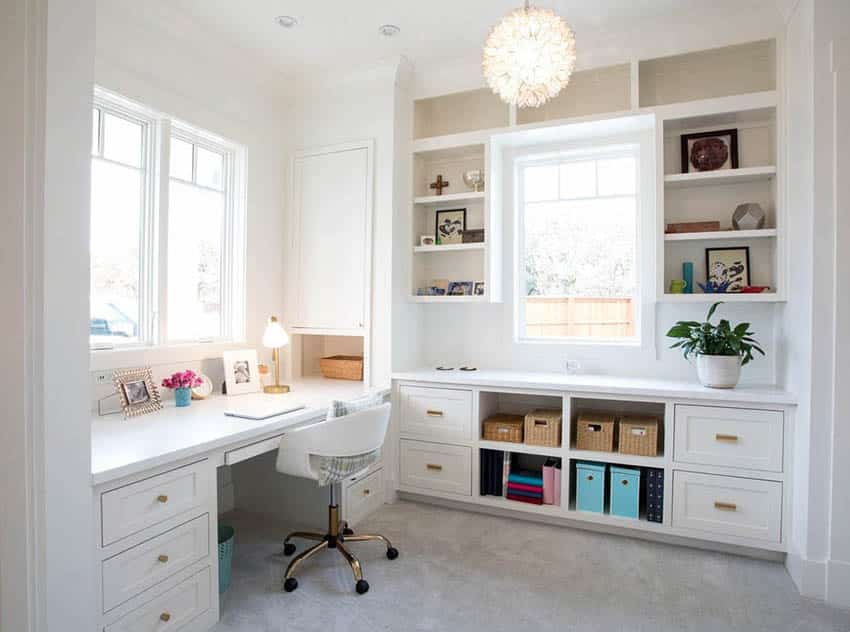 A craft room with built-in desk and cabinetry can provide an inviting ambiance for promoting inspiration and creativity. This design with white shaker style cabinets with gold hardware looks attractive and bright.
The galley layout is perfect for narrow or long craft rooms leaving the center as an open space for easier maneuvering and access to the utilized side areas.
The vertical drop of the pendant light effectively draws the eyes upward, creating a contrasting effect on the already horizontal direction of the built-in bookshelves and cabinets.
Lighting Tip: For larger craft rooms, the ceiling is an opportunity to use pin lights and accent lighting fixtures.
Attic Art Studio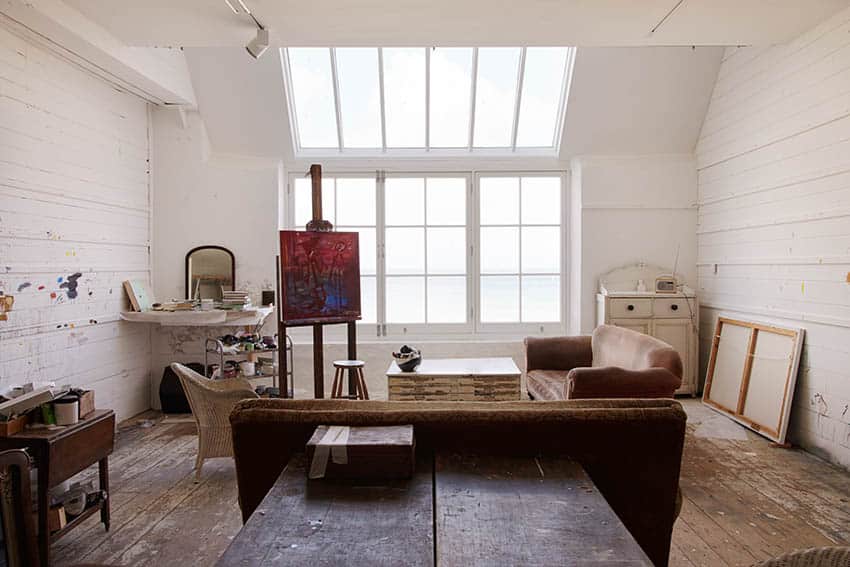 If you have extra room in your attic, then you are one of the lucky ones to have enough space for a large center table.
Granite slab for your central workstation can be over-the-top, but if you have the ability, why not right? But, since you're not chopping any meat, a wood slab, soapstone, or a laminated counter are cheaper alternatives to stretch out your budget.
The whitewashed walls of this art studio room make the area appear less cluttered while providing a lively ambiance and helping to reflect the natural light.
Lighting Tip: Natural lighting is still the best lighting for a art studio or craft room, and attics are great in providing ample lighting to your workstation.
Kids Craft Room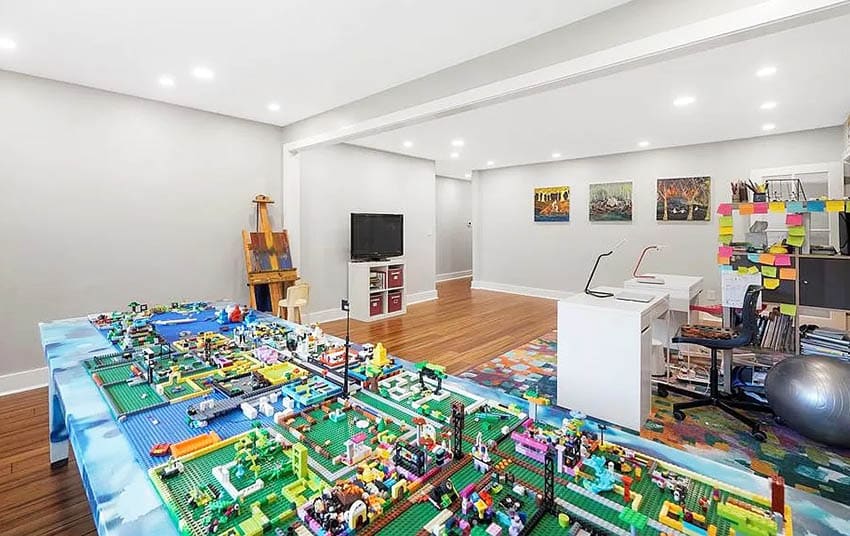 Your kids deserve a place of their own. A kid's craft room are usually integrated with the playroom and study area or both. These creative craft rooms are
Provide a spacious room to nurture your kids' creative skills. This spacious room serves as a craft room and, at the same time, as a play area for kids.
A large lego table provides ample space for children and can be easily moved during playtime. Art easels and desks offer plenty of option for little ones to embrace their creativity.
For your kids to easily access art supplies, have low storage cabinets and counters.
Add animated and colorful decals to accentuate walls. You can choose removable wall decals so you can conveniently remove or move the wall decors.
Chalkboard Wall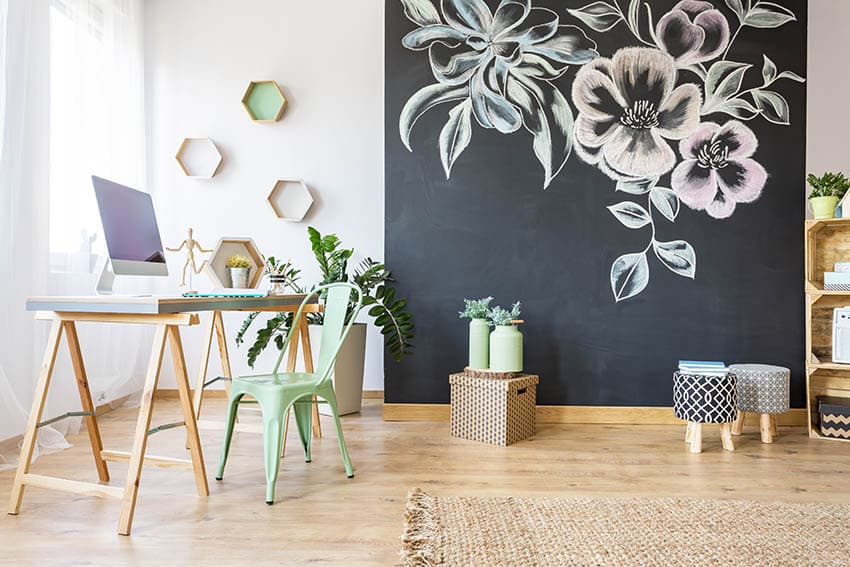 Incorporate crafting supplies and storage into your kids' study area. Save your walls from cleaning while encouraging your kids to write and express themselves on a chalkboard wall.
This craft and study area faces a wall applied with chalkboard paint, which is just enough space for your kids to practice writing and have fun drawing doodles.
The Scandinavian-inspired kids' crafts room comes in a monochromatic color theme and embellished with simple furniture and low storage shelving.
Your kids will enjoy doing their crafts even when squatted on a comfortable area rug or wall-to-wall carpet. The said beige vinyl flooring cover provides a durable flooring for the kids.
Lighting Tip: For larger craft rooms, pin lights are practical means of illuminating the spacious area. You can choose to spread out the pin lights and have them in a parallel wiring so you can turn off one section of the room when not needed.
Sewing Room with Island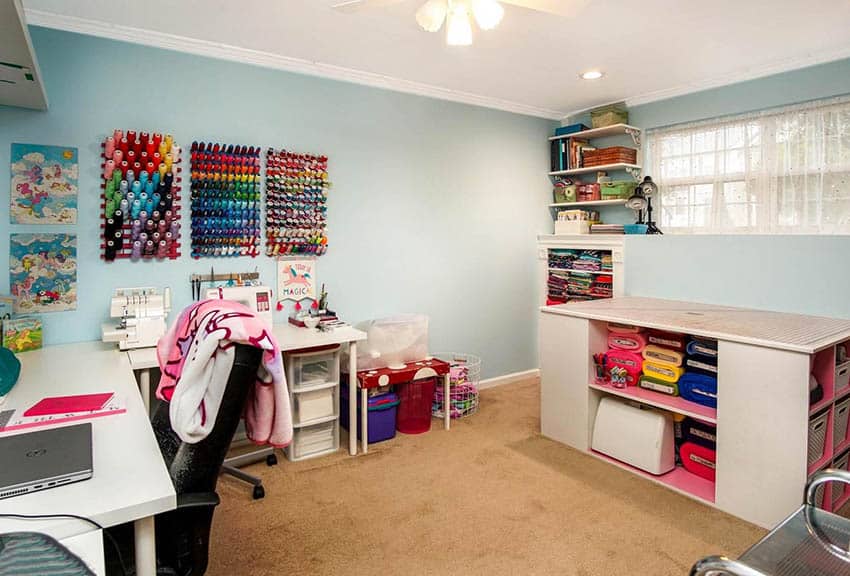 A dedicated sewing room with island storage can provide plenty of space for keeping your fabric within close reach. A corner desk provides a good workstation and allows you to have easy access to everything you need.
Office Craft Room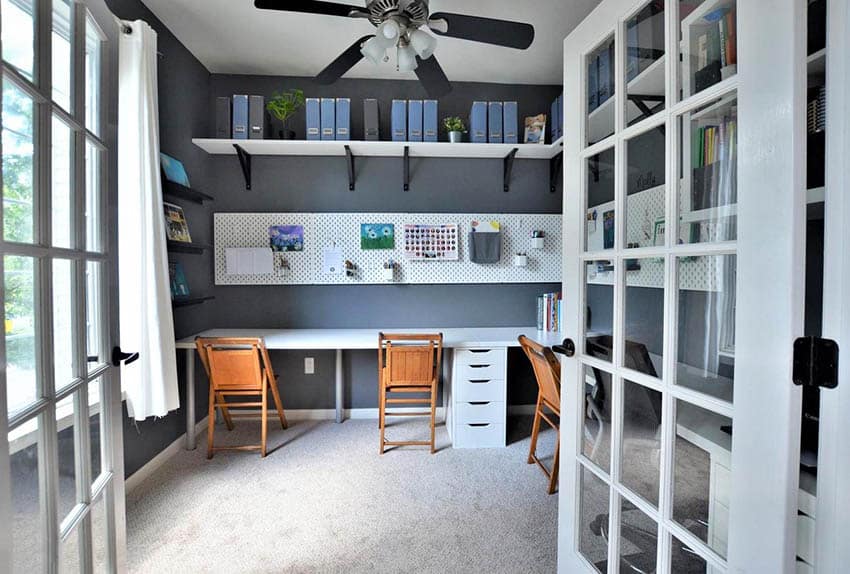 For the serious crafter, a dedicated room such as an office space used for your creative work is a necessity. An annex or an extension from your home provides privacy and ample space for your crafting supplies and workstation.
Make most of your spacious area. This craft room layout utilizes the central area by having a large worktable, where the a solid white countertop makes the area look airy and open. Wood or other heavily textured materials can look overbearing especially when used in a large area.
A low divider or screen can provide privacy and can be easily removed or rearranged anytime you'll need readjusting your workstations for office use.
Stack up your art paper and cards in a clear and acrylic shelving for easy visibility while making the area light look seamless.
Lighting Tip: Track lighting is a practical lighting fixture to install in large crafts room since you can easily adjust and slide through the light bulbs to any desired direction.
Multi-Use Craft Room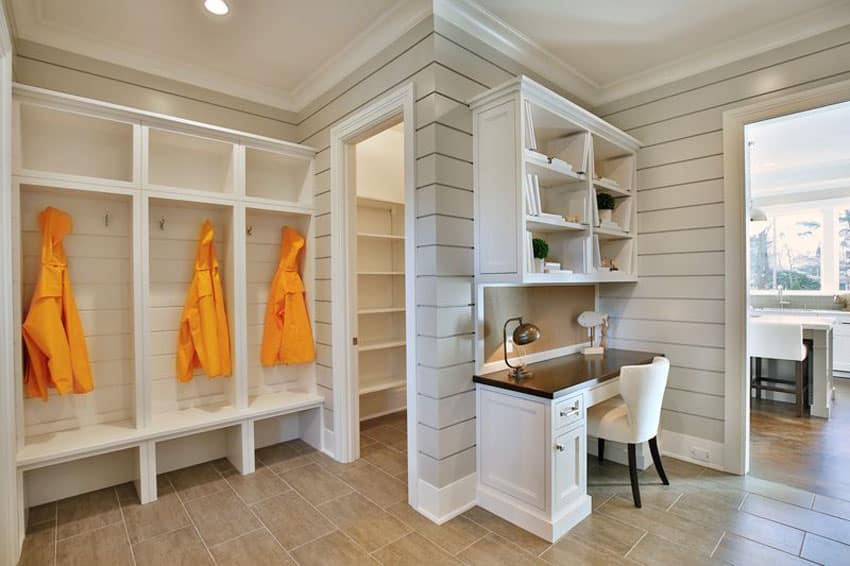 With a generous space, your craft room can explore using classic and ornate furnishing, such as the classic country-style cabinets with ornate styles and framings. With the heavy details on your storage cabinets, it is best to use monochromatic or white colors to subdue an overbearing effect.
Make the most of your large flooring area by placing splashes of color and patterns for an interesting and complementary effect on your plain colored storage cabinets.
For this craft room, the shiplap walls in gray provides contrast to the white cabinets.
Colorful Craft Room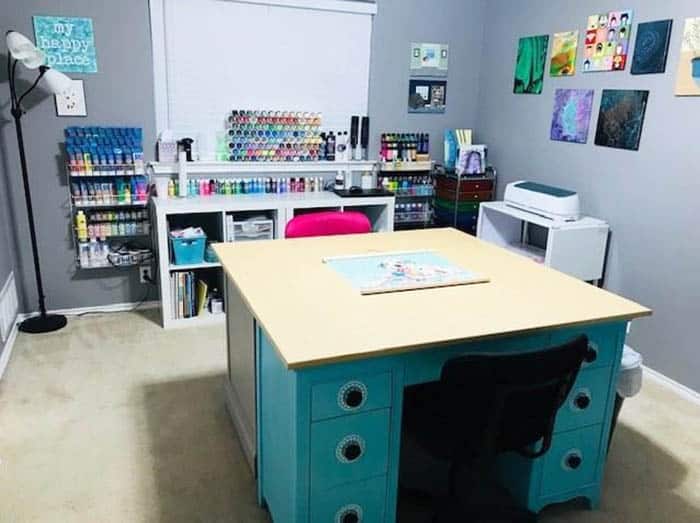 If you have more than one crafter, a long work table or large island can utilize space and provide ample room for your crafters.
Lighting Tip: Track lighting is a practical choice for multi-users because of its flexibility and easiness of adjusting. An additional desk lamp that can easily clamp on table edges can act as task lighting.
Take Away
When designing a crafting station, always consider how you can reduce the "workshop" feel and turn it more into a fun place to spend time in for making works of art.
For craft room ideas always consider the factors like lighting, the arrangement of furniture and the wall decorations. By having these different elements properly balanced, the crafting room can feel less cluttered and more inspiring.