In this laundry room backsplash design guide, you'll see why it's needed, how high to go, different materials, and laundry room backsplash ideas.

Despite what you might think, backsplashes aren't just for kitchens. Using a backsplash is a great way to protect your wall and add another decor element to a laundry room design.
You can take advantage of the benefits of a backsplash in multiple rooms in your home. Anywhere you need something visually appealing that will keep your walls safe from messes and moisture, a backsplash could work.
Do You Need A Backsplash In A Laundry Room?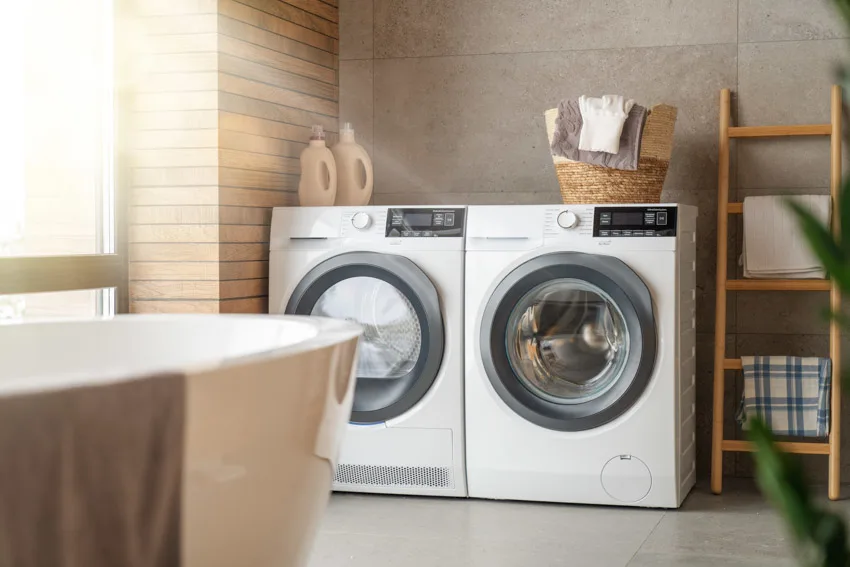 It makes sense that a backsplash can add a touch of visual appeal to a room. However, it also gives you some more practical benefits as well. With that said, do you need a backsplash in your laundry room? What can it offer you?
One of the biggest draws to backsplash is that it's easy to clean. In a laundry room, this means that detergent splashes are easily wiped away. On top of that, backsplashes can actually help protect the wall beneath from moisture. This is great in a laundry room where things can get a little humid from time to time.
Since it will protect your walls continuously, it's a design feature that's well suited to a room where the walls come into frequent contact with moisture or humidity to reduce the damage to your walls.
Backsplashes are also among the laundry room essentials that increase your home's value in case you decide to sell it later on down the line!
Laundry Room Backsplash Ideas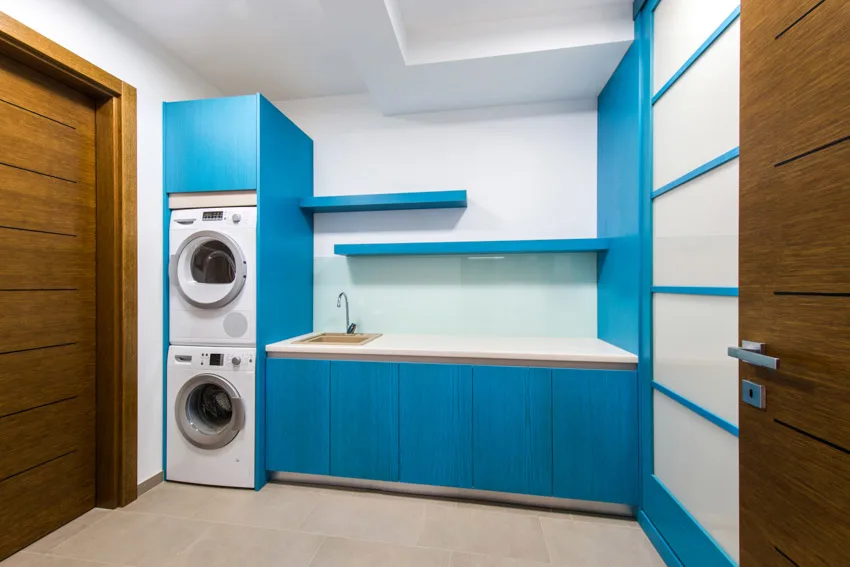 When it comes to what you can do with a laundry room backsplash, there's not much that you can't do. It can help to look into what materials and appearances are available out there and some of the decor styles they match.
For example, pairing a subway tile backsplash with a modern decor scheme can help to tie together the decor in your whole home – even when you step away to do your laundry!
Tile Backsplash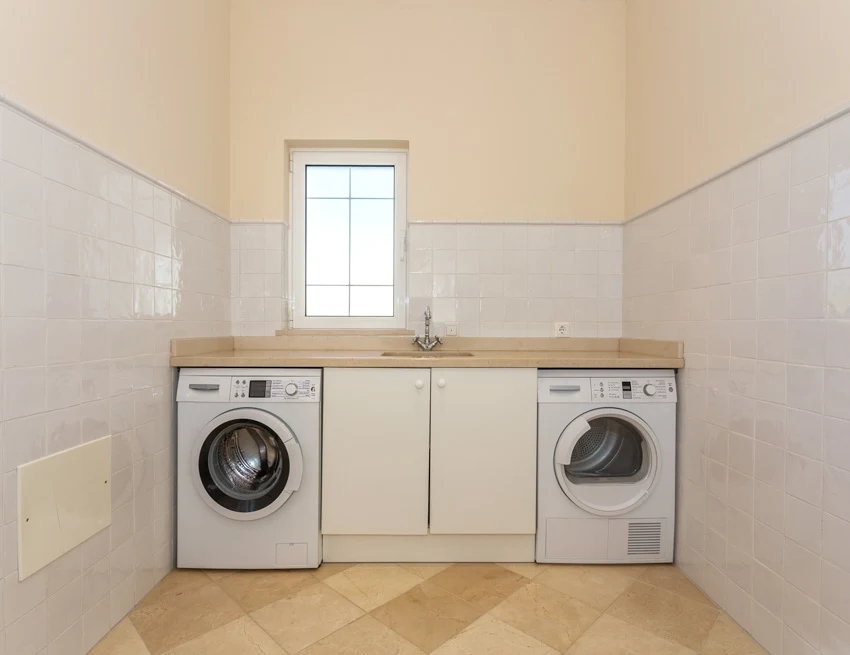 When it comes to choosing a backsplash, your options are nearly limitless. With so many choices available, you're sure to find a color or pattern that you love.
Here are some of the most common types of backsplash used in laundry rooms.
Mosaic Tile Backsplash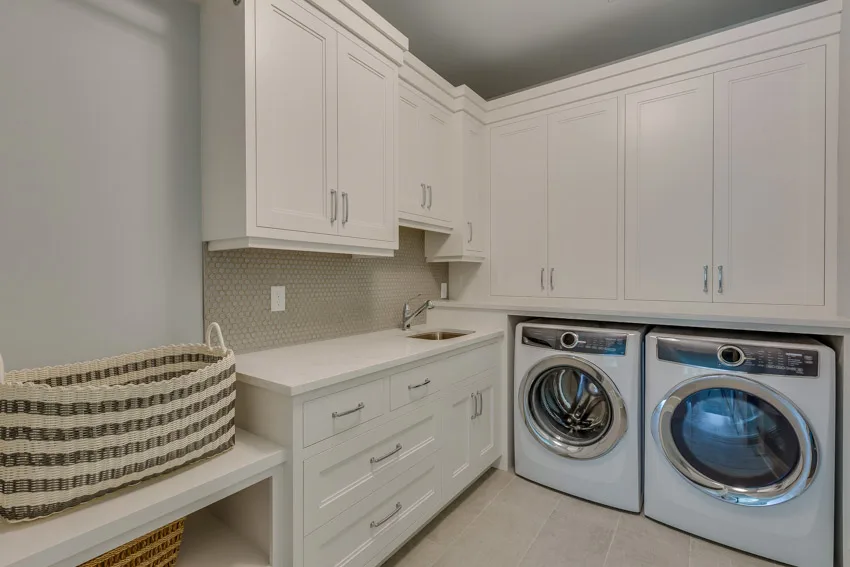 Traditionally, a mosaic is a piece of art made up of smaller, broken-down pieces of another material. This material can vary to include colored glass, stone, or tile. As for the image it creates, it's up to the artist what the final product will look like.
Given that your backsplash is made up of tile pieces, it's easy to see the potential here. While you don't have to dive into as much detail as the mosaics that grace the annals of fine art history, you can do almost anything you want.
This could include some more artistic and detailed designs. On the contrary, it can be as simple as including a few different colors in the design or adding simpler designs like basic shapes.
You can even vary the size and shape of the tiles you use! It might surprise just how much the shape of the individual tiles can create a unique appearance for your backsplash.
Subway Tile Backsplash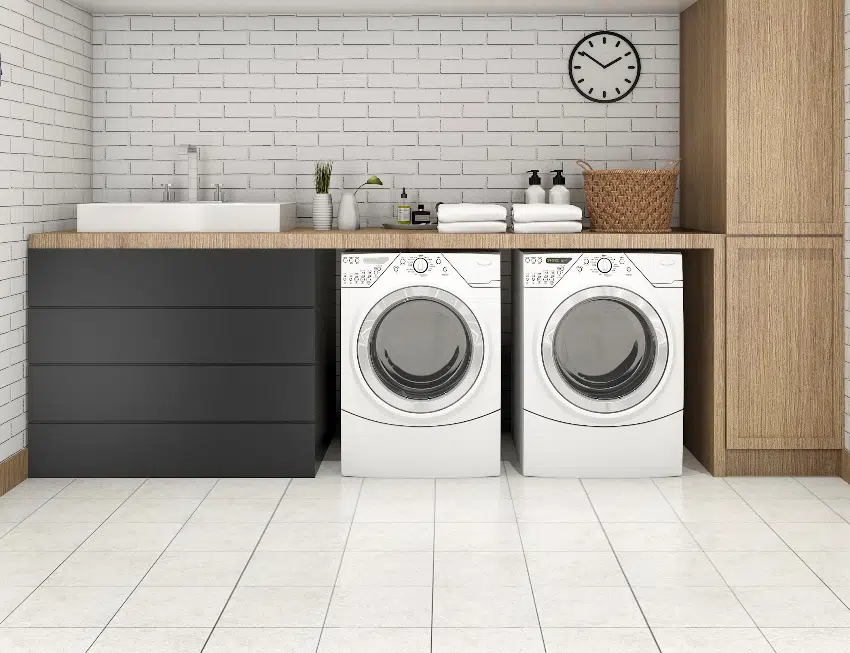 Another popular choice for laundry rooms is a subway tile backsplash. As you might have gathered from the name, they get their name from their resemblance to the tile pattern you'd see if you caught a ride at a New York City subway station.
Subway tile is created with long, rectangular tiles. These tiles all match in size and they're lined up in even, horizontal rows.
Still, they aren't quite perfectly lined up with one another. The pattern for each row is slightly offset from the pattern on the rows above and below it. For continuity, every other row of a subway tile backsplash typically lines up if you were to trace the lines directly over the row between them.
These tiles are separated by grout lines, so you'll need to make sure to keep them tidy to keep up their like-new appearance. Pair subway tile backsplash with floor tile for a durable and relatively maintenance free design.

Farmhouse Backsplash Tile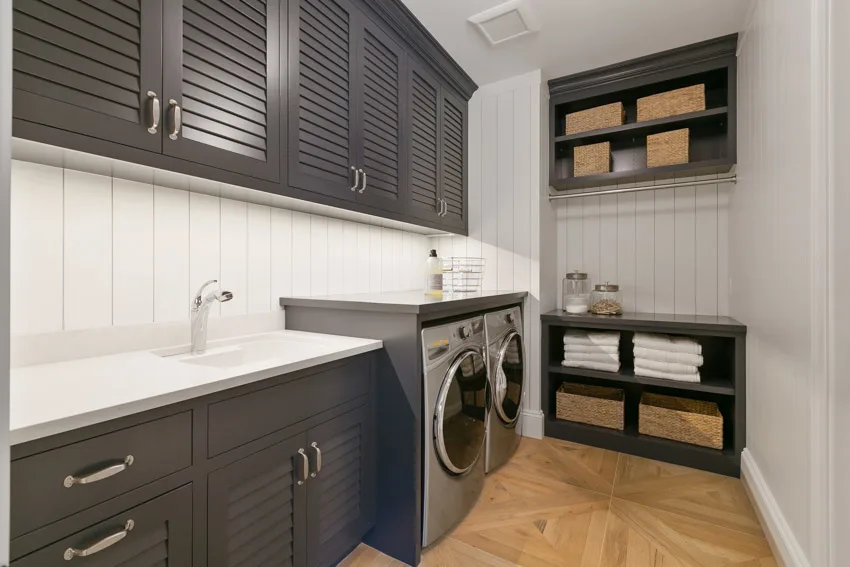 Farmhouse design is meant to have a rustic feel. As such, it often features natural materials like natural wood butcher block and stone. Farmhouse decor is often rather simple in design, leaving behind complex and ornate designs for basic emblems or shapes.
So, if you want to lean into a cozy farmhouse feel in your home, what's the best choice for your laundry room backsplash?
For this one, you might want to look back at mosaic tiles again. You have two main options here. You can opt for a busier, repeating pattern to draw the eye as a focal point in an otherwise simply designed room.
On the other hand, a simple repeating color pattern can create a farmhouse feel. Farmhouse materials are a great chance to incorporate a natural material like stone to bring in a bit of nature into your laundry room.
Peel And Stick Backsplash Laundry Room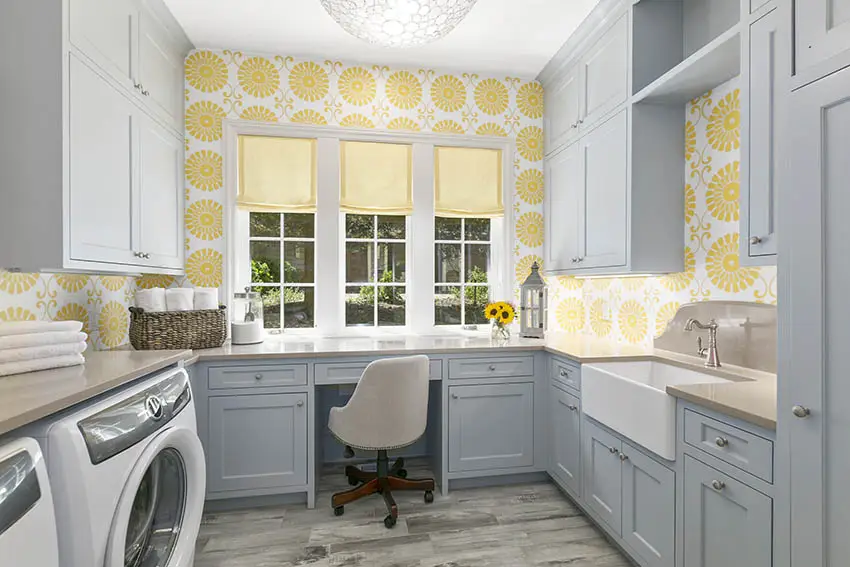 Peel and stick backsplash refers to an installation style rather than a visual one. All in all, you can find peel and stick backsplash options that have a variety of appearances.
What ties them all together is the adhesive to attach them to a wall is already present. Like a large sticker, all you have to do is peel off the backing to access the adhesive.
From there, you have to stick it to your wall. It's a good idea to take the time to measure and remeasure before sticking your new backsplash to the wall.
This can save you quite a bit on installation costs since it's so easy. This is also the easiest way to DIY your backsplash. For the best results, make sure to clean and smooth out your wall so the peel and stick backsplash adheres to your laundry room wall properly.
Stone Backsplash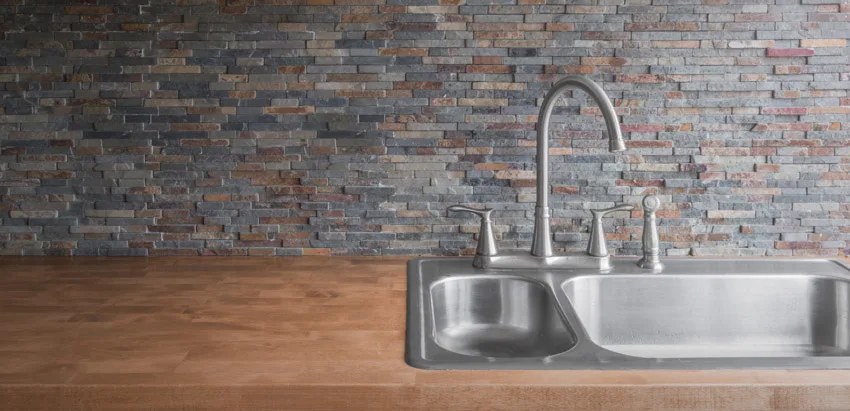 If you want a touch of nature in your backsplash, you should consider a stone backsplash! You have a lot of options when it comes to stone too. There's a lot of variation in the appearance of stone from type to color to veining, you can find something to fit any kitchen.
On top of that, stone tends to add to the value of a home. In other words, a stone backsplash tends to pay off in the end as well. Some of the most popular stone backsplash choices are quartz, granite, marble, and travertine.
These materials are known to be durable. However, to offer full protection against moisture and stains from messes, you'll need to make sure that you keep up with sealing your stone backsplash.
This is an especially important step when it comes to a backsplash in a laundry room because unsealed stone can capture odors as well.
Since this is a natural stone, you'll want to make sure that you're careful with cleaning products as well. Certain chemicals are more likely to cause stains than clean depending on the type of stone you opt for.
Laminate Backsplash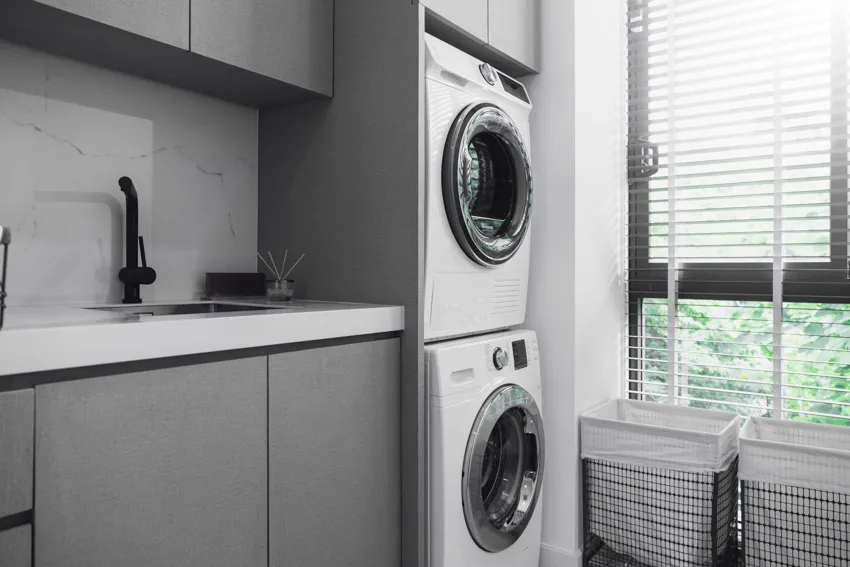 The final material you'll want to consider is a laminate backsplash. In fact, laminate backsplashes are fairly popular for their affordability paired with durability and versatility.
Laminate is another material that comes in a variety of appearances, making it an easy material to match with however you prefer to decorate and furnish your kitchen.
Laminate backsplash material is constructed using mostly a combination of paper and resin and is typically 3/4″ to 1″ thick. This material is nonporous, water resistant and low maintenance.
For these reasons you can often find laminate used for laundry room flooring, countertops and backsplash. The downside is it may not look as high end as other more expensive options.
The good news about laminate is that the installation process isn't too hard. It can be cut to shape, making it a viable option for a DIY project. So, its a good option if you're looking for a backsplash material that you can turn to for a do-it-yourself installation. If you aren't sure or aren't interested, though, you can, of course, still opt for a professional installation.
Since laminate is often sold in large sheets, it's a great choice if you want a full backsplash within your laundry room layout. If you are remodeling your space, read more about laundry room dimensions here.

How High Should A Laundry Backsplash Be?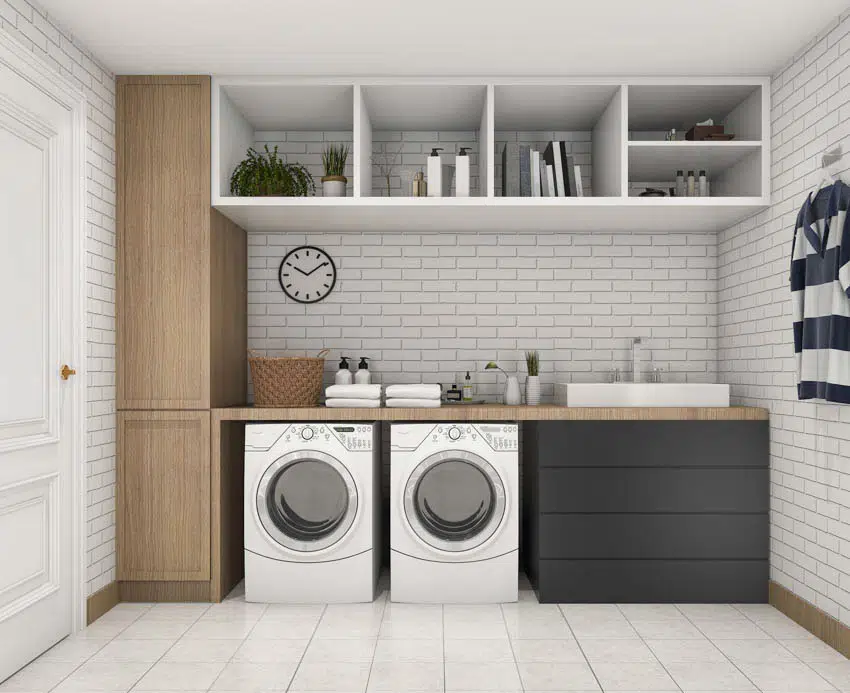 The option is really up to you but backsplashes are usually broken down into two categories: standard and full backsplashes.
A standard backsplash is usually what you're used to seeing in a kitchen. These backsplashes sit above a laundry room countertop, so they're not made to be very tall.
They usually measure about four inches off the counter. While they're more suited to a kitchen, they can add a nice touch to countertop areas in a laundry room.
The other option here is a full backsplash. These typically start at the floor or even at the top of a counter and the rest is up to you – they can go as high as you'd like!
This is a great option for a laundry room because it offers fuller protection to your walls. After all, this backsplash height covers more of your wall, offering direct protection from anything that might come into contact with it and damage it.
Laundry room backsplashes can serve as a useful and beautiful design element to spruce up your space. There are so many different types of backsplashes to choose from, meaning that you can personalize your space as you see fit – no matter what that looks like for you!
See more related content in our article about the different laundry room paint colors on this page.