Here's our guide to laundry room dimensions, including sink, door, and washer & dryer closet sizes.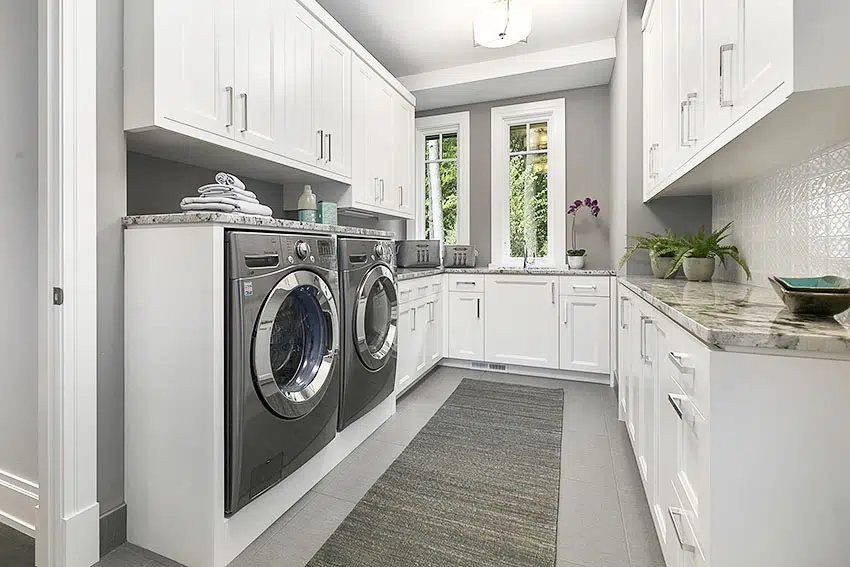 Everyone needs to do laundry, yet a laundry room is usually an afterthought when designing homes. Crammed in an empty basement or a garage, these spaces are often neglected and not maximized.
Having a dedicated and well-designed laundry area can bring heaps of benefits. One thing that comes to mind is it keeps your home tidy.
Washed clothes due for folding and ironing can stay in your laundry room until you are ready to tackle them.
You can have cabinets to organize linens, laundry products, and other cleaning tools. Doing laundry becomes less stressful when everything is in one place.
Learn how much space is right for you as we discuss different laundry room dimensions before starting your renovation.
Average Laundry Room Size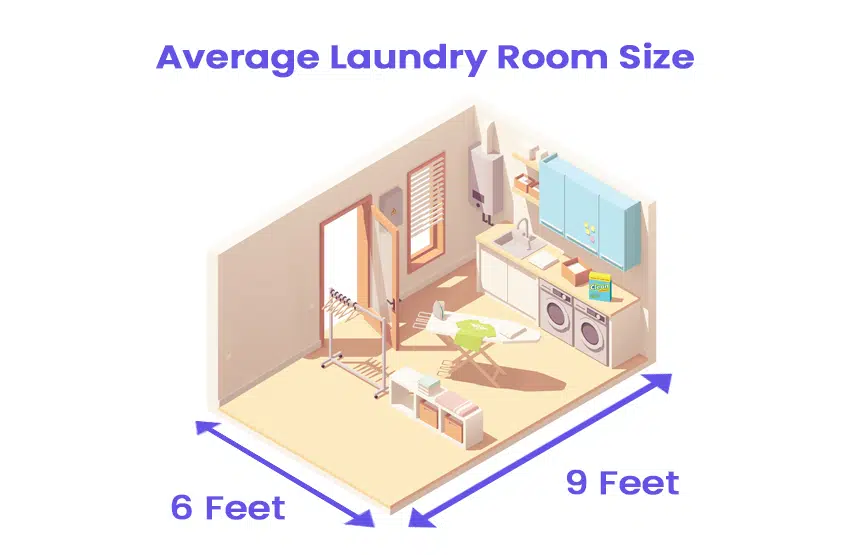 The average laundry room size for most houses in the US is 54 square feet (6ft x 9ft). This space accommodates at least three laundry features, like laundry machines and storage units.
Consider the clearance spaces around these pieces, especially if you have a front-load washing machine.

Washer and dryer machines: Choose the right washer dryer combo according to your size, design, and loading capacity requirements.
Storage cabinets and drying racks: Consider installing customized overhead cabinets for your linens and laundry supplies. Add wall-mounted racks you can pull out to dry your clothes
Laundry sink: Make your laundry area conducive by having a sink. You can hand wash some delicate clothes, wash your floor mops, or bathe your pets.
Extra features: Keep your ironing board and clothes steamer in this room. Some homeowners double their laundry room as a utility room and storage for pet-related items.
Proper ventilation is also vital to maintain healthy air quality indoors. Add an exhaust fan to avoid unpleasant odor and molds on damp clothes or chemical reactions when the room gets too warm.
Minimum Laundry Room Size
You don't have to be extravagant with your laundry room. A small laundry room will suffice as long as there is enough space to move around.
With a minimum area of 42 square feet (6ft x 7ft), you can equip it with laundry essentials, including a washer, dryer, and laundry sink. Add space saver solutions for small laundry rooms like narrow cabinets and pull-out laundry baskets.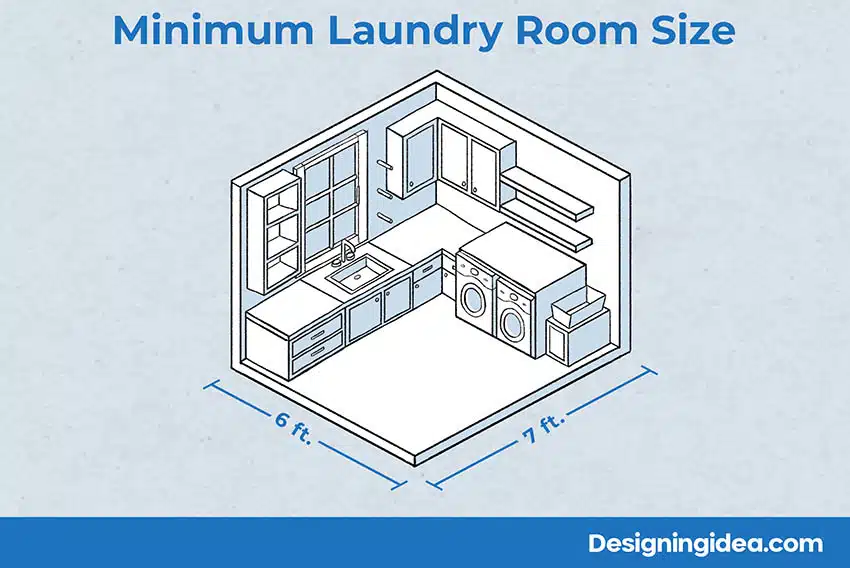 TIP: Get a stackable washer and dryer to allocate your remaining space for other purposes.
Large Laundry Room Size
Bigger homes allow more space for laundry. Large laundry rooms also ramp up your property's value, attracting future buyers who have a family.
So, how big is big?
Large laundry rooms usually measure at least 60 to 80 square feet. Create a multifunctional space by installing some of the following features.

End-to-end countertop with a double basin sink.

Multiple washers and dryers to take more loads at once.

Dedicated cabinets for your linen and clothes.

Storage space for other utility tools and cleaning products

Larger drying racks.

Ironing and folding area.
You can also add decors or plants to make your space more refreshing. Some luxury homes even have laundry chutes. Suddenly, doing laundry feels less like a chore.
Laundry Room Sink Size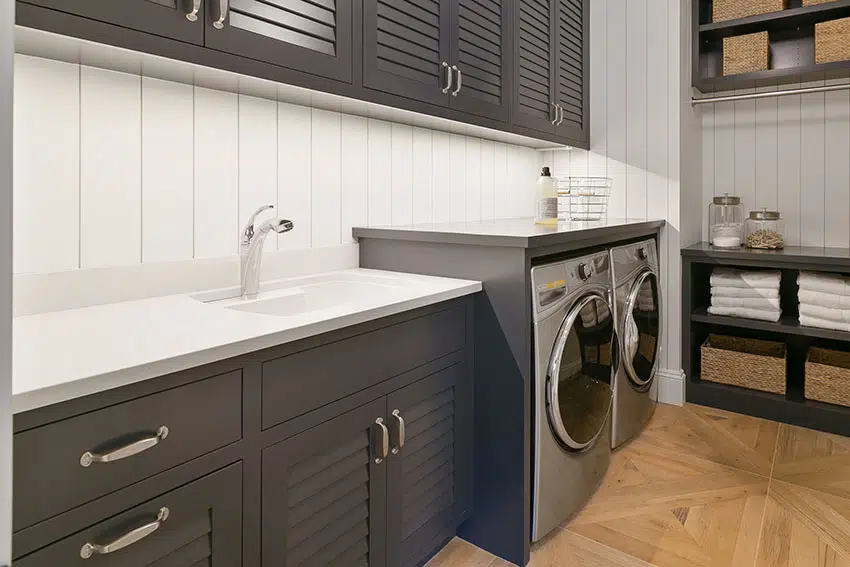 Having a laundry sink is beneficial for pre-soaking your clothes and other washing purposes. That said, getting the right size for your room is vital.
Laundry sinks start from 21 to 48 inches in width, depending on the type of sink you prefer. A single basin sink can measure between 21 and 34 inches, while you can expect double basin sinks to have a width of 35 to 48 inches.
In addition, laundry sinks are deeper than bathroom sinks with 12 inches in depth. Deep sinks prevent dirt and water from splashing. Finally, factor in the ledge or countertop measurements when choosing between countertop, wall-mount, and stand-alone sinks.
Door Size For Laundry Room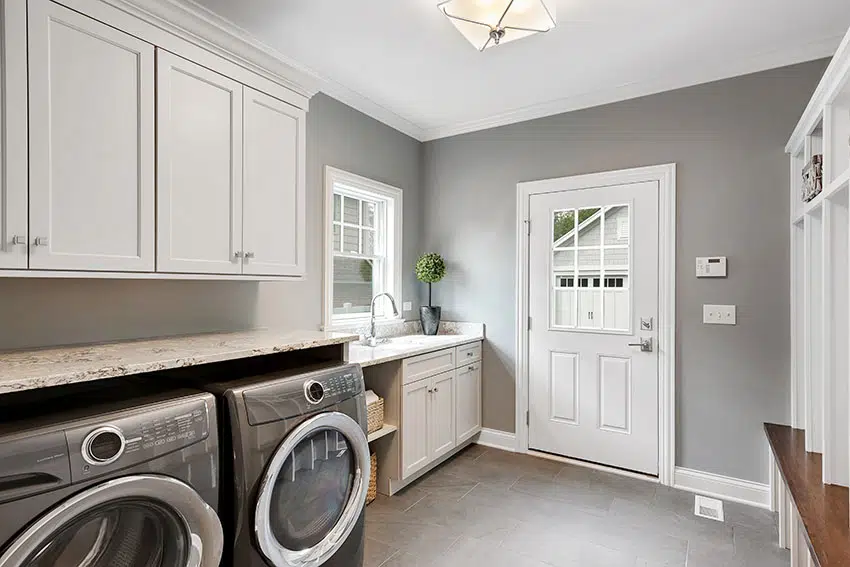 Aside from the interior dimensions, the door size for laundry rooms also needs special consideration. Your door should measure at least 32 inches in width, enough for large equipment to pass through.
If you are using a basic door, think about the clearance space when the door swings open. You will need at least 45 inches of clearance or more, depending on the width of your door.
Otherwise, you can also install a sliding door or a folding door. A sliding door is at least 36 inches wide, plus the clearance space on the wall of the same width.
Washer and Dryer Closet Dimensions
Laundry rooms are not always possible, particularly for those who live in small condominiums and apartments. Fret not, as you can create a laundry closet instead.
Laundry closets are usually hidden enclosures along the hallway or a small corner of the house.
You only need 15 square feet (5ft x 3ft) space to fit your washer and dryer and a built-in storage unit. For reference, washers and dryers usually measure 27 inches wide and 25 to 28 inches deep. Here's our complete guide to washer and dryer dimensions.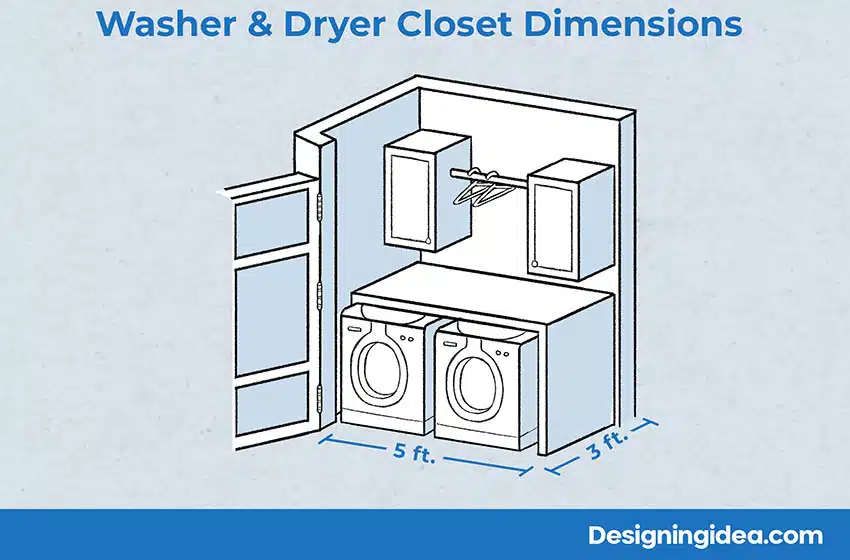 Finally, make sure that you have direct access to plumbing and electricity and that you have enough space to move around.
Don't forget to pick a closet door that can seamlessly blend into the interior design of your house as well.
Stackable Washer And Dryer Closet Dimensions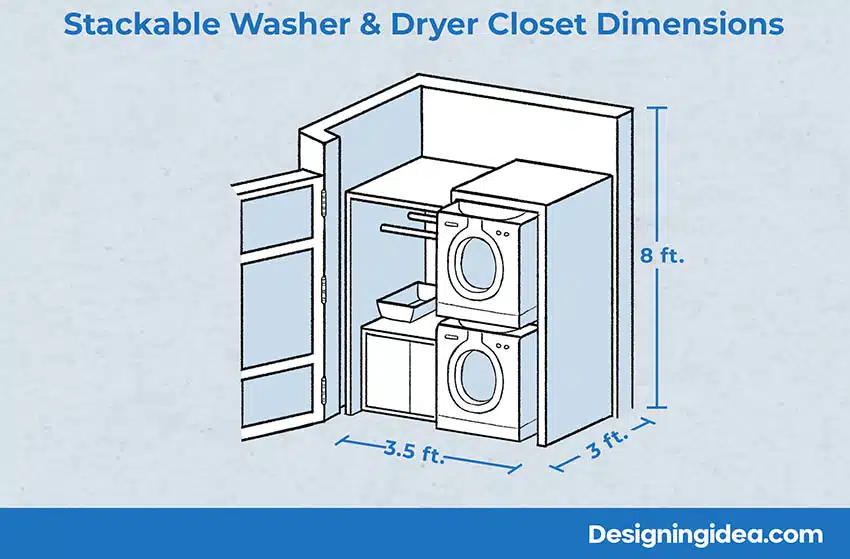 Take advantage of your vertical space by using a stackable washer and dryer. A stackable set is smaller than the side-by-side version, which helps if your goal is to make every space of your closet count. This combo works best for a one to two-person laundry capacity.
To set up a stackable washer and dryer closet, you need an area with at least 3.5ft wide by 3ft deep by 8ft height.
If you have more space to spare, you can follow the minimum laundry closet size of 15 square feet and add a sink with a cabinet on the side.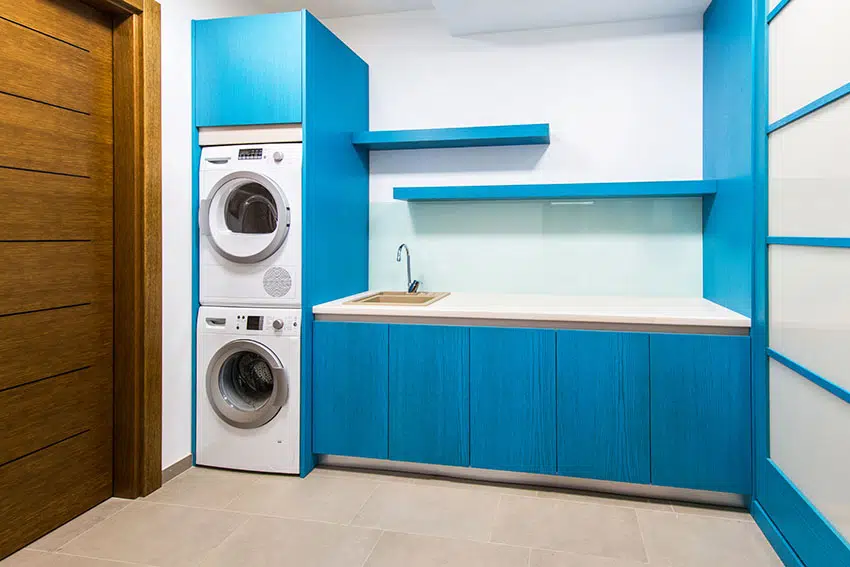 Whether you need a closet or a room ultimately depends on your goals and available space. Laundry closets are perfect for small condominiums or apartments, while laundry rooms are more functional for larger homes.
Once you've decided on your dimensions, check out the best laundry flooring option for you.