Here we share a laundry room essentials guide including the basic supplies that you should have for you to get a good and comfortable laundry room.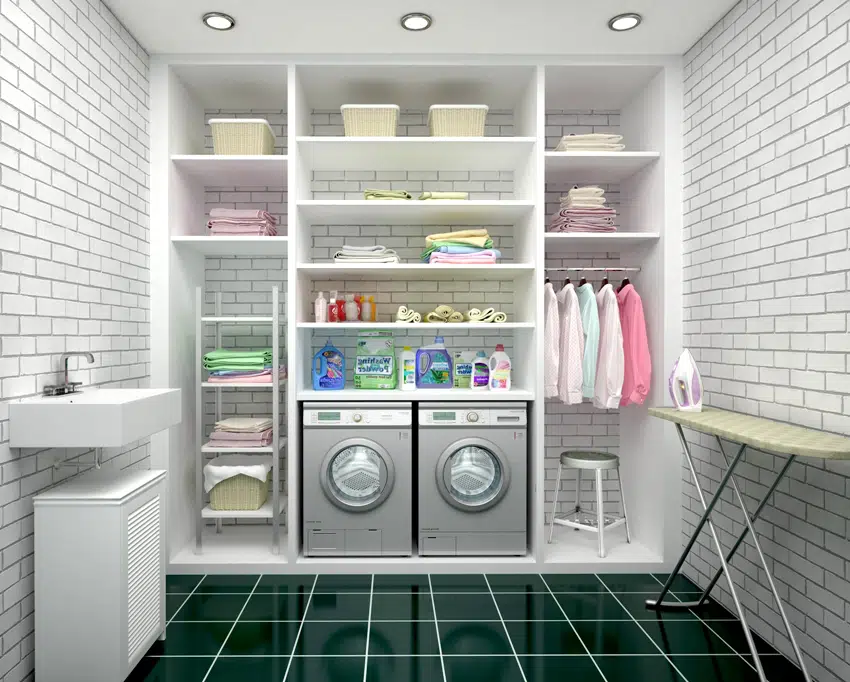 One of the most time consuming tasks you will ever do in the home that you would have to do at least once or twice a week would have to be laundry. It's pretty understandable why no one really looks forward to such a task.
It involves carrying all those dirty clothes to the washer and dryer area, separating whites from colors and ensuring every single article of clothing is laundered according to the manufacturer's specific instructions on the label. Then comes folding them and rearranging them in their respective closets, and even at times ironing them or giving special treatments for stains and other things.
This is where a well set up laundry room in your home can make all of the difference. Having your own little nook for these specific tasks can cut your time to as much as half and make you work more efficiently. You might even start to enjoy it.
Clearly, you need so much more than just the washer, dryer, and the cleaning materials to get your laundry room to its best fit and fighting form.
What Does Every Laundry Room Need?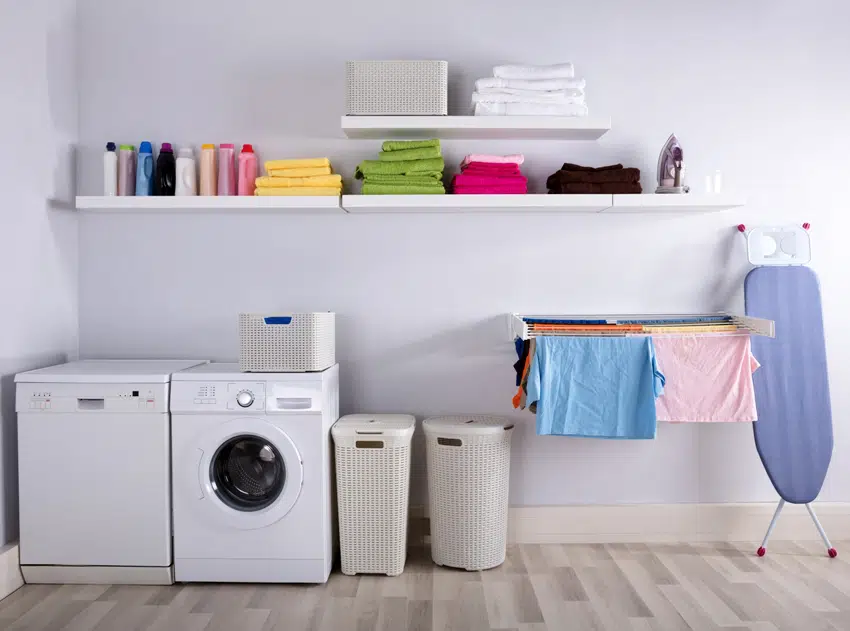 Here are some of the laundry room essentials that you ought to have.
Laundry Supplies
We're starting with one of the most obvious stuff to have there, obviously. Make sure that you have your ammunition set and ready to go.
You are going to need your detergent, some fabric softener, some bleach and some stain remover which you'll end up using way more than you would actually expect. You need to have these kept on a shelf above your washer and dryer for easy access.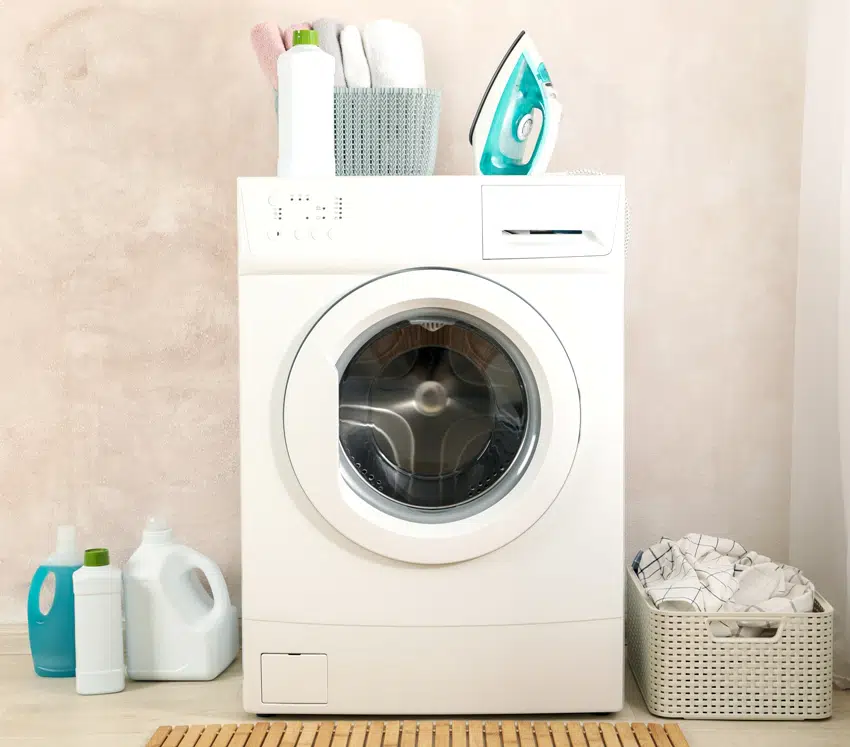 If you don't really have the luxury of space, you can always go with more creative storage options such as rollout cabinets or drawers that will take advantage of how deep your washer and dryer can actually go. See our washer and dryer dimensions size guide here.
Cleaning Supplies
A general rule of thumb to observe is to always keep your stuff where you use them and this applies to cleaning supplies. You might want to keep some paper towels, hand soap, glass cleaner, all-purpose cleaner and other related cleaning products handy in the laundry room as well.
It's easier to find them when they're all in one place, after all. Also keep your cleaning implements such as your dust pans, mops, brooms, gloves, and other tools nearby. One way to maximize the space is to use tools that you can hang them from.
Hanging space takes up no floor space which is something that you can work up to your advantage when working with a particularly small laundry room.
Linens
The laundry room is a great place to store those extra old towels that you don't use so much just in case you need them. It's always best to be prepared for any messes. This space is also great as a storage backup for your linens or other stuff that don't really fit in well anywhere else in the house.
Iron, Ironing Board, and Supplies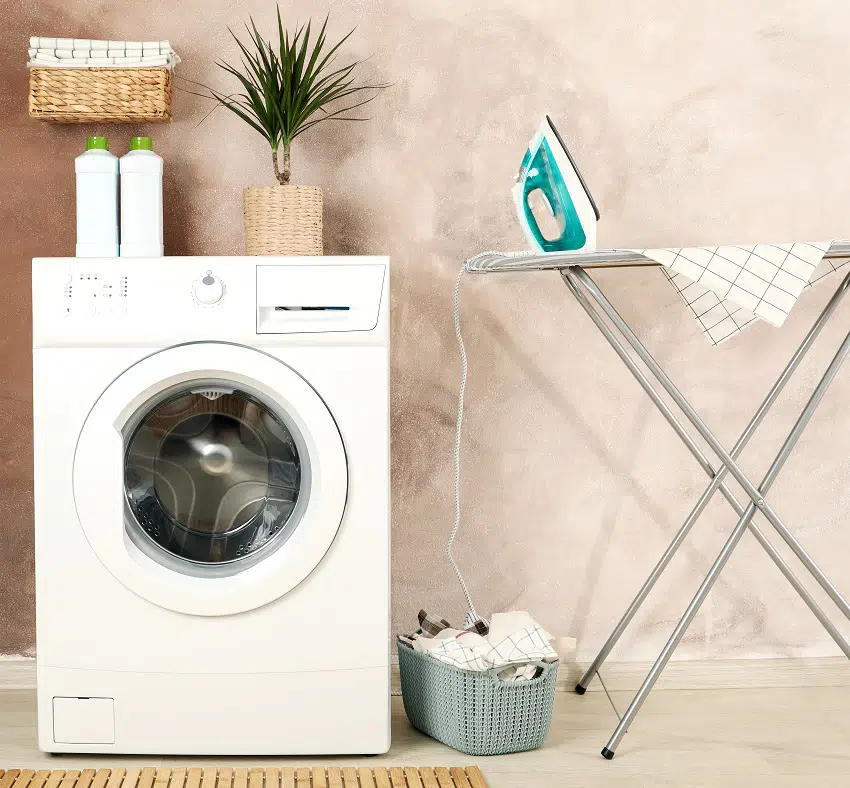 One other thing that most people absolutely dislike? Ironing. One thing that can make it less tedious though is having the essentials such as the iron itself, the board, and other relative supplies within your reach right after getting the laundry done.
If you're short on space, an ingenious way to include this in your laundry room is to have it wall-mounted so that you can easily stow it away and just pull it out if you have any need for it.
See more laundry room essentials below.
Drying Rack and Rods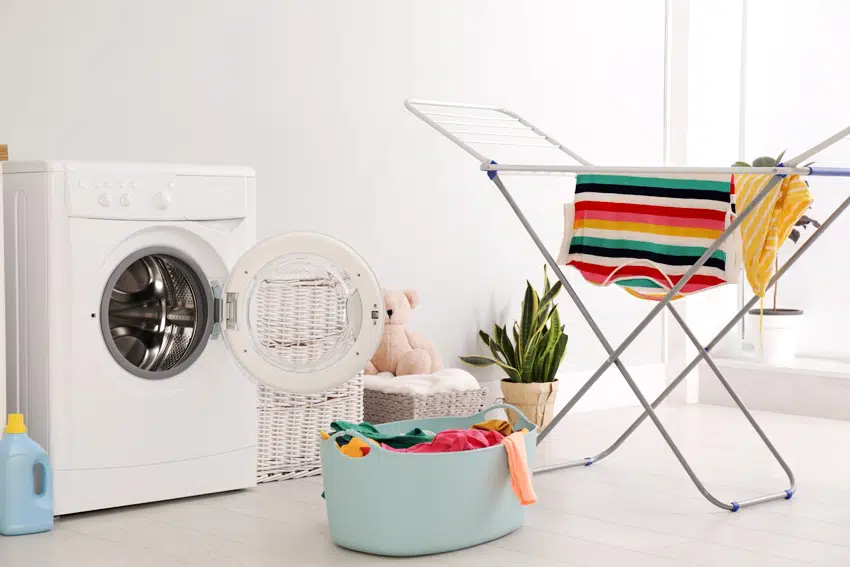 Delicates are a nightmare to clean because you can't exactly just throw them in the washer nor can you hang them out to dry or they will lose their shape. This is where a drying rack comes in handy.
They can help dry your delicate pieces without ever running the risk of damaging them. You might also want to add in a drying rod and hooks for garments that you would like to hand wash.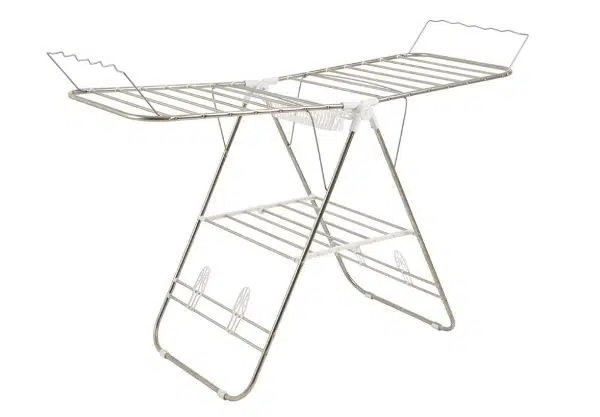 See this home drying rack at Amazon [sponsored link]

It's perfect to have them hung over the sink so the run-off water can just drip down to the drain.
Hampers and Baskets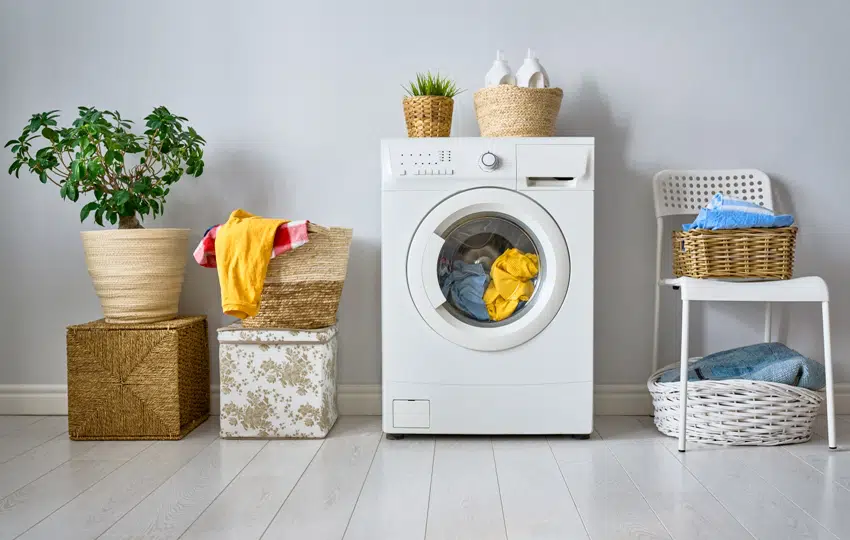 You can never really have too many of these, if you ask for our opinion. The main purpose of a laundry room is for you to have a dedicated space to sort your laundry out on.
You will need to separate your clothes from the lights to the dark ones, to the items that require hand washing, to the ones that require dry cleaning, and so on and so forth.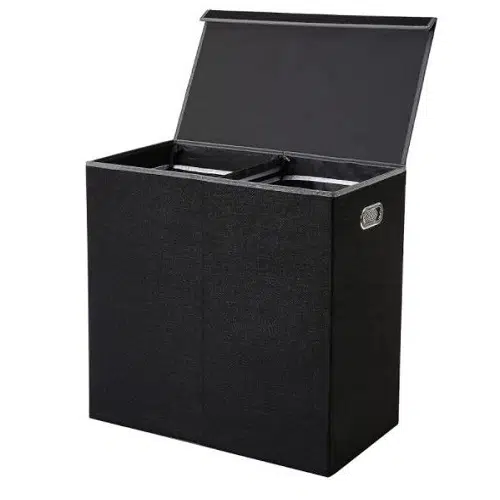 See this ouble laundry hamper with removable liner bags & magnetic lid at Amazon [sponsored link]

Hampers and baskets work great as containers for these sorted clothes and will allow you to move these articles of clothing from one space to another.
What Makes A Good Laundry Room?
The basics of what makes a good laundry room are simple and finite. First off, you need to make it your own. It doesn't matter if you have a lot of room to play with or if you have a tiny nook for your laundry room.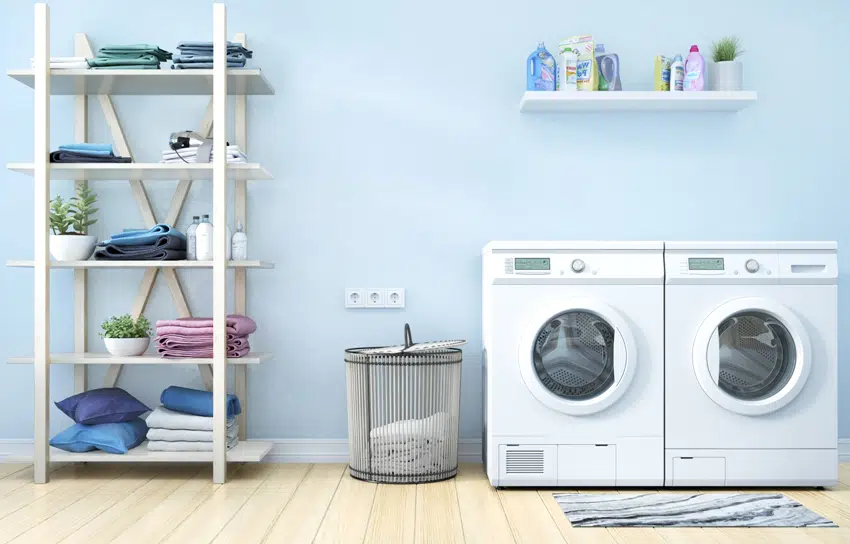 All that matters is that the design is something that is your own and that it's cohesive with the rest of your home's décor. Small spaces are perfect for design experimentation. Check our basement laundry room ideas for more design guides.
So go for that bold wall color you like so much, or that trendy floor tile you've been eyeing. Anything goes for as long as it suits you and your tastes. See our list of the best laundry room paint colors here.
Second, always make sure that utility comes front and center. Include a sink in your design. They're great for hand washing your delicates, pre-washing certain items, or even for cleaning off dirty shoes.
Go for something that's stain resistant and something that has depth to maximize it even more.
And lastly, always keep the purpose of the room in mind. The purpose should come first above all else. Keep the 4 basic zones in mind while you're at it: one for sorting, another for ironing, and another for washing or drying, and another one for hanging and folding.
What Should I Put On My Laundry Room Counter?
You need all of the basics on your laundry room counter so that you have ease of access to them. This includes but is not limited to your laundry detergent, fabric softener, stain remover, and bleach as the basics.
For more laundry room essentials related ideas, visit laundry chute in house page.