See the best wood for shelves including the different types, their pros and cons, soft wood shelving alternatives, and the strongest shelf option.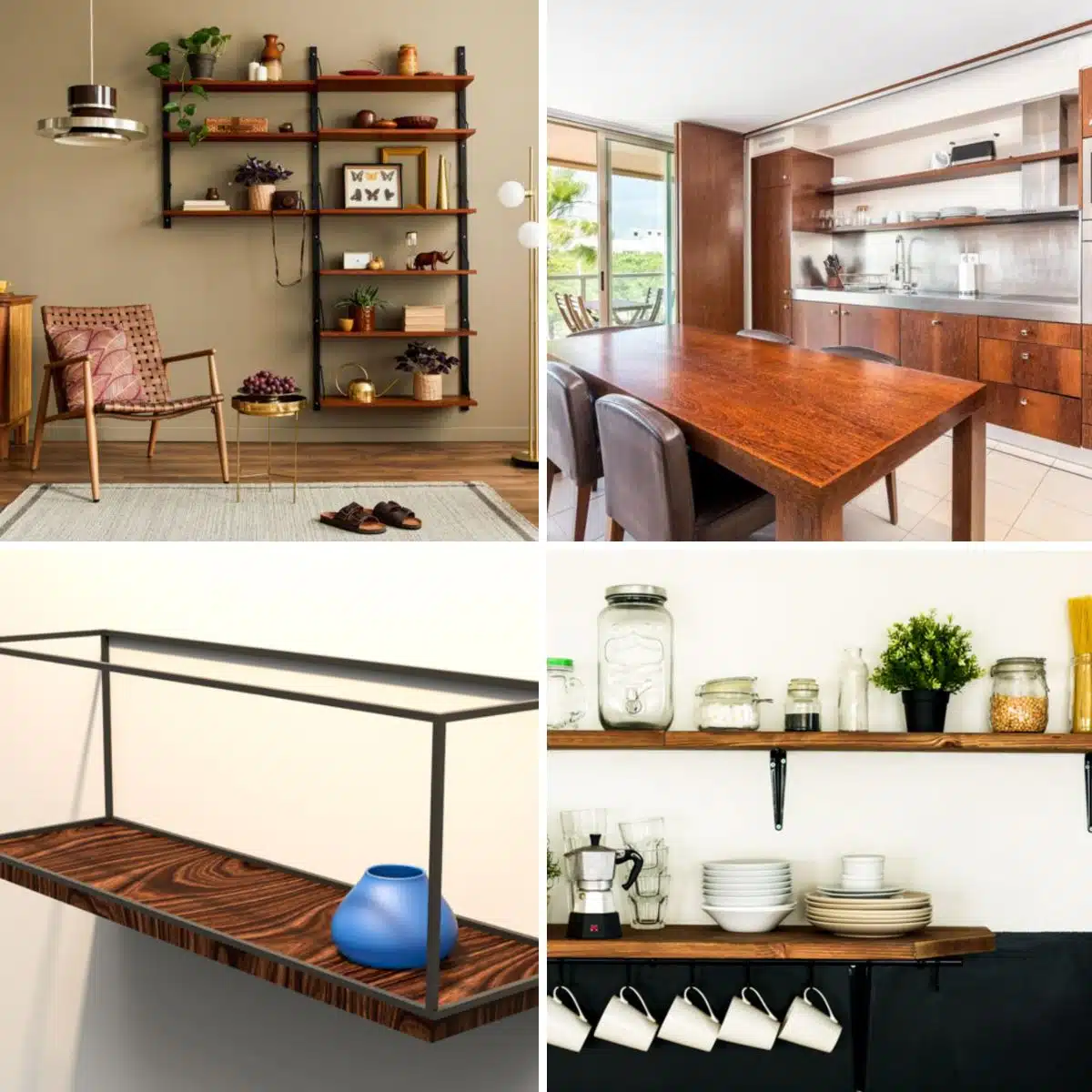 Wood is a versatile material capable of delivering different aesthetic styles and vibes. Depending on the type of wood and the colors you choose, you can go for a rustic-looking shelf or a clean modern one.
More than just the aesthetics though, you also need to consider other factors that can increase or decrease the value of the wooden shelves. If you want to choose the ideal option, comparing the advantages and disadvantages of the different wood types compatible with building shelves is important.
Some wood varieties won't be a great option as floating shelves because they might be heavy and some may be too lightweight for bookshelves that you will end up with a sagging piece of furniture after some time.
This means that the ideal type of wood depends on the types of shelves you are working on. It's also important to consider what you will use the shelves for since you will have to consider how durable and sturdy you need your shelves to be.
If you need a guide, check out the following types of wood and the respective pros and cons they offer to figure out which one to use for your shelves.
Quicklook: Different Wood Types For Shelves
• Walnut
• Mahogany
• Cherry
• Red Oak
• Maple
• Birch
• Douglas Fir
• Tigerwood
• African Padauk
• Pine
• Poplar Wood
• Alder Wood
Types of Wood For Shelving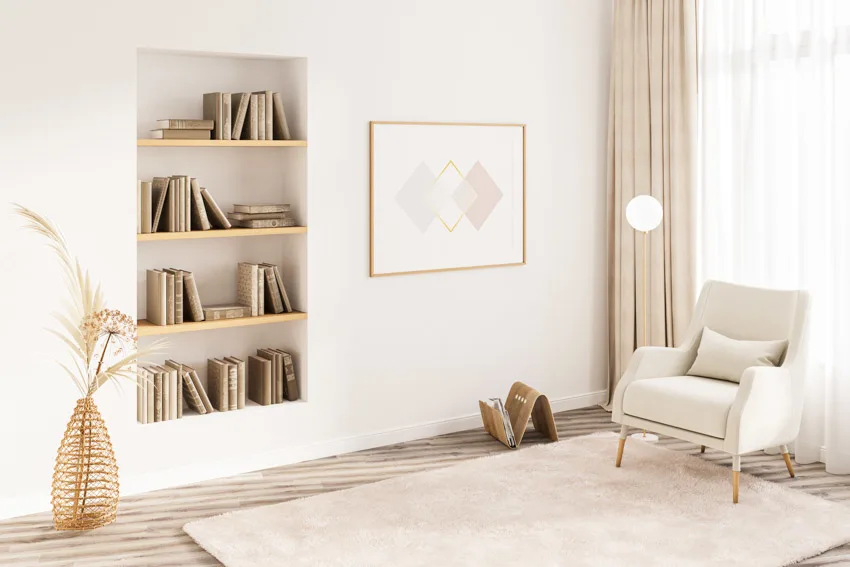 There is plenty of wood that is ideal for making shelves. Your choice will depend on the load that you want to put on the shelf. Shelves can be used to display small collections like miniature porcelain dolls, structures such as the Eiffel Tower, or miniature cars, planes, ships, or yachts.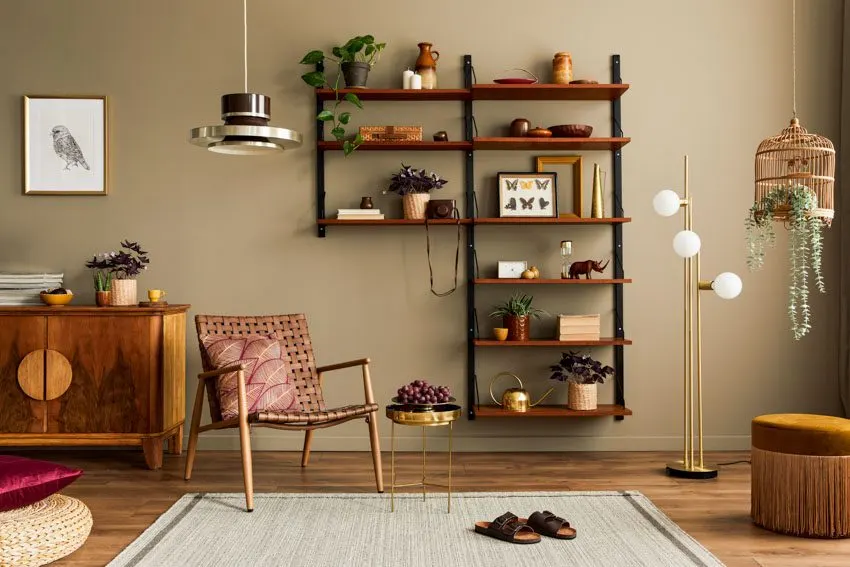 Lightweight items such as framed photos, flower vases, and other decors are also ideal for shelves made of thin wood. On the other hand, for heavy loads, sturdier wood is needed.
On the other hand, shelves for heavy items such as dinnerware and books will require sturdy wood. Choosing the right type of wood is important when making shelves.
Here are the different types of wood that are ideal for making shelves:
Walnut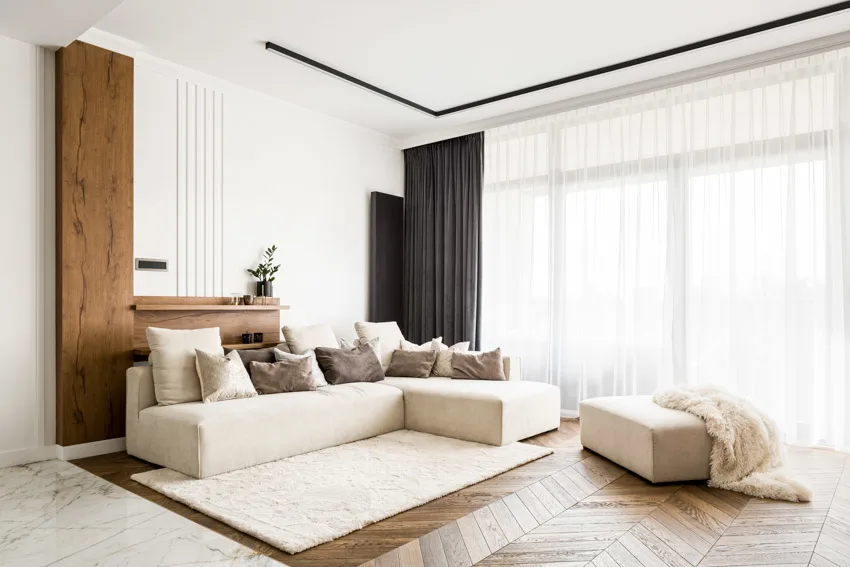 Walnut is a serious wood selection for hardwood shelves and the ideal choice for carvings, veneers, and cabinets. Considered one of North America's most stable hardwoods, it is the type of wood to choose when you're considering shelves for something heavy without having to compromise its aesthetics.
Pros of Walnut Shelving

If you're thinking of choosing walnut shelves, here are the benefits you can make the most of
• Strong and durable: With a Janka hardness rating of 1010 that with the proper installation using wall studs and brackets, these walnut shelves can hold objects that weigh over 50 lbs. Walnut kitchen cabinets, flooring and shelving are all popular due to their durability.

• Easy workability: While considered a hardwood, it is lighter than most which makes it manageable and workable for DIY and other customizations. Its workability highly depends on the grain and can also easily be painted.
• Stunning aesthetics: The wood's aesthetics is beautiful, with straight types of wood grain patterns that range from brown inner rings and yellow outer ones. The combination of different hues adds charm to the wood, as well as a variety of finishes that contribute to its antique look.
• Swelling and shrink resistant: Another factor that adds to its durability is the fact that you won't have to worry about the wood either shrinking or swelling.
• Less maintenance: Walnut shelves can last a long time without needing treatment or painting like some types of wood.
Cons of Walnut Shelving

Besides the advantages, make sure you take into account these drawbacks before you make any commitment:
• Expensive: This hardwood can be expensive and so you need to make sure your budget is up to it.
• Prone to scratches: Walnut may be durable but it is relatively easy to scratch so you need to pay extra attention when using it for shelves.
• Rare: Going for walnut is not an easy fit since it's not as readily available as other types of wood and can be difficult to find.
Mahogany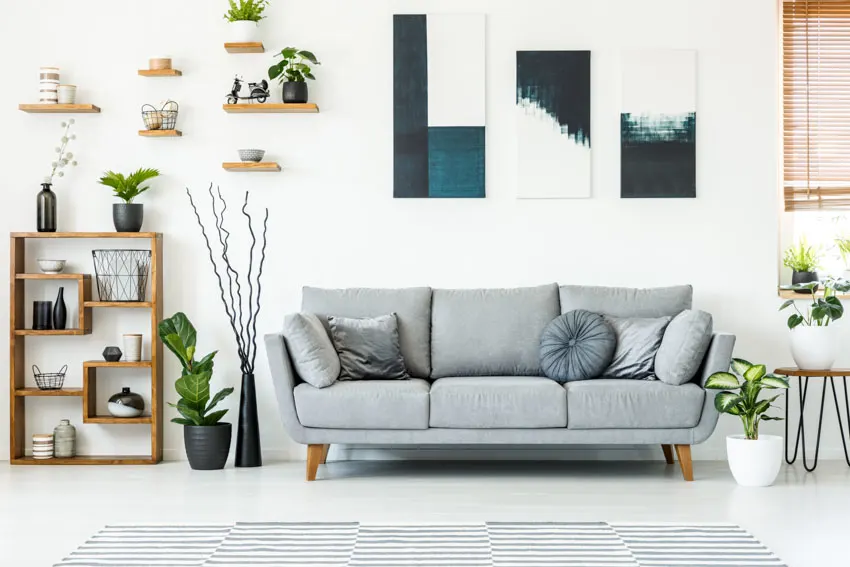 Mahogany is an excellent option for different types of furniture styles, boats, instruments, and paneling, particularly in interior spaces, libraries, and offices. It is in high demand and competition with oak in wood construction in the United States.
Pros of Mahogany Shelving

If you're considering mahogany, there are advantages you check out and benefit from, including the following:
• Relatively heavy and durable: Mahogany is considered 70% harder than other types of wood with a Janka hardness rating of 800 to 900 and a weight capacity of up to 65 lbs per shelf. You can often find mahogany kitchen cabinets used when durability is top concern.

• Dent and scratch-resistant: In addition to its durability, this type of wood is also resistant to scratches and dents, making it an ideal home for heavy objects like books.
• Easy workability (Especially with tools): If you choose to DIY your mahogany shelves, you'll find the wood easy to stain or paint (depending on what you choose) and it's also light enough to easily be worked with tools.
• Stunning grain pattern and hue: With straight and small grain patterns, mahogany showcases this reddish-pink hue that turns reddish-brown over time, making it a sought-after wood because of its classic and rustic appeal.
Cons of Mahogany Shelving

Mahogany is a popular wood and here are the disadvantages that come along with this choice:
• Expensive: Like most popular hardwood options, mahogany is expensive and can cost around $28 per foot of the wooden board.
• Limited and rare: Since it's high in demand, it can also be difficult to find and limited in its availability.
Cherry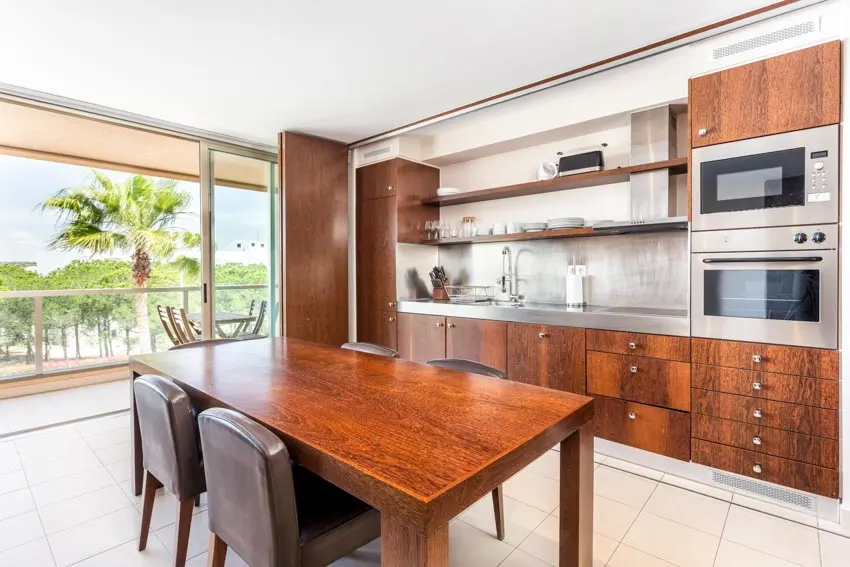 Cherry wood is treasured by many furniture makers. One thing that is unique about it is that it becomes more and more beautiful as years go by. Exposure to sunlight and air give it a deep and elegant color that increases as time passes.
Its grain is smooth and its color ranges from light pink to reddish-brown. It is also considered a hardwood. Different types of cherry wood is popular among antique collectors and hobbyists as many cherry pieces of furniture are hand-carved and unique.
Pros of Cherry Shelving

Besides the uniqueness and rustic design of the pieces of furniture made from cherry, there are other benefits that swayed the opinions of collectors towards this option.
• Lightweight: Cherry is a soft hardwood that's lightweight and so can be easier to transport for delivery or move around at home if you decide to rearrange your furniture.
• Easy workability: More than just the collectors, cherry is also a favorite of novice woodworkers since it's easy to work with, including flexible carving, shaping, and polishing. It has a straight and fine closed grain pattern that makes the wood easier to stain.
• Strong and durable: With a 950 Janka hardness rating, cherry wood is considered relatively strong for soft hardwood.
• Beautiful aesthetics: Cherry wood stands out with its rich and warm reddish hue that gets darker over time, showcasing a stunning rustic vibe and extremely stunning aesthetics, which is also one of the reasons why it's a favorite among antique collectors. More than its famous red hue, cherry also comes in white, yellow, and dark brown hues.
Cons of Cherry Shelving

Like every type of wood, cherry also has its drawbacks to take note of, including the following:
• Expensive: Cherry wood is expensive and can set you back as easy as $100 per board (5 feet) with the price depending on the density of the wood.
• Prone to moisture damage: Treatment is a vital part of cherry wood considering it is susceptible to moisture damage.
• Shows dust and dirt easily: The surface of this wood can easily show dust and dirt so make sure to regularly wipe it down to avoid buildup.
Red Oak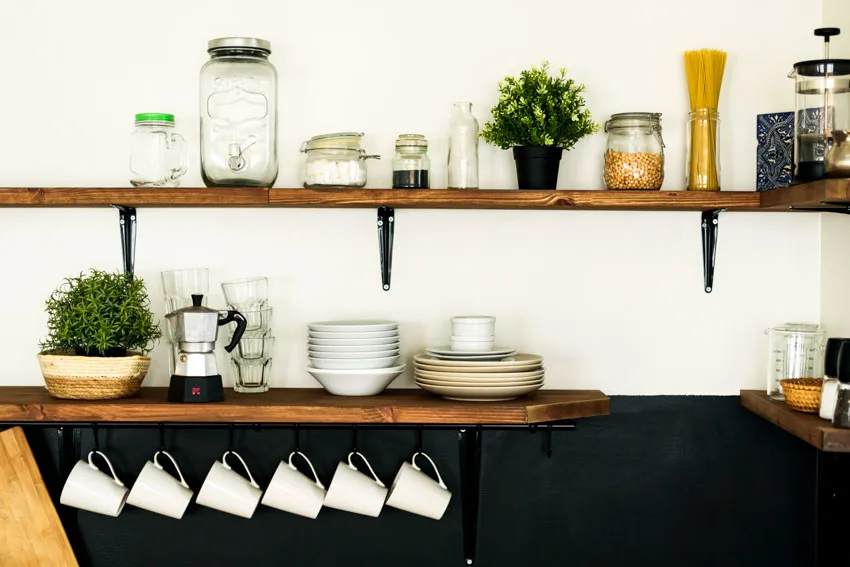 Red oak is an ideal wood option for cabinets, doors, and other pieces of furniture. Besides cherry wood, this type of wood is also a favorite among hobbyists, as well as entry-level carpenters.
Shelves intended for the bathroom and kitchen are often made of oak wood because it is resistant to water. There are two types of oak wood based on color. One is white oak and it has a white to creamy tan color. Red oak features a light pink tone.
Oak wood is durable and can last a long time. It is easy to work with and it possesses natural beauty. It comes in different varieties but the most popular are red and white oak wood varieties.
Pros of Red Oak Shelving

Red oak is another sought-after wood for a reason and this includes the following:
• Exquisite aesthetics and color: Red oak has stunning hue saturation of light brown and reddish pink swirling in a watery pattern.
• Highly durable and versatile: With a Janka hardness rating of 1290, this type of wood is a strong hardwood and can take a moderate weight capacity of up to 35 lbs. See pictures of red oak wood kitchen cabinets here.

• Inexpensive: Unlike other hardwood, red oak is more affordable and appears fancier and more expensive than other wooden options because of its stunning red grain.
• Easy workability: Red oak is considered an easy hardwood to cut, sand, and handle, making it much easier to work on and customize. Considering its coarse texture and wavy grain pattern, the wood can absorb stain easily and so polish without bloating.
• Scratch-resistant: This type of wood is resistant to scratches and so this is another less worry for you.
Cons of Red Oak Shelving

While relatively durable, red oak has the following drawbacks you need to be aware of.
• Easily dents: While scratch-resistant, red oak can easily ding and dent with force or pressure.
• Poor moisture resistance: Red oak can easily get damaged by water and when exposed to a high amount of moisture can turn wood black.
• Expensive: This type of wood is still a costly wood option compared to other types of wood.
Maple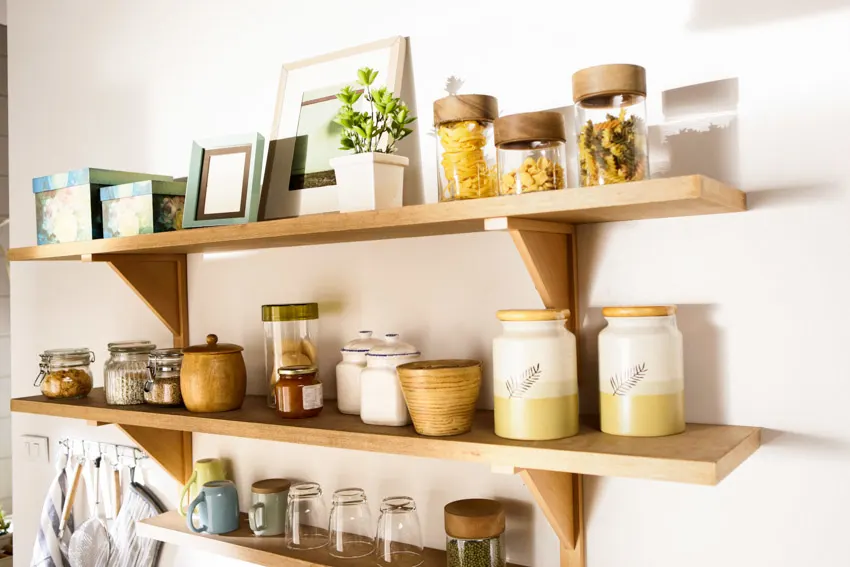 Maple wood or sugar maple wood is one of the most popular hardwoods used to make sine furniture as well as shelves. Staining the wood can make it look discolored. It is better to leave it unstained. Its bright to white tone and even grains make your shelves stand out in your home.
If you're going for something compatible with many types of wood, maple is a good consideration. It is an ideal wood option for cabinets, flooring, and furniture, particularly floating shelves.
Pros of Maple Shelving

Maple shelves can be a good option for you, especially since they provide the following benefits:
• Strong and durable: With a Janka hardness rating of 1450, the shelves can accommodate up to 50 lbs of weight capacity on every shelf.
• Pretty aesthetics: More than just a straight grain, its white and reddish-brown hues are stunning to look at.
• More affordable: Compared to other hardwood options, maple is an affordable choice.
• Resistant to dents and scratches: When exposed to force, maple shelves won't be filled with dents and scratches.
• Easy workability: Maple is a wood option that can easily be subjected to machine tools and absorb stain excellently.
Cons of Maple Shelving

Aesthetically pleasing, maple is an incredible option but there will always be some drawbacks, including the following:
• Requires sealing: To protect the wood, you need to seal it first before you can even stain them.
• Not much grain variation: Some see this aesthetic as unattractive, plain, and boring.
• Not weather resistant: Maple is sensitive to moisture and humidity so you need to use this wood indoors and avoid having it outdoors.
Birch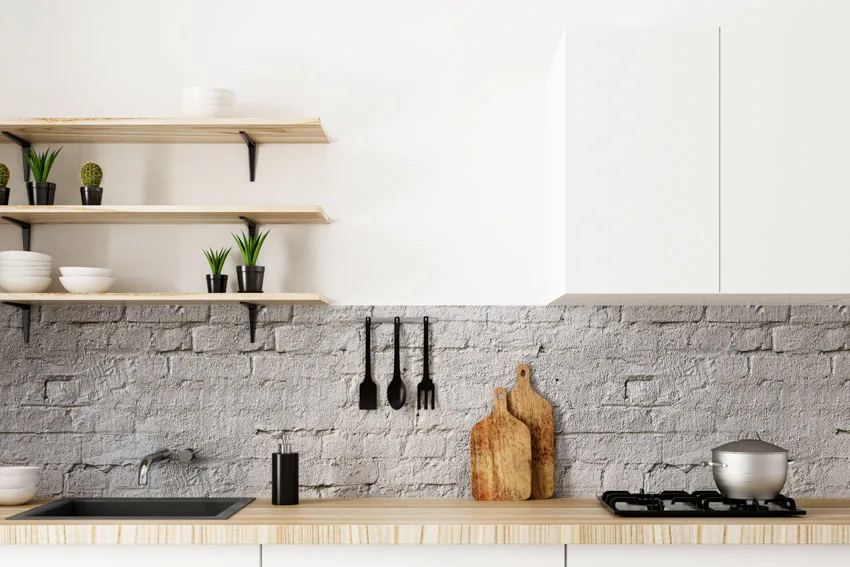 Birch is an excellent option for cabinets, doors, pieces of furniture, and even toys and it can be used to build sturdy shelves for your room.
Pros of Birch Shelves

Here are some of the advantages you can get from birch shelves:
• Strong and durable: Birch is a strong wood option for shelves and can withstand wear and tear without sagging or being broken down.
Birch is odorless and cannot in any way affect goods prone to absorb strong odors from the package in which they are contained. – American Lumberman, 1909
• Easily painted: This type of wood can easily absorb paint that if you want to apply another color, it will look good on it.
Cons of Birch Shelves

Take note of the following drawbacks you can get with birch shelves:
• Expensive: Like most wood options, birch comes with a high price tag and you need to be prepared for it if you choose this type of wood.
• Gets damaged in dry environments: Birch is not suitable for excessively dry environments and can cause the wood to crack and warp.
Douglas Fir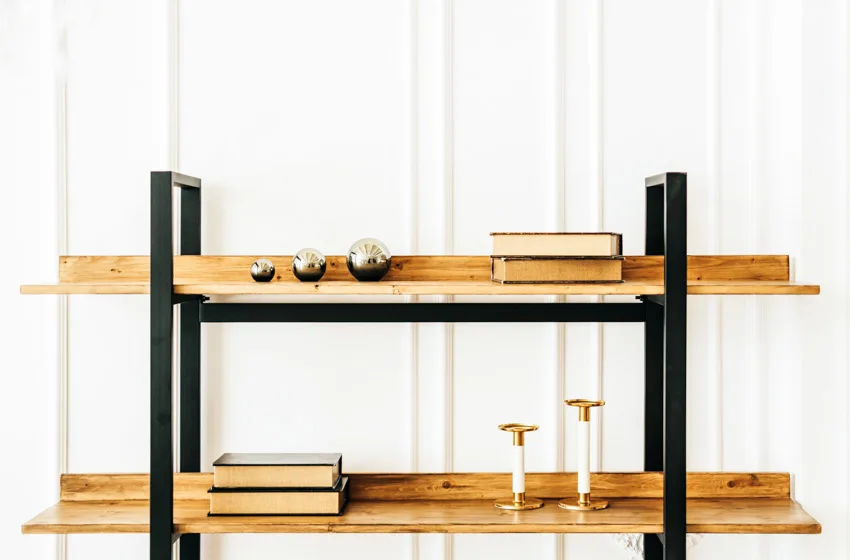 Douglas fir is a good choice for door and window frames, as well as lightweight pieces of furniture. It is a softwood option that can only accommodate light to medium weight capacity for shelving so you need to take note of that. It is also only found on the eastern and west coasts of Asia.
Pros of Douglas Fir Shelving

DIY and woodworking enthusiasts consider douglas fir the best softwood option for shelving purposes because of the following benefits it offers.
• Affordable option: This softwood is cheaper compared to other options like hardwoods.
• High strength rating: Among softwood options, douglas fir is a favorite because it has the highest strength rating.
• Commonly available: since the tree has a short growth span, it can be easily available in the market.
• Easy workability: Douglas fir is a versatile wood that can work well with machines and other tools so you can DIY your shelves without ease. The surface is so easily paintable but staining it is a better choice.
• Hard and durable: With a Janka hardness rating of 660, douglas fir is just durable and hard enough to be versatile, making it a good material for construction and also be made into a good quality shelf.
• Elegant and fancy aesthetics: It is an affordable option you can choose if you have a limited budget but desire the elegant aesthetics of an expensive hardwood option. The wood has a straight and rich close-grain pattern coupled with light brown and yellow hues that turns red over time.
Cons of Douglas Fir Shelving

While douglas fir remains a favorite, it also has its drawbacks including the following:
• Gets affected by wear and tear in time: Since it is not a strong wood option, it is prone to the effects of wear and tear over time.
• Limited weight capacity: You need to avoid putting excessive weight on the shelves if you want to preserve its value and function.
• Can easily dent or scratch: Since it is softwood, it doesn't have the features of scratch-resistant hardwood.
• Difficult to stain: Because of its close-grain pattern, it doesn't stain well.
• Can deteriorate because of insect attack: While it is moderately resistant to rotting, it can get affected by insect attack and deteriorate.
Tigerwood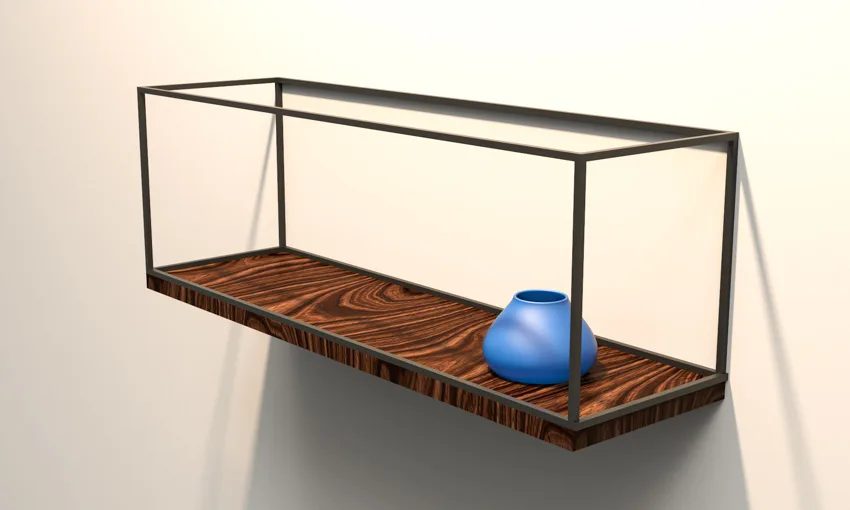 Tigerwood, also popular as Koa, is recognized for its extreme strength and hardness. This is why it is an excellent choice for elements in your interior spaces, from your dining room to your bedroom, as well as in building accessories, clocks, and different pieces of furniture.
Pros of Tigerwood Shelving

Expect the following advantages when you choose tigerwood.
• Top-notch hardness: Tigerwood has a Janka hardness rating of 1220, which is considered moderately heavy.
• Lightweight: Despite being a hardwood option, this wood is lightweight and so easier to move around while making the shelves.
• Distinctive look: This type of wood comes in naturally stunning aesthetics achieved by its interlocking wood grain and dark brown to reddish-gold hues.
• Weather and water-resistant: Tigerwood is capable of withstanding extreme climate conditions and exposure to moisture without getting affected or damaged.
Cons of Tigerwood Shelving

If you choose tigerwood, take note of these accompanying hassles.
• Challenging workability: This type of wood is not recommended for first-time DIY woodworkers since it's tough to handle and work with.
• Expensive: Compared to other hardwood options, this type is costlier.
• Limited availability: Some retailers may consider tigerwood hard to find.
African Padauk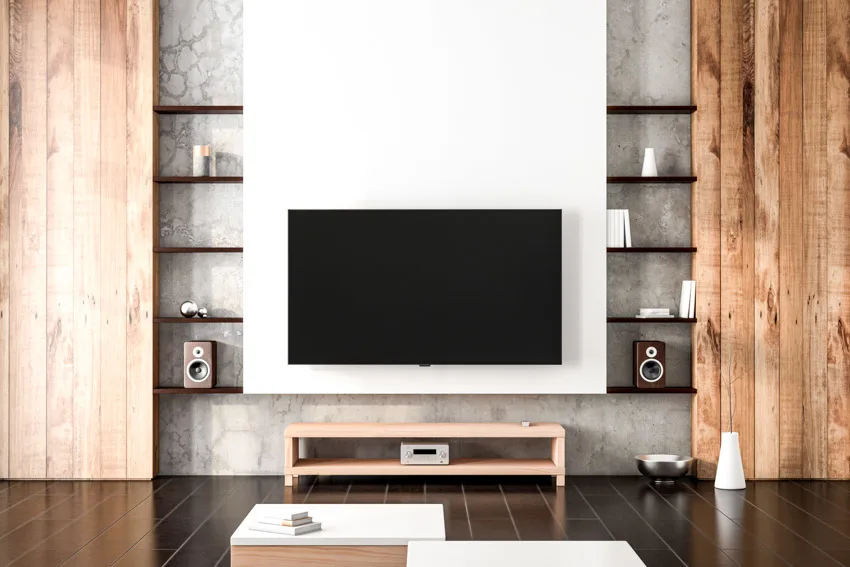 African padauk is a wood ideal for carving, flooring, and furniture making.
Pros of African Padauk Shelving

Check out these benefits you can expect.
• Incredibly versatile: This type of wood is easily customizable and can be chosen as a material for indoor shelves.
• Many color options: It can easily fit any style or design since it comes in a variety of colors to choose from.
• Termite and rot-resistant: You won't have to worry about damages brought by termites and rotting.
Cons of African Padauk Shelving

And here are the drawbacks of choosing this type of wood.
• Difficult to find: Considering it is not a common wood, African padauk may not be always available at wood sellers.
• May cause allergic reactions: This type of wood emits a particular odor you need to get used to at first and may cause some allergic reactions.
Pine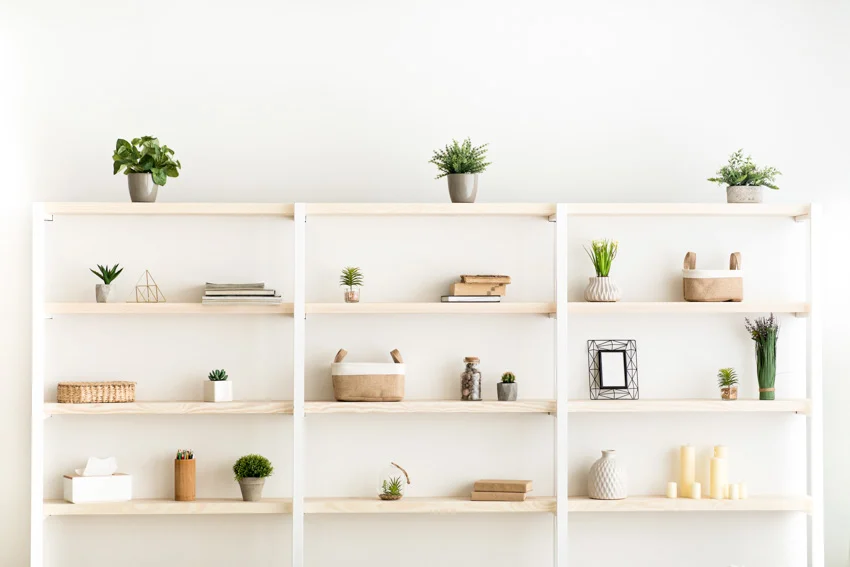 Pine is one of the most popular types of wood you can use for shelving and is even readily available all over America. It is ideal for lightweight and children's furniture.
Pros of Pine Shelving

Considered to be an ideal choice for beginners and first-time woodworkers, here are some of the benefits worth taking note of.
• Affordable: Pine is cheaper compared to other materials you can use for your shelves.
• Lightweight: Transport and moving the wood around is easier with this wood.
• Effortless workability: Working with pine is more convenient since it is easier to sand, cut, painted, and even be stained which is why it is a good option for first-timers.
• Attractive aesthetics: Pine shelves showcase pretty aesthetics with yellowish-white hue and brown knots scattered all over the wood's body. This gives the wood a cozier and rustic vibe to it, perfect for your home.
• Durable enough: With a Janka hardness rating of 870, this type of wood is not the hardest and strongest but it can be made into small and lightweight shelves perfect for your children's room with proper installation (complete with drywall and brackets) can hold 40 to 50 lbs.
• Resistant to swelling and shrinkage: Pine is resistant to shrinkage and swelling, which is one less thing you have to worry about and can help the shelves last longer.
Cons of Pine Shelving

Before you choose pine for your shelves, make sure you take note of the following disadvantages you can experience with this type of wood.
• Requires sealing: Pine is a softwood that requires sealing to protect the wood and extend its life.
• Prone to breaking, denting, and scratching: Considering this wood is not a strong one, it is prone to breakage and other forms of damage, which is why sealing the material is vital.
• Limited weight capacity: You can only store lighter objects on pine shelves and once going over the weight capacity, the shelves are bound to sag. One thing you can do is to use thicker wood planks for additional support.
Alternative Soft Wood Shelf Choices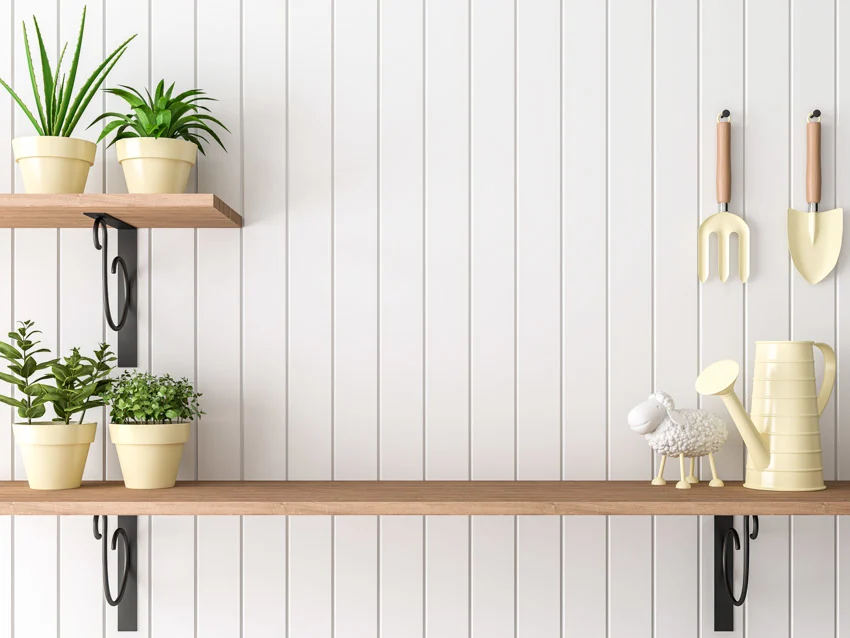 Here are a couple of softer wood choices that make good wood for shelving:
Poplar Wood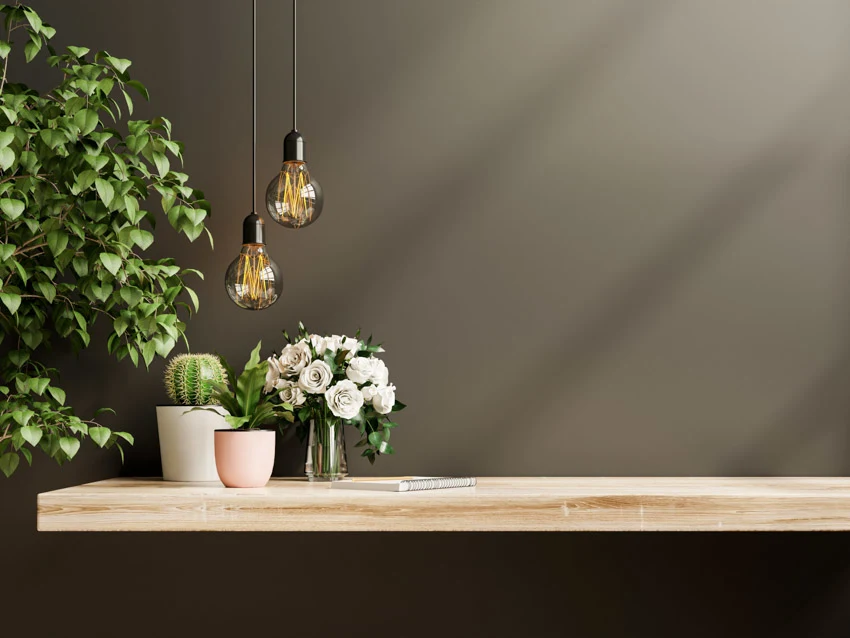 Poplar is a strong wood but it is not as strong as a hardwood. It is white with streaks of green or black. It is good for painted shelves because it takes in stains easily. It is ideal for making furniture, picture frames, and cabinets.
A newly cut poplar is wet and soft but when it is dry, it becomes hard. Unlike other hardwoods, it is easy to manipulate or work on. You can make whatever design you want. Make sure that the cutting tools you use are sharp to prevent tearing them. Use slow speed when working on it.
Using poplar wood is economical because it is inexpensive. Prevent wasting wood by making sure you use low speed when using tools.
Alder Wood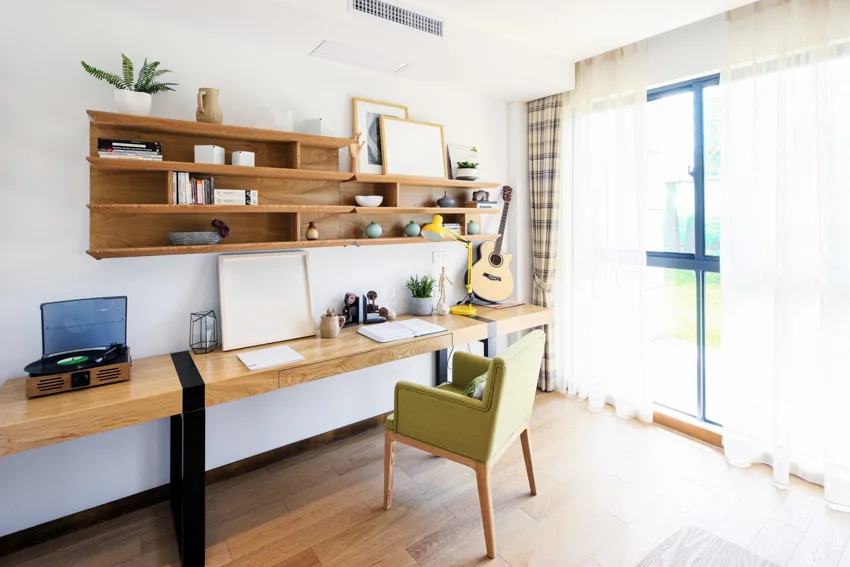 Alder wood is a soft wood but it is considered the hardest among them. It has a light pink to tan color and can be easily stained. Working on alder wood is easy because it is not prone to chipping or breaking.
Knotted alder has lots of character and is quite popular. It is easy to stain and can easily look the same as other woods. In terms of pricing, it costs less than other woods.
For those always on the lookout to save, using alder wood can be an economical choice. See some examples of alder wood cabinets here.

Strongest Wood For Shelves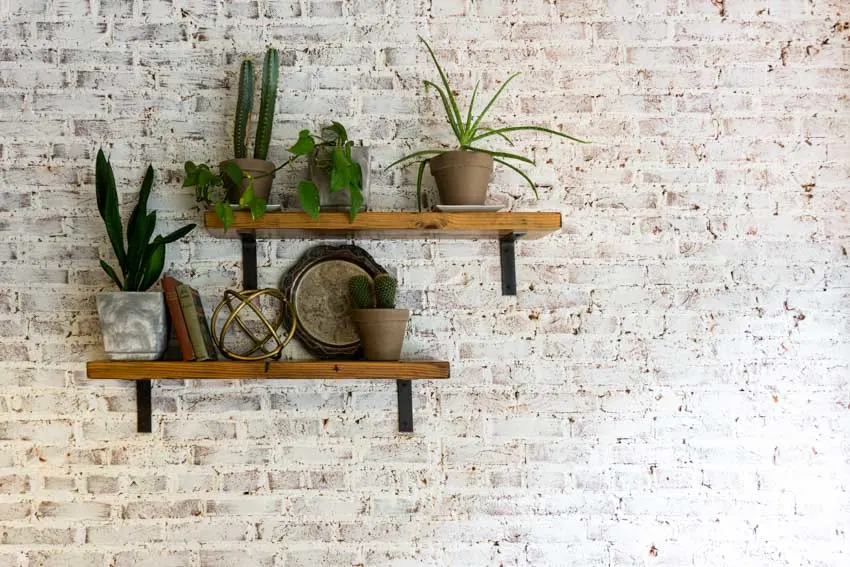 If you're building shelves that will be the home for heavy objects like musical instruments and books, you need strong wood capable of carrying them. Some of the best options for this task are the following:
• Walnut: Janka hardness rating of 1010 with a weight capacity of 50 lbs.
• Maple: Janka hardness rating of 1450 with a weight capacity of 50 lbs.
• Red oak: Janka hardness rating of 1290 with a weight capacity of 35 lbs.
• Tigerwood: Janka hardness rating of 1220 with a weight capacity of 50 lbs.
What Is The Cheapest Wood For Shelves?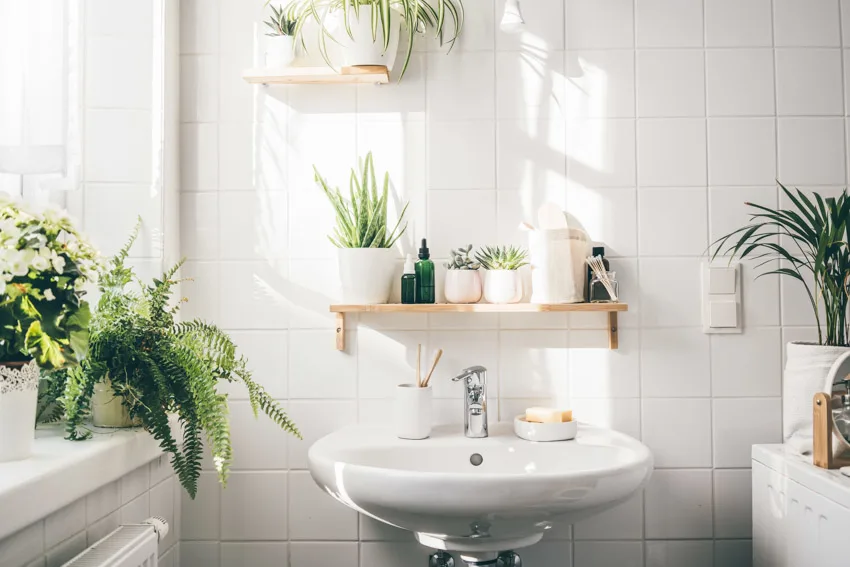 If you have a tight budget, you still have a chance for wooden shelves but your options are quite limited. If using solid wood for making bookshelves is beyond your budget, there are many inexpensive kinds of wood that you can use such as hardwood plywood.
These are made from slices of wood from pine, oak, cherry, maple, or poplar that are put together using glue to reach a certain thickness. They are cheaper than solid wood but they feature the same color and grain structure.
When using plywood for shelves, use those with ¾ inch thickness. Some of the cheapest solid wood options you can use for your shelves are the following:
• Maple: This is one of the cheapest hardwood options you can have and costs around $8.5 per plank.
• Pine: This softwood may be less durable but it is way cheaper and costs around $3 to $9 for plank.
How Thick Should Wood Be For Shelves?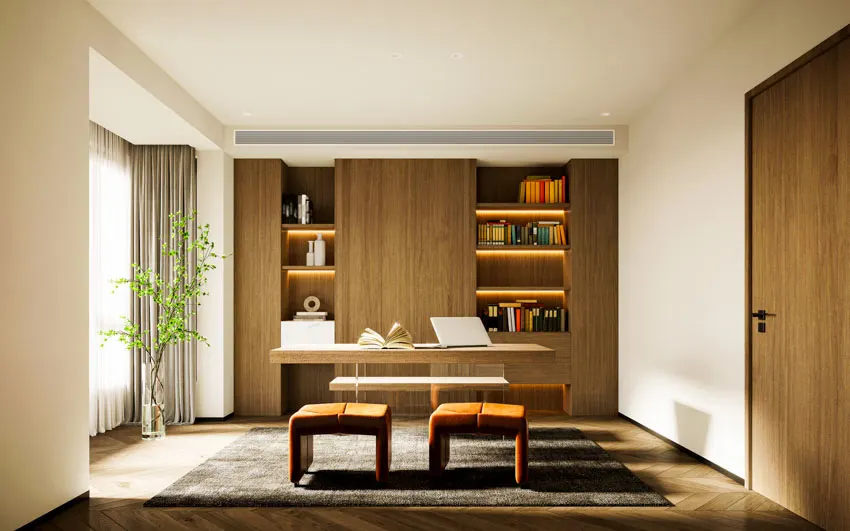 The thickness of the wood ideal for shelves depends on the type of wood you choose to build them, as well as the objects you will store on the shelves.
If you're going for some sturdy to serve as a home for heavy objects like books, musical instruments, and electrical appliances, hardwood is an ideal option. Heavy duty hardwood shelves need to be at least 1 and ¼ inches in thickness
For less durable shelves though to accommodate lighter objects, ¾-inch thick shelves are enough. Normally, lightweight shelves made of plywood or hardwood are ¾ inches thick and have a width of 30 to 36 inches. How deep it is will depend on the kind of objects that you want to place on them.
Floating shelves designed for light and small items may be two inches thick. Even without reinforcement, it is likely that the floating shelf will not sag when loaded.
A two-inch floating shelf will be strong enough to support the weight of its contents without appearing too bulky. However, keep in mind the thickness of a shelf highly depends on what you plan to place on it.
Is MDF Or Pine Better For Shelves?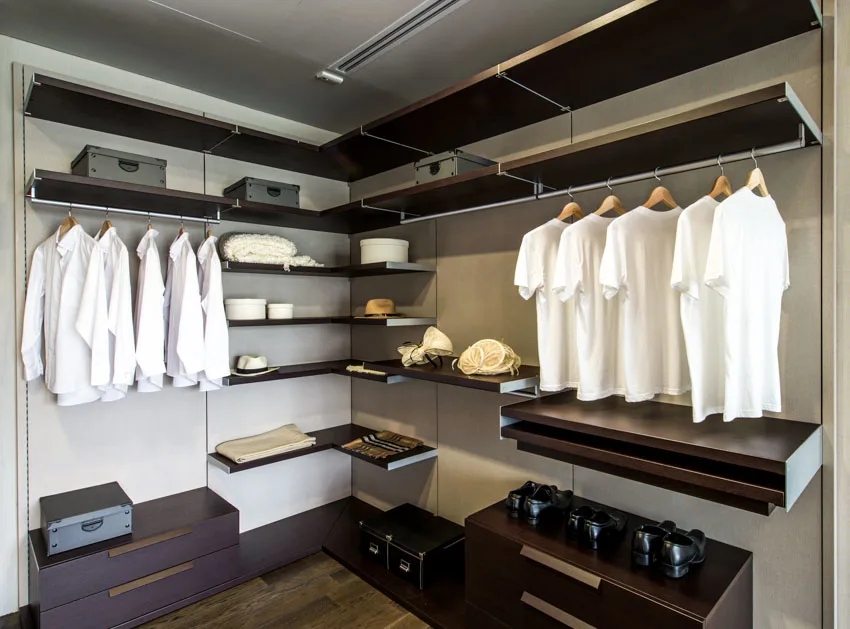 MDF or medium-density fiberboard is not made of real wood but engineered wood fiber. It's an affordable option you can use for your shelves that can also be easily cut with intricate carvings and designs. If you want a cheap, lightweight solution with smooth and knot-free shelves then MDF is a good choice for you.
Compared to pine wood which is solid wood, pine is better. It might be classified as softwood but when used with the right dimensions when making shelves, pine wood could be durable and long-lasting.
Pine shelves cost more but have this authentic and rustic feel to them made possible by their knots and natural imperfections. With proper sealing and maintenance, pine can last longer than MDF.
Pine is easier to install because it can hold nails together. Using nails on MDF is ineffective because they easily become loose and fall off. It can get easily damaged compared to pine.
Wood for Floating Shelves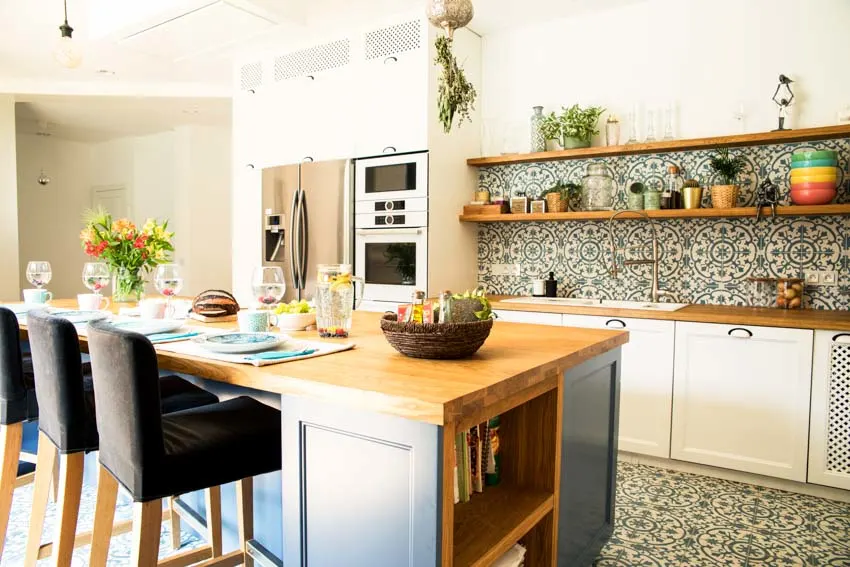 Floating shelves are short pieces of wood installed on a wall. It is attached by brackets hidden behind the shelf itself. Floating shelves are used as storage spaces for items that are small enough for full-sized shelves.
Floating types of shelves need to be sturdy enough to accommodate the objects that will be placed on them. But they also need to be lightweight enough to be mounted on the wall without damaging your walls.
Here are the best woods to use for floating shelves:
Walnut: Walnut is durable and strong, with a high hardness rating. The grains are straight and the wood has a yellow to brown hue. It retains its natural beauty despite being exposed to air or sunlight.
Shelf makers prefer it because it is easy to manage and design. You can also apply paint easily or taint it to make it look old. The wood is light so you can easily install it.
Mahogany: If you are planning to display books on a floating shelf, use mahogany wood. It is harder than other woods. Yet, you can easily work on it.
Mahogany is ideal for a floating bookshelf. Install it higher so that children cannot reach it. You can rely on it not to sag or not to give under the heavyweight.
Red Oak: This type of wood has a reddish color. It can easily absorb sain without making it too visible. It can absorb moisture and stains. Yet, it does not get deformed when polished.
You can paint or stain red oak easily, allowing you to make finishing touches easily. It is strong, can last long, and shelf makers can easily work on it.
Pine: Pine wood is considered softwood. Yet, it is quite durable. If you want to enhance the aesthetic appeal of your home, installing floating shelves made of pine will be an excellent idea.
Using short and thick planks of pine wood will prevent it from sagging. Pine also does not shrink or swell and has beautiful wood grain. It is also budget-friendly.
Wood for Closet Shelves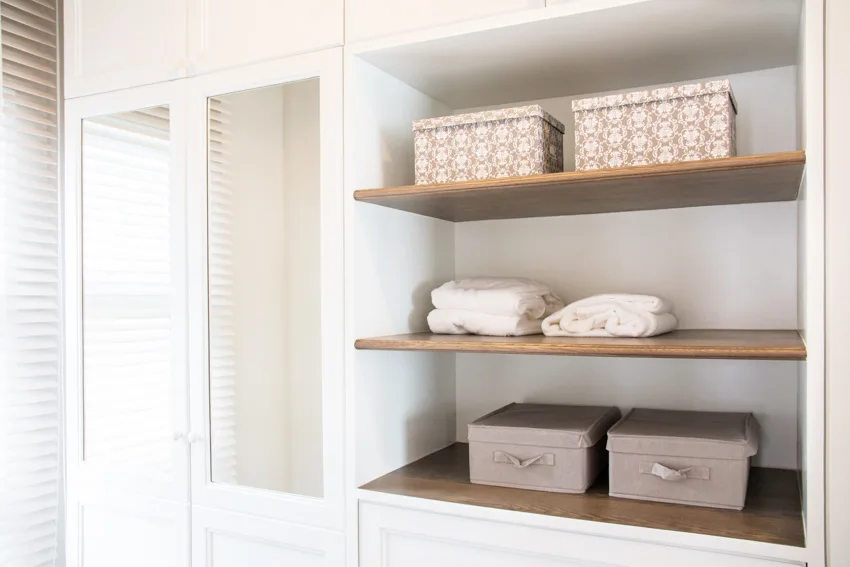 Closets serve as storage for clothes and other items. It can provide the ventilation needed to prevent mold or mildew from infesting your clothes.
What is the best wood for closets? If price is not a real concern, cherry wood is the best wood for making a closet.
Cherry wood is hard and durable. It can make a room look elegant with its light pink to reddish color. The color of cherry wood changes as years pass by. If you want to build an impressive wardrobe, use a closet that will always look elegant despite its age.
Other good materials for closet shelves are plywood and pine.
Wood for Pantry Shelves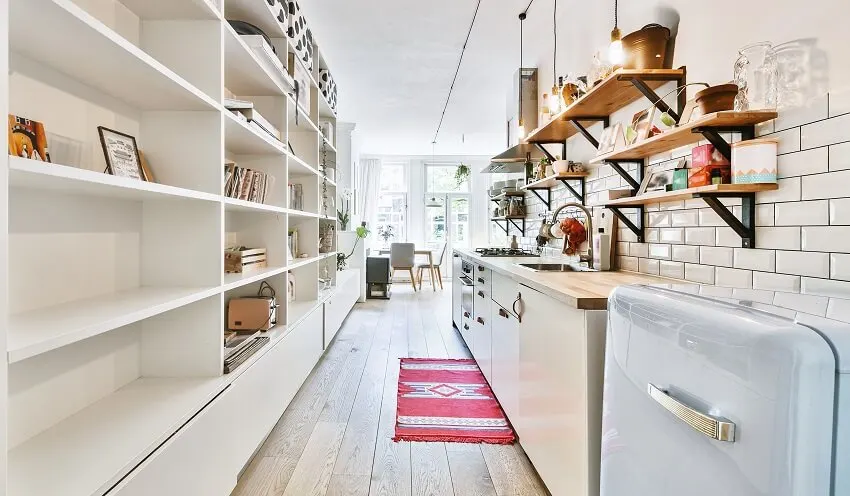 Pantry shelves are used to store food, drinks, linens, cleaning products, and other items that are needed in the kitchen. Pantry shelves need to be strong because they have to support some heavy loads.
Poplar, oak, and other hardwood are ideal for this project. However, if you are budget-conscious, plywood will do. Use plywood with ¾ inches thickness to ensure that it can support whatever you keep in your pantry.
Still, solid wood may be expensive but they make the sturdiest and best for long-lasting pantry shelves.

Woods To Avoid When Building Shelves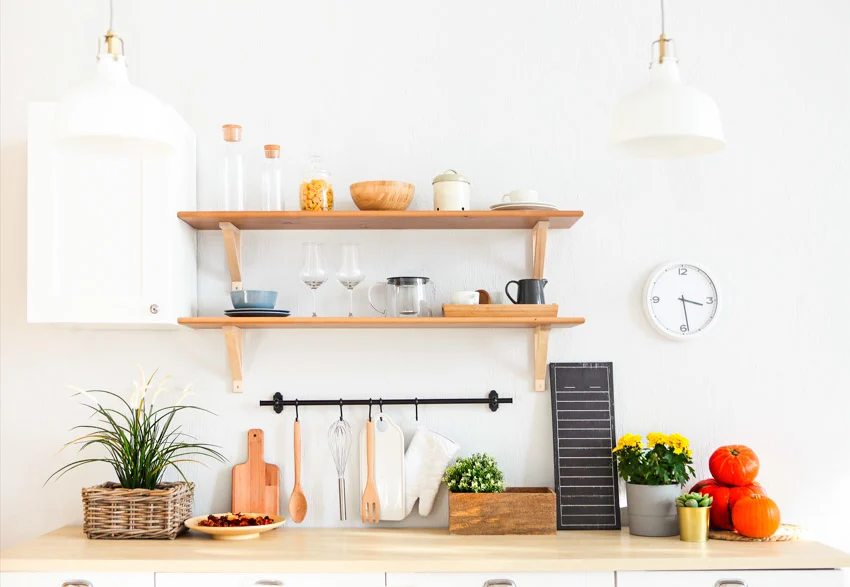 While there are wood types that are highly recommended for making shelves, there are also some that must be avoided when making shelves that will be used for heavy items. Shelves need to be strong and sturdy enough to accommodate the objects you want to display and store on them.
Depending on the type of shelf you're making, there are some wood and materials you need to avoid. Bookshelves particularly need something sturdy and durable to carry all that weight without sagging.
In general, here are some shelving materials to avoid:
Particleboard: Particle board is made from wood shavings, waste wood parts when timbering, and other unused parts of trees made into wood wool and mixed with glue. Heat and pressure are applied to the mixture and then, it is dried.
This engineered wood cannot withstand a heavy load and may sag in a short time of use. Although it is cheap, you will need a replacement frequently. It can also break and cause damage to whatever you are putting on it.
Softwoods: Many different types of wood are considered softwood. Although they are durable, they may not be suitable for heavy-duty bookshelves designed to contain a large number of books.
Yet, many of these can be made into floating shelves and may last if they have lightweight contents. The span should also be short so that they will not sag in the middle.
For the softwood options, douglas fir and pine are exceptions since they are durable enough to carry weight and be used to build good-quality shelves.
MDF OF Major Density Fiber Board: MDF is made from wood fibers and pressed hard; it is stronger and denser than particle boards. If your purpose is for decoration, this type of engineered wood is very handy.
It has a smooth surface and is easy to cut. If you think of making a floating shelf, you can use it. But be careful about the weight of the items you place on it. They must be lightweight. Heavy objects can make it sag and get damaged.
Plywood: Plywood is a manufactured building material made of several layers of thin slices of wood glued together. Although thin ones may not be good shelving material, those with ¾ inches thickness or thicker can be used for making shelves.
Because they are made of real wood, they are more durable than fiberboard and particle board. Still, plywood cannot beat solid wood where durability and longevity are concerned.
Tips For Building Wood Bookshelves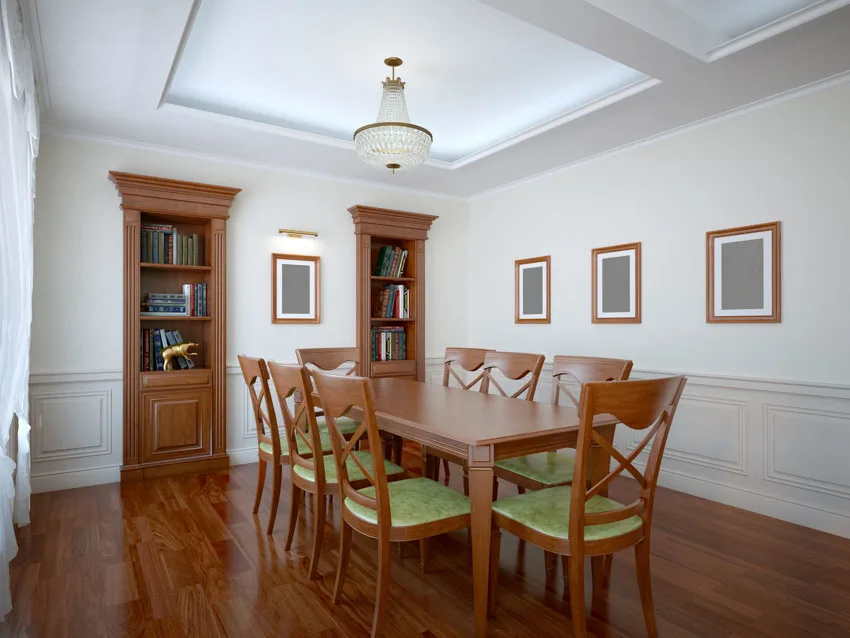 Are you excited about doing your wood bookshelf but do not know exactly how? Stop worrying. Here are some tips on how to build a bookshelf made of wood.
1. Decide what type of wood you want to use. Some books are sturdy and heavy. So, you will need a sturdy bookshelf. Using hardwood is expensive. The less costly option is to use plywood with a hardwood veneer. You can have birch, maple, cherry, teak, and walnut.
2. Rip the plywood into boards. Make sure the boards are of the same width to match the depth of the shelf you are planning to make. You can ask the lumberyard where you buy the plywood to do it for you as long as you have provided the right measurements.
Prepare the wood by sanding it, priming, tainting, and drying it before cutting it into parts and assembling it.
3. Make measurements of the parts for your desired size of bookshelf and cut them accordingly to suit your design.
4. Drill holes for the vertical section. You can also use brackets to support the parts.
5. Hang the vertical section on the wall and slide the boxes where they should be. You now have a wood bookshelf.
With your knowledge of the wood types to use for each kind of shelf, you can harness your skills to make impressive wood shelves for your home.
Shelves made of high-quality wood can last a lifetime. It can be used by several generations and make them an heirloom to your family.
See more related content in our article about built in bookshelves on this page.