This gallery of glass subway tile backsplash designs features what it is, different types, colors, sizes, cost, and glass tile backsplash kitchen ideas.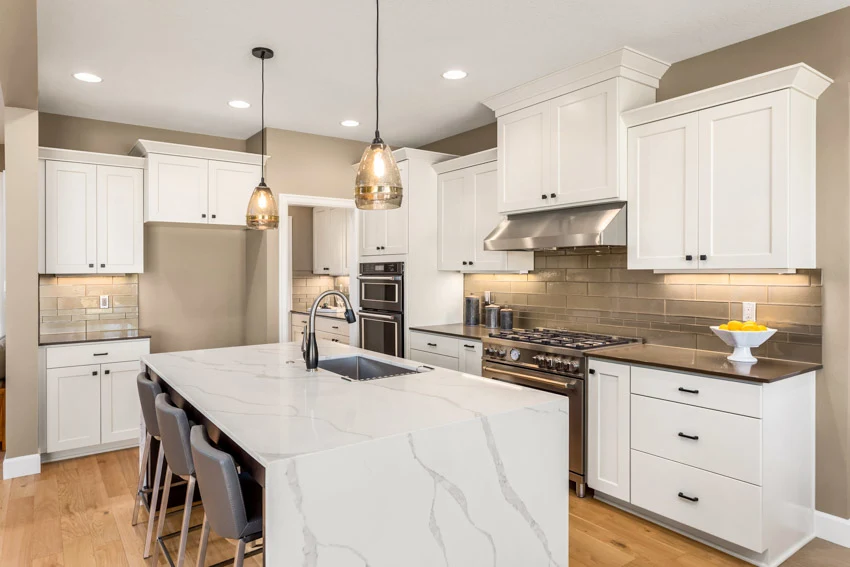 Subway tiles were first used in New York City's subway system when it opened in 1904. The designers needed to create a surface that could be easily cleaned. They also required a long-lasting material that would offer a feeling of familiarity, safety, and a friendly ambiance to city-dwellers using underground transit for the first time. The result was subway tile.
What Is Glass Subway Tile?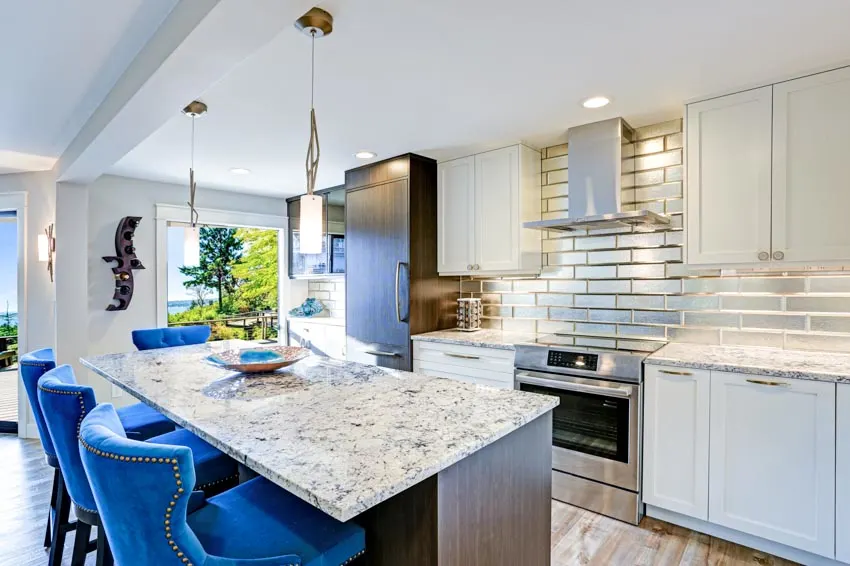 Traditional subway tile features a rectangular shape that measures about 3" by 6" in diameter. However, modern subway tiles come in many different dimensions.
Glass subway tile is designed to have slightly curved edges and a glossy finish. The glossy and glazed finish of these tiles provides a material that is stain-resistant, easy to clean, and reflects light. These subway tiles provided a sanitary, polished, and bright feel to the space.
A glass subway tile is a paste or glaze that is fired at a high temperature and then emptied onto a tile press afterward once cooled, the tile forms and are cut and then sorted.
According to a source in the Washington Post, the first versions of the tiles used in the Manhattan subway were made of white glass. Since then, glass subway tiles have remained a classic element in residential designs. Glass subway tiles are simple yet chic in their appearance. They are trendy and can adapt to changing times and styles.
Glass Metro Tile Backsplash Colors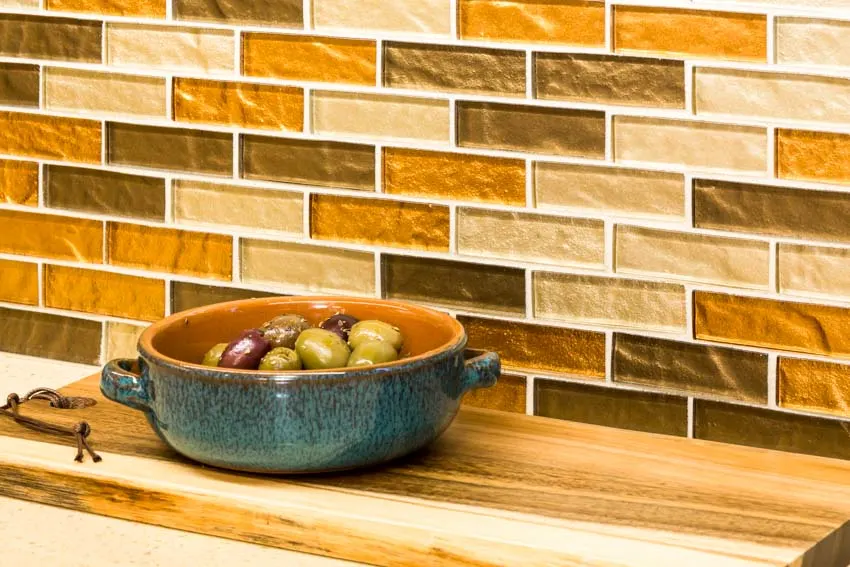 White is the most conventional subway tile color that creates a seamless flow from the wall cabinets down to the countertop. However, glass subway tiles offer diverse and unique designs and are commonly available in a variety of patterns, textures, and colors ranging from neutrals to bright solids.
These colors can add sophistication and a modern flair to the original subway tile design concept. The colors of this material allow homeowners and designers to customize the appearance of the glass subway tile kitchen backsplash and coordinate with other finishes and décor.
Glass subway tiles create a focal point for the kitchen area. They come in an abundance of vibrant colors, multi-dimensional tile patterns, and backsplash designs. The different colors of the glass subway tile backsplash allow a kitchen color scheme to be as subdued or bold as per the homeowner's preference.
The light and bright tones of glass subway tile can help reflect natural light off of their shiny surface and make a small space appear much larger. The natural high polish finish of glass subway tiles also helps increase light in the room through reflection. Thus, creating a beautiful glow that spreads throughout your entire kitchen.
These glass subway tiles are ideal for backsplash due to their stain resistance and non-porous properties. It can withstand wear and tear without compromising beauty. In addition to tile color, choosing the grout color can create a different and trendy look.
Types of Glass Station Rectangular Tiles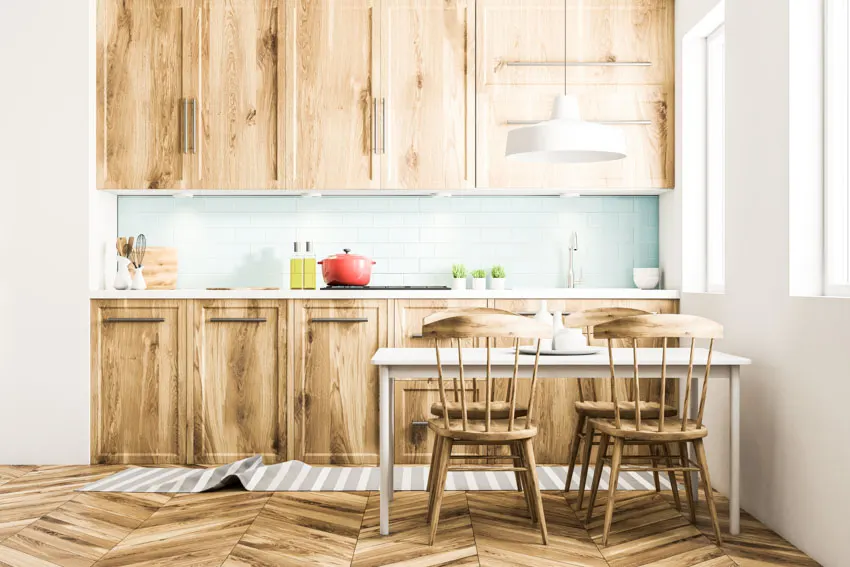 Glass tiles have been around for many years, and it adds a unique element of beauty throughout the home. Today, there are a variety of styles and an increase in its durability through modern production methods.
• Beveled glass subway tile: Beveled glass subway tile has sloped edges that slightly increase the depth of the design. This type of glass subway tile often gives a retro feel to a space. The clean and simple lines are versatile enough for transitional and contemporary kitchens.
The most common layout for subway tiles is the usual horizontal brick-joint pattern. However, there are a variety of interesting new patterns to incorporate, such as a vertical brick pattern.
When applied as a backsplash, it opens up the space making the walls appear taller and looking spectacular. For a more dramatic look, beveled glass subway tile can also be arranged in a chevron or herringbone pattern.
• Glass mosaic subway tile: Glass mosaic subway tile offers incredible visual glamor and dimension to the kitchen backsplash since it comes in an array of shapes, sizes, and colors.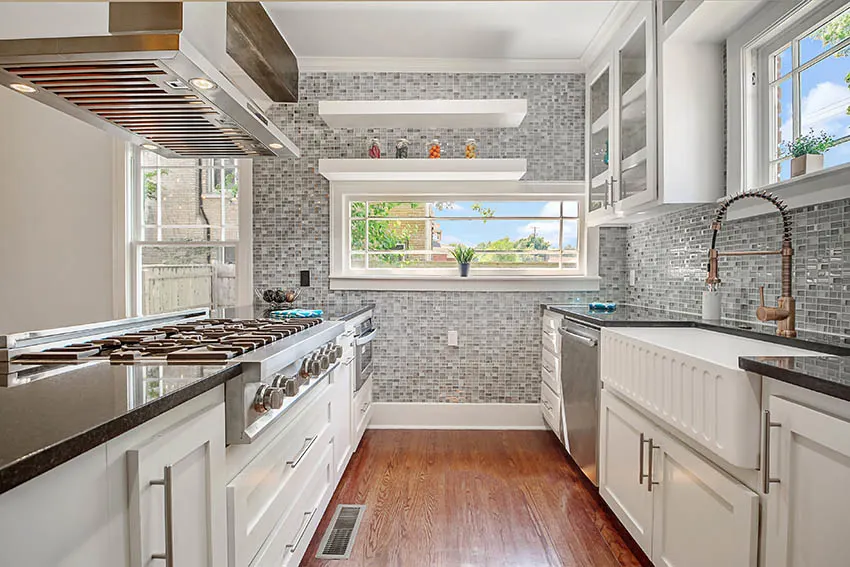 Due to the glass mosaic subway tile's versatility, it gives homeowners flexibility in designing and customizing the appearance of their dream kitchen. These glass mosaic subway tiles can also reflect light, giving an alluring and remarkable element of design.
The shading blends of different shapes create a brilliance that causes neutral tones to display a feeling of boldness and a high-end look. Glass mosaic subway tiles have their uniqueness that brings contrast to the design scheme.
• Sea glass subway tile: True "sea glass" formed in the ocean takes decades to develop. Actual corrosion takes place between the glass and in the salt water. Minerals within the water react with the soda and lime creating a smooth, frosted surface over the glass to signify its time in the water.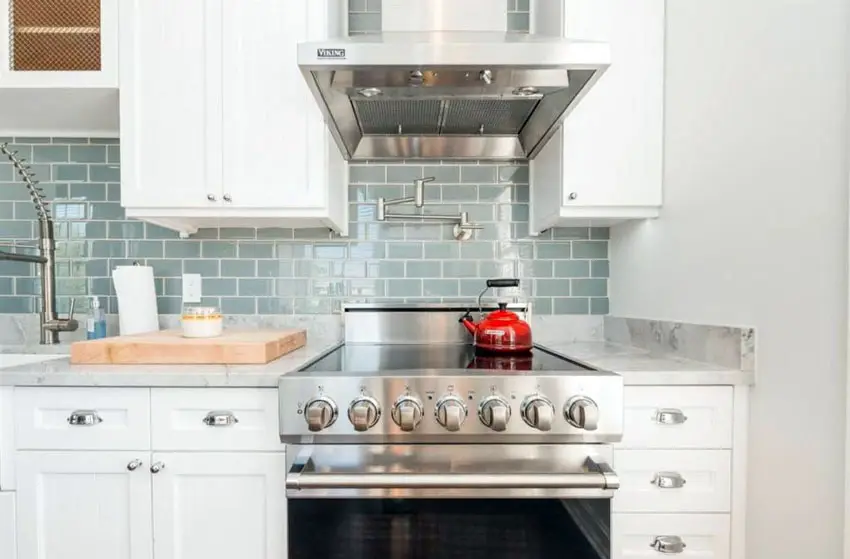 On the other hand, sea glass subway tiles take inspiration directly from actual sea glass found along the shorelines and from natural elements found at the beach. Sea glass subway tiles have versatile colors that go well with any home style.
• Stacked glass subway tile: Stacked glass subway tile is the newest and modern twist in the layout of glass subway tile and is laid out without an offset. The ultra-contemporary clean and sleek lines visually widen or elongate the space. It allows an option to lay the tile, either horizontally, vertically, or even diagonally, as in a herringbone pattern.
Horizontally stacked subway tile is closest to the classic subway tile design, yet it takes on a new life and geometric appeal using this layout.
This layout is best applied in narrow spaces because it visually widens the area and makes it feel roomier.
On the other hand, vertically stacked glass subway tile tends to be more contemporary since it alters the subway tile's offset and its traditional direction. The layout draws the eye upward and visually elongates a space in terms of height.
Using white for stacked glass subway tiles can help retain some of the vintage feels of traditional subway tiles. The stacked glass subway tile backsplash looks beautiful in horizontal and vertical layouts, especially if you add some open shelving.
Mosaic stacked glass subway tiles are also popular since they can be laid out vertically or horizontally. The size of these tiles plays a vital role in shaping your design, and the layout creates texture.
• Peel and stick glass subway tile: One of the best home remodeling alternatives is using peel and stick backsplash glass subway tiles. This product is considered innovative and one of the quickest, easiest, and cheapest solutions to replace or update your backsplash.
Installing peel and stick backsplash glass subway tiles offers no risk of discoloration over time. The natural fade-resistance of this product will keep your spaces looking consistent as long as you take good care of the materials over time with regular cleaning and maintenance.
One advantage of using peel and stick glass subway tile for backsplash is that it is easier to replace in the future. If you already have the rest of your kitchen done and need a backsplash to help coordinate the look, a peel and stick glass subway tile will offer a more glamorous look.
• Clear glass subway tile: Not all clear glass tiles are translucent, clear glass is the material used to make these tiles, but they can have a color or not. Clear glass subway tile is one of the most popular types of tiles among homeowners and interior designers. These clear glass subway tiles have a shiny and luxurious look that offers unlimited possibilities regarding design.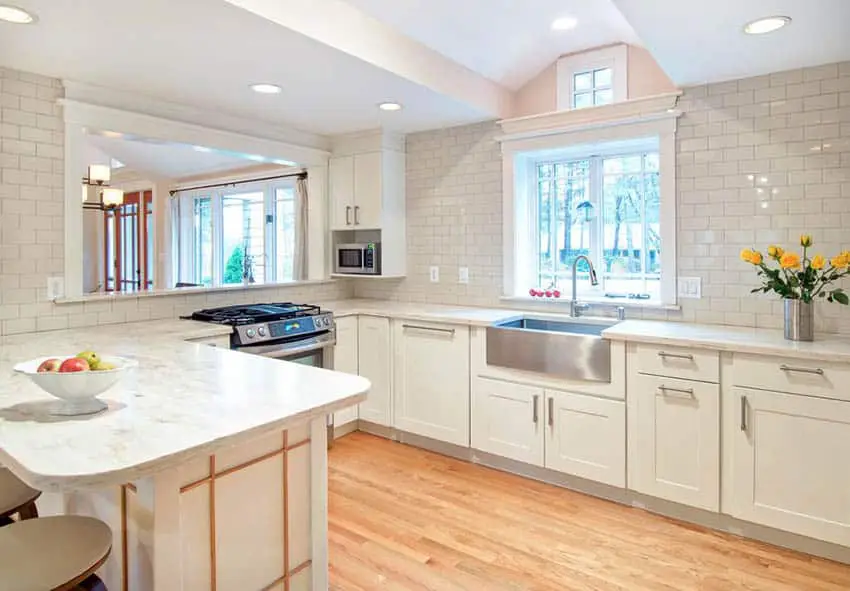 The reflective property of glass gives a slight sparkle from just one or two rows of clear glass subway tile backsplash that add interest to any kitchen space. They provide a dynamic backdrop and an aesthetic design scheme.
There are three types of clear glass subway tiles:
1. Back-colored clear glass has a coating/painting on the back that gives the color to the tile. Take note that some white clear glass tiles have a green or iridescent tint/hue, while some are just pure white clear glass tiles.
2. Stained clear glass tiles are transparent or translucent glass stained during manufacturing process. However, you can still see throughout the tile even if it has a dark stain color. These tiles are usually cut into multiple pieces and mounted on clear-faced or paper-faced sheets.
3. Transparent colorless clear glass tiles are made of clear or translucent glass which do not have color and are transparent. These types of tiles are exquisite and easy to work with because they can match any materials from granite countertops to kitchen cabinets and easily blend into the design.
• Frosted glass subway tile: Frosted glass subway tile has a soft and less reflective finish highlighted by its color. These types of tiles are also called matte finish tiles. It offers a feeling of simplistic beauty that creates a subtle, delicate background.
This is similar to an icy surface that comes in an exquisite range of colors, patterns, and styles. A frosted glass backsplash using a subway design is suitable for a wide array of design projects creating a light reflecting quality.
Subway-Style Glass

Tile Sizes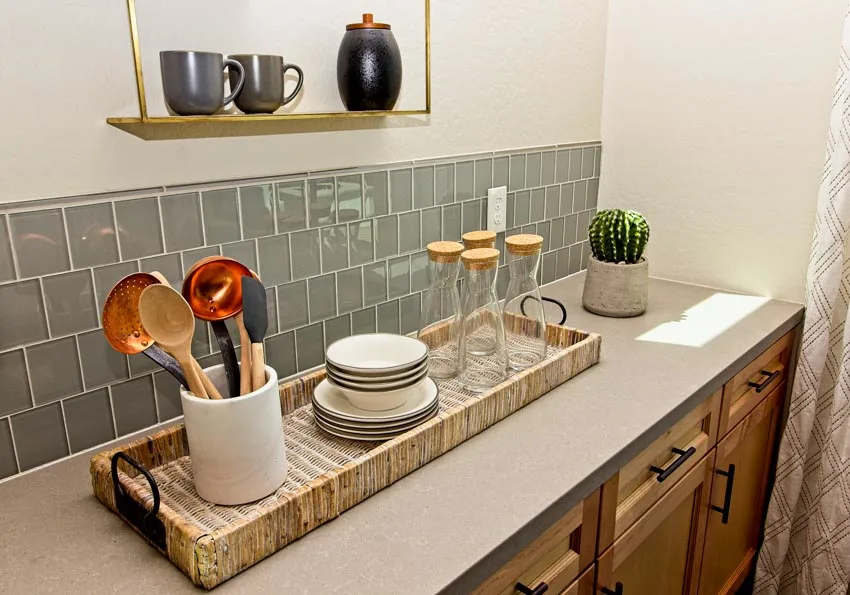 The most popular size of glass subway tile is 3 x 6 inches since traditionally, subway tile has a precise 1:2 width-to-length ratio. Keeping this size ratio is one of the things that makes the subway tiles so versatile and easy to arrange.
Traditionally laid in a 50% offset, the subway tiles typically have 1/16 inch or 1/8 grout joints. The most common subway tile dimensions are 2×4 inches, 2×8 inches, 3×6 inches, 3×12 inches, 4×8 inches, 4×12 inches, and 6×12 inches. It is important to match the proper tile size to the space.
In order to achieve a stunning herringbone pattern design, use a 2×6 inches glass subway tile size. A large surface area could use 3×8 inches glass subway tiles and helps even the space nicely by complementing the scale of the cabinets, and providing movement across the countertops.
How Thick Are Subway Tiles?
The thickness of the subway tile you choose makes a difference in creating a subtle texture on the surface. Most tile thicknesses range from 3/16 inch to ¼ inch, and ceramic subway tiles are typically ¼ inch to 3/8 inch while other ornamental tiles may be as thin as 1/8 inch.
Glass subway tiles do come in ¼ inch (6mm) to 5/16-inch thickness (8mm) it increases their durability and the depth of their color, making them uniquely beautiful subway tiles backsplash.
Glass Brickwork Wall Tile Cost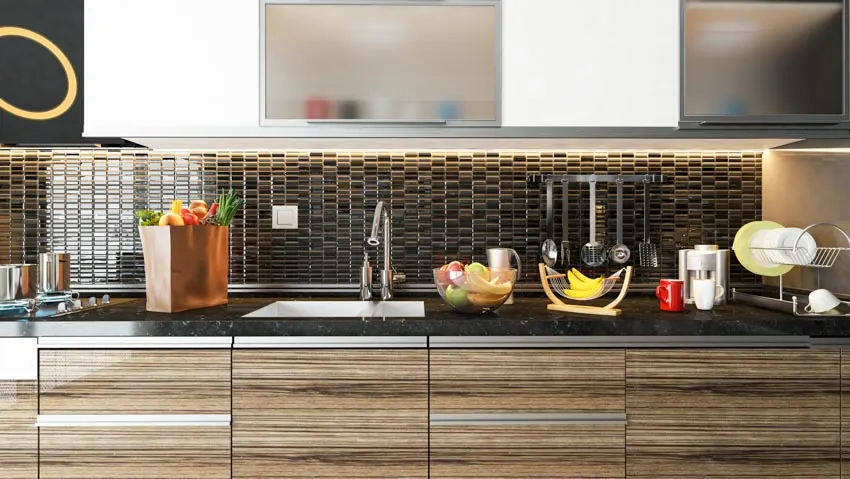 Traditional subway tile is glazed ceramic and one of the most affordable types of tiles per square foot. However, the average price of glass subway tile per square foot costs $30 to $40. This does not include the cost of grout, sealant, or any additional tools or materials.
The labor charges are also another factor to consider on top of subway tile costs having an average of about $600 to $1,350 plus an additional fee if installed around several barriers, such as windows, outlets, or other impediments.
Subway Glass Tile Designs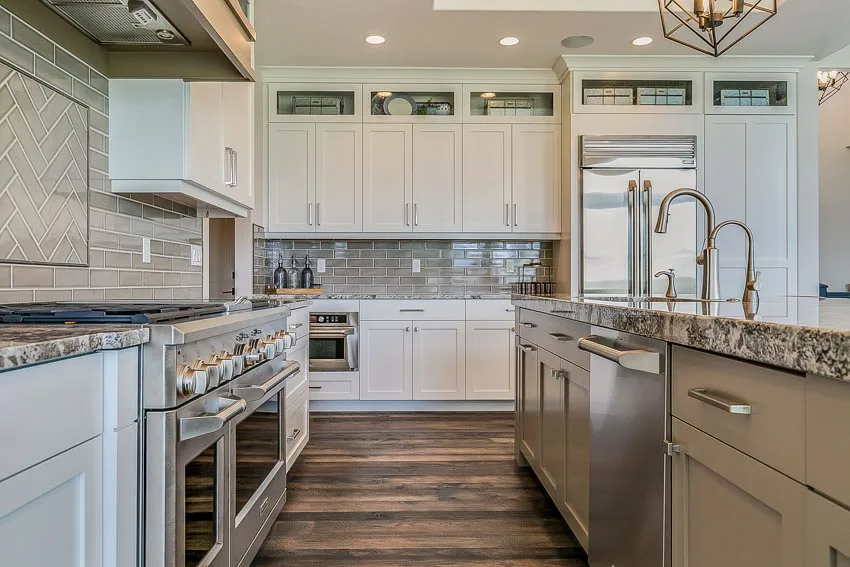 Back in the early 1900s, when subway tiles were first designed for the newly constructed subway system in New York City, no one knew that these rectangle tiles were about to become more than just public transport décor. Subway tiles have come a long way in interior design.
Today, subway tiles are more than just a hygienic solution. It offers endless patterns that can create a unique style for your backsplash, wall, or floor using subway tile.
The most common use of glass subway tile in the kitchen is on the backsplash. It is often the highlight and focus of the kitchen where homeowners get creative and show a bit of personality.
Glass subway tile comes with an array of patterns, colors, and sizes, making it a perfect choice for any kitchen style. The coolest part is you don't have to just lay it horizontally in rows.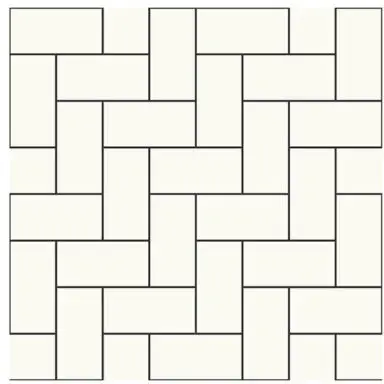 • Herringbone design: Using the typical horizontal or vertical pattern can be overwhelming in a large and tall space.
The classic herringbone design pattern tilted at 90 degrees, works well for high spaces, since it draws the eye up and creates visual interest.
• Step Ladder design: This is a creative pattern for glass subway tile layouts in the kitchen. This design looks like steppingstones in a glass step ladder pattern. A remarkable design that makes the space feel larger and more open.
•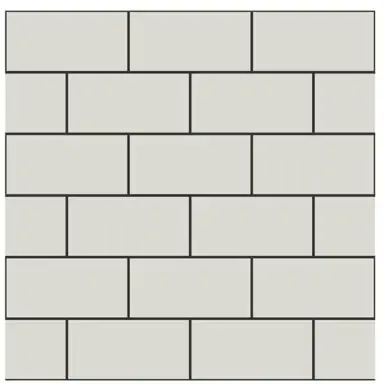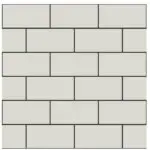 Classic subway design: Laid out and stacked like bricks, is how subway tile was first designed. The classic look and timeless design of subway tiles using glass add fun and color to the classic subway tile pattern.
This design combines well with other shapes of tiles which creates a design that is a stunning, unique, and different feature in a space.
• Geometric design: This design pattern calls for laying out two horizontal subway tiles next to two vertical subway tiles. Thus, creating a geometric pattern adds depth and boldness to the design scheme while maintaining a classic feel.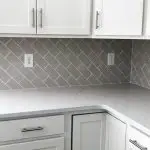 • Diagonal design: Add a little twist to the classic subway tile pattern by stacking the tiles with a 50% offset like bricks at a 45-degree angle.
The diagonal pattern offers the illusion of expanding the room in a classic subway design style.
• Vertical design: Creating a vertical pattern that features subway tiles stacked vertically on top and beside each other makes the backsplash behind the kitchen counter feel taller.
Introducing a new look for a vertical pattern design is to rotate the classic horizontal stacked subway tile 90 degrees.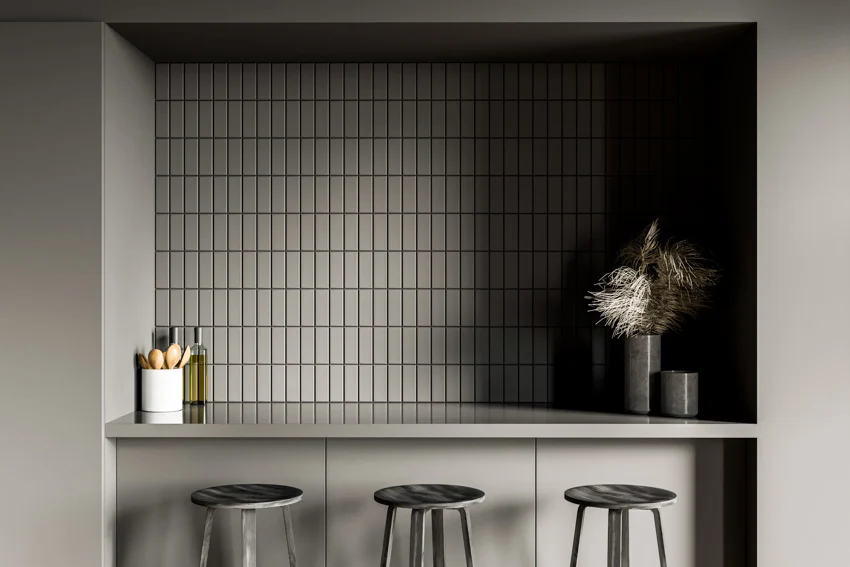 This design helps to enlarge the room and makes a statement in your kitchen backsplash that's more fun than the traditional design. Alternating stacked vertical subway tiles and offsetting the rows creates a visually interesting pattern for a more modern kitchen appeal.
• Horizontal design with a twist: Just like the stacked vertical alternating pattern, alternating the tiles horizontally with an offset creates a unique and interesting design pattern.
Glass Wall Tile Backsplash for the Kitchen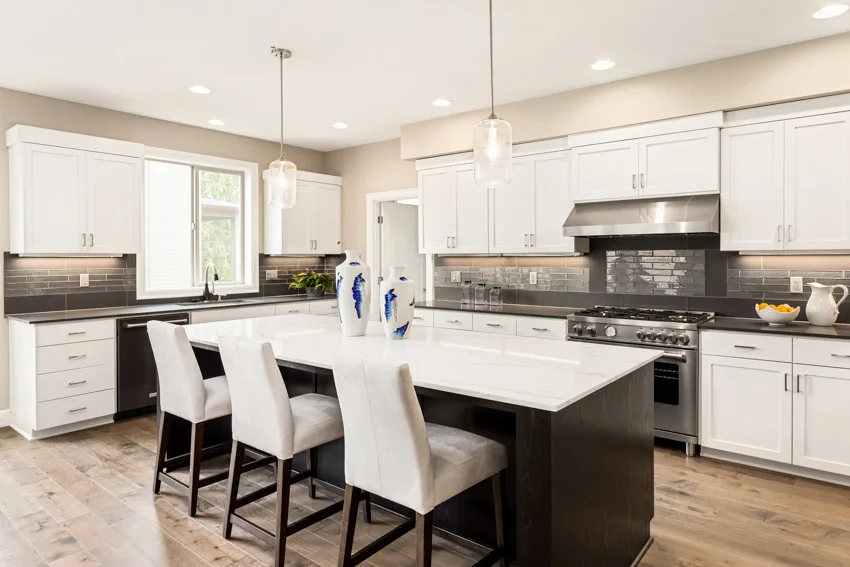 The kitchen backsplash needs to withstand wear and tear without compromising beauty. This is why glass subway tiles are popular among homeowners and kitchen designers. The timeless appeal of subway tiles combined with the durability, versatility, and easy maintenance of glass are the perfect elements for a kitchen backsplash.
Glass subway tile types of kitchen backsplash are an eco-friendly alternative due to their ability to be recycled and repurposed. The versatility of glass subway tiles offers complete flexibility and allows you to customize the appearance of your kitchen backsplash.
Although glass' shiny surface will make dirt splatters, fingerprints, and water stains more apparent. Additionally, their non-porous properties and stain-resistance qualities mean it won't harbor bacteria and germs. Glass subway tiles are simple to clean and maintain. It is also easy to restore the luxurious shine of your glass backsplash.
Glass subway tiles are appealing due to their vibrant colors, multi-dimensional tile patterns, and backsplash designs. Its light and bright tones help to reflect natural light off their shiny surface, making a small space appear bigger. Its natural high polish finish increases the reflection of light in the room and creates a beautiful glow that spreads throughout your entire kitchen.
While glass might be fragile compared to other backsplash materials, they will hold up fine in your kitchen backsplash. Glass subway tiles are durable and are water and fire-resistant.
Glass Block Subway Bathroom Tiles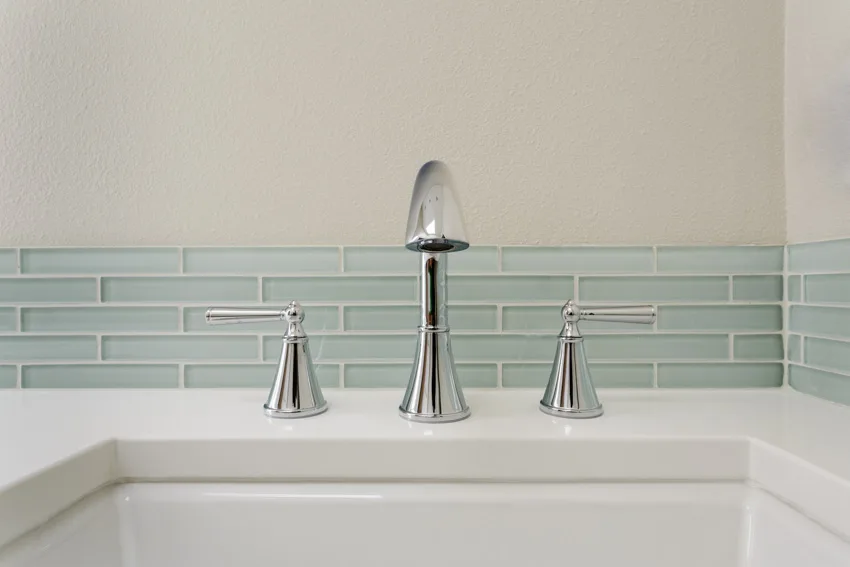 Using glass subway tiles in the bathroom offers a modern look that is refreshing and sleek. Glass tiles are hygienic and easy to clean, making them an ideal choice for the bathroom.
Glass subway tiles are impervious to water, will not stain, are relatively low maintenance, and are more resistant to mold, and mildew. They are easy to maintain since there is always grime, splashed, and soap build-up that needs regular cleaning.
Glass subway tiles come in a variety of colors that are available in both matte and gloss finishes. It offers the bathroom a modern visual appeal that provides an additional sense of depth and dimension. Its glossy finish reflects light making your bathroom appear brighter and spacious. It also gives the bathroom an accent with excellent effect.
Glass Grid Subway Shower Tiles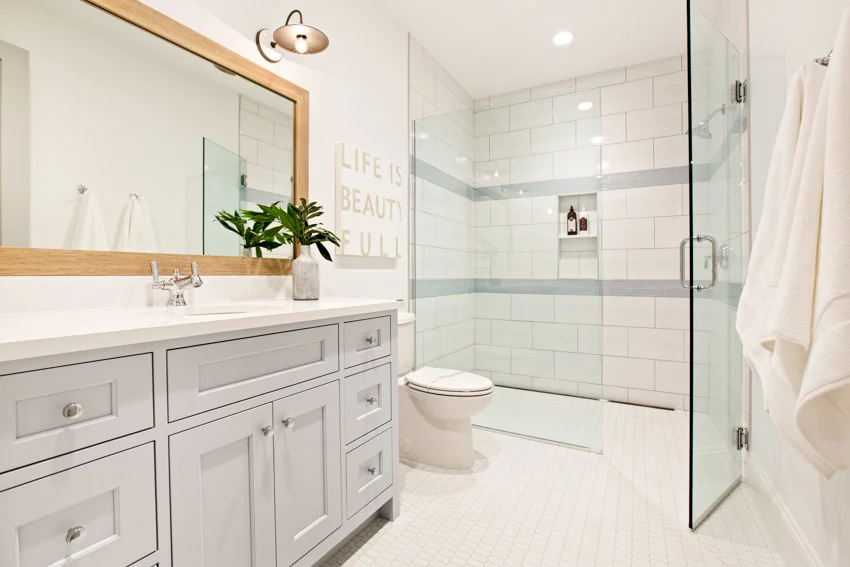 Glass tiles are becoming a practical and beautiful shower feature in the bathroom. They provide a sleek and polished detail and are incredibly durable. Glass subway tile offers a long-lasting shower design solution. They provide a sleek and glossy finish that is easy to clean. A simple vinegar solution and a soft cloth will easily remove any soap build-up.
Glass subway tiles come in different sizes, shapes, patterns, and finishes, including gloss, pearlescent, or matte. Its translucent glaze offers depth to the design, allowing light to penetrate through the tile and reflect it throughout the bathroom.
Glass tiles are water resistant, which makes them the perfect option for shower wall tiles. You can be sure there will be no water soaking into these glass tiles and causing dampness. Due to their ability to keep out moisture, glass subway tiles are the perfect choice for preventing the growth of mold, mildew, and germs. It also prevents structural damage to the shower area.
Glass subway tiles are stain-resistant, so you won't see ugly watermarks appearing on them over time. All glass tiles are 100% recyclable and are also more energy-saving in their production. Glass subway tiles are an eco-friendly option for the shower.
Are Metro Glass Tiles Out of Style?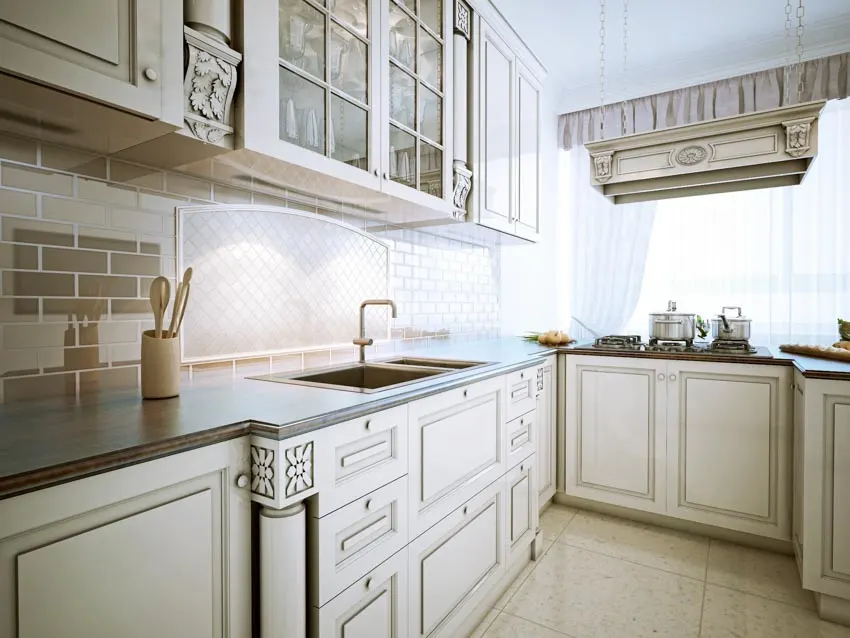 Glass subway tiles are classic and timeless and will never go out of style. With the vast selection of materials and techniques constantly emerging in the market today, glass subway tiles remain a trendy choice for many homeowners and designers.
The simple and chic visual appearance of the glass subway tile and its ability to adapt to the changing time is suitable for any design style.
Glass subway tiles also offer diverse and unique designs. It has many design possibilities and installs in different patterns. The versatility of the glass subway tile also allows pairing it with many other types of tiles and furnishing elements for a more creative design scheme.
When a material is adaptable and versatile, such as the glass subway tile, it tends to remain a trend for a long time and will never go out of style.
Can You Paint Tiles Made of Glass?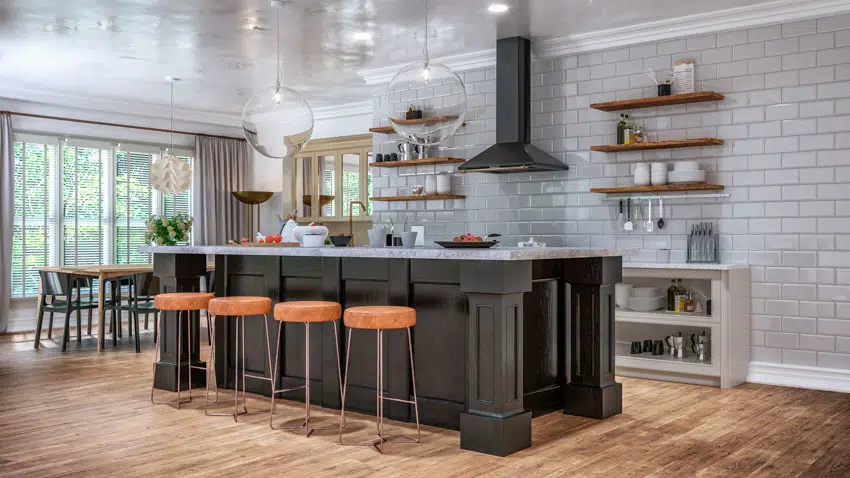 Painting glass subway tile is a quick and affordable way to update your kitchen. It is challenging because it can get complicated in a kitchen environment. There are factors to consider, such as making sure the paint will adhere to the glass tile and that the paint won't flake off when exposed to heat and steam. But yes, it is possible to paint glass subway tile.
For the paint to adhere to the glass subway tile, we recommend using fine-grit sandpaper and rub it firmly over the surface to "scratch" the glass tile. It is necessary that the tiles should completely be clean before painting, as any dust or dirt can affect the paint's adhesion.
Keep in mind, that some paints don't require a primer, but it is favorable in order to give the paint a durable and longer-lasting bond. Acrylic enamel paints adhere to glass surfaces better and the color stays longer.
How to Clean Glass-Made Tiles?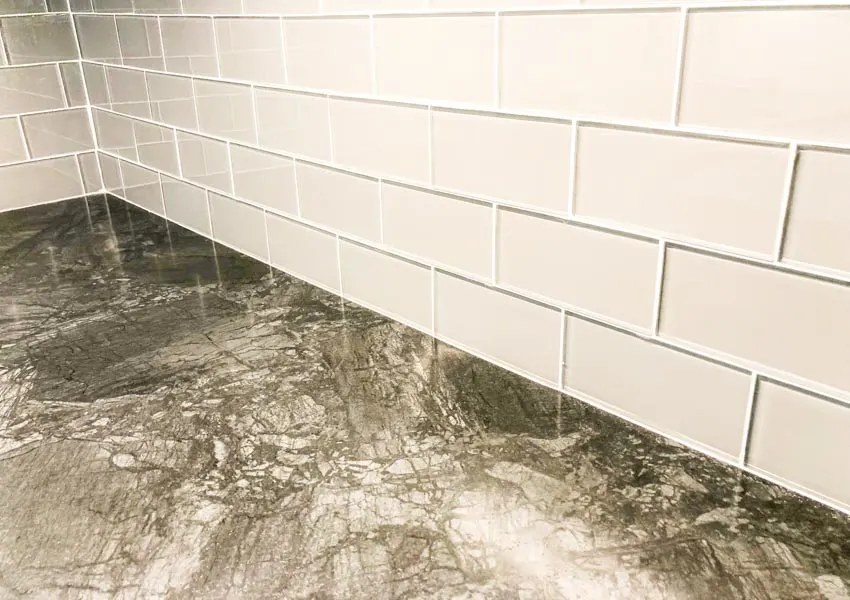 Glass subway tile is relatively low maintenance, and the easiest way to clean them is to mix equal parts of water and vinegar in a spray bottle. Spray the mixture onto the glass subway tiles and leave it for approximately 10 minutes and wipe it off with a damp cloth or sponge.
For regular cleaning, you can mix warm water with a small teaspoon of mild dish detergent in a spray bottle, wipe tiles with a soft cloth or brush, rinse with cold water, then wipe dry. Make sure to dry the surface to avoid hard water stains.
For stain marks caused by calcium and magnesium deposits, use a dash of white vinegar and a baking soda mixture. You may also use toothpaste and rub tiles with a soft brush to scrub away stains. To clean the grout, mix baking soda and water into a paste and spray with vinegar and water solution. Scrub with a soft-bristled brush, rinse with water and wipe the grout dry.
See more related content in our article about the different types of bathroom tiles on this page.