Here we share our patio umbrella alternatives including different creative ideas, their benefits, and the reasons they can replace an umbrella for your patio.

Staying outdoors can just be the perfect way to enjoy nature but let's face it, the sun's heat can sometimes be unbearable. Getting some respite from the heat can only be possible by staying under a patio umbrella.
A patio umbrella is the standard large umbrella you see in the backyard that's paired with a couple of chairs and sometimes a table. Weights, usually attached at the top of the umbrella, add stability and ensure that it won't fly away.
It is an affordable solution to the day's scorching heat. The downside though is that it is not as effective against strong weather conditions like rain compared to other alternatives.
If you're not into patio umbrellas and are thinking about other alternatives you can use in your home for protection against the sun's heat and rain, there are several to consider and explore.
Patio Awning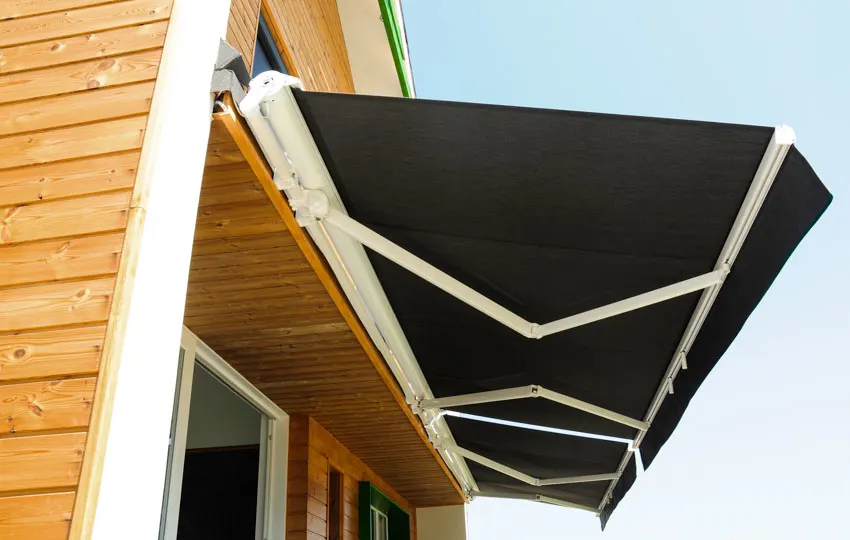 One of the patio umbrella alternatives you can check out is a patio awning, which may date way back to the 1950s and at the same time deliver a rustic appeal.
Patio Awning Benefits:
• Provides enough shade and protection against UV rays and other weather elements like snow and rain
• Guaranteed to be a practical and versatile patio umbrella alternative
• Come in a variety of styles and designs
Contemporary awnings are pliable and softer and can even be longer-lasting depending on the material used. For a modern style, a retractable awning is a good option not just for an innovative style but also because of the convenience of rolling it up when not needed.
One downside though is that it may come with a high price tag, especially fabric-type awnings. It is also not compatible with every home since some awnings may actually block the outdoor view of one's home.

Sail Shades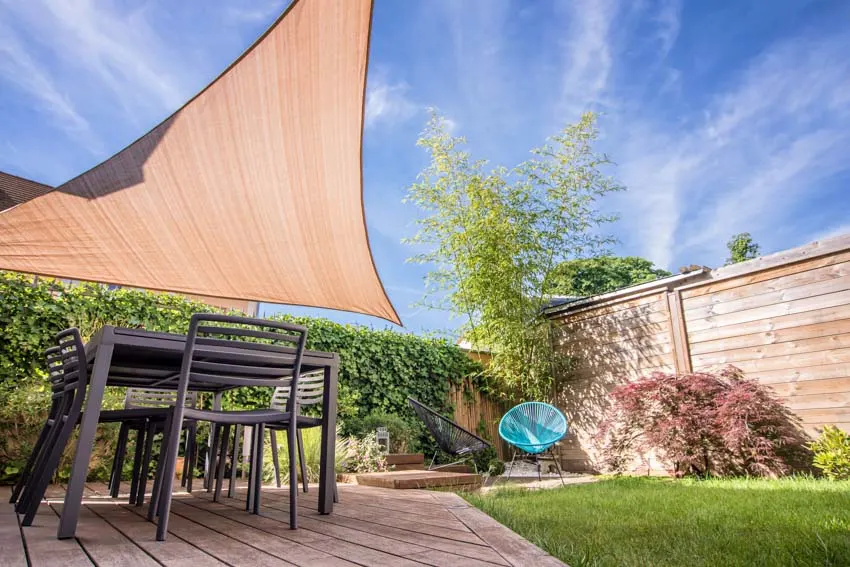 Sail shades come from ancient shades used centuries ago to keep the sun out and are considered in the past as a temporary shelter when on a journey. This simple-designed patio umbrella alternative is a good option to check out, especially because of the advantages you get from using it.
Sail Shade Benefits
• Simple to set up and won't require special tools or materials just to install at home (Stakes and ropes are enough to get this alternative hanging)
• Offers an enough coverage
• Cost-effective and can be a good investment
• Easily compatible with whatever style you have for your home
• DIY possible (Triangle-shaped fabric with corner eyelets, rope/twine, poles/stakes, and even nearby trees can be used)
Sail shades have many benefits to consider but it's not a durable option if you're shielding yourself against rain or storm. A light drizzle is manageable though.
Roof Overhang
The roof overhang is another option you have for a patio umbrella alternative and is usually paired with an awning. In this option, you will need to construct a little roof over the patio of your home. It will take more work compared to other alternatives but you can guarantee to enjoy many advantages.
Roof Overhang Benefits:
• Delivers an ample amount of area covered for most types of patios.
• Offer a pleasant and relaxing patio experience
• Provides more options and flexibility when using your patio
When you decide on a type of roof overhang though, there are drawbacks you need to know about. Building one will require more effort and it might not be the ideal option if you're thinking about making it a DIY project because it could take up a lot of your time.
Trees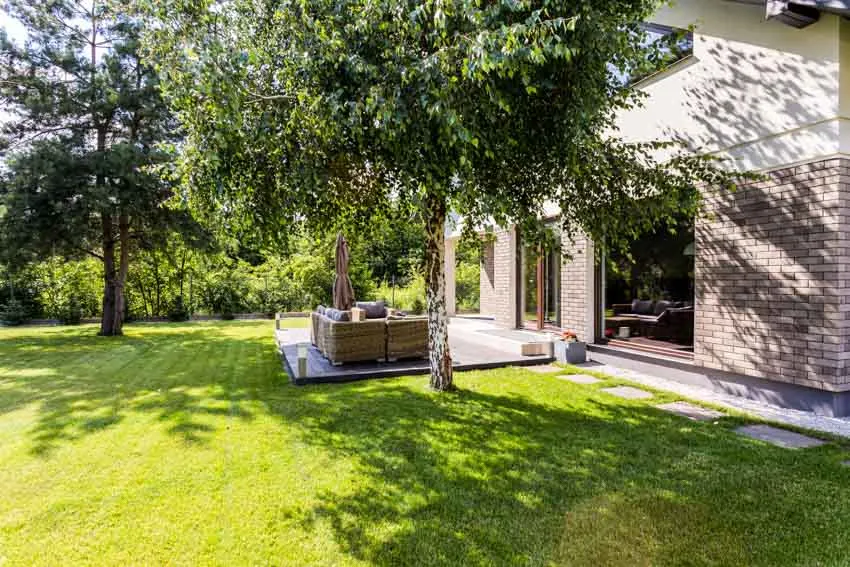 If you're looking for natural and environmentally-friendly patio umbrella alternatives, nothing beats trees. It will be a great thing if you already have several trees planted in your yard so that you won't have to start from scratch.
Tree Benefits:
• Adds to the natural beauty and aesthetics of your yard and home
• Provides enough natural shade and helps to keep your yard cooler
• Offers a wide variety and types of trees to consider, from fruit-bearing ones to flowery ones but make sure you consider trees matching the climate of your location
• When properly spaced, you can cover your entire yard
Trees take a lot of time to grow and actually serve as a shade so growing them will require patience. While transplanting fully-growth trees is possible, it will be a lot of work. What's the best choice? Hire a professional to plant grown trees in our yard instead. It leads to less complication, effort, and money.
Pergola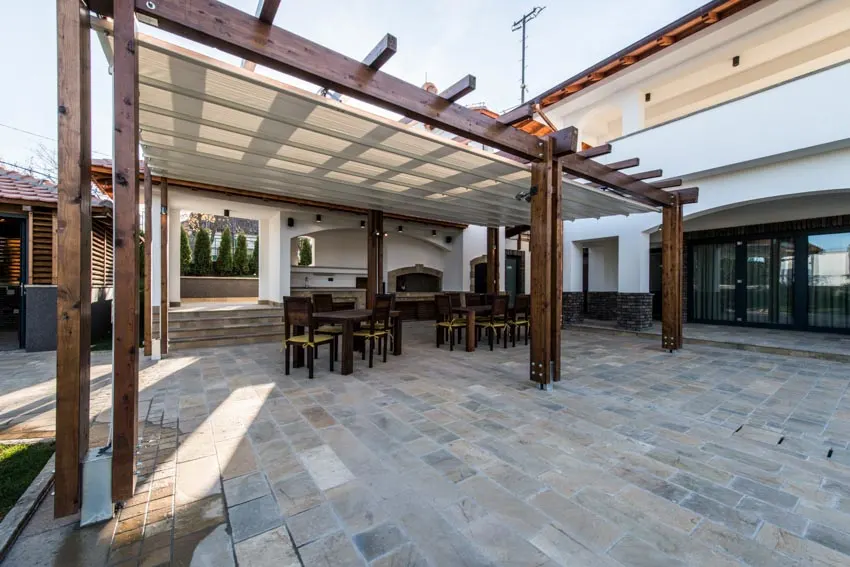 Pergola is a bit similar to a gazebo but significantly less structure-like since it's not a small building. This free-standing roof is worth considering and exploring if you're going for more than just a shade but also a shelter. Typically, a pergola canopy has several posts to support the chosen pergola dimensions.
Pergola Benefits:
• Simple and easy to build despite being an entire structure (Might require some skills and planning though
• Adds a nice touch to your yard
• Can stand for a long time
• Has enough area covered
When you choose a pergola though, make sure you're not expecting the same aesthetics delivered by a gazebo. While they may be a bit similar, this patio umbrella alternative is a lot simpler.
Gazebos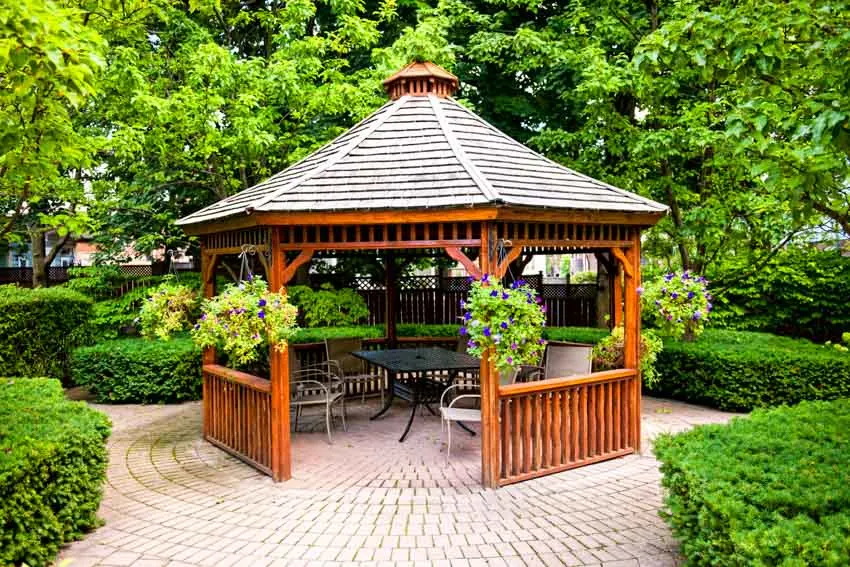 A gazebo is an entire structure that has a roof over it. Building one is more complicated and will require an expert's touch. While similar to a pergola, it is closer to a pavilion in its essence. But make sure you have a spacious yard and patio size to accommodate this structure.
Gazebo Benefits:
• Features a more traditional and rustic appeal compared to a patio awning
• Durable enough to stand other weather elements like strong wind and rain
• Can serve as a great venue for events like parties
• Gazebo designs offer aesthetics that stands out
If you choose a gazebo, DIY-ing means you need to have enough and the right carpentry skills to build one. Hiring someone to build it for you is the better option.
Arbor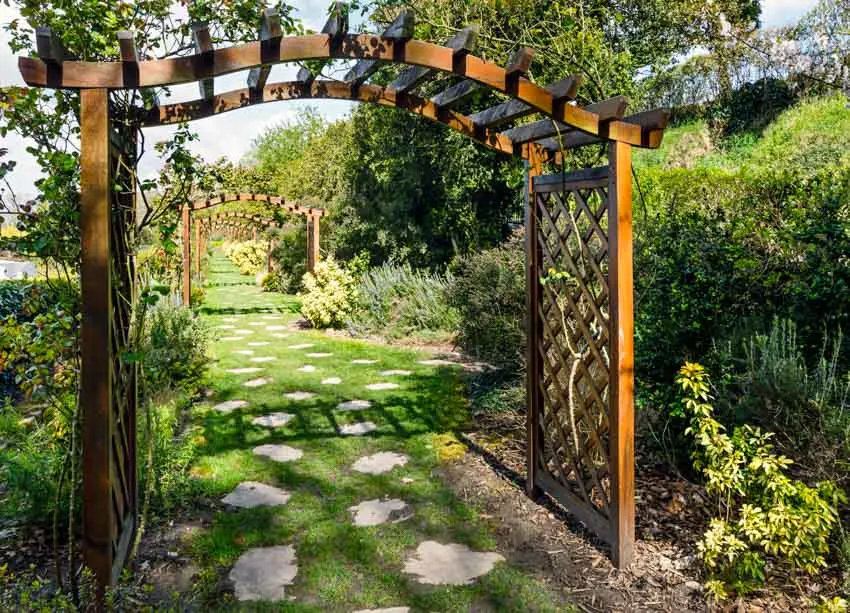 Arbor is among the patio umbrella alternatives that you can look into. Derived from herbe or herbere, a French word that means grass or herb, arbor traces its history back in the gardens of Romans and Egyptians up to the late 16th century homes in Europe. An arbor design structure is popular for its flowers or a vine-covered roof that may be arched or not.
Arbor Benefits:
• Can come as a freestanding structure (but not always)
• Can also come in a DIY kit to make it easier for you to install
• Flexible and can be made of vinyl, metal, or wood
• Less expensive to build because it's significantly smaller than a pergola and so would require fewer materials, less effort, and less time to build it
While usually interchanged with pergola in use, they are different from each other. It is smaller than a pergola but both use posts for support and climbing plants and vines in addition to both their functions and aesthetics.
See more related content in our article about the different stamped concrete patio on this page.