Here's our gallery of patio wind block ideas including how to block wind using a variety of creative designs.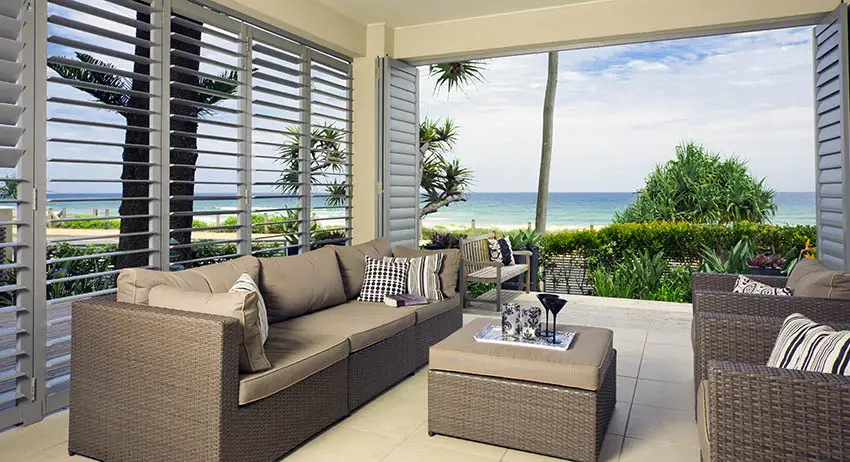 A backyard patio is a perfect oasis for a staycation. Barbecues in the summer, lunches with friends in the fall and even an impromptu cup of coffee during a winter snow flurry make a patio an all-season gathering place.
Except for those still days, any weather disruption tends to cause windy conditions. A gentle breeze may be acceptable, but when a gust of wind scatters tableware, napkins, pillows and other deck décor, a patio wind block is a good idea.
Many people prefer not to enclose their patio to keep the outdoor feel and enjoy the view around them. In this guide, we'll explore patio wind block ideas so you can decide which option works the best for you.
How To Block Wind On a Patio
Blocking wind on a patio or even a balcony for an apartment allows homeowners and occupants the chance to enjoy the fresh air. However, bad weather may bring gusty winds ending the enjoyment.
Some areas may be windy because they're located in a valley between two mountain ranges or located on an ocean shore area. Finding an easy and convenient way to block the wind means much more time to enjoy a patio or balcony.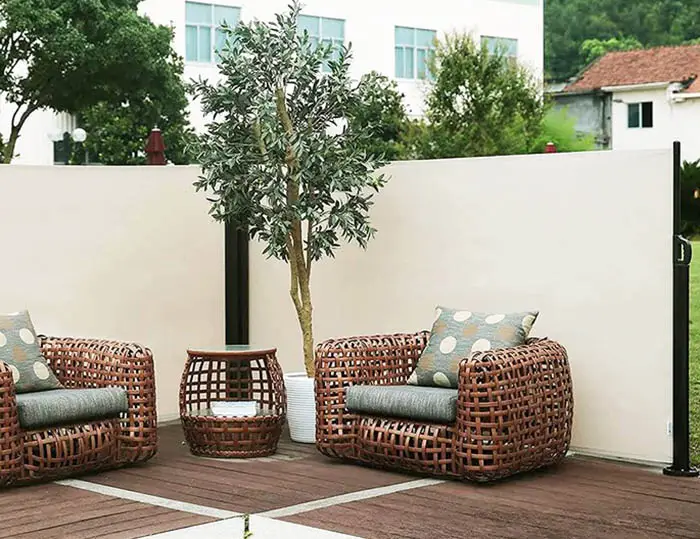 See this patio wind screen fence at Amazon [sponsored link]
Below are several options and ideas to use for protection from the wind. Each one depends on the type of patio, the surrounding landscape, and how much wind the homeowner wants to block.
Wind Block Fence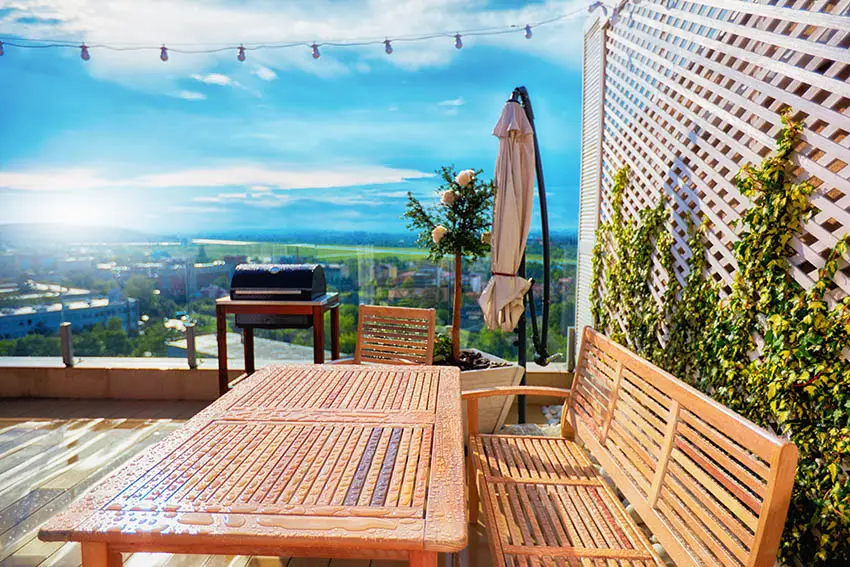 Wood fence wind blocks come as panels made of wood with cutouts in a symmetrical or artsy pattern. Air and light are allowed in, but the gusty wind is kept at bay.
A slatted fence will act as a wind block and privacy to provide a welcoming patio spot for morning coffee. Wind block fences are made from wood or composite wood planks, which allows for plenty of colors and patterns.
Solid fences aren't very effective as a wind block. The wind will blow up against the solid surface and travel up and over it to drop back down on the other side. Lattice fencing, louvered fence, or bamboo all make great options for a wind block fence.
Patio Wind Deflector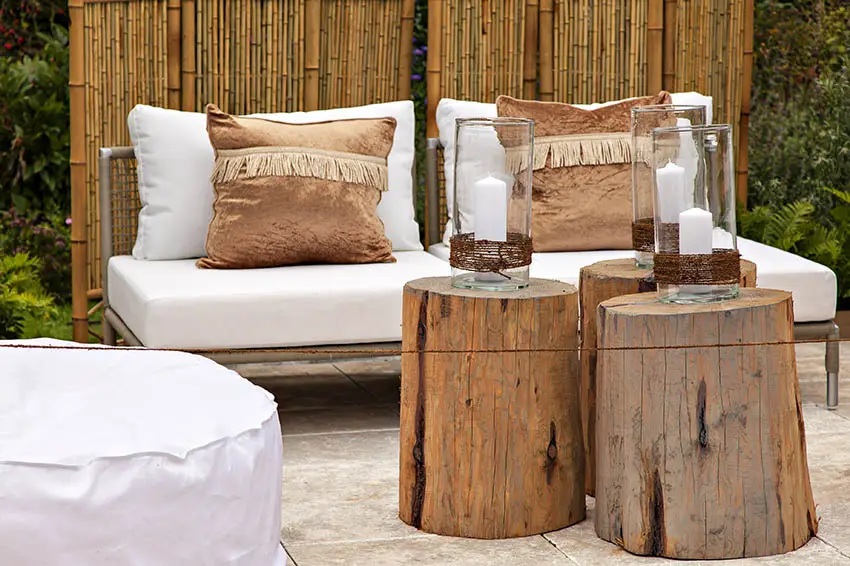 A patio wind deflector does not have to be attached to a patio. Once a homeowner figures out where the wind is coming from, a wind deflector can be erected to stop the wind from reaching the patio.
Fence panels can be arranged independently from other fences and away from the patio where the wind comes from.
Bushes such as arborvitaes grow into a large natural wall, and trees such as oaks, maple trees, and even pine trees work great. While these natural deflectors are growing, homeowners could use temporary hanging panels or screens to block the wind.
Outdoor Wind Blocking Shades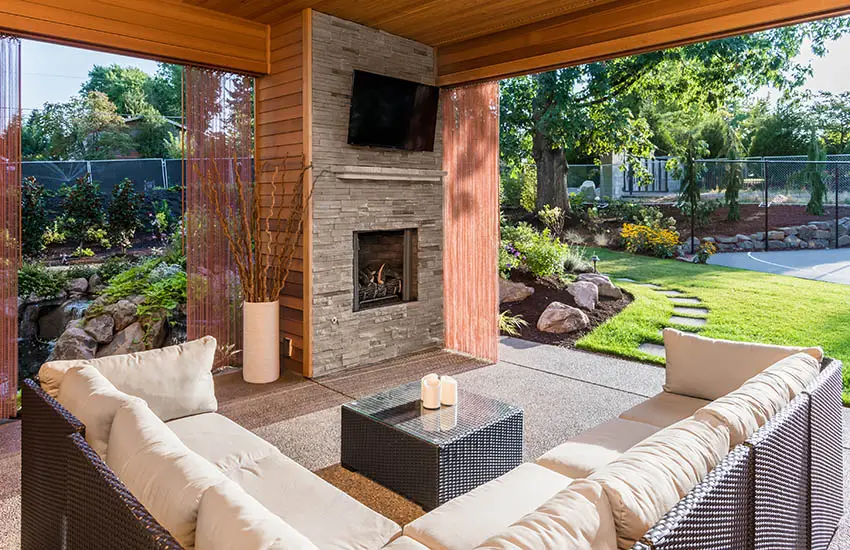 Shades for patios make great wind blocks and add a touch of décor to the patio's design. Different fabric choices include materials that are solid, sheer, or woven.
Wind blocking shades typically come with tie downs to prevent them from flapping in the wind and provide an extra benefit by blocking light rain or snow flurries. See more types of patio enclosures here.
Roll Down Wind Protection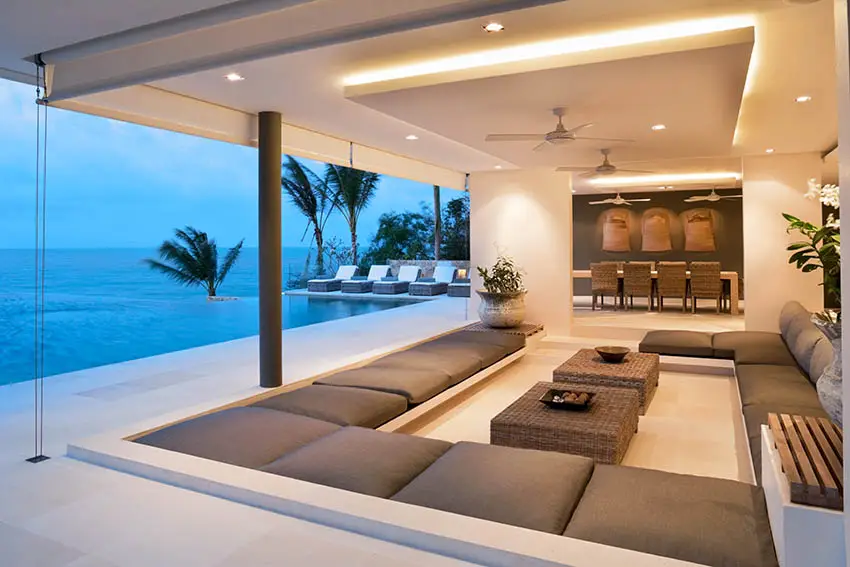 Shades can hang from simple hardware that can be taken down when they are not in use or installed as roll down wind protection. Manufacturers offer shades made to be installed for an outside patio.
Raising or lowering the shades is done by pulleys, or the panels can be fitted with electric controls. Roll down wind protection provides a convenient option for when the winds are calm.
Clear Vinyl Curtains
You've probably seen plenty of clear vinyl curtains used in restaurants and bars with outdoor seating. Similar to large clear tarps, these vinyl panels are waterproof and come in a variety of different sizes depending on your need.
Clear vinyl/pvc curtains are generally resistant to UV rays and often treated with an anti microbial coating. They are often sold in 20 mil or 30 mil thickness. A thicker curtain is advisable for anti-crack resistance for cold weather climates.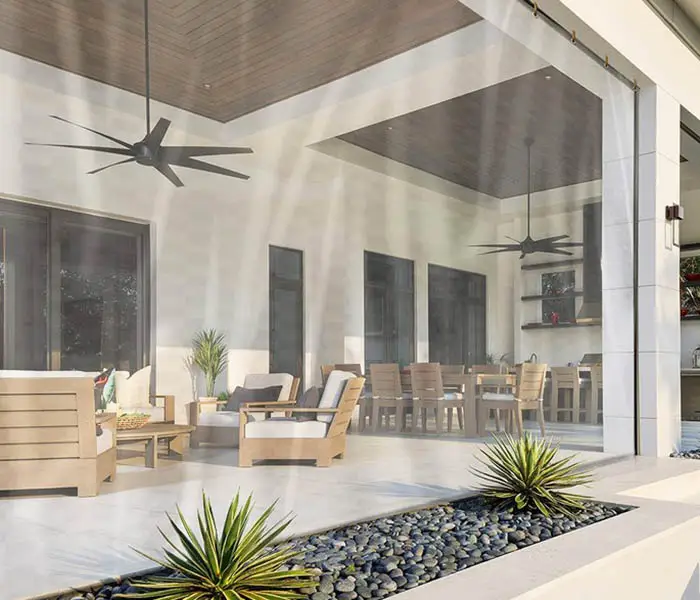 See this clear patio curtain at Amazon [sponsored link]
These come with grommets so you can hand them from your patio or porch using hooks or other types of fasteners. To ensure they don't create too much noise and stay secure they should be attached at the top and bottom.
The cost to purchase clear vinyl curtains is relatively inexpensive at around $75 to $100 for a 8ft by 8ft panel.
Plexiglass & Glass Wind Barriers

A patio may face the beach and ocean or provide a gorgeous mountain view. In that case, it may not be a good idea to use a windbreak that interrupts the scenery even by a small amount, such as screens.
Clear glass or plexiglass panels offer a windbreak as long as they are high enough to keep the wind from settling back down onto the patio. If the glass or plexiglass panels run from the patio floor to the top of a roofline, the wind will be directed over the roof and away from the patio.
Portable Wind Block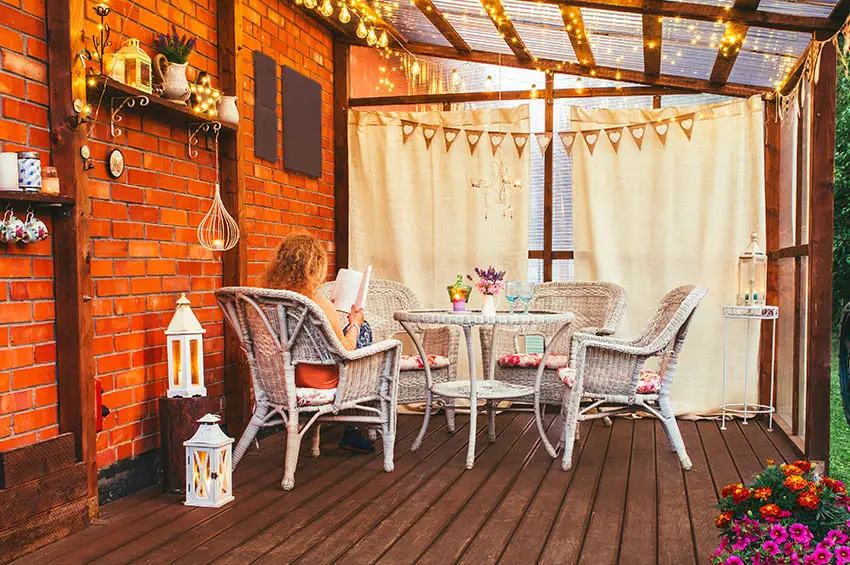 A portable wind block is a temporary option typically made from panels covered with different materials.
These panels commonly snap onto a patio's frame. Materials that work well include screen, sheer fabric, cotton, burlap, or protection from harsh weather, such as clear plastic.
Freestanding portable wind blocks work as well and can be arranged to block wind from any direction of the patio. Homeowners can use creative materials to complement the patio décor.
Deck Wind Screen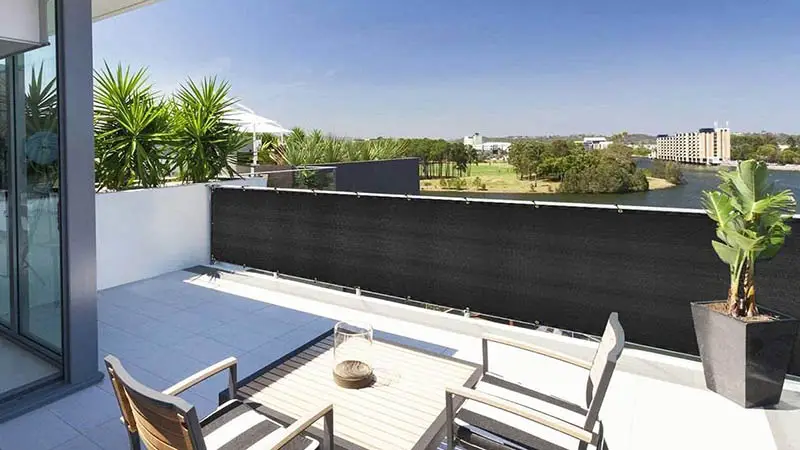 See this patio wind block mesh screen at Amazon [sponsored link]
A deck wind screen is put together using the existing wood or metal railing frames and covered with strong netting material. Screening can be run around the entire patio or just the sides that typically experience gusts of wind.
Wind block fences also double as a privacy screen depending on the type of screen used. Manufacturers offer options for wind block screens providing choices such as color, thickness, material, UV resistant material, and privacy screen.
Deck wind screens are one of the most affordable types of patio wind blocks.
Natural Wind Blockers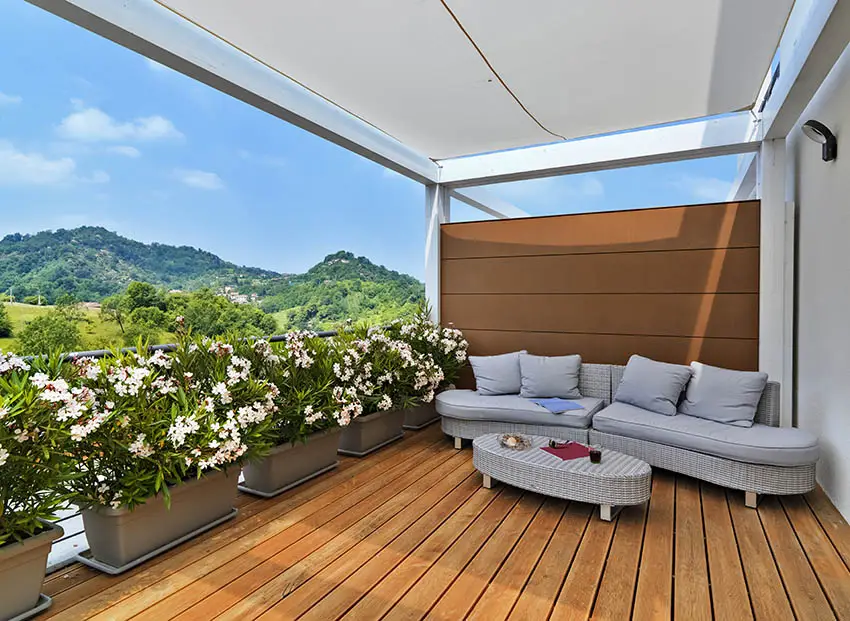 Plants and trees are a great way to make use of a natural wind blocker. Shrubs planted around the patio create a beautiful hedge.
Keep them trimmed at about three to four feet high, so they don't block the view, but they do shield the patio against strong winds. Hedges provide a classic look to the patio and yard.
Tall grasses or bamboo act as a barrier on windy days and create a tropical theme for homes located in warm climates.
If the patio is framed, trellises with vining plants make a gorgeous addition to the landscaping, and by using a trellis, plants can be made to grow across open patio areas to minimize the wind.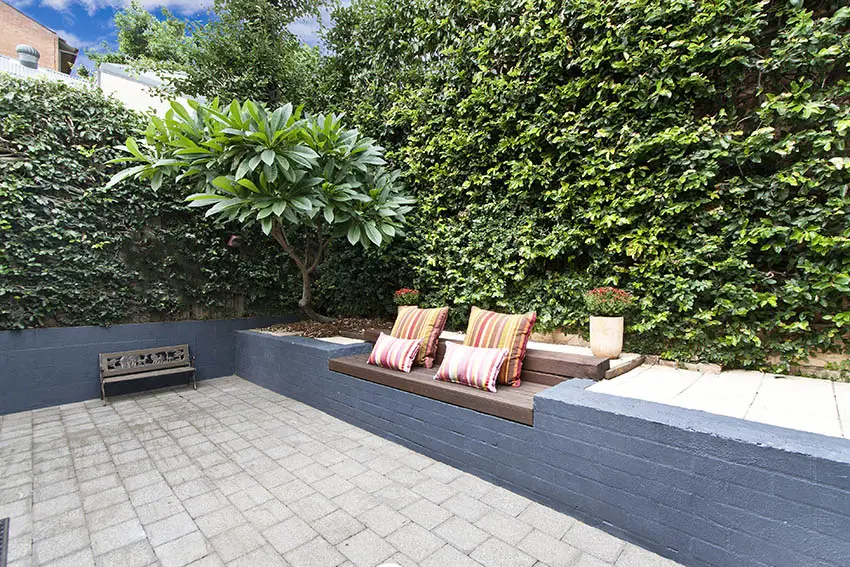 Another decorative option is to use large planters with tall plants placed around the perimeter of the patio. Tall grasses with multi-level flowering plants make a dramatic statement and cut down on wind.
Trees that are native to an area make beautiful additions to any yard, help keep the air clean, and slow down strong winds. Planting a row of conifers such as a blue spruce or tamarack tree creates a sturdy, natural enclosed patio wall that welcomes a host of birds and wildlife.
What are your favorite patio wind block ideas? Let us know below in the comments to share. Read about more types of patios on this page.