Welcome to our gallery of beautiful arbor designs to help inspire and provide ideas for your own garden.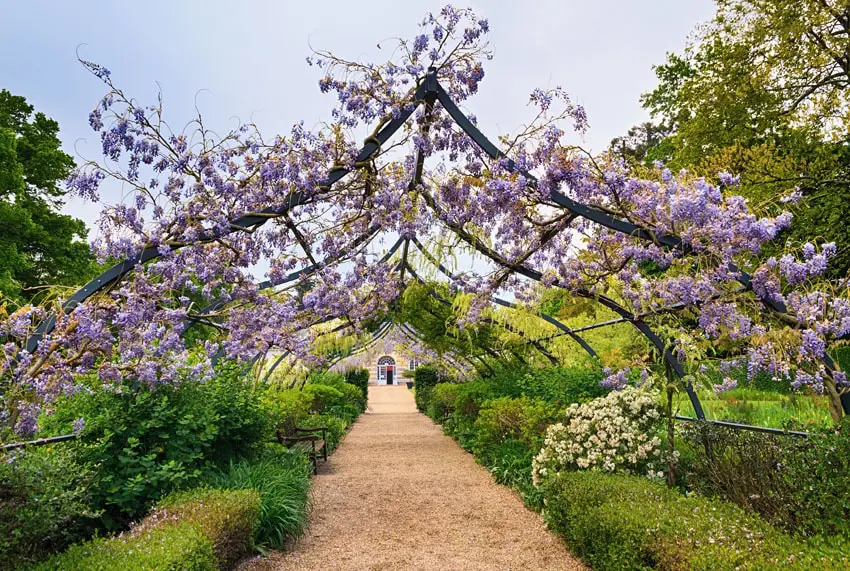 Gardens are always a welcome addition to any home, as they help improve the ambiance, air quality, and beauty of the surrounding space. A well-designed garden can help increase the property value and allow you to enjoy your home's outdoor living spaces better. Below, we'll explore a variety of garden arbor designs and share creative ways to add one to your backyard.
Garden arbors have been around for centuries, originating from Italy, and have always been a favored fixture in gardens of any size and style. They give aesthetic and functional improvement to any garden space and blend into the existing landscape design. They are easy to install, can be bought ready-made, and can also be a great DIY project.
Perfect for large gardens, the massive archway in the picture above forms a tunnel leading to the other end of the garden area. The wide structure is made out of tubular metal pipes bent to create a Moroccan-style arch. Growing along its sides and on the design are a variety of shrubs and gorgeous wisteria vines.
Types of Garden Arbors
The three main types are the following:
Archway Arbor – This is the most common type available in various materials. As the name suggests, it forms an arch and is commonly used to create a tunnel, dividing large lawns, allowing you to create a clean break in between a variety of plants and shrubs on either side.
Archway lattice tunnels also make a great addition to existing pathways, adding a bit of shade to the pathway while also giving it a romantic appeal.
Traditional Arbor – Often used as a garden gate or entrance, these types of arbors have a flat roof/top and trellis on the sides where the plants/vines crawl. Some traditional designs have built-in bench/seat, making it a perfect spot to relax on.
Gable Arbor – This type is characterized by its sharp, pitched 'roof', giving it a more angular profile than archway designs. This also comes in a variety of designs and materials on the market.
Once you determine the type most suitable for your garden, you must consider the material among the wide variety available. For a more traditional feel, wood could be the perfect material, but it is unfortunately more prone to weathering than the other materials.
Using metal is also an option, especially if you want to create flowing curves, as the metal is more pliable.
Depending on the type of metal used, it is more weather resistant than most wood materialsbut can still be subject to weathering and rust, so repainting would be required.
Another material to consider for your garden arbor would be plastic or vinyl. This material is the most lightweight option, making it a perfect choice if you're the type who likes to rearrange the garden once in a while or when the weather changes.
This material is also the most weather resistant and low-maintenance. Depending on the type of plastic material used, it can serve you for many years but can also be prone to cracking or degeneration from constant temperature changes/sun exposure.
There are many types of climbing plants you can use for your trellises and pergolas. You should always consider the structural capacity of your material before deciding on a plant, as some of them are heavier than others and may destroy your structure.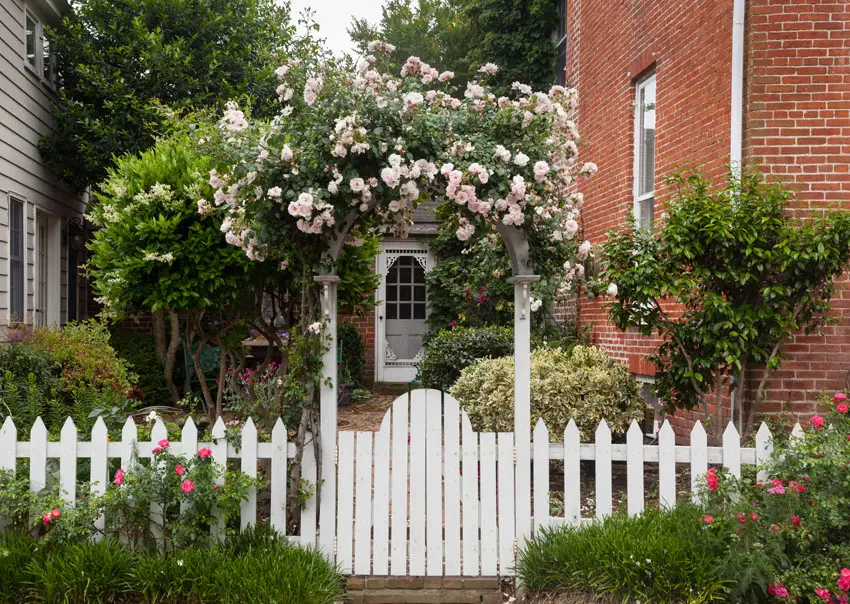 This is another wooden archway arbor that was connected to a picket fence to serve as a gate/entrance area. It is made of solid wood painted in white and has a neo-classic design. It has no trellis on its sides but has one on its top arch where gorgeous pink roses grow.
Best Plants for a Garden Arbor
Roses – the climbing variety of roses is a classic choice for outdoor structures, giving a romantic and tranquil atmosphere.
Bougainvillea – its flowers come in many different colors, which you can easily combine to create a pattern or add variety.
Jasmine – if you love the exotic fragrance of jasmine, which can be smelt from far away, this is the perfect choice. It blooms year-round in warmer climates and annually in cooler climates.
Honeysuckle – this one exudes a heady fragrance, especially at dusk, and it grows rapidly with many different species to choose from.
Clematis – this gorgeous vine has abundant flowers and is easily grown and combined with other plants.
Golden Hops – this vine doesn't have any flowers, but its merit is the speed of its growth, its bright lime green/yellowish leaves, and its resistance to cold climates.
Yellow Variegated Ivy – another non-flowering vine that is favored as they are low-maintenance and can provide shade once enough of it grows.
Wisteria – the lavender blue flowers and its sweet fragrance combined with its mysterious appearance makes it a great plant of choice for outdoor pergolas. However, note that wisteria is heavy, so you need a big enough structure to support it, along with regular pruning to control growth.
Cross Vine – this gorgeous flowering vine has bell-shaped flowers that vigorously grow and create a romantic silhouette for your design.
Morning Glory – this annual vine provides shade and flowers from summer to autumn. They are fairly easy to grow, especially when placed in a sunny area.
Vitis Coignetiae – this grapevine with heart-shaped flowers looks best during autumn when its leaves become a brilliant red color.
Aside from the above-listed plants, there are many other types of vines/plants you can grow on your arbor. Important factors to consider when choosing the right type of plant would be climate, material/strength, rate of growth, maintenance, as well as color/look.
Below are some gorgeous examples of garden arbors for your inspiration.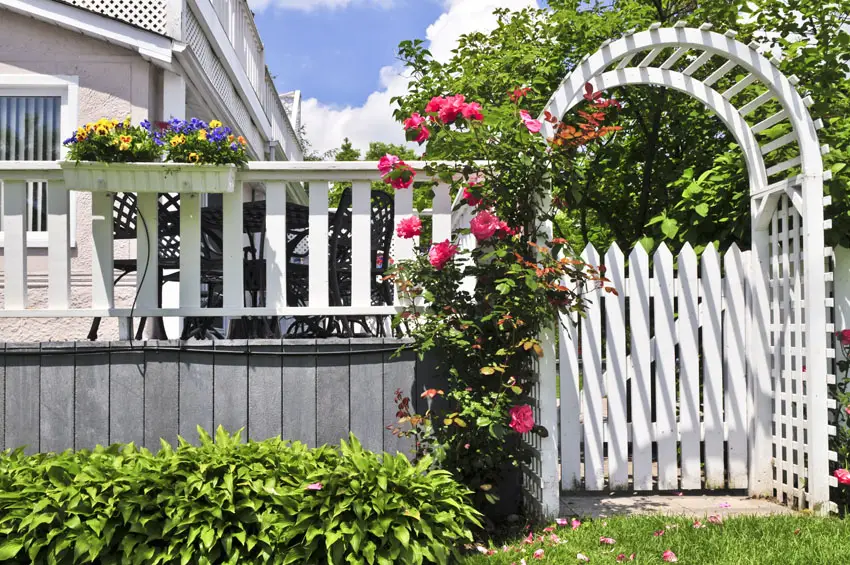 This beautiful archway arbor is made of weather-treated wood painted in white. This small structure is used as a gate/entrance to the garden area, and has trellis on its sides where crawling plants/vines could grow on.
Climbing Garden Trees
Planting trees to climb a structure in the garden area is not recommended since they may eventually overwhelm the structure. However, planting next to an arbor can provide branching leaves that provide plenty of shade, filter the sunlight, and provide a beautiful spot to enjoy nature.
Here are some general types that can work next to an arbor with excellent results.
| Type of Trees | Characteristics | Suitability with Arbors |
| --- | --- | --- |
| Flowering Trees | Small to medium size with seasonal blooms | Beautiful colors and scents; manageable growth |
| Dwarf Trees | Limited growth, compact | Adds charm without overwhelming space; easy to control size |
| Ornamental Trees | Unique foliage, moderate size | Provide visual interest through leaves and form; suitable for shading |
| Columnar Trees | Vertical growth, narrow shape | Frame arbors well, giving height without width; ideal for limited spaces |
| Bonsai Trees | Artistic, miniature versions of larger trees | Unique and classical aesthetic; require detailed care |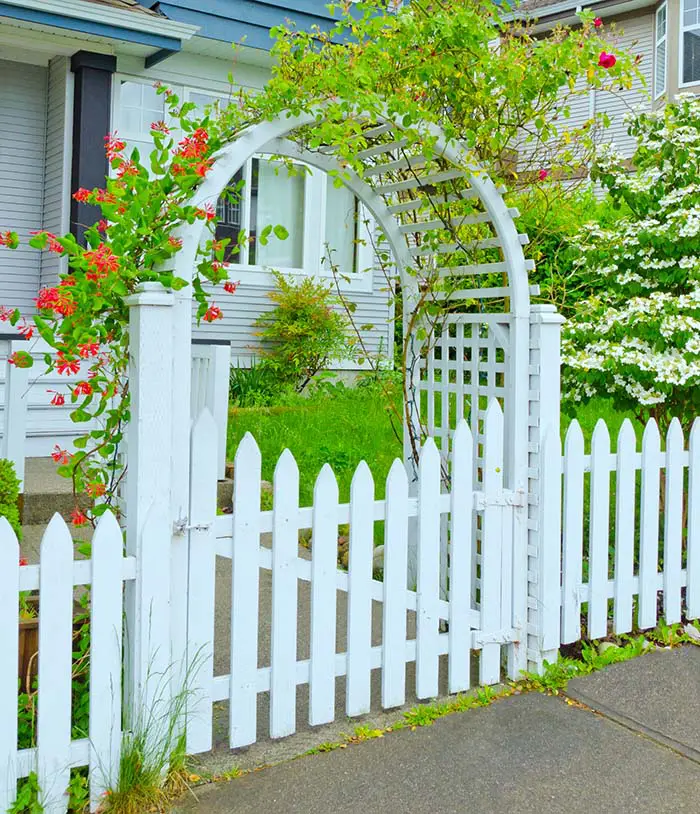 A wood archway arbor painted in white and attached to a picket-fence gate leading to the entrance of the house. The small design has some cross vines growing, adding a bright pop of red to the entryway.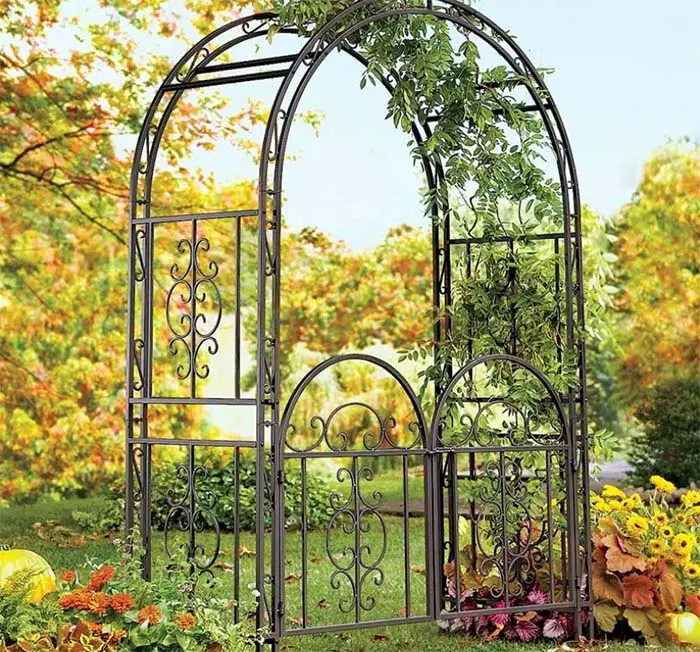 Iron garden arbor with gate

This metal arbor would be a great addition to any garden. It has a classic archway shape and a built-in gate door. You can conveniently place this between well-grown shrubs to act as a gate/entrance door. Decorative bent metal fleurs give this design a classic, art-nouveau feel reminiscent of gorgeous English gardens.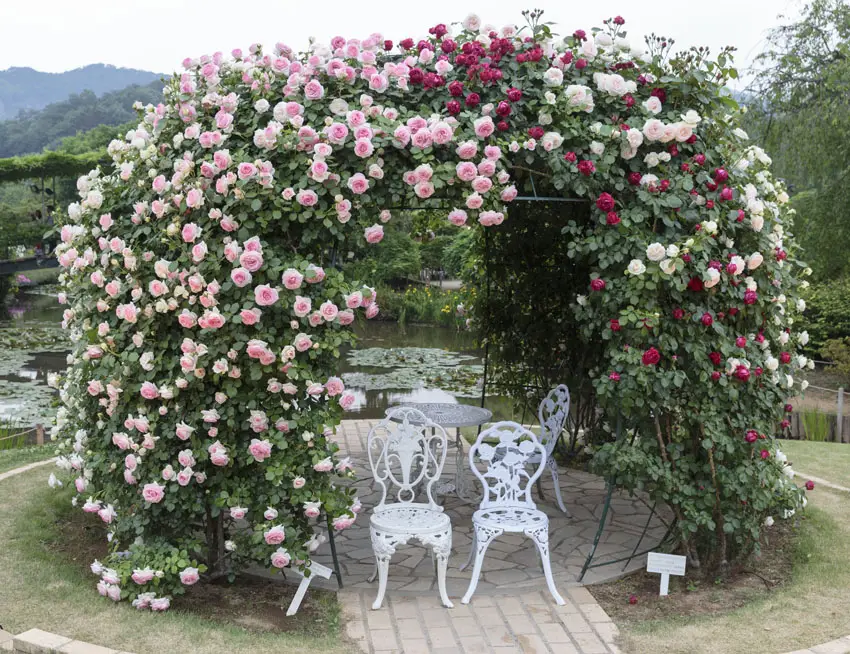 This large archway arbor made from metal was used as a center-piece for the garden's large pond area. The arbor creates a dome-like structure in which roses of a variety of colors grow on, providing shade inside the dome, making it a perfect place to relax and hang-out in.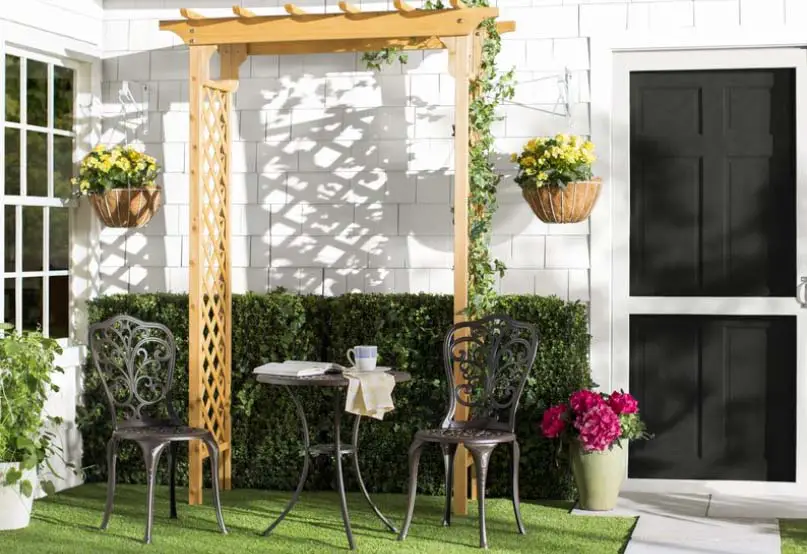 Wood arbor for backyard
This traditional arbor is made of lightweight maple wood, perfect for small gardens/yards and lightweight vines. The natural wood color of the maple adds a touch of warmth to any area of your garden while still blending into the natural surroundings. This type of ready-made kit is cheap, easy to assemble, and easy to move around.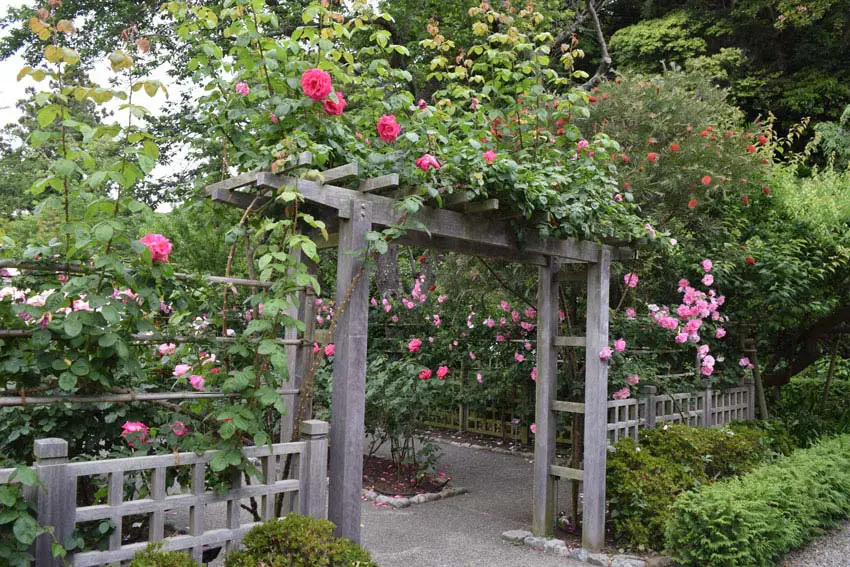 Rustic wood arbor with rose vines and lattice fence. This type of arbor looks great for the entrances of a garden and can be adorned with a variety of flowers.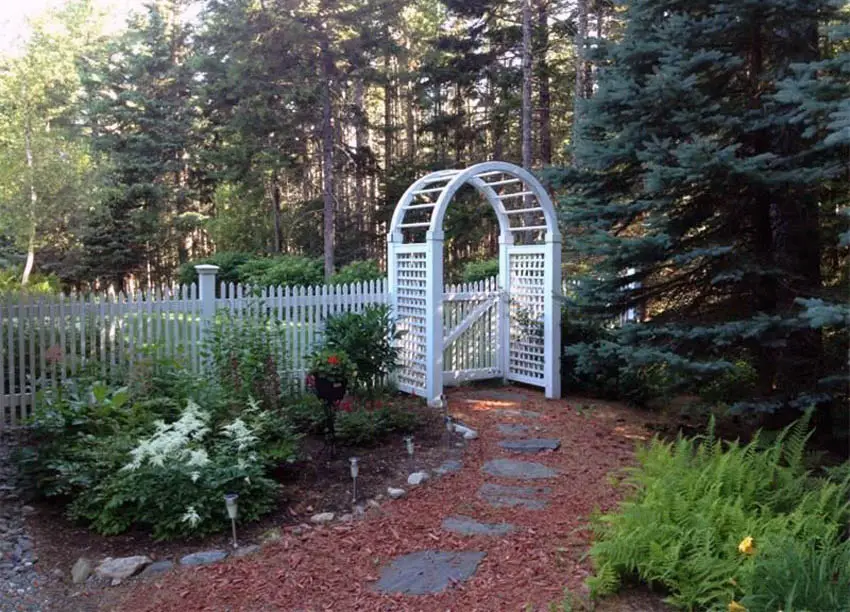 An attractive curved arbor with lattice design with gate connected to a white picket fence.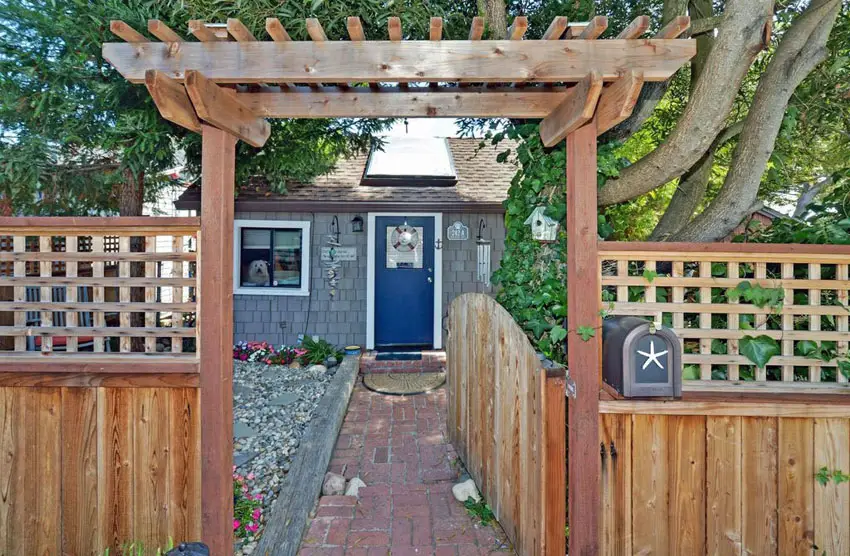 A wood arbor with gate creates an appealing design for the entryway to this house's front yard. The wood lattice fence helps provide privacy and separates the yard area from public spaces.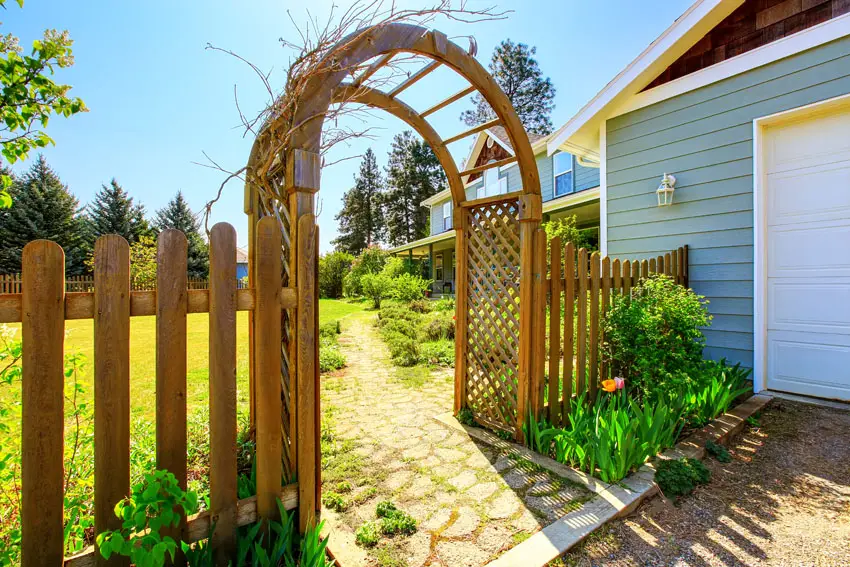 This wood arbor features a picket fence and attached lattice, creating a cozy entrance pathway to the home's front door.
Garden Arbors
A garden arbor is the perfect addition to a backyard as it provides several different uses. This structure can provide a shady spot to sit and relax and enjoy your garden space.
It can provide privacy or partition off a portion of the garden. In addition, it can be the ideal framework for beautiful flowering plants. One could create a tunnel-like structure to form a lovely covered pathway through their garden.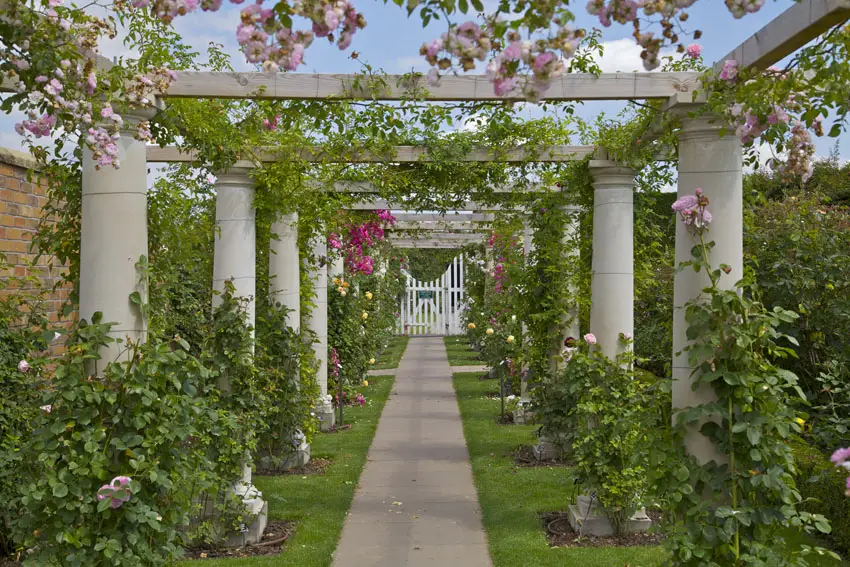 A series of traditional arbors creates a tunnel for the walkway. It stands on concrete Tuscan columns and uses solid wood beams to create a simple series of overhead vines. Metal wires were wrung around the columns to help the rose vines climb.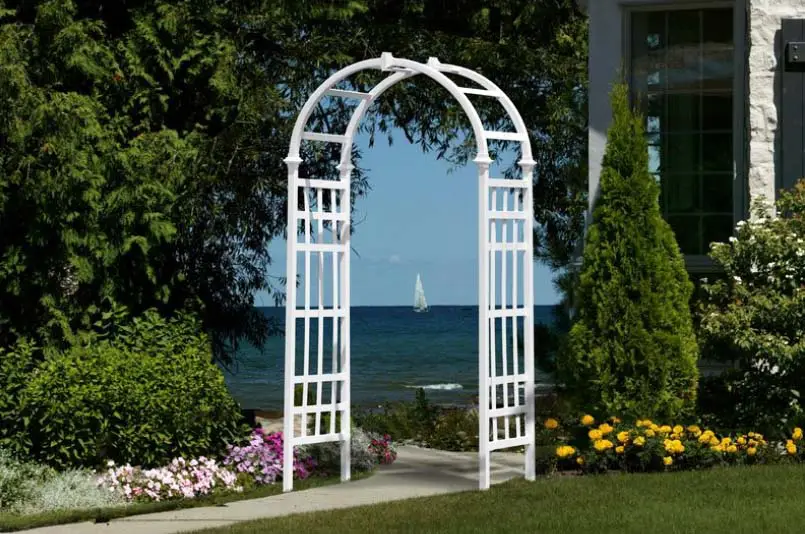 White vinyl garden arbor
A small archway made of lightweight vinyl can easily be placed in any part of your garden as an accent piece or a subtle archway to help separate different areas of the garden visually. This simple yet sturdy design can easily be assembled and transported and is also an ideal size for smaller gardens.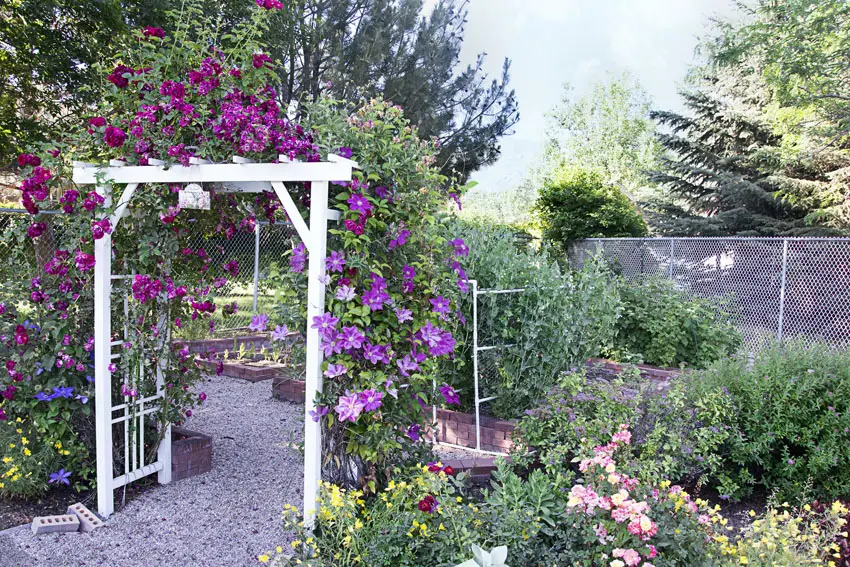 This traditional arbor is made from powder-coated aluminum, making it lightweight, durable, and weather-resistant. It was placed by the entrance to another area of the garden and is covered in various flowering vines in different colors and shapes, making it easily visible from afar.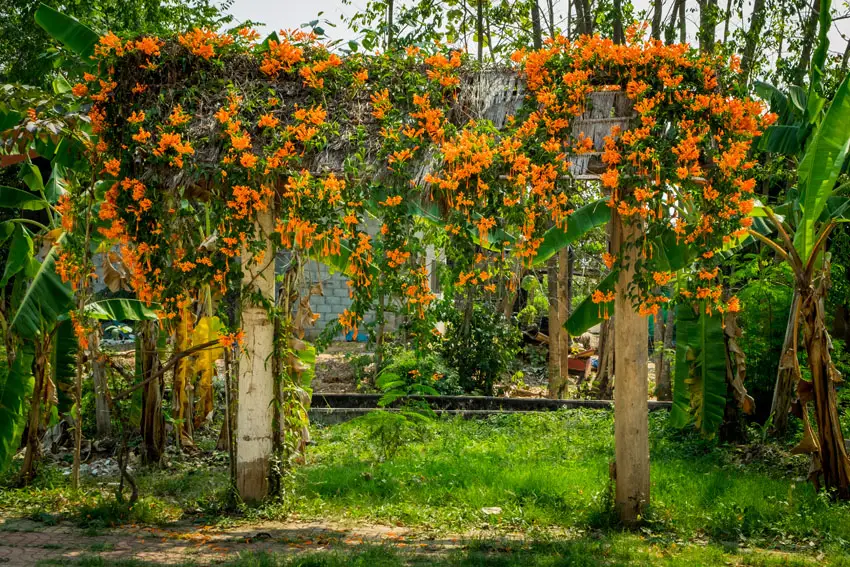 Using the original structure of an old shed with weathered thatched roofing, this simple rustic traditional arbor was produced. Cross vines grow abundantly on its beam, adding a bright orange color to the landscape, which makes it stand-out from the mostly green surroundings.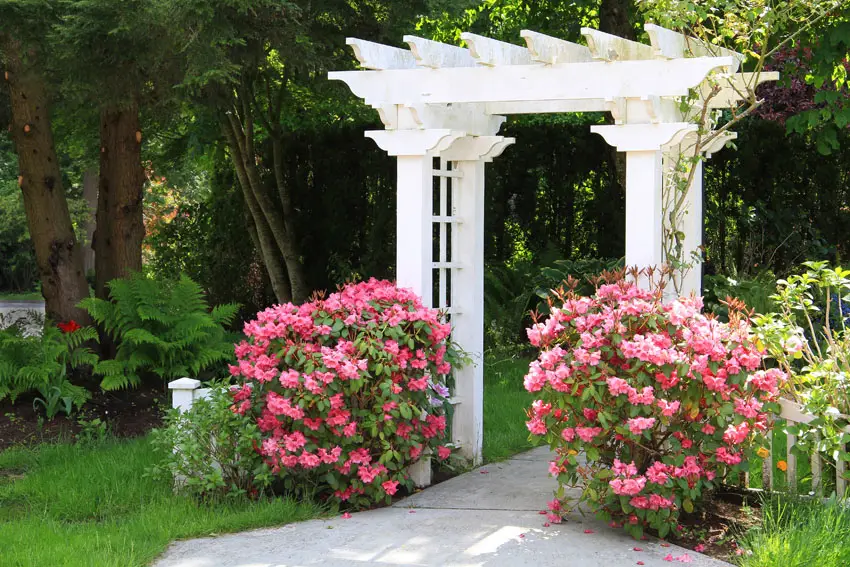 This traditional arbor uses large, sturdy wood supports for both its base and beams, making it a solidly-built structure. This was conveniently placed along a pathway, creating a marker/entrance area.
Wisteria grows in abundance in this metal archway arbor, creating a gorgeous and shady tunnel leading towards the house's entrance. When in full bloom, this archway design gives a stunning and lasting impression to anyone who passes beneath it. The Wisteria plant is known to grow from 3 to 5 feet a year, making it an excellent choice for a garden.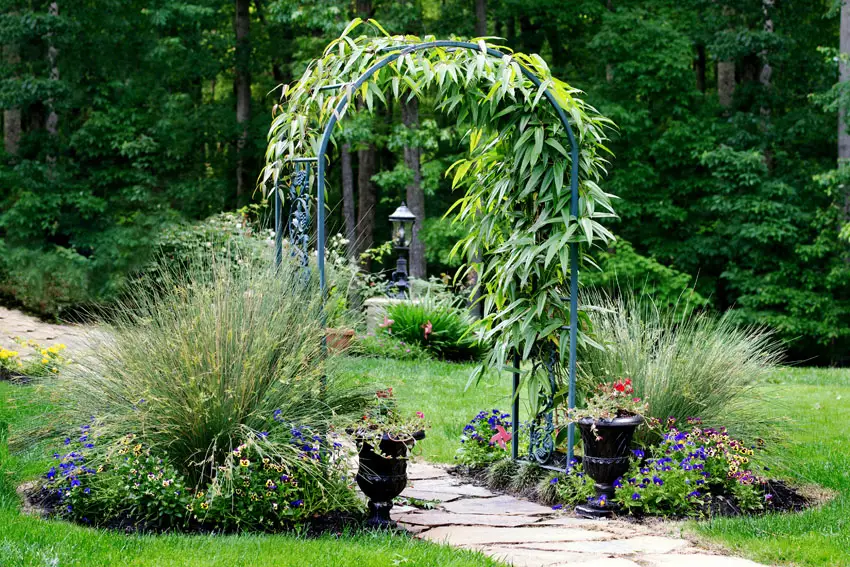 Metal garden arbor with climbing vines
A simple ready-made metal arbor with curvy plant motifs on the side to serve as the foundation for the crawling vines. The teal paint of the structure helps it blend in with the other elements of the garden, easily making it virtually invisible, especially once the leafy vines on it completely grows.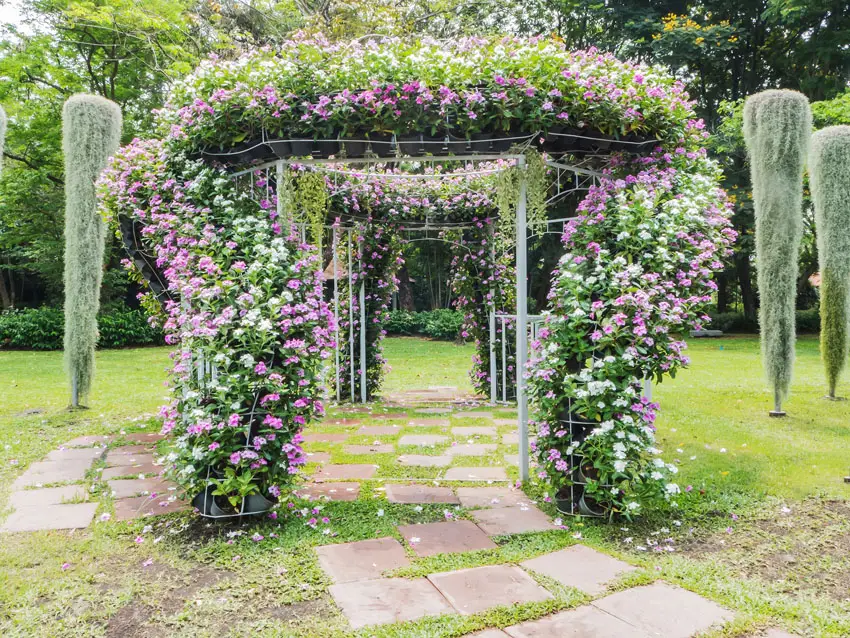 In this, you will see a pair of traditional style metal arbors. Instead of the usual crawling plants or vines, it uses normal flowering plants to surround the frame by creating a built-in structure to hold multiple flower pots on the sides and top of the arbor.
Related Garden & Landscaping Galleries You May Like:
Fence Planter Ideas – Garden Fence Designs – Pergola Ideas – Lattice Fence Designs