Types of garden benches including their materials, costs, sizes, design ideas and tips on what makes a good bench for your garden.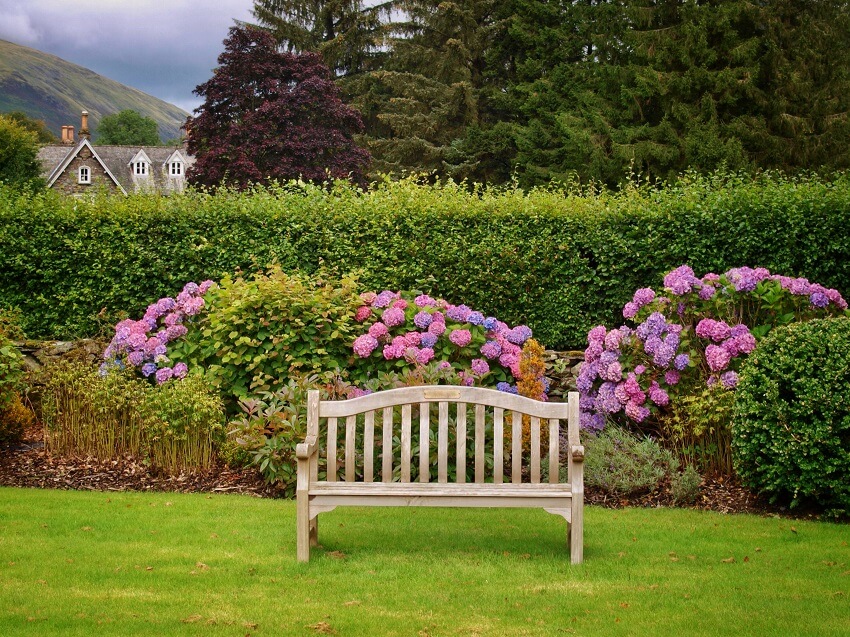 Benches installed in a garden are a great addition to its beauty, and even functions excellently as a resting area. Besides feeling all the nature surrounding you, the bench can also provide additional warmth to your garden's ambiance. Your garden is a place where you can relax and spend the time however you want.
You can turn your garden into your own personal reading spot or you can think big and transform it into an outdoor living room. One thing you can also consider is to install a hammock and really feel the nature all around you. Your imagination is really the only one that limits you!
With the different designs of garden benches, different materials can be used to make them.
Garden Bench Materials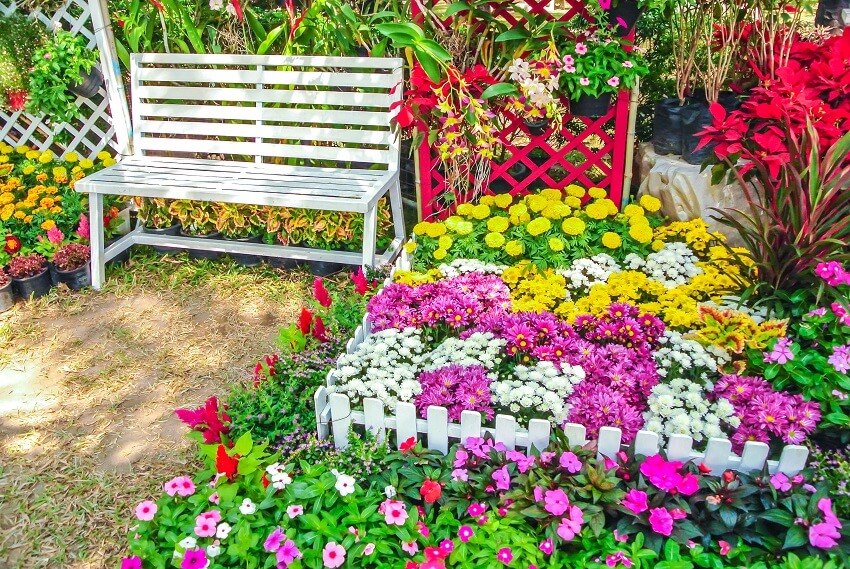 Garden benches can be made from different materials and it will be up to you what specific bench you want to install in your garden. They can serve as a resting area or additional aesthetics.
The most popular ones though are the ones that are the most comfortable and can easily match with other pieces of furniture. This includes benches made from wood, cast iron, and flat polyethylene weave.
Get to know the different materials for garden benches you can choose to avoid ending up with an uncomfortable one! Make sure to weighs your prose and cons. Here are the possible choices you have.
Stone Garden Bench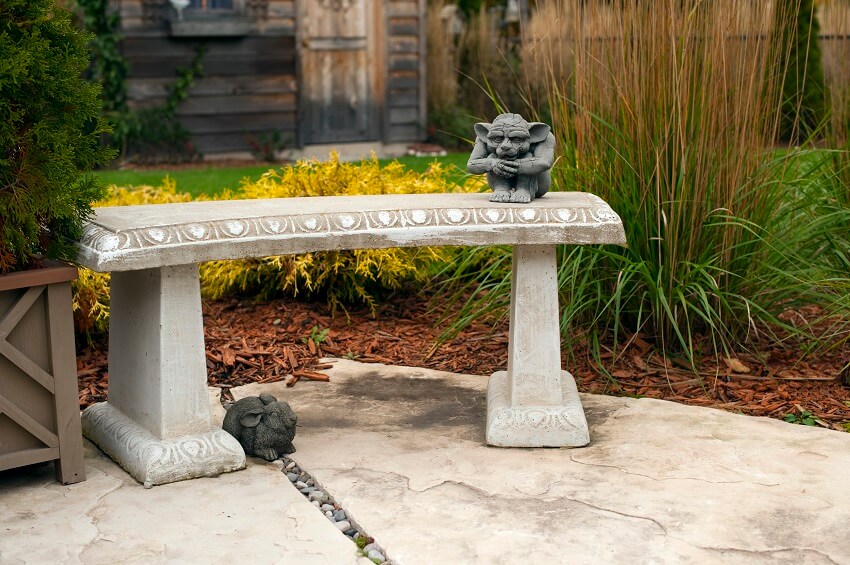 A stone garden bench, as its name suggests, is made from waterproof stone. And since the bench is hefty, deciding where to install it is a big decision. This is due to the fact that it will be difficult to move and relocate once already installed. You can also have the bench customized to the design you want.
In maintaining stone benches, you don't have to go that far in terms of effort or budget. You only need a non-acidic cleaner using a non-abrasive cloth. And finally, make sure to avoid the bench from having contact with any hot object.
Wooden Garden Bench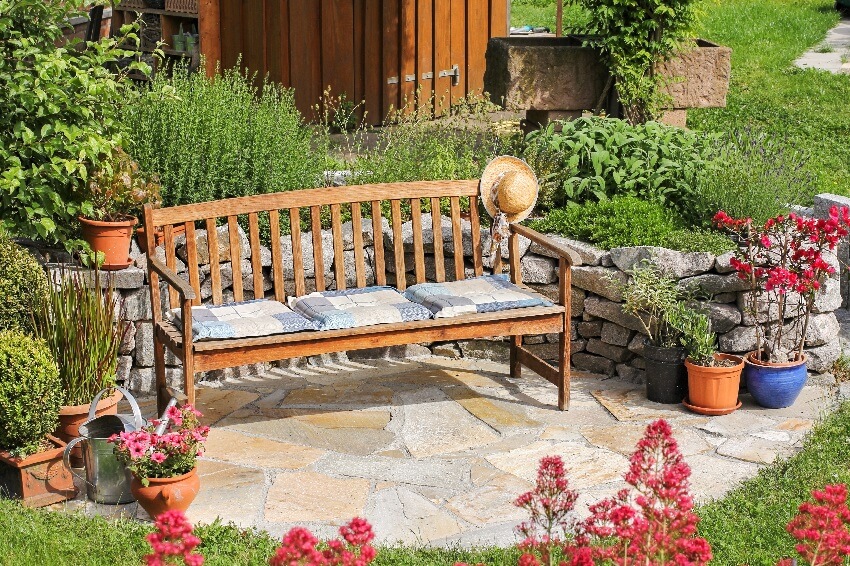 When it comes to garden benches, a wooden one is a classic option. The general nature feels is further enforced by installing a wooden bench. Wooden benches blend excellently in a garden and could never look out-of-place.
Wooden benches don't get too cold or hot when exposed outdoors. Some woods are water-resistant and are embedded with natural oils that make them repel water. This helps them last longer and would be a good option for furniture and outdoor installation.
Be reminded though that these wooden benches will not be entirely made from wood, considering screws are needed to keep the benches together. They are often made from zinc or stainless steel.
Two of the types of wood used for a wooden garden bench are cedar and teak.
Cedar Garden Bench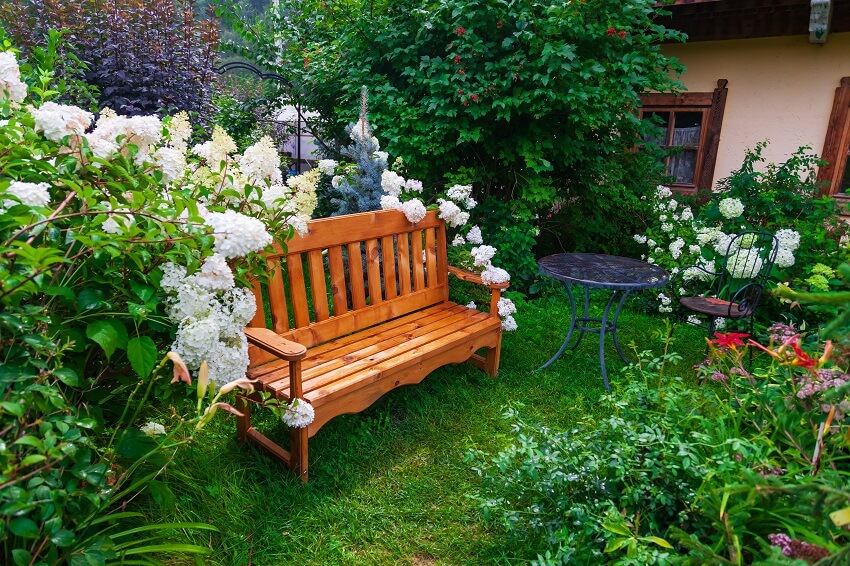 A cedar garden bench is made from natural cedar, which is known to have natural oils in them that help it become fungus and bacteria-free. This also allows them to be capable of resisting decay and rotting.
Ideal for humid climates, cedar has its insulation process, supported by little air pockets found in the wood, making it porous. This insulation process is responsible for the wood's protection against the change in temperature and climate.
As a result, cedar garden benches are protected from temperature changes that can expand or warp the wood. It also makes it ideal for outdoor installation.
Cedar is more expensive than pine, especially considering the fact that it can last for years when maintained and treated properly. If not though, cedar garden benches can turn gray, away from their original color. For more related ideas, read more about cedar decks' pros and cons here.
Teak Garden Bench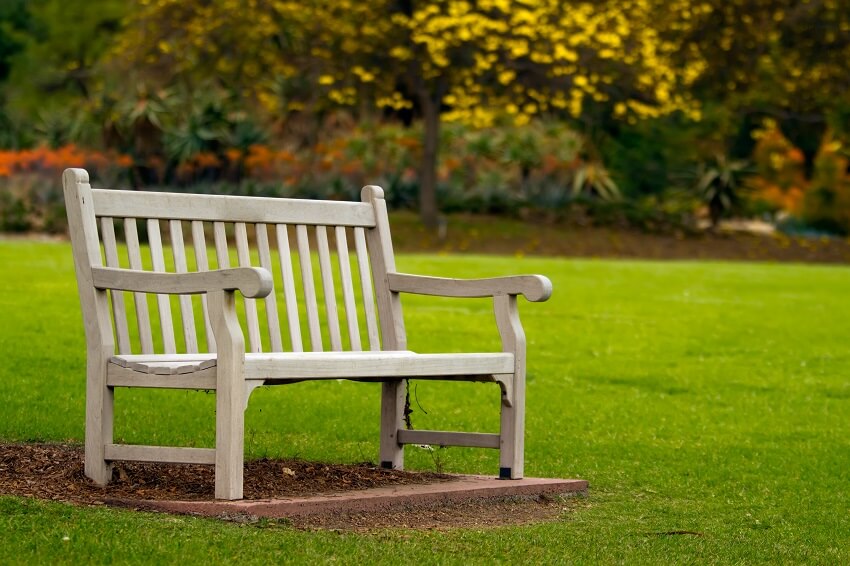 Teak has been used in shipbuilding, particularly in the construction of high-end boats, ships, and yachts, in the middle ages. It later converts to the construction of outdoor furniture in the 1950s.
Teak is another good option for a garden bench. This tropical tree fits the bill for an outdoor bench since it is known to last for at least 50 years (And yes, exposed to elements and all that!). It is also one of the strongest and most durable hardwoods available for furniture.
Teak is extremely expensive because it is slow-growing and difficult to harvest in volume sustainably. What makes it a good option for outdoor furniture like a garden bench is due to the following:
Pest-resistant – teak has natural oils that shoo insects like termites away
Weather-resistant – using the same natural oils, teak is also waterproof, which keeps it from becoming brittle and either cracking or warping. This also makes the wood weather-resistant and the perfect material for outdoor furniture.
Teak is also a low-maintenance wood, which only requires polishing once or twice a year. You don't even need varnish or paint since the wood will fade to an even and balanced patina color. In order to maintain its reddish-brown color, you can use oil to polish it annually.
And of course, teak is popular for its beautiful honey brown color. With age, it naturally and elegantly turns into patina gray.
If you want to maintain its honey brown color, polishing it with oil annually does the trick. If you want that natural patina gray color too then just let it be.
Metal Garden Bench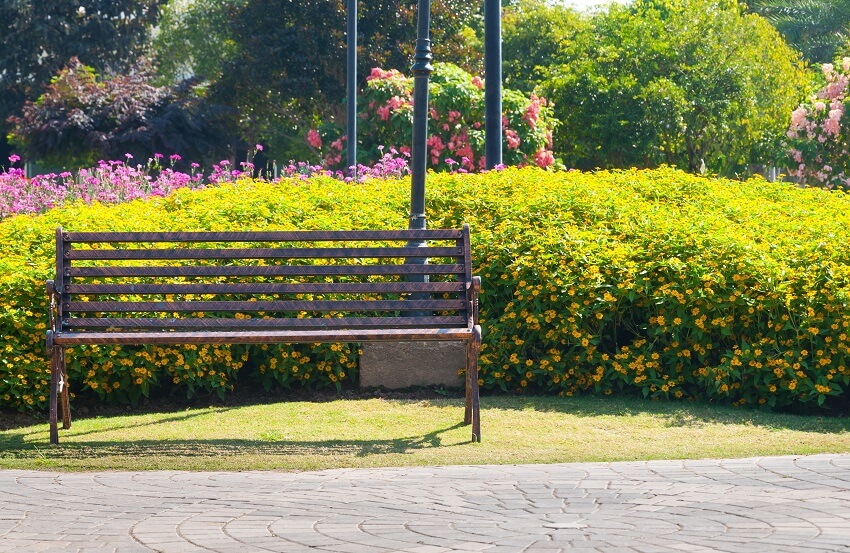 A metal garden bench is also a good option to consider if you are planning to install one in your home. Metal garden benches are also guaranteed to last for years considering the fact that metal can withstand weather changes and even the different harsh weather conditions. This is very important, especially since the furniture will be installed outdoors and maintained there at all times.
Besides its characteristic of being easily maintained, a metal garden bench can also easily be customized based on the design you want them to have. This will give you the flexibility you need to style your garden. Two of the most common metals used for garden benches are cast iron and aluminum.
Cast Iron Garden Bench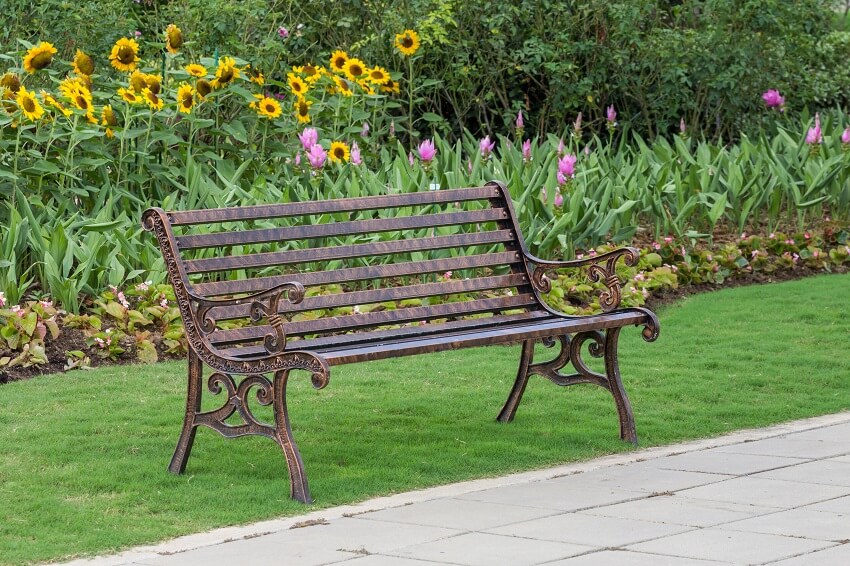 A cast iron garden bench is known to be highly durable and resistant. The downside though is that it can be quite heavy. This means that you need to be sure where to install it so you won't need to transfer this heavy bench from one location to another just to find the right spot.
If you are into the classic Victorian look and you want to integrate this style into your garden, these iron garden benches are perfect for you. They are ornate and attractive, and will definitely add a vintage vibe to your garden.
Aluminum Garden Bench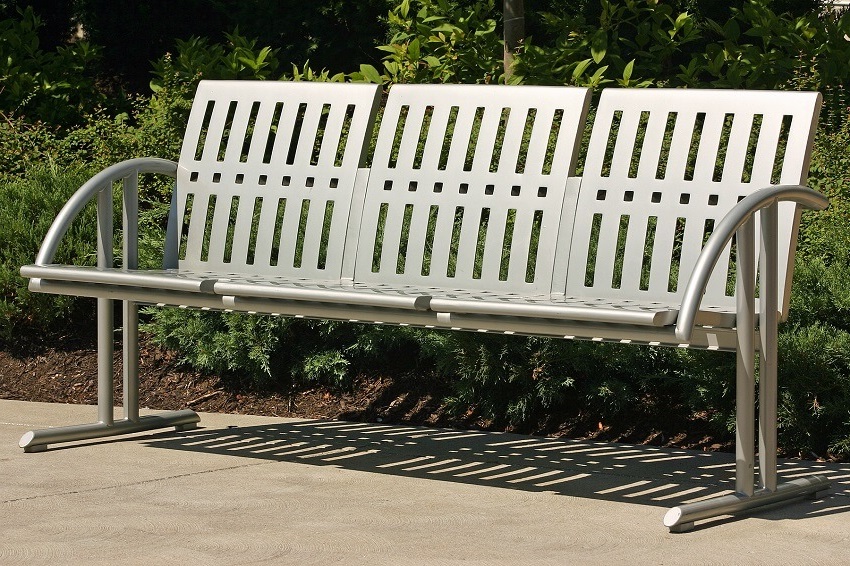 Aluminum is another material you can use for your metal garden bench. And there are two types of aluminum usually preferred for this outdoor furniture. You can either go for cast aluminum or extruded aluminum and they have their respective pros and cons you can take into account.
Cast Aluminum
• More durable but heavier (Installation must be fixed for less hassle)
• Many elegant and ornate designs to choose from
• Very expensive (especially when compared to extruded aluminum garden benches)
Extruded Aluminum
Incredibly lightweight (Installation can easily be accomplished and moving it from one place to another is not a problem when considering locations where to put it)
• Not very durable (Won't last very long)
• Not resistant to harsh weather conditions
• More affordable than cast aluminum benches
Concrete Garden Bench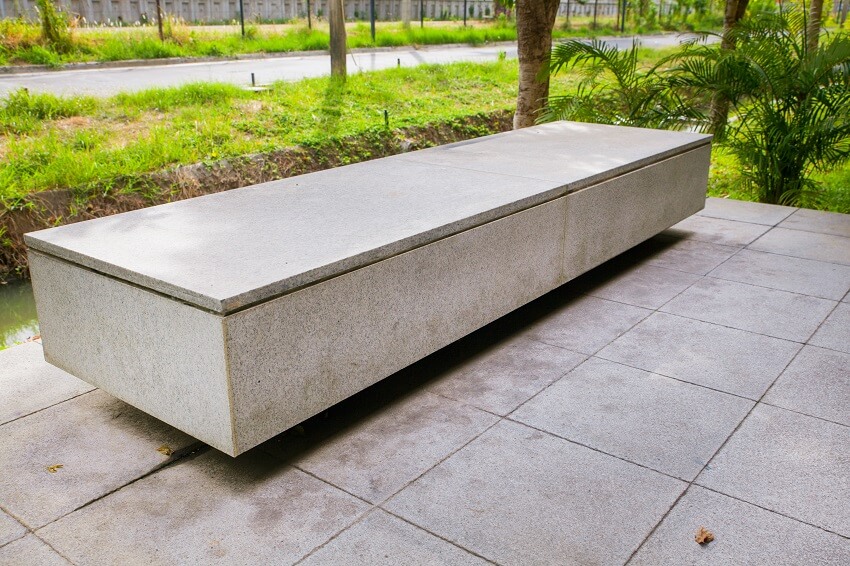 A concrete garden bench is another durable and weather-resistant option you can consider for your home. It requires extremely easy maintenance but can accommodate a wide array of designs and styles.
Yes, they are not just the standard rectangular cement slab that you would automatically imagine when hearing the words concrete bench.
Concrete garden benches can be easily customized in whatever designs you have in mind. They can also be mixed with other materials like recycled plastic slats.
Some of the types of concrete benches seen today are:
• Concrete benches with backs
• Concrete benches with thermoplastic seats and backs
• Concrete benches with treated lumber
• Curved benches
• Concrete benches with recycled plastic planks
• Concrete benches with concrete planks
Concrete garden benches are resilient and difficult to relocate. They can be creatively styled and mixed with different colors. This makes them ideal for landscapes.
Plastic Garden Bench
Plastic garden benches are considered the most affordable among all types of garden benches based on their materials. These benches are guaranteed to be durable despite being lightweight and maintenance-free.
Plastic benches are waterproof, making them a good option for outdoor installation like in the garden. They are also environmentally friendly and safe to be used with kids around. More than that, they can come in different colors and are perfect for a casual resting place in your garden.
Resin Garden Bench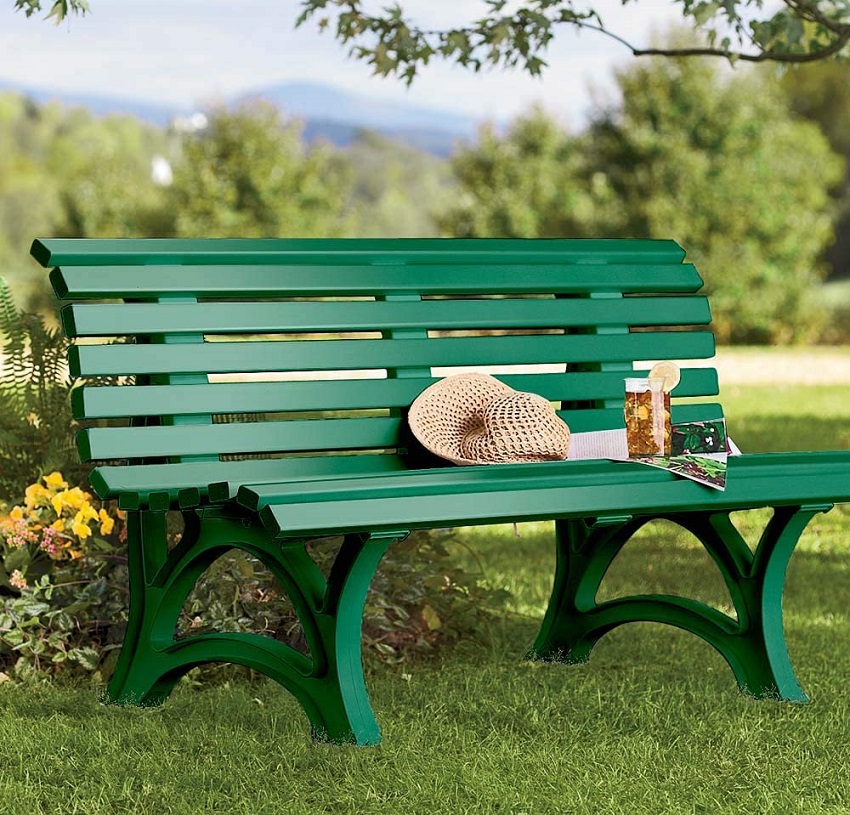 See this weatherproof resin 3-seat garden bench at Amazon [sponsored link]
A resin garden bench is an outdoor piece of furniture made from recycled materials, making it entirely environmentally friendly. It is also sturdy and low maintenance, and not prone to splitting nor rotting.
And what makes it ideal for outdoor installation is the fact that it is non-porous, making the bench moisture-free. This means that the bench can be installed outdoors for a long time without the risk of deterioration from harsh weather conditions.
Resin benches also come in a variety of colors, sizes, and styles. There are many attractive options you can choose for your garden.
Polywood Garden Bench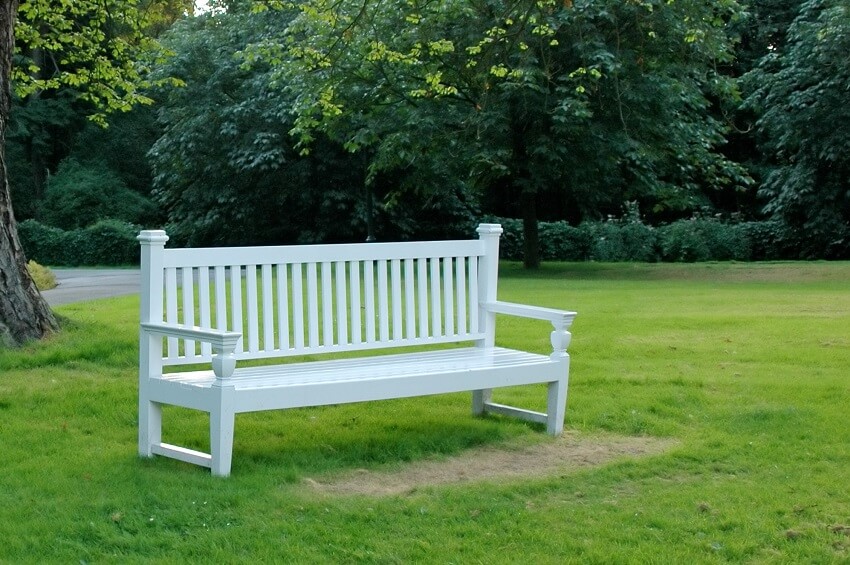 A Polywood garden bench is an example of a resin bench, which in this case consists of HDPE Polywood lumber.
The material and bench altogether are designed to withstand harsh elements that it may encounter in your garden. This particular bench can deal with harsh weather conditions.
If you choose a Polywood garden bench, expect the following characteristics and try to use them to your advantage:
• Sturdy- strong and durable when used
• Easy to assemble- structured and styled to be free from any warping
• Environmentally friendly- made from recycled materials
• Appealing to look at – comes in rich teak color
• Heavy-duty- can be heavier than wood
To get more ideas on Polywood, read our pros and cons of Polywood furniture guide.
Painted Garden Bench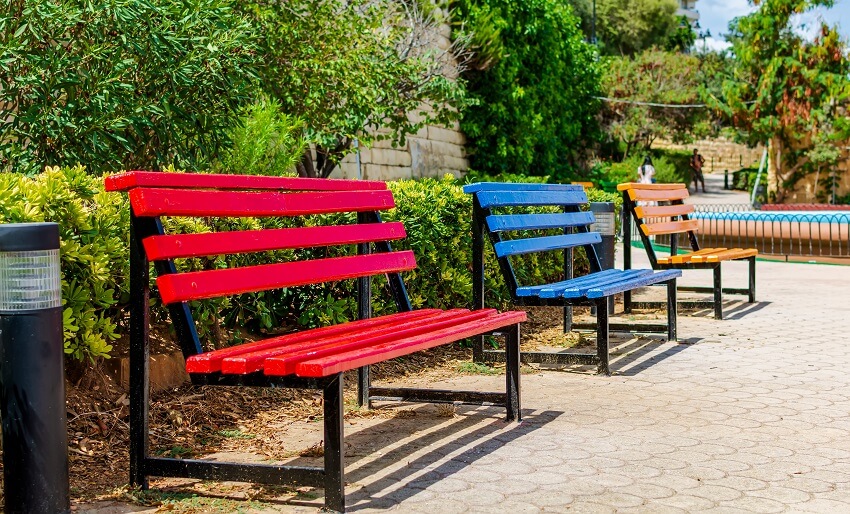 A painted garden bench is an excellent addition to give life and vibrancy to your garden. You can make it in a way that the bench becomes the focus and main attraction of the garden.
You can include a little fish pond or even a shrine, along with the bench, if you want. Really, your imagination is the limit.
You can also just integrate your garden with a simple painted bench for a resting place. This is a place where you can listen to music, read a book, or simply enjoy the air outside.
This bench can be made from different materials. The key here is that as long as there is paint used in the furniture.
More than these different types of benches based on materials, there are also other factors to take into account. Besides sizes and colors, designs also play a part in choosing the most ideal bench for your garden.
Different Garden Bench Designs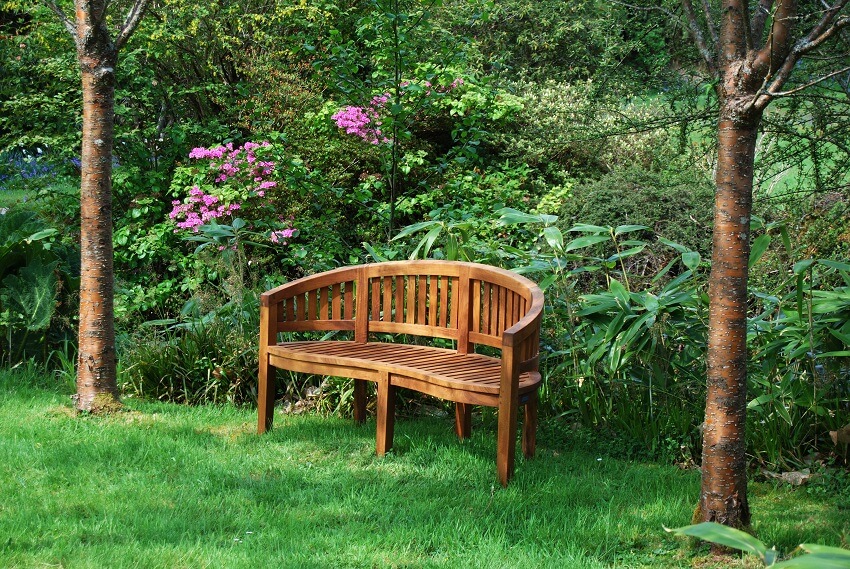 When considering what garden bench to get, the overall design and style of your garden play an important role in the choice. The bench you choose should at least match and harmonize with your garden and any theme you have going in that space.
Make sure it is not out-of-place in any way. And to help you with that, here are some of the basic garden bench designs used today.
Straight Garden Bench
A straight garden bench is a classic style that is most common for wooden, stone, and concrete benches. Basically, it is composed of 2 legs and a slab of whatever material it is made from placed on top of those legs. It can be a slab of stone or a plank of wood.
What makes this style appealing is its rustic vibe. This is one of the earliest designs you can date way back down the road in history.
It is very practical in its function and design. The style though is somehow improved using the two legs with intricate carving and lines.
A straight bench is great for a garden primarily for its practicality and simplicity. It can easily match whatever design you have in your garden and harmonize with it in general.
Curved Garden Bench
Compared to a straight garden bench, a curved garden bench provides that intimate feeling that may be lacking from the former. The curve in this bench is meant to bring people sitting on the bench closer together. So if you want to integrate a bit of intimacy into your garden, you can install this bench.
Curved garden benches come in different styles and forms. Some of these curved garden benches have armrests and a backrest, which also follow that same curve. There are benches though that come with a curved backrest and straight armrests.
And same with the straight garden bench, this can either be made from stone or concrete.
Garden Swing Bench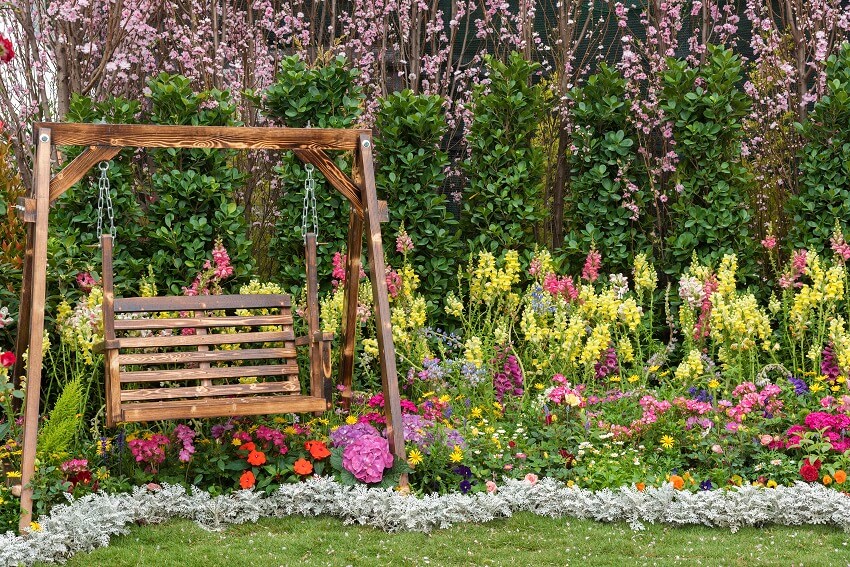 Remember that beautiful secret garden that has a maze with a swing bench at the center of that maze? Would you want one installed in your own garden?
A garden swing bench is a sweet and nostalgic addition to a garden. It is a great place to sit with family and just enjoy time together. And the standard garden swing bench is made from wood and metal. You can even build a sturdy swing bench below a tree if you prefer that kind of vibe too.
This kind of garden bench is a good addition to your garden and it can be picturesque to look at. And to be frank, it can be enjoyable to sit on.
Garden Arbor with Bench
A garden arbor with a bench is a wooden framework with a bench and a platform where it's installed, which is what an arbor is. The platform serves as an alcove, where there is a wooden roof (made from planks) that can shade the people sitting on the bench. An example of this is a pagoda.
Your own garden arbor with a bench can have a different design and you can even customize it with a style you want your garden to have. You can make it as a DIY project or you can have professionals create it for you.
The main point and advantage of a garden arbor with a bench is the solid roof on top of the wooden framework. This is an advantage since it allows you to enjoy the outdoors despite the pouring rain.
The framework can either be solid walls like wooden planks or lattices/trellises. The former provides more privacy while the latter allows you to be more in nature (of course with less privacy though). The sides could also be installed with plants climbing on the wooden framework, giving a rustic feel to it.
Solid walls make it more difficult to train a vine but provide seclusion. Walls made up of trellises or lattices let you feel closer to nature but offer less privacy.
Garden Bench with Trellis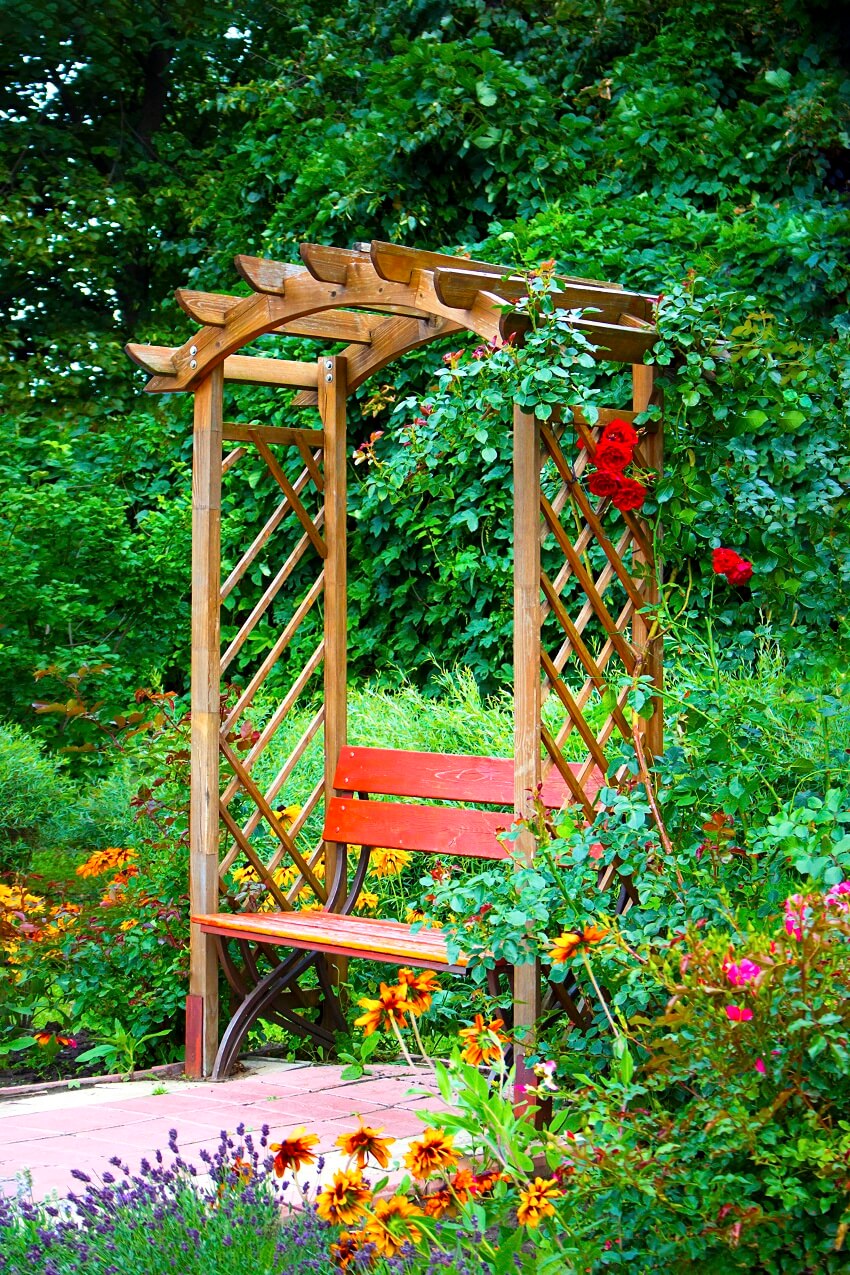 If you don't want an arbor, you can stick with a trellis. A trellis is a framework, metal or wooden, that can serve as a support for plants to climb and crawl to.
Some of the best materials you can use for a sturdy trellis you can choose from are the following:
• Monofilament (Fishing wire)
• Plastics or Strong Synthetics
• Wood
• Wrought Iron
Trellis is composed of vertical sturdy poles and horizontal flat cross pieces. It is from this design that plants can be trained to go up against it. You can use young trees, vines, or shrubs to match your trellis too.
When you use a trellis, you add privacy to your garden bench. It depends on how thick the plant on the trellis is to tell how much privacy it provides.
You can do the design of the trellis itself or you can have professionals create one for you. If you do it yourself, make sure that it can withstand harsh weather conditions.
Garden Bench with Planters
A garden bench with planters easily fits the bill for outdoor furniture ideal for your garden. The planters are right at home in the garden in the first place. And what you need to work on though is to make sure that the bench is sturdy enough.
Commonly made from wood, you have the flexibility to choose what kind. Besides that, you can also choose what specific plant to put in the planters. You can go for the flowery approach and a simple shrub.
The good thing about a garden bench with planters is that the bench part can seem like just a part of the design together with the planter.
And finally, this bench is a bit easy to make so you can do it yourself. You can make this a fun project!
Rustic Garden Bench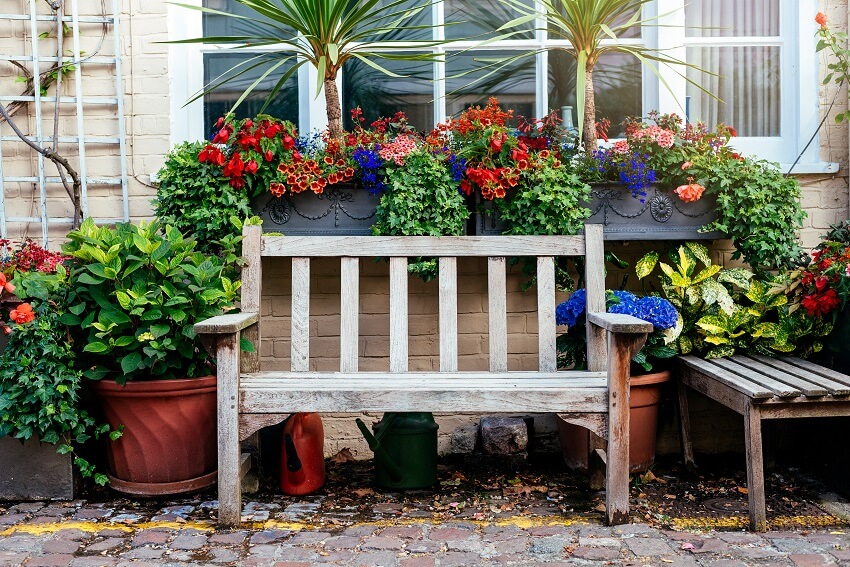 A rustic garden bench usually comes in the form of a wooden bench. Most people will imagine a rustic driftwood bench because of its crude and rough construction.
Despite being rugged, there is some sort of charm to it, which is why a lot of people choose this type of bench for their own gardens.
If you choose a rustic garden bench, make sure to match it with the theme you have going for your garden.
If your garden pathways and even the pots and planters in your garden look smooth and elegant, a rugged-looking bench might not be a good idea.
Modern Garden Bench
Compared to the rustic garden bench, the modern garden bench is more flexible when it comes to style and design elements. From the materials they are made from to their sizes and style, modern garden benches are widely varied.
Modern designs prioritize functionality and uniqueness. In terms of functionality, a modern garden bench usually has more than 1 function. A good example of this is a garden bench that splits into a small table and two chairs.
In terms of uniqueness, this also comes in several elements. It can be unique through the design of its structure, color, and even size. One example of uniqueness is a modern garden bench that has an inverted triangle for its legs.
English Garden Bench
An English garden bench is a classic-looking bench commonly made from wood. An authentic English garden bench is made from teak and styled for optimum functionality. It has four legs, like a standard bench with two armrests.
Its backrest is striped but its top part can sometimes be straight or have curves with its own design. The color of the bench can vary from white to a light olive green color.
While it shows a certain charm, an English garden bench emphasizes functionality. This is evident with how sturdy the bench is constructed and designed in the first place.
Backless Garden Bench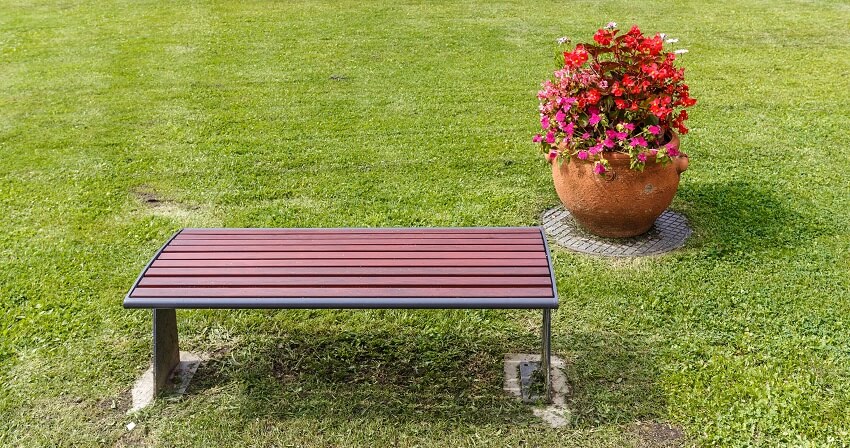 A backless garden bench is as simple as how it is named. It is designed not to have a backrest but it can sometimes have armrests. It can have a dual purpose since you can use it for the following purposes because of how it's designed:
• A bench for sitting (which is what it is in the first place)
• A shelf you can put planters on
• A table where you can place food on when you're chilling in the garden
The fun part is in the flexibility of the backless garden bench. It can also be made from teak or Polywood, depending on what you prefer.
Tree Garden Bench
If you want more fun and into-nature style, a tree garden bench is an excellent choice. You can enjoy some time under a tree, read a book, and drink a cup of coffee by sitting on a tree garden bench.
This garden bench usually surrounds the trunk of the tree that it will be attached to. The tree will also serve as the roof of the bench.
The downside of a tree garden bench is that you need a good tree to install the bench. Once you install the bench to it, it will be difficult to uninstall it and transfer it to a new location. It doesn't take away the fun and relaxation you get from staying under the shade of the tree.
Storage Garden Benches
A storage garden bench is a piece of multi-function outdoor furniture that works in two ways- a bench and storage. This is a good idea for those who love gardening.
If you want to take a rest from a day's work of gardening, this is the ideal bench to sit on because not only do you have a place to sit on, you also get a storage space for your gardening tools.
And like any other garden benches, there are different designs you can choose from. The main point of a storage garden bench is to offer a resting place and storage space at the same time. And whether it comes with a backrest and armrest is up to you.
Garden Bench Table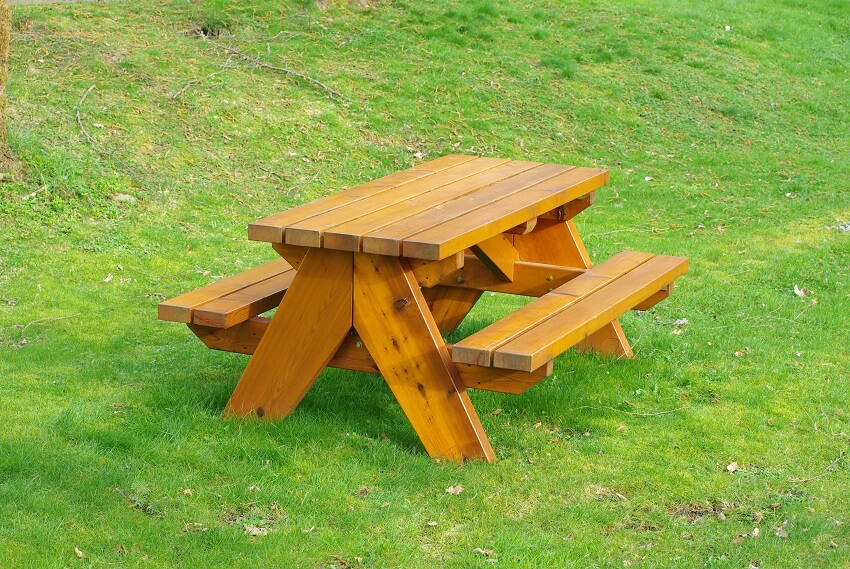 A garden bench table houses a modern and innovative design like no other. The bench itself and the backrest are separated that the bench can work as a standalone table.
Most garden bench tables are made from wood and metal with a right square angle for their legs.
If you want something popping in your garden, the design of this garden bench table is a great addition. See picnic table sizes here.

Corner Garden Bench
If you have a big garden and have extra space lying around, you can consider a corner garden bench. A corner garden comes with two backless benches connected to form a right angle or a corner.
This can be a good private space you can enjoy with your family and friends. You can even install a center table for food and drinks if you want to.
With this variety of options to choose from, you can definitely find the ideal bench that goes along with your garden.
Garden Bench Sizes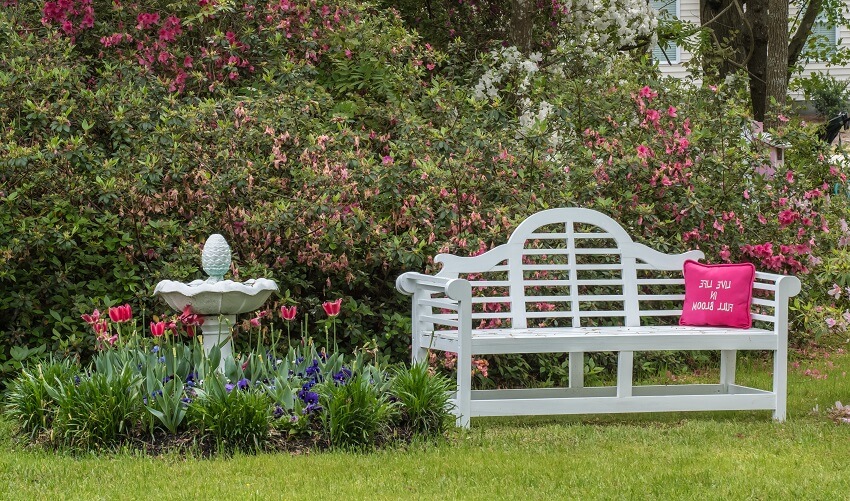 When talking about the right garden bench size, is there really a general measure to it? Straight answer, no and garden benches vary in size and several factors can affect how the length or seat height of the garden benches.
Determining the right garden bench size centers on your comfort. How high would the bench have to be so that you will be comfortable sitting on it?
How wide do you want the plank you're sitting on to be? Getting the dimensions right will help you be more comfortable and get the best out of the value of your garden bench.
Before checking out the height, width, and depth you can consider for your bench, let's discuss its backrest and armrests first.
• Backrest– this is not a requirement for a garden bench and some may not even have a backrest. If chosen though, make sure it extends at least 16 inches starting from the top of the seat. (You can also add a gentle 5 degrees slope for additional comfort)
• Armrests– same with backrest, armrests are not required in a garden bench but it can help add comfort for you, especially when standing up. While everything is up to your preference, it is recommended to be 8 inches starting from the top of the seat and 4 to 5 inches in width.
What is the Height of a Garden Bench?
The standard height (despite not really having a requirement for it nor a general size) for a bench, whether it is indoor or outdoor furniture, is between 18 and 20 inches (without backrest) and between 30 and 36 inches (with backrest).
According to the American with Disabilities Act though, the maximum functionality of a bench can be reached if the seat height is between 17 to 19 inches. This height can accommodate comfortably even people with limited mobility.
This will of course change if you are making a bench for your kids or someone specifically tall. The decision for the preference for the bench's height at the end of the day is yours.
How deep should a garden bench be?
In deciding how deep a garden bench should be, you should consider who will be constantly using it in the first place.
If you want a standard measurement that most benches have, the depth should be between 15 and 20 inches (others say to try as close to 16 inches as possible for the most comfortable depth). Again, this is only if the bench is made for adults and not for kids.
How thick should a bench seat be?
When talking about the width you can follow for your garden bench, here are some measurements you can follow based on the number of people it can accommodate:
2-seat bench- between 42 and 52 inches in width

3-seat bench- between 53 and 80 inches in width

4-seat bench- between 81 and 96 inches in width
The width of the garden bench plays an important role in the comfort you get when sitting on it. If you force 4 people to sit on a bench with measurements fitting a 2-seat, that won't be comfortable for anyone.
Bear in mind though that you are not being restricted to how wide you want your bench to be. Your imagination is your friend and you can do whatever you want.
What Makes A Good Garden Bench?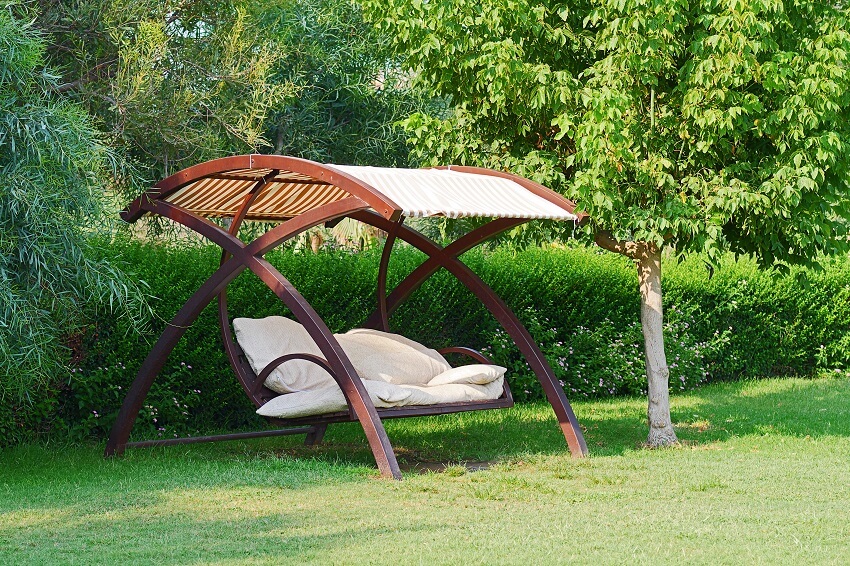 With all the different types of garden benches to choose from, as well as the different sizes they come in, how can you tell if one is a good garden bench? Something you can sit on that's on your garden does not automatically qualify it as a good garden bench.
There are different elements you can consider if we're really discussing this meticulously. Some of those elements you can take into account are the following.
Bench Materials
There are a variety of bench garden types based on the materials they are made from. Determine what you are comfortable using and match the vibe it offers to the one you have going in your garden. In general, here are the choices you can skim through:
• Timber/Wood
Teak

Natural Wood

Natural Cedar or Pine

Australian Jarrah
• Metal
Ornate Iron

Retro Metal

Aluminum (Cast or Extruded)
• Plastic
• Resin
• Wicker
And these are only a few of the options you can check out. Don't be limited by this selection and research as much as you want.
Bench Style
From the classic back porch style to the fun and quirky tree garden bench, decide on the design you want to have for your bench. Do you want a minimalistic wooden bench or a traditional English garden bench?
There are many styles to choose from so this could either be a stressful or fun and challenging task for you, depending on how you see it. Choose one that can accentuate the vibe you have in your garden.
Space Needed

Another consideration you can have before you say that a garden bench is a good one is the space that it's supposed to fill. If you have a gigantic garden and chose a small garden bench, will it be a good choice?
The same goes for a small garden choosing a large bench to install. Make sure that the bench you choose is not too big that it won't fit in your garden or too small that it may seem an insignificant addition.
Besides considering the size of your garden, consider who will be sitting on the bench too. If you have a large family with a large enough garden, don't choose a small backless bench that can't accommodate half of your family members. Maybe you can go for a corner garden bench, which is also conducive for conversation and bonding.
Installation Location

The location where you will install the garden bench also plays an important role in figuring out if it is a good bench or not. The best place for a garden bench is somewhere that can accentuate your garden and somehow add aesthetic value to it as well.
If you have pathways in your garden, install your bench beside the pathways so that when you get tired of walking, there is somewhere you can rest. Besides that, a good location for a garden bench is below a tree.
You don't even need to install a tree garden bench to enjoy and make the most of the tree's shade. You can install a curved garden bench below a tree you have in your garden.
When it comes to the location where you can install your bench, make sure that it emphasizes a view and the look of your garden. You can either disguise it as part of your garden or somehow make it your garden's focal point.
Manufacturers
The innovators and manufacturers of the garden bench may matter if you are not the one constructing it yourself. Just stick with makes that have a good reputation and reviews from previous clients.
Some of the top brands creating garden benches are Campania International, Plow and Hearth, Trent Austin, Richland, Oxford Garden and Belleze.

Garden Bench Cost
When considering the cost of the garden bench, you should first consider the budget you have and you are willing to let go. Prices range and while DIY benches are guaranteed cheaper, they can be time-consuming and you might now know what you're doing too.
The standard garden bench cost ranges from as low as $150 to $950 depending on the types of materials and construction.
If it's manufactured by experts and professionals, don't just go immediately for the cheapest one. Assess the bench, its materials, style, and durability, as well as if the cost is worth it in the get-go. Choose something that can withstand harsh weather conditions!
Multi-functional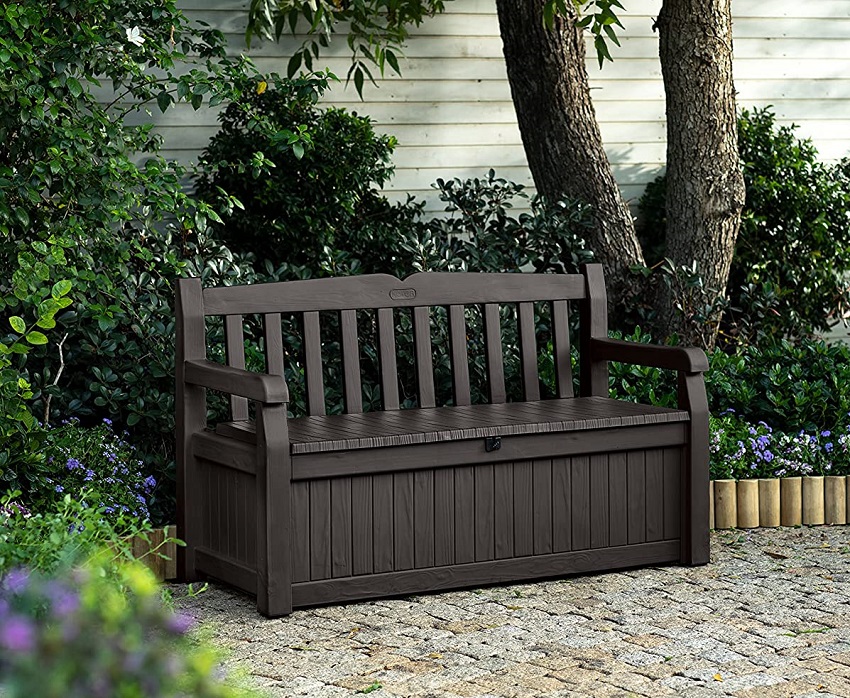 See this Keter Solana 70 Gallon Storage Bench Deck at Amazon [sponsored link]
In choosing a good garden bench, you might also want to consider a multi-functional one. And while this is not really a strict condition in determining if a garden bench is a good one, it is a good addition to it.
You may want to consider a garden storage bench or a table garden bench. The former has storage space for your garden tools while the latter also works as a table
Cohesive Design
And finally, you can say you got a good garden bench if it matches the cohesive look of your garden. Don't choose a bench that looks out of place. Whether it is in material or color, try to match the style and design of your garden.
For more related content, visit our article on different outdoor bench ideas.