Here's our guide to the pros and cons of polywood ®,furniture including what's it made of, its cost, and how to clean this outdoor furniture.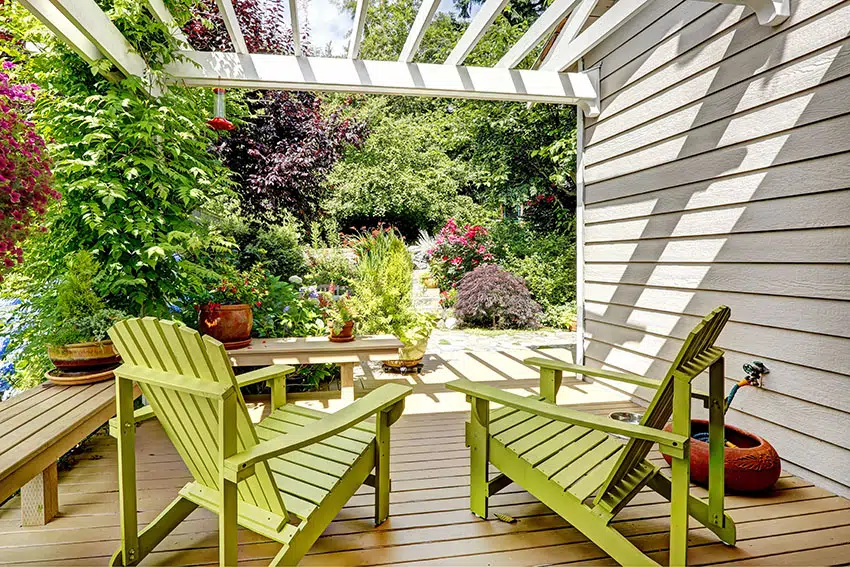 A pleasant and relaxing outdoor area is always composed of eye-pleasing, stylish, and of course, durable furniture. Nowadays, a lot of people are starting to get interested in Polywood pieces as it is highly known for its strength and toughness against sunlight, making it a perfect choice for outdoor furniture.
If you have your own swimming area in your house or garden, you might think about adding furniture such as chairs, tables, benches, or couches. Evidently, most people have observed that furnishingmade out of Polywood is the best choice as it is almost unbreakable and it's said to last a lifetime.
Although Polywood is a little bit more expensive than any other type, it still has its beneficial and unique advantages. However, what is Polywood furniture? And what is it made of?
If you're not familiar with this type of furnishing, then you might think that it's just another common kind of wood that could easily break and rot after a long time. But if you're going to do more extensive research about it, Polywood isn't actually a kind of wood. Then what is it?
What is Polywood and What is it Made Of?
To get started, Polywood is all-weather furnishing and it is specifically designed for outdoor use. It is made to strongly withstand outdoor elements. The poly lumber is made from HDPE (High-density polyethylene) which is a thermoplastic polymer generated from petroleum.
HDPE is one of the most durable and multifunctional plastics and it's very easy to recycle and turn into high-quality and ultra-durable products. There are many things that make this material the best option.
Polywood is similar to composite materials as both are constructed with polyethylene. However, it is made of 100% high density polyethylene, while composite furniture uses some recycled wood in its formation.
Killer pests such as termites aren't attracted to poly lumber. This material also doesn't attract annoying insects and rodents, and amazingly, it doesn't absorb moisture making it very weather-resistant. No wonder Polywood is an amazing choice for outdoor usage.
On the other hand, just like any other type of furniture, it also has its advantages and disadvantages. Yes, in this article, we're going to talk about the pros and cons of Polywood furniture.
The Pros of Polywood for Furniture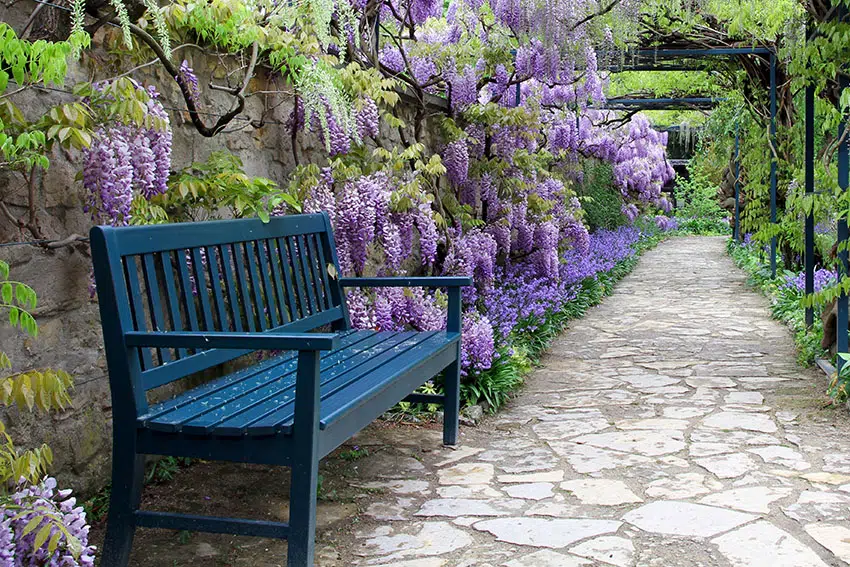 Polywood furniture is starting to get really trendy because of its good reviews and feedback from lots of people. Let's talk about some of the pros.
Are you a person who loves saving the earth by obtaining eco-friendly products? If Yes is your answer, no doubt you'll love this option. If we're going to talk about the love for the environment, this type is a perfect topic because poly lumber uses a composition of recycled materials.
An unrefined high-density polyethylene (HDPE) material is made out of recyclable waste like grocery bags, cutting boards, milk, shampoo bottles, pipes, and other post-consumer materials.
It simply means that poly lumber is predominantly derived from recycled objects. The reuse of HDPE is always much more safe and beneficial than disposing of plastics in a landfill site. Poly lumber can be safely and easily styled and designed with wood-coloring materials.
Using Polywood simply means that you are against cutting trees to create furniture.
Just like what I said earlier, this type uses all-weather materials. Yes, poly lumber can withstand any type of weather and it is one of the most durable, long-lasting, and top-grade furniture you can use.
Unlike any other furnishing where you must put moisture barriers or insect repellant to make it safe, Polywood is safe to use as it is. You won't need to put some chemicals on it just to improve its longevity and safety.
Although the thefurniture cost is more expensive than any other type, I must say that it would be worth the purchase. With every poly piece you buy, you're helping to save the earth!
Beneficial in terms of Color and Design
HDPE can retain colors very well. It can be filled and saturated with either natural or vibrant colors. Over time, you won't notice color fading because UV stabilizers are included in the process.
Designing and coloring this type is very easy and enjoyable as the colors are totally distributed all over the area. Because the colors are well-distributed, the scratches become unnoticeable.
Additionally, poly lumber can be easily shaped according to the user's preferences. If you want either an old-school or modernized design, you can do it with poly lumber. If the surfaces are well-embossed and sculpted, poly lumber can amazingly look like authentic and natural wood.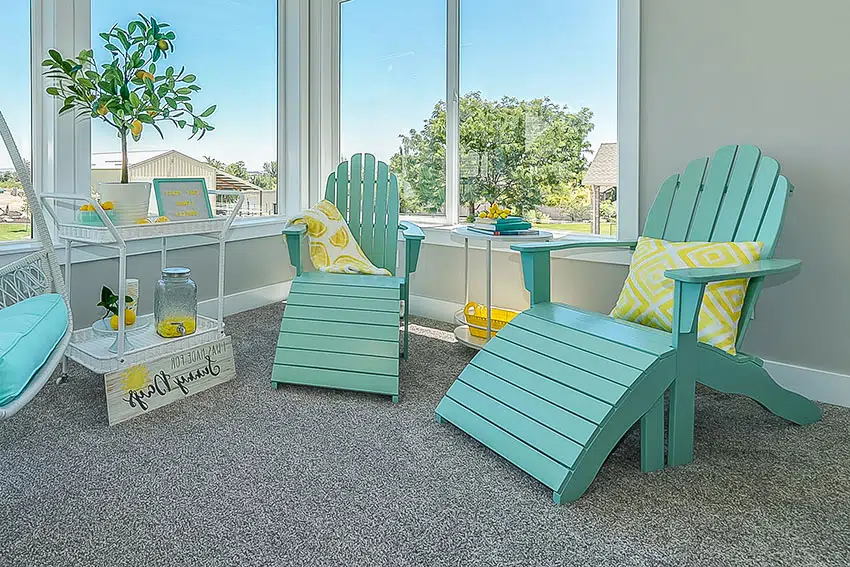 Well, in reality, poly lumber is almost maintenance-free. Why? It's because this material doesn't rot, splinter, crack, and rust – it's pretty much unbreakable!
Low and high temperatures aren't a problem because poly lumber can withstand all types of weather. Even if it's sunny, rainy, or snowing, Polywood furniture will remain as it is. It can stay durable and high-quality despite any climate.
Moreover, Polywood pieces can withstand chlorine, mildews, and saltwater. It does not react with oil or fuel. It can get stained with some other solvents but it can be easily removed.
Unlike any other product, these products don't need to be coated or waterproofed. After purchasing it, you can already use it as it is without worrying that it can fade, crack, or break over time.
The long-lasting durability of Polywood is further enhanced by its fade resistance from the sun and ability to maintain its appearance outdoors.
The Cons of Polywood Furnishings
There are lots of pros that we have talked about earlier, but still, there are a few minor cons.
Because of the HDPE, no wonder it is more pricey than other types. Its price would be a problem if you don't have a lot of budget in investing in high-quality outdoor furniture.
If you have family members who aren't physically okay to carry heavy objects, Polywood furniture might be a disadvantage. It can be an advantage for many people, though.
Since it's heavy, it can't be moved even by a strong wind. However, if you are the type of person who likes to reorganize your outdoor area, it would be hard for you to move this furniture around. It would be highly exhausting to move this heavy piece from one place to another.
Does not Adapt with your Body Shape Over Time
When buying a Polywood chair or bench, choose one that's already comfy for you. Why? HDPE is very firm so it won't conform to your body shape over time, unlike any other wood type that changes shape over time. However, this isn't quite a major issue.
Polywood Furniture Cost?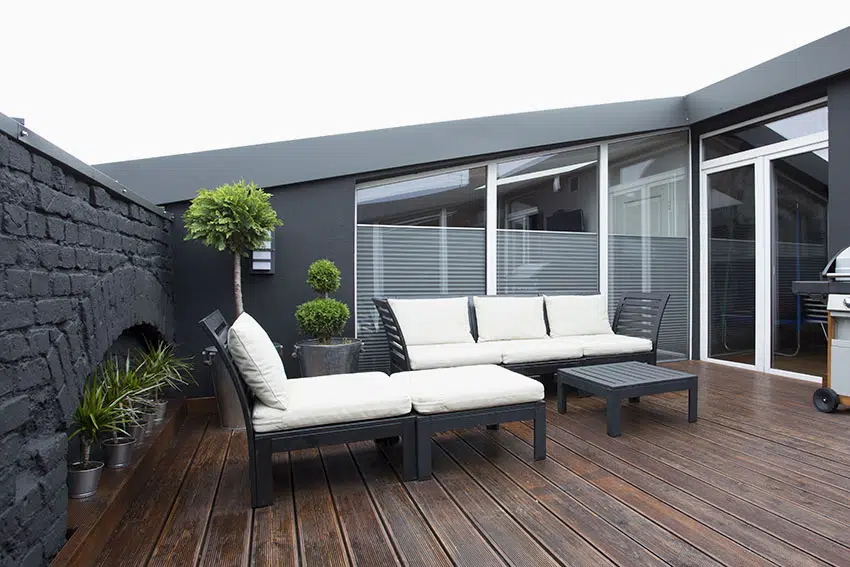 Polywood furniture cost is usually more expensive than any other type because of its durable HDPE material that is much stronger than ordinary plastics.
Lumber made from HDPE plastic varies in the amount of postconsumer material and total recycled material it contains. Some manufacturers use 100 percent recycled materials from postconsumer waste; others use significantly less. – Materials for Interior Environments, Corky Binggeli
Because it has undergone an environmentally friendly, high-grade, and innovative process, it's no wonder its cost is much higher than typical furniture. Poly lumber furnishing isn't your usual plastic as it is very heavy and durable.
Is Polywood worth it?
Although it's less affordable than any other type, I must say that it would be worth the purchase. With every plywood piece you buy, you're helping to save the earth!
How To Clean Polywood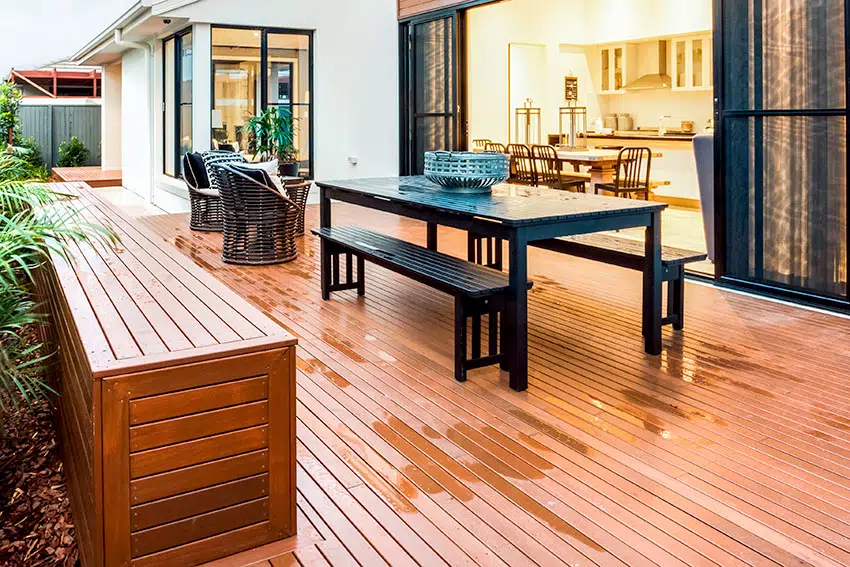 Just in case you have decided to purchase this type, you might ask, how to clean Polywood furniture? Well, basically, you can easily clean it with soap and rinse it with water.
Electric or gas-powered pressure washers can also be used to clean it, but ascertain that the pressure is not that high.
Even so, this material isn't hard to clean. Since its quality is excellent and tough, cleaning it won't be a problem.
Nevertheless, here are some of the steps you can do to give you an idea of how to disinfect and fully sanitize your furniture. You can safely follow this procedure so you can maintain the maximum cleanliness of your Polywood pieces.
• Combine warm water and soap (suggestively a dish soap) in a pail.
• Get a clean rag or cloth, soak it into your mixture of water and soap, then gently wipe it onto every area of your furniture. Make sure to eliminate all the dirt.
• Just in case the grime is a bit thick and it can't be removed with your mixture, get a new pail, then combine ⅓ of bleach and ⅔ of water for additional cleaning strength. You can also add a little bit of soap to it.
• Get a new rag or clean cloth, soak it into your mixture of bleach and water, then wipe it onto the areas with thicker dirt.
After doing this step, do not wipe it off with a dry cloth immediately. Let the water and bleach mixture sit first on the furniture for a few minutes to help soften the thick dirt. Don't worry as this won't ruin the color of the lumber.
• After letting the mixture sit for a few minutes, get a brush (soft-bristle) then scrub it onto the thick dirt to completely loosen and get rid of them. For hard-to-reach areas, you can use a smaller brush to access tight and small spaces.
• After getting rid of the thick dirt, rigorously rinse the furnishing with water. Make sure to remove all the soap and bleach.
What if you went on a vacation for like 6 months up to a year? In that case, your Polywood pieces in your outdoor area may be starting to grow some ultra-thick dirt, molds, and mildew.
If this is the situation, the first set of steps we have discussed might not work properly. So here are some of the additional steps on how you can totally clean your outdoor furniture.
• Use a pressure washer. (If you have none in your house, you can look for stores or rent one.) You can either use an electric or gas-powered pressure washer.
• Make sure that your pressure washer won't exceed higher than 1,500 psi. 1,500 below is already enough pressure for much deeper cleaning. You can also add soap or bleach into the water.
• Direct the spraying wand onto the areas with ultra-thick dirt, grime, molds, or mildew.
• After removing all the filth, make sure to thoroughly rinse the Polywood pieces with water.
For more related content, visit our article about Polymer Outdoor Furniture.