Here's our guide to the pros and cons of platform beds including buying tips and details about style, materials, firmness and size.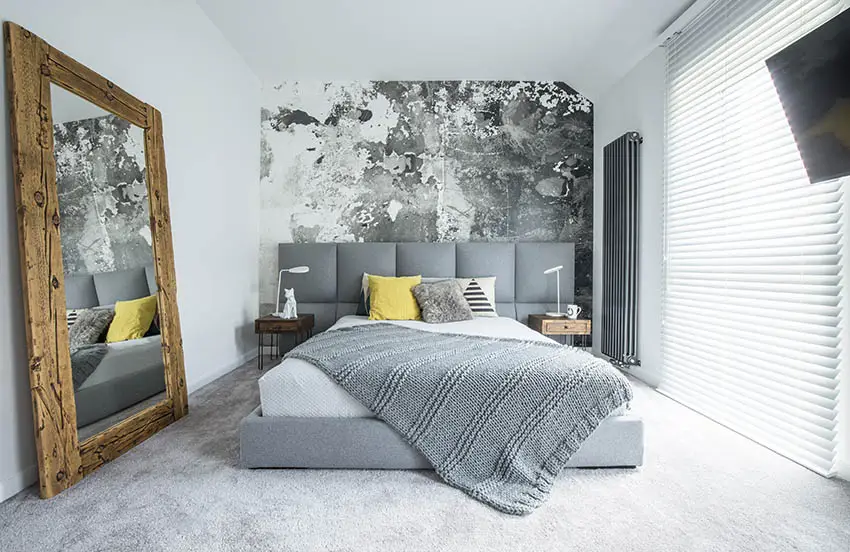 The primary benefit of a platform bed over a traditional bed is a platform bed requires no box spring. A platform beds design is low to the ground it provides a firm stable sleeping surface.
The platform bed has undergone several transformations over the years but it's simplicity and functionality are still the same. It is believed to be most reliable and versatile type of bed because of its design and structure. Despite this, the platform bed might not be for everyone.
Platform beds are considered to be the oldest type of bed because of their design. Some of the earliest forms were found in the ruins of Egypt. In fact, the wooden framework design of platform beds have been attributed to the Egyptians.
If you are considering buying a platform bed or not, read on and decide whether it is for you or not.
Platform Bed Pros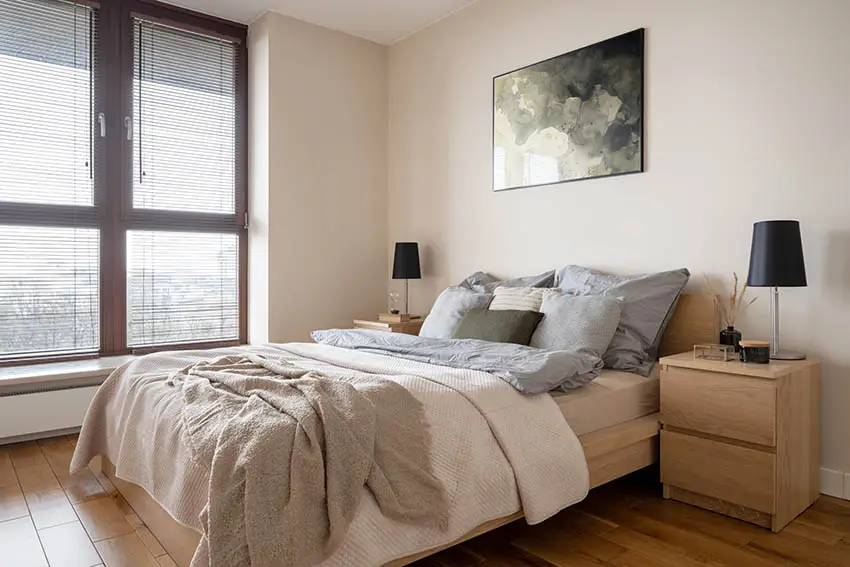 Lower Cost – Unlike traditional box springs, platform beds don't use coils. It doesn't need any additional foundation or support, either. It has a firm, slatted surface that can hold any type of mattress.
Because it does not come with any frills or features, it is cheaper than other types of beds in the market. So if you're on a budget or just want to save money, platform beds are for you.
Design – Not all platform beds look simple and boxy but you can find a wide range of styles from the minimalistic to bold, traditional to modern. There are even Asian or Bohemian-inspired platform beds that suit your taste and complement the overall design of your bedroom.
Comfort – Everyone needs a good sleep, especially after a stressful and tiring day. You can't have the quality of sleep you desire if you have an uncomfortable bed. That is why it is important to invest in a nice, sturdy bed. And a platform bed fits this criteria.
Platform beds usually come with a latticed or wooden surface, which provides optimal air circulation and prevents heat from building up. And speaking of comfort, platform beds are ideal for a memory foam mattress.
Features – Some platform beds can have an additional headboard installed. Others come with built-in storage, which is a big space saver if you have a small bedroom. It will give you enough leg room while having extra storage for your stuff.
Low Height – Both a pro and a con depending on the usage. A platform bed's low profile provides a very stable surface. This makes it ideal for memory foam mattresses. Another pro of a low profile design is its easier to access for short people or children.
Platform Bed Cons
Low Height – Platform beds sit low on the ground compared to traditional beds. Because it tends to be lower, it's not the bed of choice for people who have back or knee problems as well as those who have disabilities.Also, if you have difficulty bending over, a traditional bed is better than a platform bed.
Difficult to Move or Transport – Platform beds are not easy to move around because of their sturdy and stable frame. It will be troublesome when you decide to relocate.
Carrying it through stairs and narrow hallways is difficult. Even just moving it to a different place inside the house can be very challenging.
Prone to Fracturing – While a platform bed is sturdy, it is prone to fracturing — the legs separating from the main frame. In other words, it is prone to breaking under extreme weight pressure.
Too Simple – If you're someone who loves aesthetics, platform beds are not for you. It is very basic and simple. You can have a headboard installed but you have to spend extra for it.
Now that we've covered both the pros and cons of platform beds lets look at some buying decisions to help you determine if its right for you.
Tips for Buying a Platform Bed
Price – The first thing to consider is, of course, the price.
Does it fit your budget?
Does the price reflect the materials used, the construction, and other features that go with the bed?
The safest thing to do is compare prices first before you decide which bed to buy.
Material – Platform beds can either be made of metal or wood. If you are looking for something that is aesthetically appealing, go for wood. Wood gives a warm and comfortable feel to your room. Plus, wood complements any bedroom design styles you might have or want.
If you're looking for sturdiness — something that can last much longer — go for a platform bed made of metal.
An important point to remember if you are using a memory foam mattress: platform beds made of wrought iron or steel might exert more pressure on your mattress. That could decompress your memory foam causing early degeneration.
So you also need to make sure that the mattress you buy is compatible with your bed frame.
Size – As mentioned, platform beds can be troublesome to move around. So if you're relocating soon, you might want to reconsider buying one. Perhaps you have to wait until you move to your new house.
Another point to consider is your bedroom size. If you have limited space, will this be the bed of your choice? Or another type of bed is much better? Read more about bed sizes here.
Style – The style of your platform bed should complement the overall design and layout of your bedroom. The bed you like to buy might be pleasing to the eye, but will it look good when you put it in your room?
Can You Put a Regular Mattress On a Platform Bed?
Platform beds are versatile. So it can support any type of mattress, like memory foam, latex, or foam mattresses. So using a regular mattress on your platform bed won't be any problem.
And the best thing about it? You don't need box springs to support these mattresses on a platform bed.
Platform beds can also support innerspring mattresses but these types of beds are more compatible with box springs.
How Thick Should a Mattress Be for Platform Beds?
Generally, 10 to 12-inch thick mattresses are enough. However, your choice depends on the level of comfort you want when sleeping.
There are four factors to consider when choosing the thickness of your mattress:
Height of the platform bed
Firmness
Ventilation
Material
Height of the Bed
Since platform beds are typically low, adding a thicker mattress can add to its height. A thick mattress will also give you added comfort if you have trouble bending over or standing up.
If you have one that's lower than the standard platform bed, a 14-inch mattress will give you the much-needed comfort you want.
Firmness
The thicker the mattress, the more firm it is. Firmness matters to what type of sleeper you are.
If you are someone who sleeps mostly on your back, a thicker mattress will provide a firm base for your back.
If you are a side or tummy sleeper, a 10 or 12-inch mattress has enough cushion for your comfort.
Ventilation
A thick mattress will gather more heat than a thinner one. It will also retain heat much longer. For better air circulation, get a slatted platform bed.
Material
Here's an overview of how the mattress material can affect the comfort and ventilation of your bed.
Memory foam – provides good back support but has poor air circulation.
Latex foam – firm and has good ventilation
Innerspring – good for platform beds with a low profile frame. It can support heavy weight so it's good for those who are overweight.
Hybrid – provides comfort and proper ventilation. It can add more height to your platform bed.
Is a Platform Bed Best For You?
Due to the many benefits of a platform bed including maintaining a good posture, elements like a stable mattress platform and storage drawers a platform bed is a great choice.
Since platform beds provide firm support for mattresses they are excellent for those with back pain when combined with a high quality mattress.
What do you think about these pros and cons of platform beds, do you like them, love them or something else? Let us know in the comments below. Visit this page for more details on bedroom layout planning software.