See different pouf ottoman designs showcasing what it is, its uses, the pouf styles, shapes, materials, covers, filling and comparison to a regular ottoman.

Sprucing up your living room can be a fun thing to do with many elements you can consider and explore. One of these elements you can look into is a great pouf, which can be both an excellent seating selection alternative or a stunning accent piece in the room.

If you're unfamiliar with pouf, you might be more knowledgeable with the words ottoman or cushion. A pouf is much more than these though and can be quite versatile in its role when you add it to your living room. And if you want to make the most out of it, exploring all about pouf is the only way to go.
What Is A Pouf?

A pouf is a solid and large cushion that's placed on the ground and arranged together with other pieces of furniture in the living room. It comes in different designs and shapes and can be made from different materials, which makes it unique versatile, and flexible to use. Besides the living room, you can place it anywhere in your home.
This versatile accent piece is becoming more popular because of its trendy aesthetics and subtly added function to the room, bringing all elements together. It can be an eye-catching yet practical piece that you can place in bedrooms and nurseries (besides the living room).
The pouf is very similar to an ottoman when it comes to their similar functions that can sometimes even overlap. The choice between these two pieces though is entirely your preference and the function you will use it for.
There are instances where an ottoman is the better option and there are times when a pouf is the better one. If you're still hesitating about adding a pouf in your home, here are some of the benefits that will surely convince you and seal the deal.
• Highly varied: Poufs come in varied styles, shapes, and materials that they can easily fit into any design you match them with. And whether they are small or big, poufs are meant to be accent pieces but make sure that your choice won't look unnatural in the space you place them in.
• Versatile: Besides easily matching in different styles, poufs can also have multiple functions since they come in different designs you can make the most of, whether they are designed as comfy extra seating or a sturdy footrest. They can replace more rigid types of ottomans and be moved where needed.

• Can easily fit in any room: They are incredibly practical to have and come in different sizes so you have the freedom to choose the pouf that will fit your bedroom or living room.
• Easily blend in or stand out: Poufs easily complement any design you have at home. You can use them anywhere in your home.
Poufs can either blend in or stand out against the other interior decor, depending on how they match the current design of the space you're working on. Poufs made from raw materials are available, as well as textile poufs in a variety of colors and weaves.
What Is A Pouf Used For?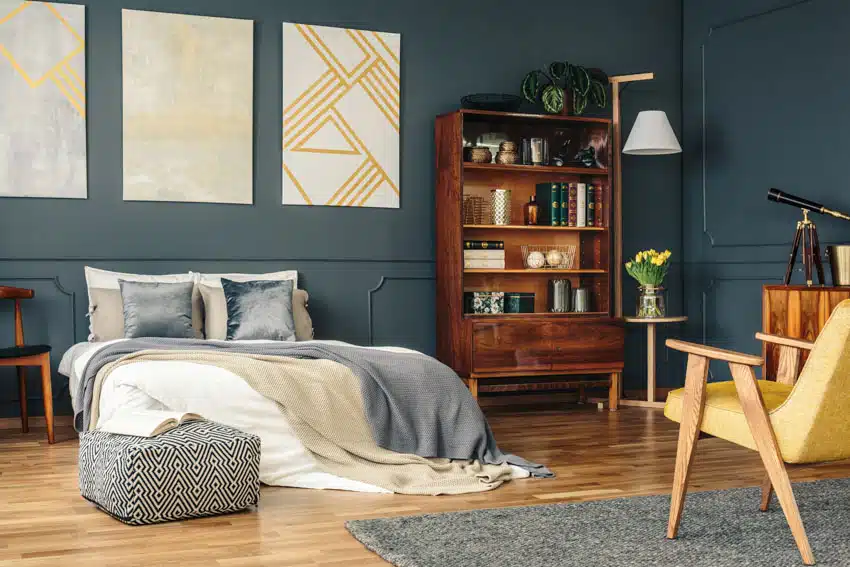 Poufs are unique compared to ottomans because while they are versatile, they cannot take the place of a specific piece of furniture. They are designed to be paired with other elements in your room and home and instead of being an alternative, they serve as trendy add-ons instead.
While they won't be a replacement though, you can still use them for the following applications.
• Stunning and colorful accent: Poufs are primarily added to the living room because it adds something unique and trendy to the space.
Primarily a decorative item, it can come in a wide range of colors, patterns, and styles. These poufs can be used as a bold and popping accent in a neutral-colored study or living room.
• Space-saving seats: Varying in sizes and even if not as hard or durable compared to an ottoman, a pouf can work well as a seating option in children's rooms, dorms, tiny apartments, and small living room dimensions.
They are space-saving since you can stack them together when not in use and can lead to a clutter-free space with a bit of decor too.
• Small pet beds: If you have furbabies at home and want what's best for them, a pouf makes a perfect resting space for them. Place the poufs by the window or in a spot in the living room where your pet usually lies.
• Footrests: One of the most popular applications you can use poufs on is a footrest. It will be a comfortable resting place for your feet and since these are lightweight, you can easily arrange them to where you are.
Pouf Designs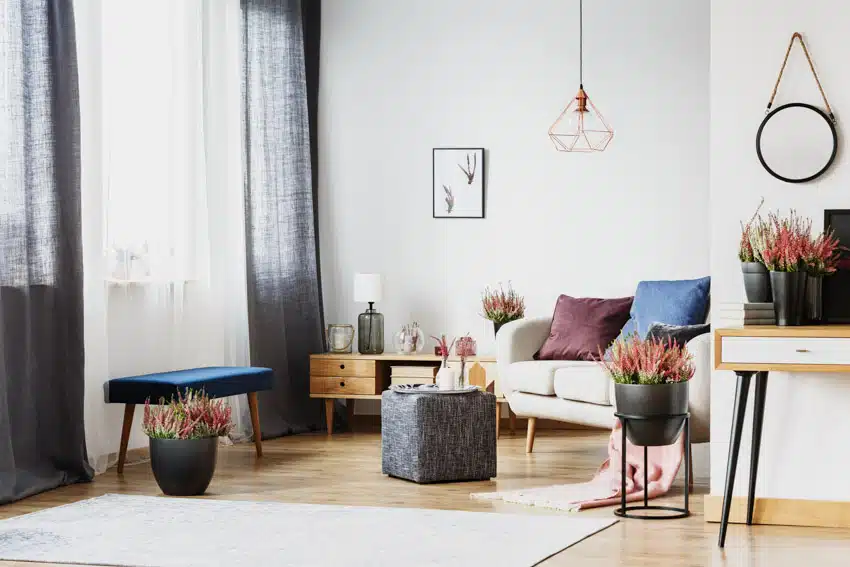 Poufs come in a variety of designs primarily based on their function and how they are used. Compared to ottomans which are normally sturdier in construction, poufs are softer and tend to be on the more comfortable side. Because of this though, their designs also tend to be more varied.
From poufs that appear to be a pillow to what looks closely like a leather ottoman, you have quite a selection to look into. Choosing the design though will highly rely on what you're using it for and how you want it to function.
Here are some pouf designs you can explore and check out.
Ottoman Pouf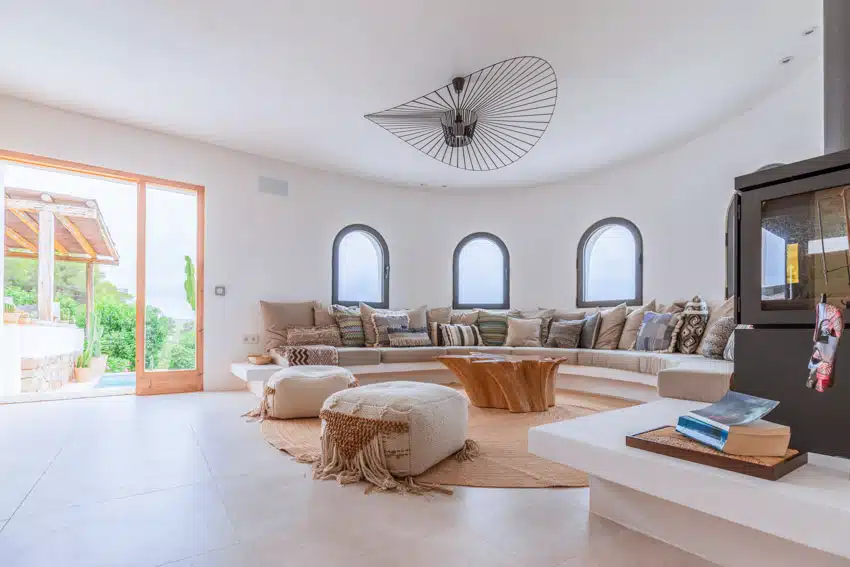 This design of pouf refers to the type that's a bit of a hybrid between an ottoman and a pouf. Similar in function to the ottoman, the design of this pouf is versatile, making it a good option for homes with children, pets, and those that expect to entertain more guests.
With an ottoman pouf, you can choose a large-sized one or a small one that seems like part of a set and makes an incredible side table solution.
• Small Pouf Ottoman: If you want a subtle addition to your living room, look for a small pouf ottoman you can place on the ground. This can seem like a misplaced throw pillow on the floor so make sure you look for a design with sturdier construction. This design and size of the pouf usually blend well with the elements of the living room.
• Large Pouf Ottoman: If you want to make a statement and add an accent to the living room in a bold yet trendy way, you can achieve this by adding a large pouf ottoman.
You can use it to hold stuff like books and toys, making it a good option for the kid's bedroom or the playroom. Once you place a large pouf ottoman in the living room though, it is bound to be noticed. But make sure that it is not that different in size so that it will look out of place.
Floor Pouf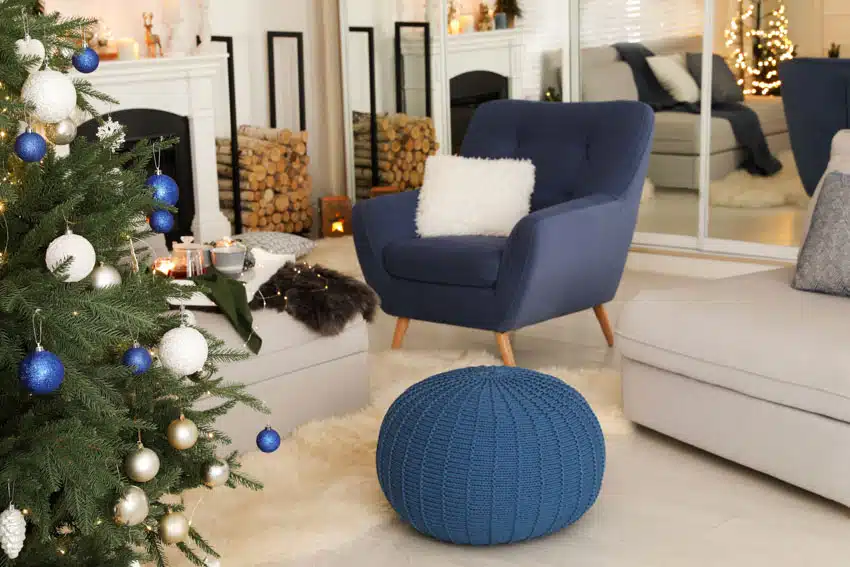 A flour pouf is designed in a way that it will cover a huge portion of the floor, whether because it features a stunning pattern that will be a great visual addition to the room or serve as an additional protection to the floor. You can choose chevron pours for trend patterns and designs of poufs for a meditation tool you can use.
Pouf Chair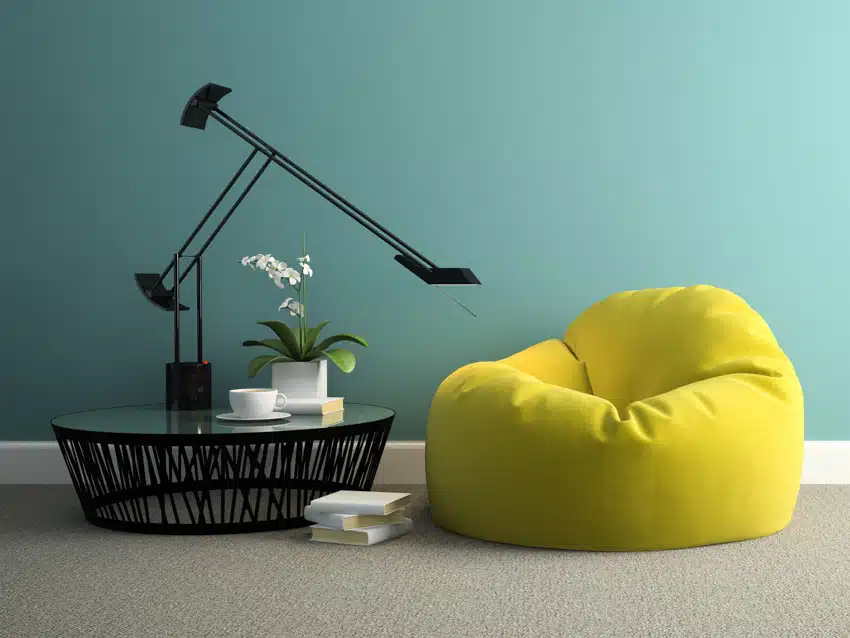 If you're looking for extra seating in your living room, game room, or even in the bedroom, a pouf chair may be an interesting option.
With a pouf chair, you can add a seating space without spending so much in doing so. You can also easily hide it under the table when not in use and just pull it out whenever you need it. See more types of accent chair styles at this gallery page.

Pouf Couch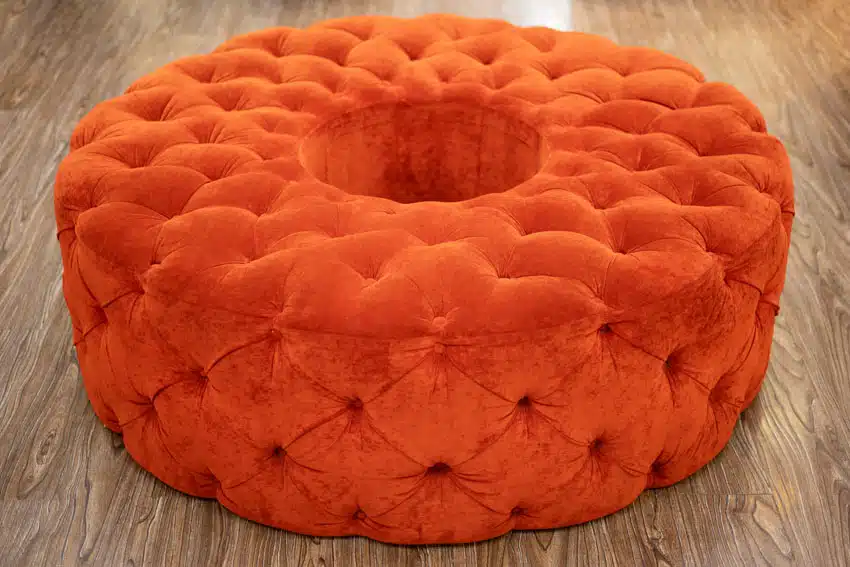 With a similar function to a bedroom bench, a pouf couch is normally set at the foot of the bed or in a walk-in closet to offer extra space for whatever you choose to use it. Some of its popular uses includes a place to rest your robe on or something you can sit on while putting your shoes on.
Footstool Pouf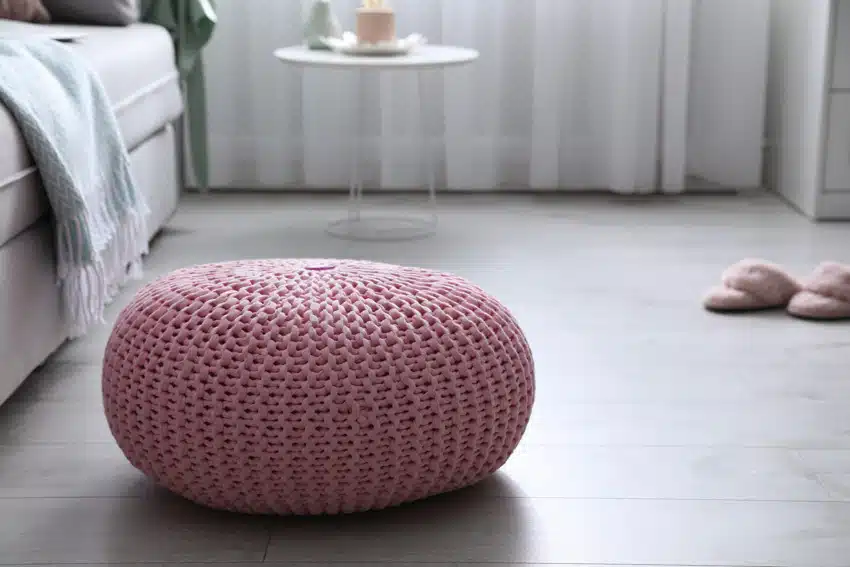 A footstool pouf can be a fancy footrest you can set in the bedroom or living room. Considering how lightweight it is, you can easily move your footstool pouf from one place to another.
A footstool pouf can be set as close to the chair or couch as you need it to be. Keeping it below the couch or chair when you don't need it is a popular option.
Pouf Coffee Table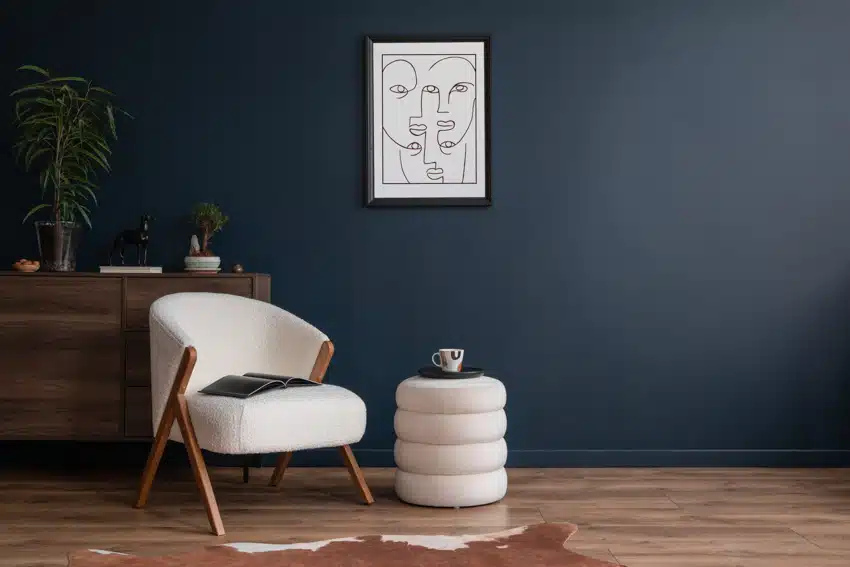 Poufs can also be used as a coffee table solution and this option is becoming more popular with many homeowners.
There are two ways you can turn your pouf into a coffee table, the first one is by choosing a large sturdy pouf to act as a table and at the same time adding texture and making a great statement.
The second is by pairing two small poufs and setting them in the middle of the living room to create a modular coffee table using 4 small poufs in total.

Storage Pouf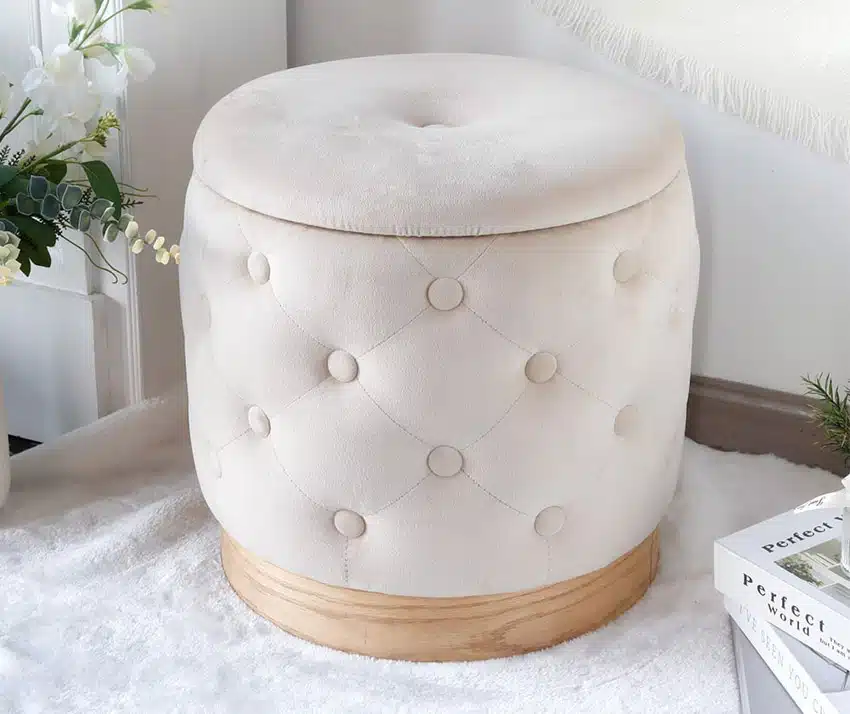 See this storage pouf at Amazon [sponsored link]
Similar to ottomans used for storage, this type of pouf has a hollowed center where you can store books or toys, making it a perfect storage option for a kid's playroom or bedroom.
The good thing about storage pouf is that you get to have a storage tool to make the most of and a decorative item to add to the aesthetics of the room.

Pouf Pillow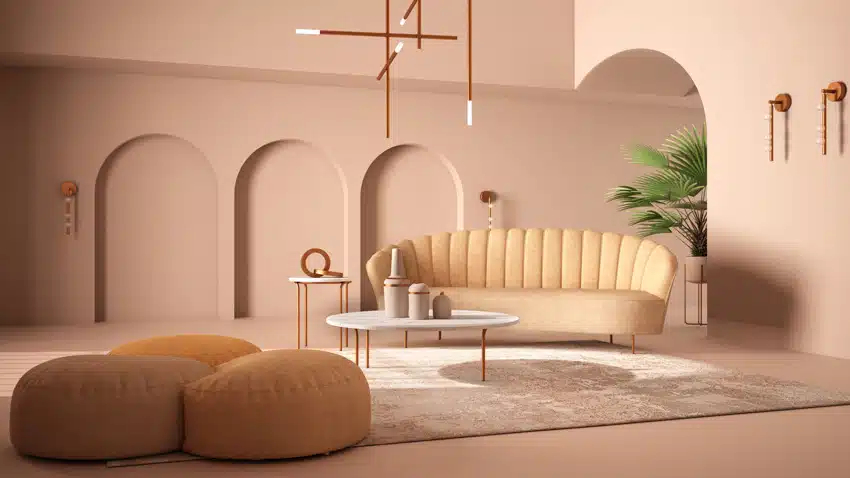 One of the most common designs for poufs, a pouf pillow is a soft item you can use in the living room, either to add visual interest to the room or provide the space with the furry and cozy ambiance that the space lacks.
Outdoor Pouf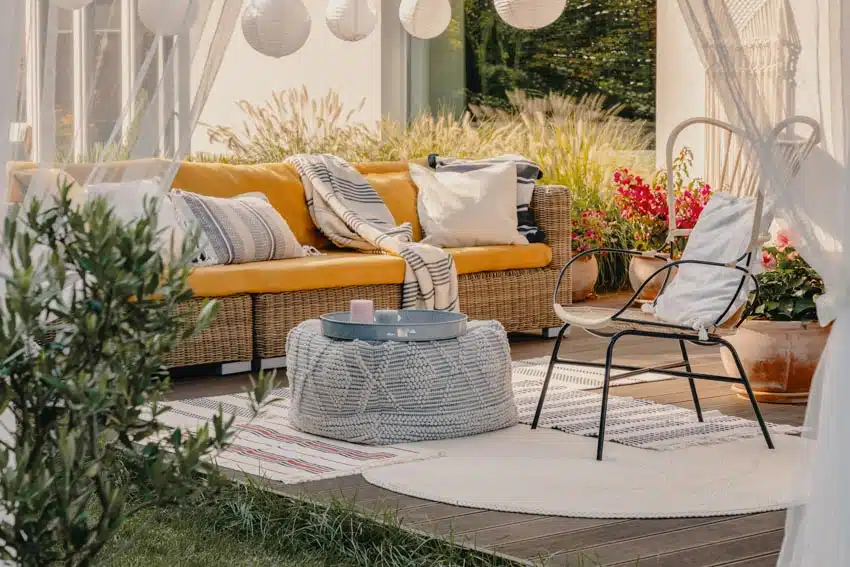 There are poufs you can use safely outdoors without having to worry about the possibility of them getting destroyed by their exposure to outdoor elements. These poufs can elevate and enhance the furnishings of your outdoor lounge.
You can choose these types of outdoor furniture made from natural materials to add an earthy element and tropical feel to it. Go for rattan or jute pouf as an extra seating or side table.
Pouf Styles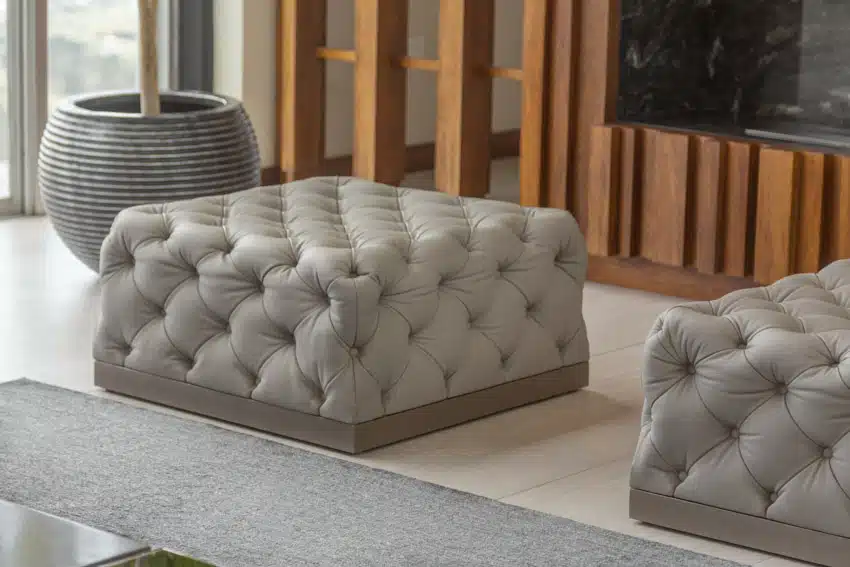 More than just the designs that poufs can come in, there are also different styles that are popular and which you can choose from. You may already have an existing style working for your room or home and you can just match the pouf you purchase from there.
Compared to ottomans, poufs lean more towards aesthetic value and so their appearances play an important role. Three of the most famous styles that poufs are offered include Moroccan, Boho, and modern styles. You simply have to choose the style you prefer and the one that can match your home's aesthetics.
Moroccan Pouf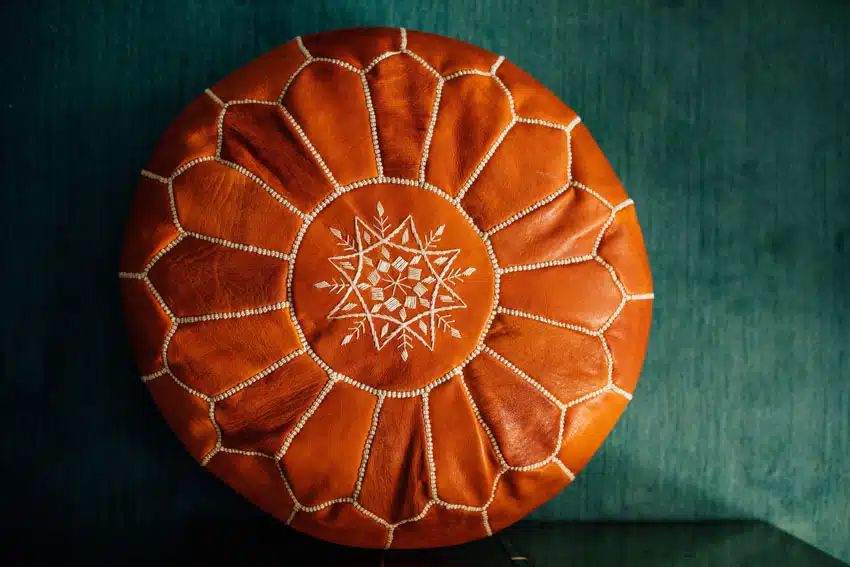 Morocco is known for its stunning and bold designs and when applied to poufs, you get a whole new aesthetics that's more than just eclectic.
A Moroccan pouf, usually made from fabrics like cotton and wool, has this exotic appearance you can add to your room and home but this unique flair is not easily matched to other styles so make sure you know what you're dealing with.
Boho Pouf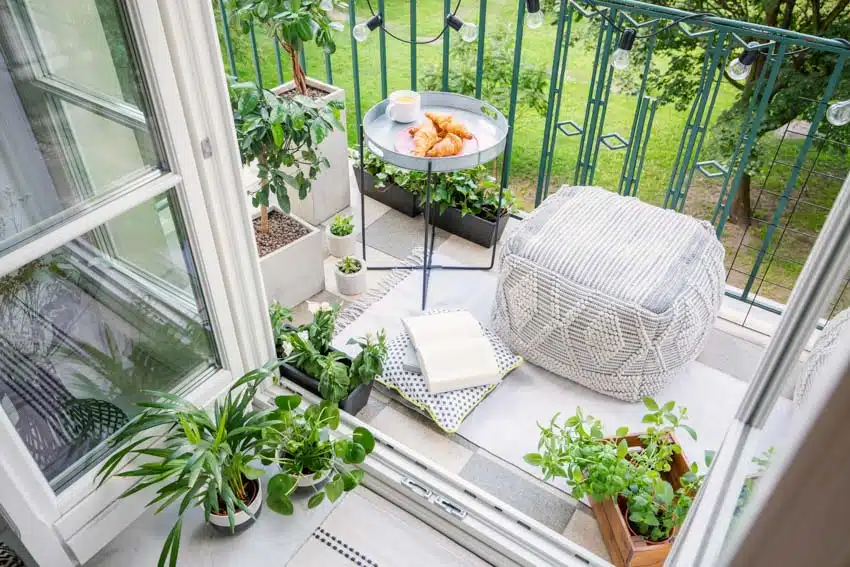 One of the common styles that poufs come in is the Boho style, which is similar to Moroccan in a way that it features an exotic and eclectic flair, along with an earthy vibe to it.
The major difference between the two though is the Boho poufs tend to feel more refreshing and light rather than heavy and full of culture like Moroccan poufs do.
Modern Pouf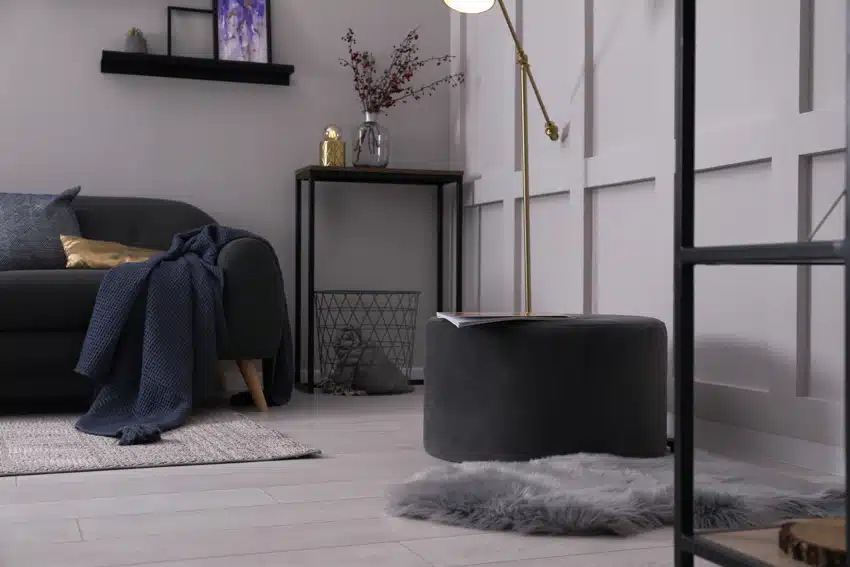 If you want something classic and seamless to look at, modern poufs will be perfect for you. These poufs are considerably cozy and comfortable but at the same time unique, trendy, and minimalist. They can come in different shapes you don't expect them to, from cylindrical ones to fun knot-shaped ones.
Pouf Shapes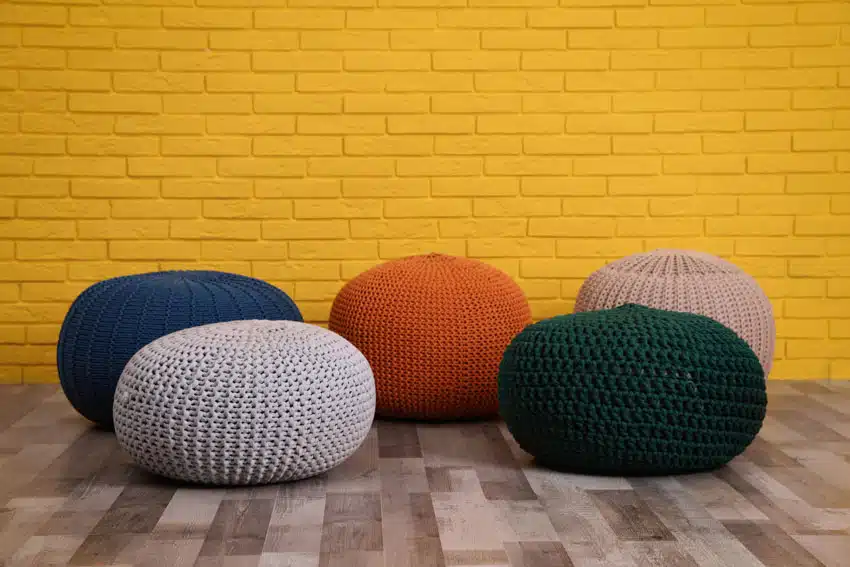 Poufs come in different shapes and sizes and you can base your decision on how you want them to be. Different shapes provide a specific feel to it and while round ones have this seamless flow, squared and rectangular ones come with these sides that offer both a firmer and sturdier construction.
When deciding on the shape of your pouf, consider the purpose you're going to use it for. You can set them to fit the style and ambiance you have in your room. See more ideas for popular ottoman dimensions here.

Round Pouf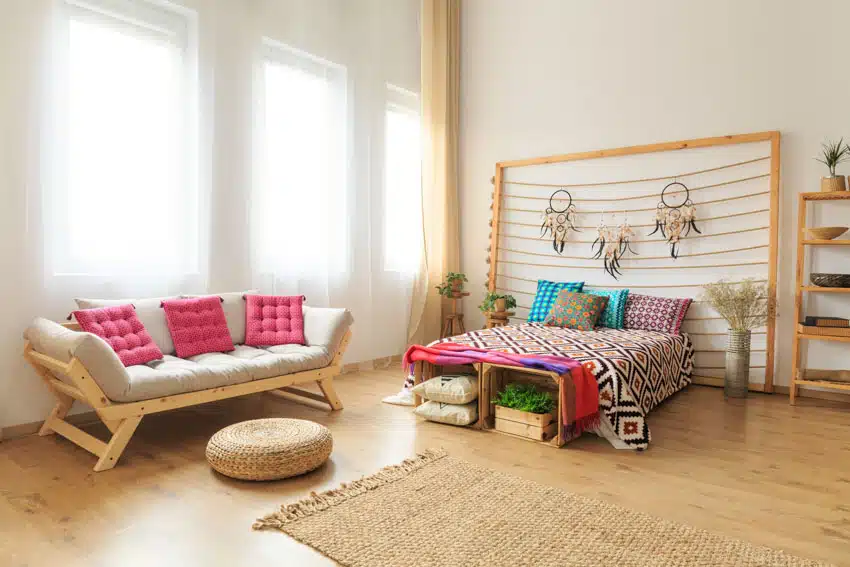 A round pouf is a common shape you can usually see and consider and compared to other shapes, it is more inviting and comfy to look at.
If you want something classy and simple, a round pouf is an ideal way to go. A large round pouf can work as a beautiful accent for your child's playroom or teenage bedroom.
Square Pouf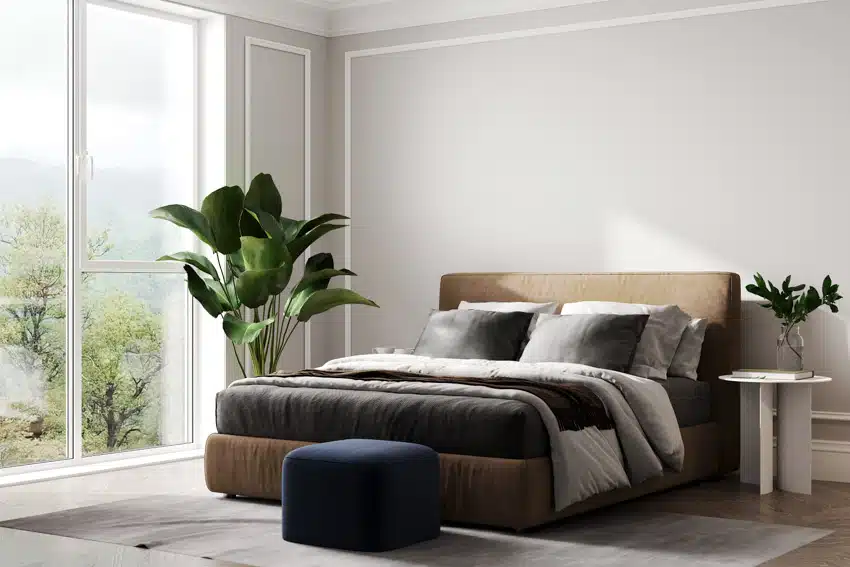 A squared or cubed pouf is a firm piece of furniture that offers a more angular shape. This shape has an excellent modern look to it and can make a pretty visual addition to your living room.
These poufs are also great options for footstools because of how sturdy they are. In addition to that, they can also serve as comfortable floor pillows as you sit by the coffee table.
Rectangle Pouf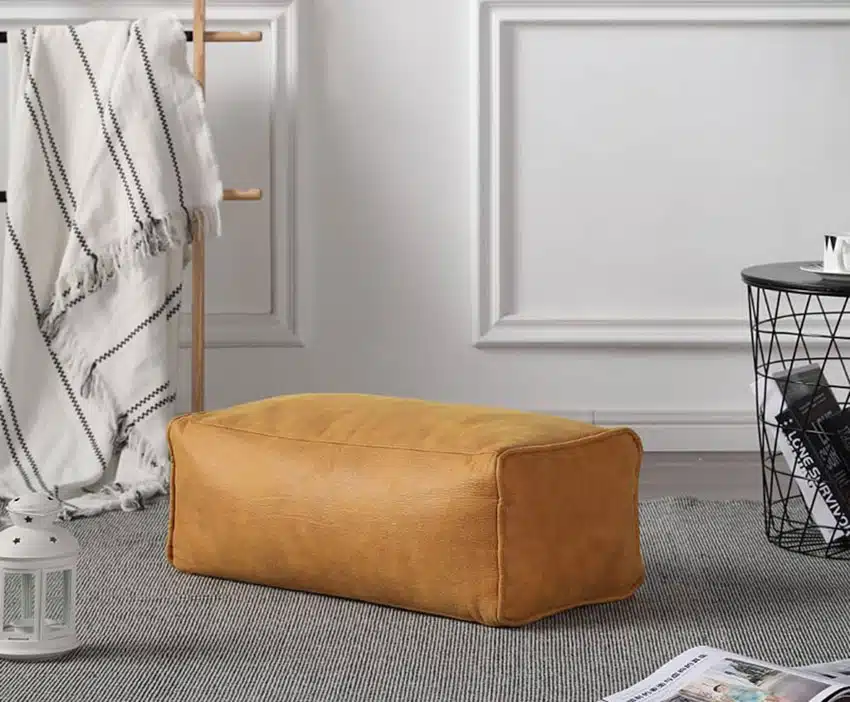 See this rectangle pouf at Amazon [sponsored link]
A rectangular pouf is offered in larger sizes and would often come together in groups so as to fit the seating arrangement in your living room. They are ideal for smaller spaces and can function as a side table at the same time when it's designed to be big enough to do so.
Pouf Materials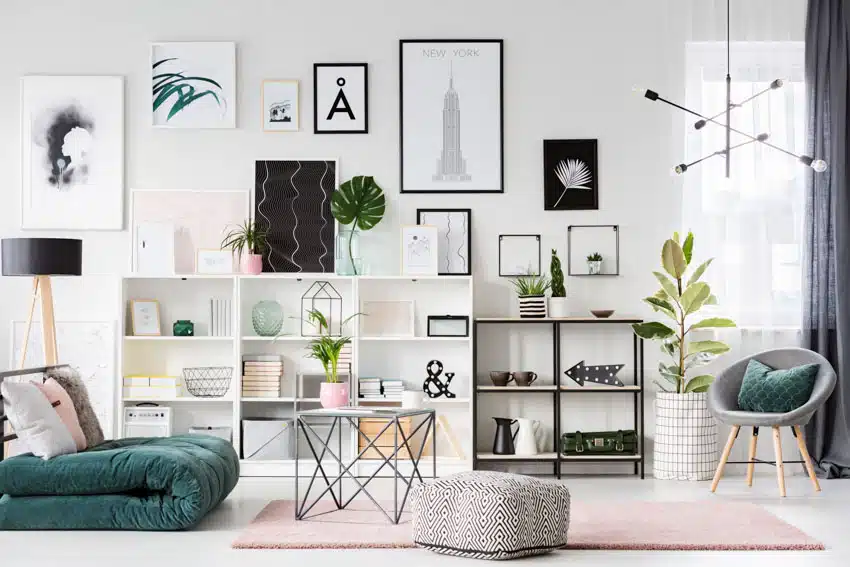 More than just designs and styles, poufs are different from each other based on the materials they are made of. They can be neat and classy when they come in smooth fabrics like velvet or they can provide a Bohemian feel to them with textured fabric paired with tassels and fringes.
More than these, they can also be earthy and nature-themed when they are made of jute or rattan and they can also feel rustic and elegant with the use of leather.
Pouf materials play an important role in showcasing the vibe you want to induce and so make sure that you're choosing the right one.
Some pouf material options you have are the following.
Jute Pouf : Jute is a natural material made of shiny and long vegetable fibers grown in tropical countries that include Bangladesh and India. These fibers are spun into threads and transformed into strong and coarse materials you can use and weave into a versatile fabric to create your jute poufs.
The aesthetics of the all-natural jute poufs is light and refreshing. If you want to go for the biodegradable route, this is a good option to take.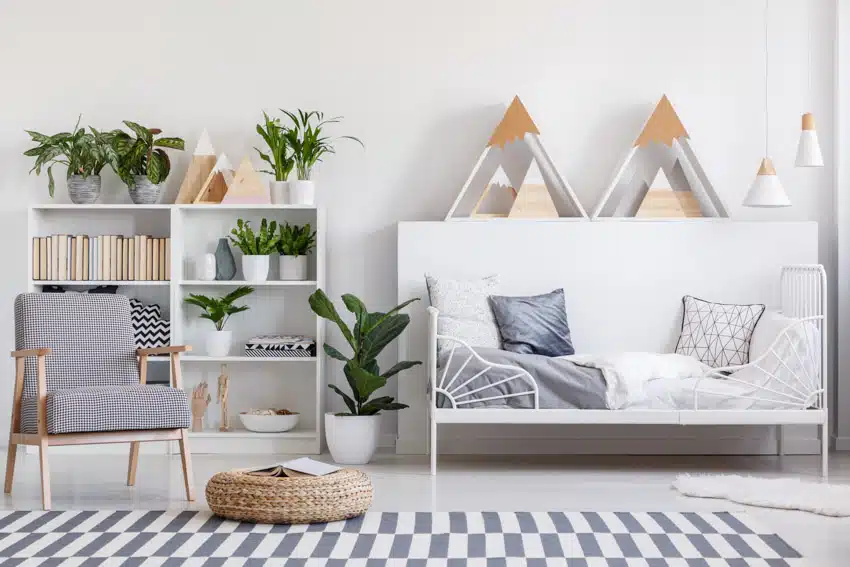 Rattan Pouf: Rattan is another natural material you can consider for your poufs. It is made from the stems of the trailing/climbing vine native to Asia, including the Philippines and Malaysia. They can easily be identified by their tough and solid stems that come in 1 to 2 inches in diameter and 200 to 500 feet in length.
If you want to have an outdoor pouf, choosing something made of rattan can be considered since the material is strong enough to stand the wear and tear of outdoor elements.
Leather Pouf: If you want something classy and elegant to look at, leather poufs are guaranteed to provide you with sophisticated visuals. These sleek-looking poufs provide the luxurious feel you might be looking for but they can be difficult to match other fabrics with so make sure to keep your options open.
Moroccan leather is one of the most popular materials you can use for your pouf if you want to keep the leather style and elevate the aesthetics at the same time.
Faux Leather Pouf: Leather can definitely elevate the quality and sophistication of anything but it also comes with a high cost. If you're not comfortable spending that much for your poufs but still want to stick with the leather style, you can consider going for faux leather instead.
Faux leather pouf offers the same aesthetics and elegant feel that authentic leather offers but only without the high cost they usually come in. The material is also strong and durable, as well as easy to clean as its authentic counterpart.
Knit Pouf: For a comfortable and more homey feel, knitted poufs can take you back to your grandma's home. Made of durable fibers, yarns, and even cotton, these poufs can easily offer a soft visual to the room that will make you feel comfortable and at ease.
They also come in many colors and patterns so you will have a fun time making your choice. In addition to that, their crocheted and knitted design looks classic and rustic.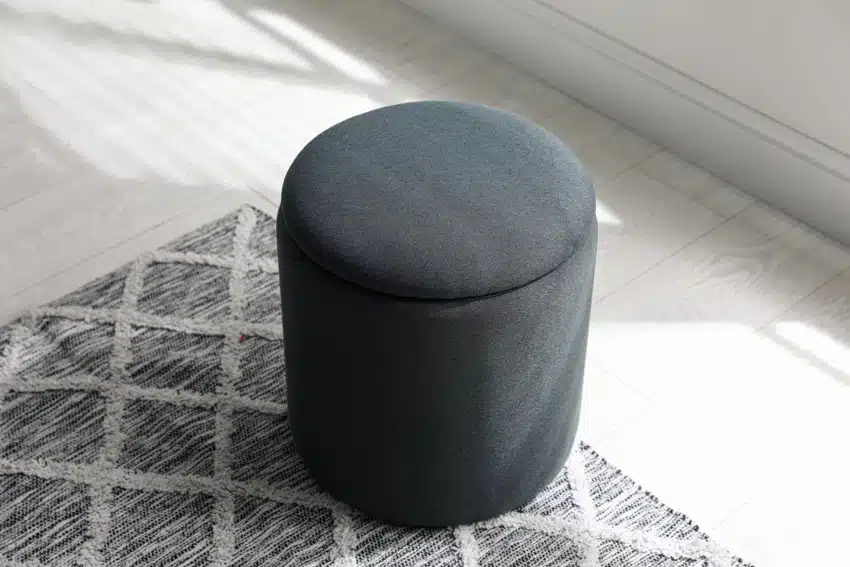 Fabric Pouf: Fabric is one of the most common and classic materials for poufs. Depending on the specific fiber you choose, you can have different colors, patterns, and even textures to consider.
You can also go for a patchwork style if you want to add more patterns and colors to the space you plan to place your poufs.
Velvet Pouf: Velvet is a popularly luxurious material you can apply in many things and when applied with poufs, you get a multiple-tiered item that showcases a striking silhouette and aesthetics which will look wonderful for both contemporary and modern homes.
The sleek and shiny look of a velvet pouf adds to its elegant feel and they can also come in different colors and shapes.
Cowhide Pouf: An authentic cowhide may not be the most elegant material you can use for your pouf but it is a legitimate option you can still consider.
You can choose a cowhide pouf if you want to make use of its natural patchy aesthetics but with many other options to consider, this is not the top choice many homeowners take into account.
Fur Pouf: Fur is another material that many people enjoy because of its warmth and softness, making it a perfect material to experience during the colder months.
More than just being comfortable, a fur pouf also looks fun and textured so that it can elevate the look of any space you place it in. And just like other materials, they also come in different colors and sizes.
Bean Bag Pouf: One of the classic styles that poufs come in is the beanbag style. If you choose the classic beanbag pouf, you get a modern-looking piece to add to your home.
When it comes to aesthetics, these poufs can come with braided cotton cords and are significantly lightweight and durable. Compact in size, this type of pouf usually weighs around 6 lbs.
Pouf Covers
If you want to protect your poufs when they are not in use, you will need to get covers for them. Most of these covers come in a specific fabric and choose the one that you believe will make it easier for your to clean and maintain it. Whatever the shape may be, there are covers compatible with them.
Pouf Filling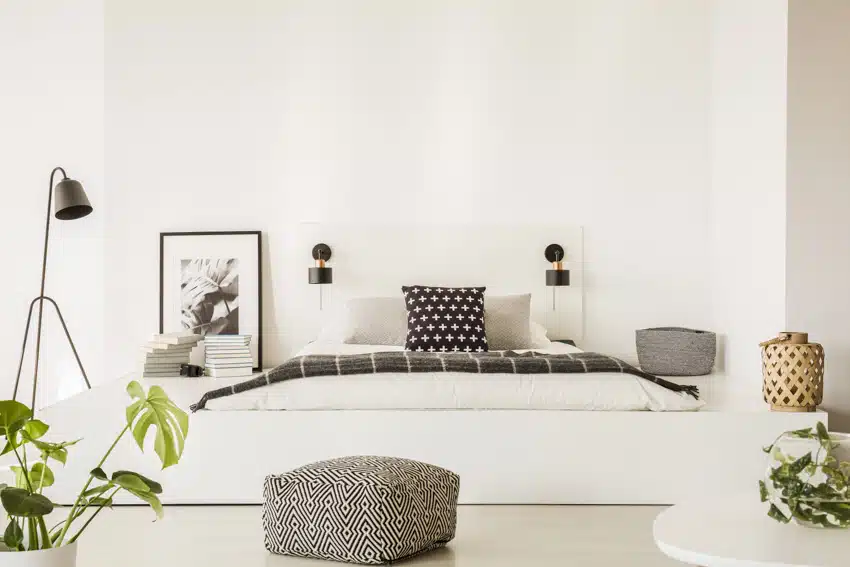 Besides the covers and the actual poufs, the filling also plays a vital role in their comfort and functionality. There are different types of pillow filings you can consider so make sure to choose the right material based on comfort and cost. Filling the poufs can be easy, especially if they are designed with a zip and you can do the actual stuffing yourself.
What To Stuff A Pouf With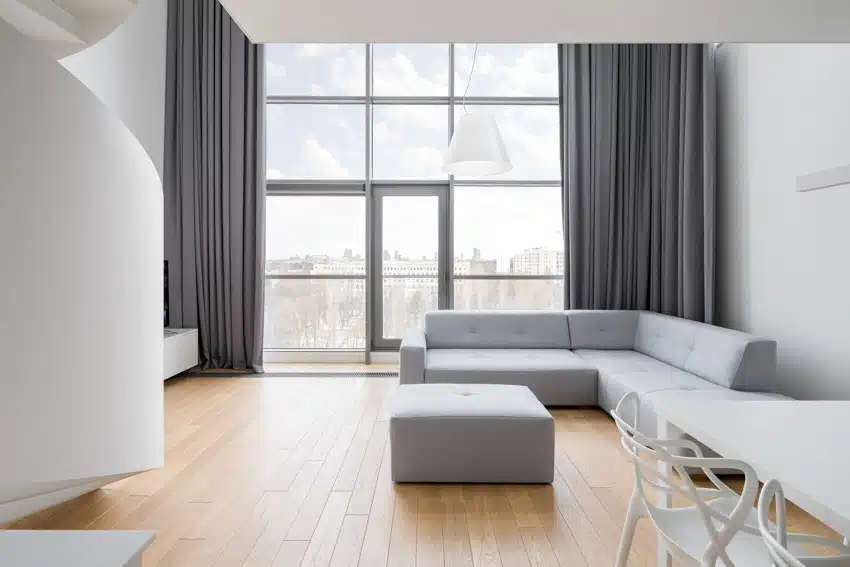 When talking about the traditional Moroccan poufs, they are usually filled with unused wool, straw, and camel hair. These materials though are not recommended anymore because they are inconvenient to use.
Some of the most popular materials used nowadays for stuffing though are the following:
• Non-seasonal clothing
• Plastic grocery bags
• Bed linens
• Pillows
Living Room Poufs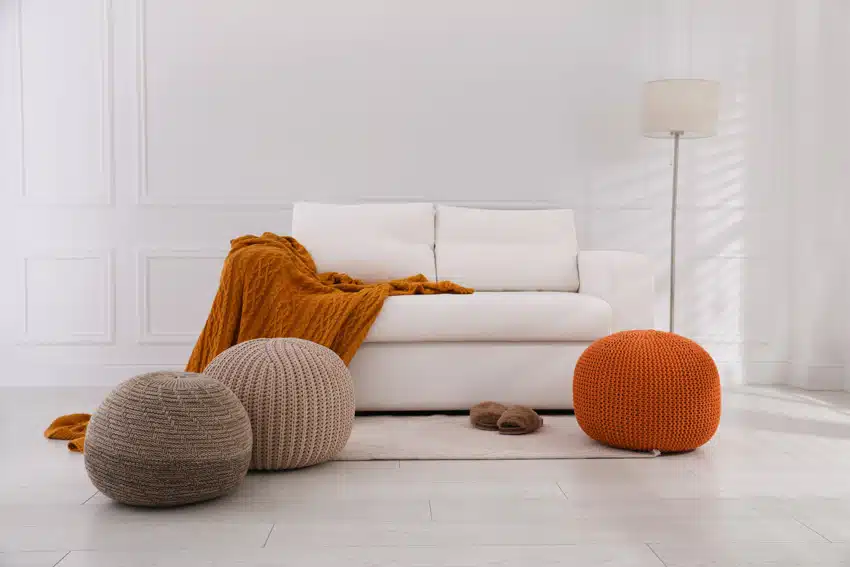 Poufs are versatile in their use and you can place them practically anywhere you want them to be. The living room though is one of the most common areas you can spruce up with poufs.
The great thing about living room poufs though is that they can come in big sizes and would still look wonderful in the living room.
How Do You Use Pouf In A Living Room?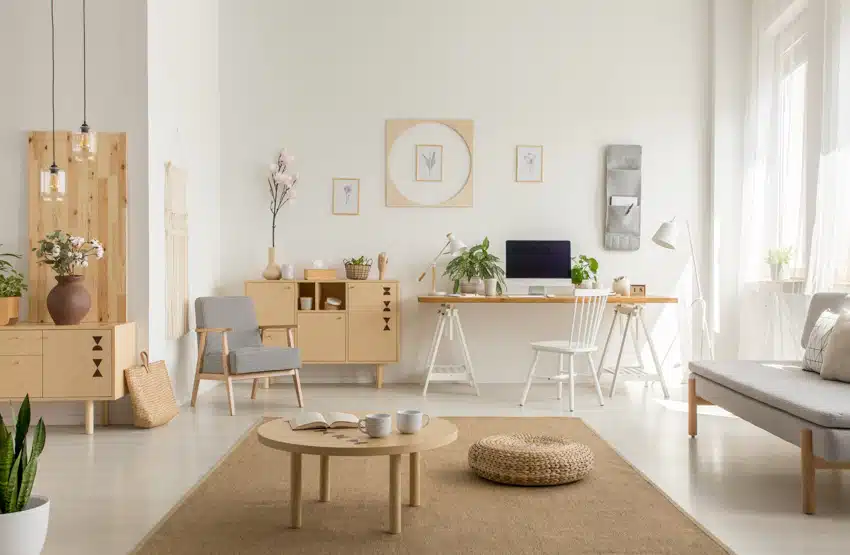 Poufs can come in different sizes, shapes, and designs. The firmness and durability will be important in considering the application of the poufs in the living room.
Similar to ottomans, they can be used as an alternative seating option, pillows for the couch, and even a side table for the coffee table. This means that this cushioned ottoman is more than just a decorative element you can use.
Difference Between A Pouf And Ottoman?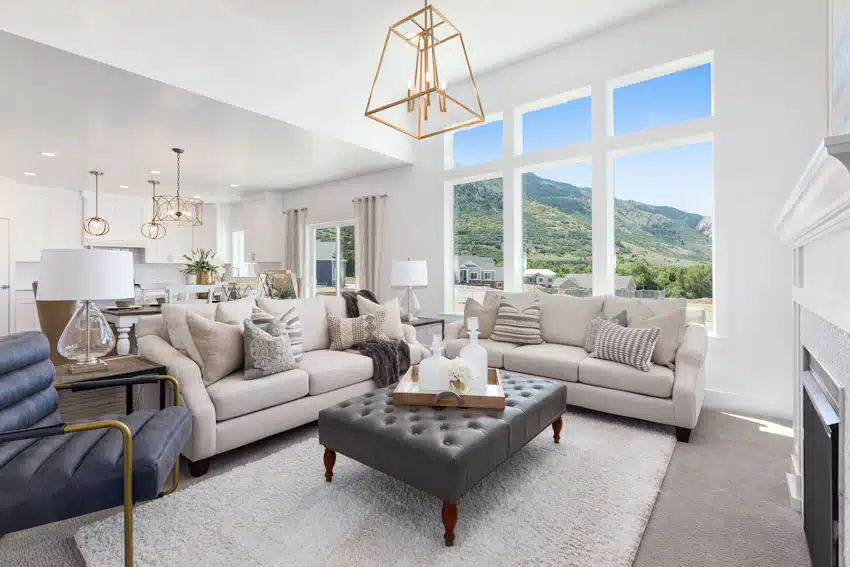 Poufs and ottomans are usually mistaken for each other because of how interchangeably they are on many occasions, especially as an element and furniture in the living room. These two have similar functions though, from being a footrest to an alternative seating and side table.
They can even be used as hidden storage when they have a hollowed center. But while they may be similar to each other though, there are many differences between them however small they may be.
Poufs, originating from the French "pouffe" is a cushioned footstool while an ottoman is defined as a low and upholstered tool. Ottomans are notably firm while poufs can be very soft with varying firmness.
Here are their differences between a pouf vs an ottoman in one glance.
| | | |
| --- | --- | --- |
| Elements to Consider | Poufs | Ottomans |
| Firmness | Less firm | Firmer |
| Softness | More pillowy | Less pillowy |
| Sizes | Can be oversized | Regular-sized |
| Foundation | Sits flat on the ground | Have legs to slightly raise them |
If you are still a bit confused on their differences, to be safe, anything that looks like a pillow and cushion can be regarded as a pouf while if it looks like a table then it's highly probable to be an ottoman.
There is also another variation of an ottoman called a hassock which is used only as a footrest. These types are also found in some churches and used as a kneeling cushion during service.
Can You Sit On Pouf?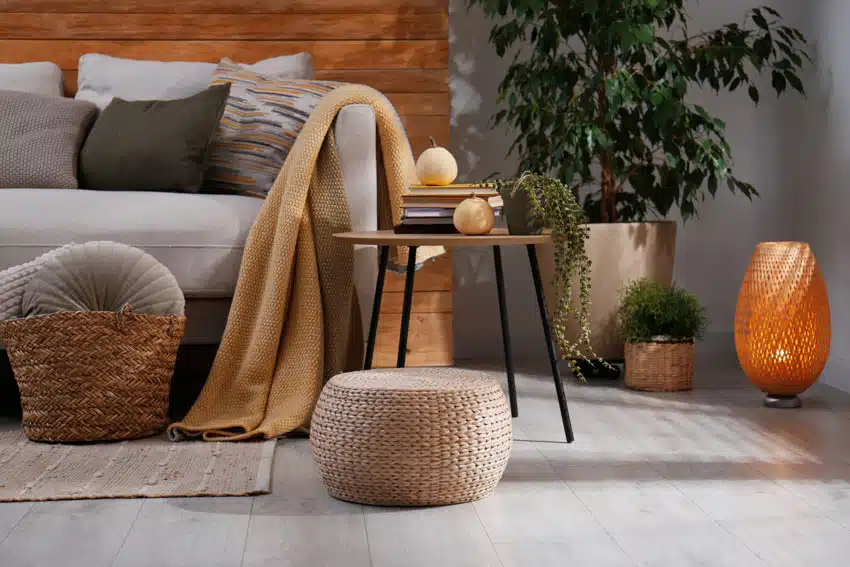 Yes, poufs can be considered as an alternative seating option, especially when paired with the coffee table. They are perfect for small apartments, dorms, game rooms, and kids' rooms with limited space to work in since you can just effortlessly stack them together when not in use and rearrange them however you please to accommodate more space needed.
Can You Use A Pouf As A Footstool?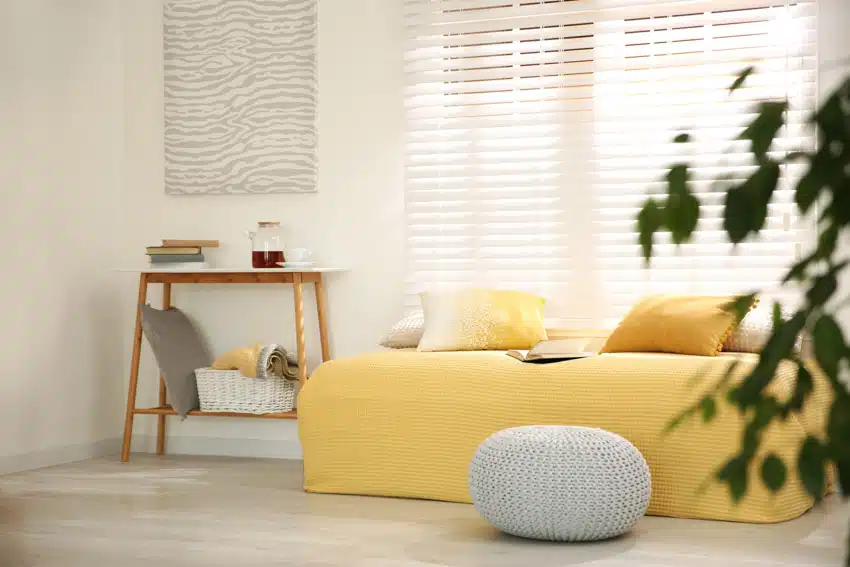 Yes, poufs can also function as a footstool similar to that of ottomans. While an ottoman is more popular as a footstool, poufs are also a great option for it since they are lowered into the ground and are soft so would feel nice with your feet. You can also easily place them where you need them, which is most usually beside the couch.
See more related content in our article about ottoman vs coffee table on this page.