Here we share our types of accent chairs guide, including different styles, tips on how to choose, accent chair sizes, and decorating & design ideas.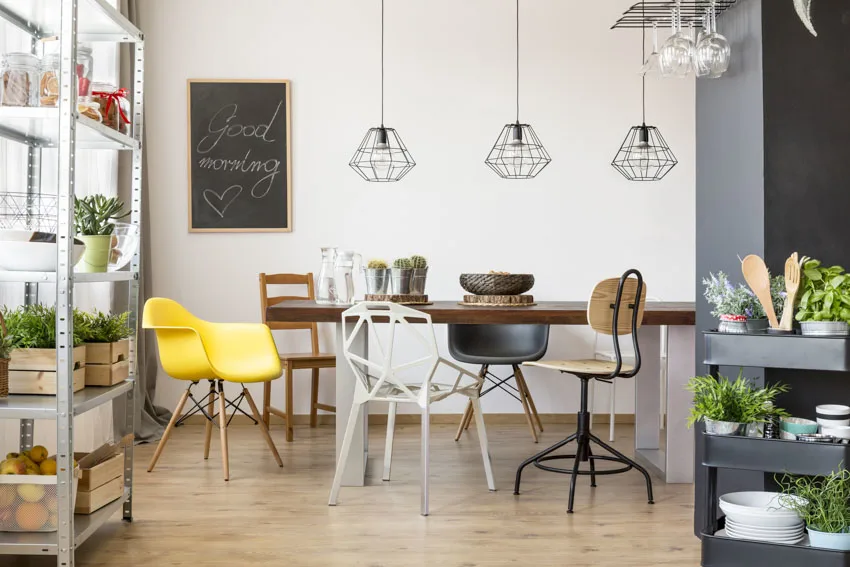 Are your living room, dining, or bedroom interiors dull-looking and monotonous? Adding accent chairs can be a great idea to liven up the space.
An accent chair, as the name implies, attracts the eye to the furniture, bringing out an established color in the neighboring ambiance and creating a centerpiece for the space.
Perfectly matched furniture pieces deliver layout consistency to a space. Unfortunately, they can also be uninteresting. That is where an accent chair can make a difference.
Even so, an accent chair should be more than just a decorative piece that coordinates a room's aesthetic. It must also be comfortable, providing household members and guests a place to rest peacefully.
Accent chairs add aesthetic balance and enhance the look and feel of a room—and you can choose one that is also very comfy.
In this article, explore what to evaluate when looking for the most pleasant accent chair for your house, and observe how each type offers luxury and comfort to your household.
What Is An Accent Chair?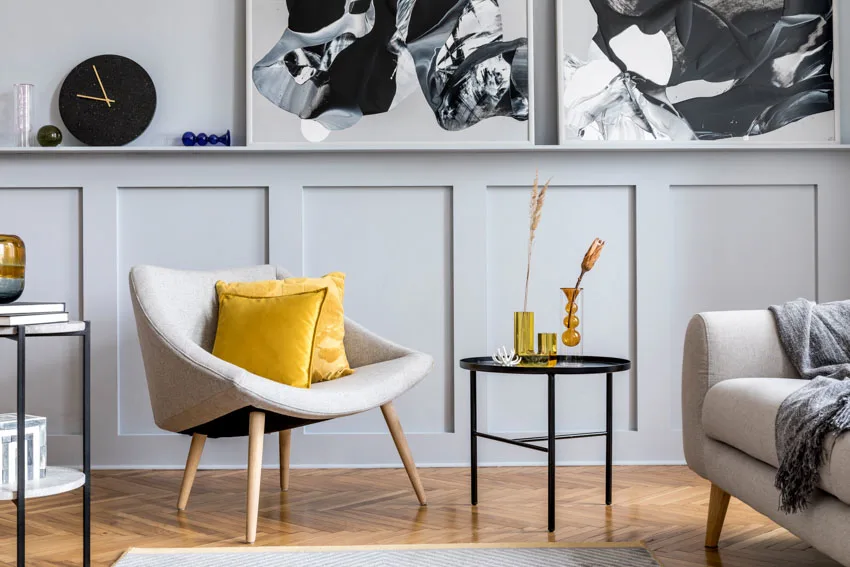 An accent chair is a type of furniture that serves both a practical and decorative purpose. Accent chairs, typically stand-alone pieces, can draw attention to other elements and components in a room.
Accent chairs, which are generally more attractive than ordinary seats, are included in interior design to provide a visual focus of distinction inside space while also bringing together the appearance and mood of the décor through color, form, and material.
Although they might appear to shine out at first look, a correctly placed accent chair will maintain the room's motif by selecting a particular color or employing specific materials to establish consistency inside a space.
Accent chairs, also known as occasional chairs, come in a variety of styles, such as wingback chairs, armchairs, side chairs, and many more. They can be manufactured from a plethora of materials and finishes, the most prevalent of which are upholstery fabrics, steel, and wood.
The objective is to have an accent piece that sticks out while remaining consistent with the overall motif. When searching for these types of chairs, consider what function it will fulfill in the room as a whole.
Accent Chair Styles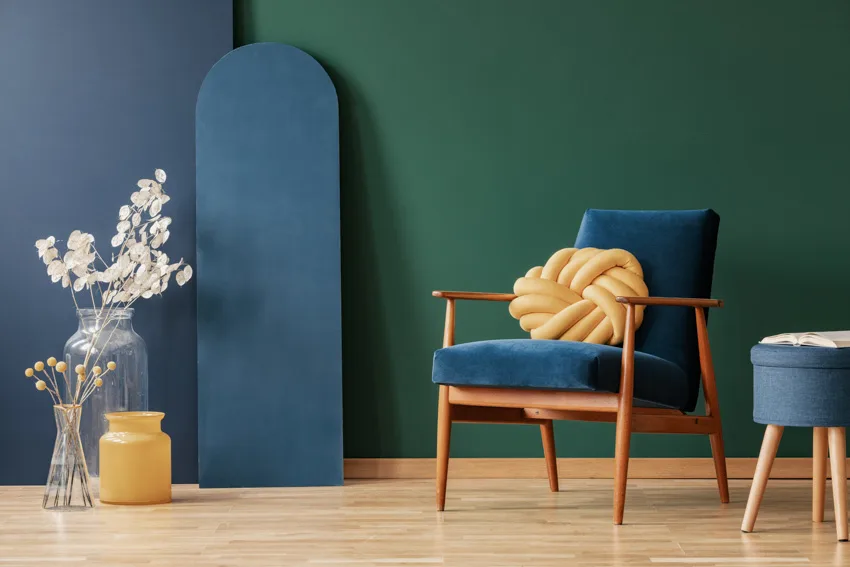 Accent chairs come in several sizes and forms. Indeed, as the name implies, you will prefer choosing a style that complements the other furniture in the space. Common types of accent chairs include the following:
Armchair
An armchair is probably the most common style of an accent chair. They not only look gorgeous and give a great deal of elegance to any home, but they are also built for relaxation.
Furthermore, armchairs are often made of an upholstered or padded material. The most typical form has two ergonomic side supports on which to relax your arms. Armchairs come in a range of materials, colors, and dimensions to suit your desires.
Slipper Chair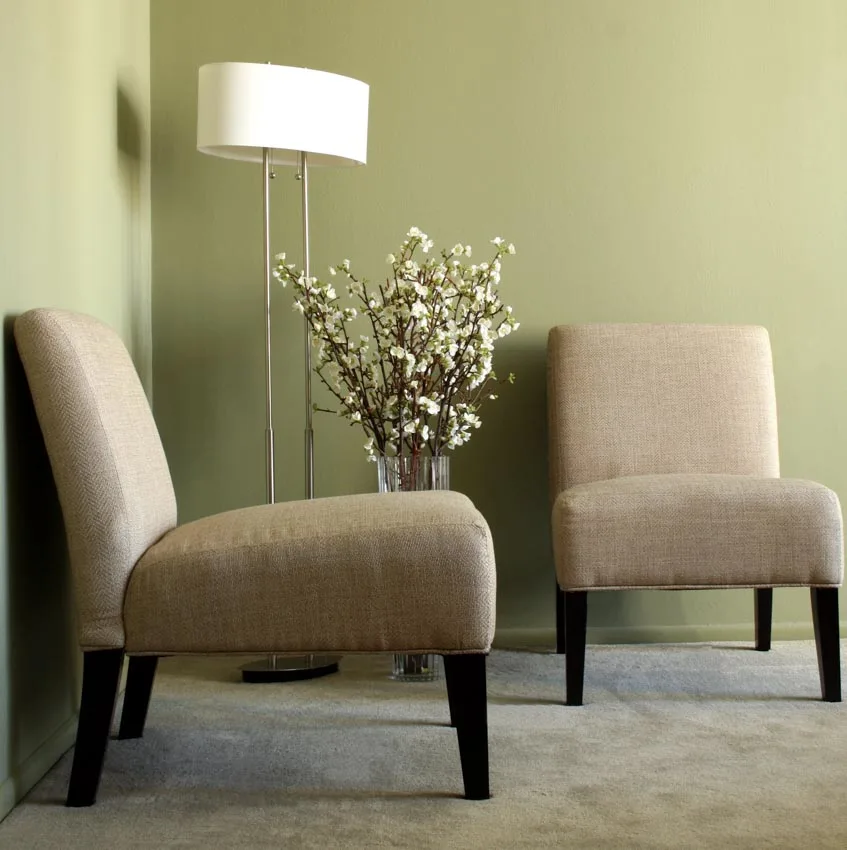 Yes, all you have to do is take an armchair and chop the arms off to make a slipper chair. This style of furniture is distinguished by its clean and minimalist appearance.
They usually offer an extra spot without taking up much space. An upholstered slipper chair top's color and pattern choices are practically limitless.
Slipper chairs come in various colors and patterns to meet everybody's demands, whether for aesthetic, comfort, or a combination of both.
Side Chair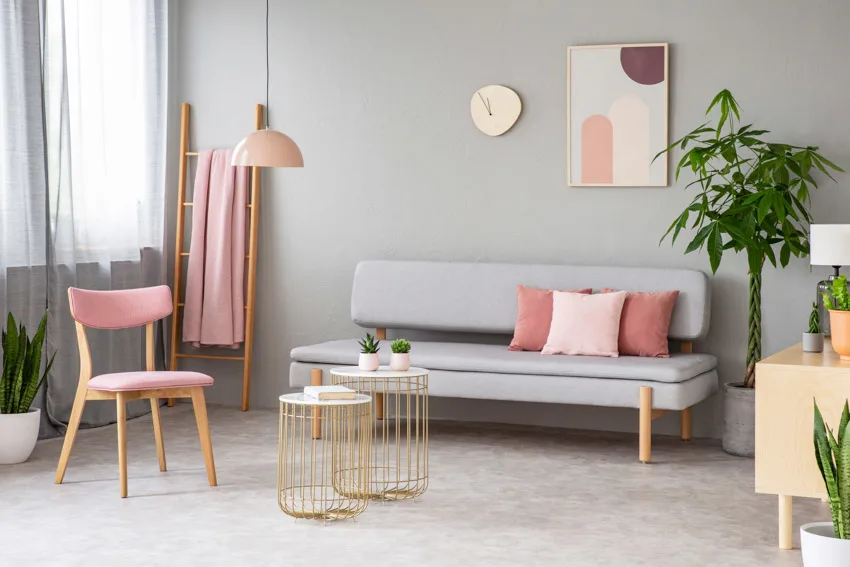 A side chair is one of the most adaptable types of furniture styles ever designed. They have an extremely slim appearance and look like an even thinner version of the slipper style. They do not have arms like armchairs, but they feature an upholstered top and a sturdy framework.
The sleek shape of this style of accent chair is what makes it so flexible. It will squeeze into the tightest and most inconvenient spaces. It is indeed comfy enough to function as a reading or entertainment chair but also upright sufficiently to be used in a dining room set.
Aside from that, a side chair can be purchased in almost any design conceivable, from those that stand out to those that fit in seamlessly.
Wingback Chair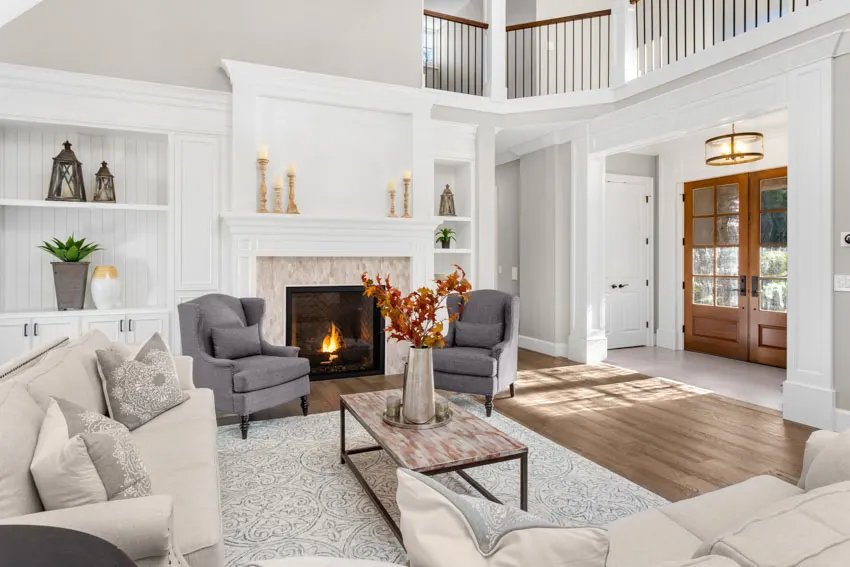 Several pieces of accent furnishings are as fashionable as a wingback chair. One of these household elements, which has been used for ages as a core component in libraries and other formal areas, will add a touch of vintage design to any room. Its design is defined by its high back and winged sides.
Newer versions, generally employed in a formal environment, appear just as fine in a laid-back, comfortable living area. You are free to place yours near a fireplace, in a foyer, or at a desk. You may even utilize them around a dining room table.
It is also worth noting that most of these accent chairs are large. They are not your ideal choice if you intend to shift your seating continually.
Accent chairs come in various materials and colors, making them an excellent companion to any room or section of your house.
Barrel Chair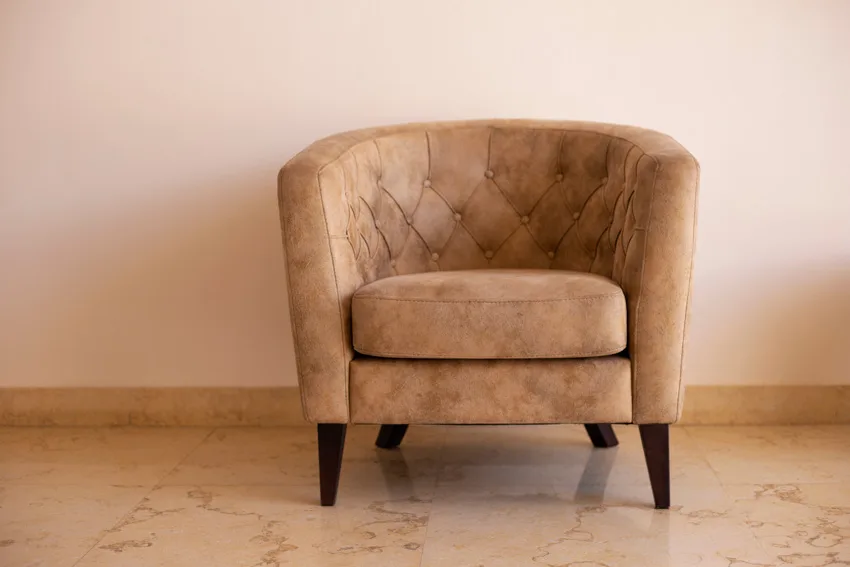 A barrel chair is distinguished by its barrel-shaped construction. The back of this style of accent chair is rounded, resembling the rear of a barrel. The front has a perforated area for sitting, which is encompassed by a high back and tall arms.
With this type of furniture, relaxation is essential. These accent chairs are designed with comfort in consideration of the initial concept.
They are a terrific spot to sit and relax as they are upholstered and have a huge amount of padding. A barrel chair is a brilliant piece that provides a natural and rustic vibe to any home, thanks to the wide range of material and color selections available.
Chesterfield Chair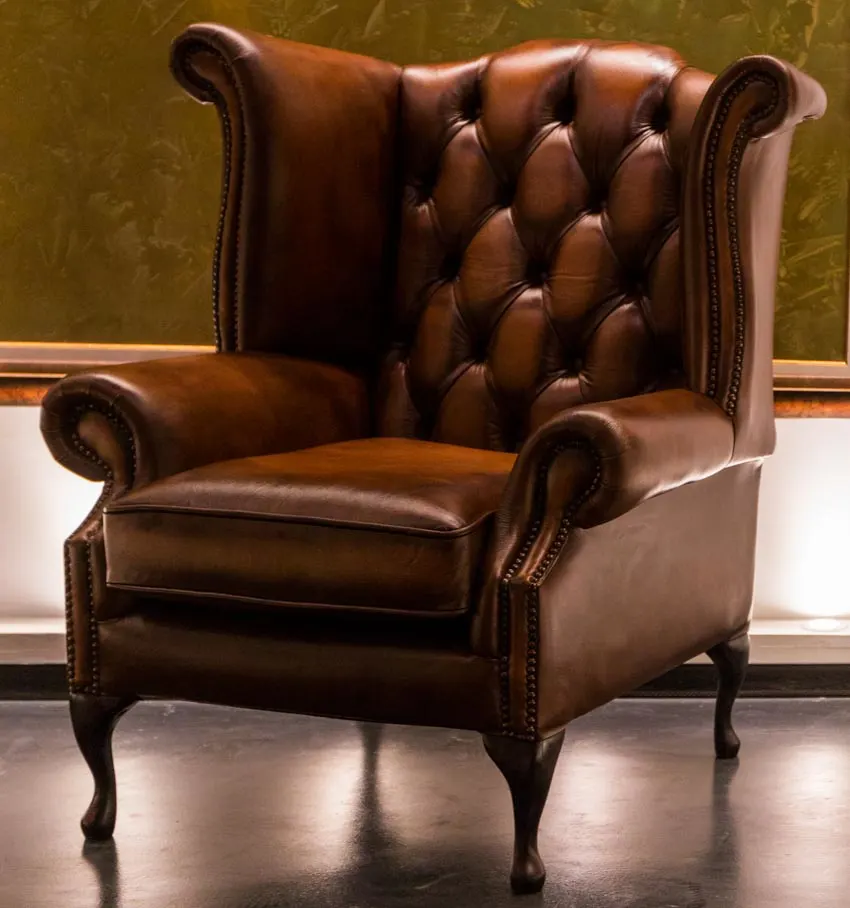 The Chesterfield is a style of accent chair recognized for its elegant appearance and exceptional comfort. It is also available as a sofa. With a combination of leather fabrics, rolled arms, and nail-head trim, they bring a timeless appearance to your home atmosphere.
Even though it was designed in the 18th century, the Chesterfield looks wonderful in practically any environment. They are classical in style, but they complement less formal furnishings and surroundings. Moreover, modern Chesterfield chairs are available in a vast array of styles to suit almost any area in your house.
Club Chair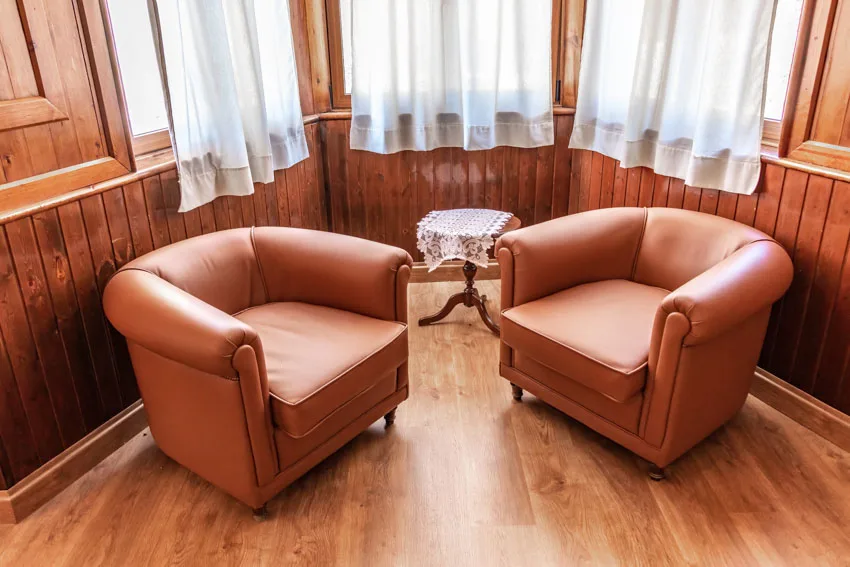 Club chairs derive their appellation from the sort of accent chair that was once prevalent in classic clubs. They typically have deeper-than-average seats, high armrests, and soft upholstery. After all, the primary function of this type of accent furniture is to provide a comfortable spot to get seated and relaxed.
Such accent chairs would look great in a living area. Their inviting layout makes them a great place to read a book while drinking your favorite coffee. Numerous homeowners keep theirs close to a warm fireplace.
Furthermore, they are obtainable in a broad range of styles and colors. Generally, they have leather upholstery and nail trimming. On the other hand, modern club chairs are available in almost any upholstery.
Papasan Chair
Several pieces of accent furniture are as eye-catching as a Papasan chair. These accent chairs are made of a robust framework, often rattan, and a comfy cushioning that conforms inside. The overall structure resembles a bowl.
Although these accent chairs are not as widely known as they previously were, they are still a terrific selection for any room where comfort is valuable. They are indeed calming and comfy to sit in.
In addition, Papasan accent chairs are prevalent in college dormitories due to their high comfort level. They are an incredible selection for any home interior design because of their versatile and contemporary styles. The available complex patterns make Papasan chairs a viable option for house formal areas.
Parsons Chair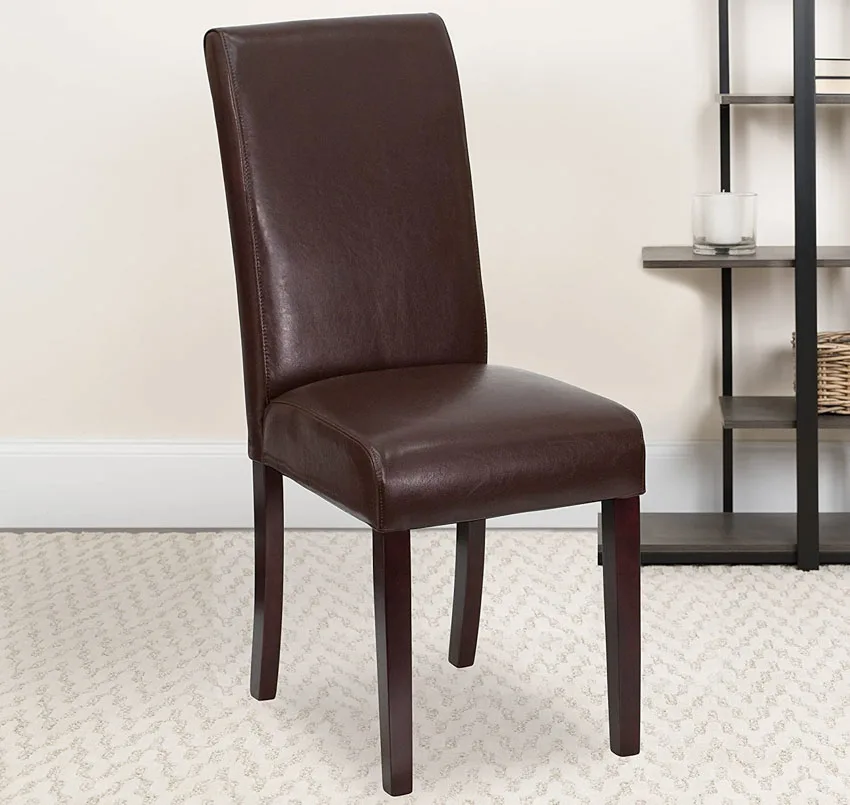 See this leather parsons chair at Amazon [sponsored link]
You can choose a Parsons chair for a one-of-a-kind combination of style and practicality. The versatility of this style of accent furniture is one of its main selling points. Whatever your decorating style, there is a solution for you.
These accent chairs are quite modern-looking, despite their timeless aesthetic. Originally established in the 1930s, the objective was to minimize things to the basic fundamentals.
Such pieces work beautifully in almost any setting, but they appear exceptionally nice in the dining room. Their armless layout and lofty backs make it easy to sit at a table.
Notwithstanding their elegant and simplified design, these accent chairs retain a classical, natural appearance. Furthermore, you can choose from a range of materials, colors, and upholstery options to get the perfect Parsons chair for your house.
Swivel Chair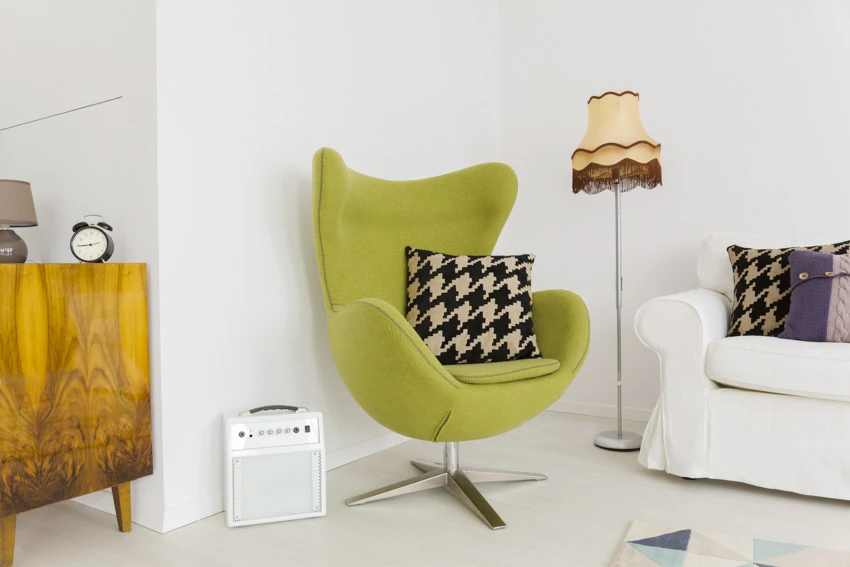 A swivel chair, often known as a rotating chair, has one main leg that lets the seat spin 360 degrees. It is a chair that can be freely rotated about a central axis to face in different directions without requiring the legs to be moved.
Swivel accent chairs with wheels on the bottom allow you to move them around your workplace without standing up and walking.
This style of accent chair is prevalent in office settings and is also known as an office chair. Office swivel chairs, resembling computer chairs, generally have a gas-based lift to modify the seat elevation. In terms of size, they are not usually large.
Corner Chair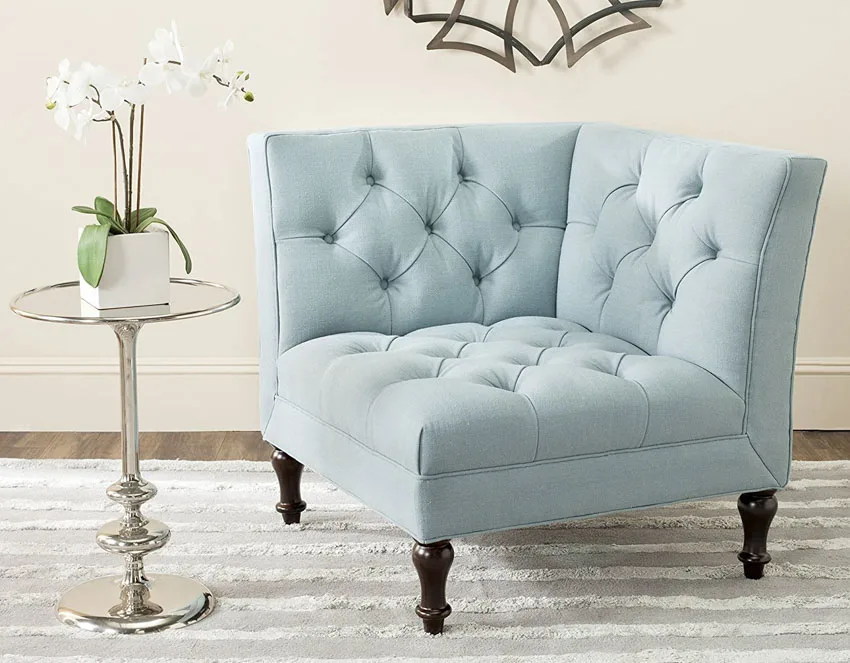 See this corner chair at Amazon [sponsored link]
A corner chair features two sides and a comfortable cushion in the shape of a diamond. It has a corner in the center of its backside. Numerous corner accent chairs are entirely padded and upholstered in fabric or leather, but others are made of wood.
Corner chairs in wood typically come with detachable fabric cushions. A corner chair has a boxed structure as corners have angled, straight edges.
Furthermore, some corner chairs are intended for the outdoors, particularly on an enclosed patio. These are often built of rattan or wicker and have water-resistant seat cushions. Some corner chairs might be provided with a matching footstool.
Corner accent chairs designed for indoor application might have high wooden legs and be fully upholstered. An upholstered corner accent chair is typically well-padded.
They also come in various colors ranging from red, blue, black, white, etc. A leather corner chair is usually in a dark or neutral color.
Additionally, corner chairs look great in space corners. A modular sofa setup might include an upholstered corner chair. Corner chairs complement modern furniture types because of their streamlined designs.
Oversized Chair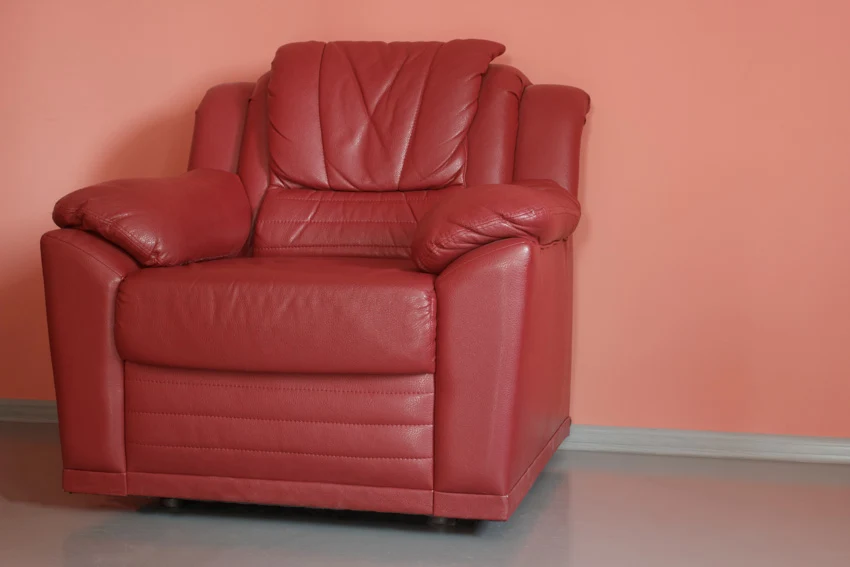 Oversized chairs are upholstered and padded accent chairs that are usually bigger than a regular chair or recliner. Nonetheless, they are not as large as a loveseat or couch. Such chairs are intended to be both comfy and expansive.
They frequently include a footrest, and it is also usually upholstered and cushioned. Oversized chairs occupy more space in a living room than a standard chair or recliner. Hence, if you are thinking about buying one, you should obtain proper measurements of your area first.
The designs of oversized accent chairs can differ in a lot of aspects. Structure and upholstery materials can also vary; upholstery could be made out of cotton, synthetic fabrics, leatherette, etc.
Moreover, the materials used can affect the chair's look, including its longevity and comfort. Because oversized chairs are frequently overstuffed, the padding is often thick and plush. Some also include matching small pillows for added relaxation.
Aside from that, some versions of oversized chairs are also recliners. This implies that a motorized mechanism can be operated by a hand lever or simply by pulling on the seatback, which causes the oversized chair to recline.
An oversized chair's legs can either be constructed of wood with beautiful carvings or made out of less ornamental materials that are obscured.
This will depend on the selections of the manufacturer and the general layout of the chair. Certain oversized chairs even include a foldable mattress that can be expanded.
Egg Chair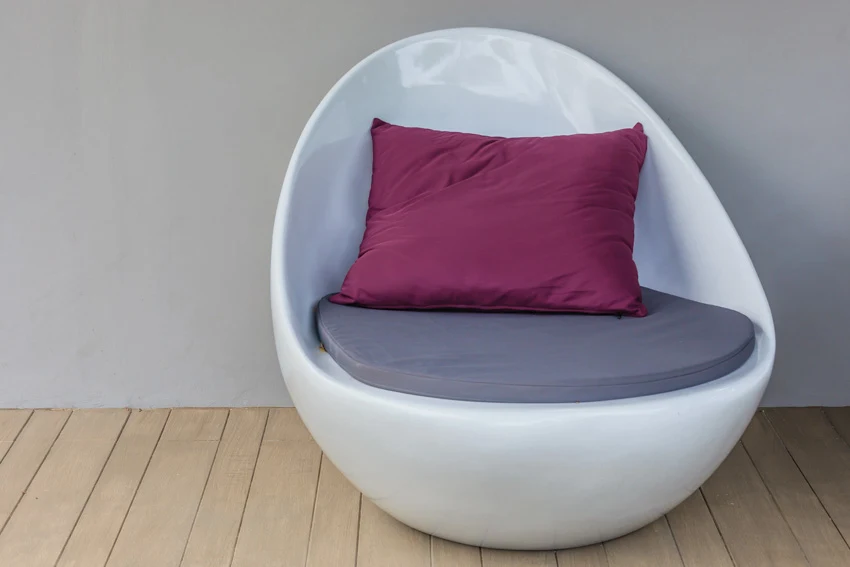 The egg chair is another type of accent chair with a layout that is difficult to overlook at first sight. The curving interior functions as a cradling and gives the chair a molded appearance that no other type of chair can replicate.
This one-of-a-kind chair first appeared in the 1960s and has inspired numerous other styles of chairs. You can find these with seat backs that are more upright or curved like a bucket seat, or slanted like a lounge chair.

You can look for the sides that curve upward like a wingback chair to identify a genuine egg chair. The seat is also lowered and has a farther back, giving the feeling that the chair is embracing you.
Indeed, it is intended to provide some privacy in a public area. The ball chair and bubble chair are comparable chair types; however, they vary in shape and general design.
How To Choose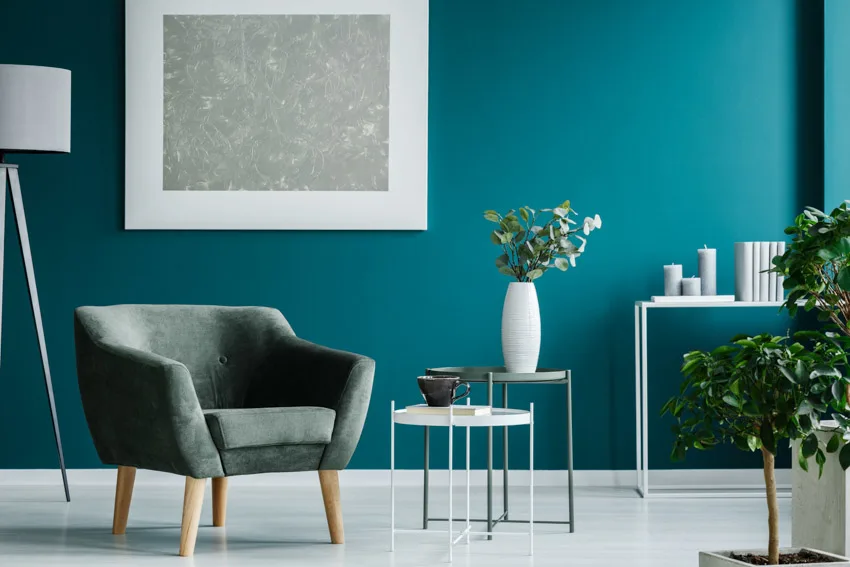 There is a myriad of accent chairs you can see in the marketplace. Thus, it could be challenging to choose the right one for your home. Here are the factors that you should consider when looking for accent chairs:
Design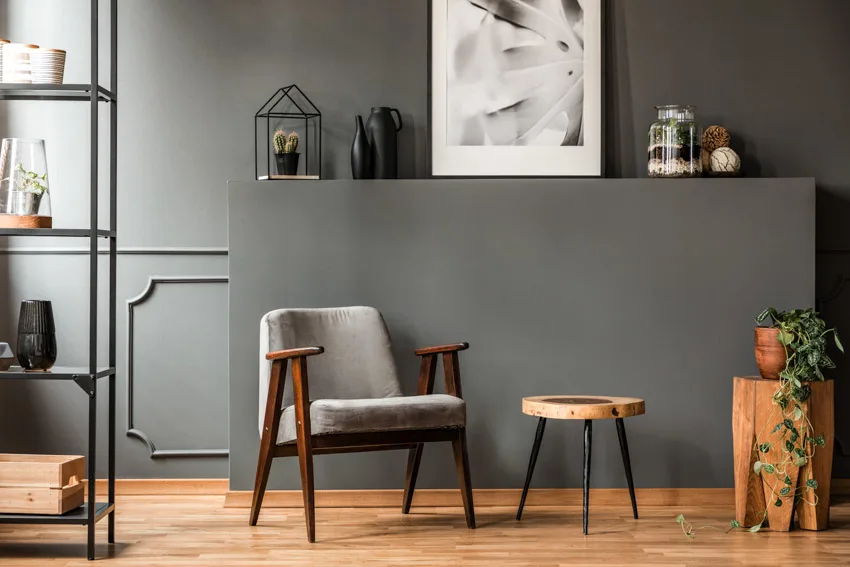 The design will mostly determine the appearance of your accent furniture, so you must be wise in choosing the right one. The challenge is you will have numerous design possibilities to pick from.
Your overall interior design will be a major deciding element in the design of the accent chair you select. An overly patterned polyester fabric chair in a formal living room will seem terribly out of sync.
If your entire area exudes comfort, a faux leather accent chair with a wooden framework and rolled arms. For example, a chair style like the Chesterfield chair will have everyone asking how it got into your home.
Accent chairs, on the other hand, are very design-specific. It is quite simple to match an accent chair to your room based only on style, but this would be beset with complications.
Even though a chair is visually appealing, it may be completely ineffective in terms of functionality. To make the best choice, these two factors must be both considered.
It must be emphasized that styles can be combined and coordinated. Eventually, the room is yours to build and develop, and if your feelings tell you it looks perfect, then it might be the right option.
Colors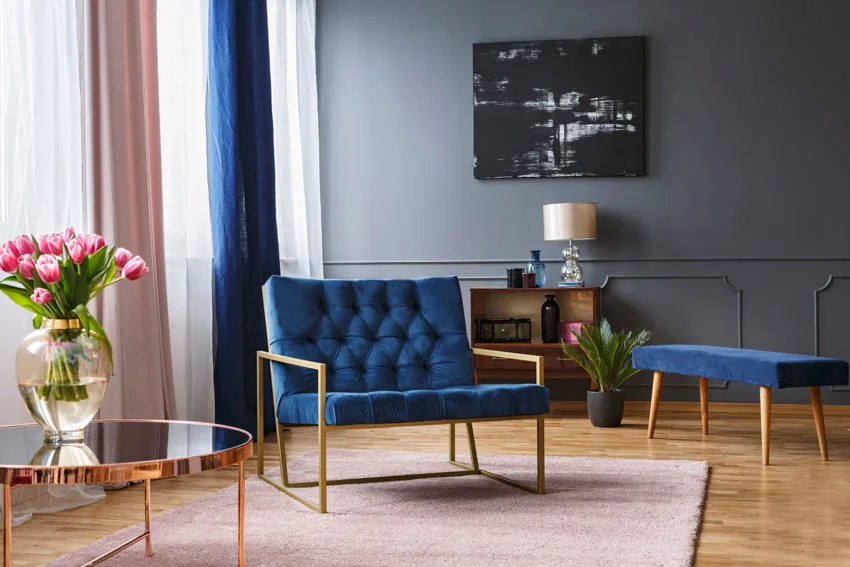 Naturally, color will be a big consideration when selecting an accent chair. You can discover the ideal accent chair that matches your shape, practicality, and aesthetic criteria, but it is not a great fit if it is not accessible in a color that corresponds with the current color palette of your space.
Contemporary and modern designs are typically minimalistic colors of white and gray, but tropical and world-themed styles are much livelier and more colorful. You have to ensure that your accent chair's color will match well with your overall interior color scheme.
For example, if your space is predominantly neutral, a vibrant accent chair in a color like turquoise can add a flash of color that transforms the entire mood of the space in a pleasant and welcoming sense.
Fabrics & Upholstery

When we say 'upholstery', we are normally referring to the fabric used to make your accent chair. Your accent can be made of leather, cotton, microfiber, taffeta, damask, linen, silk, faux leather, chenille, velvet, tweed, or a fiber mixture.
When selecting fabric selections for your accent chair, consider matching textures as well.
If your space's surrounding cushion covers and furniture objects are already heavily textured, you can choose an accent chair with a soft, delicate texture and slender legs.
If you are sitting in an accent chair above tile, wood, or cement flooring, an accent chair with a greater texture and deeper seat will provide character to your space.
Chair Arms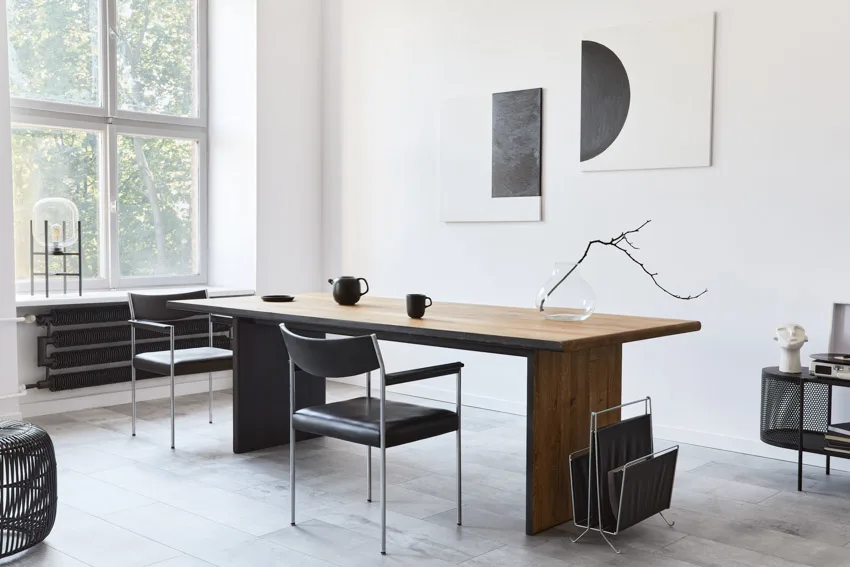 Each type of chair usually comes with a particular form of an arm. Here are some of the different accent chair arm types you can choose from:
• Track Arm: On a chair, a track arm is a low, flattened arm. This combines the conventional appearance of a chair arm with a modern touch.
It is also popular in smaller homes and condominiums since it decreases the amount of room that the chair takes up, allowing the area to broaden.
• Armless: Armless chairs provide a flexible seating arrangement for your workplace. Such chairs handle a wide range of seating types and allow for effortless movement in and out of the chair.
• Flared Arms: Accent armchairs with flared arms have arms that give the impression of being slanted away from the seat to allow for more seating space.
• Round Arms: The arms curve to form a round curvature at the top, making it a comfy choice for lounging.
Accent chairs with round arms come in a variety of styles. They have a conventional, informal appearance, but they can be designed to appear more elegant with particular upholstery designs like pleated arms.
Tufting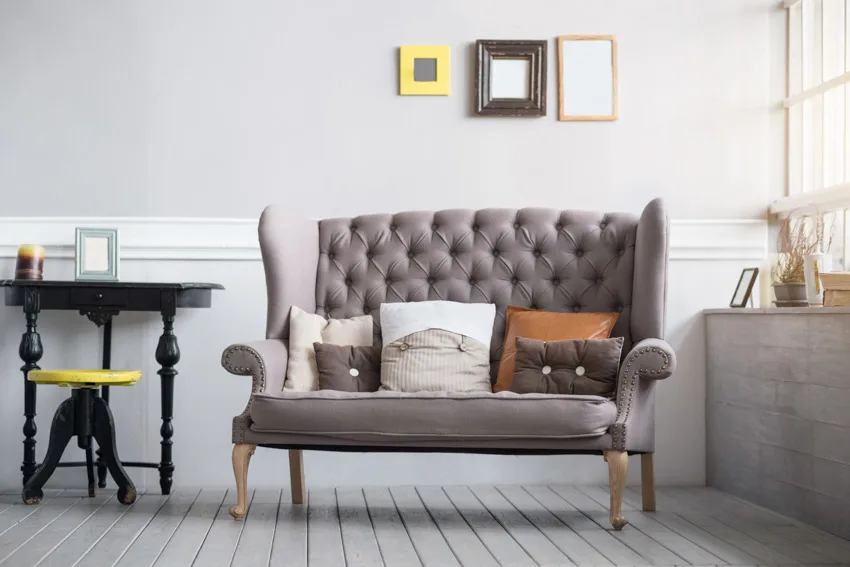 Tufting is a design feature that can give aesthetic flair to accent chairs and prevent uneven upholstery. A tufted chair or settee can help you achieve the modern and transitional appearance you aim for. It is ideal to look out for accent chairs with tufting details.
Tufting is accomplished by threading buttons through an upholstered piece and tightening the thread. As a result, "tufts," or protrusions, appear in the back or seat of a chair.
Tufting occasionally raises the price of a chair, but the complexity it adds is well worth it. A tufted accent chair is ideal for any design.
Framing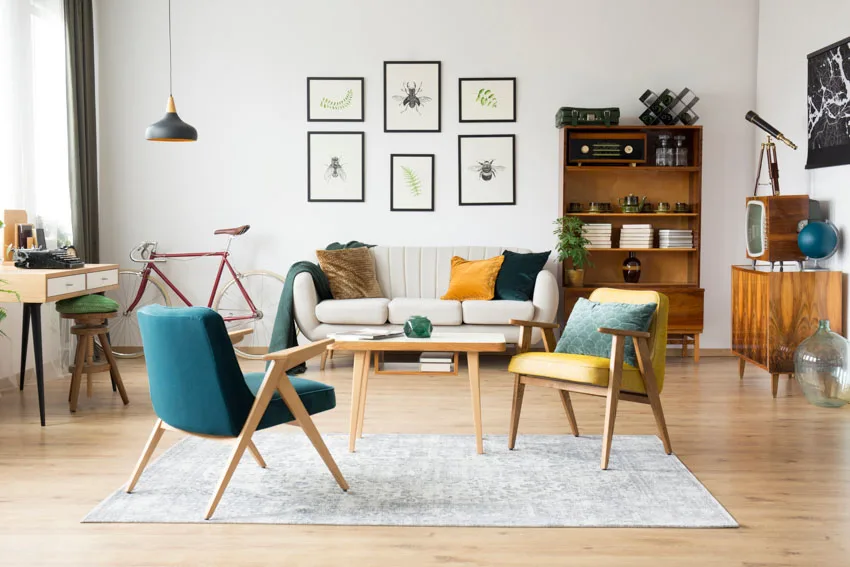 Perhaps the most prevalent materials used for accent chair frames are wood and metal. Such materials are occasionally bare. However, some of them can be covered in upholstery.
Piping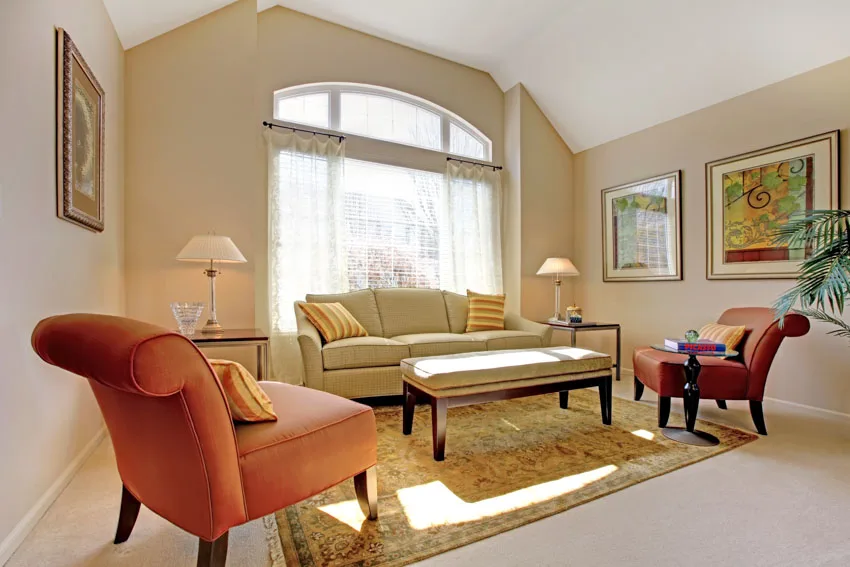 To slip stitch the outer rear panel or side panel of fabric onto the accent chair, piping is often applied as a border on the outer back and sides. It has numerous applications, but this is its primary function and the most frequent area where you will find it.
Correct piping adds flair and a splash of contrasting color or design. When the pattern from the side of the chair does not go level with the rear panel, the patterned material functions as a style-saver.
If the chair is not completely straight, for instance, the piping will hide this flaw. Moreover, it is a good way to highlight the curves of a more ornamental accent chair.
Leg Styles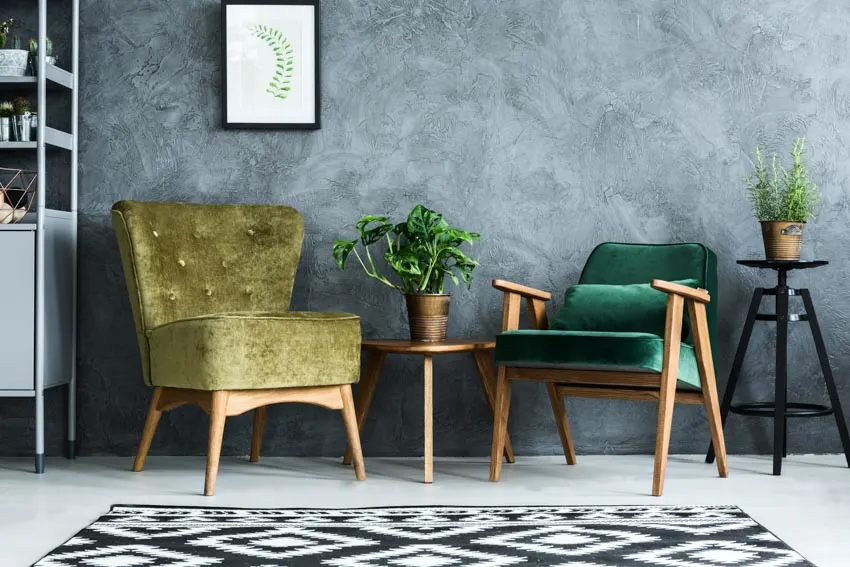 The legs of the majority of smaller accent chairs are visible. The easiest way to start is to select a leg style that represents your particular style.
Pick a streamlined and minimalist leg if you prefer modern or contemporary furniture. A carved or bent leg would look great in a classical setting. Some accent chairs even have casters, which provide a charming, nostalgic vibe.
The correct leg style will not only give an added aesthetic appeal to your accent chair but also its stability. Here are the different types of accent chair legs:
• Straight
• Fluted
• Adam-style
• Marlborough
• Tapered
• Spade
• Reeded
What Size To Choose?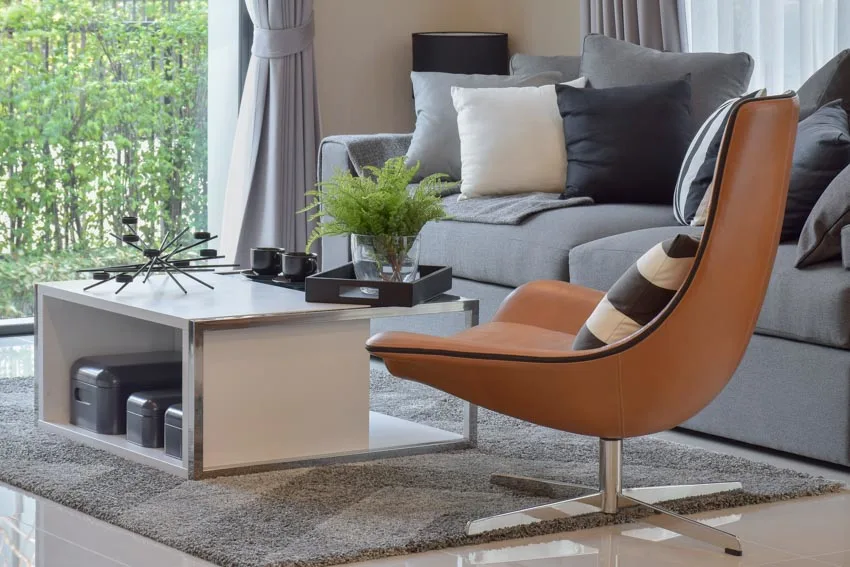 If You Are Using it as a Relaxing Chair: Accent chairs are designed for comfort, so their ideal seat height would be highly subjective. The most frequent measurements are around 17 to 18 inches, while seats as low as 15 inches and as big as 20 inches are available.
When evaluating the accent chair seat height, you should keep two factors in mind. First, your knees should bend at a 90-degree angle when you sit with your feet properly set on the ground.
Second, how simple will it be for you to get out of it and stand? If getting up for you is challenging, try selecting an accent chair with a higher seat height.
If You Are Using it as a Dining Chair: Dining chairs should fit properly underneath your dining room table, leaving adequate room for your legs, napkins, and your formal attire.
The majority of dining tables are 30 inches tall by default. That implies the seat height of your accent chair should be around 17 to 19 inches.
Nevertheless, not all tables are manufactured identically, and some are shorter or taller than others, thus making the necessary adjustments. A reasonable principle is to allow 10 to 13 inches between the chair seat and the bottom of the table. Read more about dining chair sizes here.

Room Styles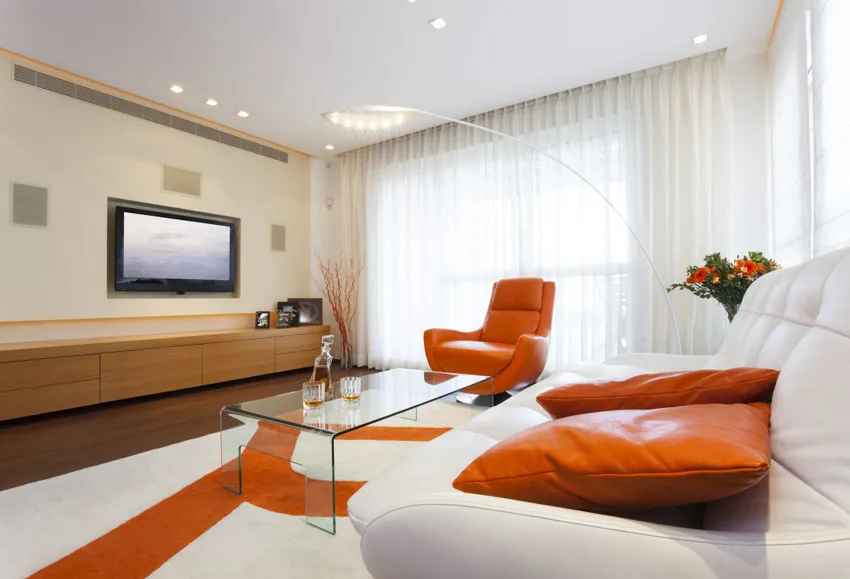 Accent chairs are an excellent inclusion in any room since they are available in a variety of sizes, patterns, and designs. Accent chairs are typically large armchairs found in living rooms, although they can be any type of chair that meets your preferences.
Reupholstered dining chairs and vintage kitchen chairs make excellent decorative pieces. It is indeed ideal to choose an accent chair that serves a purpose in the room.
For example, a dining room accent chair might look great in a kitchen. Select an accent chair that complements the objective of the area without detracting from the overall motif.
Chair Placement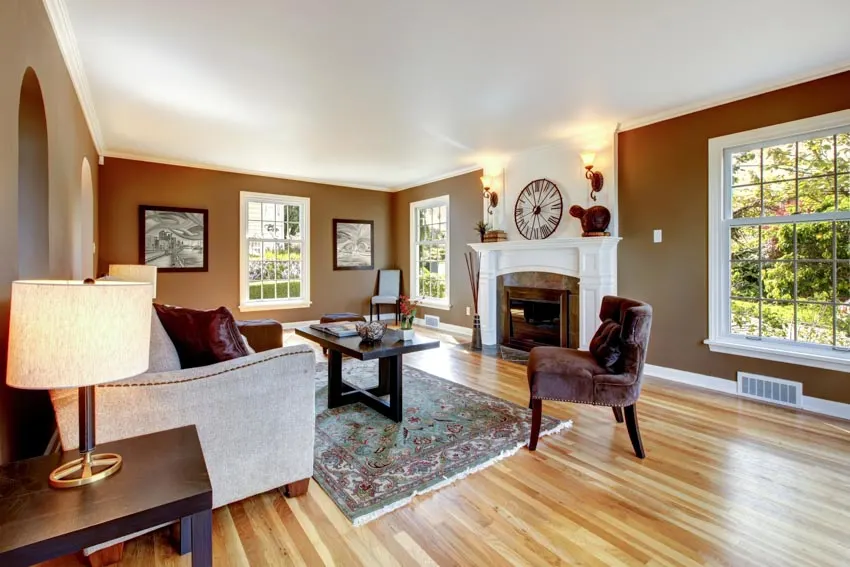 Accent chairs are suitable for use in any space such as bedrooms, living rooms, libraries, entryways, and guest rooms. Accent chairs can be located in most types of room in a house, although they are most commonly found in more sociable areas such as living rooms and lounges.
A good accent chair could significantly brighten a room while creating a relaxing spot. Depending on the size of the area, accent chairs can also be used in huge bathrooms and kitchens.
The following are some of the most frequent areas to put accent chairs:
• Adjacent to a coffee table
• On the opposite side of a couch or loveseat
• In a vacant corner
• Parallel to a sofa
• Beside a fireplace
• Beside a bookshelf
• Together with a matching footstool
Rocking chairs make good accents, too, and perhaps are more versatile than any of their counterparts; they're just as likely to be found in the nursery as in the living room, bedroom, and on the sun porch. – Heather Paper, Decorating Ideas That Work
Do They Need To Match?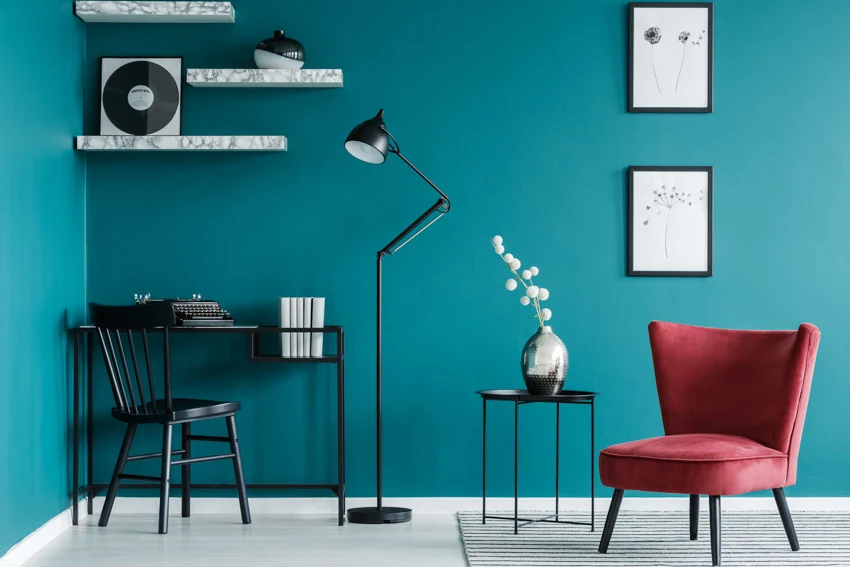 This question has no clear solution as it is a matter of personal preference. Some people enjoy balance, and a complementary set of accent chairs can easily bring it to any environment.
Accent chairs do not have to match if placed in different corners of a room. There is no reason for the chairs to complement if they are apart. If the chairs are next to one other or in a corner, then maybe it is a smart idea to match them.
What To Put Between Them?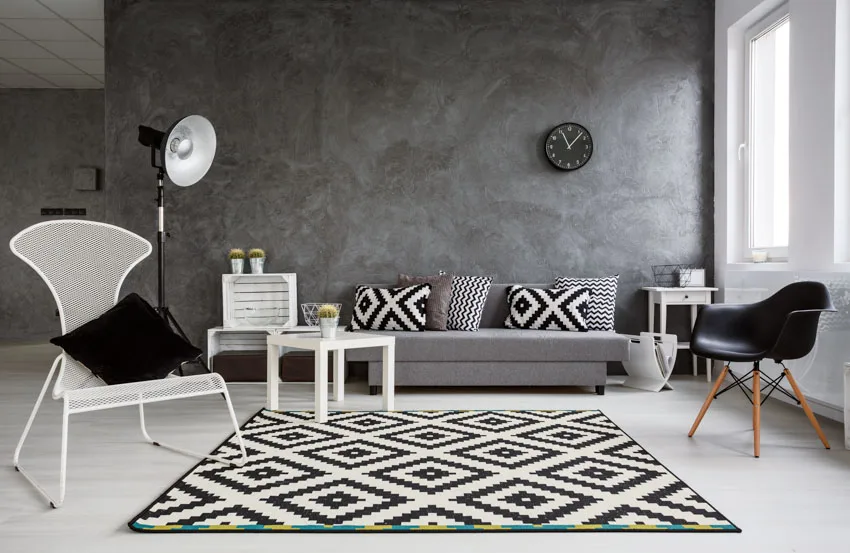 You can consider placing these furniture pieces or ornamental objects between two accent chairs to enhance the space and generate a polished look:
• Mini Accent Table: Little accent tables work best when placed between two accent chairs. You may establish a pleasant location for guests to have worthwhile conversations by placing a small accent table with a candle or vase of flowers on top of it.
• Large Ottoman: Putting a large-sized ottoman between two accent chairs is one of the greatest options because it can serve as a table and a footrest as well. A big ottoman or pouf will also work well with accent chairs since it will draw the focus of your guests to the accent chairs.
• Coffee Table: Yes! You can put a coffee table between two accent chairs that are facing each other in a dull-looking space in your room. By giving that area a mix of functionality and style, it will produce a balanced and proportional aesthetic.
• Bookcase: One other excellent idea is to place a bookcase at arms' length between a couple of accent chairs. It will easily organize a reading space with your best-loved books and will appear more like a mini home library.
• Floor Lamp: Placing a floor light between two accent chairs will be an excellent approach to create a warm and inviting atmosphere. Most types of floor lamps do not occupy a huge space, hence they are ideal for a tiny or busy room since they do not make the space appear more cramped.
Where To Buy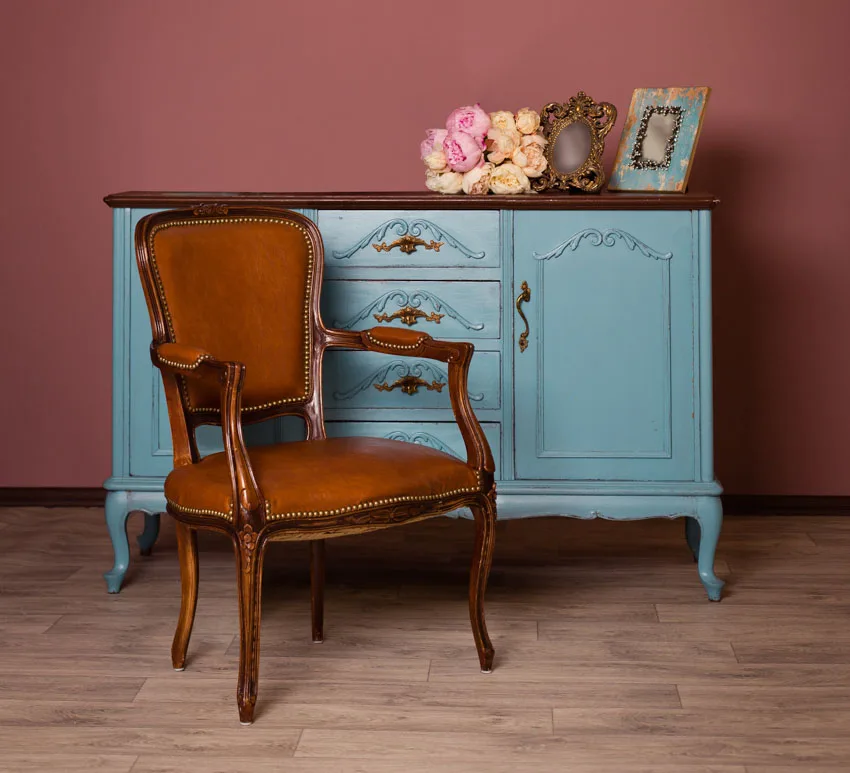 You can find numerous accent chairs in the local furniture shops near your location. All of them vary in size, design, and price as well.
However, here are some of the well-known companies (online shops) that sell accent chairs.
• Bed, Bath, and Beyond
• At Home
• Walmart
• Amazon
• Kohl's
• Target
• Ikea
• Blims Furniture
See more related content in our article about the different types of office chairs on this page.