Get ideas for banquet table sizes including the different dimensions and tips for standard, four, six, eight foot, and round variants.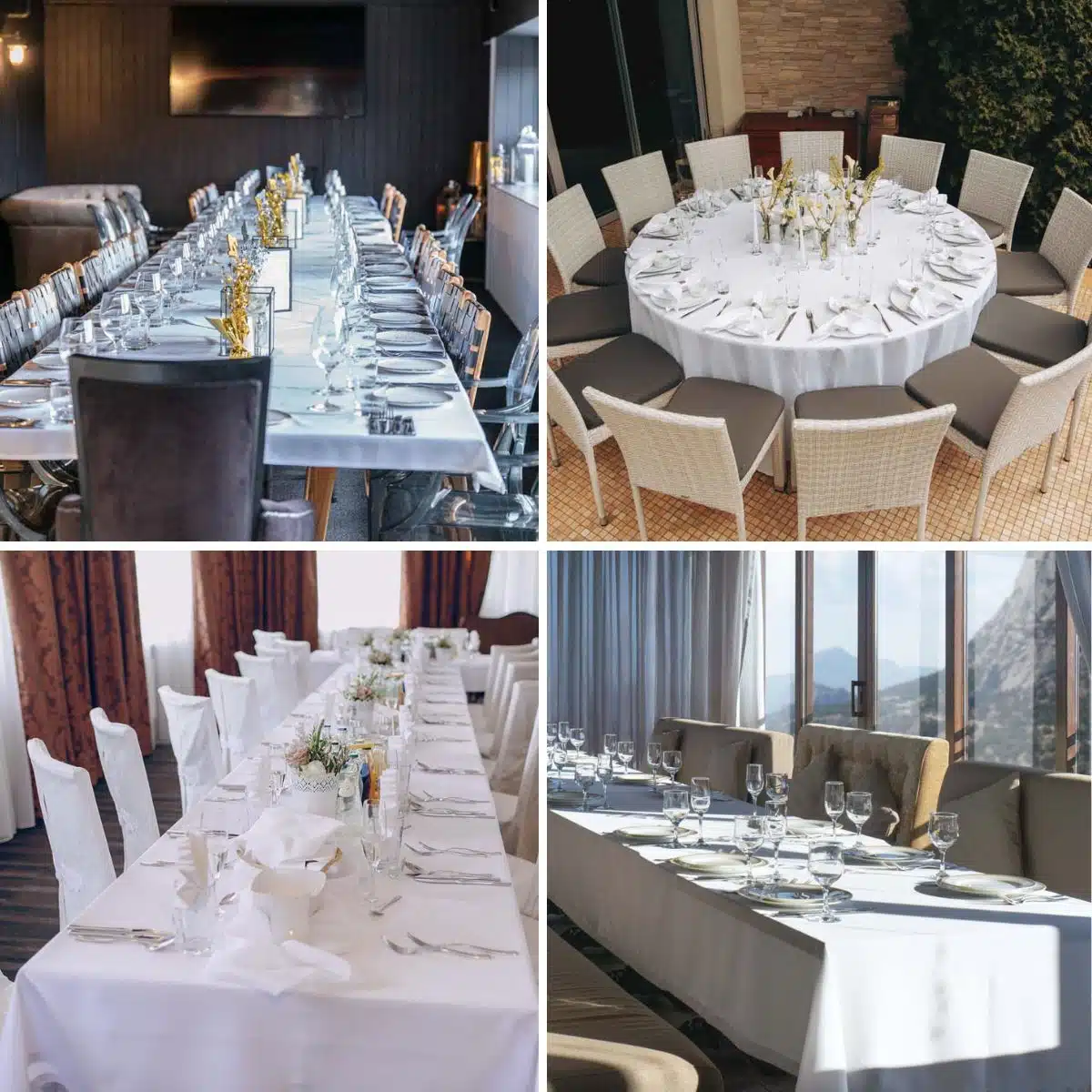 Banquet tables are a standard furnishing at wedding receptions, evening galas, company meetings, luncheons, and other social gatherings. It is a quintessential requirement for accommodating food, beverages, and other items essential to the event.
Catering services and event organizers have an impressive array of banquet tables to accommodate clients' requirements. Ordinary homeowners can also rent banquet tables for special occasions, giving the celebration a more formal vibe.
Knowing banquet table sizes can help individuals and families decide the number of tables to put into their event venue, considering the number of guests they expect to attend.
Banquet Table Standard Size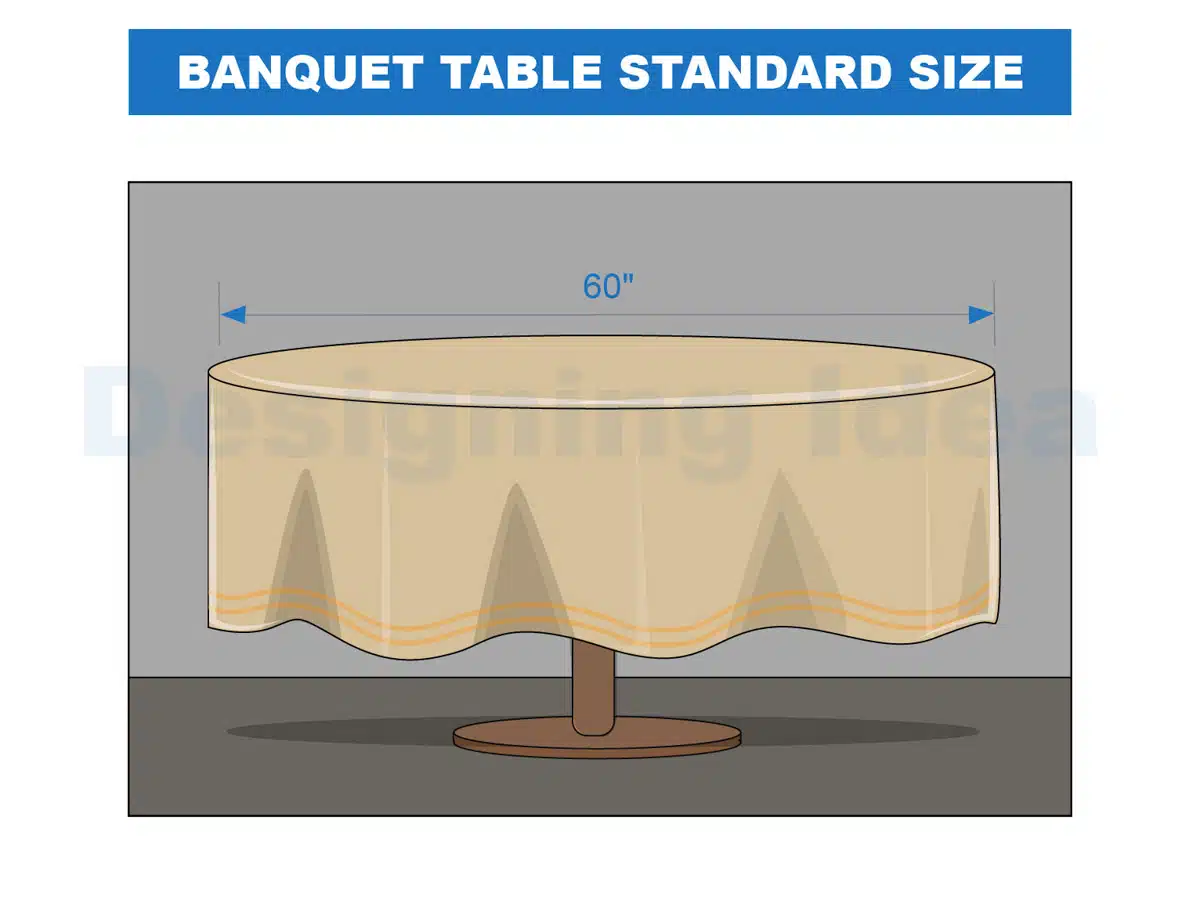 Most banquet halls and catering services offer tables in three shapes: round, square, and rectangle.
The standard round banquet table has a 60-inch or 5-foot diameter (about 152.4 centimeters). This event furniture can seat about 8 guests, saving space while ensuring all guests can see eye-to-eye. Such a table is ideal for fostering social connections, allowing guests to exchange ideas without shifting in their seats. The setup feels more intimate and cozier.
Banquet tables are probably the hardest-working pieces of furniture in the business. They should be made with rugged steel underpinnings and reinforced with angled iron rails that run the length of the table. – Design and Equipment for Restaurants and Foodservice: A Management View, Chris Thomas, Edwin J. Norman, Costas Katsigris
On the other hand, a 2 feet by 2 feet platform (about 61 centimeters on all sides) defines a standard square banquet table for two. The idea is for each guest to have a "designated" half-side of the table. Nobody else can "claim" that spot, making it the ideal furniture for a romantic date.
However, larger social gatherings require a heftier-sized square banquet table, allowing four guests to seat comfortably on all four sides. Such banquet tables should be at least 30 inches (76.2 centimeters) on each side.
If the caterer or host believes the table surface cannot accommodate the food and other items, a 36-inch square table (91.4 centimeters) is an excellent choice.
Lastly, hosts and caterers use rectangular banquet tables to enhance the event's party-like atmosphere. These tables range from 60 to 96 inches long (1.52 to 2.29 meters) and 30 inches (76.2 centimeters) wide and can accommodate 6 to 10 guests (depending on the event organizer's seat plan).
The beauty of a rectangular banquet table is its versatility. Event organizers and hosts can join several tables at their ends to increase the venue's seating capacity.
They can also arrange these furniture pieces to make a large square with space in the middle. Alternatively, hosts can position the tables to the event hall's sides, freeing space in the main hall for dancing and other social activities.
Banquet Table Height: Banquet tables are not different from ordinary residential furnishings. The serving platform can reach a comfortable height of 29 to 30 inches (73.7 to 76.2 centimeters) from the floor. However, it is worth noting that some banquet table manufacturers offer products with adjustable table legs.
4 Ft. Table Sizing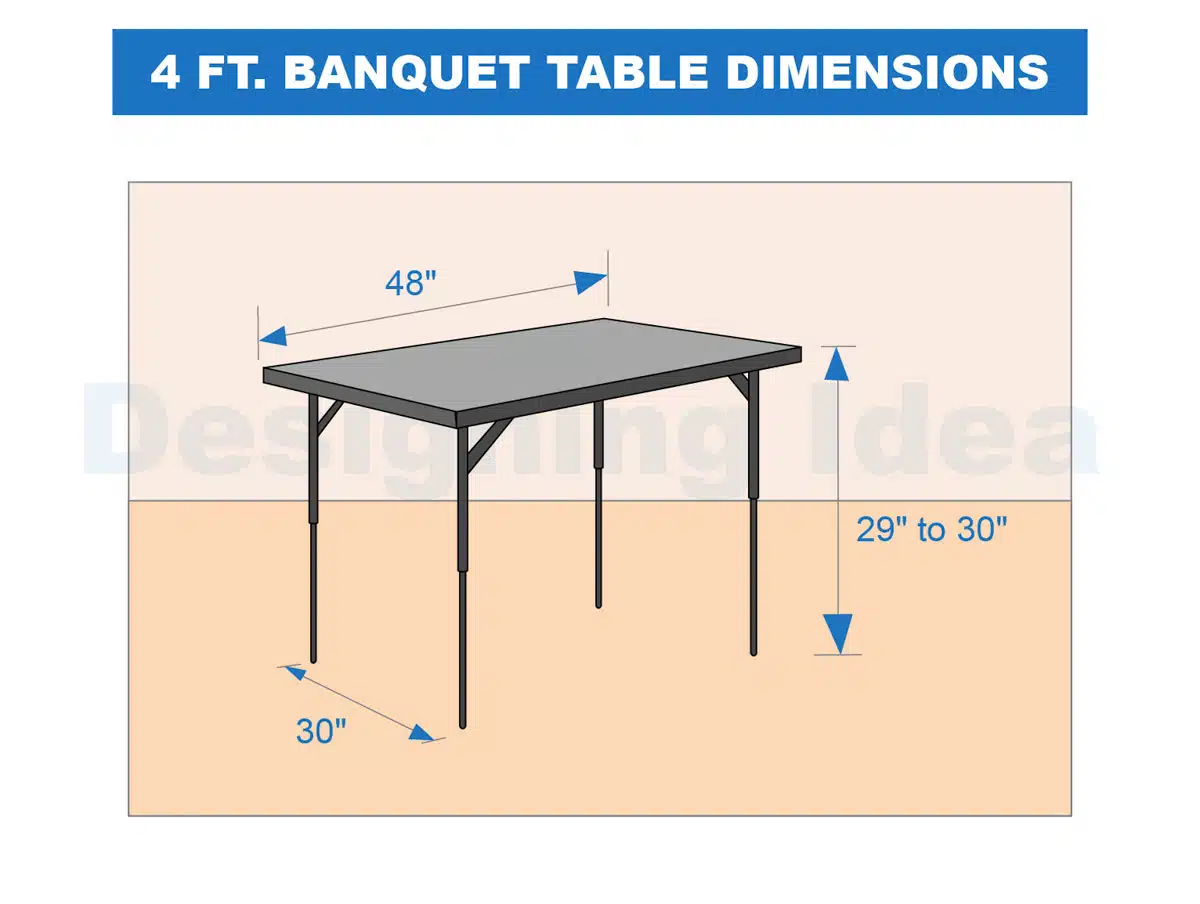 A 4-foot round banquet table measures 48 inches (122 centimeters) at its broadest section. Meanwhile, a 4-foot rectangular banquet table measures 30 inches (76.2 centimeters) on the short side and 48 inches (122 centimeters) on the long edge. Both banquet tables have a platform 29 to 30 inches from the floor (about 74 to 76 centimeters).
Amount of Seats: Although a 4-foot rectangular banquet table and a 4-foot round version have identical dimensions, they vary in the number of seats or chairs it can accomodate.
A round banquet table of this size can accommodate up to 6 guests, although event organizers often limit the seating capacity to 5 to make the table "less crowded." Meanwhile, the same 4-foot rectangular banquet table can only seat 4, one on each side.
6 Ft. Table Measurements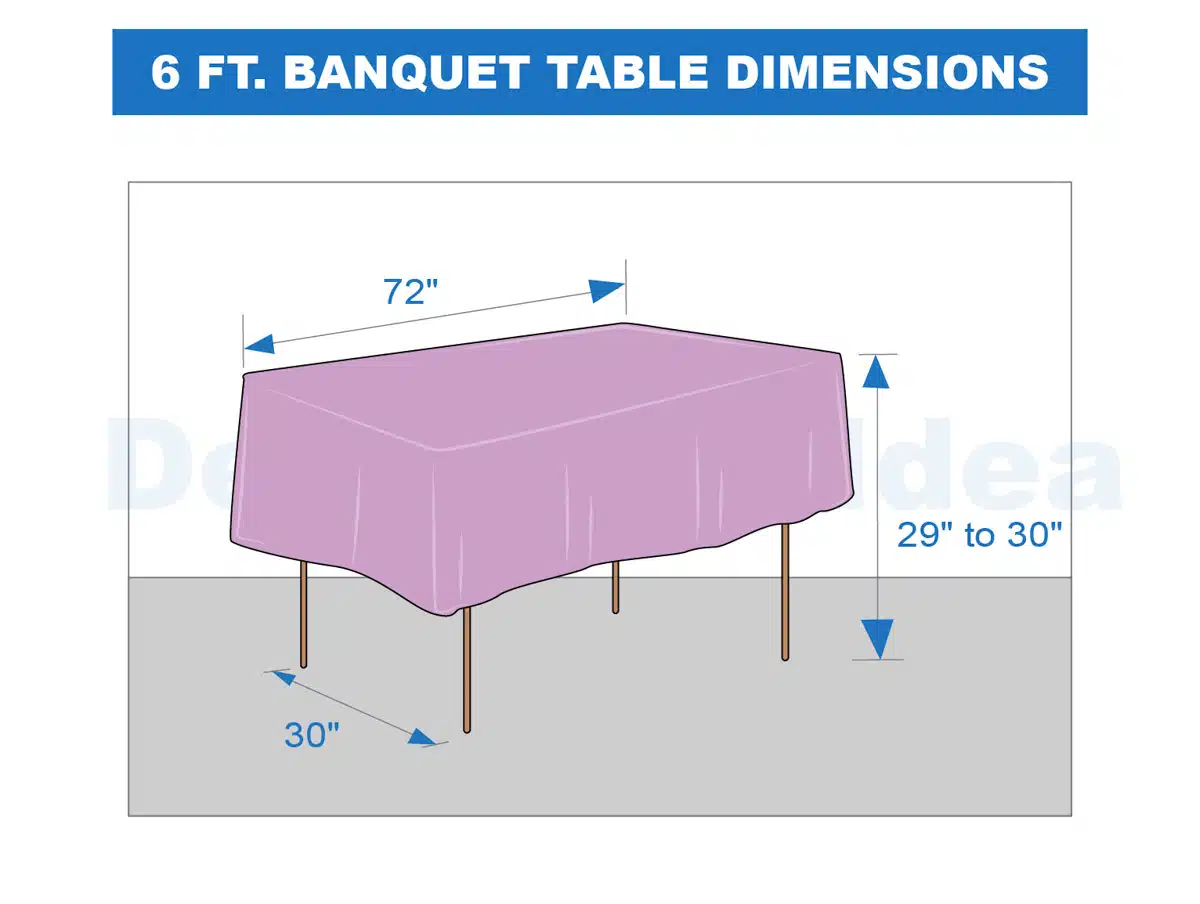 Caterers and hosts use a 6-foot banquet table to accommodate more guests, making it ideal for wedding receptions and luncheons. This size is ideal for various configurations and a variety of needs.
A typical 6-foot rectangular banquet table extends 72 inches or 1.83 meters from one end to another while retaining the conventional table width of 30 inches or 76.2 centimeters and 29- to 30-inch height (about 74 to 76 centimeters). A round version has identical dimensions, maxing at 72 inches across.
Amount of Seats: Like other banquet table sizes, round versions outclass rectangular types in seating capacity. While a 6-foot rectangular banquet table can only accommodate a maximum of 8 guests (3 to 4 guests on each side), round versions can seat 10.
8 Ft. Table Dimensions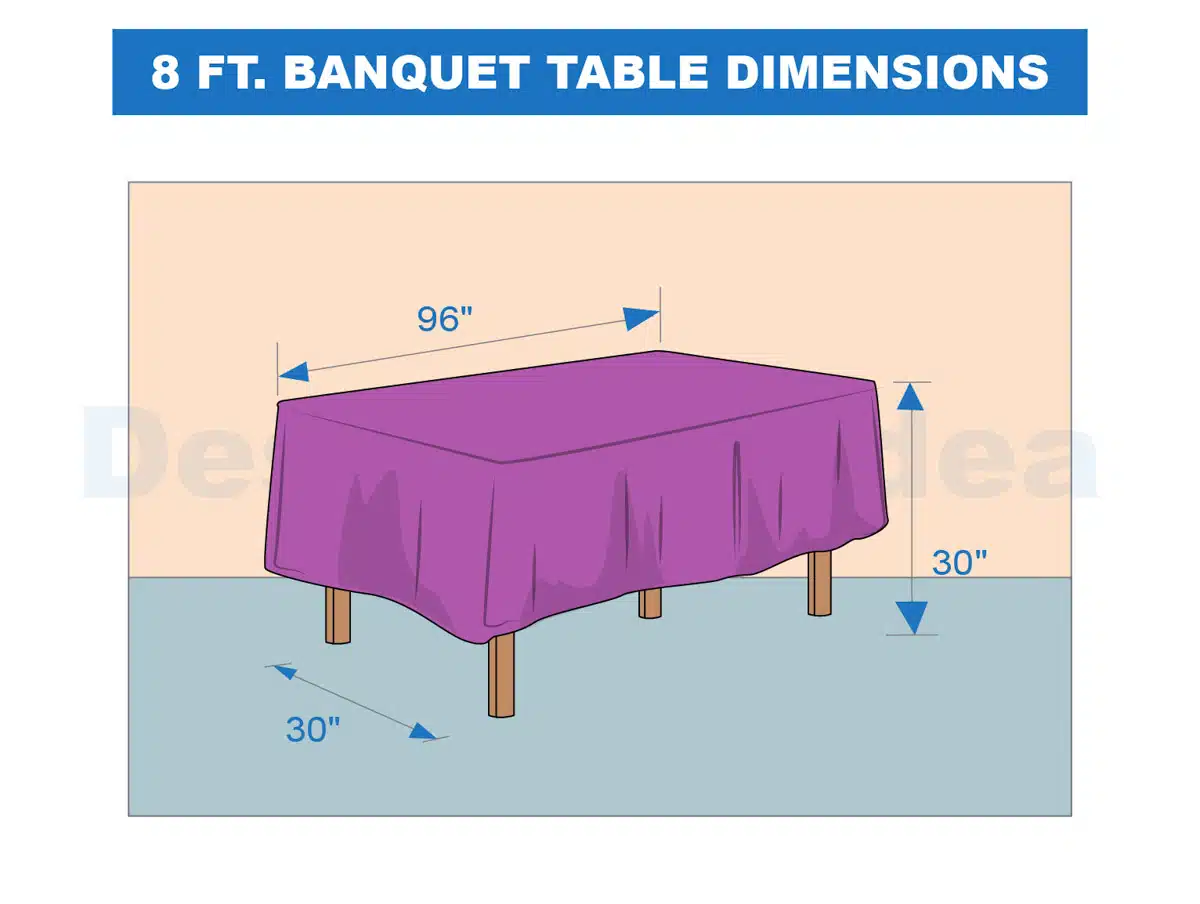 Large social gatherings (i.e., conventions, luncheons, wedding receptions, and galas) require a more substantial banquet table to accommodate more guests. Unfortunately, no 8-foot round banquet table exists because it will be space-inefficient, despite seating more people.
On the other hand, 8-foot rectangular banquet tables are a standard in large social events. These furnishings have a side-to-side span of 96 inches or about 2.44 meters, allowing enough guests to see eye-to-eye across the opposing side. The table's width is similar to other banquet table sizes (30 inches or 76.2 centimeters), leaving enough room for food at the midline.
Amount of Seats: A 96-inch-long banquet table can comfortably seat 4 guests seated on dining chairs on each side. However, it is not uncommon for some hosts to cap the short ends and seat 2 more, increasing the seating capacity to 10.
Round Table Sizes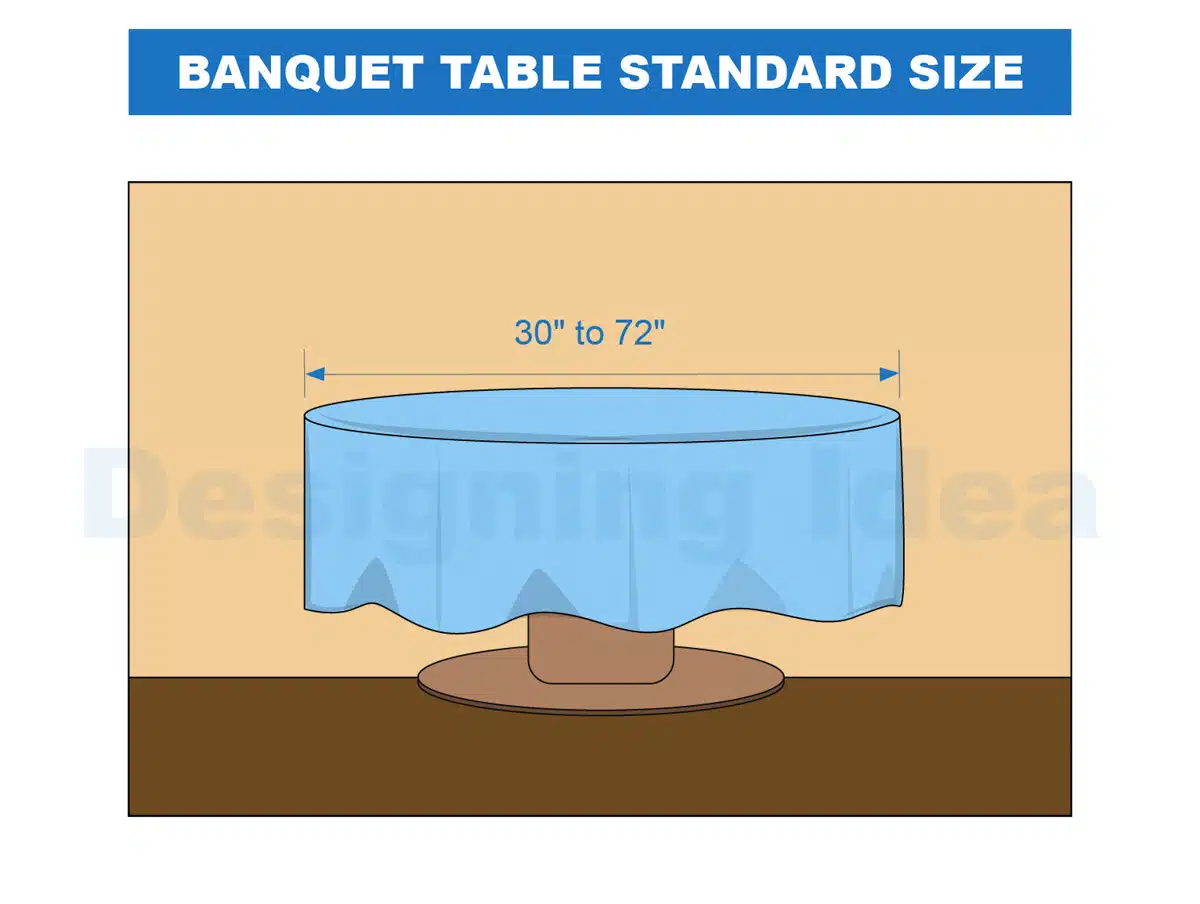 Round banquet tables are not only available in 4- and 6-foot sizes (48 and 72 inches or 1.22 and 1.83 meters). These formal events furniture pieces are also available in 30 to 66 inches (76.2 centimeters to 1.68 meters) in 6-inch increments (15.2 centimeters).
Hence, one can have a round banquet table with diameters measuring 30 inches (76.2 centimeters), 36 inches (91.4 centimeters), 42 inches (107 centimeters), 48 inches (122 centimeters), 54 inches (137 centimeters), 60 inches (152 centimeters), 66 inches (168 centimeters), and 72 inches (183 centimeters).
Amount of Seats: As a rule, round banquet tables can accommodate about two guests more than a similarly-sized rectangular version. For instance, a 48-inch round banquet table can seat 6 while a 48-inch rectangular type can only accommodate 4.
The smallest round banquet table (30 inches) can seat a maximum of 3 guests, adding an extra accommodation with each incremental size increase. For example, a medium 36-inch round banquet table can accommodate 4 guests, while adding 6 inches to the diameter allows another guest (for a total of 5) to sit comfortably.
Did we miss any important questions or do you have experience using folding tables for weddings or parties? Share your tips and information below in the comment area. See more related content in our article about tablecloth fabric on this page.