In this guide to tablecloth fabric you'll see the different types of materials, wrinkle-free tablecloths, and tips on which tablecloth to use at for fine dining, weddings and restaurants.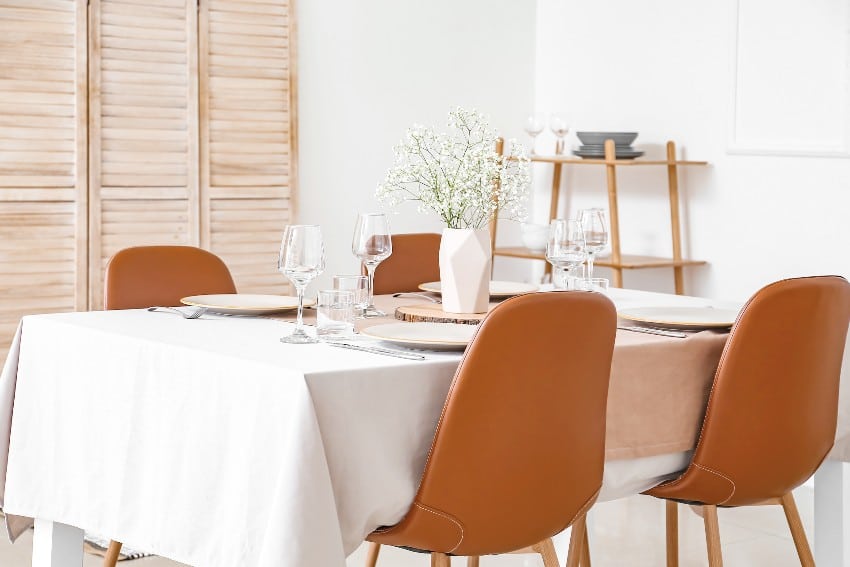 One of the primary purposes of a tablecloth is not just to provide your dining table at home with extra protection from food and liquid spillages but also to add an element of design to your dining area.
It's very understated, but it can completely change the theme and the mood of an entire area when done right. Subtle changes such as the color, pattern, or even the size of your tablecloth can significantly impact the overall décor statement.
This is why knowing your tablecloth fabrics is of utmost importance. Understandably, you have every option to just leave your tables at home bare. However, adding a nicely chosen tablecloth could spell all the world's differences. It can totally upgrade your dining room's look and feel.
Types Of Tablecloth Material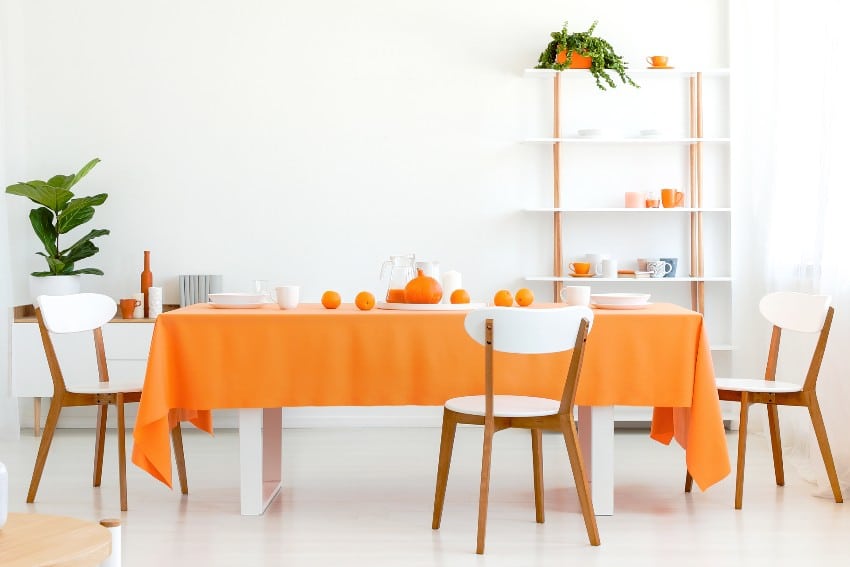 High-quality tablecloth materials can be made out of a different variety of options. When shopping around for materials, one important thing to remember is that it doesn't always have to be expensive. You can find affordable tablecloths from many places, from home stores to yard sales, auctions, thrift stores, and even online.
Make sure that you always keep quality in mind when picking out your tablecloth material. Aside from the obvious fact that you want it to make your dining table look good, you should also look into getting the best value for your money. Opt for something durable enough to last you for a long time.
Organza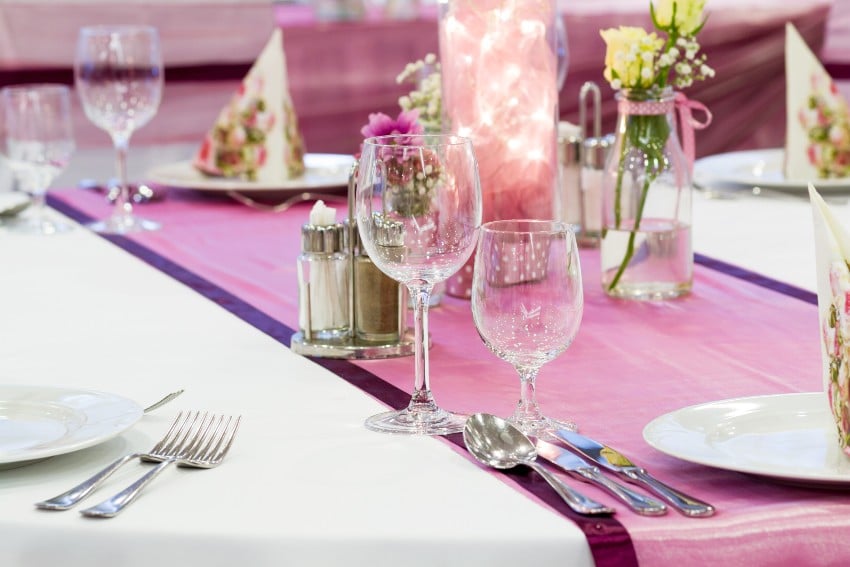 Organza tablecloths bring a unique yet sheet type of class and elegance to any interior space. It's usually the tablecloth material for formal events such as weddings, anniversaries, and other formal occasions. They are best paired with linen for a stunning table presentation.
It is a delicate fabric, though, and should often be washed by hand or washed in a delicate setting in the washing machine due to the sheerness of the fabric. It also needs to be air-dried and cannot be used for outdoor settings because it isn't sturdy enough.
| | |
| --- | --- |
| Pros of Organza Tablecloths | Cons of Organza Tablecloths |
| Attractive sheer appearance | Not very durable |
| Strong material | Can show wrinkles |
| Light and airy material | Transparent fabric |
| Wide range of colors to choose from | Requires special care to clean |
Linen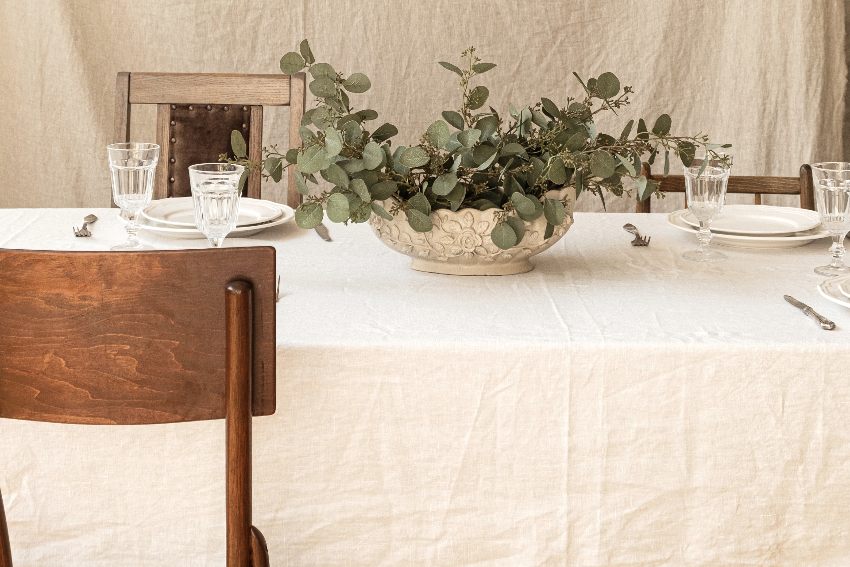 Linen is one of the more elegant tablecloth fabric options. Suppose the goal is for you to add a feeling of luxury to your dining experience. In that case, it is definitely the material to watch out for. This material is typically made out of flax.
Because it needs to be sourced and is occasionally scarce, it can be a bit more expensive. Its fibers are longer than cotton, so you enjoy better durability for your tablecloth. It's definitely a lush fabric. It's perfect for adding an element of class to your dining table without being burdened by its upkeep.
Linen tablecloths are best spun in the washer on a delicate cycle and in a cold setting. While still slightly damp, iron it out to high heat to keep it looking crisp and wrinkle-free.
| | |
| --- | --- |
| Pros of Linen Tablecloths | Cons of Linen Tablecloths |
| Natural appearance | Expensive |
| Durable material | Can show wrinkles |
| Sustainable material & 100% biodegradable | Limited colors and patterns |
| Beautiful look | Requires special care to clean |
Vinyl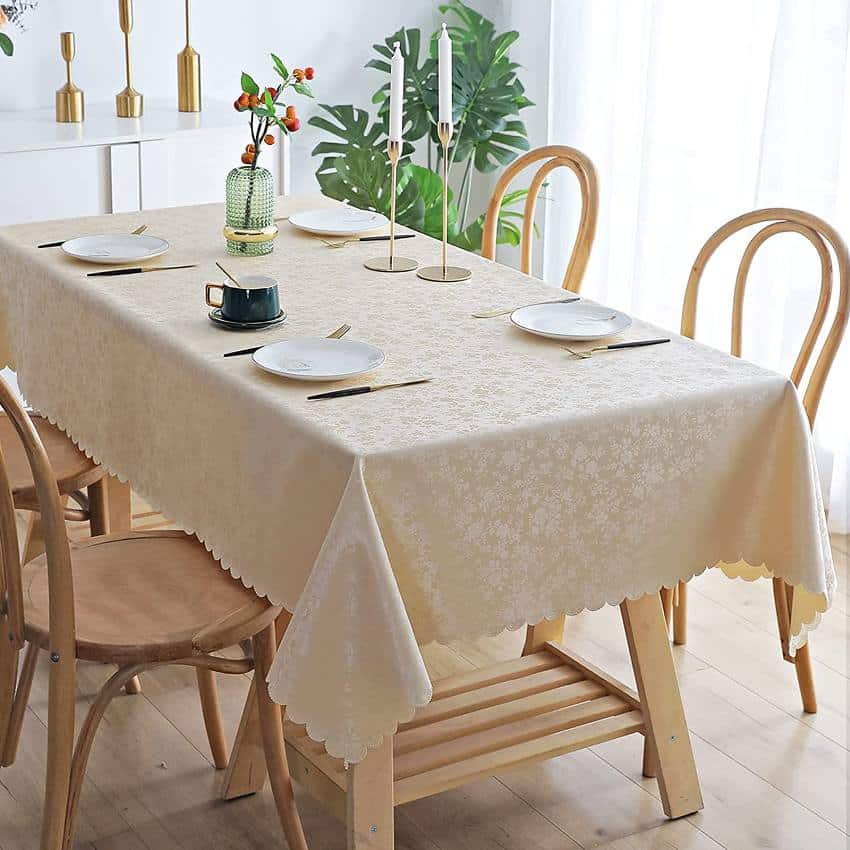 See this waterproof vinyl tablecloth at Amazon [Sponsored link]
Vinyl is an affordable tablecloth option for outdoor events and kids' parties. It's light, waterproof, and amazingly resistant to stains. It's hands-down the cheapest tablecloth material available in the market.
Getting vinyl tablecloths shouldn't be an issue if you're on a budget. One thing to remember is that because they are very lightweight, you must ensure that you weigh them down once placed on the table, especially in windy outdoor settings. They're easy to clean and are often designed for single-use options.
| | |
| --- | --- |
| Pros of Vinyl Tablecloths | Cons of Vinyl Tablecloths |
| Inexpensive | Not as attractive as linen or other natural fabrics |
| Very easy to clean | Not environmentally friendly (Made from PVC) |
| Waterproof and durable | Can emit odors |
| Many designs and colors to choose from | Susceptible to tearing and punctures |
Cotton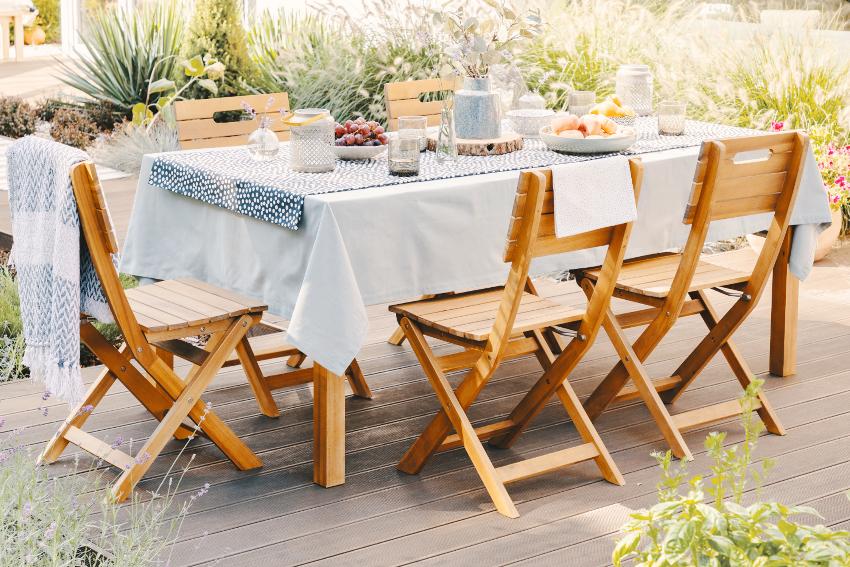 This material is probably one of the most popular of all tablecloth fabrics. Cotton can come in any style. It can be simple and plain, have casual prints, or even have elaborate designs for more formal dining settings.
Taking proper care of your cotton tablecloth is relatively easy. Depending on the color, you can just throw it in the washing machine for a regular cycle, add some stain removers or bleach, and follow it through with a quick ironing job.
| | |
| --- | --- |
| Pros of Cotton Tablecloths | Cons of Cotton Tablecloths |
| Beautiful appearance | Requires special handling |
| Popular choice of material | Costly |
| Sustainable material | Wrinkles easily |
| Machine washable | Susceptible to moisture and stains |
Burlap
See this textured burlap tablecloth at Amazon [Sponsored link]
If you want to be environmentally conscious, burlap is an excellent tablecloth material. It's 100% biodegradable and natural and is often sustainably sourced. This fabric is made out of the natural fibers of the jute plant. It has become quite popular, especially for rustic-themed décor and events.
There are 2 types of burlap: canvas and Hawaiian hemp. Hawaiian burlap has a coarse texture and tightly woven fibers, whereas canvas is typically looser and softer. It comes in a natural brown color, but it can typically be dyed to various shades of your preference.
| | |
| --- | --- |
| Pros of Burlap Tablecloths | Cons of Burlap Tablecloths |
| Offers rustic charm | Not a refined look |
| Affordable choice | Can shed messy fibers |
| Can handle heavy usage | Tough and scratchy texture |
| Easy to clean and handle spills and stains | Can easily wrinkle |
Damask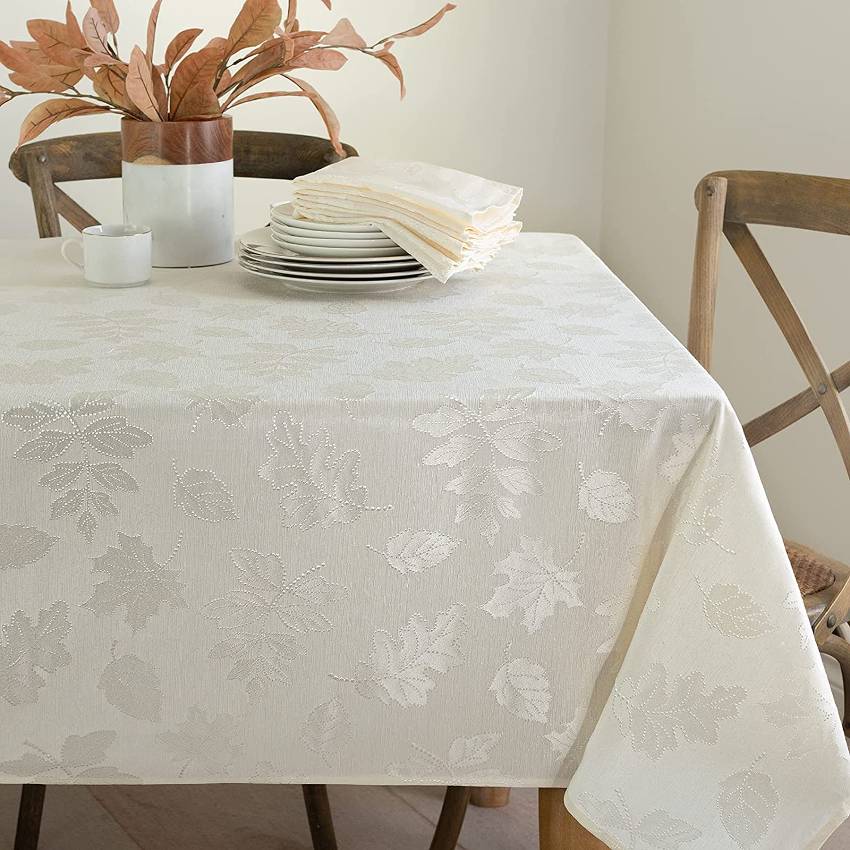 See this Damask fabric tablecloth at Amazon [Sponsored link]
Damask is a high-grade fabric usually reserved for special occasions such as weddings. Traditional damask was woven out of pure silk, whereas modern damask has a polyester blend.
It offers a beautiful alternating pattern of matte and shiny finishes due to the nature of the silk fibers. Pure and traditional damask is highly expensive, but with modern damask made readily available, you can purchase it for affordable rates.
| | |
| --- | --- |
| Pros of Damask Tablecloths | Cons of Damask Tablecloths |
| Offers a formal look | Stiff material with threads that can snag |
| High end choice | Expensive |
| Often can be reversible | Requires special care (dry cleaning) |
| Treated with a stain resistant coating | Not suitable for all venues do to formal style |
Oilcloth
Suppose you're looking for the perfect tablecloth material for the outdoors. In that case, an oilcloth is an excellent option for your casual get-togethers.
This material is made of cotton treated with an external PVC coating, making the material waterproof. They're very durable, easy to clean, and can come relatively cheap. However, note that they aren't recommended for formal social events.
| | |
| --- | --- |
| Pros of Oilcloth Tablecloths | Cons of Oilcloth Tablecloths |
| Very easy to clean | Limited number of colors and patterns |
| Waterproof material great for outdoors | Cloth backing may not be machine washable |
| Can withstand heavy use | Some are prone to fading from sunlight |
| Affordable | Can produce an odor |
Satin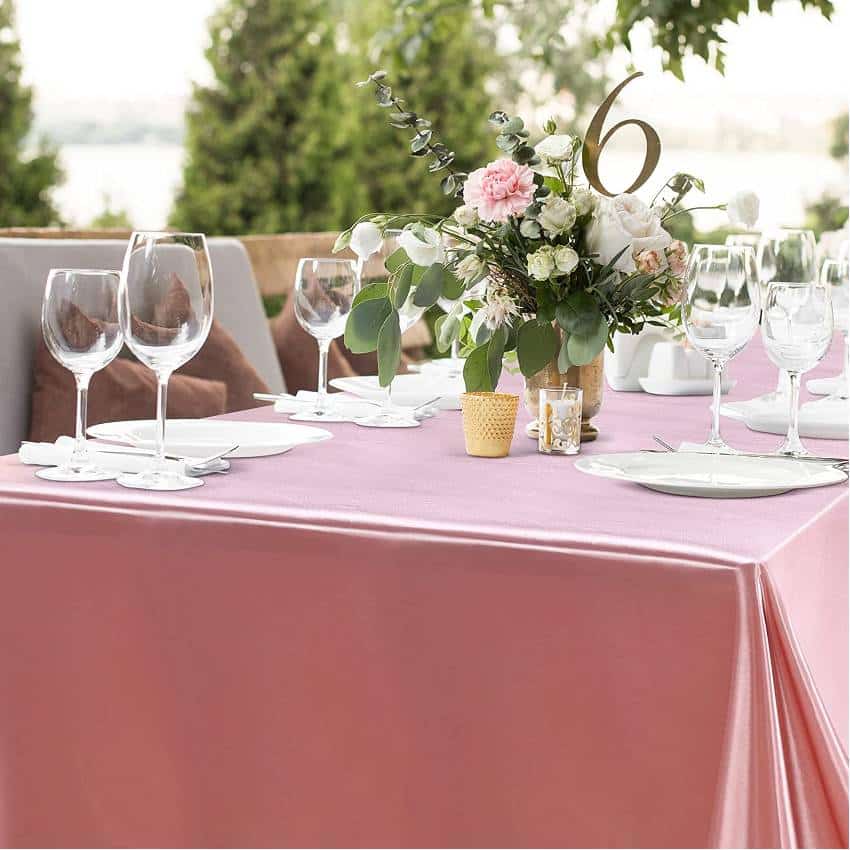 See this satin tablecloth at Amazon [Sponsored link]
Satin is another high-grade material often reserved for formal gatherings and occasions. This material is often made from a synthetic polyester blend. At the same time, some high-grade versions may be woven from silk. It has a high-sheen finish and can look quite unique.
This material needs to be washed in a delicate setting or can be hand washed. It also needs to be air-dried, as throwing it into the dryer may damage the fabric. However, with the proper care, it can last you for a very long time.
| | |
| --- | --- |
| Pros of Satin Tablecloths | Cons of Satin Tablecloths |
| Elegant and luxurious material | High maintenance (dry cleaning required) |
| Durable and washable | Can stain |
| Many colors to choose from | Can wrinkle fairly easy |
| Soft material to the touch | Costly |
Polyester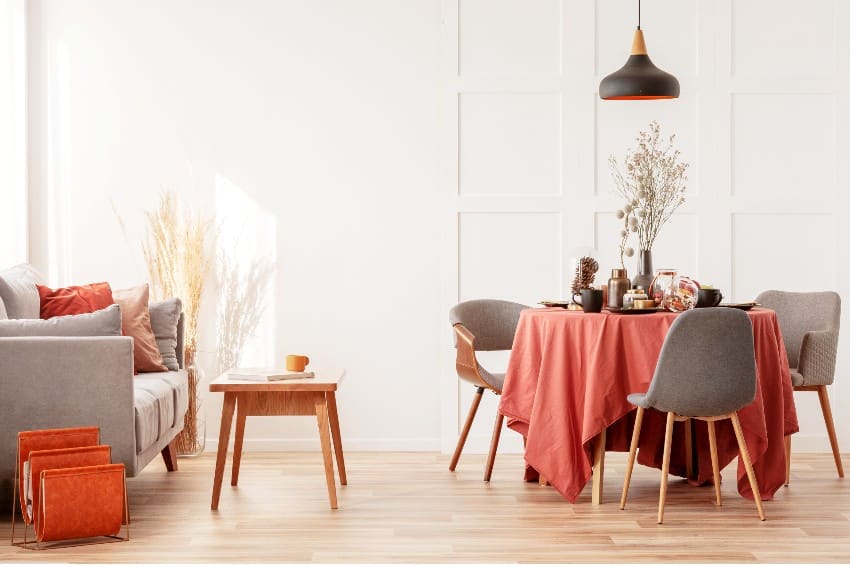 Polyester is a synthetic type of material. It's excellent at imitating the long fabric weaves of linen. It can look classy and delicate at a reasonably affordable price. This material is typically shiny and rough, so it usually comes in prints to cloak that rough texture.
You will rarely find polyester tablecloths in solid colors. Another upside to this tablecloth material is that it tends to dye well. This can produce bold and rich colors that can withstand bleeding and fading.
Polyester is one of the most accessible tablecloth materials to maintain. All it really needs is basic washing and drying with no special care.
| | |
| --- | --- |
| Pros of Polyester Tablecloths | Cons of Polyester Tablecloths |
| Inexpensive | Not a high-end look |
| Durable and washable | May not be stain-resistant |
| Available in a large variety of colors & styles | May wrinkle with use |
| Can be cleaned easily | Can be damaged by heat |
Polycotton Blend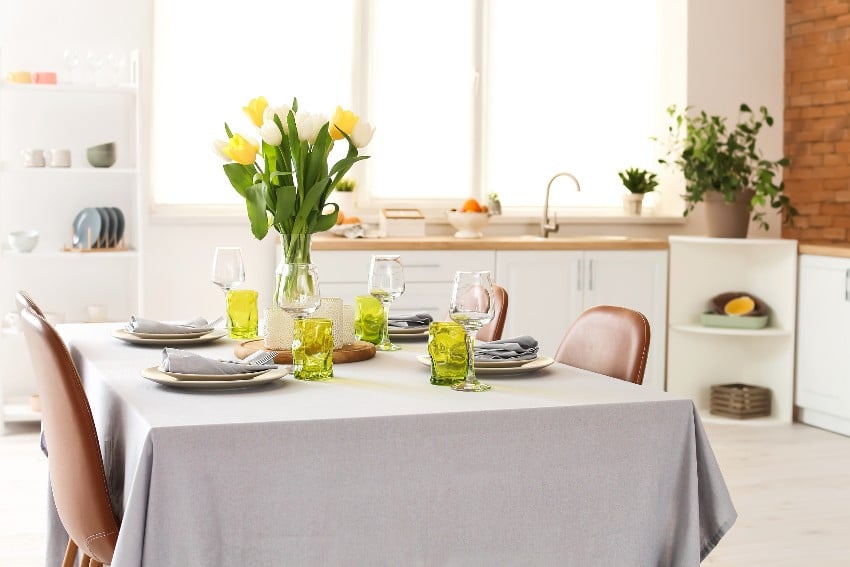 Polycotton blend is a material that's made out of polyester and cotton. You could say they offer the best of what both materials can offer. They're heavily weighted and can be highly durable.
This makes them very easy to maintain and care for. They also have the absorbability of cotton tablecloths. The best thing about this particular material is that it is widely available.
It comes in a wide variety of colors, patterns, and shapes and doesn't require special instructions for its care. You can put it in the washing machine and put it in the drier in everyday settings, and your tablecloth will be as good as new.
| | |
| --- | --- |
| Pros of Polycotton Blend Tablecloths | Cons of Polycotton Blend Tablecloths |
| Inexpensive | Not an elegant look |
| Durable and can handle frequent washing | May shrink after washing |
| Many colors & styles to choose from | Wrinkle prone |
| Soft to the touch | Can be stained |
Best Fabric For A Tablecloth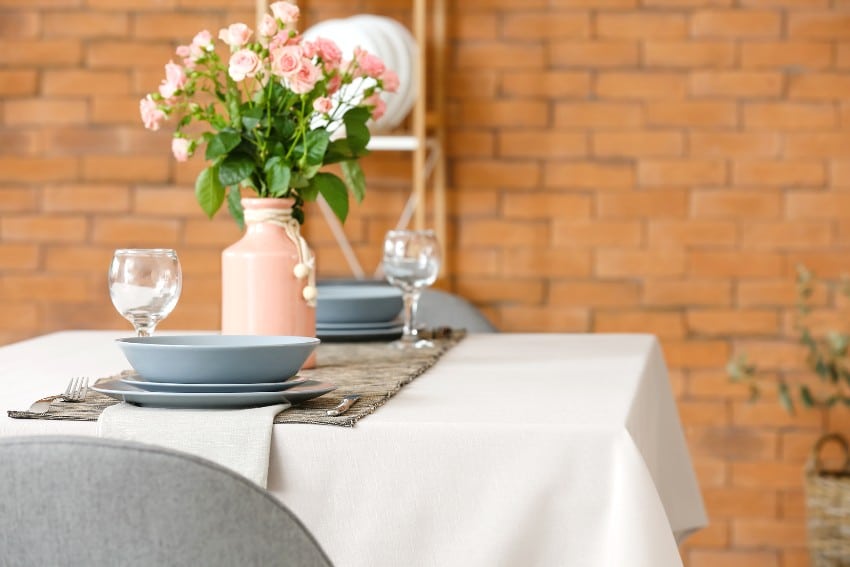 Cotton is well regarded as the best fabric for a tablecloth. It also happens to be the most popular. Cotton tablecloths come in various styles, colors, patterns, and sizes. They look great with plain solid colors and even with prints. They are also known to have the best texture.
When shopping for a cotton tablecloth, you need to know that the quality can vary depending on the kind of weave a particular tablecloth has. Tightly woven cotton tablecloths are sturdier and of higher quality. They can accommodate embroidery designs and can be dyed into a myriad of different colors.
They are also highly absorbent, meaning that food and liquid spillages don't risk damaging your main table's surface. You can get them machine washed and bleached without fear of damaging the material, as it's pretty sturdy.
Another runner-up for the best fabric for a tablecloth category is linen. It's beautiful, and it drapes onto your table quite exquisitely. If you have special occasions, linen is a recommended tablecloth material.
In fine-dining restaurants, white linen is also the go-to tablecloth material. It does come with maintenance requirements, though. It needs to be washed in the cold setting and in a gentle cycle, and then it needs to be ironed out in high heat while it's still damp to get rid of wrinkles once it's spread out on the table.
What Material Is Wrinklefree For Tablecloth?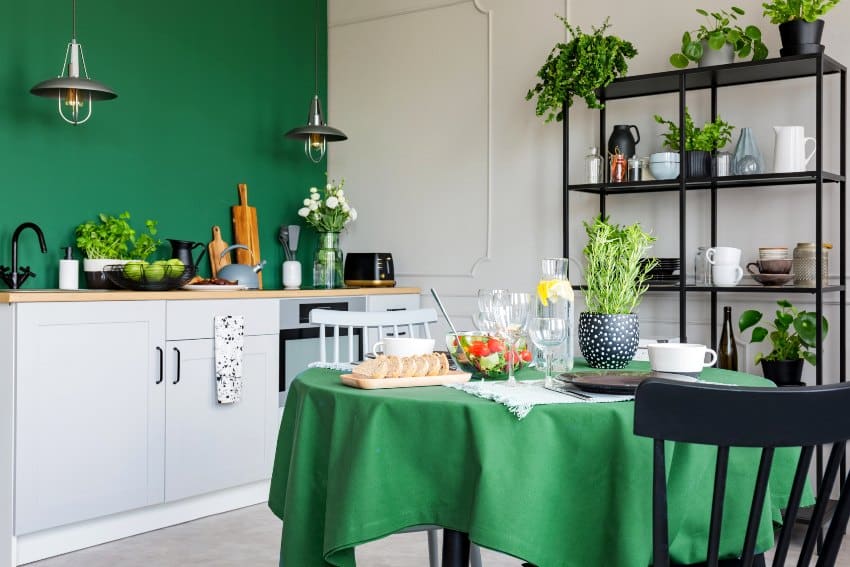 Wrinkles can put a real damper on your dining table's presentation. If you want to go for a virtually wrinkle-free tablecloth material, your best option would have to be polyester.
It's great for everyday use, comes in various prints and colors, and is relatively low maintenance. It is also known to be the most wrinkle-free of all tablecloth materials.
A side note, though, although, indeed, polyester doesn't technically wrinkle easily, it can come with downsides. Once specific creases form on the fabric, it can be tough to get them removed.
This can be easily remedied with a basic wash and dry, though. Polyester doesn't usually need ironing to keep it in the top and wrinkle-free shape.
What Fabric Is Best For Wedding Tablecloths?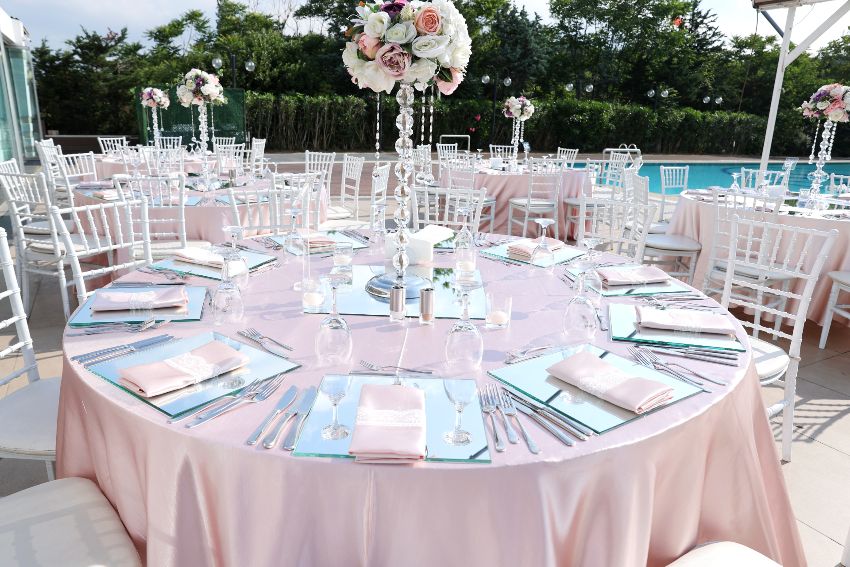 Silk, satin, and taffeta are the leading choices for most weddings. They can be costly, so buying them wouldn't be considered an intelligent choice. Luckily, you can get them rented out.
There are tons of linen vendors worldwide, and it's just a matter of sourcing out those nearest to you. Before you do so, though, it helps if you get acquainted with these three types of fabrics first.
Be ready to talk about budgets, design themes, and style. Your linen vendor will be very knowledgeable in determining which fabric will work best for you and how much of it you will need at the end of the day. Also, take some extra time out of your day to visit their showroom so you can get swatches of the fabrics or touch them by hand.
Silk is one of the most expensive tablecloth options, but it comes with categories. Shantung silk is known as the most expensive type of silk out there.
It has a consistent color, offers some type of luster, and is quite crisp to the touch. You get a smoother structure with just the right amount of weight.
Satin is quite famous for wedding settings because of its luminescence, which lends an upscale vibe to your dining setup. Traditional satin is woven out of silk threads and has a very high price tag. Still, thankfully, modern ones are currently available.
Modern satin combines fibers from rayon, nylon, polyester, and cotton. This means you can achieve an expensive look for much less for your wedding event.
Taffeta is a stiff, stiff fabric and is highly recommended for formal occasions such as weddings. It offers the combined look and feel of silk and satin. It has a starched-up appearance, making it a great material to incorporate into your dining set, as it offers various textures.
What Tablecloths Do Restaurants Use?
Depending on how casual or high-scale a restaurant is, the tablecloth choices may vary based on that. On average, though, restaurants use linen, cotton, or polyester for their tablecloth materials.
Often, the preferred color is always white for these tablecloths. There's a whole science behind this choice.
For starters, a white cotton, linen, or polyester tablecloth creates the perfect base for a restaurant table. Because it is neutral and bright, it can highlight any decorative elements you want to add to your table setting.
You can play around with your table runners, flowers, colored napkins, decorative plates, and cutlery. With a white base, your design aesthetics can be endless, and you can rest assured that your white tablecloth will work with all of them.
It also happens to be so much easier to spot stains with a white tablecloth. This handy visibility makes cleaning so much easier because you can see the stains immediately. As a restauranteur, you minimize running the risk of the embarrassment of having a guest complain about your dirty tablecloths because it allows you to replace or clean them with ease.
And, of course, white tablecloths look classier and cleaner all across the board. Color has always been associated with hygiene and cleanliness. This is an excellent impression to bank on if you happen to be running a restaurant.
It never runs out of style as it's a timeless color. And the best part in all of this is that you get to make sure that your tables are spotlessly clean and classy all the time.
What Are Luxury Tablecloths Made Of?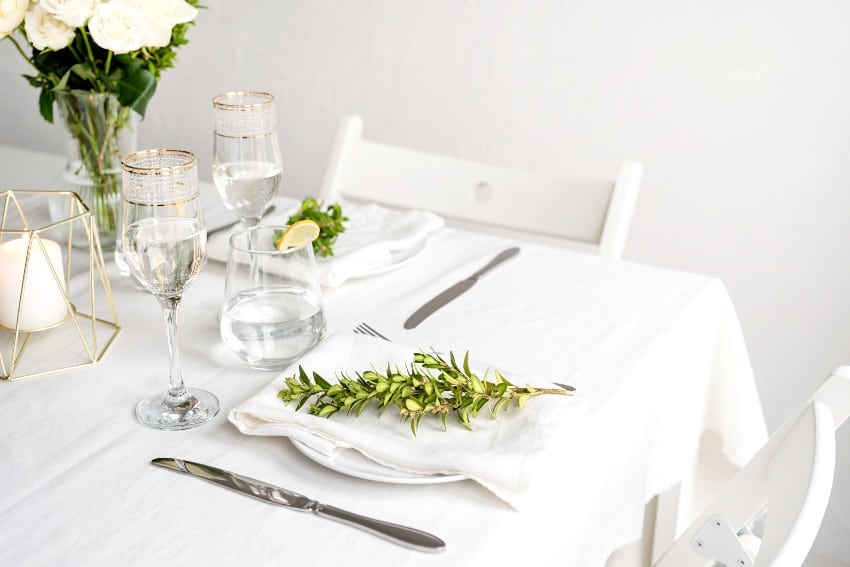 Luxury tablecloths are usually made of either cotton or linen. These two materials offer the most high-end look and feel once spread out on the table.
The reason behind this is that they are made out of natural fibers. This offers durability, but at the same time, with continued use, they also get softer over time.
Over time, linen reigns supreme as it has been tested and proven to stay softer and whiter. Although it happens to be the more expensive material of the two, it also offers the best value for your money at the end of the day.
How Much Fabric Do I Actually Need For A Tablecloth?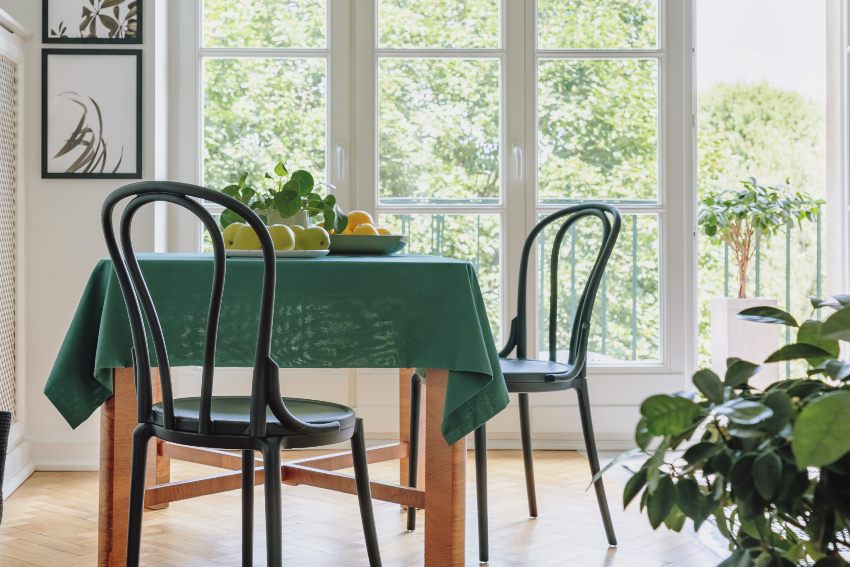 This question is highly variable based on the type of table you have, its shape, and its actual size. You will also need to consider how much overhang you would like your tablecloth to have at the end of the day. The longer the overhang, the more formal the table setting is.
You need to start off by measuring your actual table size. Write your measurements down meticulously, so you don't miss anything. Start off with the table length.
This refers to the measurement of a rectangular table from one side to the other. Start off the center of the table and not on the sides, especially for irregularly shaped tables.
Next, you need to measure the width of the table. This is the horizontal dimension, and still, keep the center of the table in mind the entire time.
Decide on your drop length next. A typical drop length is anywhere from 6 to 12 inches, but you can opt to have it all the way to the ground for more formal table settings.
Once you have all of these numbers, here are the actual calculations:
• Multiply your desired drop length measurement by 2 (as you have 2 sides).
• Add the drop length calculation to the table's length.
• Add the drop length calculation to the table's width.
This should give you an end result on how much tablecloth material you will need for your particular table.
How Much Fabric Do I Need For A Round Tablecloth?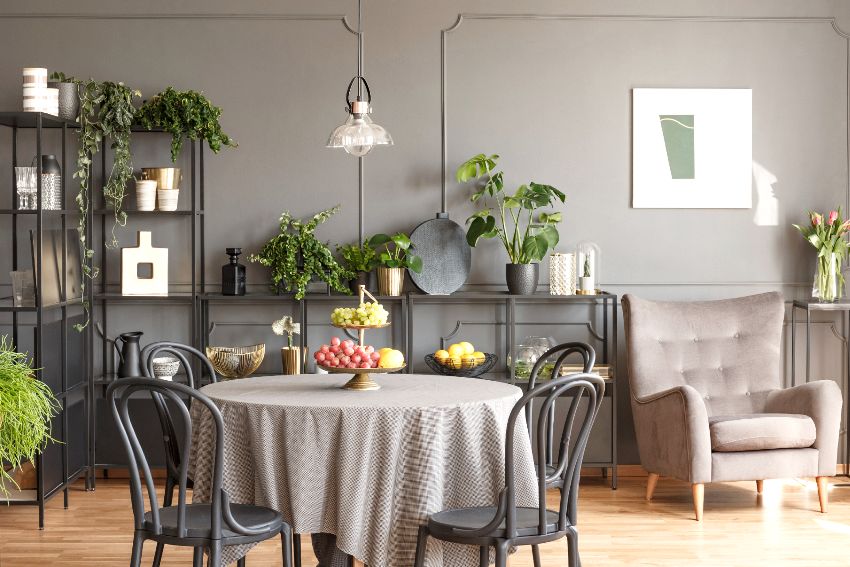 For round tables, you need to bank your measurements off of the diameter of the table. This refers to the measurement from one end to the other, passing the center point of the table. You can typically eyeball the center of a round table.
You also need to decide how much overhang you want. Overhang is just another term for drop length.
Again, the recommended drop length is anywhere from 6 to 12 inches. You can opt to get your drop length extended all the way to the ground if you're planning a formal occasion.
• Multiply the drop length measurement by 2.
• Add this to the measured table diameter.
• And that's it; that's your calculation of how much fabric you will need for a round tablecloth.
Types of Tablecloth Fabric Infographic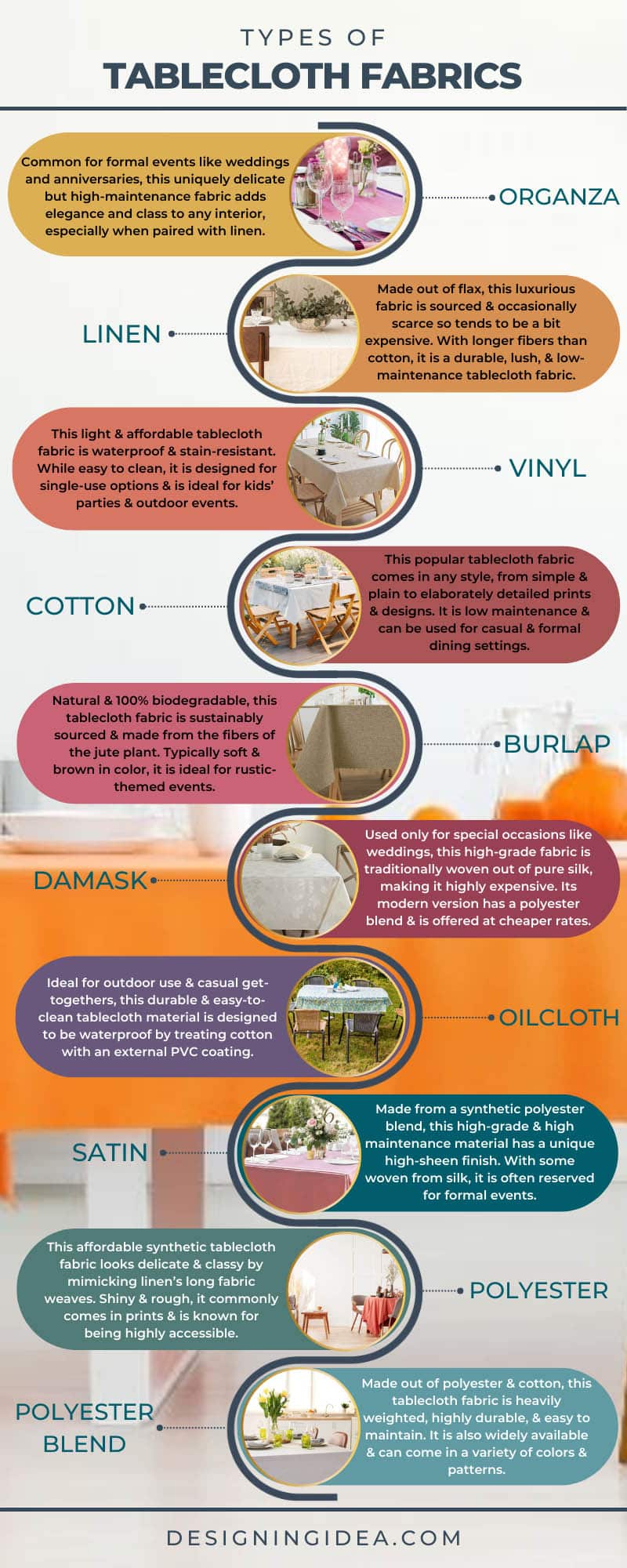 See more related content in our article about tablecloth sizes on this page.