Here we share our egg chair designs guide including what it is, the different stand and hanging seat types, materials, cushions, cost, placement, and how comfortable egg chairs are.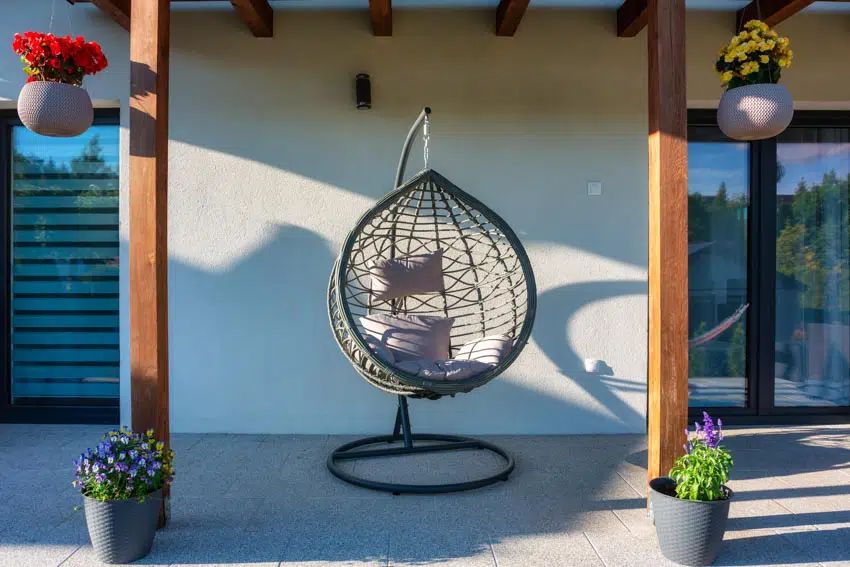 Have you seen that trendy egg chair that's been all over interior design magazines? Just looking at it makes you want to spend all day, cooped up in it with a good book and a cup of coffee in hand. While it does look comfortable, you can't just go to the nearest store and purchase one. It's time to learn more about it first.
What Is An Egg Chair?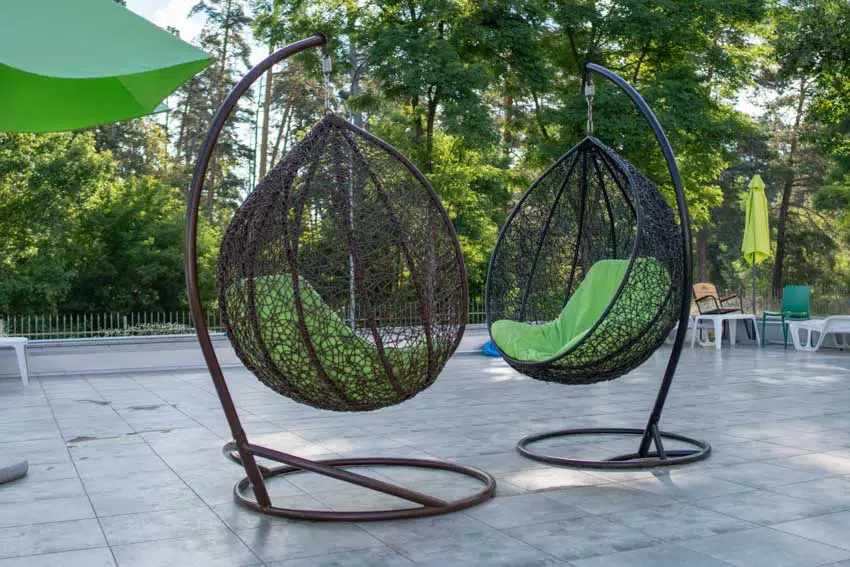 The egg chair emerged in the spotlight in the 1960s, with two persons claiming the title and honor of actually designing it, Arne Jacobsen and Henrik Thor-Larsen. Whoever designed this masterpiece though, it cannot be denied that it became a trend, not just because of its feature in the movie Men In Black but because of its unique and eye-catchy design.
Staying true to its name, the egg chair is named as such because of its shape and curved interior. The curve of this round furniture is like a nest that's hollowed in the center where you can settle in. It features clean and simple curve lines, that look incredibly smooth to touch.
But this is the original design that was introduced in Copenhagen in the 1960s and trademarked furniture designed by Jacobsen. The truth though is that this ingenious idea has been used, reinvented, and improved upon throughout the years, giving birth to the different types of chairs you can see in the market today.
Egg Chair With Stand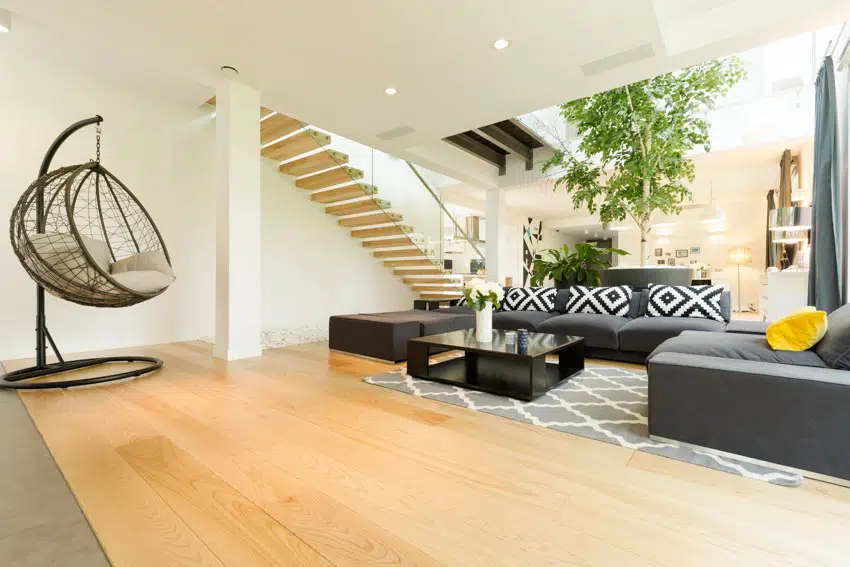 A stand is a logical solution for an egg chair to be stable and upright. The egg-shaped chair is installed on top of an unmoving platform and makes sure the furniture is in place and won't roll over.
This platform is usually integrated with a hydraulic lever that allows you to adjust the height of the chair that can be most comfortable for you.
Hanging Egg Chair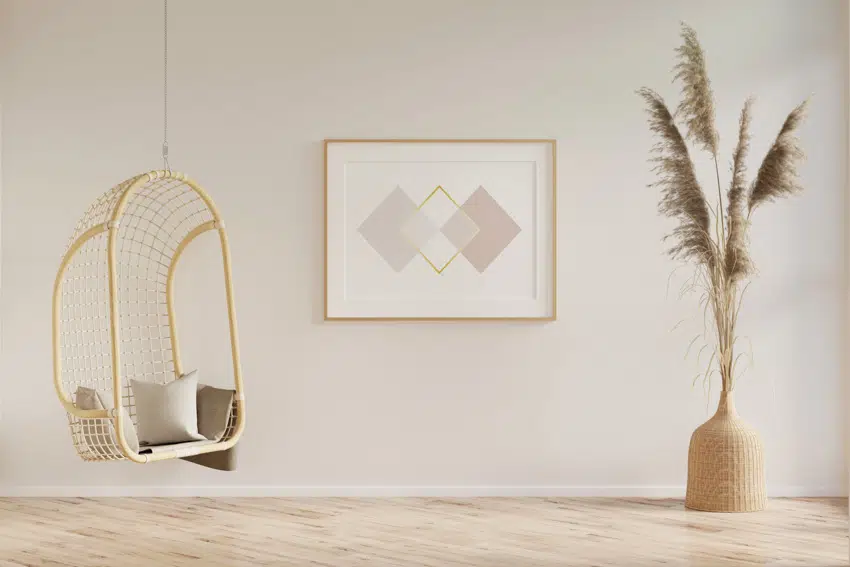 Compared to the egg chair with its own stand, the hanging egg chair is usually connected to a chain that's either mounted to the ceiling or has its own stand to connect to. The chain keeps the furniture floating in the air. This design is quite refreshing to look at.
A hanging egg chair needs to be lightweight in order to remain suspended in the air. A heavy egg chair can turn into a disastrous situation. This is why it is usually made of lightweight materials like plastic, wicker, or rattan.
Hanging egg chairs must be attached to a ceiling joist in order to ensure they can support the weight of the chair and user. Check with the individual chair manufacturer to see how much weight a particular model can support.
Swivel Egg Chair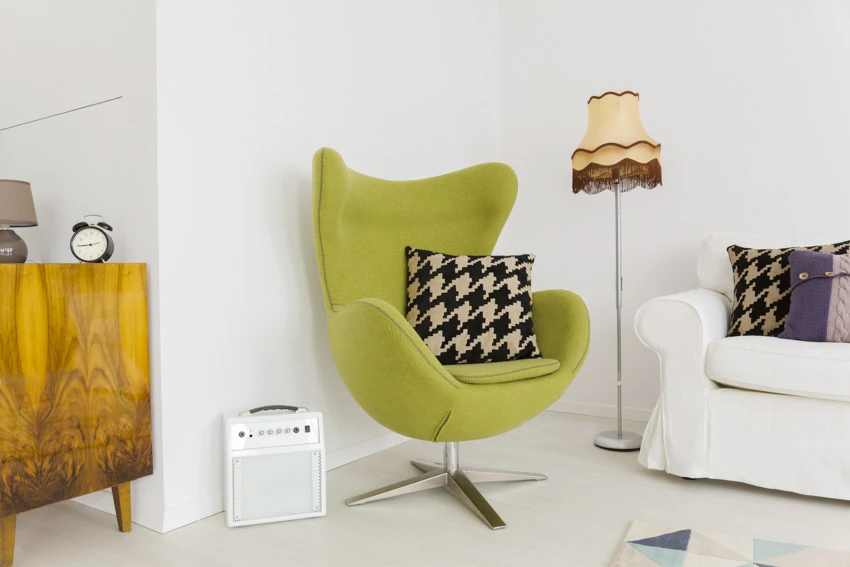 A swivel egg chair is an excellent addition you can use in an office. The sculpted curve design of the furniture is similar to a standard office chair, with a swiveling base and flexibility to move around. The swivel in the egg chair allows it to rotate and move from one place to another.
For a swiveling egg chair to be considered among the many types of office chairs, it needs to have excellent back support for all-day usage. It also needs to have unobtrusive armrests where your arms can relax when not working. Upholstery is also a must for additional comfort.
Outdoor Egg Chair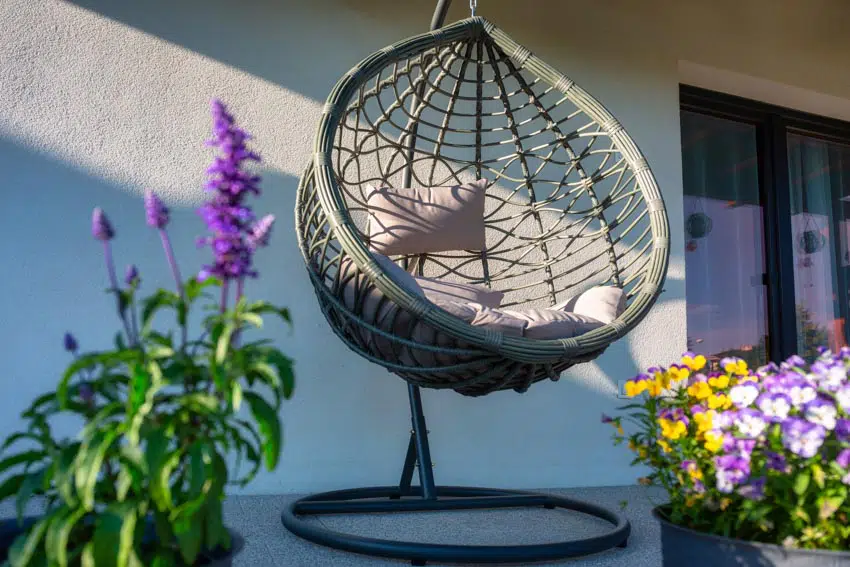 Do you need somewhere to rest while you're on your patio or walking around your lawn? An outdoor egg chair is a chic option you can consider!
An outdoor egg chair is among the popular types of outdoor furniture for patios or as an alternative to the usual lawn chair. It can either have a stand or be a hanging chair, which can be an excellent option, both aesthetically and function-wise. And the materials that the egg chairs are made of need to be durable so that they can stand being exposed to outside elements.
Metal and wicker are two materials that can serve as a great framework for an outdoor egg chair. More than just having a sturdy structure for the cozy furniture, they can be an excellent stylish addition.
A metal framework, expected to be built to last, offers a sleek and modern appeal to the chair while a wicker framework delivers a fresh and natural look.
Double Egg Chair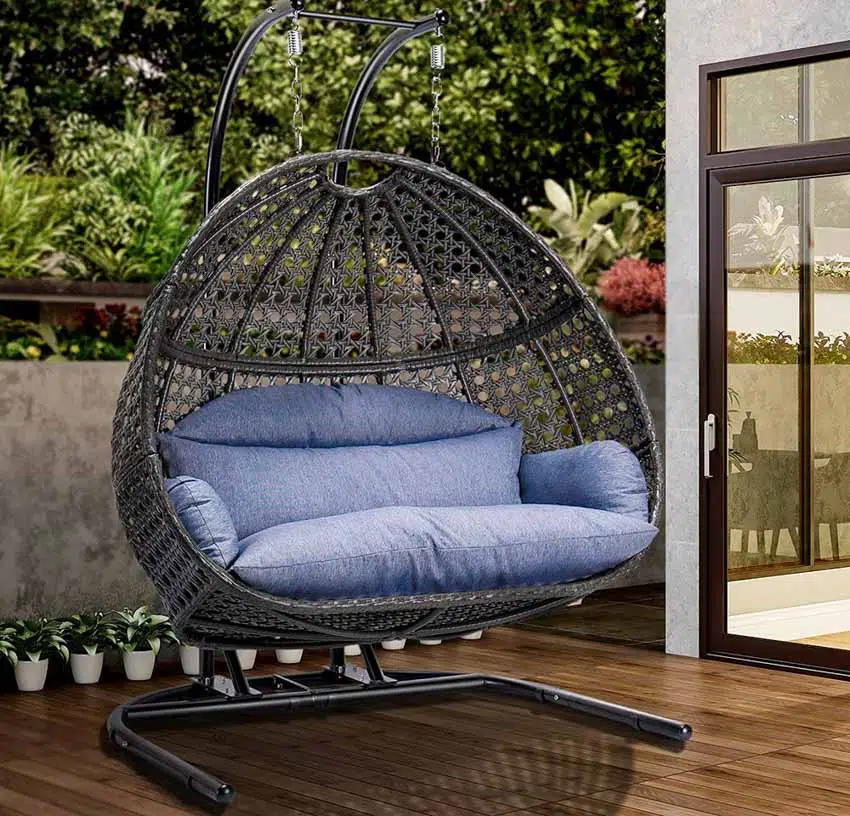 See this outdoor double egg chair at Amazon [sponsored link]
If you want something that can accommodate you and your partner or you and your kid, a double egg chair can do that job for you.
A double egg chair, accommodating more than just 1 person, usually comes with a sturdy base and a holder capable of carrying this weight. It should be able to take 628 lbs at most to support 2 persons.
It is also oversized when compared to other types of egg chairs to be able to accommodate more than 1 person in the process. This can be installed either indoors or outdoors and also comes with a thick cushion for comfort.
Hammock Egg Chair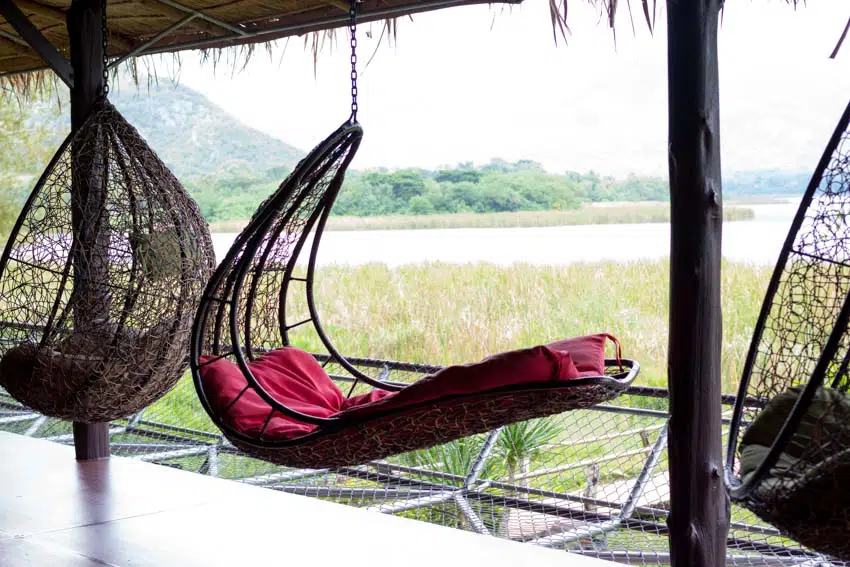 A hammock egg chair is a relaxing summer piece of furniture you can install indoors or outdoors to add an ambiance of freshness to the room. It is great to be installed on the lawns, porches, the different types of patios, and balconies, allowing you to enjoy the heat of the sun while remaining comfortable in the chair.
A hammock egg chair is a type of hanging egg chair, and like its name, it resembles the function and looks of a hammock, especially with the materials used to build it. It is popularly made from polyurethane rattan and resin wicker or a strong cloth/fabric, showcasing that popular summer look. See more types of hammocks here.

Kids Egg Chair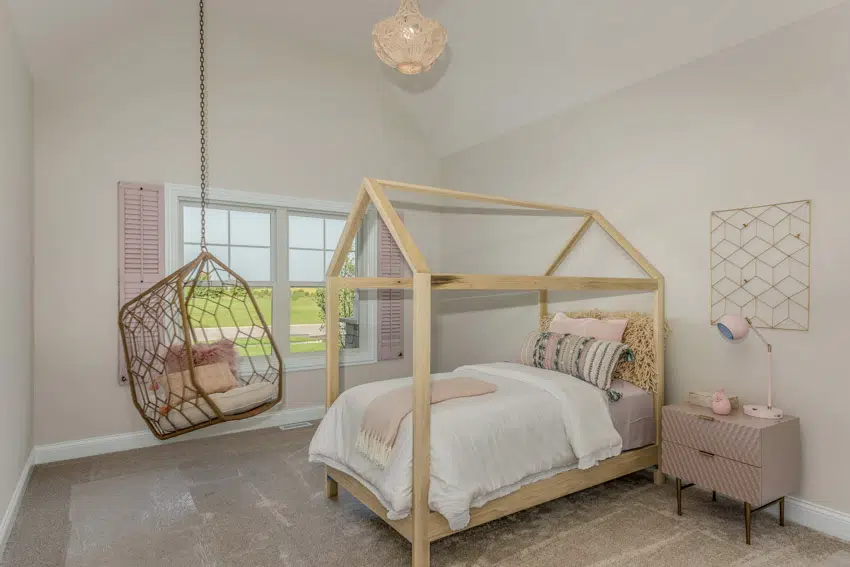 Eggs chairs are not just for adults but also for kids! In fact, there are smaller-sized chairs that your kid can be comfortably cradled in. The modern and fun look of an egg chair is perfect for the kid's playroom, specifically for the room's reading and study corner.
Dog & Cat Egg Chair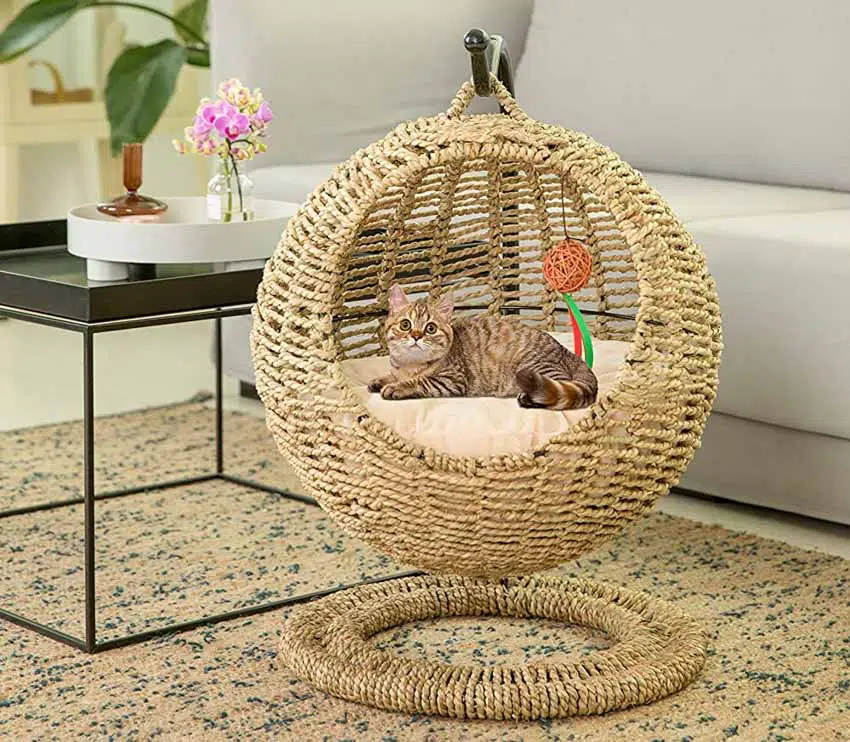 See this wooden egg chair for pets at Amazon [sponsored link]
Besides kids, egg chairs are also available for your pets. Your furbabies can lay down comfortably in their own egg chairs, which is a way smaller version of a standard egg chair. This mini egg chair can only accommodate one pet at a time.
With a minimalistic spherical construction partnered with a soft cushion, even your furbabies will be comfortable and feel pampered when using this egg chair. And yes, it is stable enough that your pet won't topple over the floor.
Egg Chair Materials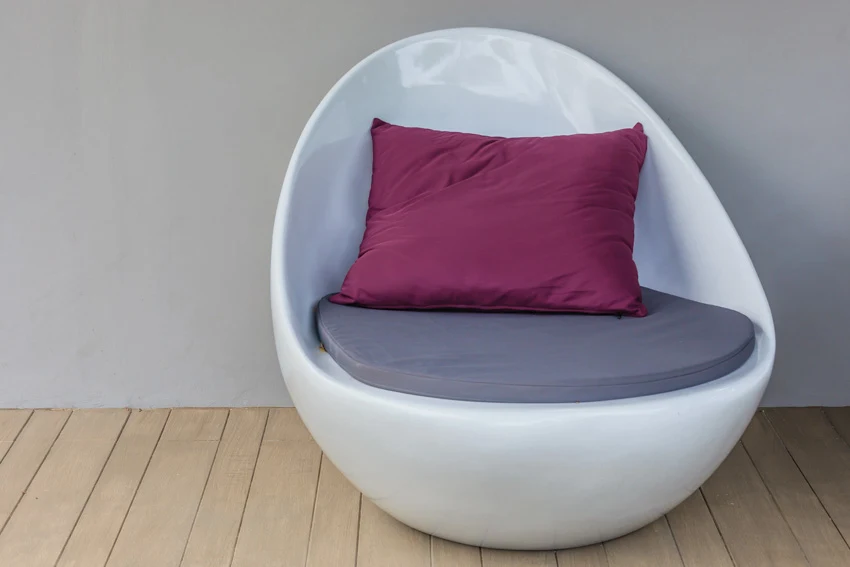 Egg chairs, besides their different types, can also be grouped based on the materials they are made of. These materials will be the basis of the chair's durability, flexibility, and even lifespan.
In general, egg chairs are divided into two parts, the framework, and the cushion. The framework can range from the usual spherical egg shape to a teardrop-shaped construction.
They can have a stand of their own (some can swivel and some can have a lever to adjust height) or are designed to be suspended in the air like a hanging egg chair. The framework can be wicker, rattan, metal, plastic, or leather.
The cushion is the main source of comfort in the chair and most of them use polyurethane foam shaped like a cocoon to imitate the feeling of being cradled and hugged. See more pictures of cocoon chair designs here.

Wicker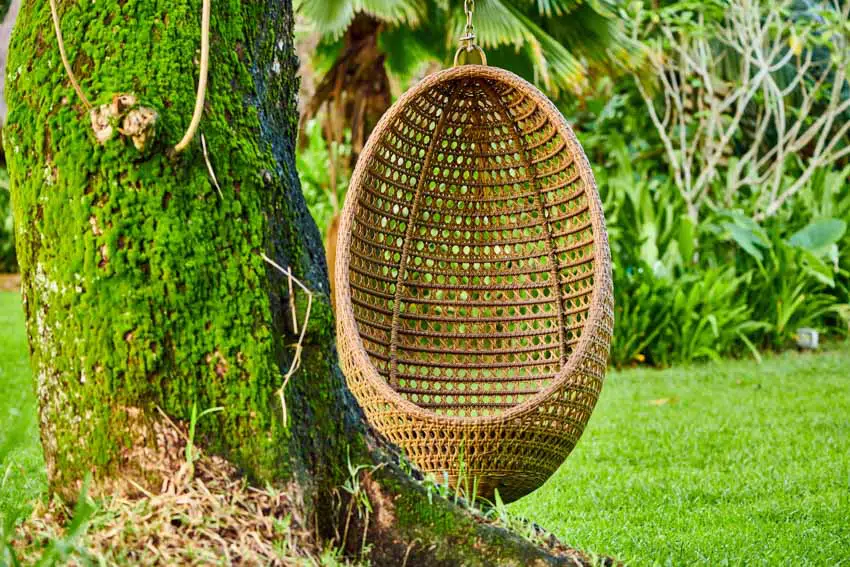 Wicker egg chairs are popular because of their refreshing summer design. Wicker is a woven style that's normally used for baskets and in this case, for the framework of an egg chair.
This bohemian-style egg chair may use olefin synthetic for its framework. The cushions are removable so cleaning the chair is easier in this case. And while it can be used indoors, placing it outdoors on your porch or somewhere near nature will even contribute to its fresh ambiance.
Rattan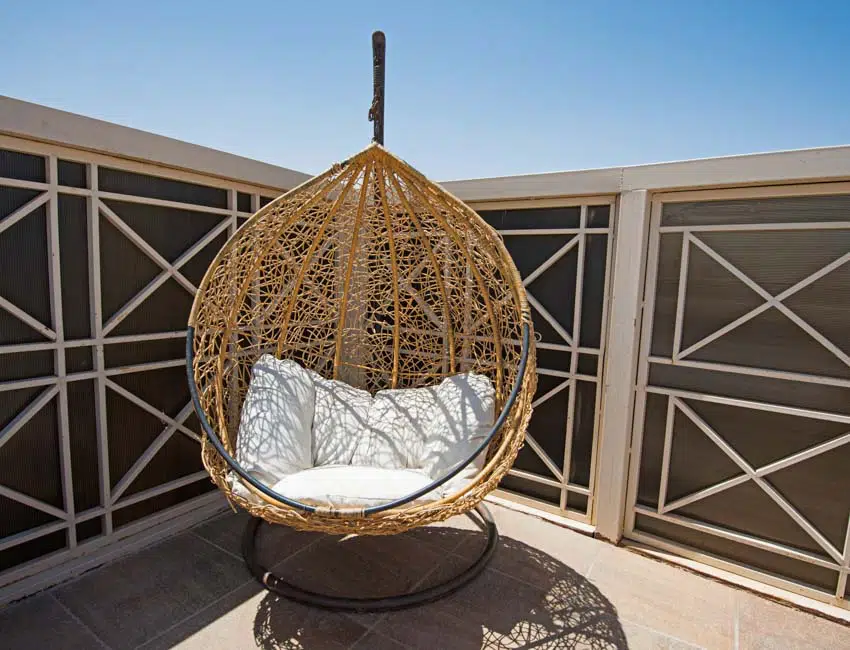 Rattan is one of the natural materials that an egg chair's framework can be made of. With a natural appeal, rattan is eco-friendly yet durable at the same time.
The downside with rattan egg chairs though is that they become vulnerable to moisture so it would be better to place them indoors to protect them from rain and other harsh elements. To improve its durability, you can coat the framework with varnish if it doesn't have that yet.
Many prefer synthetic wicker egg chairs to rattan because of this flaw against moisture. If you want something authentic though even with its aesthetics, nothing beats rattan egg chairs. They are popular for hanging and outdoor egg chairs.
Metal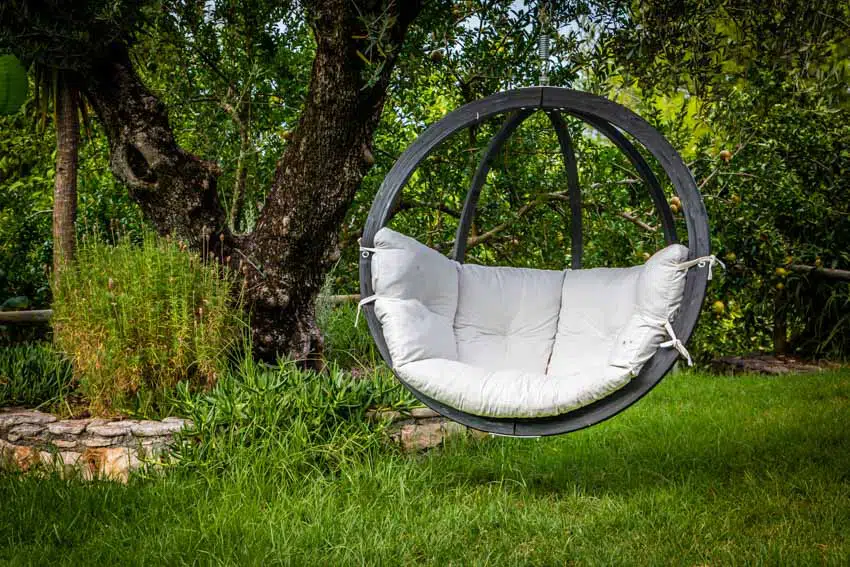 One of the most durable materials that can be used to build an egg chair is metal and the most commonly used is aluminum because of its flexibility. A metal framework is guaranteed to be sturdy and can easily take the weight.
Many outdoor egg chairs have metal frameworks, primarily since the material won't be affected by outside elements and can take the wear and tear easily compared to other materials. You just need the right cushion to make the chair comfortable to use.
Plastic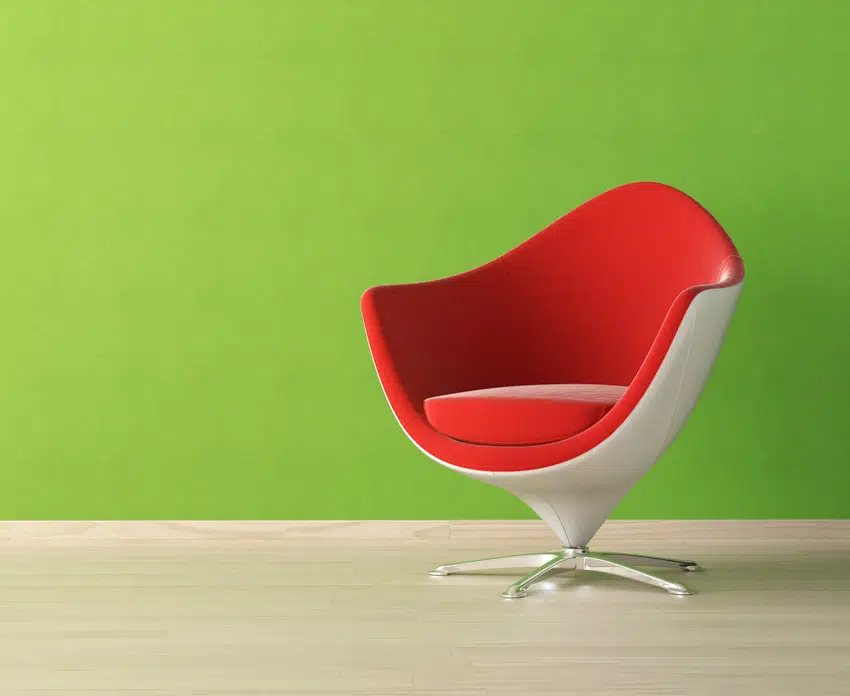 Plastic egg chairs are popular in suspended or hanging designs because plastic is a lightweight material. The material is also durable enough that while it may not be scratch-resistant, it can carry weight and be resilient as a chair. These egg chairs are easy to clean and maintain but removing scratches may be difficult to accomplish.
Leather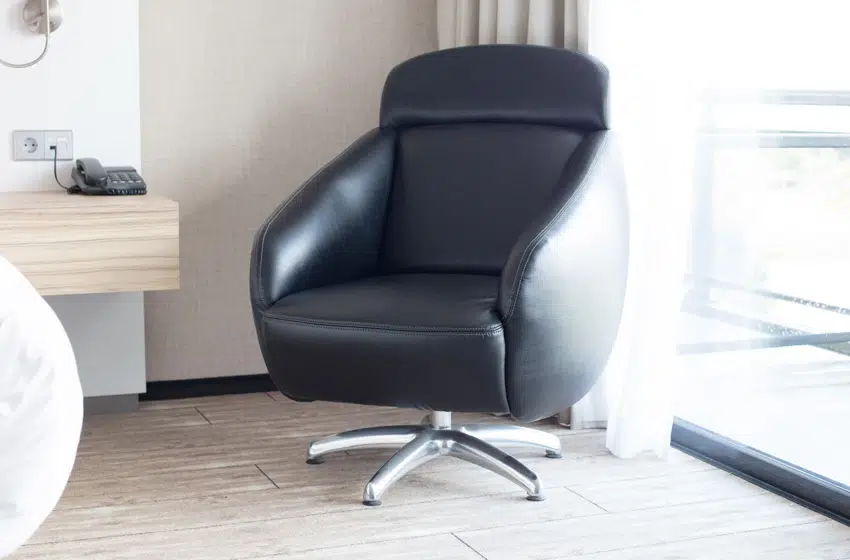 A high-quality egg chair uses leather as its cover, with the framework and cushion all filled in it. This strong material is very strong and durable, which is precisely why this is an excellent option for this furniture. Leather egg chairs are built to last for a long time but it comes with a price, which is why they are expensive in the first place.
The first egg chairs ever, designed by Jacobsen, are made of leather, specifically with two large premium hide pieces that wrap all around the chair.
Egg Chair Cushion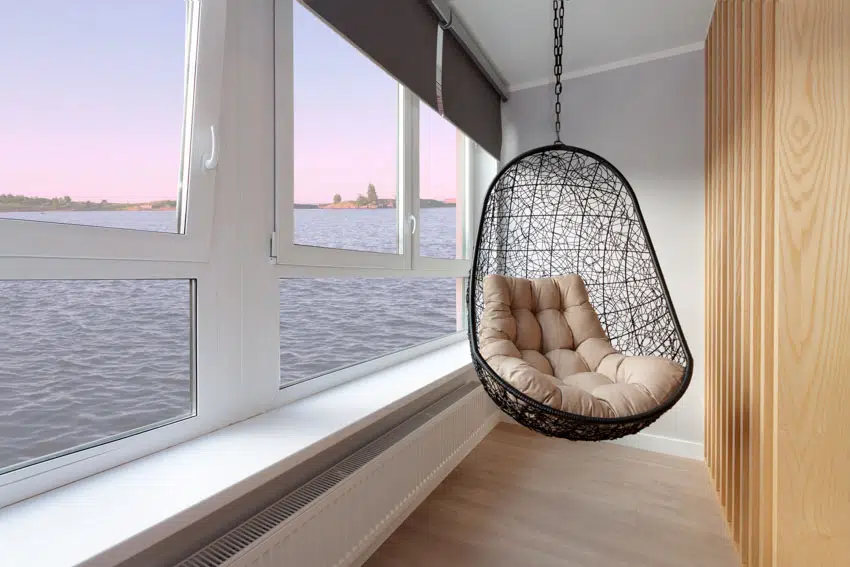 A cushion usually comes with an egg chair if it's part of the product in the first place. It can be entirely separate from the framework or stitched as part of the egg chair inside the fabric covering the entire piece of furniture.
If it's not offered with the egg chair though, you can always purchase one separately in a local store near you. But if you don't have the budget to purchase one, getting a pillow to be used with an egg chair works.
The bad thing about just using a pillow in place of a cushion is that it doesn't provide enough ergonomic support. This is why if you plan to sit for a few hours, a pillow just won't do.
Egg Chair Cushion Replacement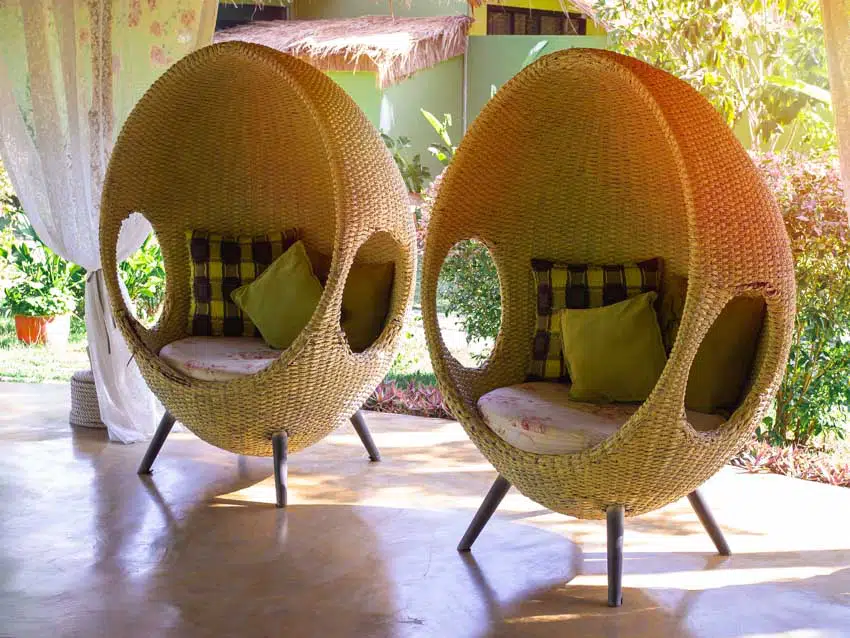 Do you need an egg chair cushion replacement? This can either be an easy or difficult task to accomplish, depending on if the cushion is stitched together with the egg chair or is standalone.
A replacement for a standalone cushion of an egg chair is easy to get and you only need to visit a store to purchase one. You have a wide selection of options to choose from. With cushioned stitched inside the cover, you need a professional to help you replace and fix it.
Egg Chair Ottoman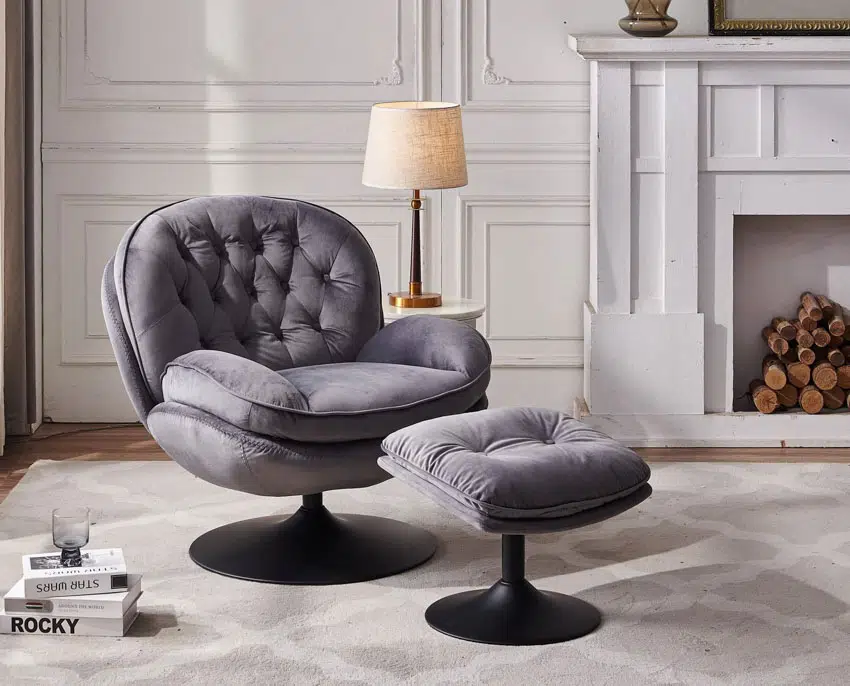 See this cushioned accent chair and ottoman set at Amazon [sponsored link]
The egg chair ottoman can be a standalone or offered with a standard chair ottoman that serves as a footstool. The shape of this piece of furniture is similar to the bottom half of an egg, in contrast to an egg chair that looks like half of an egg. It is portable and can easily be moved from one location to another because of its function.
How Much Does An Egg Chair Cost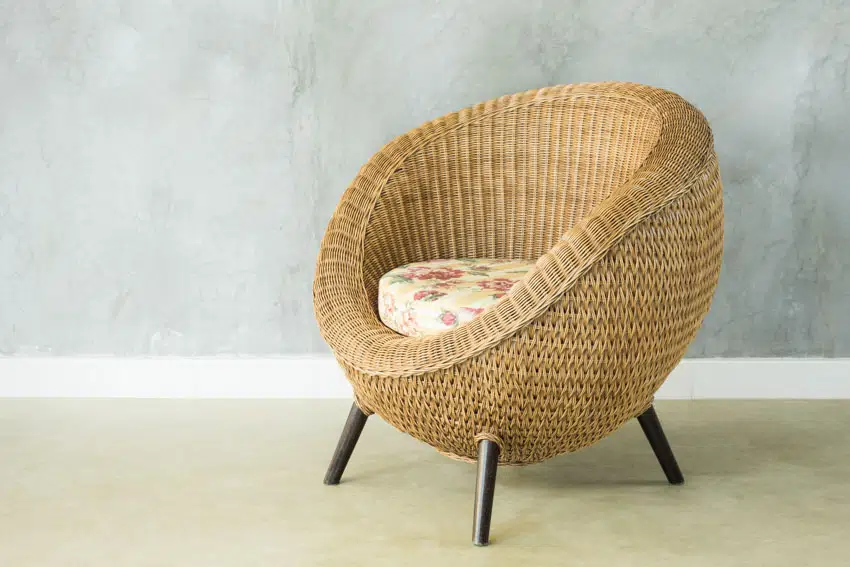 The cost of a typical egg chair can range from $270 to $1500, depending on the materials used for the egg chair. For instance, plastic egg chairs are way cheaper compared to leather ones.
The size and design of the egg chair will also factor in. A simple hammock-style with a fabric is more affordable compared to a trendy metal egg chair with an incredible stand to stable it.
If you're thinking about purchasing an authentic egg chair like the iconic one made by Jacobsen, you will need around $20,000 for these high-quality leather egg chairs.
Where Do You Put An Egg Chair?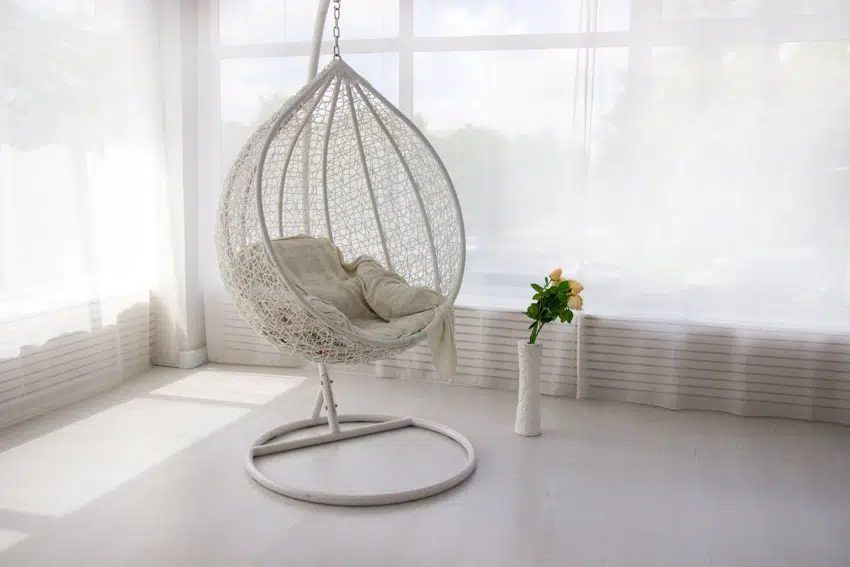 There are two options to consider when discussing where you can put your egg chair- indoors or outdoors. When you purchased your egg chair, where do you imagine it? This is probably one of the best factors to consider.
If you don't have any idea yet, here are some egg chair placement tips to try:
1. If you are planning to put your egg chair outdoors, make sure that it's made of something waterproof and weather-resistant. Try placing the chair on a porch, under a canopy or overhang where it can avoid the weather elements.

2. Position a hanging egg chair in a spacious room with a high ceiling to accommodate its size so that its movement won't be blocked.
3. Choose a quiet location where you know you can stay for a long period of time to relax. This is often a bedroom or study.

Are Egg Chairs Comfortable?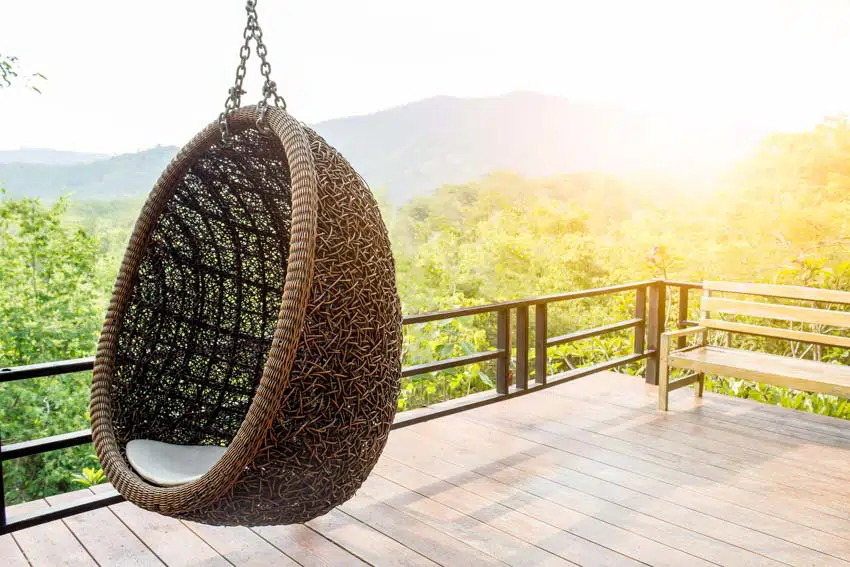 Egg chairs are tempting to rest into and seem very comfortable but are they? Egg chairs are designed precisely to provide comfort. The framework is responsible for giving the chair stability while standing while the cushion is responsible for the comfort it offers its users.
And many egg chairs are ergonomic, offering back support that will not just improve your comfort but also may help you deal with back pain.
In general, egg chairs are comfortable, especially those with cushions. The comfort level can increase as the quality of the chair you choose also increases.
Can A Ceiling Support A Hanging Chair?
The hanging factor of the egg chair is both an aesthetic aspect and an innovative function. Hanging egg chairs are suspended in the air and this is possible because it is connected to the ceiling for support. It can either use a rope or a chain, depending on how the chair is designed.
Always make sure to attach your hanging chair to the ceiling joist so that the weight will be supported properly.
There are also hanging chairs that are structured with their own stand so you won't need to connect them to the ceiling.
How Do You Pick A Hanging Egg Chair?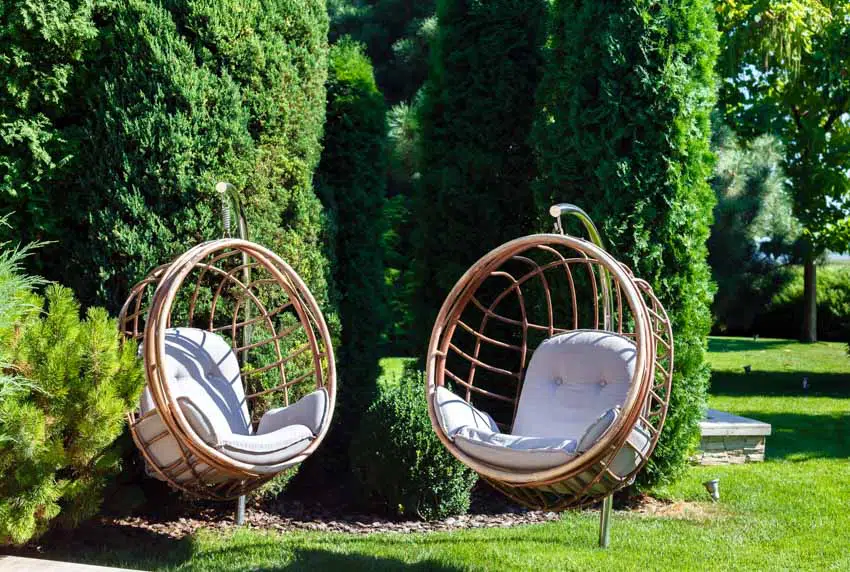 Now that you've decided to have a hanging egg chair of your own, how do you choose one that's ideal for you? If you've set your mind on hanging egg chairs, there are the factors to consider:
Types Of Hanging Egg Chairs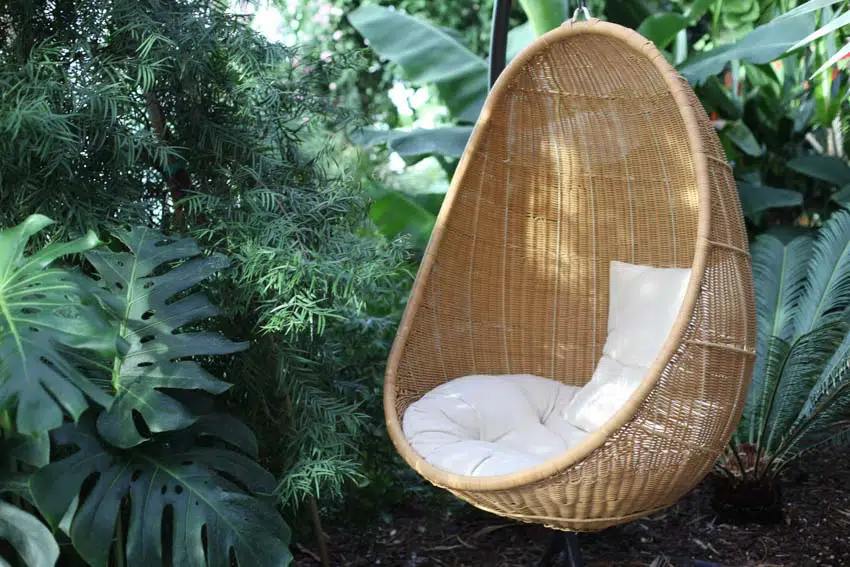 There are several types of hanging egg chairs so you might want to skim through these options and check out which style and design you feel can best suit your needs. These types include the following:
• Hammock egg chairs: Considered the most affordable option, this type fits and snugs the body. It is also easily removable and stored in the closet if you need to take them down.
• Ceiling hanging egg chairs: Offers the best support, this type also offers the most range of movement.
• Hanging egg chairs with a stand: Considered incredibly mobile, this type is smaller than the ceiling hanging egg chair, which is a good option if you plan to place it in a room with limited space.
Location Of Installation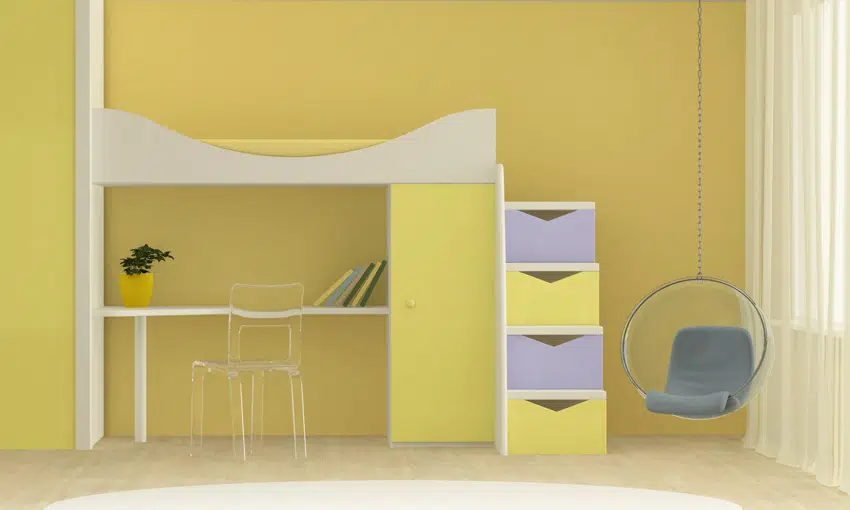 Choose a hanging egg chair that can fit where you envision installing it. A ceiling hanging egg chair needs a spacious room while a hammock egg chair would need pillars and hooks to install it. A hanging egg chair with a stand is smaller and requires less space but make sure you have enough to accommodate its stand.
Weight Capacity
The weight capacity of egg chairs ranges from 265 to 628 lbs so if you plan to use the hanging egg chair with your partner, choose one that can accommodate at least the weight of 2 persons.
See more related content in our article about the different types of accent chairs on this page.