Here are the types of hammocks buying guide, where you'll find their different designs, styles, materials, sizes, and a comparison of nylon vs. cotton loungers.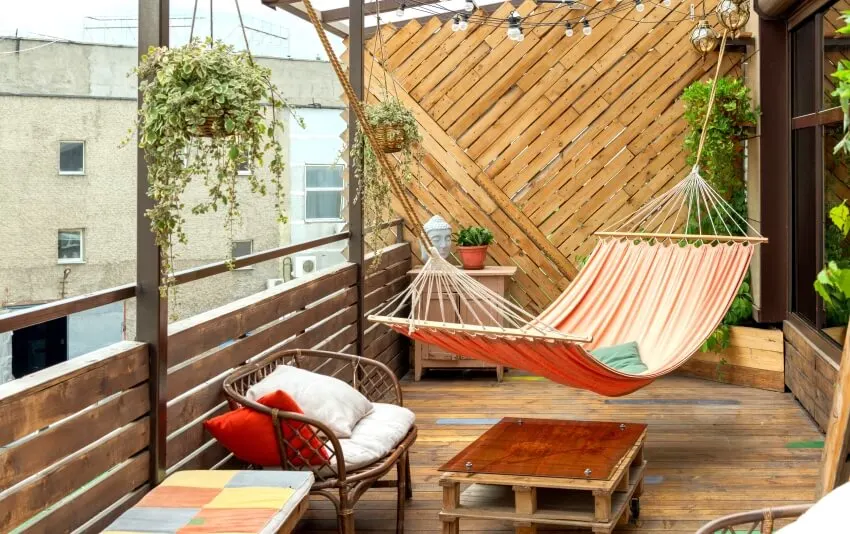 You will surely agree that resting and meditating in a hammock can be one of the most amazing ways to relax. The soothing sway of a hammock, whether used outdoors or indoors, can alleviate your anxieties and lessen your stress levels.
Hammocks not only provide an excellent spot to relax, study, slumber, or sunbathe but are also a more comfortable substitute for sleeping bags when camping. Plus, sleeping with its relaxing sway may have a range of wellness and mental benefits.
Hammock Designs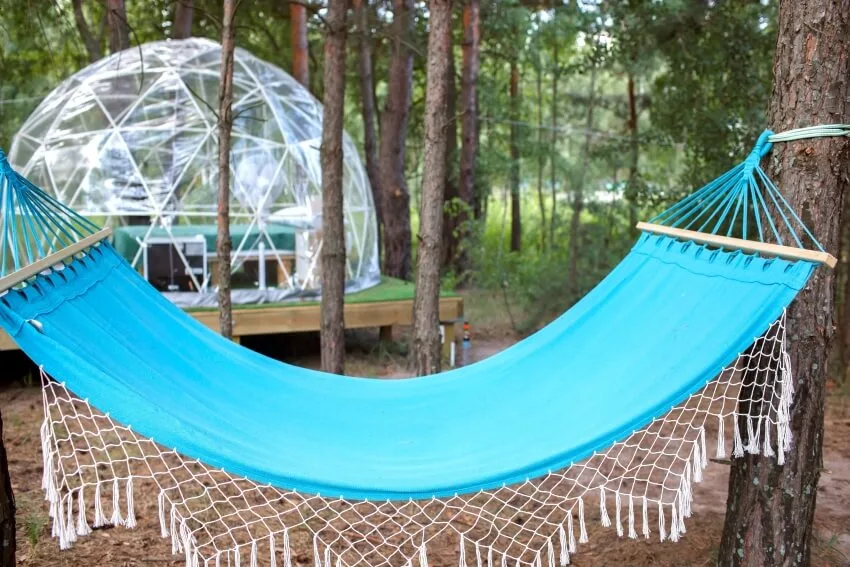 Although hammocks can be quite minimalistic in construction, there is a considerable variety of designs, styles, sizes, and materials. But do not worry; you will absolutely find the ideal style for you based on your needs.
Hammock With Spreader Bar
This hammock design includes two wooden bars at opposite ends that help to secure the fabric in the center tightly. Compared to others, this design is open and welcoming, allowing you to rest appropriately and comfortably.
A hammock with a spreader bar is ideal for various locations, including the yard, deck, patio, balcony, or even out in the forest when camping. They offer a multitude of advantages that standardones do not.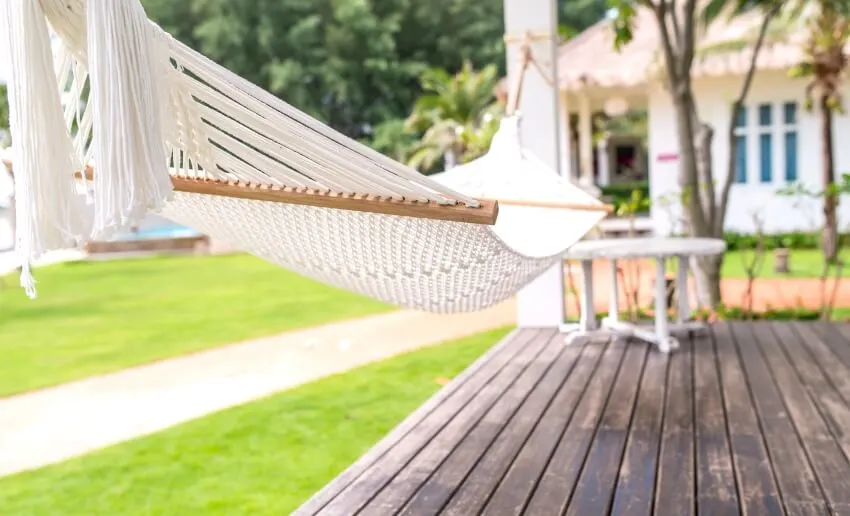 Moreover, those with a spreader differ from standard hammocks because a steel or wooden bar maintains the fabric level.
As previously mentioned, the spreader bars are situated at each end, and that is to contribute to the overall appearance and keep it from bunching up. They allow one to enter more easily and help provide air circulation around the body, keeping you cooler on hot days.

However, it would help to exercise caution when relaxing; moving carelessly may cause you to flip.
Gathered End vs Bridge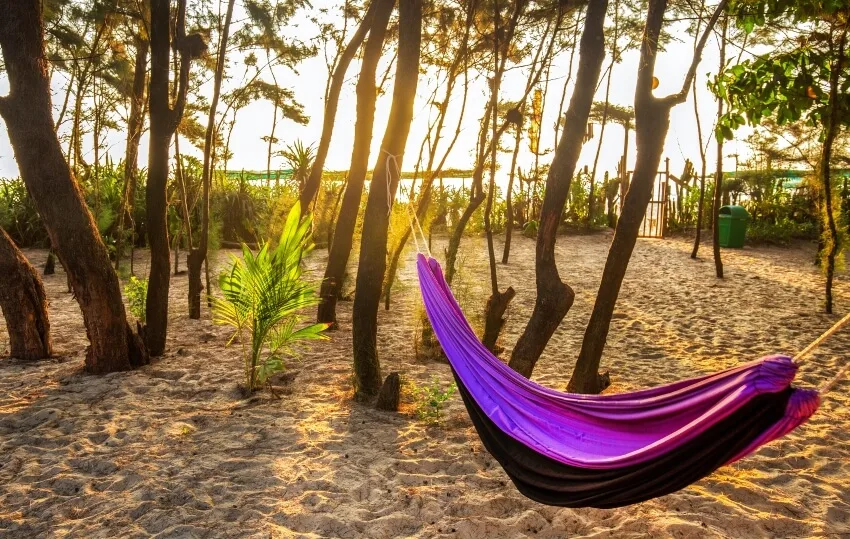 Most individuals visualize the appearance of a gathered-end hammock whenever they picture one. Ropes bring the material to a spot at each side.
The rope is attached to webbing, which wraps around trees. Once the ropes are firmly secured around both trees, the hammock will resemble the look of a banana.
Here are some main reasons why gathered-end hammocks can be an excellent option.
• Great Portability. Gathered-end products are engineered to be lightweight, making them simpler to pack and transport in your bag.
• Low Cost. They are less expensive than other versions, which is particularly beneficial if you are new to hammocking.
• Easy to Assemble. The gathered-end design is easy to put together. You need to tie the straps to the swing's edges and loop the straps securely around two trees.
Furthermore, gathered-end products only occupy minimum space between trees for installation, making locating a suitable pair of trees easier and quicker.
A bridge-type hammock, on the other hand, is often rectangular in design and is held together by four edges that are attached to two trees. Spreader bars prevent each side's two fabric edges from falling. The ropes that are attached to the bars form a triangle.
This triangle's point is attached to the tree huggers or straps, which bind firmly around two trees. After tightening the lines, the fabric must depict a channel-typeor rectangular form.
Here are some of the benefits of bridge-style hammocks: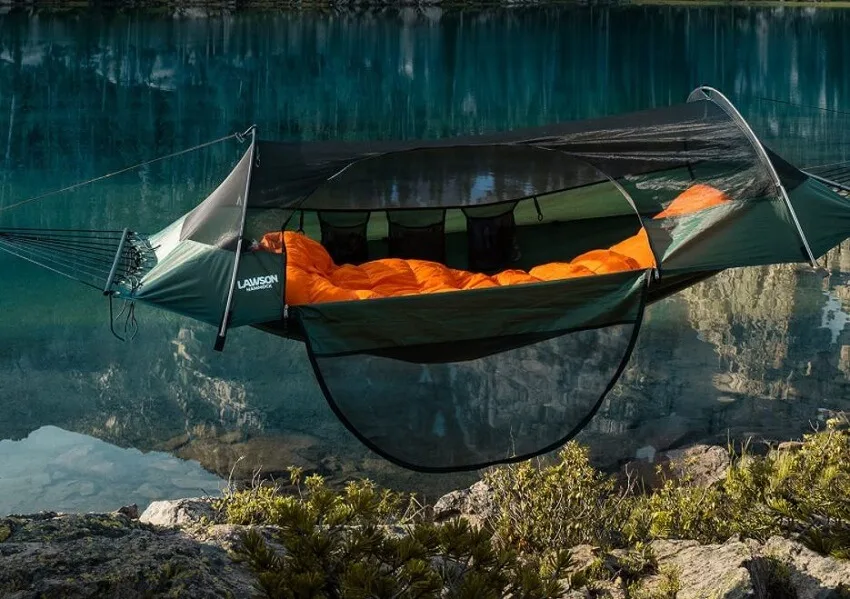 See this bridge style product at Amazon [sponsored link]
• Incredible Comfort. A bridge design's rectangular form and spreader bars produce a level surface, allowing you to sleep comfortably on your back, belly, or side.
• Large Space. The bridge's shape is rectangular, offering you extra space to rest peacefully and store valuables securely
• Great Consistency. Although gathered-end hammocks exist in various forms, bridge designs are more consistent. Once you have learned how to configure one, you can essentially apply the same method to any bridge hammocks you purchase.
Open Loop vs Closed Loop
The term "open and closed-loop" pertains to the loop employed to secure the hammock to a tree, stake, or anchoring location. Most would incorporate a closed-loop to make attachment quicker and more solid.
This is particularly true with camping hammocks, which frequently include a built-in carabiner clip, which could likewise be called a closed loop. Several casual products, such as the Columbian hammock, feature an open loop that delivers considerably greater balance.
Hammock Styles
Here are the different styles of hammocks , including their construction and benefits.
Camping Hammock
Camping hammocks are manufactured specifically for outdoor purposes. Thus, they are very sturdy and generally weatherproof. Camping varieties are often made of tear-resistant (ripstop) nylon, a lightweight waterproof fabric that is rip-proof.
These types are often composed of durable ripstop nylon or, on occasion, polyester. This is because ripstop has a fantastic weight-to-strength proportion, which is important when carrying it around the whole day.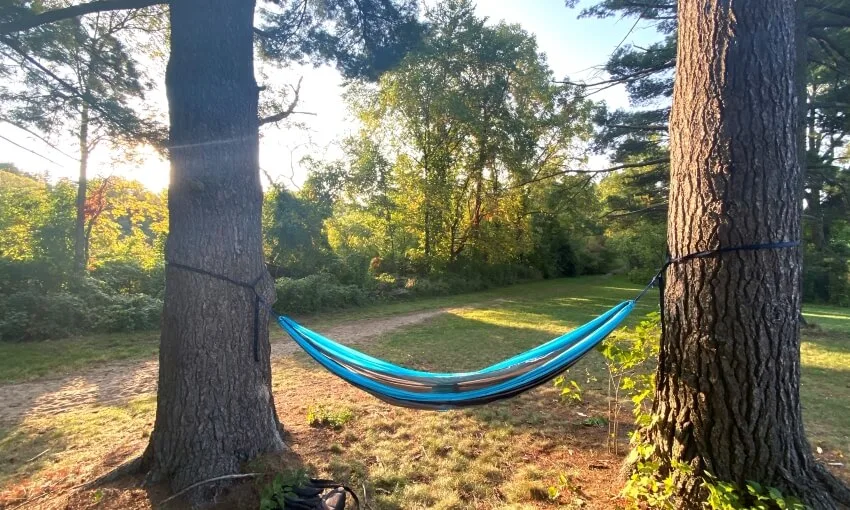 Camping hammocks are typically placed in their respective bag, enabling you to repack them orderly after use to maximize capacity in your camping backpack. While most camping products have gathered ends, some have bridge ends that use spreader bars to let the person rest flat while assisting the corners that wrap all over their side.
A camping hammock is very convenient, pleasurable, and often simpler to assemble and disassemble than other styles. They are normally more lightweight than regular tents purchased at a local store, but when compared to one-person traveling tents, tents often weigh less.
Certain camping units integrate the greatest aspects of a camping tent and hammock without needing trees to set it up.
An insect screen is required and is always supplied with a good-quality camping hammock. Insect screens can be attached to these in a variety of ways. Some are incorporated directly into the structure and should be employed to use it.
Poolside Hammock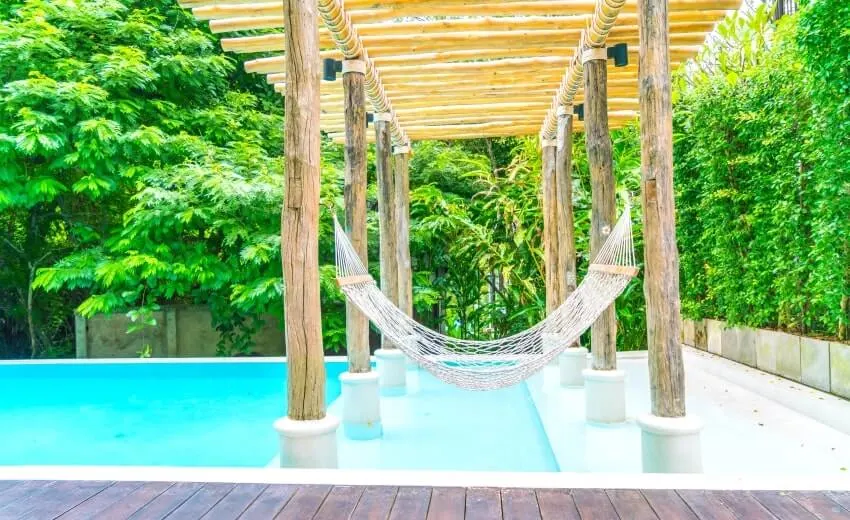 Poolside hammocks are very lightweight and waterproof. As the name implies, they are usually found beside swimming pools. These are often composed of polyester that has been coated with PVC before weaving, which provides them with a water-resistant quality. Indeed, they can dry very rapidly.
However, poolside hammocks are not always the most relaxing since the material has been pretreated, though they do provide a convenient approach to lounge by the pool without bothering about getting the material soaked in water.
Due to their waterproof capabilities, these products can be left outside in the rain. They can function well with or without the use of spreader bars.
Brazilian & Colombian Hammocks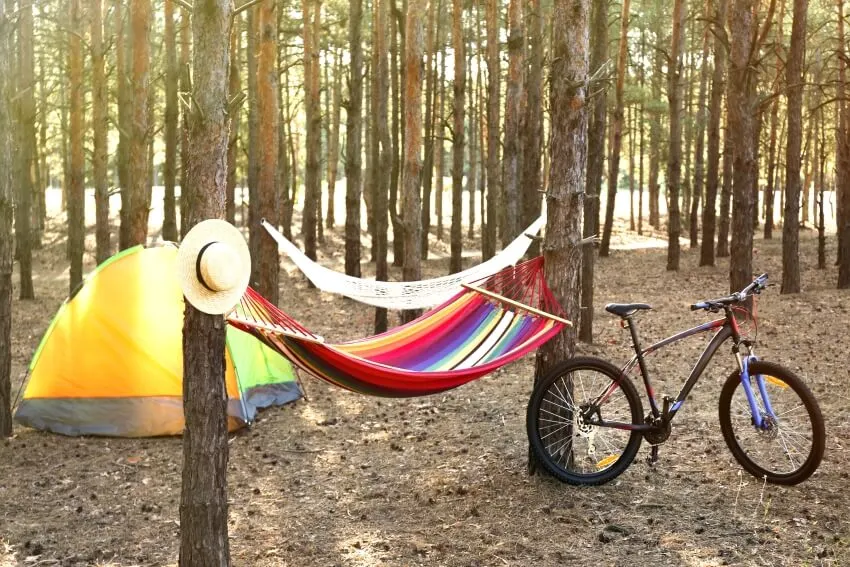 Brazilian and Colombian hammocks are popular types of gathered-end styles that originated from South America; it has a nearly identical appearance to Mayan designs, but the fabric is slightly thicker. These are frequently handwoven and intricately woven from polyester or cotton fibers.
Brazilian hammocks are frequently marketed as the greatest type for replacing your bed. They are structured to have a very deep sag when properly hung. It is extremely comfy when reclining diagonally, making it a cozy spot to sleep well at night. This also lowers the center of gravity, reducing the likelihood of flipping.
The main difference between a Colombian and a Brazilian design are the support strings. A Colombian version features cotton plaits known as "Cadejos" that provide excellent weight distribution. The upper loop is frequently left open as well.
Portable Folding Hammock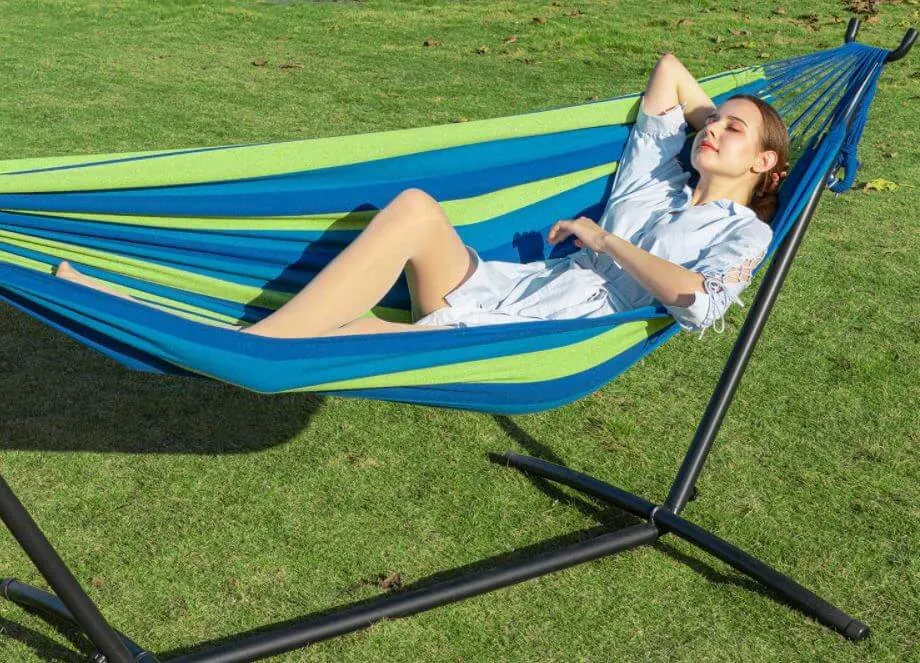 See this portable swinging bed at Amazon [sponsored link]
Unlike the typical design, a portable folding hammock is much easier to move and assemble. They are typically small and lightweight. This facilitates transportation and storage.
They enable you to create a relaxing, hassle-free environment. It is a wonderful alternative if you want something easy to set up with minimal fuss. These products resemble swinging hammocks with stands. The only distinction is that they are foldable and portable.
Truly, you can set up the portable folding swing wherever you want. There is no issue if your campground does not have any trees. A portable folding unit lets you relax in areas where a standard model would be inconvenient. You can still create a calm environment anywhere you go.
Therefore, you should opt for a compact and lightweight portable folding hammock. Its lightweight and small form makes it easy to pack and transport wherever possible. The easier it is to transport, the easier it would be to configure and relocate from one location to another.
Additionally, opt for a compact product that folds down to the size of a quad chair. This is great for vehicle camping, bike camping, boat camping, and even at your residence, either on your deck or lawn. Check out our backyard deck ideas for more related information.
Canopy Hammock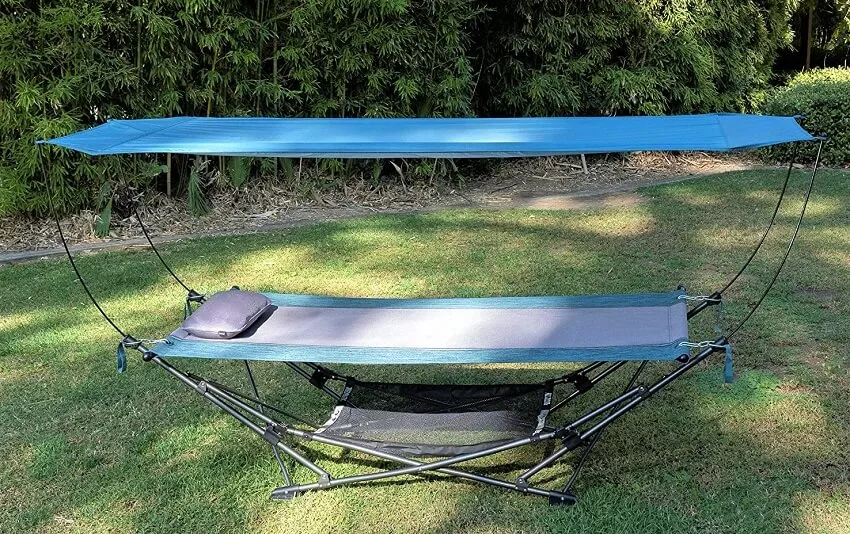 See this canopy folding lounger at Amazon [sponsored link]
In areas where slash-and-burn agriculture leads to loggers resting overnight in a dark forest, a canopy hammock would be a useful vector control strategy. Because users were involved in the design procedure, the canopy style is a true fit-for-purpose option.
Canopy models are made from various materials, including aluminum alloy and silver. Furthermore, the shade canopy in these models gives that extra layer of protection to keep your head cool and your eyes safe from the blazing sunshine.
Hammock Chair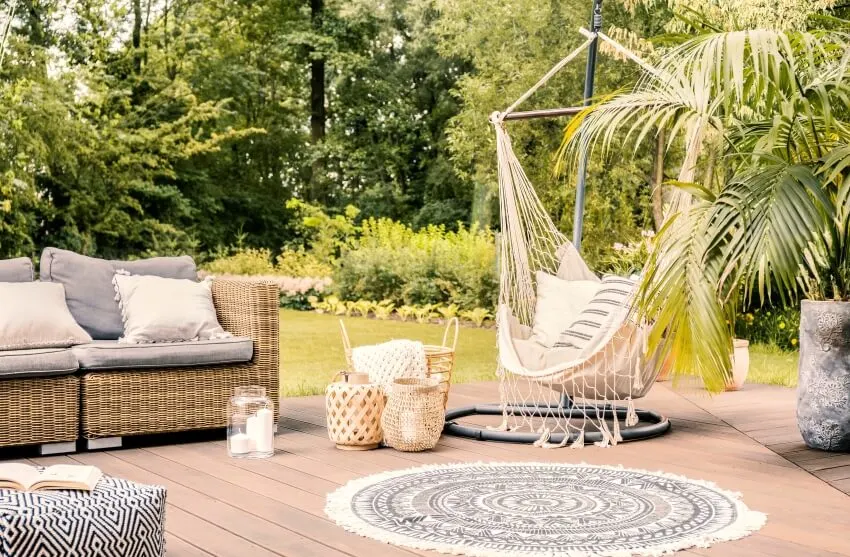 Hammock chairs are made the same way as conventional designs, except that your body will be in a more upright seated posture rather than lying down.
Since they occupy much less space than conventional products, these are ideal in little gardens or indoors. These are simple to suspend from a ceiling, a tree, a stand, or even a ship.
Furthermore, they are often composed of woven fabric, including cotton, canvas, or polyester, and have a solitary wooden bar over the top for increased sturdiness.
Although the terms hammock chair and swinging chair are frequently used and considered synonymous, a swinging chair is a much broader terminology that covers egg chairs, basket chairs, and other related objects.
Parachute Hammock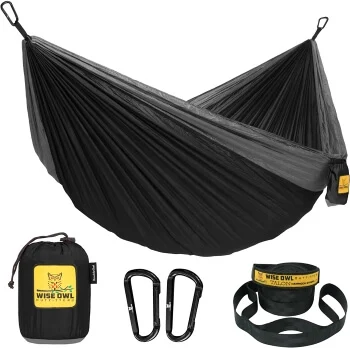 See this parachute lounger at Amazon [sponsored link]
The parachute hammock is simply one of many different styles available. When viewed from a distance, it resembles a parachute, as implied by its name. This product would be an excellent addition to any campsite, festival, cottage, or vacation. Due to its modest size, it fits within the incorporated stuff sack, which also serves as a pocket for small belongings.
Aside from that, it usually contains an extra side compartment for carrying publications, smart devices, and beverage containers. A parachutelounger is frequently made with ultra-strong, super-lightweight parachute nylon to make it easy to carry and use.
Mayan Hammock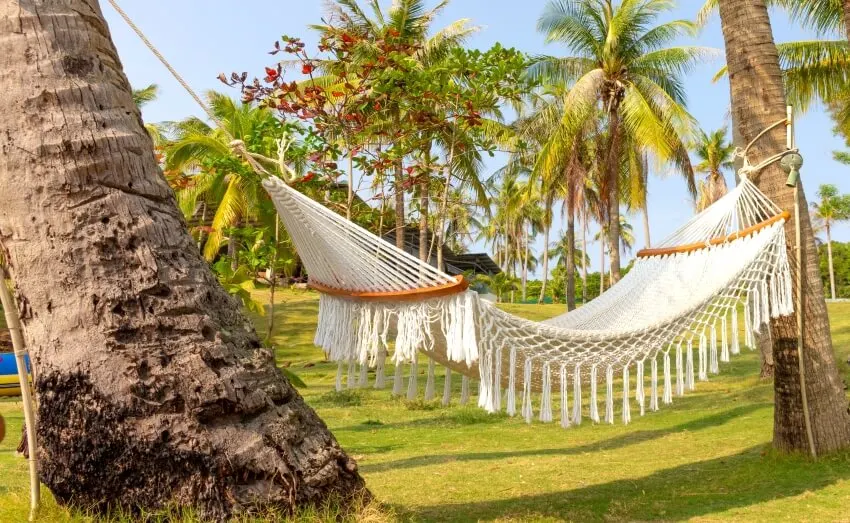 Mayan is one of the most prevalent gathered-end hammock patterns. At first sight, it appears to be a fabric-made, but it is instead a woven netting or mesh with very fine cotton threads.
This implies that it is very soft, and the cotton is extremely flexible. Hence, it conforms incredibly well to the curve of your body. Yes, it is one of the most comfortable hammocks you can relax on!
Aside from that, Mayan hammocks are one of the simplest types to carry as they are light and have no spreader bar. Unfortunately, they are not the most long-lasting, and holes might form after lengthy use.
Hammock Materials
Below are the different types of hammock materials with their advantages and disadvantages.
Rope Hammock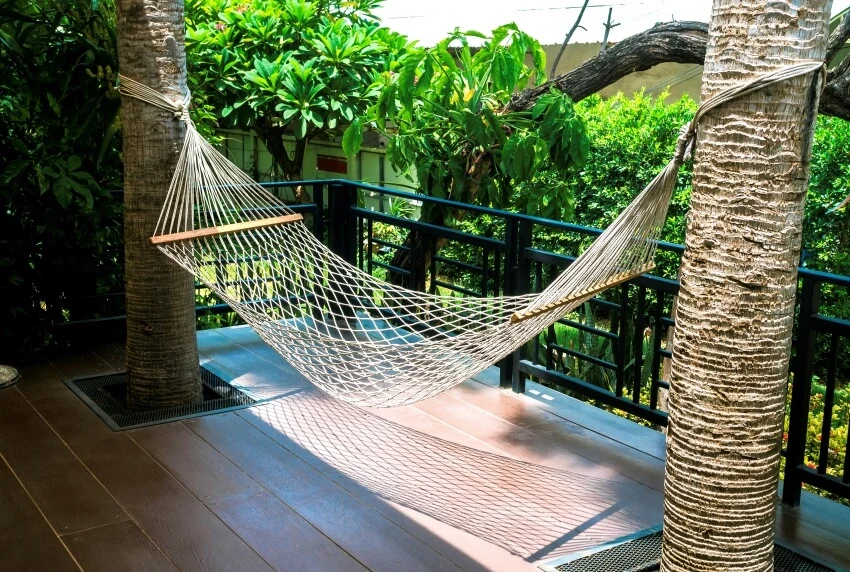 A rope hammock is the earliest and most basic type that comes to mind when picturing an exquisite seaside setting.
These are often composed of cotton or polyester rope in an exposed weave with lots of airflow openings. Cotton is the favored material because it is significantly more elastic, which adds comfort; nevertheless, polyester is somewhat more durable, thus, each has advantages.
They are extremely useful on the beach since sand does not gather within them as in fabric-made versions. They are available with or without the presence of spreader bars.
In terms of convenience and comfort, rope loungers can be relatively reliable; normally, larger cotton ropes will be more pleasant than thinner ropes, which have a propensity to scrape into your skin and can leave you with a less-than-pleasant pattern on your back due to the ropes.
Fabric Hammock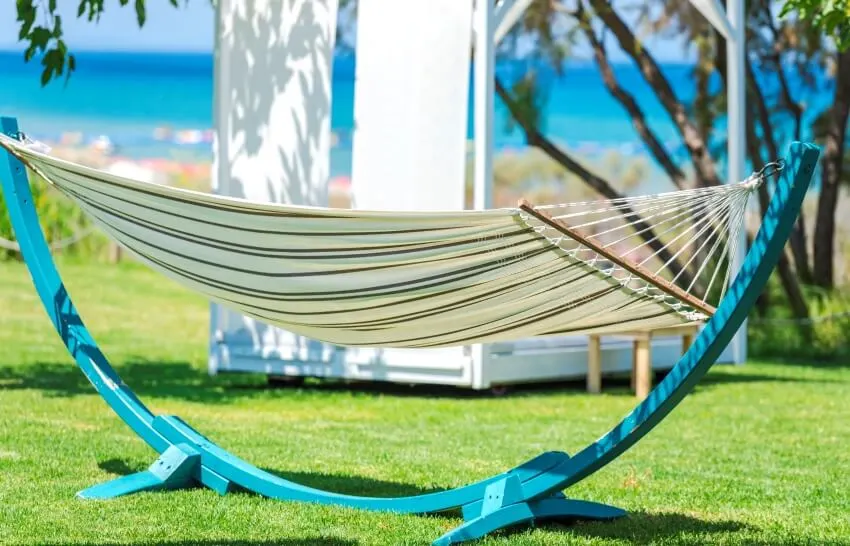 Fabric hammocks, quite similar to quilted products, are less expensive and often made of quick-drying materials, rendering them ideal for poolside and beachside use.
Most cotton-made products are constructed of polyester composites and come in a multitude of color and arrangement combinations.
Several fabric models even include pillows that are stitched into them. Fabric-made products are also quite level, allowing for simple entering and exiting.
Cotton Hammock

Cotton has always been used in the manufacture of hammocks. Due to its smooth texture, versatility, and more genuine appearance, this material has been utilized for many decades.
Cotton fabric, on the other hand, will degrade in the sun, whereas cotton-made rope can become tan over time when it is in persistent exposure to too much sun.
That is why you must remember to put your cotton products indoors after you have finished using them to keep them looking colorful and to extend their longevity.
Polyester Hammock

Polyester is a modern hammock material that is more resilient than cotton and can withstand external factors such as sunlight and heavy rain.
Furthermore, polyester fabric hues are less susceptible to fading. Although polyesterproducts are generally weather-resistant, you must still store them indoors to prolong longevity.
Quilted Hammock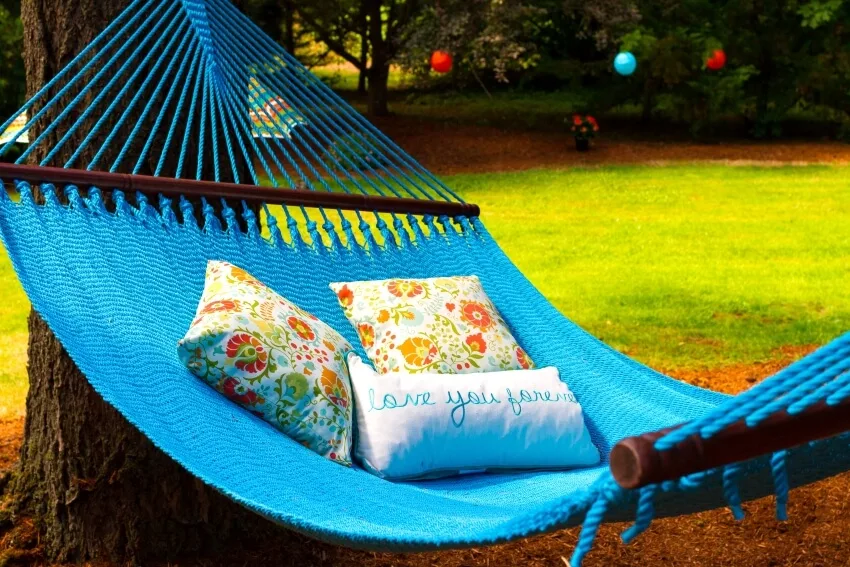 A quilted hammock comprises two sheets of fabric with cushioning in between. This provides additional comfort, but it also makes them more difficult to maintain.
Quiltedproducts will typically feature spreader bars to keep them from flipping over and to display the ornamental fabric you have selected.
However, this also implies they cannot be readily carried. Hence, they can be challenging to carry to the beach. They are more advisable for your home's outdoor space only.
Quilted versions are frequently available in big sizes, making them an excellent alternative for multiple individuals to relax on simultaneously. Since they do not stretch to varying lengths between trees, they function effectively on stands.
Hammock Size Guide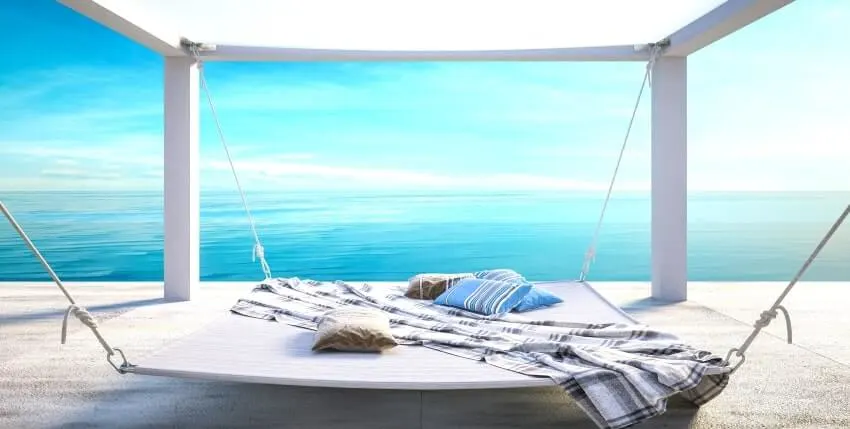 Height – Multiple factors impact the appropriate height for hanging your hammock. The spreader bars, suspending mechanism, and personal preference will all have an impact on the total height.
Therefore, you should aim for a gap of 18 to 24 inches between the hammock's lowest point (when not being used) and the ground.
After determining your necessary space requirements, you may use a general guideline to determine the height at which you will secure your accessories.
Rope, straps, or hooks, for instance, must be half the overall length of your span. With a 13 foot or 4-meter span, your suspension height should be around 6 ½ feet or 2 meters.
Spreader-bar-types hang quite level, with hanging heights ranging from 4 feet to 5 feet or 1.2 to 1.5 meters.
Weight – The weight of a hammock can vary substantially, with support systems ranging anything from 7 to 15 oz. to several pounds, including swinging beds that can handle weights ranging from 150 to 500 pounds. The weight capacity limitation pertains to static weight; thus, jumping onto one must be avoided.
Length – Hammocks normally range in length from 9 feet to 14 feet. Taller users should opt for a product that is greater in length.
Width – The width of a hammock bed typically ranges from 4 feet to 9 feet. Wider products can often carry as many as 4 people. However, smaller products may only hold one or two people for suitable relaxation.
Hammock Sizes for Single and Double Capacity
| Type | Single | Double |
| --- | --- | --- |
| Typical Size | Length: 9-11 feet (274-335 cm) | Length: 10-15 feet (305-457 cm) |
| | Width: 4-5 feet (122-152 cm) | Width: 5-7 feet (152-213 cm) |
| Key Points | – Sufficient for one adult. | – Accommodates two people. |
| | – Size varies by brand/style. | – Size and weight capacity vary by model. |
| | – Check space for hanging requirements. | – Check installation space. |
| Considerations | – Verify product dimensions. | – Consider maximum weight capacity. |
| | – Account for rope slack. | – Clear the area for safety and comfort. |
| Typical Use | – Relaxing, solo camping. | – Relaxing, camping, outdoor activities. |
What Size Hammock Stand Do You Need?
If you would like to use your hammock away from trees or other supports, you will need to use a stand. These vary in weight capacities depending on the build quality. Look for a stand that is rated for a maximum of 450 lbs. and make sure not to exceed this requirement.
The best stand size will measure 2 feet longer than the length of your hammock. For instance, if you have a 10 foot fabric hammock, you will want a 12 foot hammock stand.
Stands are generally constructed from metal or wood. Those that are metal are usually powder-coated for more durability outdoors.
What Hammock Type To Choose?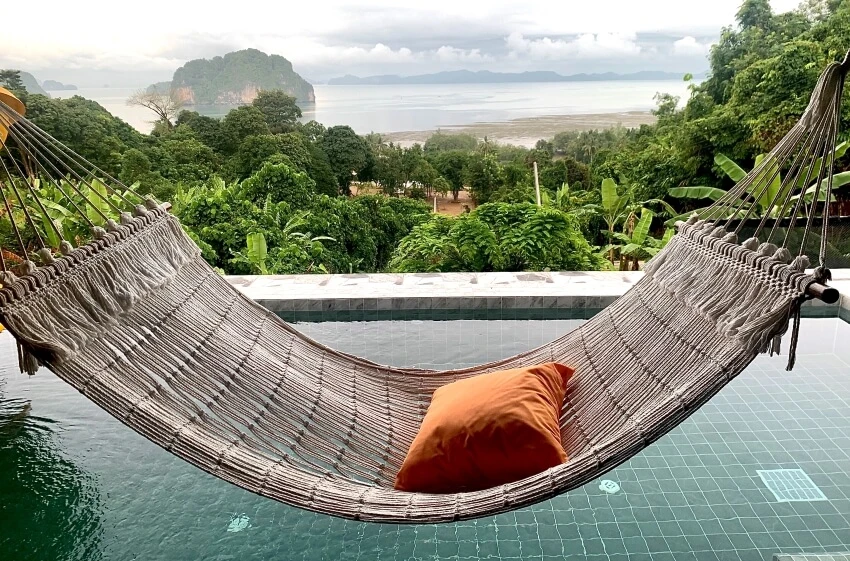 BestType For The Beach: Rope

Rope hammocks are composed of lightly woven cotton or polyester ropes, provide stability, comfort, and flexibility, and have a traditional tropical, rustic appearance. This style also has spreader bars on both ends. Rope-made products are the classic beachside hammocks, ideal for superb summer relaxation beneath a few palm trees.
Each has its own benefits, whether you choose a cotton or polyester rope hammock. Cotton-made rope products are more versatile and comfortable than polyester-made rope products.
Best In Terms Of Wide Space: Quilted
A quilted product s constructed of two layers of cotton with soft padding in the center. This adds to their comfort but also renders them more demanding to take care of.
Quilted hammocks work well on stands since they do not expand to varying lengths between trees. Quilted units are typically available in large sizes with wide spaces, making them a good choice for multiple people to sleep and relax at a time.
Best In Terms Of Comfort: Brazilian

Brazilian hammocks are frequently marketed as the greatest type for substituting your beloved bed in your bedroom. Brazilian swings are meant to have a decently profound sagging when hanging appropriately, making them super comfy when resting and sleeping on them.
Best In Terms Of Heavy-Duty Usage: Camping
Camping hammocks are constructed primarily for environmental purposes. Thus, they are very tough and generally very impervious to any elements. They can withstand various environmental conditions and are solely intended for heavy-duty applications.
Best For Small Spaces: Chair Style
Hammock chairs are normally compact. If you have a small space but still want to use a swing, this would be a great option. Furthermore, using a swing chair gives you a comfy seat.
They not only offer the advantage of a wellness-rich relaxation treatment, but they also enliven up your household or landscape and make life more enjoyable. For another related alternative, take a look at cocoon chairs.
What Hammock Is Best For Sleeping?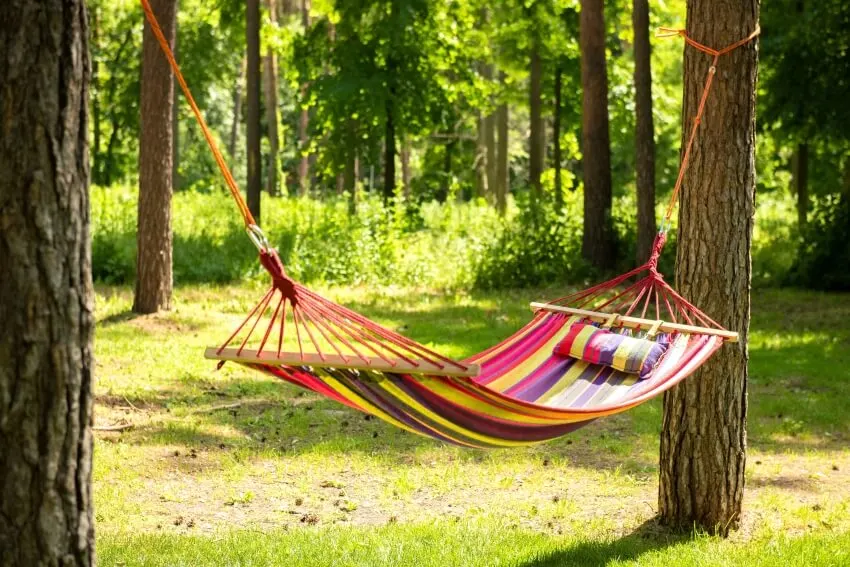 This is a tough question as it will depend on the user's needs and preferences. But arguably, here are the top 3 types of hammocks that are best for sleeping:
• Brazilian Hammock. This is probably one of the most widely used types on the planet. It is a thicker fabric cloth , often warmer than Mayan style , and offers better back support.
• Colombian Hammock. This design has the same bed portion as the Brazilian style, but the suspension accessories differ. It has an open-loop string that improves its balance and makes it nearly difficult to slip out. They also have Cadejos, or plaits, in the thread, making them extremely robust.
• Camping Hammock. Since it is often made from waterproof and weatherproof materials, it is arguably one of the most durable types. Camping products are ideal if you spend a lot of time sleeping outside, on a balcony, or at a campsite.
What Hammock Material Is Most Comfortable?
Brazilian hammocks are considered the most comfortable. These cozy swings do not have spreader bars and are henceforth better at conforming to the curve of your body. They are typically composed of a soft and flexible material such as cotton.
Certain individuals, nonetheless, do not like the enclosed sensation created by the fabric wrapping around them and may prefer a quilted style instead. There are numerous possibilities, so it is always a matter of personal taste.
What Type Of Rope To Hang Hammock?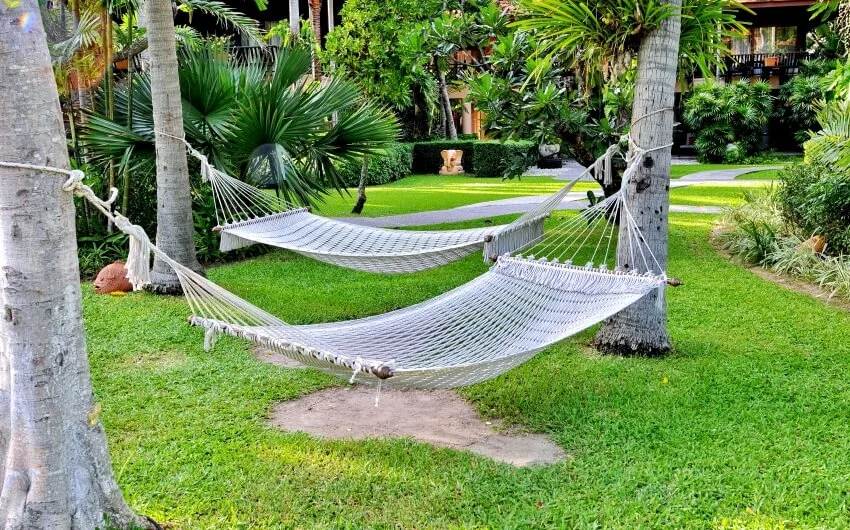 The best rope for hanging a hammock, regardless of whether it is a natural or synthetic fiber, is labeled as "soft-laid" or "Lang lay."
The rope you choose should be flexible enough to wrap around the tree or any durable object you intend to secure the hammock to. That is to say, the rope's construction is critical. Twisted rope originates as a yarn made up of two twisted strands of material.
To make strands, three yarns are knotted together in the opposing direction. Lastly, three or four stands are tied together to make a rope. Flexibility is typically reduced when the strands are firmly wrapped, yielding "hard-laid" rope.
When subjected to pressure, nylon rope expands like a rubber band up to 40% of its length, contingent on the weight exerted. This implies that even if you stretch your hammock tightly, it will slump when your weight extends the rope.
A hammock's design, like that of other outdoor objects, is important. Practically every rope, regardless of the size, is obtainable in a range of colors. This implies that the color of the rope you will pick and the color of the swing can be coordinated. Natural fiber ropes are considered effective in repelling insects since their surface texture is unpleasant to them.
When measuring rope for your hammock, remember that you would not need the biggest rope in the store, but you also do not want the tiniest. A 1/2-inch rope can merely hold 250 pounds, while a 3/4-inch rope can accommodate almost 800 pounds.
Are There Hammocks that Don't Flip?
Yes. You can select the variety that does not incorporate spreader bars, which often has a less-structured appearance. Mayan, Brazilian, poolside, and camping hammocks are among them.
These types wrap around a person's body because they have no spreader bars. And yes! When you lay down on them, they do not flip!
Is a Hammock With Or Without Spreaders Best?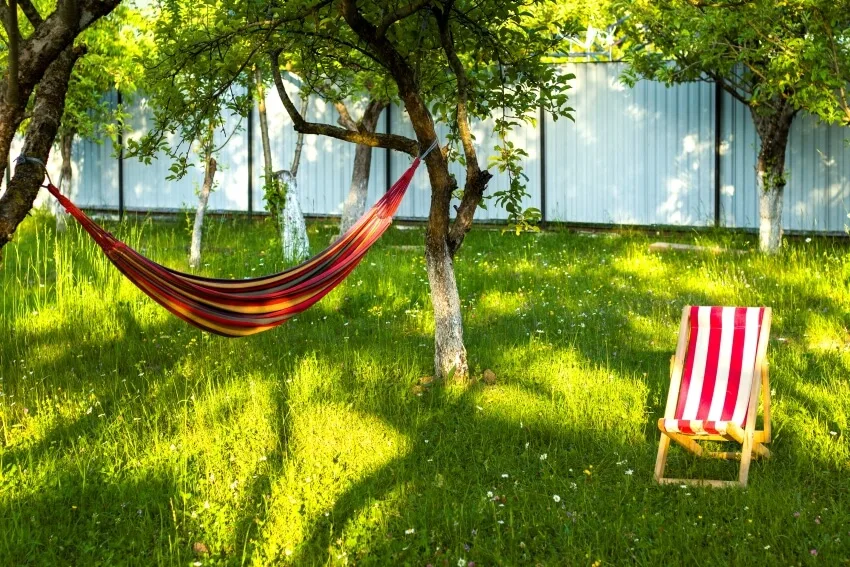 If you are the only one who will rest in your hammock, well, a product without the presence of spreader bars would be a superior option. They are more flexible and can conform to your body properly. This is due to the lack of bars that keep the fabric straight.
Without spreader bars, it may be simpler to get in and get out of the swing, especially if you have mobility difficulties. Apart from that, they are great if you want a hammock that provides you with an embracing sensation.
You have the option of purchasing with or without the incorporation of spreader bars. Those that come with spreader bars are generally pre-extended for your convenience.
Spreader bar designs feature rods at the edges to keep the fabric straight. They are suitable to use with stands, and they are much more ideal for two people.
Unfortunately, their tautness, or the state of being too straight, makes them unsuitable for sleeping; instead, you can only save these lovelies for sunbathing, lounging under a tree, and conversing by the poolside.
They can be found in almost any fabric, shade, and pattern you want, but they are most frequently in quilted styles. Another disadvantage of those with spreader bars is that they tend to flip.
Nylon vs. Cotton Hammock
Nylon is among the first synthetic fibers developed and is more durable than polyester. It is less frequent in ordinary hammocks, most likely because it is more costly to manufacture than cotton or polyester.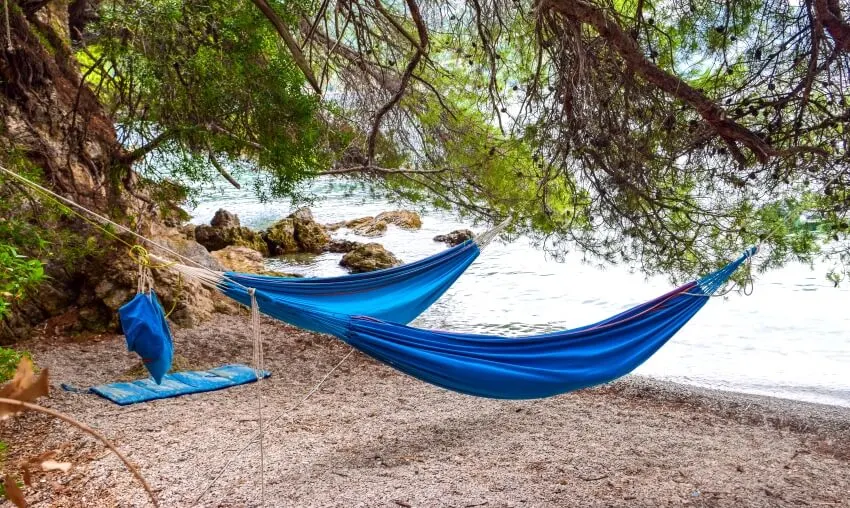 However, since it is so resilient, it is prevalent in camping hammocks. Ripstop is a technique that is frequently used to strengthen it. This is the process of weaving new fibers through the original fibers to provide strength and avoid rips or tears.
Ripstop polyester and silk are options, but ripstop nylon is more common in outdoor clothing. Ripstop cloth can be identified by the diamond-shaped markings it leaves.
Nylon, however, absorbs more moisture than polyester and hence takes time to dry. Numerous nylon hammocks, however, will have a supplementary coating on top to increase resistance to different weather conditions.
Cotton, on the other side, is one of the most commonly used materials in both fabric and rope hammocks. Cotton has a minimal, flexible quality that makes it ideal for manufacturing these products since it enables the fabric to mold to your body structure. It also adds a splash of color, making them more attractive.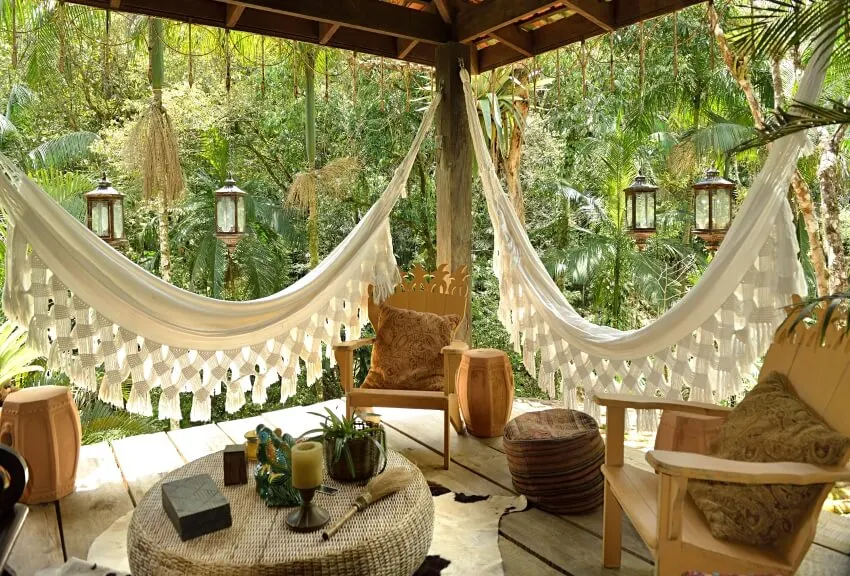 Cotton absorbs moisture, making it susceptible to mold growth; if you leave a cotton item in the elements regularly, it will not survive long. This is especially true when cotton is utilized as a fabric.
The last important thing to know about cotton is that it is one of the most inexpensive materials, which is perhaps why it is so prevalent.
In terms of strength and longevity, ripstop nylon would be the winner. Ripstop nylon is the most durable material for hammocks. Nylon is a highly durable and long-lasting material in and of itself, but the incorporation of strengthened fibers contributes to this.
If the same quantity of nylon or other materials were employed, the ripstop nylon would be the strongest. That is why it is frequently featured in camping hammocks. Nonetheless, because it is not particularly comfy, it is less popular in casual hammocks like Brazilian or Mayan styles.
But, in terms of comfort and cost, cotton wins the spot. Cotton is the most comfortable element used to manufacture hammocks, particularly organic cotton, which has longer fibers that are not harmed during the plucking process. Cotton is moderately flexible, so it conforms to your body shape while providing support without being overly hard.
Visit our backyard essentials guide for more related content.