See the types of kitchen countertop protection including the different options, pros and cons, and the best heat protection choices for kitchen countertops.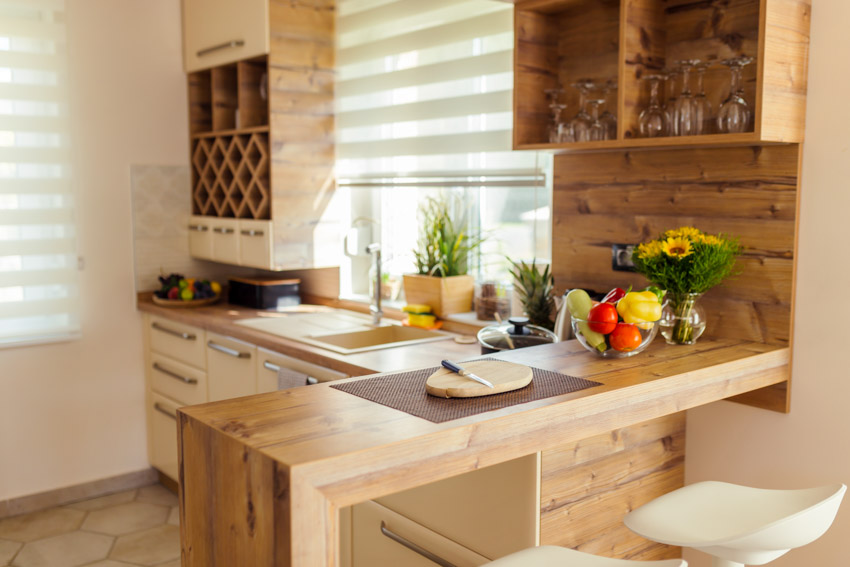 Kitchens are multipurpose spaces in the home these days. They aren't really just used for cooking anymore. Kitchens these days are used for multiple other activities from eating to cooking to studying, and so on.
Due to this versatility in uses for the space, it's unavoidable for your kitchen countertops to be exposed to a lot of wear and tear. It can be anything to everything from a wine spill to a cutlery scratch, and this may eventually damage your countertops if you don't do something about it.
You can protect your countertop surfaces with the use of countertop protectors. Not all countertops can handle direct heat and this is why you need to invest in protectors that are first and foremost heat resistant.
How Do I Protect My Kitchen Counters?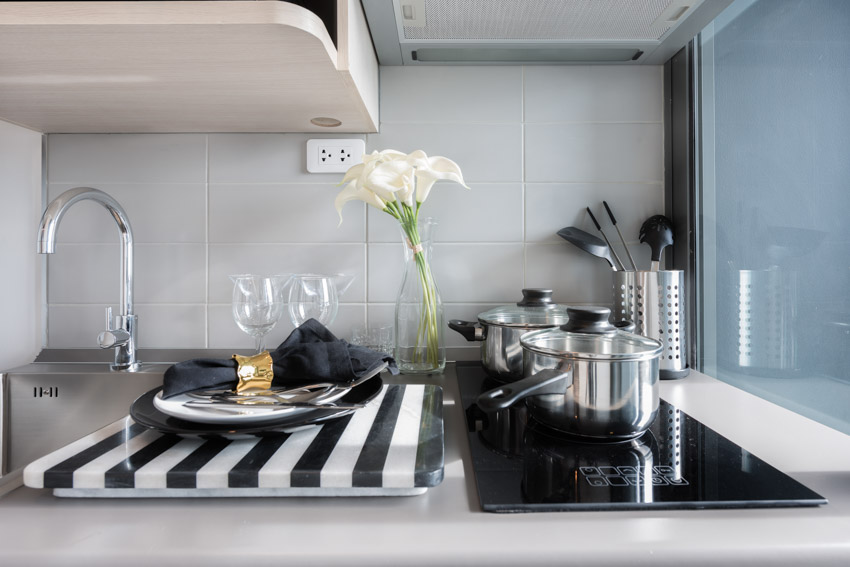 Countertop protectors that are heat resistant have become more and more popular over the years. There are so many different types available in the market. Each has its own strengths and you just need to assess which ones will actually satisfy your requirements.
Silicone Countertop Mats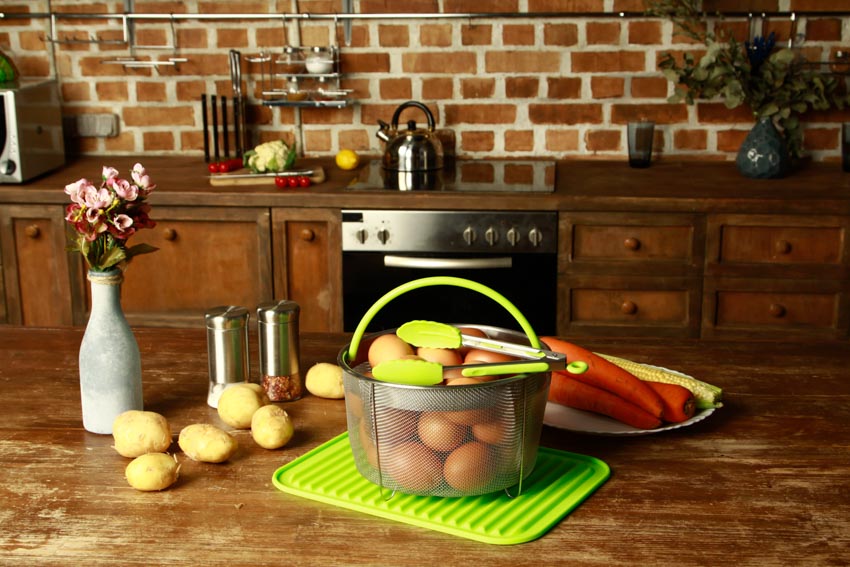 This is one of the best heat resistant countertop protectors on the market. They're large and thick silicone mats and can be quite efficient in protecting your countertops at home.
How it works is that the heat emitted by your appliances or pots and pans placed on the surface is efficiently blocked by the silicone mats. It's also a great way to protect your surfaces from spills, scratches, and even grease.
All you need to do is place these mats under the appliances you use such as your induction stove, coffee maker, microwave, toaster, and any other appliances you might have around.
These mats are also non-slip which means that your appliances will stay in place and will not move around. Its material is food-grade and non-stick as well. It's an excellent material to have around, especially in the kitchen, where you're preparing food.
It's easy to clean and it won't absorb kitchen odors all that easily. It can take heat ranging from 40 degrees to 446 degrees Celsius.
Pros:
• Small profile: Easy to store and flexible or foldable
• Assortment of designs: Comes in a wide range of colors
• Easy to clean – Dishwasher safe and cleans up fast

• Long-lasting: Sturdy and durable
• Stain resistant: Repels stains and odors
Cons:
• Not for ovens: These mats aren't designed for oven use.
Heating Pads
See this round hot pad for kitchens at Amazon [sponsored link]
Heating pads are underrated but absolutely necessary tools in the kitchen especially when it comes to countertop protection. They can be made out of cloth or similar materials and their main use is to make sure that your countertop surfaces are protected from damaging heat especially when you place them under hot dishes and pans.
Other heating pads can be made out of rattan, cotton, silicone, or even cork. These materials are excellent at resisting heat and can give you peace of mind when you're working your way around the kitchen.
Pros:
• Great for kitchen or dining tables: They can protect your countertop surfaces as well as your dinner table.
• Multipurpose: They can be versatile as they can also be used as oven mitts and potholders.
• Variety of designs: They come in a wide range of colors, prints, and literally any design you can think of.
• Great for pans: They can keep your countertops spotless and can be your pans' best company.
Cons:
• Special care: Not all of them are dishwasher safe and some materials may require special handling.
Ceramic Countertop Protectors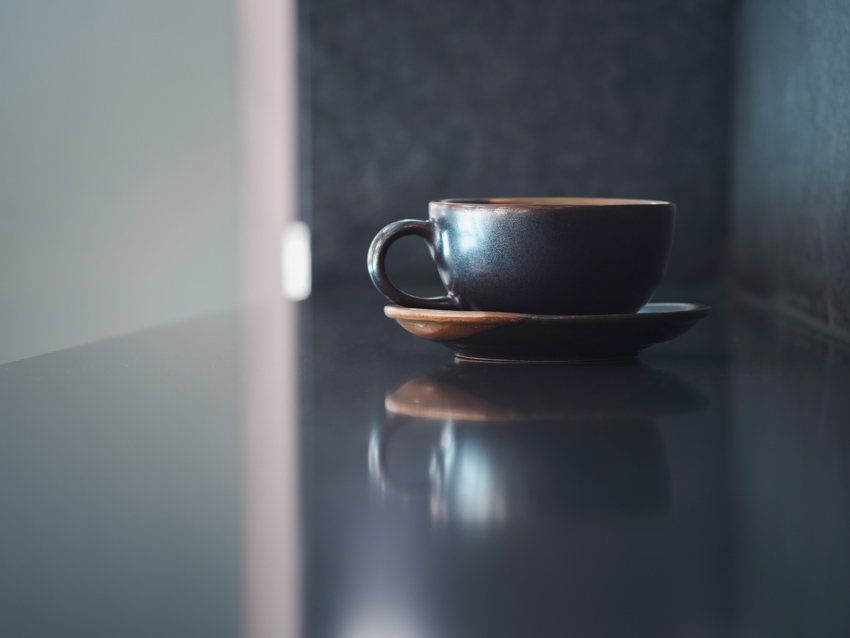 Ceramic countertop protectors are superior when it comes to being able to handle higher temperatures. Some of the higher-grade ceramic countertop protectors can withstand temperatures as high as 350 degrees Fahrenheit.
They do have a downside though. Although they can indeed handle high temperatures, they at times get as hot as the pans and other kitchen implements that you put on top of them.
A way to counteract this would be for you to ought for ceramic countertop protectors that have a protective base to ground them. These bases can either be made out of patches of silicone or rubber.
Ceramic trivets can come in all colors and designs so if you're looking to get that extra splash of color in your kitchen, they're great to have around. They always come with a cork backing to make sure that scratches and other possible accidental surface damages are avoided at all costs.
Pros:
• Variety: Ceramic is a material that can come in a wide range of shapes, colors, textures, and sizes. You can have ceramic countertop protectors that are limited to just protecting your countertop surface from just one pan or multiple, depending on the size you pick.
• Easy to replace: Ceramic isn't the most durable material. Although it offers excellent protection, it can crack and chip in some places. It's a good thing that it's easy to replace in parts.
• Affordable: Ceramic usually comes in the form of tiles and they range from $1 to $15 per square foot. This means they're very affordable compared to other materials.
Cons:
• Not durable: They can chip and crack and require constant replacements or repairs as time goes by.
• Grout lines: Grout joints require special attention to clean.
• Rough surface: The surface can be uneven.
Wooden Countertop Protectors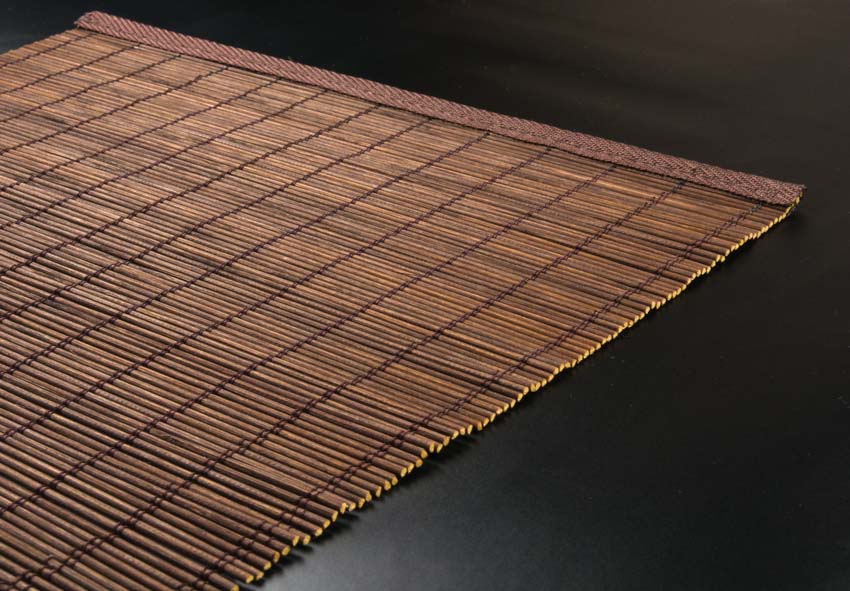 Wooden and bamboo countertop protectors can help as they are oftentimes used as trivets. They can be very decorative and are great for incorporating organic elements into your kitchen design.
The only downside is that they aren't as heat resistant as their other denser counterparts. It's good to make sure that you opt for a wooden countertop protector that comes with rubber feet or some kind of rubber base. This will give it more stability and protection.
Wooden countertop protectors are usually fashioned as trivets so they can oftentimes only hold one pot at a time as opposed to silicone mats that can hold multiple ones all at once.
They're also more delicate and aren't always dishwasher safe so there's also the extra effort required to wash them by hand when keeping them clean.
Bamboo trivets work great as well when it comes to absorbing heat. Similar to other wooden countertop protectors, they also need to be washed by hand. To prolong its lifespan, soak your bamboo trivets in salt water for about 4 hours before using them for the first time.
Pros:
• Natural wood is beautiful: Wood looks stunning.
• Environmentally safe: The material is eco-friendly.
Cons:
• Does not absorb heat well: It doesn't hold well against heat.
• Not water or spill proof: It doesn't stand up to abuse such as wear and tear as well as spillages.
• May not be as durable as some other materials: It may require special care by way of sealing and resealing.
• It can be prone to damage: Not all woods are created equal. Some are softwoods while some are hard. The softwoods are more prone to scratches and dents.
Peel And Stick Countertop Covers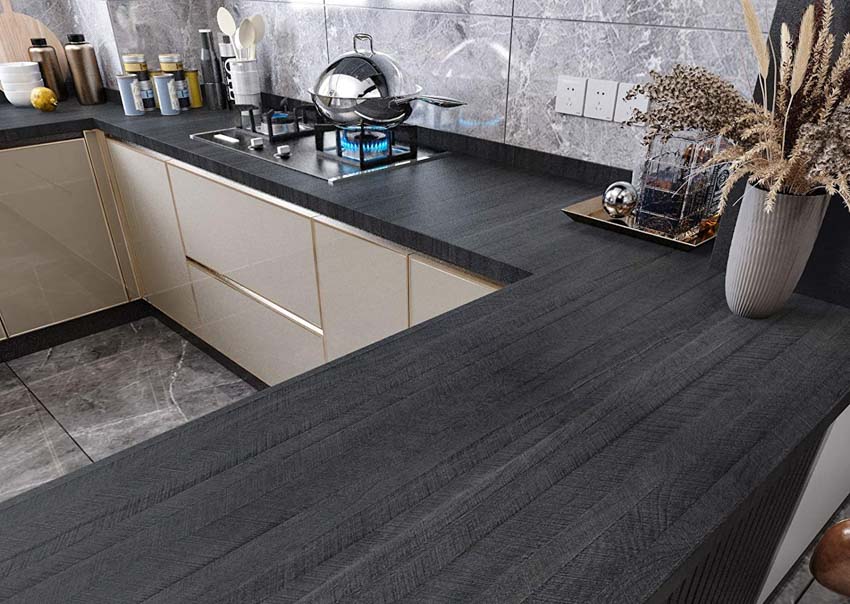 See this peel and stick contact paper for countertops at Amazon [sponsored link]
Peel and stick countertop covers have become quite popular over the years because they let you alter the look of your kitchen countertop without ever having to go through costly upgrades or renovations.
They're sold by the roll so you can easily cut and tailor the material into the exact dimensions you actually need for your countertop. Here are some things you need to know about these countertop covers.
Pros:
• They're very easy to install: All you really need to do is to measure how much material you'll need, cut it, then peel off the backing and you're ready to go. They also don't require any special cutting tools.
• They're also easy to remove: Should you change your mind and want to remove them to change the design or opt for something else, you can easily peel it off without ever worrying about the residue it will leave behind.
• It offers a unique look: Peel and stick countertop covers can come in a variety of different designs, colors, and even textures. This can really make your countertop stand out compared to many others.
• Can be cut to fit any space: Great for small spaces.
• Maintenance free: Easy to clean.
• Durable: They can look great for years without requiring too much maintenance or care.
Cons:
• They aren't permanent: What this means is that they're short-term solutions. They can be placed on top of any type of countertop material such as wood, quartz, laminate, or granite and it won't damage the surface at all should you decide to remove it further down the road.
• The quality and durability can vary: There are some peel and stick kitchen countertop covers that offer water and heat resistance while some can be very easily damaged if you aren't careful enough.
In terms of heat resistance, they can withstand up to 170 degrees Fahrenheit, depending on the type of countertop cover you use. You can't place a boiling pot directly on top of it but it does provide an extra layer of heat protection to your countertop surface.
They're also water-resistant which means that you can clean up the usual way (sponge or damp cloth) without damaging it.
• Tendency to rip: A major downside to countertop covers is that they tend to lift at the corners over time especially when not installed correctly. This can eventually lead to getting the material ripped or gouged. This is why this is recommended for interim use and not as a long-term solution.
• May be difficult to clean: Using a scrubbing brush may damage its surfaces so you would have to stick to using sponges, which don't always remove all the dirt.
• May damage counter: Adhesives can wear down and damage your countertop.
• Not highest quality: They can look cheap.
• Can be stained: They are easily stained as they aren't very resistant to spillages.
Countertop Protective Barriers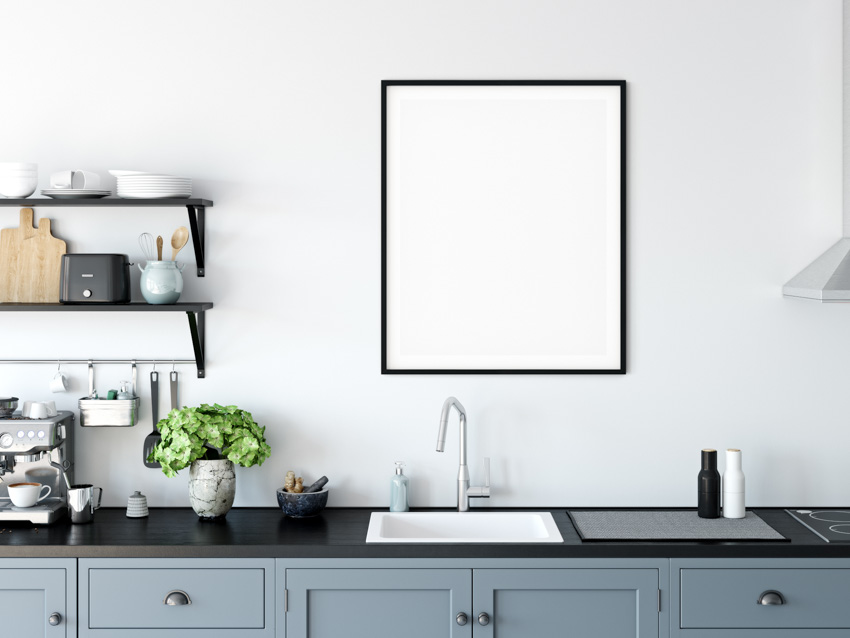 Some of the best countertop protective barriers in the market come in clear acrylic or plexiglass as the main material. This is considered to be the best one out there as they come in a wide range of features and benefits.
Pros:
• They're practical: They can be used, not just on the countertops but for relatively most types of furniture styles with a tabletop surface and in any material. They can protect against scuffs and scratches, spillages and stains, and so on.
• Varying thickness: They can come in 1.5mm or 2mm variants. The 1.5 mm ones are heavy duty and won't move around. The 2mm ones offer more features such as heat resistance so they're more recommended for countertop use.
• Cut to fit: Make it a point to reserve a little more margin. This material can shrink over time. It isn't really a problem either if the dimensions of the material aren't true to size as advertised because you will be able to easily cut it to fit.
• Easy to clean and durable: This acrylic material is typically made out of Phthalate-free and BPA-free PVC material. This makes it suitable and safe for daily use in the kitchen where food items are constantly being handled and processed. Oftentimes, it doesn't require more than wiping the surface clear with a dishcloth after spraying it with water.
Cons:
• Usually comes with tricky warranty coverages: As protective barriers need to be installed, their warranty will usually only be covered if it was professionally installed by someone who was specifically certified by the brand.
• They offer no heat resistance at all: Hot pans and pots are an ultimate weakness. This isn't a good thing as the kitchen is home to those. You have to constantly be aware or wary when you're putting stuff down as this can leave permanent burn marks or discolored patches in your protective barriers.
Cutting Boards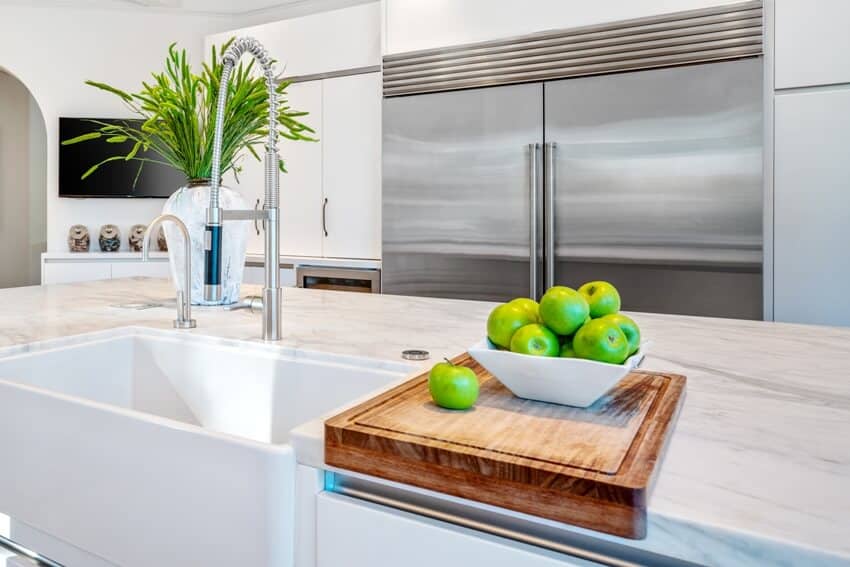 For day to day meal preparation a cutting board is a kitchen must have. These are great to use when you have a specific task such as slicing or dicing food. Cutting boards are not often left on the kitchen counter and are usually tucked away in a drawer or hung when not in use.
Standard cutting board sizes can range from 4″x6″ for small models to "18"x24″ for larger boards. They can be quite durable depending on the types of cutting boards used and the amount of maintenance and care given.
Pros:
Attractive: Cutting boards, especially those constructed from natural wood are beautiful to look at in the kitchen.
Easy to clean: Cleaning after each use is relatively easy to do.
Good for knifes: with these cutting surfaces you won't need to worry so much about dulling or damaging knife blades.
Durable: Depending on the material you choose, these can be a very durable option when properly cared for.
Many design styles: There are a wide assortment of cutting boards to choose from.
Cons:
Requires maintenance and care: Wood cutting boards can rot if not properly dried and stored. Other types of cutting boards can show knife slices and other damage if not carefully used.
May harbor bacteria: Since wood is porous it can harbor bacteria and should be cleaned and dried quickly after each use.
Some types are not waterproof: Wood varieties of many cutting boards don't do well under constant moisture and does not dry easily. Buy wood cutting board made from non-porous wood types such as maple, acacia and teak for best results.
Best Countertop Heat Protection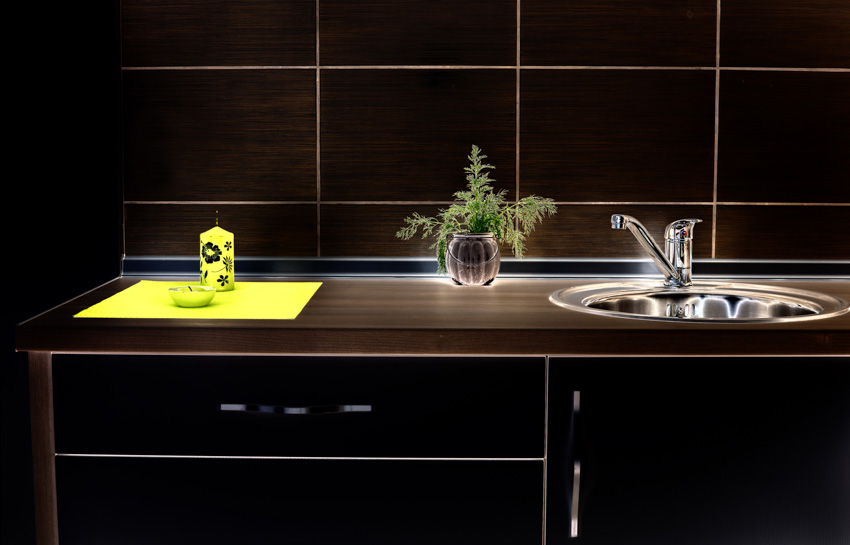 Silicone is the best material for countertop heat protection. They aren't harmful even if your food gets into contact with it. This means that you wouldn't have to worry about your countertop affecting your health.
Silicone countertop protectors also come with nonslip or textured exteriors which means that your hot pans and dishes never have to slide around. Here are some of the best things that silicone heat protectors can offer especially when it comes to handling heat:
• They can deal with temperatures until way up to 446 degrees Fahrenheit.
• They're versatile enough for multi-use needs, or even just to slip right under your kitchen appliances.
• They can be cut according to your needs.
• They're foldable and flexible so storage isn't an issue especially if you happen to be in between uses. They can be rolled up and easily stuffed anywhere.
• They can come in so many colors and designs or even prints so you're bound to find a design that will suit your specific kitchen design.
• They can easily be washed with soap and water and depending on the manufacturer's specifications, they are dishwasher safe by default.
Read more about our guide on metal kitchen countertops here.