Here we share our metal kitchen countertops design guide including the different types, sizes, edge styles, finishes, cost, cleaning, and metal countertop maintenance tips.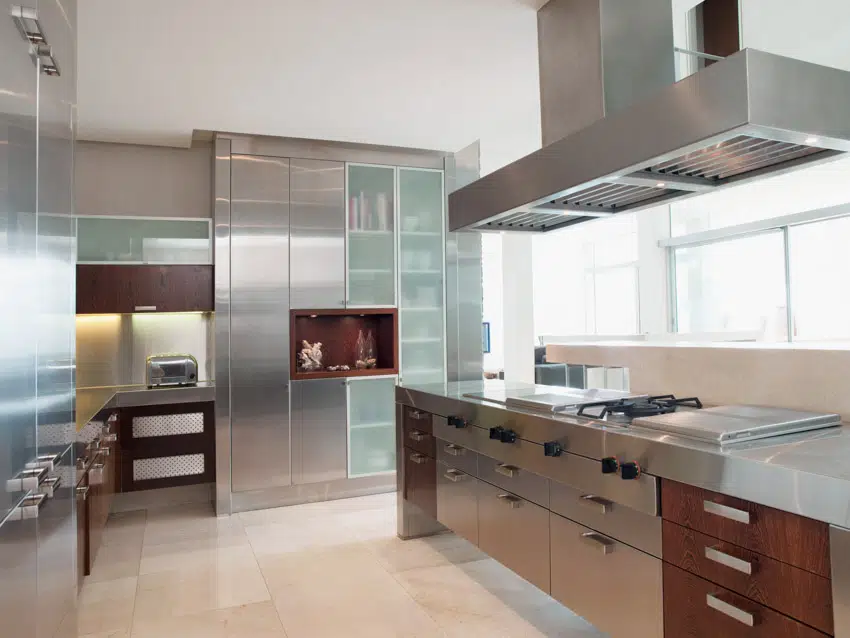 Inside a kitchen, you are aware that the countertops are subjected to a great deal of wear and tear. They always come in contact with persistent chopping, scratching, and scraping in the kitchen, never-ending spillages, hot pans, and frequent scouring to make everything spotless.
Metal countertops are becoming increasingly prominent due to their potential for toughness. Metal, in particular, could be an excellent selection for countless homes since it provides exceptional quality, a distinctive appearance, and a large array of design alternatives.
Let's spend some time looking at the pros and cons of metal countertops to see if they're the perfect choice for your household. We will also discuss the different types of metal countertops as well as their descriptions.
Types of Metal Countertops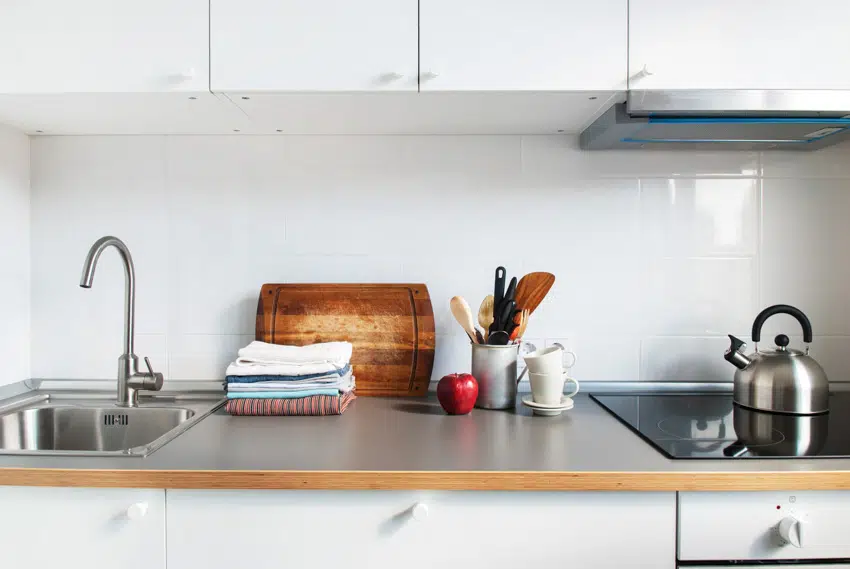 In this guideline, we'll go over the benefits and drawbacks of the major types of metal countertops, as well as price and construction information, so that you can pick the right one for your well-loved kitchen space.
Stainless Steel Countertops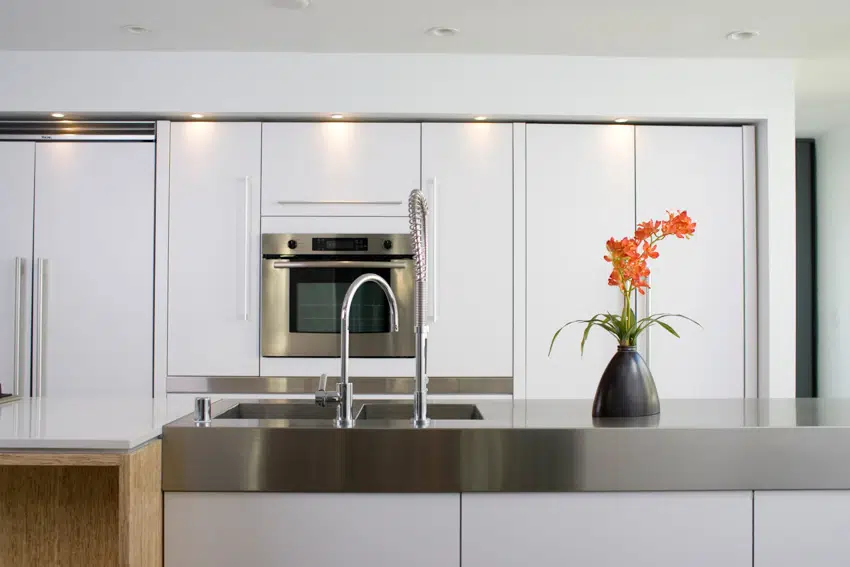 Stainless steel countertops, which are common in restaurants, give any workspace a sterilized, contemporary appearance.
Several homeowners dislike the chilling effect that these counters could have, but when paired with deliberate décor, they can undoubtedly give a high-end and fashionable appeal.
There are good reasons why so many restaurants use stainless steel for their kitchen countertops. It's tough, easy to clean, and won't be harmed by spills or hot pans. – Kitchen Ideas That Work, Beth Veillette
Because of its unrivaled durability across the field, this type of metal countertop is indeed suitable for commercial, industrial, and residential counters.
Stainless is impervious to moisture and provides a flawless coating that keeps dirt, filth, mold, and germs at bay. It is highly stain-proof, entirely indestructible, and will not corrode. Furthermore, stainless cannot be burnt or cut.
The disadvantage of stainless steel kitchen countertops, however, is its high cost, which averages at $150 per square foot. This could be or greater is out of reach for many households' budgets.
Another downside could be the appearance, which many associate with fast food or school canteens rather than high-end craftsmanship.
Benefits and Drawbacks of Stainless Steel Countertops
Pros:
• Stylish and sophisticated appearance
• Rust- and fire-resisting quality
• Antibacterial and non-porous
• Easy to maintain
• Easy to set up
• Recyclable
Cons:
• Could be sensitive to noise when being used on
• Vulnerable to hard-to-repair scratches and dents
• Prone to smudges and fingermarks
• Susceptible to heat
• Can be expensive
Copper Countertops

Copper countertops are quite probably the next most prevalent metal countertop material after stainless steel. Copper, an ancient and classic cooking element, has a genuine aesthetic that evokes an old-world vibe.
Copper is a centuries-old working platform that complements a wide range of designs, from ancient to contemporary. Copper is antibacterial, meaning, it kills germs and fungi, rendering it an appropriate surface for preparing food.
Every mark, fingerprint, and spillage will be visible on a copper countertop, allowing it to turn into a gorgeous emerald patina, which is desired by several homeowners.
It may be one of the most unusual and versatile countertop materials available due to its propensity to shift color and patina over a period.
Unfortunately, unlike stainless steel, copper dents readily, thus many homeowners opt for hammered copper counters to conceal any dents. Furthermore, copper is expensive, sometimes costing more than stainless steel.
Positive and Negative Points of Copper Countertops
Pros:
• The color and patina are pleasant and classic
• Can be maintained bright or allowed to corrode, resulting in a distinctive patina and hue
• Easy to maintain
• Frequently retrieved from commercial sites or junkyards and recycled afterward
• Incorporates antibacterial properties
Cons:
• Since it is soft, it could be quickly damaged and dented
• Pricey
Bronze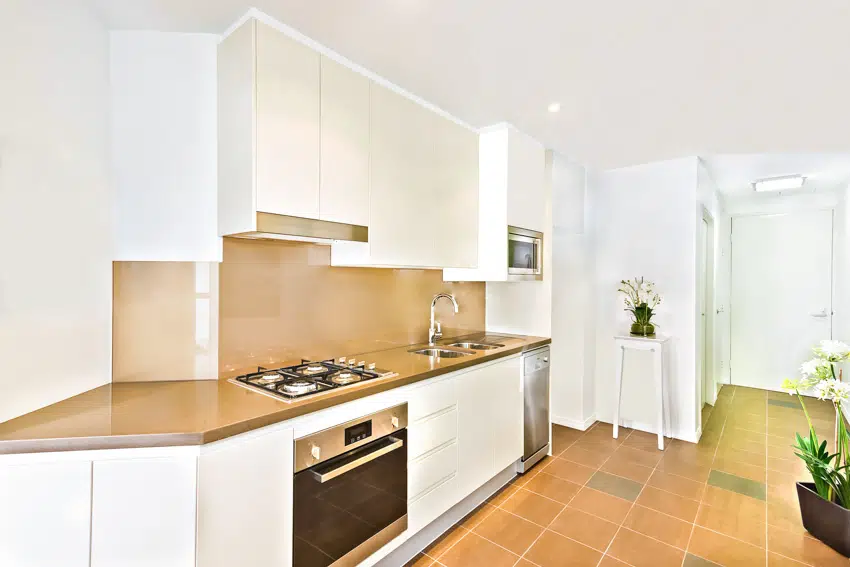 Bronze is an alloy composed of tin and copper. This type of metal is commonly utilized on vent hood systems and backsplashes, and it could also be a top-grade countertop.
Bronze types of kitchen countertops are extremely tough and long-lasting. It usually features a rustic look that is becoming increasingly trendy. Unfortunately, bronze countertops could be hard to find.
Moreover, it is a handcrafted metal that, like many other metals with a dynamic finish, will reveal scratches and other defects. This reactive metal will acquire a patina over a period and will build its own distinctive pattern of usage.
Aside from that, since bronze is such a strong metal, it can withstand moderate dents and scratches from everyday usage.
Additionally, bronze countertops might react to household or culinary substances with which they interacted. Citric acid, for example, will brighten up or erase the patina, whereas vinegar will darken the countertop. However, bronze counters can be sensitive to abrasive cleaning tools.
Advantages and Disadvantages of Bronze Countertops
Pros:
• It is tougher than brass, zinc, pewter, and copper
• Does not dent or scratch easily
• Coloration and patina shift over time produce a brownish-blackish hue
• Very unique design and appearance
• Gives any kitchen a stunning, pleasant, and profound aesthetic
Cons:
• Hard to find
• Expensive
• Sensitive to abrasive cleaners
Brass Countertops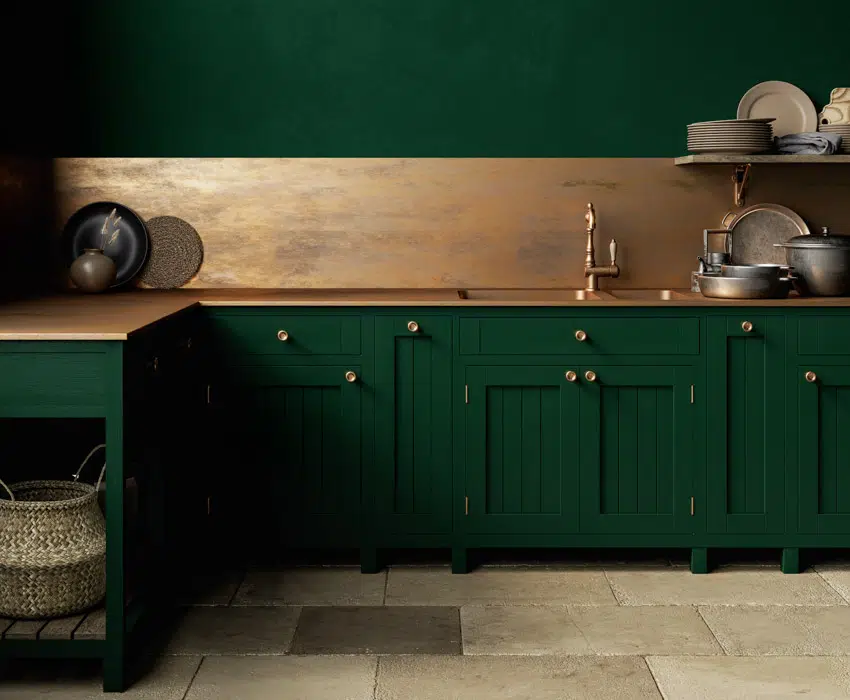 Brass, one of the rarest elements for countertops on this roster, is also incredibly distinctive and can provide any kitchen with a glossy, gleaming look in its trademark gold tone.
Brass, in fact, is an alloy composed of zinc and copper. Interestingly, this combination makes brass tougher and less prone to denting.
Brass countertops are an exceptional investment that can provide a resplendent and stunning touch to any kitchen with their signature gold-tone finish. Keep in mind, though, that is among the most expensive countertops out there
If your kitchen is the most visible space in your home, you may want something as appealing as your meals, and brass kitchen countertops could be the best solution.
Advantages and Liabilities of Brass Countertops
Pros:
• The quality is harder than copper, zinc, and pewter
• Does not easily get scratched or dented
• Unique golden tone
• Shifts patina over time to brownish or blackish hue
Cons:
• Extremely rare; very hard to find
• Very expensive
Zinc Countertops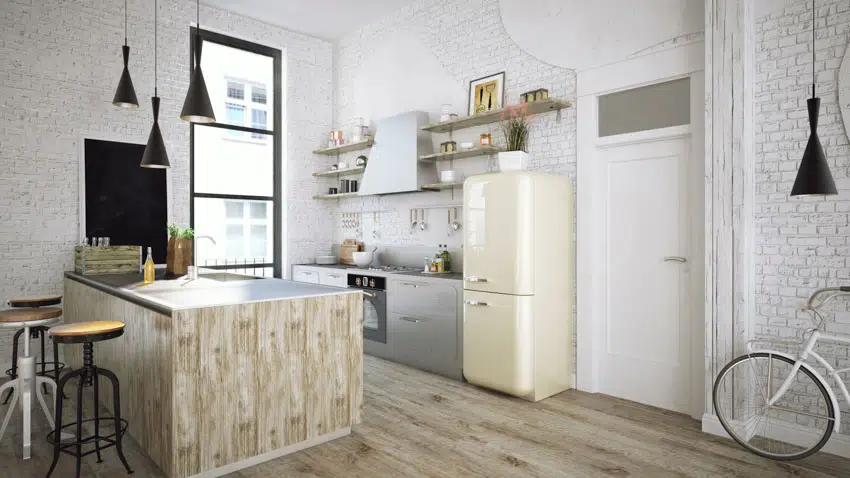 Zinc has recently gained popularity as a less-clinical substitute to stainless steel. Zinc, like copper, acquires a patina over a period that is typically navy blue to deep bluish in color.
It's a more muted appearance that complements a warmer and cozier design and is frequently found in European diners and pastry stores.
Numerous people prefer zinc because of its wonderful silver sheen, and it also has a fascinating tarnished dark blue patina. If you don't like the patinated aesthetic, you can reduce the process but not entirely prevent it.
Zinc was the metal of choice prior to stainless due to its extended life and resilience to acidic substances.
Moreover, unlike copper, which will reveal every blemish, zinc takes little maintenance unless you want to keep the silvery luster. Zinc is indeed antimicrobial, making it an excellent food processing surface in any kitchen.
Nevertheless, zinc, like copper, is susceptible to denting, therefore many homeowners prefer the hammered finish to easily conceal any dents.
Benefits and Drawbacks of Zinc Countertops
Pros:
• It develops an elegant grayish blue patina
• Shiny finish
• Easy upkeep
• Offers antimicrobial properties; perfect for kitchen usage
Cons:
• Hot objects can leave an unsightly mark
• Vulnerable to scratches and dents
• Expensive
Aluminum Countertops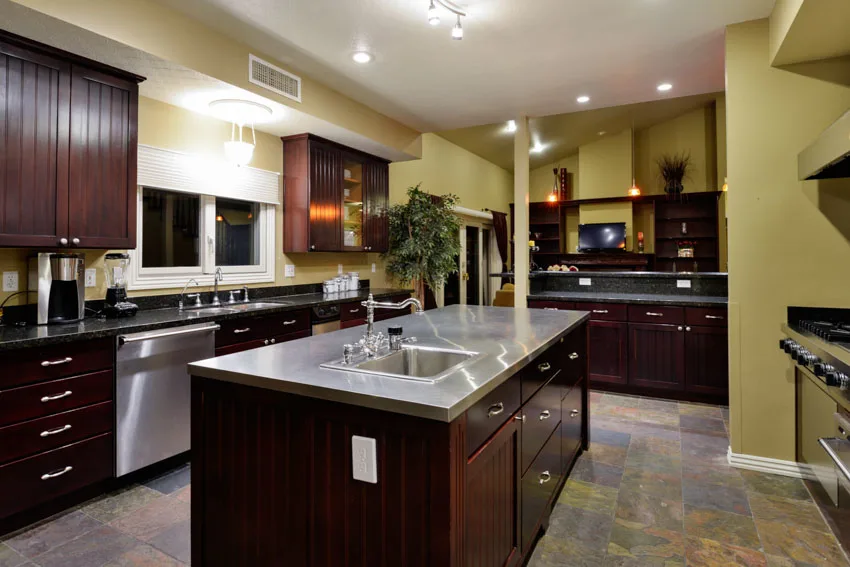 Aluminum countertops have greater oxidation and corrosion resistance qualities than stainless steel and are much lighter in weight.
All of these characteristics make aluminum an excellent choice for countertops and other food preparation surfaces. Furthermore, metal is fully rustproof and it is indeed the most affordable option on this list of metal types.
On the contrary, one of the most mentioned drawbacks of aluminum is its dearth of malleability, which implies it is hard to shape and generally breaks under tension.
Hence, it is not often advised for application on countertops or in manufacturing setups. This might be the main reason why aluminum is not frequently used in building countertops.
Strengths and Weaknesses of Aluminum Countertops
Pros:
• High oxidation and corrosion resistance
• Lightweight
• Rustproof
• Inexpensive
Cons:
• Breaks under pressure
• Lack of malleability
Pewter Countertops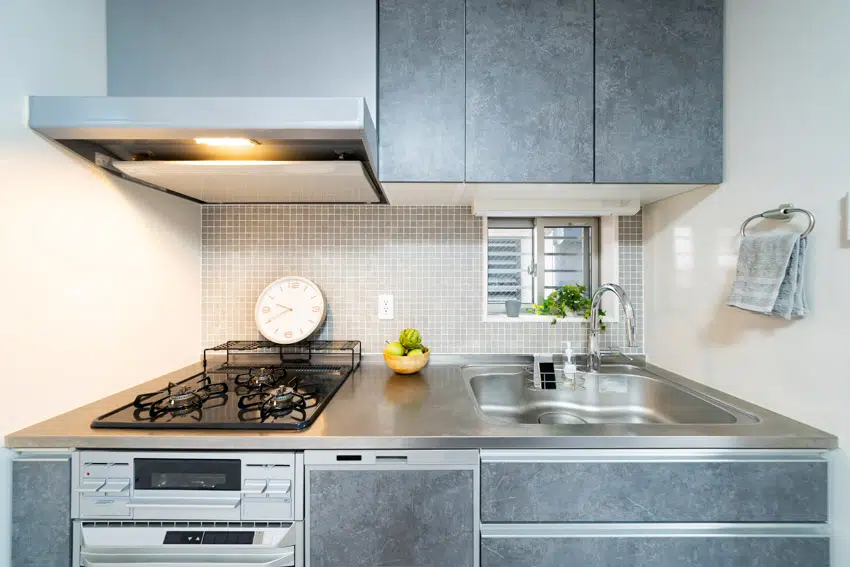 Pewter is a classic metal that was commonly utilized to manufacture products such as dishes, basins, cutlery, and bowls. It is ideal for a cozy, antique kitchen.
Its genuine gray offers an earthy, muted feel that countless homeowners find appropriate for their kitchen. Pewter, like zinc (which it is sometimes mistaken with), will obtain a subtle charcoal patina as it matures.
Pewter countertops are a timeless and beautiful material that has long been employed in French bistros and wine bars.
Pewter, a material extensively utilized in the Middle Ages as ornamental and specialized products, evokes a vintage aesthetic. Moreover, it offers antibacterial properties, making it a very suitable material for kitchen countertops.
Pewter is a long-lasting metal that will tell its tale and express its heritage. While zinc is a comparable metal, pewter is a softer and more pliable type of metal. However, it can be susceptible to dents and scratches.
What You Need to Know about Pewter Countertops
Pros:
• Vintage design
• Perfect for old-world kitchens
• Easy maintenance
• Non-porous surface; antibacterial
• Obtains a subtle charcoal patina over time
Cons:
• Susceptible to dents and scratches
• More expensive than zinc
Metal Countertop Sizes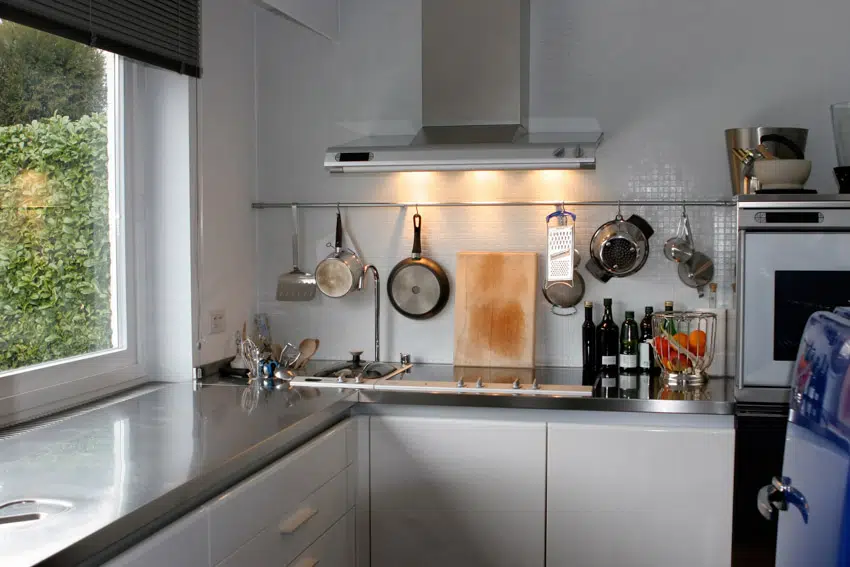 There are no specifications for full metal countertop measurements, unlike kitchen base and wall cabinetry. A metal kitchen countertop's most typical width is 25 inches, with width referencing how deep the countertop is from front to rear.
Since this is quite a frequent kitchen surface width, various manufacturers offer countertops by the linear foot, or per foot of length on a countertop with 25 inches.
For certain manufacturers and models, the 25-inch width is actually 25 1/2-inch wide or a quarter of an inch more. Some of these countertops will fit over a base cabinet with a depth of 24 inches.
If a small difference in size matters to you, review the small print or product description to find out the accurate size. You might also carry a tape measure with you when you go shopping for metal countertops.
Furthermore, metal countertops are differentiated by the feature that they are not put in huge slabs. Meaning, you will not obtain a large slab of material as you would with granite, quartz, marble, or stone countertops
Alternatively, you will receive a metal panel that will be twisted, welded, soldered, and shaped to fit your kitchen area. Having said all that, the precise thickness of your countertop edges is entirely up to you.
The metal will be produced and secured to hardwood or a higher-gauge (lower grade) stainless steel that will not be visible. Furthermore, the edges may be twisted and modified to provide the appropriate edge profile.
Purchasing prefabricated metal steel countertops is another alternative. These are more like tables of various sizes that could be used to expand your entire kitchen countertop surface.
Countertop Edge Styles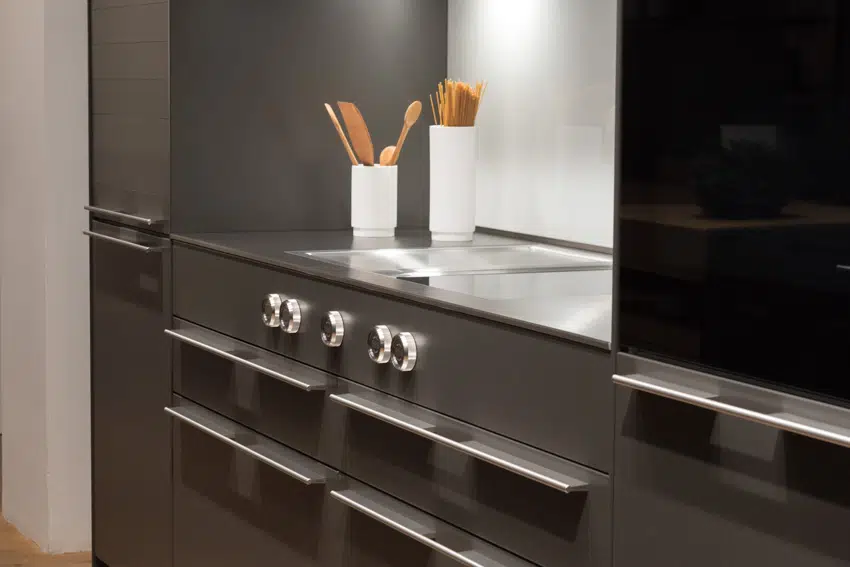 Metal countertops come in a plethora of edge types. Edges of softer metals, such as zinc and pewter, can be molded into personalized, beautiful motifs.
Certain metals are commonly bent into typical edge shapes including unwrapped, square, beveled, ogee, rounded bullnose, or half bullnose.
It should be noted that highly fine edges should be prevented while working with softer metals like pewter, copper, and zinc.
This is due to the ease with which they may be twisted or damaged out of form. Plus, they can be extremely sharp and might harm you. If designs are employed, broad designs are preferable.
Kitchen Countertop Edge Profiles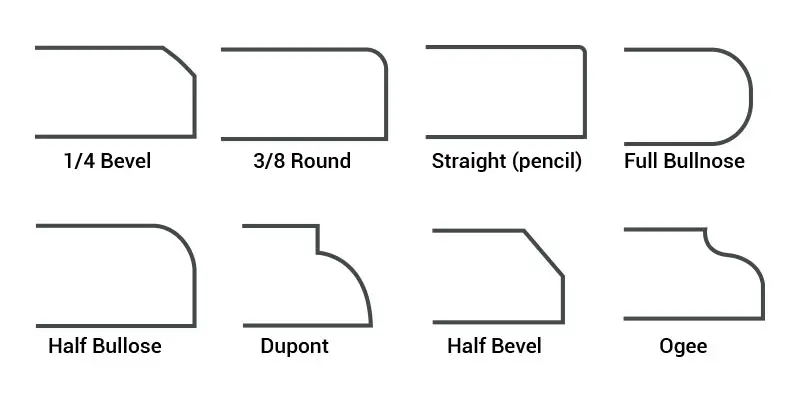 However, here are some of the different edge profiles you might apply on your metal countertops:
Round Bullnose Edge Profile: A complete round bullnose style bends all the way around, making it one of the simplest designs for countertop edges you will find.
It is a terrific contemporary design that keeps things secure if you have youngsters, although this edge is difficult to clean. Crumbs will frequently slip below the kitchen countertop if you try to clean them off this edge profile because of the lowered angle.
Nevertheless, due to its efficiency and family protection, a round bullnose edge is still quite popular for countertops all around the world. It is indeed one of the most popular alternatives.
Square Edge Profile: If a rounded or smoothed edge is just not your style, you can choose a square edge profile alternatively.
Square edges complement almost any kind of home, particularly those trendy designs. Square edges are less expensive, easier to maintain clean, and less prone to absorb damage than rounded or smoothed edges.
The issue with these edge profiles is that they are quite unsafe if you have youngsters since they have merely sharp corners waiting to be run into.
Additionally, some individuals do not like these edges since they believe their designs are too minimalistic, although minimalism has been popular for decades and does not really appear to be going away anytime soon.
Beveled Edge Profile: A beveled edge profile is one of the most elegant top countertop edge layouts, and it may appear modern or traditional depending on the design aesthetic of your kitchen.
Beveled edges are a terrific all-around countertop edge type as they bring a contemporary twist on the straight edge.
Beveled edges on metal countertops will offer a trendy customized accent to your kitchen ambiance. These edges are quick to clean, and spills will fall directly onto the ground instead of soaking into your cabinets, which is a wonderful bonus.
The major drawback of these edge profiles is that they are not quite safe for youngsters. The edges are quite sharp and might hurt children if they collide with them while playing.
Some individuals argue that these edges are unappealing, but we believe that this is a matter of personal preference. Actually, these edges are rather elegant. The 45-degree angle has a distinct look.
Half Bullnose Edge Profile: A half bullnose edge is simply a slightly rounded edge that slopes downward to produce a vertical line that runs directly to the ground.
This implies that the countertop is uncomplicated to maintain and wash off, and spillages, such as water, are easier to clean up. The major disadvantage is that they are not as child-safe as a countertop with a full rounded edge profile.
Whereas a half bullnose edge is not the most exquisite design, its minimalism makes it a great choice. If you want to make your countertop clean and uncluttered, this is a great edge profile to use. Nevertheless, if you value elegance and luxury, this edge will detract from the overall look.
Ogee Edge Profile: An ogee edge is an S-shaped structure connected with grandeur and richness. If you've ever stayed in a premium hotel or visited a high-end casino, you've probably seen one.
Ogee edges are normally safe around little children, but they are challenging to clean. Aside from that, they might seem a bit too complex if used throughout your kitchen.
There are several sorts of ogee edges, and this structure may be very luxurious when carved into your countertop.
When done correctly, these margins may dramatically improve the aesthetic of a space. When done incorrectly, they might appear unpleasant and out of place.
Metal Countertop Finishes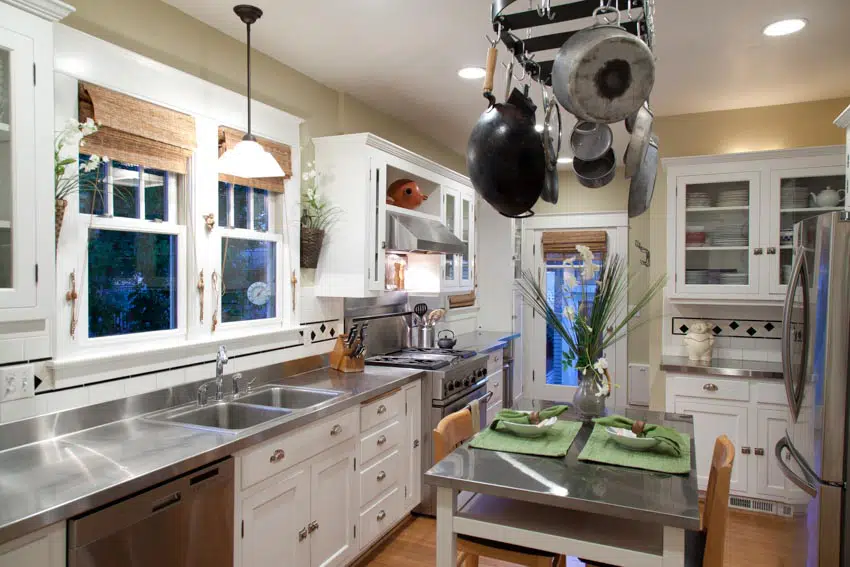 Metal countertops give a long-lasting, durable, and cold-to-the-touch surface. Several metals allow for a variety of treatments, as well as satin polish, mirror finish, brushed, vintage matte, hammered, many more.
For a more customized touch, special ornamental patterns can even be engraved into the surface of the metal.
To minimize color and patina transformation over time, you can add a powerful wax or sealant to your metal countertops. Several individuals, on the other hand, appreciate this shift in hue and shine because it can give their home an authentic, earthy, and energizing vibe.
In reality, when metals like copper and pewter are utilized in the kitchen, they are referred to as "living" components as they are very often changing.
Countertop Cost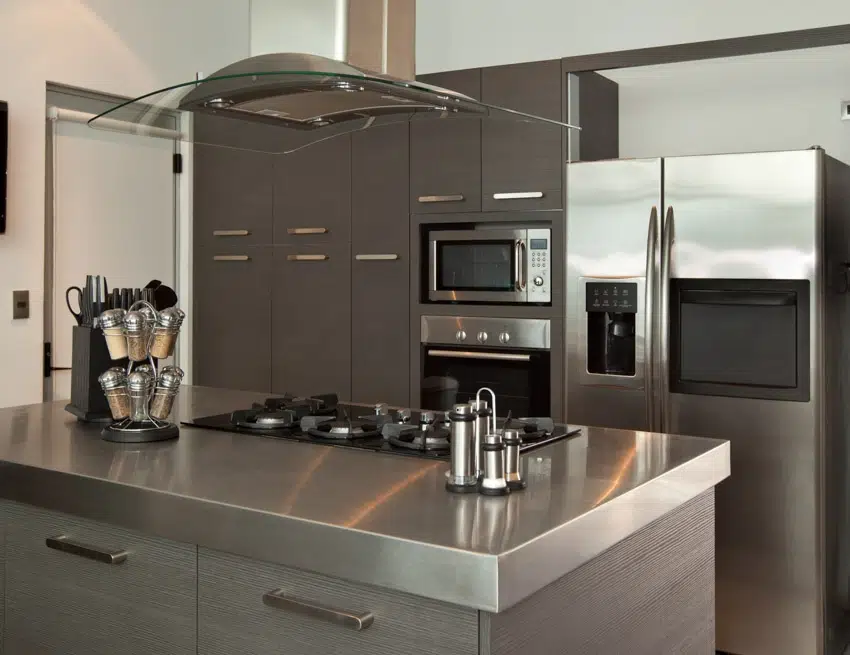 The price of your metal countertops will be determined by a variety of factors. Moreover, of course, the most important component will be the metal you select.
Using an online cost calculator might be beneficial in this situation. Simply select the material you want to use, followed by your installation options, to receive an immediate price.
To give you an estimate, you should anticipate paying $75 to $150 per square foot on average, yet prices might reach $250 or above per square foot.
This, nevertheless, is for fixed metal countertops. Prefabricated stainless steel countertops, tables, and islands are widely accessible and may be acquired for considerably cheaper and easily installed in your kitchen.
These are the factors that may influence the cost of your metal countertop:
• Type of metal selection, as well as metal gauge
• The type of sealant or finish you will choose
• Dimensions of the metal countertop and its space
• Customized shapes and sink adjustments
• Adjustments of islands, seams, backsplashes, faucets, seams, and edge profiles
• The method of installation
Cleaning and Maintaining Countertops Made Of Metal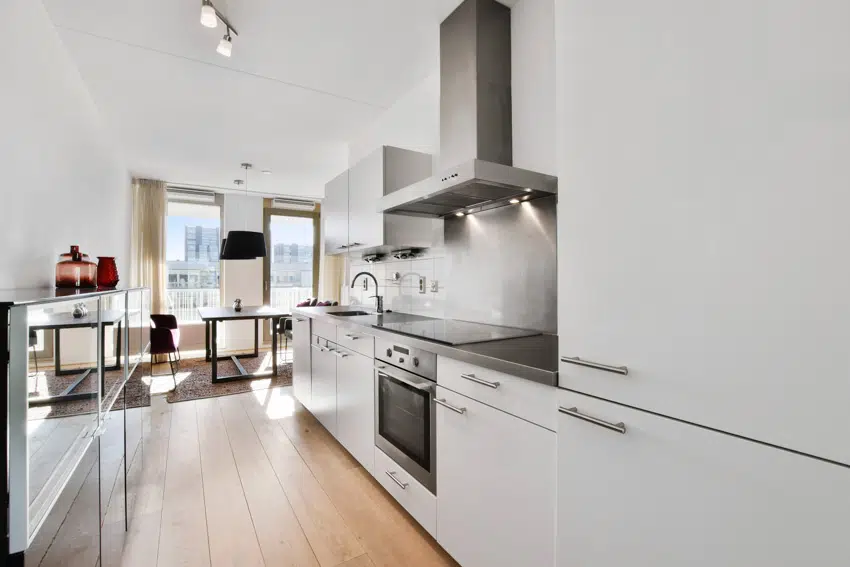 One of the finest aspects of metal countertops is their ease of cleaning and maintenance. The majority of the time, no harsh chemically-based agents or cleaning instruments are required.
In actuality, it is suggested that you avoid using harsh and abrasive equipment and materials on metal since they might scrape and ruin the surface inadvertently.
However, acid etching would be a stumbling block. Acidic meals and beverages may erode metal, destroying the natural patina and leaving patches that appear to have discolored the surface.
The patina will be removed using acids. If you want to achieve a vintage patina effect, you must avoid installing a metal countertop in your meal-prepping area.
Chemical-based cleaners must be avoided at all costs. Nonetheless, if you have a difficult-to-clean place, you can softly scrape it with a sponge dipped in salt and warm water. You can also use the effective combination of baking soda and vinegar.
The biggest challenge with metal maintenance is keeping the finish. If you want to keep your metal countertops looking new, you'll need to clean the patina routinely or add a protective layer. Because various metals "mature" at various paces, the frequency with which you perform this will vary depending on the metal on your countertops.
Cleaning to erase the patina will often include the use of an acidic substance, typically lemon juice or vinegar. Cleaning solutions are readily accessible as well, but if you wish to minimize the usage of chemicals, you may do it organically.
Another thing to keep in mind is that age spots will appear on your metal over time. This is nothing to be concerned about as numerous homeowners prefer it.
It's generally a worn-out patch on the section of your metal counters where you spend the majority of your kitchen activities such as cutting, slicing, pot-setting, and so on. See more related content in our article about bamboo countertops on this page.