Here we share our marble countertop alternatives guide, including quartz, quartzite, porcelain tile, granite, cultured marble, dolomite, and glass.
Marble is one of the most popular countertops you can install in your kitchen. It is a material favored by many homeowners because of its elegant, sleek, and minimalist look that can be used in different styles and trends, from traditional to modern interior designs.

Quicklist – Marble Countertop Alternatives
Quartz
Quartzite
Porcelain tile
Granite
Cultured marble
Dolomite
Glass.
Why Choose a Marble Countertop Alternative
Despite the different advantages you can benefit from a marble countertop, there are many reasons why it might not be an ideal option for some homeowners. Some of these are the following:
• Expensive: While the cost of this natural stone depends on the quality and rarity of the type you've chosen, it's not a budget-friendly option.
It can be costly for you if you're looking for unique colors and vein patterns. More common types, like gray Carrara marble, can cost around $45 to $80 per square foot, but the rare type Calacatta is more expensive than that.
Bright white Calacatta can cost around $180 per square foot, while black with gold veins can cost as much as $300 per square foot. This means an average marble countertop can set you back $3,000, but a high-end one can reach as much as $10,000.
• High maintenance: Marble countertops need to be sealed before installation and every 6 to 12 months after that because of how porous the material is.
The frequency of sealing depends on the type of marble countertops and how heavy the countertops are used.
If the countertops are not sealed, they have a higher chance of getting stained. And with an extensively used marble countertop, a silicon sheet should be installed to lengthen its lifespan and maintain its honed or polished surface.
All of these maintenance needs can be both exhausting and costly to do. You might as well choose a countertop that can last long without meticulous maintenance.
• Durability issues: Marble is a porous stone, and while it may be heat-resistant, the material should be handled carefully.
It is more porous compared to quartz and granite. It can easily react negatively when in contact with aggressive cleaning solutions and other acidic liquids, from simple orange juice to strong vinegar.
Even when sealed, the material also easily stuns and scratches, so you have to be careful when handling sharp objects like chopping. And when water is left too long on the surface, it will leave a nasty permanent stain you don't want your countertop to have.
If you don't want to deal with all of these durability issues, marble countertops may not be your ideal choice.
Marble countertops may be a great option for many homeowners, but if you're one of the people who are not that fond of marble, there are many alternatives you can look into.

Quartz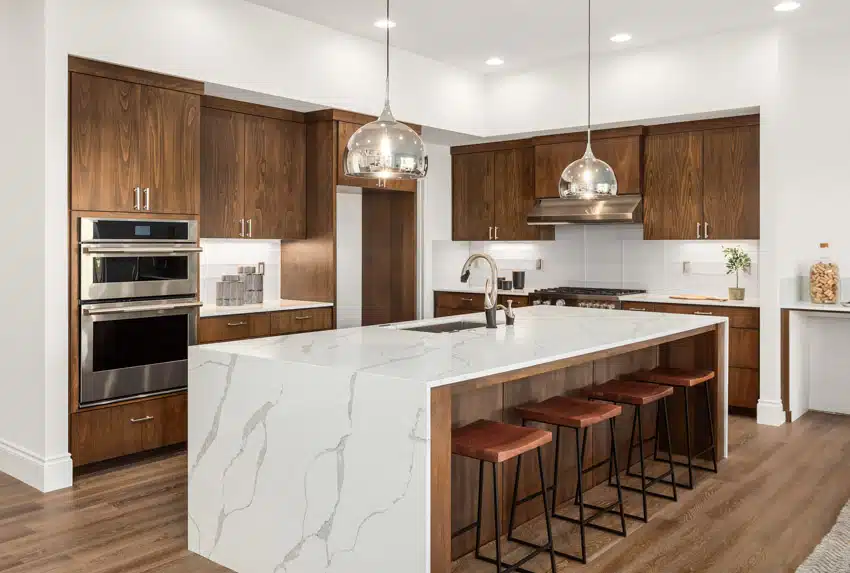 Quartz is one of the best alternatives if you dislike marble countertops. Popular for its wide variety of colors, it has produced some popular gemstones like onyx, amethyst, and rose quartz that it's worth considering.
As a material for kitchen countertops, quartz has many advantages over marble. Some of these are the following:
• More durable: Quartz is more durable than marble since it's non-porous though it's also less heat-resistant. When choosing quartz over marble, you just need to make sure that you don't place a hot plate on the surface. Compared to marble, quartz does not easily scratch so you won't have to worry about handling sharp objects while near the countertop.
• Stunning aesthetics: Quartz is a stunning material to add to your home's aesthetics and visual value. Since it's an engineered stone though, it requires high processing levels that can harm the environment.
• Low maintenance: Being a non-porous material, quartz countertops don't need to be sealed before and even after installation. Quartz comes in higher prices though and on average can cost $60 to $200 per square foot, higher than marble prices.
• Anti-microbial: Quartz can be a perfect kitchen countertop since you won't have to worry about harmful bacteria and germs sticking on the surface and seeping through the material since it's non-porous.
• Wide selection: If you're looking for more options to explore, quartz has a wide variety of types you can look into that may look like marble but are more durable and anti-microbial.
Calacatta Botanica Quartz: This type of quartz features a milky white backdrop scattered with dark gray veins. If you want a more trendy and dramatic look, this is a good consideration. It's not an ideal choice for homeowners looking for the marble's subtle visual.
Calacatta Nuvo: This quartz is a popular alternative for many marble enthusiast homeowners, with its white background and wide gray veins. It easily mimics Calacatta marble but with its high cost and less durability.
Misty Carrara: Ideal for open and bright spaces like the kitchen, Misty Carrara is a type of quartz that is quite similar in appearance to Calacatta Nuvo but a lot cleaner, smoother, and less dramatic.
Cambria Brittanicca Quartz: Featuring a creamy marbled white background, this type of quartz shows intertwining gray veins with charcoal specks.
The bold movement of the veins makes the Cambria Brittanica quartz iconic in its own right, adding depth and texture to the countertop's dimensions and aesthetics. It is a good material for a bookmatched countertop, so this quartz can be a good alternative for a marble countertop.
Silestone Helix: This subtle white quartz feature soft and light gray veins that will be the perfect alternative if you're going for the subtle look of a marble countertop. The veins somehow fade into the white background, making a great backdrop for the entire kitchen.
Alabaster White: Mimicking the look of elegant Calcutta Vendetta marble, this type of quartz showcases a beautiful pale white background along with long gray veins.
Cashmere Carrara: This quartz looks similar to Carrara marble, featuring a lavish and elegant surface decorated with subtle veins.
Quartzite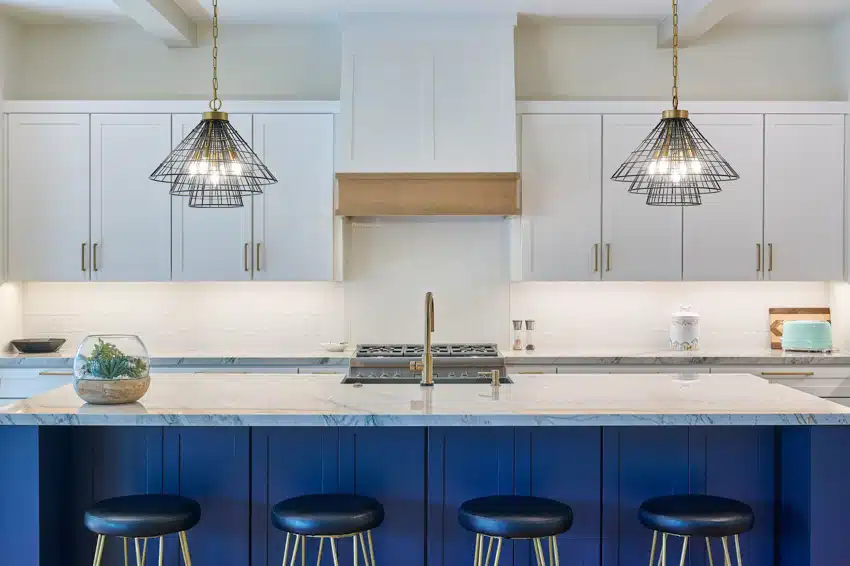 Another marble alternative to looking into is quartzite, a natural compound that offers a subtle sheen and luxurious vibe to any space it's installed in.
It combines sedimentary dolomite and limestone rock, creating unique patterns for each quartzite slab. Here are some of the advantages you can look forward to with a quartzite countertop:
• Very similar look to marble: Quartzite has this crisp brightness that looks similar to marble so if you're after that elegant and sophisticated look, this is a good alternative to consider. Like marble, too though, it is porous and so would require sealing before installation and regular sealing after that.
• Wide selection of colors: And depending on the origin of the quartzite, it can come in unique colors and vibrant shades. These colors result from all the impurities trapped inside the material.
• Extremely durable: Quartzite is cemented through intense heat and pressure, making it incredibly durable. While the edges are prone to chipping and other damages, the material is UV-resistant and so would work well as a countertop in an outdoor kitchen.
White Crystal: This quartzite, originating from Brazil, features a white-gray background with notable brown veins. It is a good marble alternative if you're dealing with a traditional or contemporary-style kitchen.
Crystal Ice: Another Brazil quartzite, Crystal Ice is the ideal option for homeowners who love marble but somehow want something different. It is popular for its cool soft gray background and contrasting white veins.
Dolce De Vita: Popularly quarried in Italy, Dolce De Vita has this appearance that looks similar to marble when from a far vantage point. It offers this yellow-orange glow made possible because of the ivory, peach, and gray swirls on the surface.
Fantasy Macaubas: This Brazilian quartzite features either an ivory or soft gray background paired with either white and charcoal veins or brown and light green veins arranged randomly on the surface. If you like marble, but you prefer something unique, this is a good option.
White Macaubas: Another Brazilian quartzite, this type showcases an off-white backdrop with a light ivory undertone and glaze. It also features linear thin gray veins, which can move stunningly across the slab, especially when turned into a countertop.
Porcelain Tile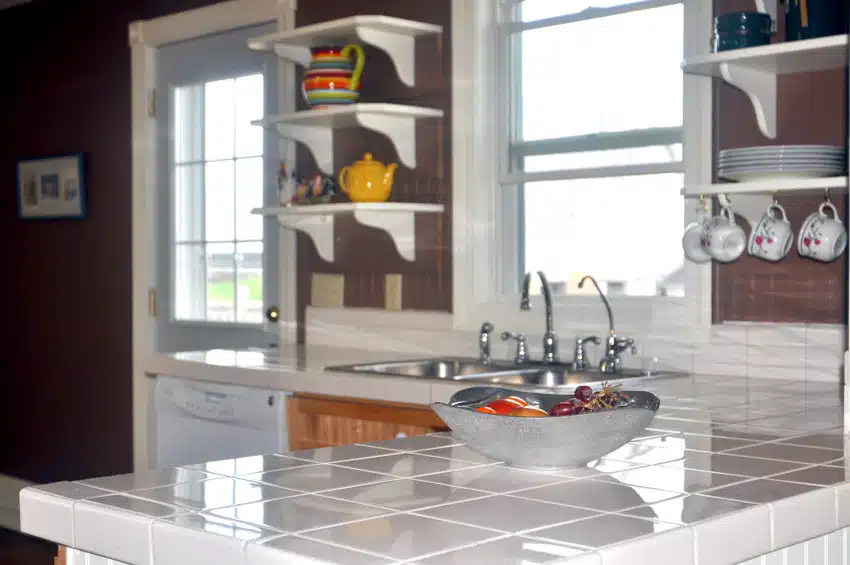 Porcelain is one of the most popular home materials, whether for flooring application or countertop installation. It is made from clay and minerals processed under pressure and heat. If you're considering choosing porcelain tile instead of marble, here are the benefits of this option.
• Durable: Porcelain is non-porous, so you won't have to worry about many things, including scratches and surface damage. The material is also bacteria-resistant and heat-resistant. The downside though is that they tend to be brittle when not taken care of.
• Similar aesthetics with marble: Porcelains come in a wide variety of colors and styles, and many of them are marble imitations.
• Low maintenance: Sine porcelain is non-porous, sealing is not required for the material, whether before the installation of the countertops or after, to keep it to its top quality. For the initial purchase, though, the tiles may come at high prices.
Granite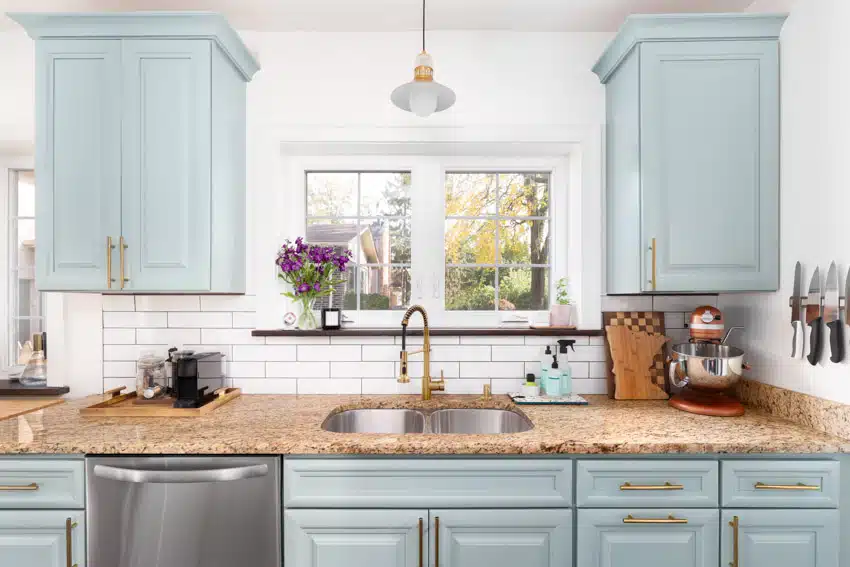 Recognized to be one of the best alternatives to marble countertops, granite is a natural stone that's become a favorite for many homeowners. This material is made of mica, quartz, and feldspar and delivers the following advantages you can benefit from:
• Extremely durable: Because of its natural formation under intense pressure, granite is one of the hardest and most durable natural stones you can consider for your countertop.
Despite being more, it is also more scratch-resistant and heat-resistant than marble. It might be why it also comes with high prices, around $60 to $175 per square foot.
• Eco-friendliness: Since it is a natural stone, granite is produced naturally, with less processing and engineering involved in its creation. This also means that fewer carbon emissions are needed for its production.
• Wide selection of colors: Granite can come in different colors, from standard dusty gray to unusual coral pink. And while aesthetic-wise, it will not be able to mimic the bright white backdrop of Calacatta marble countertops, it can produce a look similar to the gray Carrara marble.
If you're looking for a more natural alternative to marble, granite is the best. Besides having better durability, granite offers more eye-popping aesthetics that can elevate the look of your kitchen. If you want a durable countertop that can be mistaken for marble but still stands out on its own, this is a good option to explore.
Andromeda White: This Sri Lankan granite features a white backdrop that can come with gray wavy lines, tiny black dots, and even purple veins. If you're looking for a unique marble-like countertop, look into Andromeda White.
White Wave: Quarried in Brazil, this granite offers a dirty white backdrop paired with gray veins dancing across the surface. It looks similar to a gray marble countertop that has a matte finish.
Thunder White: Mimicking the look of white Carrara marble, this granite has a white backdrop with gray veins and black specs. You won't be able to differentiate Thunder White from White Carrara marble from afar and at first glance.
Bianco Romano: Quarried from Brazil, this quartzite has this "pearl effect" that makes it look very similar to marble. This striking icy stone is predominantly white, with cream and gray streaks, tan veins, and burgundy flecks.
The pearl effect makes it similar to marble but its detailed pattern makes it unique and easily stand out. The drawback with this granite is that it easily stains and may need a strong sealer.
Venus: This Indian granite is one of the most affordable marble alternatives, costing only around $35 per square foot. It has a predominantly gray and white background paired with yellow and green tones.
Cultured Marble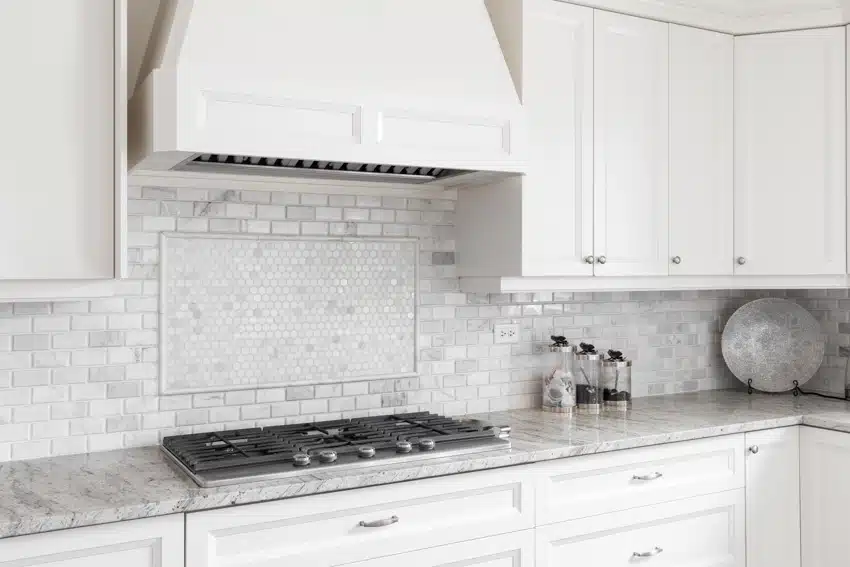 This faux marble is made of natural marble dust and liquid polyester resin and is a popular alternative for an authentic marble countertop. Here are some of the pros of getting a cultured marble countertop for your kitchen:
• Durable: Marble is popular for not being that durable because of its porous nature. Cultured marble takes out that factor, so what you get is a non-porous surface that's resistant to both stains and damage. While it may still be prone to scratching, chipping, and damage from excessive heat, it can last long with proper care and maintenance.
• Wide variety of colors and styles: Considering it is a manufactured material, colors, and styles available are abundant, and many have a similar appearance to natural marble. The downside is that it still lacks the natural appeal of authentic marble.
• Easy to clean and maintain: Cultured marble is non-porous, so you won't have to seal the material before or after installation. Cleaning is also quick and easy.
Dolomite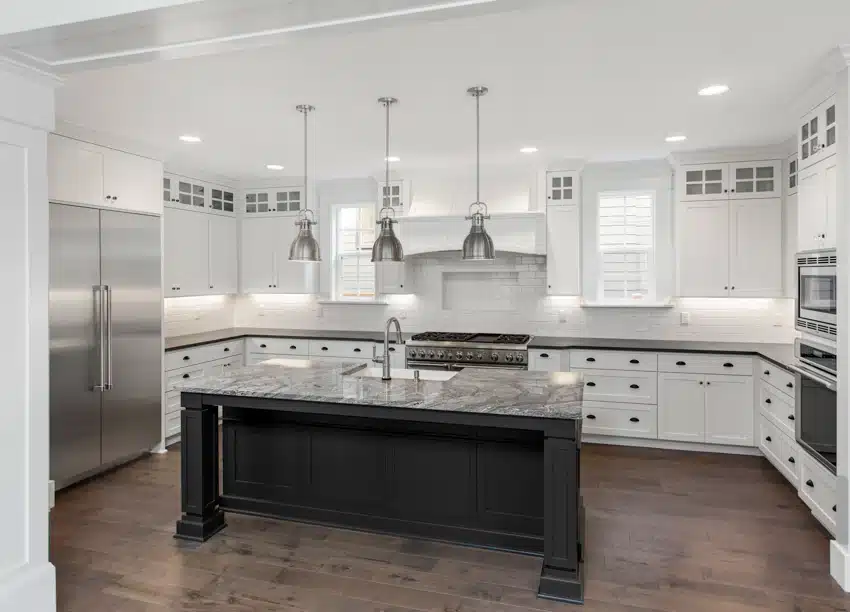 A sedimentary rock, dolomite combines lime mud and limestone, along with groundwater and magnesium. Feature a similar composition to limestone; the dolomite rock can be cut and used for a countertop. This can be another alternative to marble, and here are the possible benefits of dolomite countertops you can watch out for:
• Resistant to heat and pressure: More durable than marble, dolomite is harder, resistant to wear and tear, and can last longer but is also prone to scratches and etching.
• Wide selection of colors: If you're looking for unique colors, dolomite can also come in green, brown, black, and even pink.
• Unique aesthetics: Resembling marble, dolomite has this gray and white shade with stunning streaks that can look wonderful on a countertop.
• More affordable: Dolomite comes at more affordable prices than marble, quartz, and granite. Similar to marble, though, it requires regular sealing to keep its quality.
Glass Countertops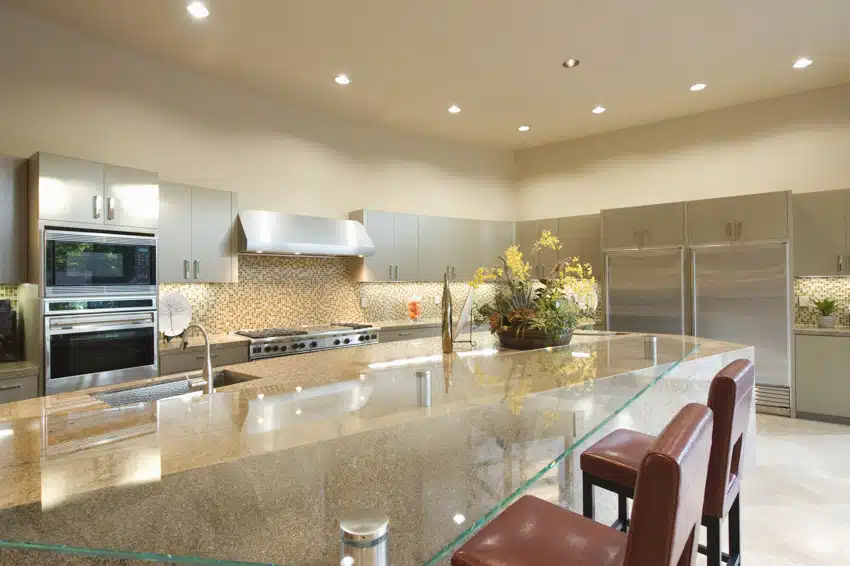 For more elegance and a modern look than marble can provide, glass countertops will achieve those stunning aesthetics for you. Homeowners are starting to consider glass as a favorable material at home because of these advantages:
• Equally durable: Glass countertops are resistant to heat, stains, and scratches, which can pretty much compete against other countertop materials like granite, quartz, and marble.
• Stunning aesthetics: Whether it's textured, colored, or translucent, glass countertops have this luxurious feel to them, where they easily stand out and can be a big statement piece in your kitchen. They also offer an airy, light look that can make a small kitchen look more prominent.
• Highly customizable: Glass kitchen countertops can be custom-designed based on your specifications. If you want your countertops to harmonize with your kitchen, you only have to tell the supplier.
Glass countertops may be a bit far from marble countertops, but they are worth considering as alternatives if you're going for an elevated look in your modern kitchen.
Solid Surface Countertops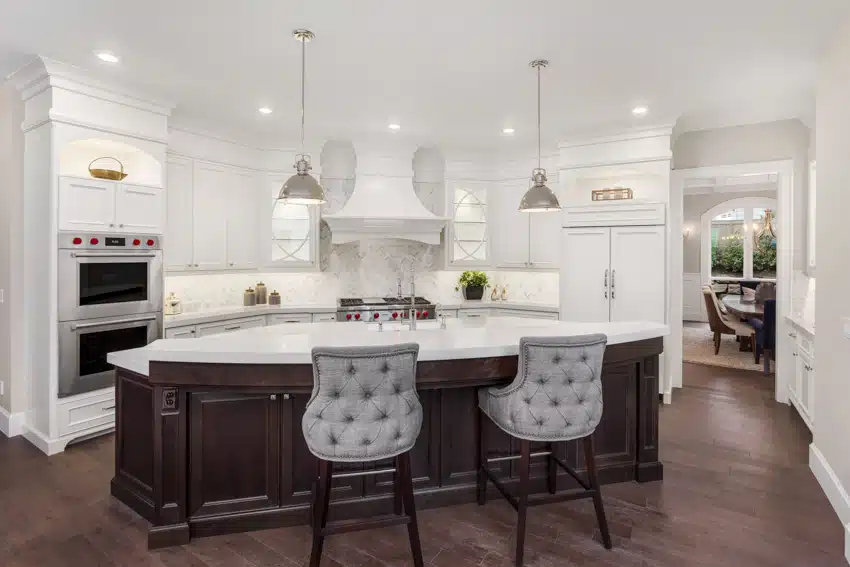 Another marble alternative you could look into for your countertop is a solid surface. It's a composite made of resin, polyester, acrylic, and mineral dust to mimic the look of natural stone. Here are some of the benefits of choosing this countertop.
• Highly durable: Since solid surfaces are non-porous, they are incredibly durable and resistant to stains and bacteria. They also do not require sealing, making them a good and cost-effective option for countertops.
• Can be customized: Solid surfaces are made of synthetic materials and can easily be designed in whatever shape you want them to be.
• Wide variety of patterns and colors: These synthetic composites are man-made and can be constructed in whatever colors and patterns you wish them to have. This also makes it possible for the solid surface countertops to look similar to marble.
What Stone Looks Most Like Marble?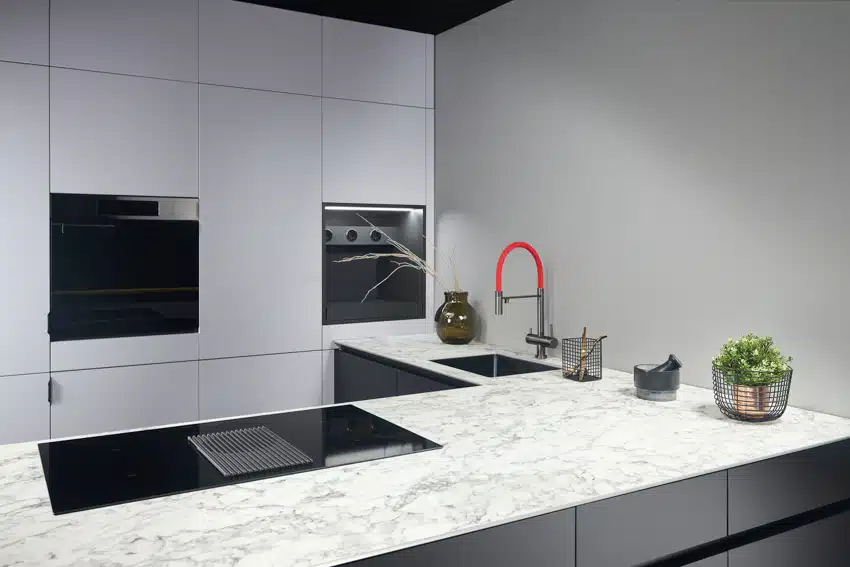 White quartz can be considered the stone that looks the closest to marble, and the material has become more popular in recent years.
White quartz countertops feature stunning movement and veining but, at the same time, require less maintenance. This might not be a good option for outdoor kitchens, though, because prolonged exposure to UV light can lead to permanent damage.
See more related content in our article about green marble countertops on this page.