Welcome to our Caesarstone quartz countertops design guide including what it is, cost, popular colors, styles & finishes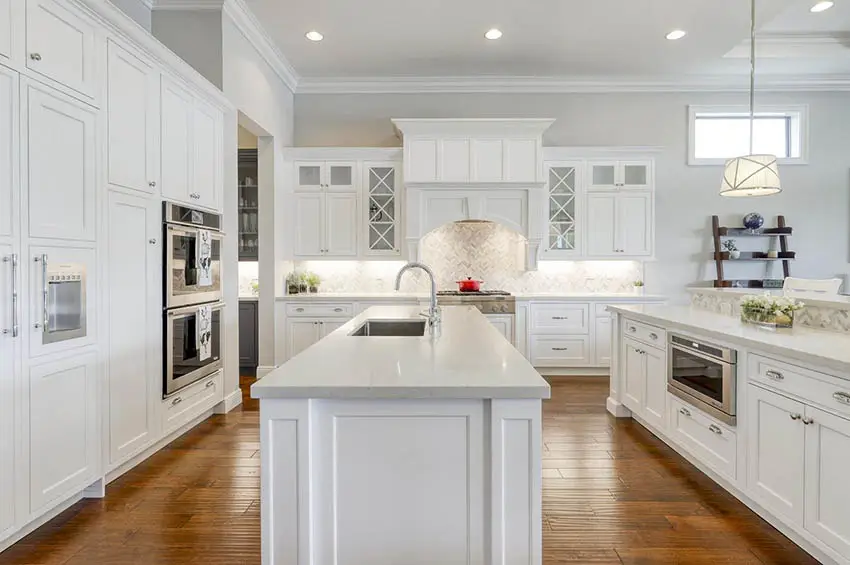 Caesarstone is the name of a popular brand of quartz countertop material. It is popular for use in kitchens and bathrooms, but can also be used as wall cladding, decorative tiling, or a backsplash. It can also be used for service counters, tables and desktops, and even elevator cab walls. It is appropriate to use in any space, be it residential, industrial, or commercial.
What Is Caesarstone?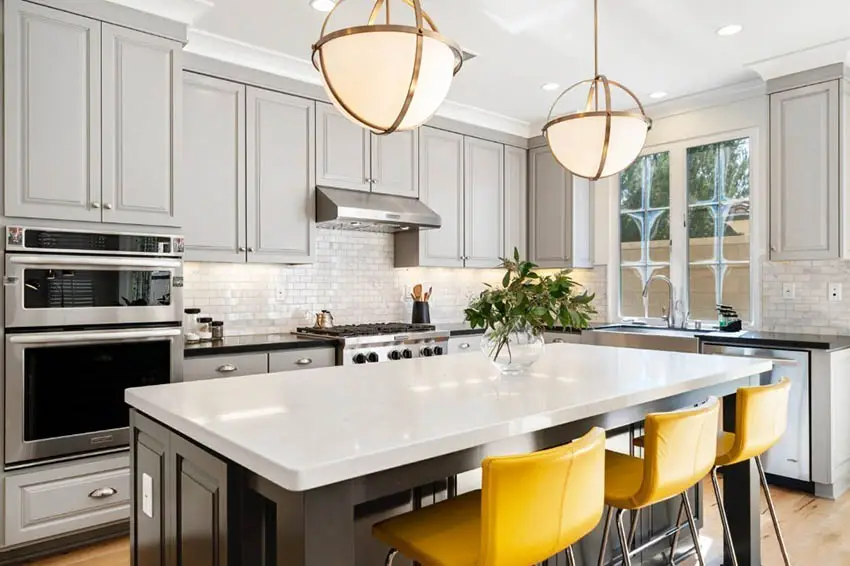 Up to 93% of Caesarstone brand slabs are crushed quartz. Quartz is an abundant, naturally occurring mineral. Quartz deposits are the result of volcanic activity. It is an igneous rock, meaning that superheated rock (either above or below ground) crystallized as it cooled. The crystalline structure of quartz is what gives it it's signature sparkle.
Caesarstone quartz countertops feature high impact resistance and flexural strength, outperforming both marble and granite. Impact resistance is a measurement of how well a given material can stand up to a quick burst of shock or impact.
Flexural strength is a measurement of a material's ability to withstand pressure before bending. It's also harder and more scratch-resistant than similar natural materials like granite and marble.
One benefit of Caesarstone's excellent durability and strength is that it is possible to use larger pieces, showing fewer joints. If the weight the cabinets can support is limited, it may be possible to use a thinner slab without compromising construction quality.
Perhaps the most obvious reason to choose Caesarstone is its performance after installation. Because Caesarstone is made of crushed quartz and bound together with a high-quality polymer resin, it is non-porous and requires virtually no maintenance. Compared with granite, which needs annual resealing, or marble, which can absorb water, Caesarstone is the obvious choice.
Caesarstone Colors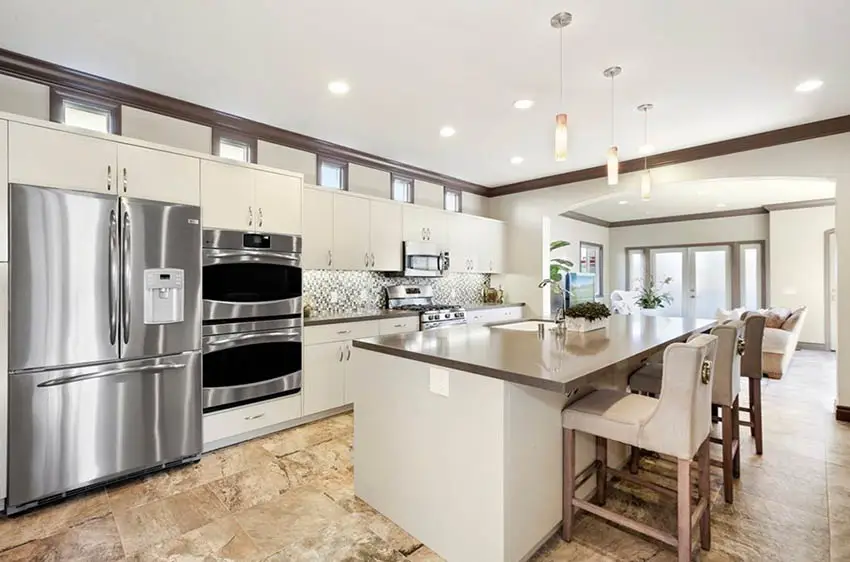 Casesarstone is constantly updating its catalogue with new colors and styles. Samples can be shipped to your home, so you can get a clear picture of how they will work with the rest of your decor, and what the sunlight or artificial light in your space will add to the appearance of your countertops.
Full slabs can also be viewed in stores. Unlike marble, which can only be matched with marble from the same vein, quarried at around the same time, Caesarstone colors are highly consistent from slab to slab. Caesarstone currently offers six distinct collections of colors.
While other quartz countertop brands offer only indoor options, Caesarstone has broken new ground with their new, weatherproof outdoor collection, appropriately named Solaris. Solaris countertops are guaranteed not to fade or distort in sunlight, and can withstand rain, wind, and even snow or ice. They are perfect for outdoor kitchens, poolside tables or bars, and patio furniture. Colors from this collection include Palm Grey, Midday, and Clearskies.
Another groundbreaking collection from Caesarstone is the Transfrom line of countertop slabs. This process overlays a thin (13mm) layer of Caesarstone over your existing countertops, be they tile, laminate, concrete, butcher block, granite, or even stainless steel. This process takes just hours to complete and avoids the time, headache, and cost of a complete kitchen tear out. They share all the benefits of regular Caesarstone quartz countertops and have a lifetime limited warranty.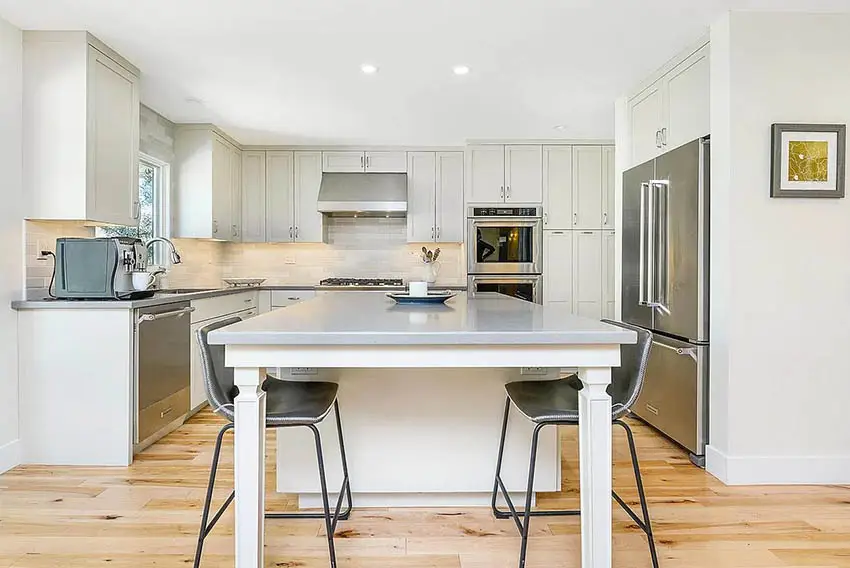 The Metropolitan collection features industrial-themed colors, including a rusted metal color called Oxidian, a white surface with contrasting black flecks named Frozen Terra, and a Black Tempal, which brings to mind a newly erased chalkboard.
The collection is rounded out by several different customization of concrete colored countertops, including Rugged Concrete, Topus Concrete, Sleek Concrete, Raw Concrete, Cloudburst Concrete, Fresh Concrete, and Airy Concrete.
By far the most unique collection is Concetto, a masterpiece of extraordinary surfaces. The ten options available in this line are unlike anything ever seen in countertops before. They use individually cut semiprecious stones, inlaid in a quartz background, creating a touchable luxury finish to your bathroom or kitchen.
Some of the semi-precious stones are translucent, and the effects can be further enhanced by the use of backlighting.
Viola is a gorgeous deep purple marblesque color, while Profundo's blues look like shimmering stones under clear water.
The brown-tinted Sfumato, when backlit, comes alive with dancing fire-like light. Albero combines the sleek feel of Caesarstone with the look of petrified wood, and is guaranteed to spark conversation. Nebbia brings an ice-like appearance, while Legno, Fiero, and Sirena are made of up of semi-precious stone chips.
The Supernatural Collection bears the closest resemblance to marble, ranging from the unveined Vivid White and cream colored Dreamy Marfil, to the heavily veined grey Montblanc or Noble grey. This collection is perfectly suited to those who want the look of marble with out any of the drawbacks.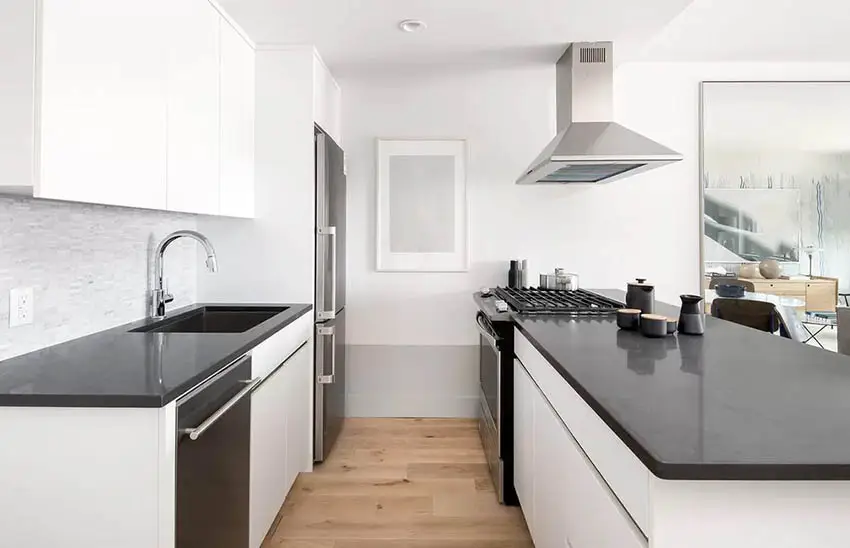 The Classico Collection is closer in resemblance to granite, with Atlantic Salt and Himalayan Moon being virtually indistinguishable from natural stone. Piatto Black is the purest, densest black available on the market. The other colors in this collection stick to neutral hues, mostly gray (Clamshell, Flannel Gray, Nougat, Pebble, and Raven) with a lovely brown color called Ginger rounding out the offerings. See more black quartz countertops here.
Caesarstone Finishes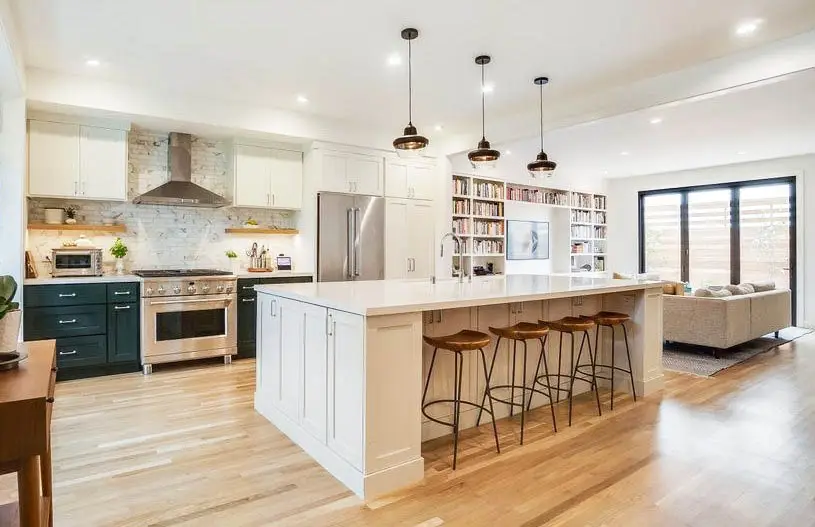 Caesarstone is currently offering five different finishes, each lending its own characteristics to the look and feel of the chosen color.
Natural – Natural finish has a gentle, light-reflecting sheen and a barely perceptible texture, giving it a soft and inviting appearance and touch.
Polished – Polished finish will reflect the most light and is the shiniest of all the finishes. It also has the smoothest texture, and is the standard, or most popular, finish offered by the brand.
Honed – Honed combines the smooth, imperceptible texture of Polished finish, but reflects less light, making it more comfortable and less formal.
Concrete – Concrete finish is lightly textured, more perceptible than Natural finish, and has very low light reflection.
Rough – Finally, Rough finish has the highest texture of all and extremely low light reflection, making it easy on both the eyes and the hands.
The Polished texture is the easiest to keep clean, as there is limited surface area available for smudges and fingerprints. Natural, Rough, Concrete, and Honed finish countertops can be cleaned in the same way, but may require more frequent cleaning to maintain their gorgeous appearance.
Caesarstone Cost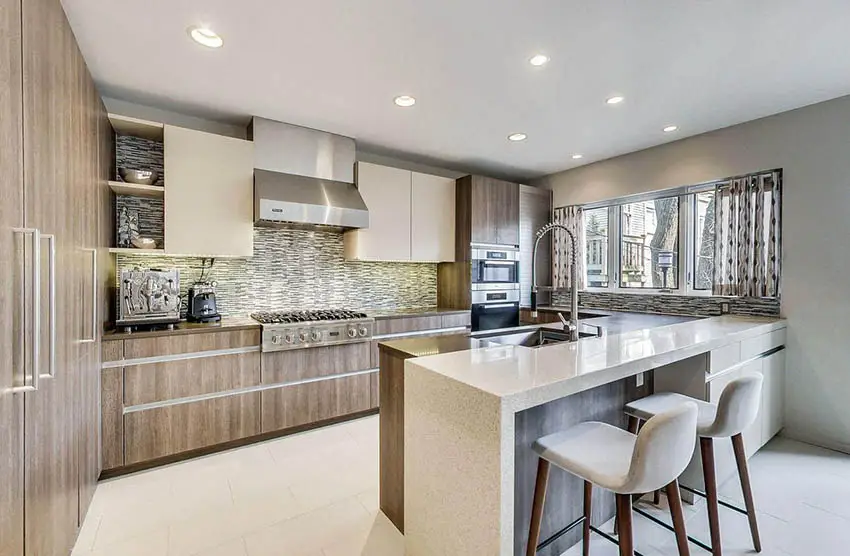 Caesarstone quartz countertops are highly customizable, with many colors and several finishes available. It is possible to customize the finish, using different finishes on specific edges. These customizations require a minimum amount ordered and require additional time to prepare and deliver. Plan to spend between $50-75 per square foot for materials alone. The cost of labor is estimated to be an additional $15-25 per square foot. An average countertop is about 50 square feet.
Is Caesarstone More Expensive Than Quartz?
Caesarstone is one of the best-known brands of quartz countertops. The price is comparable to other brands such as Silestone countertops. One factor that affects cost is whether the slabs are sourced domestically or if they need to be imported, so the cost of Caesarstone is dependent on where it's being installed.
Is Caesarstone More Expensive Than Granite?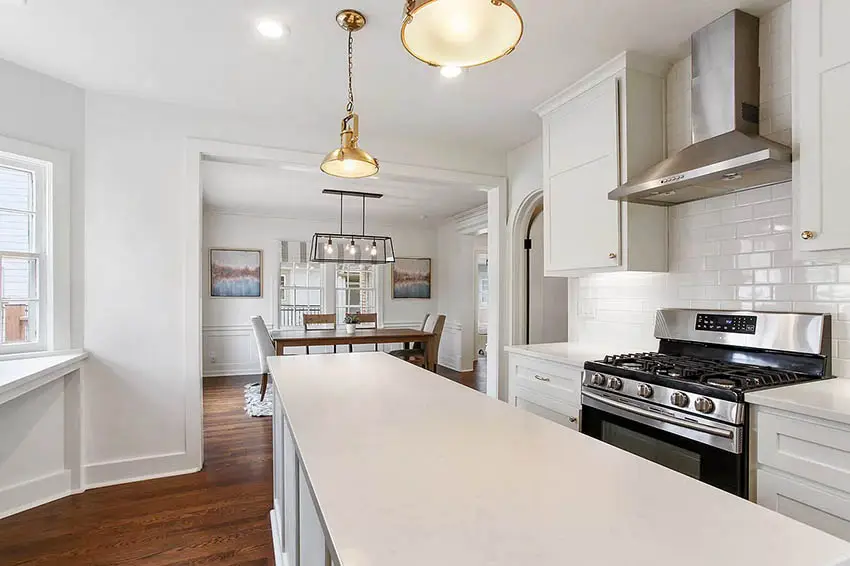 When calculating the cost of a countertop, it's important to look at the lifetime of the product. While the raw material of granite can usually be found for a cheaper price per foot, this price does not include maintenance over the life of the countertop.
Once installed, Caesarstone never needs to be resealed or polished and can withstand most regular kitchen spills without staining. Granite, on the other hand, needs to be resealed at least once per year. Granite is also much more likely to be scratched, scorched, or chipped, so future repair costs need to be considered. When repair and maintenance costs are added to the expected life of the material, Caesarstone often comes at a similar or even lower price than granite.
Caesarstone Slab Size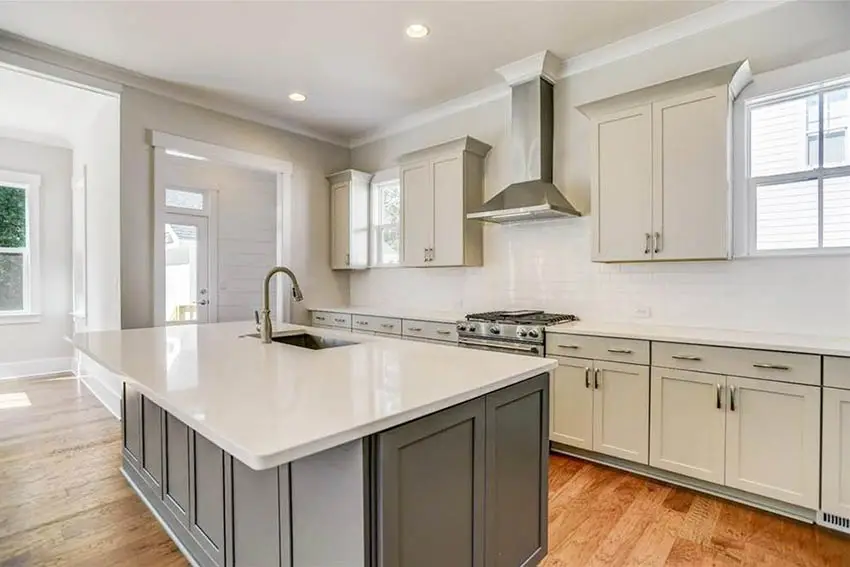 Caesarstone is formed into slabs and sold in two sizes. The standard slab is 120 inches (or 144cm) long and 56 ½ inches (305cm) wide. It is available in three thicknesses: 1.3cm, weighing 315lbs (143kg), 2cm, weighing 485lbs (220kg), and 3cm, which weighs in at 728lbs (3330 kg).
The jumbo slab is available only in select colors, and measures 131 ½ inches (334cm) by 64 ½ inches (163cm). It can be purchased in two thicknesses: 2cm or 3cm, which weigh 572lbs (259kg) and 852lbs (386kg), respectively. The underside of every slab is stamped with unique identifying information to prevent imitation and imprinted with a zigzag pattern to guide installation.
Caesarstone vs Quartz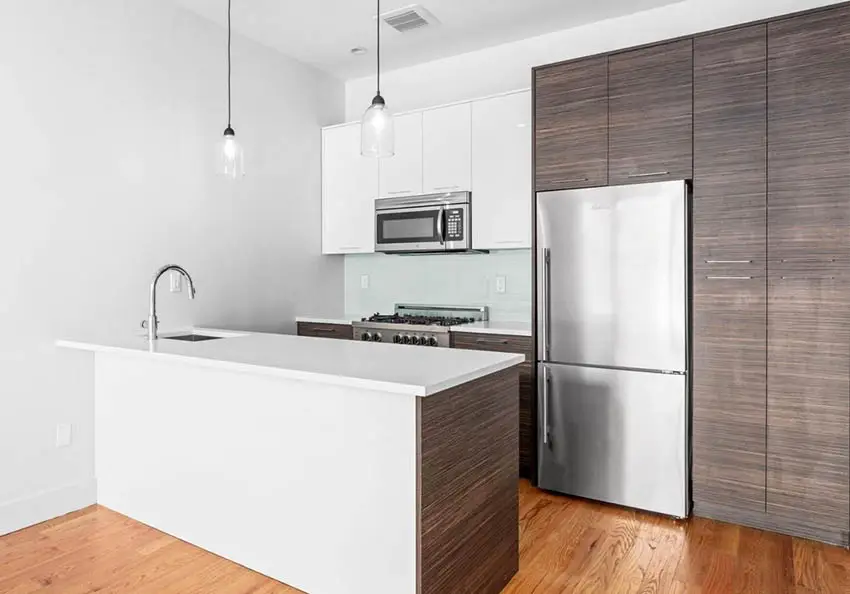 The main difference between caesarstone and quartz is that quartz is the raw material that forms the basis of Caesarstone. Quartz is a natural mineral that is quarried out of the ground in slabs.
Caesarstone engineered quartz countertops are a man made material that is composed of quarried quartz, which is then crushed and combined with polymer resins and pigments. Vacuum, pressure, and intense vibrations are used to compact the raw material into dense, non-porous slabs.
Types of Caesarstone Quartz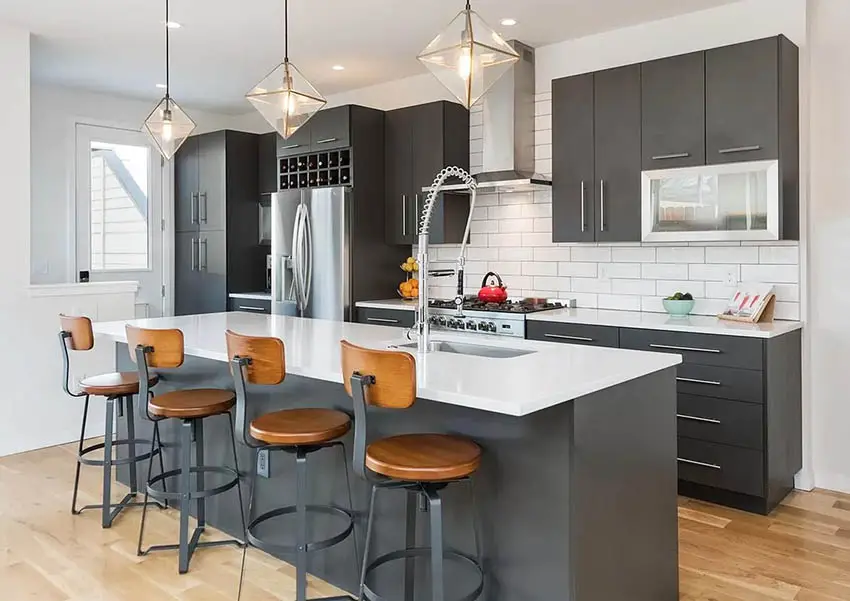 Caesarstone Calacatta Nuvo showcases primarily off-white or eggshell color, with thick, long, threadlike veins of dark grey running through it.
Caesarstone Rugged Concrete has been one of the most popular colors of Caesarstone since its introduction to the catalog in 2017. Rugged, yet refined, it comes with a rough finish, designed to match the subtle imperfections present in industrial materials. It retains the natural variations present in true concrete, showing depth and movement, and each slab is unique.
A creamy grey main color is offset by swirls of white and darker grey, inviting deep contemplation and bringing a grounded effect to the space. It is a favorite of customers who crave the look of a concrete countertop, but can't be bothered with the maintenance requirements.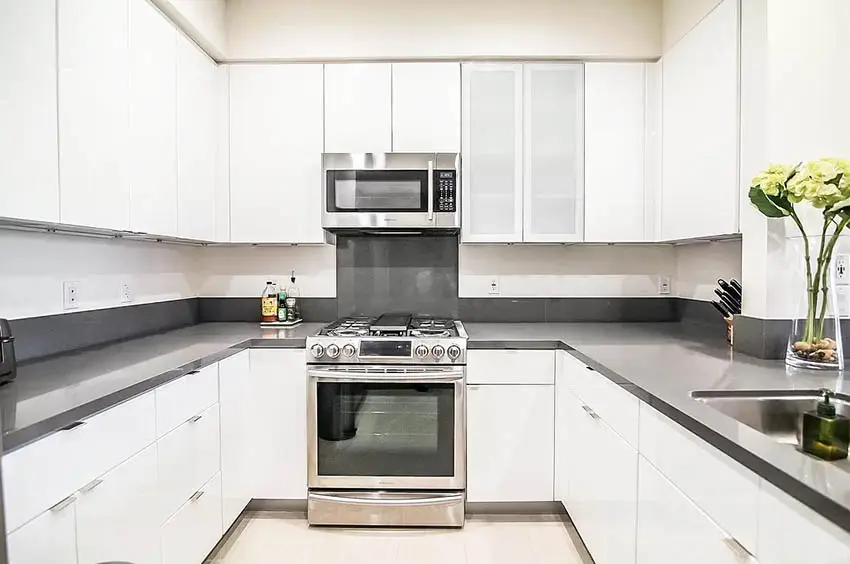 Caesarstone Frosty Carrina is off-white with extremely light threads of grey running through it. It has the appearance of marble, but unlike marble, it can be perfectly matched from batch to batch, should you decide to expand your countertop space in the future.
Caesarstone Pure White lives up to its name, with color as pure as freshly bleached and starched cotton sheets It is the whitest quartz countertop available on the market. A Caesarstone Pure White countertop imbues the space with cleanliness and calm and is a stunning, understated choice for kitchens and bathrooms. It complements both classic and contemporary design, and shines in minimalist environments.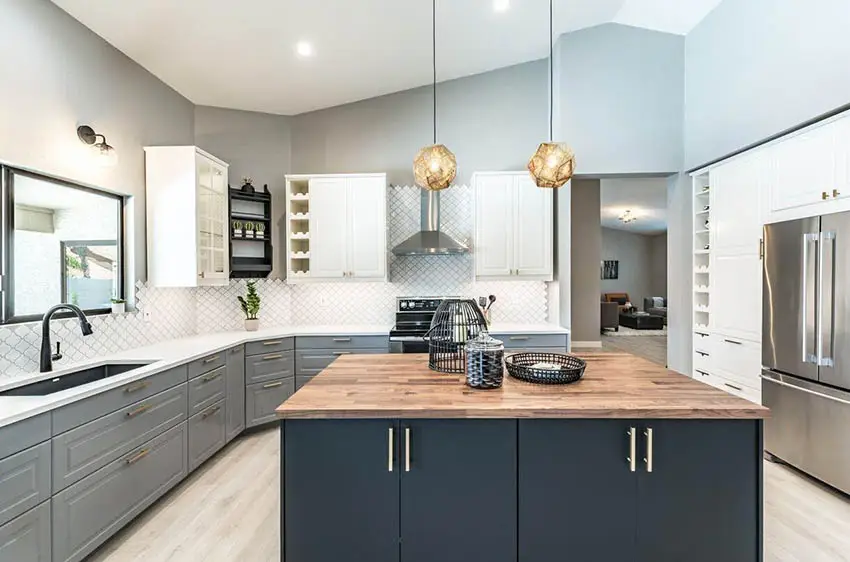 Caesarstone Blizzard, part of the original Classico Collection, is evenly flecked with tiny grey spots like so many swirling snowflakes. At first glance, it may appear to be pure white, but upon closer inspection, the vision blurs and reveals a static-like pattern reminiscent of a low-visibility winter storm. Contrary to the name, it is a warm-looking color that gives your kitchen or bathroom a freshly polished look.
Caesarstone London Grey has an off-white background, streaked with subtle, light grey veining. The veining is only visible from a close distance. From further away the grey and off-white colors swirl together, evoking visions of London in the fog. It's stunning when paired with white cabinetry.
How To Clean Caesarstone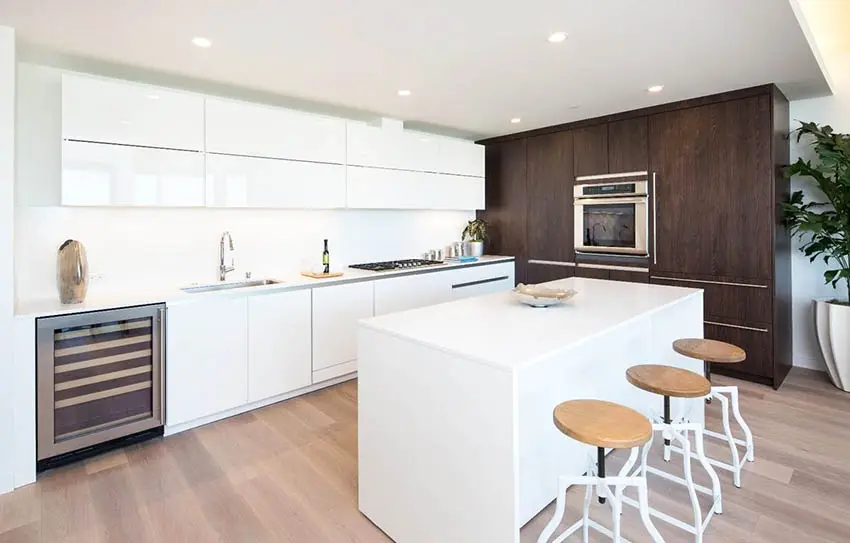 Caesarstone is easy to care for and maintain. It requires only regular wiping with a soft cloth and non-abrasive cleaner. It is scratch-resistant, heat-resistant, and highly stain-resistant. Acids like tomatoes, lemon juice, wine, or coffee will not stain Caesarstone.
It's advisable to wipe up liquids as they appear, but since Caesarstone is non-porous there is no danger of a liquid penetrating the surface of the material. It's non-porosity also gives it natural protection from mold, mildew, and bacteria, making it an optimal choice to meet the high sanitation standards of the food service industry.
Abrasive cleaners are not necessary and should be avoided at all costs, as they can create a chemical reaction and degrade the polymer binding resin. This leaves behind cloudy splotches that cannot be buffed or polished out, meaning the countertop would need to be replaced.
Caesarstone quartz countertops should never be sealed or cleaned with bleach. Treating it gently will allow a natural patina to form, taking about 6 months from the installation of the countertop. A patina is a thin protective layer that will deepen both the color and shine of the material.
For more related designs visit our gallery of Cambria quartz countertops.