Here's our gallery of modern farmhouse bedroom ideas including how to decorate to achieve this style.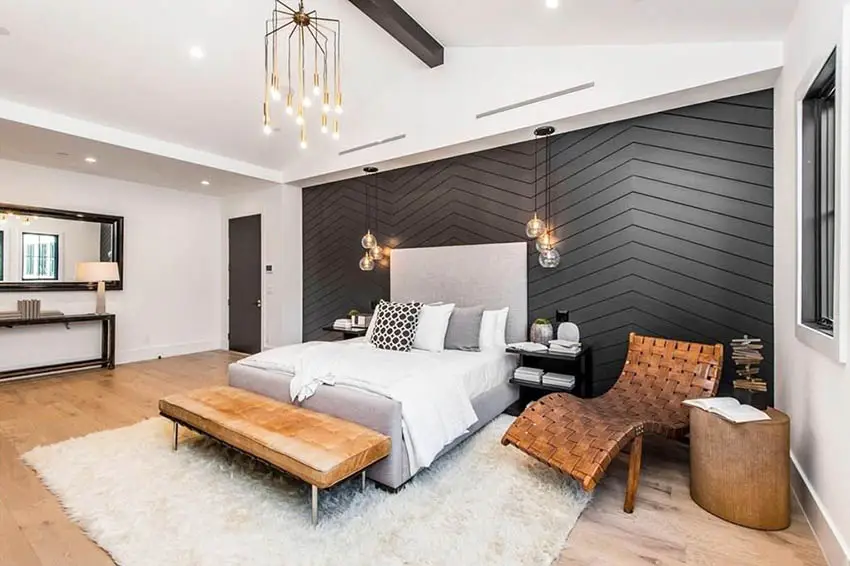 Modern farmhouse is a contradiction in terms, making it a difficult style to achieve, but when done properly, the results are stunning. To pull off this style, it is important to understand each of the components that go into it, and how they can blend together to create a beautiful modern farmhouse style bedroom.
In the modern farmhouse bedroom design above the wide-planked floor is the keystone structural element. The low, leather, saddle-colored bench is the furniture element. In this instance, light is the third keystone element — the warm light fixtures on either side of the bed suggest candlelight, bringing the rustic simplicity of a farmer and his wife blowing out their candles into this sleek and modern space.
What Is The Modern Farmhouse Style For Bedrooms?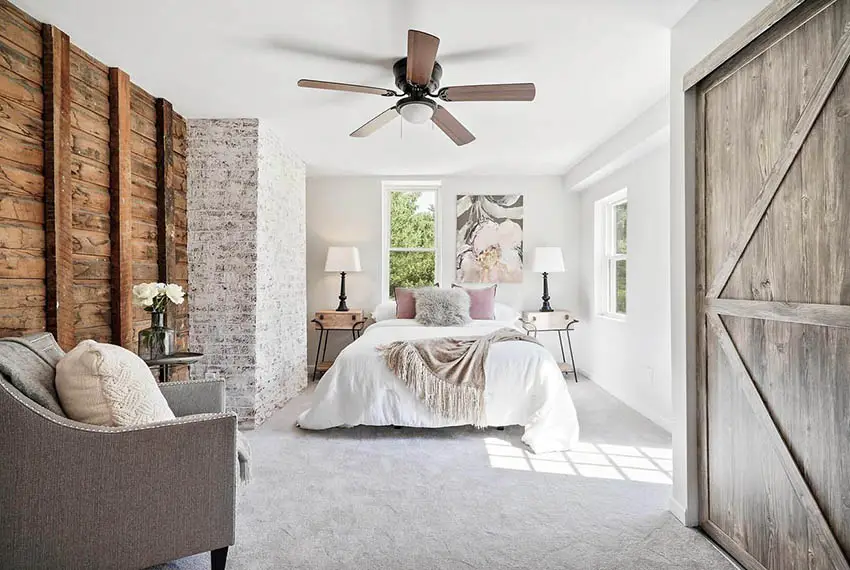 First, what are the hallmarks of the modern style of decor? Modern design is often described as being 'sleek'. Simplicity is key to achieving this style. Lines are clean, crisp, and straight.
The color palette is simple. A modern home avoids excessive adornment and accessorizing, and has a minimum of clutter. However, it should not be confused with minimalism. Minimalism demands ultra-clean lines and a focus on functionality.
Decorations are extremely understated. Modern design can also be differentiated from contemporary design. The biggest difference is that contemporary design uses curved lines, while modern design does not.
Strictly speaking, only design elements that entered the world in the 20th century can be considered modern, while contemporary design can reach further back for inspiration — provided it is updated somehow to the here and now.
At first glance, traditional design or industrial design might seem like a better fit for achieving a farmhouse aesthetic. Industrial design relies on exposing the structural elements of a space, just like farmhouse style design.
Traditional design, with it's European influence, focus on textiles, layering, and extensive adornment is also a tempting choice to create a farmhouse atmosphere. However, because these are obvious pairings, the are easy to achieve, and frankly overdone.
A modern farmhouse style, on the other hand, is challenge, making it all the more impressive when it's done correctly.
Modern Farmhouse Bedroom Decor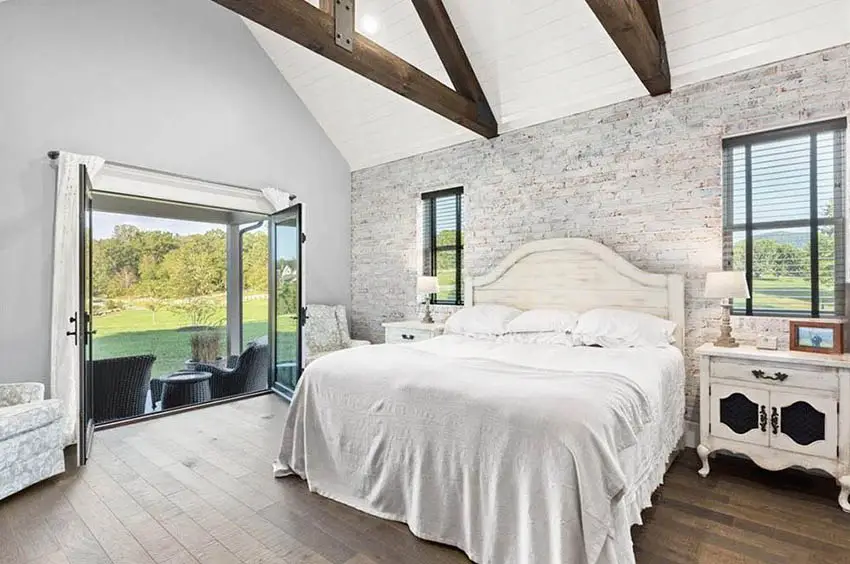 Modern farmhouse bedroom with cathedral ceiling design
How do you decorate a farmhouse style bedroom? The key word here is farmhouse style, not farmhouse themed. A big rooster clock, a hay bale in the corner, and a cowskin rug will not transform your space into a converted barn. Stay away from actual depictions of farms, barns, and animals.
You want to bring in simplicity, evoke the feeling of a life lived in tune with the seasons, the sense of independence intertwined with community, the nearest neighbor reachable through the furthest field.
Every element that you bring into the space — color, texture, motion, light, furnishing, adornment — has one of three functions: To establish the modern farmhouse style, to support the modern farmhouse style, or to minimize distractions and incongruities.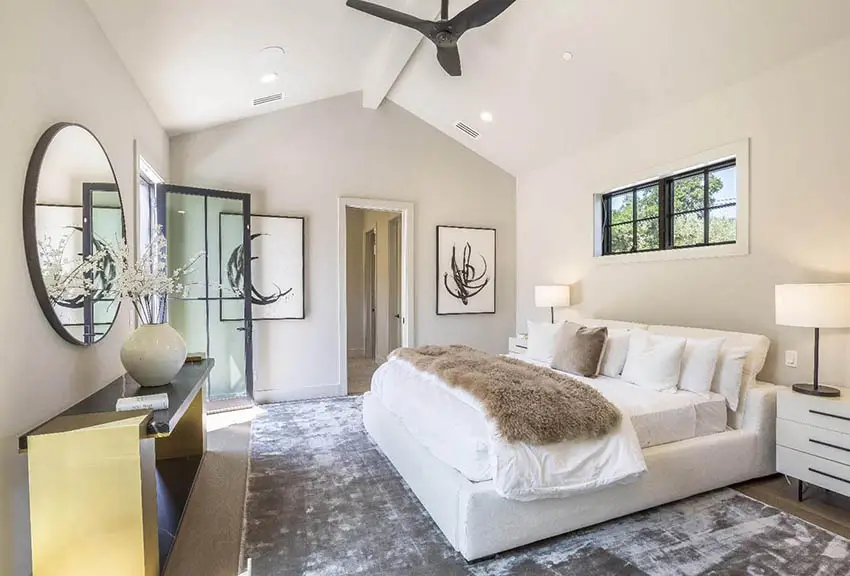 To establish a style, you need at least three keystone elements. These are the standout features, the first things that catch your eye when you walk into a room. A good rule of thumb to start with is: one piece of structure, one piece of furniture, and one piece of decor.
If you're not lucky enough to have a room with exposed beams, weathered wooden floors, or any other structural element that evokes a farmhouse, don't worry — you can create one.
Adding board and batten paneling to an accent wall is one of the simplest and most cost effective ways to add a keystone structural element to your modern farmhouse style bedroom. The last two images are excellent examples of this approach.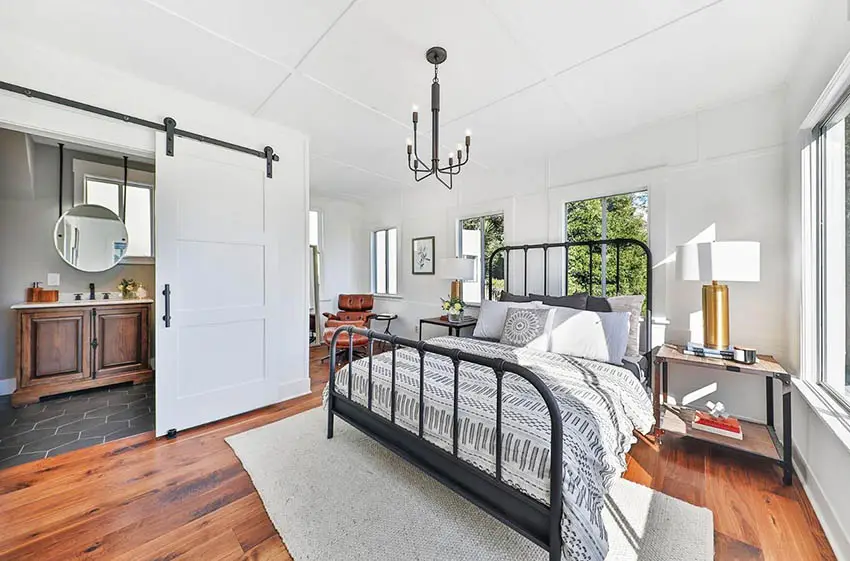 This modern farmhouse bedroom design achieves the style using barn-inspired hardware to mount the door between the bathroom and the kitchen. This is a keystone element, along with the wood floors.
Another way the designer married modern with farmhouse is by placing furniture and even a mirror partially in front of the windows. This touch of imprecision and imperfection gives the room an inviting quality, rather than looking like a museum exhibit or display window.
Modern Farmhouse Bedroom Designs
Take a look at the other images and see if you can identify what the keystone elements are. If you're having trouble, imagine what the room would look like without each item in turn.
Would you still get 'farmhouse' from the image directly above without the sloping walls, high black ceiling fan, and white fabrics of varying textures?
Take the bench, the black patterned accent wall, and the wooden blinds from the image below and you've got a very different look.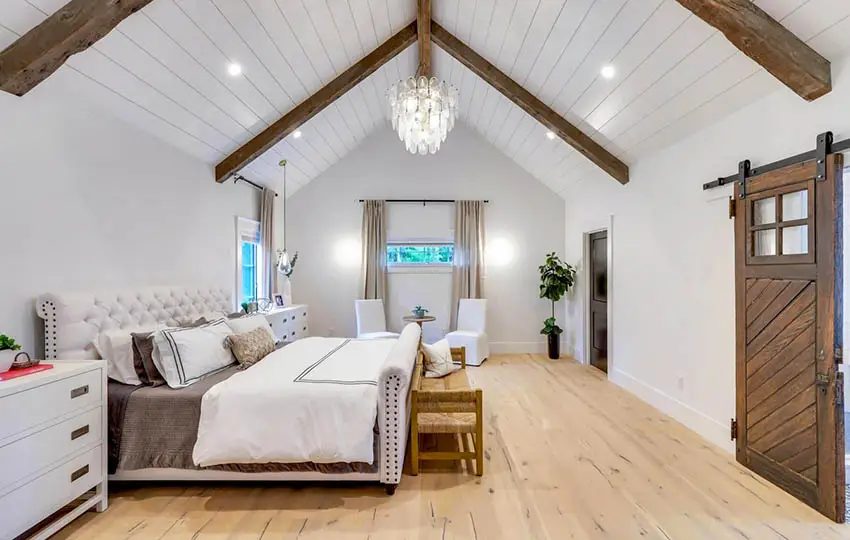 Three elements that firmly establish the bedroom as part of an updated farmhouse will go a long way towards creating the modern farmhouse style you've dreamed of, but they won't finish the job.
Once you know what your keystone elements are, it's time to turn to every other element in the room and make a decision: can this be used or altered to support the type of bedroom style I'm going for?
If not, can it be removed from the space? Can I conceal or distract from it to allow the modern farmhouse style to emerge?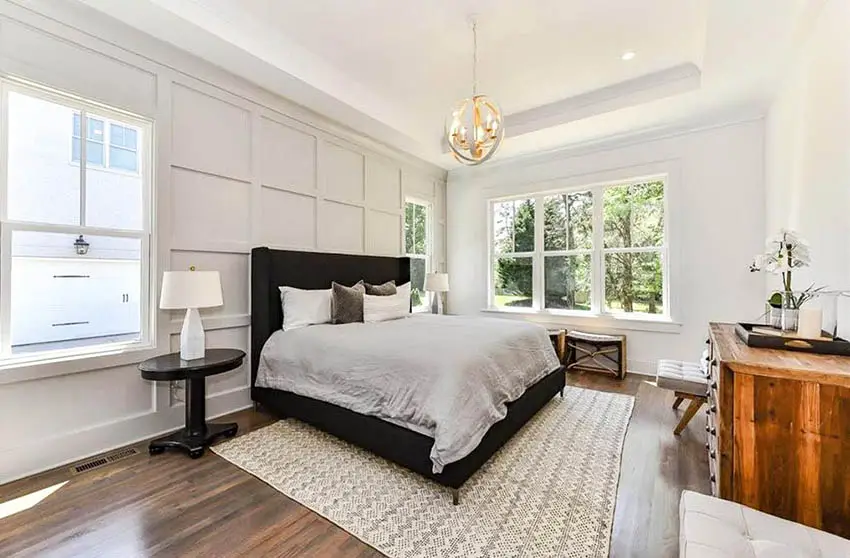 As discussed earlier, the color palette should be kept very simple. Choose one or two muted, creamy colors, and make liberal use of pure white and matte black.
Look to balance the materials you're using between metal, glass, and steel, with weathered wood elements and clean white paint.
You don't need to completely rebuild a room or throw out all your furniture just to achieve the style you want, but you do need to work carefully with what you've got.
For example, perhaps you have a Scandinavian style bed frame that is in perfectly good shape, but doesn't match the farmhouse style you're going for. You don't want to throw it out, but you can't see how to integrate it.
The solution is simple — make sure your keystone elements don't draw attention to the bed — no wall-hangings above the headboard or side-tables that obviously don't match.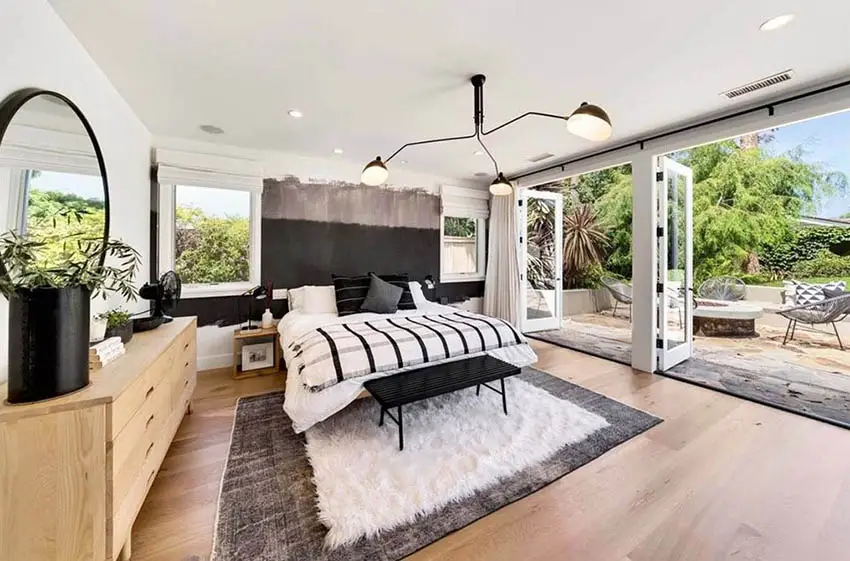 Next, do what you can with paint or refinishing to make the material of the bed match your design, even if the style is off. This could mean painting it with chalk paint to get a weathered look, or painting it the same color as your wall, so it blends in.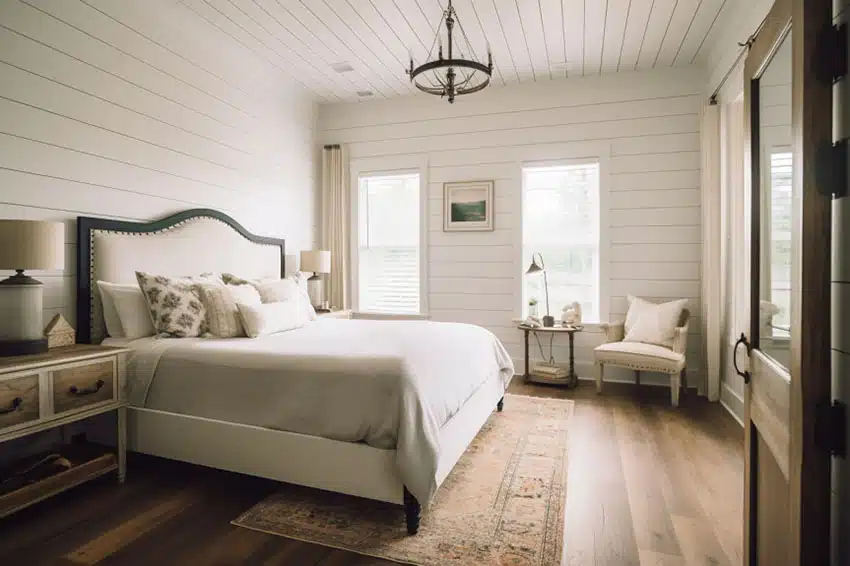 Finally, conceal it as much as possible with big, white feather pillows in stiff cotton pillowcases that look like they were dried in the sun.
Put a fuzzy rug at the bedside to suggest mornings that are cold until the fire gets going. Draw attention away from the headboard with a design-supporting blanket at the foot of the bed.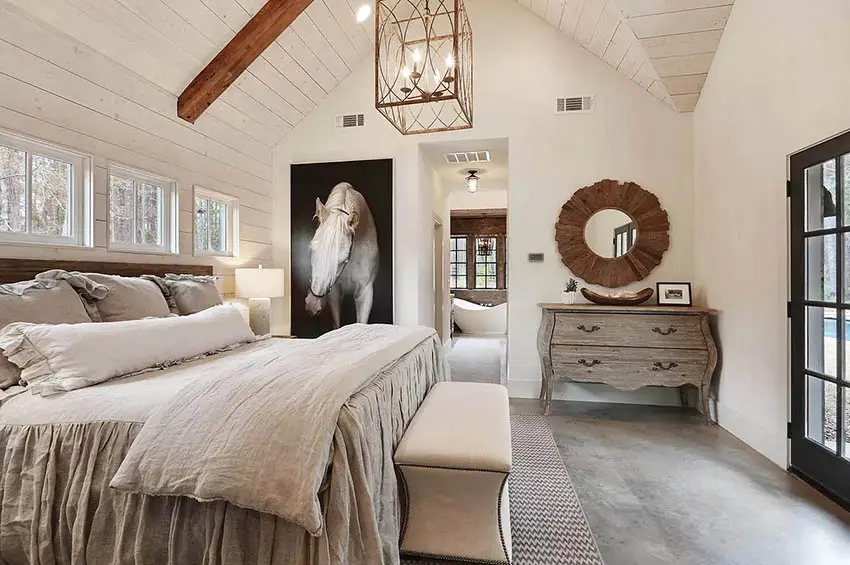 Purely decorative elements are used sparingly in modern design — the adornment of the space comes primarily from beautiful utilitarian items like light fixtures, furniture, rugs, etc.
Avoid going overboard with purely decorative items, or you risk spoiling the restrained sophistication of a modern farmhouse style bedroom.
A pure white pitcher and basin on top of a dresser is fine, but avoid props like pitchforks mounted on the wall. Art on the wall should enhance the design, not compete with it, so make sure it's not too eye catching and sticks within your established color palette.
The final element to consider in your modern farmhouse style bedroom is lighting. The temperature of the light is an underutilized tool that can balance out any imperfections in your design.
If the space feels more 'farmhouse' than 'modern', shine cool-temperatured light on the most modern elements and set up a mirror that reflects them back into the room.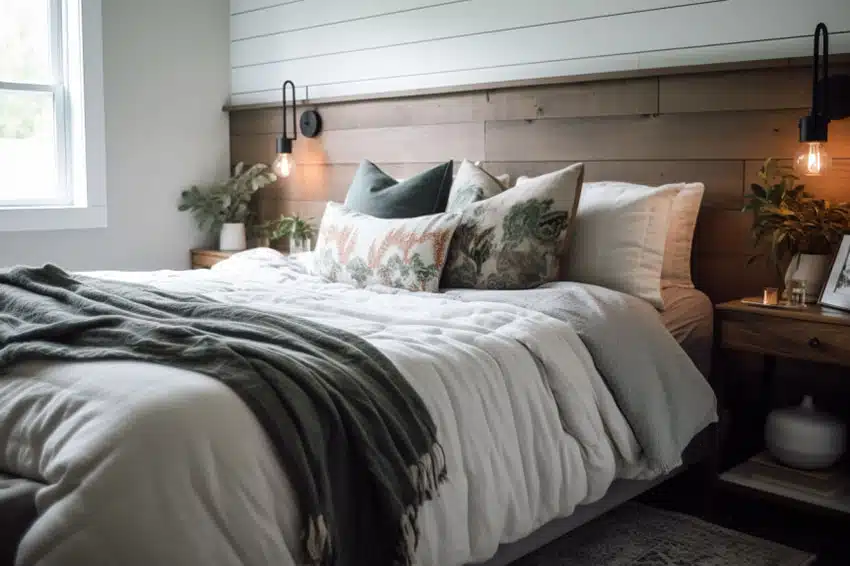 If you need more of a farmhouse feel, Edison style bulbs and warm-temperature lighting will bathe the room in a rustic glow.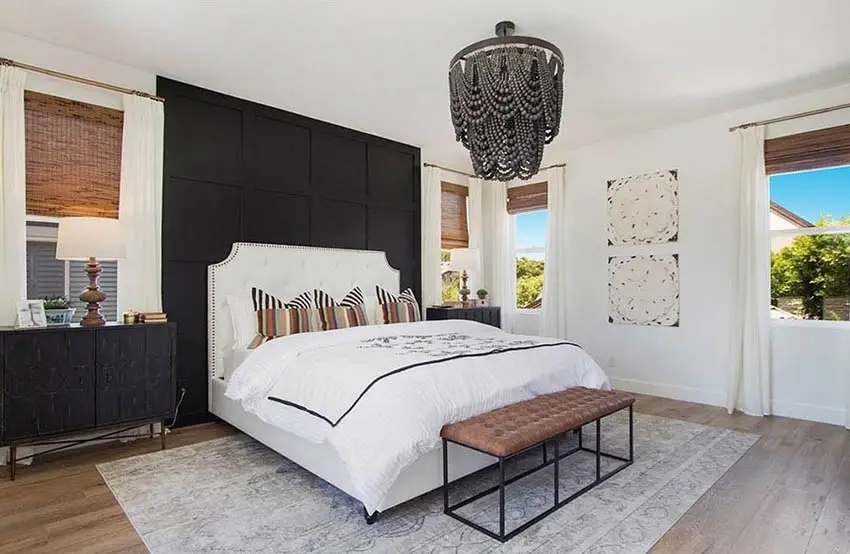 A black paneled accent wall can become a statement piece and focal point that brings a lot of character to the design.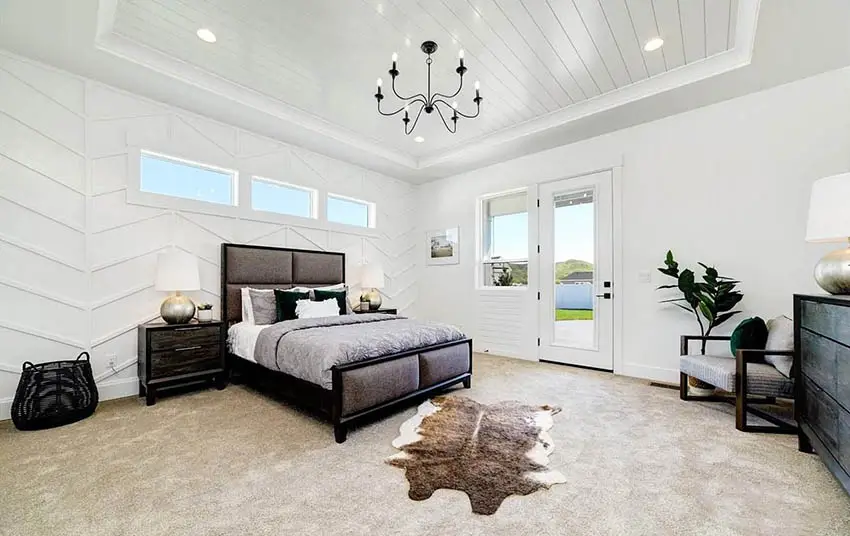 A bedroom with a chandelier with a shiplap ceiling can bring a touch of the traditional farmhouse look to the space. However, when combined with contemporary furnishings and decor you can achieve a modern farmhouse design.