Here's our board and batten wainscoting design guide including what it is, types of wood to use, how tall it should be and decor & wall paneling ideas.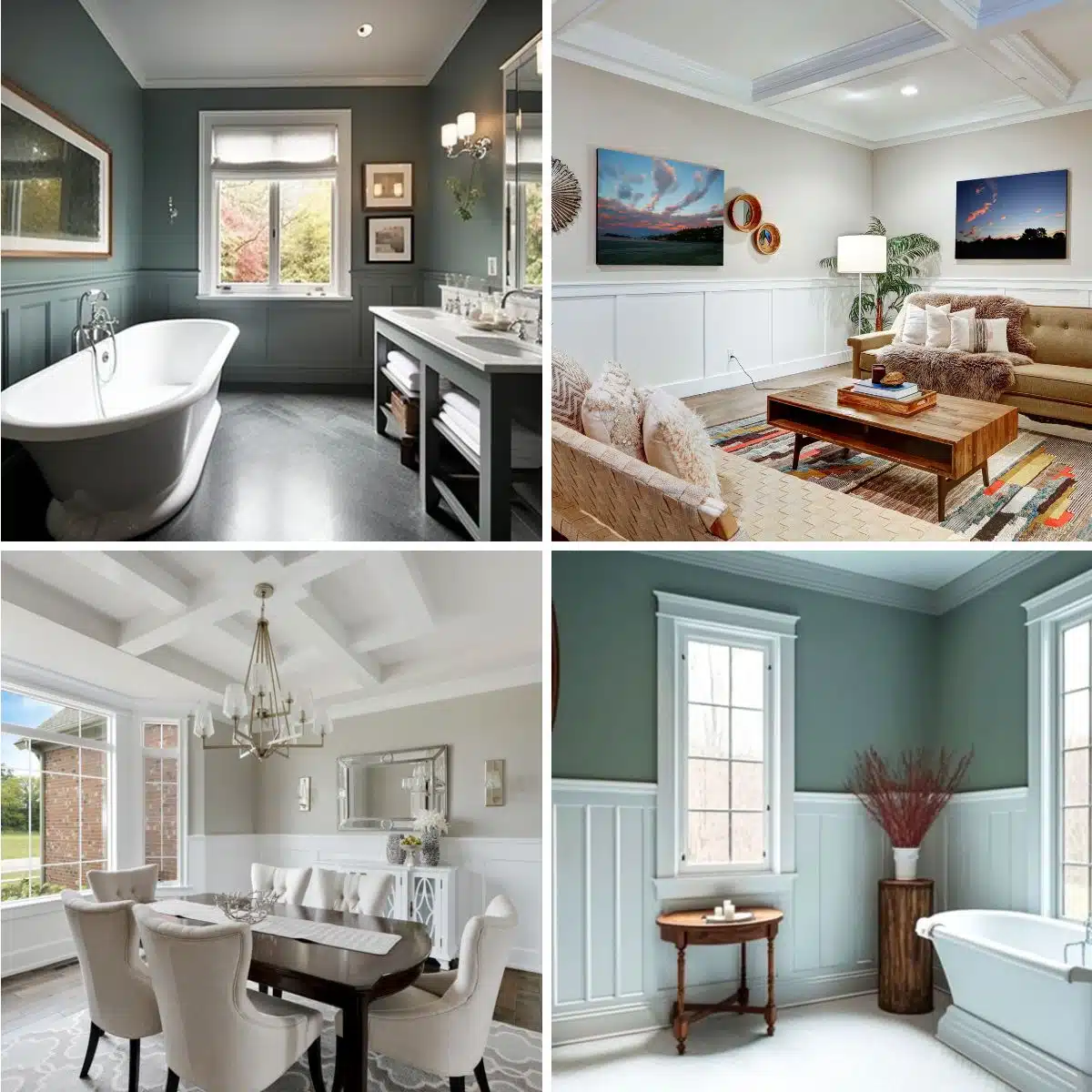 Board and batten is a type of vertically installed wainscoting. It started as a practical option for exterior siding. 18th century Americans found that if the boards were installed vertically, rain ran down the outside of them rather than seeping into the home. If they then covered the seam between boards with another, thinner board, no rain could get in at all, and the siding was now relatively air-tight.
But board and batten is more than just practical, it's also beautiful, so it didn't stay restricted to exterior use for long. Soon, board and batten methods were being applied to shutters. Not long after that, the board and batten pattern was brought inside the house, where it was used to protect walls from damage.
Today, board and batten has been largely removed from it's practical origins. Exterior board and batten still exists, but the most popular use of this design is interior. Entire walls or ceilings can be covered in board and batten, or it can be used as wainscoting.
Board and batten wainscoting is usually applied about 32 inches up the wall, measuring from the floor. It has a comfortable, upscale farmhouse feel. Best of all, it can be easily installed by a non-professional with minimal carpentry experience.
Wainscoting can be an inexpensive way to add dimension to a room and achieve your design goals. For example, you might choose a horizontally installed wainscoting if you have a small room and your goal is to create the illusion of more space.
If you're looking for an easy DIY project that will add architectural interest to your home, you may be considering board and batten wainscoting.
What Is Board and Batten?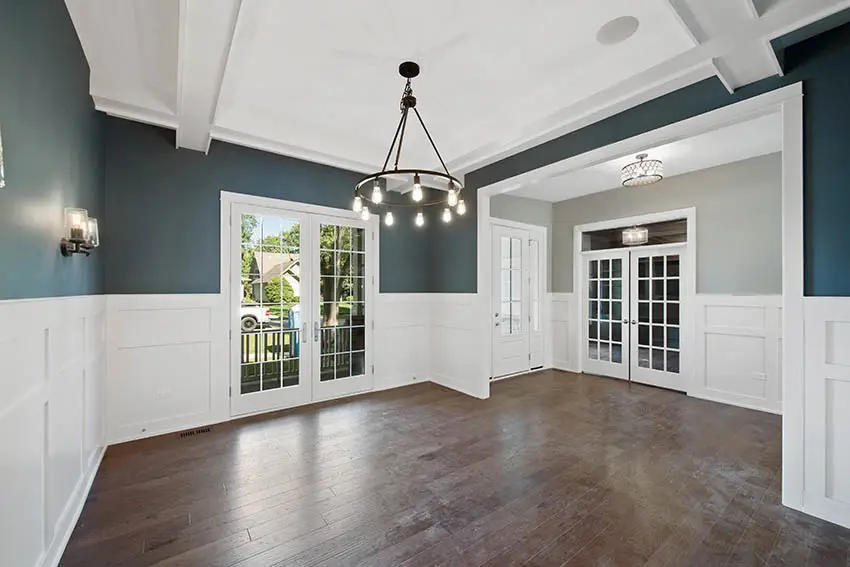 Board and batten is the name given to a decorative and sometimes protective architectural detail. It consists of wide, vertically-oriented boards laid side by side. Where the boards meet, a thinner board (called a batten) is used to cover the seam.
Traditionally, the boards were made from wood, but today almost any material can be used, including vinyl, aluminum, fiber cement, or even steel.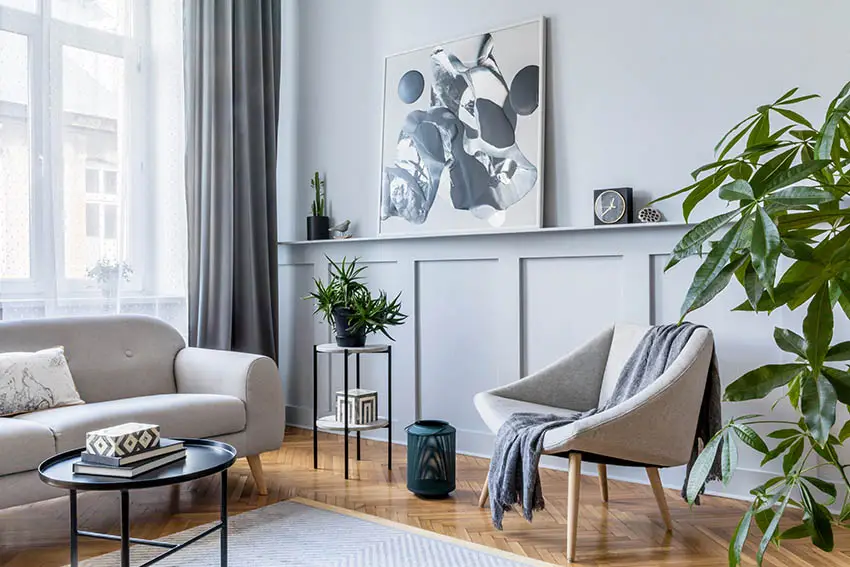 As mentioned above, the original application for board and batten was as exterior siding. The boards provided the bulk of protection from the elements, while the battens prevented air and moisture from penetrating the seams between the boards. When used as siding, it still functions in this way.
However, as so often happens in architecture, the board and batten pattern has evolved for use in other settings. Interior board and batten paneling is popular in informal country homes.
Board and batten shutters modify the design slightly, with the batten being laid diagonally across several boards as part of the shutter's structural support system.
Are These Panel Boards Considered to Be Wainscoting?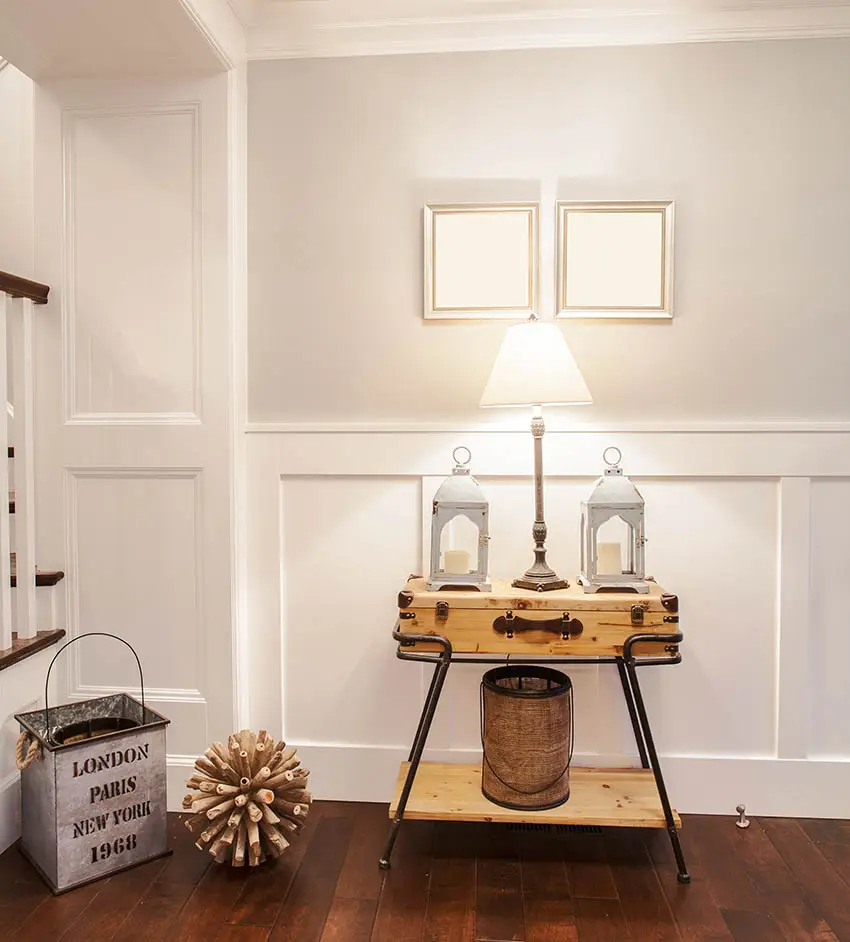 It depends. Wainscoting is a protective barrier applied to the lower half or lower third of a room, usually on all the walls. Board and batten refers to a specific design that can be used to create this protective barrier.
So, when a board and batten pattern is applied to the lower portion of an interior room, it is accurate to call that wainscoting.
However, board and batten isn't always used in this way. It's not even always used inside. A board and batten design can be used for non-wainscoting applications, such as exterior siding or shutters. In this case, it would not be called wainscoting. See more wainscoting ideas on this page.
What Kind of Wood Is Used for Siding Made of Batten and Board?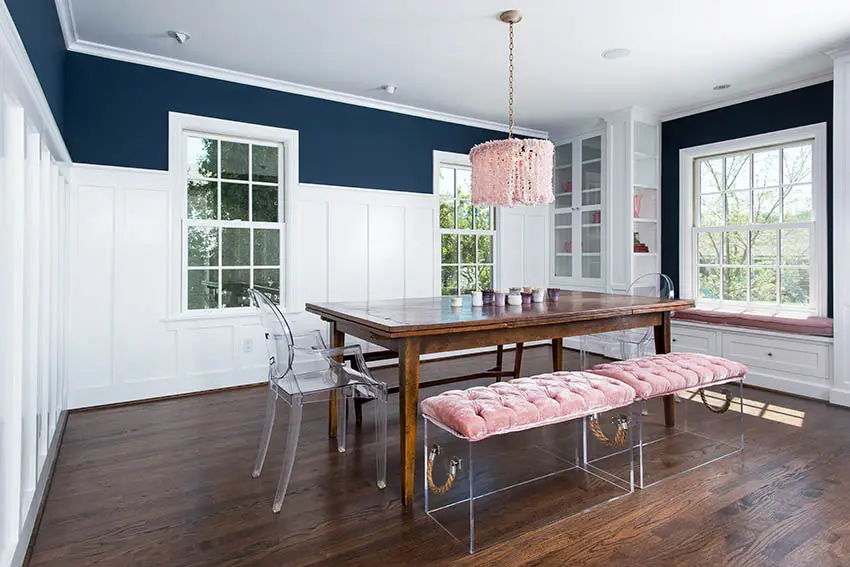 While board and batten was originally made out of wood, today it can be purchased in a wide variety of materials.
Popular woods for exterior board and batten siding are; cedar, cyprus, redwood, locust, hemlock, and white oak. Non-wood materials for exterior use include fiber cement, vinyl, and steel.
When board and batten paneling is installed inside, pine or MDF are often used. Lattice boards and furring strips are popular materials for DIY board and batten walls.
How Tall Should Wainscoting Made of Panel Boards and Wood Molding Be?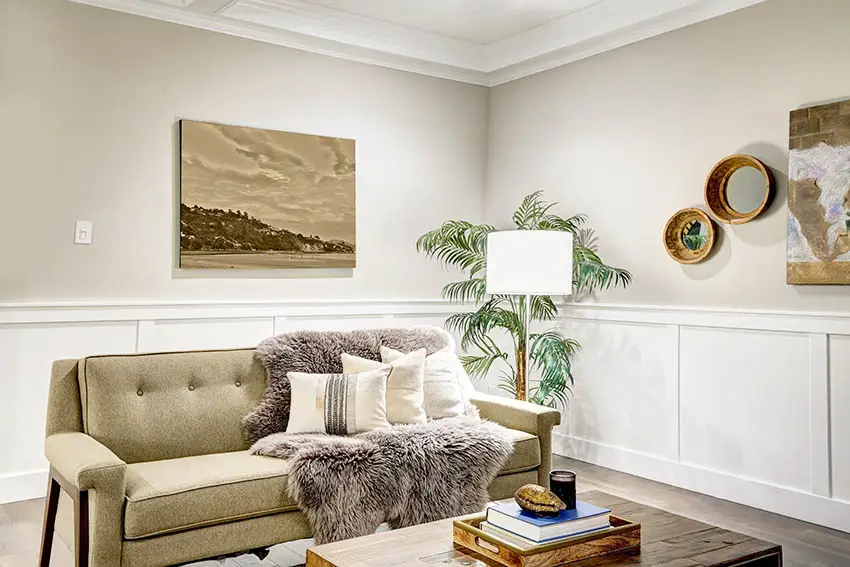 Board and batten wainscoting should be proportional to the total height of the wall. Generally, it is installed on the lower half or lower third of a room.
The original purpose of wainscoting was to protect the wall from damage. It is often used in dining rooms to protect the wall from dings and dents when guests push back their chairs.
While it can still serve this purpose today, most homeowners choose to install board and batten wainscotting for purely decorative purposes. There are no hard and fast rules, so if you'd like your board and batten wainscoting to cover ⅔ or even ¾ of your wall, go right ahead. We wouldn't recommend going below ⅓ of the total wall height.
If you're looking for an exact measurement, try 32 inches. The average residential ceiling height is eight feet. 32 inches of wainscoting would cover the bottom third of the wall. 32 inches is also the average height of other wainscoting materials, such as beadboard panels.
What Board Size to Use
Generally speaking, the boards in board and batten siding or paneling are one foot wide. A true batten is no more than two inches wide. However, you can feel free to customize the size of your boards and battens to suit your vision.
Reverse board and batten is exactly what it sounds like — instead of narrow battens overlaying the seams of wide boards, the battens are installed first, with the spaces between them covered by wide boards.
Pros and Cons of Board and Batten Siding
Board and batten is one of the most famous styles of siding that you may encounter in building home exteriors. Why is this a popular choice? It's actually more than just one reason for its popularity.
The best move is to learn not only about its advantages but also the disadvantages and come along with it. Here is the summary of both.
| | |
| --- | --- |
| Pros | Cons |
| Durability: Weathertight and Resistant to Harsh Winds | Can Be Expensive |
| Visually-pleasing and Unique Look: Textured and Layered Effect | Requires Finishing |
| Low Maintenance and Easy Repair | Takes A Long Time to Install |
| Versatile Installation | |
| Long-lasting | |
| Adds to the Home's Value | |
| Affordable | |
Pros
To help better understand the benefits you get from using board and batten siding, these are the things that make this option a popular one and stand out.
Durability: Weather tight and Resistant to Harsh Winds – Alternating battens and boards helps create layers that contributes to its weather-resistant quality.
Visually-pleasing and Unique Look: Textures and Layered Effect – Its layers create chic versatile lines that appear rustic and aesthetically pleasing (Vinyl is a good consideration for your board and batten siding if its appearance is one of your priorities!).
Low Maintenance and Easy Repair: Painting, sealing, and staining are not constantly needed for board and batten (Except for a few chosen types of wood), and replacing damaged parts is also easy to accomplish.
Versatile Installation: This means board and batten siding can be used in a variety of ways since they can be positioned horizontally, vertically, or both depending on your preference and can be flexible with whatever style you choose.
Long-lasting: With proper installation and maintenance, this siding type can last decades (There are still many old barns and houses that are currently in good condition!).
Adds to the Home's Value: Since the house's curb appeal will increase with the board and batten siding, its resale value will also increase. It will also be faster to sell even with a higher price.
Affordable (If based on Materials): Materials used for board and batten are less expensive and maintenance costs are cheaper since they're easy to maintain and replace.
Cons
With all of the advantages you can get, here are just a few disadvantages that you should keep in mind.
Can Be Expensive (f based on Needed Labor): With how extensive, meticulous, and time-demanding the installation process is, labor is an expensive consideration.
Requires Finishing: If you want to preserve your board and batten siding, you can make this possible by requiring finish (Painting and staining won't also hurt) but of course, it also means additional cost.
Takes A Long Time to Install: While installation is cheaper, it does take a long time to finish installation since there are more boards and battens to install individually, needing a considerable amount of time to finish an entire home.
Difference from Wainscoting
From an architectural and historical perspective, wainscoting is a general, catch-all term for anything applied to an interior wall for the ostensible purpose of protecting it from damage. In interior decorating terminology, it refers specifically to decorative wall details, usually applied to the lower half or lower third of the walls.
One option for this decorative detail is a board and batten style pattern. The vertical lines add height to a room, while the change in depth between the boards and battens brings architectural interest. Board and batten panels can be painted a different color than the rest of the room to create an accent wall design to bring some character to a space.
Non-board and batten options for wainscoting include shiplap, raised or flat panels, tongue and groove, or beadboard.
What's the Difference from Beadboard?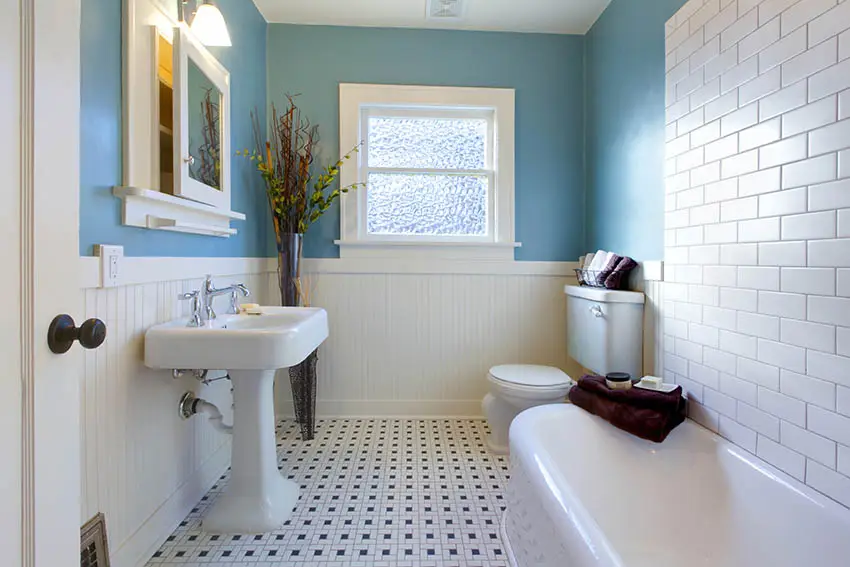 Board and batten is one design used for wainscoting. Beadboard is another. Both designs utilize three dimensions and vertical lines, drawing the eye upward and creating the illusion of more overhead space.
In the first case, narrow boards called 'battens' are laid on top of other boards to form a three-dimensional design. In the second example of wainscoting, beadboard, the 3D element comes from the semi-circular raised ridges (beads) pre-milled into the boards before installation.
The beaded boards are then installed side by side. Beadboard panels are also available and significantly speed up the installation process without sacrificing aesthetics.
Where to Use Board Siding?
Board and batten wainscoting will protect your walls, add visual interest and dimension to the room, and increase the appearance of vertical space. It's use is not restricted to a specific room of the house, so let your imagination run wild.
Dining Room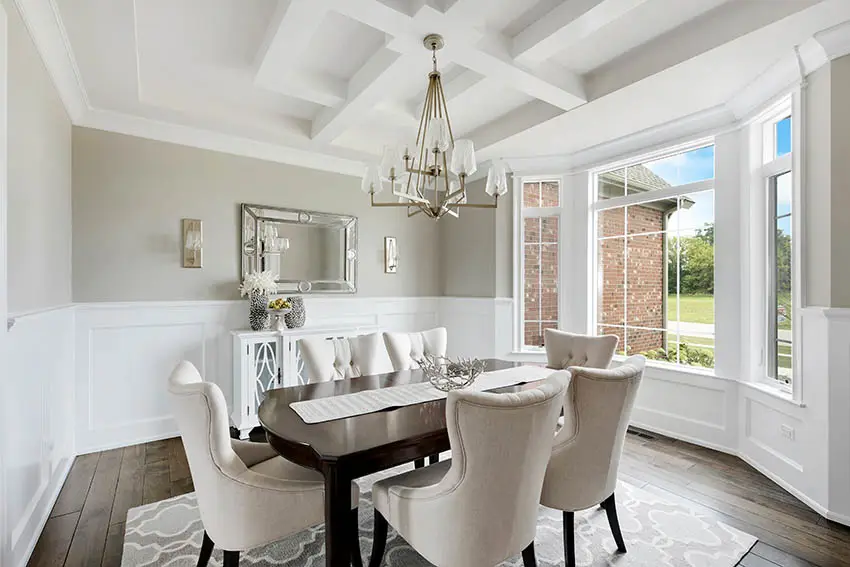 The dining room is perhaps the most traditional and obvious place for board and batten wainscoting. In a larger formal dining room, spare chairs are often stored against the wall.
In smaller, more intimate dining rooms, guests may accidentally mark the wall when they push their chair back to get in or out of their seats. Board and batten wainscoting is an attractive and stylish way to prevent unsightly dings or dents in your dining room walls.
Kitchen
The kitchen is unlike any other room in the house because so much of the wall is obscured from view. Cabinets and appliances add a lot of visual weight to the bottom half of the room.
Board and batten wainscoting can be used in the kitchen if you have significant areas of open wall. It is not generally advised to use board and batten wainscoting as a backsplash.
Bathroom
Board and batten can frequently be found in bathroom designs and provides a charming design aesthetic.When used in small bathrooms with lighter paint shades board and batten can help your space appear larger than it is.
Boards are commonly placed about 12 inches apart. The top of the boards are generally placed either a third of the way up the wall or two thirds up the wall depending on preference. See more bathroom wainscoting ideas here.
Halls & Entryways
Narrow spaces where you may be jostling for elbow room often benefit from board and batten wainscoting for two reasons. First, the vertical lines make the space feel taller and less claustrophobic.
Second, the battens will absorb the everyday stresses of tight spaces, such as dings, marks, and dents, leaving your wall undamaged.
Entryways fitted with board and batten wainscoting give off a comfortable and informal vibe. Continuing with a board and batten design throughout the hallways of the home is a great way to achieve a country chic look, even in the middle of the city.
Nursery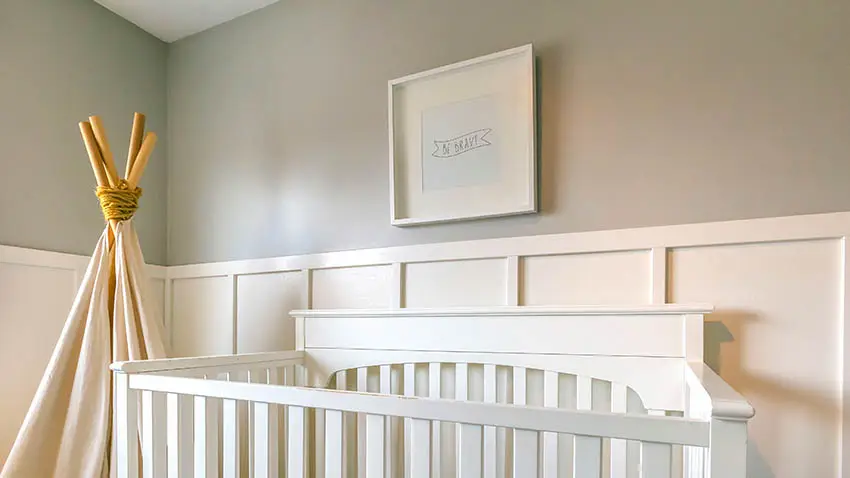 A nursery or a playroom is a great place to install full board and batten wainscoting. In many areas of the home, you can get away with just installing the battens and allowing the sheet-rock or drywall underneath to act as the board.
Where toddlers are involved, more protection is a good thing. When playtime gets rowdy and your kiddos are literally bouncing off the wall, you'll be grateful for the protective qualities of board and batten wainscoting.
With these many advantages and just a couple of disadvantages, it is no wonder board and batten wainscoting has been around for hundreds of years now. People have been enjoying board and batten siding since settlers discovered they can retain more heat inside their homes by covering the seams.
Design Ideas for Board and Batten Style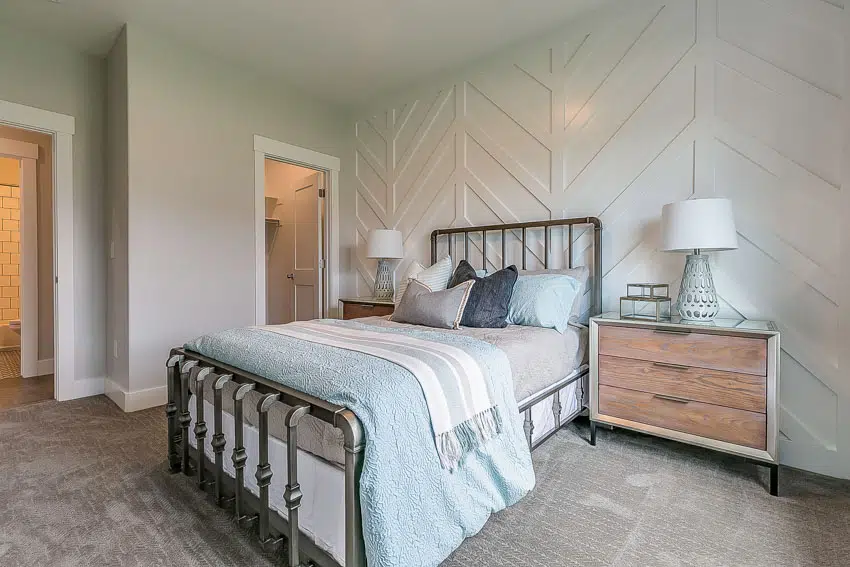 There are many different design styles, materials and orientations for use for board and batten. Here's some of the ways this features is being used in contemporary homes.
Diagonal Patterns. Add dimension to the room by orienting the battens diagonally spaced evenly across the wall. There are many ways to use geometric designs with board and batten to create visual interest for an accent wall.
Plaid Board and Batten. Surround a room with a plaid patterned board and batten to add detail and a 3-dimensional effect on walls.
Curved Board and Batten. Create a whimsical backdrop, such as a series of the arched top. MDF wood can be easily shaped using a jigsaw to achieve any curved profile. The arched board and batten are great for softer details in a kid's bedroom or nursery.
Full Wall Vertical Board and Batten Design. An attic room can be transformed into a stylish space using a series of vertical battens spaced evenly and extended to the ceiling. This design is great with A-frame, arched or mansard roofs.
Illuminated Details. Layer lighting and shadows to emphasize depth and enhance colors. Consider adding sconces or recessed lighting to highlight wainscoting and create that warm and inviting ambiance.
Construction Tips for Batten Strips and Board Panels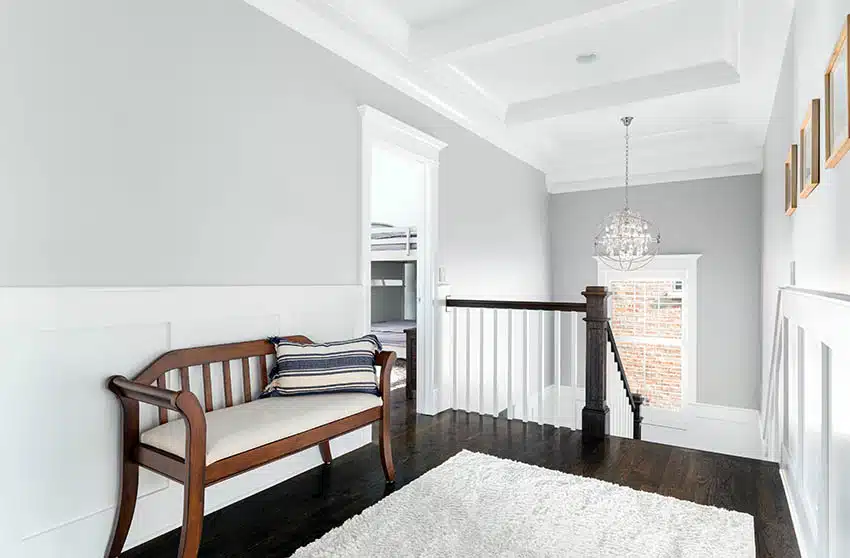 When installing board and batten it's good to know a few contractor tips to help the process along. We asked architect and designer Ellen Siloy for her best install advice when installing board and batten and here's her response:
Consider using a stud finder application or device – When nailing on the battens, it is best to nail most nail these strips on a stud for added structural support but do not nail on an electrical or pipeline.
There are free mobile applications that can help detect studs, live wire, and pipelines behind your wall. Devices with a 3-in-1 functionality are also available for purchase.
Use a laser level for a faster layout. A laser level that gives you horizontal and vertical levels can double the layout time accurately.
Angle nails for better adhesion. Shoot 1 ½ nails at alternating angles creating an inward
Start at the top horizontal board. When placing the battens, start at the top and then the baseboard below. This ensures that your vertical strips will be straight and level. Use shims to level the furring strips and secure them to the wall with screws. The top trip should be placed last.
Use a center punch to flatten protruding nails. Nail heads sticking out even just a little bit can ruin the look of the surface. Protruding nails can be flattened using a center punch, but be sure that nails won't cross the surface.
Use hole repair adhesive or paste. To fill in the dents caused by the nails, use a small hole repair paste. These products usually come with their own spackle with primer, putty knife, and sander for easier application.
Choose a caulking solution that is made specifically for trims. Remember to caulk once the board and batten are installed. Caulking will create a seamless look. Use caulking that is used specifically for trim.
Remove paint drips. Due to the varying surfaces and angles, gravity will eventually cause the paint applied to drip. Regularly check drips when waiting for the paint to dry. Use a small brush or cloth to remove the drips before it dries.
For more related design check out our gallery of the types of baseboard styles.