Below are the painting wood paneling ideas including the most popular paint colors, the best primer, and paint finish for your interior wall panels.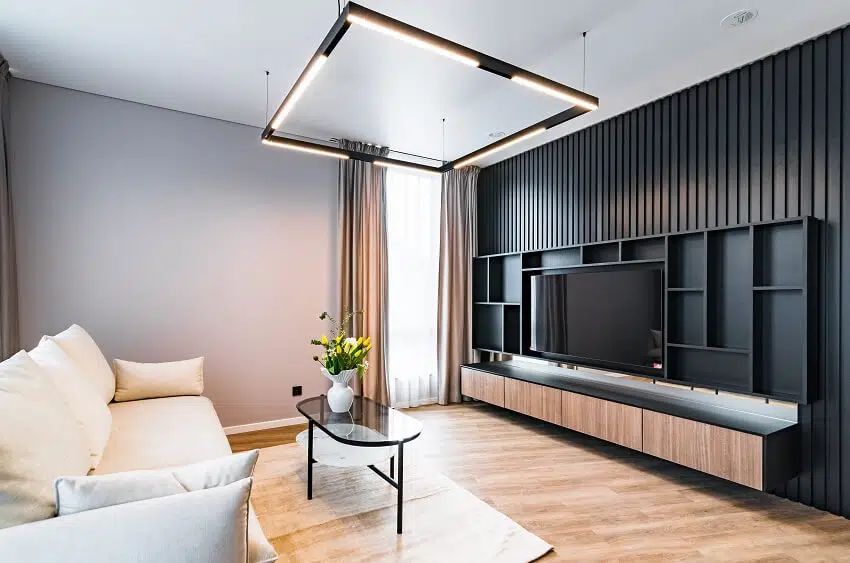 Wood paneling is an architectural feature that's an old-school style that continues to be popular in many homes today. Wood paneling remains a favorite due to the warm, inviting, and epitomized 1970s style, but wood panels became scarce and obscure around the 1990s.
When the minimalist style became the contemporary scene in interiors, the desire for a sleek and modern look has placed the traditional wood panels in decline.
Wood panels are now paired with better colors rather than the kitschy look of the past and are used sparingly as a feature wall or accent wall to add to the space's character.
Wood Paneling Surface Preparation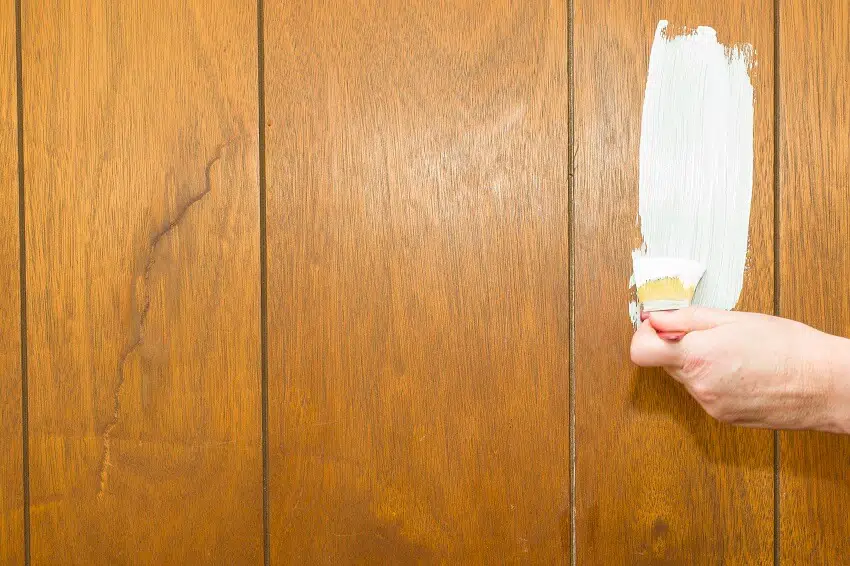 Painting wood paneling adds dimension and can update the style and add depth to the character of any room in your home. There are many ways to paint them and colors to use.
However, there are some factors you should take into consideration before using any method, including how old the wood panels are. See the types of wood wall paneling here.
Before going ahead with your painting, you need to prepare the surface so that paint can adhere to the material well. Poor quality of surface or having a material that absorbs liquid easily, such as limewash, concrete, or clay plaster, can be hard upon holding on to the paint. These surfaces should also be free of any foreign materials such as smoke residue.
Steps to Prepare Your Wood Panel Surface for Painting
1. Remove loose dirt and debris with a brush or vacuum cleaner.
2 . Use surface preparation such as TSP or trisodium phosphate or any chemical paint stripper, especially if the surface has been painted or varnished before.
3. Wash down the surface with cold water to remove the remaining chemical treatments.
4. Sand them with a fine-grit sandpaper. For veneer wood panels, make sure not to sand through too much as it can remove the wood layer off.
Remember, though, preparation is key to having a long-lasting finish when choosing a paint finish for your wood paneling.
Tip: Use liquid deglosser to remove gloss
Best Primer For Wood Paneling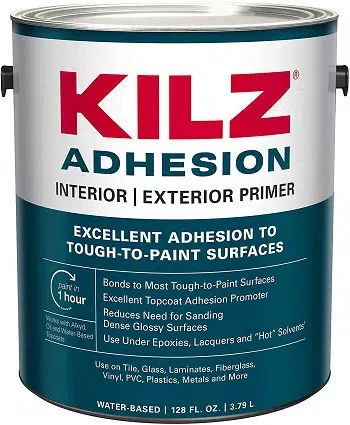 See this primer at Amazon [sponsored link]
If you're going to use the recommended interior latex paint, the best primer to use is a stain-blocking latex primer. The primer base should match the paint base for the paint to adhere.
Colors To Paint Wood Paneling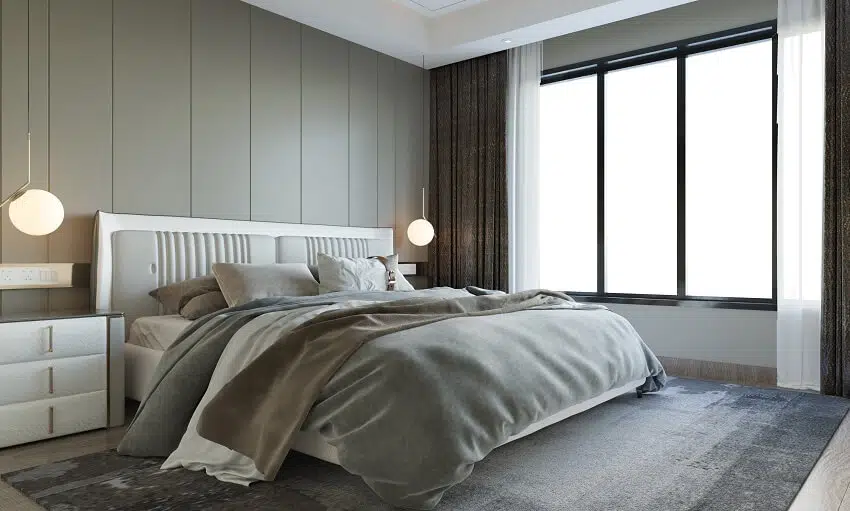 When choosing paint colors for your wood paneling, the earthy and neutral tones are the safest choices since these color schemes are easily matched with other colors.
1. Periwinkle #97A3DA – The perfect wood paneling for any room creates a relaxing yet lively atmosphere, especially when you've got a lot of white and black accents.
Periwinkle comes with a lavender blue color with an almost pastel hue and belongs to purple and violet. You can go with a mid-tone version instead of the twilight hue for bedrooms.
You have a lot of décor or furniture going with this cool tone for your wood paneling gives it an updated look while keeping the elements balanced even with a busy décor or architecture. The color is modern, and there are still a few periwinkle-colored interiors giving you a fresh to the unlikely color. Periwinkle #97A3DA
The lavender hue works both for public and private interiors.
Trim: Light Beige
Accent: Fine Grain
2. Emerald Green #046307- Also known as ocean green or bottle green, emerald green, unlike most cool tones, has a more intense outcome but still gives a relaxing vibe to any room.
Add complementary colors such as gold, blush, sage, fuchsia, violet, or navy for that boho-chic or tropical interiors. If you're thinking of adding wood paneling in your bathroom or kitchen, the emerald green is a compelling backdrop or accent. Emerald Green #046307
Trim: Beige, Gray
Accent: Charcoal Gray, Black
3. Light Beige #F5EFE8 – A bright yet calming color choice for your wood panels is the light beige that echoes the soft browns of nature. This color is perfect for that shiplap wall for country or cottage-themed homes.
Although it's quite common to see this traditional hue, you can incorporate other modern tints with this main color, such as violet or black.

Light Beige #F5EFE8
Trim: Light Violet or White
Accent: Black
4. Champagne #f7e7ce – The very light brown with pink undertones shows a calm and feminine color that can update and brighten up any wood paneling.
If you're building a loft or basement with limited light coming through, this cheerful hue is your perfect wood paneling paint.

Champagne #f7e7ce
Trim: White
Accent: Green
Alternatives: Bisque Hex #ffe4C4, Antique White #faebd7, Cosmic Latte #fff8e7
5. Aegean Teal #708A8C – Easy on the eyes and has that modern touch, the Aegean teal is a subdued version of teal mixing green, blue and gray together.
The color is a popular wall color this 2021, and we have seen Benjamin Moore's latest Aegean teal version.

Aegean Teal #708A8C
The color exudes a relaxing ambiance and can go with all the neutral hues and some other earthen tones.
Trim: White
Accent: Red Orange
6. Coin #9897A9 – Gray works with everything, and you can switch things up by adding accent colors such as white or metallic accents. This gives the cool tone a more vibrant line and emphasizes other elements.
The great thing about the Aegean Teal is that it's a color that is present and noticeable where you can place it all over the interior without looking too much. Coin #9897A9
Trim: White
Accent: Blue
What Paint Finish Is Best To Use For Wood Paneling?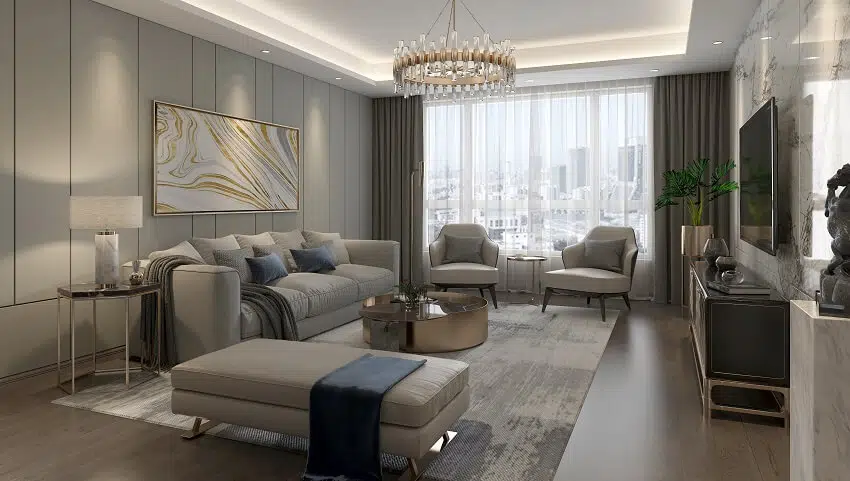 A satin finish is the most commonly used surface finish for interior painting projects, and it's the best option for wall paneling.
You'll get a medium sheen with a satin finish, which is easier to clean and more durable than matte and eggshell finishes. The only disadvantage of a satin finish is that brushstrokes are more visible.
If you have paneling in a high-traffic area like a kitchen, bathroom, laundry room, or family room, you should use satin-finish paint. It complements flat paneling, which can be found in many rooms. Check out the best paint finish for a living room here.
Satin is also a good choice for board and batten and raised paneling in a dining room because it is less shiny but still easy to wipe off. If you have tongue and groove connection paneling in a wall like a kitchen, satin is also a good choice because you'll have to clean the walls more frequently.
Finally, beadboard paneling has grooves in it, which trap dirt easily. Satin paint is the best choice for beadboard and wainscoting because it is easy to clean. This is especially important if you're going to paint with a brush or roller.
What Kind Of Paint Is Best For Paneling?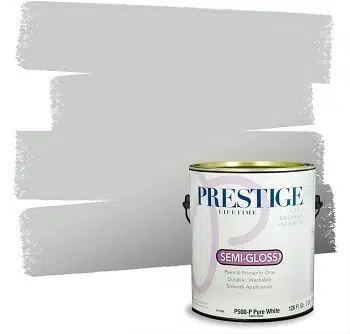 See this paint at Amazon [sponsored link]
Interior latex paint is the best type of paint for paneling. These paints are more durable and last longer so that they won't crack or chip over time. Latex paint is also water-based, which means you can clean latex paint-coated surfaces with just water.
Can You Paint Directly On A Wood Panel?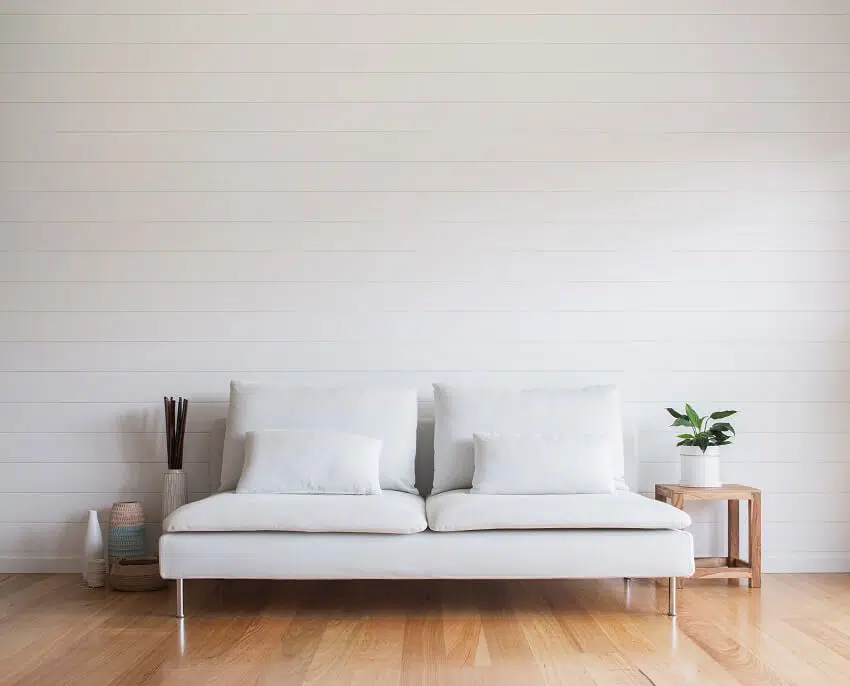 Painting wood paneling is perfectly acceptable, especially if it makes the room appear gloomy and outdated.
Painting wood panels are a great way to brighten up a room while also making it appear larger. But, if you want to paint your wood paneling, as discussed, you'll need to prepare the surface and use the proper paint.
You can either brush or spray paint on your wood panels. There's no need to use brushes or rollers when spraying painting wood paneling because you can just as easily let a gadget do the job for you if you have one at home or rent one from a local store like Home Depot.
Visit our paint colors for textured walls design guide for more related content.