Here we share several types of wood wall paneling including its cost and some DIY installation and paint ideas for you to get the best interior wall design for your home.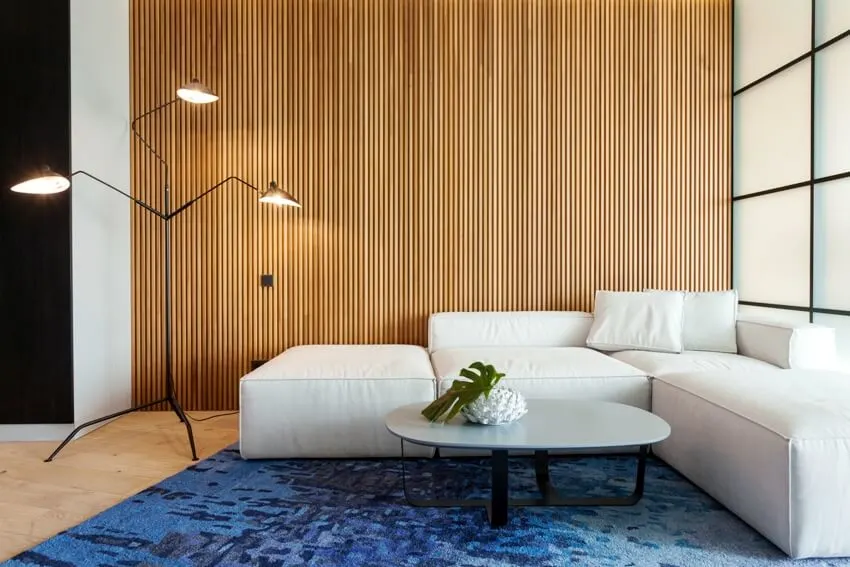 Homeowners install wood wall paneling for various reasons. Some install it only for decoration purposes, but some also use it to make an interior space soundproof and improve the insulation of the walls.
The quality of wood wall panels may vary as it will generally depend on the manufacturer. However, it is your choice if you want to install a wood wall panel temporarily or permanently.
There are several types of wood wall paneling so it could be hard for you to select the right choice. But in this article, we will walk you through the different types of wood wall paneling, each with its unique character and way of enhancing your interior.
Being knowledgeable of these types and their available colors, ceilings, and sheets will make it easy for you to choose the wood wall paneling that will complement your home.
What Is Wood Paneling For Walls?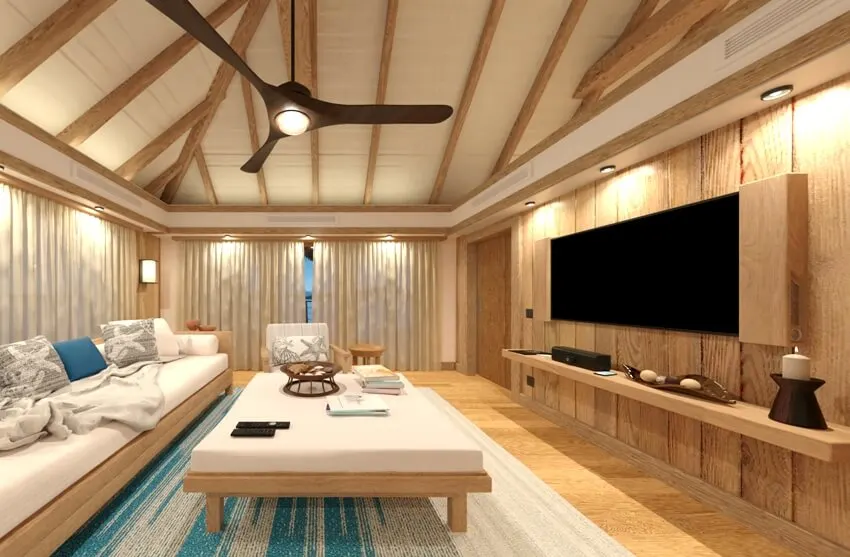 Wood paneling is a kind of wall finish that is created from wood-based panels, often available in various wood species. Generally speaking, wood paneling is mainly used only for constructional uses. Wood boards and shades can be used as decorative elements that add to the overall look.
This has been the original option for most homeowners before plaster and sheet rock walls have risen. Wood paneling is also known as a decorative reinforcement or treatment for walls. Check our guide to creative accent wall ideas here.
Nevertheless, wood paneling for walls has become well-known again nowadays and it is still common in numerous construction and renovation activities. Some wood wall panels are used for insulating the walls, but most commonly, they are used only to revamp the appearance of the walls.
Shiplap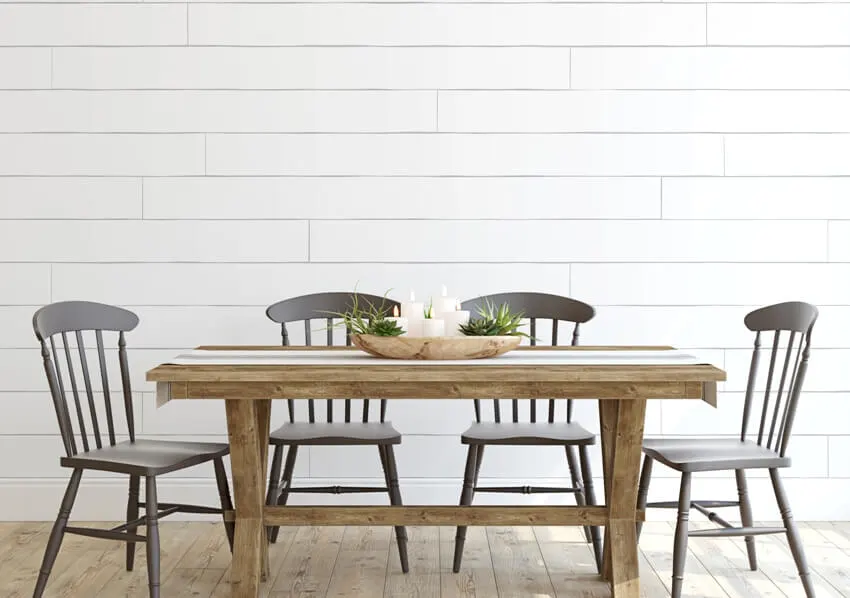 This type of wood wall panel was originally built in boats during the 19th century, that is why it is called 'shiplap'. Meaning, it is mainly designed for ships. The panels form intersecting line patterns to generate a weatherproof seal. Newer shiplap designs do have notched panels and seams.
These boards are normally made out of medium-density fiber or wood and they can be installed in a horizontal or vertical position. Shiplap is customarily installed in living rooms or kitchens to produce a more natural atmosphere.
They are also suitable for your home's exterior fittings. Shiplap offers a very neat and refreshing effect which is truly captivating. See the exterior shiplap siding design guide here.
Moreover, this type of wood wall paneling is very sturdy. But unfortunately, it could be hard to maintain. It might need a lot of time to clean it rigorously.
So if you want to preserve the quality and expand the longevity of a shiplap, ascertain that it is constructed very well. Otherwise, it might deteriorate and get rotten over time.
Beadboard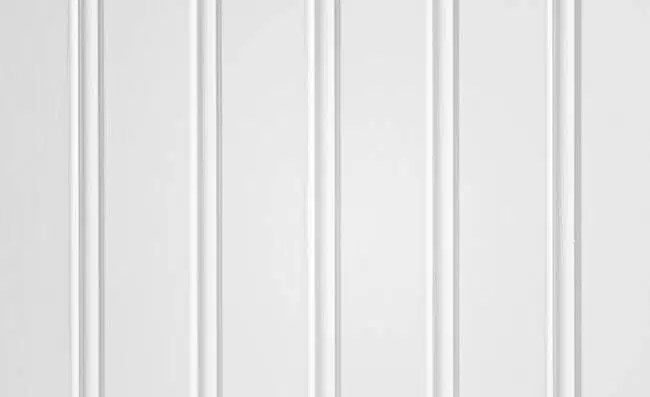 Beadboard is available in a wide variety of unique styles, high-quality designs, and sizes. There are also a lot of inexpensive beadboard options.
You can also find a lot of styles that are exceedingly attractive and eye-pleasing. It will be easy for you to find the best ones that will elevate the appearance of your house, specifically your walls.
Normally, the width of beadboard ranges from 1.5 to 3 inches. But it will be your decision if you want to cut it according to your preferred size.
There are two categories under this type of wood wall paneling, and that is the sheet board and tongue-in-groove, which are typically made from wood planks. These categories are installed differently and can come in various thickness options, allowing designers to choose the best material for the task at hand.
In terms of installing tongue-in-groove beadboards, it could be a rather time-consuming and energy-draining experience because you will have to attach each board individually. Professionals who work in this area are accustomed to handling various products and can help streamline the process.
On the other hand, sheet boards are already available in various sizes that range from 48 to 96 inches. The price of beadboards may vary as it will depend on the quality, size, manufacturer, and material of choice.
What is the benefit of attaching beadboard on the walls of your interior space? One thing is that you are free to stain or paint them with your selected paint and finish, giving you and your designers the flexibility to enhance the space.
It will be easy for you to match the color of your walls to the overall design of your space. But even if you don't paint your beadboard, it can already blend with your current decor.
The only drawback of a beadboard is that it has grooves in it that can easily accommodate dirt and dust.
Board and Batten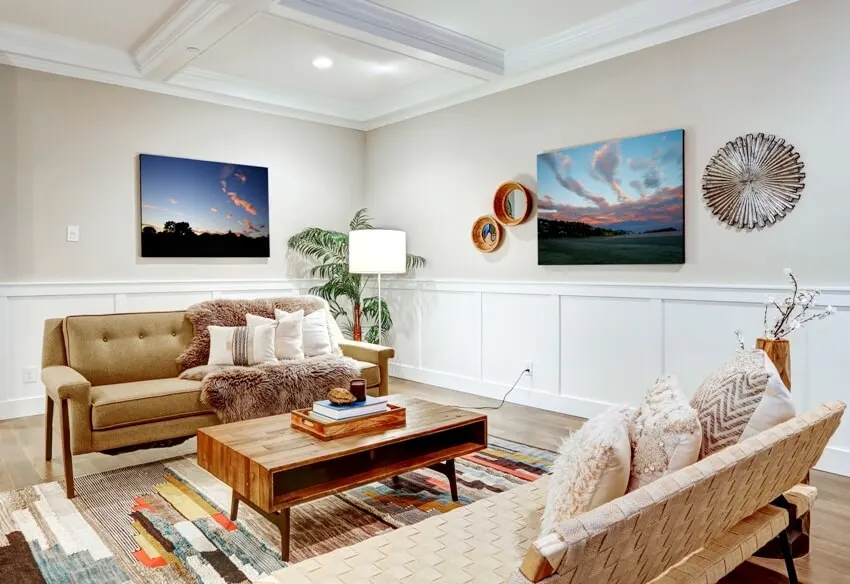 Using this type of wood wall paneling would be a very wise decision if you wish to achieve a 3D appearance in your house. It can also provide a very unique texture and quality that matches well with any kind of interior design or decor. See our board and batten wainscoting design guide to get more ideas.
Although it is originally built for home exteriors only, a lot of homeowners are now incorporating it in their interior spaces since it has a very appealing look. It is one of the types of wood wall paneling that can beautifully transform the look of your walls.
Board and batten is capable of producing a unique atmosphere. Moreover, it can be painted or stained with your preferred color. It is often used for half-wall wainscoting applications for a traditional design.

No doubt, board and batten are proven to improve the appearance of your walls for a very long time as long as you can clean it regularly and maintain it in its original condition. You just have to ascertain that you are maintaining it properly because replacing it with a new board and batten would cost you a lot. Don't worry, its maintenance wouldn't be pricey.
Board and batten are usually made out of vinyl or wood materials. If you want to opt for a more affordable option, you should consider buying one that's made out of vinyl. Vinyl board and batten can be durable, long-lasting, and easy to clean, but they cannot match the natural and refreshing appearance of wooden board and batten.
Talking about its installation, you will have to do it using nails or super glue after attaching them on your walls in a vertical position. Experienced designers and contractors can help ensure a seamless and professional-looking result.
After installing the boards, you can now attach the battens. It could also be necessary to seal the seams with tiny wood offcuts. At this point, contractors may assess the surface to ensure durability and strength for the projects they're working on.
Tongue and Groove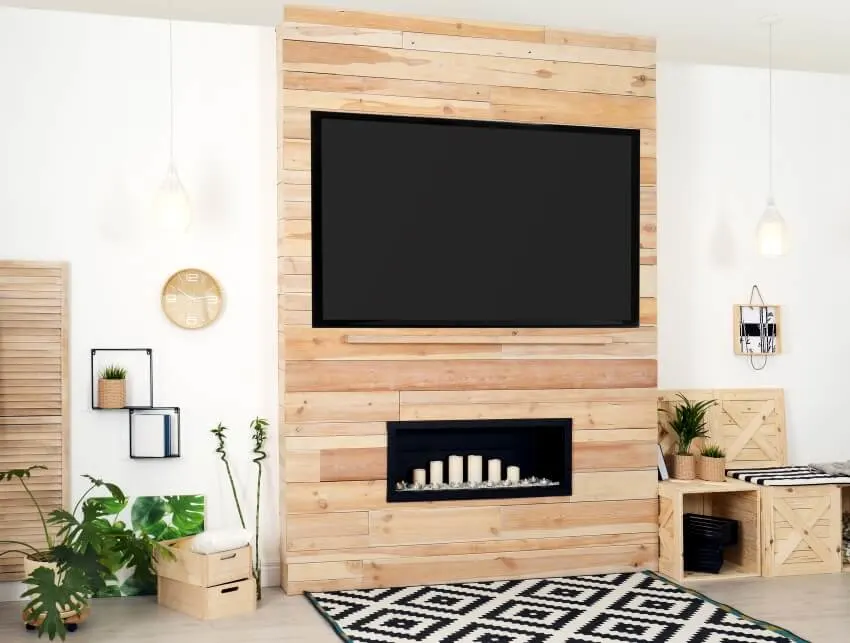 Tongue and groove wood wall panels have a slight resemblance with shiplap. The only difference between them is how they are installed. The connection in a shiplap is via its rabbet joints.
However, a tongue and groove panel requires a different process of installation which is also called the tongue and groove installation procedure. One of the advantages of tongue and groove is its increased durability, making it an attractive choice for many projects.

The connections of tongue and groove were normally used in woodworking production and manufacturing ages ago. Tongue and groove panels contain a small protrusion that sticks out of the center part of the other side's verge. However, the other side of it only contains a correlating slight indentation.
The tongue of a panel can fit into the groove of the neighbor. Frequently, tongue and groove panels are not beveled and they do have a slightly firmer look than shiplap. If you have any questions about the procedure or need an estimate, speak with an experienced local contractor.

Reclaimed Wood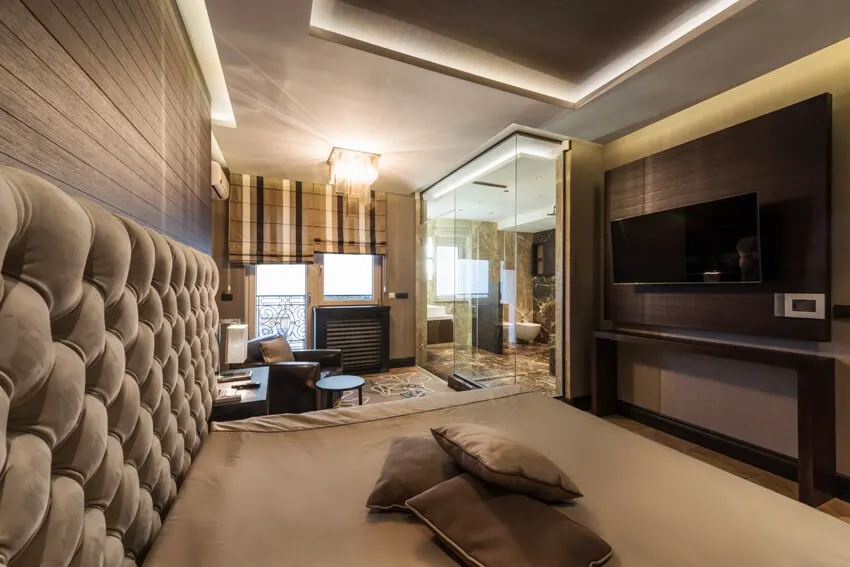 A lot of people are also interested in installing wood wall panels that came out of reclaimed wood. Well, commonly, reclaimed wood can be reliable in terms of adding more value and unique texture to the walls of your interior space. It can also be stained, painted, and sheened.
Reclaimed wood is undoubtedly an exceptional choice as it has a very stylish and rich wood feature. In fact, it is one of the most popular options for wood wall paneling nowadays. It is also commonly seen in homes that are located in rural areas.
This type of wood wall paneling can be installed very easily and it will not require too much time and energy to finish attaching it to your walls.
Raised Panels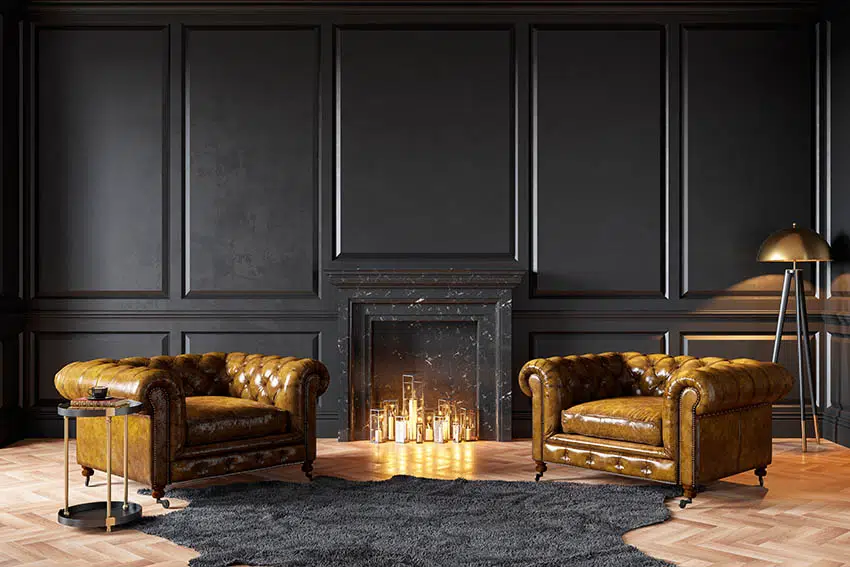 This type of wood wall paneling is usually found in rich and huge houses. Indeed, raised panels have always been associated with very wealthy families. Until now, raised wood wall panels are a favorite choice by people who are living in big houses and mansions.
Raised wall panels do offer that very elegant, extraordinary, and eye-pleasing appearance. It also contains a 3D effect that will truly captivate your guests.
When it comes to installing them, altering the wood panels or medium-density fibers with vertical or lower-molding stiles would be necessary.
Typically, raised wall panels have six sections – top rail, cove molding, stile, raised boards, cap molding, and bottom rail. Raised wall panels are truly a wonderful option if you want to highly improve your indoor ambiance.
Flat Panels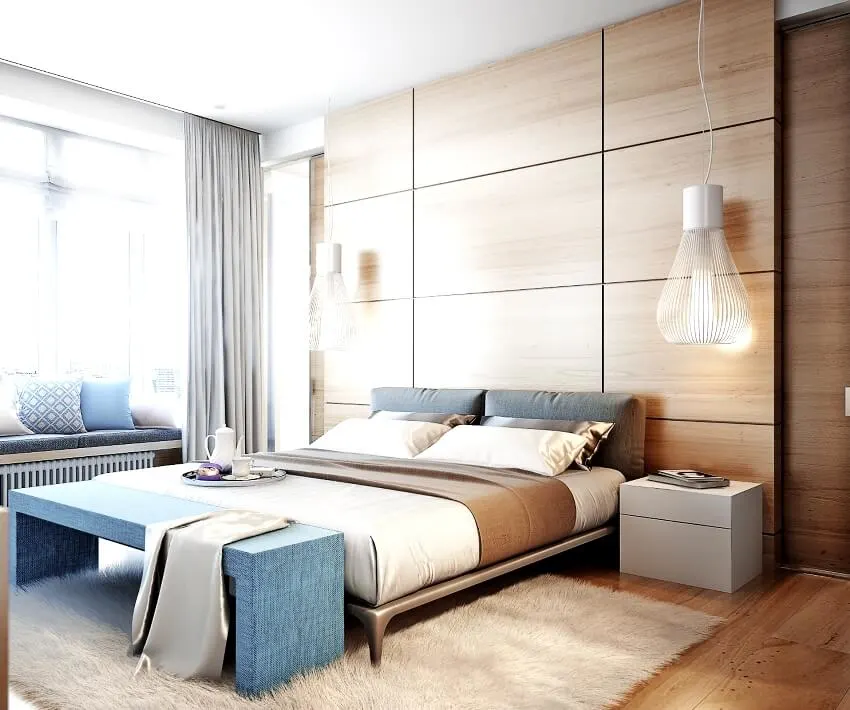 If you want to opt for walls that have a truly polished appearance and neat lines, you might consider installing flat wall panels. These panels offer an array of advantages, including ease of installation and an appealing aesthetic that suits a variety of design styles.
This option provides a minimalist design, making it also perfect for huge houses and mansions. The aesthetic of these panels adds depth to any space, especially when combined with the texture of wooden planks along the edge of the walls.

The appearance of flat panels is quite simpler than raised panels. However, it also enhances the quality and value of your walls, giving them a crisp and clean grid pattern that adds an interesting visual element.
Flat panels contain textures that match well with any interior design. This type is one of the most favorite choices by people living in houses that have modern designs.
Thin Panels
Easy installation is what thin panels have to offer. Thin panels are also easy to cut and fix when they get damaged. They also have a very plain look that offers a very simple interior appearance.
Thin panels are great for temporarily covering your walls, but they are not good for long-term uses. They are not durable and long-lasting.
Plank Wall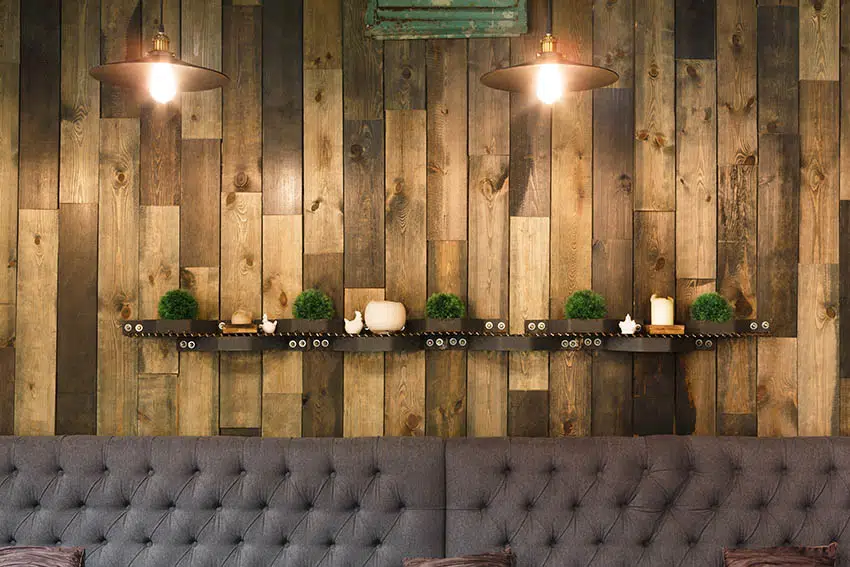 If the majority of the things in your room are made out of wood, this type of wood wall paneling would be a great choice to complete the natural look of your space.
A plank wall can either be made out of reclaimed or new wood. It can also be installed in a horizontal or vertical position and achieve a pattern you want, like an intricate grid pattern.
Plank walls can be used to pull off a herringbone pattern. You just have to ascertain that the panels are aligned in the correct direction. The depth and texture of the planks provide a unique aesthetic edge to any space.
Moreover, the color of your plank walls will mostly define the overall design of your interior space, so you have to make sure that you will paint or stain it with the best color that matches with your decor.
If you want to buy a cheaper plank wall, you can go for a medium-density fiber plank from a reputable company that specializes in wood wall paneling.
Wood Slats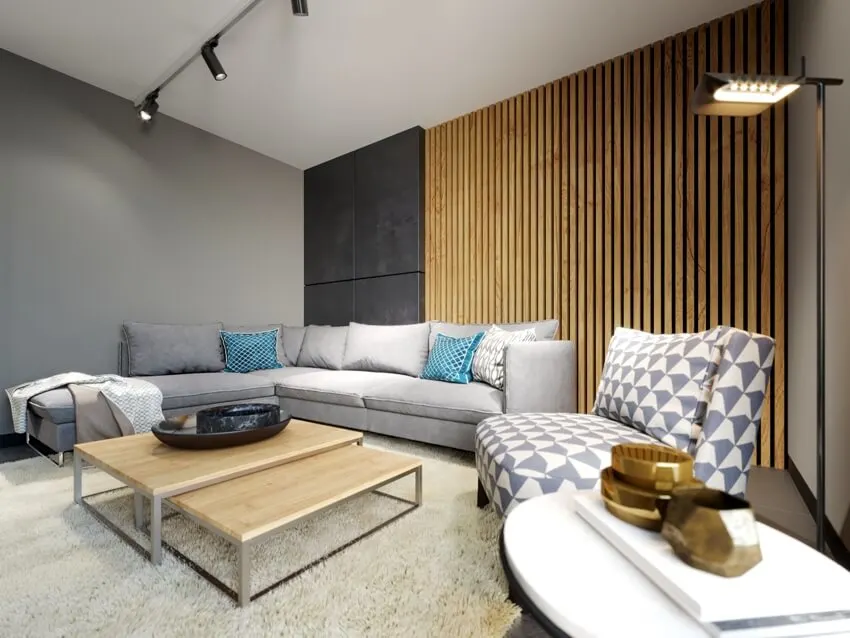 Wood slats are generally made out of vertical wood strips that can be extended from the ceiling down to the floor. Normally, every strip has a width of 2 inches, but it will still depend on the final appearance you desire to accomplish.
To achieve a decent wall appearance, the spaces between every wood slat must be 1.5 or 1.25 inches apart from each other. You also have to ensure that the color of your wall matches well with the color of your wood slats.
Installing wood slats on your wall can be very time-consuming. However, it is not that hard to do. You just have to follow the correct installation method. You can find a lot of DIY wood slat wall installation tutorials online that will guide you in designing your walls.
Is Wood Paneling Cheaper Than Drywall?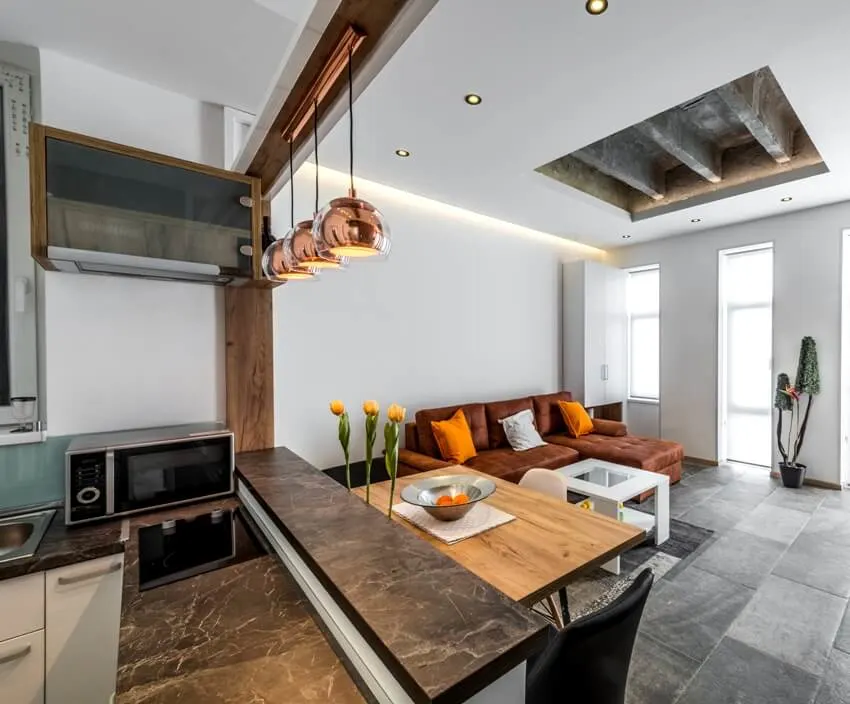 It could be hard to identify the actual difference of the cost of wood paneling and drywall because it will mostly depend on the type of materials that will be used.
For example, a raised panel can cost around $10 to $30, which is a bit the same as the cost of a single drywall sheet.
But compared to board and batten, drywall is definitely much cheaper. Board and batten cost around $75 to $90 per panel, which is obviously more expensive than drywall.
In short, there are types of wood wall paneling that are cheaper than drywall, but some of them can be more expensive than drywall as well.
Can You Do Wall Paneling Yourself?
Yes, you can do wall paneling by yourself. You just have to use the right tools, wear protective equipment, and choose the right type of wall panel that will complement your interior space.
There are a lot of step-by-step DIY wall paneling instructions and videos found online that you can look for to guide you in your wall paneling project.
But if you are not confident with your skills or you do not have the right tools, it will be better for you to contact a professional to seek assistance.
Should You Paint Wood Paneling?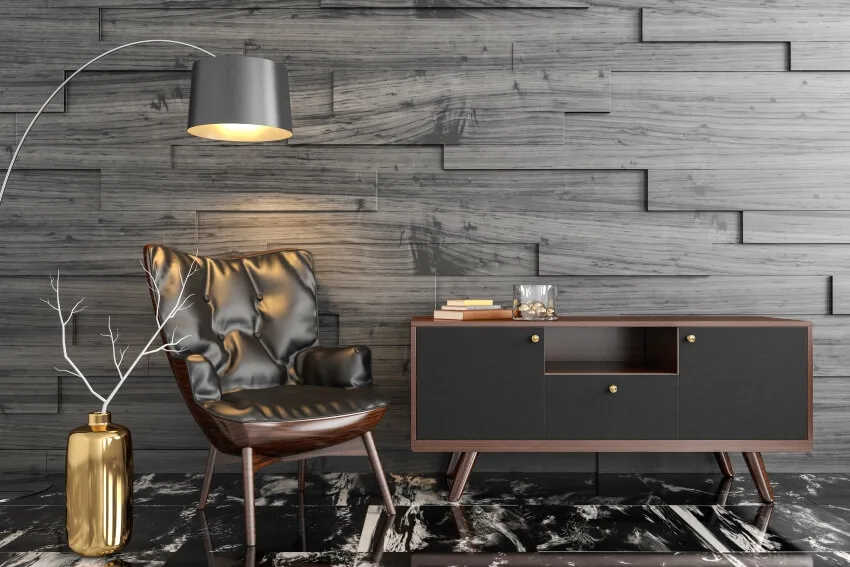 It generally depends on you. If the wood panels you have installed in your walls do not match with your decor, it would be advisable to paint it with a color that will match the color of your interior space.
It is never a bad idea to paint your wood paneling. Painting can even help brighten up your wood wall paneling if you feel that it is looking dull by itself.

For more related ideas, check our guide to the best types of basement wall panels.