Welcome to our types of window blinds ultimate buying guide including popular styles, materials, cost and features.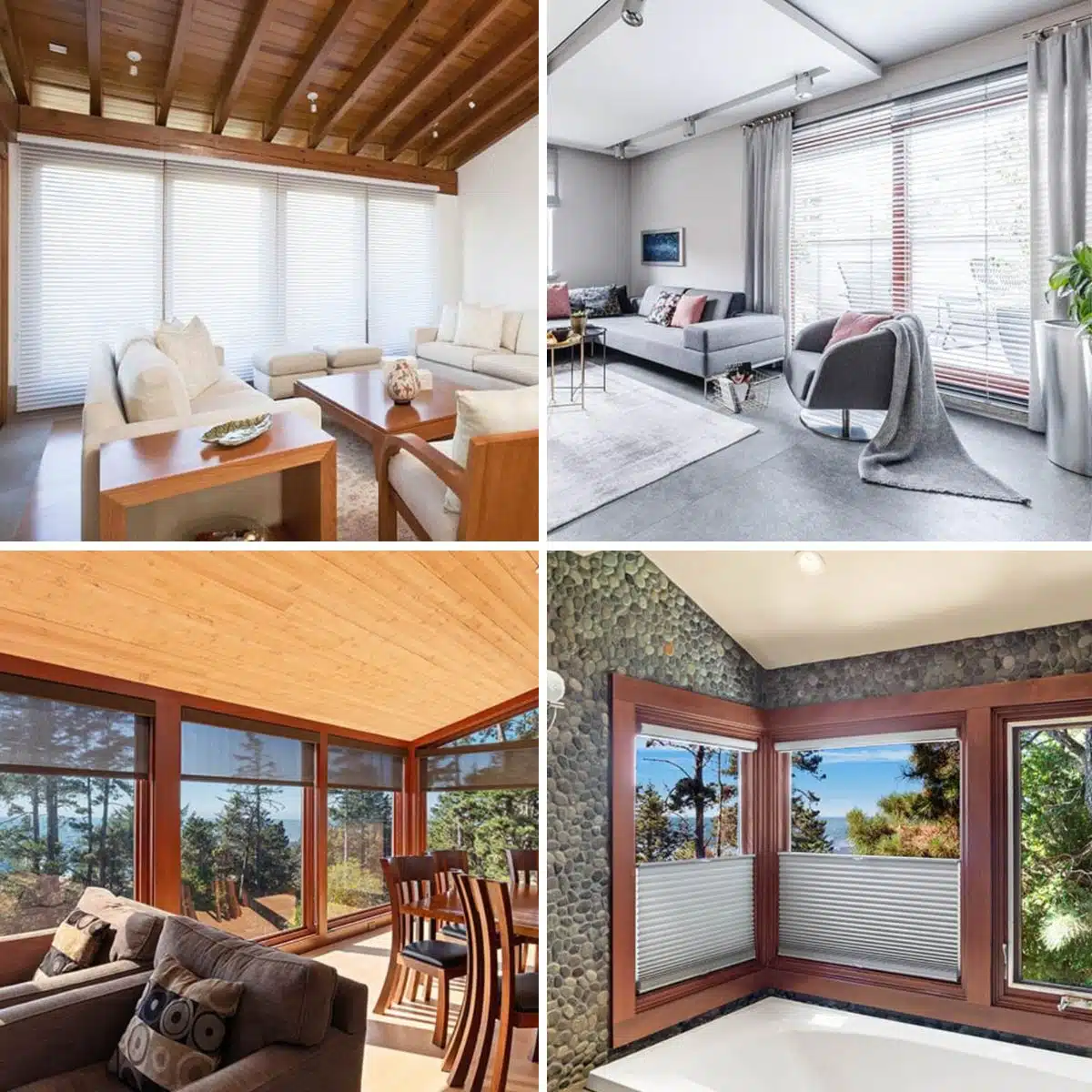 When you're shopping for window blinds, it's easy to become completely overwhelmed by the many types, materials, and features available, to say nothing of figuring out which size to buy.
Our ultimate guide to the types of window blinds will answer questions you didn't know you had about blinds you didn't know existed.
When you've finished reading, you will be prepared to make informed and conscious choices about the best blinds for your situation. Let's get started!
What are Blinds?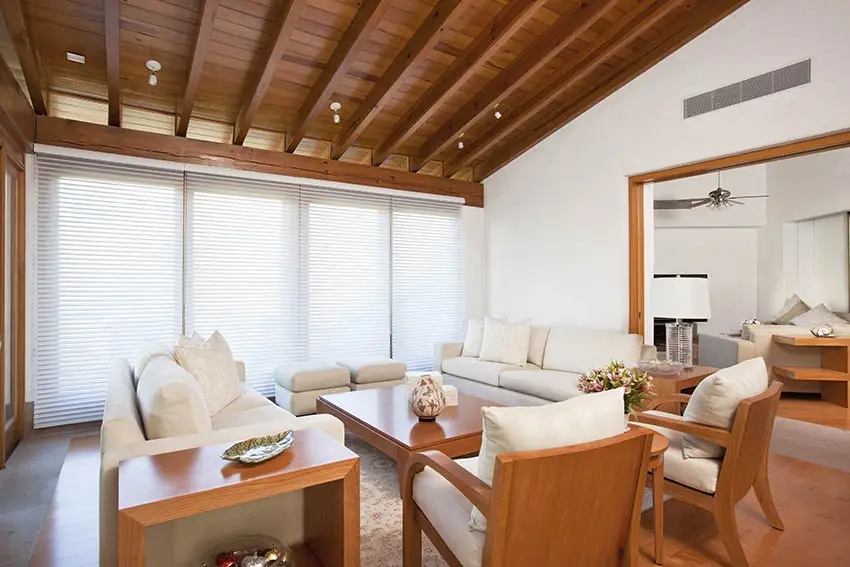 Blinds are types of window covering which feature movable individual vertical and horizontal slats. They offer more options for controlling the amount of natural light that enters the room, since they can be adjusted up and down and can be tilted from side to side.
Blinds are used to control the flow of heat and light both in and out of the room. An adjustable barrier between your inside and outside worlds, we don't usually think much about blinds until they are missing or broken.
While window curtains can provide some of the same functionality as window blinds, they are usually mounted outside the window frame. Blinds, on the other hand, are usually mounted inside the frame, making them a less obtrusive window covering option.
Window blinds are coverings for windows, normally attached to the interior side. Window blinds refer to some device to hide from sight or to help reduce sunlight. – Window Blinds: The Unconventional Guide to Mini Blinds, Roger Magee
Blinds typically have slats, which are spaced at regular intervals and connected by a tape made of string or fabric. The orientation, width, and depth of the slats vary between different types of blinds, and some types of window blind styles have no slats at all.
Window blinds can typically be raised and lowered to cover more or less of the window, creating privacy. Window blinds with slats can often be adjusted to provide shade, let sunlight flow in, or direct the sun's rays.
In a rental property, blinds are typically considered a fixture and are the property of the landlord. Tenants should get permission from their landlords before making adjustments to or replacing, window blinds.
Different Types of Blinds
There are as many different types of blinds as there are types of windows, and innovations regularly appear on the market.
To make sure you know all of your options, dive into the different styles and features of all the blinds currently commercially available.
Horizontal Blinds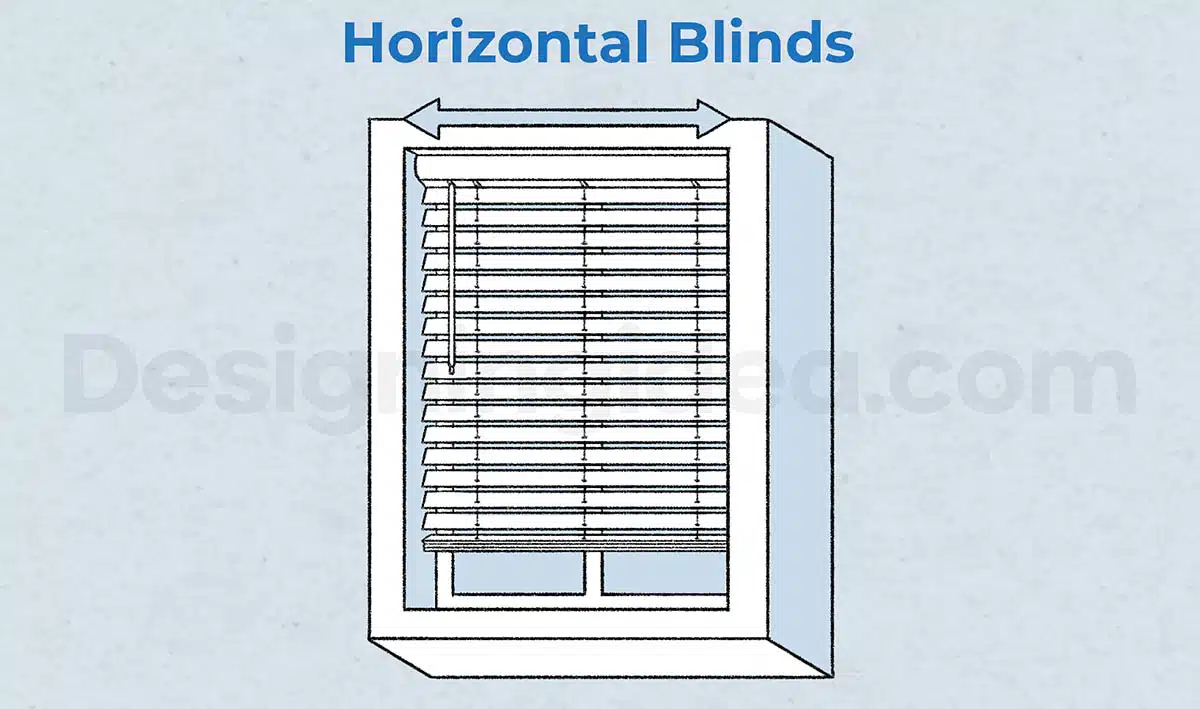 Horizontal blinds nestle into each other when open and spread out to cover the window when closed.
The difference is in the orientation. While vertical blind slats run from the top to the bottom of the window and are pulled from one side to the other, horizontal blind slats are positioned parallel to the window sill. They are lowered from the top of the window.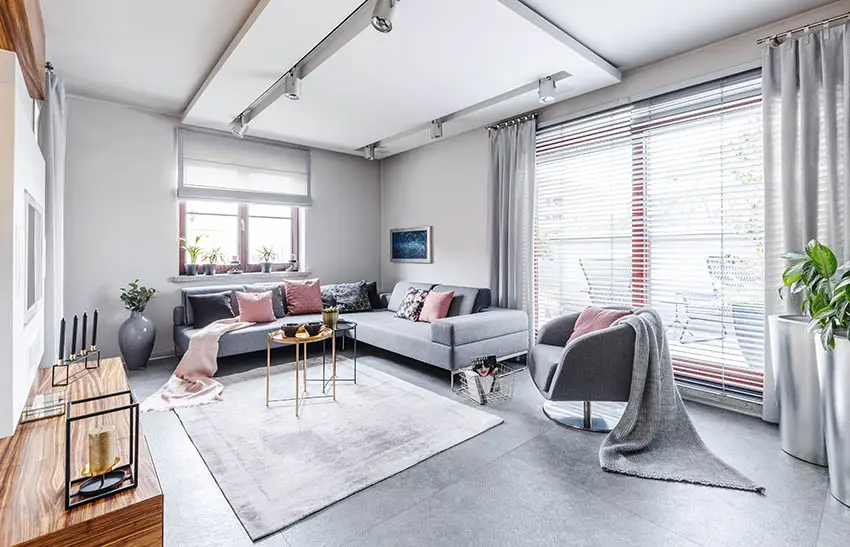 Horizontal blinds are easy to maintain and install making them one of the most popular types of window coverings. Their design makes them ideal for tall and narrow window openings.
Venetian Blinds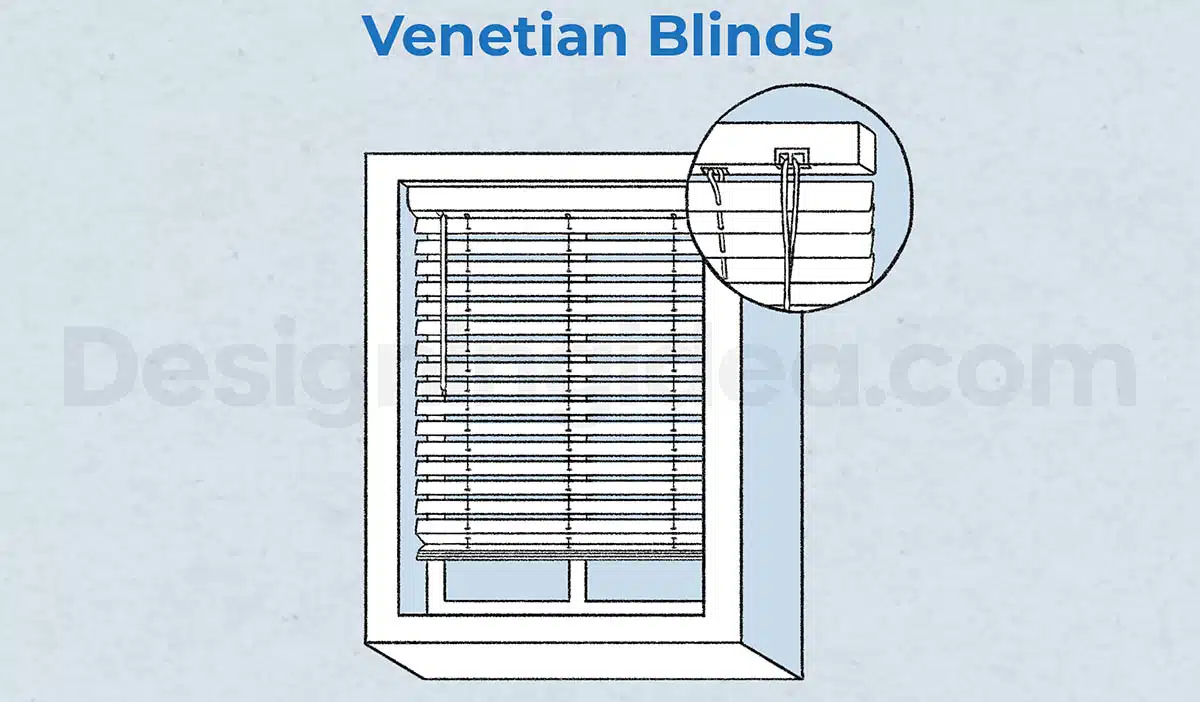 Venetian blinds are the most popular types of window blinds. Venetian blinds is a catch-all term that refers to any horizontal blind where the slats are connected by strings or fabric. The horizontal slats held together by strips of cloth are also known as tapes.
Venetian blinds can be raised up and adjusted to close and open while they are lowered. Each slat is typically two inches wide. Venetian-style blinds can block up to 95% of the light from entering the room but will require a lining to provide total darkness.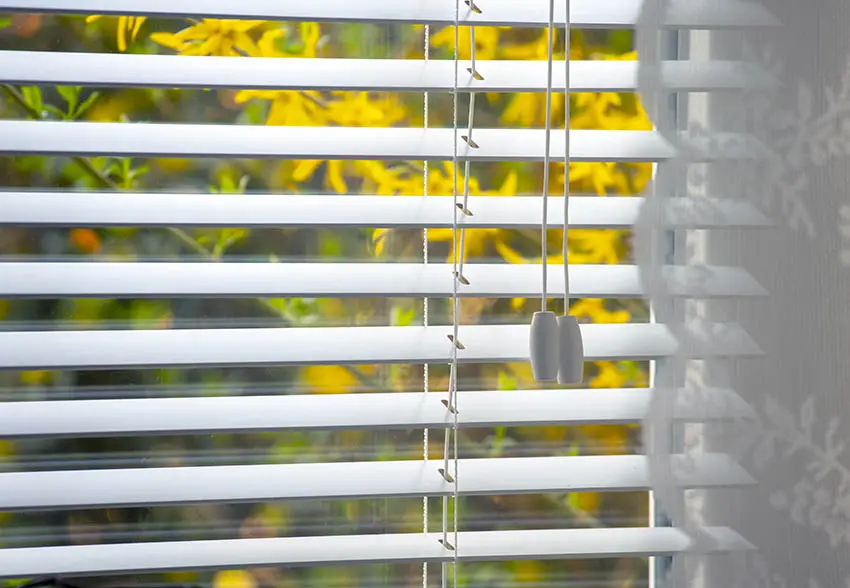 Since these blinds are easy to clean they are often chosen for the kitchen or bathroom windows. Vinyl material is widely used in areas that have high humidity and splashes as they are easy to clean, won't rust, and are not affected by moisture.
Vertical Blinds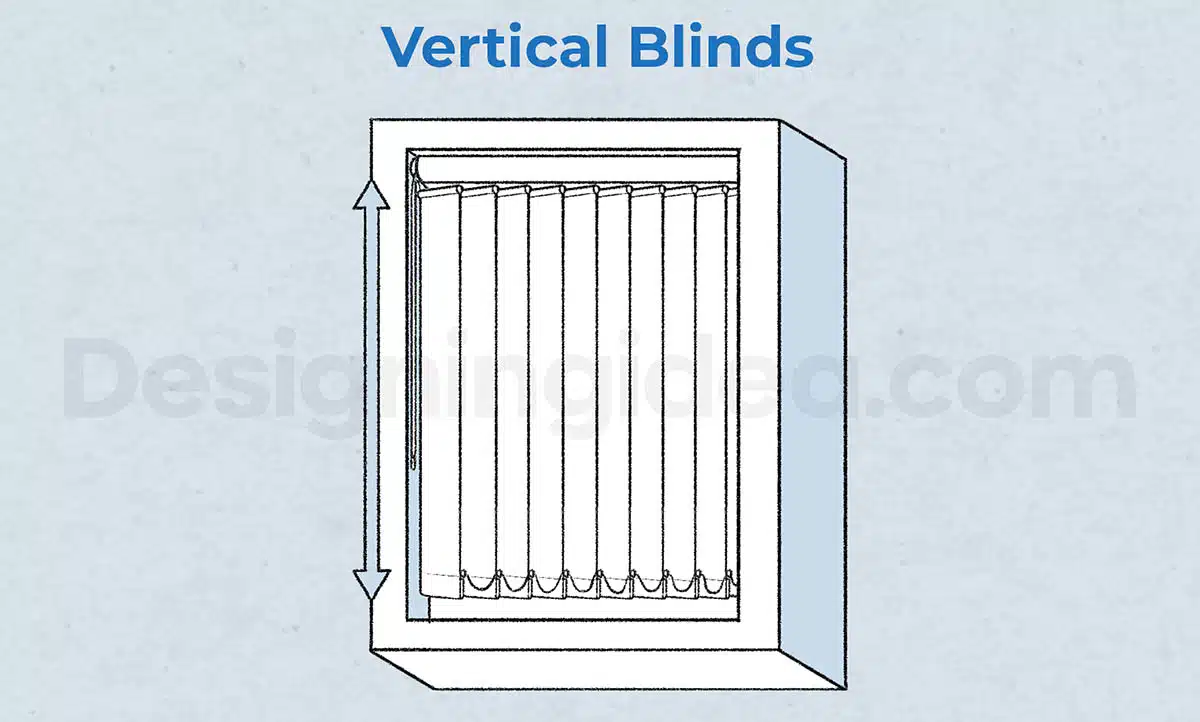 Vertical blinds have individual vertical slats made from stiffened fabric, plastic, or wood that move along a horizontal track at the top and either open side to side or in the middle.
Vertical blinds are always mounted at the top of the window. As the name suggests, the slats are oriented vertically, as opposed to horizontally.
Some vertical blinds are connected by tape, string, or fabric at the top and bottom, while other models allow each slat to swing freely from its mount.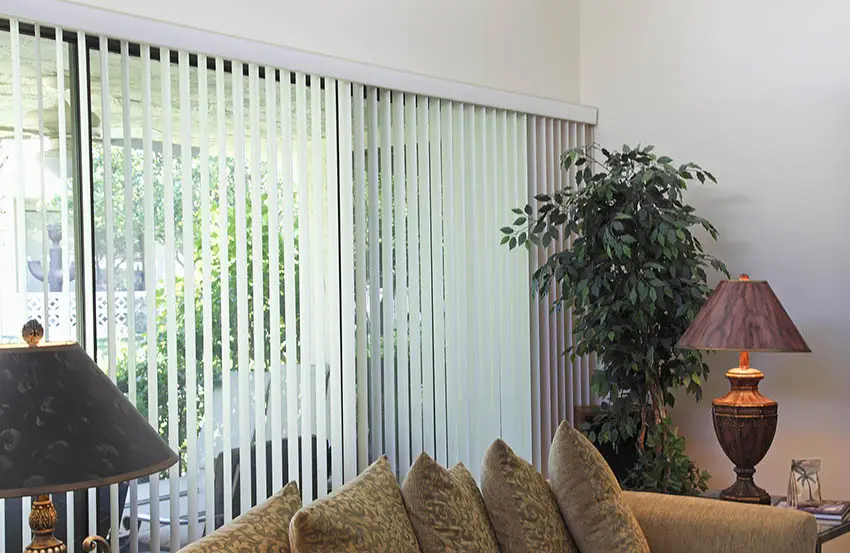 When vertical blinds are open, they are stored at the sides of the window. Vertical blinds are often used for wide and large windows and sliding glass doors.
Mini Blinds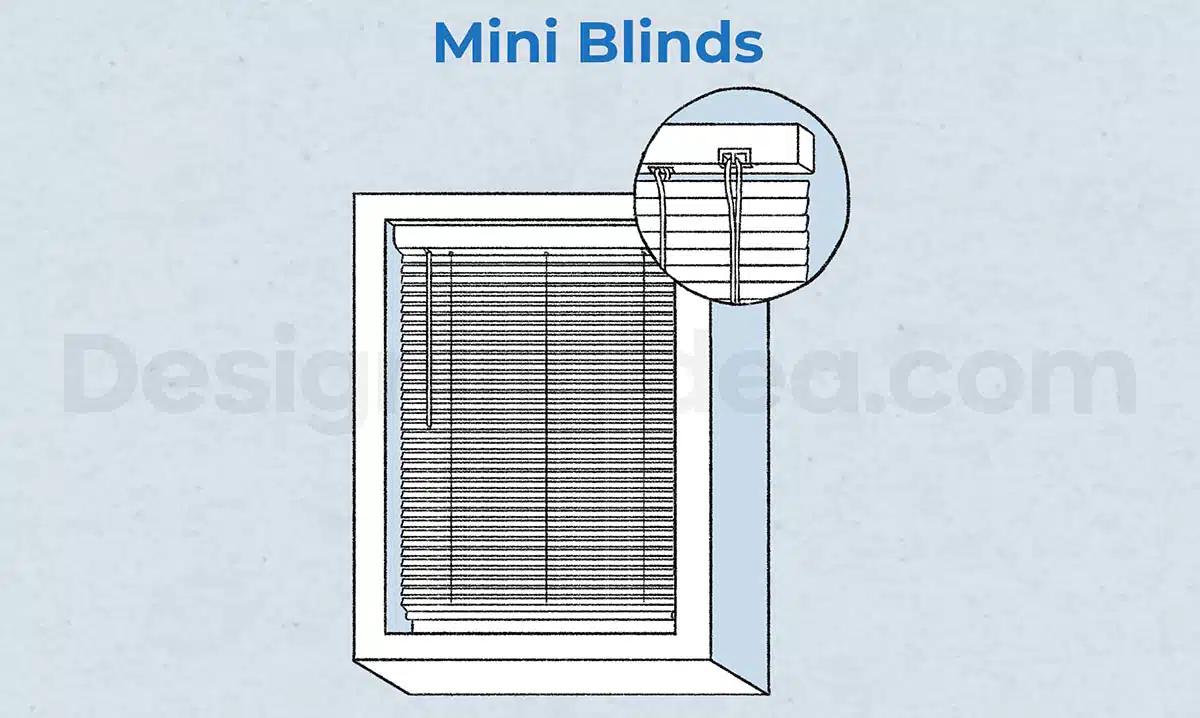 Mini blinds are a type of horizontal blind that is similar to a Venetian blind and are highly effective at keeping out sunlight.
The difference is the width of these mini blinds' slats are smaller than those of Venetian blinds.
While they won't completely blackout the room, they do provide more light protection than standard-sized blinds.
The 'mini' doesn't refer to the size of the window, but rather to the width of the slat. The typical mini blind slat width is no more than one inch wide.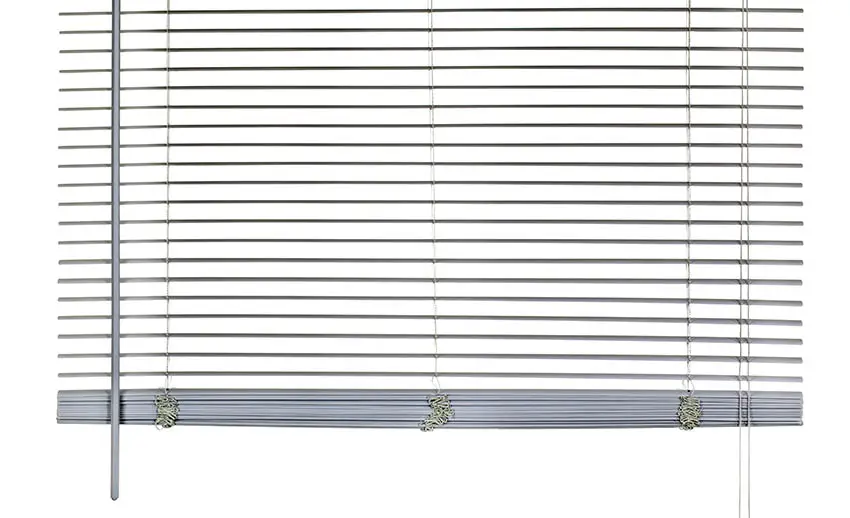 At less than half the width of standard blinds, mini blind slats stack together more tightly, allowing less light into the room. This makes them ideal for rooms that face other homes or the street, as they provide additional privacy.
Micro Blinds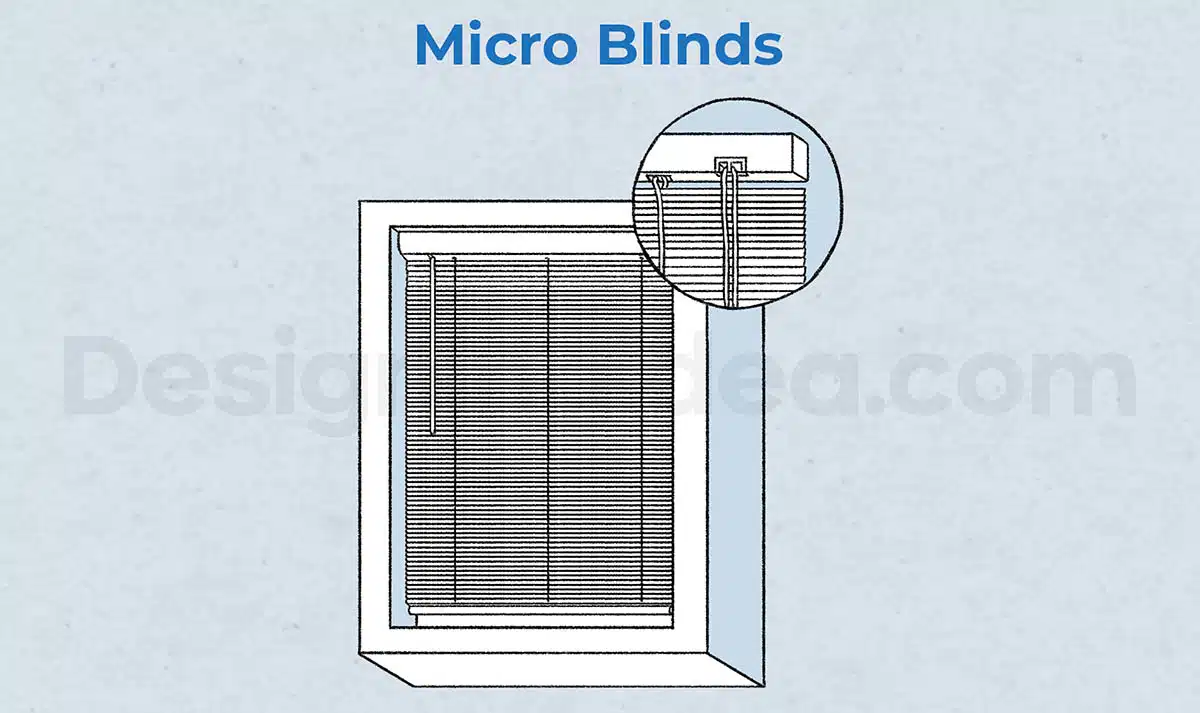 Micro blinds are best for rooms where privacy and light blocking are paramount, such as bedrooms, bathrooms, or dressing rooms.
These teeny-tiny slats are only ½" wide, and are the easiest kind of horizontal blinds to clean.
Roller Shades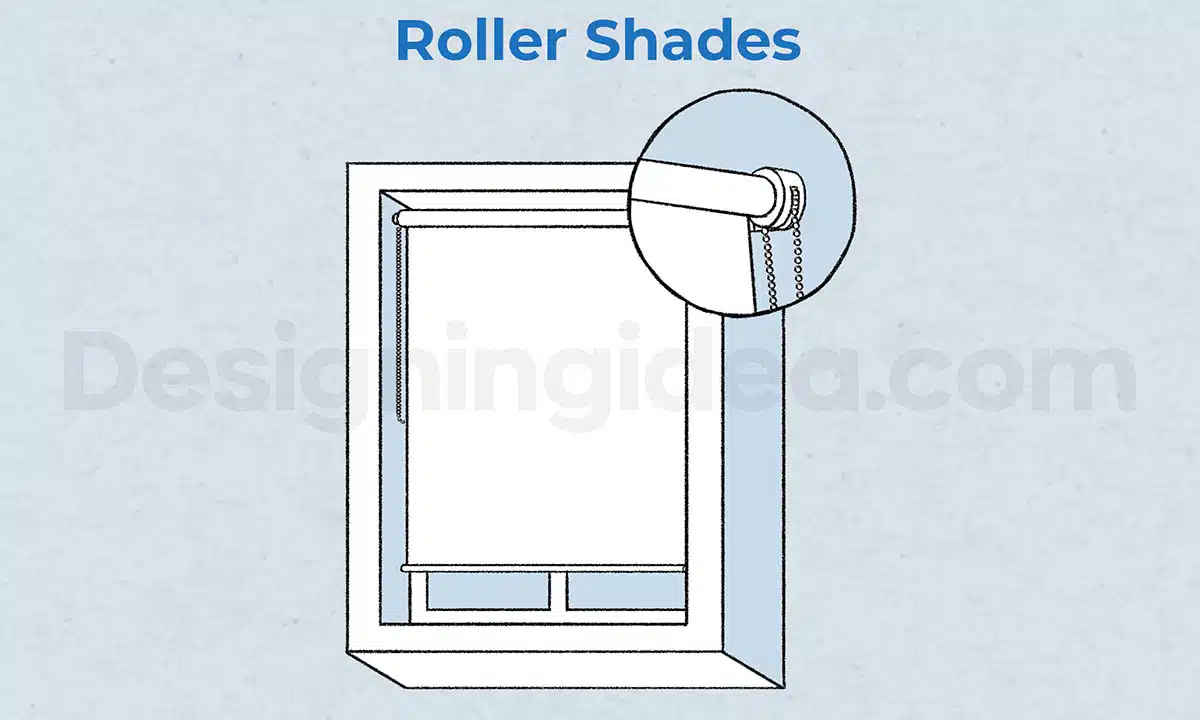 Roller shades aren't really blinds, at all, but they are often sold in the same area of home improvement stores and websites.
Like blinds, the mounting hardware for roller shades is installed at the top of the window. A horizontal rod that can spin freely is used like a spindle, gathering up a length of fabric or plastic sheeting.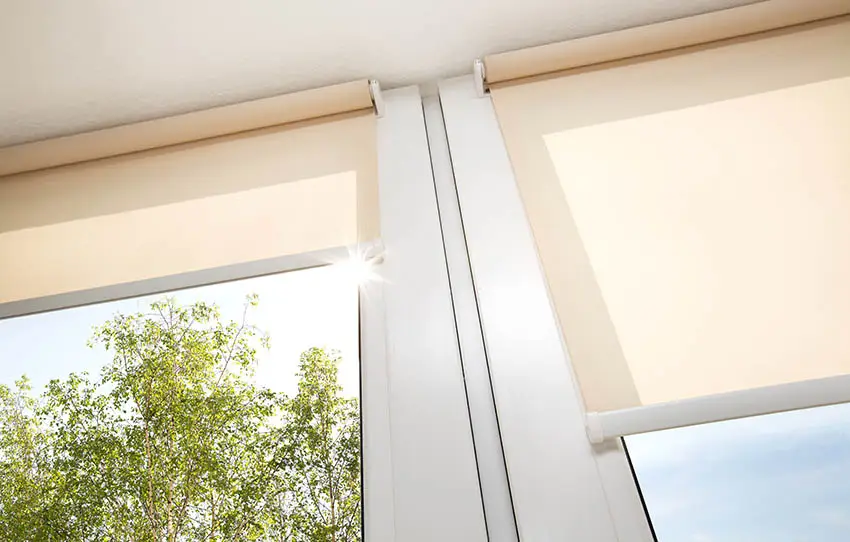 Roller shades offer a beautiful and timeless look made from fabrics and are similar to how a Venetian blind works – when raised, this type of blinds folds into itself.
Solar Shades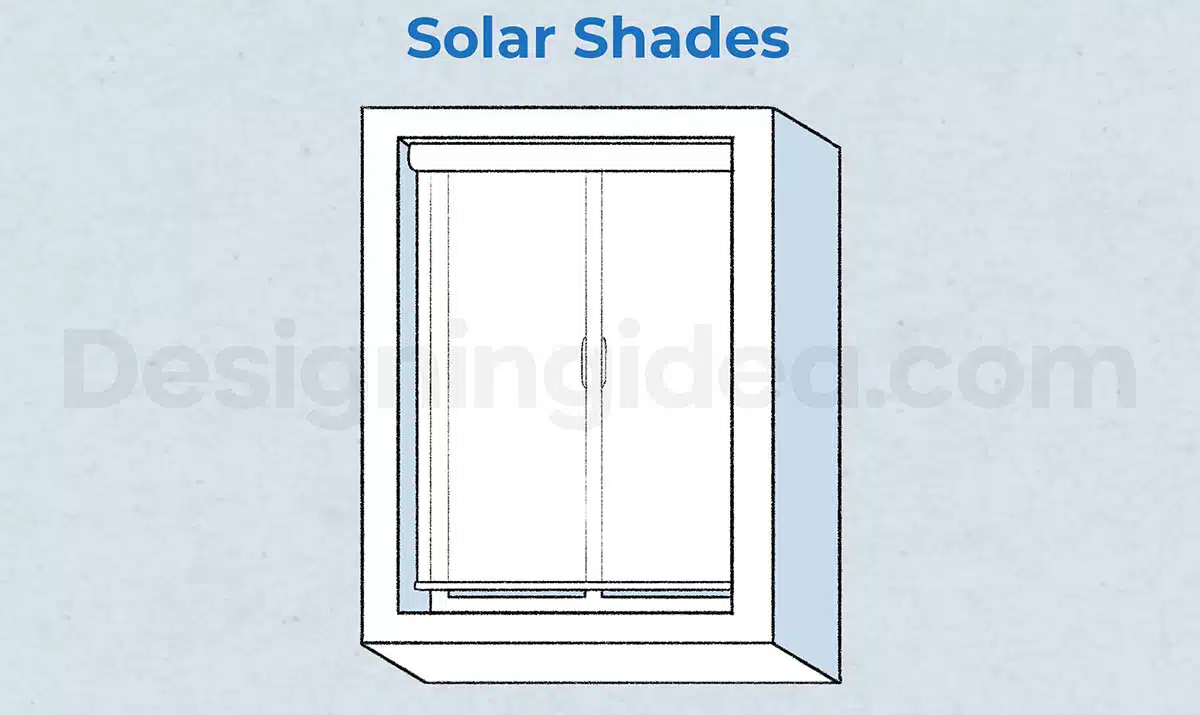 In tropical or sun-drenched climates, the light of day can be blinding and uncomfortable.
A room with large, south-facing glass windows can quickly come to resemble a greenhouse without proper protection. But it's not always desirable to block out all light.
Solar shades are semi-sheer, allowing natural light to stream into the room without the attendant brightness or heat of direct sunlight.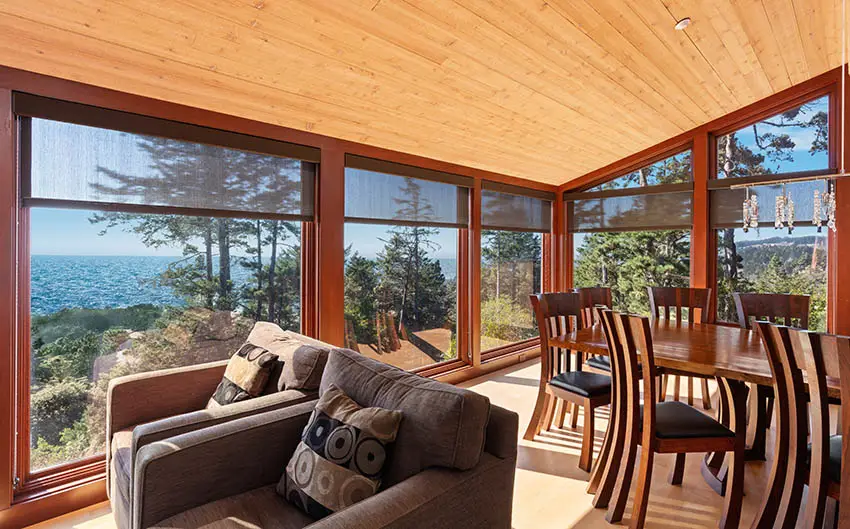 Think of solar shades as a light diffuser, softening and scattering the sun's rays rather than blocking them altogether.
Roman Blinds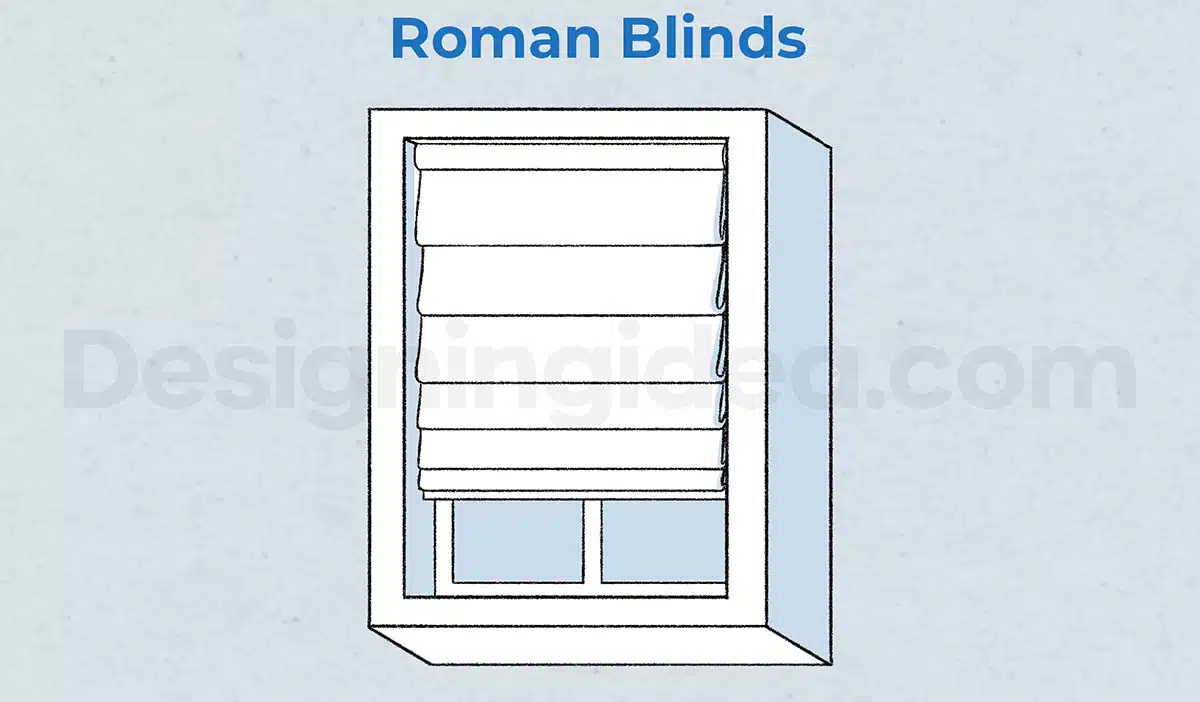 As a rule, blinds are made up of slats. Roman blinds are the inevitable exception to that rule.
Similar to window shades in that they consist of one, long, unbroken strip of fabric, they resemble Venetian blinds in the way that they close.
Strings are sewn into the fabric at strategic points, and when the cord is pulled, these strings hoist the fabric towards the top of the window, folding it in on itself as they are raised.
The result is an attractive swag of fabric at the top of the window. The biggest complaint about Roman blinds is that they do obscure some of the windows, even when fully opened, but many homeowners choose them for precisely this reason.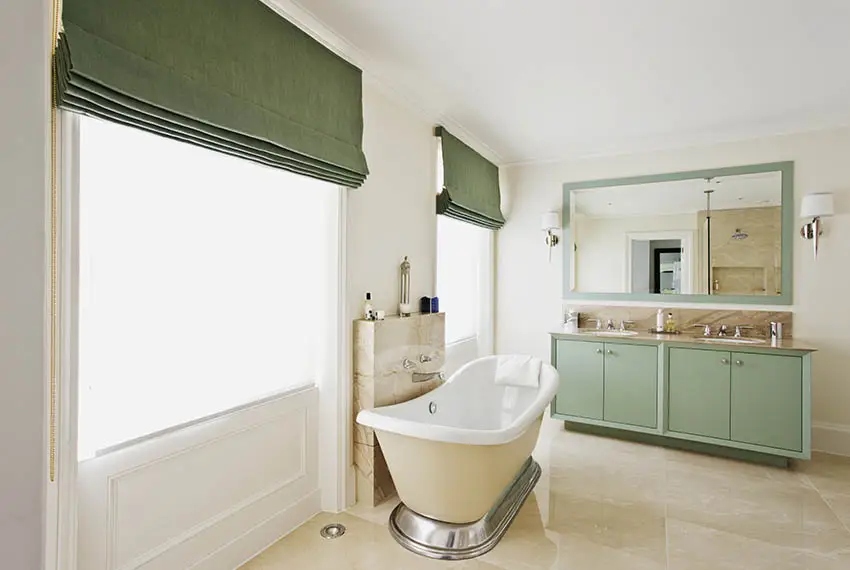 Roman blinds are a great choice for small rooms or windows where a curtain rod is impractical. They mix the low-profile and horizontal adjustability of blinds with the soft fabric look of curtains.
Tie-up Shades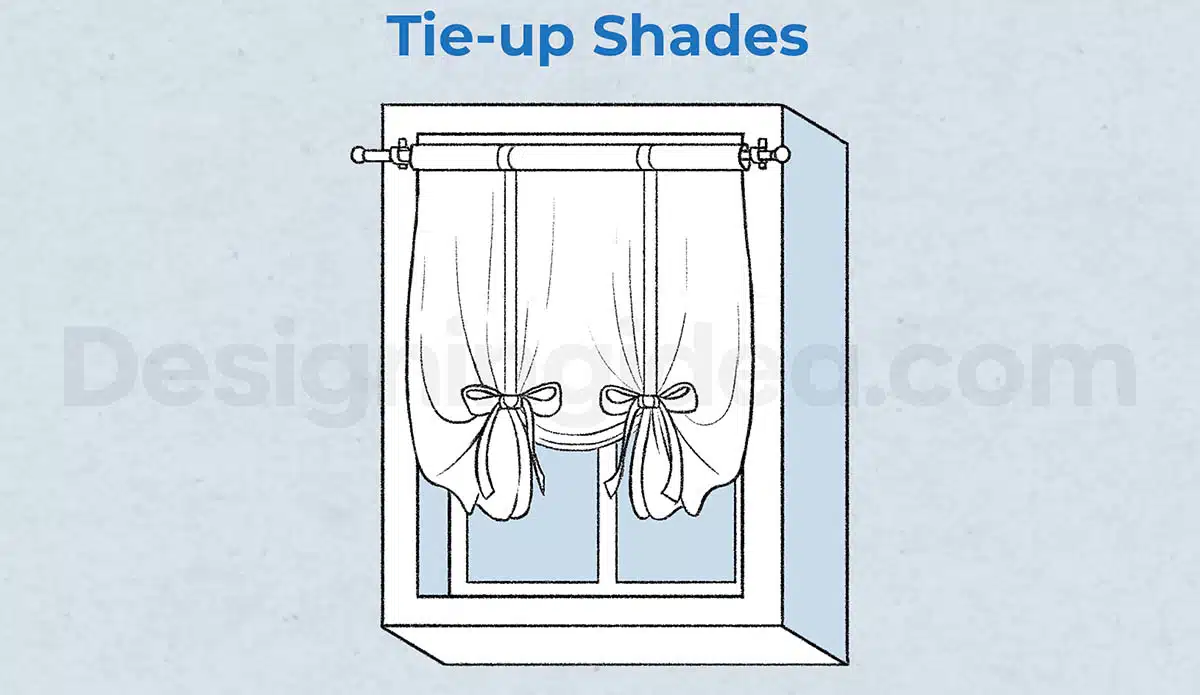 Tie-up shades are another blend of curtain and blind. Unlike Roman shades, tie-up shades are not operated with a cord.
Instead, they are manually untied and re-tied at the desired height and in the preferred position. Typically, a tie-up shade covers between ¼ and ¾ of the window surface.
They require time, patience, and a certain knack to adjust, and tend to be installed on little-used windows or where privacy is a concern, such as a kitchen window that faces a neighbor's house.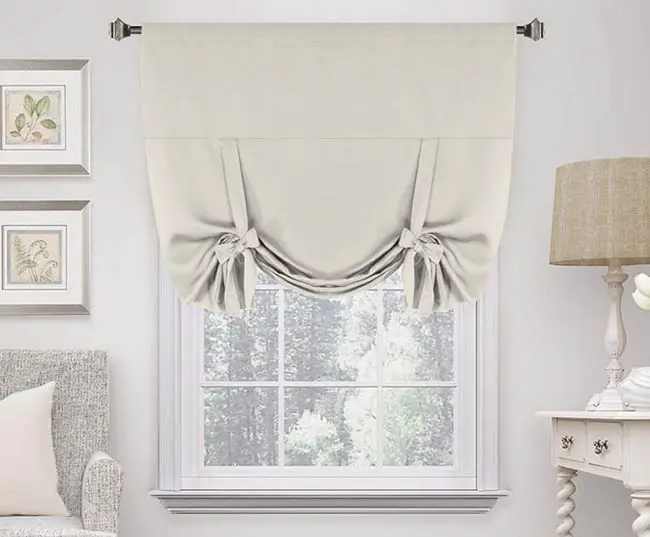 See these tie-up shades on Amazon.#ad
Pleated Shades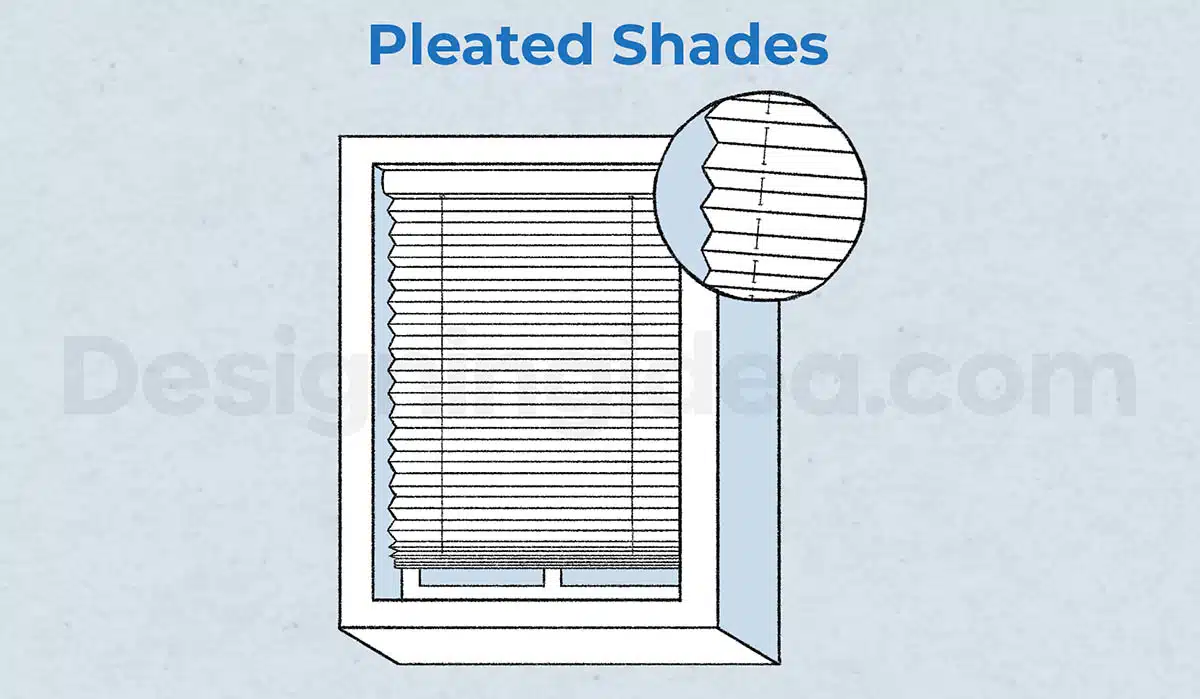 Made from folded paper or starched fabric, pleated shades have horizontal creases that allow them to neatly collapse into a small space.
Pleated blinds are usually tailor-made to fit all types of windows for a fashionable modern look.
When lowered, the creases are still visible as the fabric or paper extends to cover the window. The lack of space between slats means that there is minimal light leak.
Pleated shades are usually adjusted with a cord, although cordless/hand-operated models are also available. The pleated blind models without any cords or loose control cables are more child friendly.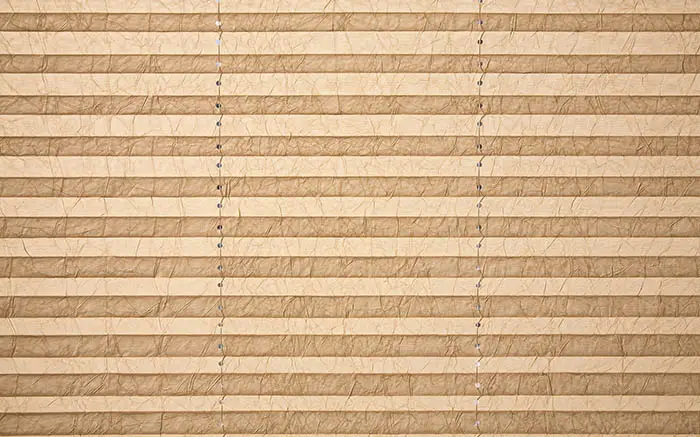 Pleated blinds are made with 20mm to 25mm pleats making it possible to fit even the intricate and untypical shaped windows.
The smaller size pleats fit directly into the window frame which offers a more modern and aesthetic appeal, it has a tidier headrail which gives an overall stylish look.
Pleated blinds can cover any part of the window from top to bottom which increased privacy, provides protection from UV sunlight, and allows light control.
Cellular Shades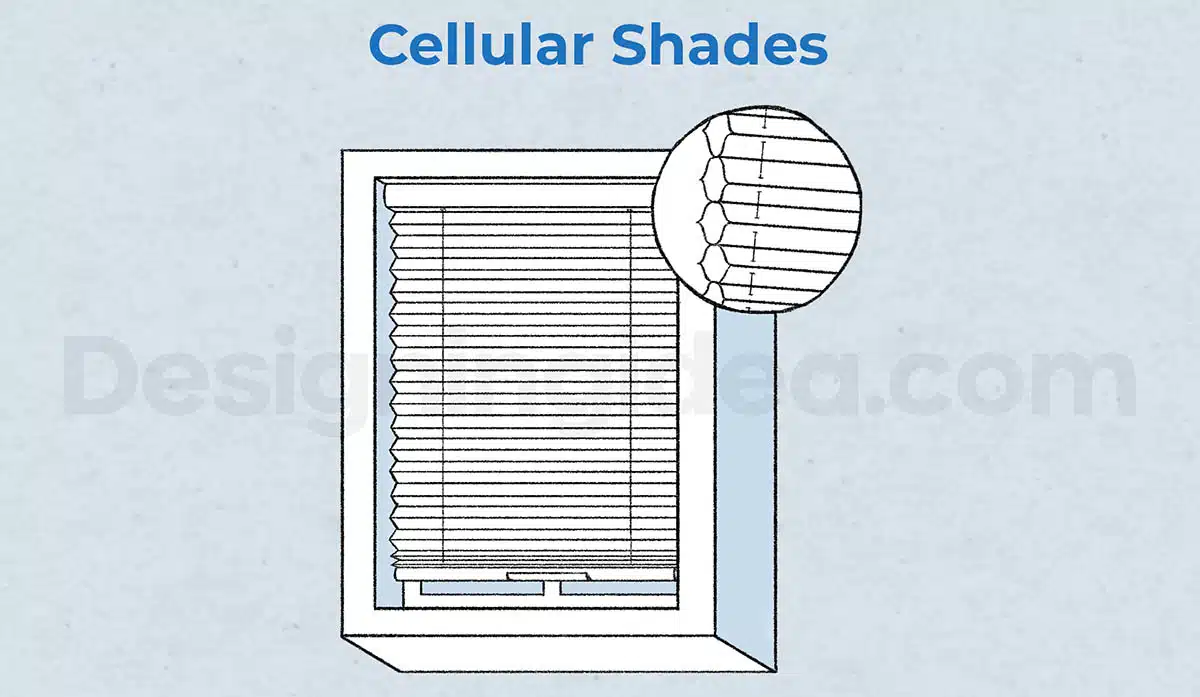 When open and viewed from the side, cellular shades have a honeycomb structure.
Instead of slats connected in one or two places by string or fabric, each 'cell' is seamlessly connected to the ones above and below it.
The result is a three-dimension window treatment that is easy to raise and lower, and won't become tangled or twisted.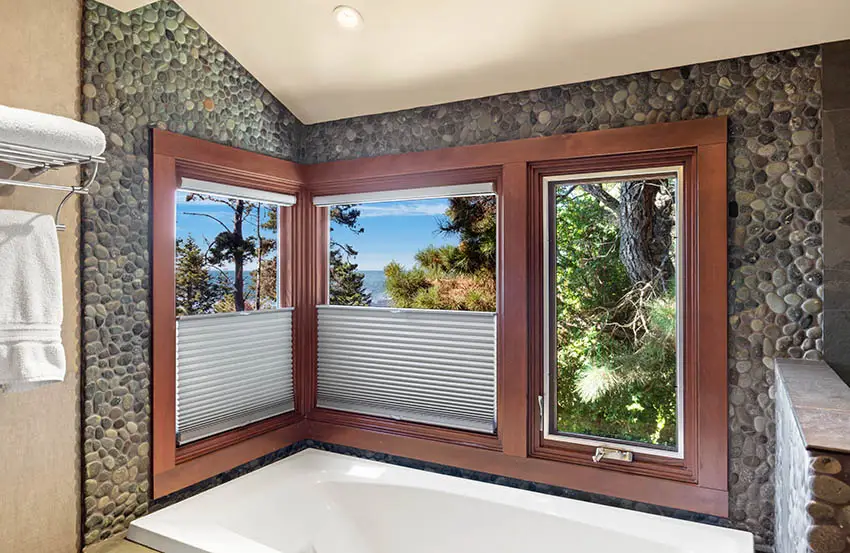 Some of the primary reasons to buy cellular shades are the inexpensive price, and their ability to offer privacy, and control glare in a room.
Duo Vision Blinds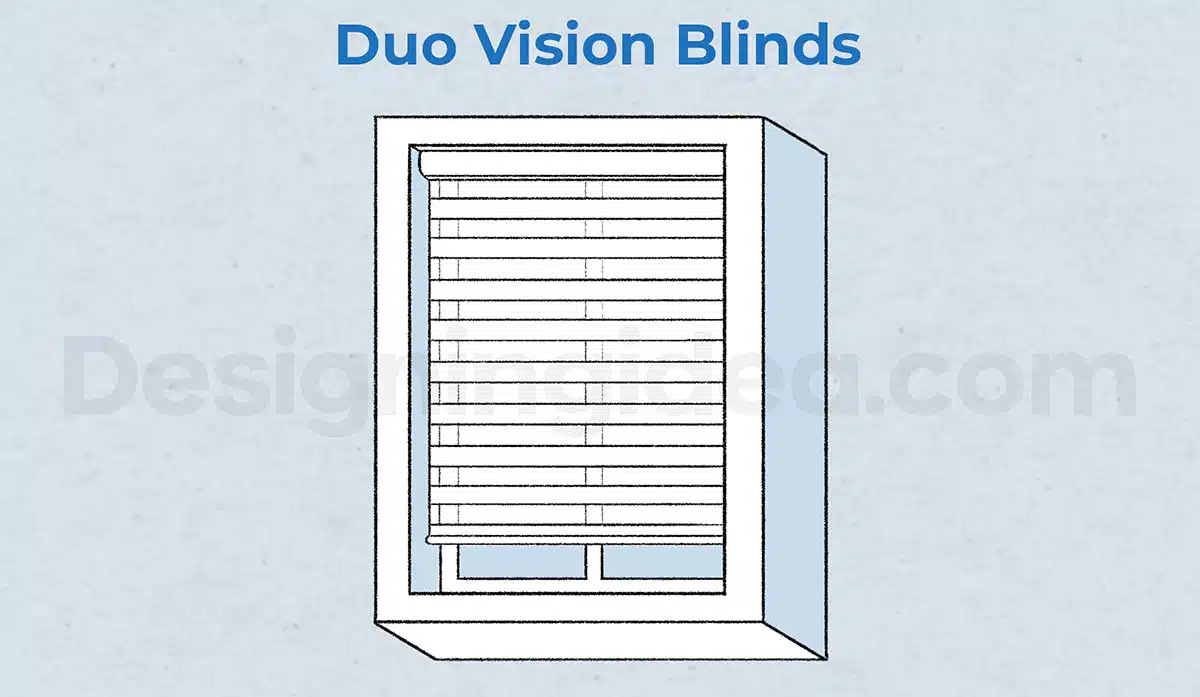 The latest innovation in roller blinds, duo vision blinds are a blend of all the best features. A roller cassette is used to mount these blinds neatly at the top of the window, and they are controlled by a cord.
Duo Vision blinds are made of two layers of translucent and opaque horizontal striped fabric that operates similarly with the traditional roller window blinds; these striped fabrics move independently from each other when rolled up or rolled down.
Since the blinds themselves consist of two different types of fabric, each piece of fabric has horizontal stripes, alternating between opaque and transparent or semi-sheer.
The home owner can control the flow of the light into the room by adjusting the way the fabrics are aligned.
You have the option to align the translucent stripe fabric with the opaque stripe fabric to allow filtered light into the room or if you wish to see in or out. When the opaque stripes are stacked on top of each other, light streams through the transparent panels, while privacy is somewhat preserved.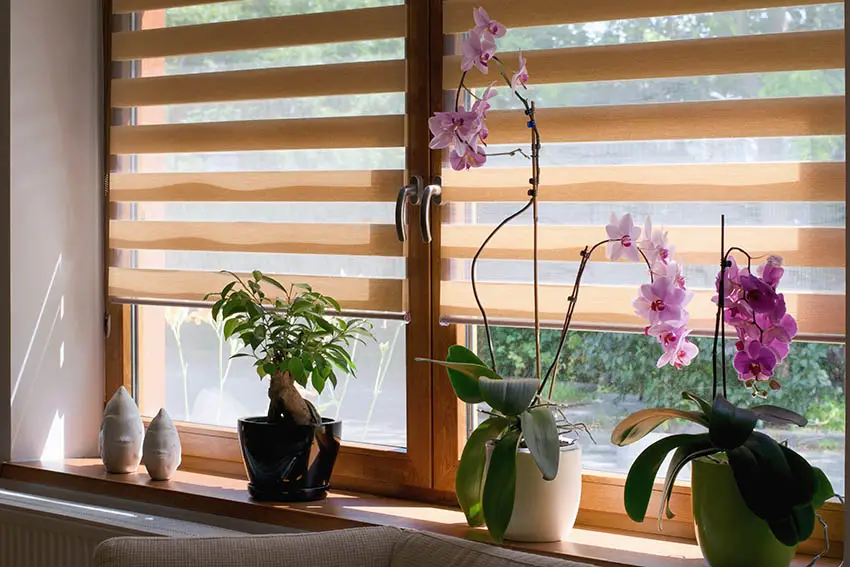 To block light, the opaque panels are staggered, overlapping only at their edges. When there is a need for the most privacy, aligning both opaque fabric stripes will give you total privacy just like traditional roller blinds.
Silhouette Blinds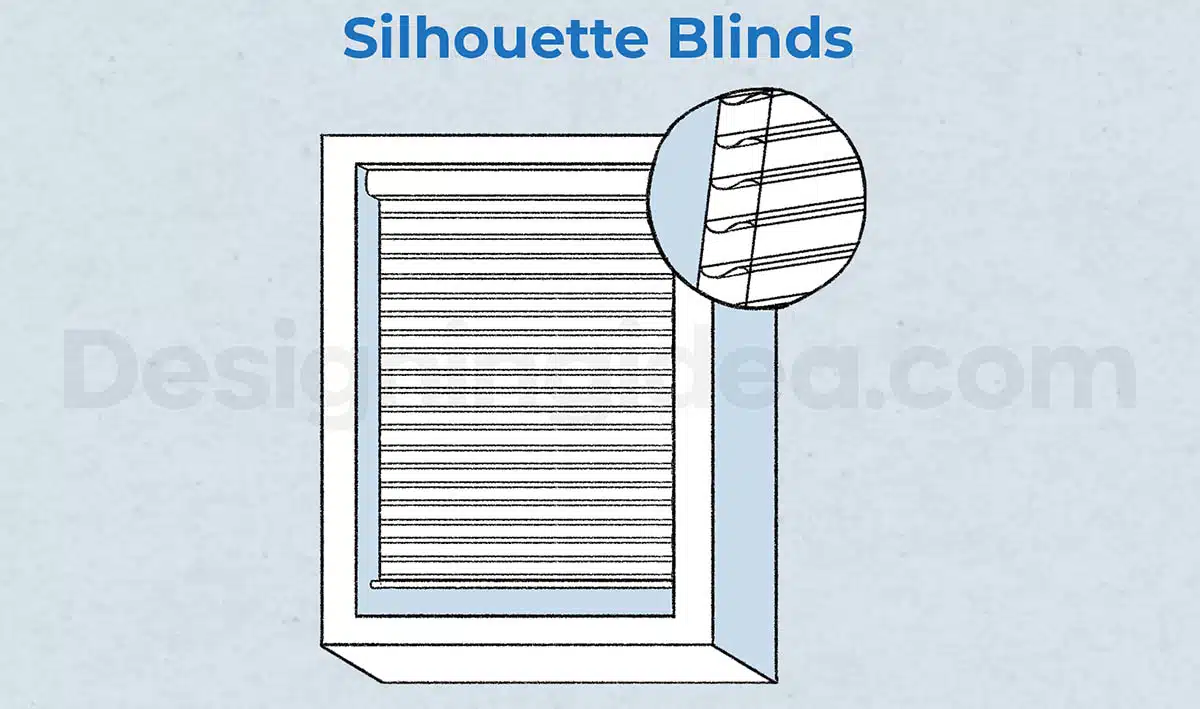 A trademark of the renowned Hunter Douglas window covering company, silhouette blinds combine the adjustability of horizontal blinds with the privacy and light-diffusing properties of solar shades.
Silhouette blinds operate almost the same as Venetian blinds; they use a soft horizontal tilting fabric which provides control and is suspended between two layers of sheer fabric.
Two strips of fabric hang from a mount at the top of the window, and in between them are adjustable slats. The slats, also made of fabric, can be tilted, raised, and lowered to customize the amount and quality of light entering the room.
As the name suggests, these do not completely block out light or protect you from prying eyes. When you're standing between a silhouette shade and a source of light, the shadow your body casts can be clearly seen from the other side.
There are a variety of fabrics to choose from including silk fabrics for a luxurious effect. Sunscreen fabrics can help reduce sunlight coming into the room and keep the room cool during hot weather. There are also fabrics that can dim the light of the room, which are perfectly suited to use in bedrooms or a nursery.
Panel Blinds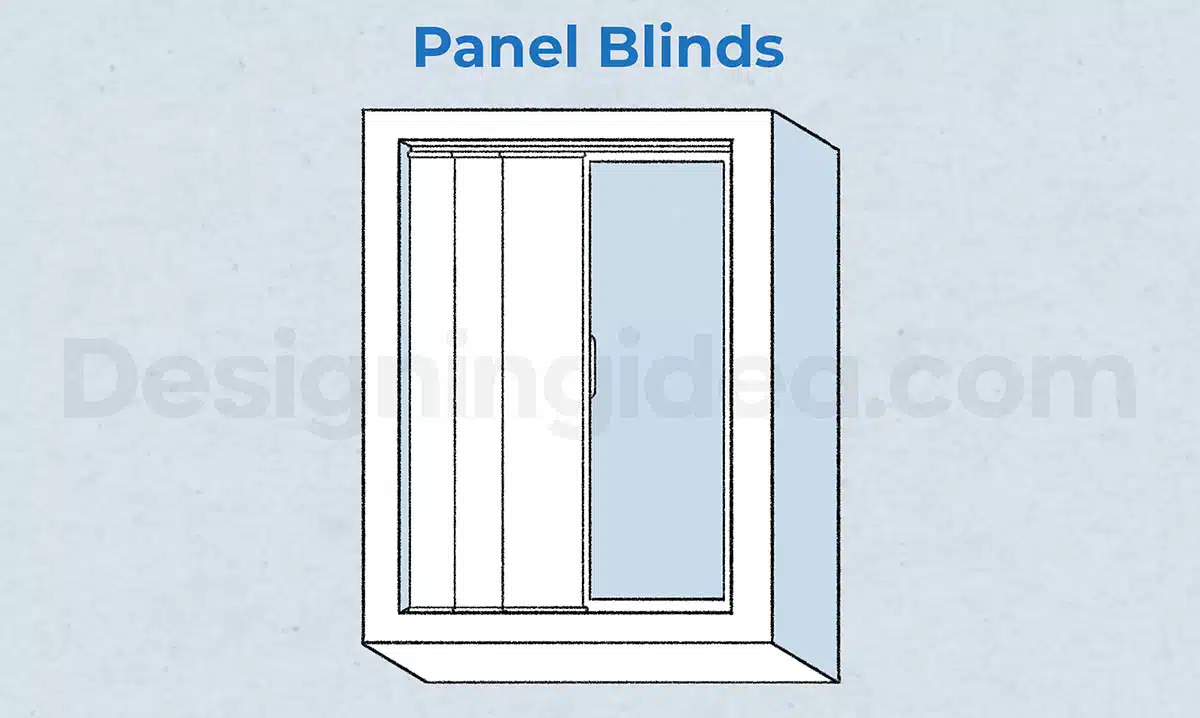 Technically a type of vertical blinds, panel blinds are attached to runners on the top and bottom of the window or door.
Large sheets of fabric slide along these runners to provide custom levels of shade and privacy, and can be easily pushed aside in order to enter or exit the building.
Panel blinds are a popular choice for very large windows and patio doors.
See these panel blinds on Amazon. #ad
Smart Blinds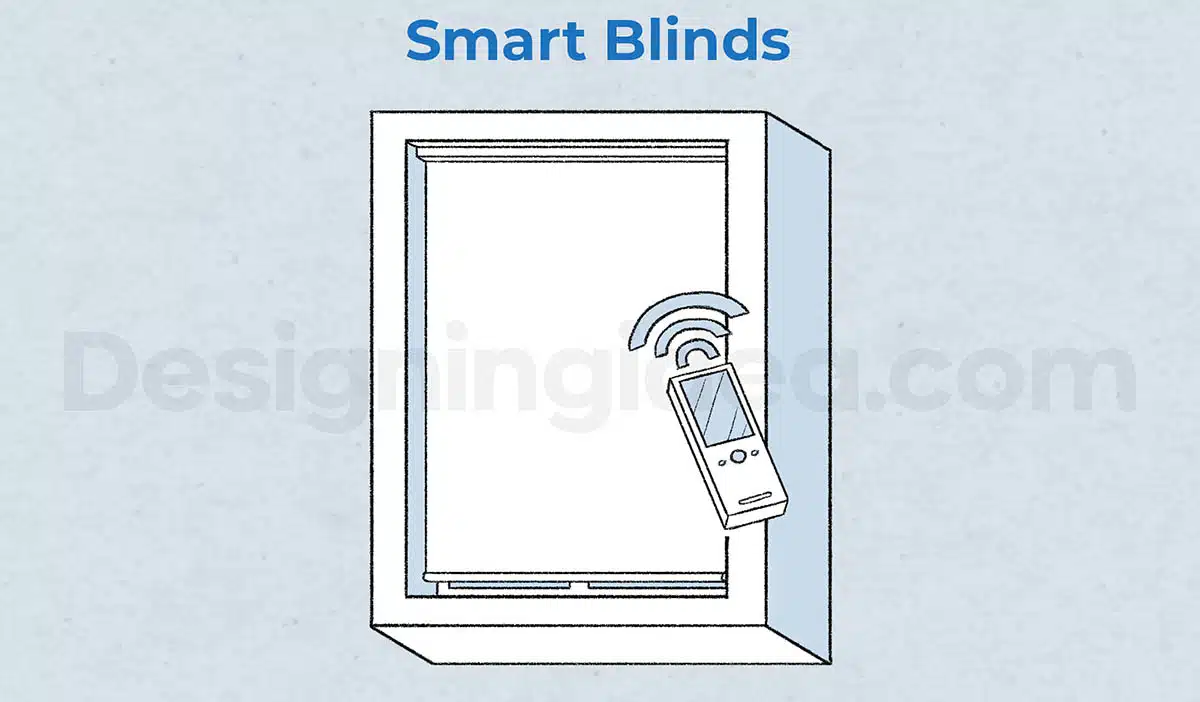 Smart blinds use motorized technology to allow for indirect adjustment. A small motor is installed, usually in the mounting hardware that comes with the blind although there are aftermarket solutions that can be purchased.
A battery operated remote is the traditional method for controlling smart blinds, while newer models often function via a bluetooth connection to a remote app on your phone.
Rather than adjusting the blinds several times a day as the light changes, the owner of smart blinds can simply switch between pre-set options.
The higher end and more expensive the smart blinds are, the more features you can expect.
For instance, you may be able to program your own presets, or set a schedule so that the blinds in your home automatically adjust themselves.
Vanishing Blinds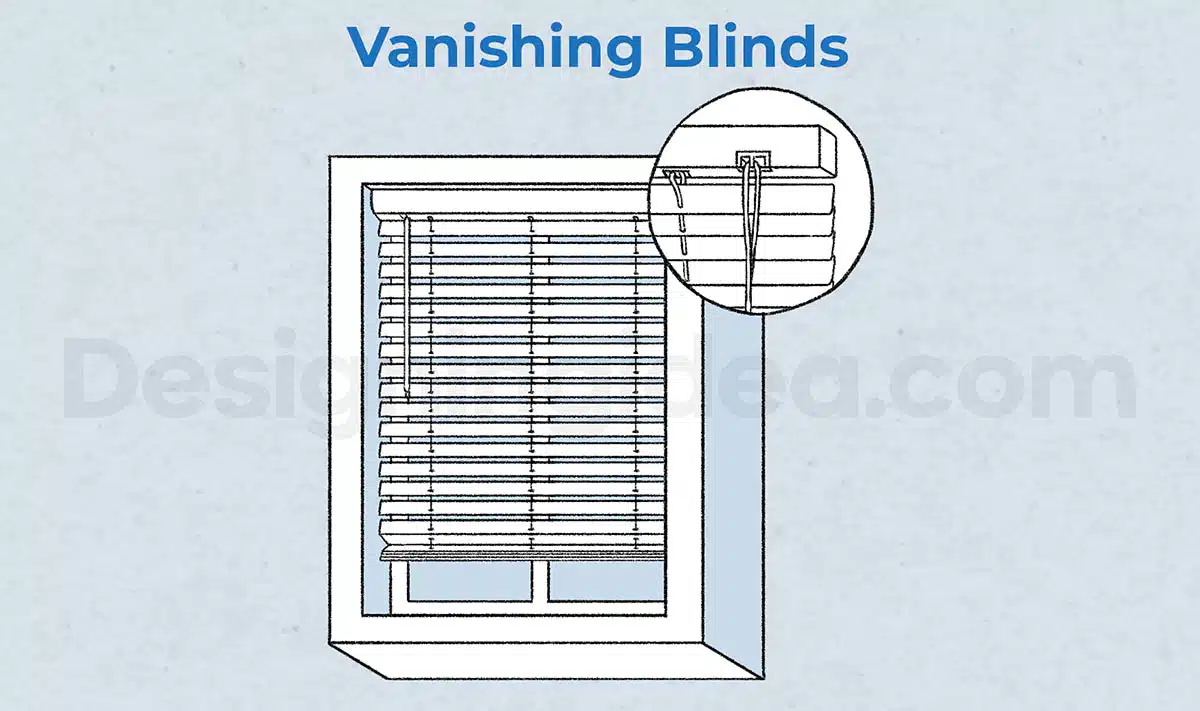 'Vanishing' is a malapropism — mistaken use of a word that sounds similar to the correct one. If you ask a window covering professional about vanishing blinds, they will gently redirect you to Venetian blinds.
Skylight Shades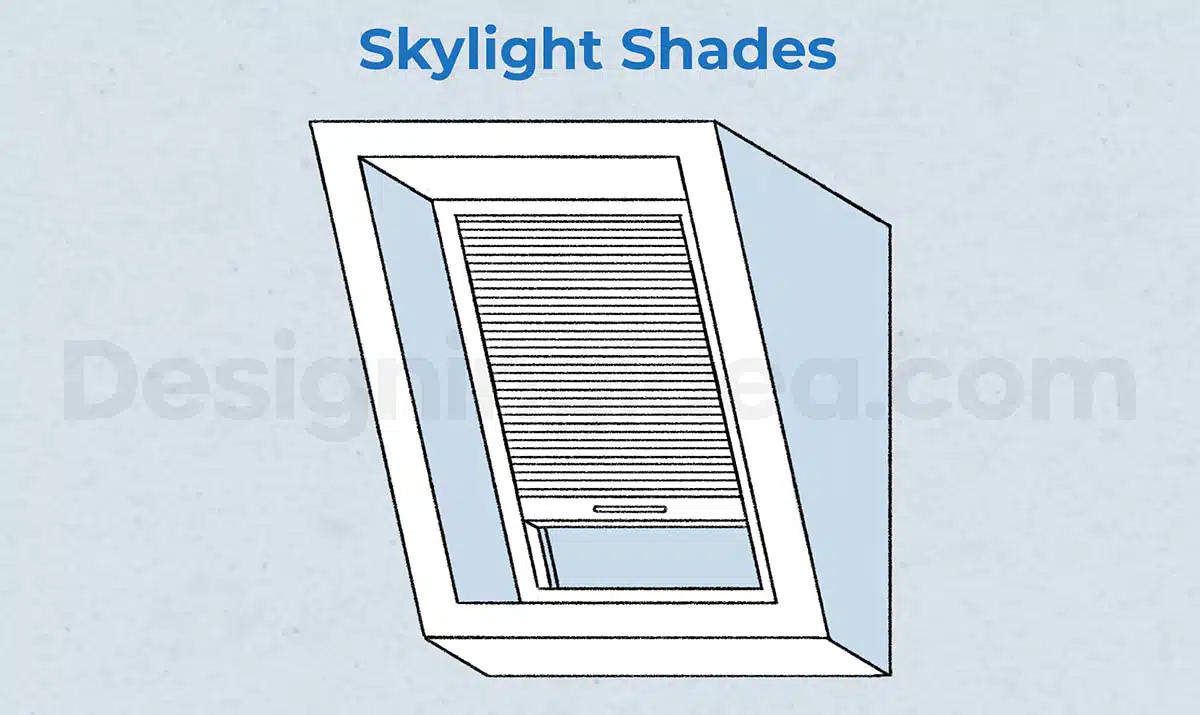 The purpose of a skylight is to let light spill into your home from above. But sometimes that light may be too intense or too hot. Or perhaps you're worried about prying eyes from the neighbor's new attic expansion.
Skylight shades are designed to solve these problems. Mechanized skylight shades are the easiest to operate — you can use a remote control or even have a switch installed in the wall.
Manually operated skylight shades are a bit trickier — they usually come with a detachable rod or handle that can be used to draw the blinds across the window.
The quality of the installation will dictate how easy it is for you to adjust your skylight shade, so this is one place it definitely makes sense to spring for a professional.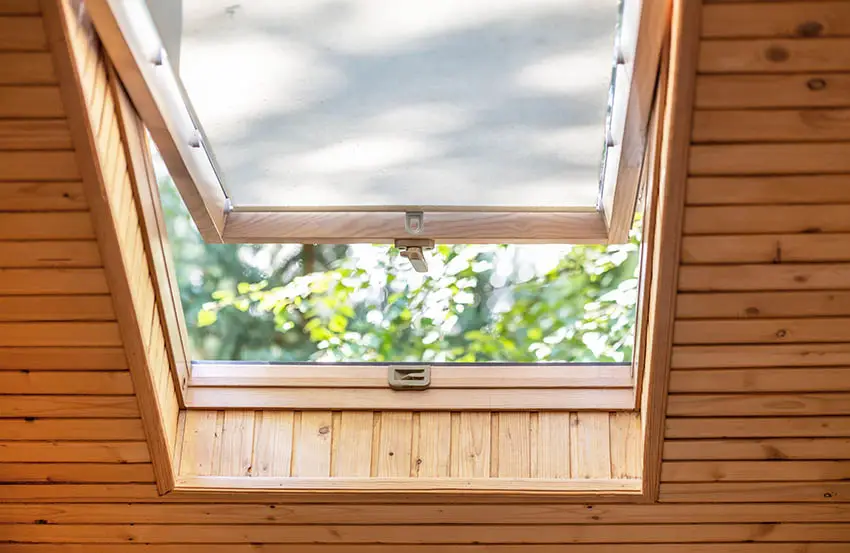 The design of the shades is flexible — they could be roller, cellular, or even pleated. Venetian blinds are less commonly used.
Velux Blinds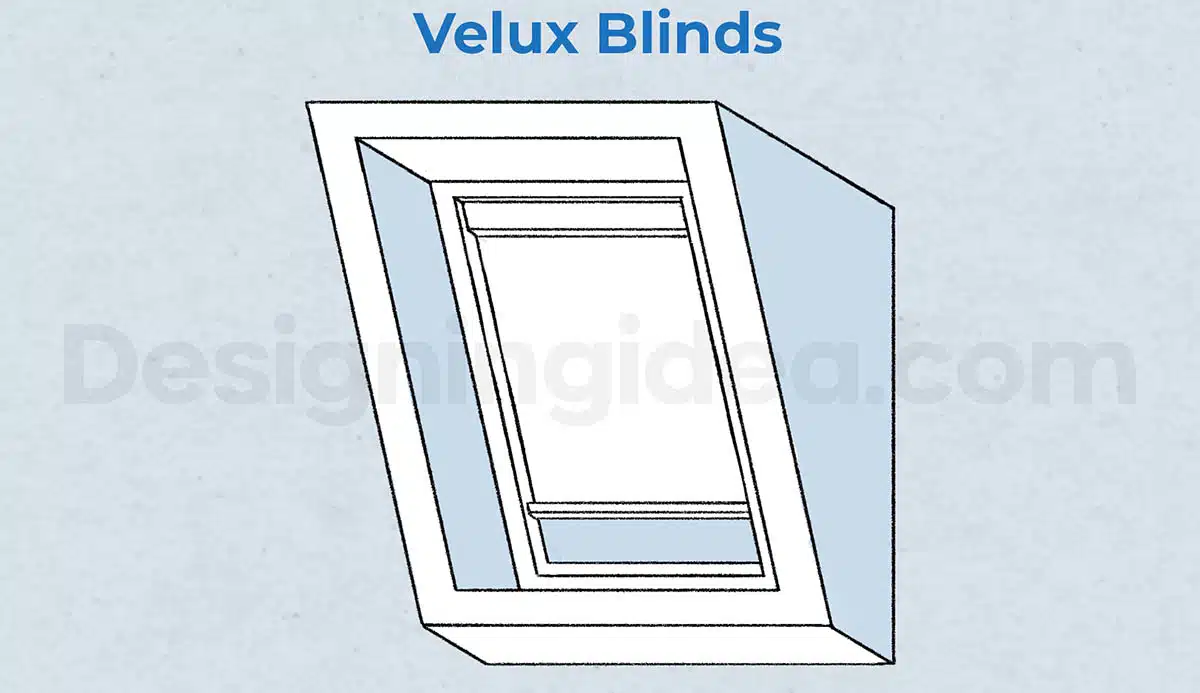 Velux blinds are highly recommended for skylight and roof light windows, They can be made of roller blinds, pleated blinds, or Venetian style blinds.
When using Velux blinds made of a pleated style blinds there is so much variety to choose from for fabrics – from soft translucent fabrics to blackout fabrics.
Velux blinds are suitable for loft rooms since it can keep the room cool in the summer and at the same time save energy through heat loss in the winter.
Velux blinds made like Venetian style blinds are perfect for kitchen and bathroom since most of the Venetian blinds are made of aluminum, these blinds are heat and humidity resistant.
Outdoor Shades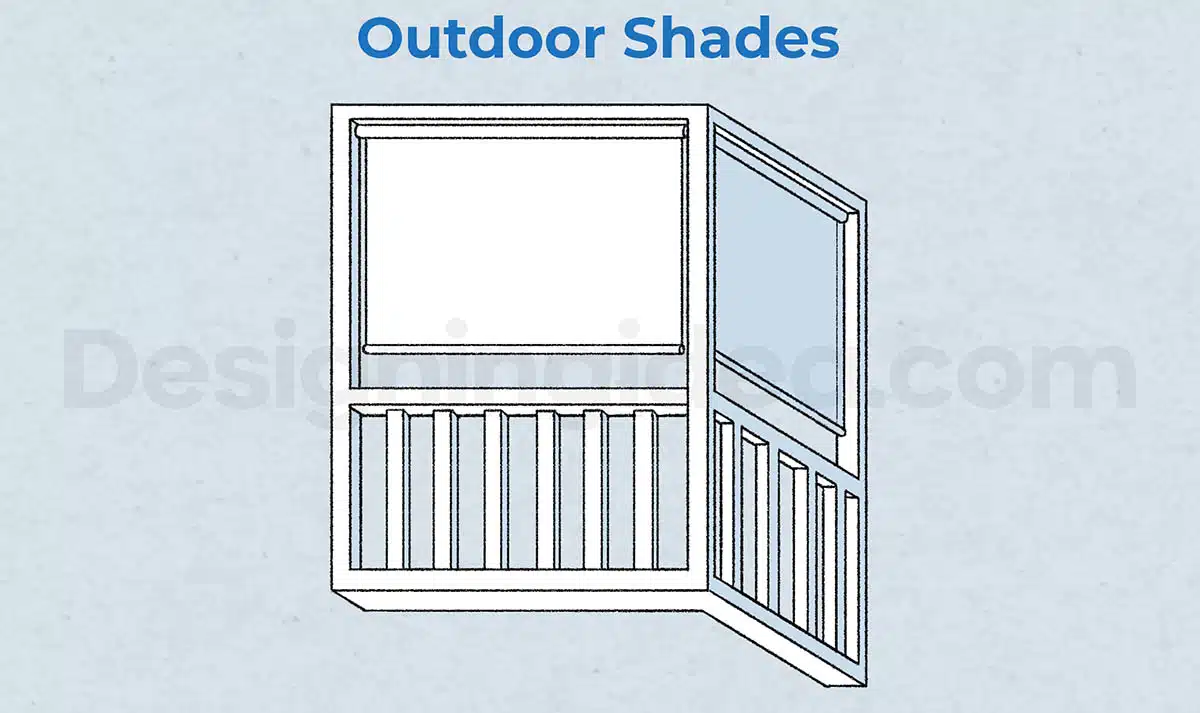 All of the shades and blinds we've discussed so far are interior. Exterior sun and heat protection usually comes in the form of shutters.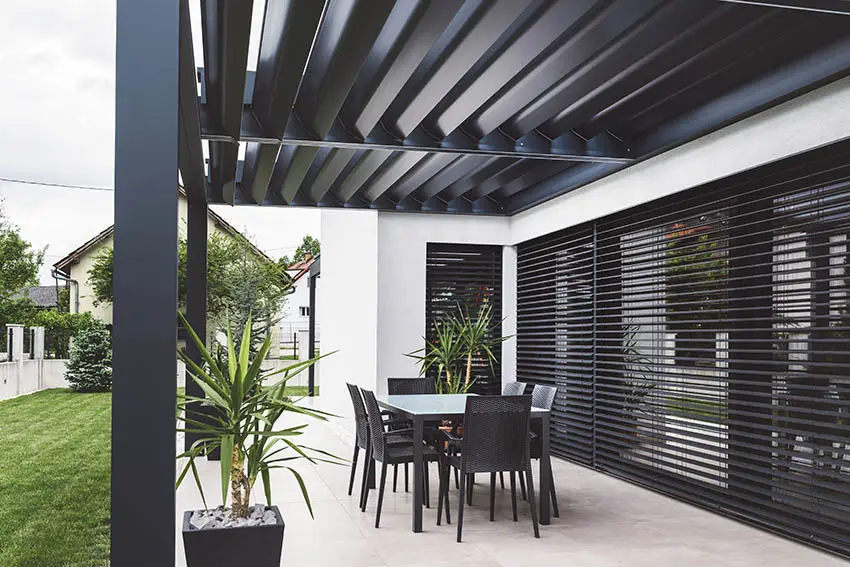 Large glass windows or sliding doors may have exterior solar shades, allowing the breeze to come through while keeping a barrier between you and the sun.
Blind Materials
The types of window blinds come in many different materials such as cloth, fabric, vinyl, wood, plastic, natural materials and metal. Below we describe some of the benefits of each type.
Cloth & Fabric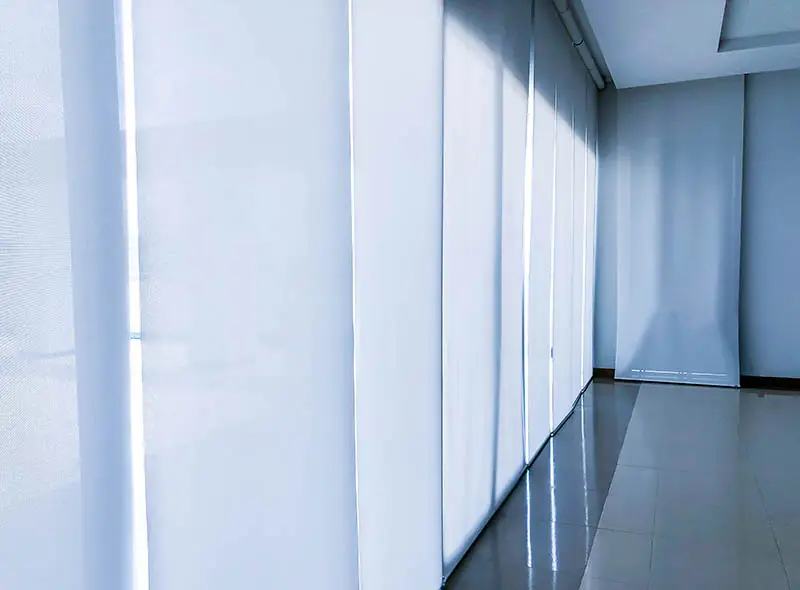 The Silhouette model of shades uses fabric slats surrounded by gauzy material to diffuse light and obscure activity in the house when viewed from outside. Roman and pleated shades are also made with fabric.
Fabric or cloth shades need to be vacuumed regularly to avoid accumulating dust, and may not be the best choice for households that include allergy sufferers.
Vinyl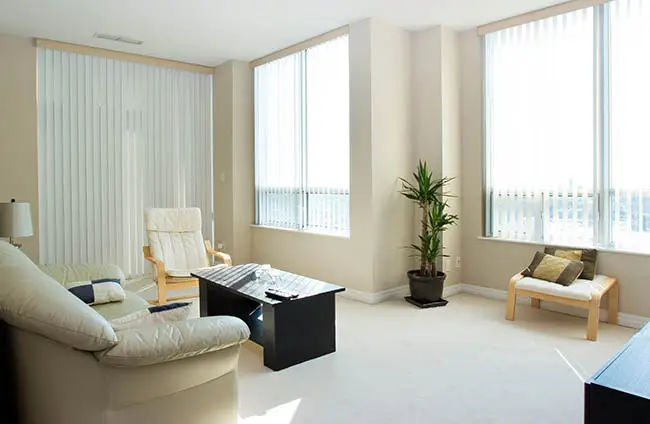 Resistant to moisture and UV light, vinyl is a durable and inexpensive material used to make window blinds.
The carbon footprint required to produce these blinds is among the highest on the list, while the cost is among the lowest.
Available in many colors, shapes, and styles, vinyl blinds are the kind seen most often in offices, government buildings, and large apartment complexes.
Wood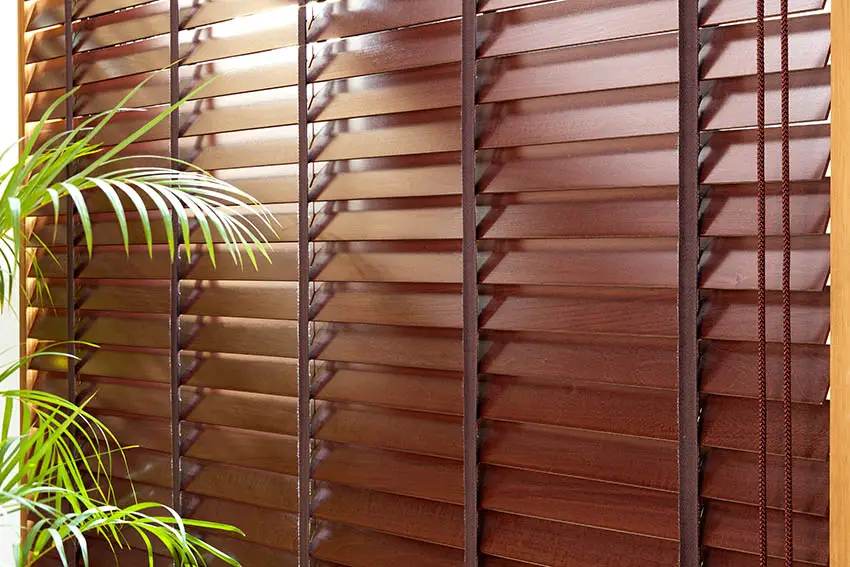 Wood blinds have a warm, natural look that complements most design styles. It is a popular material choice for Venetian blinds.
Because wood is completely opaque, wooden blinds will do a better job of blocking light than other materials, such as fabric or vinyl.
Faux Wood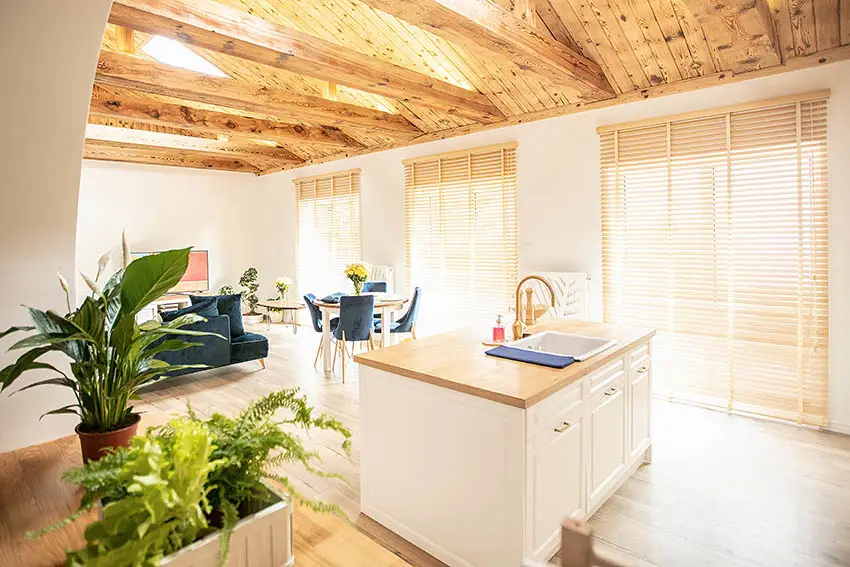 Blinds might be the perfect place to trim your budget by opting for faux wood. They operate exactly the same, but aren't susceptible to warping or damage from moisture.
This makes faux wood ideal for bathroom windows and behind the kitchen sink. The best part? No one will be able to tell.
Plastic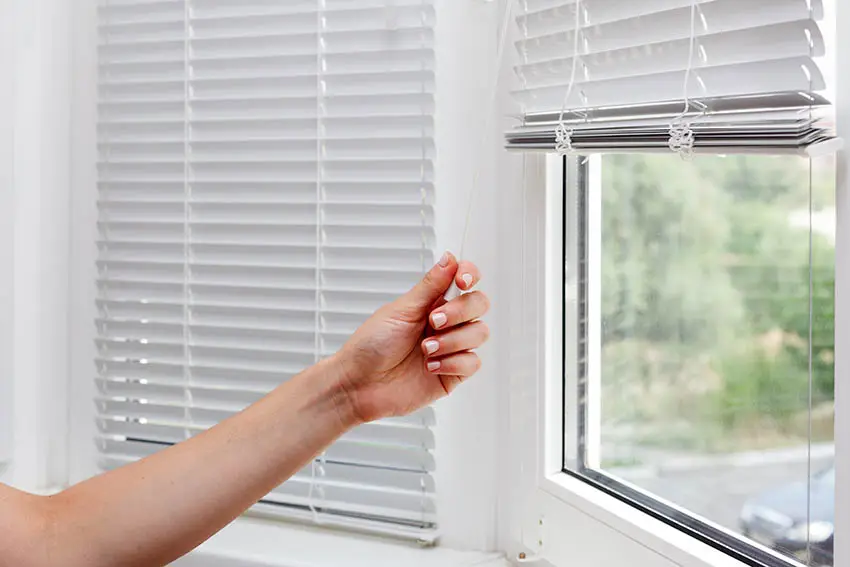 Plastic blinds are a subtype of vinyl blinds, made out of are usually made out of polyvinyl chloride, or PVC.
Like vinyl, they are inexpensive, come in many different colors, and are easy to clean.
Natural Materials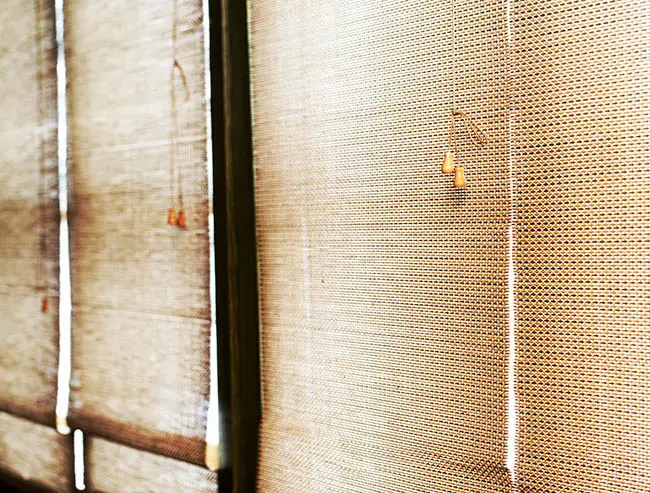 Bamboo, jute, seagrass, and cotton blinds or shades are all constructed from renewable materials found in nature. Blinds made form natural materials are eco-friendly and attractive.
However, like most natural materials, they are susceptible to breakdown if exposed to the sun over time.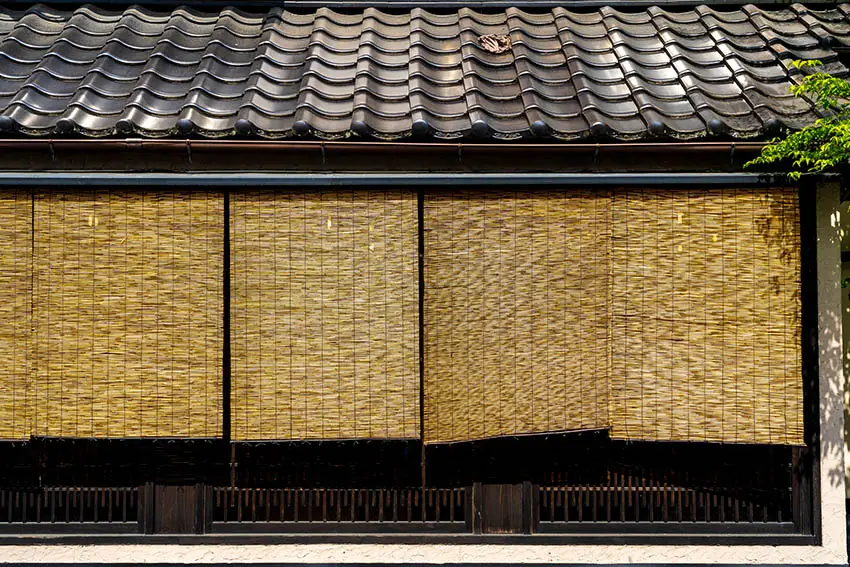 Natural bamboo may have a greenish tinge when first installed, but will quickly mellow to a lovely golden color.
Metal
Aluminum blinds are easily produced and relatively lightweight, and block light well, making them a popular choice for blinds.
Metal blinds cannot be opened or closed without at least some banging and clanging, so avoid metal blinds in sleeping areas.
Paper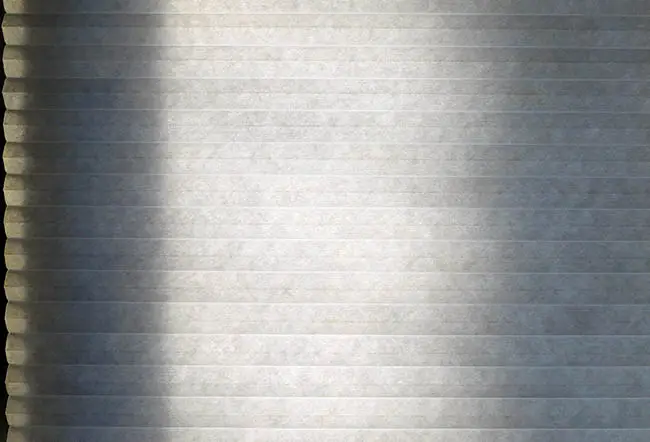 Delicate paper shades, often beautifully painted, are a traditional space separating material in Japan and China.
Western countries have picked up this practice and blended it with existing blind designs.
The cellular or honeycomb-style blind is often made out of paper. While paper blinds are more prone to damage than fabric, plastic, or metal blinds, when treated gently they can last for years.
Soft, textured white paper is the most popular choice because of the way it diffuses sunlight without altering its color. Colored paper blinds are also available.
Synthetic Materials
The best thing about synthetic materials is their durability. The color and design on a synthetic fabric will stand up much better to UV rays than, for instance, cotton.
Since most blinds are made of synthetic material such as plastic, vinyl, aluminum, or polymer-coated wood, they last longer and are more resistant to discoloration.
These types of blinds are durable and easy to clean — vacuum them every few months for best results.
How to Buy Blinds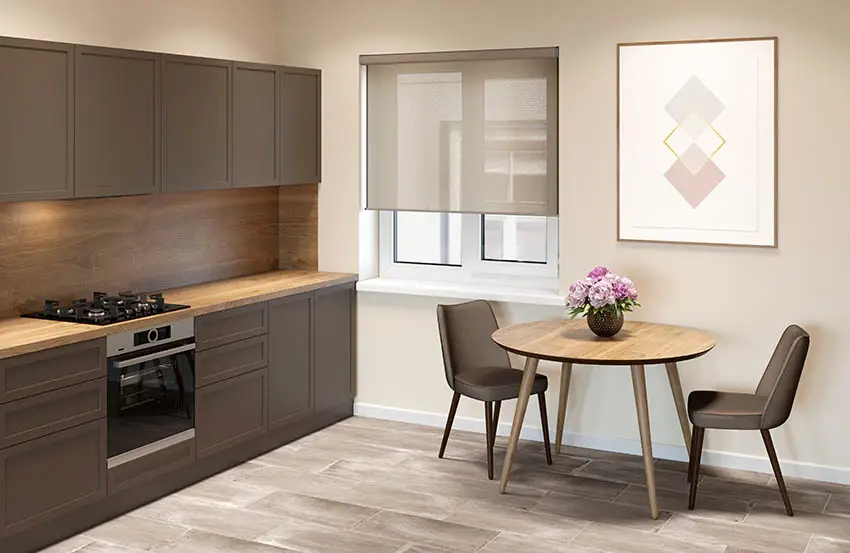 Here's the two main ways to buy window blinds for the home.
Premade Blinds
If your window is a standard size, premade window blinds are the best option. They are inexpensive and easy to find in any big box home improvement store, and can be ordered online as well. Homeowners generally install premade blinds themselves.
Made to Measure (Custom)
If you have unusually sized or shaped windows, premade window blinds aren't going to work out of the box, and while it's sometimes possible to cut or shape them, it's difficult to do well.
A better solution is to hire a professional, who will visually inspect the window and take detailed measurements, and then provide you with options and recommendations.
This route usually includes professional installation, making sure the job is done right and those custom shades don't come crashing down.
Blind Options
There's many different options and features available for blinds depending on the homeowner's needs.
Thermal Fabric
We've discussed a number of ways that blinds help keep heat out of the house, but what about trapping it inside?
Thermal fabric can be attached to the back of a window shade, providing an insulating layer that will keep heat from traveling through the window.
In the winter, keep the shades open during the day to allow as much heat and sunlight in as possible, then close them when the sun goes down to trap that heat inside.
In the summer months, nightfall is the time to open all your shades and let the cool air pour in. Put them back down before you go to bed to keep the house from heating up when the sun rises.
Blackout
Parents with young children, third-shift workers, or anyone who likes a good nap can attest to the power of blackout shades.
The material of blackout shades is completely opaque and will not let any light pass through it. This does not, however, mean that your room will resemble a cave.
Light leaks around the edges of the shade are common. To achieve total darkness, you can add a blackout curtain that covers the window entirely.
Privacy Slats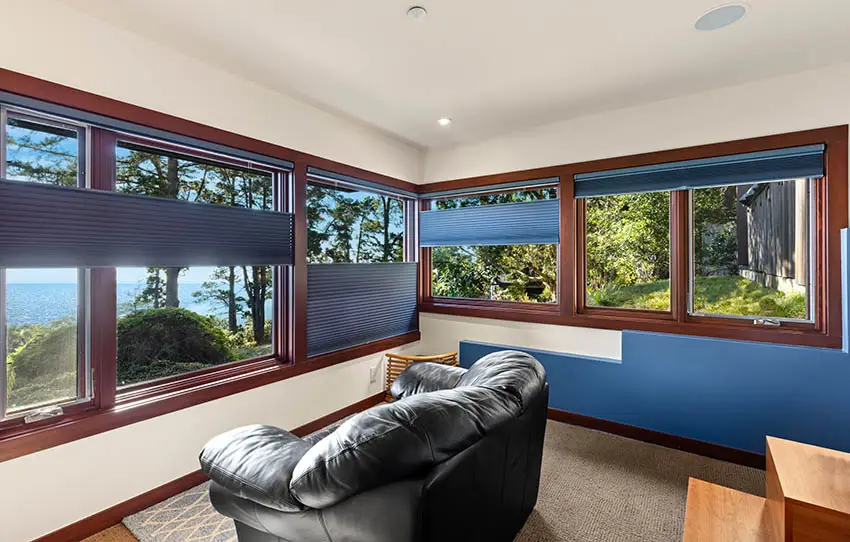 If you've ever lowered the blinds when it's still light outside, you'll have noticed little dots of light shining through.
Traditional horizontal blinds have a lift cord threaded through holes in every slat, and this is the source of the light leak. Privacy slats eliminate these holds, giving better light protection and increased privacy.
Sheer
Two gauzy panels with fabric slats between them make up a sheer blind. These are popular for turning harsh, bright light into softer, more diffuse illumination.
The sheer fabric panels provide privacy no matter what direction the slats are tilted.
Thick
If you want additional light, temperature, or sound insulation, look for blinds with the description 'thick'.
Thick could refer to the width of slats, the amount of material that is used, or the layers of fabric incorporated into a window shade.
Cordless
Long, dangling cords create a choking and strangulation hazard for young children. Plus, they are difficult to store and operate.
Cordless blinds solve this problem by eliminating the cord altogether. Instead, the blinds are adjusted by hand using the bottom rail.
Each slat is still connected to the others by string, so the tilt of the slats can be adjusted by changing the tilt of the bottom rail.
Continuous Cord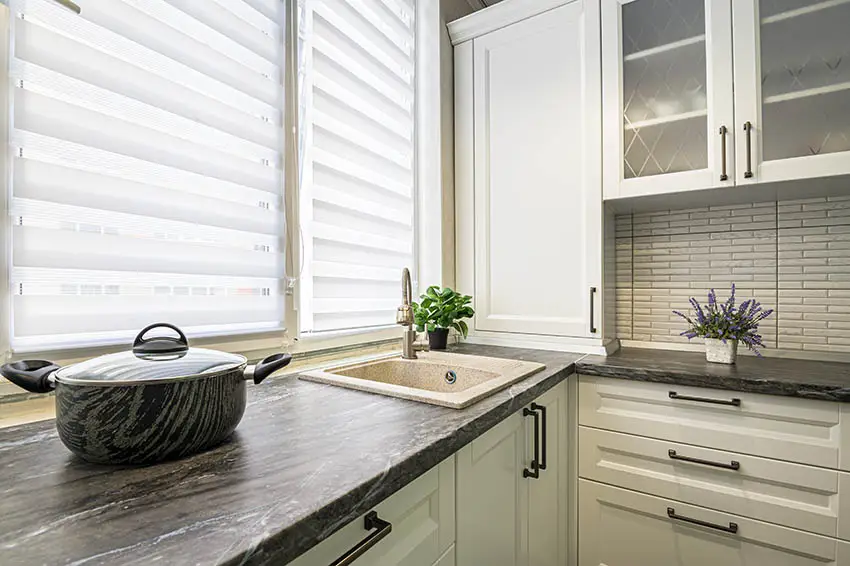 When a loop of cord is used to raise and lift blinds using a pulley system, these are called 'continuous cord' blinds.
The loop rests on the mounting rod. Pulling down on the part of the cord closest to you will cause the shade or blinds to lower. To raise, pull on the section of cord closest to the wall.
Continuous cord blinds are much simpler to operate than traditional blinds, and the cord won't get tangled in the same way.
Top Down or Bottom-up Operation
Most blinds can only be lowered and raised. As they are lowered, the window disappears behind them, starting at the top and slowly continuing down the length of the window frame.
If you want sunlight to come through the top of the window, your only option has traditionally been to leave the blinds completely open.
Top Down or bottom up operated blinds recognize that the balance between sunlight and privacy is a delicate one.
Rather than mounting to the top of the window, these blinds slide along tracks at the side of the frame. This allows the blinds to be bunched together at the top or the bottom of the frame — or even in the middle, if that's what works for you!
Blinds Operation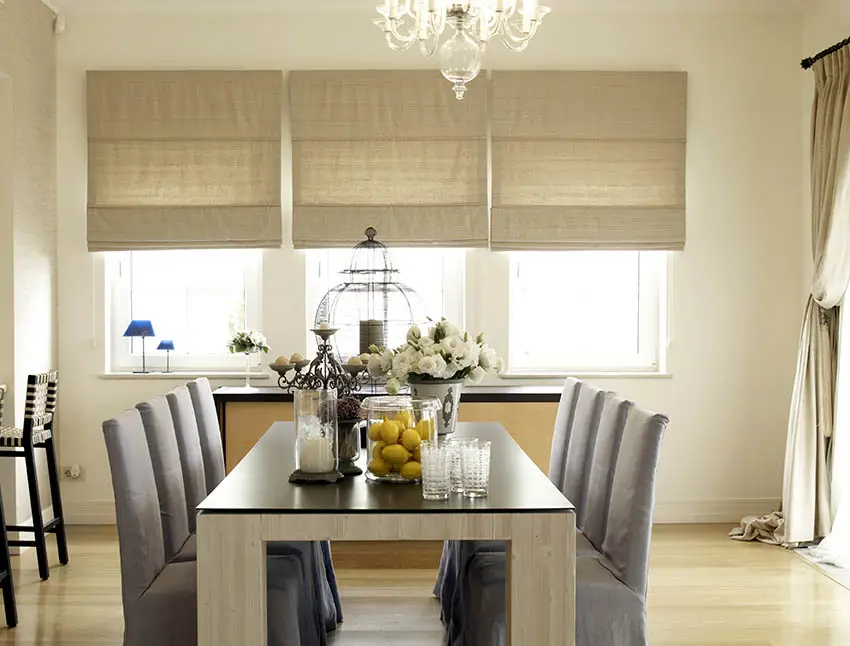 The two types of window blinds operation are manual or automated.
Manual/Open by Hand
Most blinds with slats have a rod that can be turned to tilt the slats up or down. Slats tilted up will let in more light and provide more privacy. Slats tilted down usually look neater, but can be seen through more easily.
On the opposite side of the rod, there are usually two cords. Moving the cords to the left unlocks the latch that keeps them in place.
You can then pull on the cords to raise the blinds, or gently raise the cord to lower the blinds. Each cord is attached to one of the sides of the blinds. To lift and lower them symmetrically, you will need to hold both cords.
Window shades do not usually have cords, but can be raised or lowered by tugging gently on the bottom of the shade to unlock the latch. Once the shades have been adjusted, pull gently again to lock them in place.
Automated
To raise and lower your blinds with the touch of a button, look for automatic or automated shade mounts. A small motor rotates a rod and the roller shades wraps around it.
Blinds Cost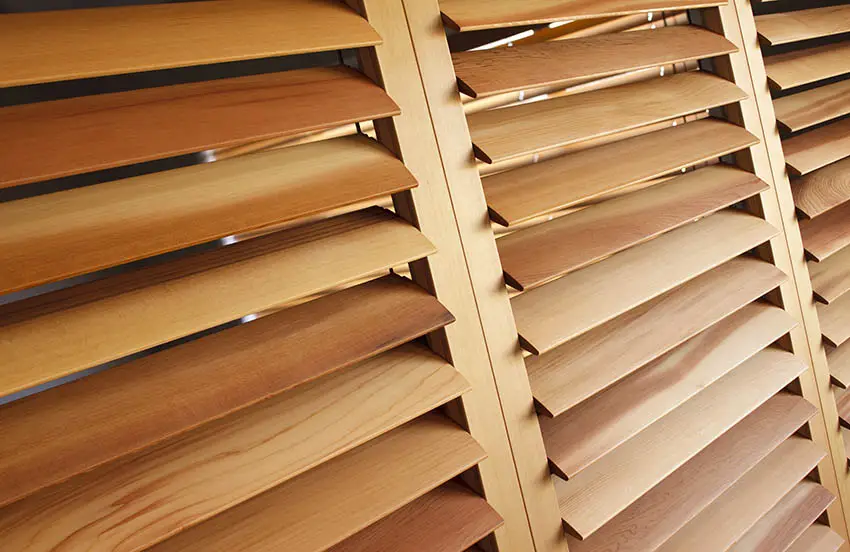 The cost of window blinds vary based on the quality, materials, and the way the window covers are made – whether ready-to-hang or custom fit.
Ready-made blinds will always cost less than their custom counterparts. Automatic blinds are more expensive than manually operated ones. The cheapest and easiest blinds to install are vinyl.
Blinds are generally less expensive to manufacture than other types of window coverings and take less time and less cost to install.
Venetian blinds — expect to pay more for wood. A single set of standard-sized vinyl Venetian blinds from a big box store can cost as little as $11.
For wood slats, you'll pay at least $30 per set of blinds.
Cellular shades have a wide price range — you can sometimes pick them up for as little as $25, but usually they are closer to $50.
The cost of Roman blinds depends on the fabric, but expect to pay at least $25 per blind.
Average Cost of Blinds Per Window for Different Materials
Vinyl $11 to $120
Metal $15 to $40
Plastic $20 to $50
Aluminum $20 to $70
Synthetic $25 to $50
PVC $30 to $60
Bamboo $30 to $80
Faux wood $30 to $95
Wood $30 to $215
Fabric $50 to $100
Leather $75 to $100
Average Cost of Blinds Per Window for Different Types
Roller $10 to $140
Venetian $11 to $215
Cordless $12 to $135
Solar $30 to $120
Vertical $50 to $115
Pleated $50 to $125
Roman $25 to $130
Panel $120 to $300
Installation of blinds for a standard window usually costs $35-$100 per hour by a professional for a standard window.
If you install the blinds yourself, there are no additional costs. The cost of labor is dependent on your area and the skill required — budget between $35-100/hour for professional help.
An average blind installation might include materials and installation of blinds on eight standard-sized windows. The cost for this would be around $700.
Blind Sizes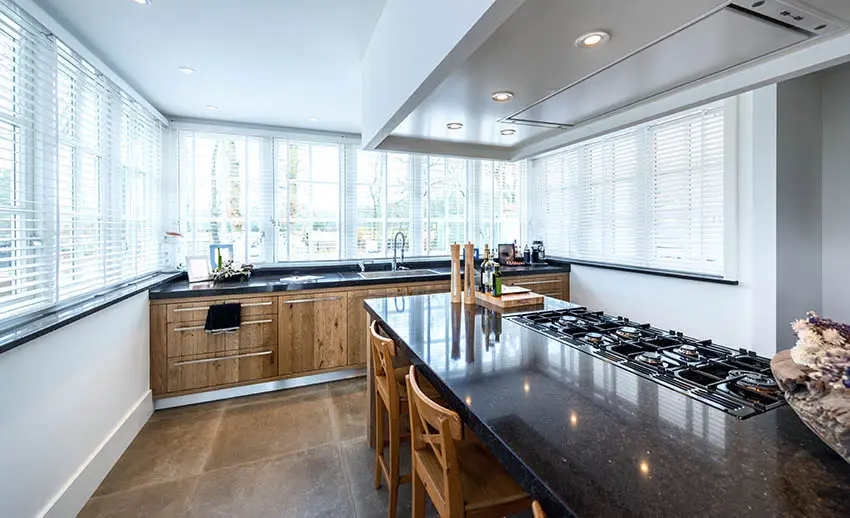 The measurements listed on a website or package aren't actually the measurements of the blinds themselves. Rather, the measurement corresponds to the size of the window that the blinds will fit.
Most Common Blinds Size
The most common size of window is a standard double-hung window. These are usually between 36 and 72" long and 24-48" wide.
A picture window is 2-8' long. Blinds for picture windows are at least 2' wide, and standard sizes are available up to 8'.
Finally, the most common window blind lengths for sliding windows or doors are 24, 36, 48 or 60", with widths of 36, 48, 60, 72, and 84"
Read more about standard window sizes to use with window treatments on this page.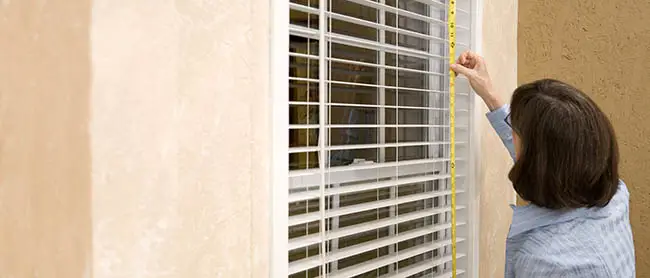 How to Measure Blinds
Accurate measurements are key to getting blinds that fit well and look great. This is one reason that custom blind installers will offer to visit your home and take measurements on your behalf. If you're confident in your measurement skills, you can do this job yourself.
The area of the window you want to measure is dependent on how the blinds or windows will be mounted.
Most models are 'interior mount', meaning the mounting mechanism will be installed between the two sides of the frame.
Because the frames may have slight irregularities, such as warping from moisture, experts recommend that you measure the width of the frame in three places — top, middle, and bottom.
Then take the average of those three measurements (rounded to the nearest ⅛").
Apply the same method to the height of the window. If the window has a sill, measure to the sill or just above it. If there is no sill, decide where you want the blinds to land and measure to that point.
Exterior mounted blinds and shades aren't mounted on the outside of your home, but rather on the wall above and outside of the window frame.
Make marks on the wall in pencil where you'd like the edges of the blinds to be when they are fully lowered, then measure the distance between those markings.
One often overlooked measurement is the depth of the window frame. There needs to be sufficient room on either side of the frame to attach the mount and allow the blinds to raise and lower fluidly, without scraping the window.
Blinds Q & A

How to Choose Blinds
Before you can purchase blinds, you will need to collect some information. First, count the windows in the room that require covering, and establish your budget.
Next, consider the functionality of the windows. Do you anticipate frequently closing and opening the blinds? If so, avoid tie-up shades, which are fiddly to adjust, and consider motorized shades to make your life just a little easier.
How important is privacy? What about light blocking? Are there any environmental concerns to be aware of, such as moisture and humidity in the room?
Do your blinds simply need to look great, or are you looking for temperature control features as well?
Once you've established the technical parameters, you can start to play with design choices.
Different color blinds are a cheap and easy way to conform to or support your already established design. Desperately looking to add visual interest? Check out patterned fabric blinds.
Are Blinds Still in Style
Blinds, like any other home fixture, respond to overall trends in home design.
Currently, dark navy and gray are popular colors for Venetian blinds of all materials. Wood or faux wood blinds are a timeless classic that never goes out of style.
Natural fabrics and blinds made with eco-conscious manufacturing methods have risen in popularity over the last decade, and that trend seems poised to continue.
Like a dishwasher or washing machine, blinds are an essential part of a functional and comfortable modern home. While features and design elements may change, the use of blinds as window coverings is here to stay.
Other alternatives to blinds are the numerous types of shades, curtains that are sized specifically for your windows or drapery that falls to the floor.
How to Wash Blinds
To thoroughly clean your blinds, you will need to take them out of their casings and find a bathtub.
Swirl the blinds around in warm water with some dish soap and baking soda, and then leave them to soak.
After an hour, drain the water and wipe down any remaining dirt. You can dry your blinds by laying them gently on a towel, or put them outside in the sun.
If you don't have time for all that or don't know how to take your blinds down, don't worry! A wet microfiber cloth will do the trick, it just requires a little more patience and elbow grease.
Hold the bottom of the blinds to stabilize them, and carefully wipe each slat. Vacuuming your blinds once a month will keep dirt and dust from building up, making them easier to clean.
Best Blinds for Living Room
Unlike the bedroom or the bathroom, privacy is not usually the most pressing concern in the living room. And with no moisture to worry about, your options for living room blinds are unrestricted.
The living room is a place to move past functionality and consider form. What kind of feeling are you looking to create in the living room, and how can your choice of window covering support it?
Try to match your blinds with other materials used in the room, and use them to extend the choices you've made about design style, color, and mood.
When in doubt, wood or faux wood blinds are always a safe choice for the living room.
Blinds to Use for Sliding Glass Doors
Blinds for sliding glass doors should be attractive and functional, while not impeding your use of the door. Horizontal blinds are not suited to this purpose, although vertical blinds may work well.
Panel blinds, either interior or exterior, are a simple and easy way to provide shade and moderate the amount of light and heat entering the room.
If temperature control is desired, thermal and solar shades are the best choice.
Blinds for the Bedroom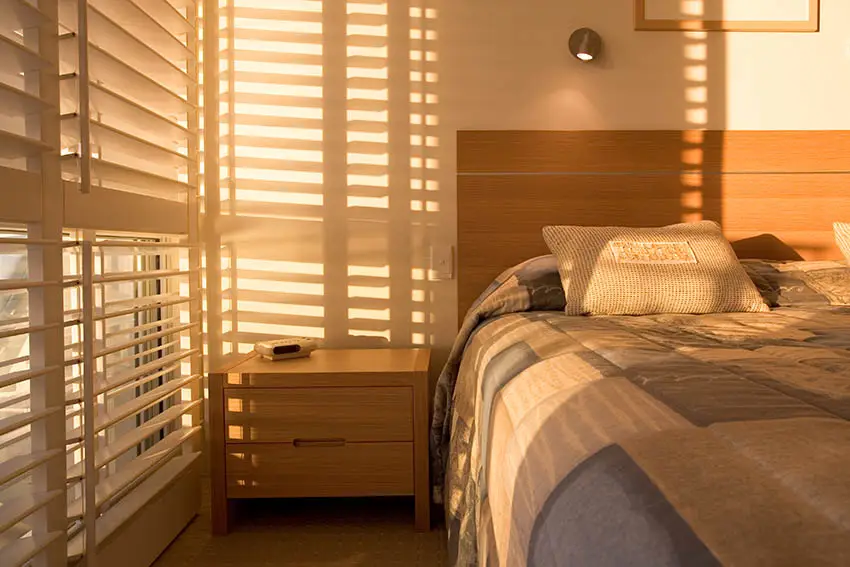 A dark sleeping area is essential for deep, restful sleep. The blinds you choose for your bedroom should complement the rest of the decor, and will ideally have light-blocking properties.
Because the bedspread, quilt, or duvet cover you use is a major design element of the bedroom, consider how your collection of bed coverings will coordinate with your bedroom window treatment choice.
If you like the look and light control properties of Venetian blinds, look for products without holes in the slats to keep your bedroom appropriately dark.
Blackout shades and blinds come with an additional cost, but one that is absolutely worth it if you sometimes need to sleep during daylight hours.
Finally, consider automatic shades that can be programmed to open around the time you want to get out of bed to simulate the sunrise and make it easier to shake off sleep.
If you are choosing blinds for the large windows of a master bedroom you will probably want to go with vertical blinds for their reliability, usage and price. Some other options include using two panels of roller blinds, or honeycomb blinds with a side chain.
Blinds for Large Windows
Large windows represent a significant source of heat loss during cold temperatures, making them an ideal place to use thermal fabric window treatments.
Rather than horizontal blinds, consider vertical blinds, which can be parted in the middle or pushed to one side when you want to see out of your large window.
If visibility from the outside is your main concern, silhouette or sheer blinds will let light in without compromising your privacy, although if the room is lit from within your shadow may be visible from the outside.
Another great solution for large windows is top-down/bottom-up shades, which can be adjusted to match your privacy and light preferences.
If your windows are large enough that it's difficult to reach the top, automatic and remote controlled blinds can make your life significantly easier.
Finally, if you have a wall made up of several large windows, panel blinds are both streamlined, attractive, and functional.
Blinds for Sunny Windows
Solar shades are specifically designed to filter and deflect light and heat, making them an ideal choice to shade rooms that are exposed to direct sunlight for much of the day.
Plastic or vinyl blinds can turn yellow and look dingy with too much exposure to UV light, so metal or wood is a better choice of material for sunny windows.
Synthetic materials are designed to stand up to the elements and won't fade or degrade as quickly as natural materials, making them a better choice for fabric shades on sunny windows.
Can You Use Drapes and Blinds Together?
Yes, you can use drapes and vertical or horizontal style blinds together. The drapes will help provide more sun-blocking while the blinds can provide basic light filtering.
Together they work to provide complete privacy in a room and the drapes can add a little bit of outside sound absorption depending on the material used. A more soundproof material could be velvet, polyester or suede.
This extra layer can also help the room be more energy-efficient by blocking heat from entering the room. In addition, the drapes can provide extra textures to the home decor that offers a more elegant and luxurious look.
You can use a tension curtain rod to hang your drapes or curtains above your blinds. It is generally better if both the blinds and the drapes are the same colors, or you use solid color blinds paired with patterned drapes.
Recommended Blinds for the Bathroom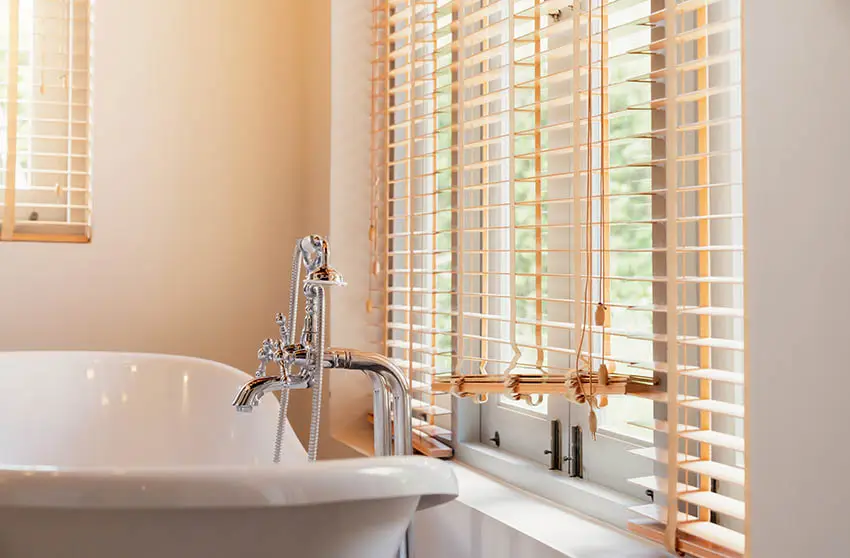 The two biggest priorities when choosing blinds for your bathroom are protecting privacy and preventing mold and mildew.
Fabric blinds aren't the best choice for a room that regularly fills with steam during a hot shower because the moisture will penetrate the cloth, possibly causing fungal growth or damage and degradation of the material.
Wood blinds, with their susceptibility to moisture, are also a no-go, but faux wood blinds can be used as a great substitute.
The best types of blinds for bathrooms are faux wood blinds and shutters for their excellent moisture resistance. Another choice would be vinyl shades.
Can You Paint Blinds
Yes and no. It's not a good idea to paint the casing or cords, but you can definitely paint the slats, as long as they are able to be removed.
You'll want to give them a good wash first, to remove any grime, and let them completely dry.
Spray paint is the best bet for a smooth application. Once the paint is dry, simply slide them back into the strings and you're done!
For best results, snap the casing out of the mount and lay it on the table — this will make it easier to slide the slats in and out.
What are your favorite types of window blinds? Let us know below in the comments. Read more about different types of windows here.