Welcome to our basement kitchen ideas design guide including popular features such as cabinets, wet bars, appliances, sizes, cost and more.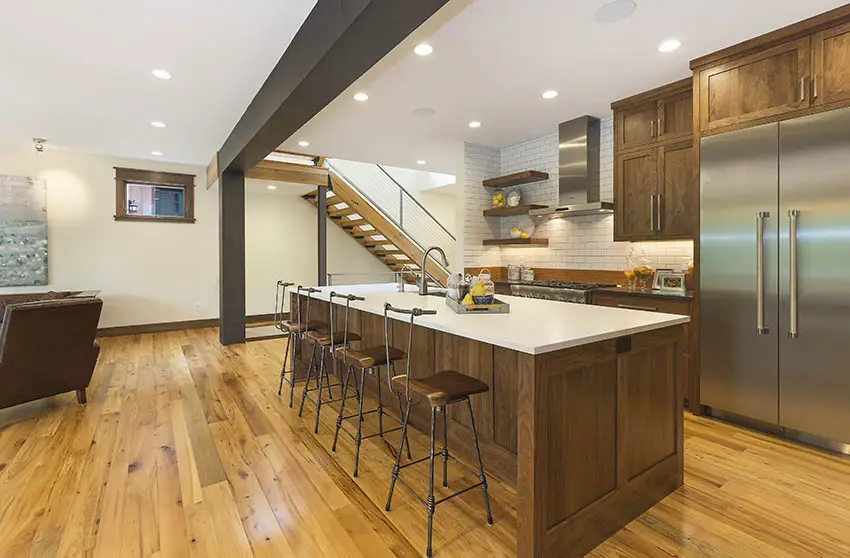 The basement is often one of the most neglected spaces in a home, but it is also one with the most potential when it comes to design. It can be converted into a living space, an entertainment space, work area or even a kitchen.
Although a basement kitchen is less common, it presents so many advantages and can enhance your home. Building a kitchen in your basement is no different than remodeling a main level kitchen. And if you've tried the latter, you know there are often difficult decisions to make in terms of design, lay out and building challenges.
With such, it is important to have some knowledge on the nature of basement kitchens and their design. Below, we give you our very own guide to basement kitchen ideas and everything you need to know about building one in your home.

Basement Cabinets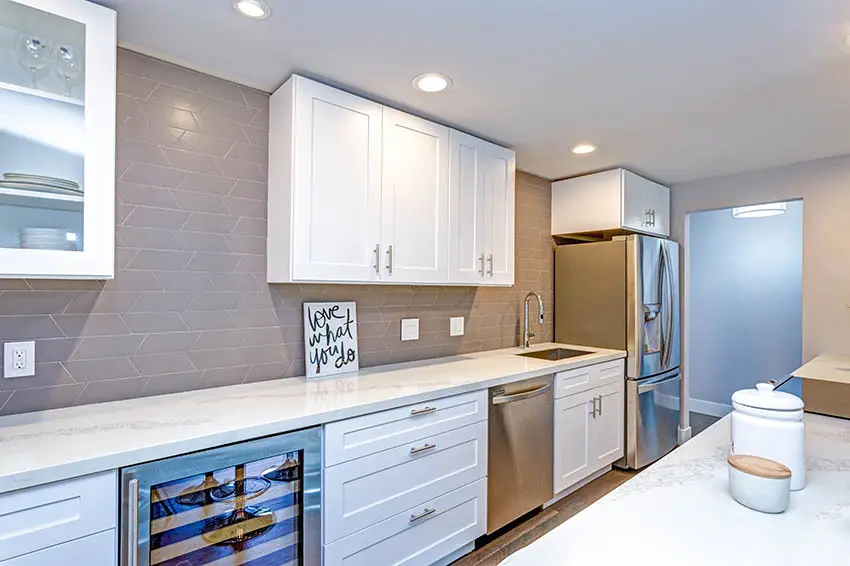 Cabinets take up a large part of kitchen design. Aside from being the most dominant feature in the space, they help in terms of keeping your kitchen organized and clutter free.
It is important to plan your storage carefully when building a kitchen in your basement. The key is to incorporate smart storage in your kitchen cabinet design. Here are some guidelines and smart solutions you can follow in designing your basement kitchen cabinets:
Optimize your storage solutions by combining different types of kitchen cabinets such as shelving, drawers and cabinets.
These will also help you in terms of organization because it ensures that you have just the right place for all your kitchen stuff. Drawers, for example, are ideal storage for utensils, while shelving are suitable for displaying dinnerware or glassware.
If your basement has limited space, invest in a few storage units instead of huge kitchen cabinets and drawers. You do not need to fill your whole basement kitchen with cabinetry, sometimes less is more.
Take advantage of vertical space and maximize your walls. By doing this you free up floor space. Get floor to ceiling cabinetry so you get the most out of your walls.
Choose sliding doors instead of swing doors. Sliding doors do not take much space and are also less obstructing as compared to swing doors.
Add a few open shelves. Open shelves can make your kitchen look bright. You can use them to display some unique decorative pieces that can add a personal touch to the space.
Use a floating kitchen island. Instead of installing a full sized kitchen island, an alternative is to use a floating kitchen island or cart.
A floating kitchen island is a small movable cart with countertop and under cabinets. Since it is movable, you can change its location whenever you need or stow it away if not in use.
Choose the right cabinet material and finish. The basement is often exposed to a lot of moisture and some construction materials may not be suitable for such an environment.
When building basement kitchen cabinets, make sure to go with moisture-proof material like marine ply boards and a long-lasting, reliable finish like high-pressure laminates.
Basement Bar Ideas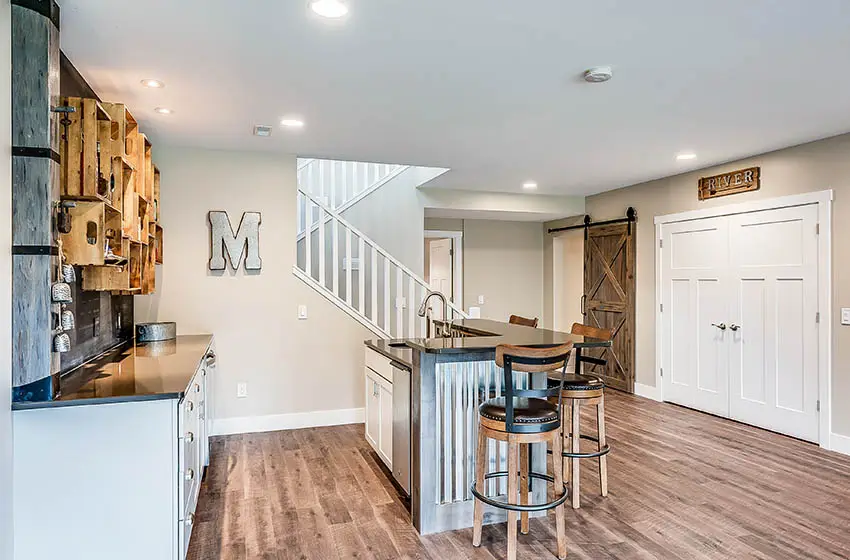 The basement is one of the most ideal locations to place a bar. Not only because they have large spaces but also because most of them have ready access to electrical and wiring as they are often located under existing kitchens or bathrooms.
Wet Bars vs. Dry Bars
Basement bars can either be a wet bar or a dry bar. The type of bar you choose will significantly affect the project's overall cost.
Most homeowners tend to go with a dry bar since it's much easier to make, and then they revisit it later and add features which can turn it into a wet bar.
Here is a look at the difference between a basement wet bar and a basement dry bar:
Wet Basement Bar
Basement wet bars are fully equipped with water supply and a working plumbing and drainage system.
They are more costly than dry bars because you need to install water supply pipes that come into the bar and a drainage that leads away to the house's main drainage. Wet bars are built-in or fixed permanently in one place and are custom made.
Since wet bars are fully plumbed and include a sink in its design, you have a steady supply of hot and cold water for washing barware, glasses and plates.
With this set-up, you can install appliances like a small dishwasher or a fridge with an ice maker. A wet bar is also more efficient because it eliminate the need to run glasses and dishes to the kitchen.
The only drawback to having a wet bar in your basement is that it increases the project's overall cost because of plumbing.
Tips For Building a Basement Wet Type Bar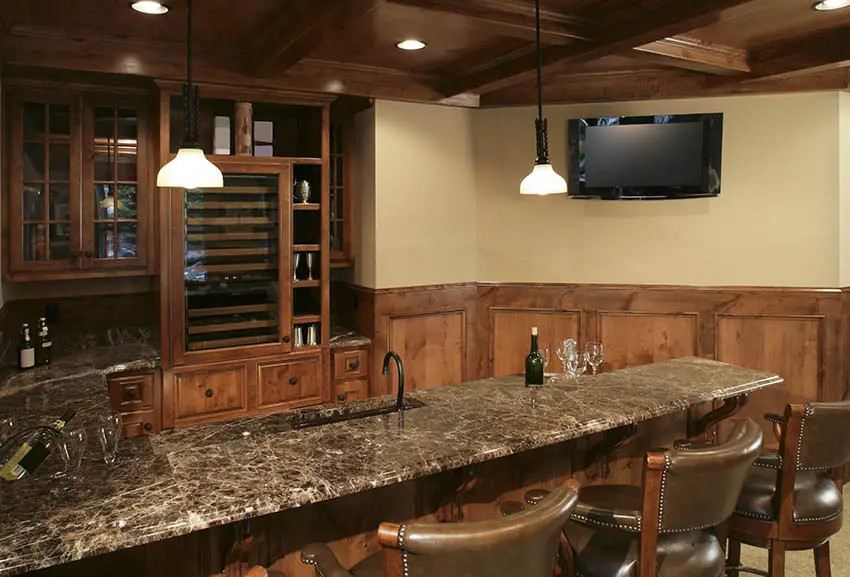 Wet bar size: In planning your bar unit for a basement wet bar, consider the recommended standard dimensions and heights.
Although your bar counter should at least be 42 inches high, your bar sink must be placed at a standard countertop height of 34 to 36 inches. An ideal set-up would be to place the bar sink separate from the bar counter so the right heights are achieved.
Use existing plumbing: Take advantage of existing plumbing. In planning your basement wet bar, make sure to locate your bar sink under a bathroom or kitchen located upstairs. This will lessen the need for additional plumbing lines and construction will be much easier.
Choose a high quality countertop material: Make sure to use a reliable countertop for your wet bar. Since the area is exposed to moisture and has the tendency to get wet during food and beverage prep. A functional, durable type of counter is the best material to use.
Opt for solid surfaces, engineered stone, non porous natural stone, quartz or stainless steel.
Basement Dry Bar
A basement dry bar is the exact opposite of a wet bar. It has no plumbing and since there is no supply of running water, you cannot install a sink in your prep counter.
As opposed to a wet bar, a dry bar does not need to be fixed, it is more flexible and can be moved if desired.
Although this type of basement bar set-up saves on cost, it is a bit less efficient because you need to run up and down your kitchen if you need clean barware. Usually, homeowners with dry bars tend to keep a small bin in their bar unit where they can place dirty glasses and then take them back updates for cleaning.
Elements of a Basement Bar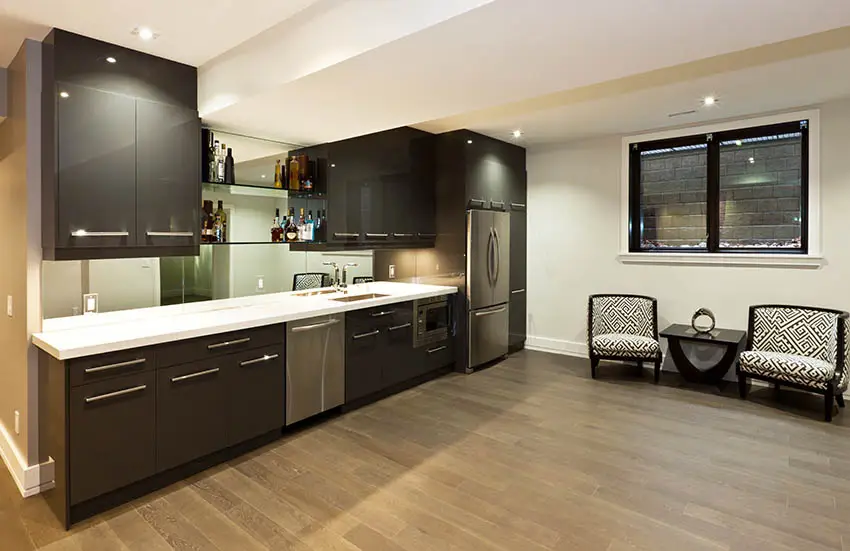 There are several elements which can help you create the ideal basement bar.
Bar Unit / Bar Counter with Cabinets – The bar unit or bar counter is the most integral element in a basement bar. Simply because, all activities — from the preparation to service of drinks and snacks, revolve around it.
Bar units can either be permanently built in or freestanding. Built in bar units are tailor made according to the size of the space and the requirements of the users.
Built it bar units consists of a bar counter with cabinets and seating for guests. Whereas, freestanding bar units, are ready made and are ideal for basements with limited spaces. Aside from a full size bar unit, another option is a mobile bar cart which is large enough to store barware and bottles.
Bar Sink – If you plan on having a wet bar in your basement, you need a sink. Bar sinks are very significant for food and beverage prep.
They are usually smaller than a standard kitchen sink, but serve as a ready source of water for drinks and washing barware or glasses. Typically, bar sinks are drop – in, 15 inches by 15 inches in size, with a single bowl and made with stainless steel.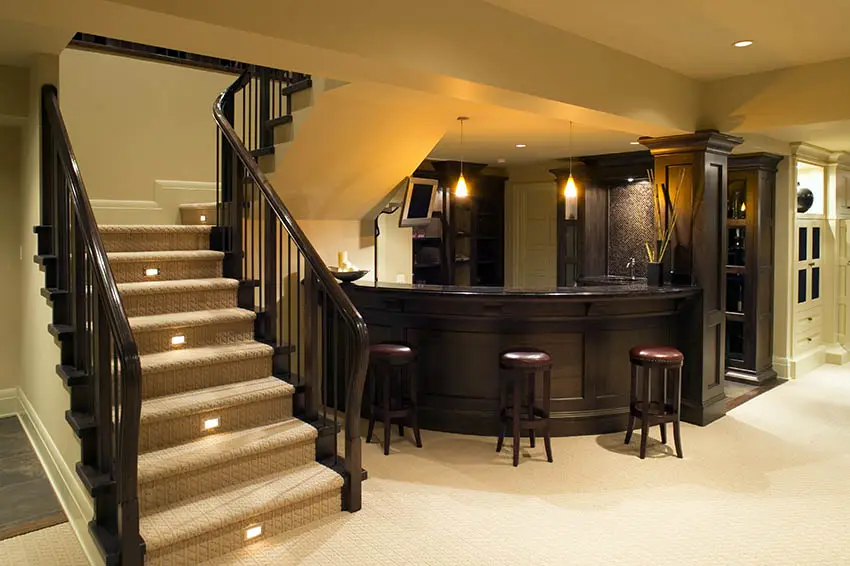 Bar Stools – Most bar units have a counter intended for serving drinks, snacks and other refreshments.
For bar counters, the best type of seating to use are bar stools since regular dining chairs have a much lower height. Full sized bar counters are usually 40 to 42 inches high, so make sure to opt for bar stools that have a seat height of at least 28 to 30 inches.
The number of bar stools which you bar counter can accommodate will depend on the latter's total length.
According to time standards for kitchen design, at least 28 to 30 inches is recommended for each seating space.
To compute for the number of bar stools that will comfortably fit your bar counter, simply divide the total length of your bar by 30 inches. For instance, a bar counter with a length of 120 inches can accommodate 4 bar stools.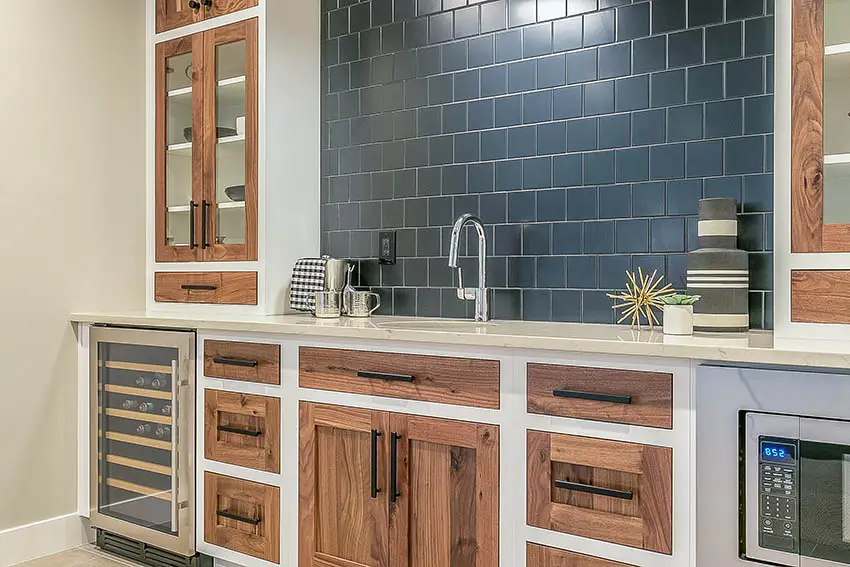 Storage and cabinets – Storages like cabinets, shelves or drawers are another essential element of bar design.
These are usually overlooked but they can significantly help in keeping your basement bar well organized and efficient for use. Storage can either be custom made or pre-built.
Typically ready made cbar units include a shelf or two for storing a few items, but if you build a custom basement bar, you can optimize you\r storage system and put as much as you want. Items which will need storage in a basement bar are barware, glasses, small appliances and bottles.
Wine Rack and Wine Cooler – The best way to store wine is on its side, good thing wine racks can help you do just that. Depending on the size of your basement bar, you can include either small two tier bar top wine racks or large floor mounted wine racks which can store up to 72 bottles or more.
If your basement bar is spacious, you can also include a wine cooler to its designs. Electric wine coolers help keep your wine at the right temperature.
White wine, for example must be kept at a temperature of 46 to 56 degrees Fahrenheit, while red wine must be stored between 58 to 68 degrees Fahrenheit. Typically for bar counters, under counter wine coolers are used and they can hold between 24 to 45 bottles.
Bar Fridge –Whether your basement bar is a dry bar or a wet bar, a bar fridge is one of its most useful additions.
Bar fridges are more compact than regular sized refrigerators. Typically tiny and cube sized, they range from 1.6 to 1.7 cubic foot and can be placed under your bar counter or inside the cabinet. This size is enough to hold a couple of six pack beverages, mixers and a few snacks.
However, if you need something bigger, there are larger sizes of bar fridges which are 3.1 cubic foot and these models can hold large bottles of drinks, wine bottles and plenty of other beverages like juice and soda.
Larger compact bar fridges also have small freezers which can be used to make ice. The type of bar fridge you use will ultimately depend on your needs but whichever you opt for, make sure to have a power outlet ready.
Small Appliances – Aside from a bar fridge and a wine cooler, other small appliances like blenders, ice makers, microwave and coffee makers can help make your basement bar more efficient.
Blender

– A blender is a good investment for a basement bar. It is very easy to use and can help you prepare mixed drinks quickly. On top of that, most blenders are affordable. Depending on your needs, you can choose between a stick, hand, or immersion blender.

Coffee Maker

– Basement bars are not solely meant for serving and preparing alcoholic drinks and cocktails. You can also use it for making other drinks like coffee. A coffee maker is another practical investment

Microwave –

A small microwave is great for heating snacks and light meals. For a basement bar set-up, a 0.6 cubic foot size microwave will suffice.

Ice Maker

– If you have a basement wet bar, one of the appliances which you can include in your set-up is an ice maker. Opt for a 12 wide inch model because they are very compact but can make up to 25 pounds of ice per day.
Read more about setting up a living room bar here.
Finished Basement With Kitchen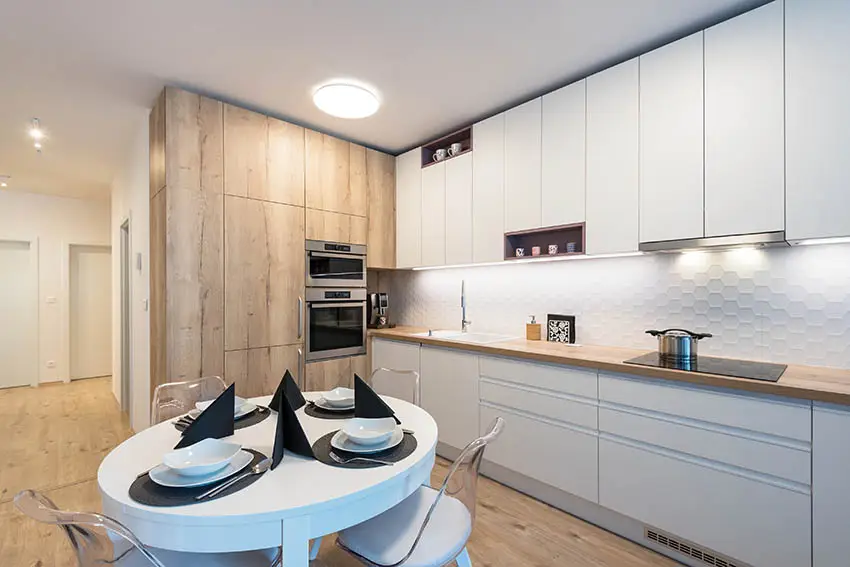 An unfinished basement presents wide possibilities when it comes to home design. You can use it as a workshop, convert it to a man cave, family room or guest room, and you can furnish it with a second kitchen.
Whichever type of space you choose to convert your basement into, you need to finish it first. See more finished basement designs here.

If you have an unfinished basement and would like a second kitchen, keep reading for considerations related to this installation.
Factors That Need To Be Considered When Finishing A Basement With A Kitchen
Inspect the following before you start
Test for moisture and rectify. The basement is one of the dampest areas in the house and moisture can be a problem over time.
You can test for moisture by taping 2 foot square plastic sheeting to the floors and walls. Wait for at least 2 weeks and if droplets form underneath, this means that your foundation is not sealed. If droplets form on top, then this means your basement needs dehumidifying.
Check for rot and insect damage in all areas such as the windows, floor joists,sill plates and other wood.
Hire a professional to check your house's ventilation system
Waterproofing
Plumbing. You do not need to hire a professional to fix minor leaks .Small cracks and gaps around the pipers can be repaired using concrete patching compound. Cracks that are wider than a pencil can be filled with hydraulic cement.
Concrete walls – Concrete may be a very strong building material but it is still naturally porous and prone to water absorption.
To prevent such, it is best to use a waterproofing concrete sealer when finishing your basement. Look for a penetrating sealer that has an invisible finish, is resistant to peeling, delamination and flaking.
Drywall – Do not use standard drywall; use moisture- and mildew-resistant drywall panels instead.
Finishing Basement Walls
Here are some material options which you can use to finish your basement kitchen ideas:
Insulated Stud Walls – The best option if you are on a tight budget and prefer to DIY. The traditional way walls are finished, this is proven effective and tested by time.
Rigid foam insulation and vapor barrier are laid over the foundation wall, followed by the stud frames and the installation of the drywalls.
Interlocking Panel Systems – The perfect choice if you want to save floor space. Installation is also easy and can be DIY. Insulation panels that have notches are fitted together and fixed to the foundation walls using glue, clips and screws. Then the drywall is attached to an integrated strip. The result is a much thinner wall.
Professional Basement Refinishers – If you want to leave it to the pros, you can hire basement refinishers to finish your basement walls. The process involves installing modular systems that combine finished wall panels, ceilings and floors.
Soundproof Your Basement Ceiling
The sound of footsteps or dropped items cause impact noise which can echo to your basement. In the same way, any sound coming from your basement can transfer between floors.
To rescue noise transfer, you need to soundproof your basement. This can be done through a number of different methods such as decoupling, adding mass, damping and absorbing.
In addition, you can use fiberglass battens, foam boards, mineral wool and foam as soundproofing materials when finishing your basement.
Second Kitchen In the Basement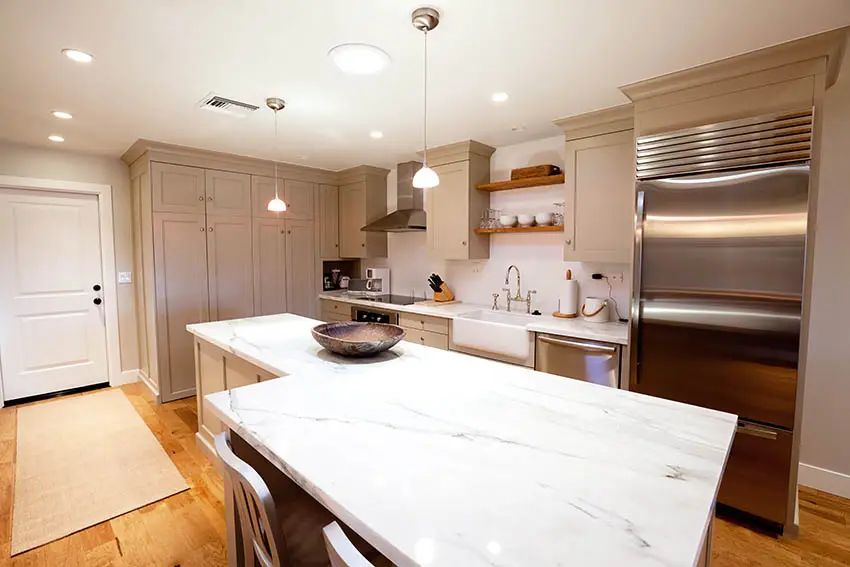 Aside from converting basements into dens, game rooms, man caves or workshops, one of the biggest trends nowadays is adding a second kitchen.
Whether you choose to go with a small kitchenette or a fully equipped large kitchen, the benefits that you can get from repurposing this often neglected space is numerous.
Benefits of Having a Second Kitchen in the Basement
Provide an excellent way to expand your home's living and entertaining space. Aside from your living and dining room, a second kitchen in the basement gives you an additional space your family can enjoy for years.
A second kitchen can also be used as a multipurpose space. Since the basement is a very flexible space, you can design it in any way you want.
And adding a second kitchen to it does not only provide a space for food prep but also gives you the perfect space for entertaining guests during special occasions.
Improves spaces utilization. The basement is often a neglected ior underutilized space. Most of the time, it becomes a store room for unnecessary junk or old stuff.
This makes it the perfect location to start a renovation, and adding a second kitchen to it allows you to maximize every inch of your home's space.
Improves work efficiency when entertaining guests in the basement. A second basement kitchen allows easy access and lets you clean up and cook without disturbing your main kitchen.
It eliminates the need to run up and down the stairs if you need dinnerware or glasses. Cleaning is also much easier.
Allows for maximum design flexibility. The basement offers endless possibilities for design, especially if the space is abundant.
Depending on your basement's existing conditions and requirements, you can furnish it with a small galley kitchen or a full size one. Regardless of the size, a second kitchen in the basement gives you a unique opportunity to experiment on its design.
Helps save on construction costs. If you really want a second kitchen in your home, installing it in the basement can significantly help you spend less, compared to putting it somewhere else in your property.
Installing a kitchen will require plumbing lines, electricity , water and gas — all of which are easily accessible in the basement.
Plumbing and drains are usually close in the basement, so if you decide to put one in your second kitchen, there won't be much additional cost.
Circuit panel boxes are also often located in the basement, making adding convenience outlets and lighting much easier. Since the basement is located in the lower level, heating and cooling requirements are also lighter.
Adds value to your home. If you plan on selling your home in the future, adding a second kitchen in the basement can significantly help increase its value.
In general, kitchen renovations are considered the most valuable selling point by real estate agents. Expect up to 85 percent return of investment of your total expenditure in building your basement kitchen.
Small Kitchens in Basements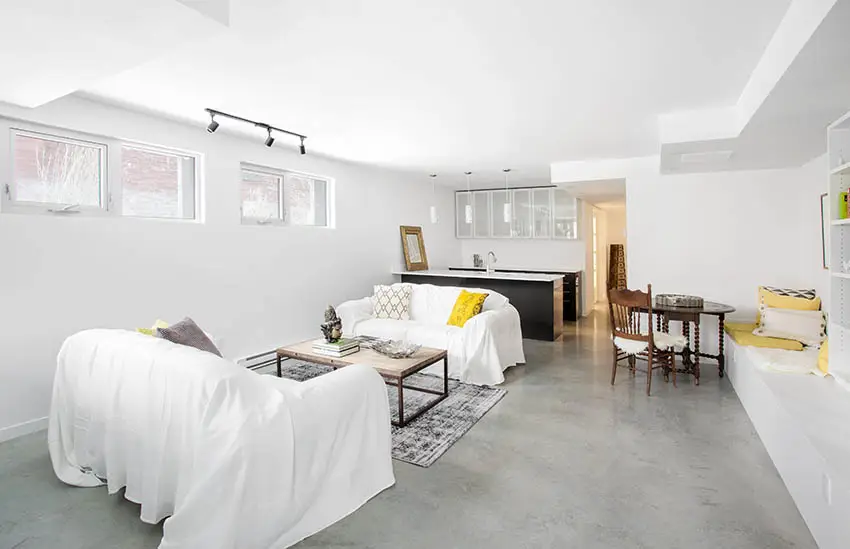 If you have a limited space in your basement or if a full scale kitchen is over your project's budget, one option you can consider is to install a kitchenette.
By definition, a kitchenette is a much smaller version of a full sized kitchen. It has a small cooking area that usually includes a microwave and a small refrigerator.
In addition, it also has other necessary features in food preparation such as a small kitchen sink, ample counter space and small storage.
In planning a kitchenette or small basement kitchen ideas, you must be very careful since you need to maximize your space. Thankfully, there are compact versions of modular storage, fixtures and small appliances which you can use to save on space.
For example, large double sinks may take up a lot of counter space, so go with small single bowl sinks instead.
Small appliances like compact ovens and toasters are good alternatives to a full oven. Instead of a standard size refrigerator, try going with a mini fridge or bar refrigerator to keep your drinks and food. Lastly, portable dishwashers are more suitable for small basement kitchens instead of a standard sized model.
Aside from going with compact sized appliances and fixtures, there are several design tricks which can make your small basement kitchen ideas look bigger.
A light colored wall, flooring and cabinet finish can instantly create the illusion of space. Good lighting design and illuminating your space well can also make it look larger.
Cost of Basement Kitchens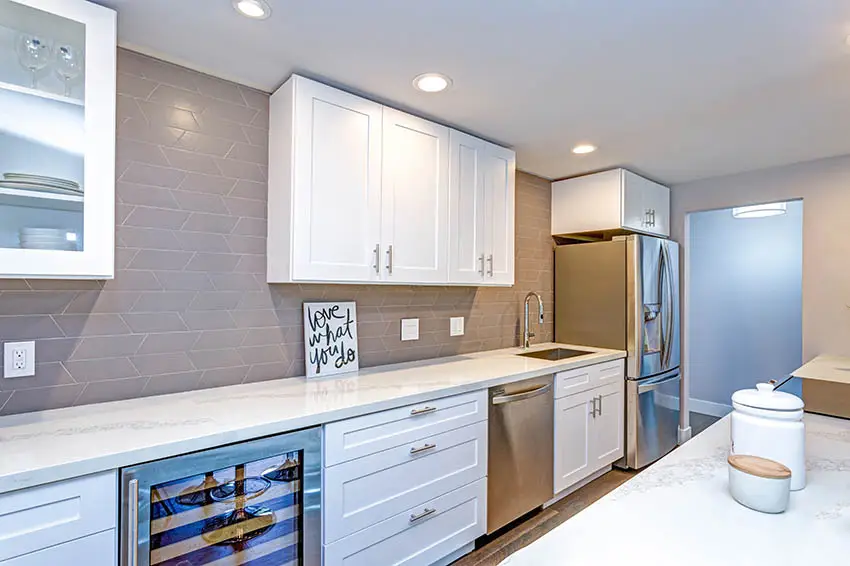 The cost of adding a kitchen to a basement will depend on a number of factors like the size of the kitchen, its features and design.
But on the average a small sized kitchenette or a wet bar can cost anywhere between $1,000 to $5,000. Whereas a full-featured basement kitchen runs anywhere from $12,000 to $20,000.
Expect the project to cost more if you plan on including high end materials to your basement kitchen ideas. According to HomeAdvisor, top of the line professionally installed kitchens typically cost $25,000 to $50,000.
Average Price of the Different Cost Factors for Kitchens in Basements
Here is a detailed breakdown of the the different factors that add to the cost of installing a kitchen to a basement:
Cabinetry and countertop – If you decide to go with modular cabinetry for your basement kitchen ideas, expect to pay a minimum of $500 for a small storage system. Whereas high-end cabinet and countertop materials for large basement kitchens can cost up to $20,000.
Appliances – The cost of appliances will depend on the brand and model of the item. Microwaves, for example, can be bought for as low as $50, while refrigerators and ranges can cost as much as $10,000.
The total cost for the appliances is not fixed since this will ultimately depend on what you intend to include in your basement kitchen plan, but in general they take up most of the overall project cost. Installation wise, expect to pay roughly $190 for each appliance to be installed.
Window and egress installation – Window and egress typically runs somewhere between $2500 and $5000.
Plumbing and electrical lines – Expect to spend thousands on plumbing and electrical lines alone, however if these are ready then there is no need to install specialty plumbing or upgrade your electrical lines which in turn translates to savings.
Exhaust and ventilation – Ventilation for the basement kitchen can cost as low as $100, depending on the type. However, top of the line range hood models can cost up to $3000.
Smoke detectors and alarms – Smoke alarms can be purchased at a very affordable price, but if your local code requires hardwired alarms, expect the installation to run at $100 per unit.
Lighting -Installation of lighting fixtures cost around t $75 to $250 per piece.
Painting and finishing – Skilled painters charge around $300 to $500 a day.
Tiling works – Tilers charge around $25 to $32 per square foot to install a backsplash or tile flooring.
Ceiling and flooring – A simple drywall ceiling costs between $2 to $25 per square foot , while surface flooring usually costs around $1 to $40 per square foot.
Labor costs in building a basement kitchen – Adding a kitchen to your basement requires thes service of professionals.
A contractor handles the construction part, but they may require the help of an architect or designer for the planning, lay-out and working drawings.
These professional fees can add thousands to the overall price of the project. For those who want an alternative, you can go with a design build firm that will handle everything from planning, design, project management and execution.
Adding a Kitchen to a Basement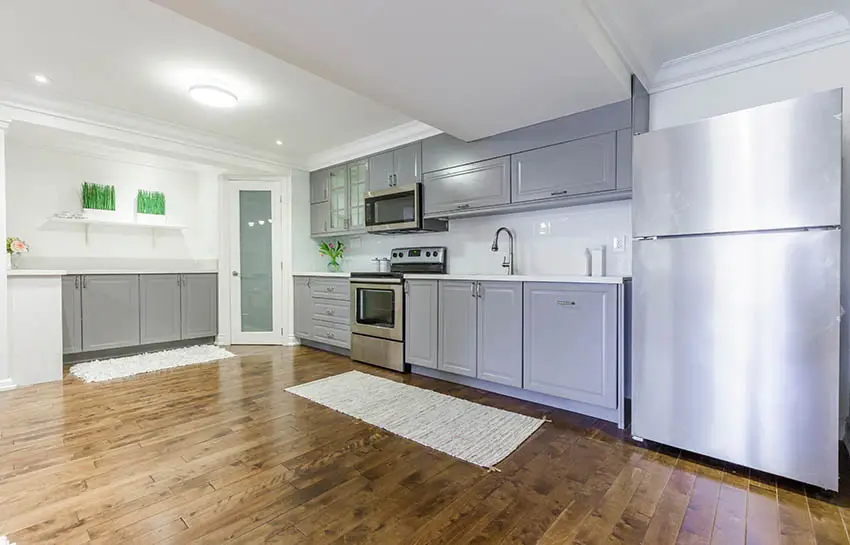 Adding a kitchen to your basement can be quite challenging, but with careful planning and research, along with some great design tips, you can create the basement kitchen of your dreams.
Design Considerations for Kitchen Construction in the Basement
Here are some factors that you need to plan when adding a kitchen to your basement:
Countertop material. Make sure to choose a durable and high quality material for your basement bar counter and basement kitchen counter.
Stone-like granite and quartz are not only very reliable and provide a long lasting countertop, but they are also very stylish. If you are more budget conscious, a laminated countertop is a good alternative to natural stone and engineered stone.
This material is also very durable and comes in a wide variety of colors and patterns to enhance your basement kitchen.
Flooring. There is also a wide variety of materials which you can use for your basement kitchen flooring. These include ceramic or porcelain tiles, engineered wood, vinyl and laminate.
When choosing the right basement flooring, make sure to go with material that is resilient and can withstand wear and tear. It has to be moisture resistant because the basement is constantly exposed to such.
Among the materials mentioned above, vinyl flooring is the top choice for basement kitchen ideas. Vinyl flooring is manufactured as traditional sheet vinyl and as LVT or luxury vinyl tiles.
Luxury vinyl tiles typically come in planks or squares and are designed to "float" on top of the subfloor. It is installed in the same way laminate flooring is installed. LVT is thick and durable, does not absorb water and is resistant to wear and tear.
Design wise, LVT is available in a variety of textures and patterns that closely resemble the appearance of natural wood and stone. In this way, you can have a kitchen basement floor that looks like wood , but without being prone to mixture issues.
Another option for basement flooring are tiles. Ceramic or porcelain tiles are a great option because they are durable, waterproof, and will last forever.
Tiles can be installed directly to the basement subfloor and do not need any underlayment. They come in a wide variety of colors, designs and patterns but are very affordable.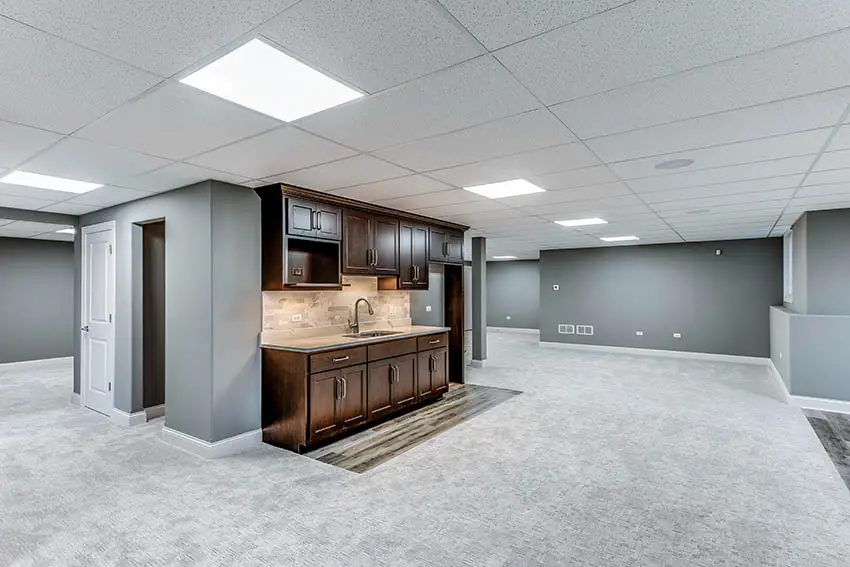 Wall Finishes. If your basement is unfinished, you can install drywall panels, but make sure to use moisture and mildew resistant ones. See more types of basement walls for additional ideas.

When it comes to the finishing, there are certain types of paint which are not advisable for use in basements because they support mold and fungal growth.
Appliances. Whether you have a full-size kitchen or a small kitchenette, adding a couple of appliances will make your new basement kitchen more functional.
Depending on the size of your space and your needs, some appliances which you can add to your setup are a small range, refrigerator, microwave and dishwasher/ You can also check for models which can fit under the cabinets or in built-in shelves so you can free up some counter space.
Furniture and furnishings. Do not forget to add seating to your basement kitchen so you can dine and entertain guests comfortably. A couple of chairs, bar stools and a table are typical furniture requirements for this type of space.
Aside from furniture, make sure to add some furnishings , décor and accessories to bring everything together and make the space feel more cozy and lively.
Storage. Storage like cabinetry is one of the most integral parts of kitchen design. More often, basements have limited spaces, so storage must be planned carefully.
Instead of installing huge cabinets, go for fewer storage units. Also, make sure to take advantage of vertical space so you don't take as much floor space.
Considerations When Adding a Kitchen to a Basement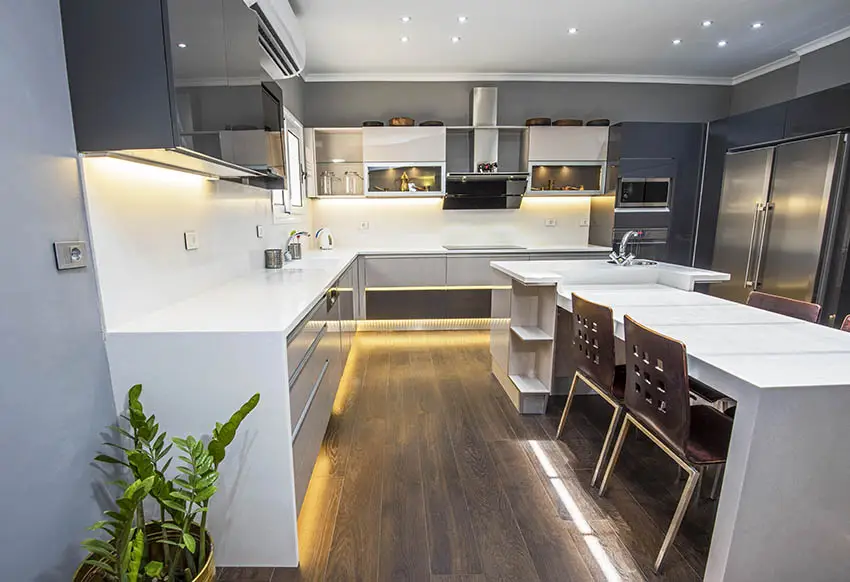 Insulation. Concrete basement walls can easily get cold and will benefit well from the addition of a rigid foam board insulation. Adding insulation to the walls and ceiling will keep your flooring warm and will also make your basement soundproof.
When installing insulation to your new basement kitchen walls, make sure not to attach the insulation directly to the foundation walls as they act like a moisture trap which can result in further problems in the future.
Exhaust System and Ventilation. Proper ventilation does not only eliminate unwanted cooking smells and to reduce excess moisture in your basement kitchen, but it is also required for safety reasons. There are several methods which you can try such as installing an electric vented or vent less fan.
The standard is to install a filter type range hood over your cooktop (if you plan on putting one) to suck up all the fumes and odors. Aside from filter type models, you can also use ducted hood fans which connect to vents outside the home.
Fire safety. Fire safety should be your top priority too, so make sure to add a smoke detector in your basement kitchen and keep a multi purpose fire extinguisher ready and easily accessible in the event that you need it.
Electrical. Make sure that you have the necessary electrical provisions for switches, convenience outlets and lights.
Take into consideration the location of your outlets and the intended position of your appliances when planning the layout of your basement kitchen ideas. Make sure that there are enough outlets for your countertop appliances like blenders, coffee makers, toasters and microwaves.
Lighting. Basements have little to no natural lighting available, so make sure to take advantage of artificial lighting. In addition, lighting can make or break the look of your basement kitchen. It helps set the tone of the space and create visual effects and moods.
Plan your lighting design and layout carefully to illuminate the space. You can combine a mix of general lighting, ambient lighting and task lighting for the full effect. Under-cabinet lighting is also a nice addition as it can illuminate your counter and make prep work much easier.
Tips on How to Create the Perfect Kitchen Design Suitable for the Basement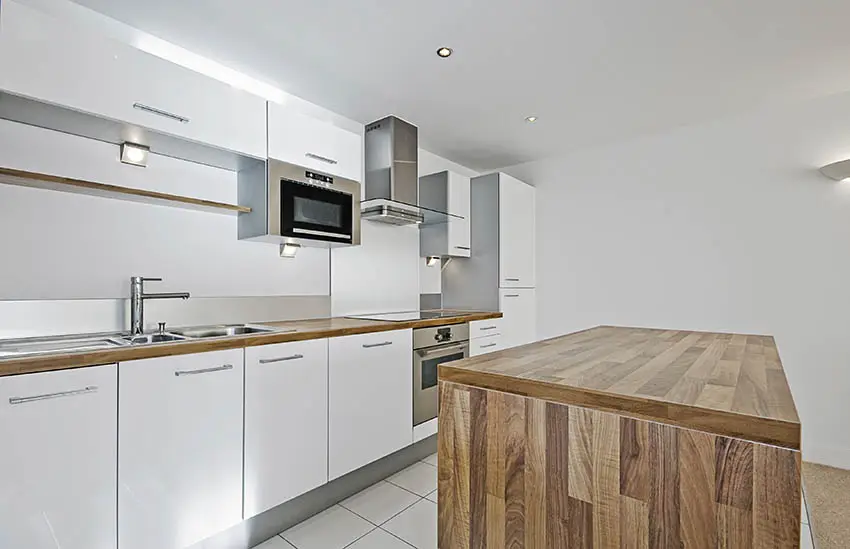 Here are some tips to help you create the most functional and efficient basement kitchen design.
Determine how much area you want to allot for your kitchen. Plan your basement kitchen ideas relative to the size of the area.
If your basement has the luxury of space, you can go with a full sized kitchen that has large appliances, a kitchen island and bar counter. However, if your basement is much smaller, then you can go with a kitchenette which is a small version of a functional kitchen.
Determine the purpose of your basement kitchen. Before you design any space in your home, determine the function of the space first and know how you intend to use it, The same thing goes when planning a kitchen in your basement.
Think about why you need a basement kitchen and be clear about its purpose. Do want it to be an ultimate entertaining / dining space, a basement bar or just a small kitchen? Do you want to use it to entertain guests for parties or just as a spot your family can enjoy privately?
When you determine the answer to these, plan your basement kitchen ideas accordingly. But as you plan, make sure to put into consideration the existing conditions of the space such as the size of the area.
Prepare all necessary plans. When installing a kitchen to your basement, it is important to design the space well. Lay-outs and other working drawings are necessary during construction since they serve as a guide and will help you keep your project on track.
You can always hire a professional kitchen contractor or interior designer to help you along the way. But if the renovation is minor and not that complicated, you can prepare your own lay-outs using downloaded apps and user friendly design software.
Match your basement kitchen ideas to the overall style of your house. Matching the style of your basement kitchen to the rest of your home will create a cohesive and well put together look. This will also ensure that the transition of the space — from the upstairs to the downstairs will feel more natural.