Welcome to our guide of basement flooring ideas including popular materials and the pros and cons of each type.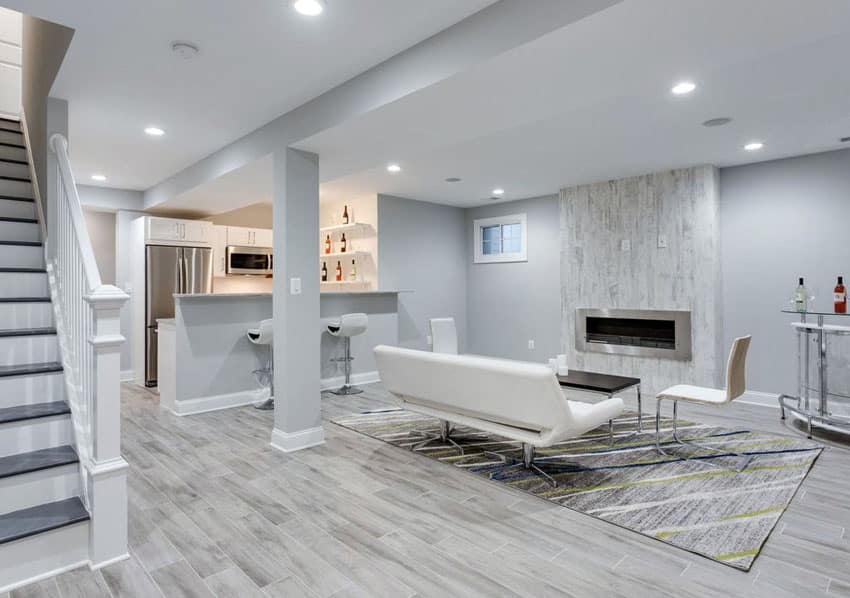 Basements are often one of the most versatile areas in the house. Typically utilized as multipurpose rooms, recreation spaces or utility areas, basements are constantly subjected to heavy use on a day to day basis.
Basements are also one of the most exposed areas to humidity, moisture and changing temperatures because they are located below ground. With that in mind, the materials used to finish a basement needs to be long lasting, heavy duty and able to adapt to existing conditions.
Floors are integral to the lifespan of your basement because usually this area sits on top of a concrete slab, which means that they face excessive moisture. A basement requires a long lasting, serviceable flooring material that can stand up to wear and tear and of course, moisture.
While you may not be eager to furnish your basement flooring with expensive marble tiles or luxurious polished granite, there are numerous flooring materials which can live up to a basement's purpose without breaking your budget.
Below we give you our very own ultimate guide on basement flooring ideas, along with different, material options and their respective negative and positive features to help you choose which one is the best for your home.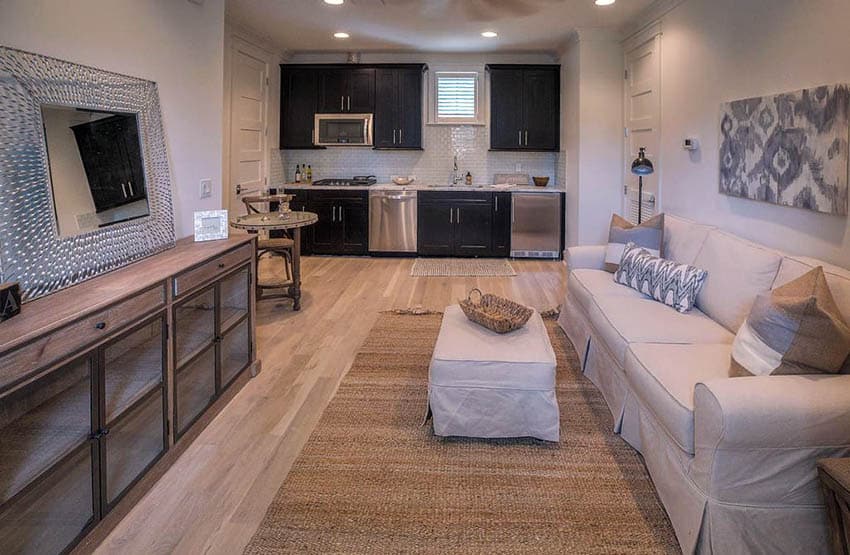 Considerations when choosing a basement flooring material
Moisture and flooding.

Basements are the lowest point in the home, which makes them prone to excessive moisture coming from the ground, flooding and changes in temperature. Moisture is the primary deciding factor that you have to consider in choosing the right material for your basement flooring.

Activities.

The purpose that you intend for your basement, along with the activities that you plan on doing inside it can also significantly help you in deciding for the right flooring material. A basement which is intended to be used for exercising or gym activity will typically require a form of soft cushioning that is durable. Basements used as hang out rooms or home theaters would need flooring that helps with soundproofing and acoustics, while also providing maximum comfort to the users.

Budget.

Your budget also plays an important role in deciding on the right type of material for your basement flooring since the availability of one's funds can sometimes be limiting. Having a budget to work on will also help you narrow down the best basement flooring options that you can explore for your home.
General rules in choosing a basement flooring material
Harder materials are always better. Hard surfaces such as concrete, generally lasts longer than soft materials like carpet or vinyl.

Keep your layers to a minimum. Multi layered floor systems dry out longer and harder when they get wet.

Always start with a concrete slab. In general, most houses already have an existing concrete slab for their basement floors. Know which materials work best when placed directly above them.
Cheap Basement Floor Ideas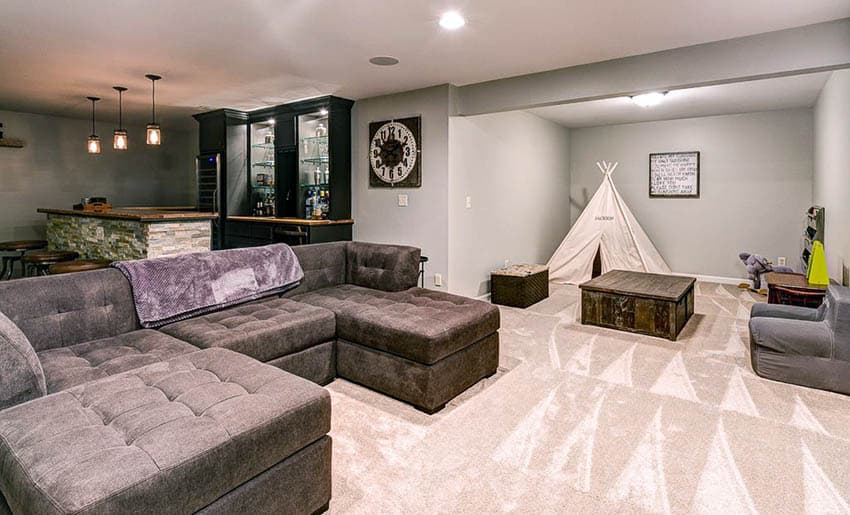 Some of the best choices for cheap basement floor ideas are linoleum, vinyl, carpet and laminate. Below we will cover the pros and cons of each flooring material as well as a basic cost estimate per foot. In addition we will share other types that are commonly used for an attractive finished basement ideas.
Carpet Flooring
Carpets are not only an attractive choice of flooring for basements but they are also one of the most affordable options in the market. Carpets are a type of soft covering for floors which is composed of an upper layer of pile attached to a backing material.
Contrary to what we often imagine to be boring glue-down flooring that is usually found in office buildings, carpet flooring is available in a vast range of colors, countless patterns and different textures, making it a perfect addition to basements.
There are light colored carpets which can help make your basement feel more open and homelike, while there are also dark color options which can help produce a more dramatic feel. Its colors can be easily mixed and matched to produce patterns and custom designs. Whatever scheme, motif and palette you have for your basement, you can easily find the right match to complement its decor.
Carpet flooring, specifically the tile versions, typically have a moisture resistant plastic backing, which enables them to handle occasional basement moisture and changes in humidity. In the event flooding in the basement, carpet tiles can be easily removed and reattached once needed.
With regards to installation, carpet flooring is simply laid on top of concrete, often adhered to a subfloor material using adhesives found in the backing. However, for basements where excessive dampness is a concern, a carpet pad can be used to block the moisture from seeping up to the carpet and down to the concrete floor.
But take note that moisture pads can only reduce cleanup and prevent minor damages, it will not solve chronic moisture and flooding. In addition, carpet pads can add up to extra costs of your basement flooring, depending on the type. Standard carpet pads cost about 70% less than special moisture resistant pads.
Types of Carpet for the Basement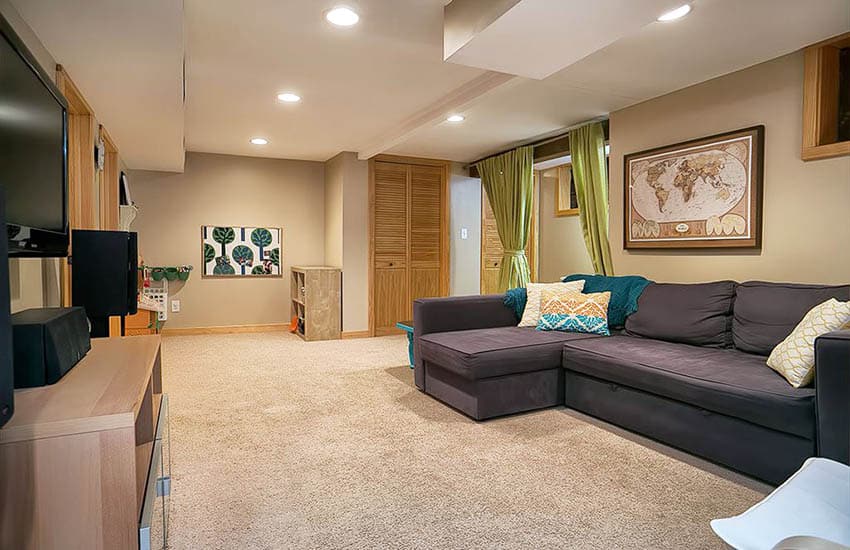 There are a variety of types of carpet flooring available. Some of the most popular are available in rolls, tiles or square and typically have an adhesive backing, thus eliminating the need for mastic or cement during installation.
In addition, carpet flooring also comes in different types of textures and fibers which can be used for basement floors such as nylon, polyester, olefin, polypropylene and wool. There are also different types of carpet piles which determines the way the loop of the carpet is treated.
Carpet tiles – Carpet tiles typically come in 24 by 24 inch and 36 by 36 inch sizes. While carpet rolls come in long spans which can be custom cut to fit the area of your basement. In terms of appearance, carpet rolls provide a more seamless look as there are no joints in between. Both of these types provide ease in terms of installation, however, carpet tiles are much more easy to replace once damaged.
In terms of piles, the most commonly used for basement floors are low pile carpets. Low pile carpets, also known as "loop pile" or "Berber" leaves the entire look intact on the surface of the material.
Low pile carpets show less wear than cut looped and shag like carpets. They are highly durable, easy to clean and more resistant to stains, making them a perfect finishing for your basement floor. Low cut piles or berbers are also less expensive than other carpet piles.
Material wise, nylon carpets make the best option for basement floors because they are incredibly resilient. Nylon carpets resist abrasion and retains shape well. Nylon blends also cost less compared to natural carpet materials.
Wool also makes a suitable option for basement carpet flooring as it is very strong and elastic, and can hide stains and dirt easily.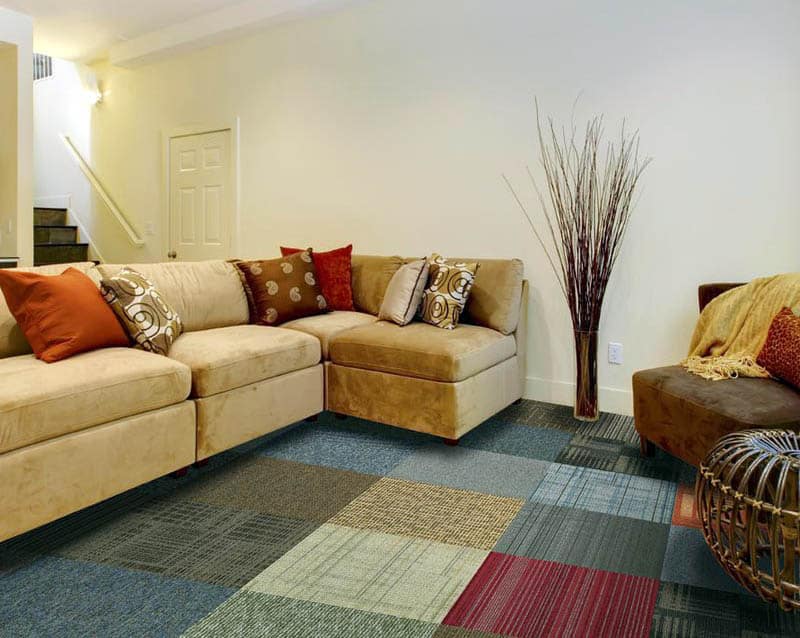 See these carpet tiles for the basement at Amazon
Pros of Carpet Flooring for the Basement

Provides comfort. The comfort that carpet flooring provides cannot be matched by any other basement flooring material. Carpet flooring provides a soft cushioning underfoot, is comfortable to walk on even when barefoot and nice to sit on even for long hours. In addition to comfort, carpet flooring can also instantly make your basement feel more cozy.
Aesthetically appealing. One of the primary benefits of using carpet flooring for your basements is that it provides visual interest to a space, while also introducing variation in textures and contrast. Carpet flooring can instantly make your basement fell more warm and cozy.
Cushioned support. The biggest appeal to carpet flooring is that it is soft to the touch and feels great even under bare feet. In fact, it is the most comfortable flooring material which you can stand or sit on even for long hours.
The fact that it is warm and comforting makes is a soothing addition to spaces, especially if your basement is used as a man cave, hangout space or home theater. So if you want to promote relaxation in your basement, then this is the best flooring material you can explore.
Good insulation properties. Carpet flooring is much warmer than other materials such as hardwood or ceramic tiles. Aside from being warm to the touch, carpet flooring helps insulate basements by keeping the warmth contained in the space.
This is extra helpful for houses which are located in extremely cold areas. For added insulation, extra thick padding under the carpet or a denser carpet pile and texture can ensure better thermal regulation and insulation.
Provides safety. As mentioned, carpet flooring has a very soft texture, thus providing household safety and lessening the risk of slip hazards. Unlike hardwood floors or ceramic tiles which can sometimes result to accidents, carpeting runs a full cushion across your basement.
This is particularly beneficial to households which need child friendly flooring because it gives them a safe cushioned surface to play on. In addition, even if an object falls through you carpet, it lessens the tendency for it to break.
Helps with acoustics. Carpet flooring reduces noise and contains it into a space, making it ideal for basements which are converted into home theaters or music rooms. Unlike polished flooring which reflects sound, carpet flooring provides padding to an entire floor which helps absorbs noise. In addition, footsteps are also not that audible in carpet floors.
Can be a DIY installation. Most carpet products are made with self-adhesive backings for easy, do-it-yourself installation.
Cons of Carpet Flooring
Maintenance. The major drawback of carpet is that it require a lot of maintenance. Carpet flooring requires regular vacuuming and periodic deep cleaning about once or twice a year. However, it is also the only flooring material that can be run under water for cleaning.
Sensitivity to moisture and stains. Carpets easily absorbs liquids and can get damaged easily if soaked in moisture. In addition, it also stains easily and these marks are easily noticeable on its surface. Also, if the pad underneath a basement carpet flooring gets wet, it can harbor molds, mildews and bacterial growth which can be hazardous to one's health.
Traps dust and dirt easily. Dirt, dust and allergens can easily get trapped in carpet flooring, making them unadvisable for homeowners who have allergies.
Lifespan. Compared to other flooring materials carpets relatively have a shorter lifespan. Even with good care, carpet flooring does not last forever and typically have an average of 10 years lifespan. After some years, carpet flooring shows signs of wear and tear and their fibers start to lose their texture or their colors begin to fade.
Cost of Carpet Flooring
Carpets are an economical choice of flooring for basements. It is less expensive than hardwood floors and tiles, typically costing a minimum of $1 per square foot. 20 inch Nylon pile carpet tiles can run anywhere from $2 to $4 per square foot.
Wall to wall carpeting using mid range nylon Berber costs about $1 to $3 per square foot. On the average, the cost of labor and materials for a 600 square foot basement with standard pads is about $1,200 to $2,400.
Laminate Flooring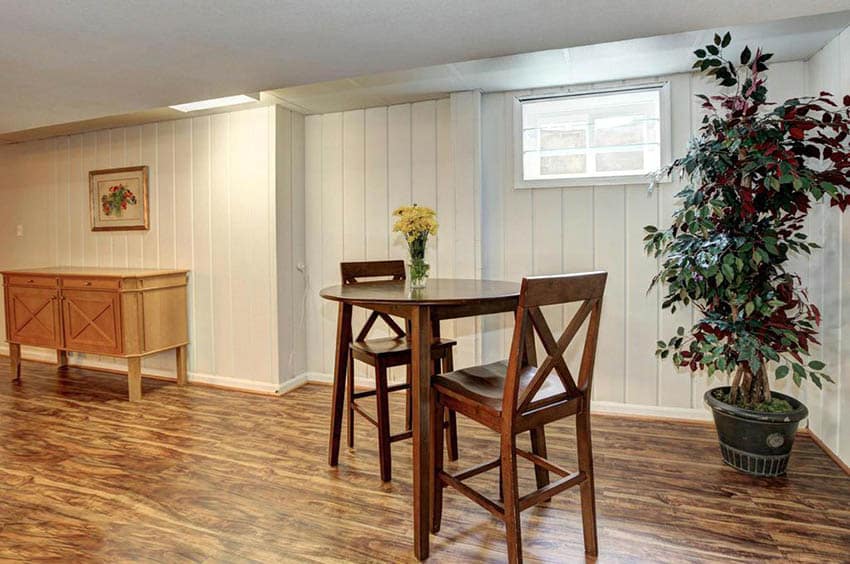 Traditionally, laminate floors were not recommended for use in below grade basements because of the possible occurrence of flooding or rising groundwater. However, there are new innovations in the production technique of laminate materials which allow for more moisture resistance and tolerance.
Laminate flooring is a man made product that is composed of multiple layers of synthetic materials fused together by lamination. Laminate flooring employs the same methods and materials used in engineered wood flooring, but the top veneer is made up of a protective layer of tough film covered with plastic resins. Its inner core is made up of a combination of fiberboard materials and melamine resin while a photographic applique layer gives it color, design and pattern.
The fiberboard backing material for most traditional laminates are susceptible to moisture and if it comes in contact with liquids or excessive moisture, it can twist, warp, rot or even grow molds and mildew.
However, new laminate products are more dimensionally stable and are manufactured to be resistant to water, making them good choices for basement applications. These laminates have a solid plastic core which prevents liquid penetration. You can ensure that a laminate is good for basement flooring once you examine its warranty.
Laminates are typically installed as a "floating floor" material, which makes it a relatively easy DIY project. When using laminate flooring for basements, consider laying a floating subfloor like foam underlayment on the concrete first, then install laminate over it to provide a reasonable barrier to the coldness of the concrete.
Another option of floating subfloor for laminate basement flooring are plastic honeycomb panels covered with an engineered plywood or waferboard surface. This raises the subfloor slightly off the slab and provide a perfectly flat surface for installing the laminate planks. Although this will raise the potential overall costs of your flooring material for your basement, it helps eliminate possible problems with moisture, allowing your laminate flooring to last for more years.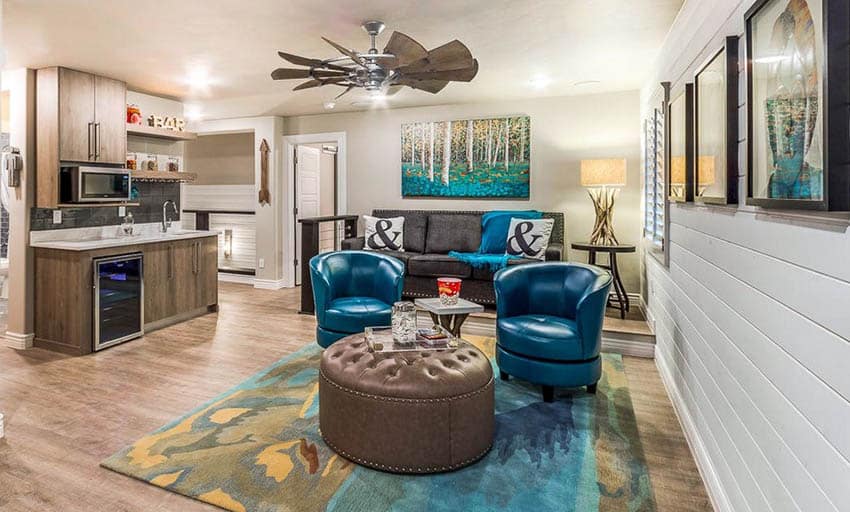 Laminate Products
Plastic laminate flooring is typically available in plank form and usually simulates the appearance of natural wood, stone and ceramic tile. The sizes of laminate planks vary, depending on the brand and manufacturer, but on the average ranges anywhere between 5 to 11.5 inches in width to maximum lengths of 80 inches. While, the thickness range anywhere from 7 millimeters to 10 millimeters.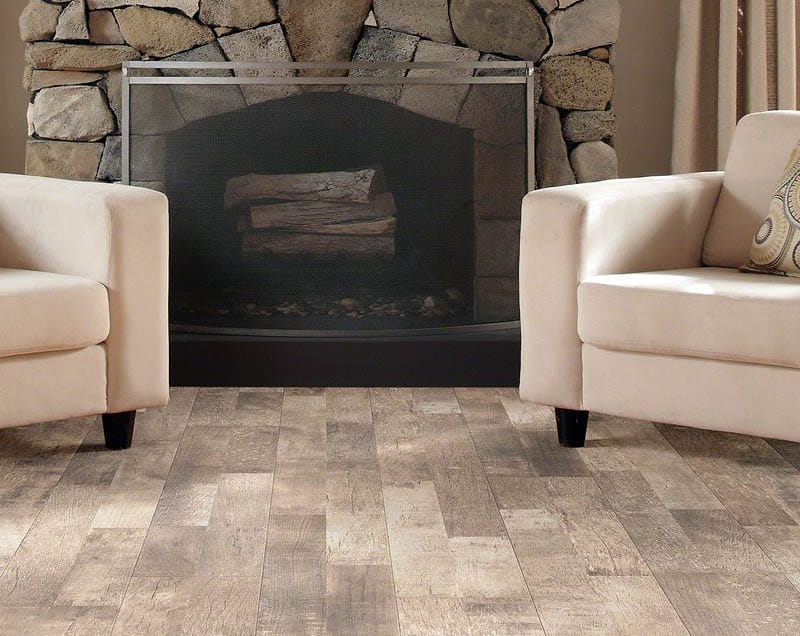 Ash wood laminate flooring
Pros of Laminate Flooring
Visual aesthetics. As mentioned, laminate flooring typically mimic the appearance of natural flooring materials such as wood and stone, thus making them good substitutes in terms of both aesthetic appeal and durability. It comes in hundreds of colors, patterns and designs which allow for mixing and matching in any type of basement decor.
Easy to install. Laminate flooring can be installed fast and easily in your basement using a simple clock and lock technology. Older types of laminated flooring require glue or adhesive but newer versions have tongue and groove connections which allow the planks to fit like puzzles.
Durability. The integrated material structure of laminate floors gives them high durability and makes them resistant to scratches, stains and scuffs. They can also withstand heavy foot traffic and works for any type of basement space, regardless of use.
Keeps the floor leveled. Laminate flooring does not cause much change in floor level because of its thickness, which means you can easily create a smooth transition between areas or multi purpose basement spaces, in this matter.
Easy to maintain. Maintaining your basement floor is the least of your worries if you use laminates because they are easy to clean using only a broom, vacuum or slightly damp mop. Unlike other materials, laminate flooring does not need resealing, resanding or waxing.
Lifespan. The average lifespan of laminate flooring for basements is between 15 to 25 years, provided that it is properly installed.
Cons of Laminate Flooring
Moisture. Bear in mind that laminate flooring can only withstand semi moist areas but will not tolerate excessive amounts of moisture or flooding. Spilled liquids that aren't cleaned up quickly can easily lead to bubbles and raised edges, which also chips overtime. It has the tendency to expand or buckle and not impervious like vinyl or ceramic tiles.
Seams. The seams in between laminate plank produces weak spots which prent the danger of absorbing too much moisture. Excessive water can seep into the seams between the laminate boards,which can cause it to swell.
Hard to repair. When laminate flooring is heavily worn or deeply scratched, it cannot be refinished but instead needs to be replaced.
Cost of Laminate Flooring
If you are looking for a cheap wood like floor for your basement, laminate flooring is one of the cheapest alternatives you can explore. Laminate flooring sells for an average of $3 to $5 per square foot ,while the installation adds $4 to $5 per per square foot. It is widely available in home improvement stores and local suppliers.
Linoleum Flooring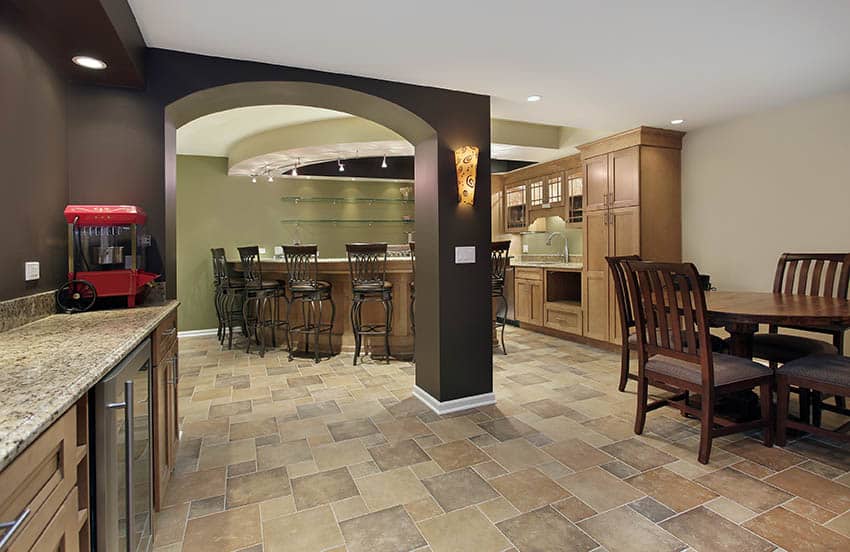 Linoleum gained popularity as a flooring material during the 1950's. Known to be the original "resilient" flooring, linoleum floors were typically used for high traffic areas and rooms which were exposed to excessive moisture and changes in humidity.
In recent years, linoleum has been making waves in the interior design scene as homeowners continually become drawn to natural sustainable products and "green design".
Linoleum flooring is commonly mistaken and interchanged with vinyl flooring because both are known to be resilient flooring. However, these two products are entirely different in terms of their material composition. The manufacturing process of linoleum involves impregnating solidified linseed oil with natural plant materials and forming it into sheets, whereas with vinyl, the materials are purely synthetic and composed of refined chemicals.
By definition, linoleum is a type of artificial material that is made up of linseed oil, ground limestone, ground wood, cork powder, resins and pigments.
Linoleum is one of the top and most practical material choices for basement flooring. Although predominantly composed of natural materials, linoleum has all of the positive attributes of man made vinyl which includes resistance to moisture and humidity
Linoleum Products
Linoleum flooring is available in three types namely : floating linoleum floors, linoleum tiles and sheet linoleum. Each of these products have their own positive and negative features when it comes to basement flooring use. Here's a look at popular linoleum products:
Sheet linoleum – Sheet linoleum, as their name suggests comes in long rolls which can be stretched across the floor. This is the most ideal type of linoleum flooring for wet environments or basements which are exposed to high levels of humidity.
Sheet linoleum is more impervious to water from above or below because it creates a fully solid single unbroken surface that is seamless – so basically there is no room for moisture to seep into it.
Typically sold in rolls which are twelve feet long, sheet linoleum flooring can be cut into any size to specifically fit into your basement floor area. And since it can be custom cut, its use is more flexible and versatile. In terms of installation, sheet linoleum flooring requires the services of a professional to ensure that the material is properly laid in a tight manner, with the seams carefully aligned and matched.
Linoleum tiles – Compared to sheet linoleum, linoleum tiles are usually small and more discrete in form. They offer a good alternative to ceramic, wood and vinyl tiles as they provide a softer cushion underfoot and are warm to the touch. Linoleum floor tiles come in self adhesive forms which can be installed more easily.
Although linoleum tiles present a less complicated installation process, the presence of seams between the tiles create weak points, making it vulnerable to stains, water penetration and damage. Linoleum floor tiles cost an average of $7 per square foot and takes an average of 2 days to install, requiring moderate skills to complete the project.
Floating linoleum floors – Floating linoleum floors are linoleum tiles or planks which have a cork cushion beneath the surface. This type of basement flooring material can be directly placed above any existing floor. Or in other words, they do need to be glued down in terms of installation.
Floating linoleum floors are comfortable underfoot and are easy to clean. But just like linoleum tiles and planks, its installation involves seams. These seams can sometimes allow water to penetrate through the flooring and may cause potential damage and the growth of molds or mildew underneath the surface.
This is also extra harmful when your linoleum flooring is set above another existing flooring material as the flooring beneath may collapse due to the unseen deterioration. So extra care is advised when using floating linoleum floors for basements.
Marmoleum – Marmoleum is a brand of linoleum flooring that is produced by the Swiss company, Forbo group. The production techniques involved in making Marmoleum floors follow the same original process for traditional linoleum, which means that the product is all natural and has no volatile chemical components.
Just like any linoleum flooring, Marmoleum comes in tile, plank or sheet form and is offered in a wide range of color options. What makes it different from traditional linoleum floors is that it recently developed a new form of rigid "click together planks". Known as Marmoleum Click, this variant of linoleum flooring has a linoleum wear layer laminated on top of the plank. Similar to plastic linoleum flooring, Marmoleum floors "float " over an underlayment sheet.
Although flexible in terms of application, it must be kept in mind that the installation of Marmoleum floors include seams which are a major consideration for damp areas. When using Marmoleum floors for basements, make sure to address issues on excessive moisture and humidity before installation.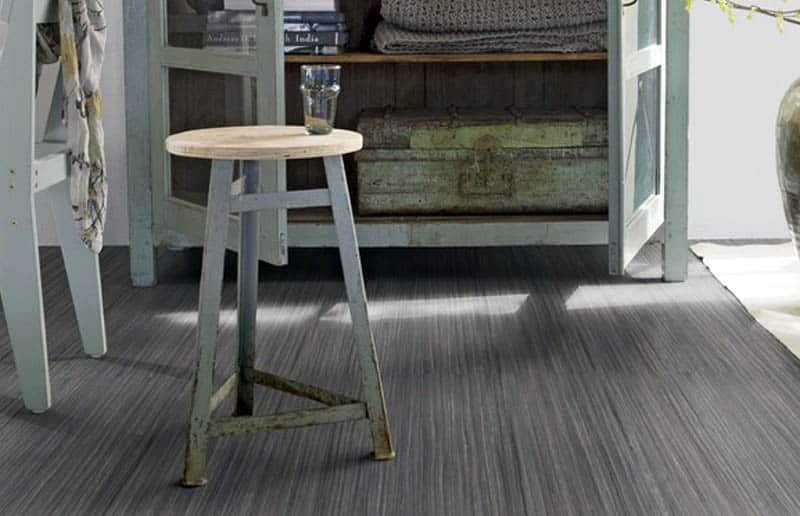 Marmoleum flooring with cork backing
Pros of Linoleum Floors
Provided that linoleum floors are properly installed and well maintained, they offer a lot of benefits for your basement.
Stain resistant. Linoleum floors do not sink in stain and other liquids, thus there are no marks left in the event of spills.
Anti microbial. Linoleum is naturally resistant to molds, mildew and does not harbor bacterial growth .
Green product. Linoleum is made up of natural renewable materials.Unlike vinyl which breaks down once discarded, it does not pollute the environment.
Design flexibility. Linoleum flooring is available in a wide range of colors, patterns and textures, which sometimes mimic the appearance of other flooring finishes, providing vast opportunities in terms of design and visual aesthetics.
Maintenance. Linoleum floors are easy to clean, because they are anti static and dust and dirt does not easily adhere to it. In addition, daily maintenance of linoleum floors involve simple sweeping and cleaning using a soft cloth or mop.
Lifespan. Linoleum floors can last for an average of 25 to 40 years, again provided that it is sealed properly and given the right upkeep.
Cons of Linoleum Floors
Not waterproof. Linoleum flooring is water resistant, but it is not waterproof. Keep in mind though that flooding can ruin a linoleum flooring installation. In addition, weak adhesive bonding and seams also present possible problems in the future.
Excessive moisture can penetrate through the surface of linoleum floors which can later on warp, expand or distort the material. However, this problem can be rectified by providing a number or solutions such as waterproofing, sealing, heat welding the seams or flash coving.
Heat welding merges the linoleum flooring tightly together to ensure that it is impervious to moisture, while flash coving means installing the linoleum slightly up against to wall to make the seams around the edge impenetrable by water.
The latter is only used for sheet linoleum products. In addition, multiple coats of clear acrylic sealing agents may also be applied as a treatment for the surface of the material to protect it from water damage, but this need to be repeated every 6 to 12 months.
Needs professional installation. Another drawback of linoleum floors is that it can seldom be undertaken as a DIY project, which in turn adds up to labor costs. Professional installation is recommended for linoleum floors mainly because the material is highly vulnerable.
Before installation, your basement needs to carefully examined, repaired for any existing damages and must be completely dry, leveled and flat. They work best for basements which have an existing concrete slab flooring.
Costs of Linoleum Flooring
Linoleum flooring generally costs $2 to $4 per square foot, which is closely at par to the costs of vinyl. With regards to the price of the different types of linoleum products, sheet linoleum is slightly less expensive than the tile form. Linoleum is available in specialty flooring and building supply stores.
Vinyl Flooring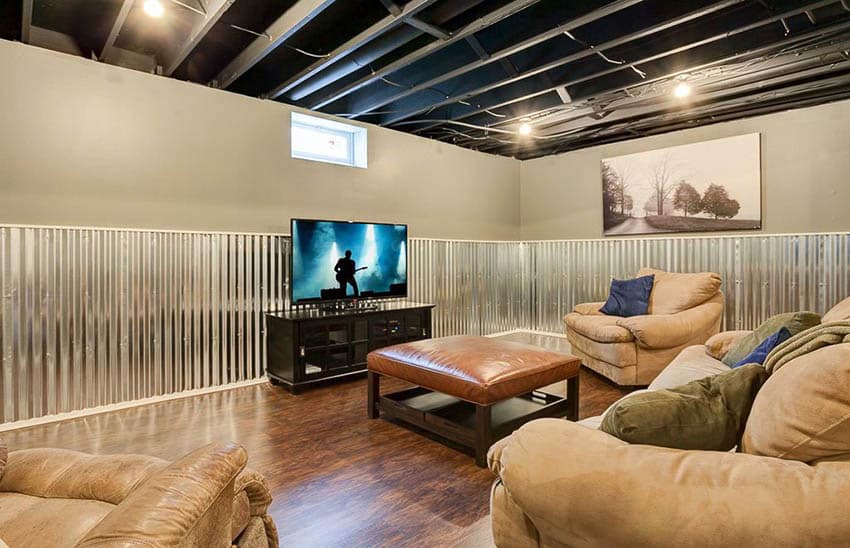 For years, linoleum flooring was a favorite building material for most household, but then in the 1930's, vinyl products began to supersede them as the best low-cost water resistant flooring option in the market.
Vinyl flooring is another type of resilient flooring that has a dense integrated structure composed of colored PVC or polyvinyl chloride chips formed into solid sheets using heat and pressure. It is a practical alternative to natural stone tiles and ranks up with ceramic tile and concrete flooring as a basement flooring material.
When it comes to design, vinyl flooring captures the appearance of other popular floor finishes such as natural stone, patterned tiles, faux carpet and even wood. In some cases, it is also applied with grout to mimic the appearance of ceramic tiles.
Vinyl flooring is also available in a wide array of colors and patterns which offers endless design possibilities, allowing homeowners to choose the perfect product that matches their basement's style and palette. It makes a good option for basement flooring material especially if you are dealing with a limited budget but do not want to sacrifice functionality and visual aesthetics.
Typically, vinyl flooring for basements can be applied directly over concrete using mastic, cement or adhesives.
Vinyl Products
In general, vinyl flooring usually comes in three forms : sheet vinyl, vinyl planks and vinyl tiles. Among the three, the best option for basement flooring are vinyl planks and vinyl tiles in terms of both appearance and ease of installation.
Vinyl tiles – Vinyl tiles usually come in varying thicknesses, with ⅛ inches as the most commonly used. The standard sizes for vinyl tiles are 12″ x 12″ squares or 12″ x 24″ rectangles. They come in two general classifications or types namely solid vinyl tiles and luxury vinyl tiles.
Luxury vinyl tiles are the high quality or premium type of vinyl, which is typically 2 to 5 millimeters thick and comes with an easy lock and click technology for installation. In some cases, luxury vinyl flooring also come in self adhering variants.
When it comes to design. luxury vinyl flooring is available in wood like patterns which captures the natural distinct beauty of real wood. So if you are looking to achieve the coziness and warmth of wood for your basement, but want to get a more practical and affordable flooring, luxury vinyl flooring is your best bet.
Sheet vinyl -Sheet vinyl is another famous finishing option used in basement floors. Ideal for use in basements which are uneven or sloped, vinyl sheets comes in long rolls which can be custom cut to fit any size of floor area. Sheet vinyl comes in various patterns and colors, which makes it ideal for homeowners who prefer a broad design or a more continuous appearance for their basement floors.
Sheet vinyl flooring is also the best type of vinyl product for basements which are exposed to moisture. With sheet vinyl flooring, you can also create a water impervious surface for your basement floor because it is nearly seamless. It can withstand floods well, especially if the floor joints are applied with seam tapes that are treated with heat to seal your basement floor.
It is in contrast with vinyl tiles which usually have multiple seams which are vulnerable to moisture infiltration and water damage. Among the three types of vinyl flooring, sheet vinyl is also the easiest to maintain and clean.
In terms of installation, vinyl tile and sheet flooring can be applied directly over prepared concrete. Both can be "floated" over another existing basement flooring material, without the need to be glued down. Instead they can be laid on a thin underlayment sheet with bonded seams for sheet vinyl or made with interlocking seams for plank vinyl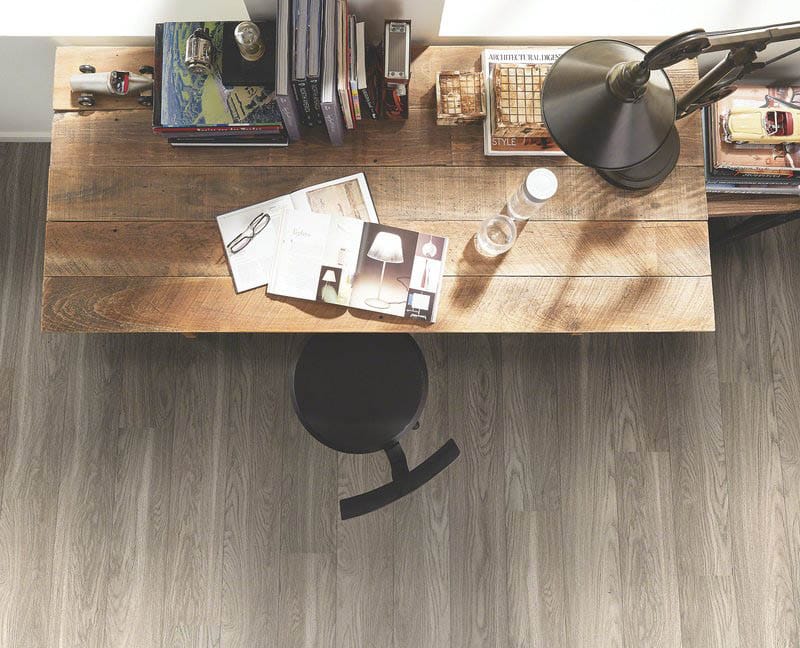 Wood plank style vinyl flooring
Pros of Vinyl Flooring
Resilient floor. Vinyl flooring reduces the impact of heavy objects by providing a cushioning underfoot, thus also reducing slip hazards.
Prevents flooding and can withstand it. Vinyl flooring keeps water at bay and is moisture resistant. This makes it ideal for a basement kitchen or bathroom where water on the floor may be an issue.

Can be a DIY project and is easy to handle. The ease of installation that vinyl floor tiles provide make it a highly suitable material for do it yourself projects, which allows homeowners to save on labor costs. Aside from that, it can be easily installed using a simple utility knife.
High durability. Vinyl is durable and can withstand the wear and tear of everyday use.
Antimicrobial flooring. Vinyl flooring does not rot or decay and prevents the growth of molds and mildews.
Comfortable to use. Vinyl flooring is also warm to the touch compared to natural stone, ceramic tiles or concrete and is comfortable to walk on even when bare feet.
Wide range of options. Vinyl flooring comes in many different colors and patterns, are easy to clean and durable.
Low maintenance. Vinyl flooring requires little effort to maintain and can be cleaned easily.
Lifespan. Provided that it is properly cared for and maintained, vinyl flooring can last for years.
Cons of Vinyl Flooring
May not look as high end as other basement flooring. Vinyl is often considered a cheap fix. The caveat to this is luxury vinyl flooring which looks very similar to real wood without all of the negatives.

Requires preparation before installation. In order for vinyl flooring to adhere to an existing flooring, the surface needs to be very clean.
Cost of vinyl flooring. The price of vinyl basement flooring is very cheap and has a minimum cost of $1 per square foot. Its prices vary widely depending on the design and manufacturer, but generally vinyl flooring is more expensive than paint or stain.
Luxury vinyl tiles are more expensive than other variants and while the best products also cost more, it should be easy to find a mid grade type of vinyl that can last for years and suits the style of your basement. Vinyl products are commonly sold in big box home improvement stores and local suppliers.
Rubber Mats and Rubber Flooring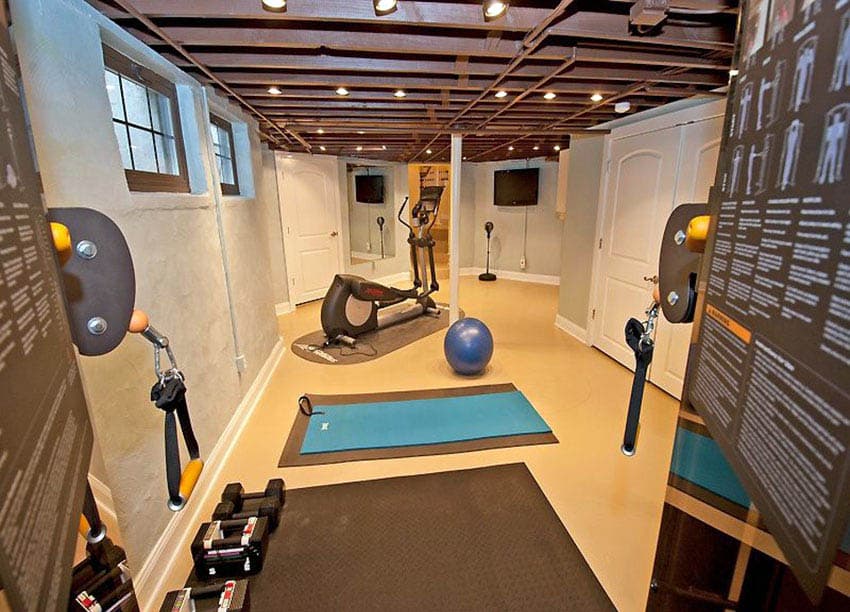 Rubber flooring is another popular inexpensive flooring material for basements. It can either be made from natural rubber, which comes from the tree, or can be composed of recycled materials.
Like vinyl and linoleum, rubber flooring is a type of "resilient flooring" which comes with numerous advantages such as durability, easy maintenance and flexibility of use. Commonly associated with gyms, dance studios and garages, rubber flooring is also highly suitable for basements which function as a play space or personal exercise area.
Aside from providing a soft, cushioned surface where one can comfortable perform activities without having to worry about accidents, rubber flooring also makes an attractive flooring.
Rubber Products
Rubber flooring comes in two general forms namely : roll rubber and rubber tiles.
Roll rubber – Roll rubber is produced in long sheets which can be custom cut into any size. This is the type of rubber flooring that you usually see in gyms. Each roll lays flat over a subfloor material and is adhered for installation. This is ideal for basements with large spaces or for those who want to create a more seamless look for the floors.
Rubber tiles – Rubber tiles, on the other hand, are produced in in square shapes and come in various sizes. Typically, rubber mats are installed using a "click in" together technology which is kind of like arranging a puzzle piece.
Rubber mats do not need any type of adhesive or glue for installation. They are much easier to install rather than their roll counterparts and in fact, it's a very simple job that anyone can do. . Some rubber floor tiles are also specially treated to make them more suitable for environments where excessive moisture is a major concern.
For many years, the options for rubber flooring are limited to polished black or slate gray, but today it is available in a range of different colors, designs, textures and patterns. They are certain variants which have a "marble effect", mimicking the colors of natural stone but without the luster.
There are also types that mimic wood flooring or tile, but do not really capture the distinct beauty of the real thing. Although the options are not as diverse as vinyl and linoleum, rubber flooring comes in wide array of choices that can make its way into any style for a basement.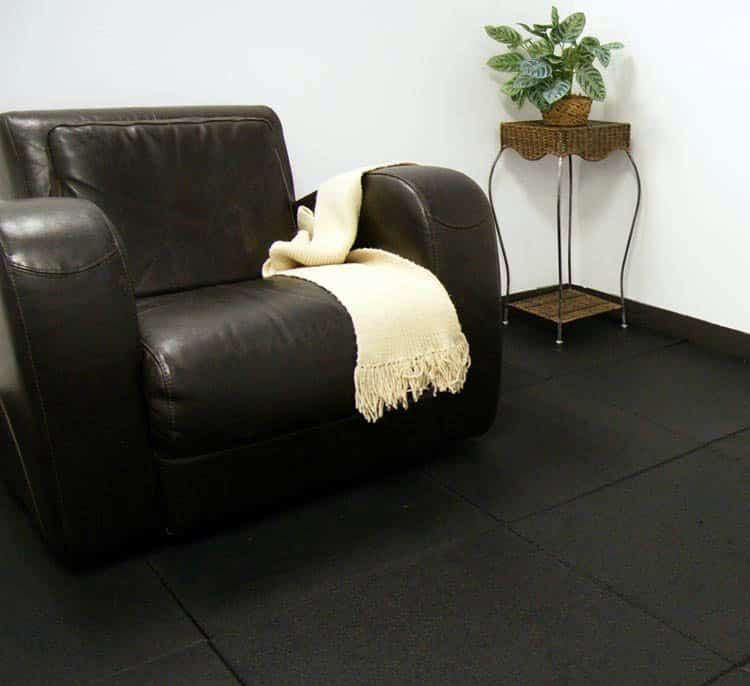 Interlocking rubber floor tiles
Pros of Rubber Flooring
Hard wearing. One of the most notable attributes of rubber flooring is its extreme durability, strength and toughness. As mentioned, it is a type of resilient flooring and has the ability to withstand the wear and tear of everyday use.
Soft surface for walking. Aside from its durability, rubber flooring provides cushioning and is soft underfoot, making it one of the most popular flooring materials for basements which are converted into exercise rooms, playrooms and studios. Generally, the thicker the rubber flooring, the softer it is, but some variants also have added cushion backing made from cork, foam and fabric
Water-resistant. Rubber flooring does not get damaged easily from moisture as water does not permeate both on the top and bottom surfaces of the material.However for low grade flooring such as those located in basements, a vapor barrier may be considered to prevent moisture from seeping underneath.
Non slip. Rubber flooring that has "dimples" or textures are non slip and prevents injuries from accidents. However, plain rubber tends to become slippery when wet.
Insulation. Rubber flooring provides maximum insulation and helps regulate cold flooring temperatures in the basement.
Easy maintenance. It is easy to clean and generally requires only a damp mop for cleaning. If you want to use detergents, check it out with the manufacturer first as harsh cleaning agents can potentially damage your rubbing flooring.
Stain resistant. Synthetic rubber flooring is resistant to stains, damage and discoloration. In addition, it can be polished with a water-soluble wax to give it an added protective coating, however this needs to be reapplied periodically.
Quiet. Since rubber flooring is elastic, it is very quiet to walk on. Falling objects also do not clatter or break easily unlike in hard floors.
Easy to install. Rubber flooring is easy to install yourself and can be cut easily using simple tools.
Lifespan. A properly cared for rubber flooring can last for 20 or more years.
Cons of Rubber Flooring
Aesthetics. Although rubber flooring comes in a wide spectrum of style options, it is not as aesthetically pleasing as natural wood or stone, or synthetic flooring materials like laminates. It has a naturally dull finish and can sometimes be lacking in character.
Staining. Although it was mentioned in the advantages that rubber flooring is resistant to most staining agents, there are still a few products which can discolor its surface.Strong cleaning agents, harsh detergents and abrasive cleaning liquids can be especially harmful to rubber floors.
Seams. Seams are always a problematic area for most flooring materials, Rubber flooring tiles have visible seams which can potentially allow liquids to pass through.
Cost of Rubber Flooring
The price of rubber flooring is generally comparable to vinyl and linoleum. It is more expensive than carpet flooring but is cheaper than laminate flooring. Roll rubber flooring costs about $3 per square foot, Interlocking rubber tiles, however, are a bit cheaper with an average of less than $2.00 per square foot.
More premium designs are much expensive and can run up to $12 to $15 per square foot, which is almost at par with other high end flooring materials such as natural stone.
Cork Flooring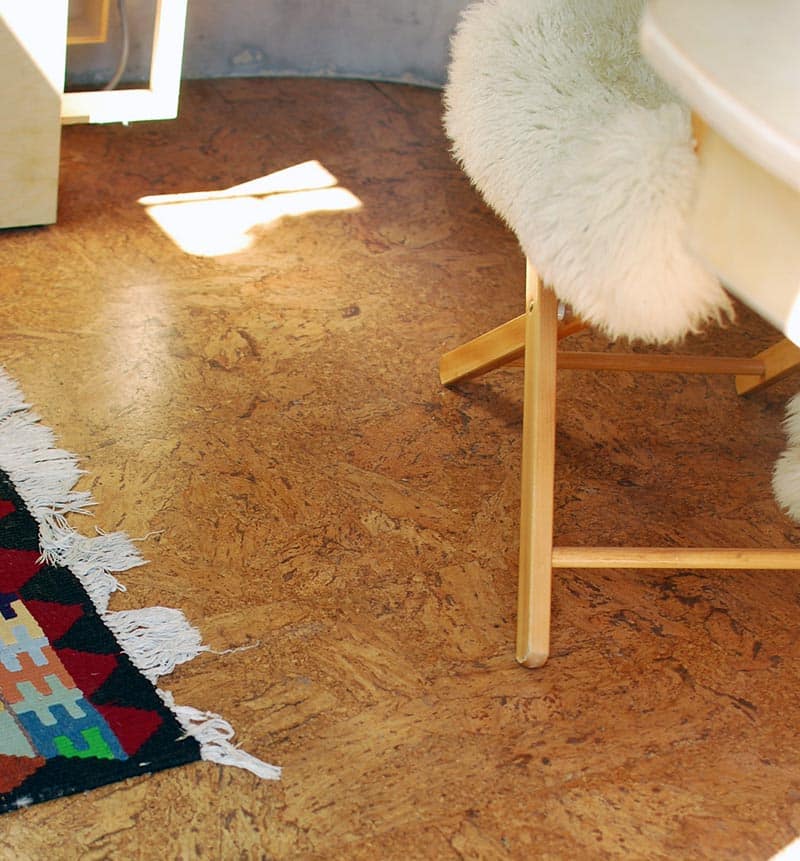 With the rising popularity of "green design" and in search of sustainable building materials, more people are drawn to using cork as a primary material for their basement flooring. Cork is a natural product derived from cork oak trees. It is made up of natural shed cork oak barks which are ground, processed into sheets and baked into kilns as tile forms
When used as a flooring material for basements, the nature of cork flooring material needs to be carefully researched first and verified with its manufacture before use. Some manufacturers can void its warranty once installed in environments which are constantly damp and exposed to excessive moisture.
Because of this, the primary step in installing cork floors for a basement requires laying a 6 millimeter vapor barrier sheet which helps prevent moisture from seeping up from the ground to the subfloor.
The subfloor material itself is typically made from plywood so that it can provide stability to the structure of the basement flooring as well as to reinforce the cork's strength. The cork floor, on the other hand, is installed directly to the plywood subfloor using adhesives. And since the process is a bit laborious and more tricky to perform, installing cork flooring for basements typically require the services of a professional.
Cork Products
Typically sold in tile or plank form, cork flooring is available in a range of colors and patterns which works well for many basement styles. It comes in two general variants namely solid glue down corks and click in place corks or floating cork flooring.
Solid glue down cork flooring – Solid glue down corks are generally glued down directly to any flat, smooth subfloor. It is in tile form an has a standard size of 12 by 12 inches by 5/32 inches thick. When used for basements, make sure to address problems with moisture as solid glue down corks may soak up with water coming from the concrete slab. This can in turn, cause the adhesive to fail and the tiles to curl up.
Floating cork basement flooring – Floating cork basement flooring are engineered pieces of cork which are similar to laminates. Its material composition has a 3 millimeter layer of cork sandwiched in between a fiberboard backing. The surface wear layer is treated with a UV cured polyurethane top coat finish which makes it waterproof.
This also comes in tile form and typically has a click in place type of installation. Typically, a quality seam sealer is applied to the joints in between click together floating cork cork flooring to ensure that it is impenetrable by moisture. Likewise, the perimeter of the basement floors are sealed with silicone to close any gaps.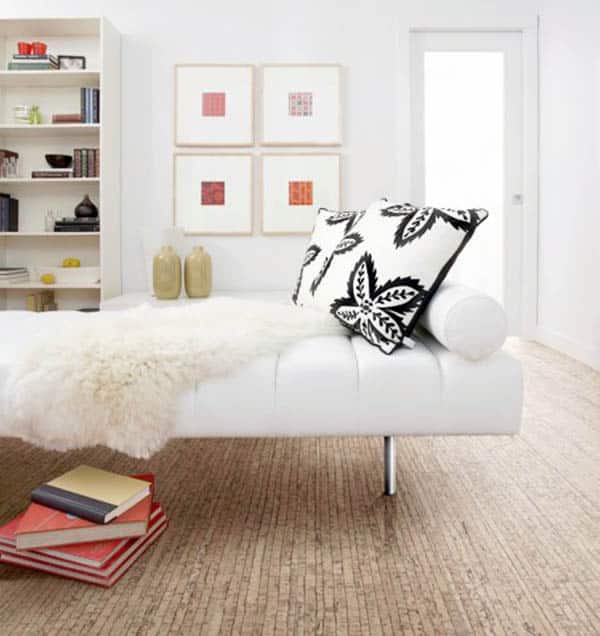 Cork flooring with narrow slat design
Pros of Cork Flooring
Good insulation properties. Basement floors often get chilly during the winter and cork helps regulate floor temperature. Cork floors acts as thermal barriers which give your feet insulation from cold concrete subfloors.
Soft underfoot. Cork flooring provides a soft cushioning underfoot and gives ease and comfort i terms of use.
Aesthetics. If you are planning to convert your basement into a den, hangout room or living area, cork floors can instantly soften its look while also making it more warm and inviting.
Mold and mildew resistant. Cork floors are naturally resistant to the growth of mold and mildew as well as other bacteria.
Can be easily replaced once damaged.
Environment friendly. As mentioned, cork is a natural product, which makes is highly renewable and eco friendly.
Sound proof. There is less noise when you walk on cork floors, as compared to hard floor surfaces which typically produce clatter when stepped on.
Easy maintenance. Maintaining cork floors require minimal effort such as vacuuming,sweeping, mopping using as damp cloth and wiping away spills immediately.
Lifespan. Provided that it is properly installed and cared for, cork floors can last for an average of 25 years.
Cons of Cork Flooring
Not waterproof. Cork tiles are naturally resistant to moisture, but they are not waterproof which means they have the tendency to get damaged from flooding.
In the event of natural disasters like a storm or floor, or even man made scenarios wherein washing machines malfunction, large amounts of water may rush through your basement and eventually damage your cork floors.
If water sits on for long hours on cork floors, the sealer and wear layers can get worn out and damaged, while the surface can show discoloration.
Prone to deterioration. Since cork is organic, it is prone to decay.
Warping. Corks floors have the tendency to swell, expand and pop up from the subfloors in humid environments.
Prone to scratches. Cork floors naturally wears down and can easily get scratched from heel drags or unpadded furniture legs.
Seams. As mentioned, seams are always the weak spots for any basement flooring material. The seams between cork floor tiles sometimes allow water to pass through and can cause potential damage to the floor underneath
Cost of Cork Flooring
Cork flooring is generally an inexpensive basement flooring material. The material costs approximately $3 to $8 per square foot, depending on the color and pattern. While labor and installation can cost $1 per square foot. However, these prices can also vary depending on the warranty offered by the manufacturer.
Engineered Wood Flooring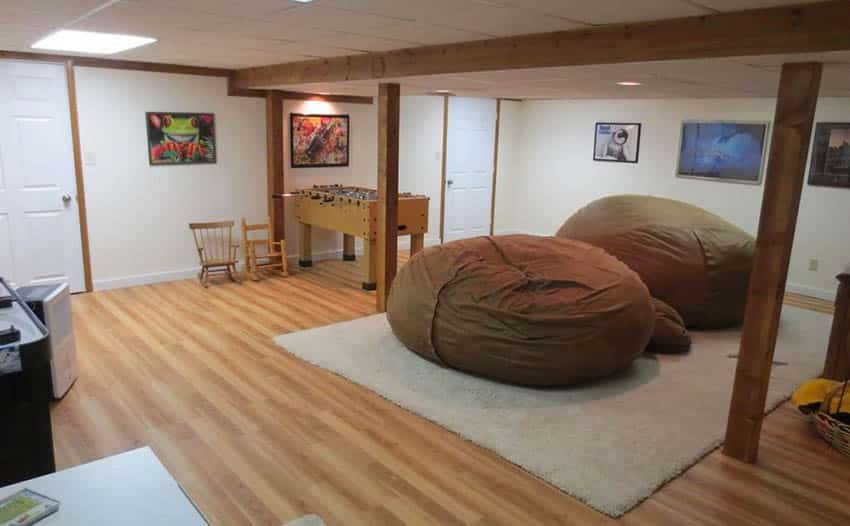 Few builders and designers would recommend the use of hardwood floors for below grade levels because they have the natural tendency to warp or expand when exposed to changing temperature and humidity.
However, more modern alternatives are available in the market which delivers the same feel and look but offers better reliability and stability. Engineered wood is the best alternative to solid hardwood flooring for areas which are exposed to dampness such as basements.
Unlike real hardwood which comes straight from a tree, engineered hardwood is a complex synthetic material that is consisted of several layers. The top most layer of engineered wood is made from hardwood veneer or a very thin slice of wood which is laminate to the surface, giving it the same distinct beauty and natural warmth that real solid hardwood floors have.
The inner layers, on the other hand, are composed of plywood, hardwood or high density fiberboard, which gives it stability, durability and the ability to withstand fluctuations in temperature and moisture. So in summary, Engineered wood flooring gives you the warmth and beauty of real wood, minus the drawbacks.
Engineered wood floors are different from wood like laminate flooring because its surface is made with real wood. While the latter's surface is basically made up of an applique layer or a "printed" design.
Engineered Wood Products
Engineered wood typically comes in plank form, which have varying widths of 3 to 7 inches and lengths of up to 10 feet, depending on the manufacturer. The standard thickness of engineered wood products ranges from ⅜ inches to ¾ inches.
In general, there are two ways to install engineered wood planks for basement floors. First is through the use of glue and industrial adhesives. While second is to "float" them over a layer of thin foam sheeting.
Floated engineered wood flooring are held in place by interlocking the ends of the planks together using a tongue and groove joint, that is why they are also sometimes referred to as "click together" planks.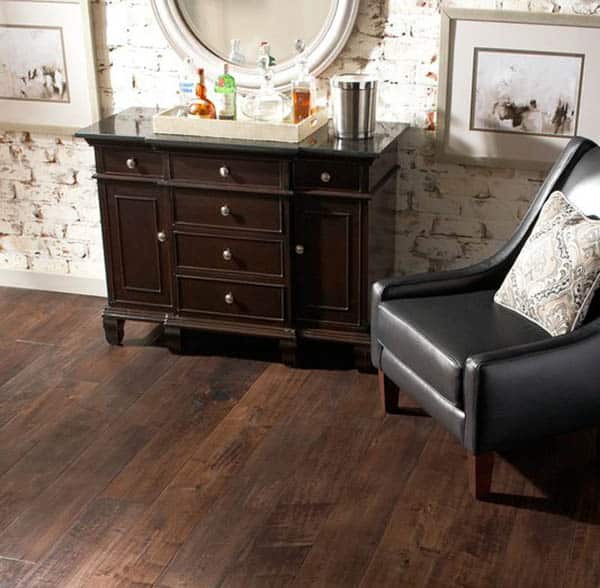 Maple engineered hardwood floor
Pros of Engineered Wood Flooring
Distinct beauty comparable to natural wood. The main advantage of engineered wood flooring for your basement is that it possesses the distinct natural beauty of real wood, while also rendering warmth and coziness to the space.
Resistant to temperature changes and moisture. Engineered wood floors are excellent as a basement floor finish because it is designed to reduce moisture problems and withstand extreme varying temperature. It is more advisable for wet and humid areas compared to natural wood floors. It does not swell, rot, decay or warp. In addition, it is not susceptible to termite damage.
Can be refinished. Unlike laminate basement floors, engineered wood floors can be refinished and sanded.
Can be a DIY installation. Engineered wood floors are popular flooring material choices for most do-it-yourselfers, since engineered wood it is relatively easy to install.
Ideal for uneven and sloped basement floors. Engineered wood floors are not directly attached to your basement floor, but instead, it floats inches away from the top of the subfloor, making it an ideal floor finish for basements that are uneven, warped, or sloped.
Low maintenance. Engineered wood flooring is easy to clean and do not require any form of periodic maintenance such as sealing.
Lifespan. Depending on foot traffic, engineered wood floors have an average lifespan of between 20 to 30 years.
Cons of Engineered Wood Flooring
Veneers are too thin. In some cases, the veneers used in hardwood floors are too thin, which prevents sanding and refinishing.
Not waterproof. Much like regular hardwood floors they can be susceptible to moisture.
Can not resand. Engineered floors can not be resanded as much as real hardwood, giving them a shorter overall lifespan.
Cost of engineered Wood Flooring
In general, engineered wood floors are more expensive than tiles, laminate and carpet flooring, but it is cheaper than real hardwood. The cost of engineered wood planks can run anywhere from $2 to $12 per square foot, while the labor costs for installation is about $4 to $5 per square foot, for both floated and glued down variants.
Solid hardwood flooring is another option for those with a larger budget. The main benefit of solid wood flooring is that it can be sanded and refinished for many more years than a typical engineered wood floor. Having solid wood floors can increase your home's resale value and be used for many years with proper care. For more information about living room hardwood floors check out this page.
Concrete Basement Floor Ideas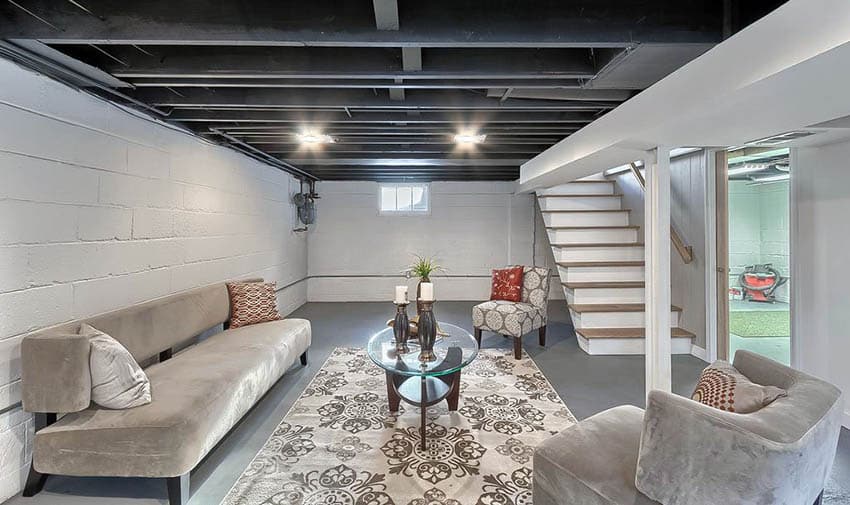 Concrete is the most basic material for basement flooring. This is simply because for most houses, it is already existing. All you have to do is either repair the cracks, reseal it and give it a fresh coating of paint. As a result, it is also considered to be the cheapest basement flooring option in the market.
By definition, concrete floors are made up of three basic components : water, aggregates (rock, gravel or sand) and cement. Cement acts as a binding agent for the materials, giving concrete an extremely solid composition. This mixture is then poured into slabs and hardened to create a durable surface.
With the rising popularity of interiors which are geared towards utilitarian designs and industrial styles, more and more homeowners become drawn to concrete flooring for basements. Concrete flooring is ideal for basements that are used as a workshop or storage area.
Concrete Flooring Design Options
Contrary to popular belief that concrete always looks dull, plain and too boring, there are actually a wide range of design options which can be explored to create a more interesting flooring for your basement. Gone are the ugly, gray utilitarian surfaces that we are used to, but instead there are more updated concrete mixing and setting techniques which allows homeowners to produce a variety of color and texture effects.
One popular method of adding color to concrete floors is to directly add pigments to the cement mixture before the slab is created.On the other hand, if the concrete slab is already existing, its surface may be treated with either waterproof latex paint, acid stains or dyes.
However, if you choose to go with painting your concrete floor, make sure to consider the condition of your basement in terms of moisture and humidity. Moisture can come up through concrete slabs and may eventually cause the paint to peel off the surface. This can be rectified through the application of a sealer
In terms of texture and effects, the surface of concrete flooring can be made smooth during the installation process. Alternatively, it can be treated with interesting, decorative textures through different technique.
Another way is to stamp it with a pattern while it is still setting. Faux effects are also popular for concrete basement flooring and most of these resembles brick, flagstone or wood planks. You also have the option to polish it to give it a smooth surface and a sheen.
Pros of Concrete Flooring
Durability. Concrete flooring is extremely tough and is able to withstand almost any type of traffic and pressure. It is resilient and extremely difficult to damage. Unlike other flooring materials, concrete floors do not get scratched, chipped or dented easily from furniture, pets or dropped items.
Does not require a subfloor. Concrete is the only material that does not need any subfloor, thus, it requires the least amount of materials to finish a whole basement flooring.
Moisture resistant. Concrete is the most unyielding basement flooring material to moisture. Unlike all other flooring options, water does not easily permeate its surface. Its composition is homogenous, which means it's through and through form the front to the back, thus it is extremely solid and leaves no room for water to seep into. In addition, concrete flooring has no weak spots or problematic seams.
Environmentally friendly. In most cases, a concrete subfloor already exists as part of the structural composition of the house. And with existing concrete subfloors, there is really no need to create a new flooring. If you want to revert back to concrete floors in your house, all you need to do is remove the material that has been placed over it. Thus, there is no carbon footprint or depletion of resources because no new material is produced,.
Versatile. Concrete floors is one of the most versatile options for basement floors because it can be customized easily. And if ever you get tired of its looks, all you have to do is install another material over it to create a "floating" floor".
Easy to maintain. Keeping a concrete floor at its best only requires minimum effort such as sweeping or mopping. A simple neutral cleaning agent may be used periodically to remove any stubborn stains. However, it needs to be sealed or waxed every 3 to 9 months in order to give its surface a protective layer.
Long lasting. With proper A sealed maintenance and periodic sealing, concrete floors can last not only for decades but even for a lifetime. Its impressive durability gives it an impressive lifespan, which in result eliminates the need to have a new basement floor installed periodically. With such, you also save money in terms of repair.
Cons of Concrete Flooring
Requires more labor. Concrete flooring may seem easy to install but it actually requires the right skills. In addition, concrete must be 100% clean before you do any work on it.
Poor insulation. Concrete is the coldest of all basement flooring options and its does not retain heat too well. The only way to heat it is to use carpets or area rugs.
Hardness. While this may also be an advantage from a different perspective, hardness can also be a liability. Since the surface of concrete is extremely hard, any objects dropped on it are more likely to break. If you trip on it, you might hurt yourself.
Uncomfortable to walk on. As mentioned, concrete is a very hard surface and it is uncomfortable to stand on for long hours. It does not provide any form of cushioning underfoot.
Periodic sealing. The added maintenance required for concrete floors may seem to be a disadvantage for some people. If not sealed properly, moisture can easily penetrate concrete surface, which in turn results to growth of molds and mildew.
Cost of Concrete Flooring
Since concrete flooring is already an existing feature for most houses, it can be the least expensive choice of flooring in a basement. The cost of concrete floors amount to $2 to $6 per square foot for polished, gray slabs.
If you want to add a thin layer or coating of pigmented concrete to give it color, expect to pay an additional $2 to $3 per square foot. More elaborate finishes cost higher and can run anywhere from $5 to %8 per square foot.
Basement Tile Flooring Ideas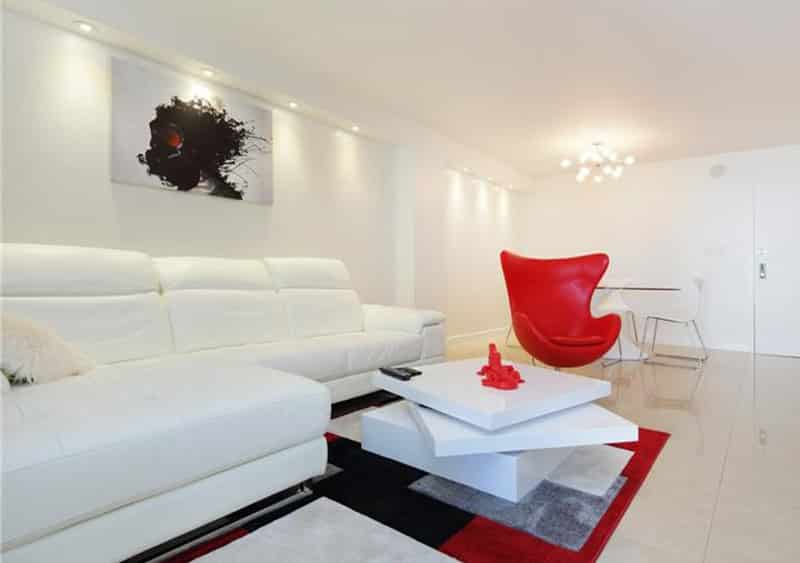 Tiles are one of the most practical choices for basement flooring because of their unmatched durability and resistance to moisture. Tiles come in different types which range from porcelain, natural stone and ceramic. Among these types, the most practical choice for basement flooring are ceramic tiles.
Ceramic tiles are made up of natural products such as clay and sand. Its manufacturing process involves molding the materials into different shapes then firing them in a kiln. Ceramic tiles come in glazed and unglazed forms and are available in a wide range of colors, patterns and designs.
The standard sizes for tiles range from 12 x 12 inches to 24 x 24 inches for square variants. While some also come in rectangular forms or plank versions. Wood like tiles or wood plank tiles are typically long and narrow and come in a standard size of 4 inches by 2 inches.
Glazed ceramic tiles are the best choice for basement floors because they have a protective coating which makes them impenetrable to moisture. Unglazed ceramic tiles may also be used but need to be sealed in order to protect their surface from liquids.
In terms of installation for basements, ceramic tile flooring can go directly over an existing concrete slab. However, the surface needs to be completely leveled and checked for bumps and uneven parts. Ceramic tile flooring also requires the use of grout in between the joints to prevent the tiles from moving and to seal the gap.

Pros of Tile Flooring
Water resistant. One of the primary reasons as to why ceramic tiles prove to be the best option for basement floorings is water resistance. Glazed ceramic tiles are coated with a protective layer that makes them impervious to water. They can stand up to high humidity and temperature fluctuations. Ceramic tiles will also remain undamaged and dry out in the event of flooding.
Stain resistant. Ceramic tiles cannot be stained by any form of liquid.
High durability. Ceramic tile flooring is extremely durable and tough. It can withstand the wear and tear from everyday use. Does not get easily cracked or damaged from high traffic or unpadded furniture.
Can be easily replaced. If a single tile gets damaged from severe impact, the replacement process is easy.
Design options. Ceramic tiles are available in diverse colors, patterns and textures, making it easy for homeowners to find the right one to match their basement's style.
Customization. Ceramic tiles can be cut into different sizes to fit your basement flooring.
Easy to maintain. Ceramic tile flooring is easy to maintain requiring only simple steps to clean such as sweeping, vacuuming or mopping. Dirt, stains and spilled liquids rest on its surface, which means it can be wiped down easily. If stains occur (which seldom happens), you can use cleaning agents and heavy duty cleansers, without damaging the material itself.
Lifespan. Ceramic tile flooring with quality installation can last for 10 to 20 years or even longer provided that they are well maintained and properly cared for.
Cons of Tile Flooring
Poor insulation. Ceramic tiles do not hold in heat too well. It can get as cold as a concrete slab and can get uncomfortable to step on during winters. However, during summers, ceramic tile flooring are comfortable underfoot.
Needs a leveled subfloor. During installation, the concrete slab subfloor for ceramic tiles needs to be leveled and repaired.
Not slip resistant. Polished and glazed ceramic tiles tend to become slippery when wet.
Installation. Laying tiles over basement floors is a relatively easy DIY project especially if you have prior experience on installation, however, if you are not skilled enough, it can be a difficult, time consuming process.
Ceramic tiles are also quite heavy and needs a lot of other materials during installation such as mortar, adhesives, etc. For these reasons, more homeowners choose to hire professional installers, raising the project costs to as much as 25% to 50%.
Seams and grout lines. The weak point of ceramic tile flooring are the grout lines as they can become susceptible to moisture, cause the water to seep down and promote the growth of molds which eventually lead to damage. However, this can be addressed using a sealer which makes them impervious to water.
Cost of Tile Flooring
The cost of ceramic tiles varies widely, depending on its size, shape, pattern and design. In general, they cost twice more than linoleum flooring and slightly higher than carpet flooring, but lasts much longer. Most tiles cost an average of $5 to $10 per square foot.
Standard 12 inches by 12 inches ceramic tiles cost as low as 80 cents per piece at local home improvement stores. High end options such as porcelain tiles, on the other hand, can cost $10 per tile or more. You can cut costs for ceramic tile installations in basements by using larger tiles or 16 inches square tiles and go with DIY installation using tile mastic.
The biggest expense this a tile floor isn't the material, but the labor. Expect to pay an additional amount of $5 to $10 per square foot for professional installation.
Basement Floor Paint Ideas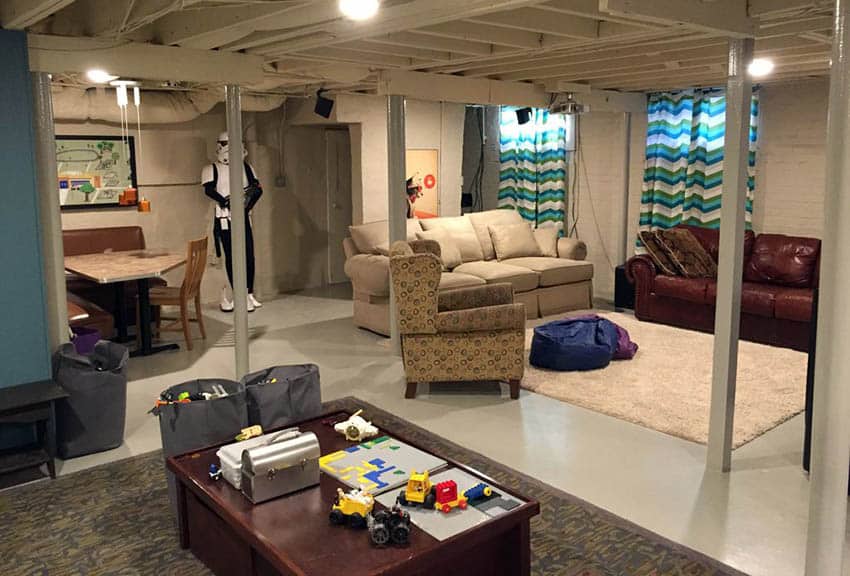 One of the least expensive options and the quickest fix for finishing a basement floor is by painting or staining. Paint is the simplest finishing material that can be applied with the least amount of effort.
Paint is directly applied over a basement concrete slab to provide a smooth, durable surface that performs well for years. The most common type of paint for this application are epoxy paints, that is why these floors are also referred to as "epoxy floors".
Epoxy paints are solvent based adhesive coatings which have two liquid components – an epoxy resin and a hardener. Before application, these components need to be mixed together. Once applied, epoxy paints produce a more abrasion resistant and tougher surface compared to regular paint.
Epoxy floor coatings are typically used for industrial applications but due to their positive benefits, more homeowners use them for finishing their basements flooring.
There are three types of epoxy paints namely water based epoxy, solvent based epoxy and 100 percent solid epoxy. Epoxy paints comes in a wide variety of colors including ivory, brown and red and these variants can be blended to produce more interesting looks such as faux granite.
Epoxy paints need to be reapplied at least every 3 to 5 years. Prior to application, your basement concrete slab needs to be sealed or sometimes etched.
Epoxy paints are tougher than concrete stains, dyes and paints. Epoxy paints costs about three times as much as a gallon of paint or stain but covers four times the area. In general, painted floors work well for basements that are being used as a recreation area or workshop.
Pros of Epoxy Painted Floors
Highly adaptable and durable. Epoxy floors are designed to withstand natural expansions and contractions due to fluctuating temperatures. They can also adapt well to high foot traffic situations.
Waterproofing. Epoxy floor coatings also help to waterproof a basement floor. When applied to a surface, epoxy paints spread all throughout and create a thick, dry, hard and tough flooring. It produces a tight membrane that is impermeable to water.
Creates a shiny high gloss surface. Epoxy floors can significantly increase the brightness of an area by 200 percent.
Seamless appearance. Epoxy floors creates a seamless look and a full solid flooring that does not need grout.
Easy installation. Epoxy paints are easy to apply requiring only a simple roller or paint brush.
Easy to clean. Epoxy floors are low maintenance and can be cleaned by sweeping or using a damp mop.
Stain resistant. Epoxy floors resists oil stains, beads water, and wipes super clean and will create a seamless surface
Reduces slip hazards. Epoxy floors enhances safety and reduces the risk of slips and accidents.
Heat and fire resistant.
Lifespan. When applied properly , epoxy floors can last for up to 30 years.
Cons of Epoxy Flooring
Temporary. While tough and durable, epoxy floors are considered to be temporary flooring solutions. They need to be reapplied every 3 to 5 years to ensure a fresh look.
Cracks and chipping. Epoxy paints sometimes have the tendency to chip and eventually peel off of the floor.
Preparation. Although the application of epoxy paints is relatively easy, preparing a concrete slab or an existing floor for epoxy application is quite labor intensive.
The concrete floor needs to be thoroughly cleaned, free of any grease,solvents or oil before the epoxy coating is applied. Repair is also necessary, so cracks need to be filled and bumps sanded.
Takes a long time to dry. Application of epoxy paints is easy but is generally time consuming. It can take days to dry and get ready for use.
Strong odor. Wet epoxy releases strong fumes and have an ammonia like odor. Take note of this while applying these onto your floors and wear protective masks during installation.
Can trap moisture. Since the material doesn't breathe once it cures, any moisture trapped below the surface can be a problem as it evaporates. It may lead to the eventual need for repair or refinishing as bubbling or buckling in the flooring material may occur in some cases.
Difficult to remove. Once epoxy is applied, it can be hard to remove.
Cost of Epoxy Flooring
The cost of one gallon can of epoxy paint is about is about $30 and this is enough to cover an 80 to 100 square foot basement.
Stained Concrete Basement Floors
Another inexpensive option for finishing basement floors are stains. Concrete stains and dyes are similar to paints, but the stain is typically mixed into the concrete and is usually finished with protective sealer. Concrete stains lasts longer than paints because rather than being applied only at the surface, they soak into the concrete.
Most concrete stains are water based and can be applied with using simple tools like a brush or paint roller. Colored stains penetrate well in unsealed, porous basement concrete slabs and can last for year without discoloration and the need for reapplication. Read more about the best basement and living room floors here.